Note: The order of appearance of the following festivals and events is according to the time of the year when they usually occur. Dates can change however over time. We try to update the info frequently, but some of it might be outdated. The year in the bracket […] indicates when the info was posted. Dates of the current year will be shown in RED.
NOVEMBER
[2023] November 4~26 / New Taipei City
[2021] November / New Taipei City
The Silver Grass Festival Of Caoling Historic Trail
草嶺古道芒花季
The global pandemic has significantly disrupted Taiwan's festival and event calendar this year, but it's safe to say that celebrations of nature's beauty are being affected the least. In November the slopes of many a mountain in northern Taiwan will appear even prettier than during other times of the year, with their tall silvergrass blooming and its feather-like flowers gently swaying in the wind. This is a great time to go for a hike in Yangmingshan National Park or along the Caoling Historic Trail on the Northeast Coast, both known for the abundance of silvergrass covering their mountain slopes.
Website: www.necoast-nsa.gov.tw (Northeast Coast and Yilan Coast National Scenic Area)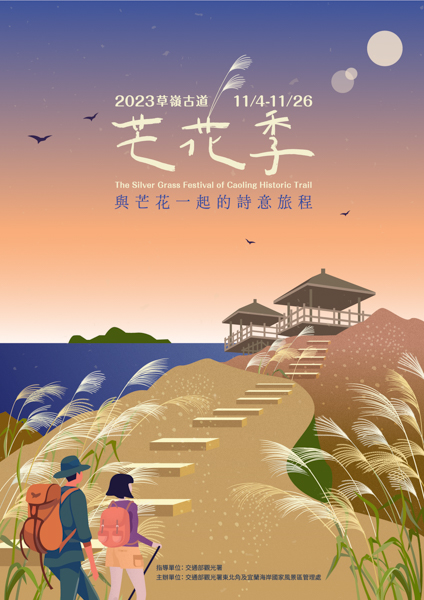 [2023] November 5 / Penghu County
[2020]
November 1
/
Penghu County
Gaillardia Islands Penghu Cross-Sea Marathon
菊島澎湖跨海馬拉松
Offering mostly flat terrain, but strong winds and strong sunshine; the conditions for road running on the islands of Penghu are a mixed bag. Taking on a challenge is a matter of course for marathon runners, and a unique route intrigues many, making the annual Penghu Cross-Sea Marathon one of the most attractive runs on Taiwan's tightly packed road run calendar. The "Cross-Sea" part of the name refers to the traverse of three sea-crossing bridges that connect Penghu's main islands. The race starts close to the southwestern tip of Xiyu Island and ends in Magong City on Penghu Main Island, on the way traversing the islands of Baisha and Zhongtun. Penghu National Scenic Area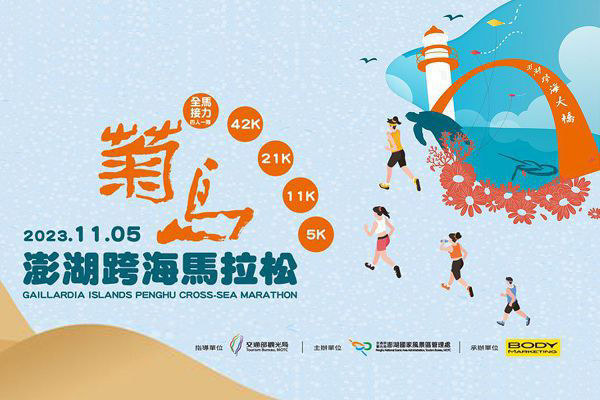 [2023] November 6~12 / Taitung County
[2022]
November / Taitung County
Taiwan Open Of Surfing
臺灣國際衝浪公開賽
In recent years, the tiny fishing harbor at Jinzun in Taitung County has become an international traveler hotspot. It's not the harbor itself that draws – mostly young – people from around the world, but the pebble beach and sea area just to the north of it, where surfers find perfect conditions for riding the waves. In autumn and winter, ideal surfing swells are created outside the harbor's breakwater thanks to the northeast monsoon. The Taiwan Open of Surfing is held at Jinzun each year, with highly talented surfers showing off their wave-riding skills.
Website: www.taiwanopenofsurfing.org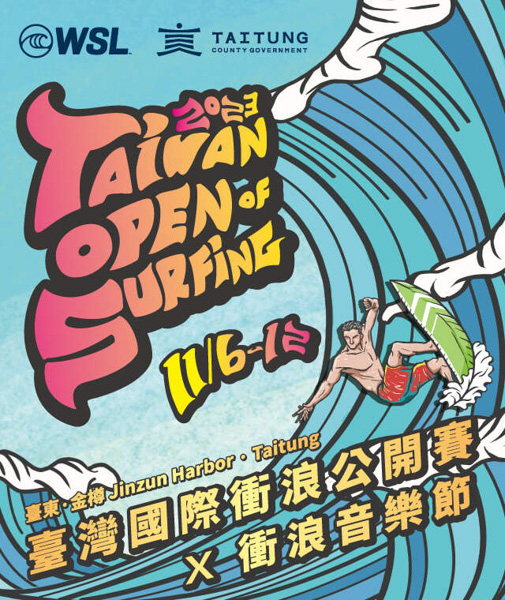 [2023] November 11~12 / Tainan City
[2022]
November / Tainan City
Kunshen Wangye's Salt For Peace Festival
鯤鯓王平安鹽祭
For more than 300 years, producing salt from seawater was an important industry in the southwest of Taiwan. The industry ceased to exist in 2002 after Taiwan's WTO entry, but the Jingzaijiao Tile-paved Salt Fields in Tainan City's Beimen District remain in place as a popular tourist attraction. In 2004, the annual Kungshen Wangye's Salt for Peace Festival was held for the first time by the Southwest Coast National Scenic Area Administration to celebrate the old industry and to highlight the region's traditional beliefs and rituals related to salt. Activities take place at the salt fields and at the Nankunshen Daitian Temple (about 5km away), including a procession between the two places, captivating dragon dances, and the giveaway of thousands of auspicious sachets filled with salt.
Website: swcoast-nsa.travel (Southwest Coast NSA)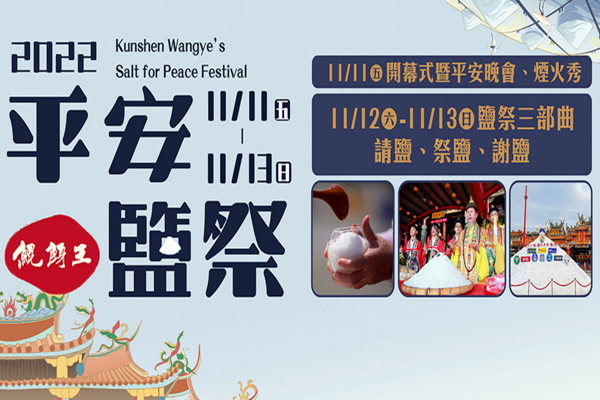 [2023] November 11~26 / Taipei City
[2020]
November 1 ~ 30 / Taipei City
Loving In Guandu – Flowering Your Happiness
愛戀關渡—花現幸福
The Taipei City Government is cooperating with businesses in the Guandu Plain area on the northern bank of the Keelung River, staging a flower festival during the month of November. During this time of the year, flower lovers come here to enjoy fields filled with strikingly colorful flowers, including the garden cosmos, sulfur cosmos, zinnia, and sunflower. You can also see the beautiful Guanyin Mountain and the magnificent Datun and Qixing mountains in the far distance. With the bikeway along the Keelung River passing right by the fields, combining flower gazing with a YouBike bicycle jaunt is highly recommended. During the time of the festival you can also take advantage of a shuttle bus service between MRT Qilian Station and the flower fields.
Website: flowersfestival.taipei/flower.php?id=1 (Chinese)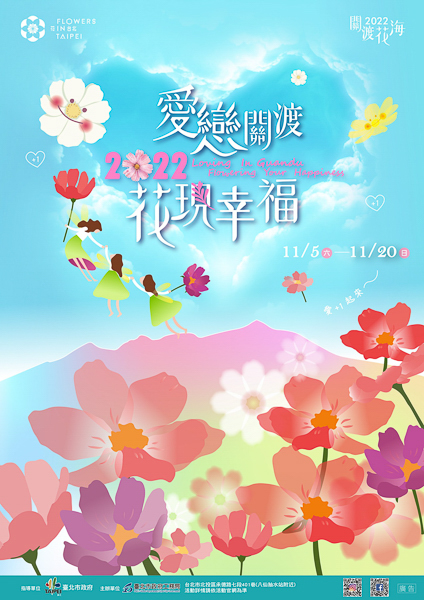 [2023] November 11~December 3 / Taichung City
[2021] November ~ December / Taichung City
Xinshe Flower Festival
新社花海節
Large fields of flowers are commonly described in Taiwan as "seas of flowers," and there are many locations around the island where you can enjoy these feasts for the eye throughout the seasons. Perhaps Taiwan's best flower-theme event featuring seas of flowers is the Xinshe Flower Festival in Taichung, held at the end of each year on a 40-hectare farm operated by the Taiwan Seed Improvement and Propagation Station. The vast colorful fields of numerous types of flowers are perfect backdrops for photo taking. Visitors also have ample opportunity to get to know other types of Xinshe produce as well, try local specialties, and visit other tourist attractions in the area.
FB: www.facebook.com/xinsheflowersea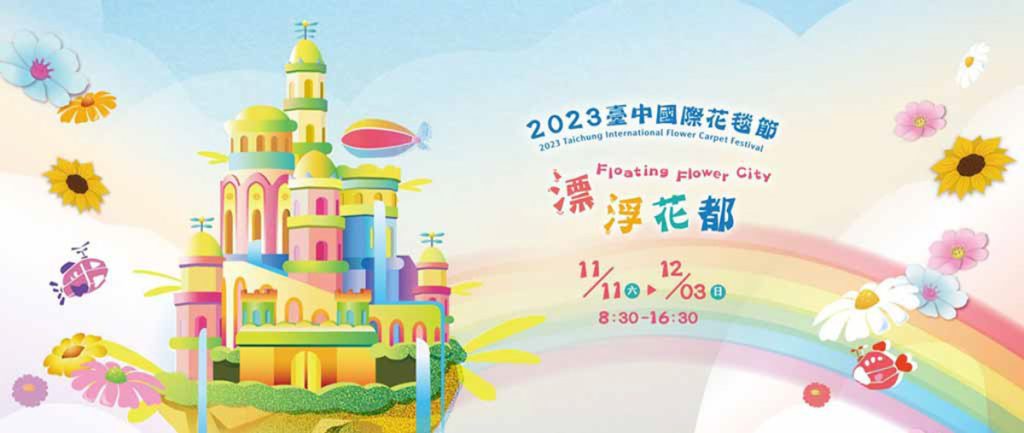 [2023] November 18~19 / Kaohsiung City
[2019]
November 16~17
/
Kaohsiung City
Kaohsiung Lion Dance Festival
高雄戲獅甲
This exciting event, which takes place once every two years, brings together the best lion dance performers from Taiwan and Chinese communities abroad. In 2017, 10 groups from Malaysia, Indonesia, Hong Kong, Singapore, Mainland China, and Taiwan competed against each other. The competition takes place at two separate venues, the Kaohsiung International Swimming Pool and the Kaohsiung Arena, the participants performing acrobatic moves on high poles placed in the swimming pool and above the arena floor, respectively.
FB: www.facebook.com/KaohsiungLionDance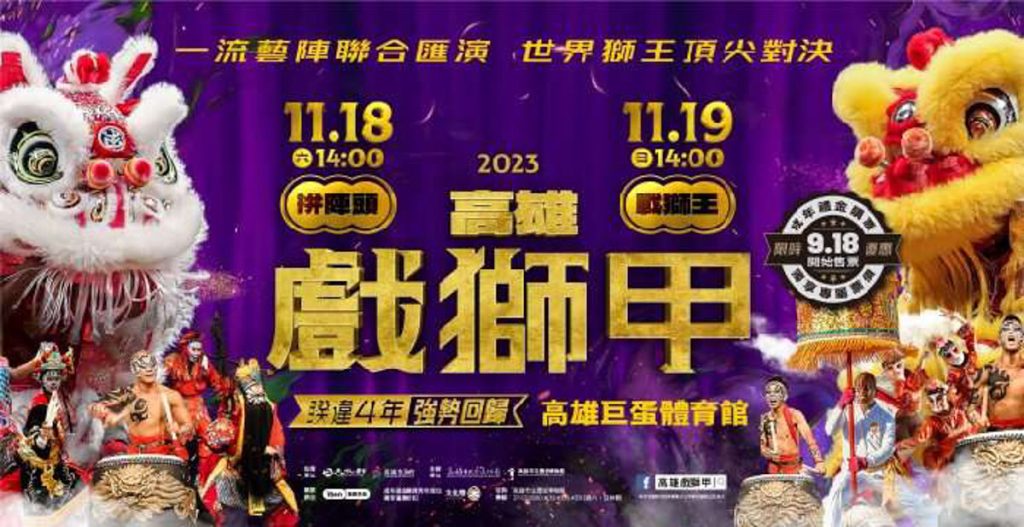 [2023] November 24~December 10 / Taipei City
[2020] November 27 ~ December 13/ Taipei City
Shilin Residence Chrysanthemum Show
士林官邸菊展
Flower Festivals in Taipei: flowersfestival.taipei

[2023] December 2~4 / Taipei City
[2020] November 18 ~ December 20 / Taipei City
Bangkah Qingshan Festival
艋舺青山祭
FB: www.facebook.com/mongaqimgshantempie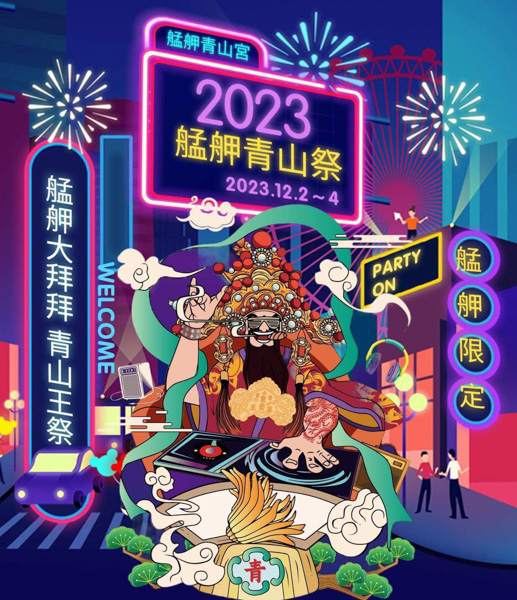 [2023] December 2 / Taipei City
[2020] November 21 ~ 22/ Taipei City
Exit Music Festival
台北出口音樂節
FB: www.facebook.com/exitmusicfestival