A Legion of Eccentric Mini-Hotels, Inns, Hostels, and Homestays Awaits You
TEXT / RICK CHARETTE
PHOTO / RAY CHANG

In Tainan, the small cultural-creative hotels, inns, hostels, and homestays found snuggled away within its close-knit community grids of side lanes and alleys do double-duty as time-travel devices. Located in old architecture lovingly restored, each has a highly individual backstory and a highly eclectic interior design that invariably reflects the personality of its owner/operator. Many are filled with carefully selected period furniture pieces and paraphernalia – often items that have been part of the life of the proprietor – and all allow you to become an intrinsic, almost unseen element of the neighborhood culture for a few days, watching life roll by as it has for decade upon decade.
Why come all the way to island Taiwan, and then make the local trip to Tainan, to stay in an old building? Well, as you well know, the more stars attributed to a place of accommodation, the more distant you'll be transported from the authentic daily lives of the local people. If you're looking for more than just comfort and luxury and share the goal of the true international explorer – immersion, understanding, enlightenment, and intellectual/emotional broadening – then back alley, off-the-beaten-track inns and homestays might suit you better.
Taiwan's alleyway culture is considered a national treasure. In the cities, stepping off a major street or road into the awaiting labyrinth of old narrow lanes and alleys is to step into a separate world, each high-density neighborhood community of low-rise buildings possessing a unique story, a unique culture. The lanes and alleys in the old-time capital area of Tainan are even narrower than elsewhere – think of two passing rickshaws barely able to squeeze by each other. The city abounds with quirky tiny places of accommodation down these arteries, neighbored by households in place for generations, the residents going about their daily business in their comfy, familiar age-old ways.
Neat Hostel
Stay at the Neat Hostel and you stay in the house that the owner grew up in. Well, not exactly; this is the inn the owner grew up in.
It's located just steps away from the modern shops along busy Chenggong Road, and is just two-plus blocks along Chenggong from the Tainan Railway Station, a heritage structure built by the Japanese. "Chenggong" is from "Zheng Cheng-gong," the given name of Koxinga (see main article). It's also just steps from Gongyuan ("Park") Road. Less than two blocks away along this road is the beautiful full-block Tainan Park, defined by the tall, proud tree specimens given birth when the Japanese used the park as a testing ground for tropical species. Across Gongyuan Road from the park is the 321 Art Alley Settlement, created as a dormitory-residence for Japanese army officials in the 1930s, today an artist/performance troupe enclave.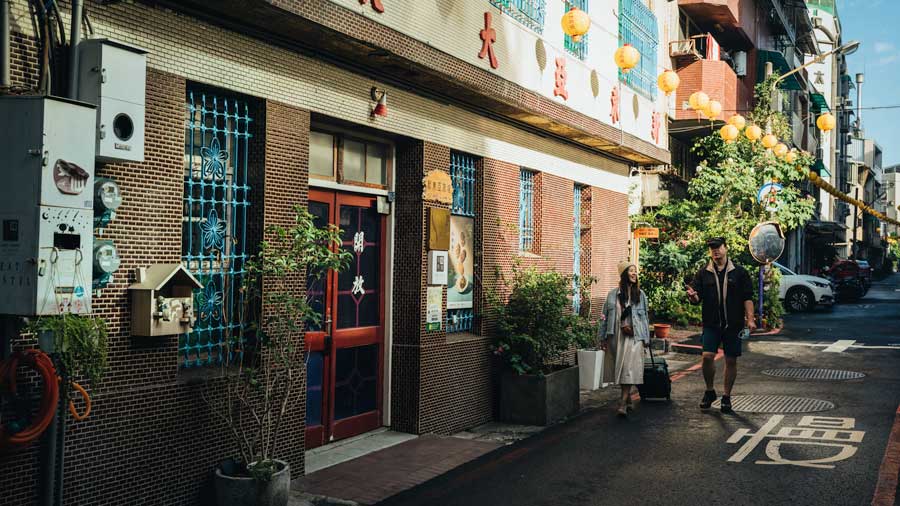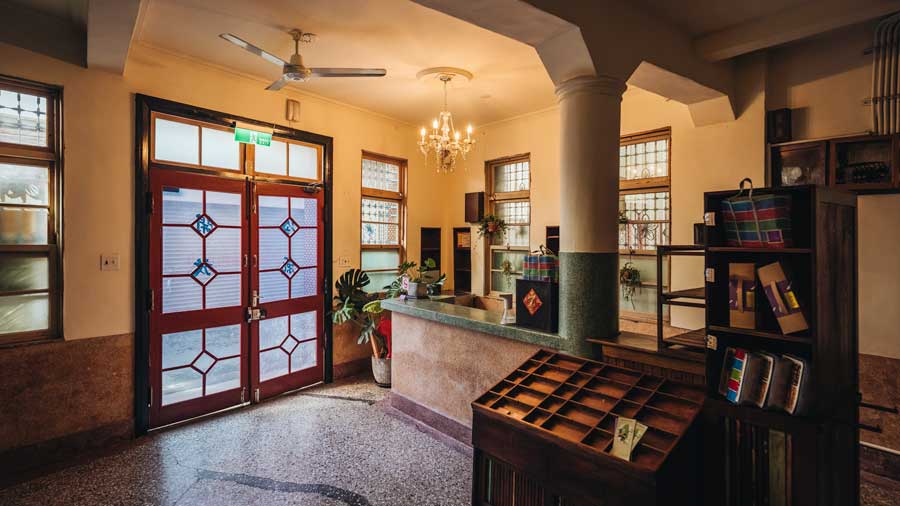 The facility is actually two now-interconnected buildings – the main building, which was built as an inn during the Japanese era, and a residential building behind. Today the main level houses a pastry shop and photography studio. The rambling second and third floors are the hostel quarters, centered on a commons area with kitchen facilities and light snack treats and coffee/tea. The entire place brims with antique pieces, some from the original inn. Two of the most unusual items are an ancient plug-in telephone switchboard and a dining table with top crafted from the original inn's large Chinese-character signboard. Rooms range from those with a single bed for two to a large tatami room for families/groups.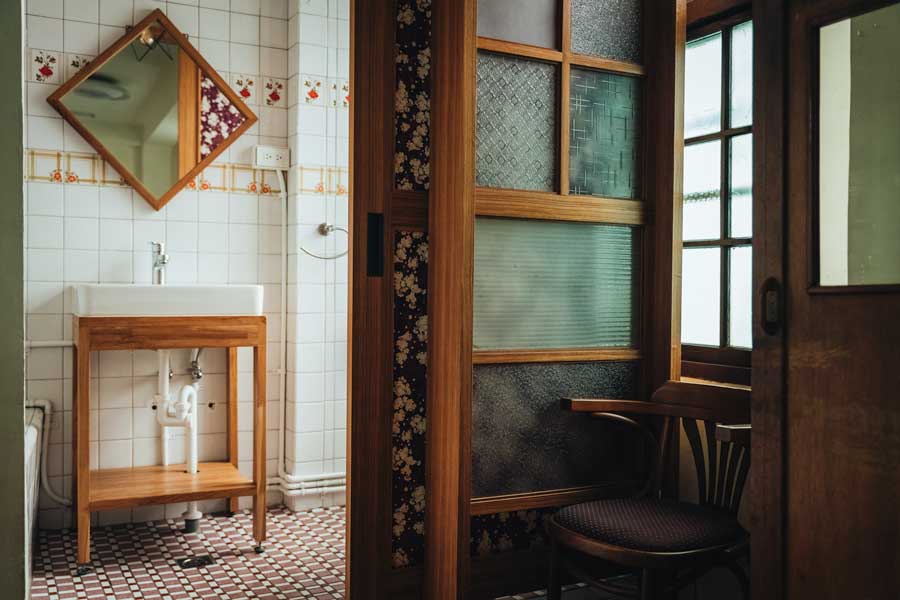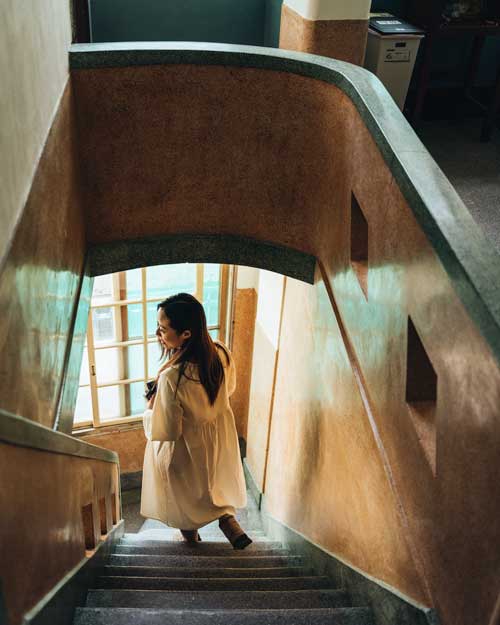 Neat Hostel (新東亞旅程)
Add: No. 45, Ln. 68, Chenggong Rd., North District, Tainan City
(台南市北區成功路68巷45號)
Tel: 0937-663-928
Website
Facebook
Book Inn
Ever slept "inside" a bookshelf wall? This experience, possibly unique in this world, awaits you at the Book Inn.
This choice is different from the other selections in this article in that it is on a main street. It's on Nanmen Road, looking across at the Tainan Confucius Temple complex. "Nanmen" means "South Gate," meaning you are in the south section of the old walled city. From its top-floor patio, adorned with picnic tables, patrons enjoy a splendid overview of the temple grounds before and the alleyway neighborhood behind, overlooking a small tucked-away heritage temple completely unseen from the main street.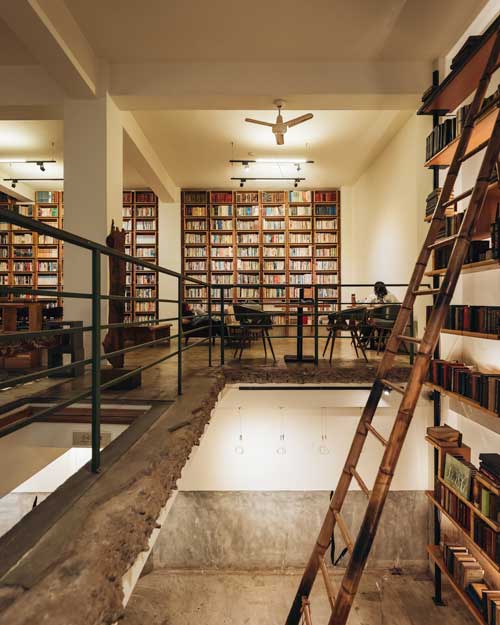 The inn is actually made up of three now-conjoined side-by-side buildings constructed in the classical shophouse style, long and rectangular with narrow facades. The key building started as a private residence built in the Japanese period, then saw long duty as a secondhand bookstore, run by a friend of the Book Inn proprietor. The main floor is today operated as a public bookstore/café. Inn residents access the next three floors by entry passcode. Sleeping bunks resemble those in railroad sleeping cars, except you are "inside" floor-to-ceiling walls of books. There are two private rooms with bunk beds on the third floor. The fourth floor (top floor) common room has a superb modern kitchen/dining area with full cooking facilities.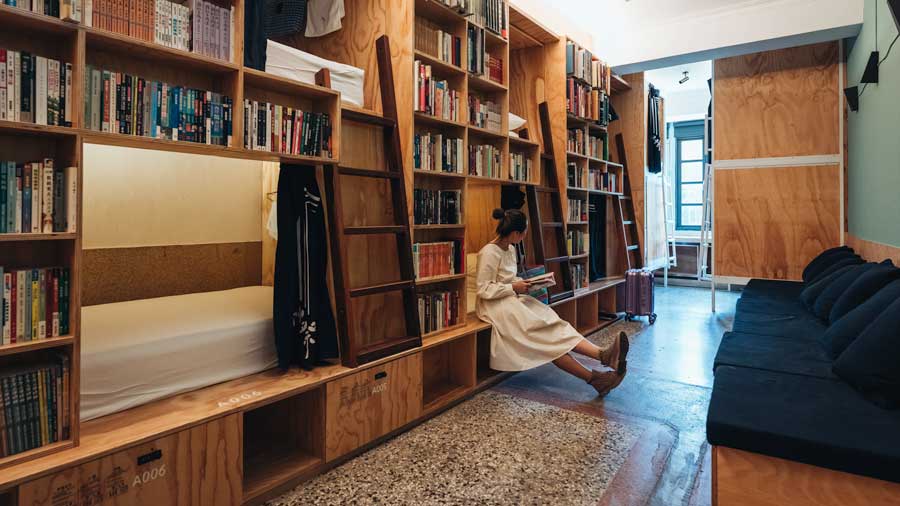 Book Inn (艸祭)
Add: No. 71, Nanmen Rd., Central West District, Tainan City
(台南市中西區南門路71號)
Tel: (06) 222-2909
Website
Facebook
Loku Tainan Minshuku
Many if not most of these places of accommodation actively immerse themselves in the lives of their surrounding community. A stellar example of this is Loku Tainan Minshuku, a combination teashop/inn run by a Taipei transplant who fell in love with the relaxed Tainan lifestyle, who stages tea-theme parties, mini-concerts, and other activities for local residents (and visitors) in the tiny temple plaza directly before her business.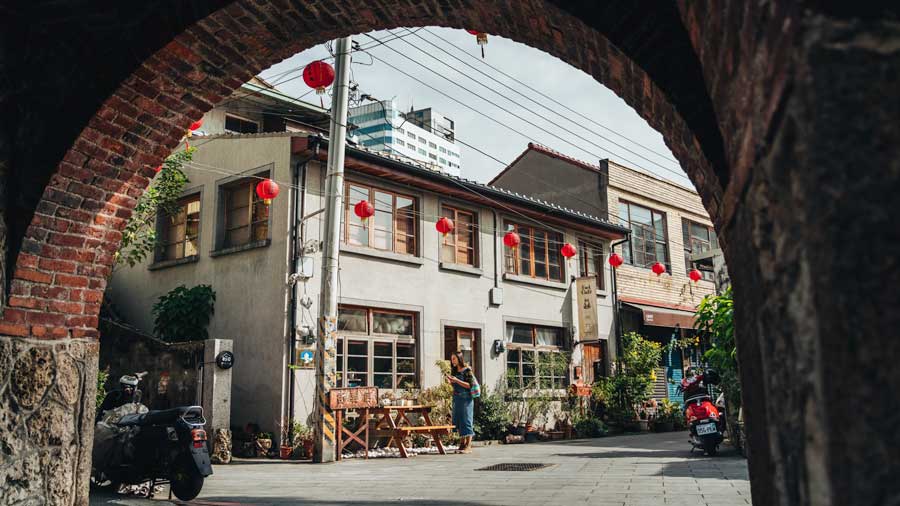 Its location is at the west end of short Xinyi Street, which is just wide enough for an economy car to squeeze through. Right beside it is the old, small Duiyue Gate (built 1836), the only Tainan walled city gate still in use. Two hundred years ago this was an important commercial artery; today it is home to a rich mix of old-time residents and newly arrived entrepreneurs running cultural-creative enterprises such as restaurants and boutiques. Shennong Street is just a short walk away. The teashop is in a two-story former inn that dates to the old walled city days, used by travelers entering the city from the nearby port. The Loku Tainan Minshuku rooms are in the top two floors of a renovated three-story former private residence right behind the teashop, reached by an old outdoor cement stairway that climbs up beside it. The rooms are retro stylish, made to look like upscale inn rooms in the early 1900s.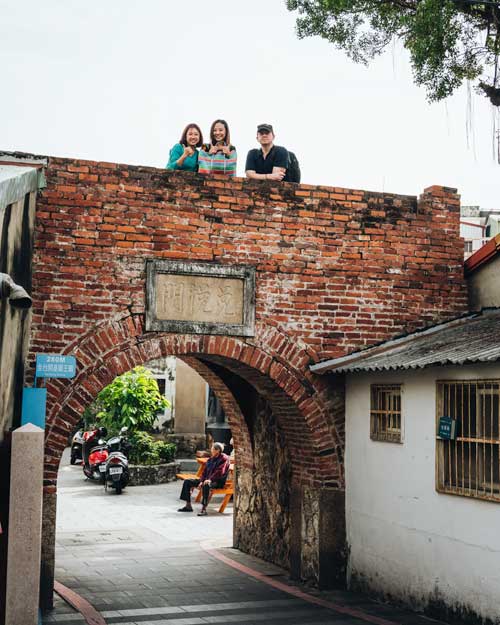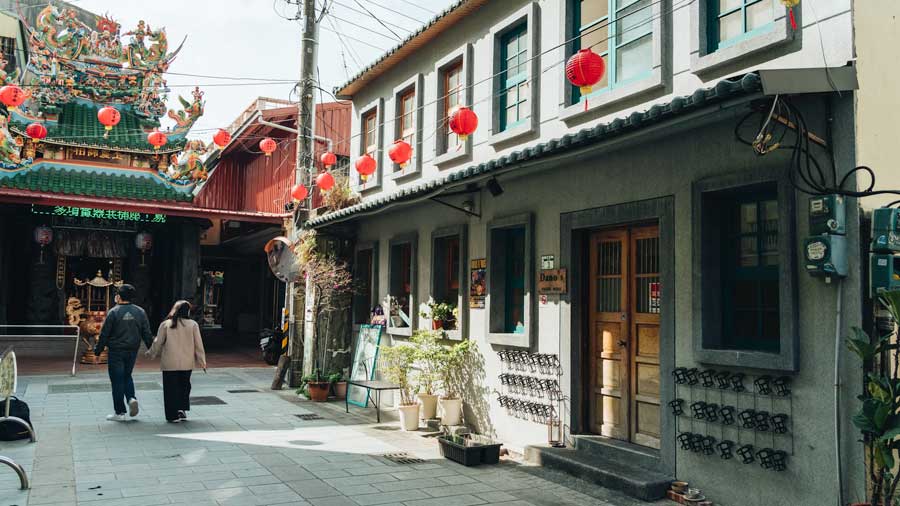 Loku Tainan Minshuku (老古石渡)
Add: No. 1, Ln. 122, Xinyi St., Central West District, Tainan City
(台南市中西區信義街122巷1號)
Tel: 0984-260-256
Website (Chinese)
Facebook
Catch Phoenix
The east end of Xinyi Street leaves you just one block away from Catch Phoenix, which is down another narrow lane just off Hai'an Road. Not far along Hai'an in one direction is perhaps the most beloved of Tainan's famous night markets, the mammoth Garden Night Market, which has 400-plus stalls. Along Hai'an in the other direction is the nearby Shennong Street and highly visually entertaining Hai'an Art Street section.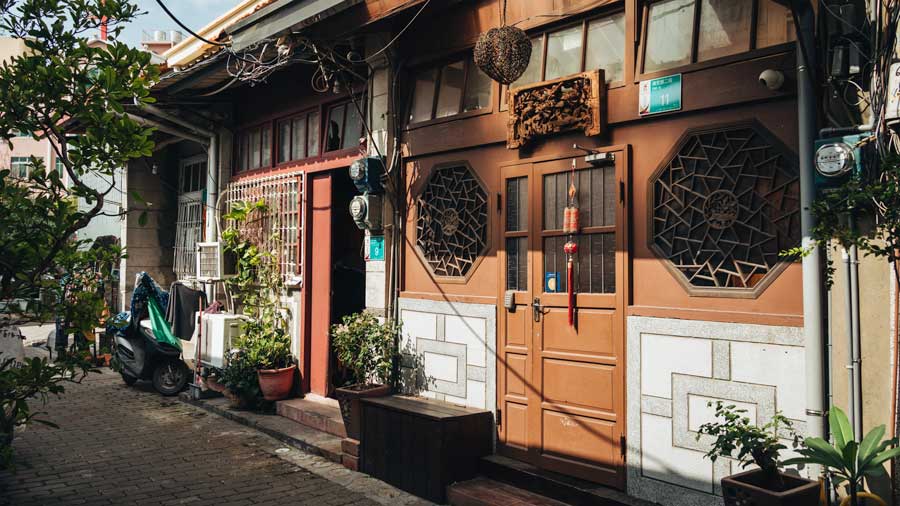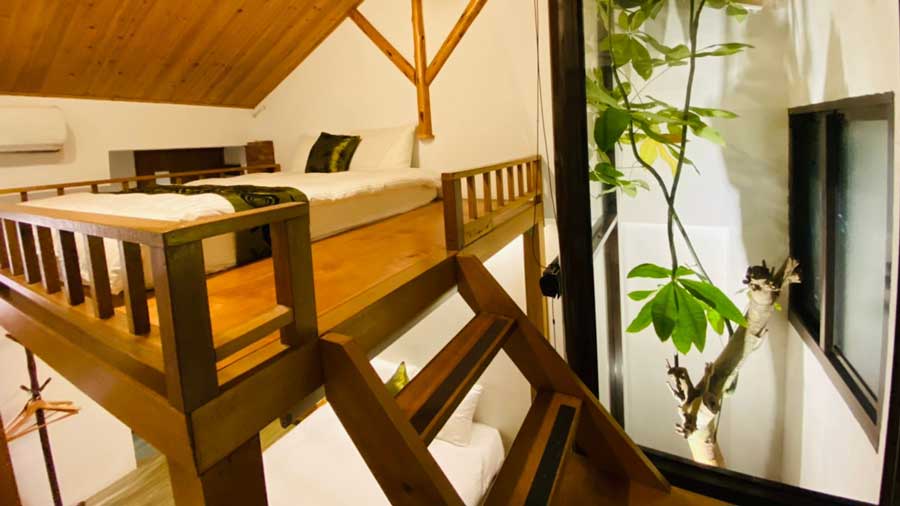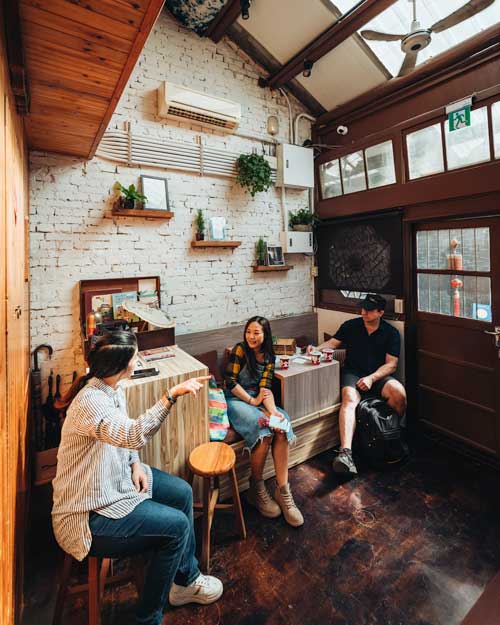 "Hai'an" means "sea side," reference to the fact that this artery originated beside the long-gone Inner Sea discussed in our main article. If any of the places mentioned in this file deserve the adjective "quirky," it is Catch Phoenix. The owner has renovated a long-abandoned single-story residence with a high pitched roof, filling it up inside with two modern-style suites, both of which have sleeping lofts in what was the attic area, a tiny common area inside the front door, a narrow hall that takes you to the rooms – and nothing more. You access the building via entry passcode. The door-facing decorated wooden wall of the first suite, which soars from the floor to within inches of the roof, is an eclectic visual delight. It reminded both myself and the Travel in Taiwan photographer of the decorative wall and windows of the Kumari Ghar palace in Nepal's Kathmandu, through which Kathmandu's secretive living goddess watches the mortal world go by, unseen.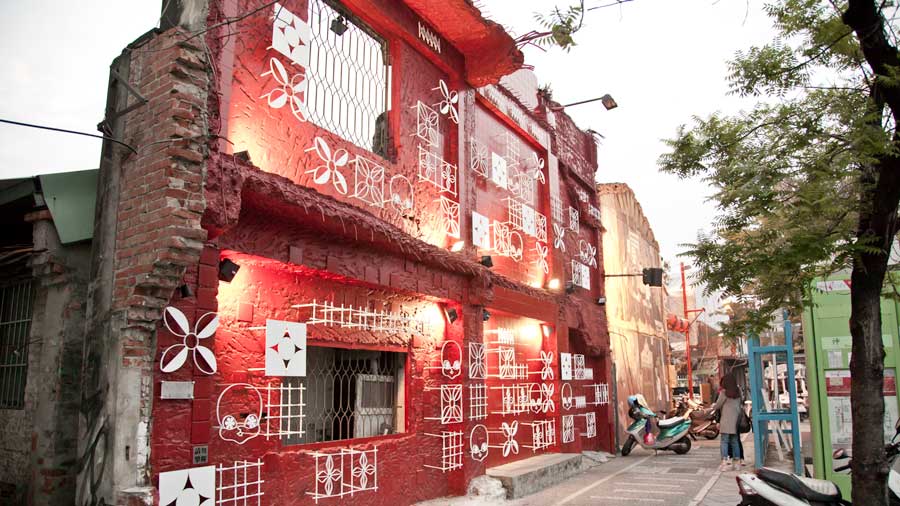 Catch Phoenix (捉鳳凰)
Add: No. 11, Ln. 296, Sec. 2, Hai'an Rd., Central West District, Tainan City
(台南市中西區海安路二段296巷11號)
Tel: 0905-926-279
Website (Chinese)
Facebook
Adore Tainan – Adore Space
A special mention must also be given to Adore Tainan – Adore Space, off Minsheng Road near Haian Art Street. This is a two-story former private home with rooftop deck that has one of the most beautifully preserved traditional upscale residence facades in Taiwan, with Hualien marble slabs above the ground and cast-iron latticework grates protecting the windows. Inside, the rooms are retro chic, and the original terrazzo and decorated-tile floors and walling, as well as the colored-tile bathtubs, have been preserved.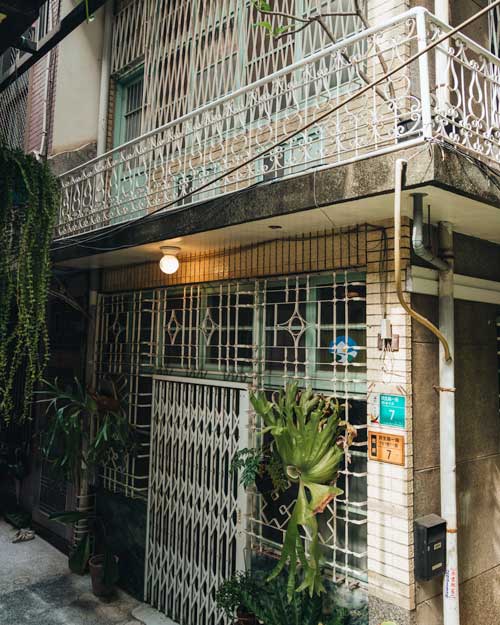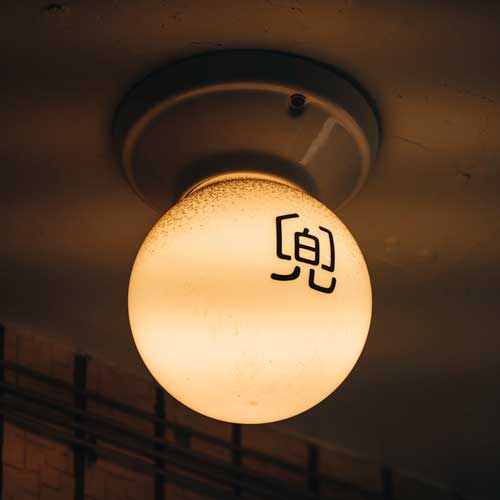 Adore Tainan – Adore Space (兜台南)
Add: No. 7, Aly 11, Ln. 181, Sec. 1, Minsheng Rd., Central West District, Tainan City
(台南市中西區民生路一段181巷11弄7號)
Tel: 0976-399-749
Facebook