City of the Past Now Also a City of the Future
TEXT / RICK CHARETTE
PHOTOS / RAY CHANG

Tainan, this island's first urban center, provides the most powerful introduction to "yesteryear" Taiwan for a visiting traveler. It is filled to bursting with historic sites of national importance, and famed especially for its thick cluster of centuries-old temples. Now, the city's people are also busy taking old places of lesser rank and refitting them for new, more modern missions, and also merrily creating futuristic buildings and other sites that celebrate the most advanced in modern thinking. The delicious, harmonious mix of revered and lovingly preserved old, rejuvenated and repurposed old, and futuristic spanking-new that has arisen is an international traveler's dream.
I proudly lay claim to being a legitimate, true-blue, card-carrying "old Taiwan hand." I came here for a visit, and decided to stay, in Taiwan's "ancient times" – no second north-south freeway, no high-speed rail, no subway lines, no mobile phones, no Internet. Not even cable TV! It was after the horse-and-buggy era, however. For geo-cultural accuracy, let's make that the coolie-and-rickshaw era.
A month or two after landing, mea culpa, I still knew little more of Taiwan geography than my Taipei residential and work neighborhoods. I then learned of a southern city dubbed "Taiwan's Kyoto." Train trip! I spent the five glorious days of my first out-of-Taipei foray exploring hoary Tainan's overflowing jewel house of temples, fortification ruins, and other historical-cultural gems. The story of Taiwan's modern history laid out in a giant bricks-and-mortar exhibit spread out over the city's sprawling old quarter.
Tainan was Taiwan's first walled city, and its capital for over 200 years, until the late 1800s. The Dutch claimed Taiwan in the 1620s, and stayed until the 1660s. We'll be visiting the ruins of their Tainan fortifications, today key tourist draws, momentarily. The Netherlanders attracted Han Chinese by the tens of thousands to come across the treacherous Taiwan Strait and work the land. In 1662 a Chinese political and military leader, Koxinga, tossed the Dutch overboard, and Taiwan found itself under Chinese imperial rule until 1895, when the Japanese took their turn at colonial adventuring, returning to Mother Nippon with its WW II defeat in 1945.
My impression back then was that Tainan didn't seem much to care about taking part in the 20th century. While its main city competitors, Taipei, Taichung, and Kaohsiung, were rushing pell-mell in the pursuit of material wealth, Tainan folk seemed content to dwell in the past. It was then still commonplace to call it Taiwan's "cultural capital." Tainan's long-running role as imperial capital had made it a center of learning and the center of Taiwan's temple culture.
Today, few would not agree that that ultra-modern powerhouse, Taipei, has assumed the "cultural capital" crown. Nevertheless, as an old Tainan friend says, his city has in the past two decades "invited the modern world in with a vengeance." Valuable works of heritage architecture have been renovated, beautified, and made more tourist-friendly. Other old structures have been saved, spruced up, and given new roles as cultural-creative hubs, eateries, boutique hotels, etc. New building is also going on at a brisk pace, creating novel spaces of chic and sleek personality.
Come on along with me for a "new" look at this old city's makeover. I'll also be presenting a quick-dive into the laid-back local lifestyle and Tainan's renowned snack-food culture.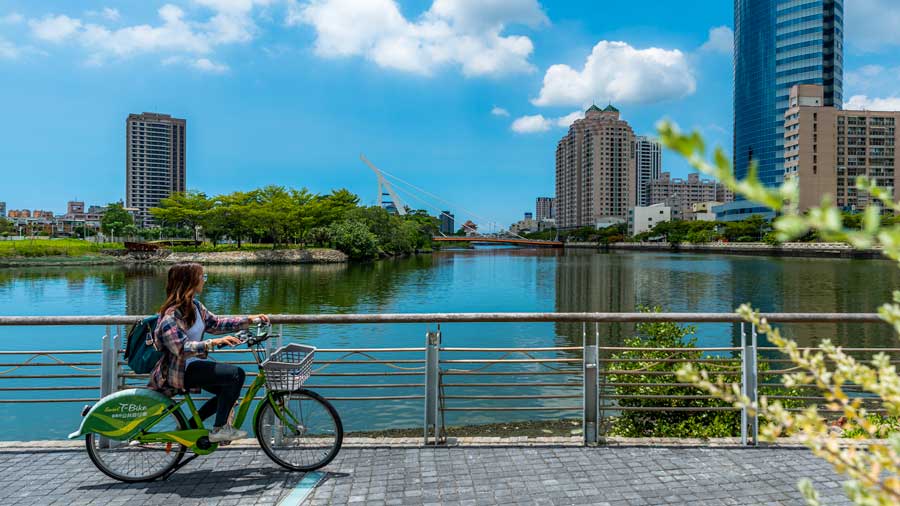 ARCHITECTURE OF DIFFERENT ERAS
Historic Sites
Go to Google Maps and look down on old Tainan from on high. Locate two sites: the Chikan Tower and Anping Old Fort. Between them, to the south you'll see the Anping Canal wending its way through the district. To the north you'll see an expansive patchwork of aquafarms. These two are vestiges of the Inner Sea that greeted the Dutch, which over the centuries largely silted over.
The west side of this shallow saltwater sea was formed by a north-south string of thin, silt-created barrier islands. The Dutch built their mighty Fort Zeelandia at the north tip of one, looking over what they mistakenly thought was the only passage deep enough for larger (i.e., military) sailing craft to exit/enter. Koxinga found a high-tide alternate to the north to slip his armada through, and that was that for the fair-haired Europeans. His troops first took smaller Fort Provintia, on the mainland looking directly across the waters at Fort Zeelandia, now completely cut off from assistance from sea or mainland. It surrendered after a nine-month siege.
In a later section we'll be visiting the Fort Zeelandia site, now known as the Anping Old Fort site, and other neighborhood heritage attractions. In this section we stay in the Fort Provintia neighborhood that took shape, taking in the fort ruins and a couple of other important works of Taiwan-story heritage architecture that date from the same period.
The site where the Fort Provintia ruins are found is now called the Chikan Tower. The fort was erected in 1653, less than 20m from the Inner Sea's shore. It remained largely intact until the Sino-French War in the late 19th century, when the Qing Dynasty governor ordered its demolition, fearing the French would seize and use it as a base. Two classical Chinese-style pagoda-like buildings – the "tower" – were later built atop the raised foundation. Inside you'll find historical paraphernalia from the imperial period along with intriguing period photos. The surrounding grounds are today a Chinese garden sporting manicured trees/shrubs and carp-busy ponds. Archeological digs have proven that a long-rumored Dutch tunnel connecting this site and Fort Zeelandia was, indeed, mere fantasy.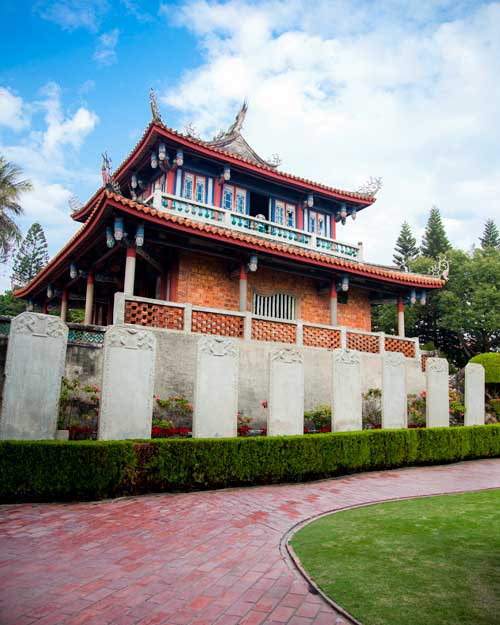 Chikan Tower (赤嵌樓)
Add: No. 212, Sec. 2, Minzu Rd., Central West District, Tainan City
(台南市中西區民族路二段212號)
Tel: (06) 220-5647
The Tainan Confucius Temple is Taiwan's oldest temple dedicated to the Great Sage and Teacher. Also serving as the island's first – and long its premier – educational institution, it was built in 1665 by Koxinga's son as a center for a Chinese cultural renaissance in Taiwan. Restored numerous times since, it remains Taiwan's foremost shrine to this cultural icon, reflecting a classical architectural style otherwise seldom seen on the island. Set in a tranquil garden compound, arched gates and corniced walls divide the complex into a series of courtyards, each with its own halls and special functions. These courtyards originally served as schools for the different branches of classical Chinese studies. Confucius is honored in the central Hall of Great Success, represented by a simple gilded stele of stone. Plaques bearing honorific inscriptions to Confucius from various Qing Dynasty emperors also hang here. Ancient costumes, books, and musical instruments, used in formal ceremonies each year marking Confucius' birthday, are also on display in the temple.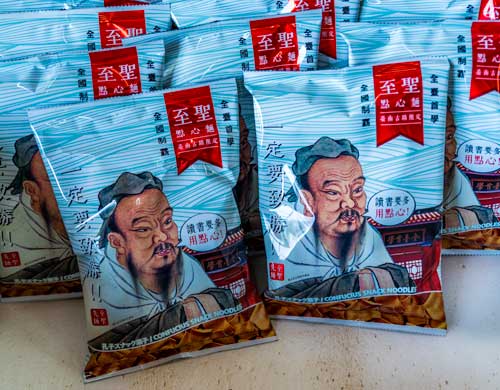 Tainan Confucius Temple (臺南孔廟)
Add: No. 2, Nanmen Rd., Central West District, Tainan City
(台南市中西區南門路2號)
Tel: (06) 221-4647
The Koxinga Shrine complex, sitting within a garden compound of tropical trees and breezy pavilions, was created in 1875 by imperial edict from the Manchu Qing court in Beijing. The main building was built in 1662 as a temple dedicated to Koxinga after his death. A statue of Koxinga stands in the central shrine hall, flanked by sculptures of his two most trusted generals. In the colonnades are enshrined the 114 loyal officers who followed him to Taiwan. An attached museum displays antiques, pottery, paintings, documents, and costumes depicting the great man's life and times. Left in ruins following the Japanese occupation, the shrine was fully restored after World War II, with major follow-up work in 1962.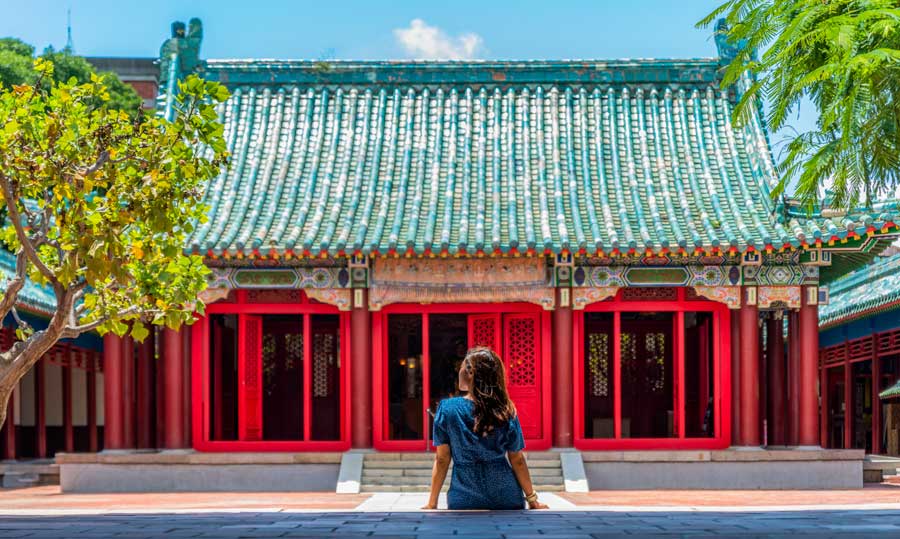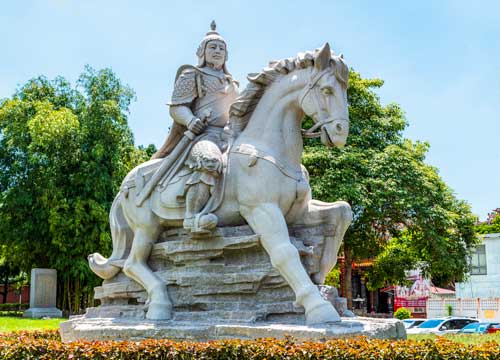 Koxinga Shrine (延平郡王祠)
Add: No. 152, Kaishan Rd., Central West District, Tainan City
(台南市中西區開山路152號)
Tel: (06) 213-5518
Modern Sites
In the city's dedicated efforts at modernizing, elderly architectural works are being redefined and given new functions. As well, visually magnetic brand-new creations that are purpose-built are steadily coming on-line. These add new landscape flair to the city while blending comfortingly with the architectural past.
A prime example in the first category, repurposed works of older architecture, is the Tainan Art Museum Building 1. This is the converted former Tainan Police Department building, designed in Art Deco style by a Japanese architect and built in 1931. The appealing façade features ochre-hue bricks and tiles. This property, an official city heritage site, is the oldest police station building in Taiwan.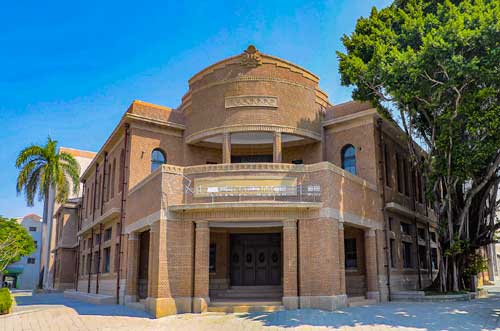 After Taiwan was handed over from Japan to the Republic of China in 1945, the facility was renamed as the Tainan City Police Department. The city police vacated the site in 2011. The refurbished work is home to a total of 16 museum galleries (this includes display space in a new building directly behind the main building, the two attached to each other in a high-ceilinged transition space defined by floor-to-ceiling glass). The main focus of the Tainan Art Museum is preservation of the artistic and historical legacy of Tainan, with the aim of integrating this art so it becomes a seamless element in modern daily life.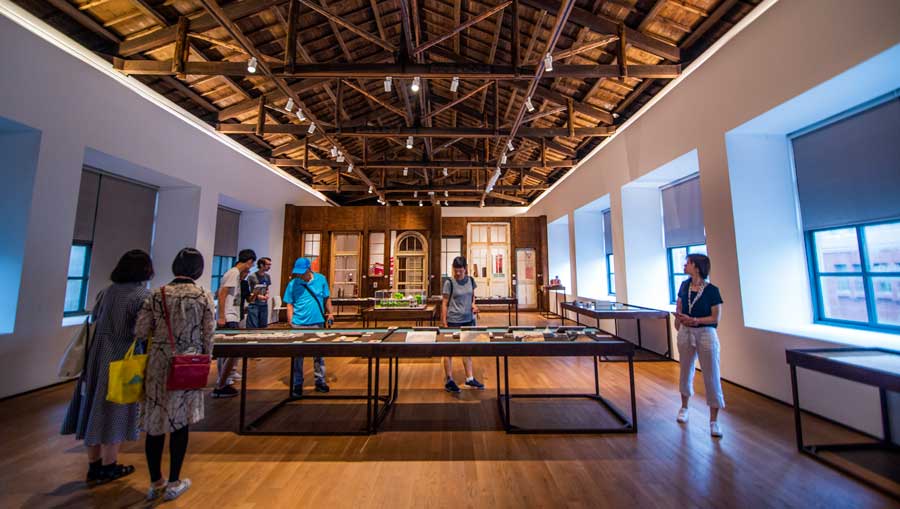 Tainan Art Museum Building 1 (台南市立美術館一館)
Add: No. 37, Nanmen Rd., Central West District, Tainan City
(台南市中西區南門路37號)
Tel: (06) 221-8881
Website (Chinese)
Another prime example in the first category is The Spring, which is a most unusual public plaza. In this instance, it was decided that an old building did not have heritage value, and the space has been reoriented for a new function with some useful elements of the original facility retained. The Spring is a 1.54ha open-air public space – a sunken park and public wading pool with tree-dotted islets – created below street level in what was once the below-ground parking facility for a 1980s-built mall. The city government decided to demolish the vacated shopping center, and wanted to replace it with something that introduced more greenery into a neighborhood environment thought overly defined by concrete.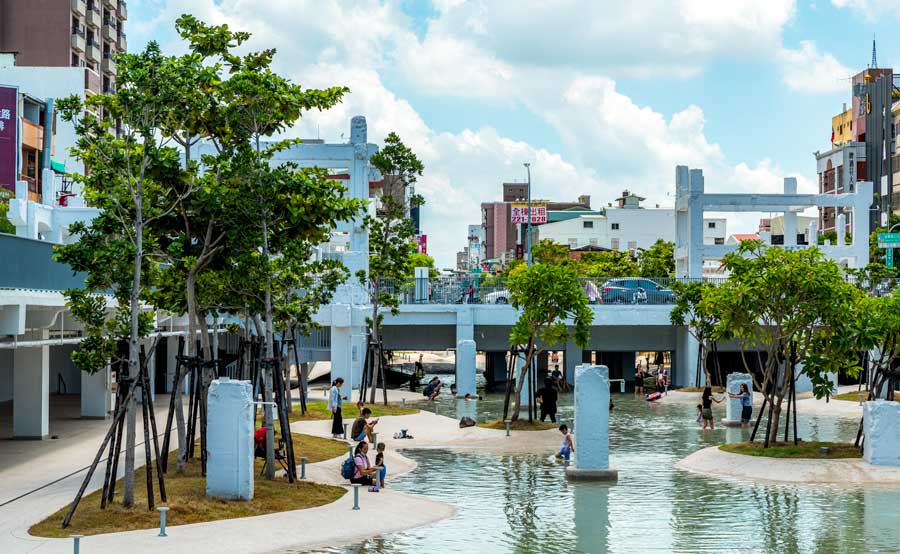 The architecture firm that handled the case redesigned the space as a "lush lagoon," introducing plant life that will "develop into a lush jungle" over time. Visitors quickly forget the urban busyness above them; the surrounding road traffic is completely out of view, and for the most part unheard. A skeletal framework of original columns and beams (all now whitewashed) has been left in place, primarily for aesthetic effect. The arcades along the sides provide shade when a strong sun is out, and in summer water-mist spray helps keep the alfresco area cool.
The Spring (河樂廣場)
Location: At the intersection of Sec. 3, Jinhua Road and Zhongzheng Road
Facebook
A leading example in the second category, purpose-built new works of architecture with bold cutting-edge designs, is the Tainan Art Museum Building 2. As another Travel in Taiwan writer so aptly put it in a previous article on Tainan, this "is a striking purpose-built structure. It's been variously likened to a mockup for a base on Mars and to a ziggurat. Some say the external stairways make them think of the drawings of M.C. Escher." The inspiration for the exterior design was the flamboyant flame tree (Delonix regia), which was brought to Taiwan during the Japanese colonial era and is Tainan's official tree.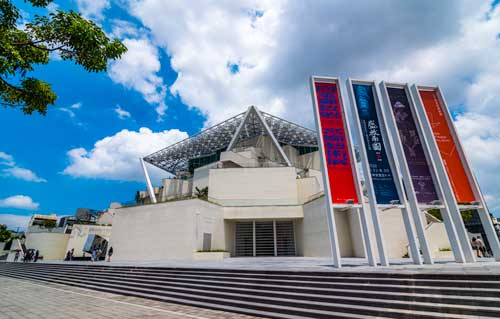 The conspicuous pentagonal contours, building block-style layered exhibition spaces, and dramatic fractal roof canopy immediately made the building a Tainan architectural landmark. Travelers with an especially keen interest in Chinese temple art should take note that the museum has a superb exhibit showcasing preliminary sketches crafted by artist Pan Li-shui, a Tainan native son, recognized by many as perhaps the greatest temple painter of the 20th century. This new facility houses a total of 17 museum galleries.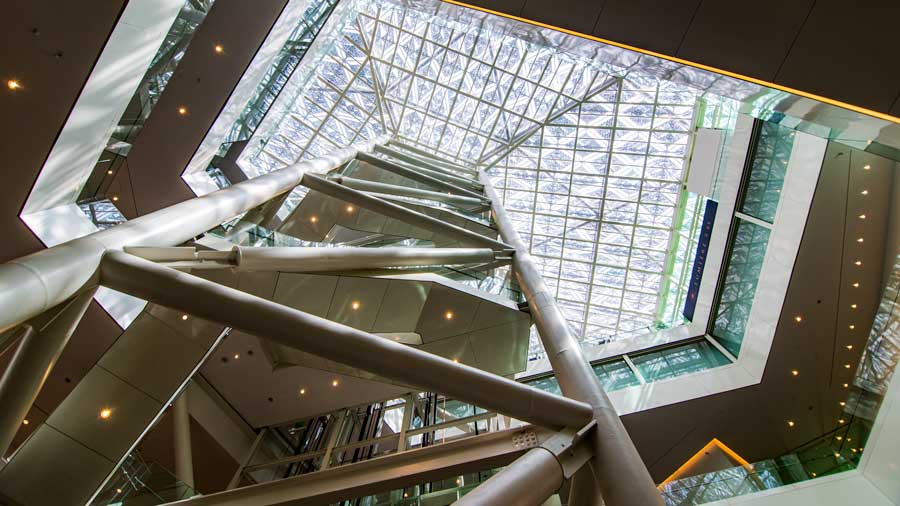 Tainan Art Museum Building 2 (台南市立美術館二館)
Add: No. 1, Sec. 2, Zhongyi Rd., Central West District, Tainan City
(台南市中西區忠義路二段1號)
Tel: (06) 221-8881
Website (Chinese)
PAST AND PRESENT OF ANPING
The west side of the Anping area, today formally called the Anping District, borders the Taiwan Strait. A short distance inland is its heart, a heritage-rich neighborhood where Taiwan's modern history began. This was the first urban area to form on the island. Anping is officially a Taiwan Top Ten Tourist Town (a list based on public voting compiled by the Taiwan Tourism Bureau).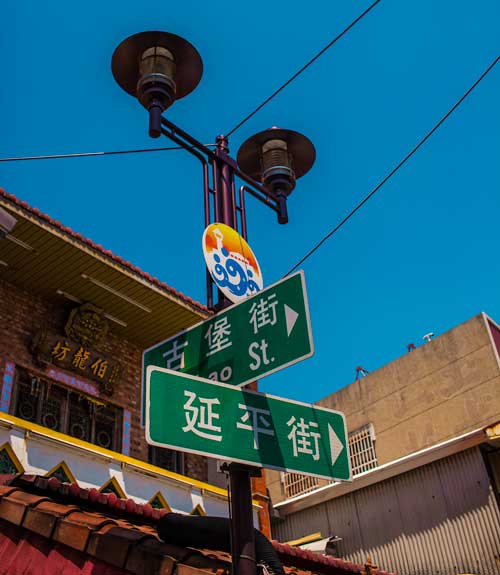 At the center of it all is the expansive Anping Old Fort tourist attraction, home of the remains of Fort Zeelandia. The fort was begun by the Dutch in 1624, then heavily reinforced between 1627 and 1634. Bricks were held in place with a unique mortar made of sugarcane syrup, glutinous rice, and crushed oyster shells. Over time the great structure slowly became a ruin, the result of earthquakes, typhoons, and the pilfering of bricks by local residents – and Qing Dynasty soldiers building the nearby Eternal Golden Castle, which we'll visit in a moment. A large section of one wall, covered with banyan roots, is still intact. Local authorities have identified other remnants long hidden away on surrounding private property, and have made some of these accessible to the public.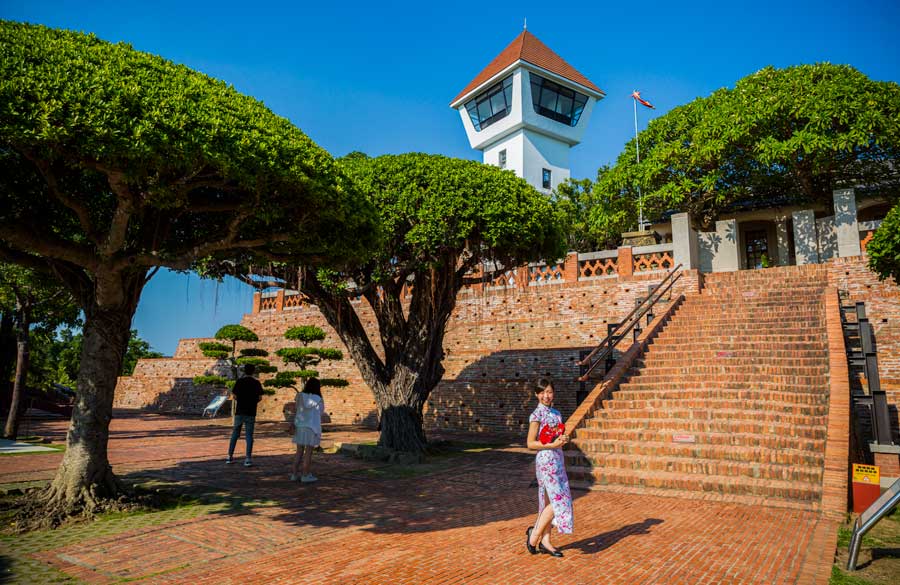 Other on-site features include a former customs house built by the Japanese atop a tiered base, and an observation tower built in the 1970s. Though the shore of the Taiwan Strait is now kilometers away, the enlightening area views make the steep tower climb well worth the effort. In the museum facilities are period paintings, maps, and relics of Tainan's colonial past, as well as a fine model of the site as it looked in the 1650s.
Anping Old Fort (安平古堡)
Add: No. 82, Guosheng Rd., Anping District, Tainan City
(台南市安平區國勝路82號)
Tel: (06) 226-7348
Immediately north of the Anping Old Fort is a highly popular heritage-attraction duo, the Old Tait & Company Merchant House and, directly behind, the Anping Tree House, that have only been opened to the public in recent years. Built by a British trading firm after China was forced to open ports to Western trade in 1858 after the Second Opium War, the merchant firm vacated the site after the colonial Japanese moved to dominate the lucrative camphor and opium trades. Inside the breezy, graceful arcaded colonial-style trading house are displays on the area's imperial-era history. The treehouse, originally conjoined warehouses, has been completely overrun by massive banyan trees, sculpturing a fairyland warren.
Old Tait & Company Merchant House (德記洋行)
Add: No. 108, Gubao St., Anping District, Tainan City
(台南市安平區古堡街108號)
Tel: (06) 391-3901
Not far south of Anping Old Fort is the Eternal Golden Castle, which stands alongside the Anping Canal. It was built by the Chinese in the 1870s, fearful of the Western colonial powers and a strengthening, confident Japan. Designed by a Frenchman, massive bastions are found at the ends of the four high, thick walls, surrounded by a moat making enemy access even more problematic. On display inside are giant cannons and archeological digs. Paddleboat rentals are available for moat rides.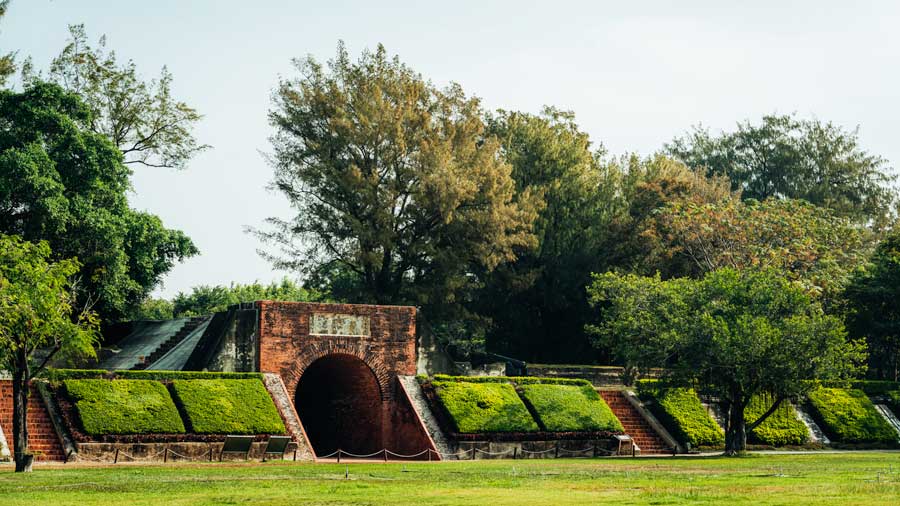 Eternal Golden Castle (億載金城)
Add: No. 3, Guangzhou Rd., Anping District, Tainan City
(台南市安平區光州路3號)
Tel: (06) 295-1504
Sightseeing cruises on the old Anping Canal were launched a few years back. The 1-hour outings begin at the Anping Fisherman's Wharf, and take you on a giant 10km loop around the district, along the way passing the Eternal Golden Castle and crossing busy Kunshen Lake (Tainan's ship harbor). Along the way, a bonus thrill is the repeated call to dive below gunwale level before your craft tucks, barely, underneath three low-slung older bridges
RESTORATION OF HISTORIC SITES
Up until the early 20th century, when major work was required on temples in Taiwan it was the norm to call in masters from China. Many if not most of these temples had in fact been built by imperial-era Chinese master craftsmen.
Things have since changed. Under the rule of the Chinese Communist Party the cultural inheritance on the mainland was devastated, with the Cultural Revolution the most infamous period of destruction of bricks-and-mortar treasures and of knowledge. While there have been signs of recovery, the restoration work in that environment is often driven by considerations well removed from historical honesty/accuracy.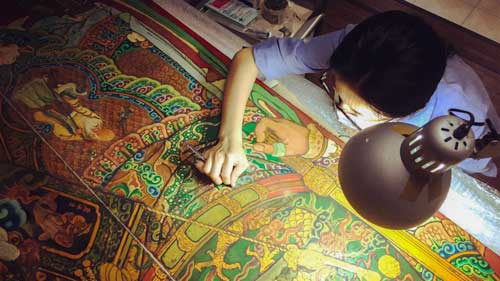 Taiwan, in contrast, has been the main bastion of the true, unadulterated Chinese cultural inheritance. Local temple-arts masters are now the standard bearers when expertise is required in such places as Singapore, Hong Kong, and beyond. It should be no surprise that Tainan, the imperial-era capital and still the core of Taiwan temple culture, is where the best of the best and the densest cluster of these national treasures are found. Let's meet one.
Cai Shun-ren came to temple-restoration work from his artist studio work. When things needed repair in his studio, he learned to handle everything himself, and became ever more interested and more adept, at the same time learning ever more about temple art. After spending 10 years abroad, he returned to Taiwan in 2012 and quickly found there was a generational gap here. The younger generation did not understand the art and technique involved, the attitudes required for this craftwork industry, and the precious value of this technology inheritance. He sees himself as a bridge between the generations, preserving this heritage and ensuring it is passed on to future generations.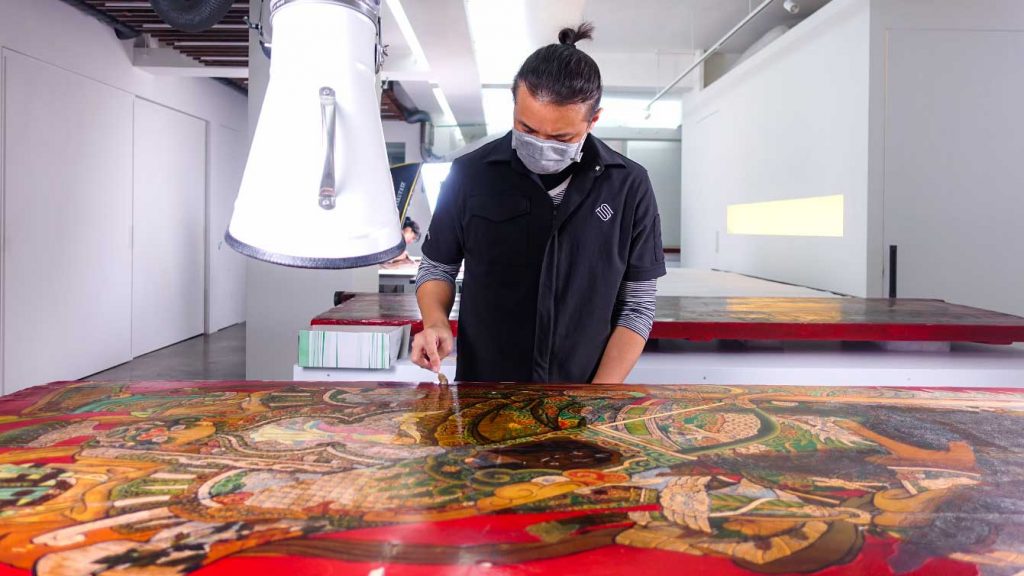 Cai engages on a wide range of temple-restoration work, from deity statues to horizontal inscription plaques. Among his major projects in Tainan have been the Baihe Daxian Temple, a major Buddhist temple over three centuries old in Tainan's rural Baihe District, and the Guandi Temple of Bajijing in the city's old quarter, also over three centuries old and home to door gods and frescoes painted by the earlier-mentioned Pan Li-shui.
During each project, the most difficult element is not the actual restoration work that he himself does, but the communication and negotiation required with the full team participating in the project, to ensure all work is done correctly. The key is for Cai to first make enlightened, accurate judgments on all required work, by pulling together reliable pictures and historical details.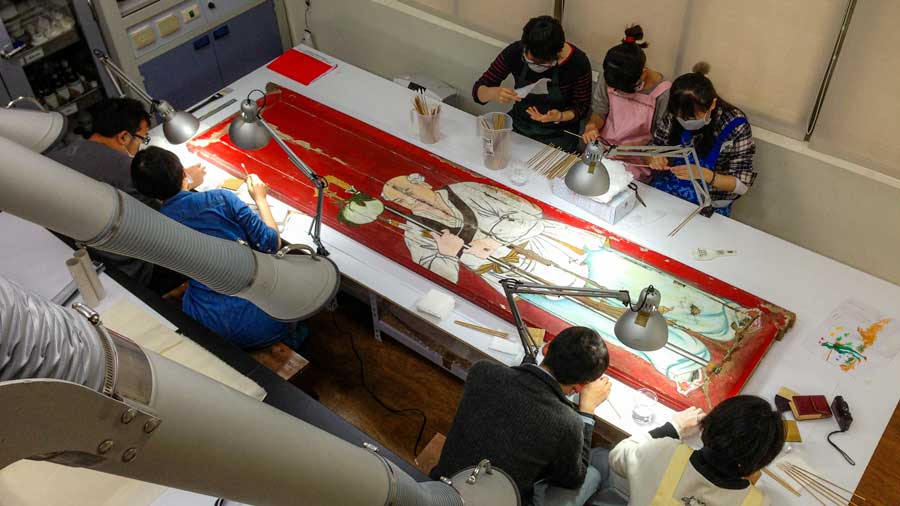 As to what projects he takes on, and which have the highest cultural value, he states that the public perception that the oldest and most famous must be of the greatest value in restoration is not entirely accurate. For a true professional, every project is taken seriously. Everything that is broken or has deteriorated deserves to be fixed properly, and so as long as there is sufficient information for him to trace an item back to its origins, he will be able to bring his best in fixing it. To him, every creation that has been passed on by earlier generations that have now themselves passed on, helping to create the homeland he so deeply loves, is priceless.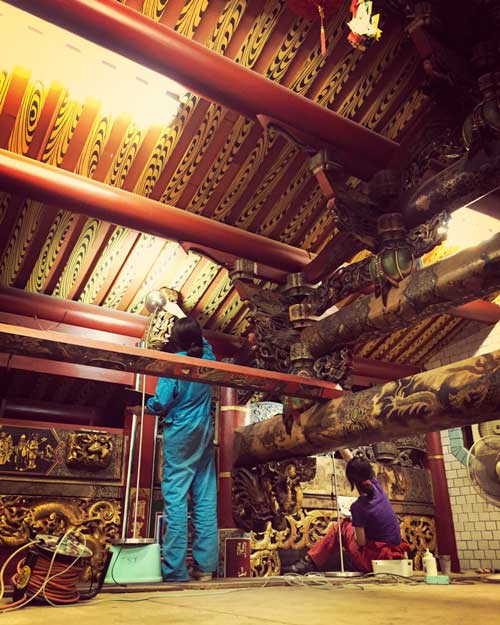 His desire for the future is that his professional attitude will help educate people in Taiwan on correct concepts regarding heritage restoration, and to establish SOPs so that such work is not hindered by people's personal ideas and preferences. "Right attitude" is key in this industry. As well, by establishing international-caliber standards with his crew, his studio will stand ready to support projects in other regional countries when they have buildings or historical items that need fixing.
LOCAL LIFESTYLE, TRADITIONAL FOODS
The city is known for its relaxed, easygoing personality. While the two cities at the north and south ends of the western plains, Taichung and Kaohsiung, were long known primarily for their dense cluster of light- and heavy-industry enterprises, respectively, Tainan was associated with more cultured living – scholastic institutions, cafés, temples, night markets, and so on. Perhaps more than anywhere else in Taiwan, Tainan folk love long and leisurely evenings spent with friends at genteel public gathering spots. As a general statement this today still includes the younger crowd, which save for the night markets seems to have more of a preference for laid-back cafés, bars, and eateries than for nightspots with bright lights and thumping music, as is common in Taipei, Taichung, and Kaohsiung.
Among the hottest destinations is old, narrow Shennong Street, tightly packed with two-story heritage shophouses from the Qing Dynasty and Japanese colonial eras. In imperial times transport canals ran parallel to the street on either side. Today the artery is home to an alluring mix of old-time residents and Tainan-local newcomers who run cafés, eateries, bars, teahouses, and cultural-creative enterprises. The road surface has been redone in brick, retro-style streetlamps provide a romantic nighttime glow, and the beautified façades are fetchingly iconoclastic. Be sure to drop in for the hand-made treats at Win Win Dessert shop, at no. 88, where the signature creation is xiancao (herbal jelly), an old-time Taiwan snack cooling/warming favorite.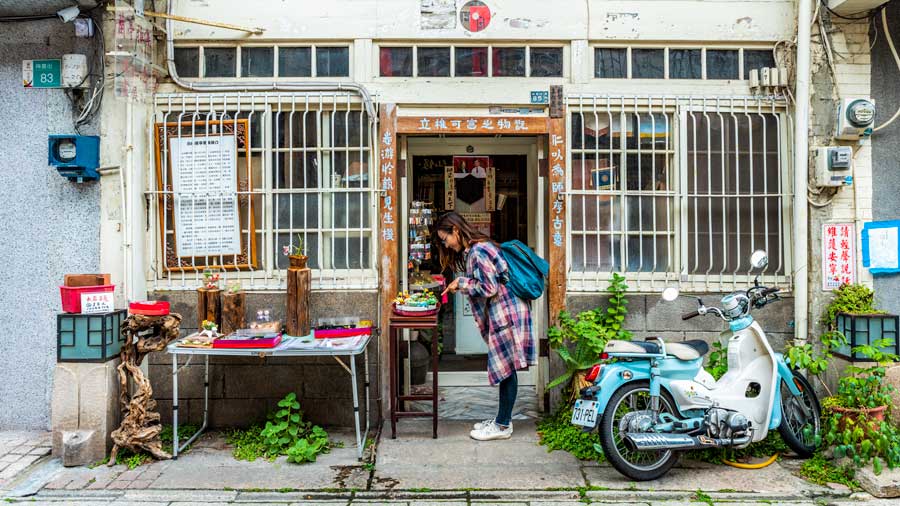 Win Win Dessert (一銀甜品)
Add: No. 88, Shennong St., Central West District, Tainan City
(台南市中西區神農街88號)
Tel: (06) 220-1110
Facebook
While it was Taipei that applied for UNESCO City of Gastronomy status about a decade ago and that was granted a Michelin Red Guide edition in 2018 (expanded to include Taichung last year), it is Tainan that has long been known among islanders as Taiwan's culinary capital. In the culinary sphere, its special claim to fame are its many distinctive snack delicacies. Snack vendors seemingly without end are set up within the Yongle Market, among the city's most venerable and beloved traditional markets, which does double-duty as a big tourist draw. Bring the biggest appetite you can muster for a food crawl; here are just a few of the Tainan snack-food classics you can hunt down: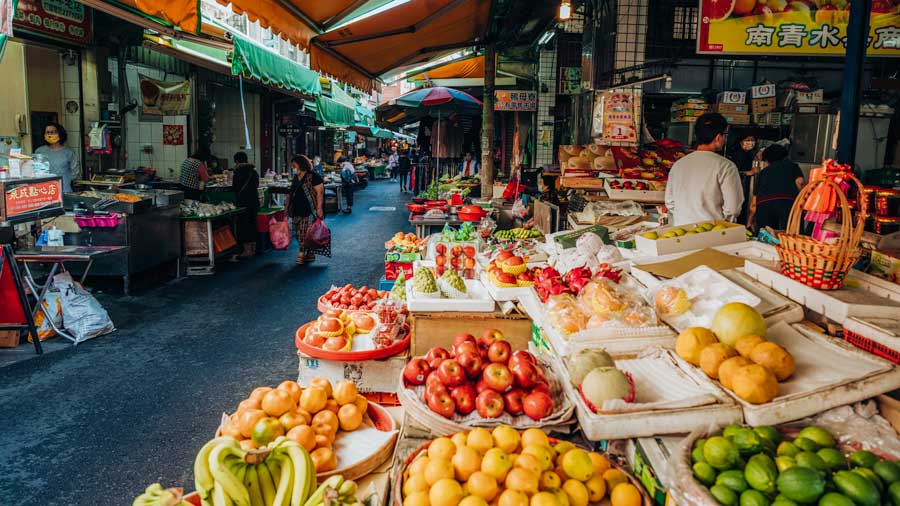 Shrimp rolls/biscuits – Long Taiwan's major port, it will be no surprise that seafood is a major player on the Tainan snack stage.
Cuttlefish vermicelli – Most vendors offer thick/thin vermicelli options. The soup base is slightly sweet. South Taiwan adds sweetness to many savory culinary creations, the legacy of its sugarcane-production days (see box below).
Guoshao ("pot burn") noodles – Especially popular during the cooler months; the key ingredient is fried eel, along with other seafood, meat, and veggie goodies.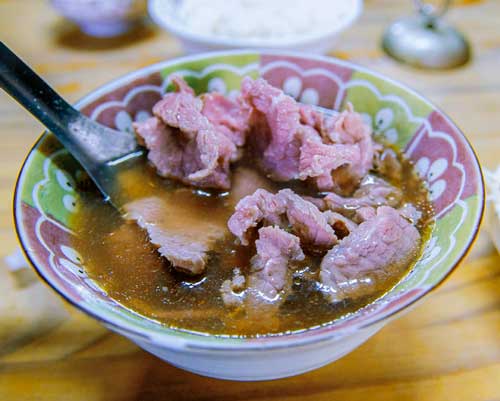 As well, don't miss out on two other Tainan culinary stars with creative monikers, danzai ("shoulder pole") noodles and coffin bread. Why so named, you ask? Why, we'll leave that up to your own in-Tainan culinary sleuthing. Claiming writer privilege, special mentions must also be given to the dan dan noodles, beef soup, rice cakes, and fruit ice.
Recommended Gift Purchase – Peng Cakes
These tasty snack treats, created somewhere around a century ago, are a favorite Tainan gift buy. They are puffed-up pastries with a very thin outer layer that is crunchy and crumbly and, inside, a "hollow" inside the rounded top and caramelized brown sugar on the bottom. The word peng means "puffed up" in Taiwanese. Think of the onomatopoeia involved – the "peng" sound evokes the act of puffing up. In the past the Tainan region was an important sugarcane-cultivation area, with the Japanese creating industrial-scale cultivation and refining during their period of rule. Today, numerous Japanese-built sugar refinery complexes around the island have become tourist attractions, home to varied cultural-creative enterprises. Taiwan's brown sugar is more flavorful, more aromatic, and less refined than what is generally consumed in the West. Think instead of a medley of flavors – brown sugar, molasses, maple syrup. Try out the peng cakes and other old-style baked goodies at Bao Lai Xiang bakery, in business 70-plus years, at No. 8 Shennong Street in the hallowed old-fashioned Shuixian Temple Market.
Bao Lai Xiang (寶來香餅舖)
Add: No. 8, Shennong St., Central West District, Tainan City
(台南市中西區神農街8號)
Tel: (06) 227-6886
Facebook
More Info
The following online destinations are recommended as especially valuable "all things Tainan" knowledge sources: Tainan City Govt., Taiwan Tourism Bureau, Southwest Coast National Scenic Area (coastal area north of city core).

As well, check out our numerous articles on the city over the years in our Travel in Taiwan back issues.