Exploring a Quiet Corner of Semi-Rural Taichung on Two Wheels
TEXT / AMI BARNES
PHOTOS / RAY CHANG, VISION

Cutting through three districts in semi-rural northwestern Taichung, the Tanyashen Green Bikeway is one of numerous new rail trails that have proliferated throughout Taiwan in the past decade or so. Its 14km length holds much to pique the interest of visiting cyclists – from flamboyant seasonal-flower displays to scenic photo spots, and a number of enriching side trips – collectively elevating this route from workaday workout to intriguing excursion. What's more, the addition of safety-enhancing dedicated bike bridges and multiple play parks make it a great option for families wanting to get out and exercise together.
In recent years an ambitious plan to create a nationwide cycling web has seen a multitude of bikeways constructed across the length and breadth of Taiwan. One feature many of these routes share is that they adhere to lines cleaved by decommissioned railways. Examples of this type of upcycling abound: Yilan County in northeast Taiwan has the Annong River Bikeway (a historic logging-railway route), the Taolin Bikeway in Taoyuan follows an old coal-train track, whilst the Yufu Bikeway in southern Hualien County traces part of the original trunk railway line through the East Rift Valley.
You could say Taichung is something of a trendsetter in this drive to promote two-wheeled transport. It lays claim to having created Taiwan's first rail trail (Dongfeng Bicycle Green Way), and although the Tanyashen Green Bikeway was only the city's second designated cycle route when it opened in 2004, various other trails have since been added to the network, and you'll now find miles and miles of interconnected pathways spanning the whole city.
Tanyashen Green Bikeway
The Tanyashen Green Bikeway straddles three semi-urban districts to the northwest of Taichung's urban core, starting close to Tanzi Station, cutting through Shengang District, and finishing in Daya District. ("Tanyashen" is short for Tanzi, Daya, and Shengang). The 12km route follows the decommissioned Shengang Line – a military freight line which was operational from 1957 to 1999 – and like many of Taiwan's new clutch of bikeways, this one traverses landscape that is worth exploring. More pertinently for those who like myself are infrequent riders, it is clearly signposted and mercifully flat.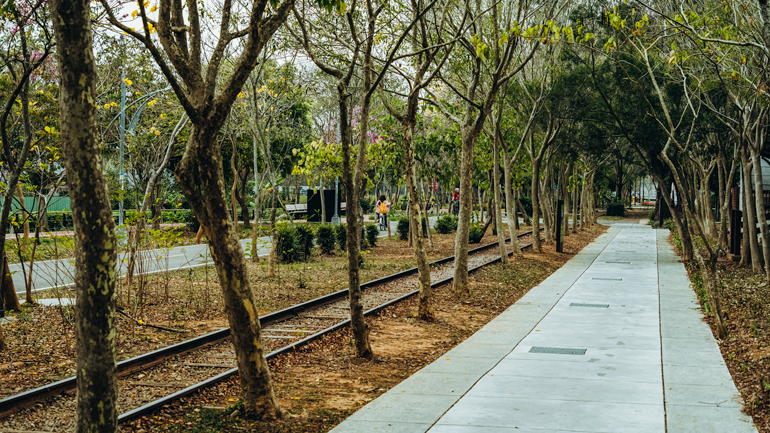 Getting started is straightforward – bike-rental stores and three YouBike public bike-rental stations can be found close to the bikeway (check the YouBike website, www.youbike.com.tw, for locations and availability of bikes). If you're bringing kids along, the rental stores are the most practical option since they charge by the day and offer a range of children's bikes and baby seats. E-bikes are prohibited along much of the bikeway, so on a recent Travel in Taiwan trip to learn more about the bikeway we chose pedal bikes (NT$100/day) from the Songmeng Bike Rental Store, which is located next to Chariot Park (aka Tank Park) close to the western end of the route in Daya (11.4km marker). This park is one of numerous places where the district's military connections are on display. (The "chariots" that give name to the park are in fact tanks – three huge, retired M48A3s.)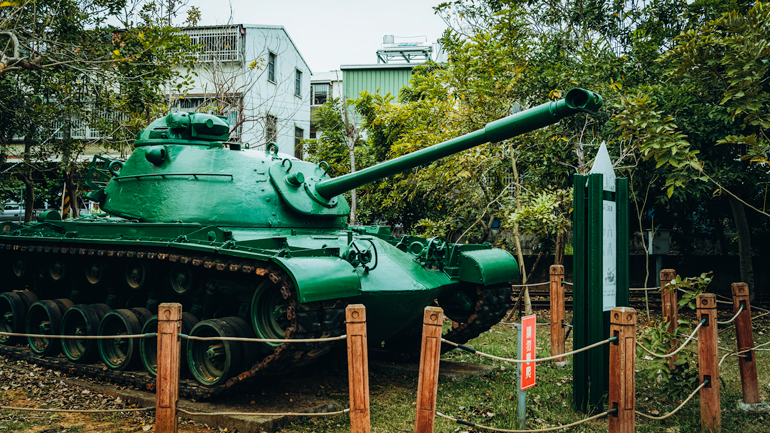 From the park we rode northwards under hazy pastel skies in search of some of the scenic spots that the Tanyashen Green Bikeway is known for. Off both sides of the trail is a mix of small-scale agriculture and light industry, coupled with clusters of residential buildings, parks, coffee shops, and a smattering of temples. Soon we were cruising over smooth asphalt through a green tunnel of Taiwanese rain trees. In early March they are covered in recently spouted new growth, but in October their branches will be weighed down with abundant coral-pink flowers. Indeed, floral displays are one of the main attractions along the way, with each season offering a different palette of colors. On our visit we saw stands of golden trumpet trees, branches brandishing giant pom-poms of yellow blossoms, and meadows of delicate floss flower abuzz with the to-ing and fro-ing of hundreds of garden white butterflies.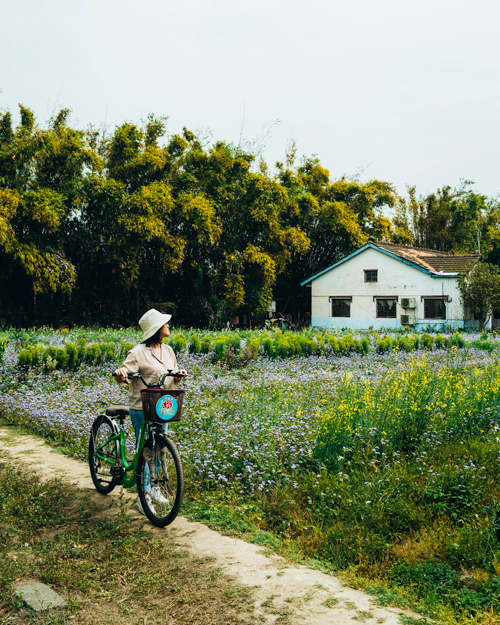 Knowing that the cycle route used to be a military railway, I had fun spotting vestiges of its previous life. In places the old track has been incorporated into the bikeway, station platforms have been repurposed as rest stops, and an old water tower has been maintained, with the addition of several pumps outside (at least one works, because I watched a local grandma use it to fill a bucket which she then loaded onto her scooter). Elsewhere I noticed a sentry box, an F-5E fighter jet, and a myriad of modern additions paying homage to the area's military history. However, the award for most creative take on the theme goes to Zunqian Ren'ai Park (7.45km marker), which has plane motifs everywhere (it abuts Taichung Airport), and a sandpit built into a curved wall styled like a bunker.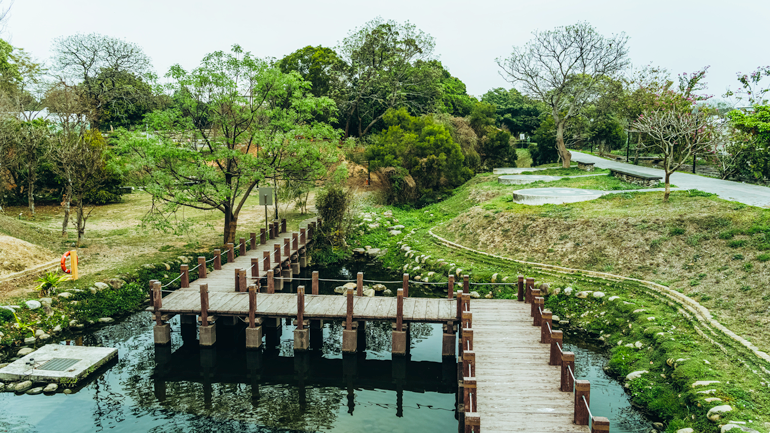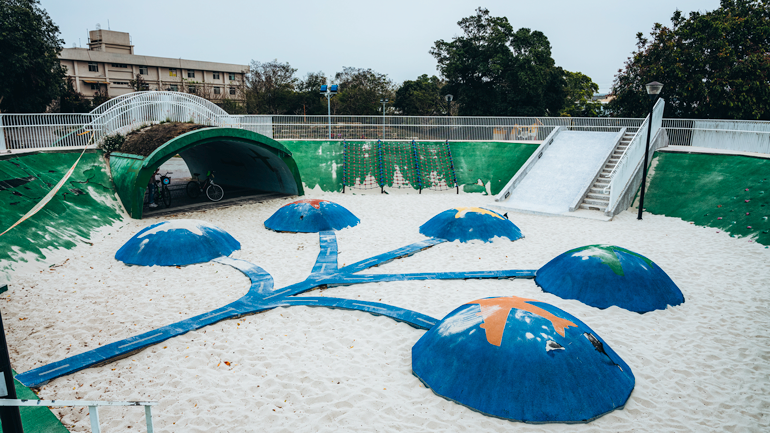 Our goal was to make it as far as the picturesque "S" bends around the 4.8km marker, and after we'd taken some photos there we turned to head back. For those interested in historic buildings, however, it's worth pushing on a bit further to take a look at the stately Zhaixing Mansion, a Qing Dynasty Fujian-style dwelling which is open to the public.
Our return journey was smooth and quicker than the outbound trip, but when we returned to the rental store we found its owner had popped out for lunch. A brief phone call and several minutes later, he pootled back on his scooter and we were on our way once more – this time on four wheels and in search of a well-earned meal.
Songmeng Bike Rental Store – Daya Branch
(松錳租車連鎖店-大雅店)
Tel: (04) 2565-3842
Add: No. 16, Ln. 328, Yuexiang Rd., Daya District, Taichung City
(台中市大雅區月祥路328巷16號)
Website (Chinese)
Paper Museum – Paper Space
One side trip that fits in nicely with a day out on the bikeway is a visit to Paper Museum – Paper Space. Occupying a large, blocky unit on Shengang District's Shenlin Street (just 300m from the bikeway's 6.2km marker), Paper Space is an exhibition cum workshop cum paper store which sprouted from the established Taiwanese paper brand Paper Museum.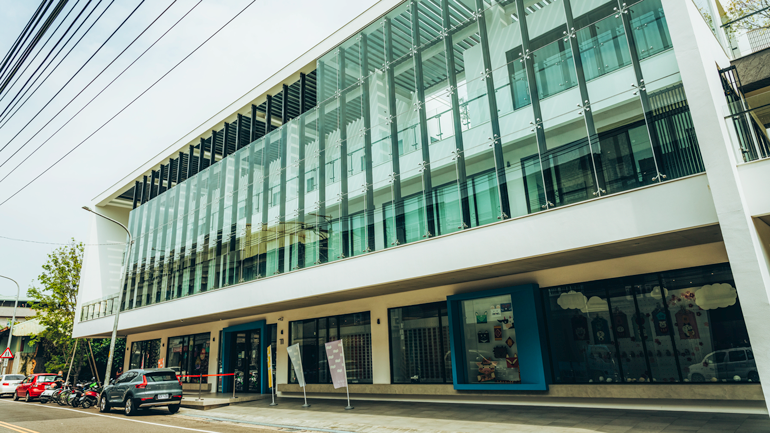 Inside there are floor-to-ceiling cascades of paper decorations – they claim to have over 5,000 types of paper in almost 30,000 different colors, and whilst I didn't count, those numbers certainly seem plausible. Examples of paper crafts range from the humorous (a life-size paper barbecue), to cute (plump paper sheep), to the exquisite (delicate laser cut designs). The artefacts show paper at its most versatile, and being surrounded by so much inventiveness was inspiring. I itched to unleash my creative energy.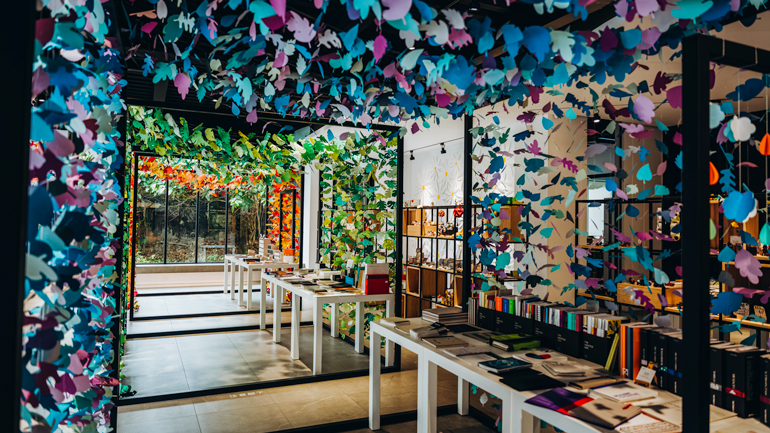 Fortunately, having anticipated that the artwork would have this effect, Paper Space provides a DIY area on the second floor replete with glue, scissors, and crayons where visitors are invited to try their hand at making their own paper masterpieces. I had a go at folding an omamori (one of those hanging Japanese-style amulets people write wishes on), and I left with lots of ideas that will be put to use on future birthday cards.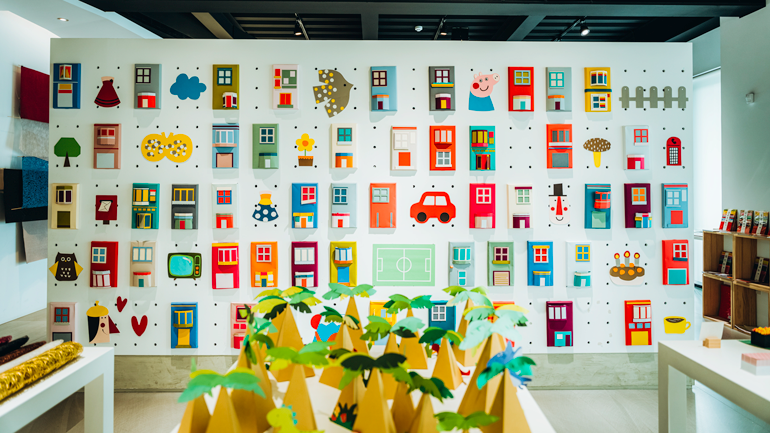 If you find yourself similarly motivated to get your craft on, you'll be pleased to know that the store stocks a wide range of books on paper art and paper making, as well as all of the related materials that you'll need to get crafting.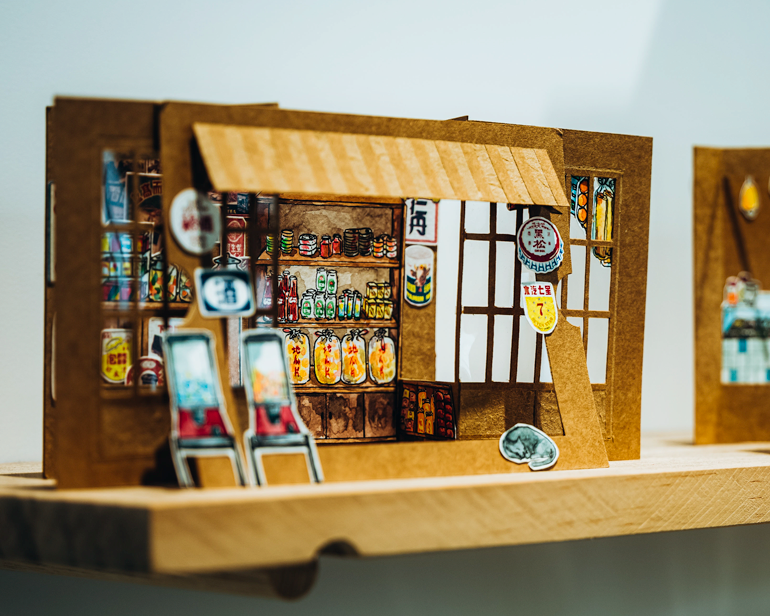 Paper Museum – Paper Space
(紙博館 – 紙的空間)
Tel: (04) 2563-1213
Add: No. 11, Shenlin Rd., Shengang District, Taichung City
(台中市神岡區神林路11號)
Website (Chinese)
Daya Wheat Fields
Local tourists – particularly the Instagram crowd – love a good field with crops ripening or grass swaying. As a village girl from the UK, this fondness for fields always used to amuse me, but I've slowly warmed to the romantic charm in a sea of sunflowers or the pastoral drama of luminous-green rice paddies against a backdrop of brooding mountains. One perfect exemplification of this phenomenon can be found amid unassuming agro-industrial surroundings just a short detour away from the Tanyashen Green Bikeway. What is Daya District's unique claim to field-related fame? Its wheat crop – an uncommon sight in Taiwan. A further discombobulating element is the timing. Back home, vast swathes of golden countryside are something I associate with the dog days of summer, but here the summers are too hot for wheat to survive. So instead I found myself surrounded by swaying, almost harvest-ready stems under springtime overcast clouds.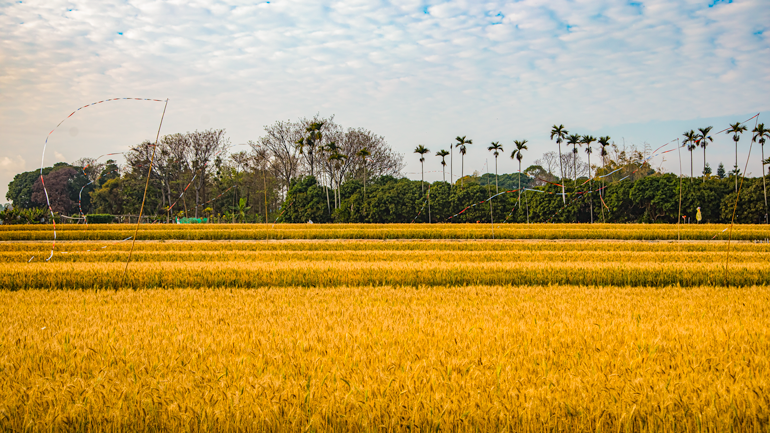 The landscape really does lend itself to photography, and one trend amongst the local young and beautiful is to have their photograph taken with a carton of Mai Xiang milk tea (which has an image with wheat ears on the packaging). If you're keen to get a shot of yourself sipping grain-flavored milk tea next to one of the scarecrows, there are two things to bear in mind. Firstly, you'll need to come at the right time (harvest season is mid~late March, and the fields are only golden for a couple of weeks prior to that). Secondly, the wheat is the farmers' livelihood, so be respectful of their requests for tourists to stay on the dirt paths and roads along the fields.
Norway Forest Travel Hotel 1
From the moment you enter the lobby of Norway Forest Travel Hotel 1 (there is also a Norway Forest Travel Hotel 3 nearby), it's clear that great care has been taken to decorate the hotel in a way that will delight and entertain visitors. Between the cutesy fairytale Takao Nakagawa artwork in the hallways, the Alice in Wonderland-esque breakfast room, and the riot of colorful patterns on almost every surface, I felt as if I was in an oversized funhouse.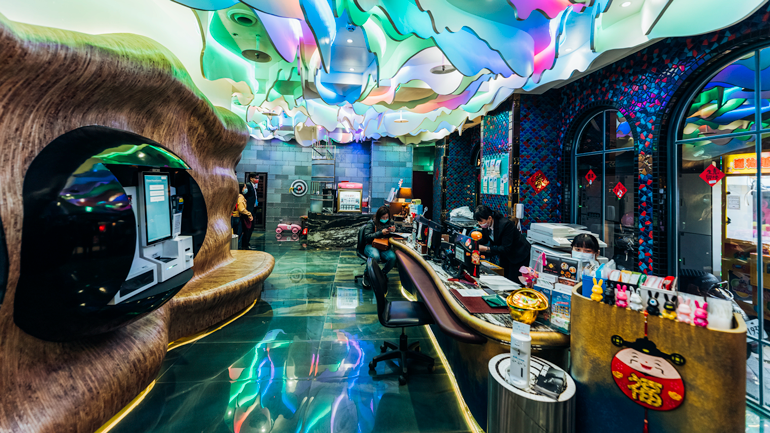 Upstairs, the guestrooms are a little more understated, more restful, but even there we found pleasing touches. While I was showering, my companion pressed what she thought was the bedside light, only to discover a hidden display of flashing colored LED lights.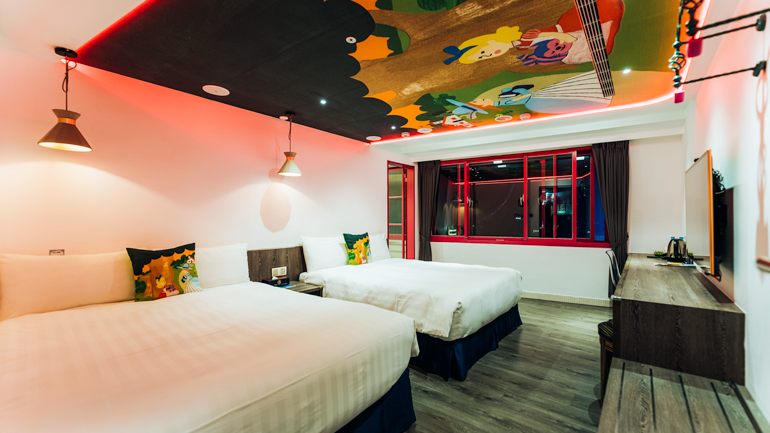 Adding to the hotel's appeal is its extreme convenience. Situated in the heart of central Taichung, the entrance is within a literal stone's throw of Taichung's historic and modern train stations. Guests coming by car will find plentiful parking nearby, and the city's main bus-stop terminal is a minute's walk away. There's even a YouBike station within sight of the front doors.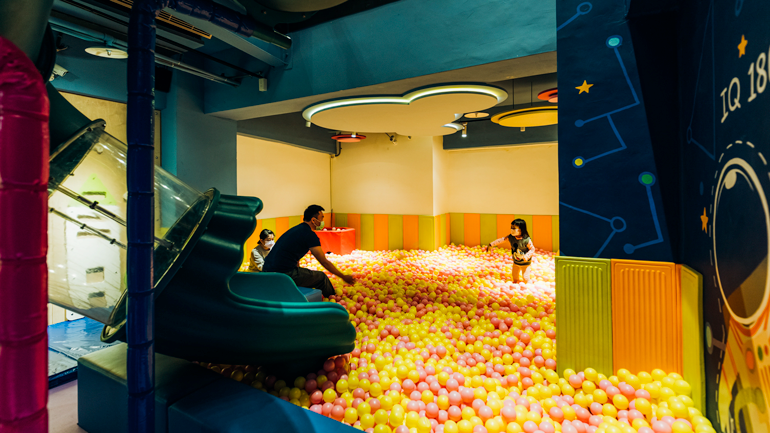 However, the hotel's biggest draw is undoubtedly the multilevel playrooms (one catering to kids over three, with a separate soft creche area for the littlies). The star of the show is a helter-skelter slide which spirals down from the first floor to land in a basement ball pit. One of my travel mates asked if adults were allowed on it. "Sure," a staff member responded, with a smile that told me that he almost certainly has a go when there are no guests around.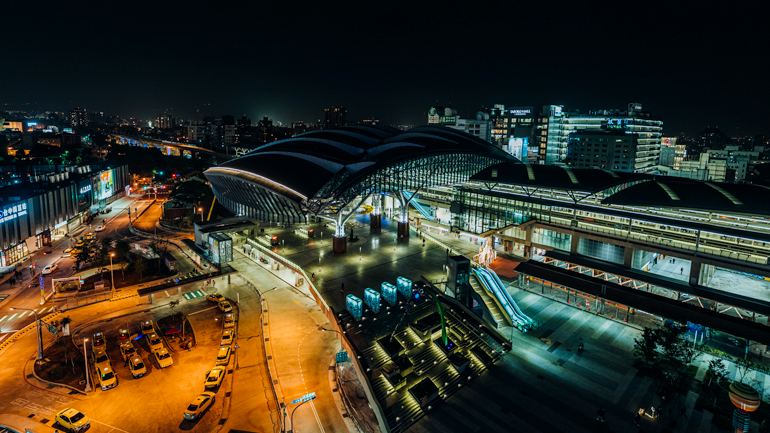 Norway Forest Travel Hotel 1
(挪威森林台中行旅1號館)
Tel: (04) 2229-3388
Add: No. 184, Jianguo Rd., Central District, Taichung City
(台中市中區建國路184號)
Website