Four Terrific Places for Big Mountain-View Refreshment
TEXT / RICK CHARETTE
PHOTOS / RAY CHANG
What would you imagine to be the most soothing vista to see outside your window when staying at a hot-spring hotel? Perchance we may suggest tall breeze-swayed tropical trees up close and walls of mountains surrounding? We here present a quartet of setting-perfect eastern Taiwan respite spots for your consideration.
Butterfly Valley Resort
This resort, as described in our main article this issue on eastern Taiwan, is at the East Rift Valley exit point of a deep side-valley cleft in the Central Mountain Range. It occupies the front area of the valley's Fuyuan Forest Recreation Area. The resort's boutique hotel facility is perched on a rise at the base of the high hill on the valley lip's north side. There are a number of other facilities in addition to the hotel, to be introduced forthwith. Hotel guests enjoy free use of these facilities.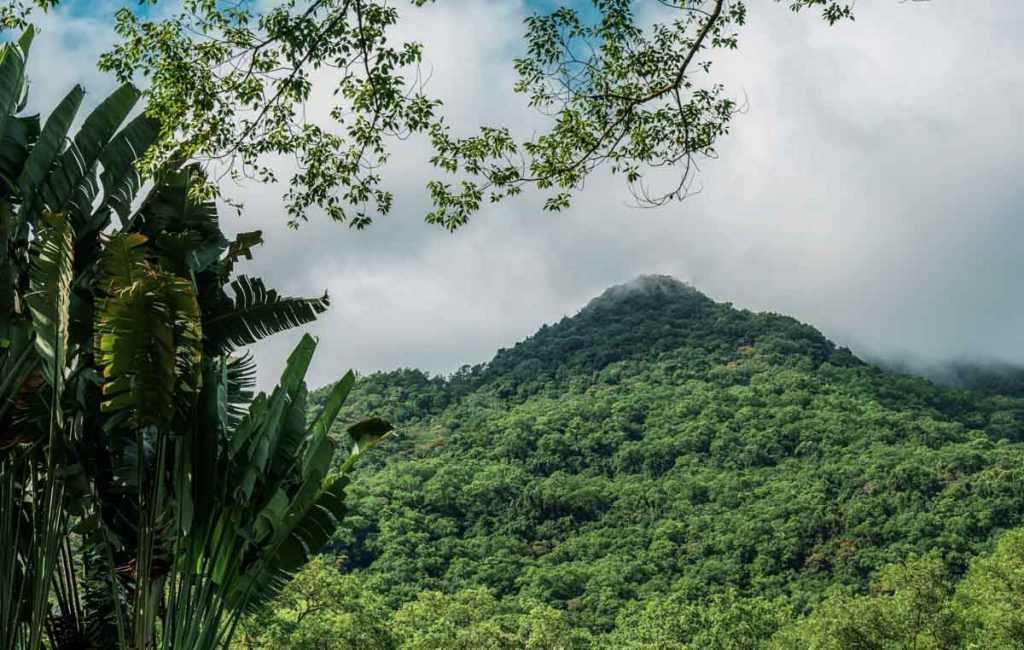 The hotel building, which has a pebblecrete façade, has a simple squarish contemporary-design the middle two stories high with a three-level gabled-roof segment at either end. The large awning over the driveway entrance area, consisting of opaque glass panels, is in the stylized shape of an in-flight butterfly, as is another large glass structure on the rooftop. There are two types of guestrooms here, Japanese Zen and Western (Scandinavian minimalist). Family rooms are available. Also in the main building is a Western/Chinese restaurant, bar, and alfresco umbrella-shade terrace seating.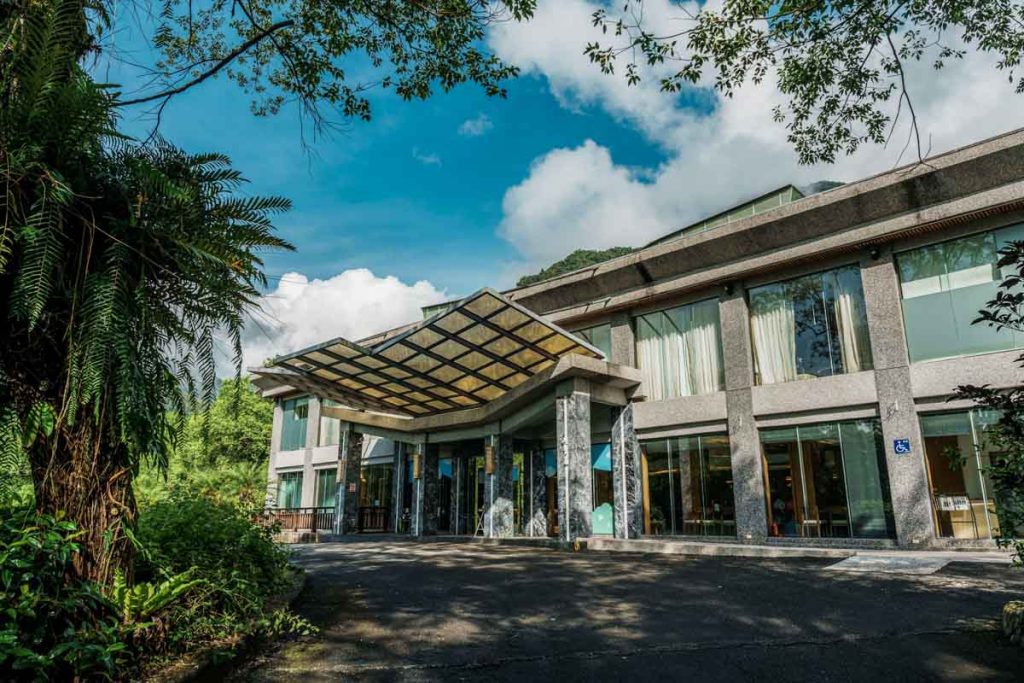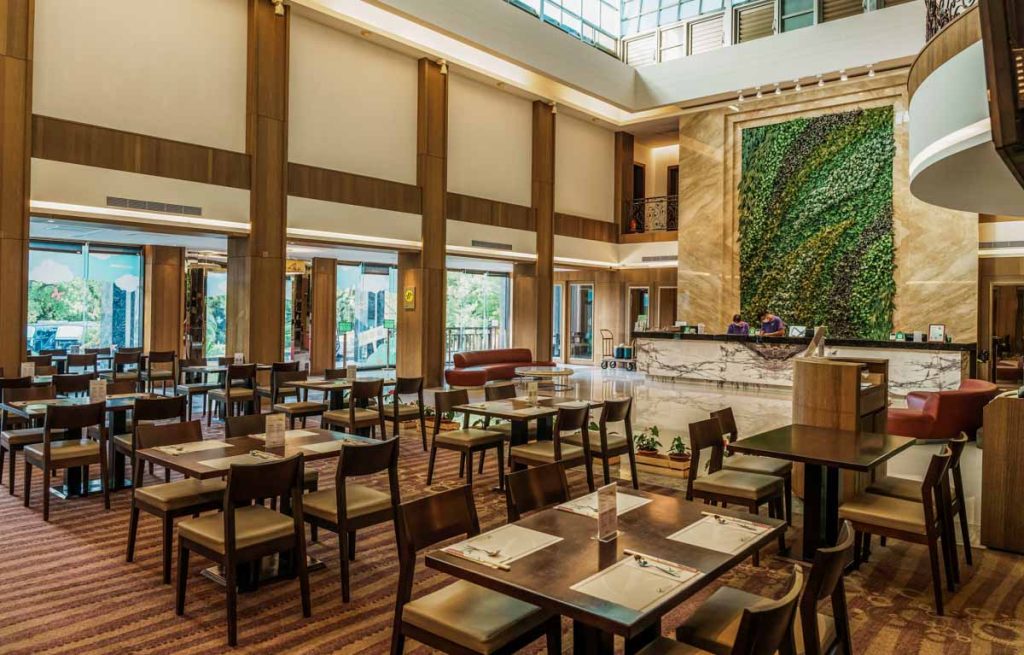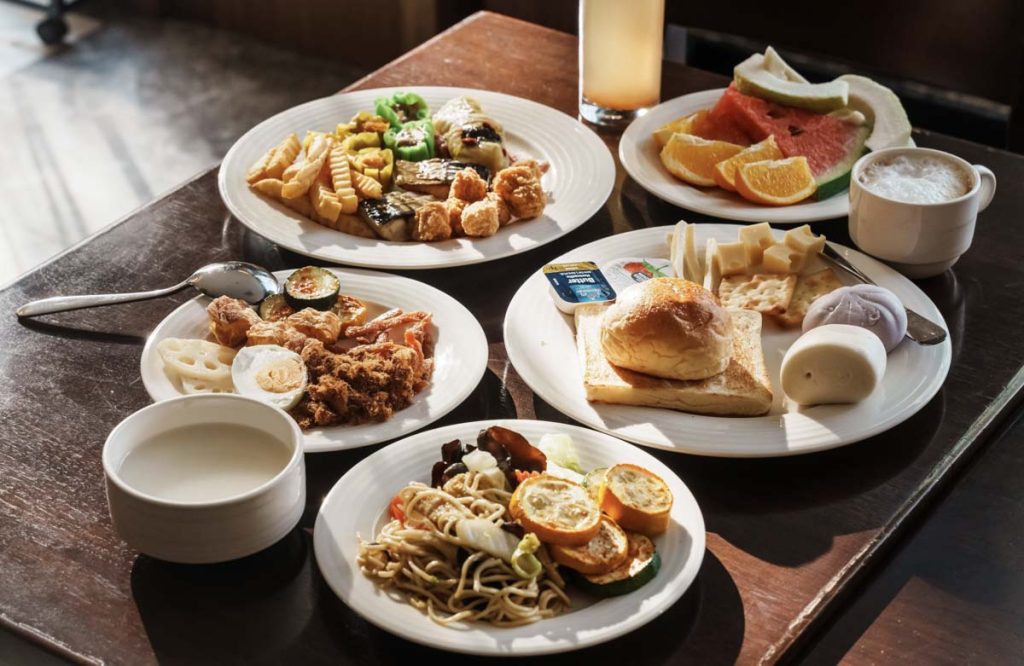 On the tree-shaded foothill slopeland behind the main building are villa accommodations, one area with suites in Japanese style, another in Scandinavian. All guestrooms/villas have hot-spring tubs, mineral waters sourced from deep under the valley.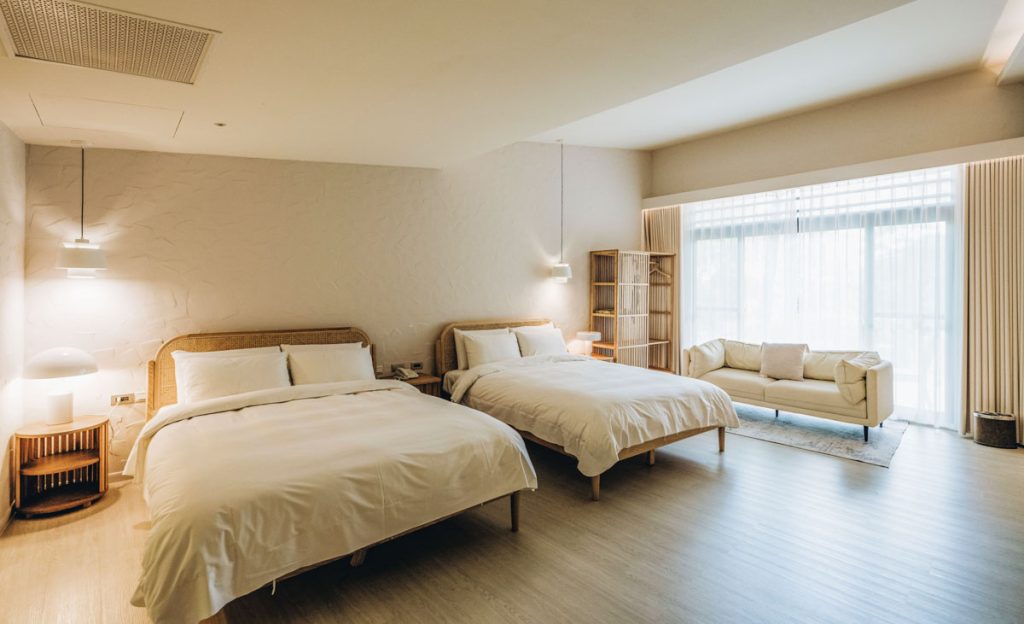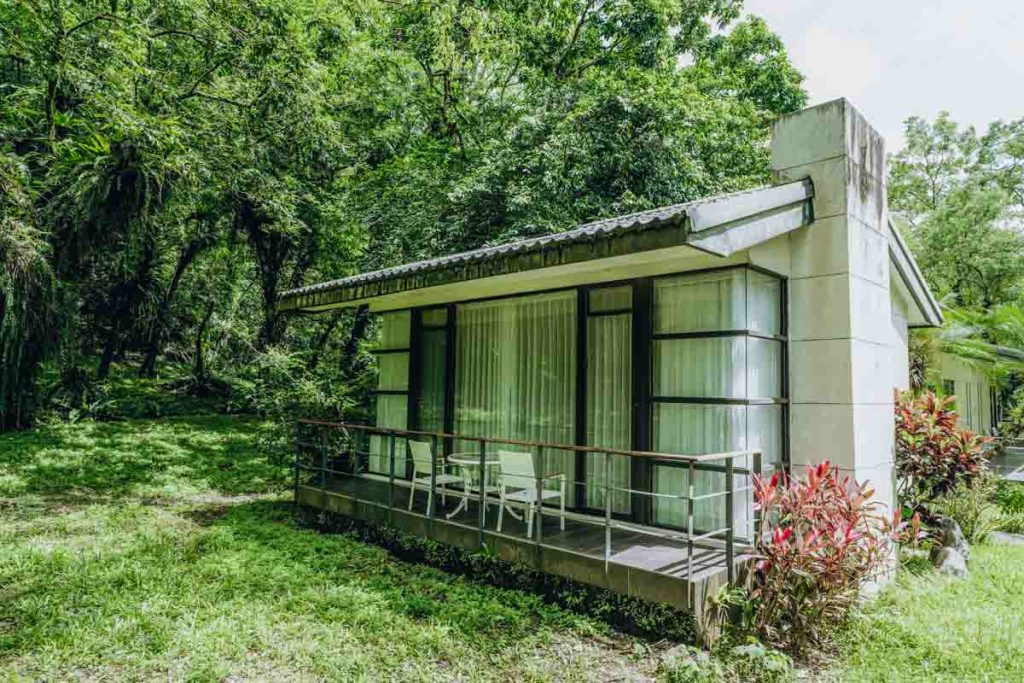 Among the resort's other facilities, the outdoor hot-spring spa and pool area is surrounded by camphor trees. Within the Butterfly Eco House a natural eco-system built on specially selected plants has been created to breed various species and populate the surrounding environs. There is also a Butterly Exhibition Room, gracefully landscaped Dream Garden, and Stone Park. The valley has extremely old exposed geological formations, and representative, especially aesthetically appealing stones have been brought in and arranged in an artistic/educational landscape at the Stone Park.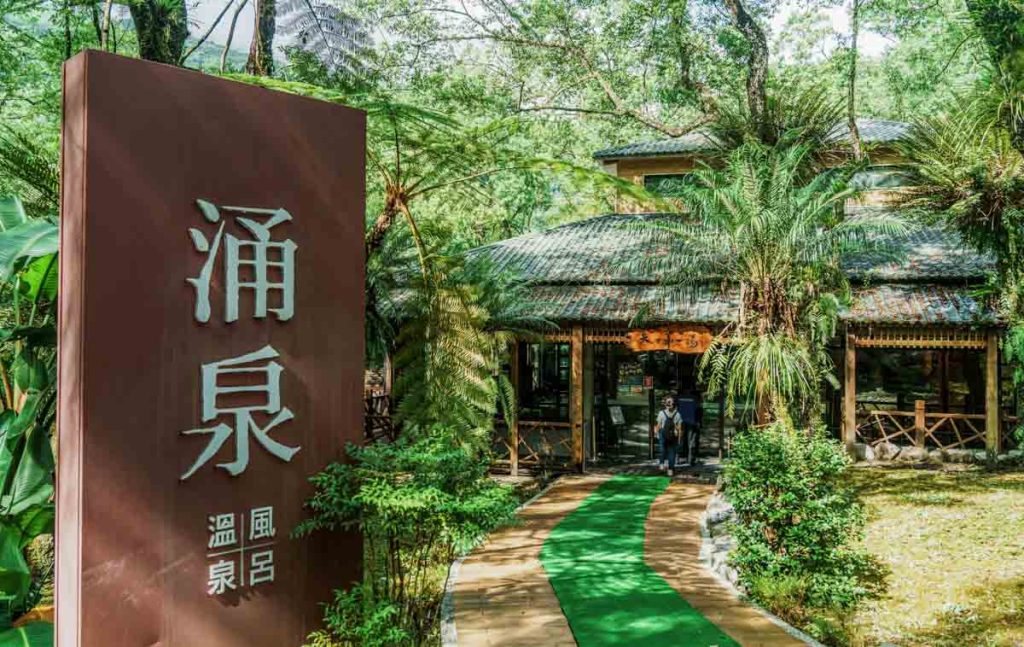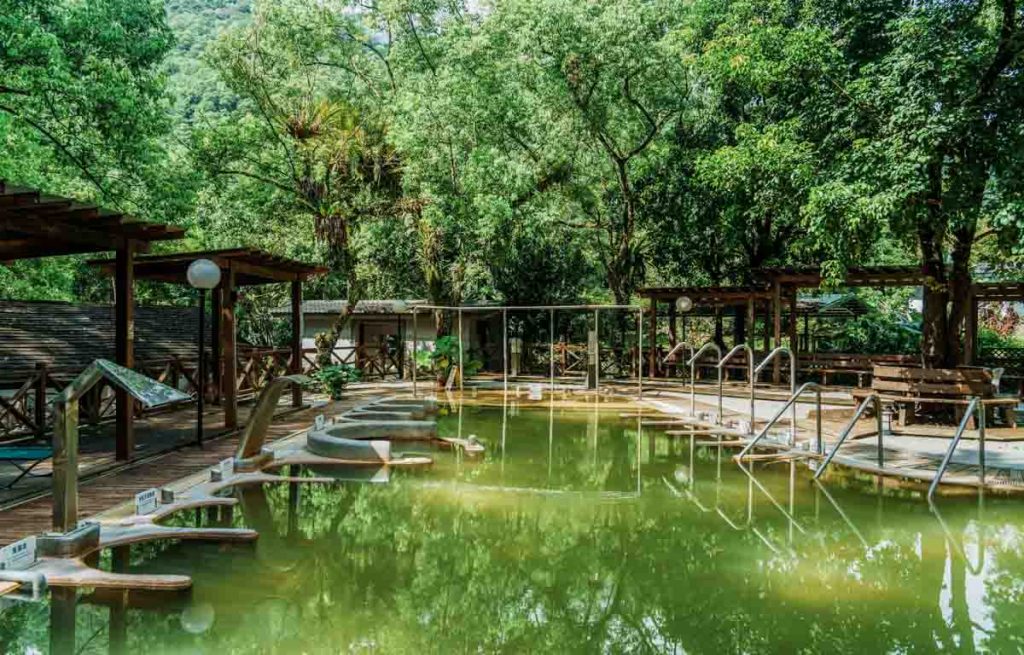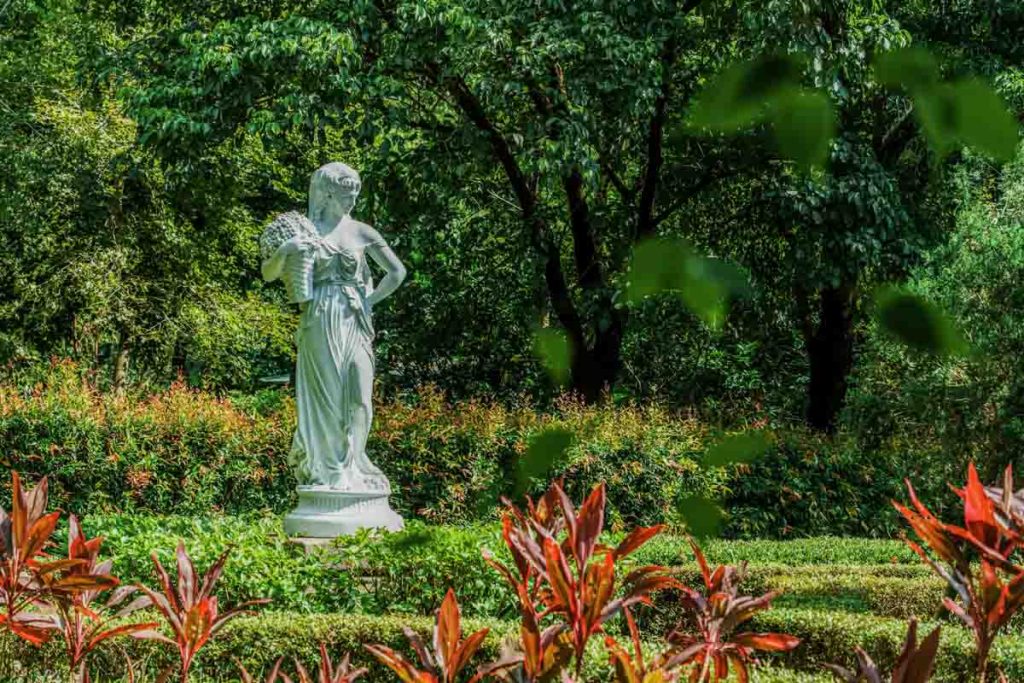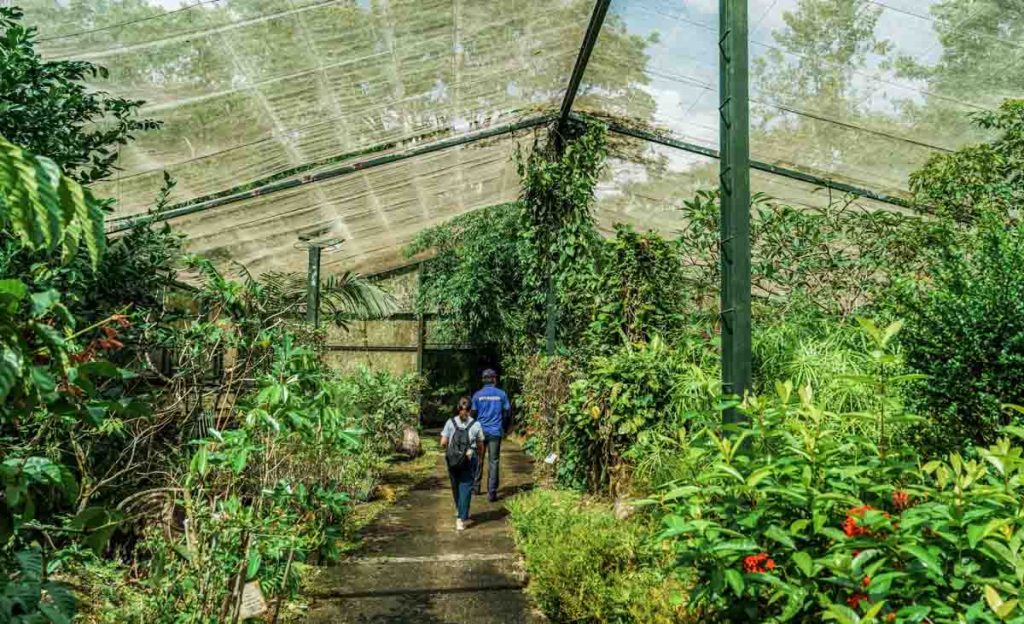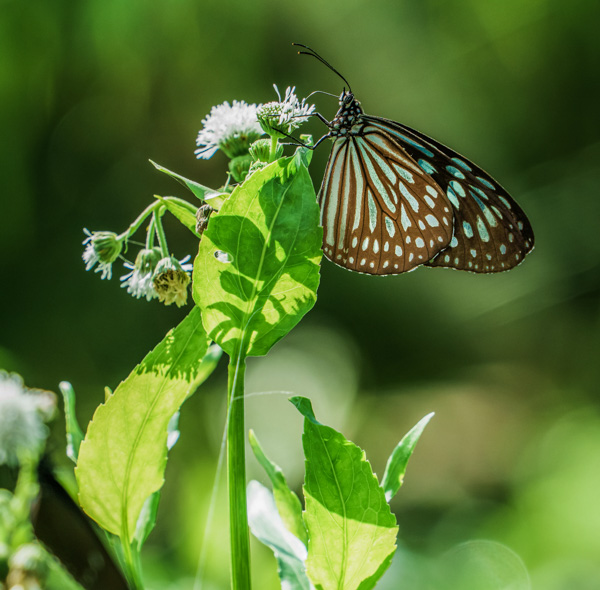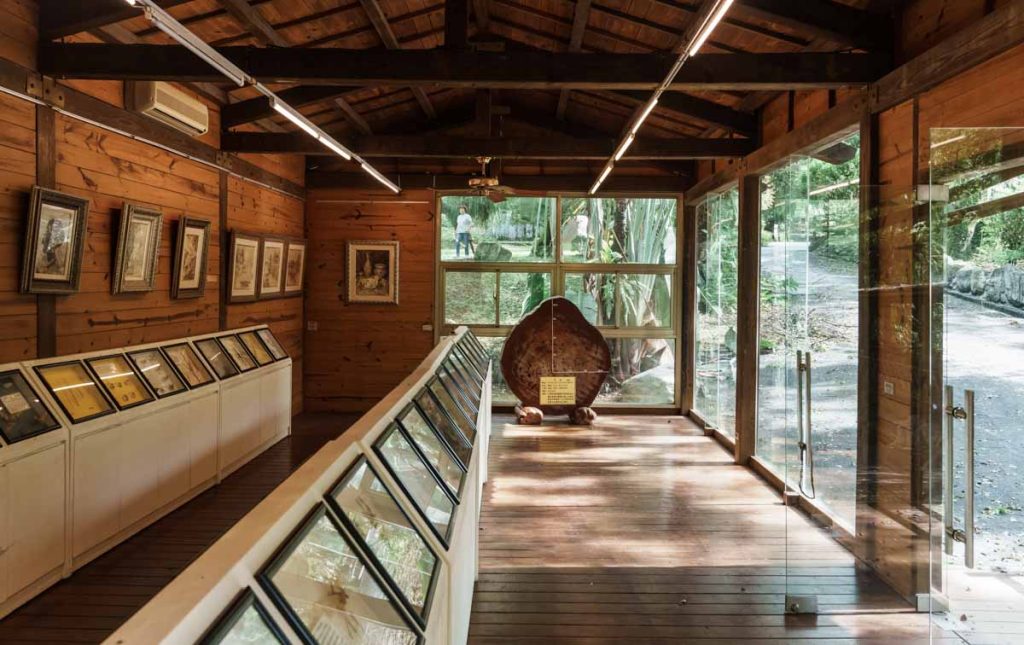 Butterfly Valley Resort
(蝴蝶谷溫泉度假村)
Tel: (03) 881-2377
Add: No. 161, Guangdong Rd., Ruisui Township, Hualien County
(花蓮縣瑞穗鄉廣東路161號)
Website: www.bvr.com.tw
Facebook: www.facebook.com/bvr.tw
Hotel Royal Chihpen
In the famed Zhiben Hot Springs area, up a coast-debouching valley just south of small and pleasant Taitung City, this is the undisputed belle of the Zhiben hot-spring resort ball. The popular Zhiben Forest Recreation Area is just upstream along the meandering Zhiben River. Ensconced on a small mountainside plateau, it's hidden away in the forest, invisible from the main hot-spring resort area below.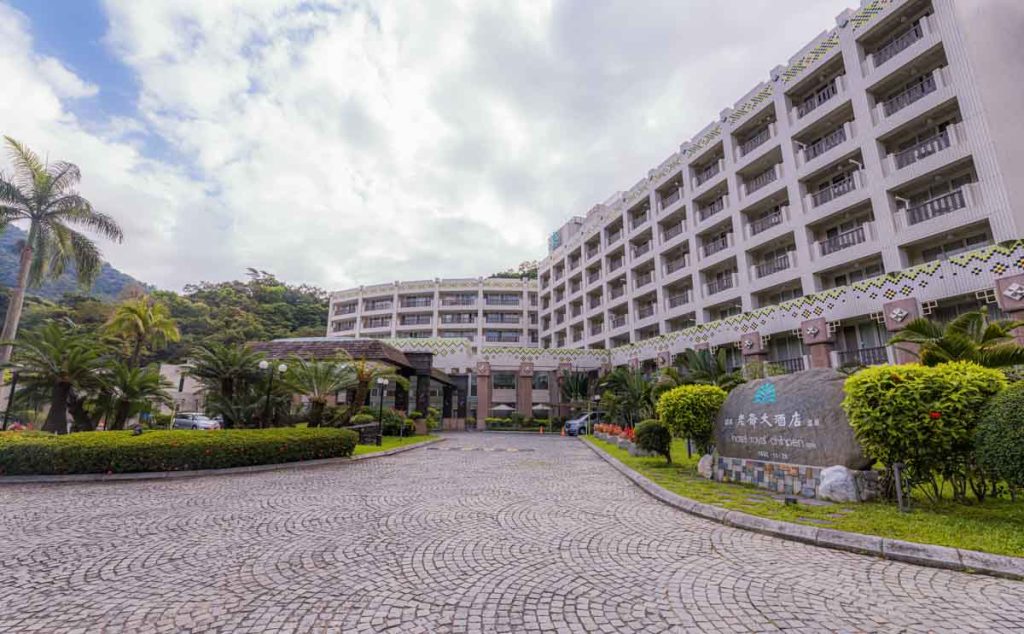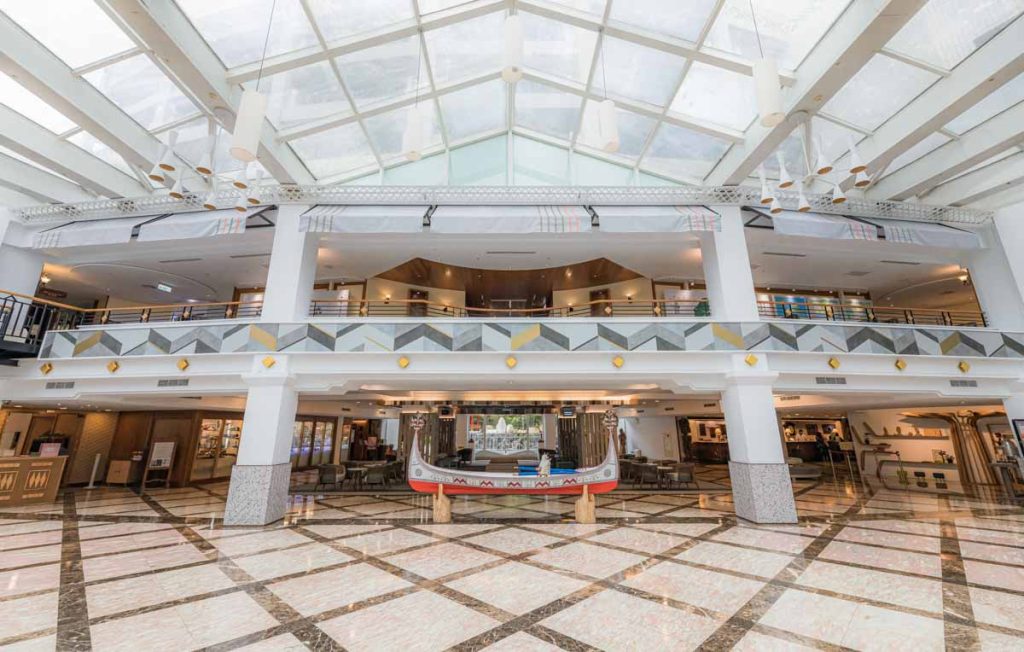 The overall design is a harmonious blend of cultural elements, with refined Western, Japanese, Taiwanese, and indigenous flourishes. Guestroom styling is contemporary Western and Japanese. There are eight room types, ranging from standard rooms up to family rooms and four types of suite.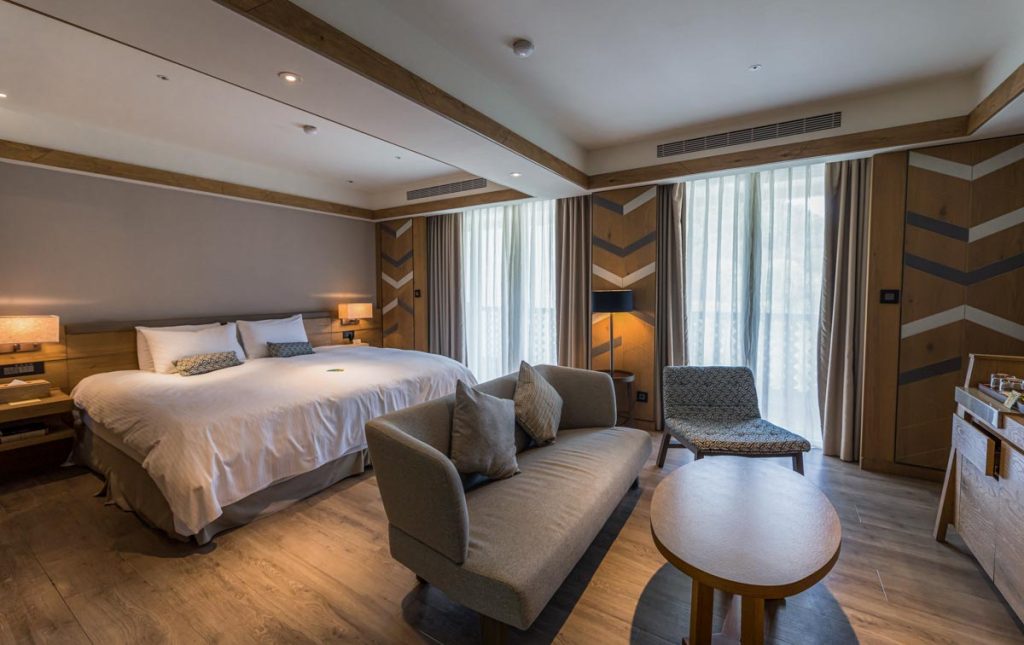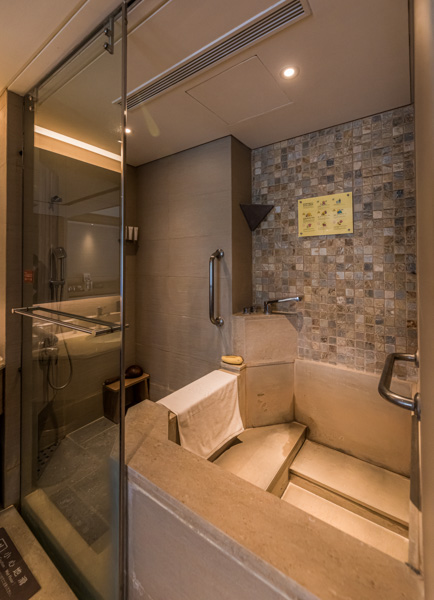 Among the many first-rate entertainment facilities is a multiplicity of open-air/indoor spa-soak choices and swimming pool tucked away in an oasis-like setting between the hotel building and mountain slope behind, lyrically lit up at night. Guests can also enjoy a recreation center with table tennis, e-games, etc., fitness center, private karaoke rooms, putting green, badminton court, sand playground, children's library, and menu of special activities. Take note, lethargy is not an option here.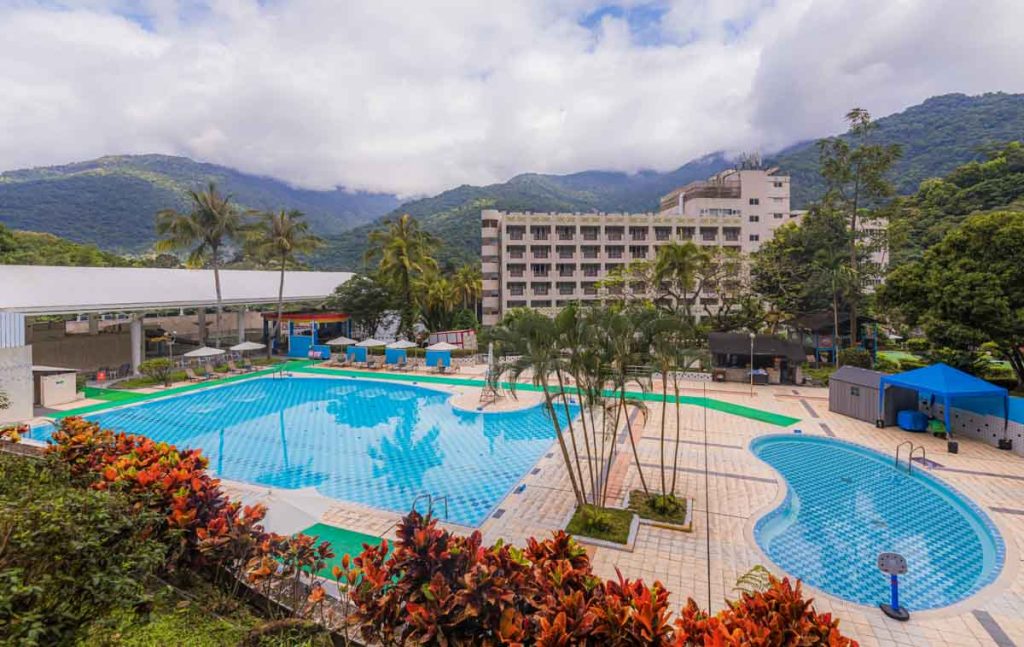 And that's not all. Indigenous sculptures and visual motifs are seen throughout the complex. Taitung County has a heavy native population, with several tribes territory-overlapping; approximately 80% of hotel personnel are native (full or half). Indigenous song-and-dance performances are staged each evening in the lobby. In the rear-area recreational complex are a number of indigenous-theme attractions, with hotel staff on-hand providing explanation: a replica warrior-hunter meeting hut, an archery range, and an outdoor cooking hut where traditional indigenous foods, ingredients, and flavors are explained and DIY cooking experiences offered.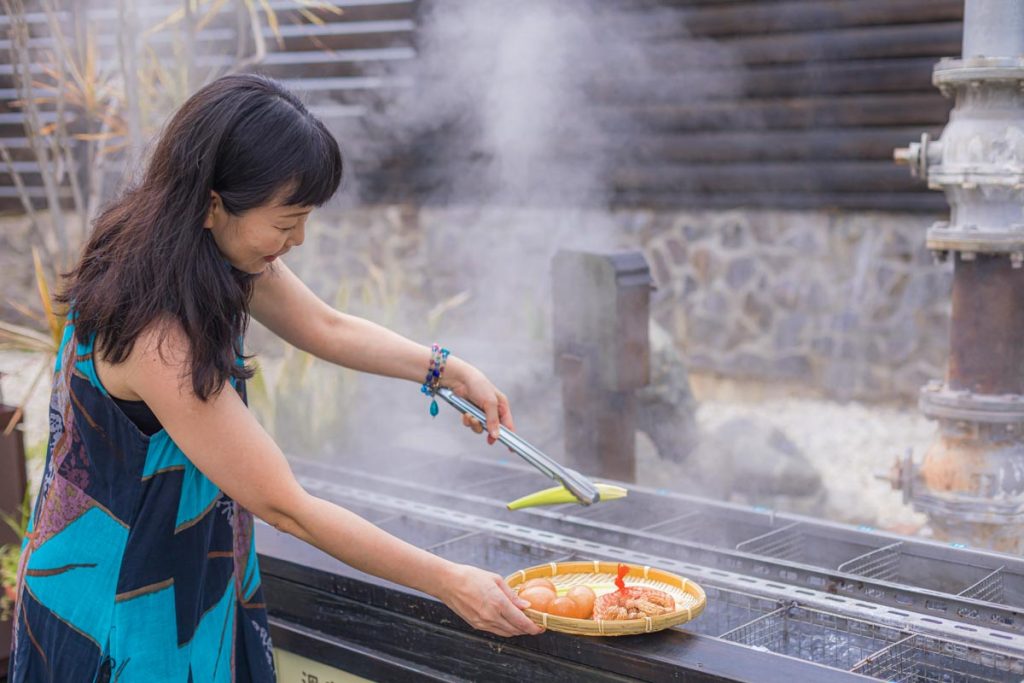 The hotel's many talented chefs serve up gourmand dishes. The DA DA LA restaurant takes you to Italy, the Teppanyaki to Japan. The Lobby Lounge serves British-style afternoon tea, the Naruwan (your breakfast spot) Western and Chinese buffet-style touring.
Hotel Royal Chihpen
(知本老爺大酒店)
Tel: (08) 951-0666
Add: No. 23, Lane 113, Longquan Rd., Beinan Township, Taitung County
(台東縣卑南鄉龍泉路113巷23號)
Website: www.hotelroyal.com.tw/en-us/chihpen
Facebook: www.facebook.com/HotelRoyalChipen
Papago International Resort
This sprawling complex sits out in the middle of the East Rift Valley immediately south of the town of Chishang, providing easy access to the town's famed countryside paddy-fields cycling route. Its sister town, Guanshan, home of the first-ever dedicated cycling loop opened in Taiwan, is a short drive further south. Papago is right beside Provincial Highway 9, the enchantingly scenic byway that wends its way from the rift valley's north to its south.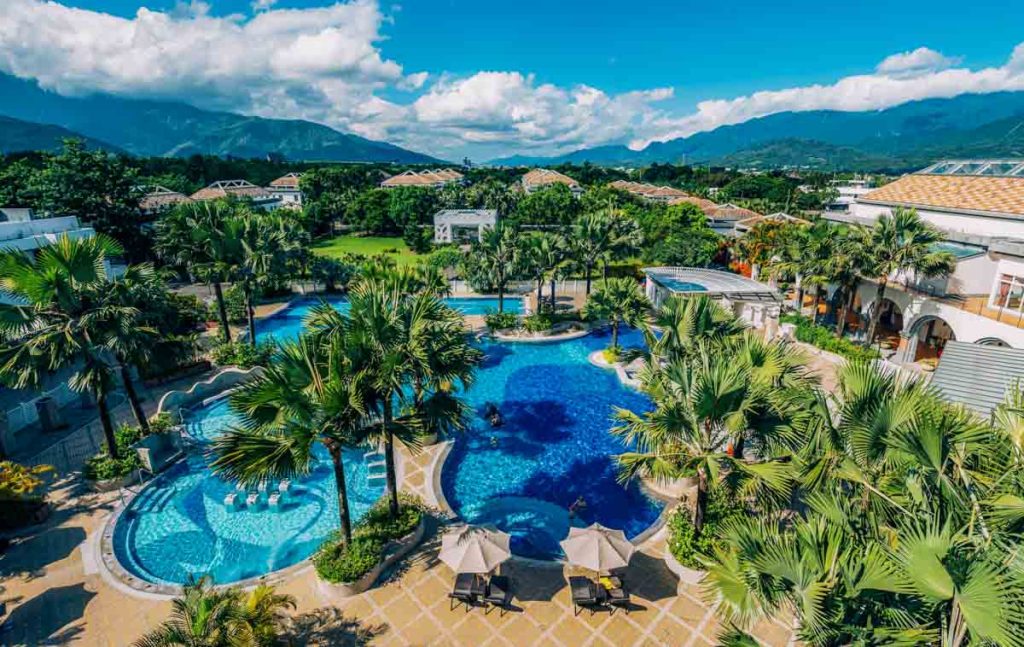 In the past the coconut palm-surrounded Mediterranean-personality resort has been declared "Taiwan's most beautiful hotel" in online polling. Netizens particularly applaud the serene environs, the low-rise architecture that provides sweeping views up and down the lush valley, and the luxurious outdoor-pool complex in the inner courtyard of the three-sided main building, large umbrellas and swaying frond-canopy trees providing bountiful shade.
The rooms inside the main building are very spacious (standard and family options). Some look over the assemblage of inner-courtyard pools and poolside café, some face outward toward the mountains, and all have comfy and commodious balconies (first floor rooms have small walled-in courtyards). Beyond the main building and pool complex is a "village" of luxury villas, in Victorian, Balinese, and Mediterranean style. Each has a spa pool and compact swimming pool.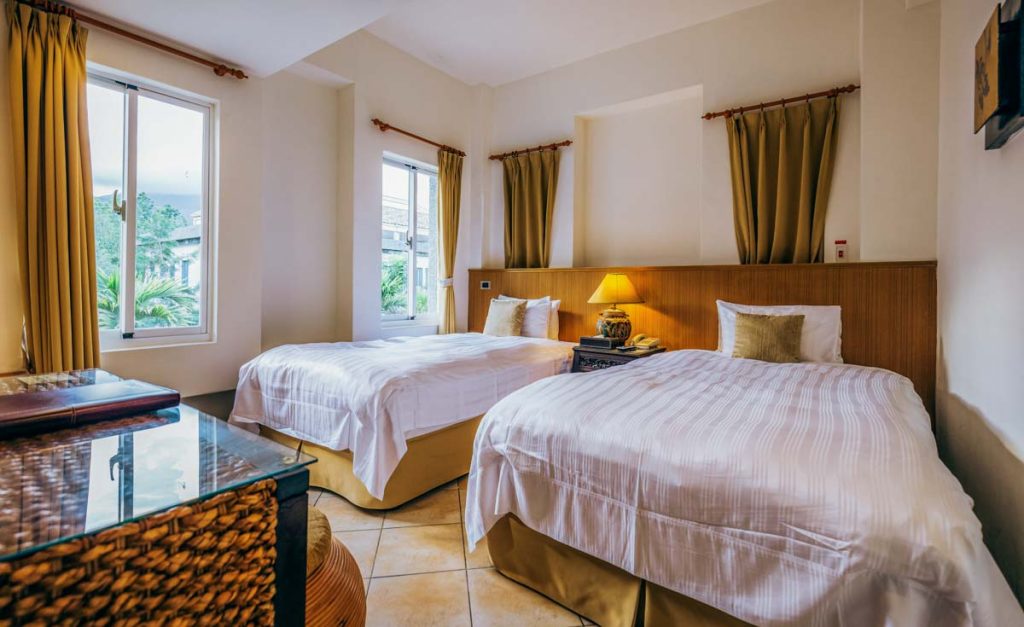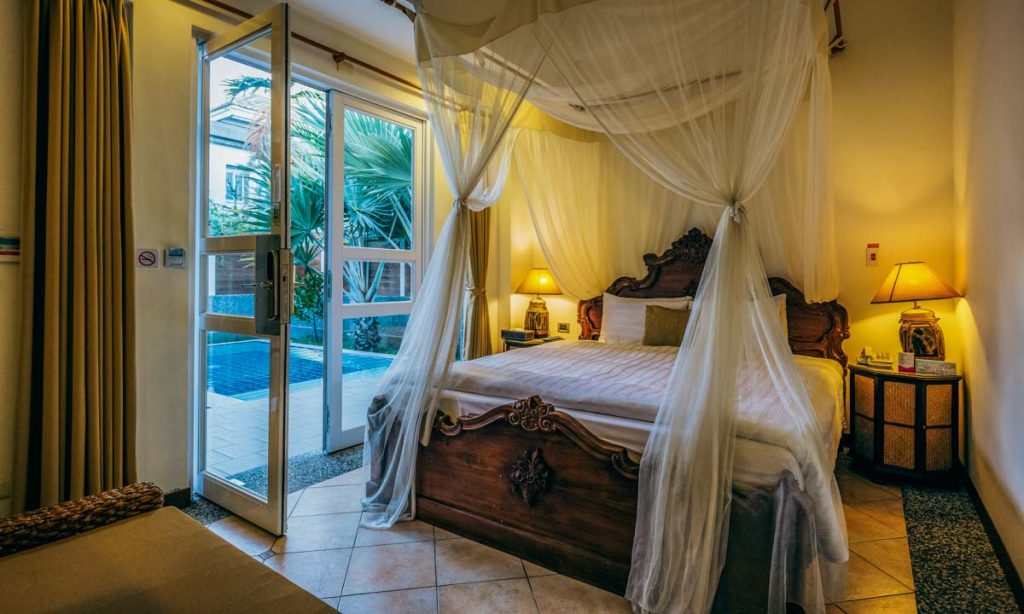 Back in the main structure, a courtyard-overlook lounge bar serves international-style baked treats and light meals, and two high-quality restaurants serve Chinese cuisine and Chinese/international buffets, respectively. An upscale spa complex is located before the main area, alfresco in the middle with roofing covering the spa pools along the sides (different temperatures, and such options as a "roselle" mineral-water soak, "milk" soak, etc.). Two of the many other amenities/services of special note are the hotel's well-stocked bike-rental operation and its daily 1-hour tractor-train tours, during which your guide introduces (in Chinese) the area's irrigation works, the Taiwan Sugar Chishang Pastoral Farm Resort, and other local spots of interest.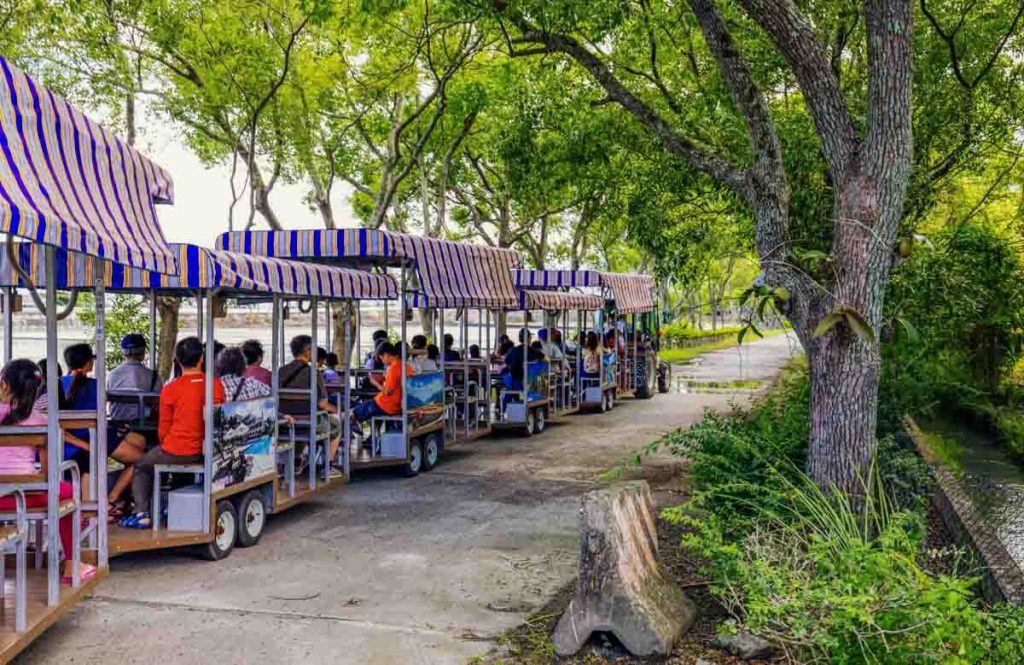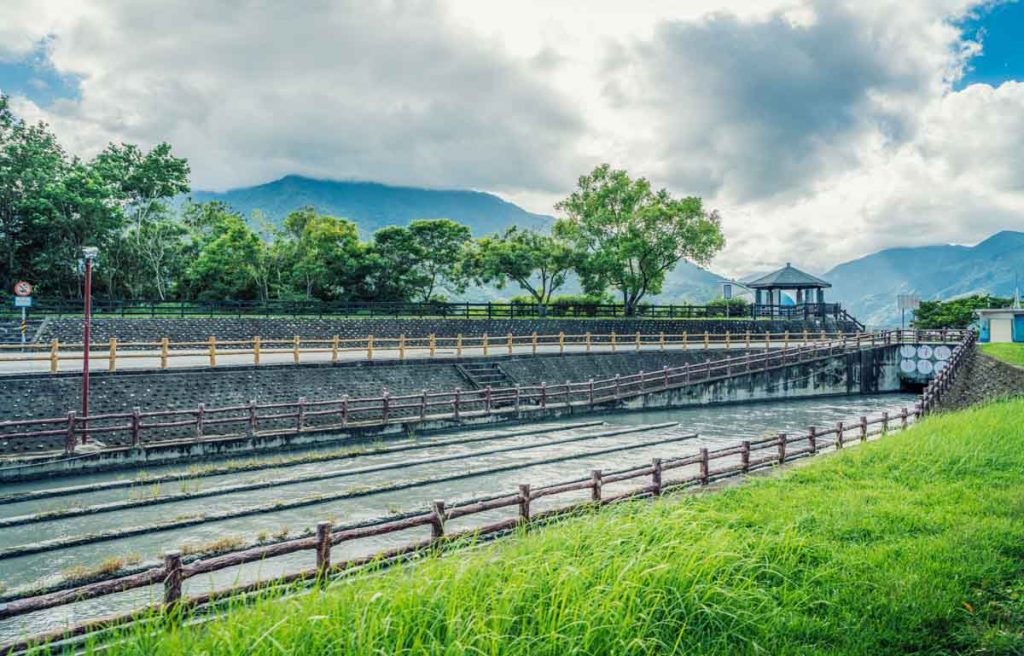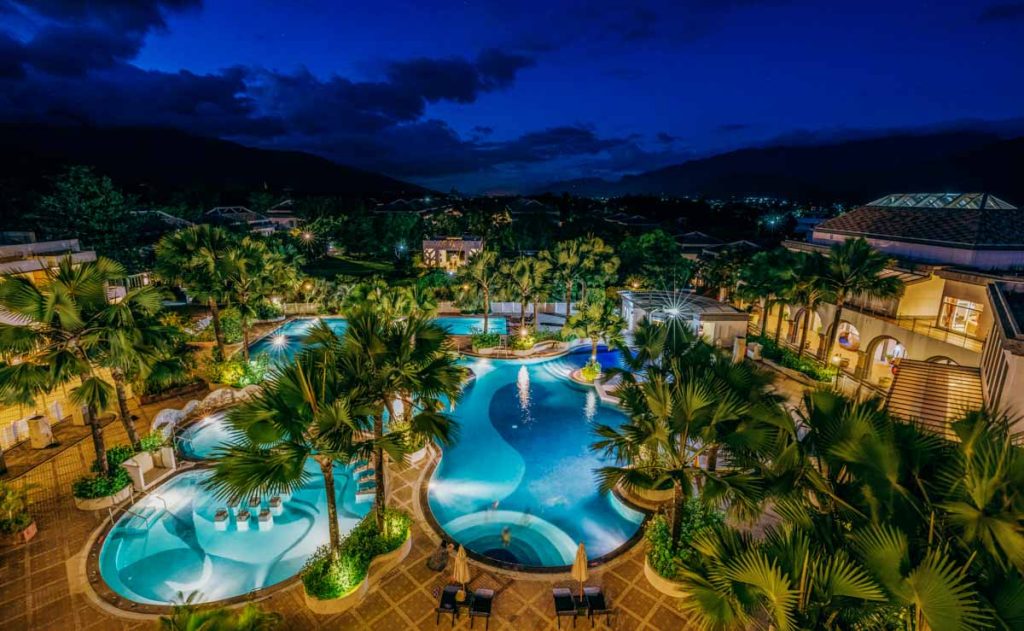 Papago International Resort
(日暉國際渡假村)
Tel: (089)-861-111
Add: No. 107, Xinxing, Xinxing Village, Chishang Township, Taitung County
(台東縣池上鄉新興村新興107號)
Website: www.papago-resort.com
Luminous Hot Spring Resort & Spa
This resort hotel is on the valley floor before the mountain wall that defines the East Rift Valley's south end. Seen to the immediate west is a deep side valley, sculpted by the Luming River, with the Bunun tribe settlement of Hongye in partial view; the Vakangan Hot Spring Park (see next section) is located here. To the immediate north is the Luye Highland, famed as a tourism-oriented paragliding launchpad, and in between is a low-elevation plateau rich with relics from Taiwan's 1895-1945 Japanese colonial era (see next section).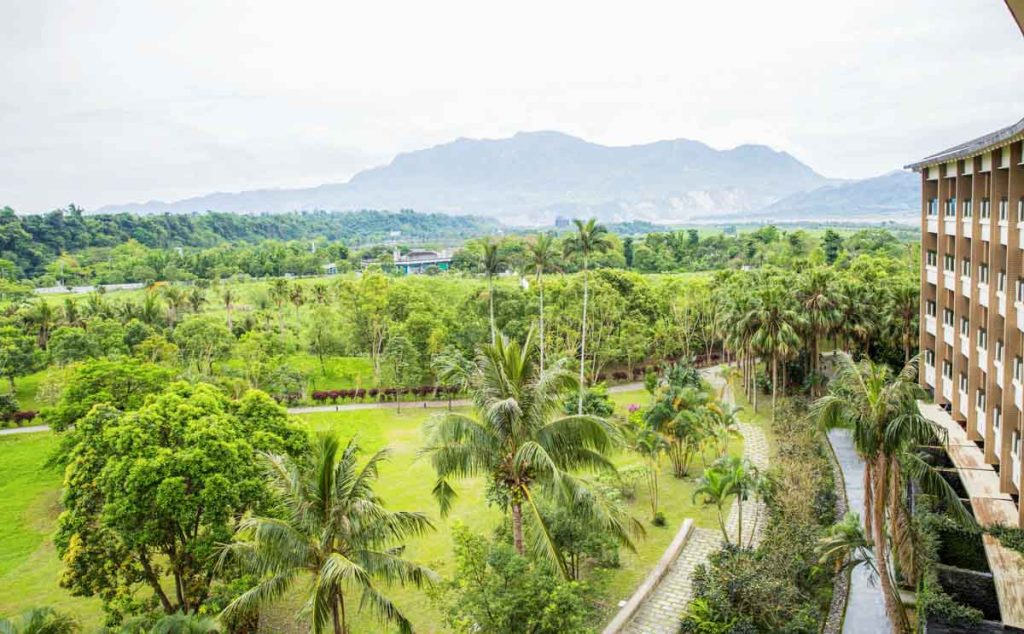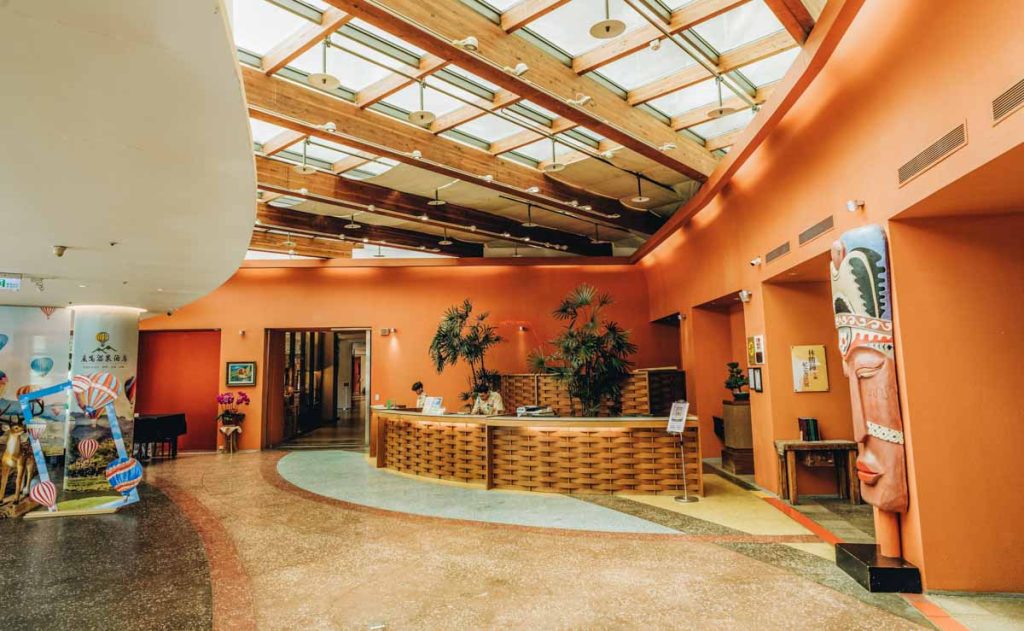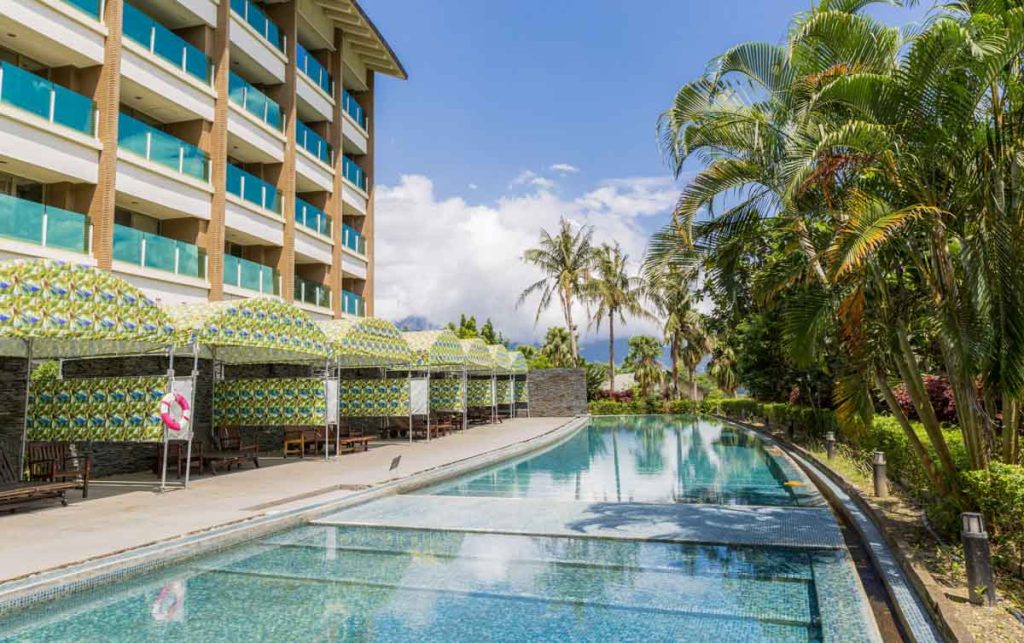 The name "Luminous" is a take on "Luming," which means "deer call." The complex is replete with tribal-culture decorative references, and in the area behind are zoo-style facilities with gorgeous healthy families of two species key to traditional tribal hunting culture, the Taiwan sika deer and Taiwan wild boar.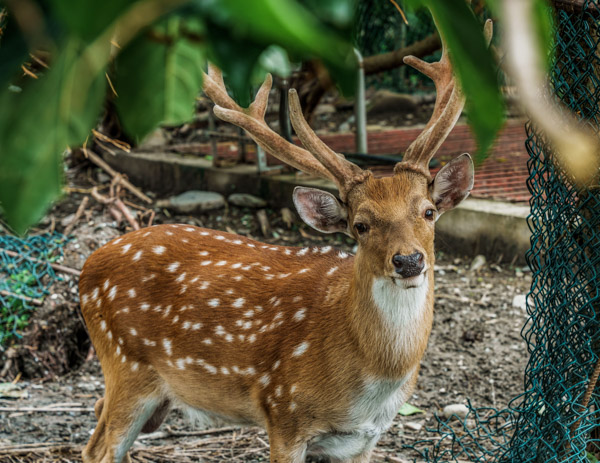 There are many types of guestrooms, from standard accommodations for two to pet-friendly rooms to courtyard-in-front accommodations to lodgings with lofts to rooms for four and six. The majority are Western contemporary in styling, with heavy use of light woods and wicker. There are also Japanese tatami-equipped rooms. All rooms feature stone-built hot-spring tubs. The ground-floor courtyard-style quarters are entered from outside via individual thick native-totem carved wooden doors, with alfresco tubs in the courtyard; for all other rooms, the large tubs have mountain views through floor-to-ceiling glass walls looking past sizeable balconies. The mineral waters are piped in from the Hongye area.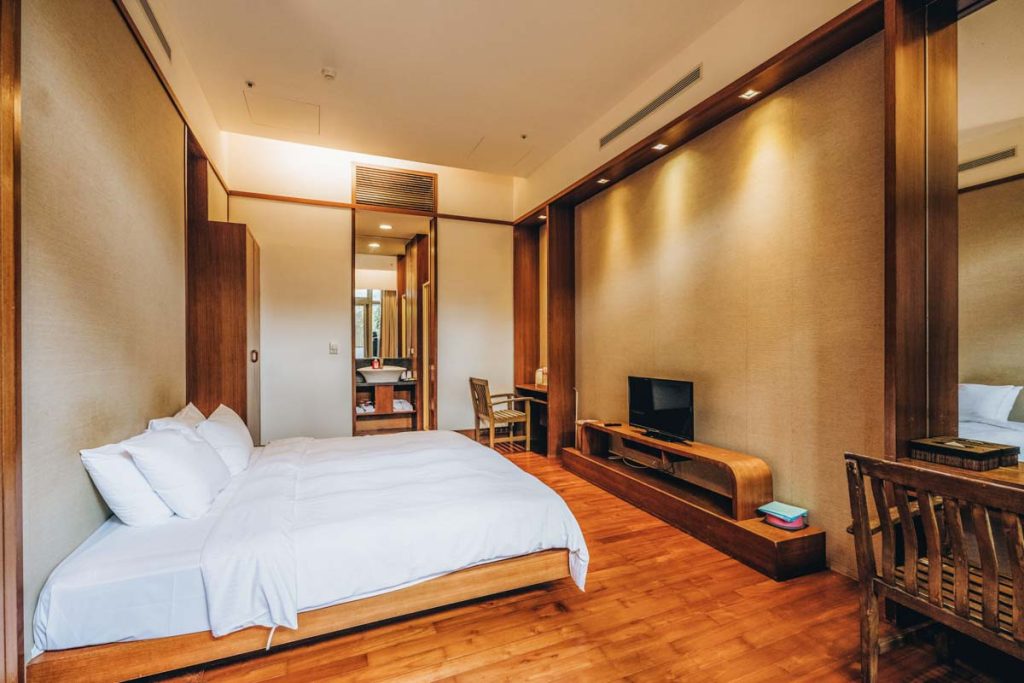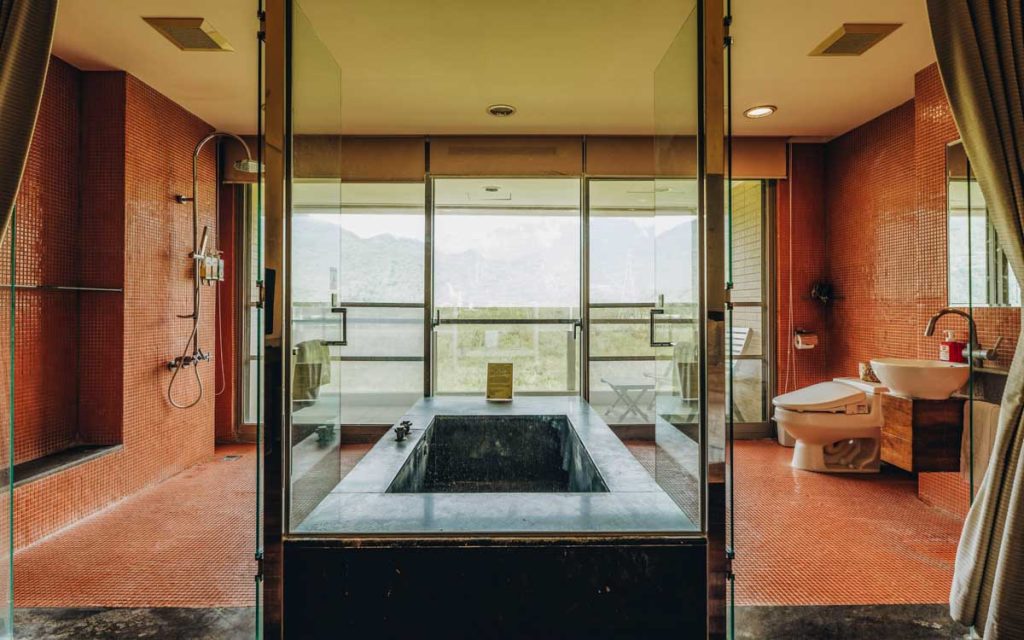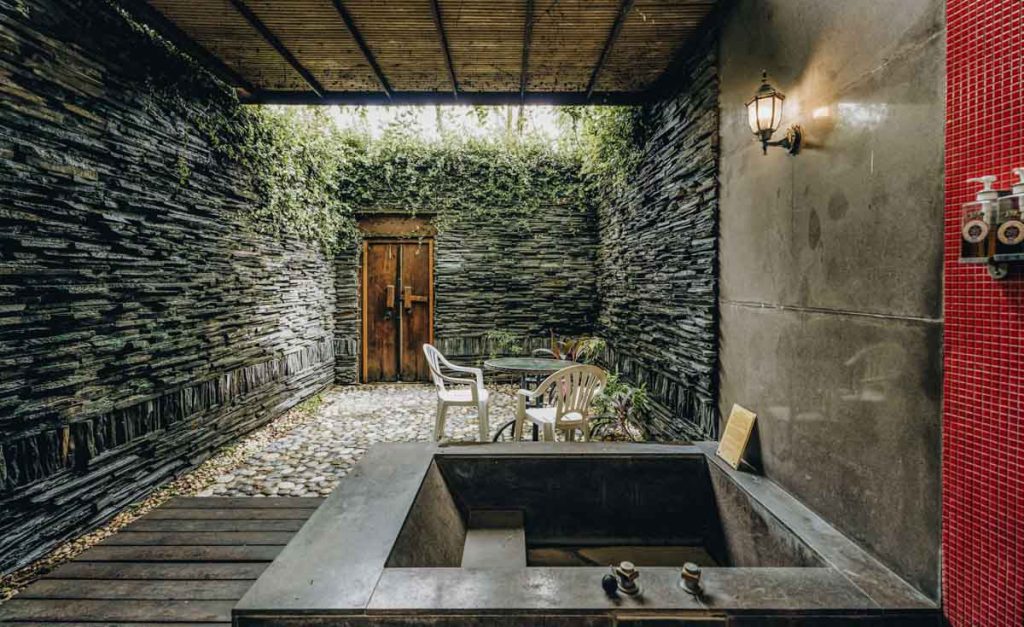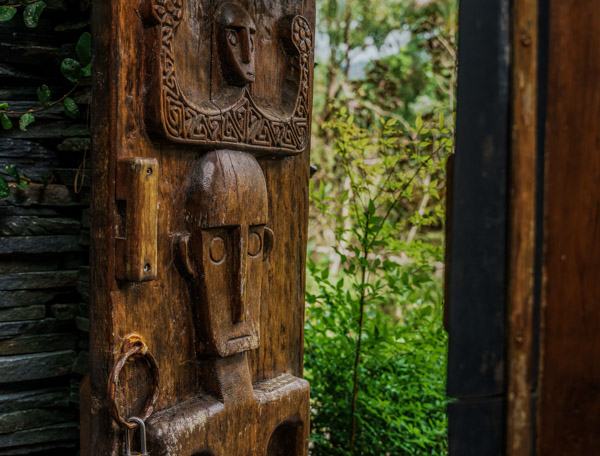 Among the myriad special facilities/services is a 1F Chinese/international buffet restaurant, 6F (top floor) men's/women's hot-spring bathing pools and spa treatments, by-appointment aromatherapist service, and family-oriented DIY activities, and in the rear area an alfresco pool area, detached "karaoke house," and bicycle-lending service for use of the nearby well-paved riverside bikeway. There are also guided bus tours (Chinese) to the aforementioned Japanese colonial-era and other neighborhood tourist sites.
Luminous Hot Spring Resort & Spa
(鹿鳴溫泉酒店)
Tel: (08) 955-0888
Add: No. 200, Sec. 1, Zhonghua Rd., Luye Township, Taitung County
(台東縣鹿野鄉中華路一段200號)
Website: www.lmresort.com.tw (Chinese)
FB: www.facebook.com/luminousresort
Place of Interest Nearby
As mentioned above, the low-altitude plateau above the Luminous resort has many relics from the Japanese colonial era. The colonial authorities established a number of Japanese-immigrant farming communities, the largest located here, evidenced in the neat checkerboard grid of roadways of today's Longtian village. The Luye Shinto Shrine, rebuilt last decade with the help of Japanese expert craftsmen, was the immigrant community's heart. In a wing of the shrine-adjacent Chinese temple is an exhibit hall with detailed information (Chinese) on the settlement and multifarious original Japanese-culture field implements and household items used by the far-from-home residents.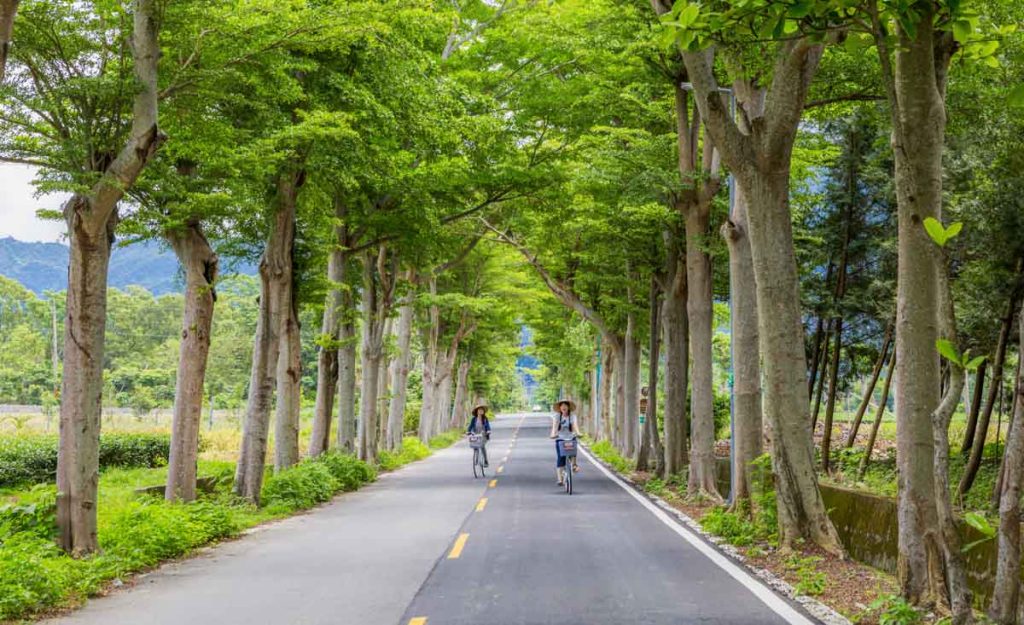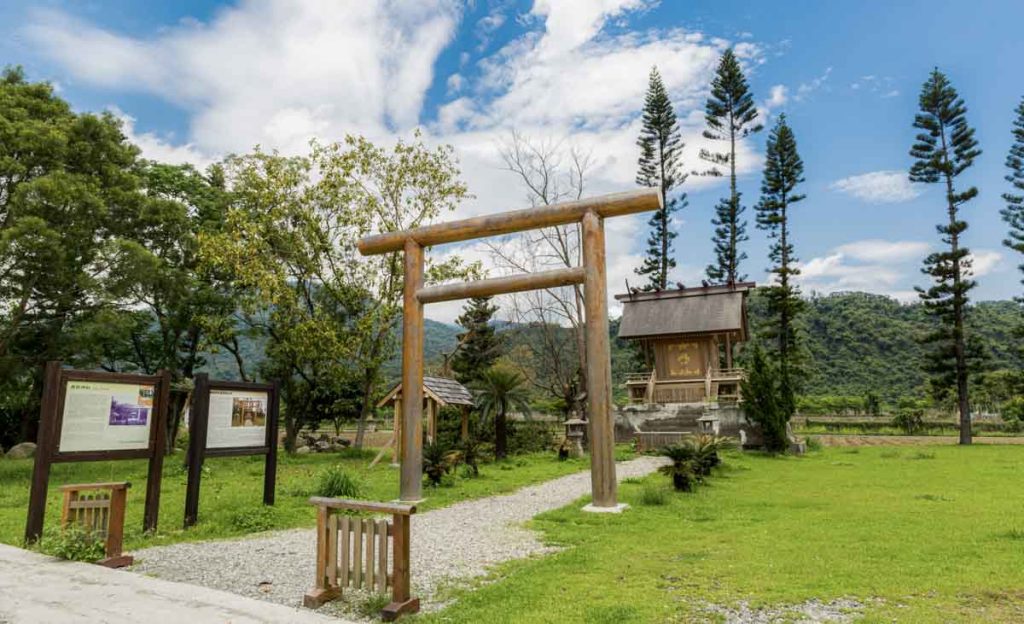 The nearby Luye District Administration Office is a traditional single-story Japanese building that has been carefully restored. Filled with period daily-life artifacts, it's open to the public (free entry). A homey arty-crafty café selling baked goods and local handmade agri-products has been set up in one section.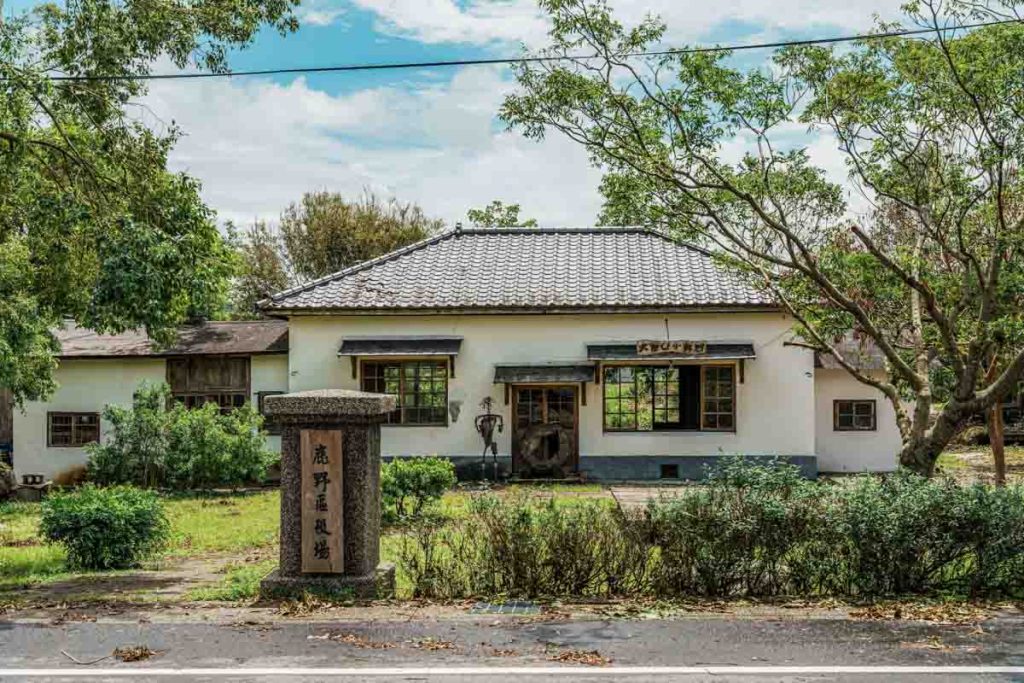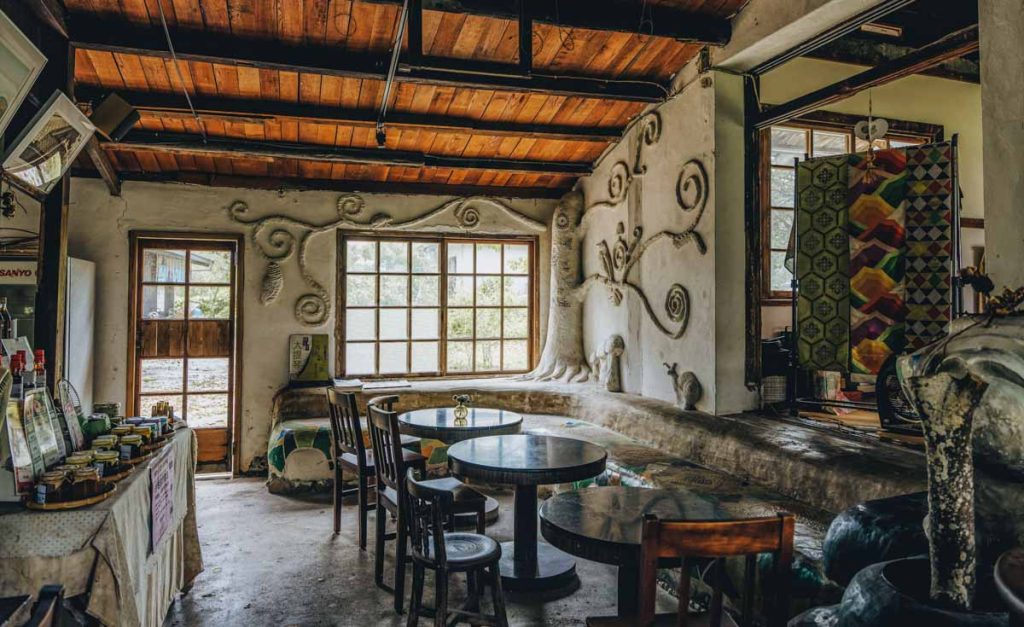 The new, upscale Vakangan Hot Spring Park (entry fee), spread over 3ha, is Taiwan's first initiative combining geothermal power generation, sustainable tourism, and local economic promotion. Over 60% of employees are local indigenous folk. Services include hot-spring spa facilities, a Geothermal Energy Guided Tour (Chinese) taking you inside the on-site plant, a restaurant fusing indigenous and Western culinary elements, and the Good Things Market, where local-area indigenous/non-indigenous eco-friendly handicrafts and specialty food treats are spotlighted. There are also guided tours taking you off-site, one introducing Hongye and the Bunun tribe's myths, festivals, and taboos, the other taking you up a mountainside to learn about the Bunun hunting culture and respect for mountain and forest. The Chinese-language "Hongye" means "red leaf"; the Bunun "Vakangan" means "Red Leaf Village."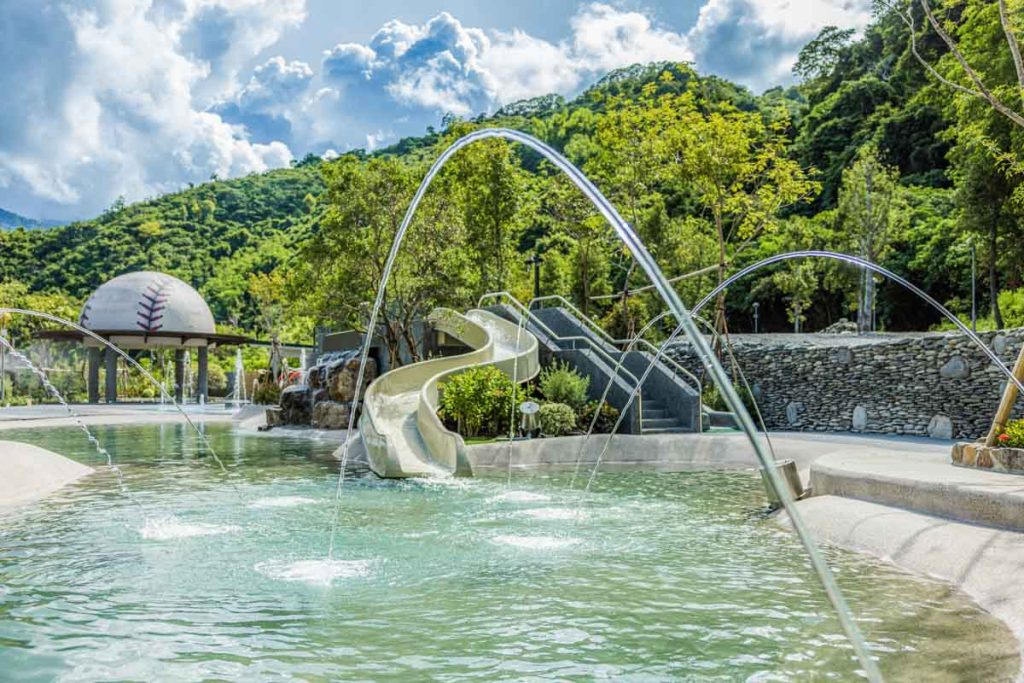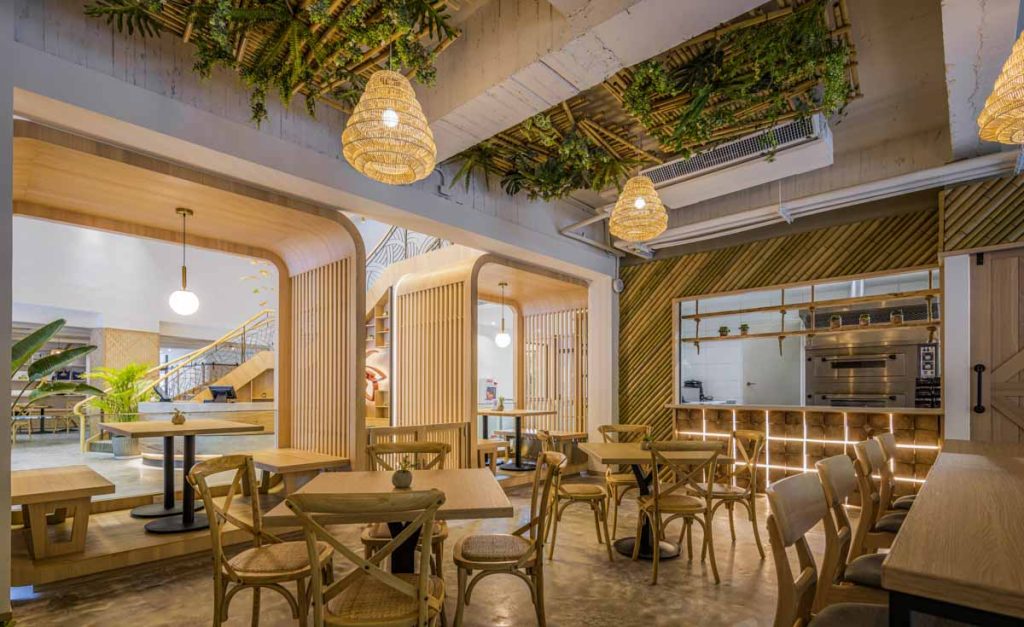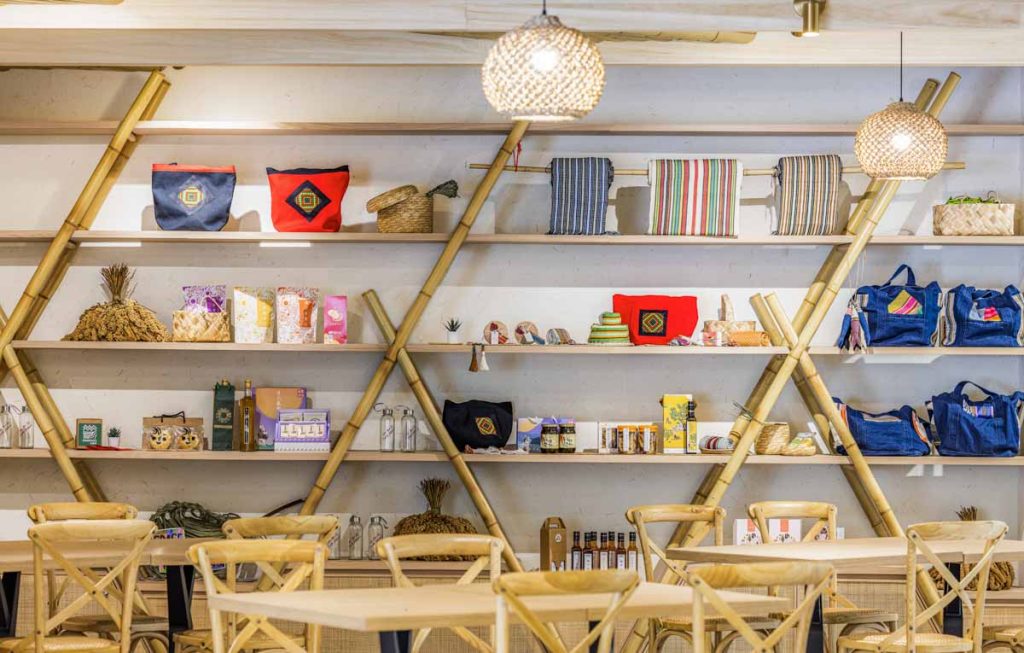 Vakangan Hot Spring Park
(紅葉谷綠能溫泉園區)
Tel: (089) 561-068
Add: No. 121, Honggu Rd., Hongye Village, Yanping Township, Taitung County
(台東縣延平鄉紅葉村紅谷路121號)
Website: www.vakangan.com