Conquering Taiwan on Two Wheels — Options Almost Without Limit in the "Bicycle Kingdom"
TEXT / RICK CHARETTE
PHOTOS / VISION

Taiwan's wondrous range of landscapes – sculpted by nature, sculpted by man, sculpted by the two working together – is often what creates the most powerful memories among international visitors. A new travel trend in recent years is that more and more overseas travelers are coming specifically to explore these landscapes on bike outings from short and relaxed to ambitious (round the island), taking advantage of the first-rate cycling network that has been built up over the past two decades. Whichever sites you've set your sights on adding to your bucket list, the bicycle can now be made core to your Taiwan experience.
The moniker "Bicycle Kingdom" was attached firmly to Taiwan in the 1980s, during the Taiwan Economic Miracle period, when the island became the global leader in churning out bikes and the "Made in Taiwan" label established a presence on roads and bikeways around the globe. However, counterintuitively, cycling in Taiwan was not common, primarily the domain of youngsters, oldsters, and a small cadre of eccentric hobbyists.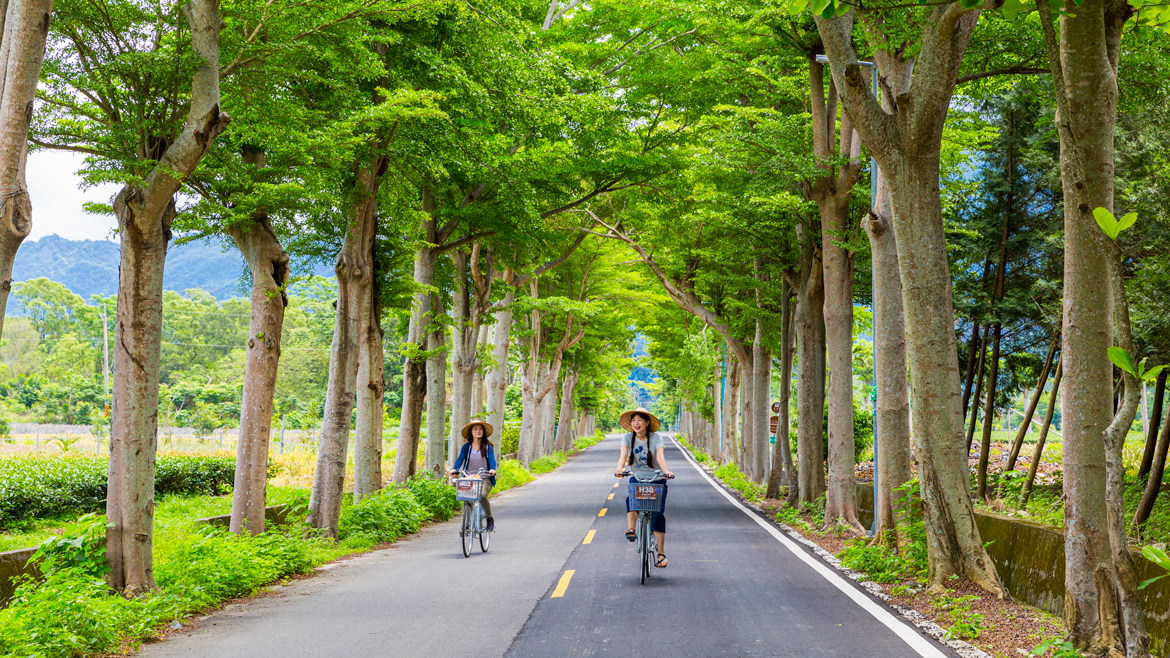 Those days have ridden off into the dustbin of history. Interest in cycling for pleasure and/or exercise has exploded in the past two decades. Present the term "Bicycle Kingdom" to a local today and they think of the thousands of kilometers of bike lanes on roadways and dedicated pathways on the main island and many offshore islands, the army of quality inexpensive rental stations set up wherever people gather in number for recreational cycling, and the heavy schedule of competitive bike races and family-friendly leisure-cycling mass gatherings that fill up the calendar each year. This network has now become a part of Taiwan's international tourism brand, resulting in overseas travelers specially targeting it for cycling-centered vacations.
Elsewhere in this issue we've a special introduction to the calendar of large-scale cycling events, with a focus on the sprawling annual Taiwan Cycling Festival, which encompasses outings all across the country. In this article we present you with a quick-paced overview of the superb bike network by heading out on sample day-outings in the north/west/south/east of the main island and on selected offshore islands quickly reached from the main island by plane or ferry.
TAIPEI
Tamsui River Riverside Bike Paths
Taipei's riverside bikeway system circles the city, taking riders along four different rivers. Bike-rental services are available at numerous points along the system, which has a total of 111km of paths, mostly located in the city's well-developed riverside parks (one non-riverside section, on the city's east, travels through a more grade-challenging hilly area). The system also interconnects with riverside bikeways that take you deep into the surrounding region, including up to the north coast.
Foreign expatriates and tourists especially like the Tamsui River stretch from Dadaocheng Wharf to Longshan Riverside Park, because the city's west side was the first developed in the Chinese imperial era and the start and end points give direct access to two of Taipei's oldest districts, the Wanhua and Dadaocheng neighborhoods. Dadaocheng Wharf is one of the city's most popular cycling-start points. There are multiple bike-rental operations here (bikes can be dropped off elsewhere along the system), plus a plethora of cargo-container food and drink stands – even a few with bar service. This has made the wharf area a nighttime hotspot, with many coming out for rides to take advantage of the cool evening breezes, finished with a bite and a beverage in the well-lit core area.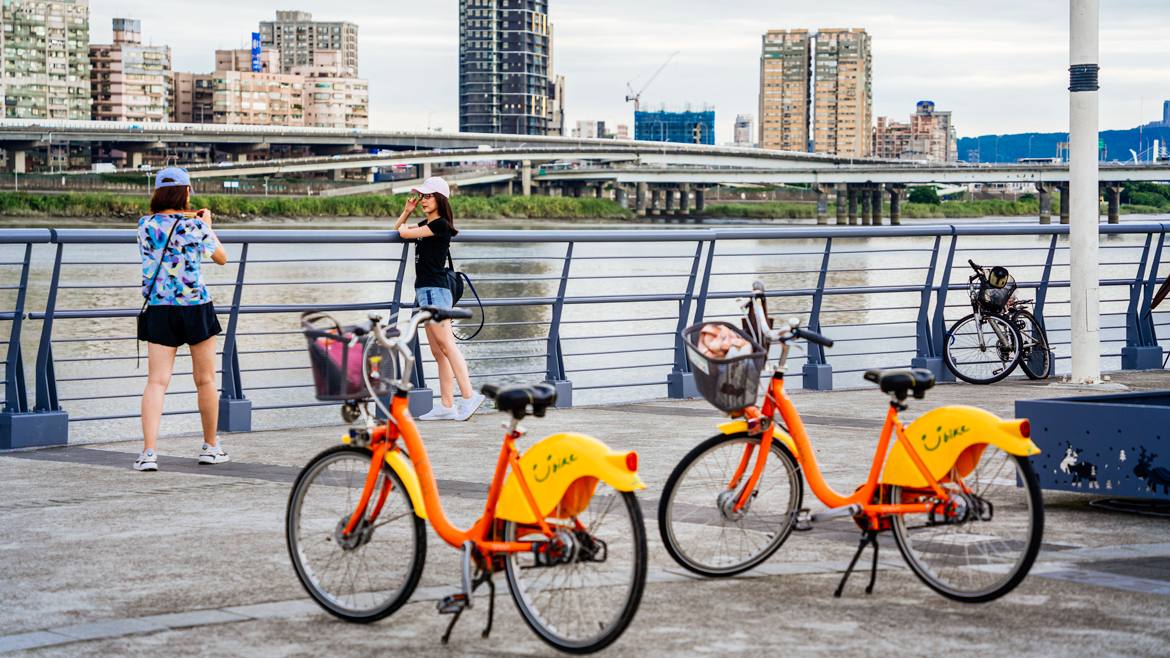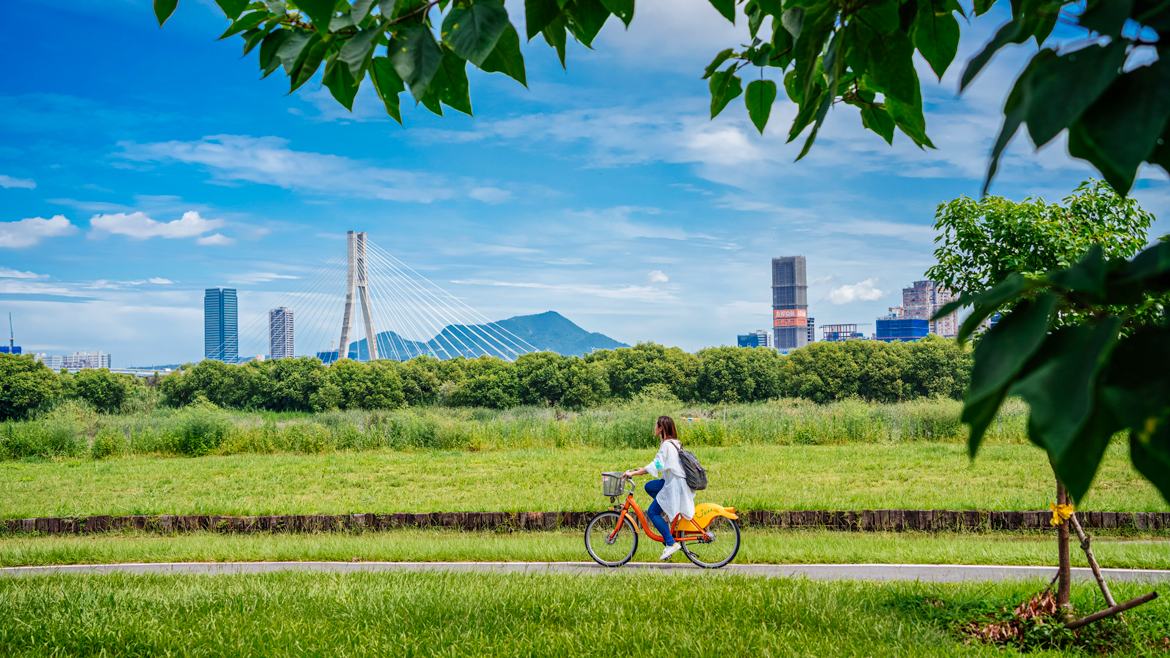 Wanhua
Longshan Riverside Park gives immediate access to Wanhua District. The first urban settlement in the Taipei Basin taken up by today's Taipei City grew here, as a riverport town where the Dahan and Xindian rivers meet to form the Tamsui. Many locals prefer the name Bangka, the original Taiwanese name (you'll commonly see "Bangka" or a variant used in English signage in the district), which was a rendering of the word for "canoe" in the local native language. Natives paddled here from all around the Taipei Basin to trade. Today the old district, rich in historical architecture, proudly maintains many elements of the traditional Taiwanese lifestyle.
The heart of the community is the large and busy Bangka Longshan Temple, founded in 1738. Its surrounding area is filled with old-time markets and family-run shops. The temple is one of the world's greatest showcases of Chinese temple art, renowned for its exquisite stone sculptures, woodcarvings, and bronze work.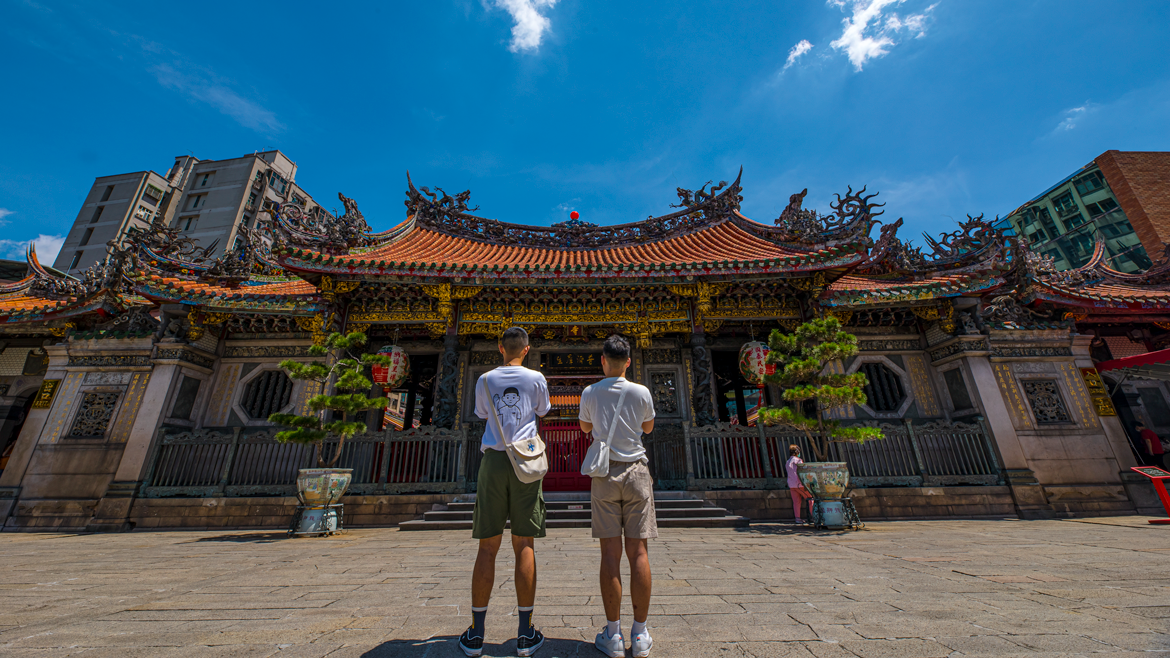 Along the temple's east wall is Herb Lane, packed with shops stuffed to bursting with medicinal herbs used in traditional tonic foods and other health-protecting items. Bopiliao Historic Block is a renovated city-block section, filled with heritage buildings, that took shape as a commercial-trade street in the late 1700s/early 1800s.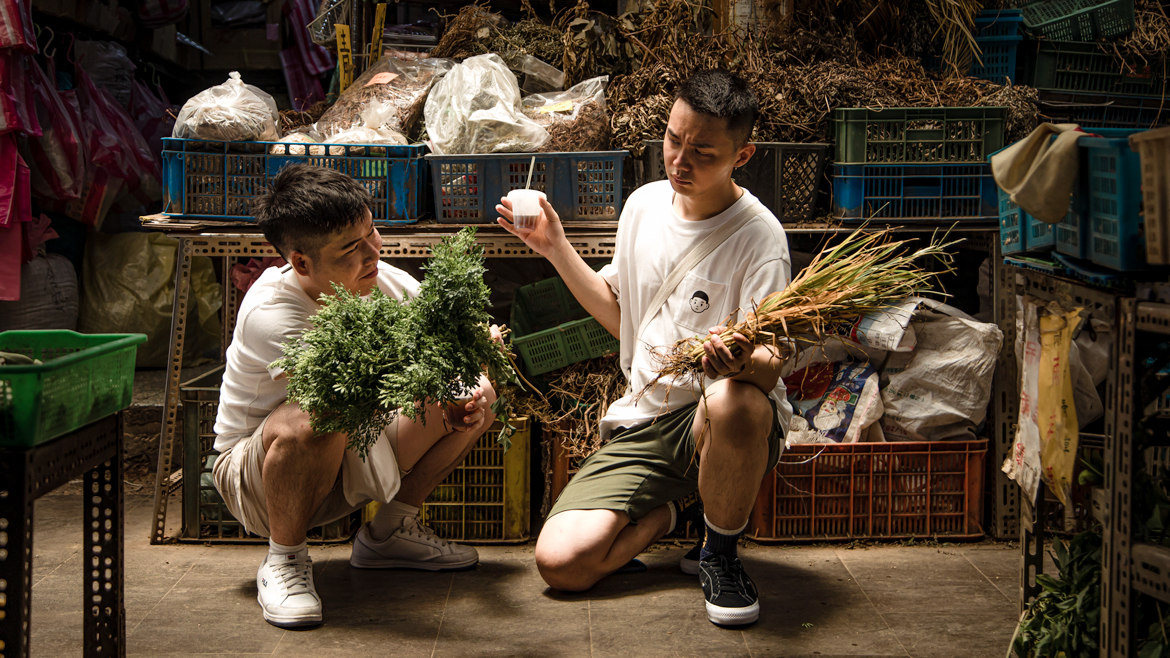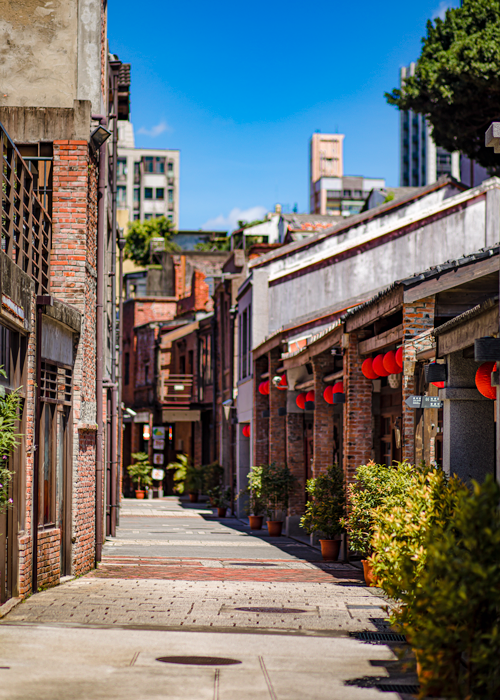 The East Sanshui Street Market, a day market, was formed in the 1920s, and many stalls are today still operated by the same families. Walk to its back, through catacomb-like corridors, to get to the distinctive Art Deco horseshoe-shaped U-mkt building, originally called the Xinfu Market, built by the Japanese in 1935 as Taiwan's first modern public day market. Thoroughly renovated, it today houses a history display, the stylish MOT Café, and other facilities. Two notable East Sanshui Street Market stalls to visit are Red Turtle Grandpa, which sells handmade traditional-style Chinese rice cakes and oil rice, and the Many Dumplings Society, which specializes in handmade traditional-style Chinese dumplings featuring many different fillings.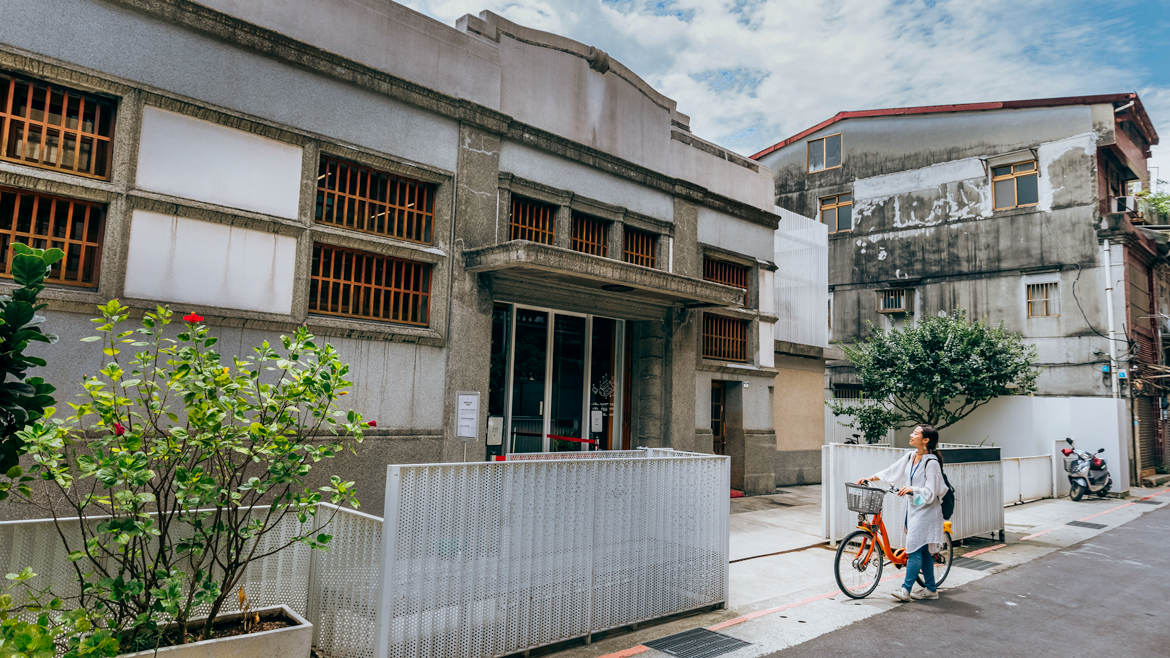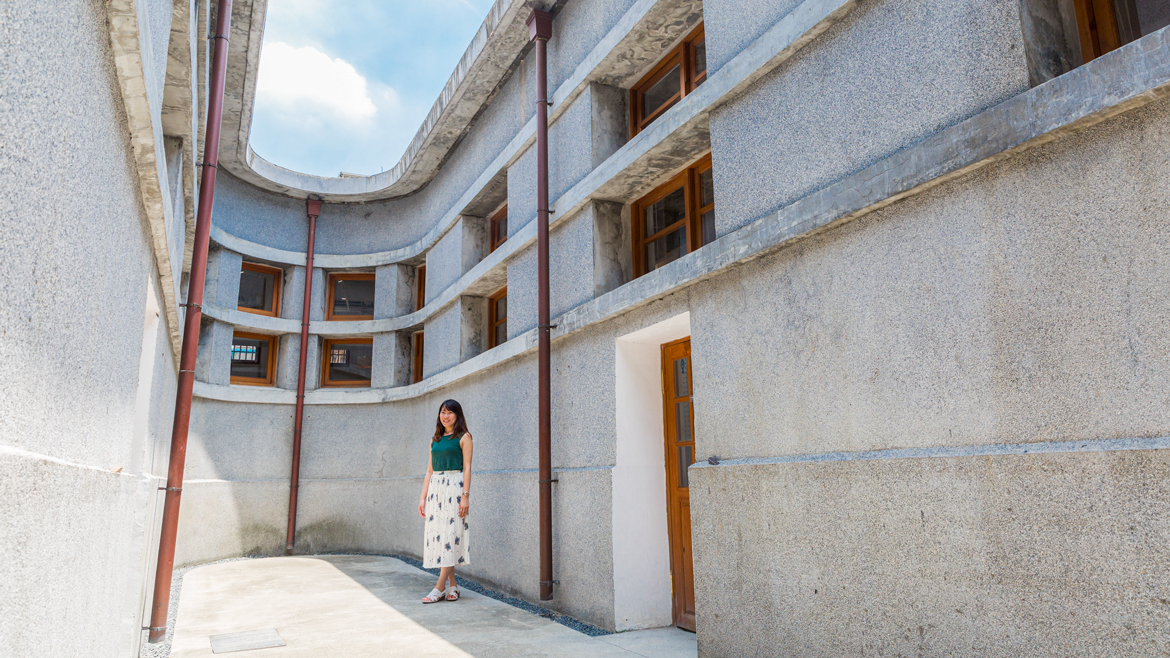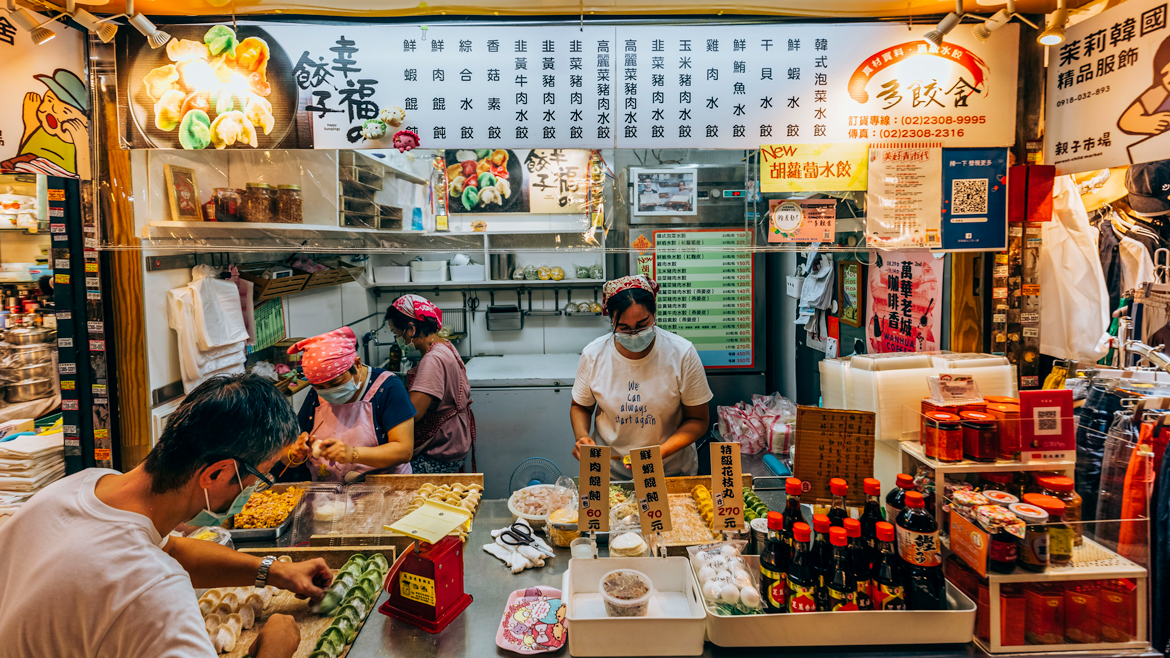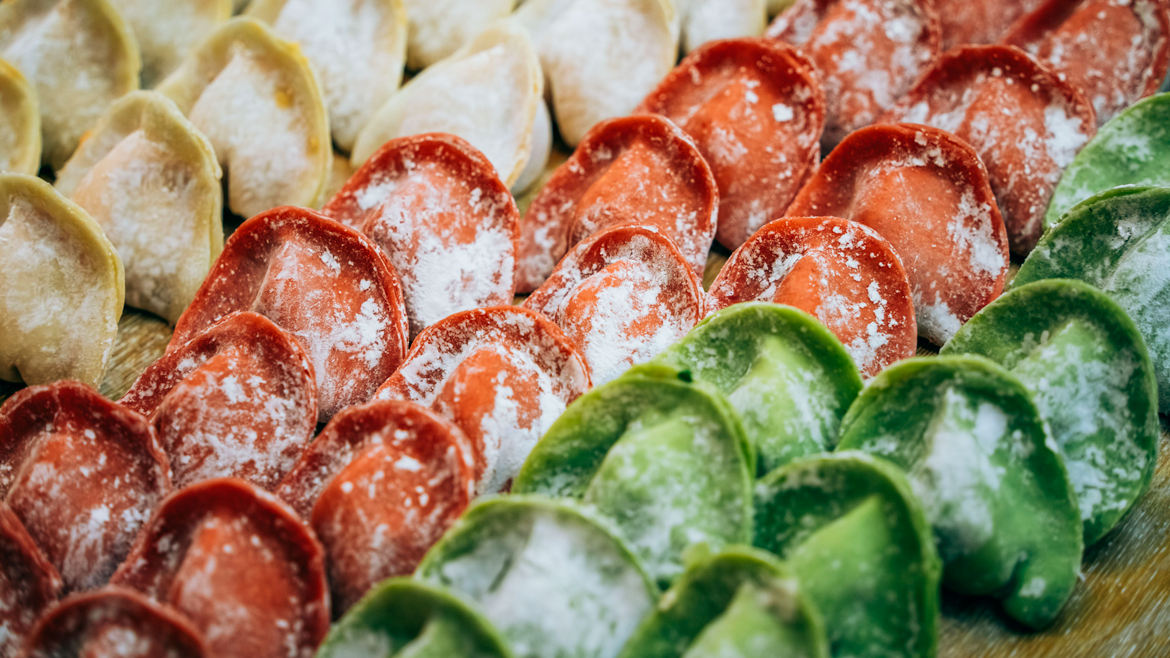 Bike Rentals and Guided Bike Tours
If you want to go for a leisurely bike ride in Taipei City, your first choice for renting a bicycle will certainly be the YouBike public bike-rental system. If you want to go on a longer (perhaps multi-day) and/or more challenging (perhaps into the mountains/around the island) ride, you want to rent a bike that is fit for the purpose.

There are a number of excellent Taipei bike shops that will provide you with exactly the bike you need for your trip. One of these operations is MathewBike, a small shop located in Shilin District. From simple children's bikes to top-notch steeds for highly demanding tours, Mathew can provide every type of bike and also the accessories you'll need for your next cycle adventure. For demanding multi-day high-mountain rides, the shop can even provide support vehicles to accompany riders.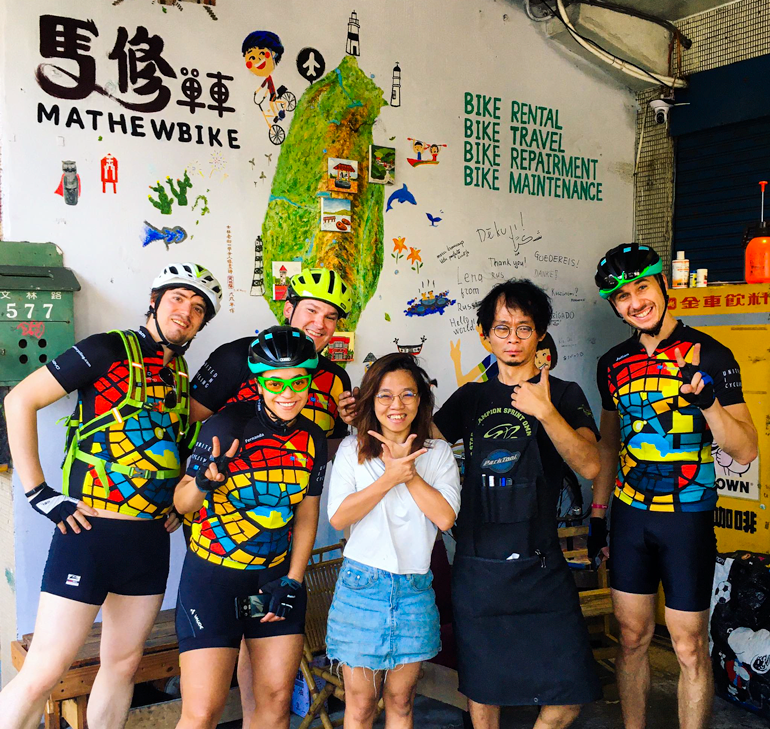 MathewBike (馬修單車)
Add: No. 577, Wenlin Rd., Shilin District, Taipei City (台北市士林區文林路577號)
Tel: (02) 2832-2238
Website: mathewbike.com
If interested in a guided bicycle tour of Taipei City (half day or full day), check out Taipei Bike Tours/Taipei Bike Works, which is run by two young bike enthusiasts from the US. Their tours are both very informative and much fun, your guide taking you to many interesting spots in the city that the average tourist will never see. You can also rent high-quality bikes, and if your own bike needs repair and/or customization, Taipei Bike Works is the shop you want to go.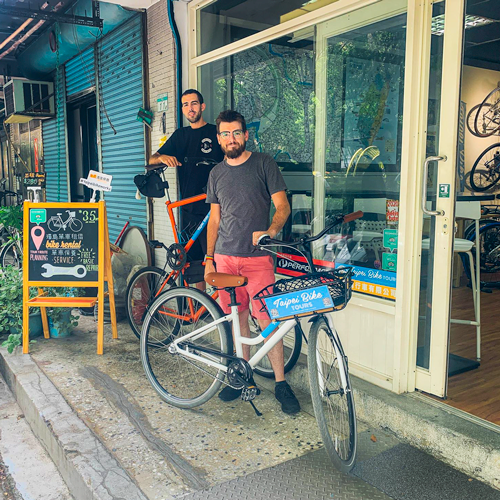 Taipei Bike Tours/Taipei Bike Works
Add: No. 9, Ln. 70, Sec. 2, Chongqing N. Rd., Datong District, Taipei City
(台北市大同區70巷二段重慶北路9號)
Tel: 0982-277-996
Website: www.taipeibiketours.com
Dadaocheng/Beimen
The heart of the Dadaocheng neighborhood, Dihua Street, is reached just moments after passing through the large dike gate beside Dadocheng Wharf. "Dadaocheng" means "large expanse for drying rice in the sun." Han Chinese moved here in the 1850s after internecine fighting in Bangka, and narrow Dihua Street emerged as the first commercial street in the new, quickly thriving riverport settlement.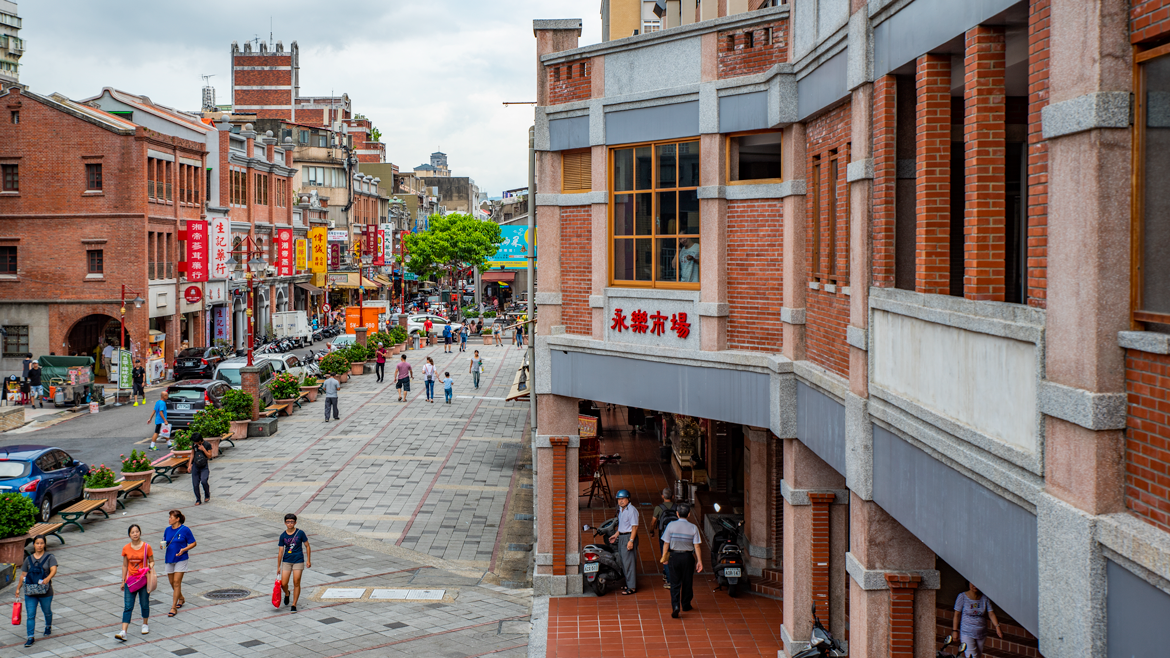 Lined shoulder to shoulder with one renovated heritage narrow-façade shophouse after another, today it remains north Taiwan's premier emporium for nan-bei huo or "north-south goods" – i.e., regional specialty goods – as well as for traditional Chinese medicines, traditional-style fabrics, and tea. A great many are still run by the same families that opened them way back when. In recent years new-era businesses aplenty have also set up camp in the heritage buildings, notably chic cafés and cultural-creative boutiques.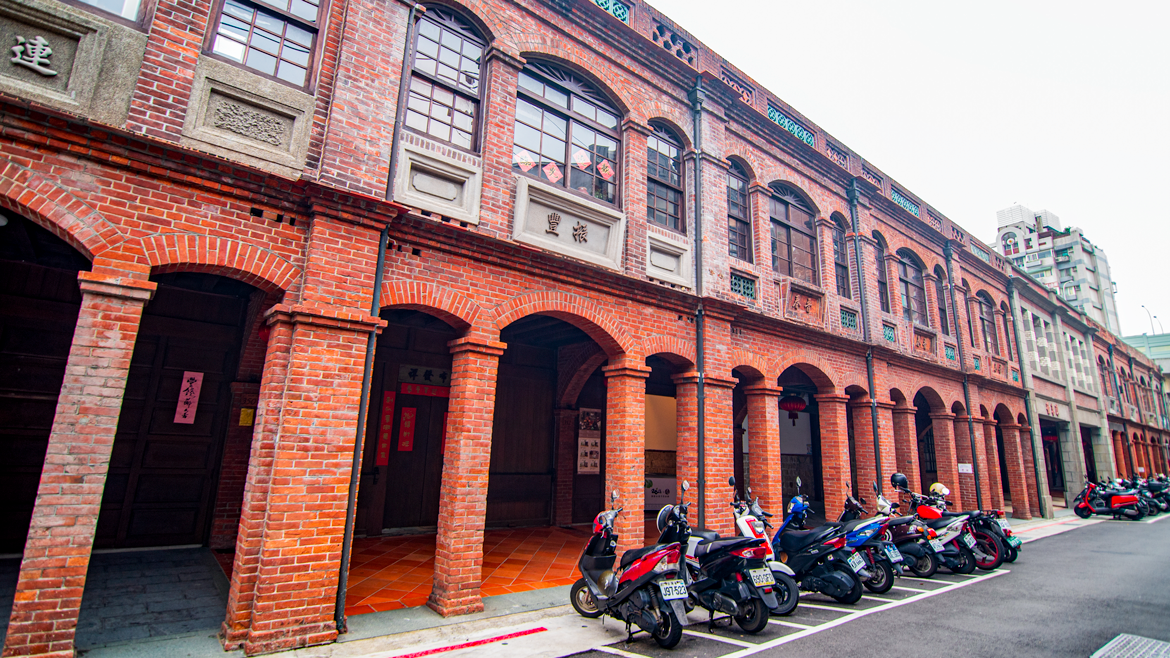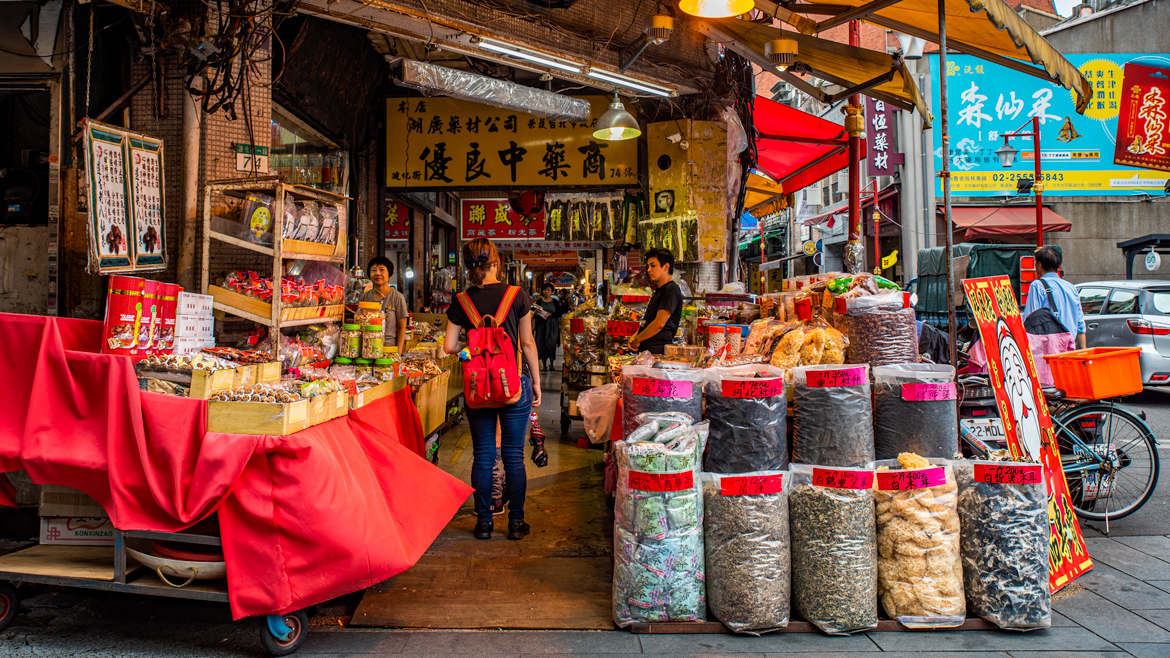 The Beimen (North Gate) area, filled with important historical sites, lies between Dadaocheng and Wanhua. The gate itself was the main portal into the old walled city. Other key sites include the Beimen Post Office, Futai Street Mansion, and Mitsui Warehouse. Also specially recommended is the highly informative display of archeological digs in the Taipei Metro's Beimen Station, taking you all the way back into the late Qing Dynasty.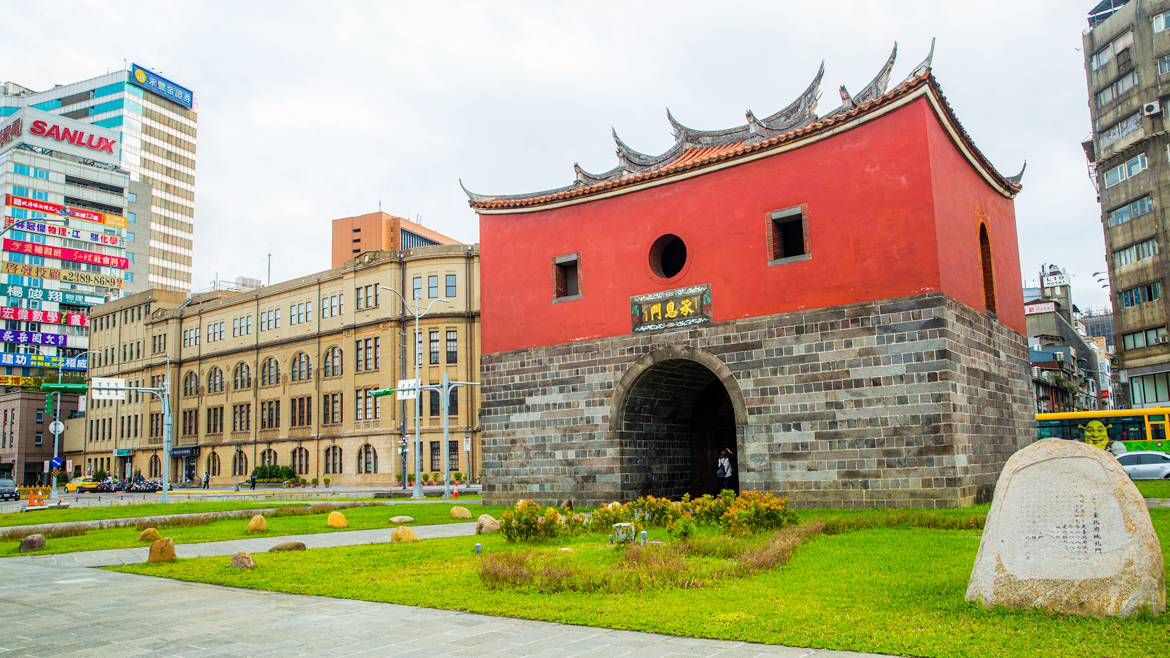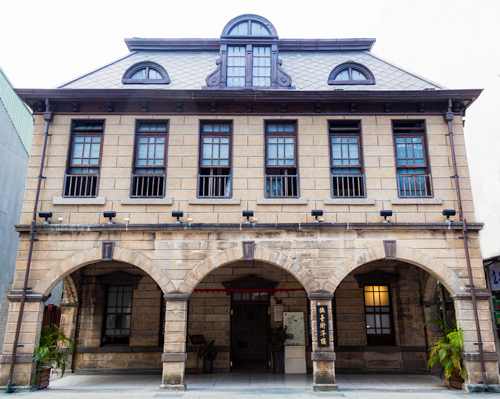 The 1.7ha National Taiwan Museum Railway Department Park, opened in July this year, is a history buff's dream come true. It faces the North Gate across Zhongxiao West Road. The carefully renovated Japanese-built complex was originally the site of the Railway Department during Taiwan's period of Japanese rule (1895-1945). After WW II it became the headquarters of the Taiwan Railways Administration. The centerpiece of the 1.7ha park is the magnificent brick-and-wood administration building. Other key attractions include the WW II war command center, railway factory, cafeteria, octagonal male wash room, electrical room, and archeological digs.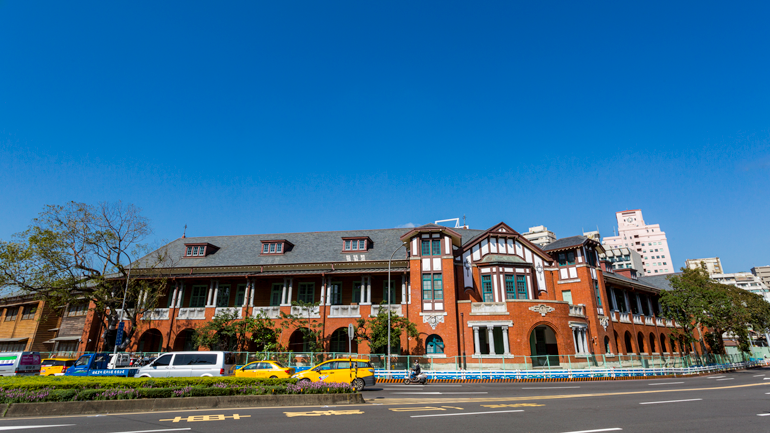 National Taiwan Museum Railway Department Park
(國立臺灣博物館-鐵道部園區)
Add: No. 2, Sec. 1, Yanping N. Rd., Datong Dist., Taipei City
(台北市大同區延平北路一段2號)
Website: www.ntm.gov.tw/en/content_175.html
Keelung River Right/Left Bank Bike Paths
Taipei's riverside bikeways stretch east-west right through the urban core along the city's share of the Keelung River, with bikeways along both the waterway's right (north) and left (south) banks. On the north side the main riverside park is Yuanshan Riverside Park, on the south is Dajia Riverside Park. Both are family-oriented, with facilities for all ages. By way of example, large Dajia has a grid of cycle paths, a children's play area and sandpit play area, basketball, tennis, and badminton courts, a croquet field, a large fountain with regular water shows and a central column that shoots 75m high, and much else to entertain.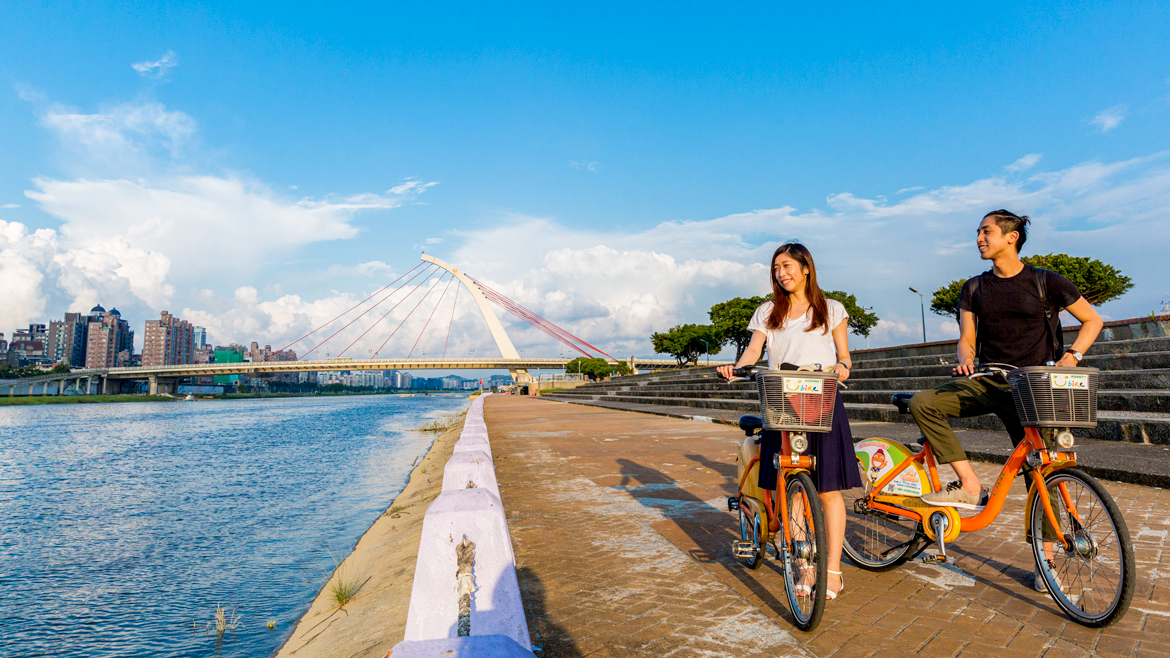 Numerous major city tourist attractions are a short cycling jaunt from the bikeways. Close to Yuanshan Riverside Park is the tall Chinese palace-style Grand Hotel sitting atop a low plateau, for over half a century a key visual landmark seen from across the city.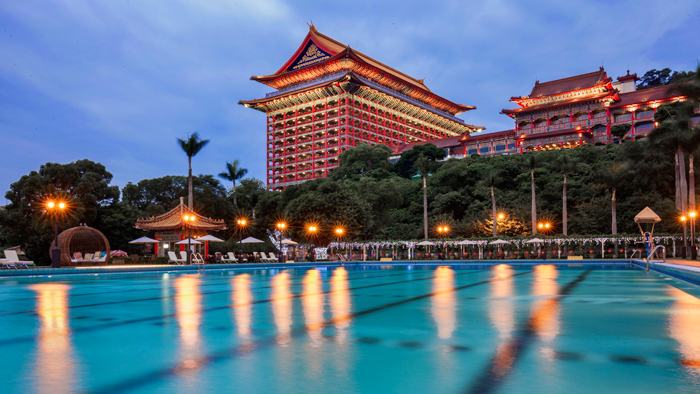 Many non-guests visit for the views and famed restaurants. The sprawling Shilin Tourist Night Market is Taipei's biggest, and has a claim to being Taiwan's best and most famous. It started as a day market near a Keelung River wharf in 1909, with the night market inaugurated in 1913.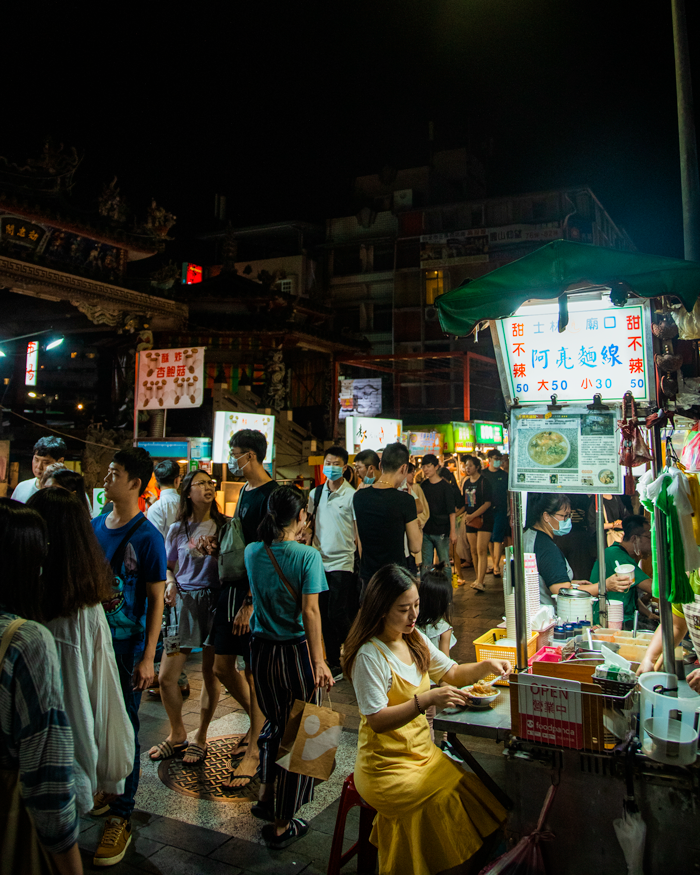 The large Miramar Entertainment Park is a modern complex housing a multi-story shopping mall. It's also home to an IMAX theater with a screen that is Asia's largest for showing commercial films, and on its roof is a 70m-high Ferris wheel that provides a terrific cityscape panorama.
Further afield is the National Palace Museum, repository of the world's greatest collection of Chinese imperial artworks and artifacts.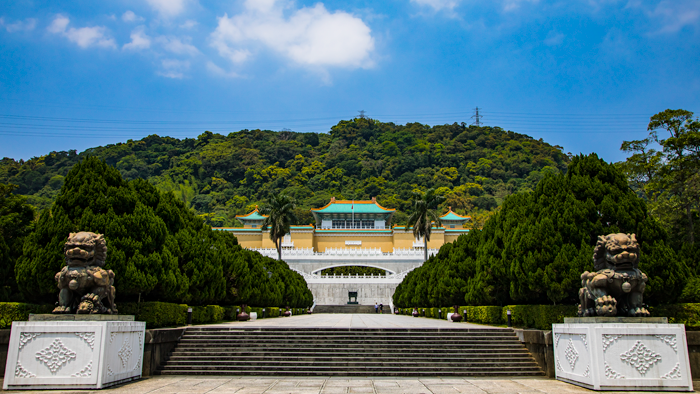 South of the river, close by Dajia Riverside Park, is Taipei Expo Park comprised of three large park areas used in the celebrated 2010 Taipei International Flora Expo. Numerous futuristic pavilions from the expo remain, and on weekends/holidays various types of entertainment are scheduled, centered around the expansive semi-outdoor food court.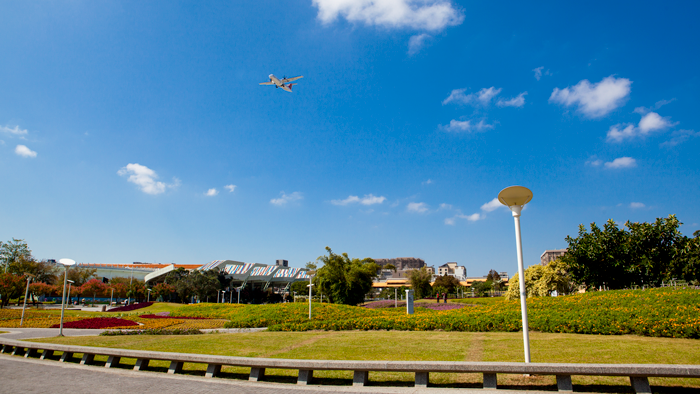 TAICHUNG
Gaomei Wetland
The Gaomei Wetland is in Taichung's Qingshui District, on the south side of the point where the Dajia River empties into the Taiwan Strait. It is 300ha in area, with a seawall stretching 3.5km that is very popular with cyclists. On the mainland side of the wall is a cluster of tourist-focused businesses, notably food sellers, where bike-rental operations are found.

At the wetland's south end is a new, large visitor center with exhibits on wetland topics. Gaomei is a sanctuary for birdlife, and an important stopover point for migratory birds. The center's rooftop provides expansive views in all directions.
Also on the south edge is a pretty biker/pedestrian-only bridge that jumps a stream to bring you over to a giant line of wind turbines that makes for striking photos. Directly in front of the aforementioned tourist-business cluster is an 800m boardwalk that brings you far out into the wetland, just a few feet above the teeming world of busy fiddler crabs, mudskippers, and other tiny local denizens. Off the cluster's north end is an elegant red-and-white lighthouse, built in 1967, that is open to visitors.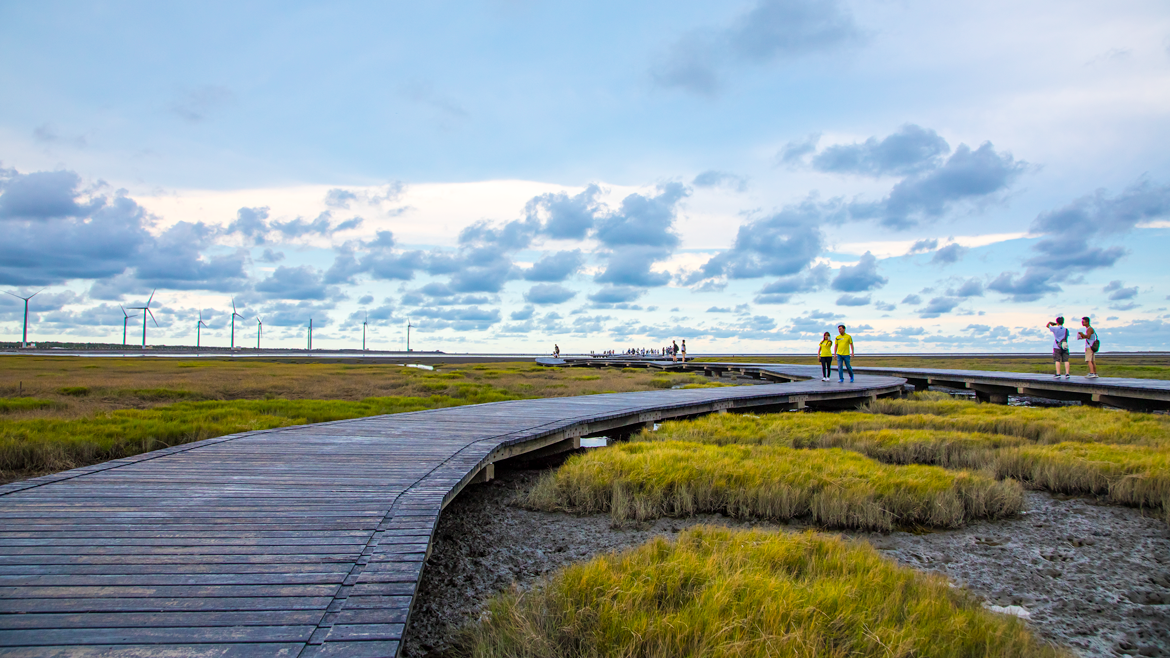 Taichung also offers a number of other dedicated bikeways that are well worth checking out, notably the Dongfeng Bicycle Green Way and Houfeng Bikeway.
Qingshui
After visiting the wetland area, take a ride inland to explore the old Qingshui urban area. Sitting on a coastal plain, backed by a high north-south ridge, Qingshui was opened for Han Chinese settlement in the 1700s. A good place to use as a hub for a cycle tour is the large, multi-story Ziyun Temple. Though a Buddhist temple, it's as colorful and ornate as Chinese folk shrines. On the temple plaza is a small, always-busy stand, Under the Tree Auntie Starch Balls – yes, under a big shade tree, and serving delicious old-style plum, herbal jelly, and starch ball cold drinks. Another Qingshui culinary icon is migao, most often translated as "rice cake," but closer to a savory zongzi (glutinous-rice tamale) than a baked goodie. There are several renowned old-time migao eateries near the temple; a claim to the crown is made by King Tower Migao.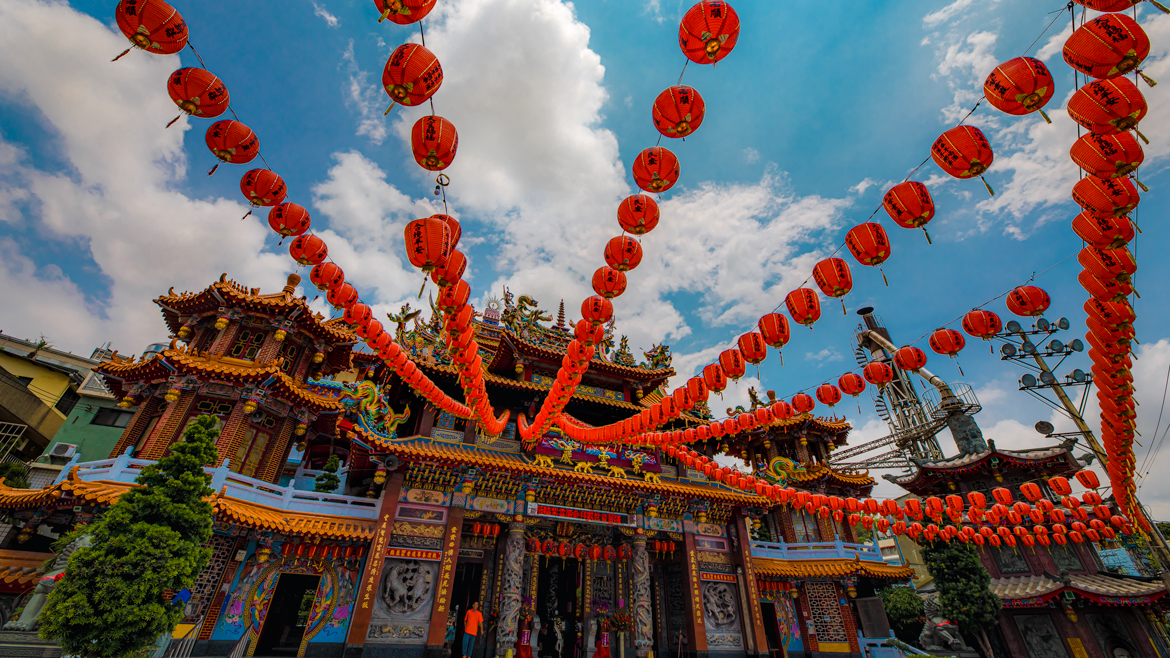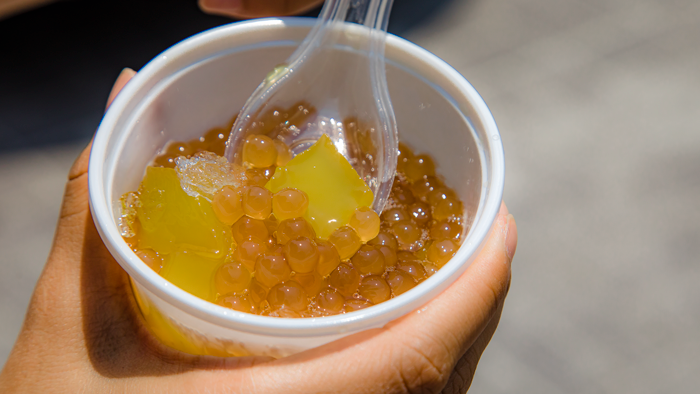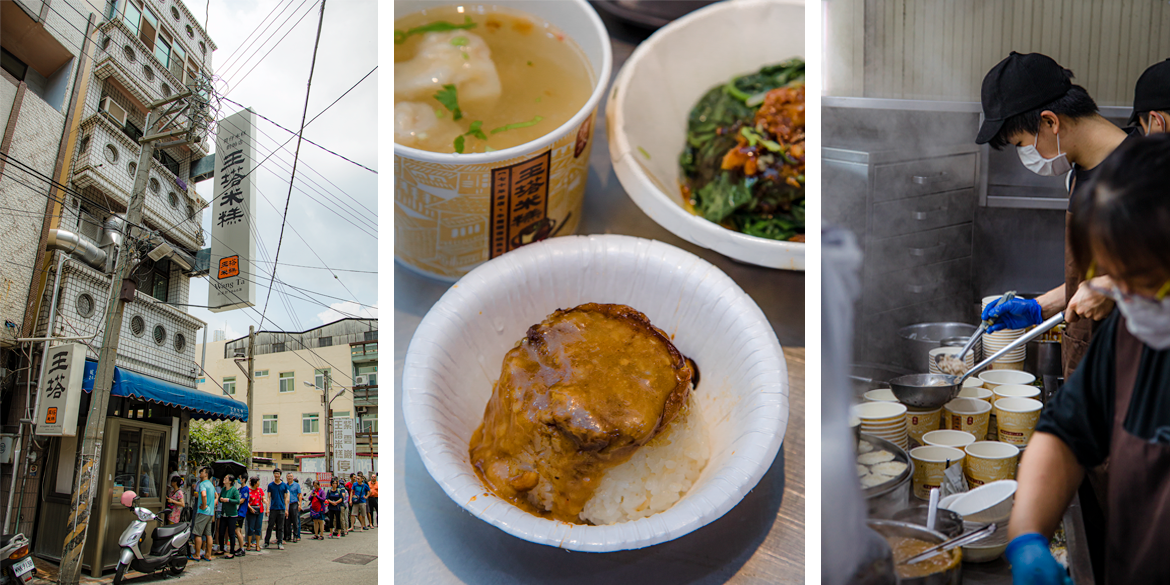 PINGTUNG
"Pingtung Rainbow Bicycle Network"
Pingtung is Taiwan's southernmost county and its southernmost section is a large peninsula that is home to Kenting National Park, a tremendously popular tropical-paradise playground. This peninsula faces the Pacific on the east, Taiwan Strait on the west, and Bashi Channel on the south, each coastal area sporting a markedly different personality. The county's north area is landlocked, its western section consists of rich flatlands carpeted with productive family-owned farms, many of them fruit operations, and its eastern section is taken up by foothills and highlands of the Central Mountain Range.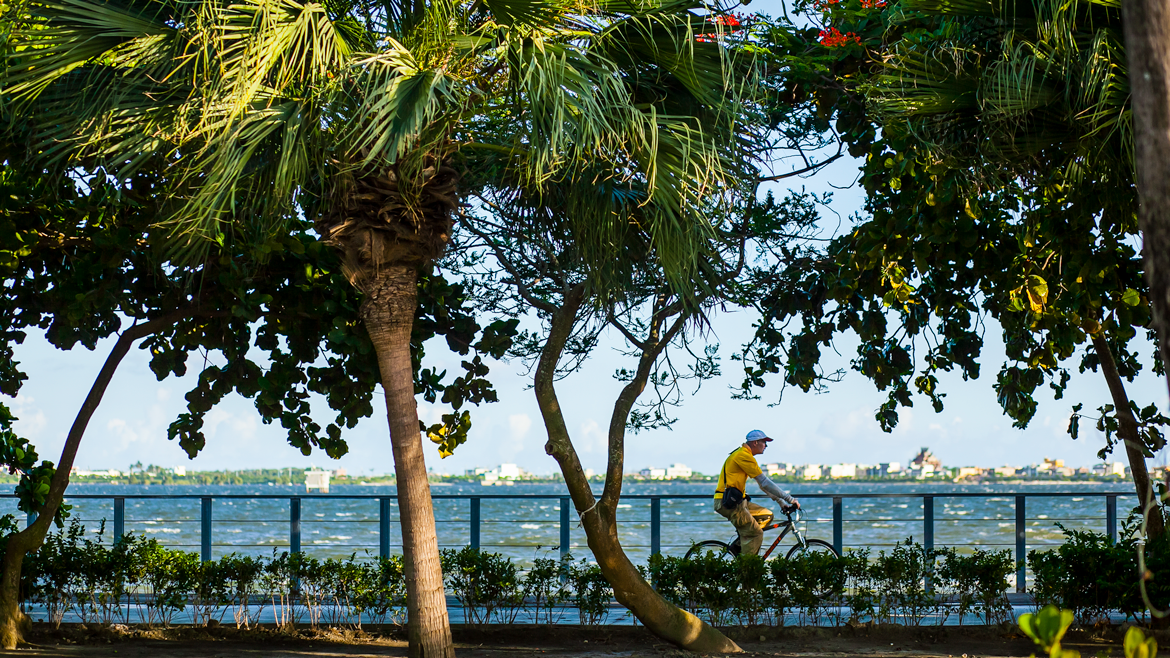 Over the past few years the county government has developed a comprehensive web of integrated bikeway systems highlighting the county's culture and scenery, dubbing it the "Pingtung Rainbow Bicycle Network." It currently totals more than 460km in length. The "rainbow" in the title refers to the use of color coding for the separate bikeway systems. For example, yellow routes are part of the coastal "blue belt" system, blue routes are part of the Gaoping River/Donggang River/coastal area system, green routes form the mountain-area "green corridor" system, and indigo is for bikeways on old railway-line beds.
Two elements of Pingtung culture especially interesting are the indigenous and Hakka communities. The former are primarily explored on the mountain routes. For the latter, specially recommended is the flatland Changzhi-Linluo Bikeway. The Hakka are a Han Chinese minority group with a strong presence on the island. The starting (and return point) is the Pingtung Railway Station, with the main places visited along the way on this farm-country jaunt the Linluo Wetlands Park, Pingtung Sports Park, and Liudui Hakka Cultural Park. The "Changzhi" and "Linluo" in the bikeway name refer to the two townships in which riders spend most of their time.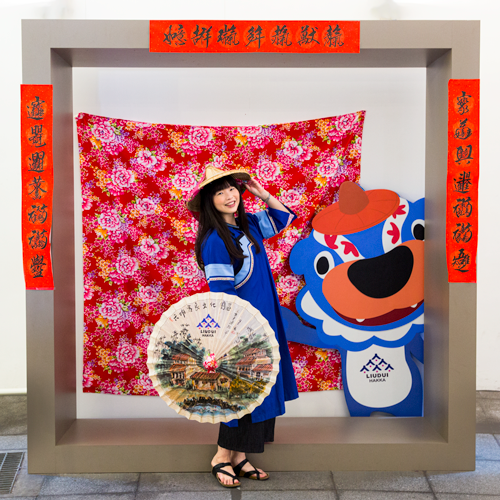 The larges-scale Liudui Hakka Cultural Park is run by Taiwan's Hakka Affairs Council. The core area features exhibits, performance spaces, activity centers, and eateries. There are also farmland, wetland, and grassland areas (with traditional-style architecture) where visitors learn about traditional Hakka agricultural practices. A variety of DIY opportunities are also available, notably the making of traditional Hakka oil-paper umbrellas and leicha (savory Hakka-style "thunder tea").
Liudui Hakka Cultural Park (六堆客家文化園區)
Add: No. 588, Xinyi Rd., Jianxing Village, Neipu Township, Pingtung County
(屏東縣內埔鄉建興村信義路588號)
Tel: (02) 723-0100
Website: thcdc.hakka.gov.tw/wSite/mp?mp=7
HUALIEN/TAITUNG
East Taiwan Bike Routes
Many cyclists in Taiwan declare that the East Coast region encompassing Hualien and Taitung counties offers the island's best cycling. This is certainly true for recreational cyclists. Provincial Highway 9, which runs between the cities of Hualien and Taitung through the colorful-crop farms of the fecund East Rift Valley, has smooth grades, long and lazy curves, and wide shoulders. Provincial Highway 11, which runs between the two cities on the Pacific side of the Coastal Mountain Range, is much the same, save for a section north of the Xiuguluan River that has more challenging grades and both tighter curves and shoulders.
East Coast trains run through the rift valley, and since bikes can be taken on certain trains (look for the bike symbol on the schedule at railway.gov.tw), many riders use the service to tackle the valley in sections. As well, some tackle rides combining valley and coast by cycling over the coastal mountains; the easiest-grade mountain-traverse route is Provincial Highway 30, which is tunneled.
Chishang/Guanshan
The East Rift Valley's flat bottom and pastoral-painting tableaux makes it a popular leisure-cycling destination, with many routes to choose from. Two of the busiest are dedicated bikeways centered on the towns of Chishang and Guanshan, located close to each other. Both are long loop routes, that take you through color-burst paddy field, rapeseed field, and fruit orchard tapestries interlaced with networks of gurgling-water irrigation channels, and to many sites of historical and/or cultural interest. There are numerous bike-rental outlets around the starting points, located at the edge of each respective town. Most any biking need will be satisfied, up to pedal bikes for four people and e-carts for six. The Guanshan loop has the honor of being the first dedicated bikeway created in Taiwan, and remains among the most beautiful.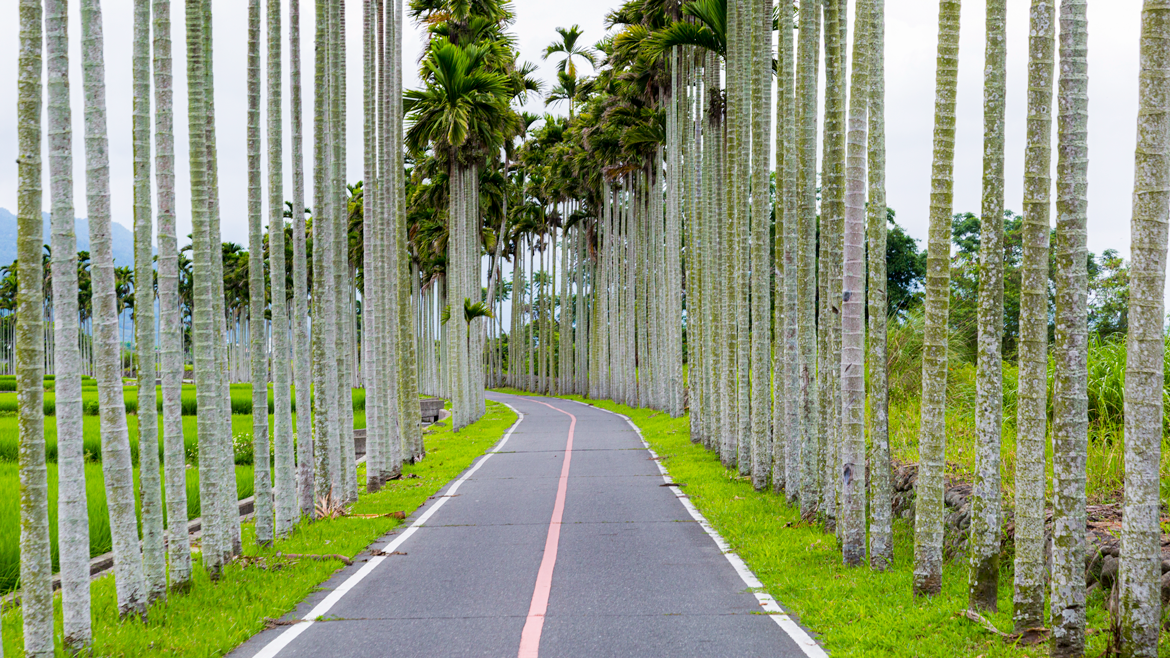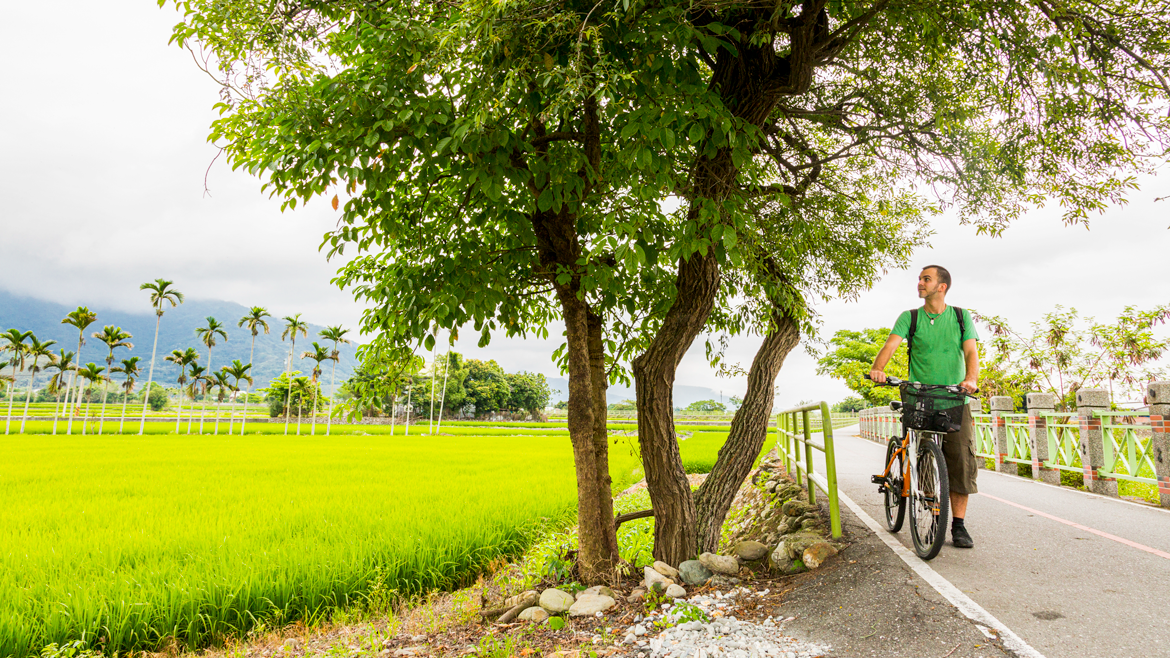 Perhaps the most pleasing section of the Guanshan loop is a long, well-shaded run along a gushing-water irrigation canal that runs along the mountainside beside the town providing wonderful sweeping views of the town, neat farm plots beyond in all directions, and the Coastal Mountain Range backdrop. The most photographed section of the Chishang loop is Bolang Dadao (Brown Avenue), set amidst a sea of paddies, made famous in a Mr. Brown Coffee commercial and EVA Air commercial starring Japanese-Taiwanese pop-idol heartthrob Takeshi Kaneshiro.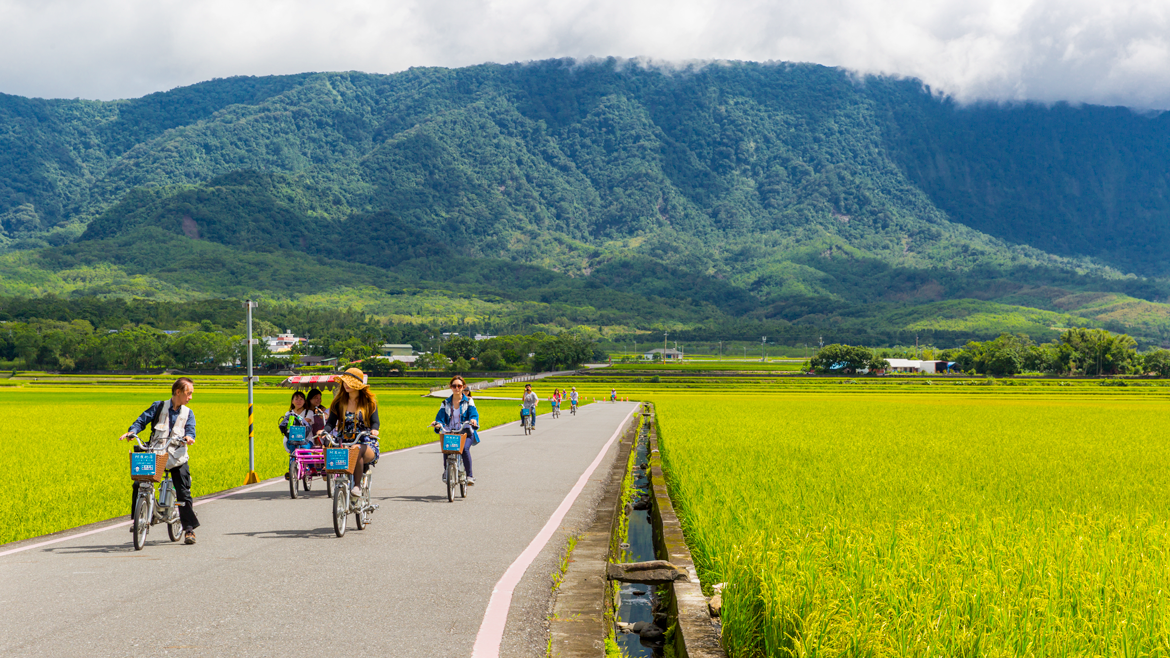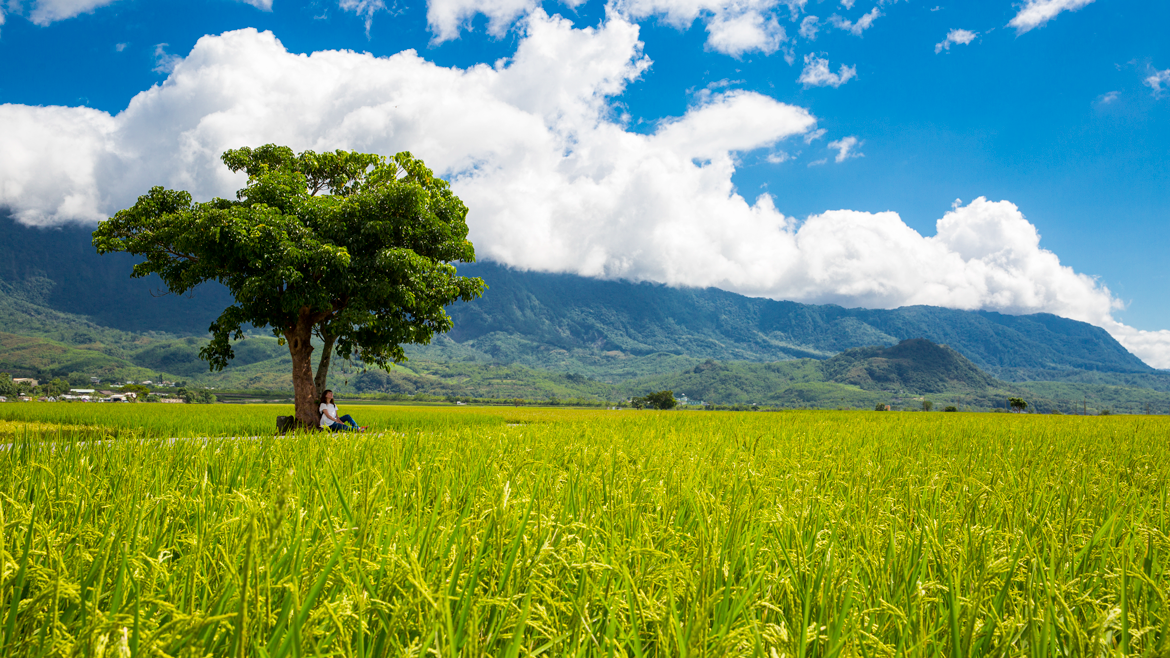 Luoshan
The farming village of Luoshan is in a lovely small side valley off the main East Rift Valley, not far north of Chishang. The valley is an indent in the coastal mountains. The local residents are about 80% Hakka. The remainder are majority Han Chinese and indigenous-tribe members. This farming community was the first in Taiwan to go organic, and now its bikeway, far less known than the Guanshan/Chishang facilities, is quickly gaining attention.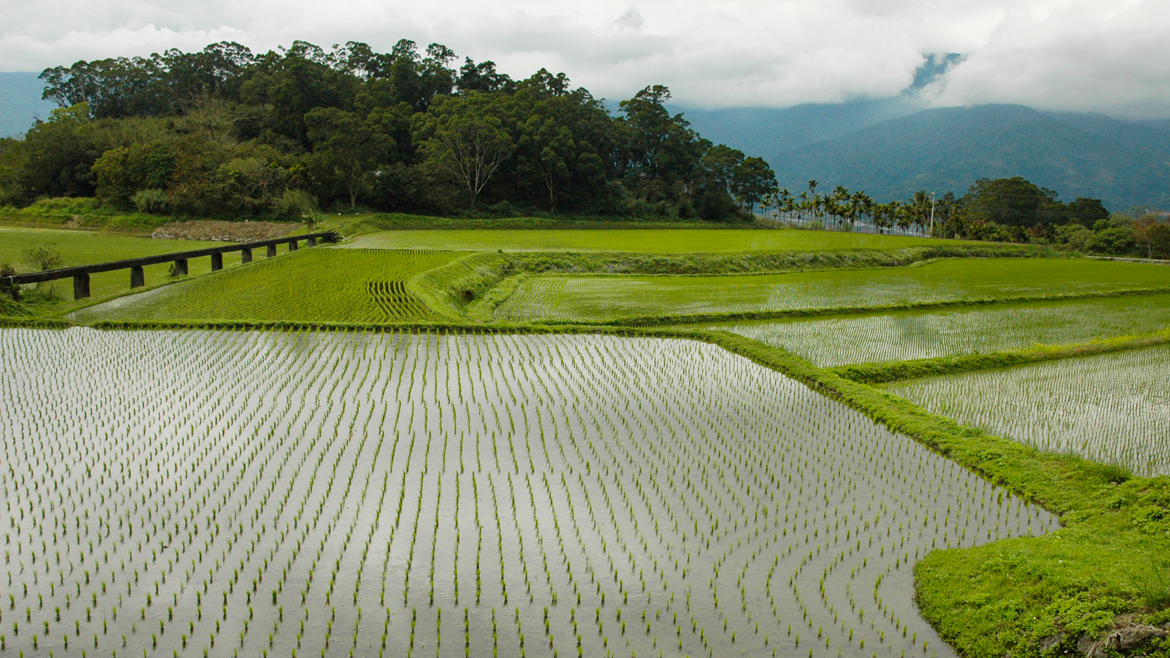 The ride, along somnambulant paved roads, starts at the East Rift Valley National Scenic Area's Luoshan visitor center, close to Provincial Highway 9. The first section is flat, through the idyllic farm-field mosaic on the valley floor. The grade then steepens, taking cyclists up through a hilly farmed area. The last leg is a walk to the bikeway's main thrill, the Luoshan Waterfalls, a two-tier beauty with a height of about 120m that courses through a jagged mountain fault line.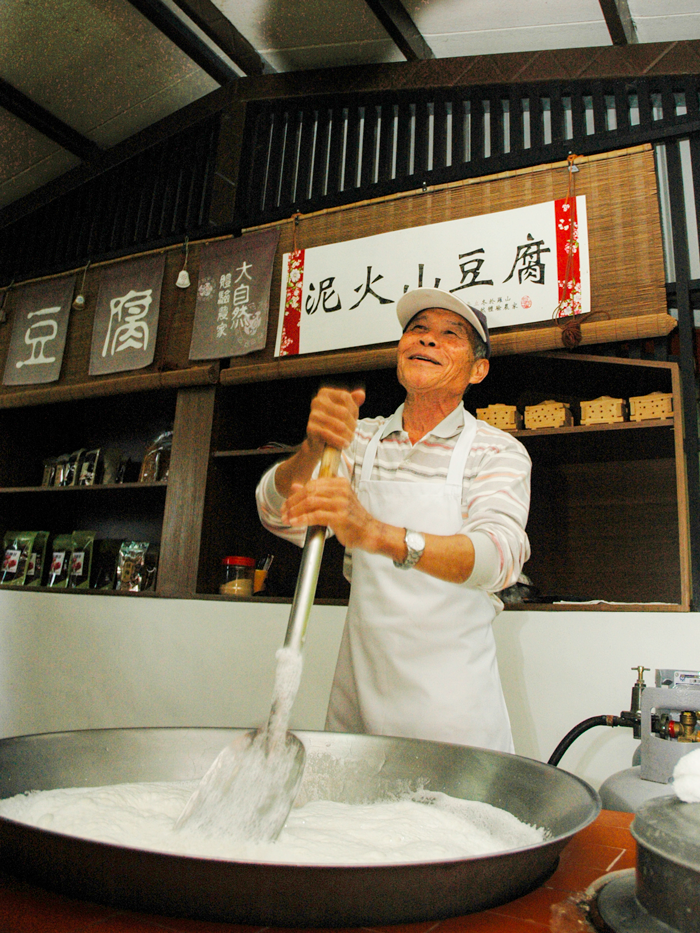 In the hilly farm area is the other main draw, the Luoshan Mud Volcano. With government help, local seniors have revived an old-time art, making "volcanic mud tofu." The muddy waters, mineral-rich, are great for making this savory delectable. A selection of local tourist-oriented farms offer DIY sessions.
OFFSHORE ISLANDS
Kinmen
Greater Kinmen and Lesser Kinmen are two large Taiwan-controlled islands that are part of a tightly-packed archipelago just off the coast of mainland China's Fujian province. Their nearest point, on Greater Kinmen, is just 1,800m from the China mainland shore – site of the military-manned Mashan Observation Station. With cold war tensions now eased, many military facilities are now retired and open to the public. The countryside is dotted with productive, small farms and imperial-era clan villages featuring distinctive south Fujian architecture.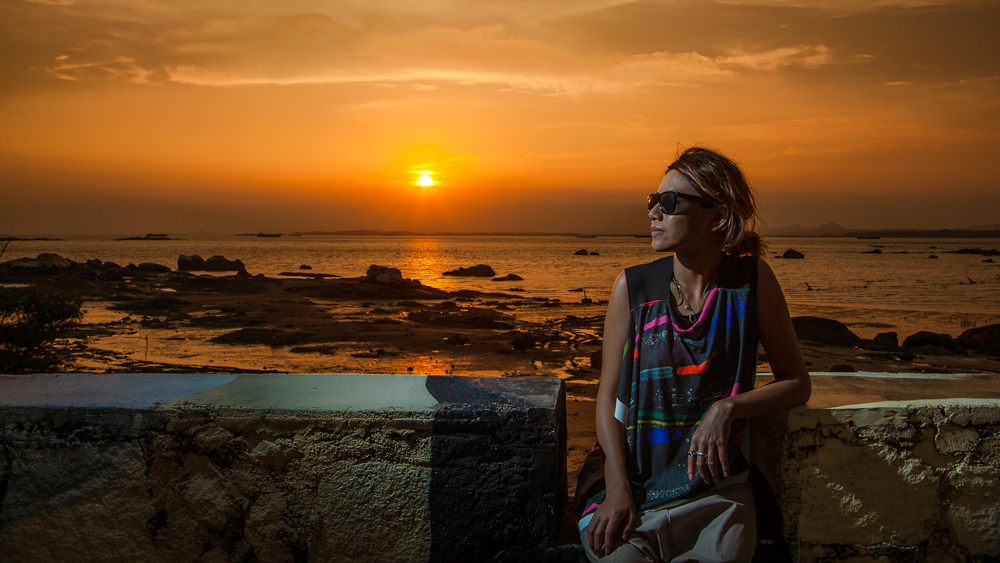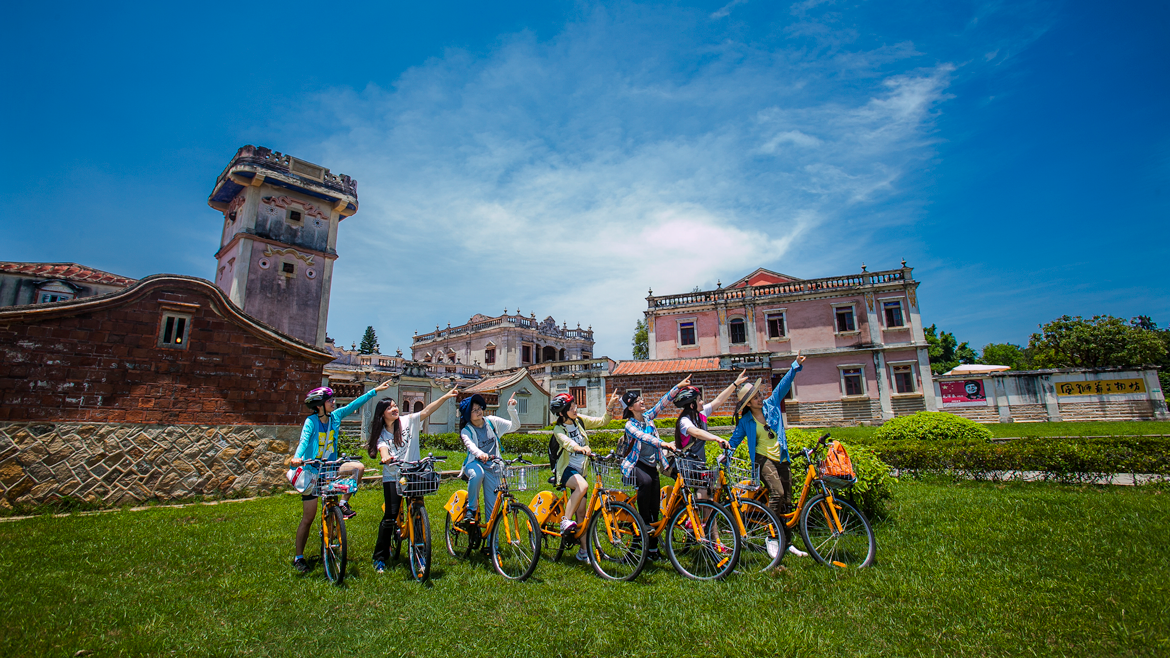 Cycling is a breeze here. The terrain is comparatively flat, the roads are of excellent quality (built to handle military hardware), population density is low, and locals drive noticeably slowly. The majority of visitors spend most of their time on Greater Kinmen. There is good tree cover and much shade along its routes, especially on and around rocky Mount Taiwu (just 253m high). A tourist favorite is the Wind Lion God cycling tour. There are 60-plus colorful statues around the islands to protect homes and farm fields from the sometimes strong winds; Wind Lion tour maps are available at Kinmen tourist information centers.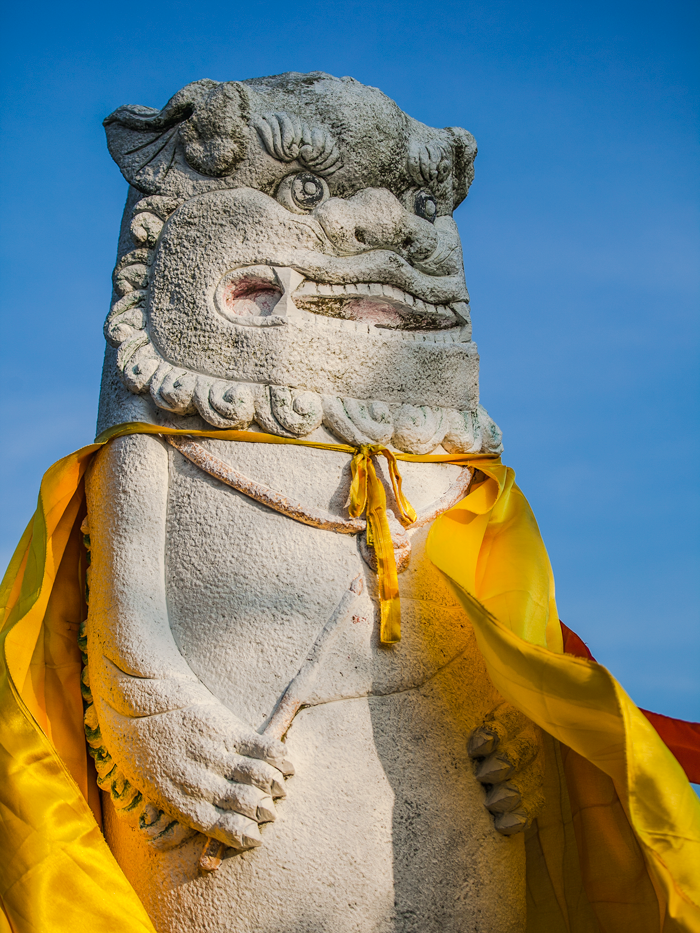 Penghu
The Penghu Islands, most often simply referred to as "Penghu," are a wide-flung archipelago of history-rich islands sitting in the middle of the Taiwan Strait. Like the Kinmen Islands, they lie low to the surrounding waters, with few high points, making them nigh perfect for cycling. Locals describe the collection of 90 islands as "pearls scattered on the turquoise sea." And again like Kinmen, the long, sleepy roads have little motor-vehicle traffic. The islands are primarily rocky, with massive formations of exposed volcanic basalt columns prominent and seascapes dramatic, and dotted with a number of fine white-sand beaches.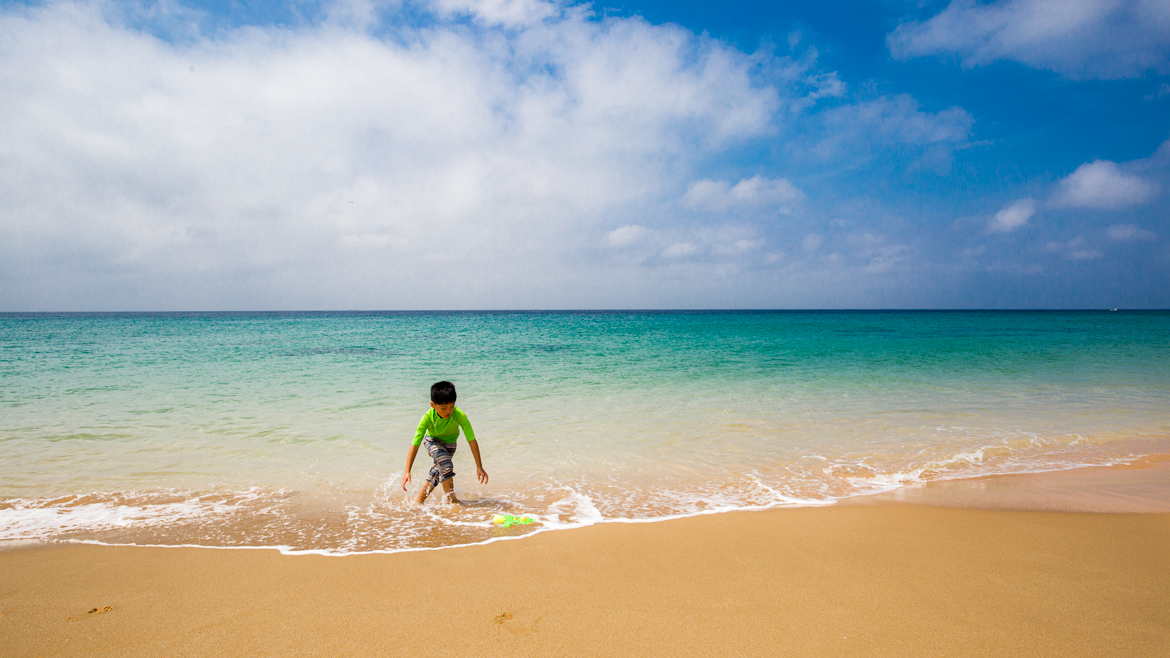 This was a key regional crossroads in the days of sail, including for pirates. The islands are a slow-moving realm of old fishing villages – with a selection of stone-residence villages fully renovated and now major tourist draws – old temples, old lighthouses, and old fort ruins. Small farm plots are protected from the famed winter winds that rush down the strait by low coral walls. The three main islands, connected by bridge, form the outer walls of a comparatively calm inland sea. Sail sports are popular on the water, long and leisurely bike and scooter tours on the land. Boat tours to the outlying islands are also popular, with bike/scooter rental operations set up at docksides, as are nighttime squid-fishing outings.
More Info
A few specially recommended resources on matters cycling …

On Taiwan cycling in general: taiwanon2wheels.com

On Taipei's riverside bikeway system: travel.taipei/en/must-visit/riverside-bikeway