There Has Never Been a Better Time to Visit
TEXT / STEVEN CROOK
PHOTOS / ASKA CHI

Tainan is a city with an essence that never seems to change, yet somehow gets better and better. Taiwan's political and economic capital for more than 200 years, until 1885, it's rightly regarded as a bastion of traditional culture. In its heart, the density of shrines and sites of historic importance is nothing short of astonishing. But there's much more to Tainan than preservation of the past. In recent years a strong hipster aesthetic has taken root. Artists and entrepreneurs have repurposed all kinds of old buildings as galleries, homestays, and cafés. For those who like to wander side streets and back alleys, it's one of Asia's most rewarding destinations.
There's a good reason why we keep coming back to Tainan. In fact, there are several. For a start, it's rightly said that you cannot hope to understand Taiwan unless you spend some time in the former capital. Tainan's long history has given it a rich culture and a degree of self-confidence that Taipei, the current capital, can't quite equal.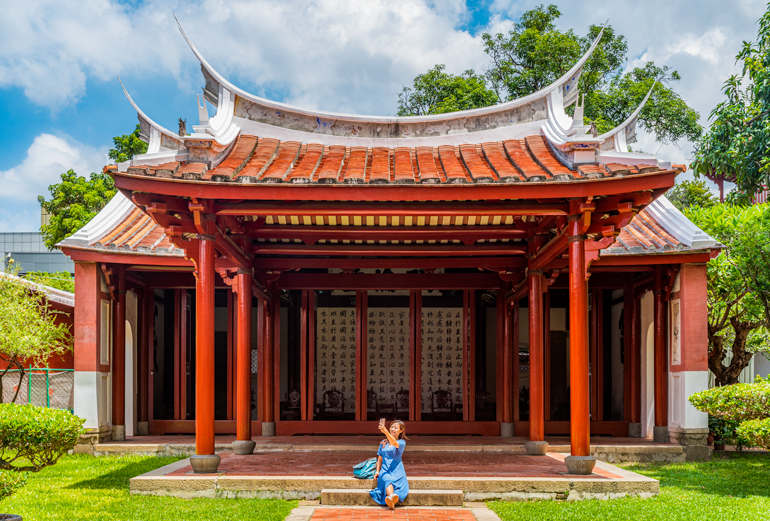 Like many old cities, roads in the core tend to be narrow, so using buses, the local bike-sharing scheme (T-Bike), and your legs to get around is strongly recommended. Possibly because so many of them have spent their lives residing in high-density low-rise neighborhoods, Tainan folks are exceptionally friendly.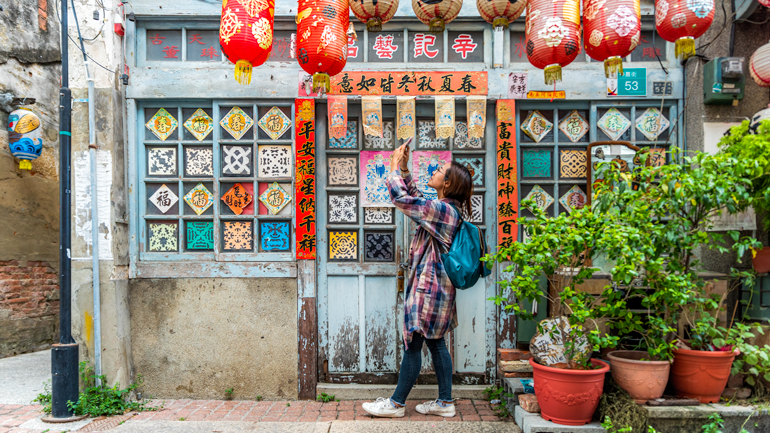 Compared to Taipei, less English is spoken in Tainan, but this is changing fast. Not only is an influx of internationally-minded young people reinvigorating the old heart of the city, but the Tainan City government has declared English to be the second official language. In this sense, for those coming from afar, there's never been a better time to explore Tainan – and the food, as it always has been, is superb.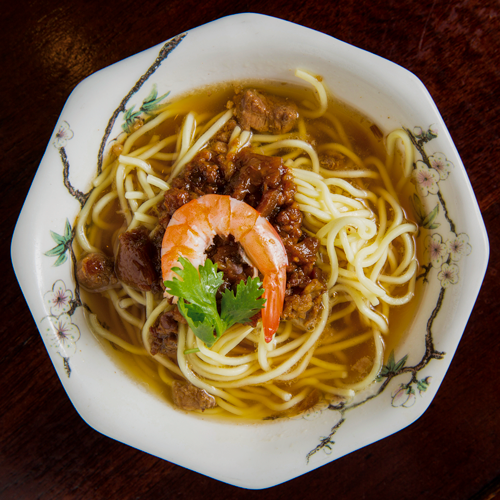 For Taiwanese visitors and tourists from other parts of Asia, Tainan's "little eats" (xiao chi) have long been a key attraction. Now, thanks to global media interest and reports in various languages, Tainan's street food has become far more accessible to all international travelers, even if you can't read a single Chinese character. Come, see, and eat!
Also read
Old Neighborhood in TAINAN: 321 Art Alley Settlement
PLACES TO VISIT
Tainan Art Museum Building 2
Few projects embody the city's effortless melding of old and new better than the Tainan Art Museum. The museum's Building 1 is an Art Deco-influenced former police station that dates from the period of Japanese colonial rule. Building 2, by contrast, is a striking purpose-built structure. It's been variously likened to a mockup for a base on Mars and to a ziggurat.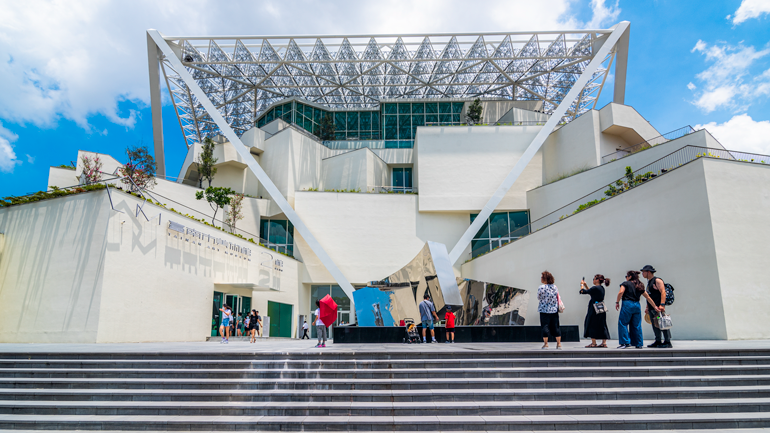 The four galleries on the first floor of Building 2 are devoted to works that exemplify or were inspired by Taiwan's traditional religious arts. Of course, in Tainan you needn't go far to find places of worship which overflow with breathtaking paintings and woodcarvings. But here, in addition to modern twists on ancient themes, there are unusual items that will delight aficionados of temple art. Where else, for instance, can you pore over preliminary sketches drawn by Pan Li-shui, the most famous temple painter of the 20th century?
Among the exhibits upstairs is a hall given over to four key Taiwanese artists, among them Chen Cheng-po. There's also a resource center with hundreds of art books and periodicals, not to mention good views over the Tainan Judicial Museum on the south side of Fuqian Road.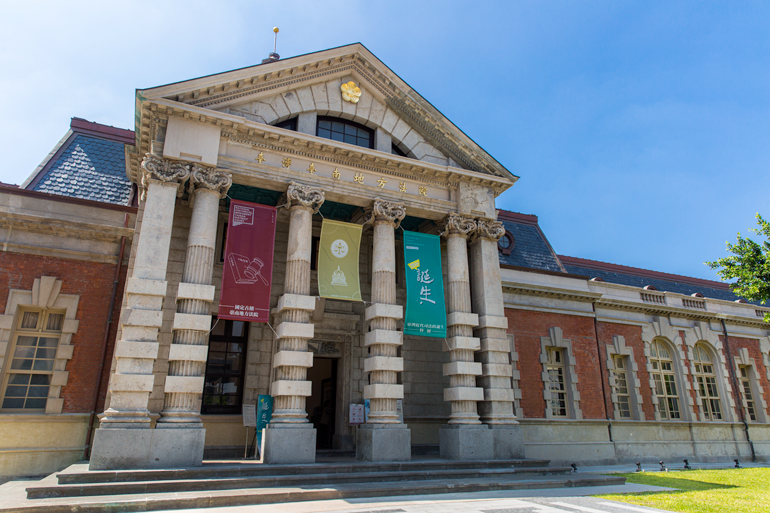 Standard admission to the museum is NT$100; the same ticket can be used for Building 1 and Building 2.
Tainan Art Museum Building 2 (台南市立美術館二館)
Add: No. 1, Sec. 2, Zhongyi Rd., Central West District, Tainan City
(台南市中西區忠義路二段1號)
Tel: (06) 221-8881
Website: www.tnam.museum (Chinese)
The Spring
And from the ruins arose … an empty space? When the authorities decided to demolish Tainan Chinatown, a mall built in the early 1980s, they engaged Dutch architects MVRDV to bring more greenery into the heart of the city and turn the site into a plaza with a difference. Taking advantage of what used to be the mall's basement, the design team created 1.54ha of public space below street level. Road traffic is thus out of sight, and mostly out of earshot.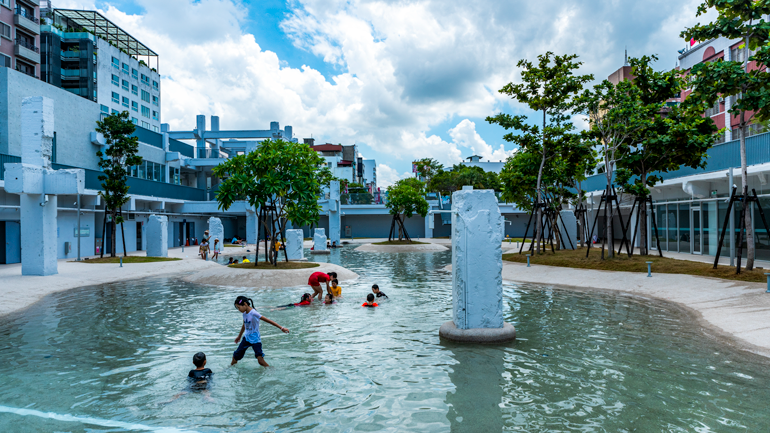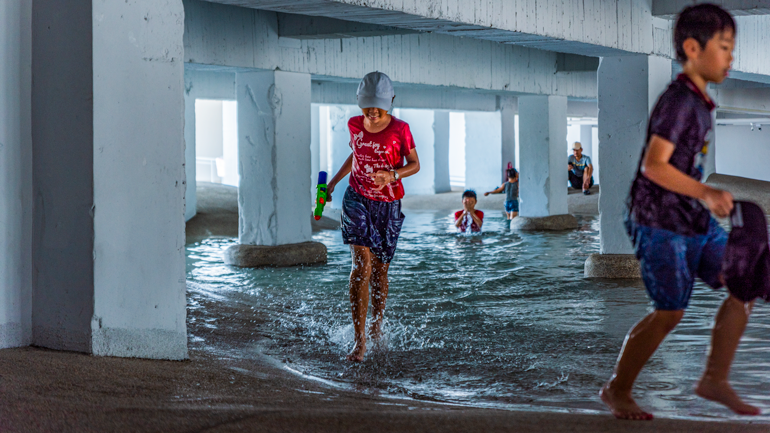 A selection of the old building's beams and columns have been left in place. Between these whitewashed remnants, an undulating roughcast surface has been laid. The height differences aren't there purely for aesthetic reasons, but calculated so water accumulates into a miniature lagoon complete with tree-studded islets. The pool is shallow and kept sparkling clean so that youngsters can safely splash around. When the sun is strong, the most popular section of The Spring is that directly below Jinhua Road. During the warmer months people flock here after dark.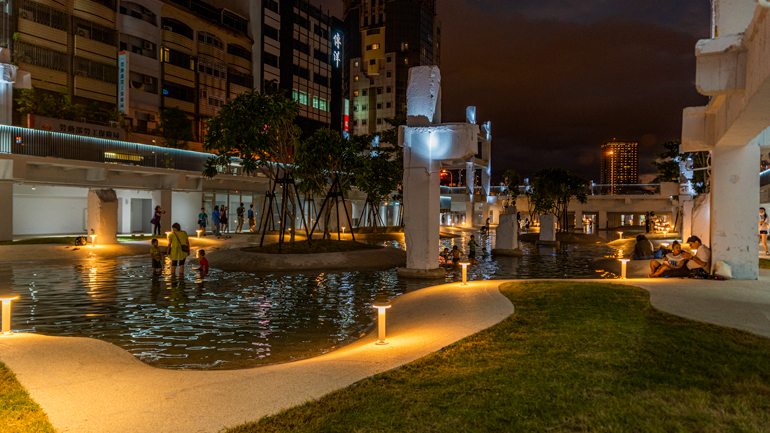 The Spring is open from 9am to 9:30pm Wednesday to Monday; admission and use of the on-site changing rooms is free. Like all sizable modern and modernized attractions in Taiwan, it has barrier-free facilities as well as conventional restrooms.
Location: At the intersection of Sec. 3, Jinhua Road and Zhongzheng Road
Facebook: www.facebook.com/TheSpring.Tainan/
Also read:
YANSHUI Township in TAINAN CITY
PLACES TO EAT
Qing Shui Tang
Qing Shui Tang's refreshing aiyu-based desserts have won island-wide fame, so expect to queue before you can sit down. If this is your only chance to try aiyu jelly – it's almost never seen outside Taiwan – it's certainly worth the wait, especially if you want to sample some of this chain eatery's unique innovations. But first, what exactly is aiyu? A pear-sized fig that grows in Taiwan's mid-elevation mountains, it's picked by indigenous villagers, then dried. After soaking, the seeds are squeezed through a straining bag. The pectin thus released turns into a jelly with a mild yet pleasant taste.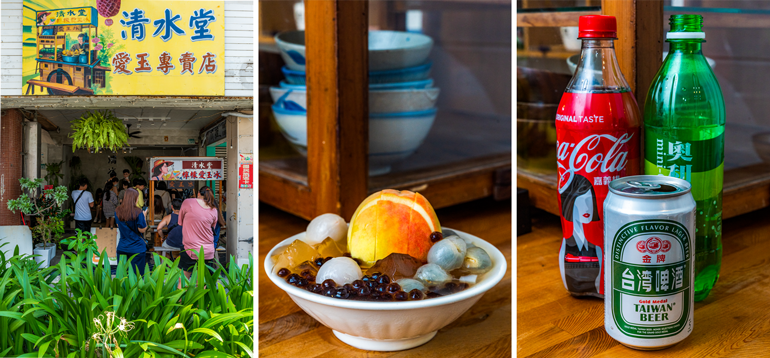 Most aiyu vendors do little more than add a dash of honey and a few slices of lime. But at Qing Shui Tang they're much more ambitious, serving extravagant combinations of aiyu with boba, matcha, mango, strawberries, and/or taro paste. For an extra layer of gustatory experience, say yes when the staff ask if you'd like a trickle of soda or beer poured into the mix.
Qing Shui Tang (清水堂)
Add: No. 305, Zhongzheng Rd., Central West District, Tainan City
(台南市中西區中正路305號)
Warm Food
Congee (thick, nourishing soup made with rice) is a common breakfast food in Taiwan, but few people make it quite so well as Warm Food's young and commendably hardworking owner/chef. From 7:30am to 10:30am, Monday to Saturday, he's here, a stone's throw from the Taiwan Fu City God Temple, serving comforting bowls of congee to a stream of eat-in and take-out customers. Later, in the same small space he sells rice-based lunches and dinners under a different business name, Oh My Hut.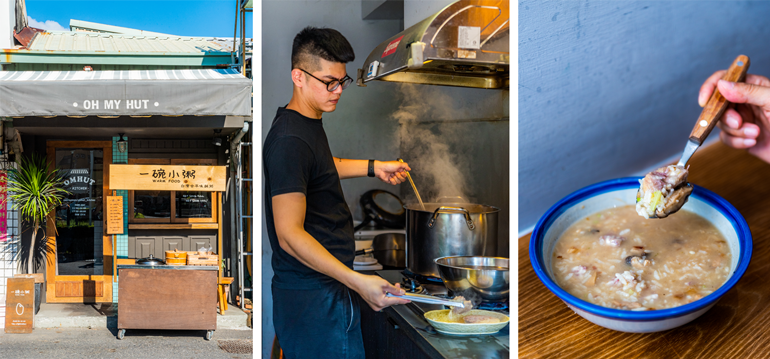 At Warm Food, Monday means cabbage congee. On Tuesday and Friday, the key ingredient is taro. On Wednesday, he cooks up daikon congee. For seasonal vegetables, you should come on Thursday or Saturday. This writer dropped by one Friday and was most impressed by the savory, satisfying combination of taro and rice, flavored with pepper, tiny strips of pork, slivers of squid, and sliced mushroom. A big bowl will keep you going until lunchtime.
Warm Food (一碗小粥)
Add: No. 79, Wanchang St., Central West District, Tainan City
(台南市中西區萬昌街79號)
Facebook
BOOKS & COFFEE
Ubuntu Bookstore
Between the early 17th and late 19th centuries, Tainan's growth was driven by maritime trade. Vessels loaded rice, sugar, and other commodities at docks alongside the "five channels" that reached deep into the city center. Over time these waterways became choked with silt. To provide drainage, the Tainan Canal was excavated during the period of Japanese rule. Thanks to government investment, the streets that abut the canal have become much more attractive in recent times. Ubuntu Bookstore, located above an art gallery, is in one such desirable neighborhood.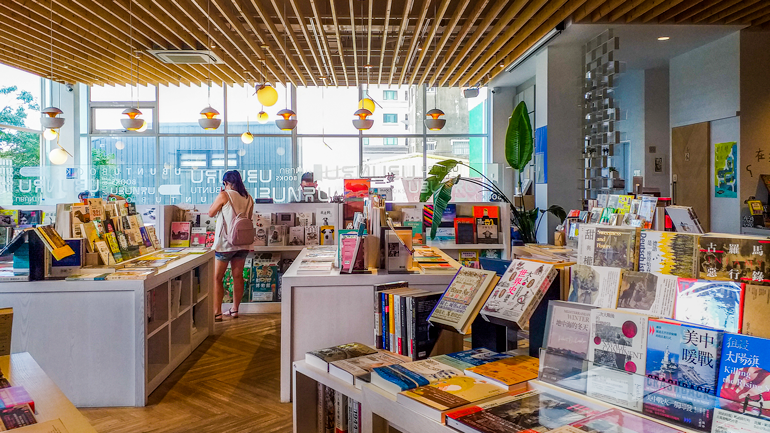 Unlike some bookshops, Ubuntu doesn't overwhelm visitors with printed words. Rather, it presents a carefully curated selection of Chinese-language books, the vast majority being nonfiction. The travel, photography, history, and wellness shelves are particularly well-stocked; there are also some children's books.
If you don't read Chinese, there's still one good reason to come here. Almost half of the floor space is set aside for those who like to pair books with coffee. Prices for the coffees, teas, and other hot beverages, craft beers, and desserts are much the same as in other coffee shops, but the view – over the canal and the Yunhexingzuan Park on the far bank – is well above par.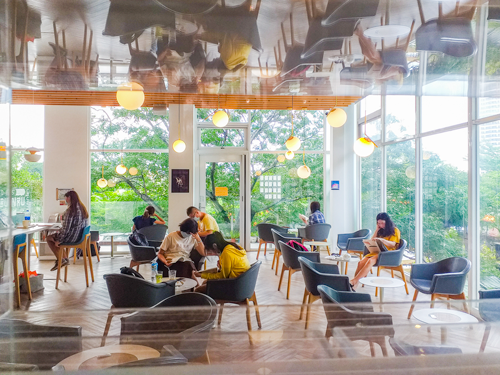 Ubuntu Bookstore (烏邦圖書店)
Add: 2F, No. 27, Ln. 129, Huanhe St., Central West District, Tainan City
(台南市中西區環河街129巷27號2樓)
Tel: (06) 222-6919
Facebook
Also read:
Places to Go in TAINAN CITY
PLACES TO STAY
UIJ Hotel & Hostel
One of the most stylish recent additions to the city's skyline, the UIJ Hotel & Hostel is a multistory inn that offers several types of accommodation. Tourists can book bunk beds in mixed or women-only dormitories, or one of the 87 guestrooms. Among the latter is a top-notch 52 square meter suite, which faces the Tainan Art Museum Building 2.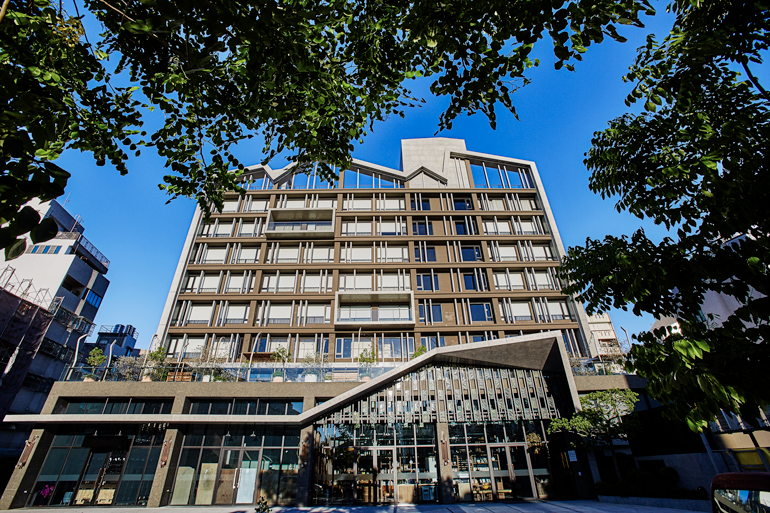 Rather than draw too obviously on motifs and materials that everyone associates with Tainan, the hotel's designers have had the confidence to avoid gimmicks and go for a modern yet warm look. Inside the dormitories, you'll see undressed red-brick walls, partitions made of unvarnished wood, and canvas privacy curtains. Guestrooms feature unobtrusive fittings and dark-wood floors.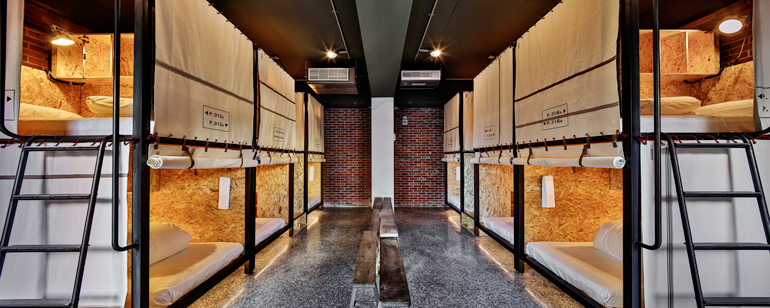 The UIJ has received exceptional reviews from guests, and not just because it's ultra-convenient if you plan to visit the Hayashi Department Store, Tainan Confucius Temple, and other key attractions. Those who've stayed here praise its cleanliness, the quality of the complimentary breakfast, and the staff's willingness to help.
Also much liked is the third-floor indoor/outdoor common area. Here, guests can make a hot beverage, or – and this often happens in the street-food mecca that is Tainan – enjoy the delicious snacks they've carried back from a night market, without the odor lingering in their bedchamber. When so much thought and effort has been put into getting the rooms just right, you wouldn't want to do anything that makes your experience less than perfect, would you?
UIJ Hotel & Hostel (友愛街旅館)
Add: No. 5, Ln. 115, You'ai St., Central West District, Tainan City
(台南市中西區友愛街115巷5號)
Tel: (06) 221-8188
Website: uij.com.tw
Light Hostel
No mystery surrounds the popularity of the Light Hostel's Tainan branch. It offers clean and comfortable, yet attractively-priced, sleeping quarters at a central location. Backpackers on a budget can book beds in the six-person dormitories. For those who seek greater privacy or like to sleep in, there are rooms with one or two double beds. Each room has its own toilet and shower, and all options include a simple gratis breakfast of toast, jam, fruit, and hot drinks.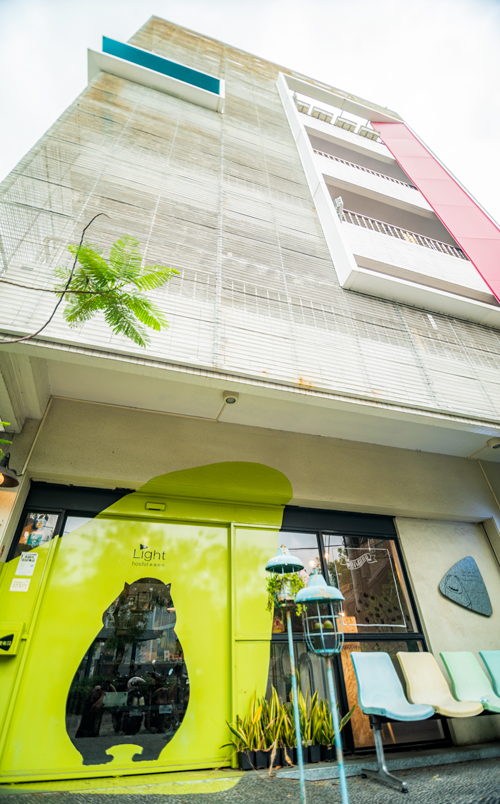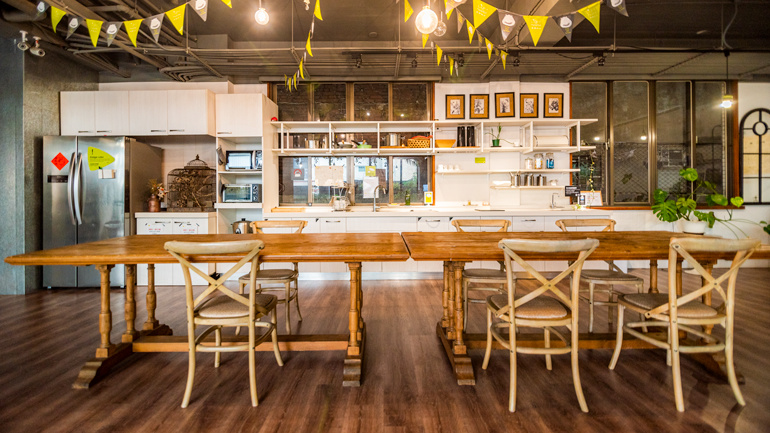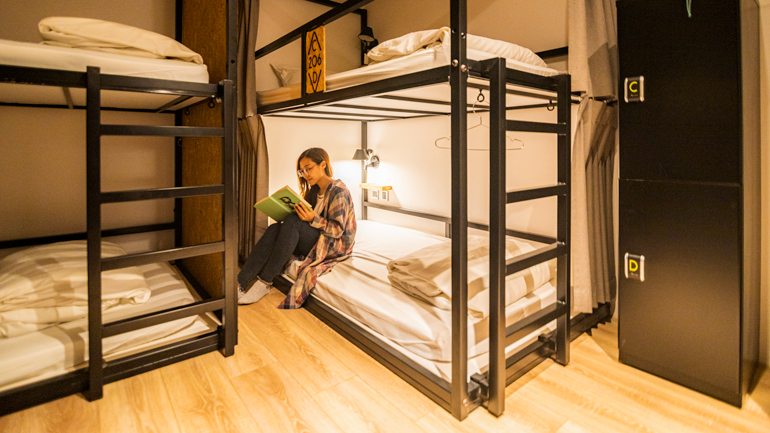 The first floor is a communal area where guests can kick back on one of the sofas or fix themselves a snack in the kitchen. That said, if you stayed here it's hard to imagine you'd opt to hang out much, given how many attractions lie within a 10-minute walk. In one direction, there's The Spring; in another, the Tainan Art Museum Building 2. You'd also be near the Guohua Street foodie paradise, and within strolling distance of stops where you can board the No. 2 bus to visit the historic Anping Old Fort area.
Light Hostel (承億青旅)
Add: No. 20, Ln. 309, You'ai St., Central West District, Tainan City
(台南市中西區友愛街309巷20號)
Tel: (06) 224-0555
Website: www.lighthostel.com