A Tourist's Day in One of Kaohsiung's Northwest District
TEXT / RICK CHARETTE
PHOTOS / ALLEN WEN
Included in a full and fulfilling Gangshan District day touring: a sweeping skybridge panorama, countryside reservoir-pathway hike, goat meat specialty eatery dining, shaved-ice and minced-pork pie sweet and savory foodie experiences, "line of sky" gorge traverse, and magical visits to a peculiar stone temple and abnormal moon-like world.
Gangshan is a suburban district north/northeast of Kaohsiung's city center. It is primarily flat, with a central mountains foothills section in the east. The flat area, which straddles the north-south National Freeway 1 and Provincial Highway 1, is heavily populated and is home to a concentration of light industry. The highway runs right through the urban heart. The district is also served by the Kaohsiung Metro's Gangshan South Station (Red Line) and the regular-railway system's Gangshan Railway Station. Following, we're taking you on a two-theme tour – scenic tourist attractions in the rural east, beloved foodie spots in the urban heart.
Gangshan Eye and A Gong Dian Reservoir
The artistically bold Gangshan Eye (entry fee) stands high up near the tip of a peninsula-like foothills section that juts out into the Gangshan flatlands, the foothills' westernmost point. This is a long, gleaming-white skybridge with a music theme. It is 88m long and soars 40m above the ground, held by suspension cables ("violin strings") extending from a giant violin-sculpture central pylon. Speakers provide soft jazz music. The long A Gong Dian Reservoir is spread out below just to the east, and on clear days Kaohsiung's space-rocket-like 85 Sky Tower can be seen far to the south.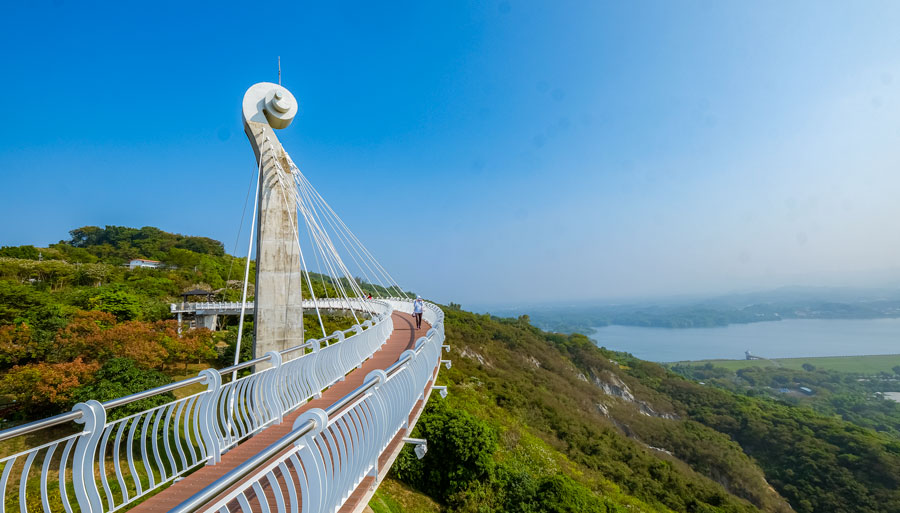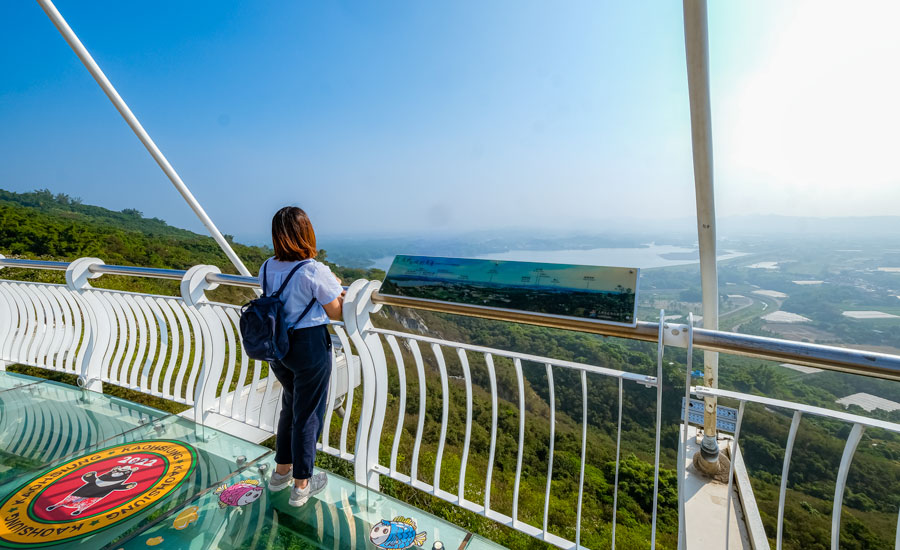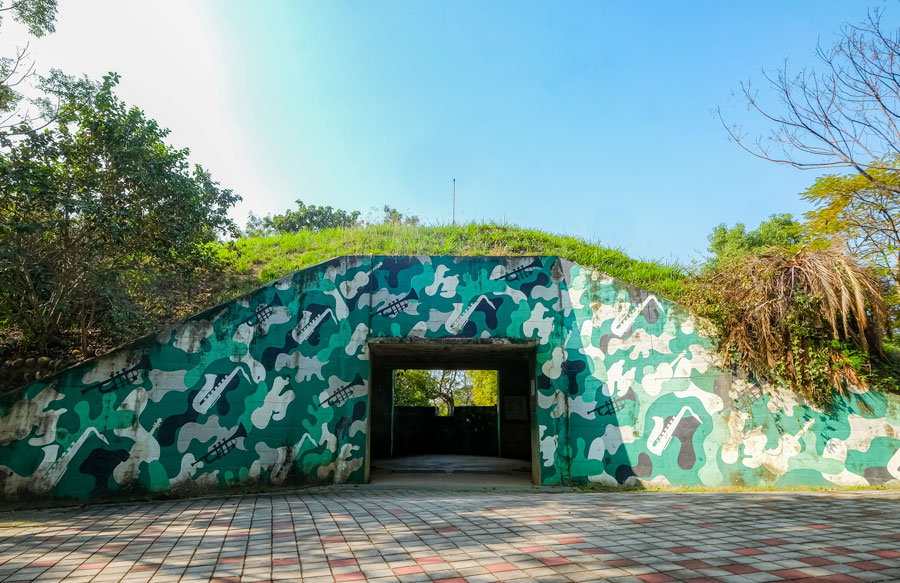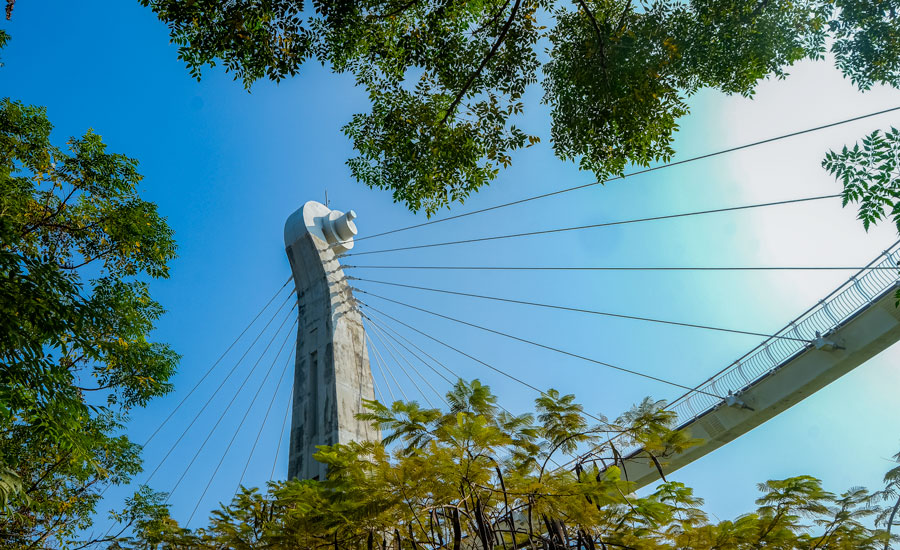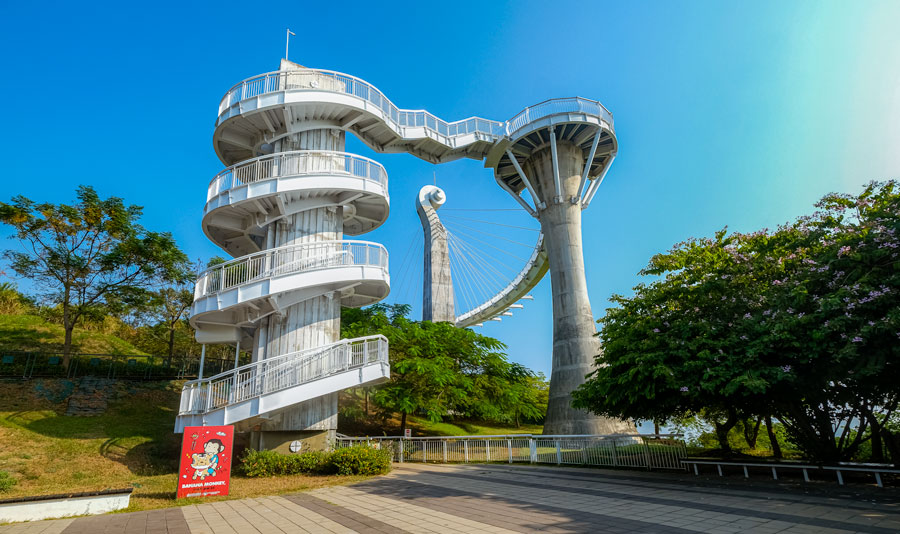 The reservoir has an easy-grade hiking path/bikeway, 2.38km in length that is lined with indigenous Taiwan plants, the most splashily colorful being flowering bushes and trees. Bike rentals (Youbike) are available. During your jaunt you'll pass by waterside viewing platforms, jump the water on two comely suspension bridges, and on the eastern foothills side meander through forest and by hoary small-plot fruit farms.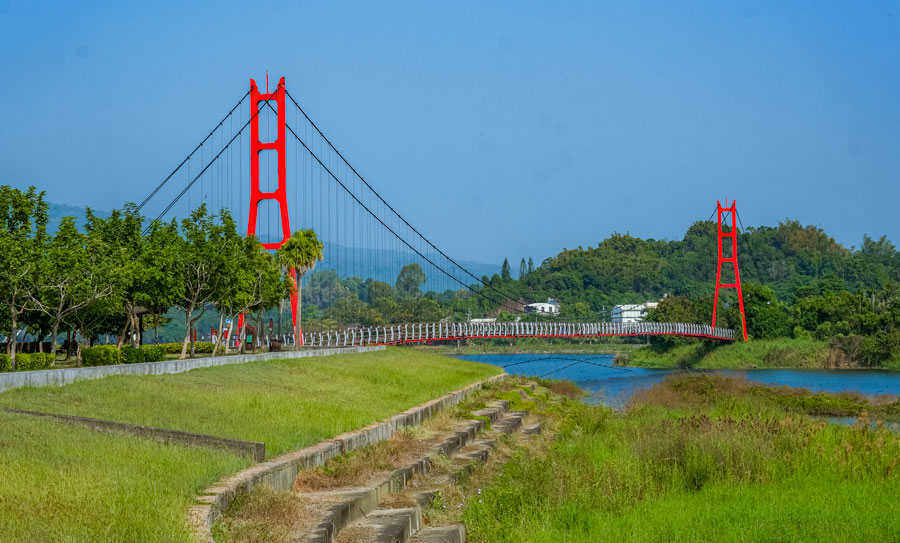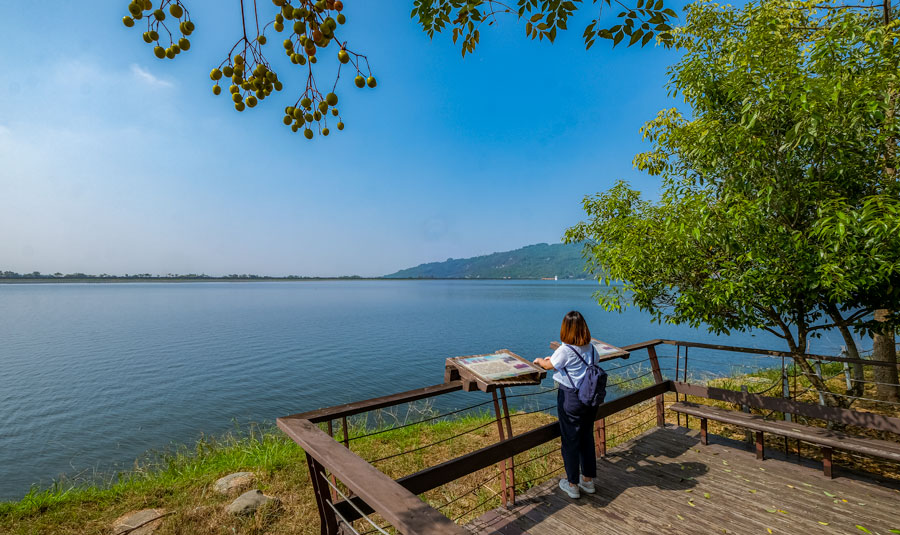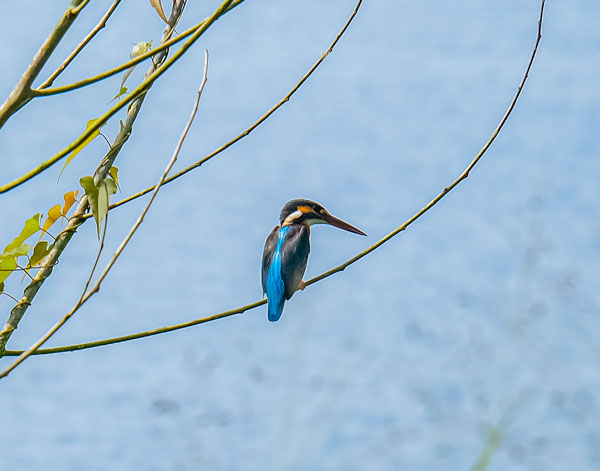 Food Options in Gangshan
The "Gangshan three (culinary) treasures" are goat meat, spicy soybean paste, and honey. Goat raising was brought to the area in the 1920s because of the poor suitability of Gangshan soil for crop cultivation.
"Zhengzong Goat Meat Restaurant"
One of the busiest local spots for finding goat meat is the "Zhengzong Goat Meat Restaurant." The spic-and-span interior here is long and thin, with large windows facing the street along one wall. The most in-demand menu options are hot pots and soups, which feature rich, savory stocks and come with both meat and offal options. While goat meat has a reputation for being tough and gamey, here it is tender and piquantly aromatic.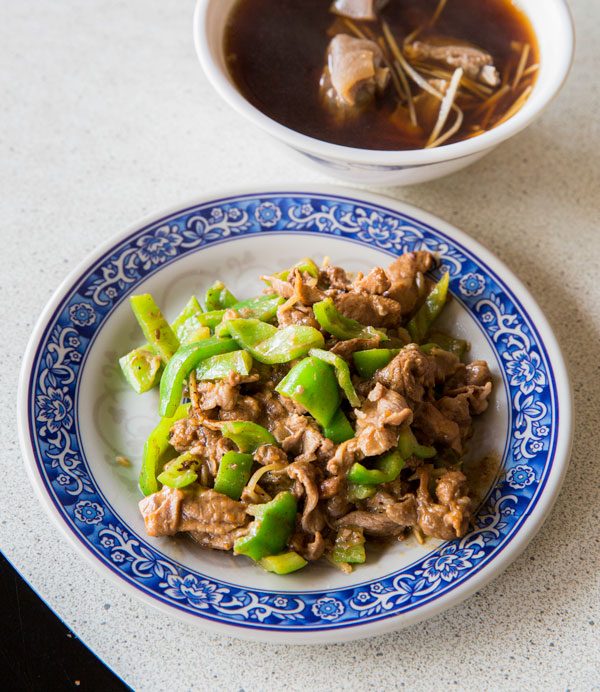 "Zhengzong Goat Meat Restaurant"
(正宗羊肉店)
Add: No. 302-1, Gangshan Rd., Gangshan District, Kaohsiung City
(高雄市岡山區岡山路302-1號)
Tel: (07) 621-1187
Hours: 10:30am~11pm
Facebook: www.facebook.com/www.masamune.tw
The Chinese hot-snack food called xian bing is translated many ways. Here we'll use "Chinese minced-pork and scallion pies" (minced beef is also used). These are mini-pies that fit in your palm, featuring a crispy deep-fried shell made with dough containing a super-hot juicy pork filling. Bite in carefully!
The very popular "Longji Pie" is a large, old-looking open-faced stand that is only open three hours daily. Lineups are constant. It sells just two items, pork xian bing and another traditional hot savory treat, fried leek dumplings. Longji's pies come with an extra-generous filling and unusually thick shell, the skin extra-crispy outside, soft inside.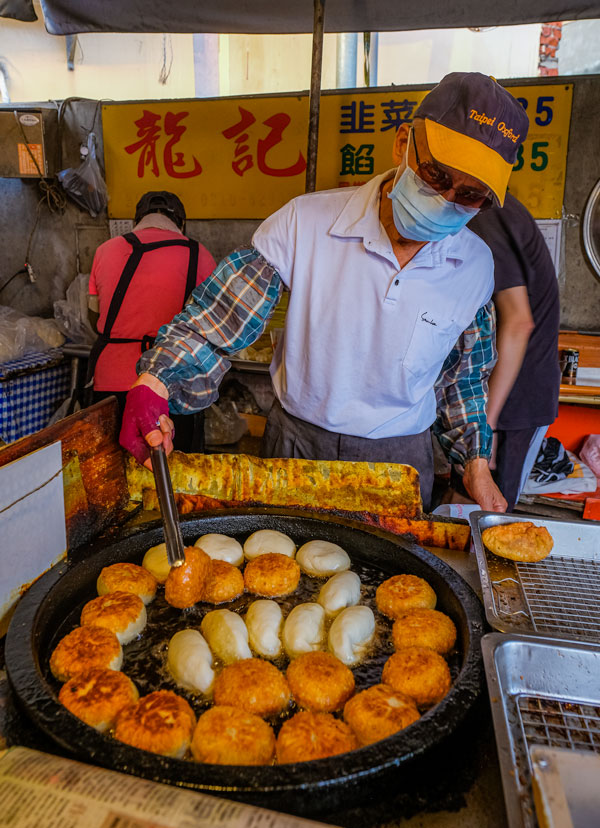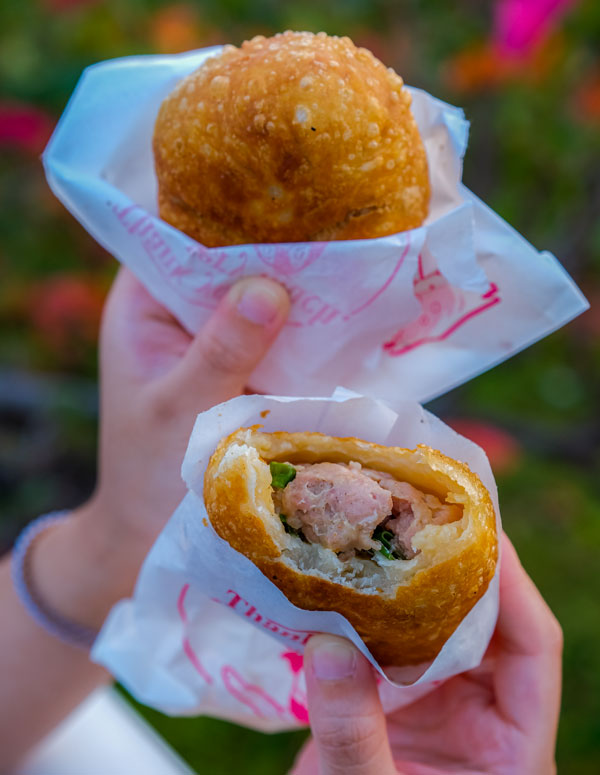 "Longji Pie"
(龍記餡餅)
Add: Kaiyuan St./Renshou Rd. intersection, Gangshan District, Kaohsiung City
[adjacent to Dali Fruit Juice Shop]
(高雄市岡山區開元街跟仁壽路交叉口,大力果汁店旁)
Hours: 3pm ~ 6pm
The Kaohsiung region produces such fresh-from-the-field goodies as mango, sugarcane (i.e., cane sugar), and pineapple. It's darned hot, too. Add these ingredients up and you get the popularity of shaved-ice shops.
A Little Ice
A Little Ice is a cozy hole-in-the-wall with an exterior combo of gleaming-white and much glass, and an interior equally gleaming-white with modern-chic minimalist furnishings. Its signature creation is the "Classic Brown Cane Sugar Shaved Ice," for which you pick five sweet or sweetened (such as adzuki bean) toppings. House-made tofu pudding treats are also served.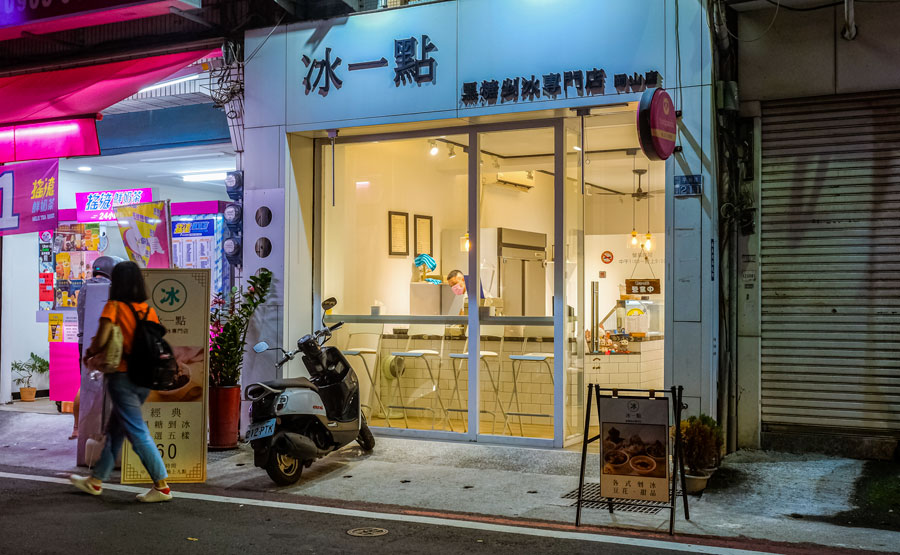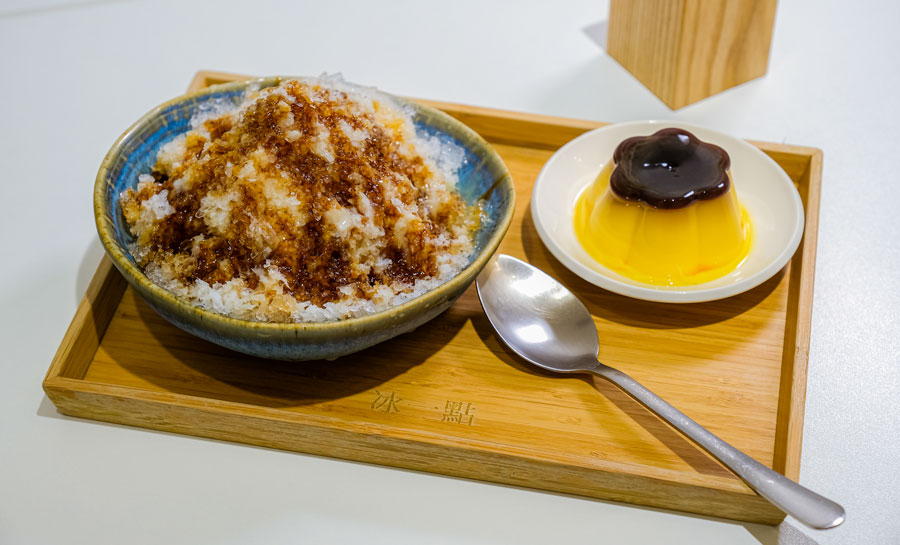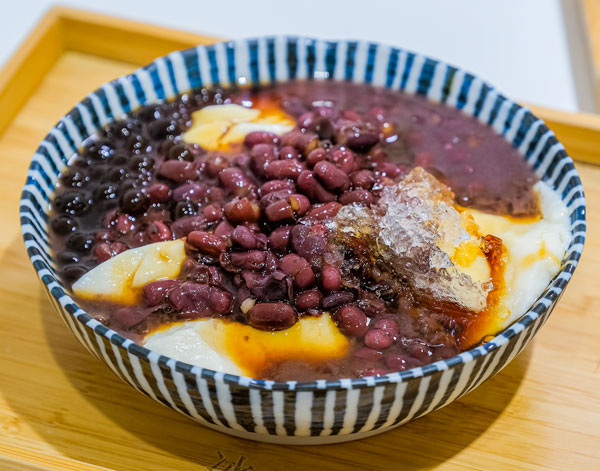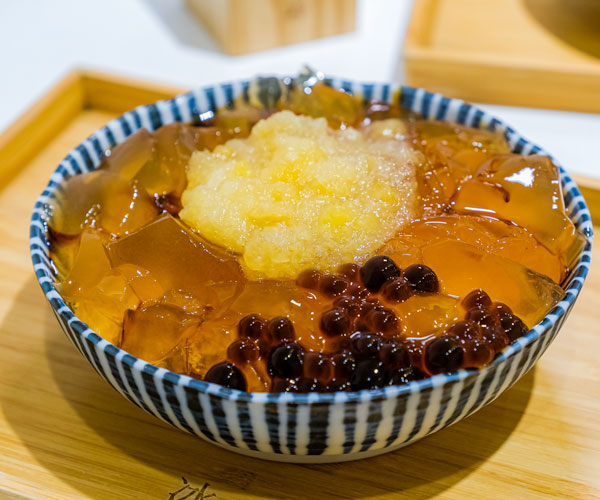 A Little Ice
(冰一點黑糖剉冰專門店)
Add: No. 211, Pinghe Rd., Gangshan District, Kaohsiung City
(高雄市岡山區平和路211號]
Hours: 1pm~9pm
Note: The three spots introduced here are within a few blocks of each other, making for an easy multi-hour town-center culinary tour.
Greater Gangshan
Panlong Gorge
The Jurassic Park-like Panlong Gorge is on the east side at the base of small Dagang Mountain, located not far north of the Gangshan Eye/A Gong Dian Reservoir. The mountain, just 312m high, is one of Taiwan's "Small 100 Peaks," which are easy-access "suburban mountains" with entry-level hiking trails. The mountain is home to a number of trails and numerous picturesque-setting temples.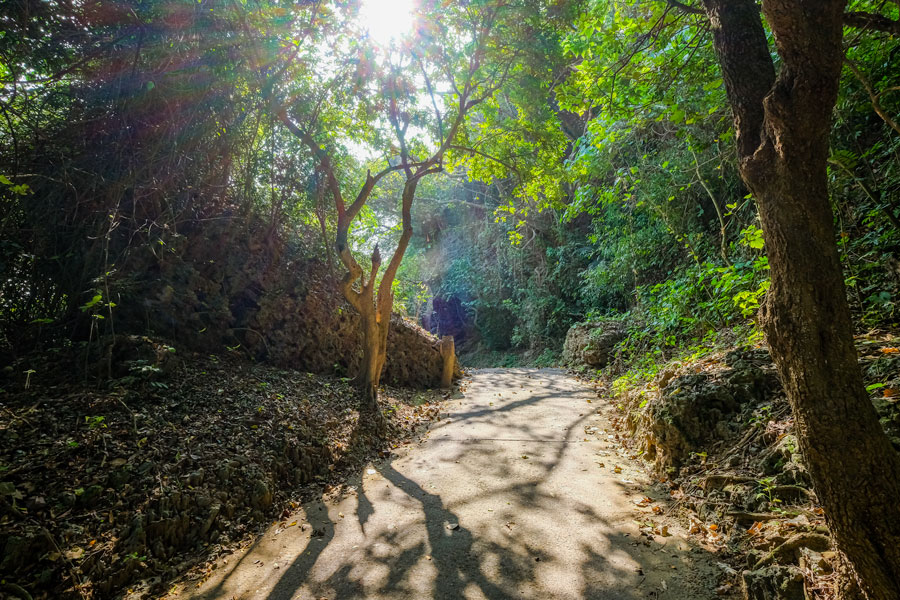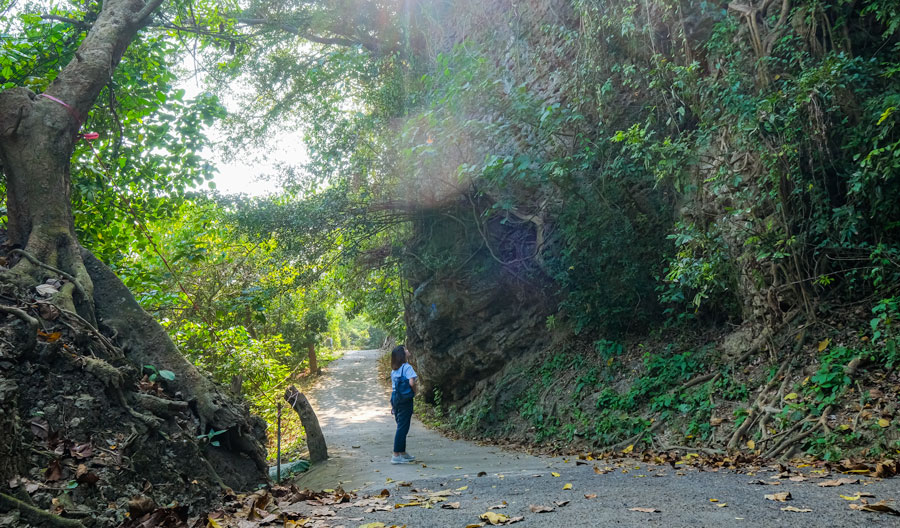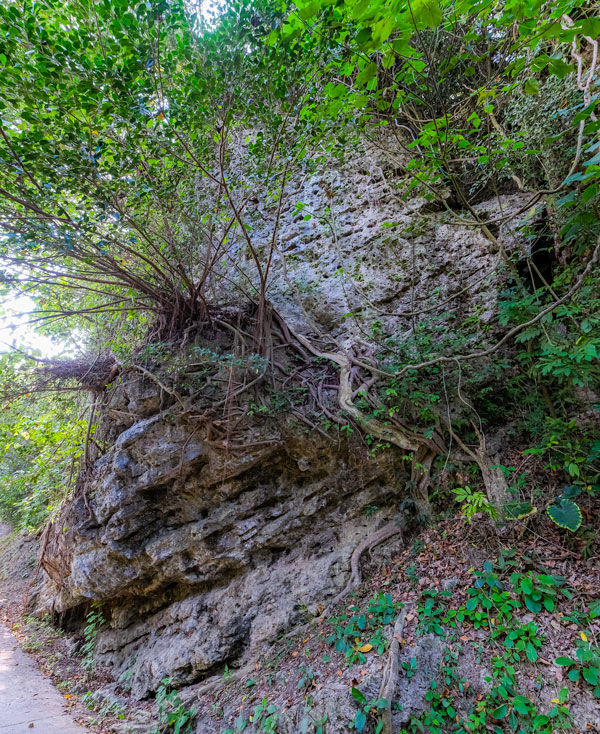 The 247m-long gorge was created in 1682 – so says an on-site Chinese-language signboard – when a massive section of coral limestone cliff 40~50 meters high split away from the mountain, caused by a fault line shift. One section of the fissure created, called "A Line of Sky," is so narrow that there is just a slit at the top, and an adult with outstretched arms can almost touch both walls in some bottom sections. This is about 100m long, and looks as though a giant cleaver came down from the heavens and sliced the mountain clean open.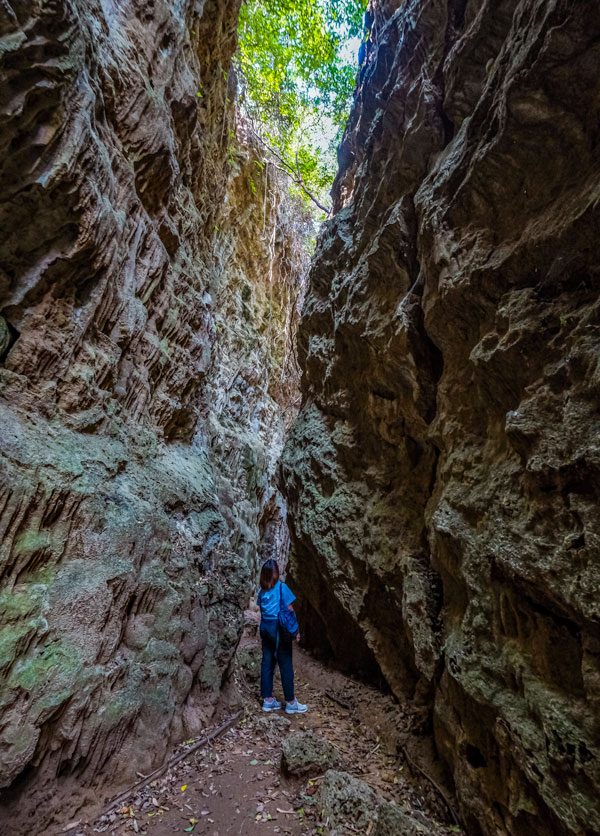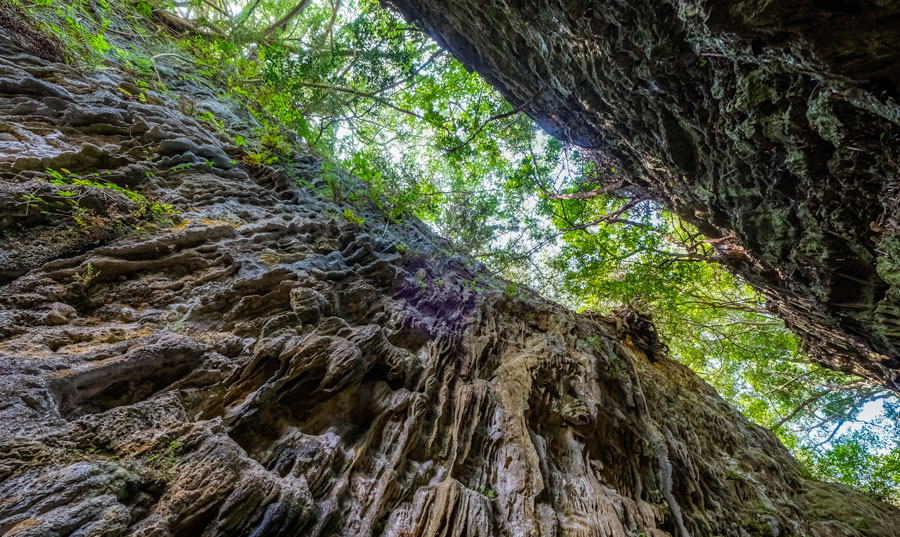 The word panlong is from the Chinese term for Burny vines, which creep down thickly from the gorge's top. Seeping water has eroded the coral limestone to form ghoulish clusters of wall-clinging stalactites. Just outside A Line of Sky, a small Buddhist temple has been built against the outside wall of the sliced-off cliff mass; check out how the monks/nuns have cleverly "tapped" the cliff-face stalactites here, connecting funnels upside-down to their tips to run the mineral-rich water drops through hoses to the temple.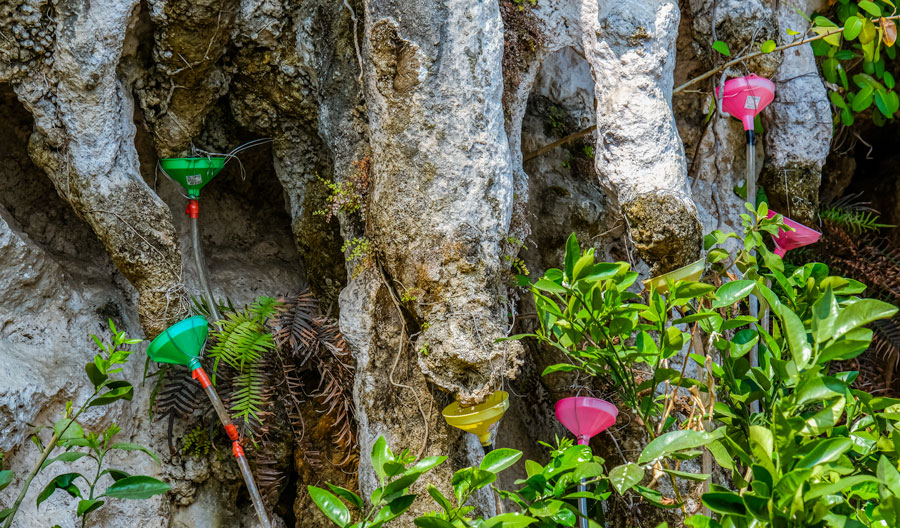 To get to the gorge, walk the small road up (15~20 minutes) from 300-plus-year-old Chaoyuan Temple, located beside the county highway that moves along beside Dagang Mountain's east side. Along the way you'll pass by a number of deep caves in the coral limestone bluffs. These were air-raid shelters dug during WWII; Gangshan's heavy Japanese military presence brought severe Allied bombing.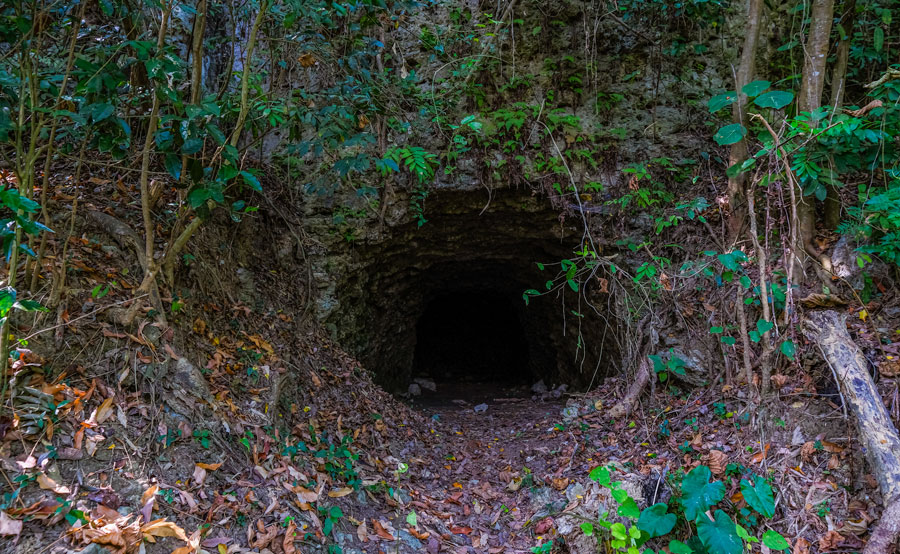 Tianliao District
Stone Temple
The marvelously quirky Stone Temple is located not far northeast of the Gangshan Eye/A Gong Dian Reservoir. Your initial impression will be that long ago Gaudi must have journeyed to Taiwan and was given carte blanche on this complex, constructed of bleached coral rock and seashells (i.e., covering the concrete base). Or perhaps that a magical undersea palace was raised high into the dry mortal realm by tectonic activity.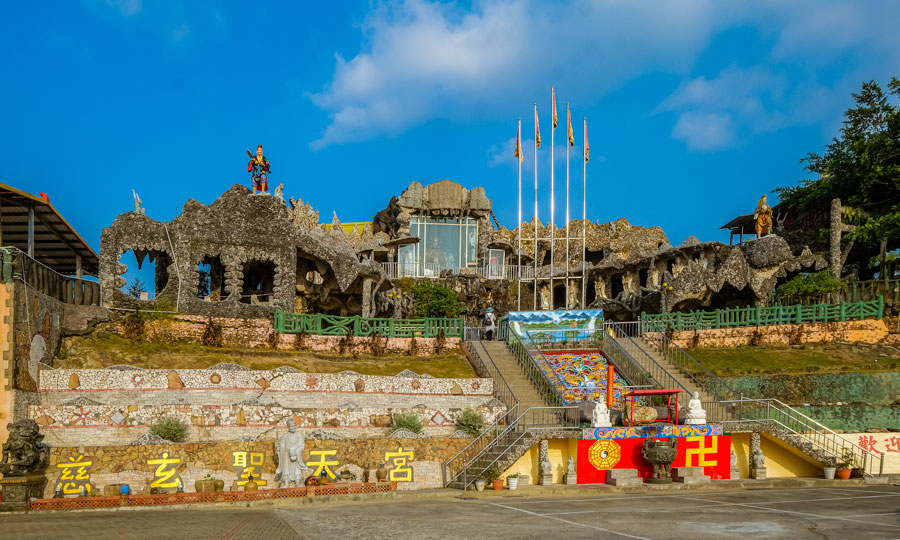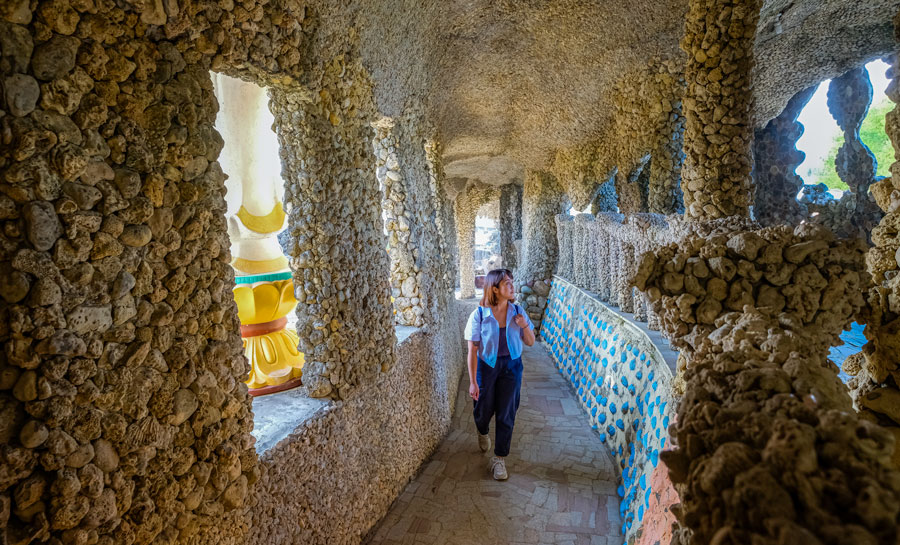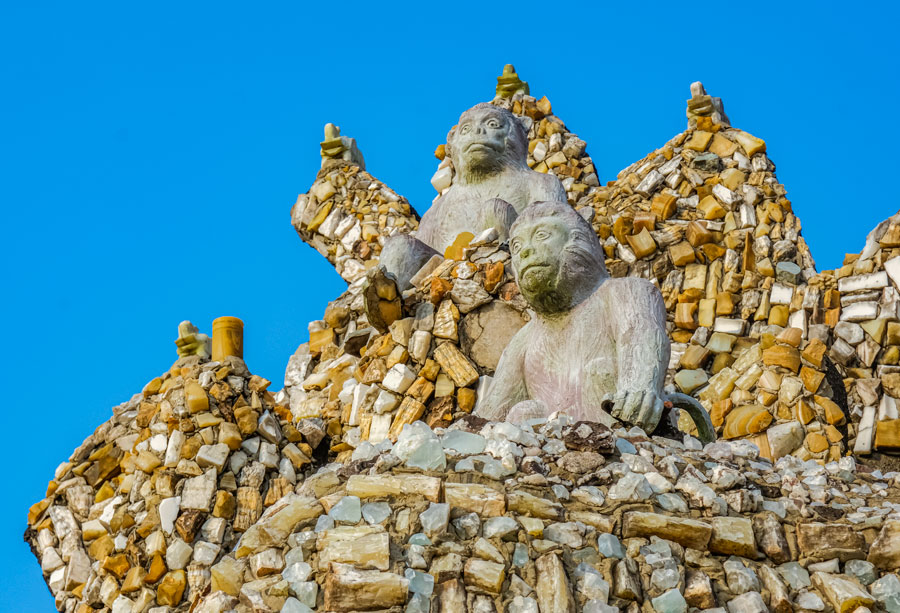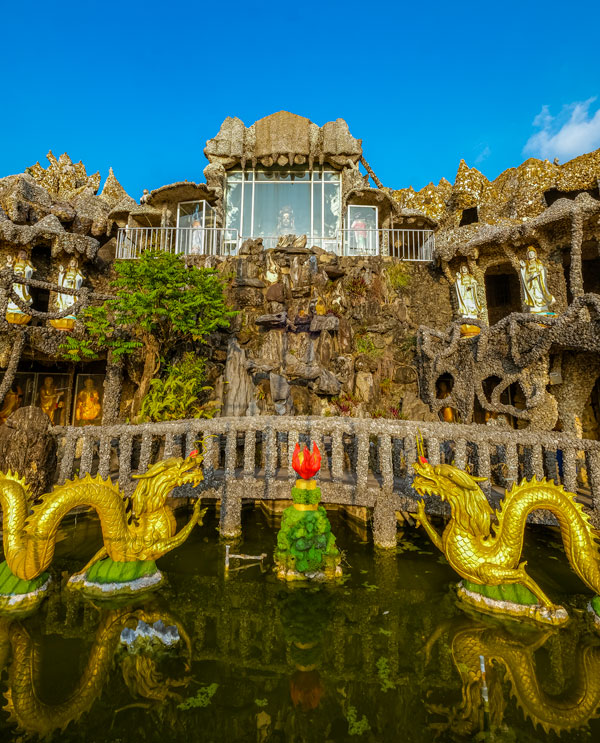 The backstory is unique. In the mid-1990s about 500 Southeast Asian migrant workers, hired for nearby freeway construction, were stranded after the contractor went belly up. To thank the local temple that took them in and housed/fed them during their protracted Taiwan stay, they built this new temple – and were obviously given carte blanche to craft their own "Chinese temple" interpretation.
Across the plaza from the temple is a small museum, façade also crafted of coral rock and seashells, that houses displays on old-days local craftworks and household objects.
Moon World
The entrance of the otherworldly Moon World attraction is deeper in the foothills north of the Stone Temple. This is a large badlands/mud volcano landscape, the most tourist-developed of its kind on Taiwan. A long, well-done pathway takes visitors from the scenic area's entrance complex deep into one of the barren desert-like valleys and then up onto the ridges above, where there are viewing pavilions and scintillating vistas across the top of the badlands. Signboards with English along the way explain what you're looking at.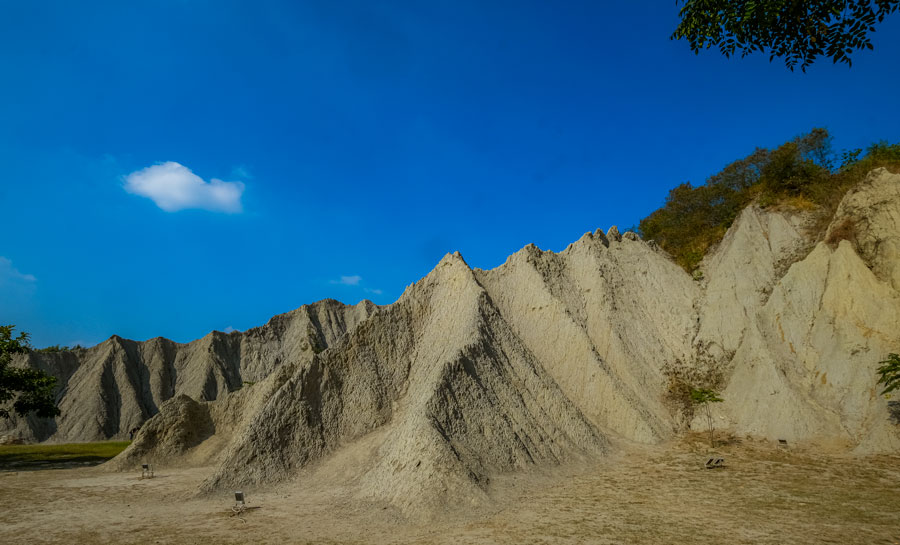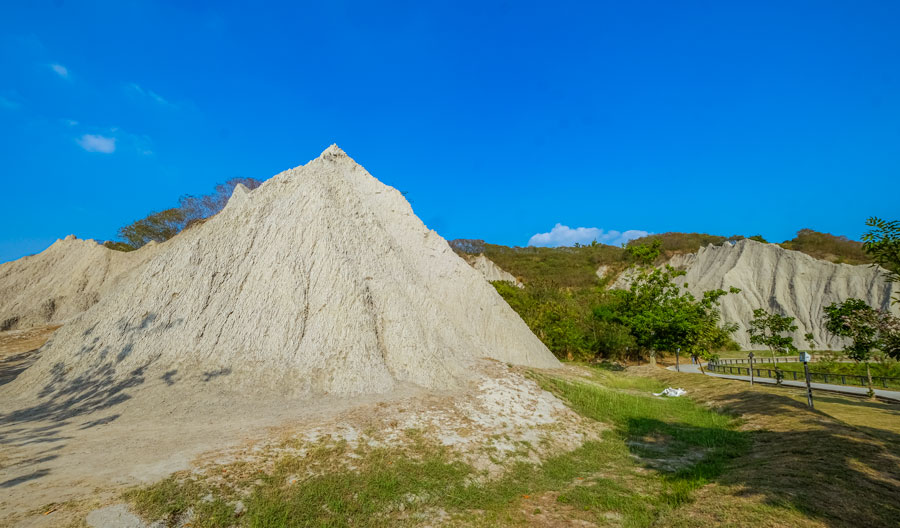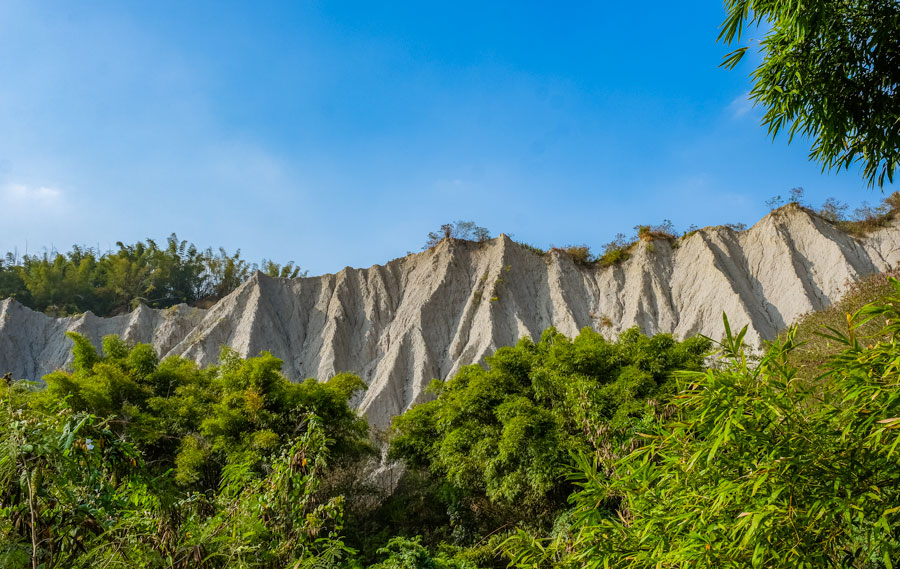 At the entrance area's visitor center is a large convenience store and vendor stands selling local produce and specialty agri-products. Don't miss the ice-cream vendor who has created a yummy grayish "mud" ice cream using locally grown beans – the texture is true "grainy/creamy mud." Note as well that this area is known for excellent free-range chicken, which is served at a number of simple, inexpensive, quality restaurants outside the Moon World entrance.