Strapping Port City, Inspired Art City, All in One
TEXT / RICK CHARETTE
PHOTOS / RAY CHANG, ALAN WEN, CHEN CHENG-KUO
Over the past two-plus decades, your writer-cum-travel scout has visited Kaohsiung about every two years. My impression of this place I've wished I could live in awhile has been of the magic of a chrysalis metamorphosis. The Kaohsiung citizenry is striving – to shake off their city's blue-collar brand and, looking in their collective mirror each day, to see a beautiful butterfly.
Kaohsiung is a big port city built on big, brawny shoulders. Its superb natural harbor was deepened and facilities expanded by the Japanese during their 1895-1945 period, with an eye on their great Southeast Asia colonial push.

As can be imagined, it was not a prime destination for tourists. However, over the past two decades a great push has been on to remake the urban center as a garden of aesthetics (and healthy outdoor exercise). Everyone's in on the act, from government and big-capital business with grandiose architectural statements to small-cap entrepreneurs presenting attractive modern-design eateries, shops, and other ventures.
Yancheng District
This district, the city's smallest, is tucked in snugly between the port's north end on its southwest, Love River east, and south tip of Shoushan ("Longevity Mountain"; see our Hiking article, page 28) northwest. "Yancheng" means "salt fields"; in Chinese imperial times the marshes here were drained for salt production. Also one of Kaohsiung's oldest districts, it has seen a tourism renaissance, with open waterside plots used for new big-statement architectural works, long-empty warehouse clusters transformed into au courant leisure/cultural-creative hubs, young entrepreneurs sprucing up heritage retail shops, and hoteliers taking older buildings and giving them swanky new-look personalities (see or Local Stay article, page 32).
Kaohsiung Music Center
The Kaohsiung Music Center (KMC), opened in 2021, is a monumental work that stands on the north side of the Love River mouth. It serves as a landmark for pop-music performances in south Taiwan, nurturing domestic pop talent and supporting networking within the pan-Asia industry. The center's dynamic design has been integrated with the surrounding harbor scenery, and various free outdoor activities are held, to make it a destination tourist attraction.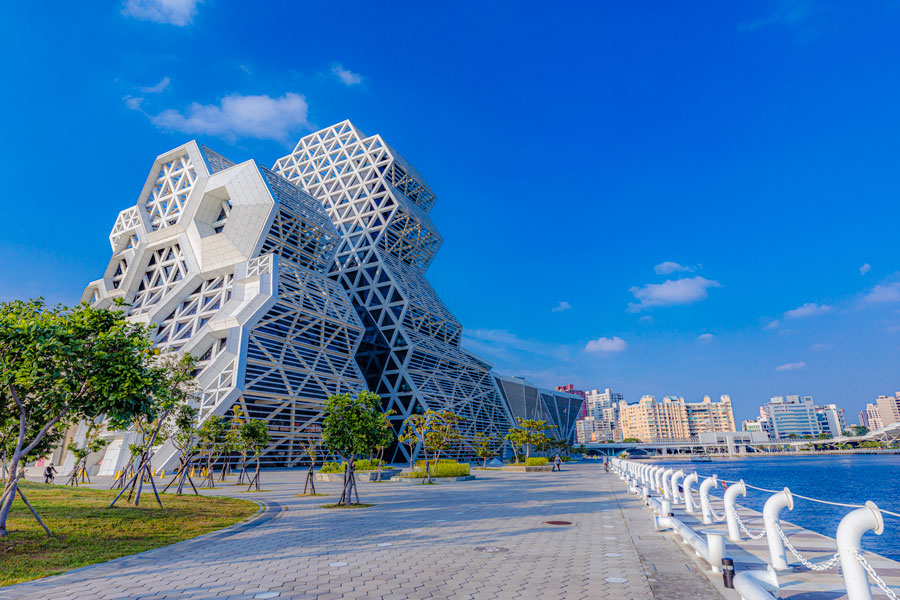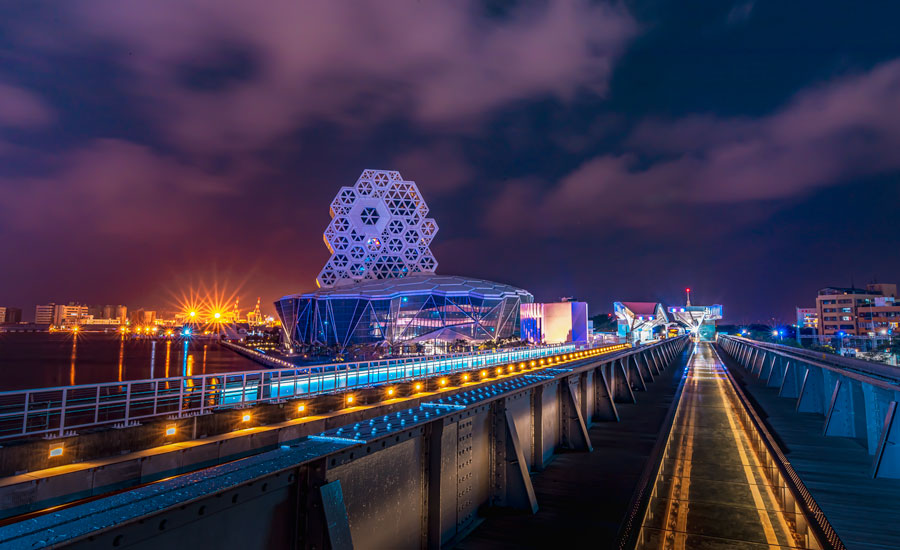 The KMC won gold at the 2021 FIABCI World Prix d'Excellence Awards in the Public Infrastructure and Amenities category. In a nod to the importance of the marine environment for Kaohsiung, the bright-white exterior features towers that resemble crashing sea waves and honeycomb-look facing symbolizing coral-reef communities.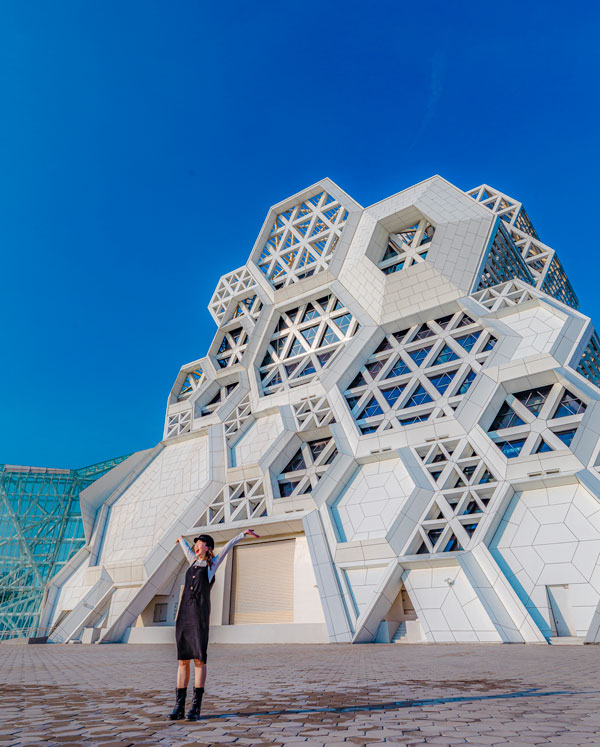 The complex is surrounded by pedestrian/cycling paths giving visitors broad port & river views. The Dolphin Walkway, said to resemble a leaping dolphin, delivers visitors over the Love River mouth to other KMC facilities on the south side. One of the Kaohsiung Light Rail's charming bus-stop-style stations, Love Pier Station, is right along the raised pathway. On the south side is the Whale Promenade and the Coral Zone – the roof looking like coral as seen from the Dolphin Walkway – used for exhibits and cultural-creative retail.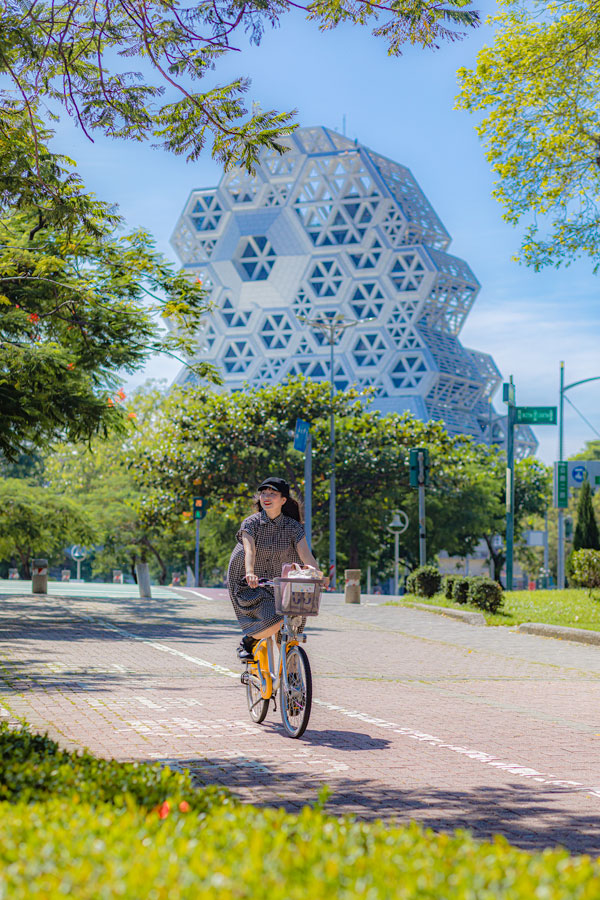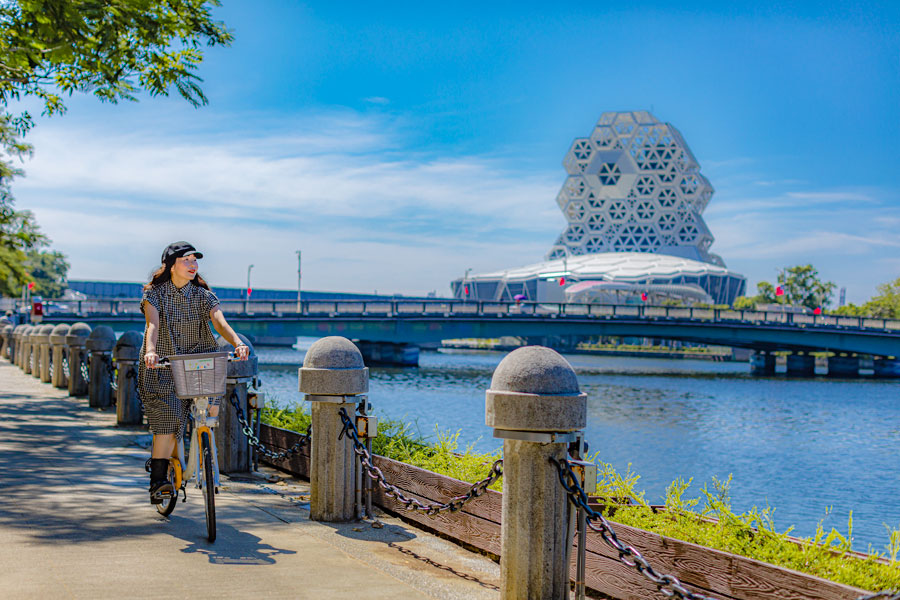 Kaohsiung Music Center
(高雄流行音樂中心)
Tel: (07) 521-8012
Add: No. 1, Zhen'ai Rd., Yancheng District, Kaohsiung City
(高雄市鹽埕區真愛路1號)
Website: kpmc.com.tw
The Pier-2 Art Center
The Pier-2 Art Center special zone, portside just northwest of the KMC, is the heart of the city's ongoing cultural-creative bloom, and one of its most popular attractions. The first of the three renovated warehouse clusters here was transformed in the 2000s. The long-abandoned structures were once used to store such treasures as fish meal and granulated sugar. Today they are cultural-creative incubator stages, venues for domestic and international exhibitions and festivals, live indoor and outdoor musical, theatrical, and busker performances, and large-scale outdoor installation artworks and graffiti-style/3D murals, many wonderfully quirky and whimsical, some created by artists-in-residence. There are also cultural-creative merchandise shops, cafés/eateries, and other entrepreneurial ventures.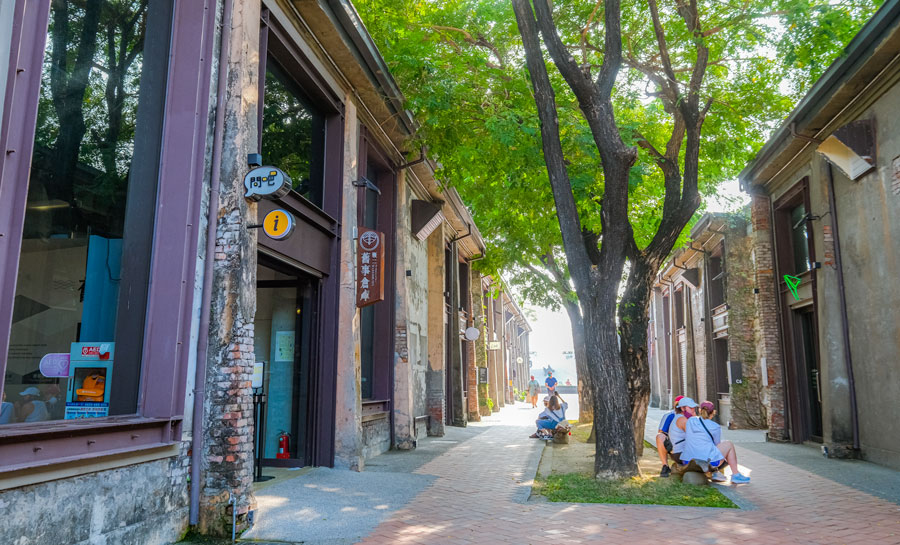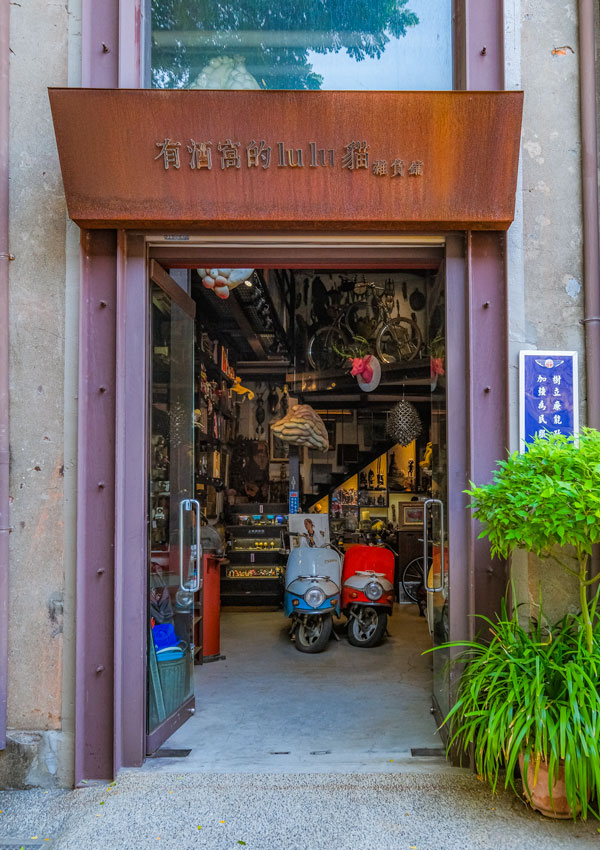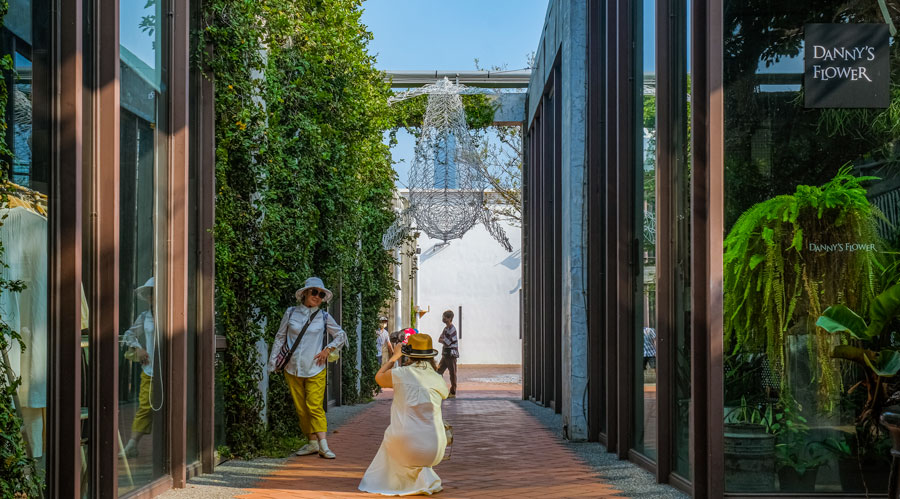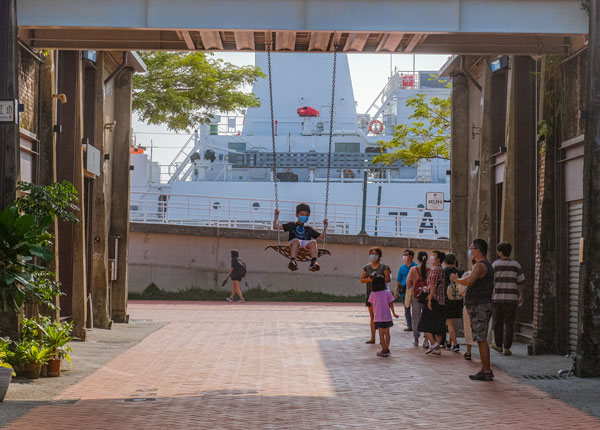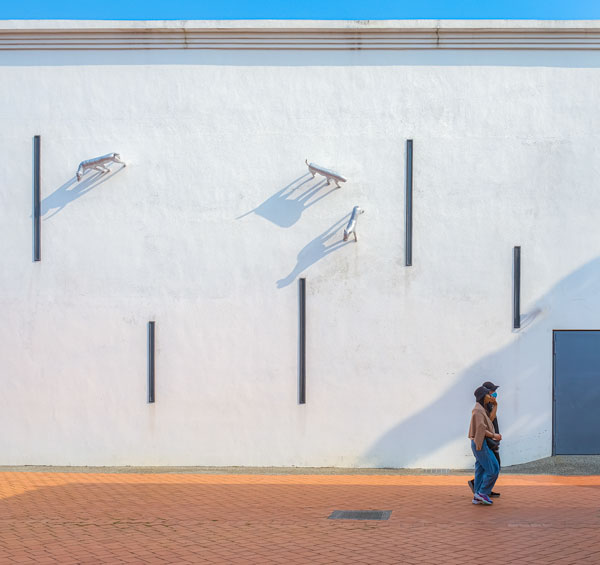 VR Film Lab, in warehouse C9, is a future-is-now entertainment hub opened by a team of local talents that produces original VR works. The 360 Cinema is Taiwan's only 8K stereoscopic VR theater. The Interactive Zone is a space for stand-up and other interactive VR experiences.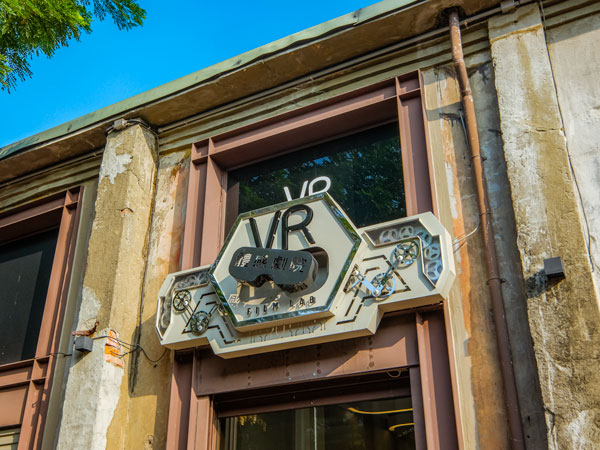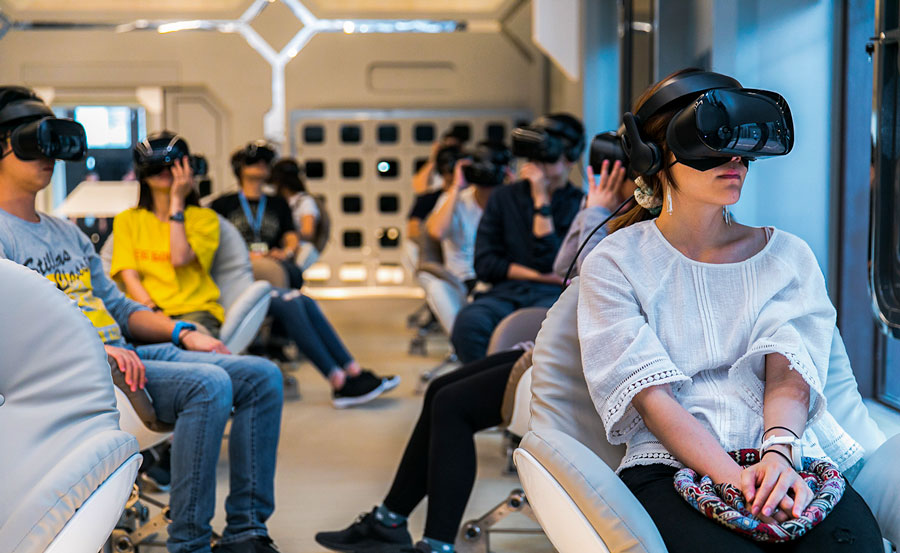 TOOLS to LIVEBY, in C6, is a lifestyle store bringing aesthetics to life's small practical items, importing classic-brand stationeries from Europe, the US, and Japan as well as designing its own unique creations, such as calligraphy practice notebooks, scissor pins, ceramic pins, typographic postcards, etc.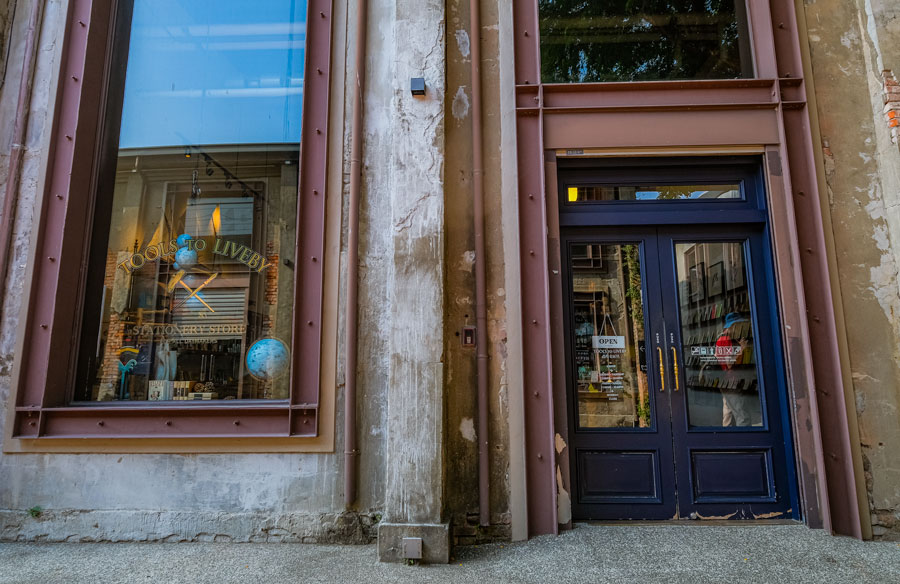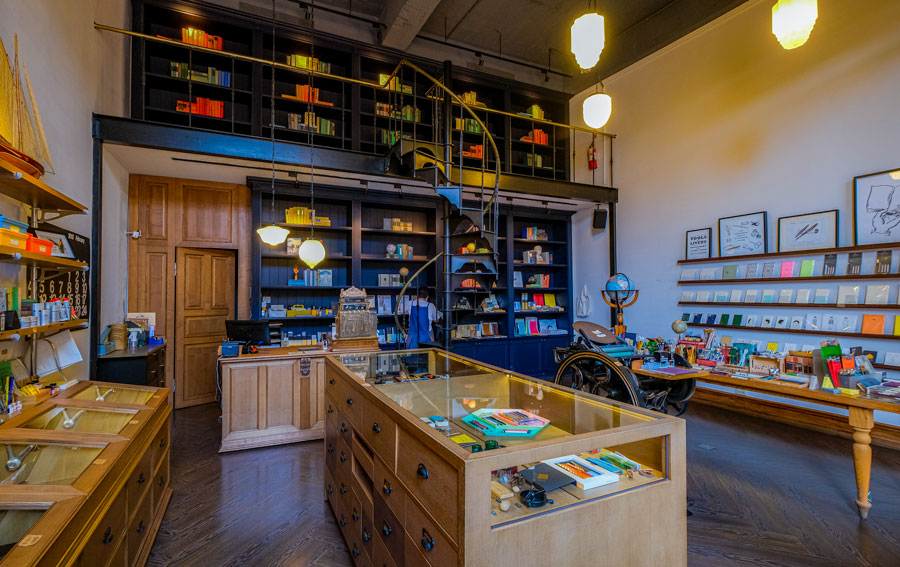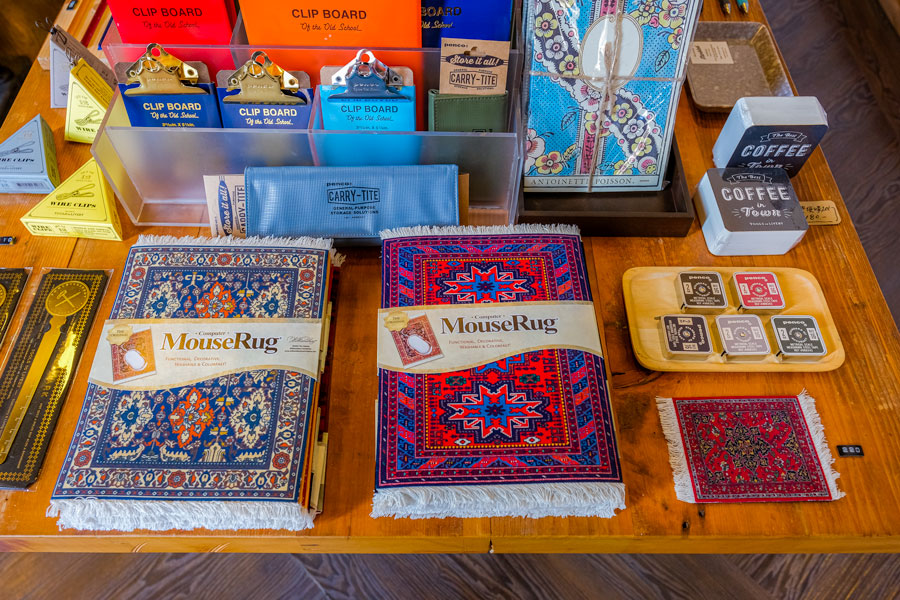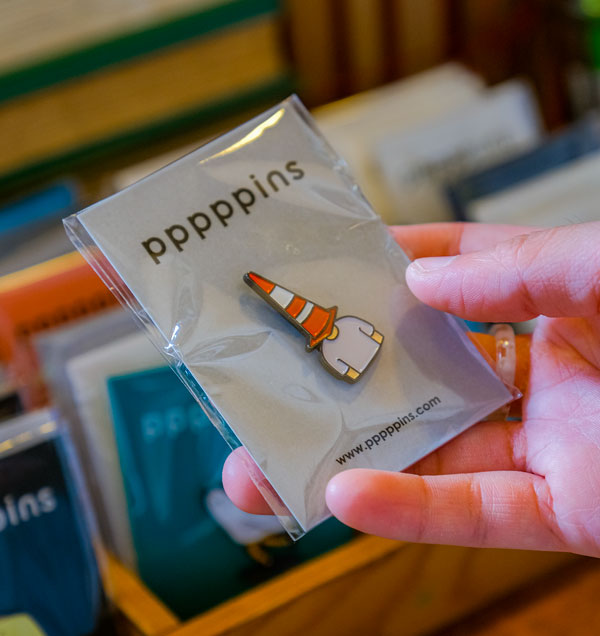 In C11 is a SunnyHills outlet set up like a bar, with a long bar-type service counter across one end and lines of tables before it. SunnyHills' signature treat is pineapple cakes using 100% indigenous Taiwan pineapples grown in central Taiwan's Mt. Bagua area. Visitors sit down here to free product samples and tea.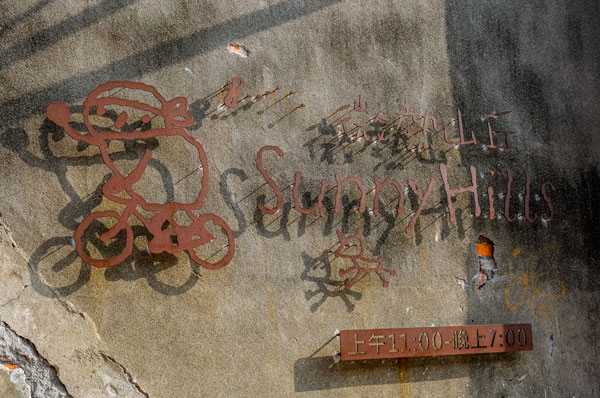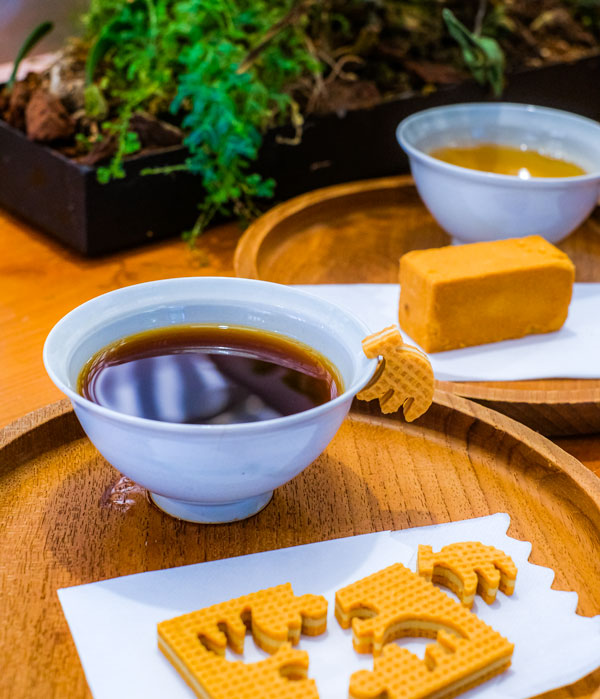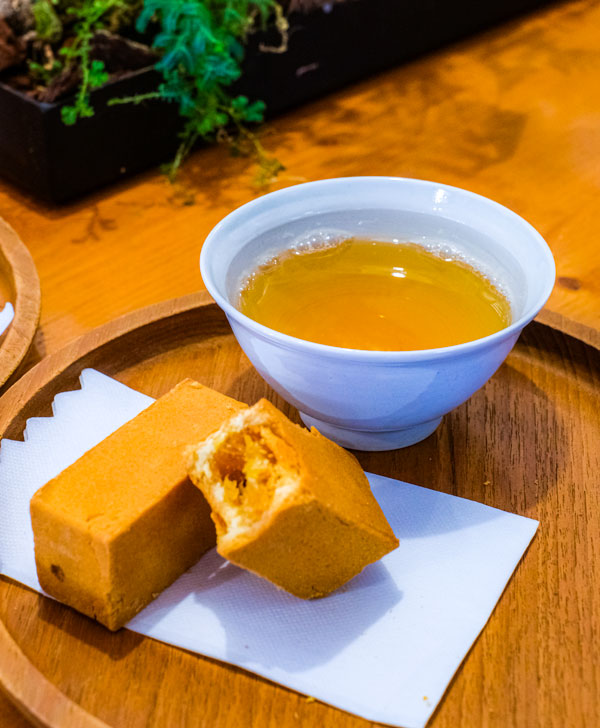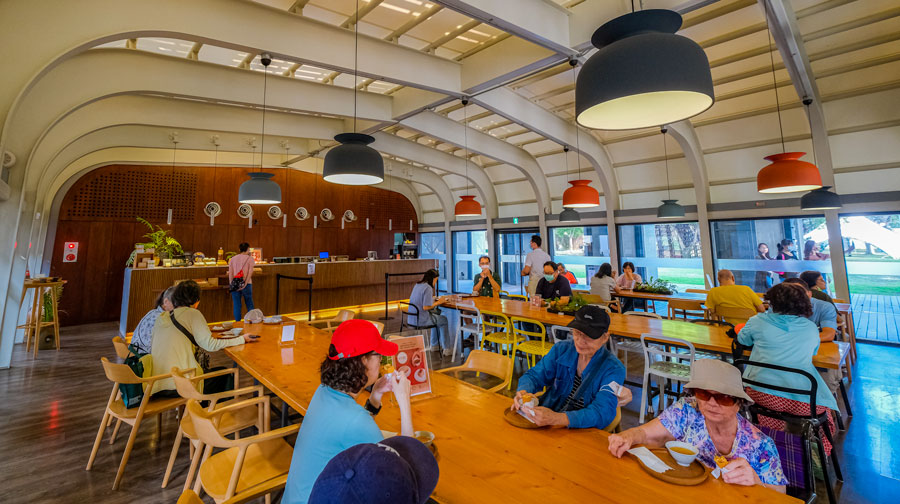 The Pier-2 Art Center
(駁二藝術特區)
Tel: (07) 521-4899
Add: No. 1, Dayong Rd., Yancheng District, Kaohsiung City
(高雄市鹽埕區大勇路1號)
Website: pier2.org
Gushan District
Two constituent parts of this district are Shoushan and, key for our purposes in this article, its south-southeasternmost section, a large, long, rectangular pier area that runs parallel and very close to Yancheng District's southwest side, forming a narrow inner harbor. The manmade extension runs all the way past the KMC. "Gushan" means "drum mountain," from an old name for Shoushan, "Beat the Drum Mountain," imperiously changed to the more pleasant-sounding Longevity Mountain by the Japanese in 1923.
Holo Park
Holo Park is located halfway down the just-mentioned pier area, smack in the middle, with no water on either side. This is a market square-style attraction formed by two converted warehouses in an "L" shape and, finishing the horseshoe, a line of visual treats such as a bright-red English double-decker bus, merry-go-round, and super-long "BITE2GO" food truck. The splendor of 1950s Yancheng, then Kaohsiung's most prosperous district, is recreated using the latest holographic and VR technology with the bricks-and-mortar elements.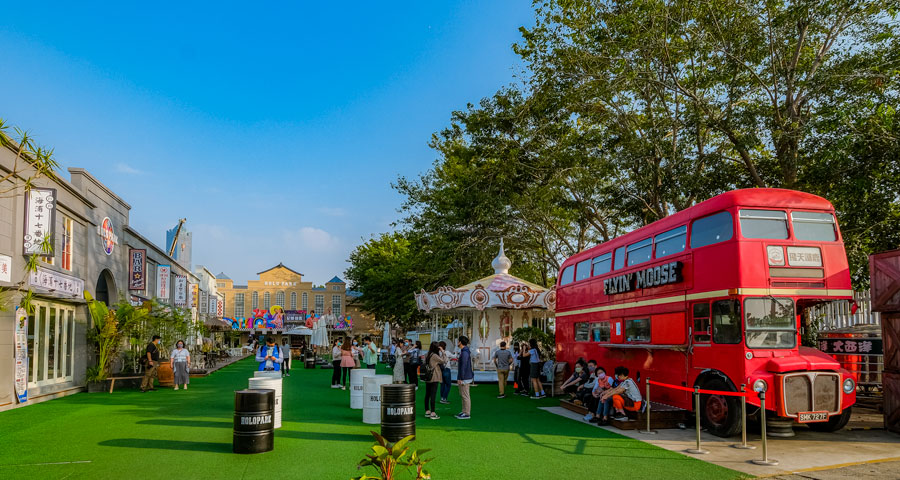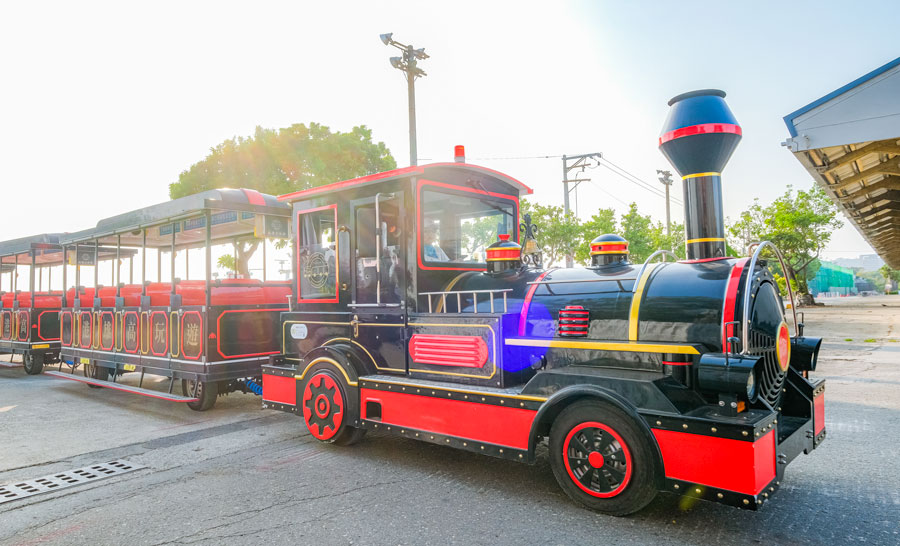 Holo Park
(光禹浮空劇院生活廣場)
Tel: (07) 521-7534
Add: No. 1-12, Penglai Rd., Gushan District, Kaohsiung City
(高雄市鼓山區蓬萊路1之12號)
Website: www.holopark.net (Chinese)
Facebook: www.facebook.com/holopark29
Kaohsiung Port Depot 410
Between park and water of the inner harbor is Kaohsiung Port Depot 410, opened in January 2022. This is a cluster of four warehouses. As elsewhere, the inner beam-and-column frameworks have been retained and are on display, original "No Fire" signs are still in place, etc. Each repurposed warehouse has its own style – no.7 is for ladies' fashion, 8 for gatherings and dining, 9 for sports and fashion, and 10 has an illuminating exhibit of harbor-area historical photographs.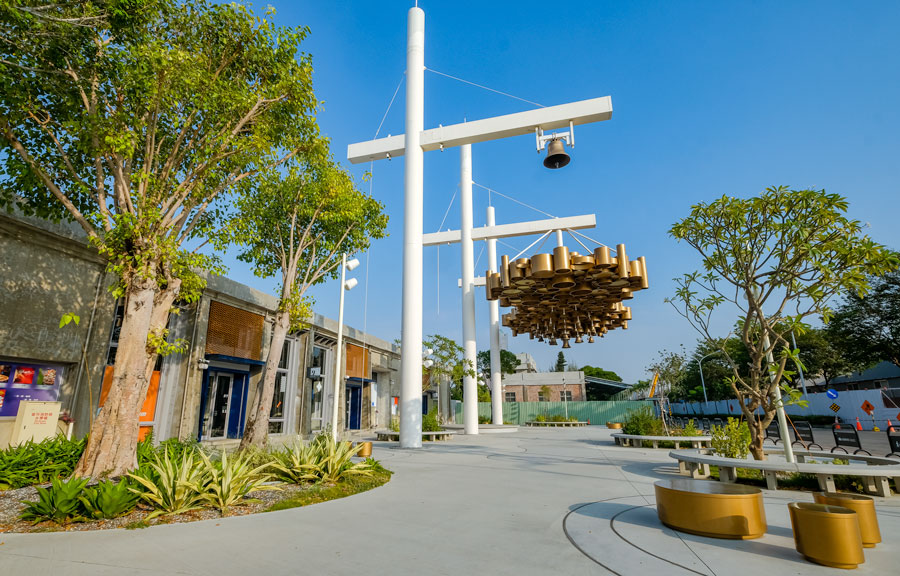 Great Harbor Bridge
Jumping the inner harbor from these warehouses to the Yancheng mainland is the arched, sleekly shapely pristine-white Great Harbor Bridge. This 110m pedestrian/cyclist passageway is Taiwan's first horizontally rotating landscape bridge, Asia's longest cross-port rotating bridge (3min rotations at 3pm daily; at 7pm Fri/Sat/Sun). Its streamlined profile is in the image of a dolphin and seashell. The Kaohsiung Light Rail's Dayi Pier-2 Station is right off the Yancheng end, making public-transport travel a breeze.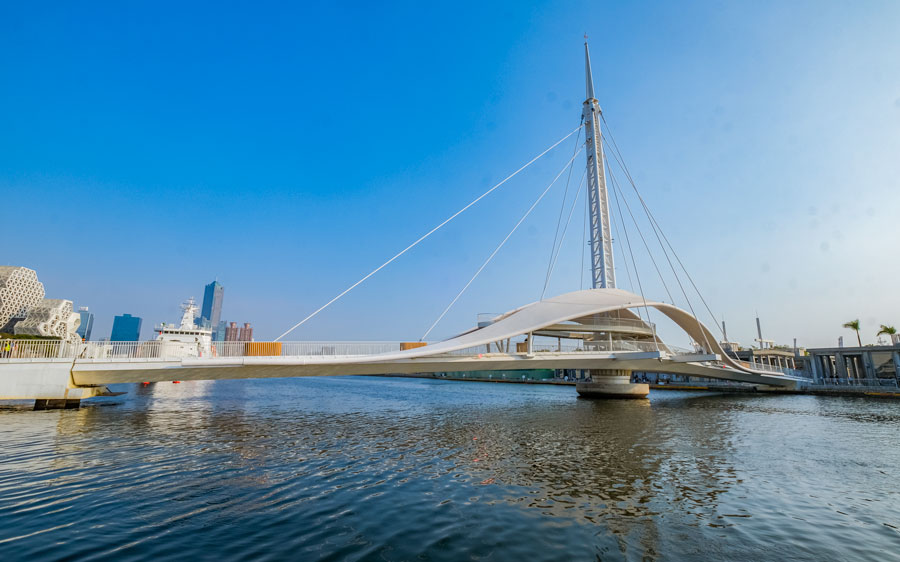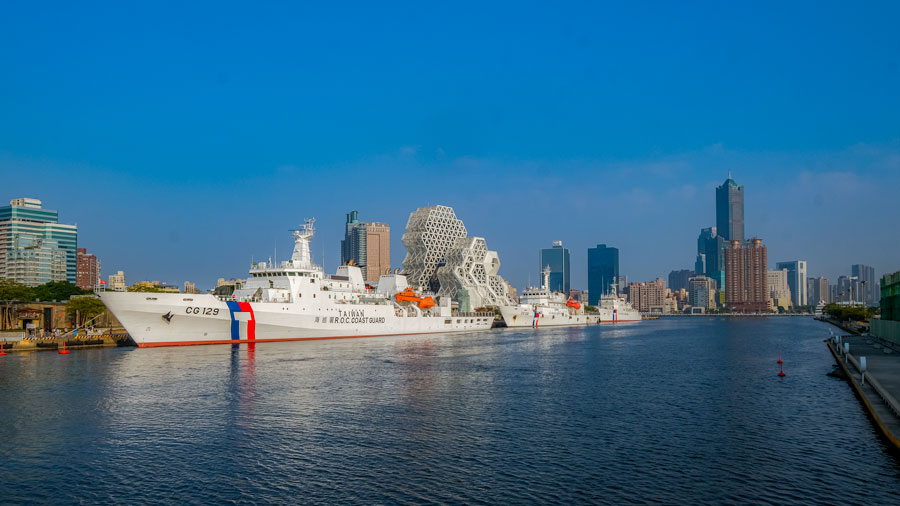 Kaohsiung Port Warehouse No. 2
Kaohsiung Port Warehouse No. 2, opened in its present guise in 2018, is steps north of the aforementioned long-pier area, looking into the main harbor area. Ferries leave from here for Qijin Island across the way, the long, thin barrier island that created the natural harbor. The harbor's startlingly narrow north-exit mouth is in clear view. There are iconic Taiwan food-brand and cultural-creative outlets on the first floor, artist-exhibit spaces on the second.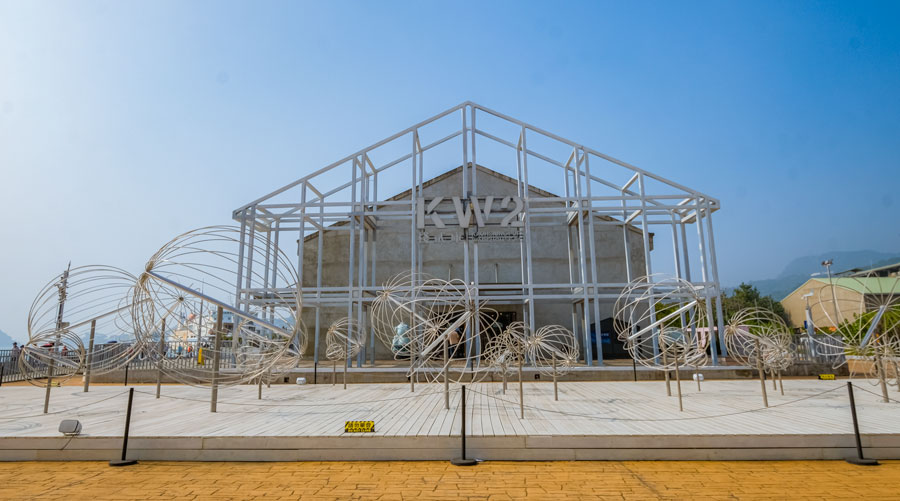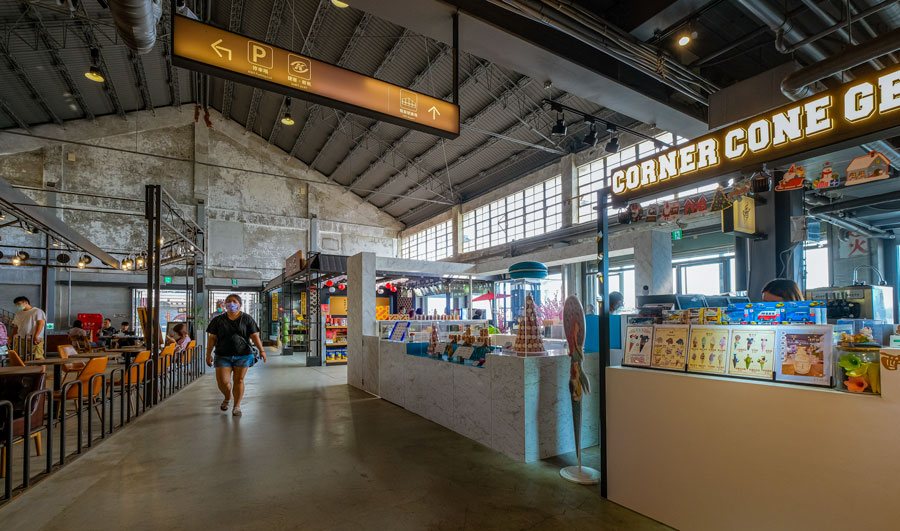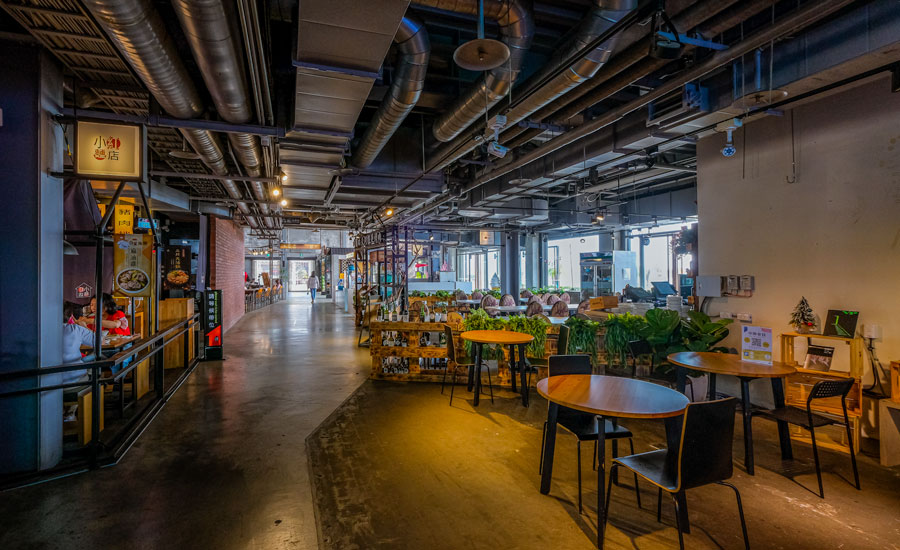 The original warehouse here, built in 1914, was severely damaged in WWII Allied bombing and thereafter reconstructed with concrete support pillars and rebar. Informally called the "Banana Warehouse," it was used for banana and sugar exports.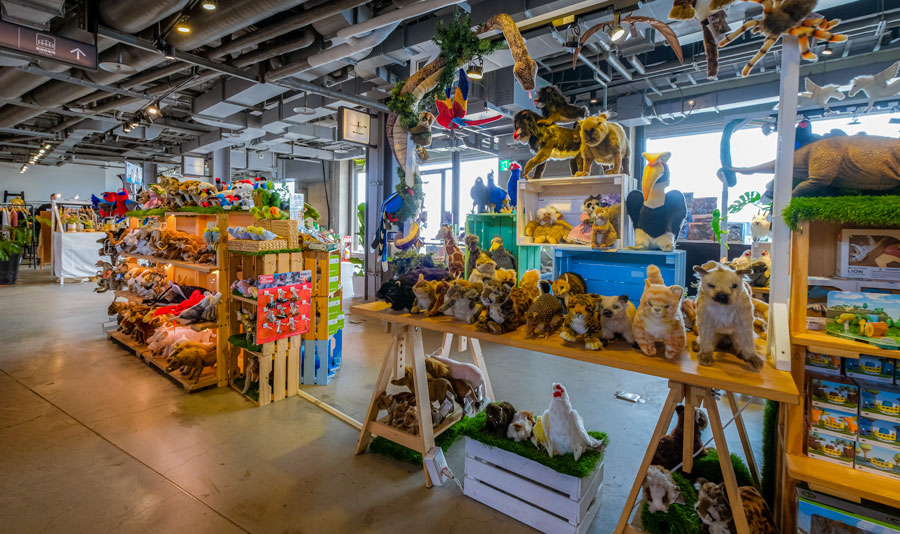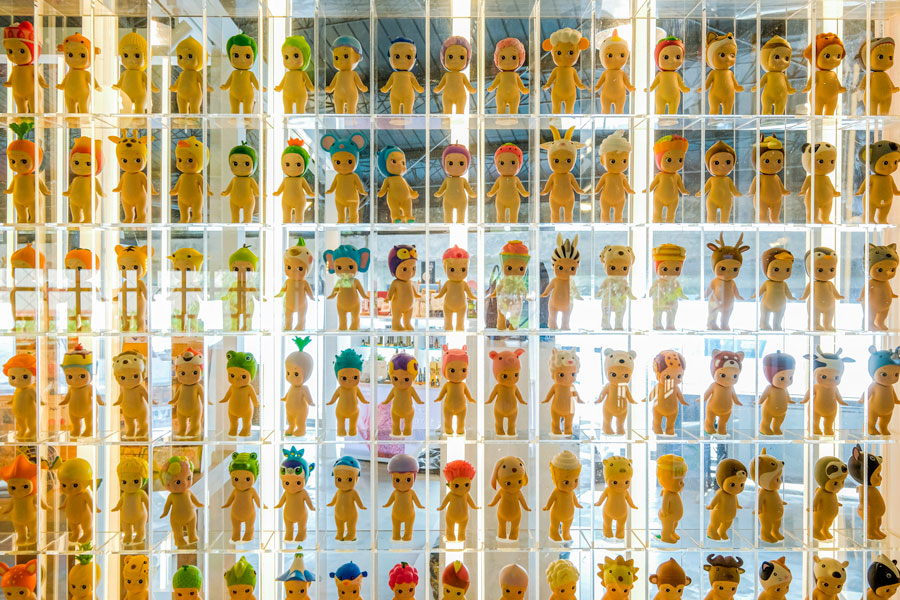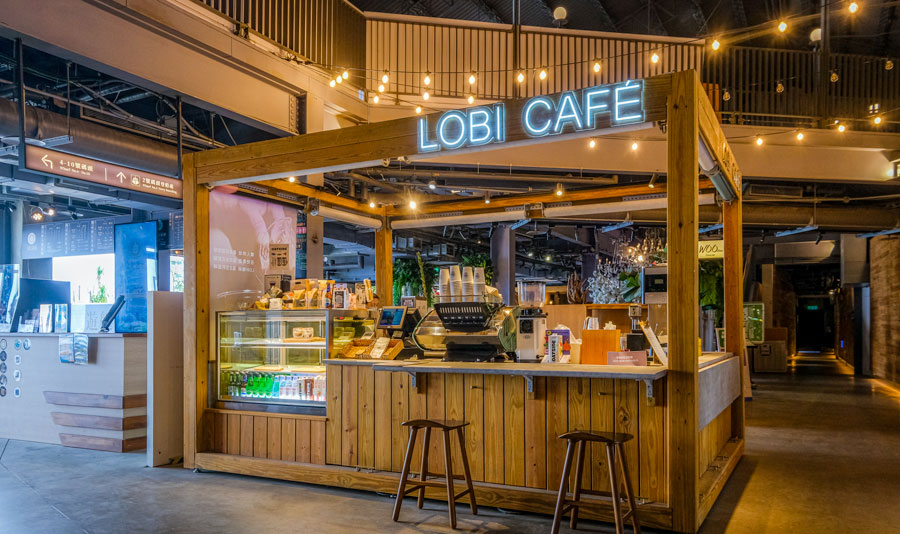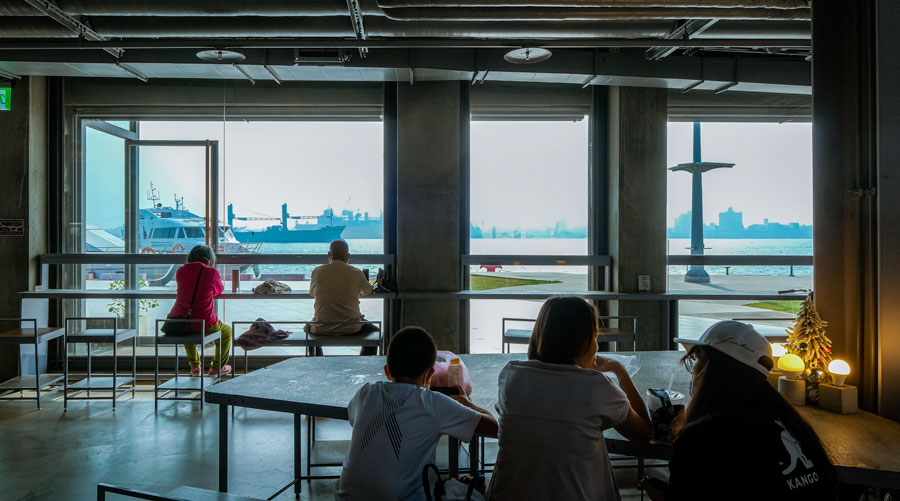 Chao Da Food is a well-known Kaohsiung chain selling tasty Taiwan traditional-style jerky and dried fruits. Established in a small shop by a husband-wife team over 35 years ago on the city's famed Sanfeng Central Street, a narrow century-old covered market street that is Kaohsiung's largest grocery goods wholesale center, it's now second-generation run. Among its bestsellers are its honey-glaze pork jerky, pepper pork jerky, dried mango, and dried pineapple. Foods used are Kaohsiung-region sourced.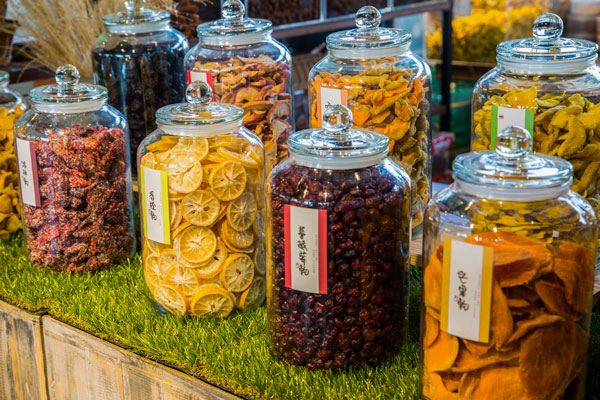 Kaohsiung Port Warehouse No. 2
(棧貳庫)
Tel: (07) 531-8568
Add: No. 17, Penglai Rd., Gushan District, Kaohsiung City
(高雄市鼓山區蓬萊路17號)
Website: www.kw2.com.tw (Chinese)
Love River
The Love River, known as the urban center's "spine," divides it in two. Once heavily polluted, today locals and tourists stream to its lower section, enjoying the long promenades and greenery along both sides, public artworks, cafés and other leisure establishments, romantic-mood nighttime promenade lighting and river-bridge rainbow lighting, and boat tours.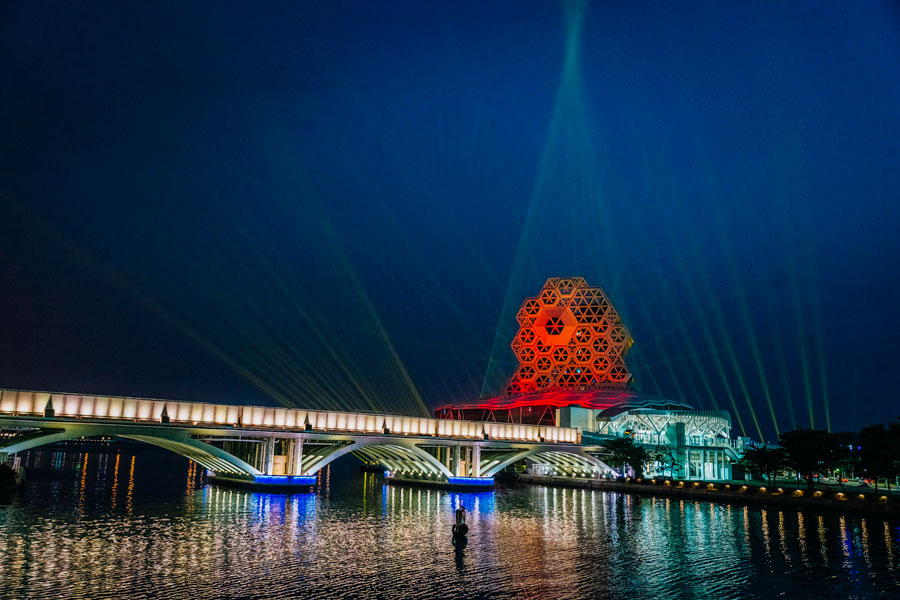 Love River Beer Garden
Love River Beer Garden is a cool and refreshing alfresco oasis on the river's right bank downriver from Zhongzheng Bridge on Zhongzheng 4th Road. It's between the promenade and a quiet local street behind, backed by a row of tall wide-canopy trees.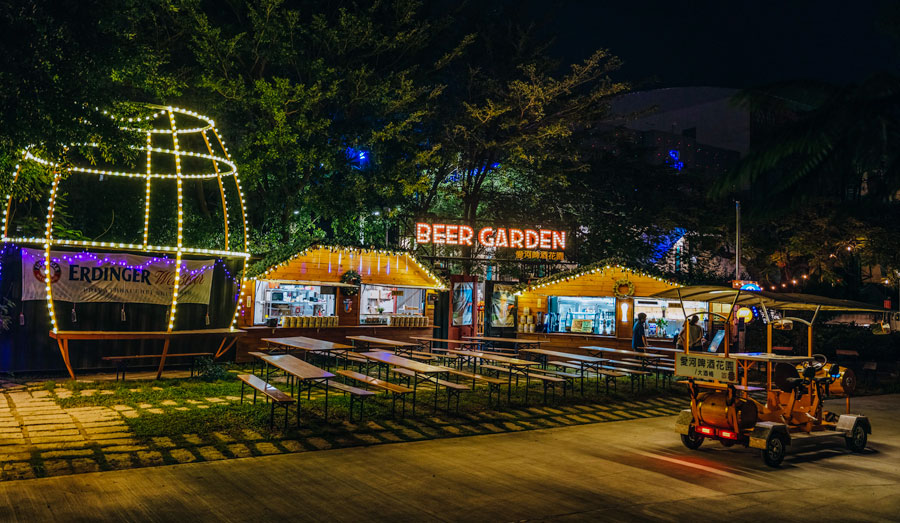 The garden's forecourt is filled with long beer hall-style tables. Forming a backdrop semi-circle are two service kiosks – cargo containers with faux Bavarian chalet-style facades – and a metal-frame sculpture in the shape of a giant beer keg, lit up with string lights. Parked out in front you'll see the nifty resident bicycle bar, waiting for partiers to jump on and head out self-powered for riverside/neighborhood joy rides (fee).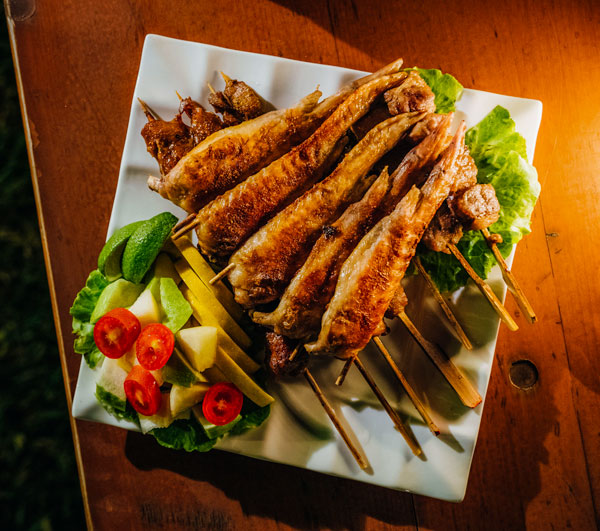 On the liquids side of the menu are German Erdinger and Hofbräuhaus beers, Buckskin (Taiwan) beers, cocktails, soft drinks, and hot drinks (coffee and various teas). On the solids side are German-style pork knuckle, BBQ German sausage, chicken wings, and varied skewers, etc. (assorted platters available).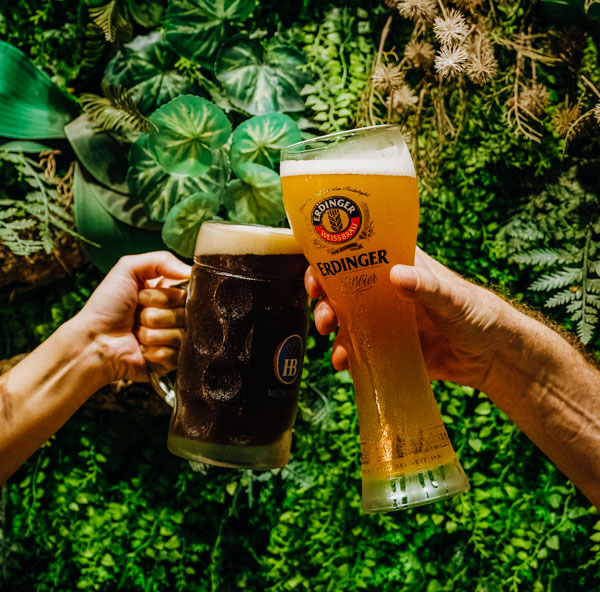 Love River Beer Garden
(愛河啤酒花園)
Tel: (07) 521-0802
Add: No. 10, Hexi Rd., Yancheng District, Kaohsiung
(高雄市鹽埕區河西路10號)
Facebook: www.facebook.com/loveBeerKHH
White Lover Container House
While the beer garden is "backed" by trees, the cross-river White Lover Container House is "in" trees. The "house" is made of four white-painted containers. Two are end-to-end conjoined at ground level back from the promenade, open-faced service counter running the entire length. Between these and the promenade is a spacious low-rise wood-board deck with varied-style seating, tree trunks rising up from deck openings, foliage above providing much-appreciated shade during intense-sun days. Against the promenade's waterside railing is a seating line constituted of white-painted barrels with round wood-plank tops and high chairs.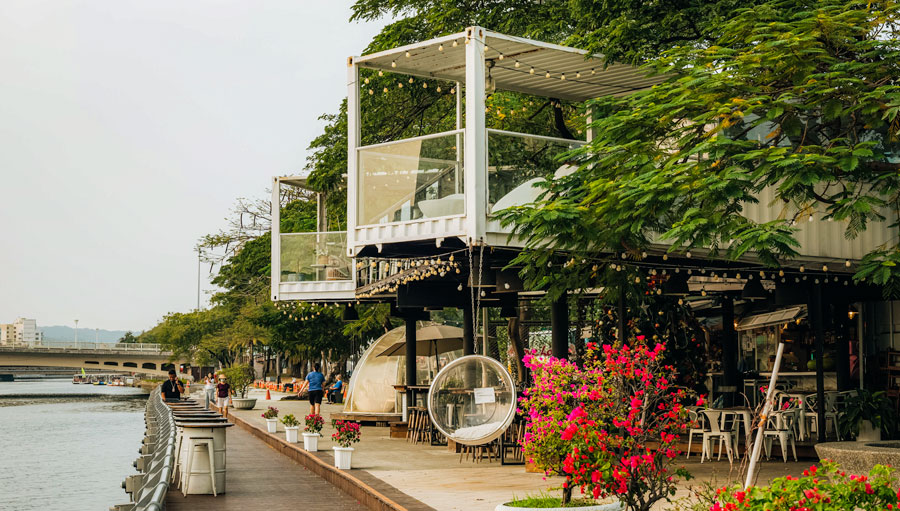 The second level, reached by metal stairs, is right up in the tree canopies, treehouse-style. Two open-side cargo containers (with seating) jut out at slants, stopping just at the promenade's edge. More seating is available on a deck built atop the ground-level containers and a long, wide metal-frame catwalk with boardwalk bed that runs between the containers' promenade ends. At night a festive feel warms the place when the glowing-white string lights hung everywhere come on.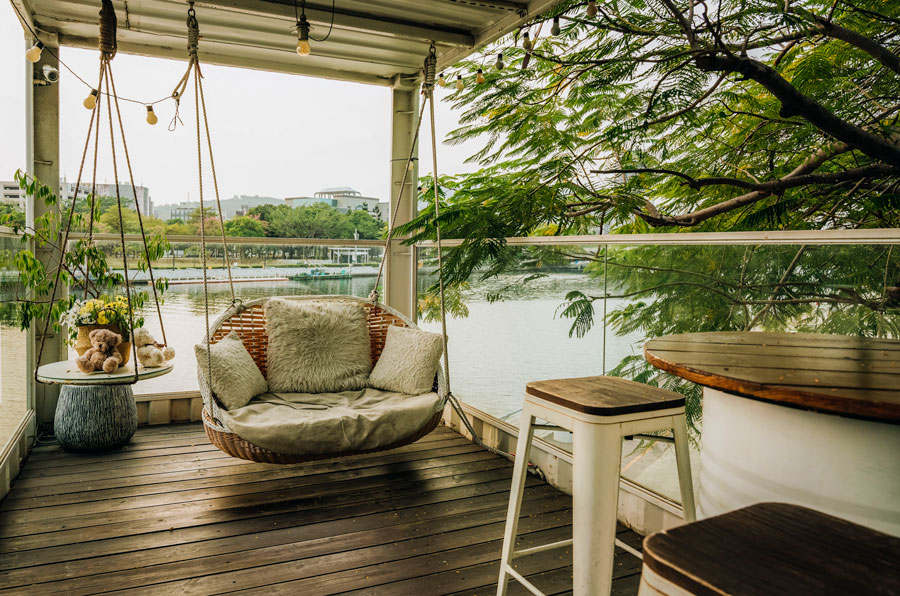 On the almost-endless menu's chewy side are "DIY Toast Sets," teppanyaki/fried rice/burrito/sandwich/roll/noodle soup options, deep-fried snacks, and sweet things (waffles/honey toast). On the non-chewy side are color-filled fruit and milk-based drinks, soft drinks, yogurts, coffees, teas, and myriad alcoholic drinks.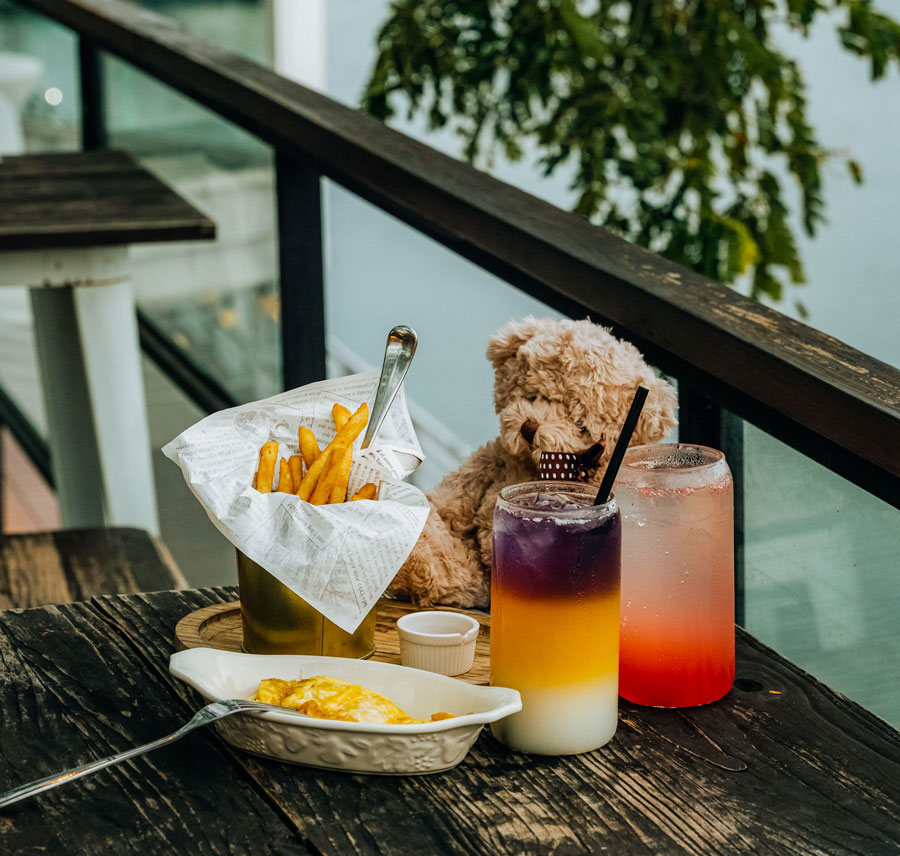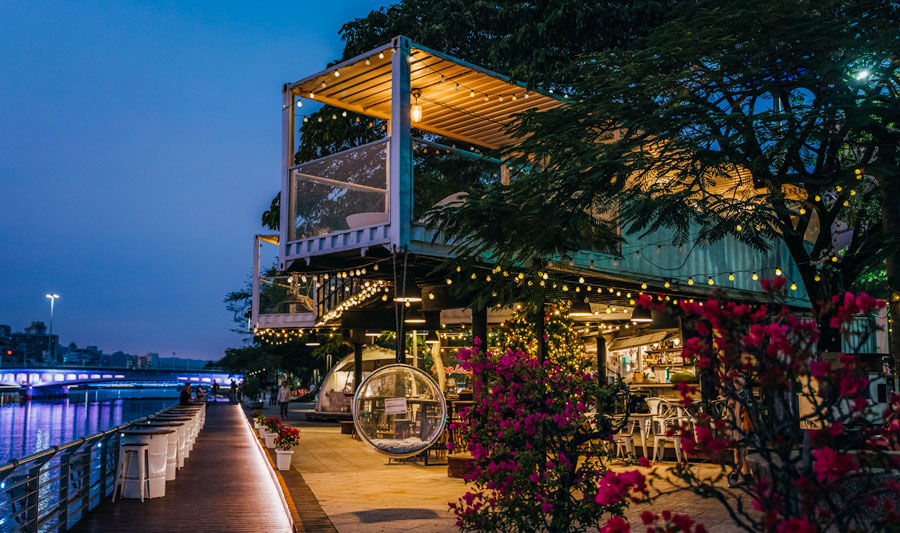 White Lover Container House
(白色戀人貨櫃屋)
Tel: (07) 281-5380
Add: No. 189, He Rd., Yancheng District, Kaohsiung
(高雄市鹽埕區河東路189號)
Facebook: www.facebook.com/whitelover.189
Love River Boat Cruise
A Love River boat cruise is a veritable rite of passage for international travelers visiting Kaohsiung. Rides on quiet electric-powered, open-sided Love Boats and on gondolas are offered. Two launch points are located just upriver and downriver from Zhongzheng Bridge, on the left bank, the latter right beside White Lover Container House.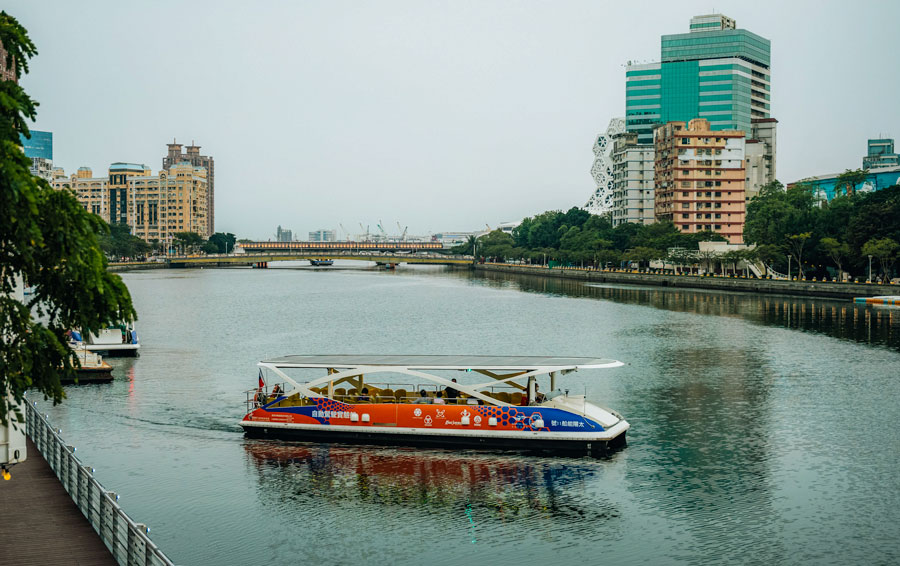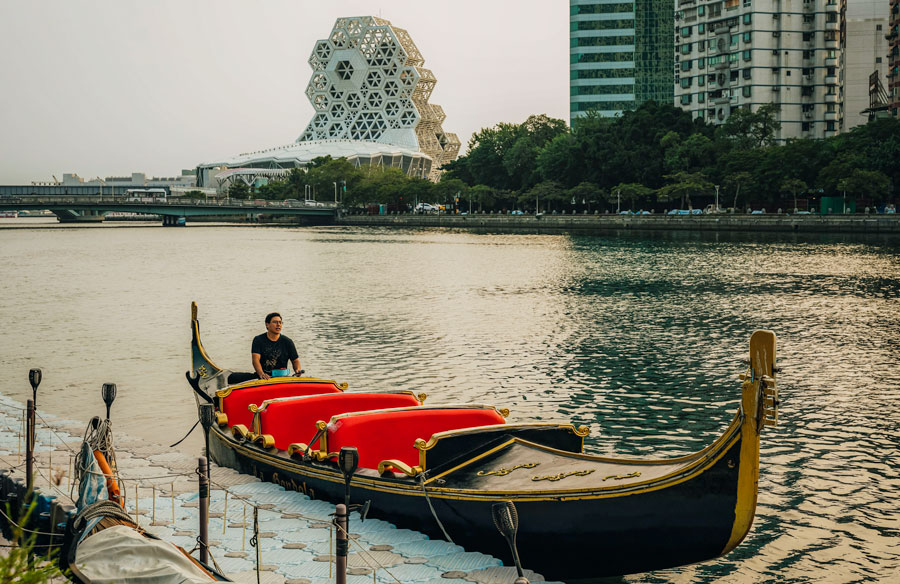 The experience is soothingly peaceful, especially in the evenings, with the promenade and bridge light reflections rippling on the water, the music of the leisure establishments wafting through the air, and the air of romance enhanced by the afterglow of the setting sun or perhaps the glow of an overhanging moon.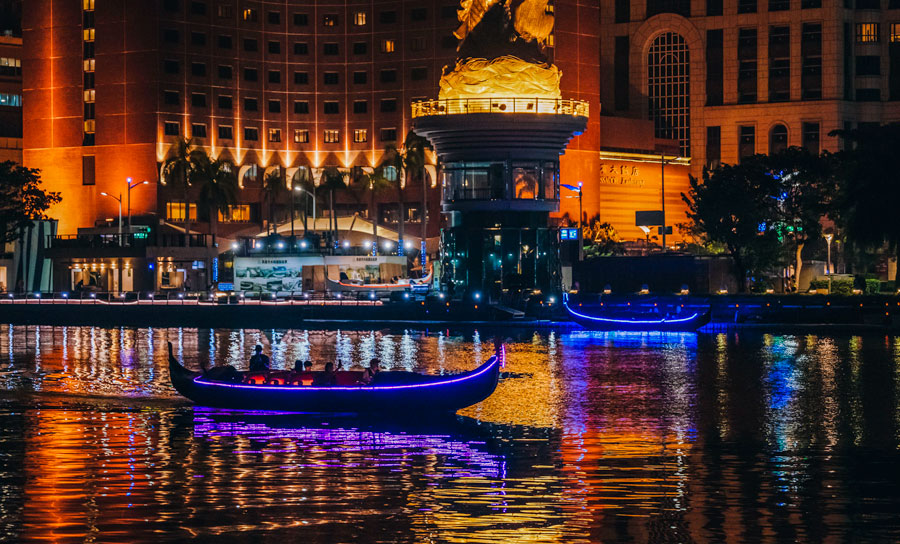 Cruises are weekdays 6pm~10pm and weekends/holidays 3pm~10pm. Check details in person at the ticket booths beside the cruise-outing locations.
Yancheng District
In this section we revisit Yancheng District, exploring how new blood is being infused into the older commercial/residential neighborhoods.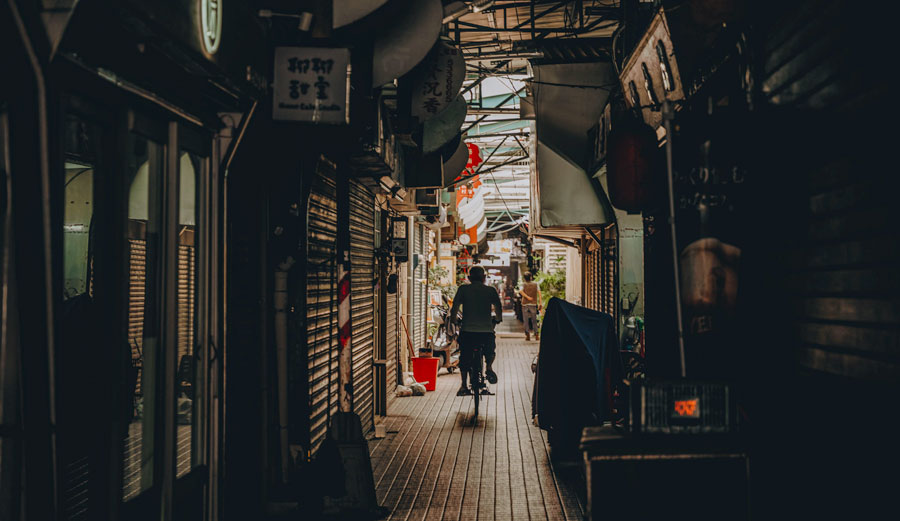 Yancheng First Public Retail Market
Yancheng First Public Retail Market is a heritage market, established in 1949, rebuilt in 1975, and reborn in 2022, with old stands and bricks-and-mortar shops beautied up and newer, hipper ventures setting up. It takes up almost the whole block formed by Xinle Street, Qixian 3rd Road, Lainan Street, and Wufu 4th Road. You enter a labyrinth of narrow alleyways, almost all artery sections roof-covered, immersed in a tight-knit neighborhood world unto itself. There's small clothing shops and shaved-ice shops and all manner of other shops, even a tiny mom-and-pop neighborhood grocery store, a hardware store, a couple of old-time barber shops – and fronts with no shop at all within; you look in at residents sitting in their cozy little living rooms, just feet away.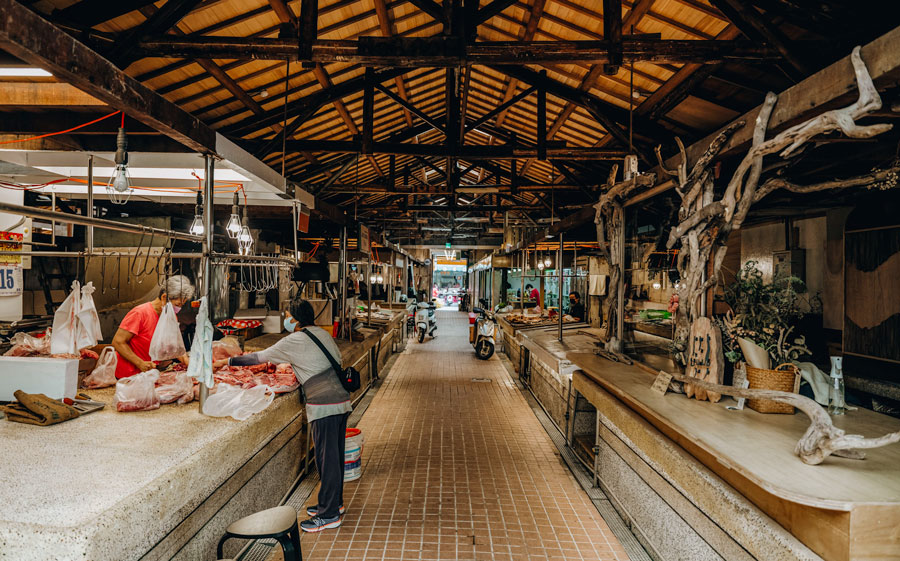 The market's heart is a section in the middle sporting a new high gabled wood-plank roof with exposed wood trusses and numerous skylights. The artery sections immediately surrounding now have translucent roofing. In the wooden-roof warren is a beehive of open stalls. You'll find unusual photo opps aplenty here: a smart pizza stall across from an old-style butcher's stall, a dapper sit-down beer-on-tap stand beside a fish seller. (Note: the leisure/entertainment-type spots tend to open later in the day.)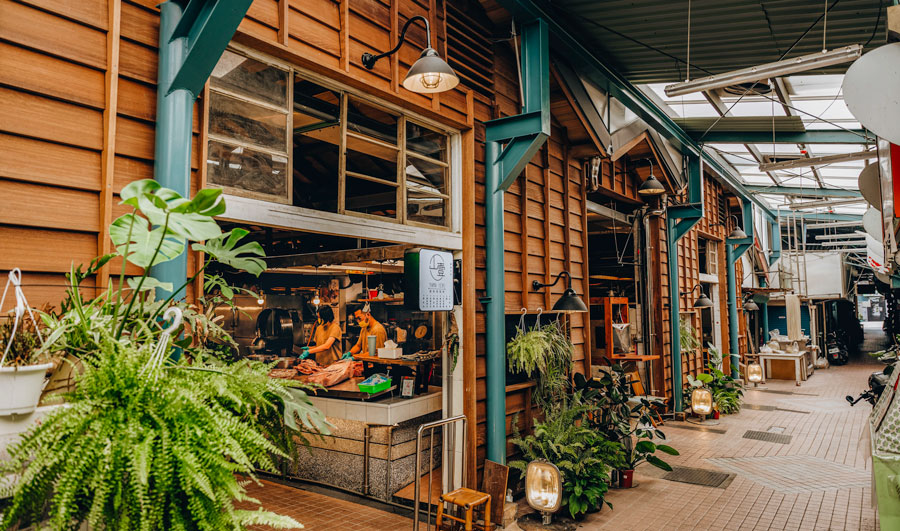 Yama Ichi Tempura
Yama Ichi Tempura is a cozy, stylish eatery of attractive Japanese trappings that has swordfish as a specialty. The business was started by the owner's great-grandfather about 70 years ago, selling swordfish meat to Taiwanese/Japanese restaurants, later expanding into tempura products. The eatery serves stewed, steamed, and fried selections, with assorted-platter options.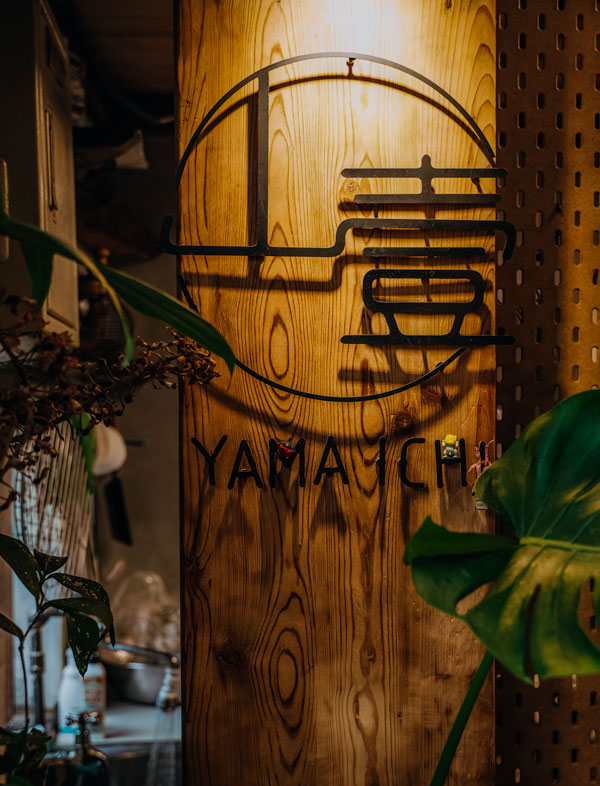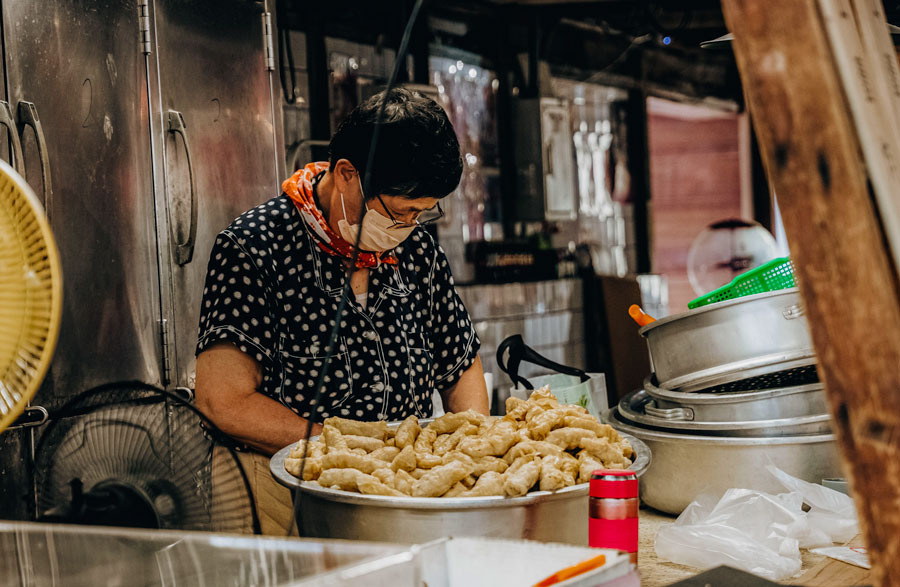 Yama Ichi Tempura
(山壹旗魚食製所)
Add: No. 213-19, Xinle St., Yancheng District, Kaohsiung City
(高雄市鹽埕區新樂街213號之19號)
Website: www.yamaichikh.com.tw (Chinese)
Facebook: www.facebook.com/yama.ichi.Tempura
Dachi Coffee
Dachi Coffee is a cutesy, cubbyhole retro café brimming with furnishings and merchandise from 1970s/1980s Japan (some Taiwanese too) – vinyl records, record player, alarm clock, etc. The café logo, adorning the door and elsewhere, is the head of a cartoon cat. There's varied coffees (honey + nutmeg latte especially interesting), cane sugar or cocoa milk, and handmade bagels.
Dachi Coffee
(大橘珈琲)
Add: No. 213-46, Xinle St., Yancheng District, Kaohsiung City
(高雄市鹽埕區新樂街213-46號)
Facebook: www.facebook.com/dachicoffee
Instagram: www.instagram.com/_dachicoffee_
Milk Tea Street
Milk Tea Street is a three-block-long (short blocks) section of Xinle Street bubbling with milk tea shops, stretching from Dayong Road to Dazhi Road. You may know beloved "milk tea" by one of its many other names: bubble (milk) tea, pearl milk tea, boba tea, and so on. Hot Kaohsiung seems to have a special passion for this cold drink, and now celebrates it each autumn with the Yancheng Milk Tea Festival, launched in 2020, centered on Milk Tea Street.
The festival celebrates many things, among these the glories and stories and delicious foods of old Yancheng. and how young folk are returning to Kaohsiung to renovate old shops and open new businesses. Milk Tea Street was long known as "Gold Street," filled with jewelry shops.
Hwa Da Milk Tea
Hwa Da Milk Tea is today an island-wide chain. The Xinle Street location, opened in 1982, is the progenitor of both chain and Xinle's milk tea bloom. The façade and interior have been elegantly modernized by the younger generation, the former now featuring slabs of polished black marble. Mounted on one arcade column is an unmissable human-sized mockup of the iconic Hwa Da paper cup, deep-black distinctive calligraphy on a pure-white background. Black tea is the standard for milk tea, but Hwa Da like other Kaohsiung sellers also uses Pu'er tea, as well as Oolong.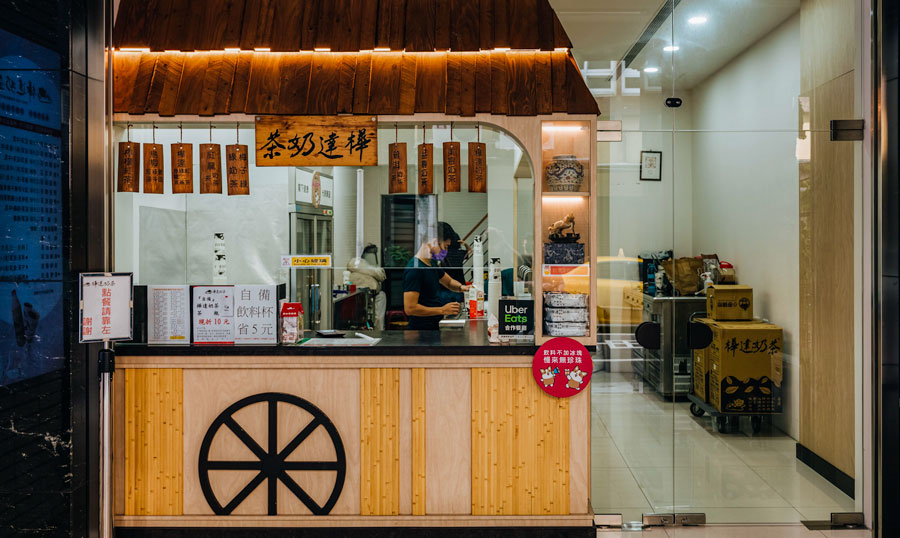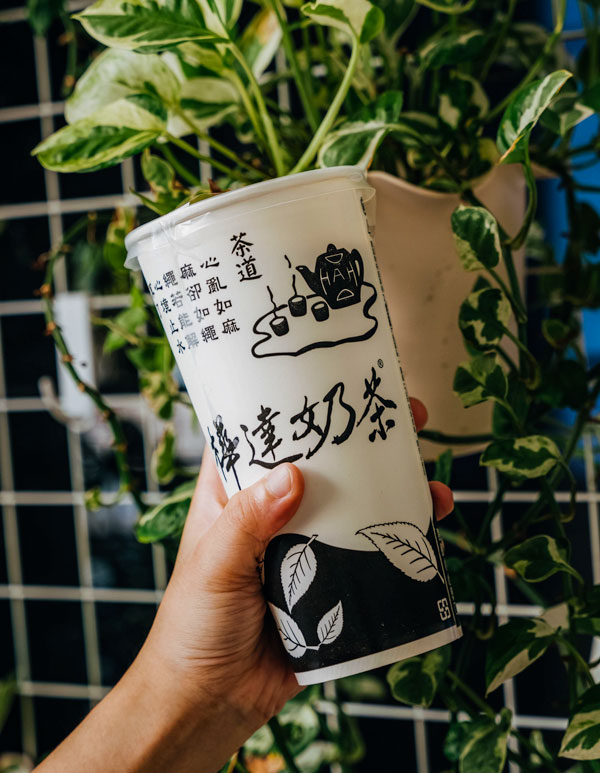 Hwa Da Milk Tea
(樺達奶茶總店)
Tel: (07) 551-2151
Add: No. 101, Xinle St., Yancheng District, Kaohsiung City
(高雄市鹽埕區新樂街101號)
Facebook: www.facebook.com/HWADAmilktea
Sungyi Milk Tea
It would be easy to mistake Sungyi Milk Tea for an art gallery rather than a milk tea purveyor. The open-front façade looks like a work of installation art. Black, Pu'er, and Iron Goddess tea are used here. Free fresh-made "bubbles" (tapioca-starch balls) are offered until sold out daily, starting 11am.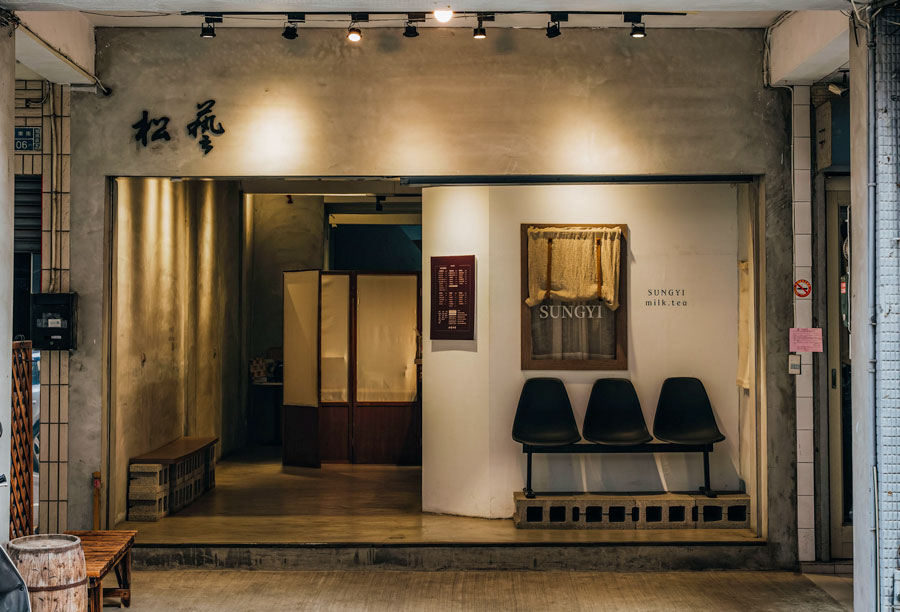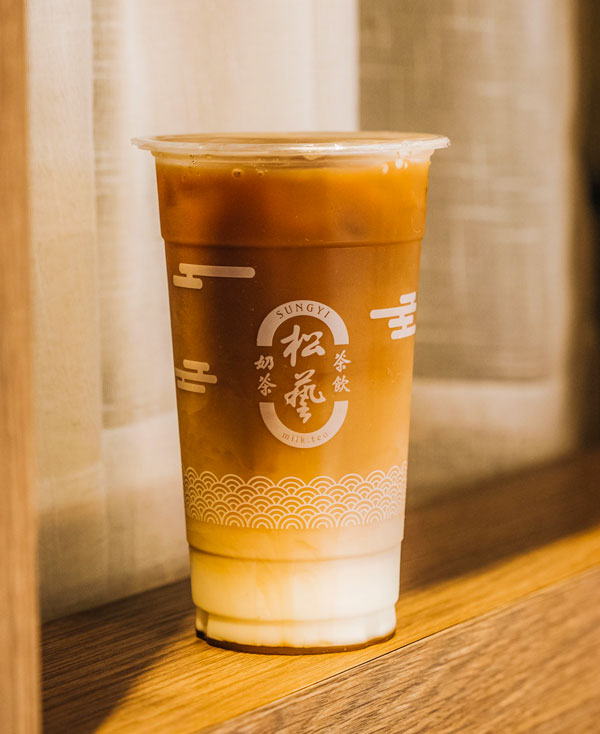 Sungyi Milk Tea
(松藝奶茶)
Tel: (07) 533-3567
Add: No. 106, Xinle St., Yancheng District, Kaohsiung City
(高雄市鹽埕區新樂街106號)
Facebook: www.facebook.com/sungyi.tw
Ou Jia
On an intersection, wide wraparound saloon-style boardwalk (with seating) out front, Ou Jia has an exterior festooned with loud, inviting signage. A specialty here is use of lotus root, in both the liquid and hand-made bubbles, and of kumquat.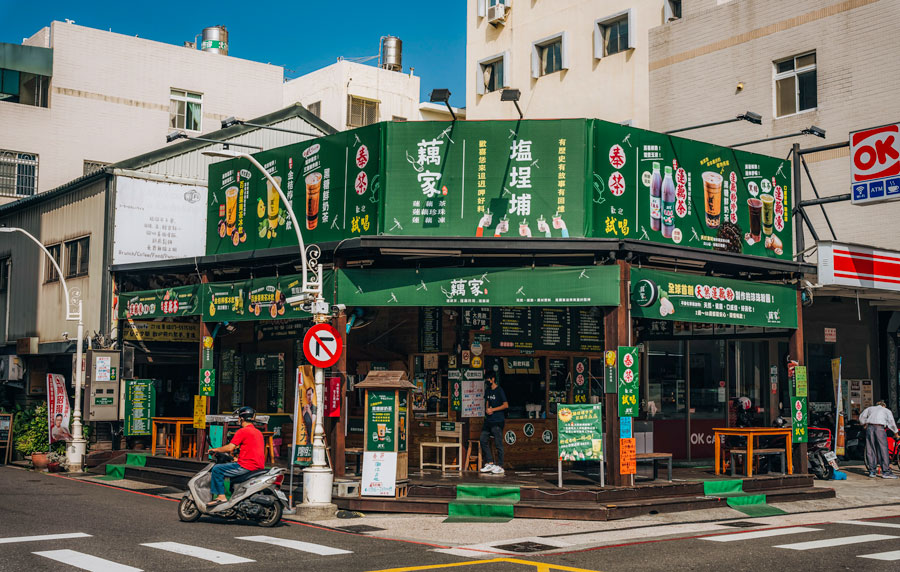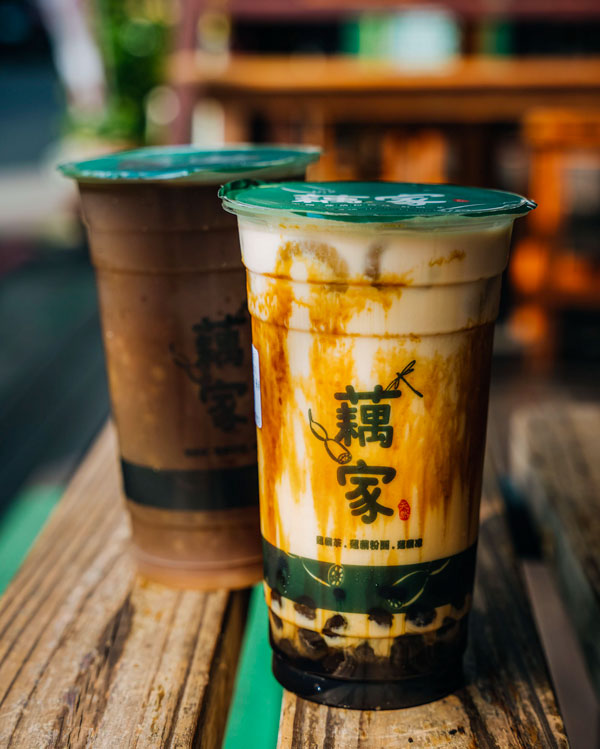 Ou Jia
(藕家)
Add: No. 195-1, Xinle St., Yancheng District, Kaohsiung City
(高雄市鹽埕區新樂街195之1號)
Facebook: www.facebook.com/long5211388
Fengshan District
This large district is east/northeast of the districts we've been visiting so far, on the east side of Kaohsiung's main urban agglomeration. Its north is served by the Kaohsiung Metro's Orange Line, which terminates in the west just off the port in Gushan District. The attractions we intro below are along this line.
National Kaohsiung Center for the Arts (Weiwuying)
The word "humongous" and the title National Kaohsiung Center for the Arts (Weiwuying) pair easily together in a sentence. This facility has become a destination for its almost indescribable from-the-future exterior appearance as much as for the artistry displayed within at its Opera House, Concert Hall, Playhouse, and Recital Hall, and in the fancifully designed amphitheater for outdoor performances, which is ensconced in a purpose-constructed depression in the sloping roof. The center's superlatives are many, among these: world's largest performance arts center under one roof and home of Asia's largest pipe organ.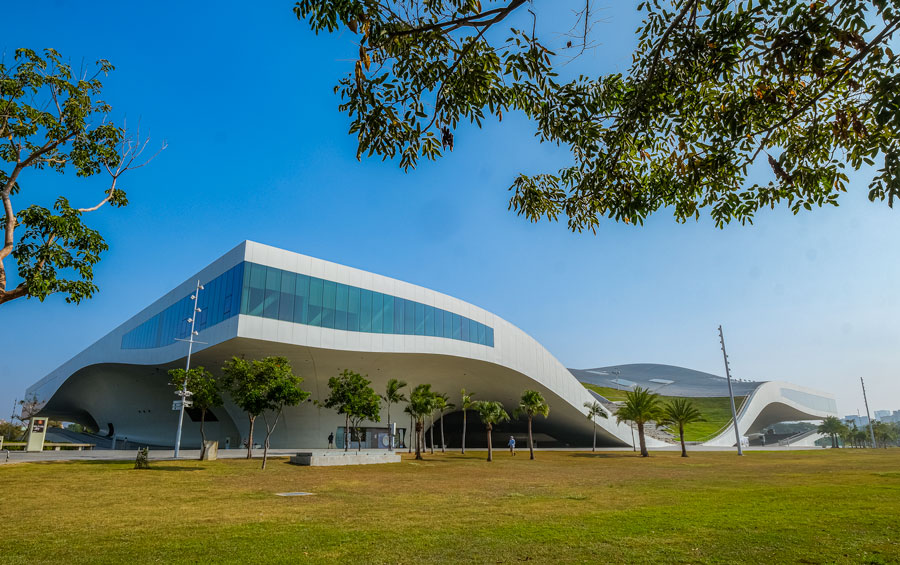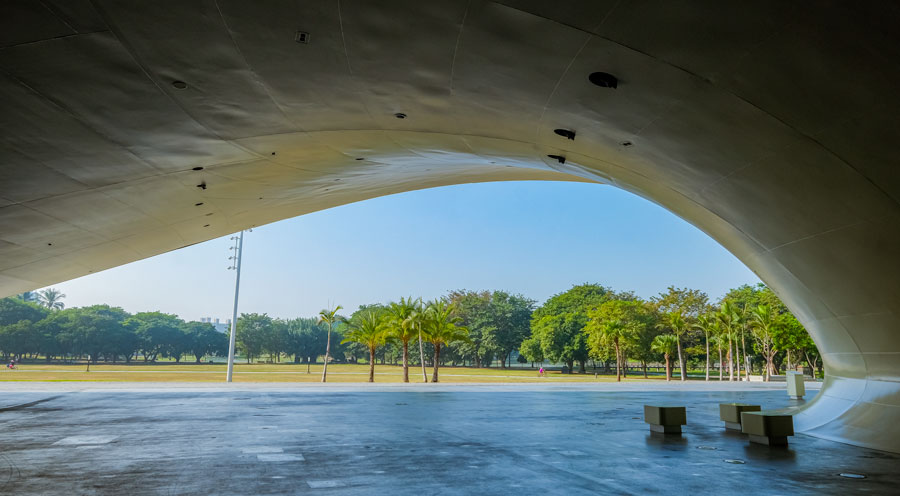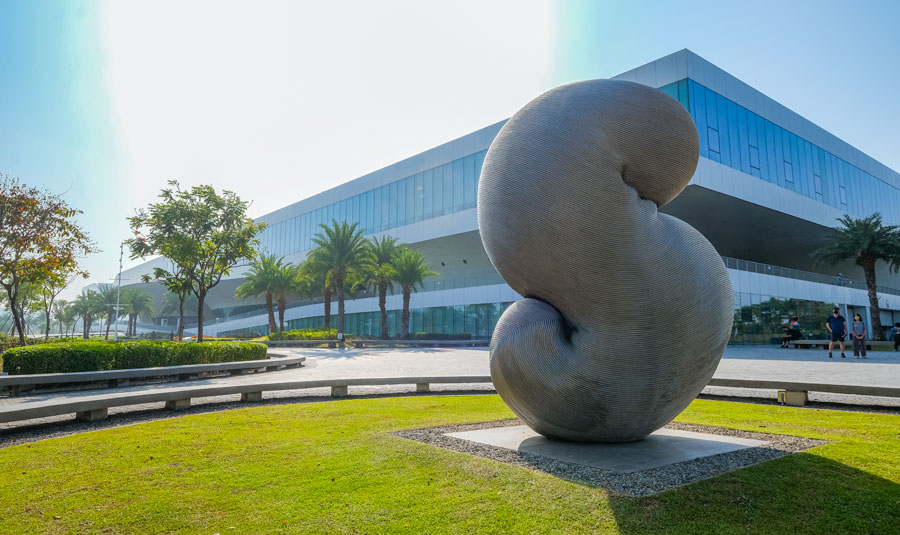 The site of the arts center and adjoining, gracefully landscaped Weiwuying Metropolitan Park was used as a military base from way back in the Qing Dynasty to late last century. The center's open structure is designed to cooperate with Taiwan's subtropical climate, cooling breezes flowing through the center-piercing tunnels like compressed winds rushing through canyons.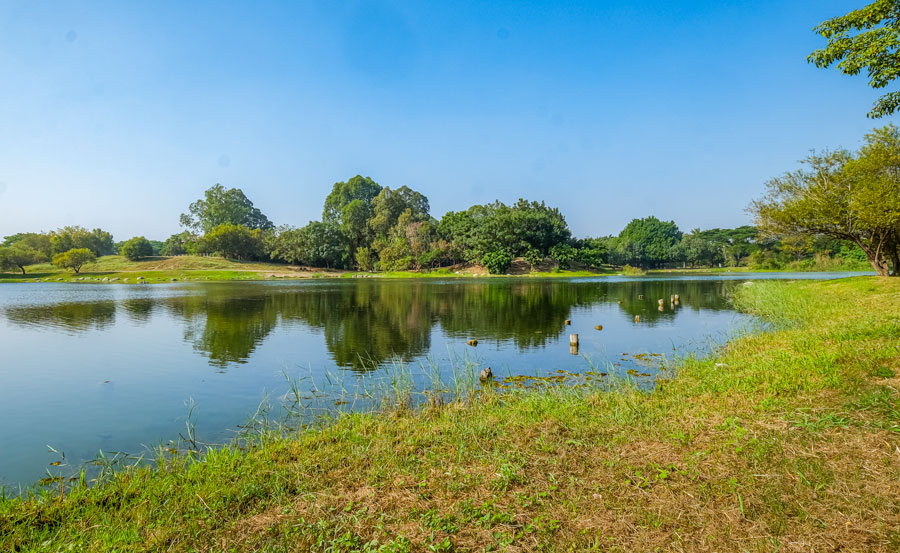 National Kaohsiung Center for the Arts (Weiwuying)
(衛武營國家藝術文化中心)
Tel: (07) 262-6666
Add: No. 1, Sanduo 1st Rd., Fengshan District, Kaohsiung City
(高雄市鳳山區三多一路1號)
Website: www.npac-weiwuying.org
Weiwuying Street Art Village
Close by the arts center is the entertaining Weiwuying Street Art Village, a residential neighborhood where over 100 low-rise building façades have been used as giant canvases for wonderfully whimsical murals by local and international talent, and offbeat ground-level installation works dot the landscape. Of Taiwan's cities, Kaohsiung has most eagerly embraced street art, with this community following in the footsteps of the Jiuru Street Art Factory and The Pier-2 Art Center last decade. Sample mural subjects: massive coralfish-surrounded stag at ocean's bottom, intricate antler rack become spreading coral; massive owl staring intently back at you; massive sun shooting curly flames in all directions.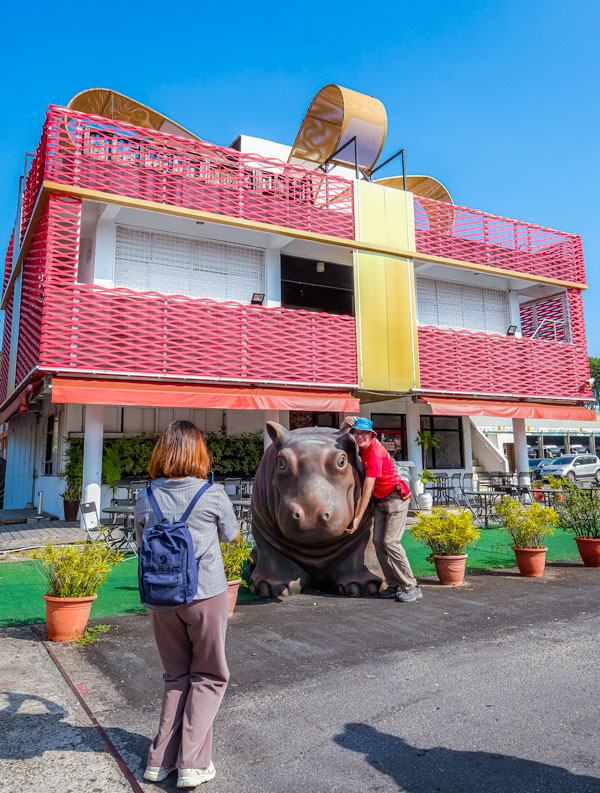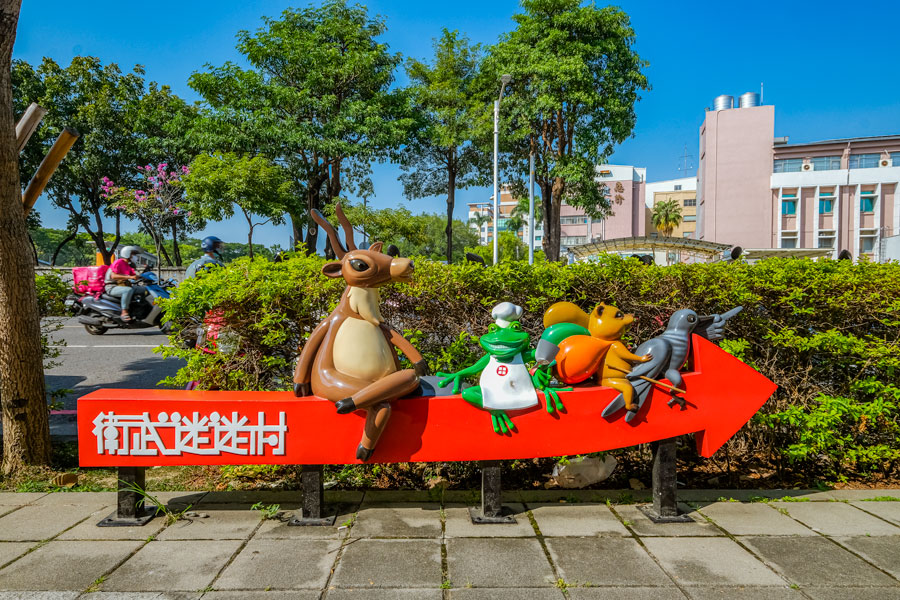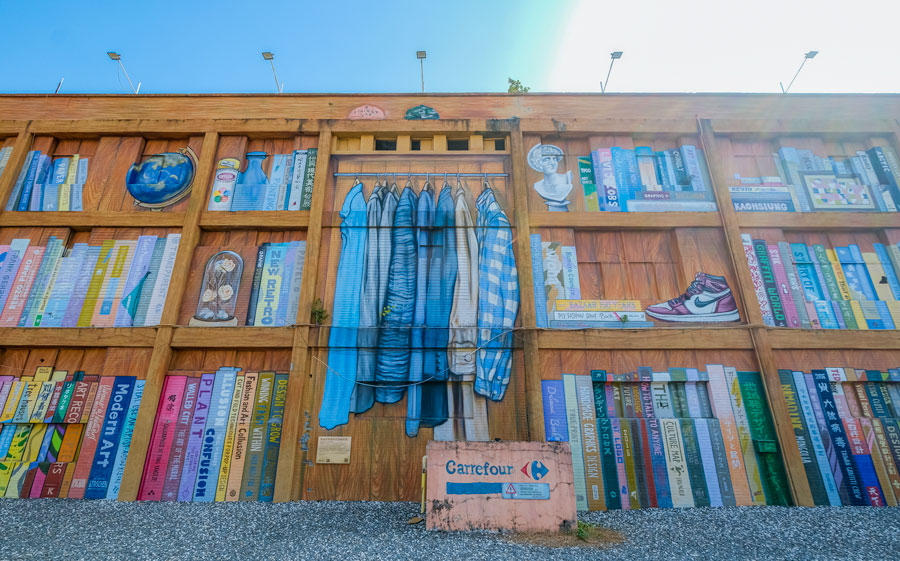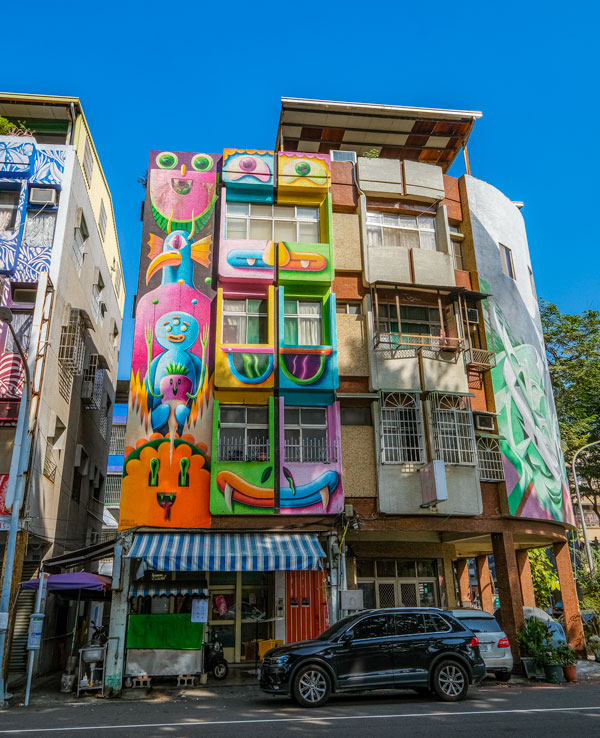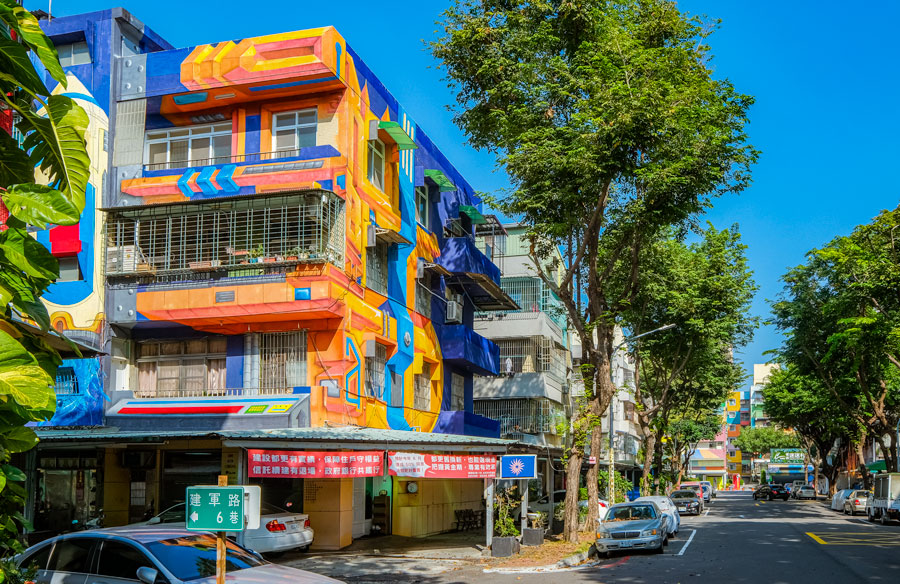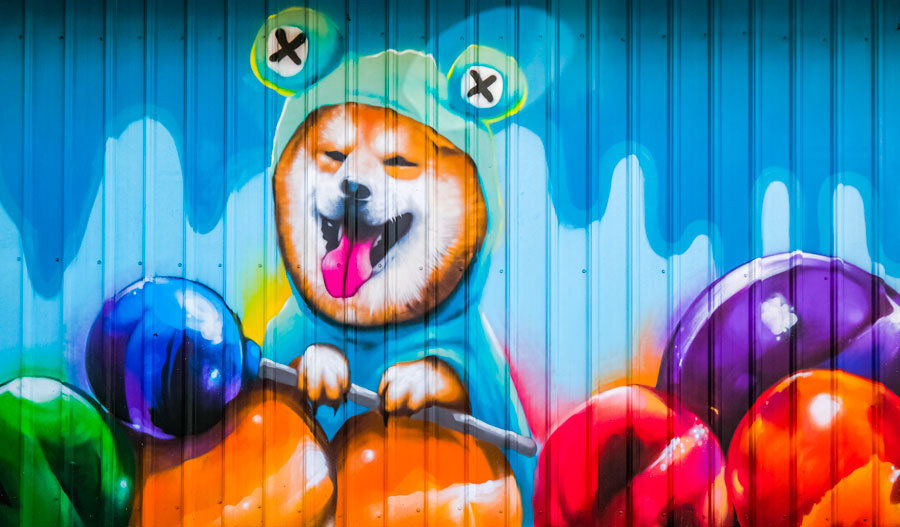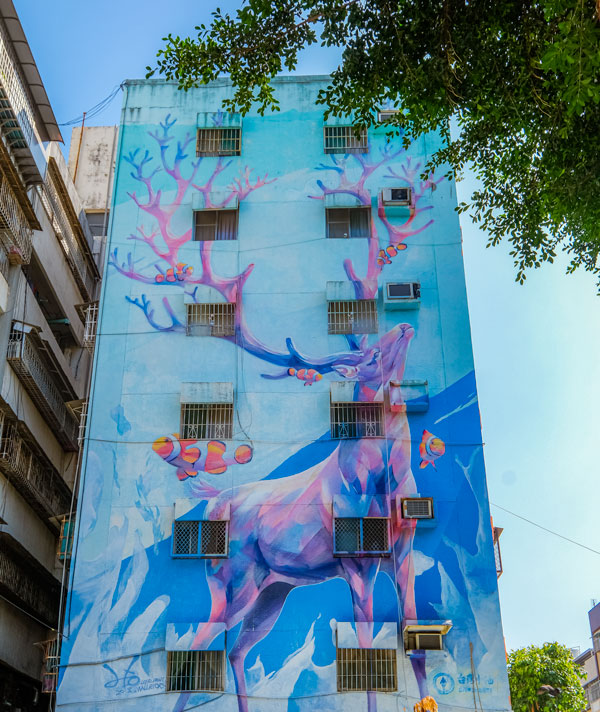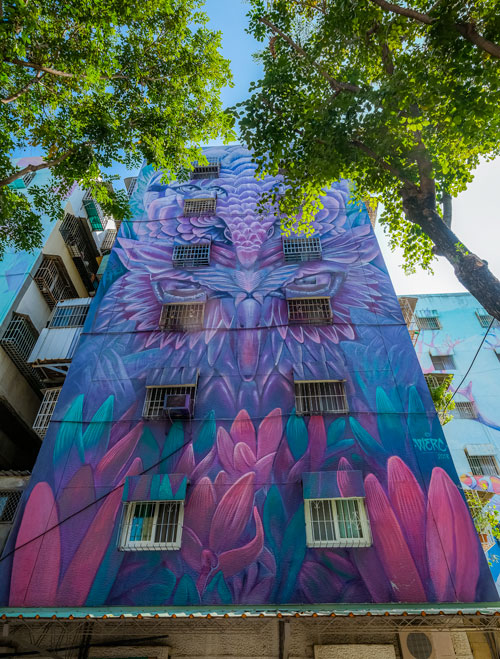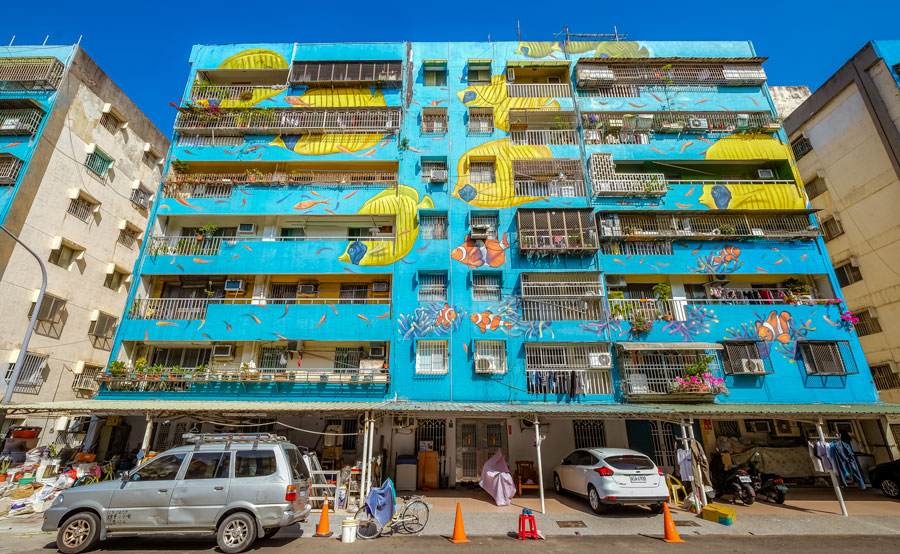 Dadong Wetlands Park
Dadong Wetlands Park is a large, tranquil park of tall mature trees and rest pavilions and benches aplenty that is bracketed by the narrow Fengshan River on the east and, on its north, an irrigation canal branching off it dating to the Qing Dynasty. The park dates to 1981. In recent decades Mother Nature has been made a partner "renovating" the picture-postcard small lake at its core, vestige of a manmade irrigation lake from imperial times, resulting in abundant waterfowl, turtles, and fish life.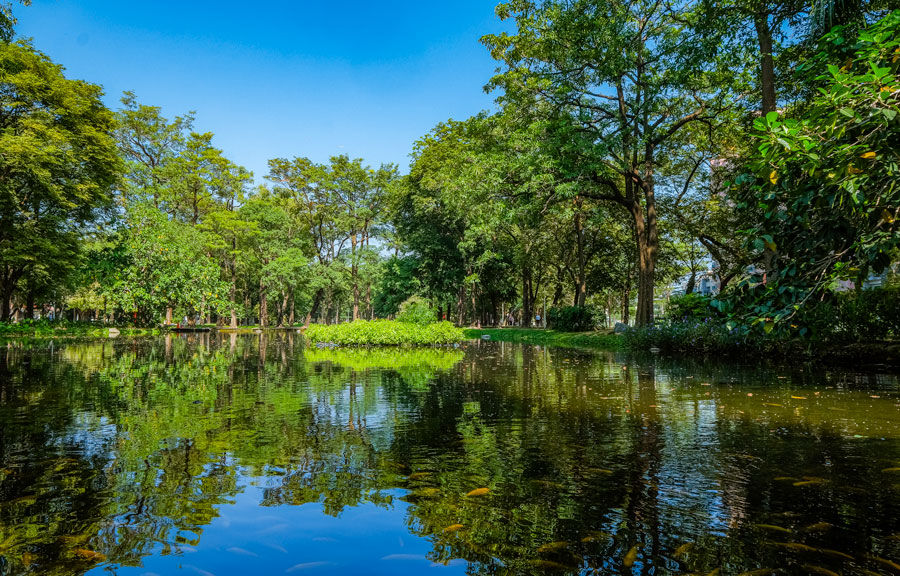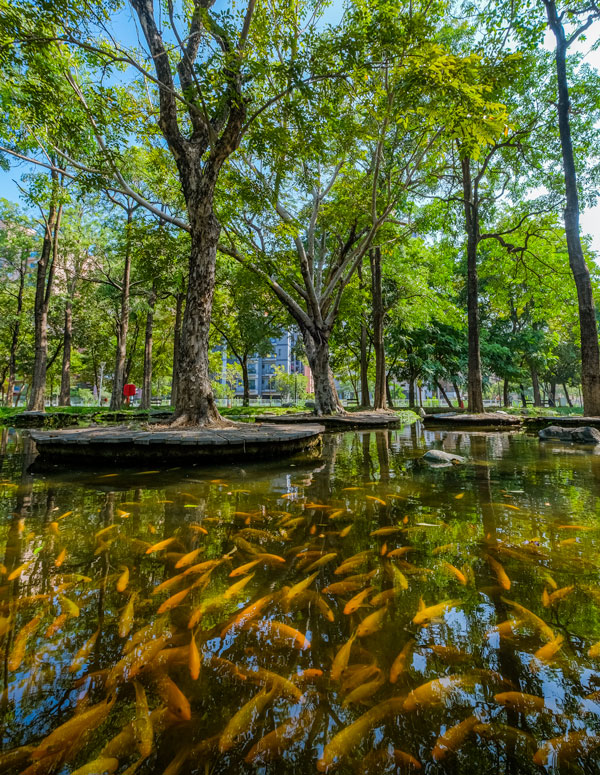 Directly facing the park is another big and proud Kaohsiung architectural statement, the young, green, magnificent membrane-roof Dadong Arts Center.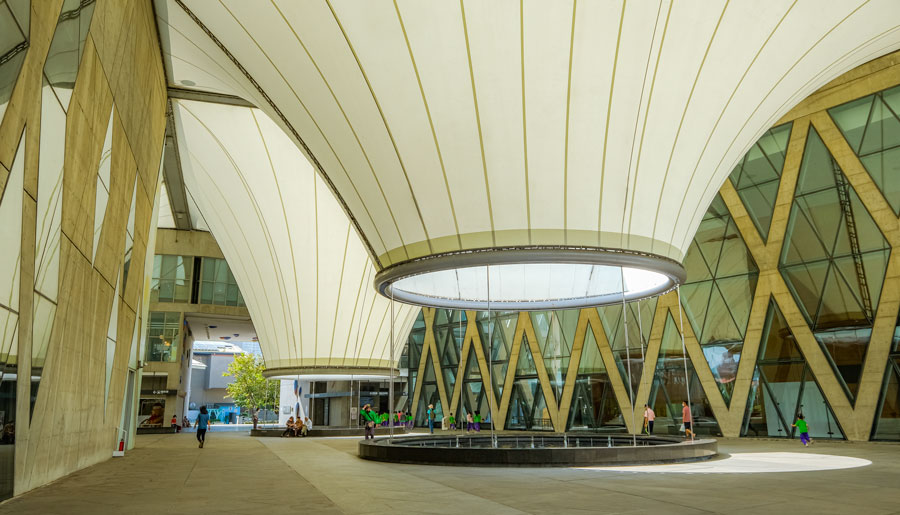 Note: The Kaohsiung City Govt. officially uses the Tongyong Pinyin romanization system while the central government uses Hanyu Pinyin. Since this magazine is published by the central government's Taiwan Tourism Bureau, Hanyu Pinyin is used for place names throughout this article. Example: Qijin Island (Hanyu Pinyin) instead of Cijin Island (Tongyong Pinyin).