A Trio of Places Great for Cycling Enthusiasts
TEXT / RICK CHARETTE
PHOTOS / RAY CHANG, VISION
Though the Penghu Islands are just a short hour-less hop by plane from mainland Taiwan, almost no visitors are day-trippers. Serving the constantly arriving flocks of revelers is an ever-growing force of accommodations, from hotels/inns (almost all in Magong City) to simple through swish guesthouses. Here we present three spots spread out in different locales of Penghu main island perfect for in-depth cycling exploration of their respective regions.
Somewhere Guesthouse
This dynamic-look young dedicated-built guesthouse is just off the coast on the south side of Penghu main island. On a rise amidst the thick hedge acacia ubiquitous around Penghu, it looks down on the west end of long, popular Shanshui Beach, and out to Shanshui 30 Highland Park, which occupies a coast-side hill beside the west end. The beach has a bustling cluster of beach-bum-style eateries and cafés; the park is a showcase of now-abandoned military fortifications such as tunnels, bunkers, and pillboxes.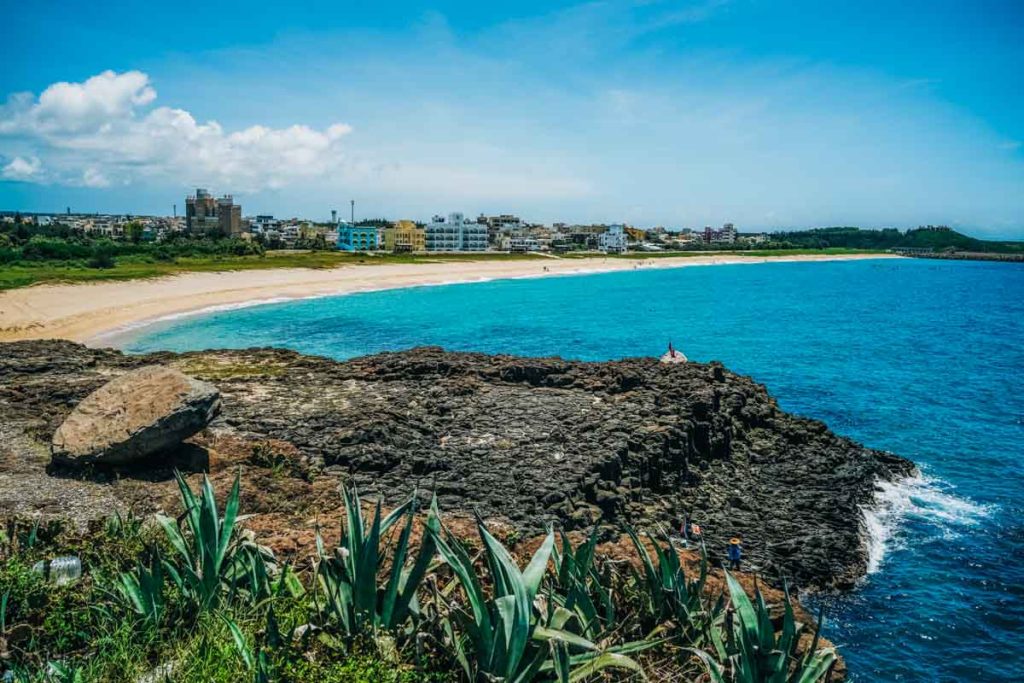 For the overall design, the owner of the guesthouse, a Taipei business-world retiree, decided on the long, slender abodes that overlook ports around the globe. A north-south orientation is used so sunlight does not shine directly inside guestrooms or interior public spaces, keeping the innards cooler. Windows are also strategically placed to allow north-south breezes to stream through.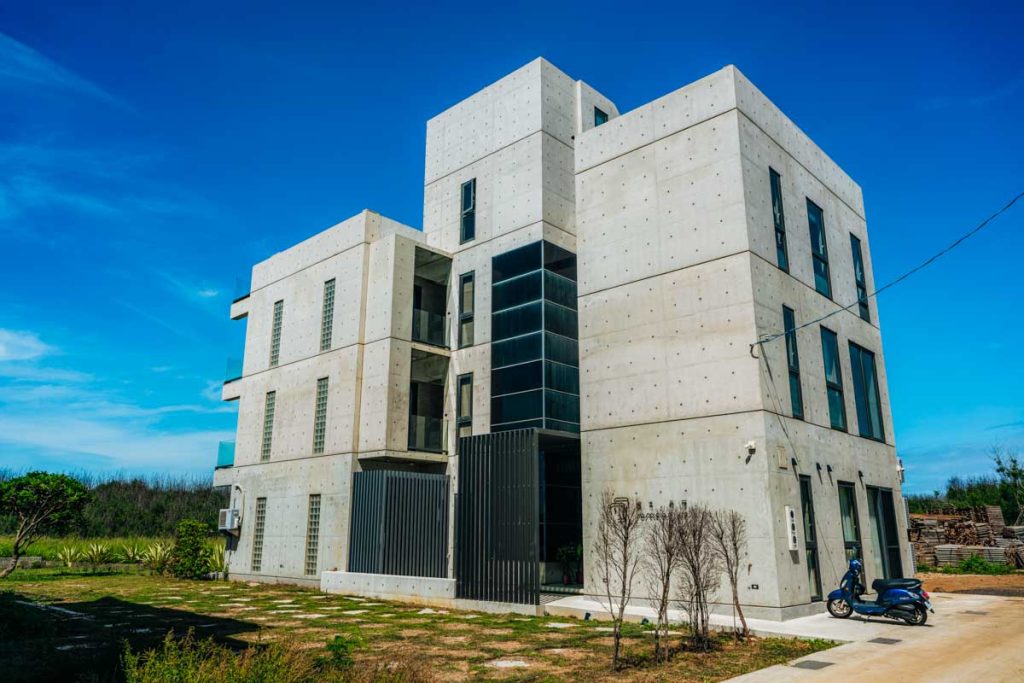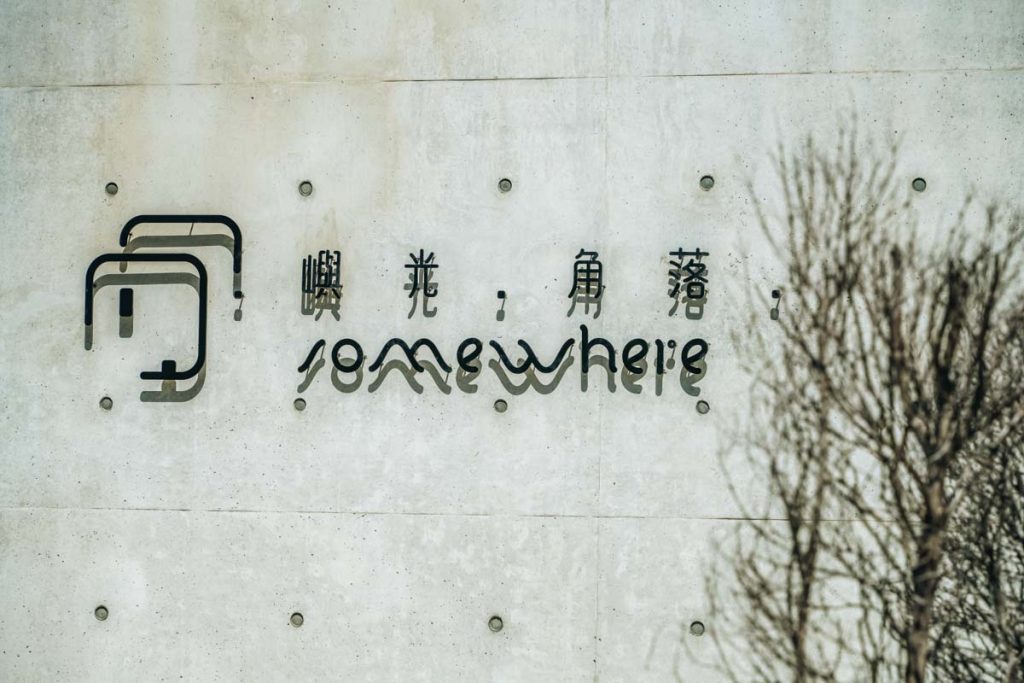 All exterior/interior walls are fair-faced concrete, creating a chill post-modernist feel. Inside, in public areas and guestrooms, an open-concept design is adopted, and furnishings are muted and uncluttered, engendering a mood-relaxing ambience. The high-ceilinged lobby/reception space has windows high up that allow indirect sunlight to wash in at oblique angles, begetting a soothing air – church-like or Zen-like, depending on your cultural background. The polished cosmopolitan interior design and décor are targeted toward Penghu's largest tourism demographic, 25~35-year-olds.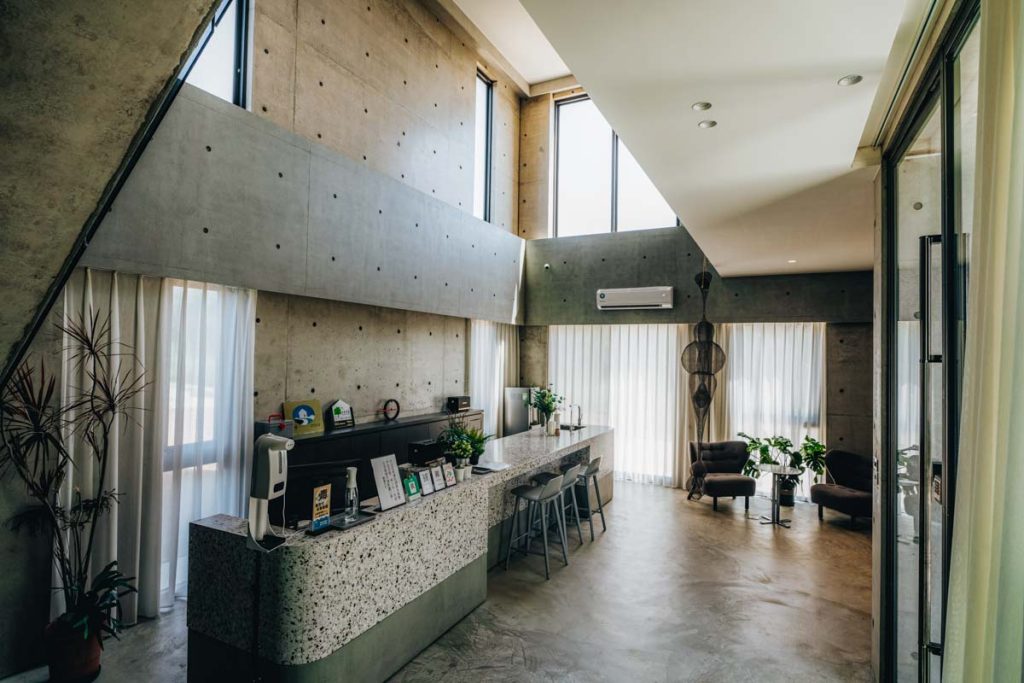 There are five guestrooms, four doubles and one room for four people, all featuring subdued colors to complement the gray walls and floors. To foster a home-away-from-away experience, each room has an interior landing-style area before its entrance and a glassed-in balcony. Bathrooms are large, and set in building corners with big windows to allow big views.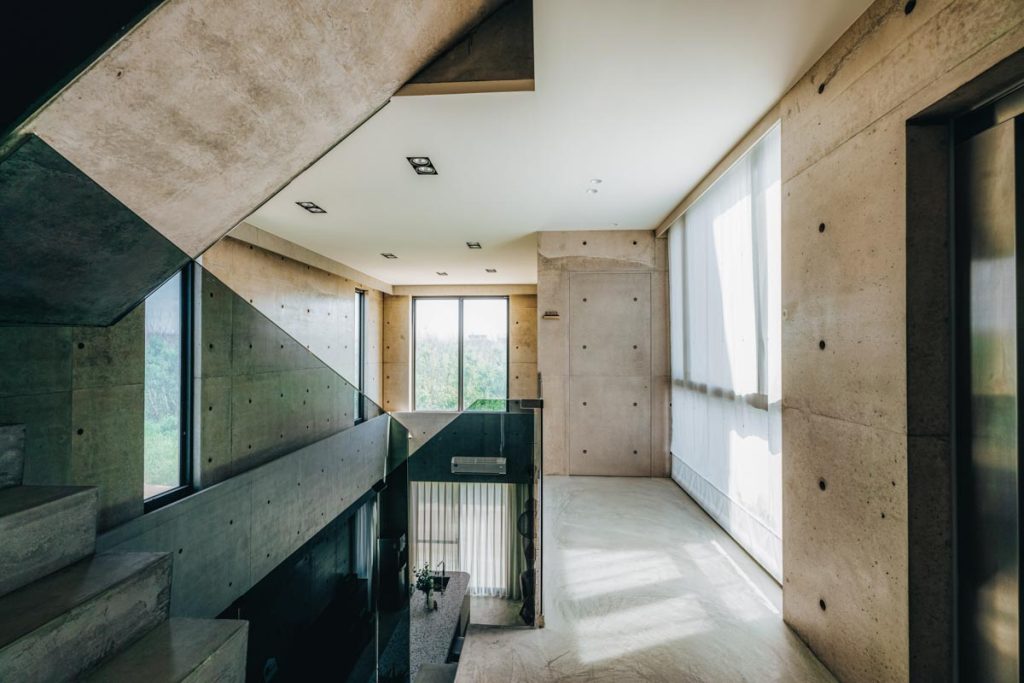 The uncovered communal rooftop terrace, which features café-style high tables and chairs and an almost 360-degree panorama, is very popular. Breakfast is not provided; the owner provides info on beach-area brekky joints. The reception area has a free-use capsule coffee machine and microwave.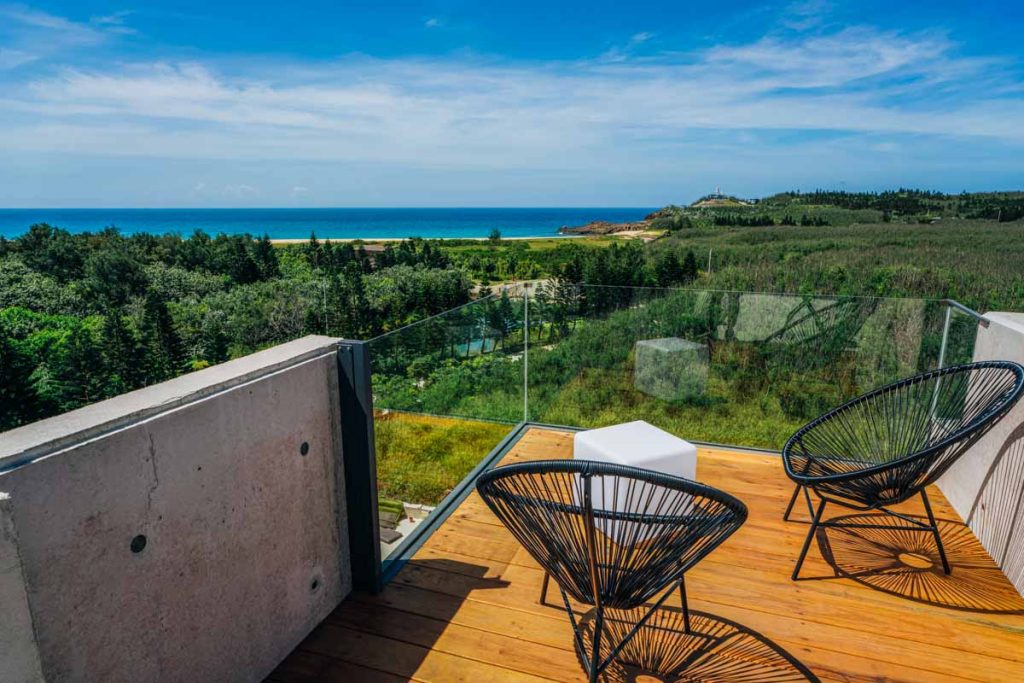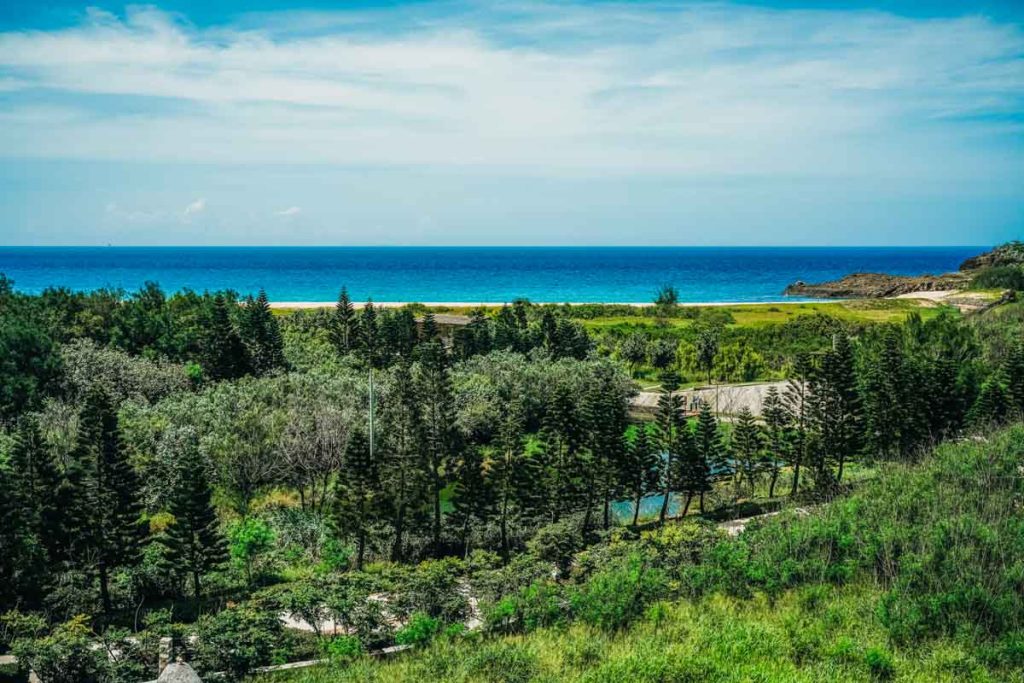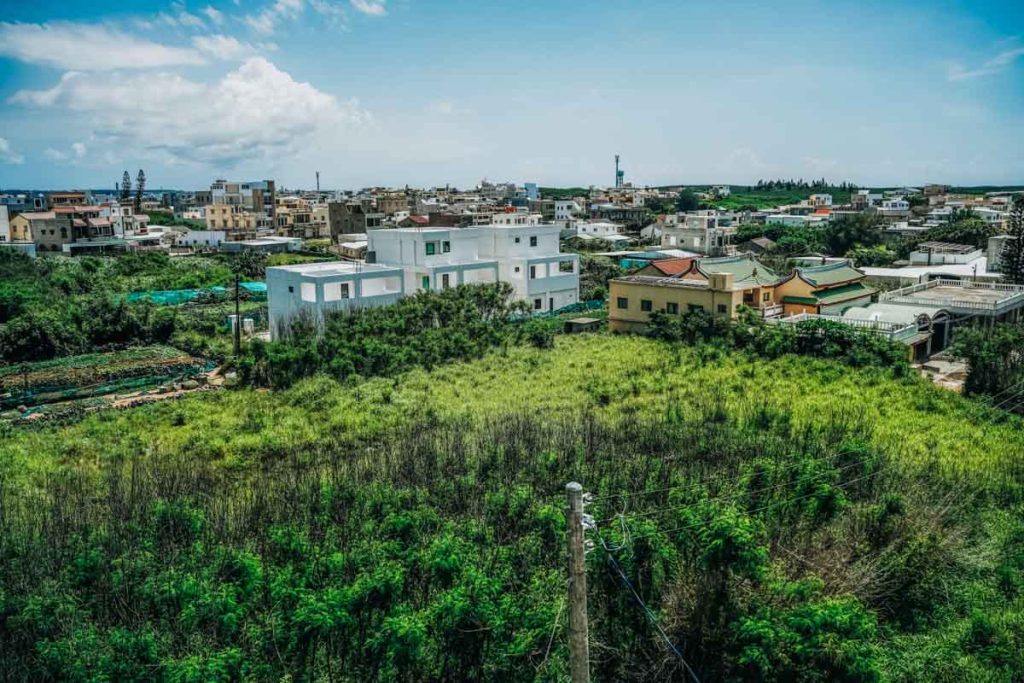 The owner is a passionate cyclist, Penghu Cycling Association member, and annual Penghu Cycling Festival volunteer (see our "Penghu/Events" article). At Somewhere, bike-storage space is provided on the guestroom landing-style areas. Maintenance and simple repair service is also available, and assistance in getting help for tougher tasks is provided.
Somewhere Guesthouse
(嶼光。角落)
Tel: (06) 995-3108
Add: No. 120-10, Zhujiang, Shanshui Borough, Magong City, Penghu County
(澎湖縣馬公市山水里珠江120-10號)
Facebook: www.facebook.com/somewhereguesthouse
Green Hotel
This young, fashionable four-story hotel facility is in a quiet, primarily residential old-time neighborhood of Magong City. Its location is optimal for those who like walking for exercise and at the same time want to be close to the city's main tourist draws – spread out easy 15~20-minute on-foot saunters away, from southwest to southeast (among others) are the Guanyinting Recreation Area, Duxingshi Village, Zhongyang Old Street, and Magong Harbor/South Sea Visitor Center.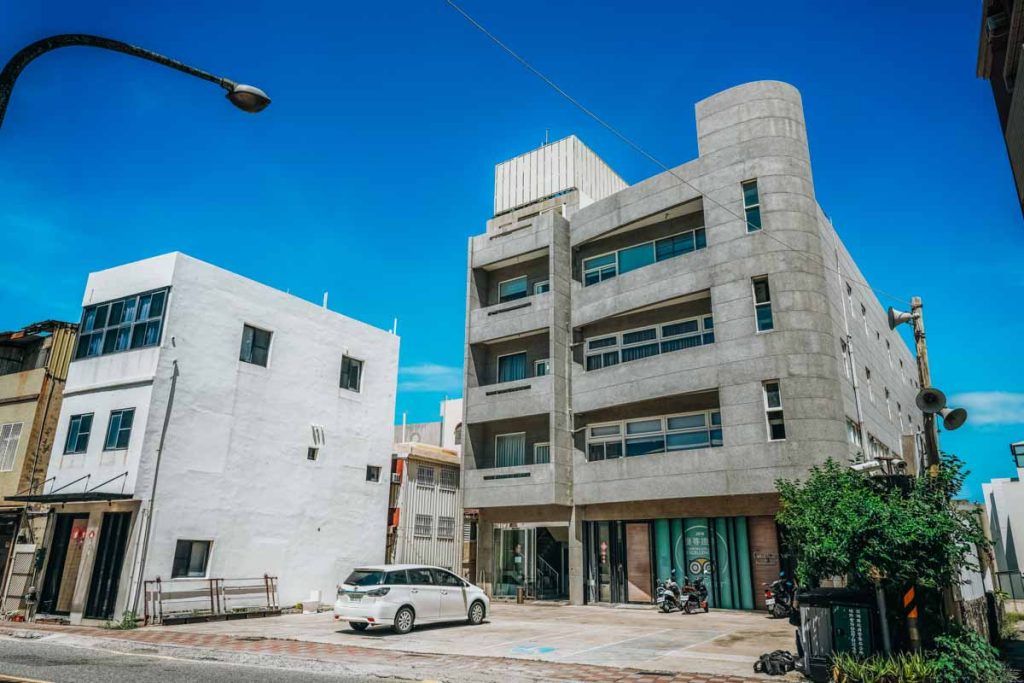 The hotel's motto is to create "a place that is most like home on an outlying island". There are five room types (28 guestrooms in total), all minimalist contemporary-design style, ranging from Standard Twin Room to Family Room and Six People Suite selections. The family rooms feature kid-frolic slides and mini-tents, the suites regular and loft beds. All rooms have extra-large bathrooms.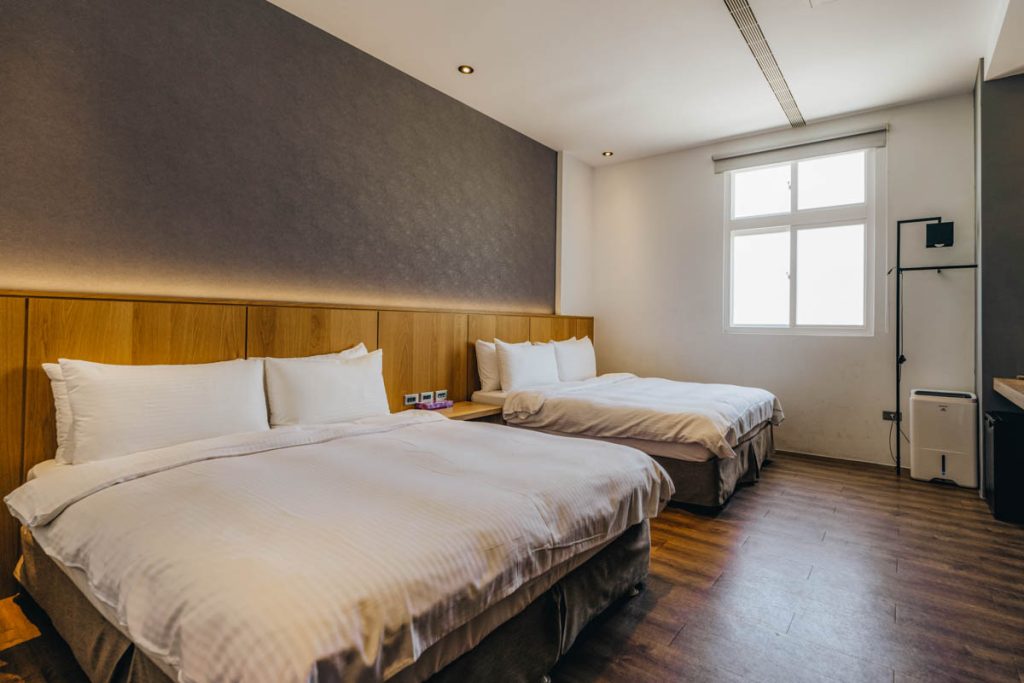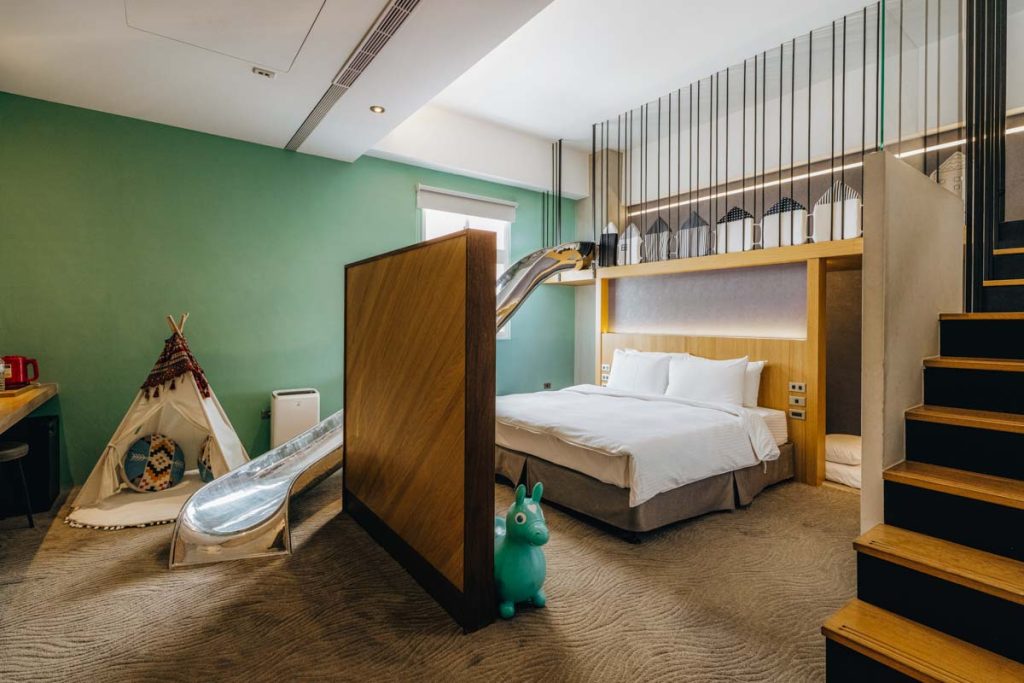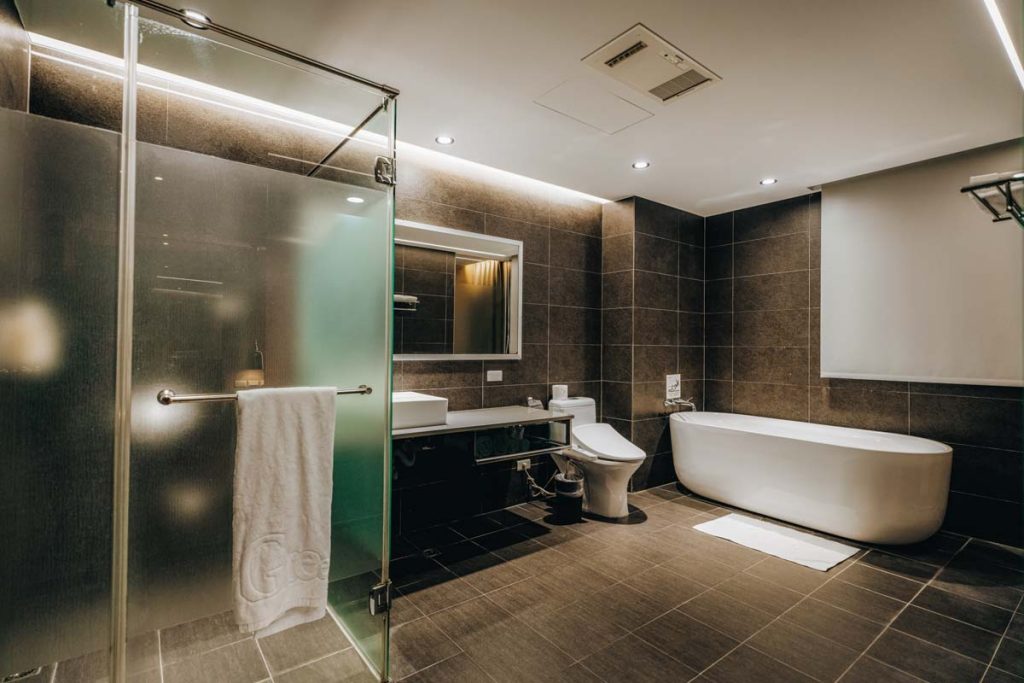 There's a stylish fitness center on the first level, facing the lobby area through floor-to-ceiling glass, with treadmills, weight-training machines, and dumbbell sets. Beside it, also facing into the lobby through glass, is a restaurant facility with wooden long-table seating for 32. As of the time of writing this is not yet operational, and the hotel does not provide breakfast, but management states plans are to bring its F&B service on line in the not-too-distant future. The fitness center and restaurant facility face each other through another full wall of glass. Free coffee is available 24H in the lobby, self-using an imported premium-caliber capsule coffee maker.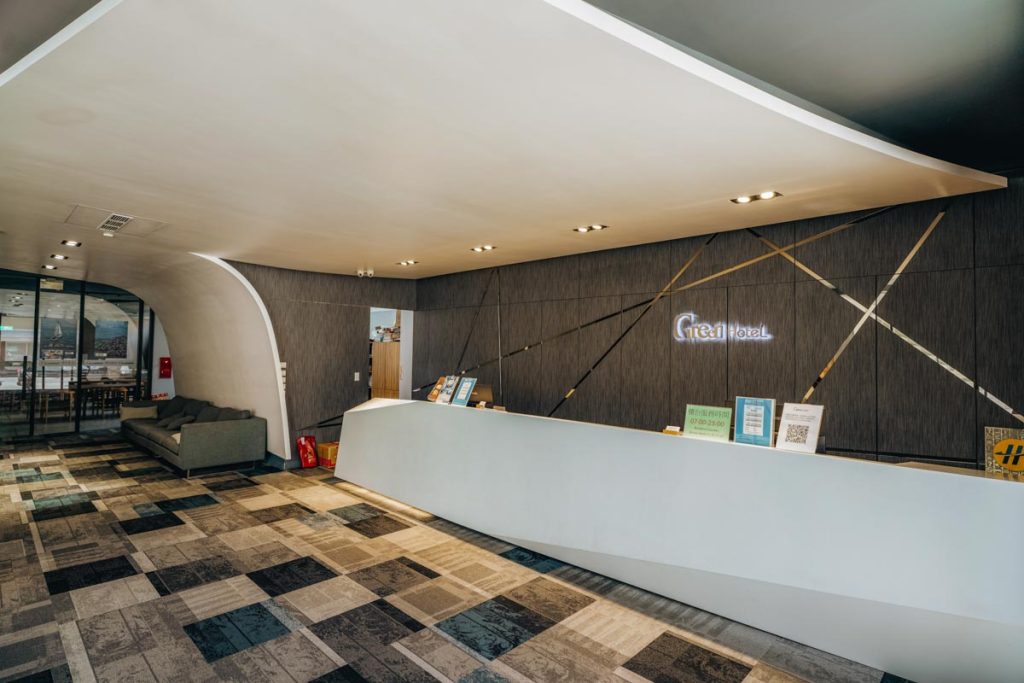 Interaction between guests is encouraged by the hotel through provision of long bar-style high-chair tables in the lobby and through a Friendship Lounge with plush single-person chairs and small circular glass-top café-style tables on the third floor.
Other services: with a stay of two nights or more, Magong Airport/Magong Harbor pick-up and drop-off; free-use beach towels.
Green Hotel
(綠的旅店)
Tel: (06) 927-8801
Add: No. 27-3, Wenguang Rd., Magong City, Penghu County
(澎湖縣馬公市文光路27-3號)
Website: www.greenhotels.com.tw (Chinese)
Facebook: www.facebook.com/greenhomestays
Biker
This guesthouse, opened in late 2021, is in the center of Penghu main island, just west of the airport. It's at the base of the peninsula through which County Road 203 runs, leading to the interconnected islands in the north and northwest/west (see "Biking in Penghu" section below). Connection with County Road 202, which runs west to Magong City and east to the east coast of the main island, is just a few hundred meters away.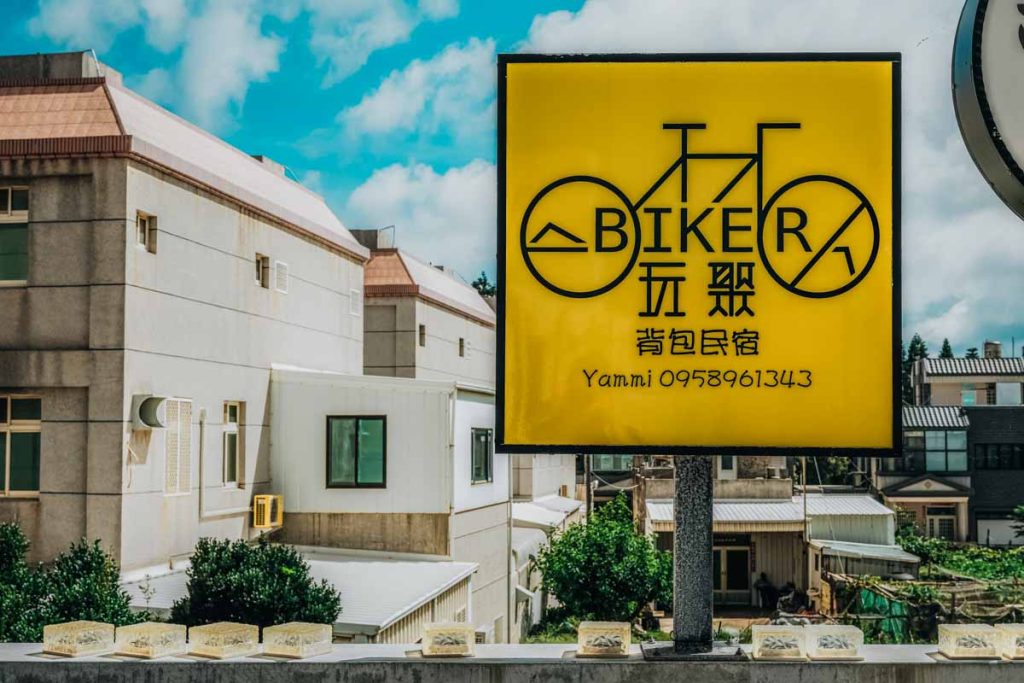 As its English name indicates, this getaway is dedicated to cyclists – and to backpackers, as its Chinese name stresses. And to divers. It's run by another Taipei transplant, a young woman, cycling/diving/travel enthusiast, who fell in love with the low-stress Penghu way of life. It is the end unit in a row of modern-design new townhouse residences, another row exactly the same facing it across a paved entrance driveway.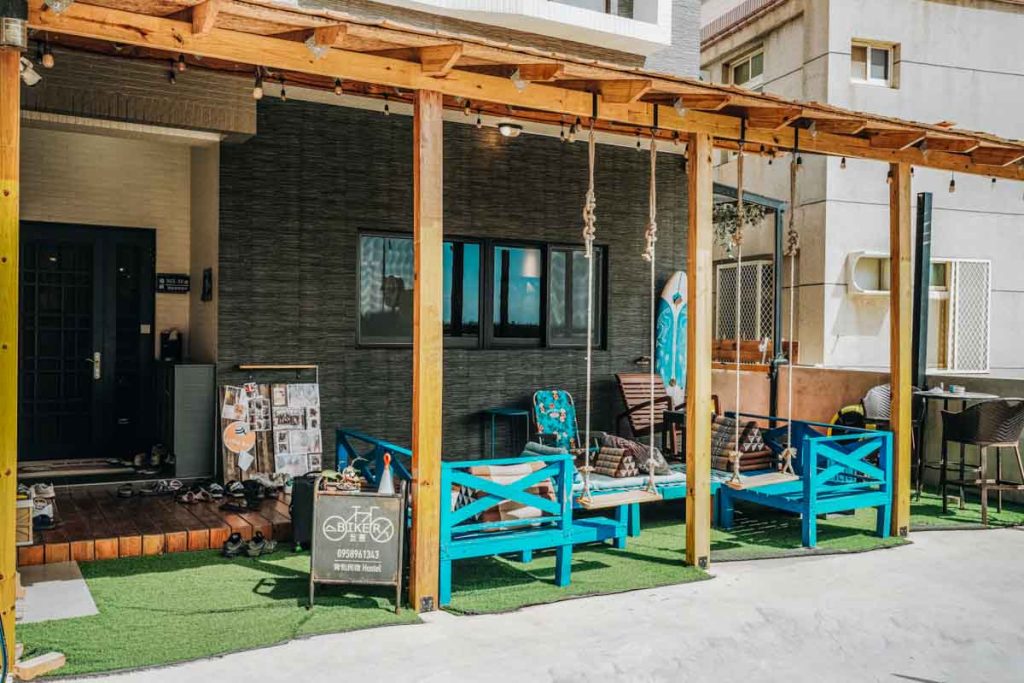 There's a comfy covered patio out front, and on the first level inside a compact communal area for dining and watching TV (free Netflix, snacks and drinks sold; no TVs in guestrooms). Storage lockers are also provided in this area, along with a mini-shop with various frolicking-in-the-sun necessities. Beside this is a small shared open kitchen; Biker also serves a simple gratis breakfast – toast, spreads, coffee, soy milk, and such – to guests staying two nights or more. "Penghu gourmet lazy bags" are also available for wanderers who want to bring their own food on the road.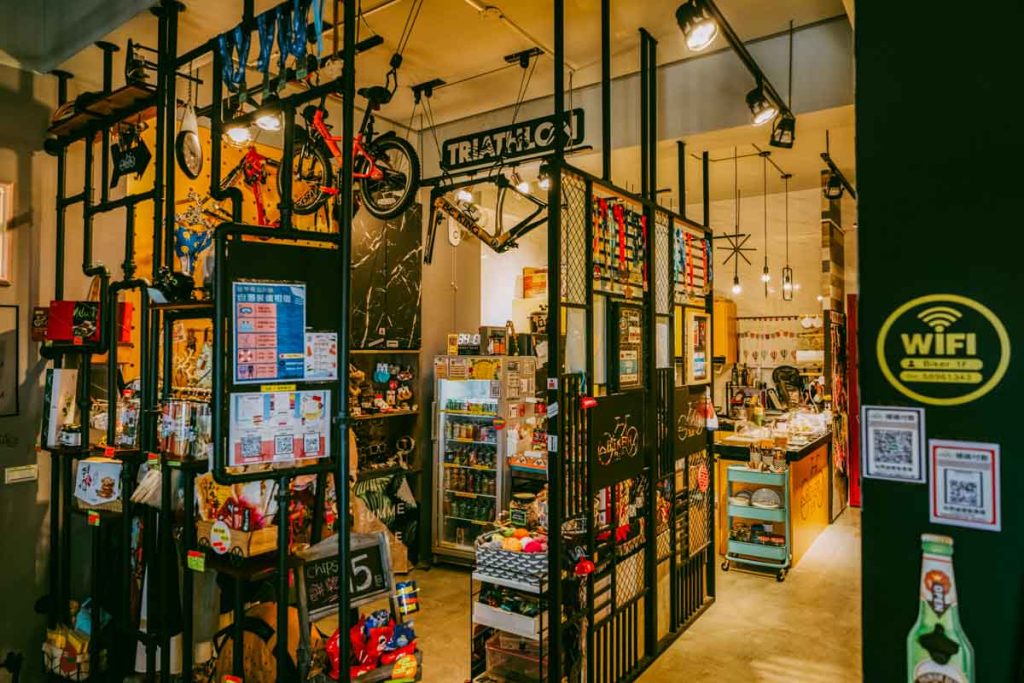 In the first-level rear is a shared area with outdoor shower, toilet, and laundry facilities. Cycling and diving outings and other types of customized itinerary planning is provided for guests, and a free-use sun-dry space and cleaning/drying facilities are also available here for guests' paraphernalia. Management states that the combination of flat roads and climbing roads in Biker's environs make it a great spot for cycle training, and the guesthouse attracts many who come for Ironman training.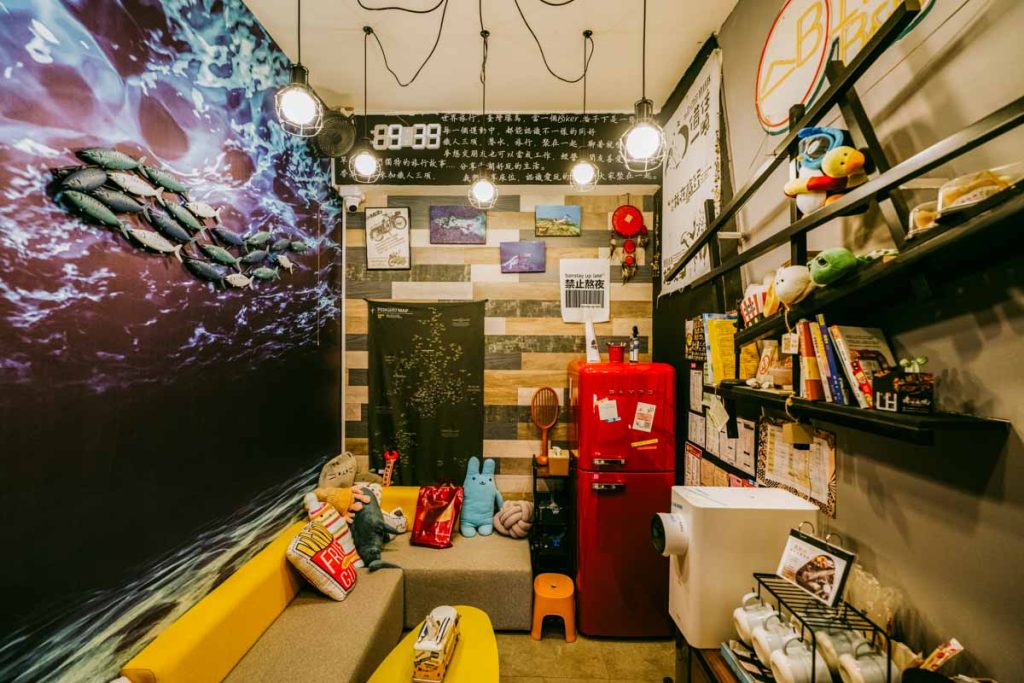 Guestrooms: one mixed room for 8 people, single and double beds; one room for 6 females, single beds; and one mixed room for 6, single beds.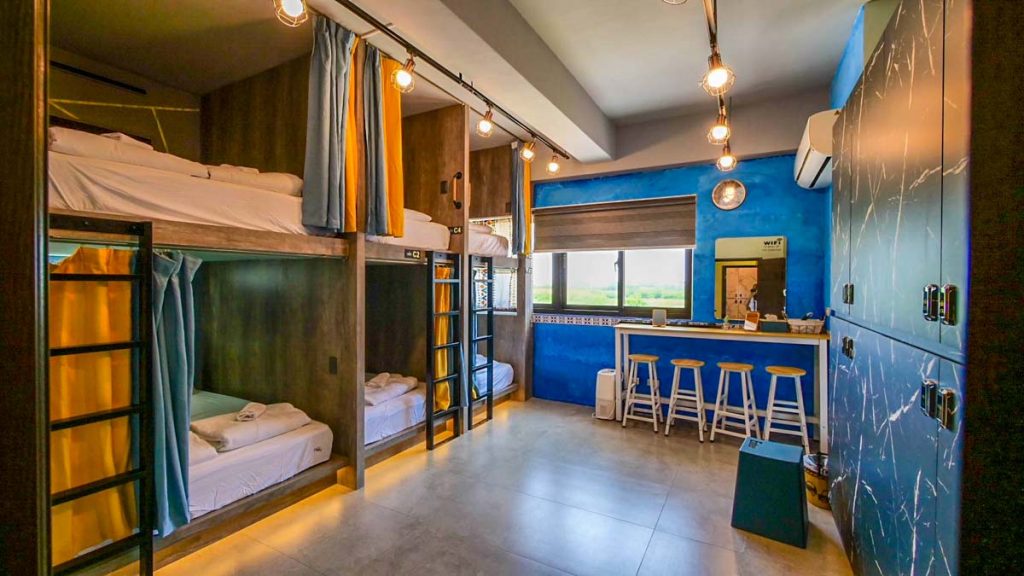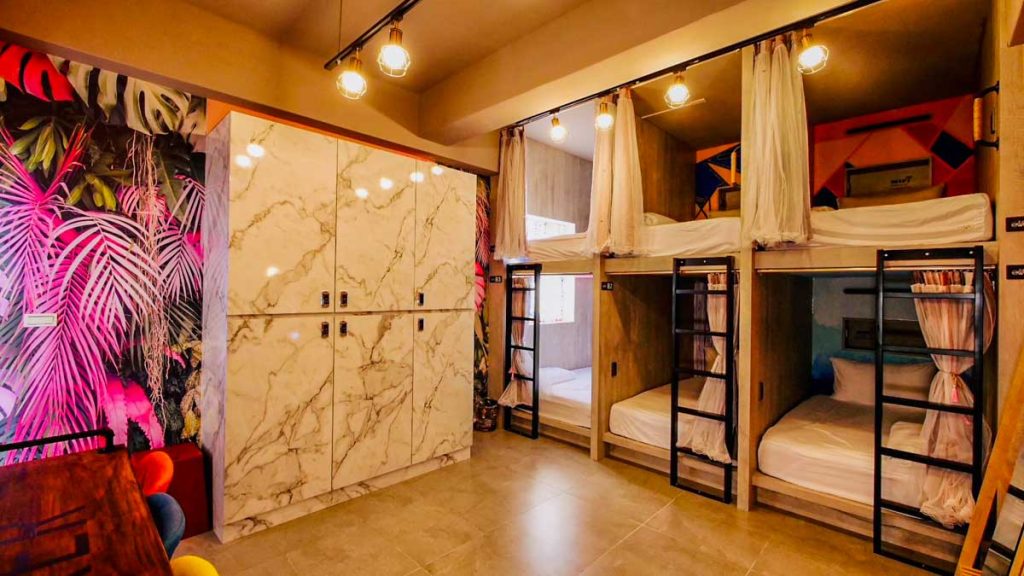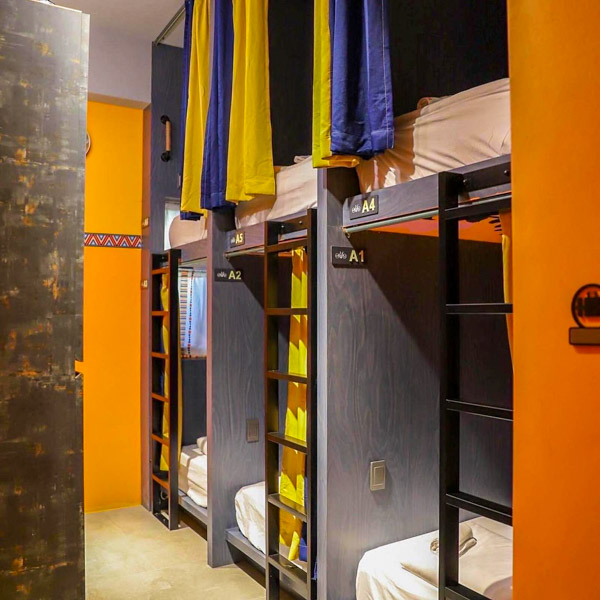 Biker
(玩聚背包民宿)
Tel: 0958-961-343
Add: No. 303-10, Gangdi, Chenggong Village, Huxi Township, Penghu County
(湖西鄉成功村港底303-10號)
Facebook: www.facebook.com/Biker303.bnb
Biking in Penghu
Penghu is pretty much tailor-designed for cycling enthusiasts, its flatness and sunny, exotic, laid-back South Seas atmosphere making for long, leisurely jaunts that gently release the stresses binding one's soul.
There's a noticeable lack of motor vehicles, even in and immediately around Magong City, where over half of the 107,000 population lives. Penghu main island and three close-by others are conjoined by bridge. On the islands of Wang'an and Qimei, accessed from the main island by ferry, you'll find nary a four-wheeled motor vehicle at all – the narrow roadways on these small islands are more like bike paths.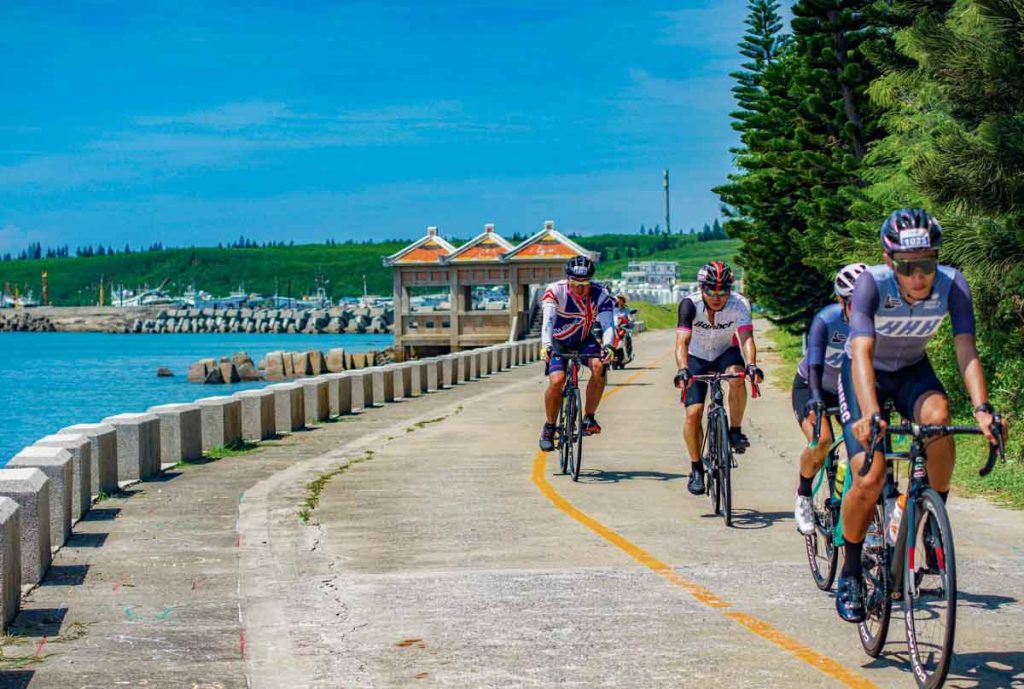 Tourists are by far most numerous in July/August; the standard means of moving around, especially with younger folk, is rented motor scooter. This time of year is characterized by blazing heat, so be aware and prepared. Winter brings forceful, almost constant winds from the northeast, making cycling outings of any distance a challenge for most but the most fit, but a benefit for many such folk is the lack of tourists and almost completely empty roads. The March~June and September~November periods are optimal.
As said, most Penghu cycle outings are on flat land. Magong City's older section is on sloping ground, with gentle grades. Outer islands, notably Wang'an and Qimei, are a bit hillier, but the uphill lengths are either short or longer and comparatively gentle, presenting easy challenges for multi-speed bikes.
Note that there are commercial enterprises aplenty in Magong City, with food, drink, and supplies needed for lengthy rides easy to find, but the more distant villages on the larger islands and the ferry-reached outer islands are comparatively isolated, so it's best to stock up on necessities before heading out.
Excursion Recommendations
The most popular expedition for fit cycling enthusiasts is along County Road 203 from Magong City, on Penghu main island's west edge, up through Zhongtun and Baisha to Xiyu Western Fort near Xiyu's southwest tip. The distance is about 35km, the hills along the way genial.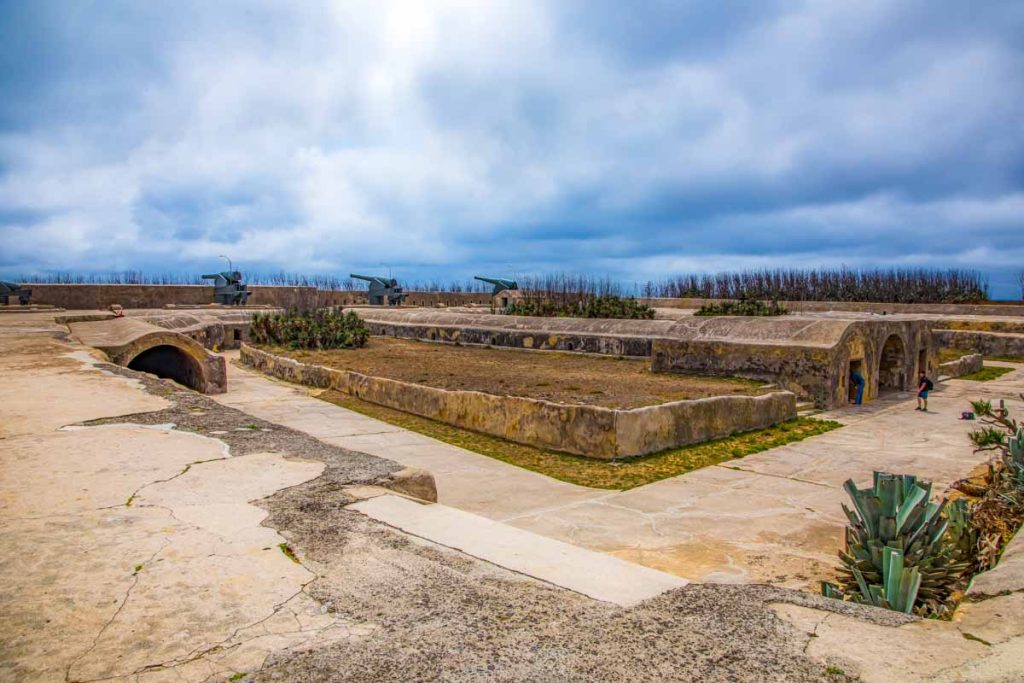 There is fulfilling diversity in the sights encountered along the journey, among your major encounters the Zhongtun Wind Farm on Zhongtun, Penghu Aquarium and Tongliang Great Banyan on Baisha, and the fort, heritage Erkan Village, and Daguoye Columnar Basalt formations on Xiyu (latter two requiring short side-foray cycles).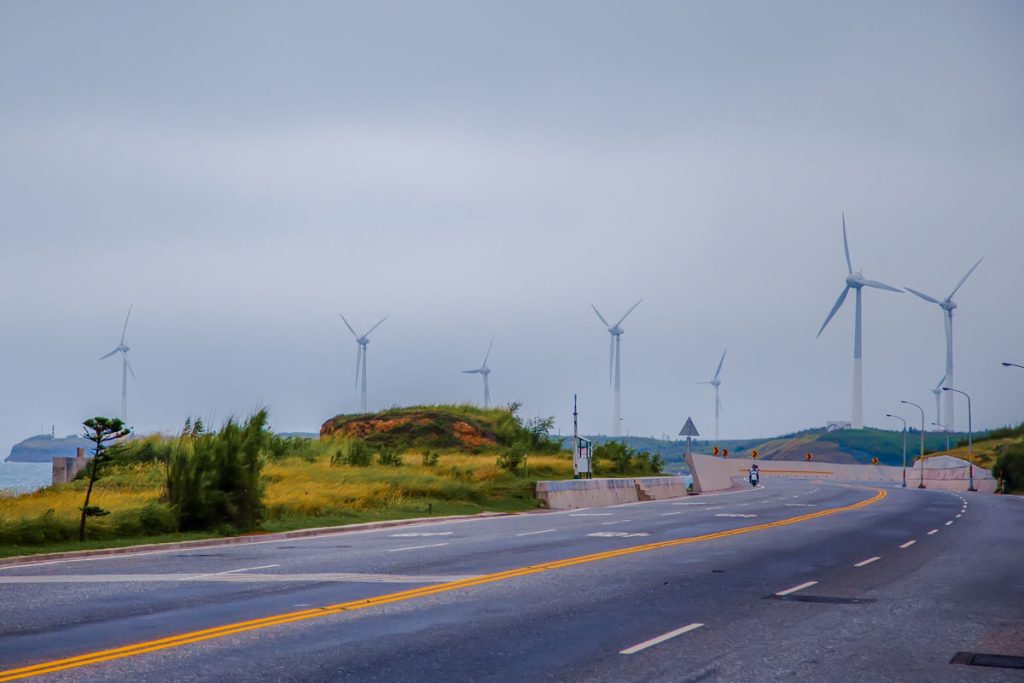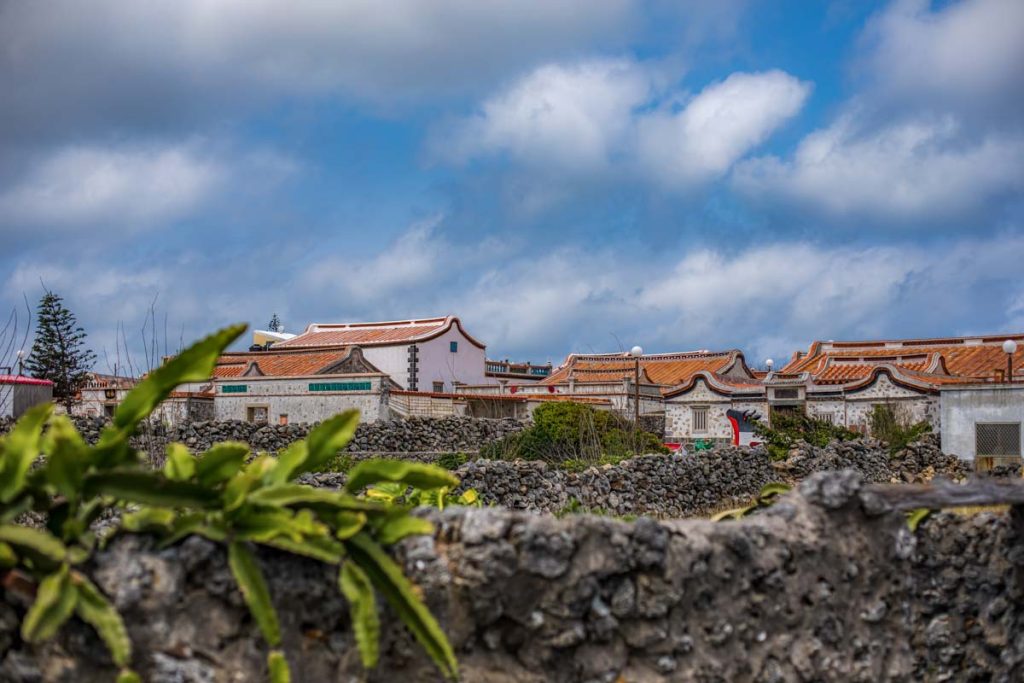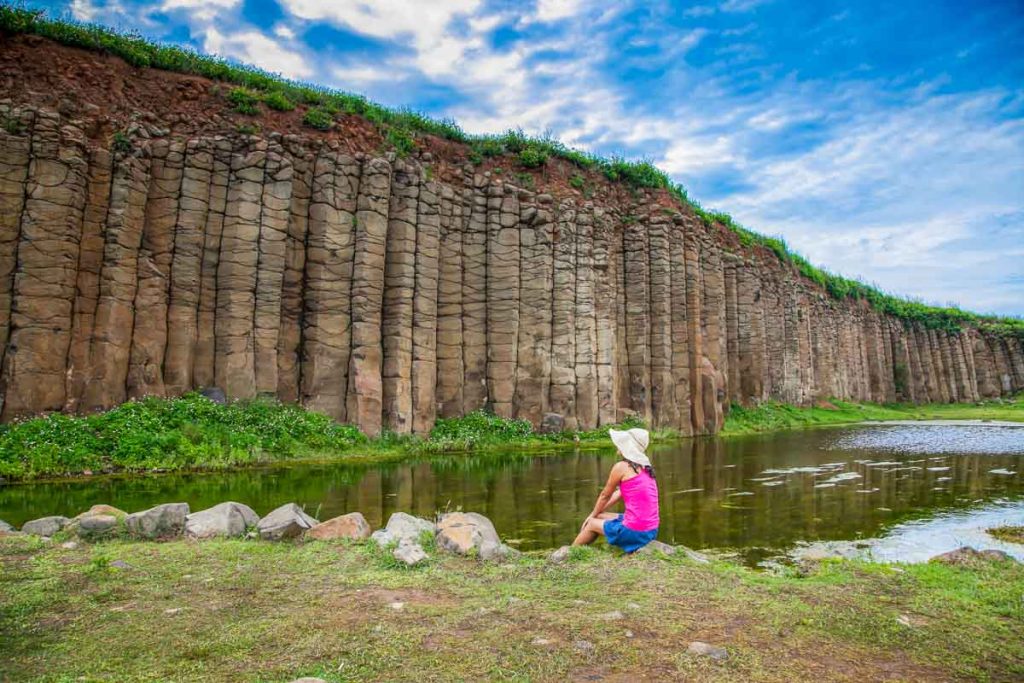 Another growingly favored option is following the route (full or sections) of the Penghu Cycling Festival – 101K Hopping Bike event. This takes you all around Penghu main island before heading up Route 203 through the other main islands.