Big Modern Festivals that Bring in the Tourists
TEXT / RICK CHARETTE
PHOTOS / PENGHU NATIONAL SCENIC AREA, PENGHU COUNTY GOVT.
Penghu's tourism is heavily concentrated in the short summer period when Taiwan's youth is out of school. To entice travelers to visit outside of this time bracket, in the past two decades the local authorities have inaugurated numerous large-scale festivals and events of other type. These sport widely differing characters to ensure something irresistible for all age brackets.
Enjoy inspired artistic expression? How about fireworks fests by some of the world's greatest pyrotechnics maestros? Lighting installation and lantern artworks by award-winning talent? A cavalcade of popular music performers spanning varied genres?
You like health-enhancing exercise activities? Select from options such as heading out on a supremely scenic marathon run, launching on cycle tours, or SUPing out over saltwater on guided outings to take in the fireworks shows.
Here's a parade of five of the biggest party-style happenings of 2023. We've got a fireworks festival, lighting art festival, music festival, cycling festival, and cross-sea marathon. If not this year – book your party spot for next!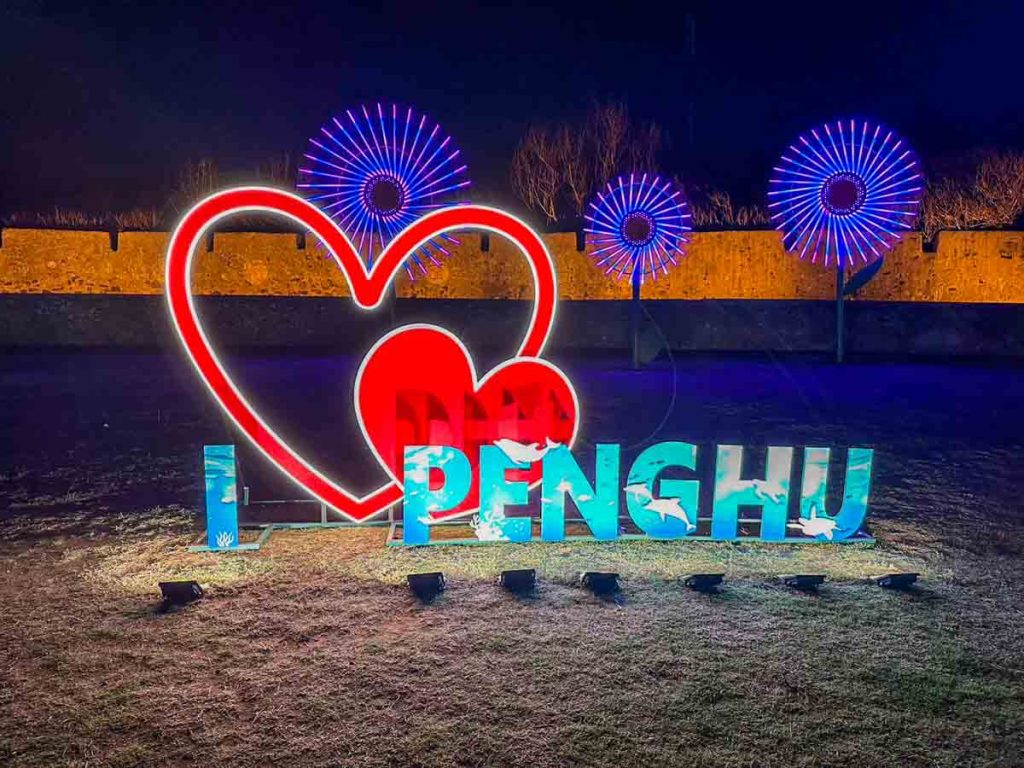 Penghu International Fireworks Festival
Boom! Kaaa-boom! This is Penghu's modern-festival granddaddy, first held way back in 2003, on a far more limited scale. Celebrity singers and musical groups entertain in relay in stage shows augmenting the bombs-bursting-in-air pyrotechnics extravaganzas.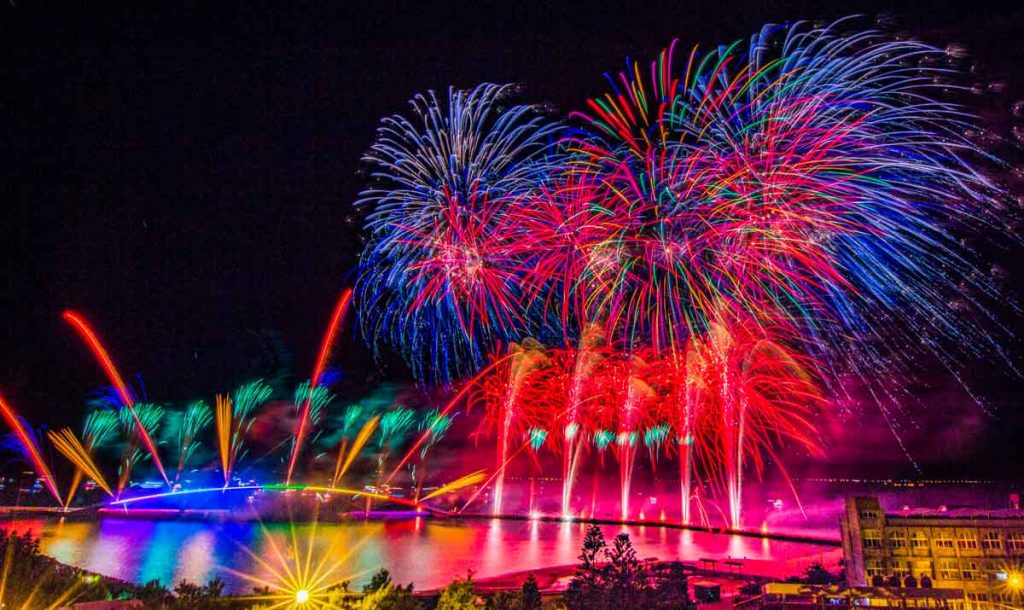 The main venue is Guanyinting Recreation Area on Magong City's east side, facing the Inner Sea, home to two well-known tourist attractions, Guanyin Pavilion (an important heritage temple) and the soaring Xiying Rainbow Bridge (a pedestrian-only arch bridge spanning a small-harbor mouth). The spectaculars happen above harbor and bridge every Monday/Thursday night through the months-long celebration, bursting lights reflected on the sparkling sea, preceded by the music shows. One music/fireworks-fest each, smaller in scale, is also staged on Jibei, Qimei, and Wang'an islands. At the main venue, you can watch within the park itself, from boats (fee) that come around from Magong Harbor, and from special large SUP boards (fee; 8~10 people/1~2 guides per board).
The 2023 jamboree was April 20~June 29. This year The Walt Disney Company's 100th anniversary was celebrated under the slogan "A Century of Fantasy, An Eternity of Wonder." Disney was first a part of the festival in 2020, with a Marvel-themed drone show. Drone-created art was more dazzlingly central this edition, a secondary goal beyond the techno-artistic possibilities being reduction of the event's environmental impact. Among the high-altitude renditions of Disney characters magically created were Mickey and Minnie, Ariel from The Little Mermaid, and Alice with her Wonderland amigos. An army of 700 drones performed each show, 900 for the opening and closing ceremonies.
Penghu International Lighting Art Festival
This annual multi-month festival is staged in the Penghu Third Fishing Port International Plaza, very close to Magong Harbor's South Sea Visitor Center. It runs from the near-denouement of one year into the next – the last edition from October 1, 2022 to February 28, 2023.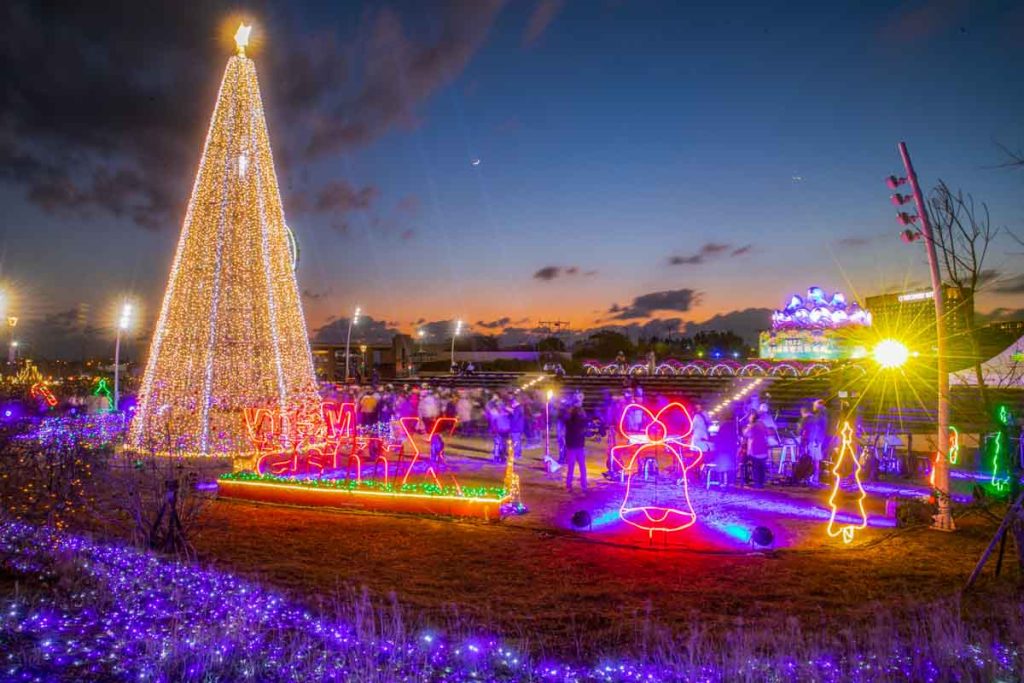 Visitors are beguiled with inspired large-scale land art installations and creative lighting with island themes – examples from this round include a pod of leaping dolphins and a golden field of ripening grain. Augmenting this stimulation is interactive technology, musical stage performances ranging from well-known vocalists to a local symphony orchestra, other types of artistic performances such as buskers, and art forums.
Penghu Music Festival
Integrating music, light, and Penghu's famed sea breezes, this festival presents a musical feast of light and fantasy. In 2022, the Penghu National Scenic Area Administration decided to transform the annual International Bay Light Festival into the Penghu Music Festival. This year's shows are being staged every Saturday from August 19 to September 30. The happening's overarching theme is chasing the wind in the late summer and early autumn – "chasing the wind" is part of the event's official Chinese name. A stellar lineup of eminent musical talent will regale audiences sitting in an environment of romantic creative-art mood lighting. Among the big-name Mandopop talents starring this round are Singapore's Tanya Chua and the Taiwanese band WONFU.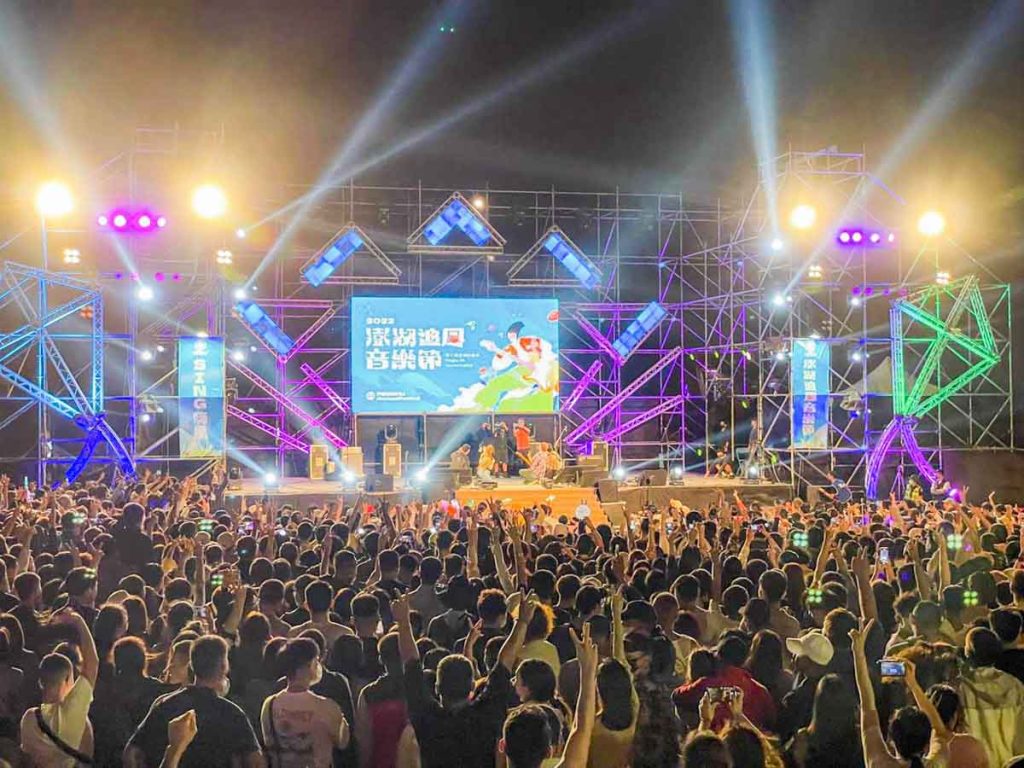 Venue is the Guanyinting Recreation Area. The high-tech lighting art, with projection mapping and installation artworks used, has a Penghu theme and is closely synchronized with the coastal landscape – schools of fish on the move, sunlight shimmering off the waves of the bright-blue sea, and so on. Carnival-style floats have also been added this year to bring a Brazilian party-style atmosphere.
In conjunction with the Mid-Autumn Festival long weekend (September 30), there will also be a special kite performance, with a fleet of large illuminated kites riding the high Penghu winds.
Penghu Cycling Festival
This annual shindig runs from the head of March to September's tail, dense with varied cycling-related activities. Overseen by the Penghu National Scenic Area Administration, as with the cross-sea marathon next on our list, the organizational goal is two-fold: promotion of Penghu's dramatic scenic gems and of sustainable eco-friendly tourism.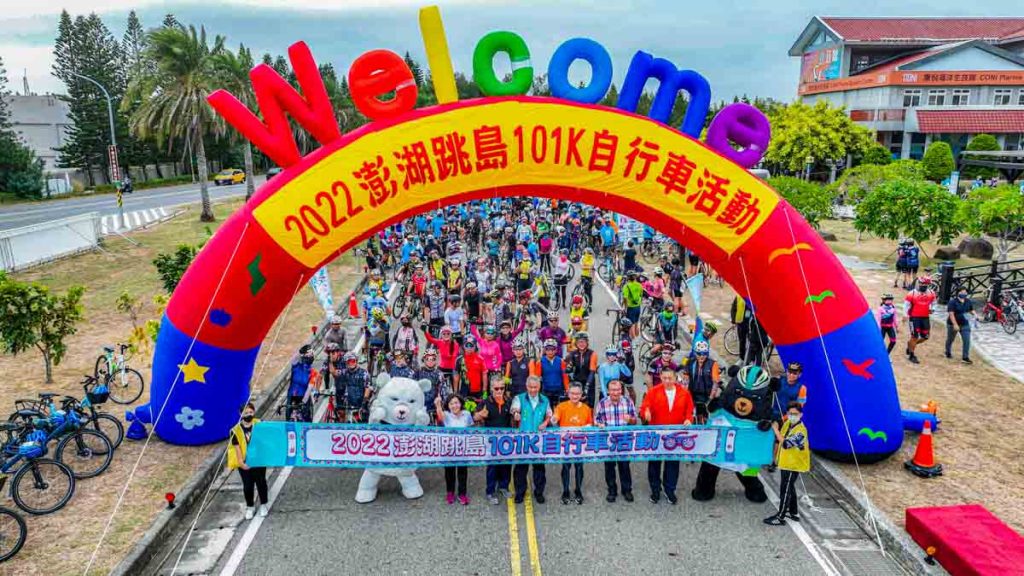 The keystone event is the Penghu Cycling Festival – 101K Hopping Bike excursion, being held September 17 this year. This is a relaxed group ride rather than a competitive race. A joined cycling experience, one group tackles a more challenging 101km route (400 entrants), and another enjoys a slower-pace 22km leisure jaunt (200 entrants). Both rides start and end at the Administration headquarters on Penghu's main island. While riders on the shorter route will head southwest to the Fenggui Cave and return, the cyclists on the longer route will, after covering part of the same route, make their way all the way to the Yuwengdao Lighthouse in the southwest corner of Xiyu Island, on the way "hopping" across the islands of Zhongtun and Baisha via the connecting bridges.
Another popular festival draw is the Penghu NSA's March~June Guided Cycling Tour program, launched this year. Cyclists can book seven days in advance to have trained volunteers lead them on free guided rides.
Gaillardia Islands Penghu Cross-sea Marathon
First run in the late 2010s, organized by the Penghu NSA Administration, this is Taiwan's sole island-hopping marathon. It takes place each November on Penghu's main-island grouping. The 2023 event will happen on November 5. Among the major sights that runners pass by – or on – are Yuwengdao Lighthouse on Xiyu's southwest tip, Xiyu's Daguoye Columnar Basalt formations, and the 2,494m-long Penghu Great Bridge, which connects Xiyu and Baisha. Along the route runners can stop at route-side Penghu Creative Gourmet Supply Stations offering samples of Penghu delicacies (about 60 selections in total), such as oyster porridge, cuttlefish balls, and lobster.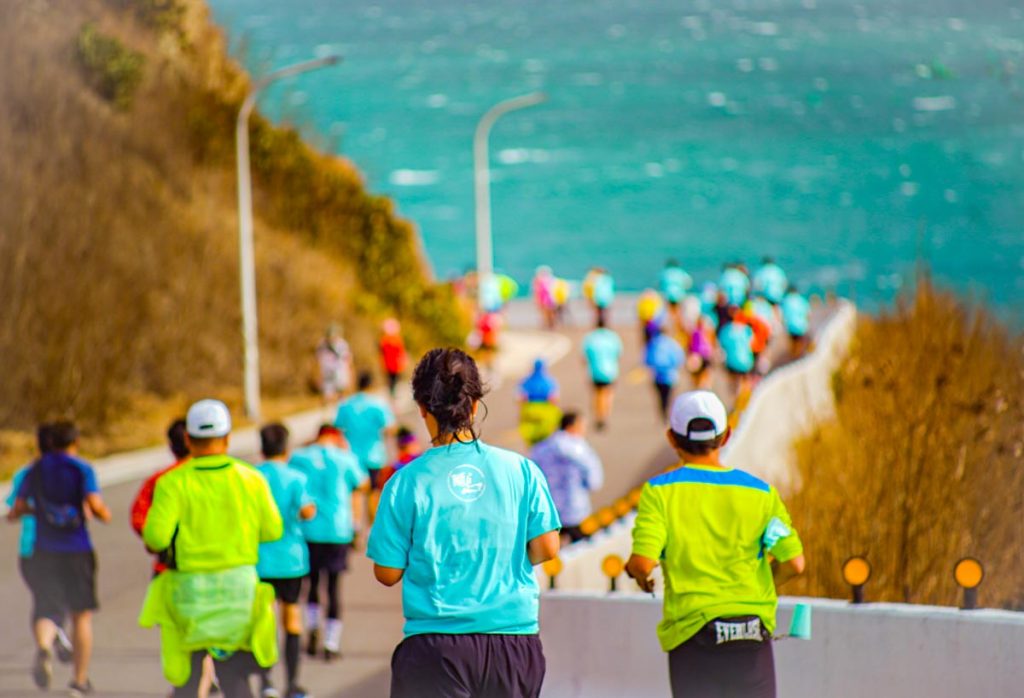 There are a number of run categories in this internationally certified event to choose from: 42km full marathon, 42km relay race, 21km, 11km, and 5km. The latter two are specially oriented toward parent-youngster participation. Post-race is the Windcrazy Party, with pop/rock bands from around Taiwan performing, and the Penghu Food Carnival, giving racers who did not fill up their tanks en route a second delectable-sampling opp.
Note that translators are on hand and English/Chinese signage put up to make things easiest for non-Chinese-speaking participants.
For more on the Penghu NSA Administration events/activities, including applications, visit www.penghu-nsa.gov.tw/English