A Trio of Its Best Big Hotels/Resorts in Beautiful Settings
TEXT / RICK CHARETTE
PHOTOS / ASKA CHI, VISION

If looking to plop yourself down in the lap of luxury with amenities and extracurricular activities galore while on a multi-day exploration of Hualien County's splendiferous natural and manmade scenic pleasures, your "decadent" desires can be accommodated. We here present three of the region's premier large-scale accommodation destinations – one hotel and two resorts.
Hualien County is a nature-lover's enchantress, a place light in humans; light verging on non-existent in light pollution, making for brilliant night skies; light in road traffic, with quiet, open roads; heavy on easy-grade dedicated bike paths and bike lanes on roads; heavy on man-created pastoral beauties; and heavy on Mother Nature-sculpted mountain vistas.
In our main feature article we took you into the long, deep, spiritually stirring Taroko Gorge, to Hualien City, a small urban center of relaxed palm-shaded vibe on the Pacific coast, and into the East Rift Valley, a region picture-framed by two mountain chains with a floor painted different bright colors aplenty by different ripening crops calling out for harvest. While roaming about in that article we introduced you to a number of creative homestay/inn places of accommodation. This article is dedicated to the "big guns," big places of big personality with extra-big rooms and extra-big menus of out-of-guestroom experiences to rest – or pump up – your soul. As you wish!
Silks Place Taroko
Location, location, location! It would be hard to say which other top-tier hotel/resort in Taiwan has a better one – though I may be biased, since I enjoy the wondrous Taroko Gorge so very much. Right in the bottom of the gorge, in the crook where the Liwu River and a key tributary meld, the riverbed strewn with massive boulders. The 7-story-high classical Chinese-style Tianfeng Pagoda stands imperially high atop a bluff facing the hotel. Macaques come down this bluff many mornings for a river drink, sometimes making their way across the Liwu to inspect guestroom balconies.
This is Taroko National Park's sole 5-star accommodation facility. Public areas and guestrooms are primarily stylish contemporary in styling (some guestrooms have Japanese personality), with subdued earth tones and heavy use of dark and blonde woods. Rooms are large, and look out either toward the river areas or into the central courtyard. Many have balconies.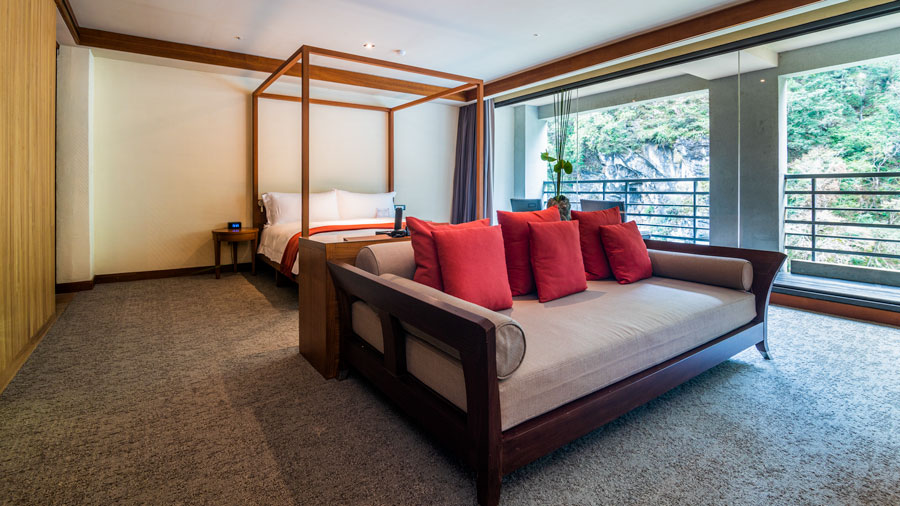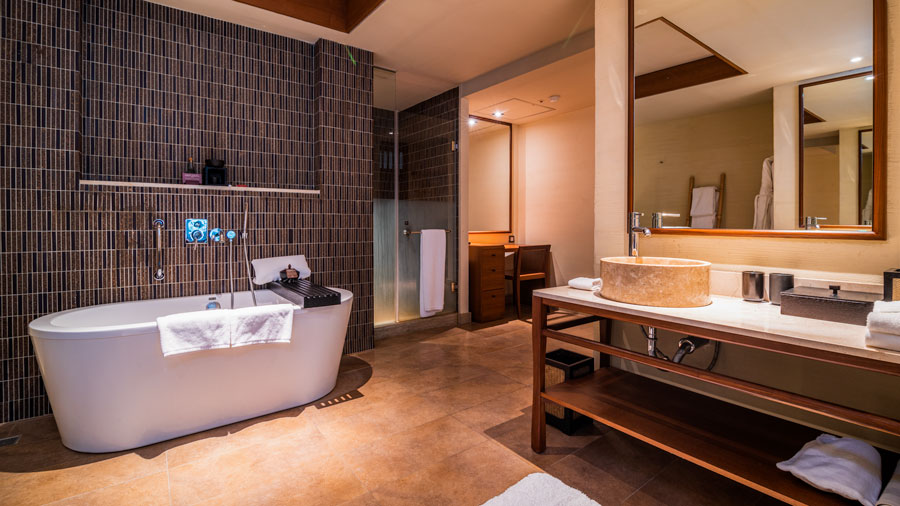 Your available out-of-room experiences are far too numerous to list, but here are my personal favorites (lucky me, I've stayed here three times). I won't spend time describing the expected 5-star facilities such as the superb restaurants, fitness center, kids' recreation center, heated indoor swimming pool, sauna facility, spa ….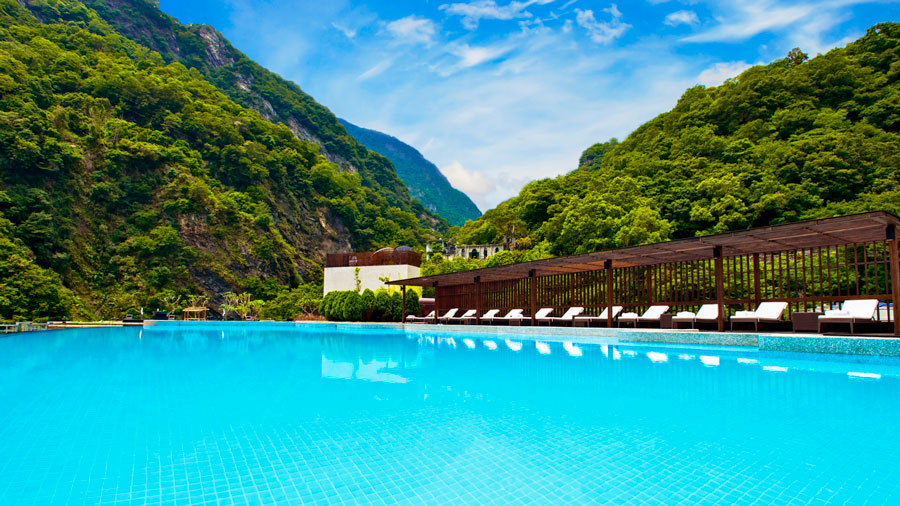 On the rooftop are outdoor pool and whirlpool facilities that are especially enjoyable on warm summer nights under the stars. Beside these is a spacious wood-built deck, with plush seating, where a bonfire and indigenous-music entertainment is provided weeknights. Beside it is a drinks kiosk providing liquid tasties such as cocktails and, in cooler weather, warming, silkily delicious mulled wine made with Hualien-grown fruits (there are non-alcoholic drinks as well). After your live deck entertainment, relax on a grassy-lawn section elsewhere on the roof taking in a flick at the outdoor cinema.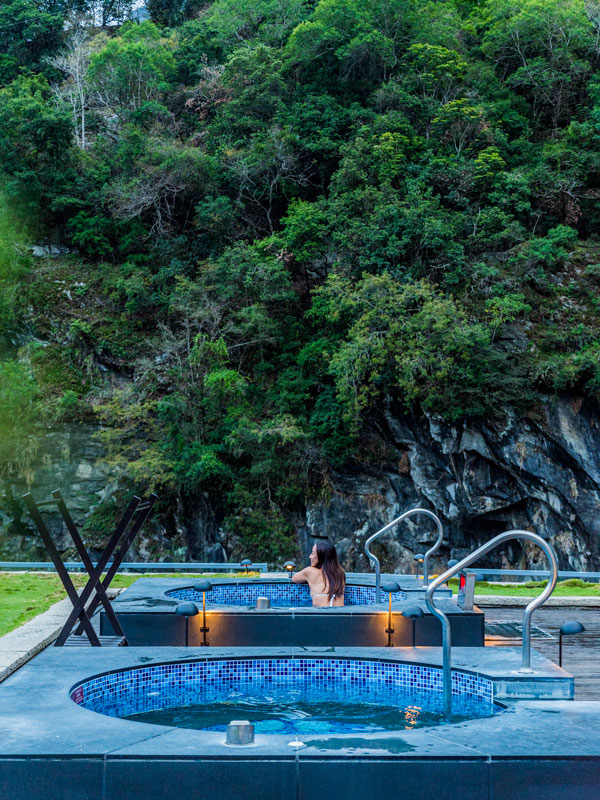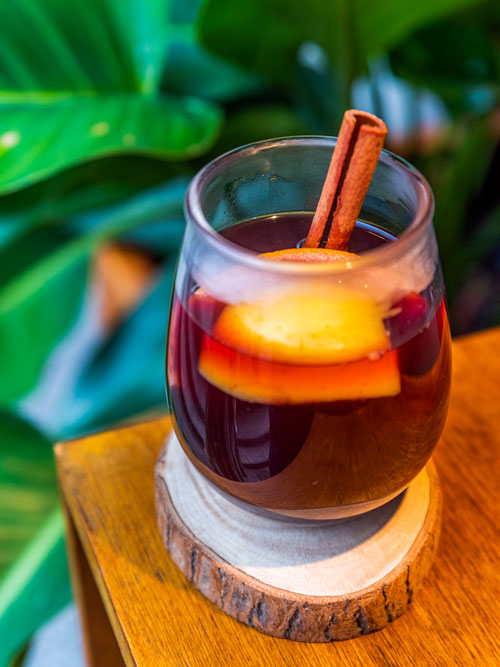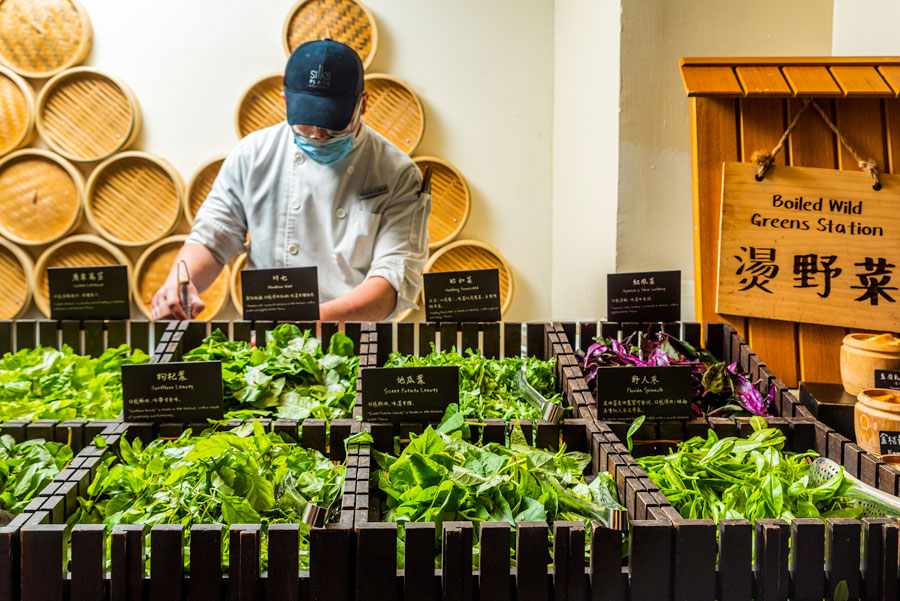 On weekend evenings the live entertainment happens elsewhere, the first session in the lobby featuring classical Chinese music, the second in the central courtyard, with spirited indigenous song-and-dance by local Truku tribe members.
Finally, don't miss the morning 1-hour guided walks, either to the temple beside the aforementioned pagoda or to an old Catholic church seen atop another bluff behind the hotel. For-fee hiking and half-day (morn/aft) or full-day scenic tours are also offered.
Silks Place Taroko
(太魯閣晶英酒店)
Tel: (03) 869-1155
Add: No. 18, Tianxiang Rd., Xiulin Township, Hualien County
(花蓮縣秀林鄉天祥路18號)
Website
Promisedland Resort & Lagoon
What the owner of this idyllic getaway oasis east of the farming town of Shoufeng has done is, by design, bring a slice of genteel Spanish Mediterranean villa living to the East Rift Valley. The series of buildings lined up alongside a self-created lagoon with waterways forming a rough "OOO" pattern all look like Spanish villas. Their design was inspired by Gaudi's architectural art, with strong Moorish flourishes such as domes and towers, exterior arched corridors, and exterior/interior mosaic tiling. The lagoon is alive with zesty-colored birdlife by day, frog choirs by night.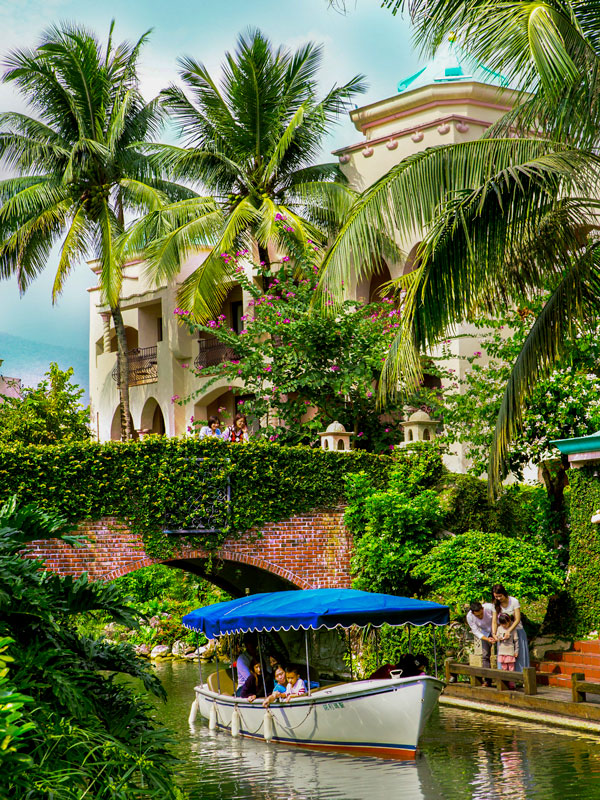 The Promisedland owner, who is Christian, indeed thought of the Promised Land when he bought this land long ago, and the fecund East Rift Valley does indeed strike the visitor as a land of milk and honey.
The sprawling grounds are lush with palm trees and other exotic foliage. Each accommodation building contains numerous large rooms, each entered from the outward side and featuring glass patio doors (with patios, naturally) that look inward, over the lagoon. Guestrooms are stately, with Spanish-style tiling of different harmonious colors/patterns used, cream-colored stucco walls, and appealing antique rosewood furnishings, most imported from Spain, that evoke Spanish castle interiors. All feature appealing Spanish-made "treasure chests" that set you to daydreaming of globe-trekking swashbuckling adventure in the days of sail.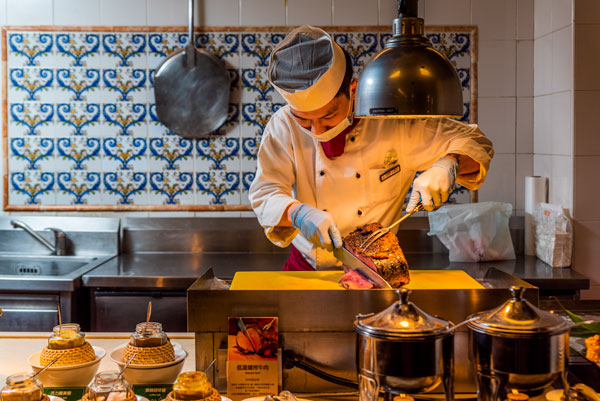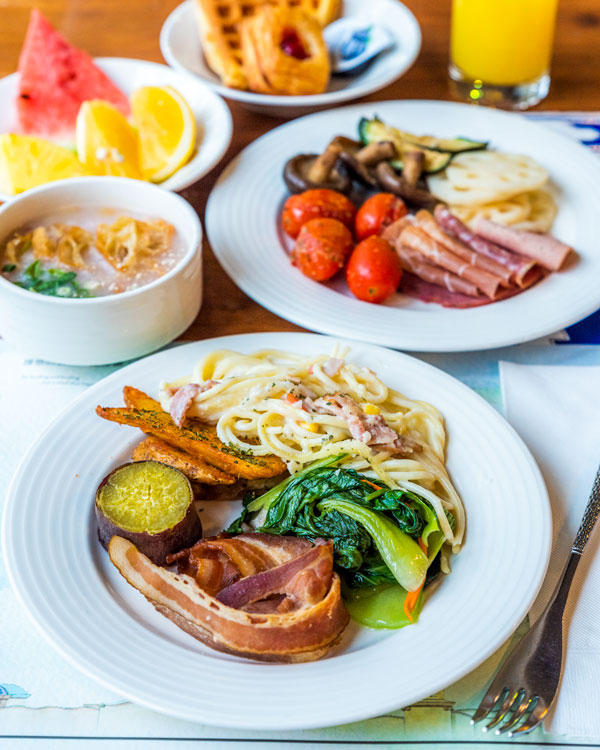 My fave out-of-room activities here? BTW, I've stayed six times, four with my Promisedland-enamored Taiwanese in-laws, who I introduced to the resort. Where to begin ….
Take a leisurely lagoon guided boat ride, learning about the resort, lagoon bio-life, and more. Soak in the soul-soothing on the oasis-emulating spa/outdoor pool island. Rent bicycles, up to bikes for four, and meander the inviting surrounding countryside. Catch a film in the junior-sized drive-in movie theater (guests only), which comes complete with snack bar.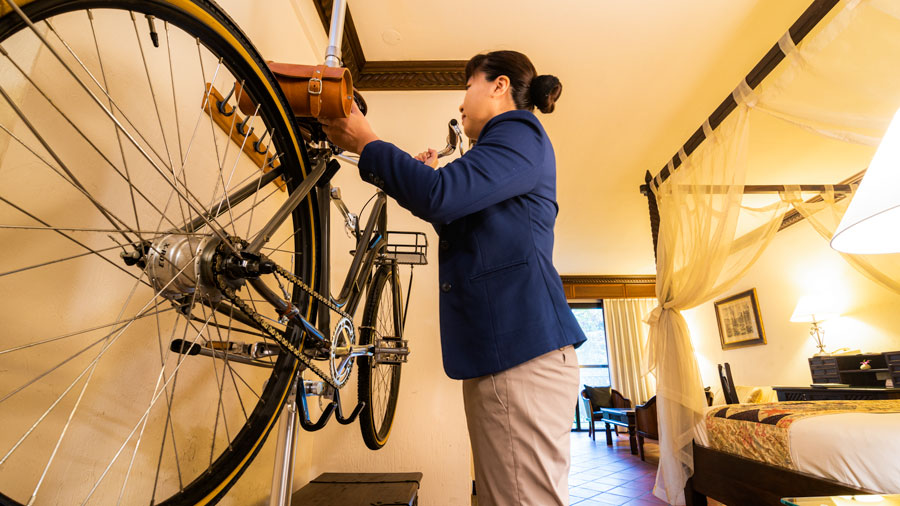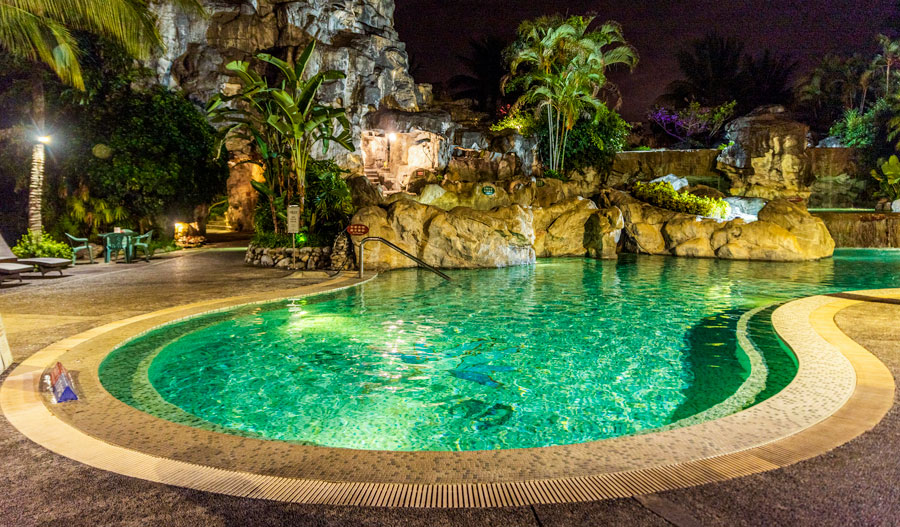 In the large recreation area opposite the accommodation complex, take an indigenous-theme bamboo-raft tour on the lagoon here with a guide from the region's Amis tribe. In the gracefully redesigned former horse stables, enjoy DIY activities such as making mini-pizzas (stone oven used) and craft-dyeing using local plant life. At night, enjoy the live folk-music shows at the "in-stable" Lakeside Bar, lagoon on one side, aquafarm pond on the other.
Promisedland Resort
(花蓮理想大地渡假飯店)
Tel: (03) 865-6789
Add: No. 1, Lixiang Rd., Gonghe Village, Shoufeng Township, Hualien County
(花蓮縣壽豐鄉共和村理想路1號)
Website
Grand Cosmos Resort Ruisui
This big spring-chicken hot-spring resort complex was hatched in 2019. Located deep in the East Rift Valley, nearing its halfway-point south from Hualien City, it's in the Ruisui Hot Springs resort area, tight against the Central Mountain Range base. You spot its bold castle-architecture features, dominating the landscape, long, long before you reach your destination – there are no taller buildings in this area, and its only visual competitors are the local low peaks.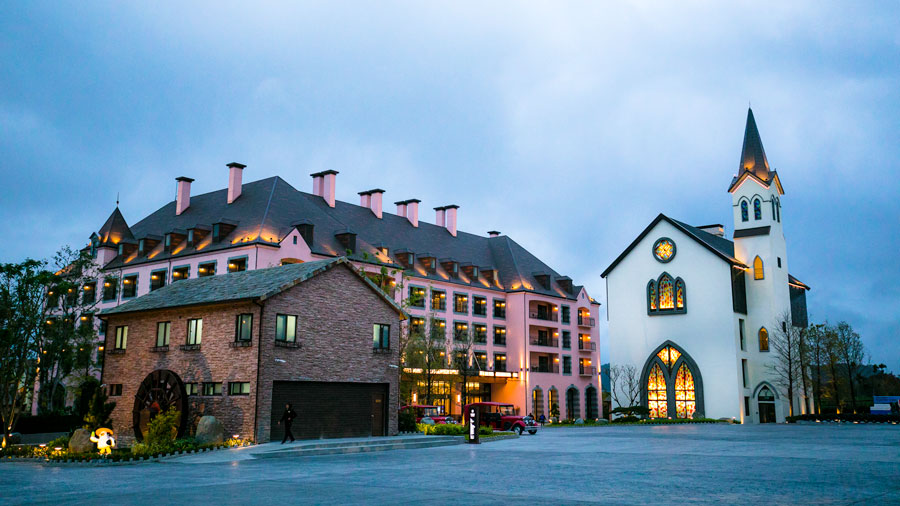 Ruisui's development as a hot-spring resort destination was launched by the Japanese in 1909. Its iron-rich waters are similar in quality to those of Japan's famed Arima Onsen, which dates back to Japan's classical period.
The complex is centered on two tall, imposing structures, the Castle and the Mansion, designed in southern European style. In the Castle you enter a plush – and massive – lobby that rivals those of elite European resorts, rich with marbles and other polished stones, a grand Austrian-crystal chandelier, and terrific glass walling (27m-high ceiling, highest among Taiwan hotels/resorts).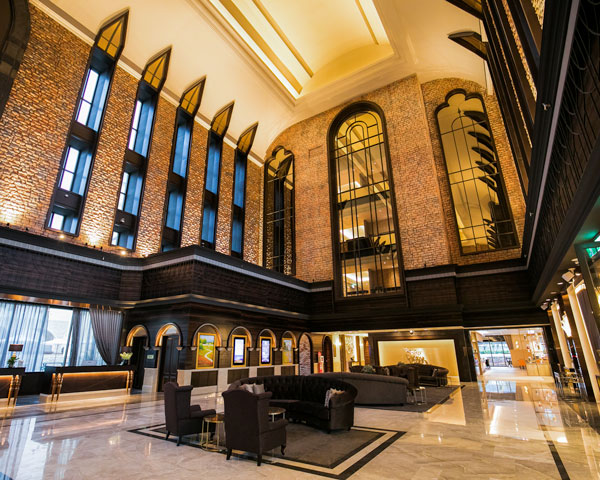 The buildings are home to the guestrooms, restaurants, and a wide array of other guest-use facilities. These and other complex structures are aligned to form a medieval European town lookalike; there is even a Chapel building between the Castle and Mansion.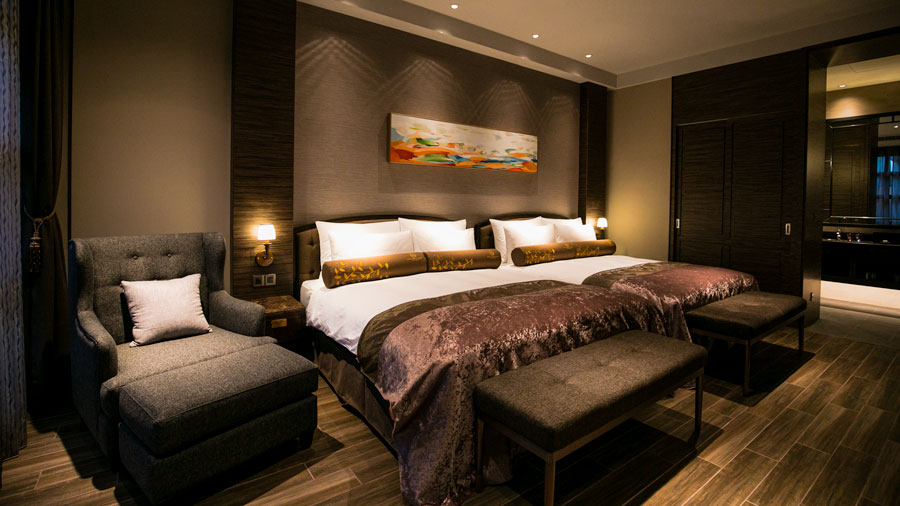 Also among these other buildings are the standalone Family Villas. These are pet-friendly, and overlook the choice-overflowing Water Park, which is friendly to kids and adults alike. The standalone Grand Villas are at the other end of the complex, in a quiet area, each equipped with a private backyard and swimming pool. The interiors for rooms/villas are primarily European modern chic, and all sport a hot-spring spa bathroom.
The highlights among the other myriad out-of-room experiences, at least as far as this writer is concerned, must launch with the Water Park, which bubbles over with indoor and outdoor options. Inside are water-jet massage pools, a thrillingly large water slide, and a 25m, seven-lane lap pool. Outside are hot-spring pools, hot-stone plate resting beds and, for the kids, fountains and water-playground facilities. Beyond this, neither kids nor frolic-loving adults should miss out on the electric-kart track or pass on the games room, where the best fun is had with the classic and modern arcade games.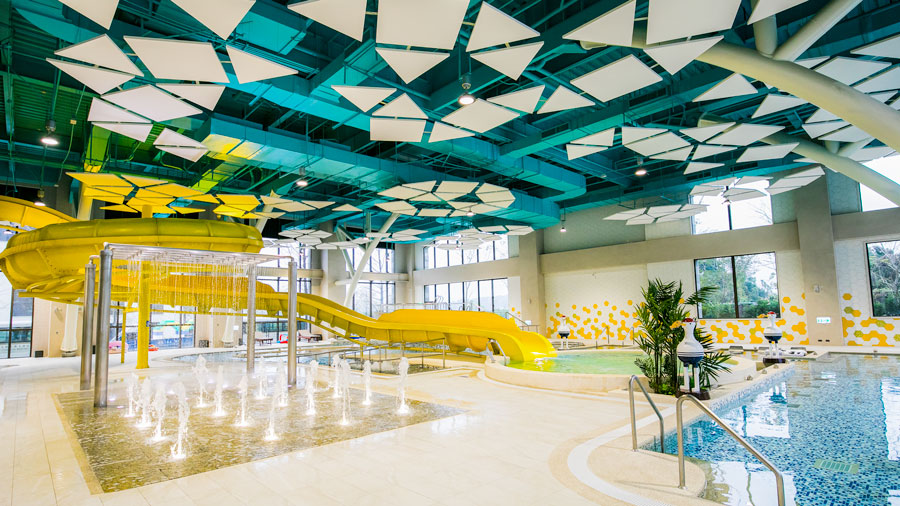 Grand Cosmos Resort Ruisui
(瑞穗天合國際觀光酒店)
Tel: (03) 8887-6000
Add: No. 368, Sec. 2, Wenquan Rd., Ruisui Township, Hualien County
(花蓮縣瑞穗鄉溫泉路二段368號)
Website
More Info
For more info on vacationing in the region, visit the websites of the Taroko National Park, the East Rift Valley National Scenic Area, and the Taiwan Tourism Bureau.