Intimate Lodgings Amidst Grand Scenery
TEXT / RICK CHARETTE
PHOTOS / ASKA CHI

When traveling, you target places of the most inspiring beauty, natural or manmade. As you well know, however, choosing your places of accommodation can be just as important as choosing the sights you'll visit. Stays in "OK" facilities, at best, add nothing to your experience, while stays in "sub-OK" spots can ruin a trip. In this file we're traveling in Hualien County, in the Taroko Gorge/Hualien City/northern East Rift Valley region, which provides you with all the inspirational aesthetics, natural and manmade, that you could desire. While doing so Travel in Taiwan provides you with first glimpses of some of the region's finest places of cozy, intimate accommodation, each of wholly different style, character, and scenic surroundings.
For your information, in our accompanying article about vacation options in Hualien we're bringing you to a trio of the region's big hotel/resort attractions, which though far grander in size and visual impact on their surroundings, at the same time share a reputation for warmth and intimacy – in large part because of the quietness of their environs and because of the unusually warm, attentive service for which this region is known. Each of these is also of wholly different style, character, and scenic surroundings.
So, why spend time in Hualien County? Let me paint a picture for you. If looking for an idyllic getaway destination where you can get a little – in truth, a lot – closer to nature, this is it.
The pristine eastern Taiwan region, with Hualien County in the north and Taitung County in the south, has often been referred to as Taiwan's "backyard garden." Why so? The thick north-south central mountains have long acted as a barrier preventing heavy contact with the island's far more heavily populated northern/western regions, lowering economic development and population inflow and preserving nature's glories largely intact. When thinking of Hualien County's essence, what springs to mind are its towering peaks, azure skies, sweeping ocean vistas, scenic deep valleys and gorges, cultural diversity, indigenous villages, fertile neat-plot farmland, and notably warmhearted people.
As elsewhere in Taiwan, over the past two decades the homestay-accommodation sector has exploded in the region, with the number of attractive, high-quality choices continuing to grow at a steady clip. Most higher-end locations are purpose-built as accommodation facilities rather than as true private homes, with the owners living either in or very close to the homestay. Most are also home to more, often many more, sleeping-quarter rooms than normal residences would have. Most also feature sleek, modern architectural styling. Not qualifying as true inns, the term I prefer is "inn-style homestays."
ON THE WAY TO TAROKO
Asia Cement Ecological Park
This attraction, established by the Asia Cement Corporation, is filled up with pretty living things. It sits in the gaping mouth of the mighty Taroko Gorge, staring into its depths. It's a superb destination for eco-education outings, a mini-paradise for carefully selected butterfly, insect, and native plant life, with sections dedicated to each, though butterflies are busy throughout the pathway-laced facility. Guided visits are free, with registration required three working days in advance.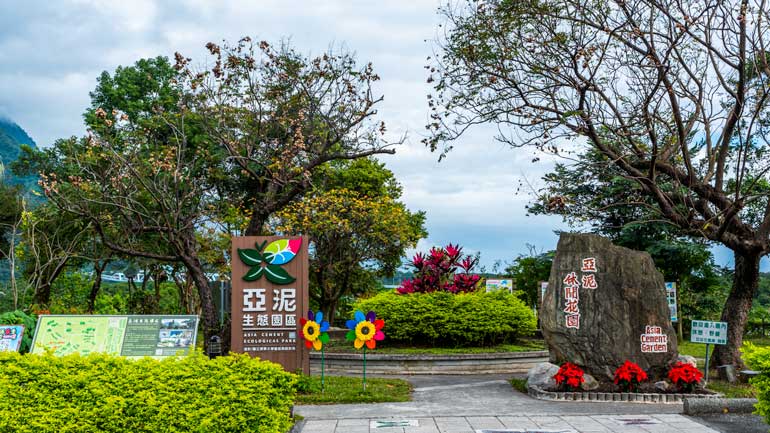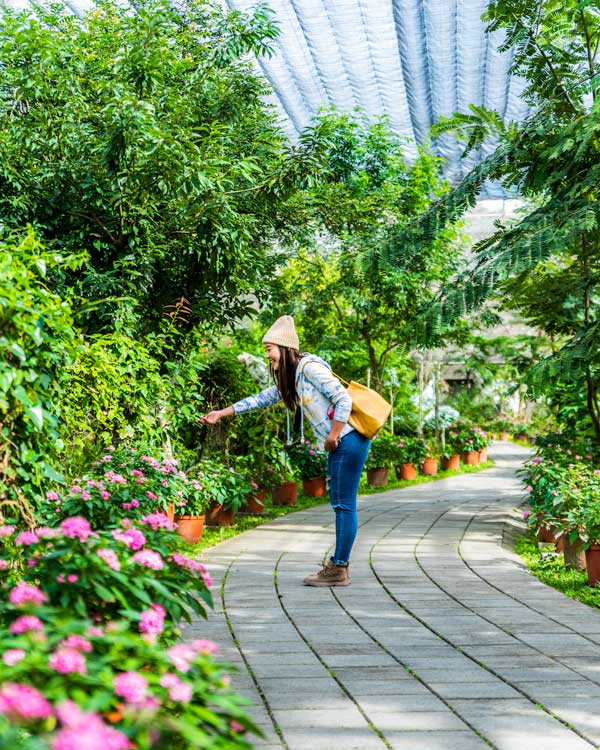 Taiwan's largest privately-run butterfly eco-park, it's home to 35 species, with the rarest the nationally protected troides aeacus formosanus, from the golden birdwing family. Commonly called the small birdwing, this elegant artwork has black forewings and golden hind wings. As confinement rearing is not permitted for protected species, the park is designed and operated as an open and natural habitat. A large netting-wall/roof butterfly breeding area is used for the introduction and breeding of species in accordance with the park's eco-load capability.
In the stick insect demonstration area the celebrities inhabit large plant-filled boxes, providing them with extra protection and making spotting easier for visitors. There are both imports and Taiwan homegrown stars. Some of the insects have bodies about six inches long, and some look exactly like small leaves or tree bark.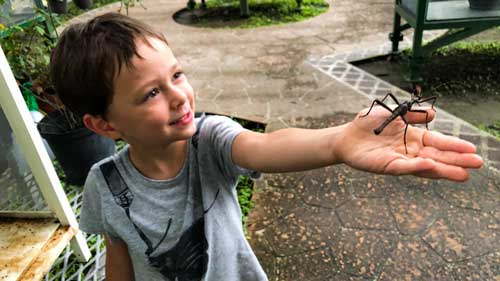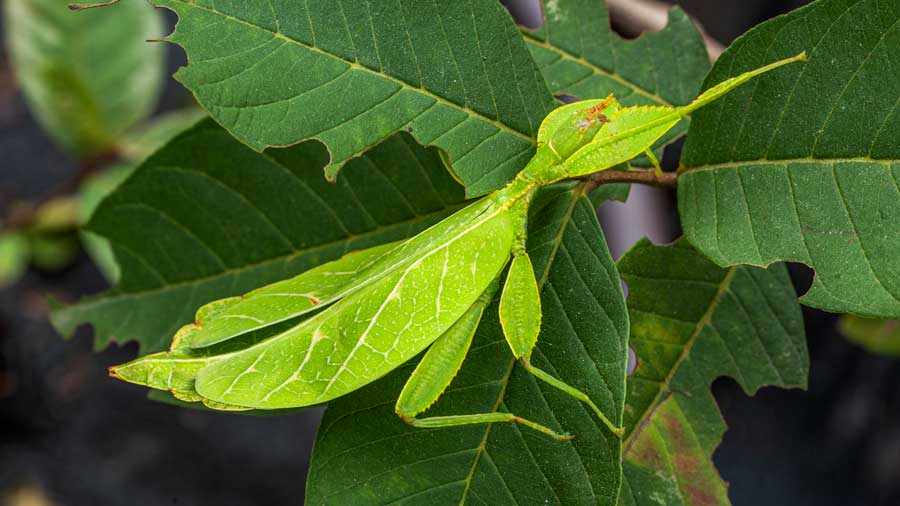 The native-plant garden sports around 250 species, mostly flowering plants. Though just above sea level, the park provides you with a tour of plants that grow by the sea all the way up to high-mountain species that grow at 3,000m. Separate family/genus zones help make it easier for you to identify their differences.
Asia Cement Ecological Park
(亞泥生態園區)
Tel: (03) 861-2108
Add: No. 125, Xinxing Rd., Xincheng Village, Xincheng Township, Hualien County
(花蓮縣新城鄉新城村新興路125號)
Website (Chinese)

INSIDE TAROKO
Taroko Gorge
The Taroko Gorge is one of Taiwan's premier draws with international tourists. The centerpiece of Taroko National Park, the gorge is a magisterial river-cut slice right through solid mountain that starts far inland and opens directly onto the Pacific – 19km of unremitting wonder.
Though far smaller in scale than the Grand Canyon, it rivals the canyon's grandeur in many ways. One key reason is that your experience with the gorge is far more intimate. Unlike the canyon, primarily looked down into from its edge, your entire experience here is looking out and up at its towering sky-seeking walls, thickly laced with marble. You do this while traveling along the twisting Central Cross-Island Highway that courses just above its bottom, in some places laid down on sections carved right out of the walls themselves, or along the many trails that begin at roadside, some heading up smaller tributary gorges.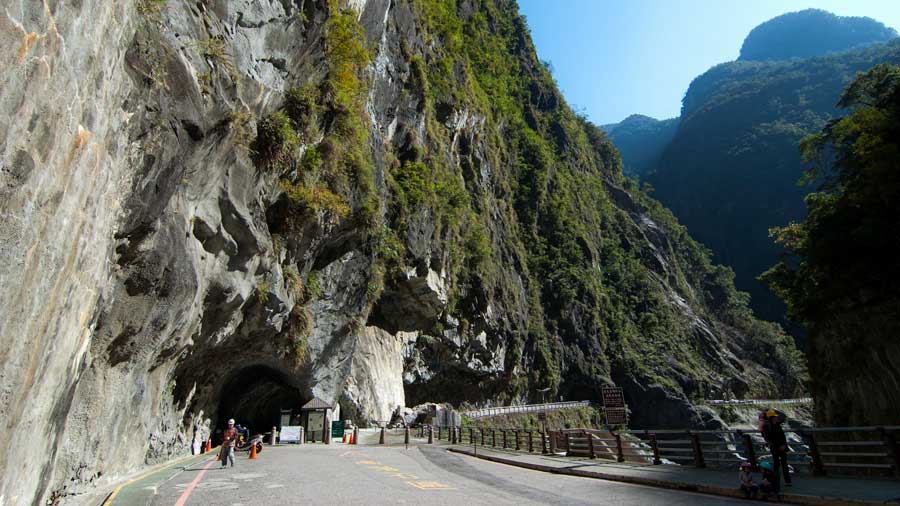 One of the extra-wondrous wonders is Swallow Grotto. Here, the opposing cliffs skyscrape so close and so high that direct sunlight only reaches the floor around mid-day. On the rock face opposite the highway are countless small holes. Many were carved out by the Liwu River long ago, when it pounded by at this level. The burrowing drill-stones creating the holes can still be seen in some. Others were carved out from within – places where underground water channels once found mid-air exits. Swallows long used the holes for nesting, but modern tourism has driven most of them elsewhere.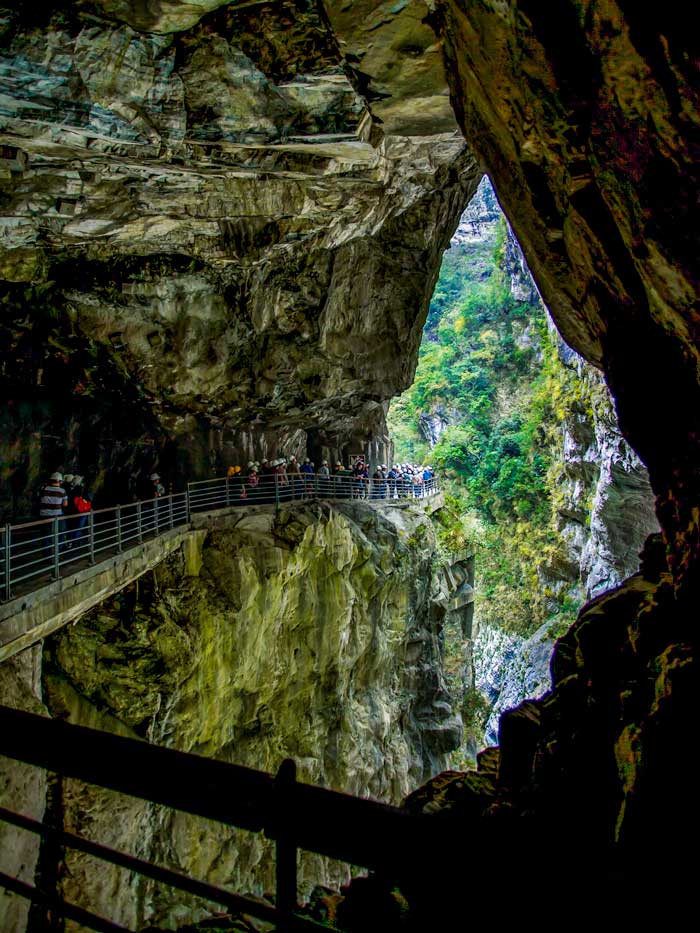 The Tunnel of Nine Turns is an old highway section now serving as a trail. Its creation was a stupendous feat of engineering, hacked from the face of, or inside, precipitous cliff. When not inside one of the numerous tunnels, you enjoy superlative views of the boulder-strewn Liwu River, far down below in this section, and the soaring gorge walls above, just a few dozen meters from each other in spots. This is one of the best places for close observation of the gorge's tremendous collage of faults, folds, and layering.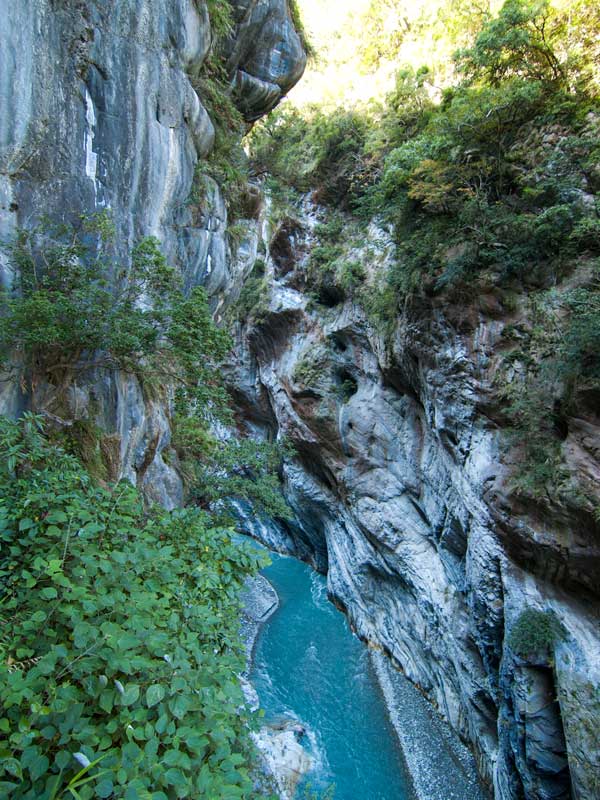 The Buluowan Recreation Area consists of two terraces high above the Liwu River, surrounded by mountains on three sides. The upper terrace's Taroko Village Hotel is introduced in the next section. On the lower are attractive wood-built facilities showcasing the culture of the local Truku (Taroko) tribe. A trail leads down toward the river from this terrace. The compelling attraction, however, is the brand-new 196m Shanyue Suspension Bridge, which shoots high across the gorge, Swallow Grotto in glorious view further inland. The plateau area was long the site of a major Truku settlement, and the bridge is in fact the second Shanyue Bridge edition. The first, built by the Japanese who ruled the island from 1895 to 1945, was demolished in the early 1940s.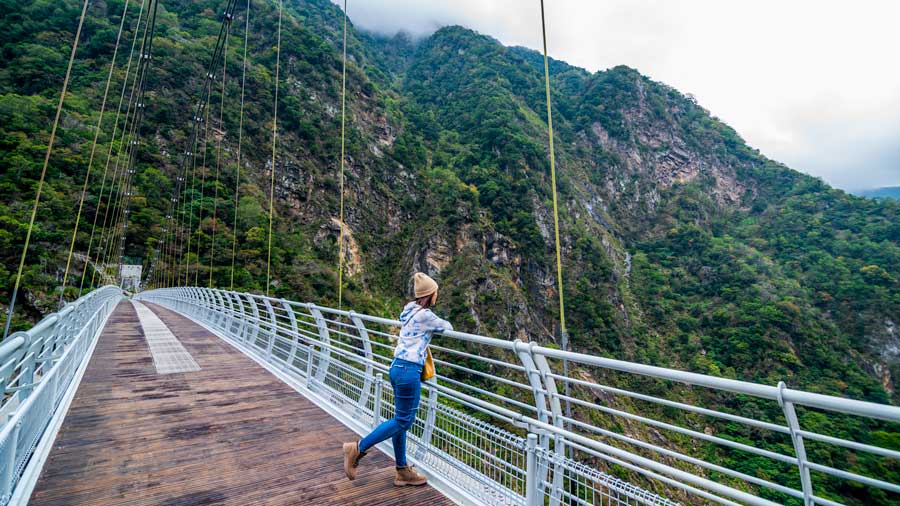 Taroko Village Hotel
If desirous of overnighting right inside the gorge, with a little bit of luxury, you have two choices. One is the Taroko Village Hotel. The other is the Silks Place Taroko, which we present in our article on vacation hotels in Hualien. Each surrounds you with sky-climbing rock walls and stars and clouds streaming by above –and the feeling that the "real" world is far, far away.
Taroko Village is a misnomer – this getaway is best described as a cabin/cottage-style inn. On the higher of the two Buluowan Recreation Area terraces, spread out around a grassy expanse in tribal-village style behind the main lobby/dining/shop building is a large cluster of indigenous-style wooden cabins. Each of the well-built, well-maintained cabins has a comfy covered porch, and the large suite-style rooms are in no way rustic; each features mattresses on raised wooden platforms in Japanese style, along with such decadent modernities as wall-mounted TVs and small yet bright and well-designed bathrooms with showers.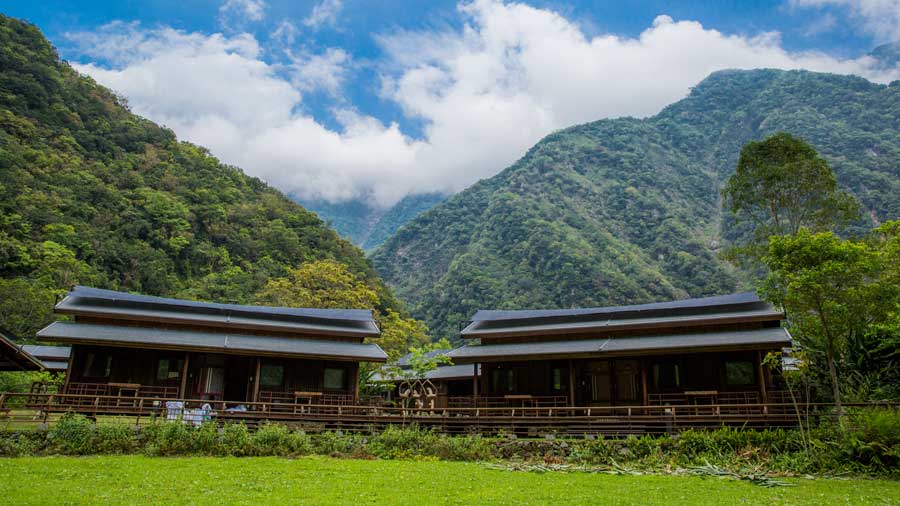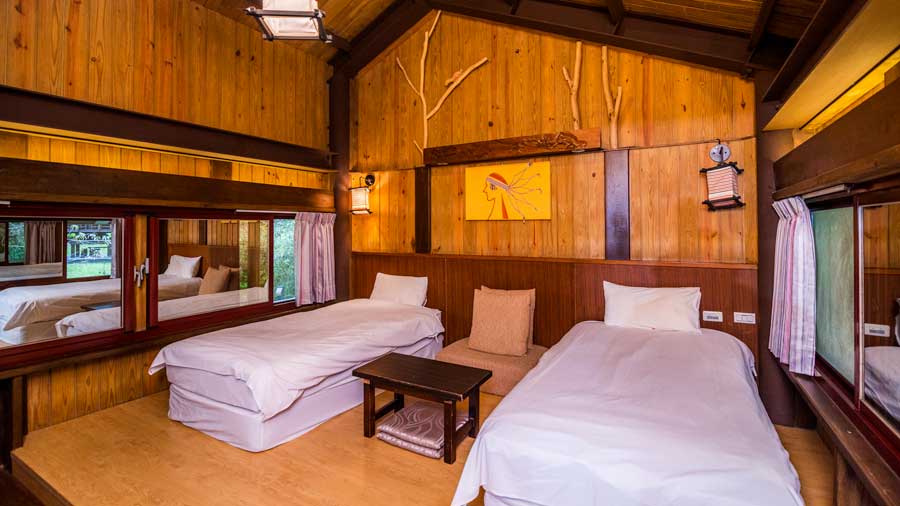 The restaurant in the circular main reception building has large windows that let in all the visual drama of the Taroko mountain canvas. The menu is built around indigenous dishes, notably the bamboo-tube rice, shredded boar skin with garlic and, particularly delicious, the grilled boar. Do not pass up the chance to savor the distinctive-flavor traditional millet wine, served in tiny ceramic mugs shaped like wild boars, your liquid manna consumed through the snout.
Each night indigenous song-and-dance shows are staged in the central grassy area, weather allowing. Something all visitors find adorable is that many of the performers are elementary-school students. All Taroko Village staff are Truku, and a number have starring roles in the shows.
As a final note, be sure to walk the short, appealing Bamboo Grove Trail up behind the cabins, busy with resident macaques.
Taroko Village Hotel
(太魯閣山月村)
Tel: (03) 861-0111
Add: No. 231-1, Fushi Village, Xiulin Township, Hualien County
(花蓮縣秀林鄉富世村231-1號)
Website

EAST RIFT VALLEY – SHOUFENG TOWNSHIP
Yun Shan Shuei Ecological Farm
Yun Shan Shuei Ecological Farm (entry fee for day-visitors), a key Shoufeng Township tourist attraction. Shoufeng Township, south of Hualien City, is in the farm-carpeted East Rift Valley (more on the valley in the next section). The eco-farm is on the Coastal Mountain Range side of the valley, and on sunny-bright days mountains and passerby clouds are perfectly reflected in the still lake waters. The purpose-built Villa Home is a manor-copy inn-style homestay located by the shore of the centerpiece manmade lake of the farm. There are also a number of other large homestay operations around the lake, including 88 villa. In the evenings, with the day-visitors gone, you have the farm grounds to yourself.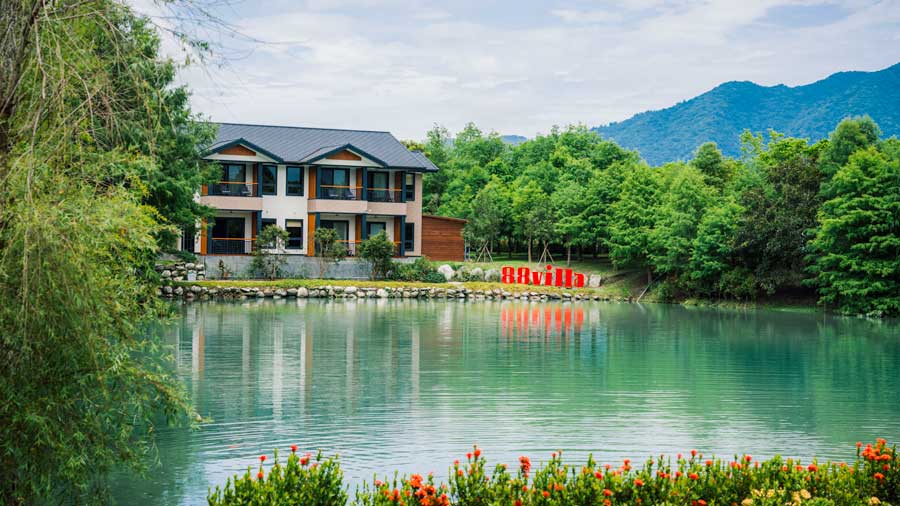 "Yun Shan Shuei" means "clouds, mountains, waters." The expansive grounds are filled with scenes of lyrical loveliness. The loop pathway leads you past long formations of tall, stately royal palms (the farm sports about 20 palm types) and swathes of color-exultant seasonal flowering plants, and in the pine forest off the lake's east side crystal-clear waters from the mountains run free through the trees, obeying no banks, with mists also often rolling through. Visitors traverse running-water sections on strategically placed stones or concrete blocks, one set of blocks beside a long manmade waterfall, a few feet high, that fills the forest with sonorous water music. In late autumn the pine foliage turns golden yellows and rusty reds, deeply changing the forest's mood.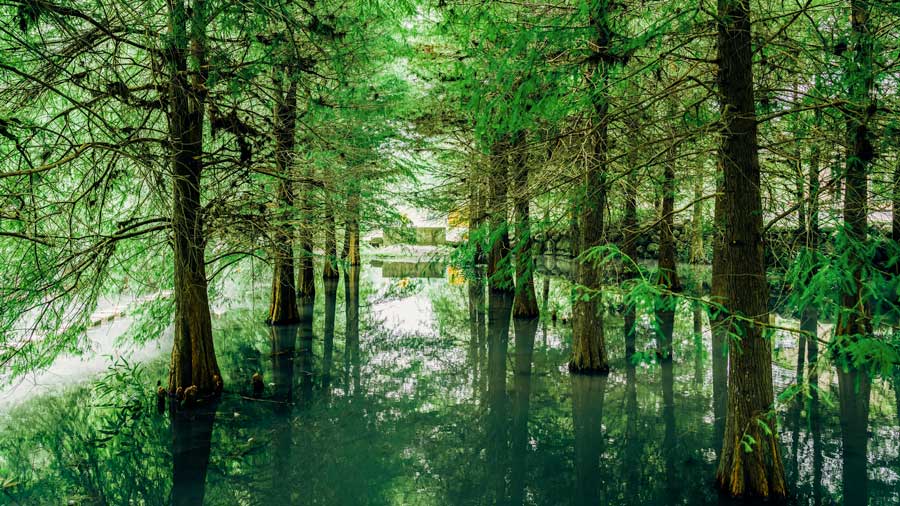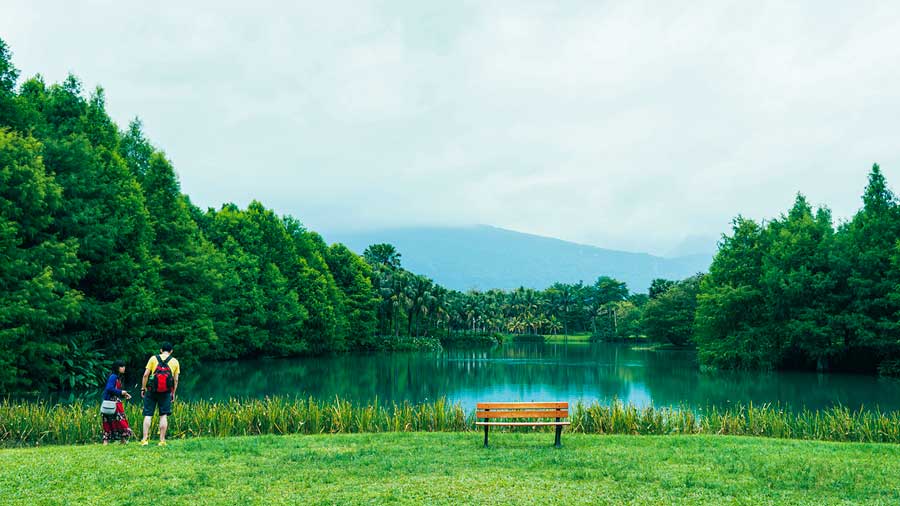 The Villa Home owners are the developers of the farm. They have chosen a genteel south European atmosphere as theme for both farm and homestay. The faux manor, which has a single tall tower in the rear, features a classical Mediterranean-region red-tiled gable roof. The façade is painted a pure white.
The interior is an elegant world of the plush style of trappings in which European nobility feels at home. In the first-level commons area is a dining section that overlooks the lake and a small bar area. Each of the guestrooms, fitted with upscale modern amenities, has its own distinctive design and personality. The styling for each, however, takes you back to old Europe.
Villa Home
(雲山水)
Tel: (03) 865-6060
Add: No. 18, Aly 201, Ln. 2, Sec. 2, Fengping Rd., Shoufeng Township, Hualien County
(花蓮縣壽豐鄉豐坪路二段二巷201弄18號)
Website

Rose Garden
The deeply fecund, brightly crop-colored East Rift Valley starts immediately below Hualien City, Coastal Mountain Range on one side, Central Mountain Range on the other, and runs almost all the way down to Taitung City. Provincial Highway 9 connects the two cities through the valley, meandering side to side. The quieter County Road 193, through its northern region, achieves the difficult feat of being even more scenic. It runs along the base of the Coastal Mountain Range, a bit higher up than the 9, giving clearer views of the neat-grid farmland. A long string of well-spaced-out small farming towns and villages dots the valley's length – this is perfect slow-drive country.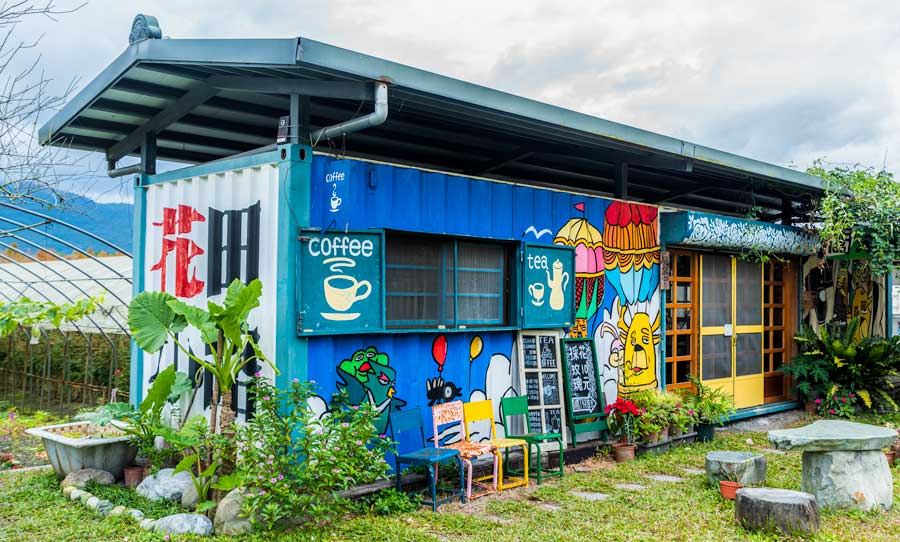 In Shoufeng Township, a favorite stopping-in place for visitors who have added the Yun Shan Shuei Ecological Farm to their bucket list of Hualien experiences, is the funky Rose Garden café. This place scores high in online recommendations. Located right beside the eco-farm, it's run by a young artist who, on entry, you'll likely see engaged intently with a work of graphic or art. Quirky owner-created cartoon versions of Rose Garden friends adorn the cozy interior, but even quirkier is the fact that the physical facility for this homey-comfy place is a cargo container. The cargo-container hotspot has a boisterous pastel-festooned exterior that makes it impossible to miss amidst the overwhelmingly green-hue local countryside, and sits in a corner of, yes, a rose-cultivation farm you can freely meander.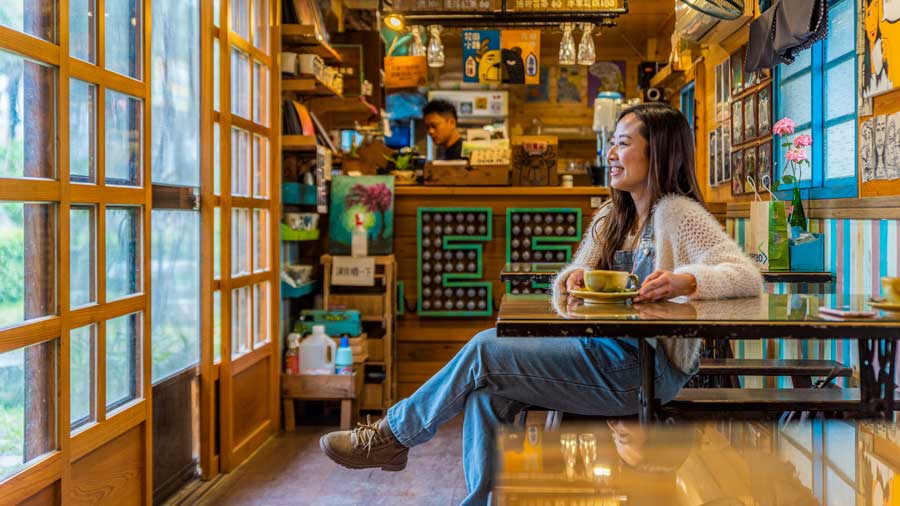 Rose Garden
(花田小路)
Tel: 0911-669-745
Add: No. 128, Dongfu St., Shoufeng Township, Hualien County
(花蓮縣壽豐鄉豐坪村東富街128號)
Website

Li Chuan Aquafarm
The Li Chuan Aquafarm is producer of the "best freshwater clams in the world" – specifically, a small eastern Asia clam known in the West as the Asian/Asiatic clam, in Southeast Asia as the golden or prosperity clam. This tourist-friendly operation, which uses natural spring water, produces 80% of Taiwan's freshwater-clam liquid extract, a popular health product. You can also buy such other products as its extract tablets and shell-calcium tablets. There's an on-site clam-celebrating museum, clam-theme DIY activities, and a large restaurant (its culinary stars the clams and farm-raised fish). But the big draw is the large wading pool – especially with kids – in which you conduct clam-digging hunts (for a fee).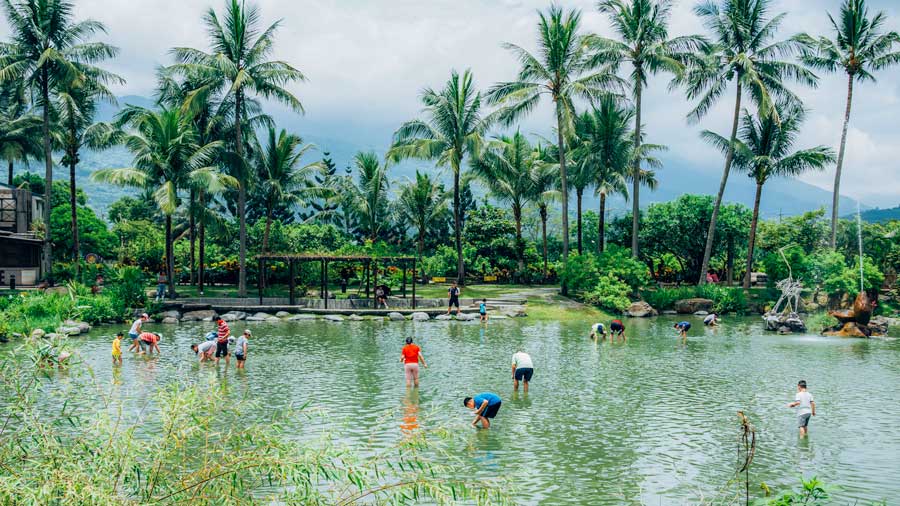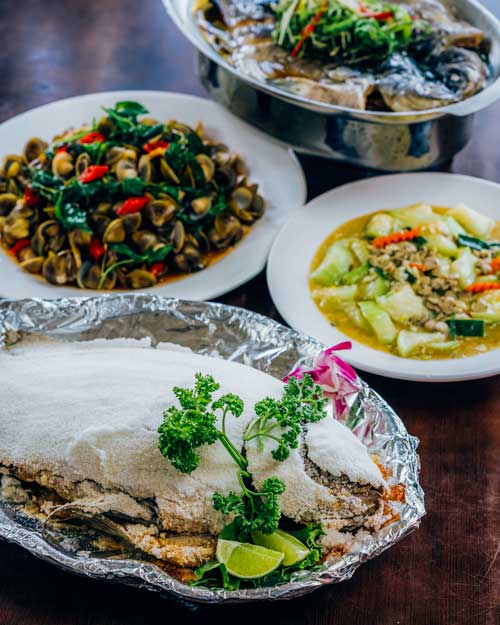 Li Chuan Aquafarm
(立川漁場)
Tel: 0800-007-111 / 03-865-1333
Add: No. 45, Yuchi, Shoufeng Township, Hualien County
(花蓮縣壽豐鄉魚池45號)
Website (Chinese)

Afternoon Resort
The Afternoon Resort, in truth an inn rather than a resort, is on the south edge of the sleepy farming village of Fengtian. The Central Mountain Range is in clear and glorious view just to the west, Coastal Mountain Range same to the east. The front perimeter wall is a dramatic statement – great slabs of rough-cut stone lined up on edge – paying homage to Hualien County's iconic stone-cutting industry.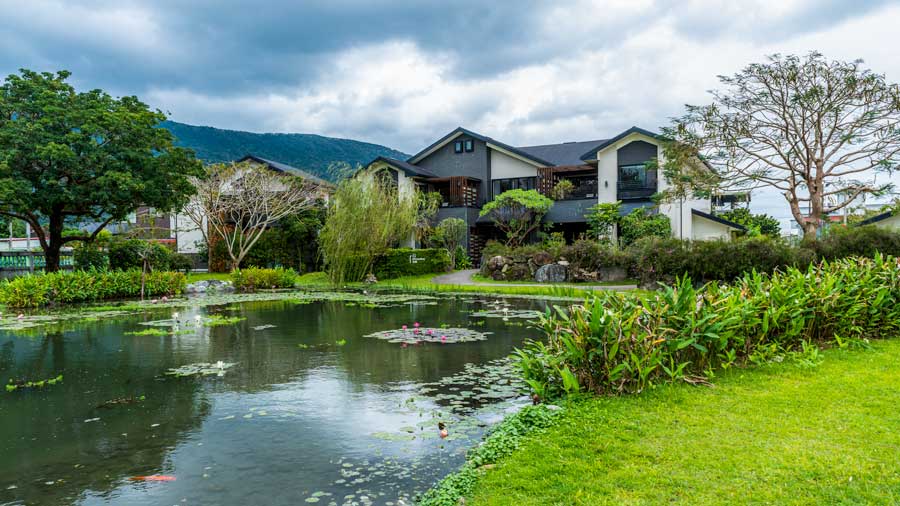 The owner is enamored with all things Japanese – in the early 1900s the Japanese set up "immigrant villages" around Fengtian and elsewhere in the east, seeking to establish Japanese citizens in farming communities to ease population pressures back home – and built this R&R oasis using modern Japanese architectural design as inspiration, importing all key materials from Japan.
There are two multi-floor accommodation buildings at the front of the grounds, which are surrounded by towering old trees original to the site, and a café-cum-dining pavilion at the back. Between the two is a large pond with classical-style landscaping. In the guestroom buildings, half the rooms face outward, half face the garden pond area. All of the spacious rooms are suites, with Japanese contemporary minimalist styling emphasizing light woods, tiling, and other materials. Other prominent features are the deep-soak tub and small balcony provided with each.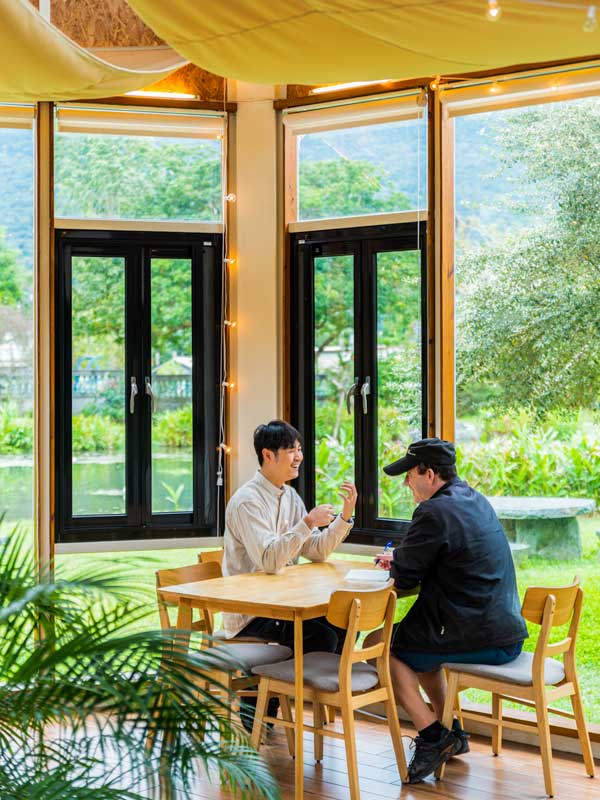 The café-cum-dining pavilion has the look outside and inside of the type of future-looking model pavilion you might find at a world expo. Featuring a soaring-high ceiling, it has much in the way of exposed girders and beams and liberal use of glass in the walls, allowing sunlight to stream in. A "café-in-a-greenhouse-garden" theme is used, with the abundant foliage well matching the dominant white paint and blondish woods. In the rear is a greenhouse-style facility where many of the ingredients used in the dishes served are cultivated; Hualien ingredients form the core of all menu items.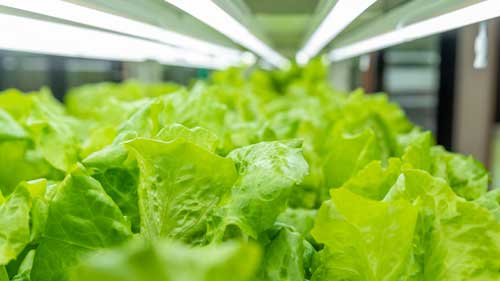 Afternoon Resort
(依山午)
Tel: 0975-737-169
Add: No. 17, Ln. 101, Zhongshan Rd., Shoufeng Township, Hualien County
(花蓮縣壽豐鄉中山路101巷17號)
Website (Chinese)

REVIKA
On approach, looking uphill at it, the purpose-built REVIKA inn-style homestay looks for all the world like a Star Wars-type spaceship cruiser come to Earth. The side walls, back wall, and roof of this three-story architectural beauty are primarily exposed concrete. The façade is all glass, save for the exposed concrete support pillars and steel framing. If all curtains are raised, you can see full detail inside the lobby/dining area and every guestroom, like a dollhouse with its façade swung open.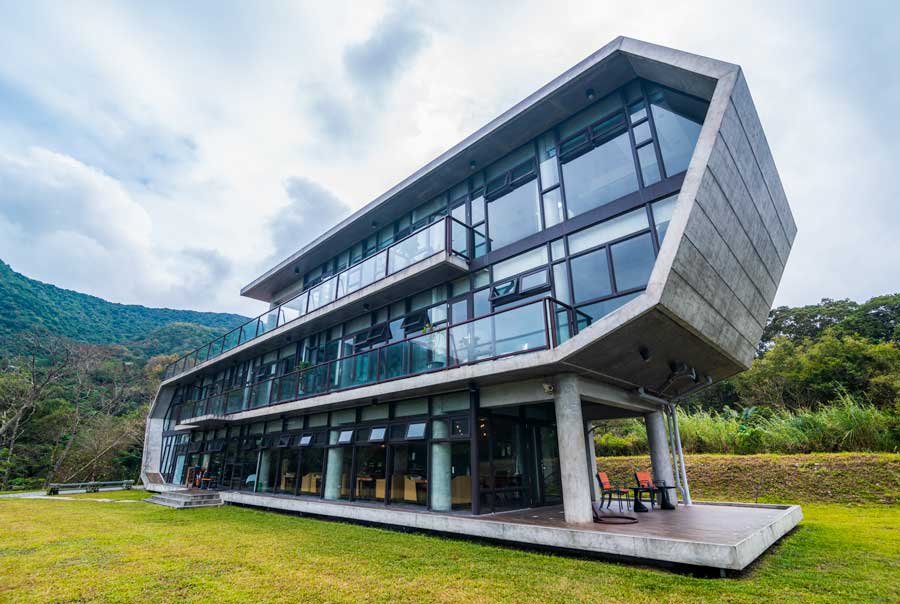 A short distance east of the aforementioned Villa Home, it is perched among foothills and farms atop a plateau right at the base of the Coastal Mountain Range, looking northward up the East Rift Valley toward Hualien City, which has the look of a scale-model set. All rooms – guestrooms and 1F lobby/dining area – face north. Both the day and night views are outstanding. "This is a place to stay put and daydream," says the owner, a refugee from Taipei who bought this land many decades back. She gave her well-known Taipei architect carte blanche to create his homestay architecture "dream project," her only stipulation an unobstructed north-looking valley panorama from all interior points. She had originally dreamed of a "castle with lots of wood beams," but loves her "out of this world" hideaway as a secret getaway unique in Taiwan.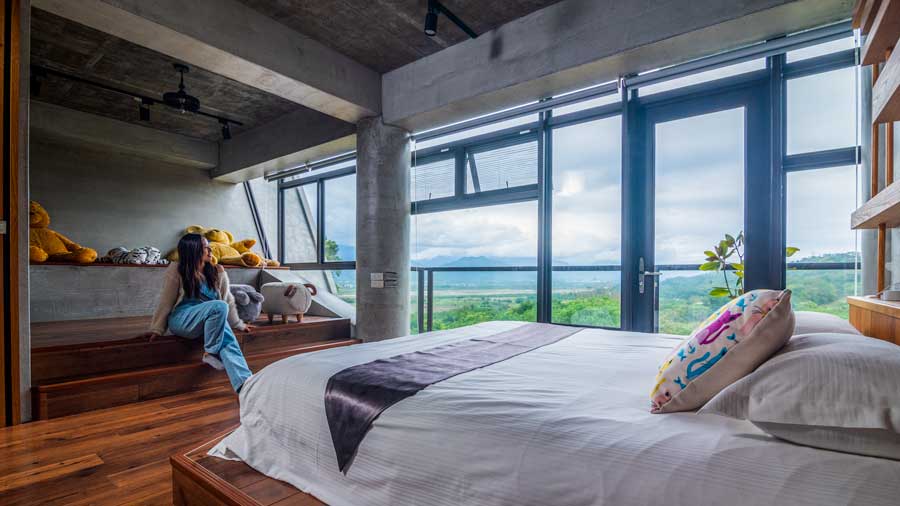 The styling for the lobby/dining area is what I'll call modern art gallery-style subdued chic. A 2F overhang on the valley side provides shade for a large, comfy patio great for breezy dining or a coffee. The styling for rooms varies, from subdued contemporary chic with a harmonious simple-color blend of dark tiling and stone, gleaming-white porcelain, and light-hue woods to a cheerily whimsical option featuring pastel-blue painted and gleaming-white tiled walls and touches such as teddy bear and birdie pillows on the bed.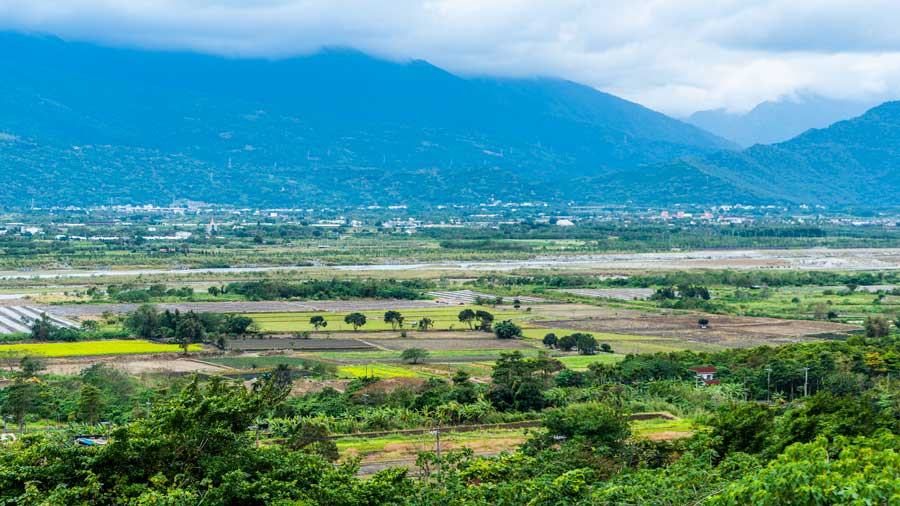 REVIKA
(鈴の宇民宿)
Tel: 0937-738-452
Add: No. 18, Sec. 6, Yuemei, Yuemei Village, Shoufeng Township, Hualien County
(花蓮縣壽豐鄉月眉村月眉六段18號)
Website (Chinese)

HUALIEN CITY
Echo Villa
By its address, the Echo Villa inn-style homestay is in Hualien City. But no, it is in the country, west of the urban area, the steep tree-thick slopes of the Central Mountain Range mass just steps away behind, small-plot farms before. Well, not quite before. It is in a visually incongruous densely-clustered higher-end housing development of three very short parallel streets, the Echo Villa Original on the second street, the Echo Villa Classic on the third/back street. So no farms in immediate sight, but the mountain greens fill all of the rearward-facing windows. The Original opened in 2007; we concentrate on the Classic, opened in 2019.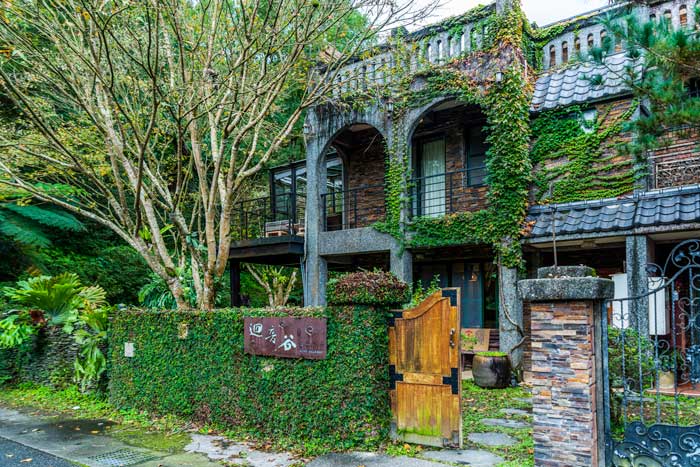 The exterior is primarily exposed concrete. From front and rear, it has the look of a four-story stack of staggered Lego blocks, with liberal use of glass in each block. Rear-facing rooms have exterior walls of exposed steel girders and floor-to-ceiling glass panes. All rooms have outdoor seating areas. Room décor is primarily modern chic.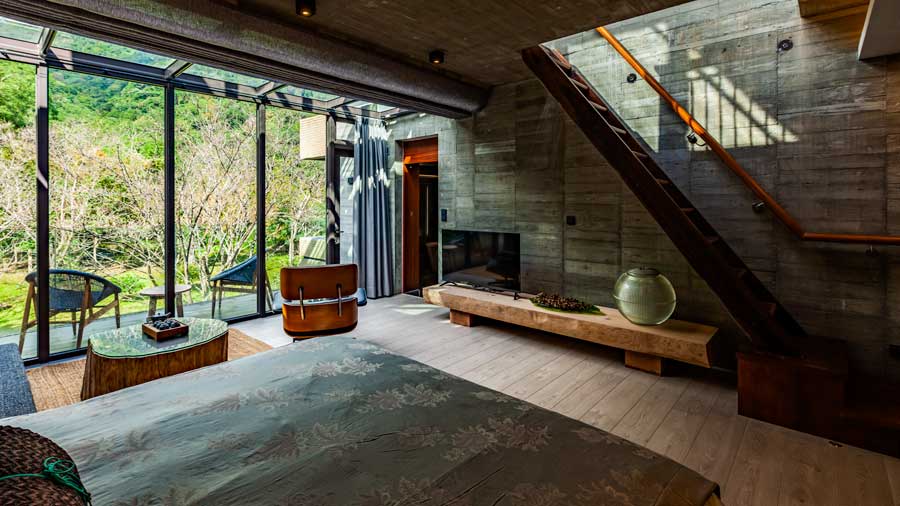 The "Echo" in the name is an homage to the past. The higher-point innards of a soaring valley are in partial view behind, complete with a heavenly-high waterfall. Here, Amis tribe warriors once hunted and, presumably only after success, danced and sang, their song echoing through the valley. Two good trails start behind the housing development, one heading to a low waterfall, another far up into the valley with great views over the city.
The interior public spaces, also showing much exposed concrete, are filled with antiques, retro pieces, and curios. Most are Western, sourced and shipped by a friend of the owner based in the US, such as an antique cash register and electric fan from the 1940s, a retro-1950s guest-use refrigerator and leather upholstered chairs, and a funky plastic 1960s mod-style seat that can be closed to form a giant egg.
Echo Villa
(迴音谷)
Tel: 0965-501-333 / 0953-332-292
Add: No. 21, Aly 168, Ln. 289, Guofu St., Hualien City
(花蓮市國福街289巷168弄21號)
Website (Chinese)

Hualien City
Hualien City sits on a small plain looking at the Pacific. To the north, right where the plain ends, is the Taroko Gorge mouth and, immediately north, dramatic coastal cliffs that go on for a long distance. To the south the plain ends at the mouth of the poetically lovely East Rift Valley. Hualien has the largest indigenous population among Taiwan cities – 9,000 residents out of 101,000. Before the arrival of Han Chinese, the city's area was the Amis tribe base area, with numerous large, palisaded villages.
Beyond its indigenous-culture attractions, two key tourist draws for today's urban center are food delicacies and dedicated-pathway cycling outings. Outside Hualien Railway Station are numerous mingchan or "famous products" outlets selling Hualien-area processed snacks. Specially recommended are delicious Amis mochi, made with millet, a delicacy once prepared only for special ceremonies. Fluffy, chewy Chinese yam cakes are bite-sized treats made by mashing steamed sweet potato, adding egg, and baking.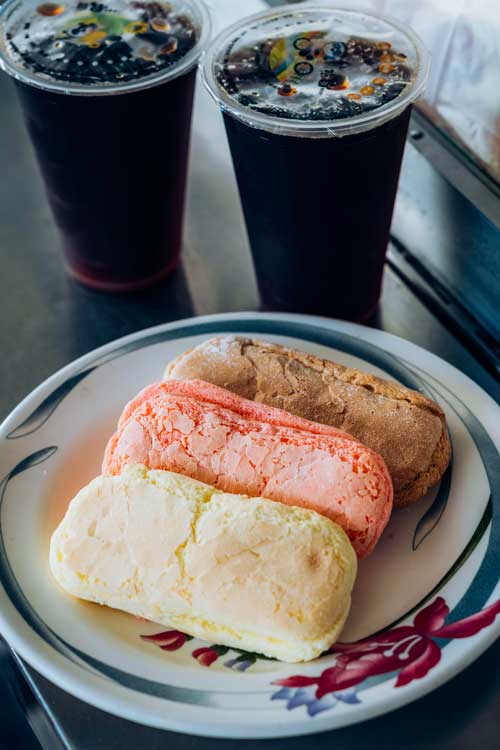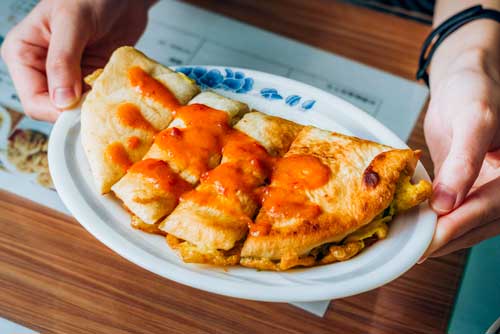 The 35km Two Lakes Bikeway runs from Qixingtan beach, on Hualien's north, to countryside Liyu (Carp) Lake, at the East Rift Valley's mouth. Along the way, at the Hualien Harbor fish market, try the fresh seafood at the Tian Mama ("Field Mother") restaurant, or the Japanese- and Chinese-style seafood dishes at the more upscale "Chinese & Japanese Food" Restaurant in the nearby Sunward Plaza, a Tudor manor-style structure with bright pastels on a white-base façade.
More Info
For specific info on places to stay, visit Taiwanstay. For more general info on the three main areas introduced in this article, visit Taroko National Park and East Rift Valley National Scenic Area.

There are daily flights and regular rail service between Taipei and Hualien. Book seats on the Puyuma Express trains, the fastest service, well in advance. Local trains will also get you very close to all destinations mentioned in this article.

Car-rental locations are found at both the Hualien railway station and the airport; the Taiwan Tourism Bureau website provides information on vetted car-rental groups. Scooter rentals are also available outside the station. Those not self-driving should also check out the Taiwan Tourist Shuttle service.