Two Cycling Enthusiasts from Texas
TEXT / OWAIN MCKIMM
PHOTOS / RAY CHANG, VISION

Completing a circuit of the island on a bicycle (known as a huandao; lit., "around/circle island") has long been considered one of Taiwan's must-dos. In the last decade or so, however, and thanks in large part to well-spent government investment in developing the island's biking infrastructure, the cycling culture in Taiwan has blossomed far beyond an entry on a national bucket list. And with its stunning mountain roads and sometimes-chaotic-but-always-exhilarating city riding, Taiwan is now considered an exciting destination for lovers of the velocipede. Alec Gates and Alex Bryant are two such enthusiasts. Hailing from Texas, the two own Taipei Bike Works, a cycling shop tucked alongside a park in Taipei's Dadaocheng neighborhood. The shop is a hard-won passion project for the two entrepreneurs, who have carved out a niche for themselves in Taiwan's flourishing cycling industry.
Gates was the first of the pair to move to Taiwan. In 2015, he, Bryant, and a mutual friend undertook an epic tour of the island on scooters. "When we got back I jokingly said, 'I am going to move there'," Gates says. And a year later, that's exactly what he did. Over the next few years, in addition to his work as an English teacher, he began giving cycling tours of the city to visiting friends, making savvy use of Taipei's YouBike bike-rental service to provide the necessary wheels. Seeing the potential for a tour business, he asked Bryant if he would be interested in helping him develop this side gig into something more concrete. And so Bryant, too, moved to Taiwan.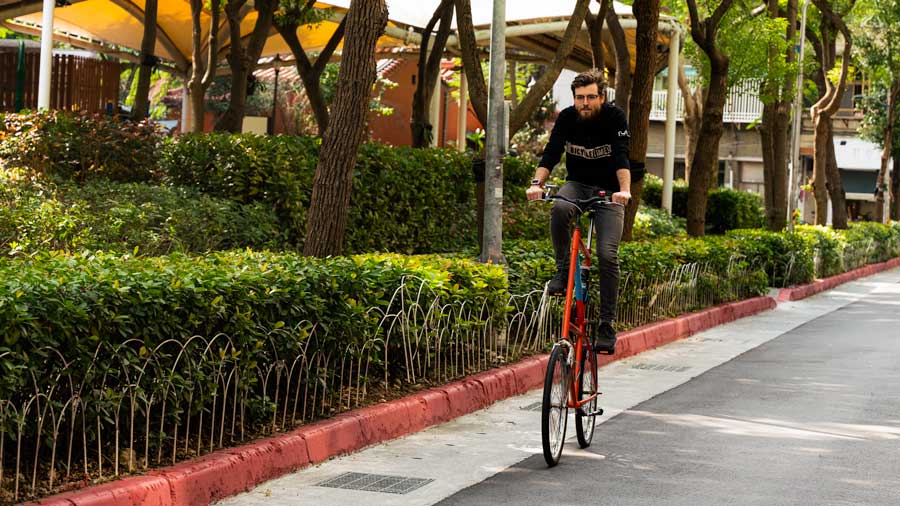 Together, they established the business, rented a small storefront, bought a fleet of bikes, and began officially running full- and half-day tours of Taipei. The tours take in Taipei's bustling, historic Dadaocheng neighborhood; Taipei's youth fashion district, Ximending; and some of the city's major landmarks, such as Chiang Kai-shek Memorial Hall, before ending with a long stretch in one of Taipei's scenic riverside parks.)
Business was booming – and then 2020 arrived. "We were doing tours, we had built up our online presence, we were on several guide books, we had bloggers ready to go, and then the virus hit and there were no tourists anymore," Gates says. However, rather than throw in the towel, the two spotted an opportunity to diversify. Gates had worked in a bike shop for several years while in college, and had already begun to turn his hand to maintenance in order to keep the pair's fleet of touring bikes in good shape. Bryant, too, is naturally mechanically minded – a keen motorcycle hobbyist with a past career stint at Lexus before relocating to Taiwan. "People would do a tour and ride with us and then ask if they could keep using their bike for the rest of their stay," Bryant says. "We were also working on our own bikes, and our friends would come by with their bikes and have us tinker with them. So when the pandemic hit, it was an obvious transition to start up a bike shop." In the spring of 2020 the two moved to their current location in Dadaocheng, right at the heart of their city-tour route.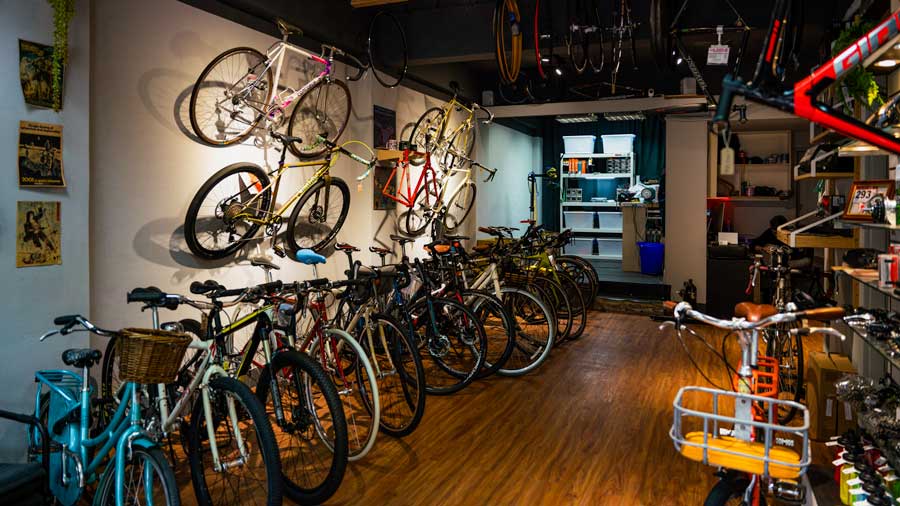 Servicing Bikes
For now, tours are postponed until Taiwan opens up to tourists again, and the business is focused solely on mechanical matters. When asked what services they provide, Gates reels off a long list: "We do rentals; we'll build wheels for you; we'll fix anything you bring to us; you get in an accident and chip the paint, we'll strip your bike, respray it, it'll look like it came from the factory again; we do a full service, where we break down the bike and put it back together again so it feels fresh; we do complete bicycle imports; we do used-bike sales, used parts, restorations; we do custom builds; we source hard-to-find parts…."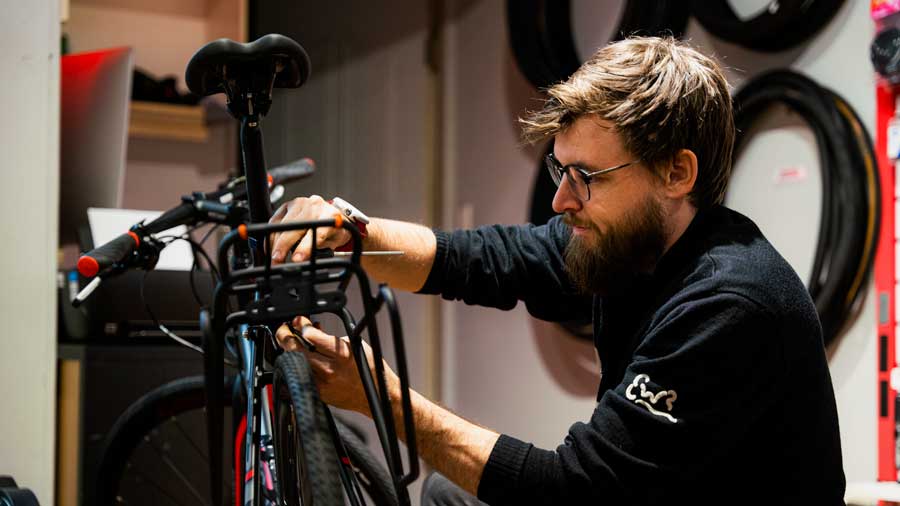 And while there are challenges to sourcing parts in Taiwan (having to work with more than 40 distributors rather than three as is the case with the US, for example), one factor certainly makes up for any hardship: Taiwan (and the city of Taichung in particular) is home to an overwhelming percentage of the world's bike manufacturing, including juggernauts Giant and Merida. And being so close to the industry's forge has its perks. As an example, Bryant points to a pair of wheel rims hanging from the ceiling: "The company that makes those is in Kaohsiung. They import the raw metal and make their proprietary alloy right in their factory. And then they provide their rims to all the other manufacturers. But we can buy rims directly from them, before they get a label slapped on. So if someone wants a high-quality rim, we can provide it to them, without a label, but for perhaps half the normal price. That way we're able to save the customer quite a bit of money."
Where to Cycle
As well as offering tours and cycling-hardware services, the two are also happy to offer advice on how to get the best out of Taiwan's vast network of bike routes. "There are so many places to go!" says Bryant. "It really depends on what you want. Some people just want a nice, pleasant short bike ride, and Taipei's riverside parks are awesome for that.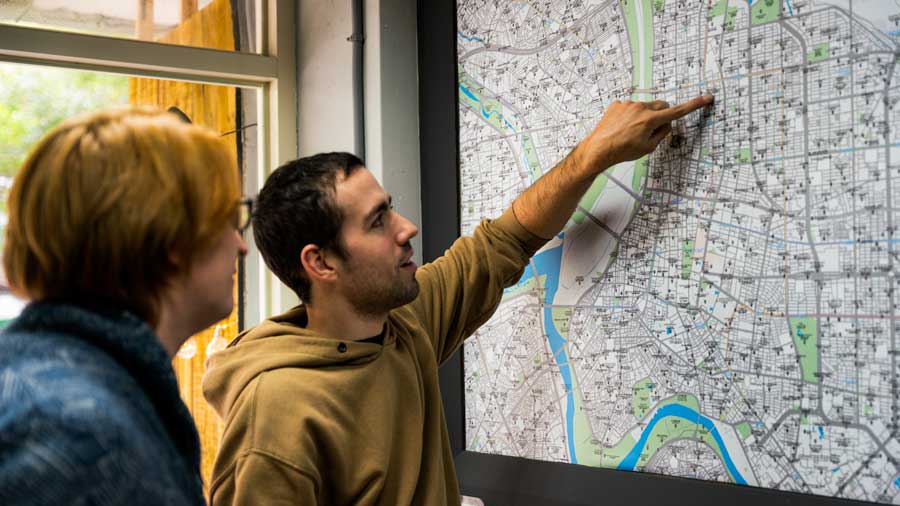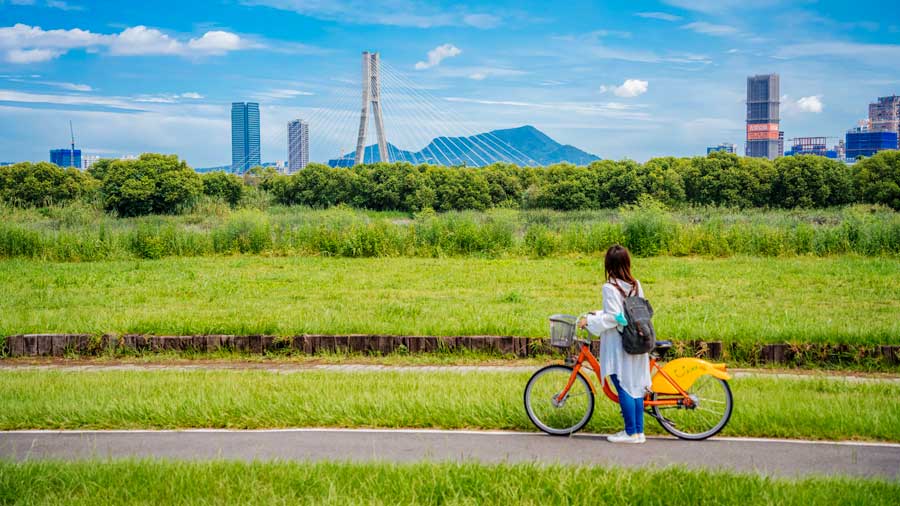 Some of our customers are into touring, and of course we recommend doing a huandao. But even that isn't a straightforward thing." Though it is possible to complete a circle of the island by following the signposted route, cyclists who do this will inevitably miss out on some of the island's more characterful cycling. "You can go on the government-recommended route and follow the signs the entire way, but you're going be riding along the side of main roads most of the way, and it may not be the most pleasant experience," Bryant says. "So we try to encourage people to veer off the established huandao route and explore some of the routes in urban areas, which have really started to open up in recent years. There's a great one for example in Taichung – the Houfeng Bikeway, and there are many options similar to that. So if you're going around Taiwan, and you have the time, we really recommend you take advantage of the infrastructure that's been built for bikes in the cities."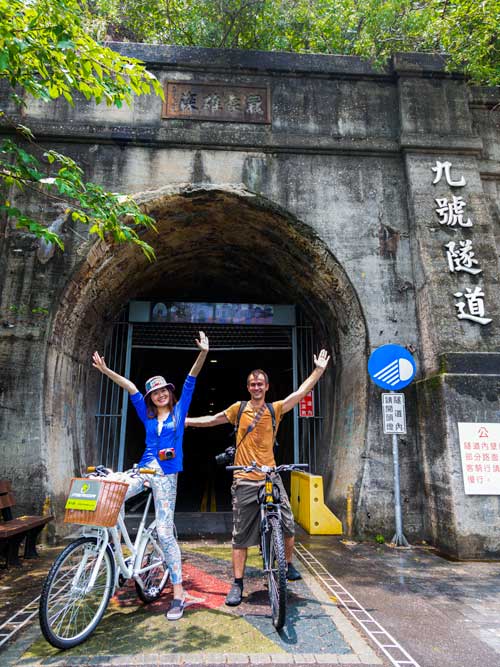 Gates, on the other hand, is more interested in promoting Taiwan's mountain routes. "I've cycled quite a few of the routes in Yangmingshan and Maokong" – two areas easily reachable from central Taipei – "and recorded them on the Strava fitness-tracking app. So if someone comes into the store who is interested in climbing, they can go through my routes and load them to their phone." One route that Gates particularly loves is the Buddha Hand route in the Yangmingshan National Park area, which dips in and out of the park over a distance of 140km, mimicking the shape of a giant hand – though beginners will need to build up their stamina on some of Gates's less-arduous routes before attempting this challenging trek!
Taipei Bike Works/Taipei Bike Tours
Add: No. 9, Ln. 70, Sec. 2, Chongqing N. Rd., Datong Dist., Taipei City
(台北市大同區70巷二段重慶北路9號)
Tel: 0982-277-996
Website