Places to Stay with Artsy Characters and a Warm Feel
TEXT / KIM WEINERS
PHOTOS / RAY CHANG

Hualien, one of three counties along Taiwan's eastern coast, is full of gems hidden not only amidst its natural landscapes but also deep within its culture, traditions, and artistic expressions. In the county's Hualien City as well as in its rural townships, visitors are treated to sights that amaze and inspire. From charming homestays in the mountains, in valley farming areas, and by the sea to sophisticated modern hotels in the city, Hualien has a wealth of fascinating, one-of-a kind places to stay that satisfy both first-time as well as returning visitors.
Often hailed as one of the most enchanting cities in Taiwan, Hualien is a growing urban enclave that fills up a small plain tucked alongside the majestic mountains of the mighty Central Mountain Range. Just a few hours by car or express train from Taipei, the city – and the county it is part of – is now more accessible to visitors than ever thanks to the recent addition of alternative inland highway sections (through many tunnels) parallel to the winding coastal highway (connecting Yilan and Hualien counties). In addition to its rich history, culture, and dazzling natural beauty, Hualien is also well-known for its outstanding established and young up-and-coming artists. With their ingenuity and creativity being expressed in paintings, crafts, music, and sculpture, and infused with both indigenous and Han Chinese influences, Hualien is experiencing something of an artistic revolution. From the central city area to the breathtaking coastline to the pastoral scenery of the East Rift Valley, a wide array of unique homestays, hotels, restaurants, cafés, museums, and other attractions offer something for every visitor to enjoy.
Adagio Shihtiping
Located right by the gorgeous Pacific shoreline, adjacent to the Shitiping recreation area, Adagio combines modern accommodation and style with indigenous cultural elements in providing a uniquely relaxing boutique inn experience.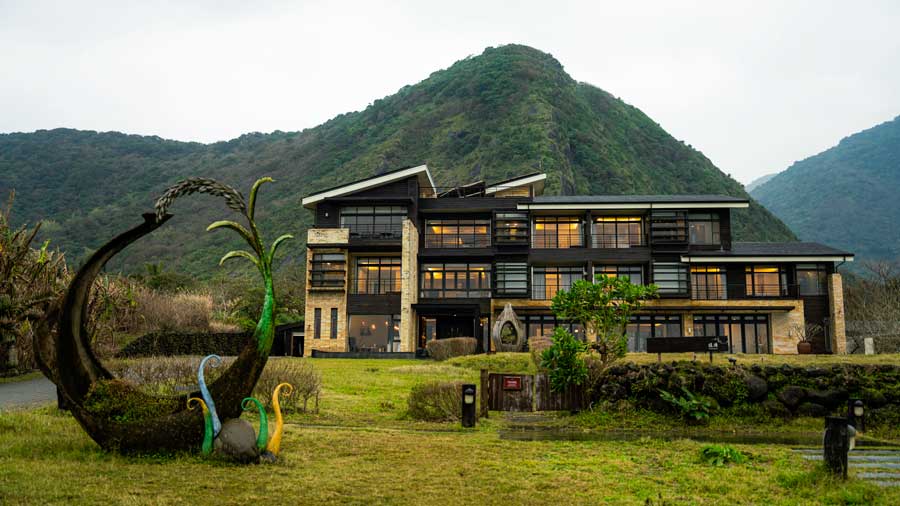 In music, an "adagio" is defined as a movement, passage, or composition played at a slow tempo. Fittingly, everything in this designer B&B encourages guests to unwind and enjoy their stay at a slow tempo. Showcasing beautiful views of the Pacific through its sea-facing windows, Adagio aims at being part of the flow of nature itself. A simple architectural design was used to blend the building into the surrounding mountain and ocean scenery. Guests stay in airy, inviting rooms decorated with natural stone and wood materials that reflect the natural elements of the landscape, bringing the feel of the outdoors inside. Perfect for stargazing and watching the sunrise, Adagio invites its guests to experience the beauty of the Pacific coast through day and night.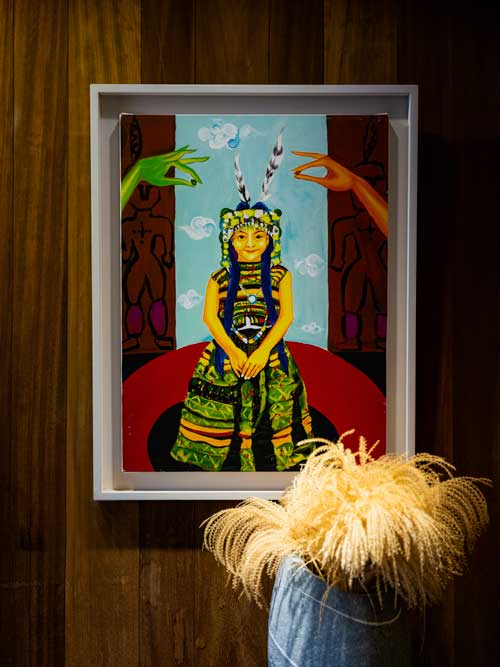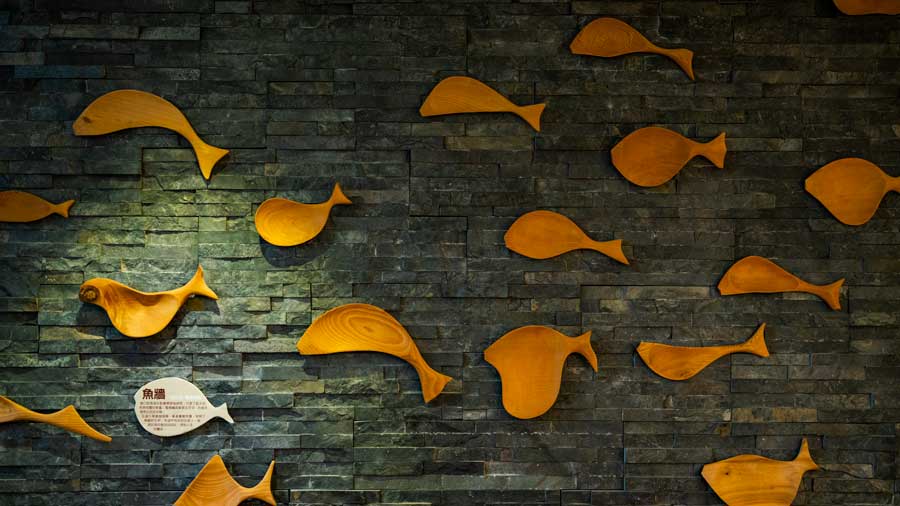 Available in the inn's gift shop are various works of indigenous art and handmade items such as soaps, mugs, and handbags. A sprawling art exhibit on the first floor features the work of local artists, and all items for sale are the work of local craftsmen. The walls in the common areas are decorated with dozens of paintings and wooden art installations, giving them a fun, playful vibe. Dining at Adagio, you enjoy local cuisine made with ingredients such as wild vegetables, flying fish, salted pork, and sweet potatoes, cooked in the style of the indigenous Amis tribe. The menu is changed according to season.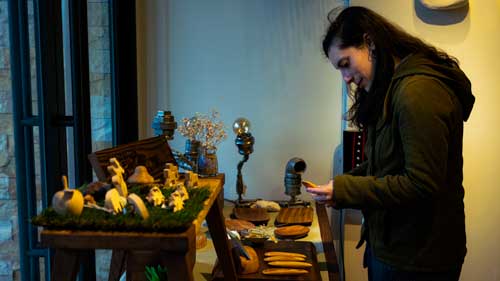 A short drive south from the inn is Jingpu village, where visitors can experience traditional indigenous culture. The village is located on the southern bank of the Xiuguluan River, right where the river flows into the ocean. The most prominent scenic feature here is Shiqiu Island, a tiny speck of land sitting right in the river mouth.
Shitiping and Jingpu can be reached from Hualien Railway Station by taking buses 1140 or 1145 bound for Jingpu. The homestay is a five-minute walk from the North Shitiping bus stop. If you drive yourself, follow the coastal Provincial Highway No. 11 to Shitiping (64km marker).
Adagio Shihtiping
(緩慢石梯坪)
Tel: 0971-566-188
Add: No. 123, Shitiwan, Fengbin Township, Hualien County
(花蓮縣豐濱鄉石梯灣123號)
Website

Fangshuh
If you want to get lost in the beauty of the slow-paced life of the East Rift Valley, look no further than Fenglin Township, where you can stay at Fangshuh, a gorgeous place consisting of a lodge, a café, and a campground.
Located just to the east of Fenglin town, Fangshuh is surrounded by farm fields with the rugged peaks of the Central Mountain Range clearly seen in the distance. Once a farm, the property was used to process tobacco in the old days, the leaves being dried under the high ceilings of purpose-built houses.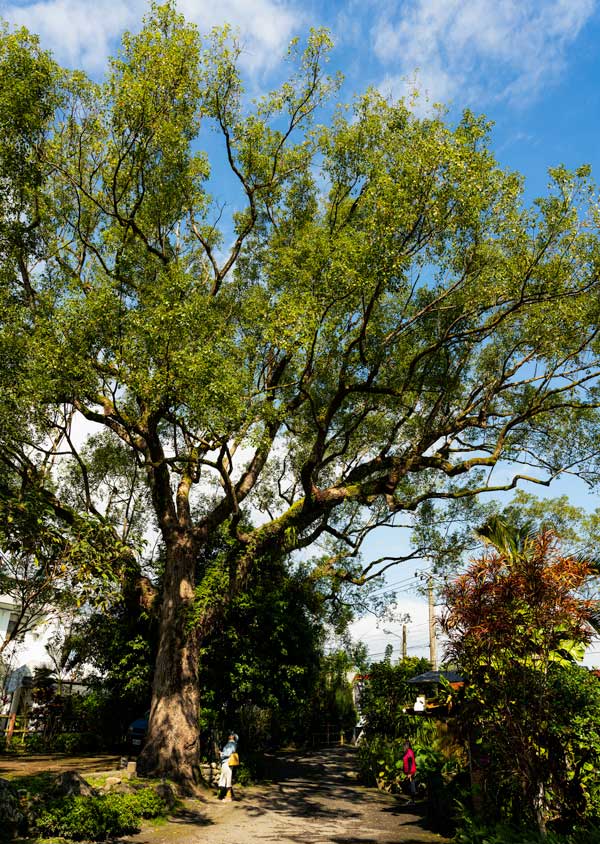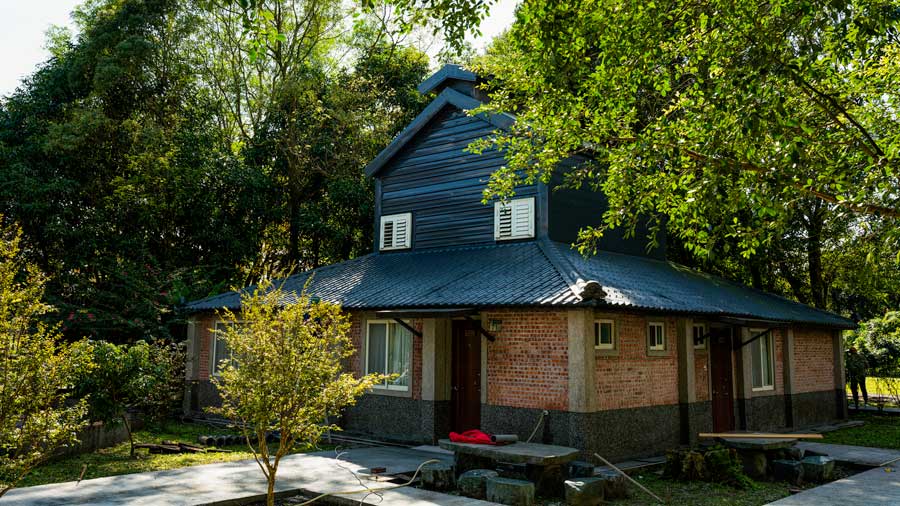 Fangshuh's restaurant is decorated in the style of the Japanese colonial era (1895~1945), paying homage to the property's history as a tobacco-processing site during that period. The food served is local Hakka cuisine (the Japanese brought experienced tobacco-farming Hakka over from Taiwan's west side), including mouthwatering congee with fresh vegetables, omelet with carrots, and pork floss.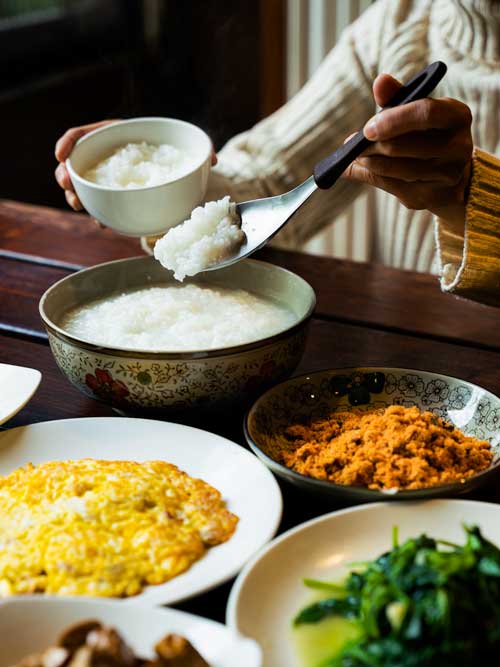 In the café, adjacent to the restaurant, reside a sweet and friendly group of furry friends comprised of the resident dogs and cats, who eagerly greet guests and will accompany you while you sip your coffee. The coffee beans are roasted on site with great care, resulting in a uniquely delicious brew that will have you asking for another cup.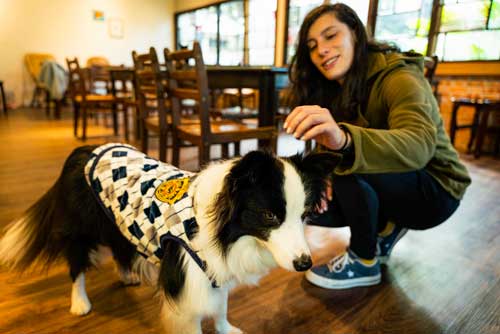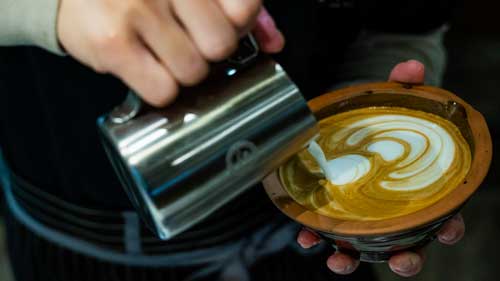 If you're staying the night, whether it be camping or staying in one of the lodge buildings, Fangshuh provides all the amenities to make your time here pleasant. The rooms are comfortable and homey, with plenty of outdoor space to relax and enjoy. During your stay, select a DIY class to learn how to make lei cha or "ground tea," a Hakka specialty, put together some Hakka handmade mochi (glutinous rice balls), or dye cloth using traditional methods.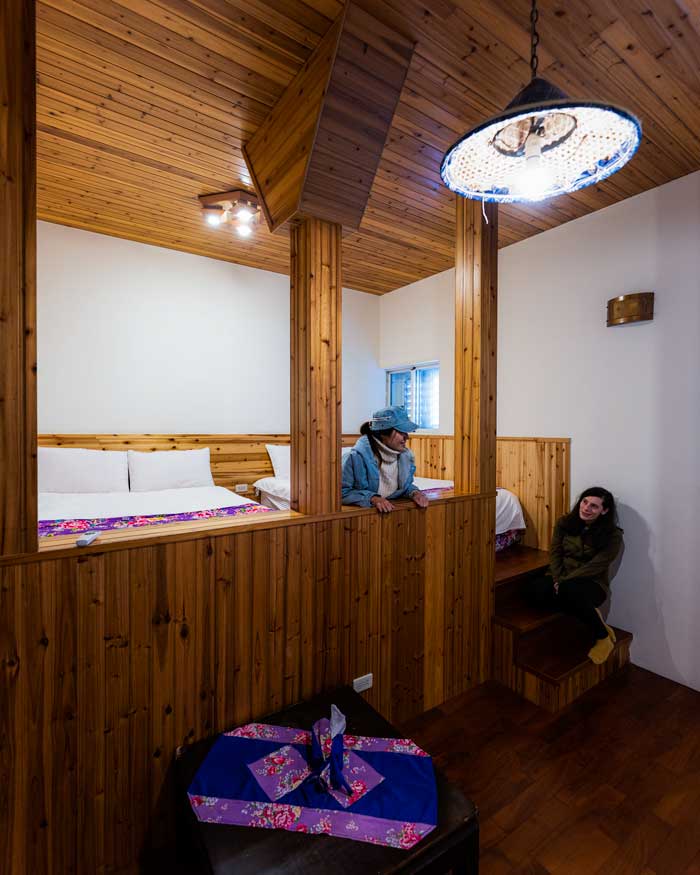 Fangshuh
(芳草古樹花園民宿)
Tel: (03) 876-0437
Add: No. 71, Zhonghe Rd., Fenglin Township, Hualien County
(花蓮縣鳳林鎮中和路71號)
Website

Fenglin Hakka Cultural Museum
The Fenglin Hakka Cultural Museum is a must-visit for those interested in the history and culture of the Hakka people. In Taiwan, the Hakka number around 4.6 million people, around 20% of the population. Fenglin is one of the oldest settlements of Hakka in Hualien; the first residents were incentivized by the Japanese government to move here in the early 20th century. Today, the majority of Fenglin's population is still Hakka, with remains of colonial-era buildings still visible in the township.
The Hakka people's contributions to Taiwanese history, as well as their origins in the province of Guangdong and other parts of China, are covered in great detail here. Visitors can trace their migration, take a look at traditional farming tools, marvel at bamboo-weaving displays, and enjoy informational videos in a multimedia room. With informative and captivating exhibits, every floor of the museum provides an opportunity to learn something new and gain a new appreciation for the Hakka culture.
Fenglin Hakka Cultural Museum
(鳳林客家文物館)
Tel: (03) 876-2625
Add: No. 164, Zhonghua Rd., Fenglin Township, Hualien County
(花蓮縣鳳林鎮中華路164號)

Fenglin Principal Dream Factory
Across from the Fenglin Hakka Cultural Museum is the interestingly named Fenglin Principal Dream Factory. Originally the residence of the community chief, the Japanese-style wooden structure has been turned into a unique museum honoring residents of Fenglin, who have an unusual tendency to become school principals. Around 90 residents born here have gone on to take the top job at various schools around the island – leading to the nickname "hometown of school heads" for Fenglin. The Dream Factory cheerfully celebrates these principals' dedication to their students and to the future of education in Taiwan. Free guided tours, led by a retired school principal, are available from 8:30am to 12 noon and again from 1:30pm to 5pm.
Fenglin Principal Dream Factory
(校長夢工廠)
Tel: (03) 876-4779
Add: No. 16, Minsheng St., Fenglin Township, Hualien County
(花蓮縣鳳林鎮民生街16號)
To get to Fenglin, take a train; Fangshuh, the Hakka Cultural Museum, and the Principal Dream Factory are all within walking distance from the railway station. From Hualien Railway Station you can also take Taiwan Tourist Shuttle bus No. 303 (Hualien Route) and get off at the Fenglin Station bus stop. If self-driving, take Provincial Highway No. 9; Fenglin is about 30km south of Hualien City.

The Leaf Inn
Tucked away on the outskirts of Hualien City, The Leaf Inn's backstory is as unique as the inn itself. Long abandoned, the inn's buildings were originally a port authority dormitory complex, used to accommodate employees working at the nearby harbor. Sitting empty for more than thirty years, the site had been all but forgotten before it was bought and converted into The Leaf Inn. The structures have now gained new purpose as a hip, modern hangout spot where you can stay for the night, grab a bite to eat or drink, view works of art, or gather with friends to enjoy live music.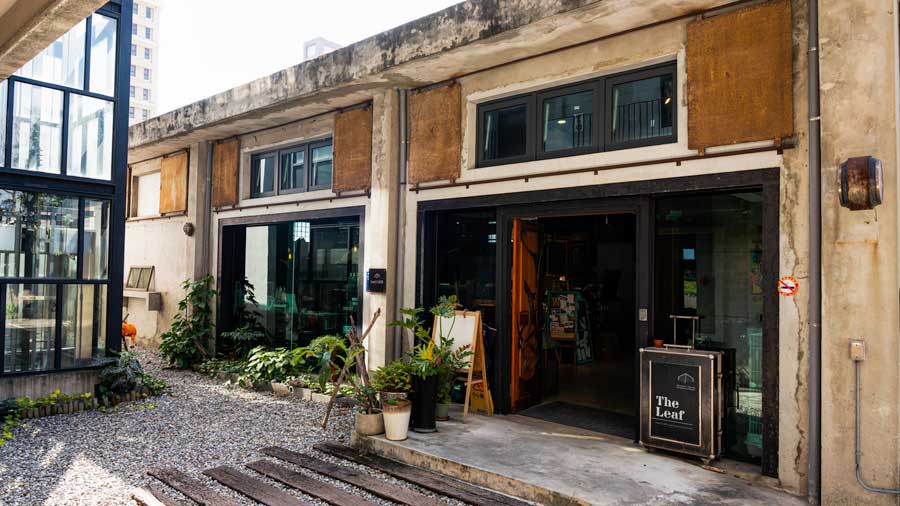 Inside the main building are three floors of twelve rooms each, the rooms decorated with one-of-a-kind designs by different artists. Behind the main building is a converted grain warehouse filled with restored furniture and sundry items reappropriated for use as furniture, including a former warehouse door that now serves as a dining table. The split-level café is open and airy, with a modern industrial feel that pays homage to the warehouse's original purpose. On the first level is a revolving art-exhibit space featuring innovative works from Taiwanese artists. Handmade crafts, bags, postcards, and more can also be purchased here. The second level is used to host live events featuring local musicians on Saturdays from 8 to 10pm. The café is open from 2 to 10pm.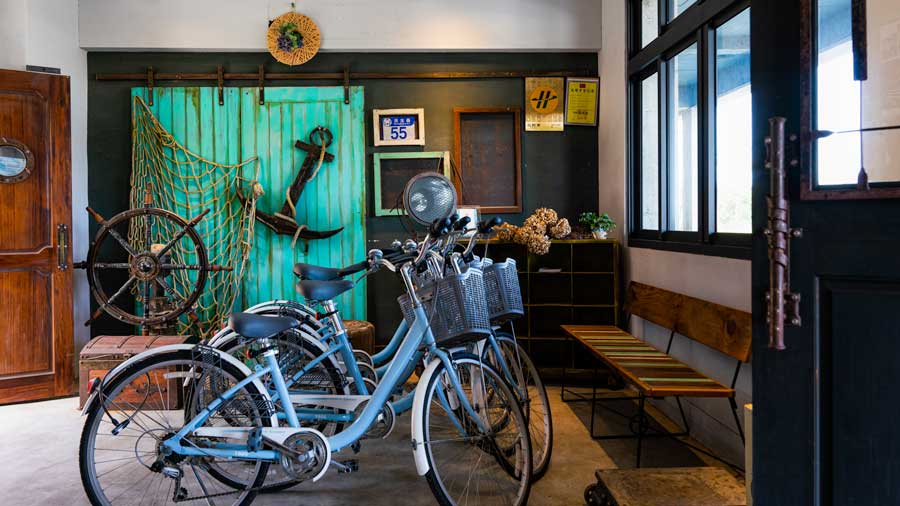 After taking in the history and art of The Leaf Inn, the harbor and the sea are just a quick hop across the street, providing the best of both Hualien's urban areas and proximity to the coastline.
Leaf Inn is reachable by car or through a taxi pickup from the railway station, which the hotel provides to guests free of charge.
The Leaf Inn
(葉宿文旅)
Tel: (03) 822-2899
Add: No. 55, Minsheng Rd., Hualien City, Hualien County
(花蓮縣花蓮市民生路55號)
Website

Select Places to Visit in Hualien City
Hualien Harbor, constructed in the 1930s, was used in the past to export sugar and served as an entry point for domestic cargo. In modern times, the harbor has become a port of call for cruise ships and a launch point for whale-watching tours. It also plays an important role in the shipping of gravel, cement, and marble. Visitors can indulge in various types of seafood at the harborside seafood market.
Qixingtan (lit. Seven Star Lake) was originally the name of a lake, shaped like the Big Dipper, which was located at the site today occupied by the Hualien Airport. It now refers to the beautiful crescent-shaped pebble beach bay northeast of the airport. This is a great place to watch the sunrise and go for long bicycle rides.
Tucked away in the winding alleys of central Hualien is the Gouziwei Street neighborhood, an area that invites visitors to take a step back in time. Popular here is Liming Black Tea, a vintage-style breakfast shop offering Taiwanese early-morning favorites like toast, egg pie, and turnip cake, plus a wide range of teas.
Liming Black Tea
(黎明紅茶)
Tel: (03) 835-6883
Add: No. 185, Nanjing St., Hualien City, Hualien County
(花蓮縣花蓮市南京街185號)
Facebook
For lunch, stop off in Zhi Nan, a quaint restaurant styled as an old-school tailor's shop, serving simple but delicious fare: pork bowl with rice and a runny egg, accompanied by cucumbers and carrot soup.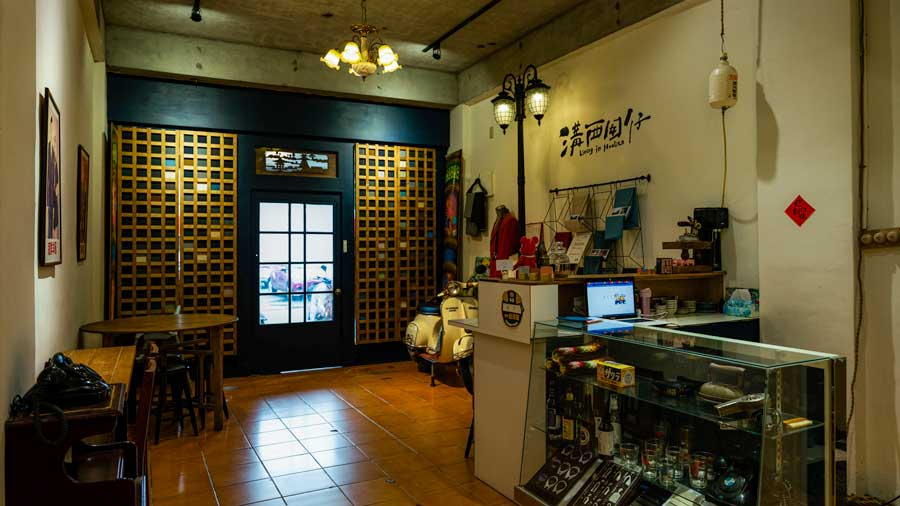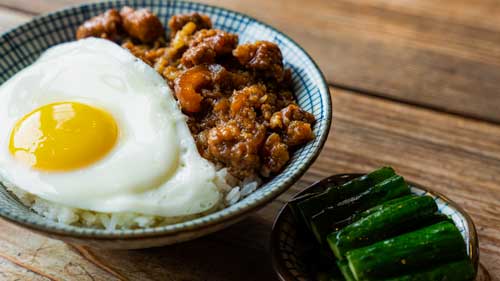 Zhi Nan
(痣男)
Add: No. 75, Mingyi St., Hualien City, Hualien County
(花蓮縣花蓮市明義街75號)
Facebook
Also head to Café Shouwa, known for unique Japanese-style desserts. With a record player and 1950s-style décor, diners can enjoy light and sweet Japanese-style cakes, pies, and matcha in a retro atmosphere.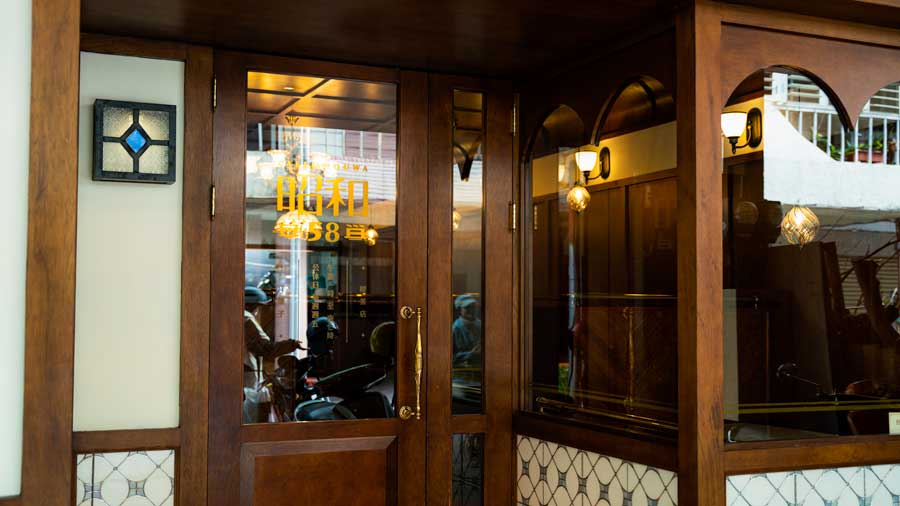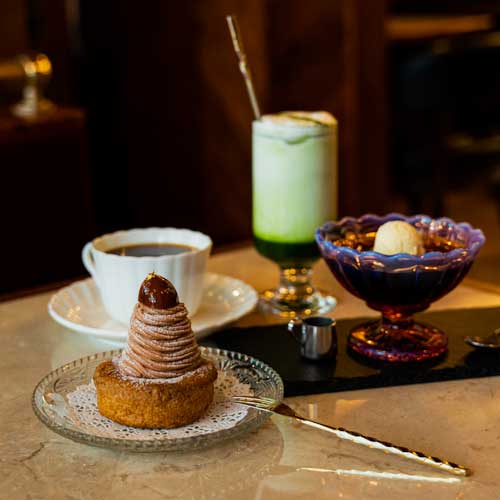 Café Shouwa
(昭和58咖啡)
Tel: (03) 822-2899
Add: No. 306, Chenggong St., Hualien City, Hualien County
(花蓮縣花蓮市成功街306號)
Facebook