A Visit to the Indigenous Village of Alang Tongan
TEXT / AMI BARNES
PHOTOS / RAY CHANG, VISION

Tucked snugly into the Nanshan River valley in Nantou County's Ren'ai Township sits Alang Tongan – an indigenous community within Nanfeng Village where an ambitious social enterprise seeks to redefine "tribal tourism," turning it into something that is beneficial to villages and visitors alike. Despite the allure of city life, recent years have seen many young members of the tribe returning to take up the mantle of environmental and cultural preservation. Knowledge sharing and organic farming opportunities are empowering villagers to take charge of their own collective fate, telling their own tales, and enabling them to connect with visitors in ways that are both meaningful and mutually rewarding.
Like many first-time foreign visitors, I arrived in Taiwan with only the most rudimentary understanding of the indigenous peoples who call this land home. I couldn't have told you the names of the 16 tribes that are currently officially recognized (nor those still petitioning for official status), much less any of the rich tapestry of stories, customs, and histories that are woven into the communal fabric of each distinct group.
Over time I've listened, hoping to gain a broader awareness of how the members of indigenous tribes fit into the complex patchwork that constitutes contemporary Taiwan, but I'm well aware of the gaps in my knowledge. I have also felt uneasy about the ethics of tourism in indigenous villages, unsure whether my presence would be unwanted at best or detrimental at worst. Fortunately, there are a number of indigenous groups that have been working to engage visitors on their own terms, providing experiences that are holistic, educational, and (crucially) beneficial. The Seediq (also often spelled Sediq) people of Alang Tongan is one such group.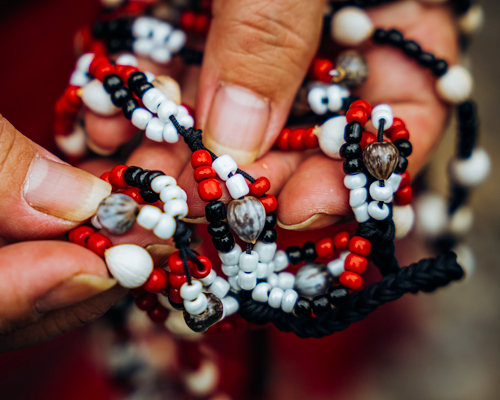 Alang Tongan Village
Despite only having gained official recognition quite recently, in 2008, the Seediq (who prefer the designations Seediq Tgdaya, Seediq Toda, or Seediq Truku depending on which region of Nantou they hail from), enjoy a high profile domestically and abroad. This is due in no small part to the historical drama Warriors of the Rainbow: Seediq Bale, a 2011 film immortalizing the bloody events of the Wushe Rebellion (aka Musha Incident), an uprising by the Seediq against the Japanese colonial rulers in 1930 that took place in the village of Wushe.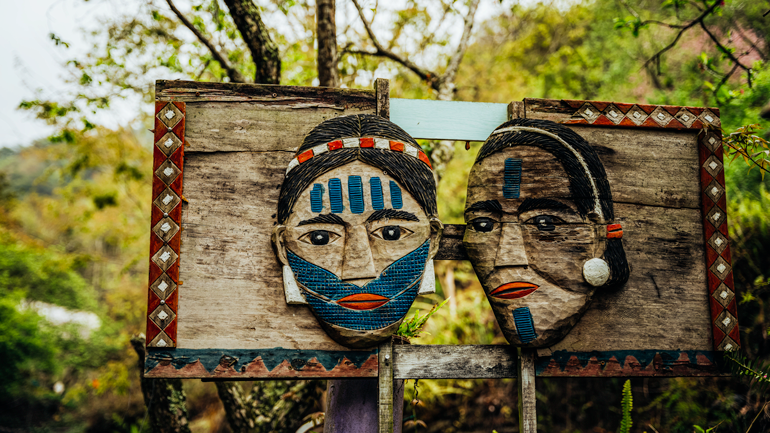 The tragedies depicted in the movie have left an indelible psychic bruise. A handful of community elders in Alang Tongan still remember loved ones lost in the violence, and there is vestigial skepticism towards outside authority. Successive generations have had their own struggles to contend with too – their land was hit hard by the 921 Earthquake in 1999, landslides caused by typhoons have spoiled farmland and silted up the river, and the area's natural beauty has been marred by the burden of excessive tourism.
Perhaps it's not surprising, therefore, that the inhabitants of Alang Tongan are seeking to carve out a living that allows them to live in peace with each other and the landscape. Many times during a recent Travel in Taiwan visit made to the village I heard the same refrain: we just want to make enough to live, enough to protect the land and the culture for future generations.
Traditional Ways of Living
Arriving around noon, we were greeted by Iyung Sapu, who chatted amiably as we waited for other members of the tribe who would also be taking part in introducing us to the village. Expressing regret that we wouldn't be staying to enjoy his cooking (indigenous fare is usually part and parcel of the Alang Tongan experience), he told us that although he'd previously left the village to study in the city, he felt compelled to return and contribute to community life.
Soon, a mother and daughter duo, Ape Neyung and Labe Sapu, arrived to instruct us in the art of weaving. Governed by strict taboos, weaving used to consume much of a tribeswoman's time. Now the skill is the preserve of a few elders and their students. We watched as Labe Sapu demonstrated weaving on a floor loom – sitting on the floor, her back straight, fingers moving with practiced ease. How long could she work like that? "All day," she replied breezily, "as long as I stop for lunch in the middle!"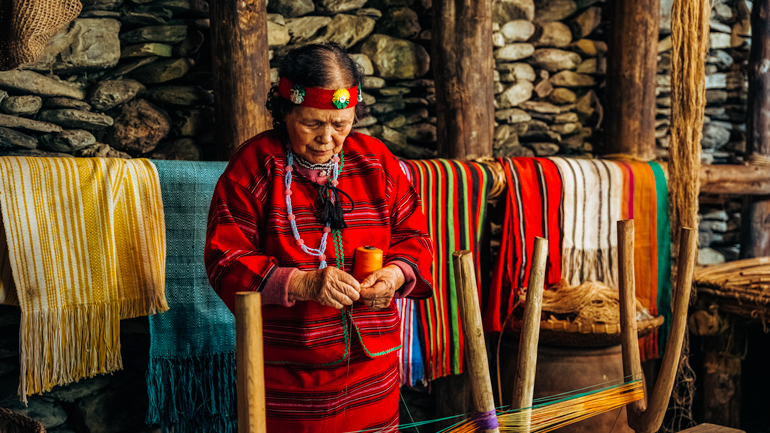 When it was my turn to give the weaving a try, I felt like a clumsy child, entirely unable to mimic the fluid movements I'd just watched. Ape kept watch from the sidelines, occasionally pointing out dropped threads, which Labe kindly told me not to worry about. I had flashbacks of my grandmother valiantly trying to teach me how to knit.
After the weaving session, Sapu Nyung, the father of Iyung Sapu, handed us traditional woven shawls to wear and conducted a ceremony to inform the ancestors they had visitors. Evidently the ceremony should have taken place when we had first arrived, but the spirits seemed good-natured enough, accustomed to the intrusion of city folk like us. He then detailed the features of Seediq architecture by showing us a traditional house and a hut used for storing grain and other foodstuffs. Nyung – an expert in this field – has been involved in building projects nationwide.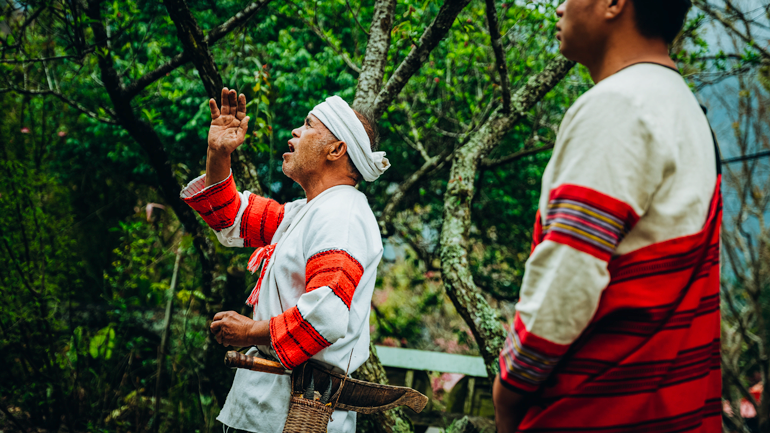 Impressively, these traditional structures where built entirely without nails or cement, and yet they're sturdy enough to withstand the multiple earthquakes and typhoons that rattle Taiwan every year. These techniques take a lifetime to hone and now – as with traditional weaving – there are few people who retain the knowledge.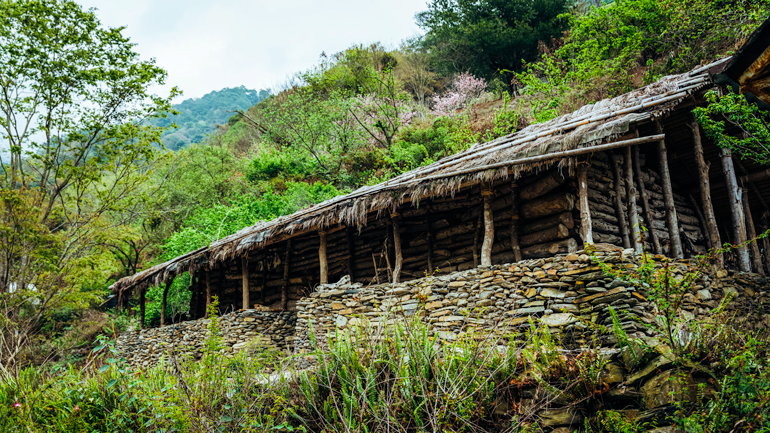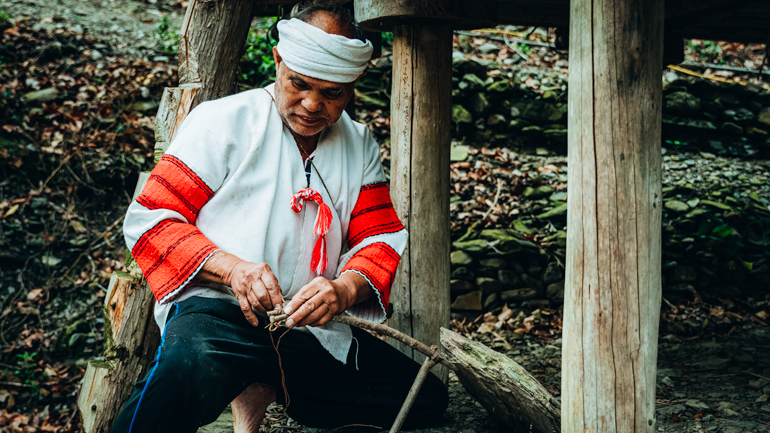 Our final guides on this short indigenous-village experience tour were Iyung Pawan and his son Pawan Neyung, who was one of the many Seediq actors in the aforementioned movie. Fresh back from an archery competition, they demonstrated how bows and arrows are used to hunt in Nantou's mountain forests. My companions had a go, but after so ineptly operating the loom, I demurred. It seemed safer to leave arrow firing to the professionals.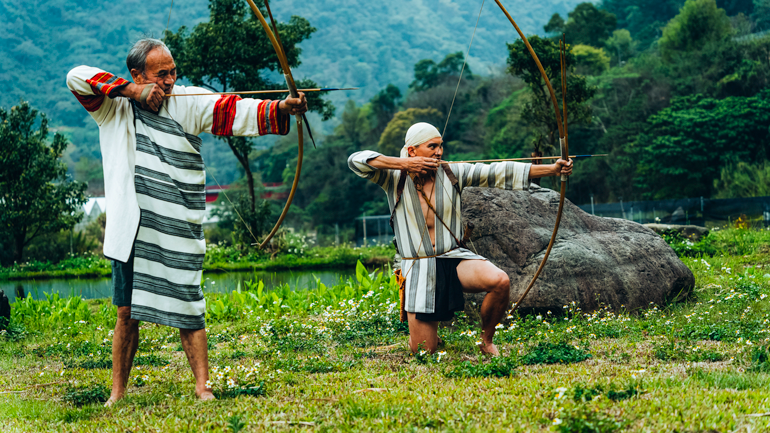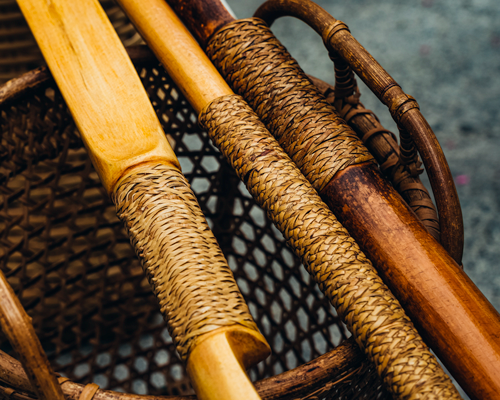 Dream Valley Waterfall
A brief drive further up the valley from Alang Tongan is the pretty Menggu Waterfall. In English "Menggu" can be translated as "Dream Valley" – an apt moniker given the spot's picturesque nature. Visit during the May~August butterfly season to see some of the 120 species of butterfly which set the air aflutter.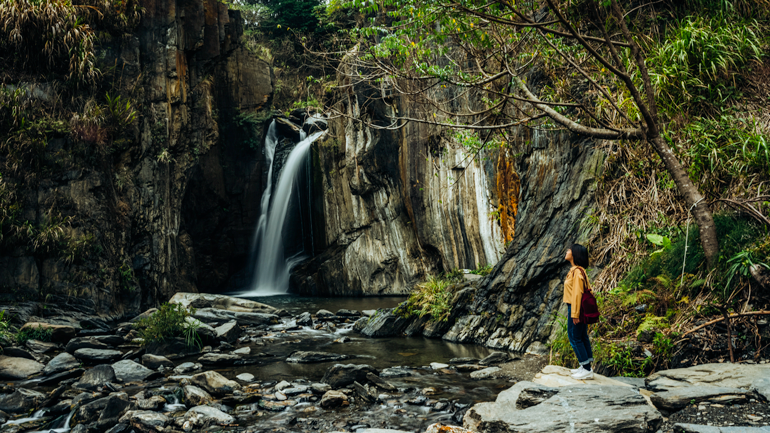 How to Get There
By car: Follow National Highway 6 inland from central Taichung City until it ends at Provincial Highway 14. After another 10~15 minutes of driving eastwards, at the 71.5km marker turn left onto Songyuan Lane – the village is a short distance up the road.
By bus: From Puli's bus station, take bus 6658, 6659, or 6664 and get off at Nanshanxi (南山溪) bus stop.

Visitors wishing to participate in the cultural experiences are asked to make advance reservations.
Alang Tongan Industry Promotion and Development Association Corp.
(社團法人南投縣仁愛鄉東岸部落產業促進發展協會)
Tel: (04) 2235-0323
Add: No. 80, Songyuan Lane, Nanfeng Village, Ren'ai Township, Nantou County
(南投縣仁愛鄉南豐村松原巷80號)
Kalibuan Indigenous Village
Alang Tongan in Ren'ai Township is not the only indigenous village in Nantou County inviting visitors to experience traditional tribal culture. Another village that has been successful in providing a comprehensive environment for tourists wishing to get to know indigenous culture amidst breathtaking scenery is Kalibuan (Wangxiang in Mandarin) in Xinyi Township. Located off Provincial Highway 21, close to the hot-spring village of Dongpu, this Bunun tribe settlement is known for being the only indigenous village in Taiwan from where you can clearly see the main peak of Mt. Jade, the island's highest mountain.

Like many indigenous communities in Taiwan, Kalibuan has seen members of its younger generation leaving for the cities in search for job opportunities and a more modern life. In the early 2000s the village started an initiative to make it more attractive to visitors and thus create more employment opportunities for those who wish to stay at home or even come back from the cities. The village's co-op has over the years systematically created new tourism facilities and services, including a visitor center, homestay accommodations, guided tours, and cultural programs.

In order to spread income derived from tourism equally among the village residents, the co-op is in charge of handling homestay reservations, distributing visitors to the different guesthouses in a fair manner. Among the things to do while in Kalibuan are guided walks of the 6km Manuduo Hunter Trail, traversing the picturesque Thousand Year Suspension Bridge, checking out the distinctive local church, and feasting on Bunun specialties.

Located on the main highway to Tataka, the starting point for hikes up Mt. Jade, and near Dongpu village, close to the trailhead of the Batongguan Historic Trail, Kalibuan is a perfect stopover place for hikers on their way up into the higher mountains.
Kalibuan Indigenous Community
(望鄉部落 – 望美社區合作社)
Tel: (049)2702-320
Add: No. 1, Wanghe Lane, Wangmei Village, Xinyi Township, Nantou County
(南投縣信義鄉望美村望和巷1號)
Website (Chinese)