Experiencing Indigenous Food in Central Taiwan
TEXT / RICK CHARETTE
PHOTOS / ASKA CHI
***
Many international travelers come to this land aware that a key contributor to the unique cultural mosaic of Taiwan is its many distinctive indigenous peoples. Of course, to best experience the various cultures it is best to travel to their traditional homeland areas. But a common misperception, including among the Taiwanese majority, is that you must travel up into the central mountains or down along the quiet east coast to enjoy tribal cuisine. No. Here is a yummy introduction to some high-quality indigenous cuisine eateries in the central region – found right in a flatland big city as well as in a town inside a lovely foothills basin within quick reach of the western plains.
***
This issue's main feature article is focused on the Sun Moon Lake area in the low central mountains, so in this file we present three high-quality indigenous restaurants in the central-plains gateway city to Sun Moon Lake, Taichung. All three are located in the city's urban core. We also present two fine indigene-run establishments in the foothills-basin town of Puli, the last urban center before Sun Moon Lake is reached.
As in many countries around the world, members of Taiwan's tribal peoples move away from homeland areas to study or work. Our Taichung selections are run by individuals who cherish their homeland areas. Our Puli selections are run by individuals who have returned to their homeland roots.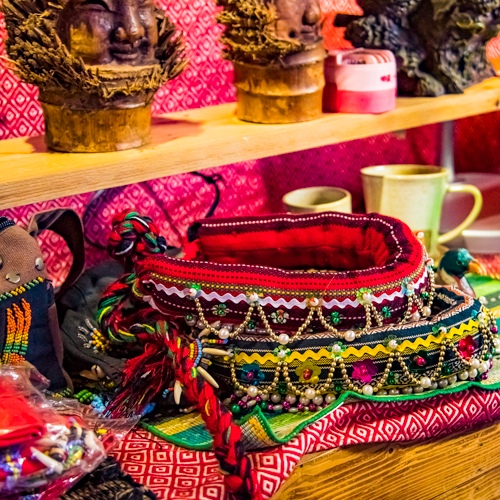 Though small in size, Taiwan is home to 16 officially recognized tribes, with a number of other groups also seeking recognition. With so many, and the significant terroir differences in the various tribal areas, there is significant variation in cuisines as well. But a few useful generalizations can be made:
While rice is key for Han Chinese, millet, yams, and taros have been the central indigenous non-meat staples. Slow-cooking is the norm, with emphasis on seasonal and organic ingredients. Natural flavors are preferred, with limited introduction of herbs and spices into dishes and almost non-existent use of sauces.
Local indigenes eat a fair amount of meat. Today traditional meat sources such as mountain boars and turtle doves are mostly farmed rather than hunted by mountain peoples. Roasting, grilling, and barbecuing are popular; south Taiwan's Paiwan and Rukai tribes grill on slate slabs heated from below. The sea is the main meat source for the coastal Amis and Orchid Island's Yami (Tao).
Mountain tribes also commonly consume tiny freshwater fish and shrimp with foraged vegetables that often have a stronger and more bitter taste than farmed vegetables. For convenience, some of these are now cultivated, which reduces the flavor and bitterness.
PULI
The town of Puli sits in a broad basin southeast of Taichung's urban core, surrounded by low mountains. Sun Moon Lake is a short distance due south. The basin is renowned for top-quality farm produce, attributed to the pure waters flowing down from the hills and the unusually mineral-rich silt sent down.
Futian No. 6 Cultural and Creative Park
The chalet-style cabin accommodations at Puli's Futian No. 6 Cultural and Creative Park were introduced in our main feature article. This tourist-focused, privately owned attraction, located amidst farmland by the Nangang River just south of the town's urban core, is run by a member of a yet-to-be-recognized lowlands tribe. A former foreign-exchange trader, he wanted to come back home and run an operation showcasing this region's indigenous cultural influences.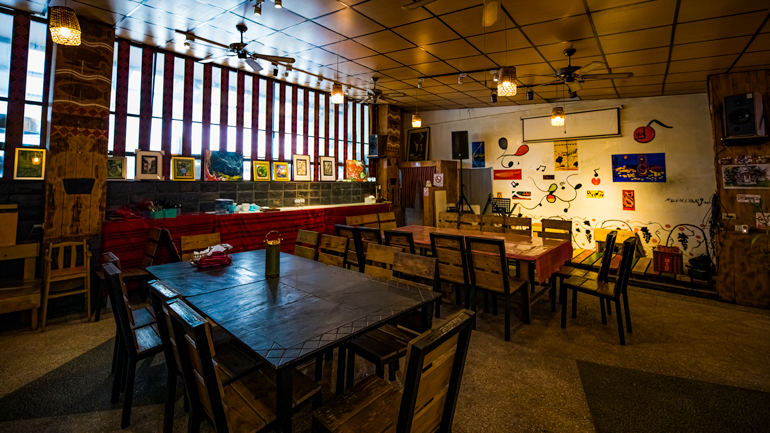 Members of the Atayal, Sediq, Thao, and Bunun tribes live in and around the basin, he states, and the menu at the large on-site indigenous restaurant concentrates on the cuisine of these groups, though not exclusively. Guests are served a very filling four-course meal (organic ingredients only), which changes slightly with the seasons. Highlights from among the very wide array of items served:
Traditional-style steamed bamboo-tube rice made with peanut, mushroom, and black bean, and traditional-style clear soup made with corn, mushroom, and pork rib. Taiwan's indigenous folk prefer simple, nutritious soups with original-ingredient tastes; the broth is brewed with whole corn cobs.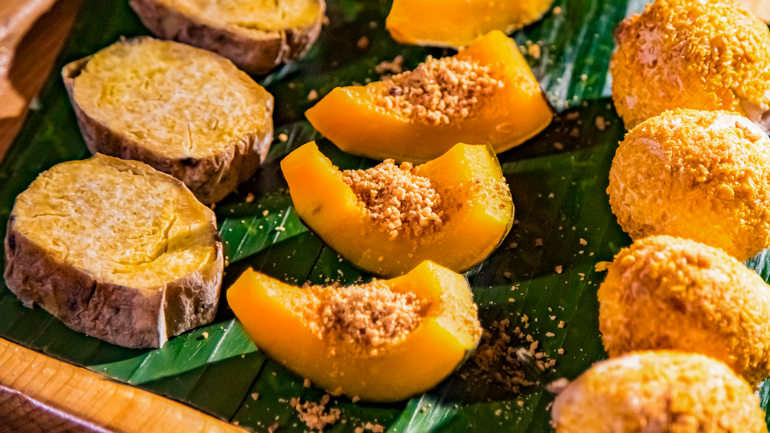 The owner, a seasoned international traveler, also incorporates a fair deal of fusion creation. The delicious fried taro balls are crunchy on the outside, smooth and creamy inside. And the dense-texture European-style breads are heavenly – one with cheese and magao (in Chinese called shan hujiao, or "mountain peppercorns," with hints of lemongrass and ginger) and one with pumpkin, red bean, and sweet potato.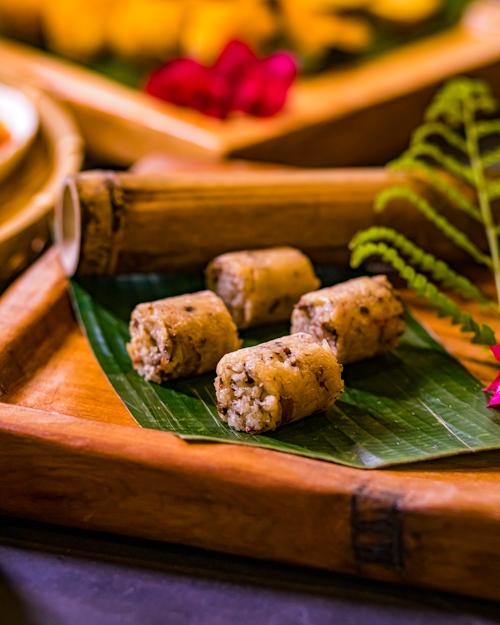 Note that, as explained in our main article, there is live indigenous entertainment Saturday night in the restaurant and for groups on weekends/holidays in the park's unique semi-outdoor performance area.
Futian No. 6 Cultural and Creative Park
(甫田六號文創園區)
Tel: 0931-060-224
Add: No. 389, Nanhuan Rd., Xinan Borough, Puli Township, Nantou County
(南投縣埔里鎮溪南里南環路389號)
Website (Chinese)
Yun Shan
Yun Shan ("Clouds and Mountains") is a small, young narrow-front eatery/café located on Puli town's east side, looking up at a plateau from which splashes of bright pastel colors regularly come drifting down – paragliders. It's run by a youthful Atayal brother-sister team who grew up in a hill village not far distant. The fellow's wife is Rukai, meaning Rukai delicacies join Atayal on the creative-cuisine menu.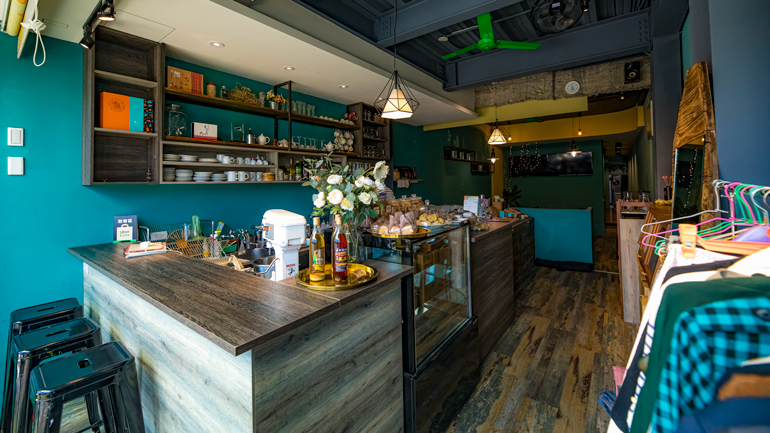 The main native items on the mixed indigenous/Chinese/Western menu are two set meals, the "Rukai chief set meal" and "Atayal warrior set meal." The two stars for the former are roast boar and jinafu (see "Remember to go home" entry below), for the latter roast turtle dove and bamboo-tube rice. Your dessert for each is one of the delicately sweet-and-savory house cookies, made with either magao, red quinoa, or cicong (Alianthus prickly ash, with a pepper and lemon taste). The cookies and scrumptious red quinoa and cheese scones can also be bought separately, as I did for takeaway, diet be damned.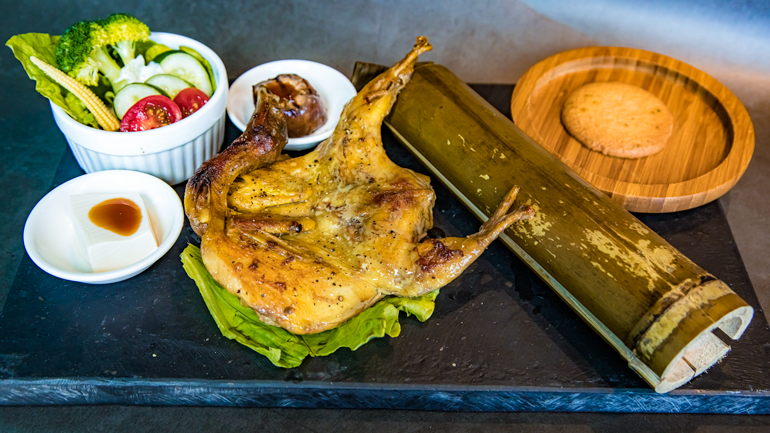 Yun Shan
(雲山)
Tel: (049) 242-2363
Add: No. 317, Heping E. Rd., Puli Township, Nantou County
(南投縣埔里鎮和平東路317號)
Facebook
Feeling 18
Nearby Yun Shan is a flavor-fantasia tourist hotspot called Feeling 18, with scores of different house-crafted gelato choices on colorful display at its gelato shop (there's also a chocolate shop, café, and food stands). Since our theme this issue is indigenous tastes, on this Travel in Taiwan research trip I chose the two-scoop option and went with cicong and almond along with magao and fleur de sel (no, in no way over-salty). Almonds are an important Puli-area crop. In our main feature article it was explained that high-quality Assam tea is cultivated around Sun Moon Lake – Feeling18's Assam milk tea gelato is another creamy dream local-theme possibility for you.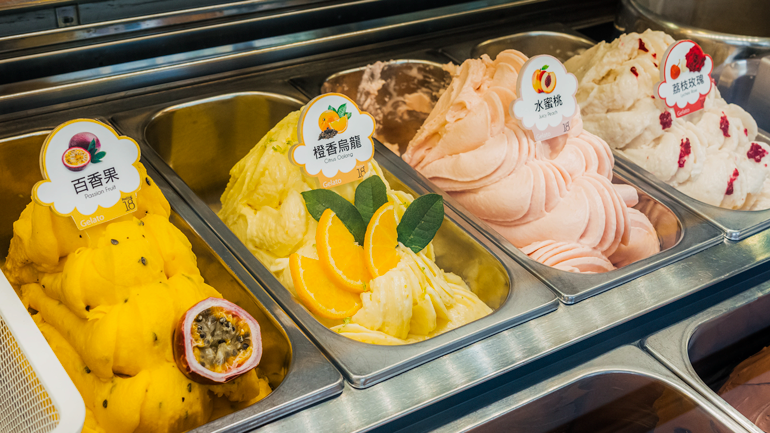 Feeling 18
(18度C)
Tel: (049) 298-4863
Add: No. 20, Ci'en St., Puli Township, Nantou County
(南投縣埔里鎮慈恩街20號)
Website
TAICHUNG CITY
Gulu Gulu
Gulu Gulu is a Taichung food and entertainment icon, opened in 2002, located on the long Art Museum Parkway, which is a wonderful greenery-centered gallery lined both sides with a gourmand-nirvana chorus line of highly individualistic owner-operated restaurants. Almost no chain names seen here.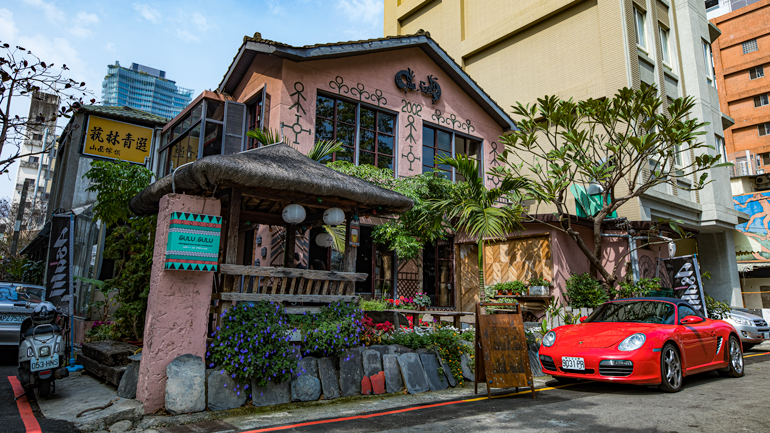 The restaurant is in a small stand-alone colonial-style home converted into a two-floor dining space. Second-floor diners can look down directly to the small first-floor stage, where the charismatic owner, a singer-songwriter from the Paiwan tribe, regularly entertains. If not listening to him live, you're listening to his popular recorded stage shows. The small house-front patio area, where you can also dine, is graced with many plants found in native villages, such as wild ginger, mint and fortunella margarita.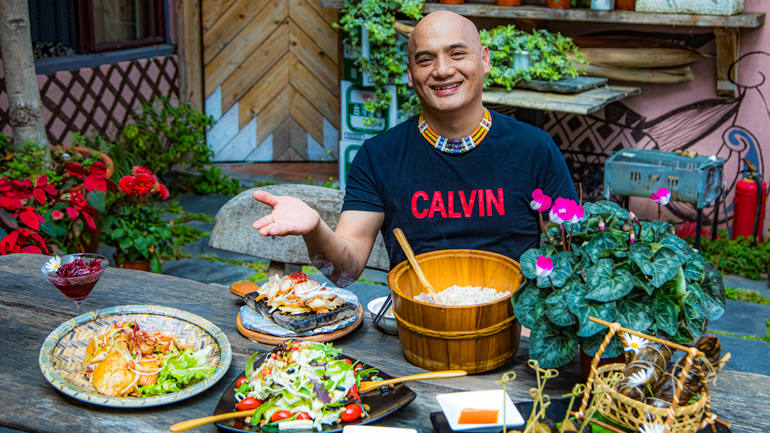 The menu is primarily Paiwan – the owner-couple are both from this tribe. Most native ingredients used are delivered from their home area in southern Taitung County. Among the finished items delivered are the delicious ah-vai, your writer's favorite native delicacy, which is fermented ground millet with minced pork wrapped in an edible leaf with a zesty, slightly sour flavor and, outside, inedible shell-ginger leaf. Steaming results in transfer of the leaf flavors to the innards.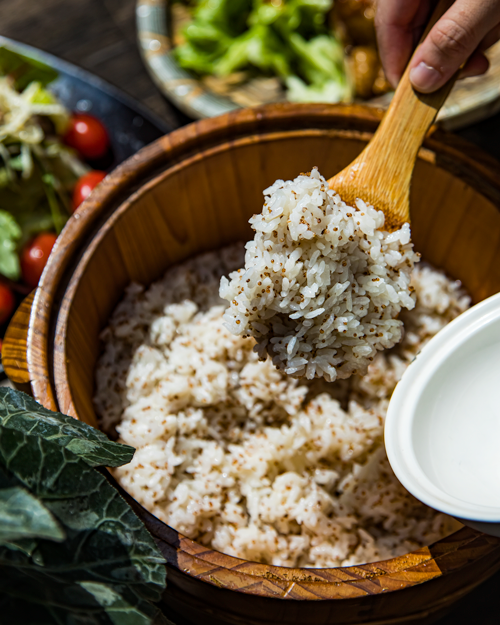 Other notable specialty items are the candied roselle calyxes, which are wood-smoked, the juicy stone-grilled boar served with chili pepper skin slivers, onion, and garlic, and the betelnut-flower salad. Roselle was introduced to Taiwan by the Japanese in 1910, from Singapore. The salad is a Western-style dish – cold salads are not part of traditional Taiwan tribal culture – that also features dried cranberries, pine nuts, cherry tomatoes, arugula, etc. The betelnut flower is soft and chewy, with a gentle flavor; betelnut has long been a crucial element in Austronesian culture.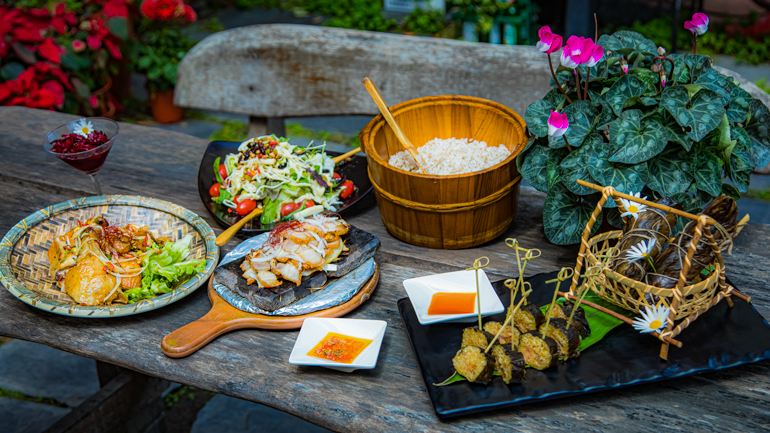 Gulu Gulu
(咕嚕咕嚕音樂餐廳)
Tel: (04) 2378-3128
Add: No. 2, Lane 13, Wuquan 4th St., West District, Taichung City
(台中市西區五權西四街13巷2號)
Facebook
Remember to go home
Remember to go home is a cozy pub-style eatery located on the first floor of a high-rise residential building, with entry directly from the street. The dynamically artsy entrance, with indigenous totems and images of natives hauling home a hunted boar and sitting outside a traditional hut, adds a burst of dramatic visual energy to the otherwise nondescript building exterior. The live music inside is provided by the patrons – you pump your coins into a nifty retro-style wall-mounted karaoke machine and your tune's video with lyrics comes up on a large TV screen. The joint is run by a young, hip basketball-loving Atayal fellow who wanted to quit the regular workaday world and find a way to introduce the culture of Taiwan's indigenous peoples to city folk. His menu incorporates favorite dishes from different tribes.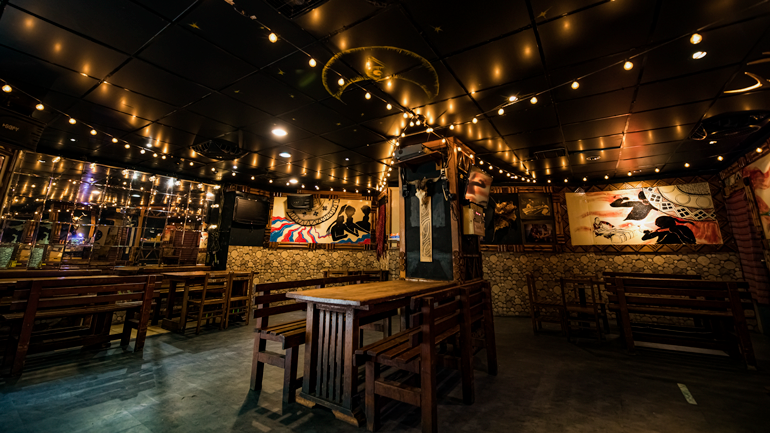 The most distinctive item on the menu is for the brave of palate, what the Atayal call damamian. This is raw pork fermented for weeks with rice and salt in a container, often a bamboo tube. Yes indeed it's gamey, but you'll be proud you did it afterwards. Texture and taste you'll not soon forget.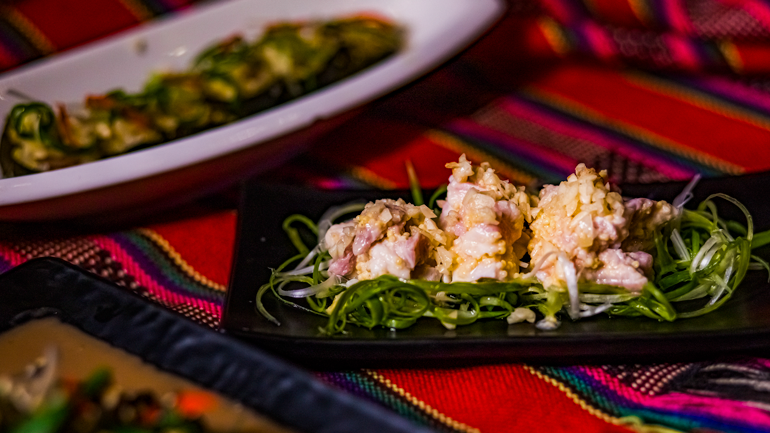 Back in the land of regular palate stimulation, among the other creations that are especially pleasing is the jinafu. This is what the Paiwan call their ah-vai; in the Paiwan version powdered taro is added. The steamed mountain fish, delivered fresh and changing with the seasons, is prepared with spring onion slivers, magao, and other high-mountain flavorings. The main ingredient in the "lover's tears" is spongy, gelatinous Nostoc commune, known in English as star jelly; it's called "lover's tears" to Taiwan natives because it tends to grow quickly after rains. It's served stir-fried with chicken egg, onion, chili pepper, etc.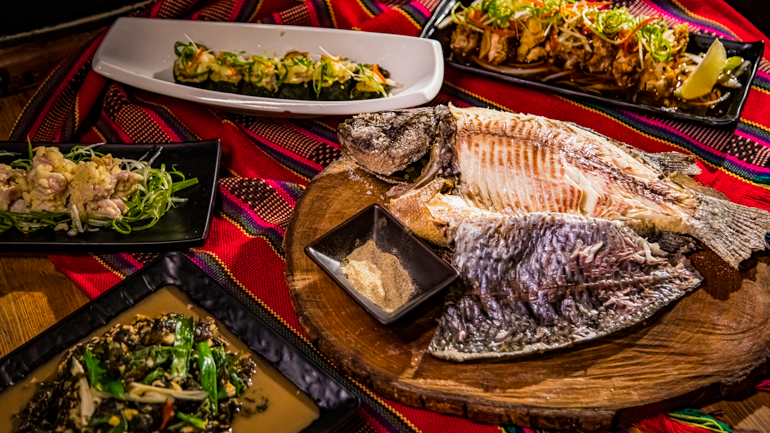 Remember to go home
(記得回家燒烤吧)
Tel: (04) 2235-2267
Add: No. 124, Xingjin Rd., North District, Taichung City
(台中市北區興進路124號)
Facebook
Urban Aboriginal Tribe Restaurant
The Urban Aboriginal Tribe Restaurant is a big, brightly-lit place with a party atmosphere that has the look and vibe of a boisterous old-style Taiwanese beerhouse, but with indigenous-theme trappings. This is a space for big, happy groups, seated around rustic-style wood tables and wooden stools and benches. Almost invariably you'll find staff and/or the night's live-music entertainers gathering around a table to sing the Happy Birthday song to someone.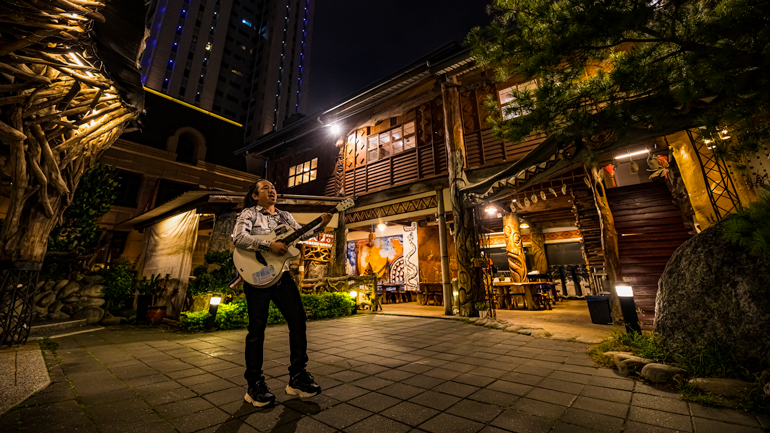 The menu is vast, with dishes showcasing many different homelands, and as with the aforementioned spots save for those where set meals are specifically mentioned, the dining is communal style. Following are three signature offerings. The succulent bucket roasted chicken comes with a soup of seasoned drippings and cooked innards into which you can dip your meat. The flavorful steamed rice with salted fish is a celebration of traditional warrior life; men would make rice balls with salted fish to take on hunting expeditions. The "Stone-grilled Combo" features flying fish roe sausage (no fishy taste) and salted pork.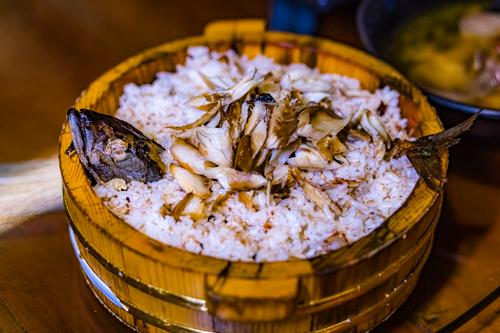 Among the long menu list of piquant "Tribal Vegetables" is garland chrysanthemum, black nightshade, Chinese wolfberry leaves, four-angled bean leaves, Alishan watercress and, yes, lover's tears.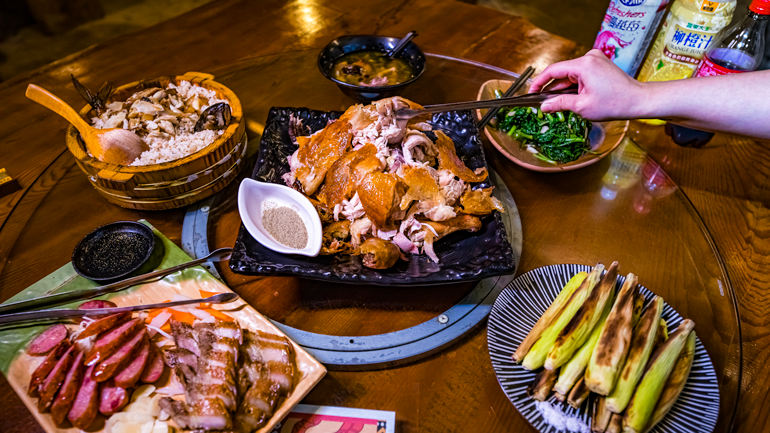 Each evening during the week an indigenous singer entertains (in English for Westerners), at times coming to tables and, sometimes, getting patrons involved in the singing as well. On weekends/holidays there is singing as well as song-and-dance performances.
Urban Aboriginal Tribe Restaurant
(城市部落)
Tel: (04) 2451-5858
Add: No. 568, Sec. 2, Qinghai Rd., Xitun District, Taichung City
(台中市西屯區青海路二段568號)
Website (Chinese)