A Famed Tourist Gem Surrounded by the Central Mountains
TEXT / RICK CHARETTE
PHOTOS / ASKA CHI

Picture-perfect Sun Moon Lake, snuggled in the foothills of Taiwan's Central Mountain Range, high peaks looking down into the lake basin on the east, is one of the prettiest of the island's bursting treasure vault of tourist mountain getaway destinations. Your range of experiences from which to choose is highly varied. A partial list, explored in the pages to follow: Thao tribe indigenous culture, boat tours, lakeside cycling and hikes, SUP, kayaking, duck boating, sakura blossom viewing, and a thrilling cable-car ride up and over into an adjoining valley for a theme park visit focused on Taiwan's many tribal peoples.
The Sun Moon Lake basin's original inhabitants were the Thao people, who today still inhabit the lake area, and who were officially designated Taiwan's tenth aboriginal tribe in late 2001. Today, the majority of the tribe's members work in the tourism sector.
Originally there were two lakes here, Sun and Moon, named after their shapes, their waters significantly lower than today. What is now Lalu Island was then a high hill, called Lalu Mountain, that sat between the two. During their 1895-1945 period of colonial rule the Japanese dammed the basin's drainage exit for a hydroelectricity facility to power their great lowland industrialization projects, and ran a pipe through the mountains to bring in diverted river water from about 15km away. Lalu Mountain was almost drowned, and the lakes and their names were merged. The Nationalist government later raised the waters further. The lake is about 750m above sea level, maximum depth 38m, average 30m. It measures 7.93 square kilometers.
This is one of Taiwan's most cherished scenic attractions, the centerpiece of the Sun Moon Lake National Scenic Area (which also encompasses areas outside the lake basin; www.sunmoonlake.gov.tw), with a reputation that reaches throughout East Asia. The lake is Taiwan's largest, and it receives about six million visitors a year. The local native culture is a key attraction, with most visitors spending time in the main Thao settlement, the tourist-focused Ita Thao village, as well as in the Formosan Aboriginal Culture Village. This theme park, which showcases the cultures of many different Taiwan tribes, is in an adjoining valley and can be reached via a lofty cable-car ride that starts within walking distance of Ita Thao. The lake has also become a sporting-adventure playground, with first-rate facilities for such on-water enjoyments as stand-up paddleboarding and kayaking and for lakeside pursuits such as hiking and cycling. The cycle around the lake, which in places takes you along the round-lake highway and in places beside or out over the emerald-green water on a dedicated bikeway/trail, has been proclaimed one of the world's ten most breathtaking by CNNGo.
Taking the Boat to Ita Thao
A yacht tour is an iconic Sun Moon Lake experience. Boats launch from four points: Shuishe and Ita Thao villages, Xuanguang Temple, and Chaowu (the last for group excursions). Ticket booths are right at the wharves. A standard outing is a visit to Ita Thao if launching from Shuishe (and vice-versa), with a visit to Xuanguang Temple and a swing around Lalu Island, which is sacred to the Thao tribe and off-limits to outsiders. Boat-tour passengers are entertained with broadcast info and stories, in Chinese. Service is 8:50am to 5pm; bicycles can be brought on board. Fares are stage-based, NT$100 per stage, NT$300 for a full lake tour (ie, back to original spot).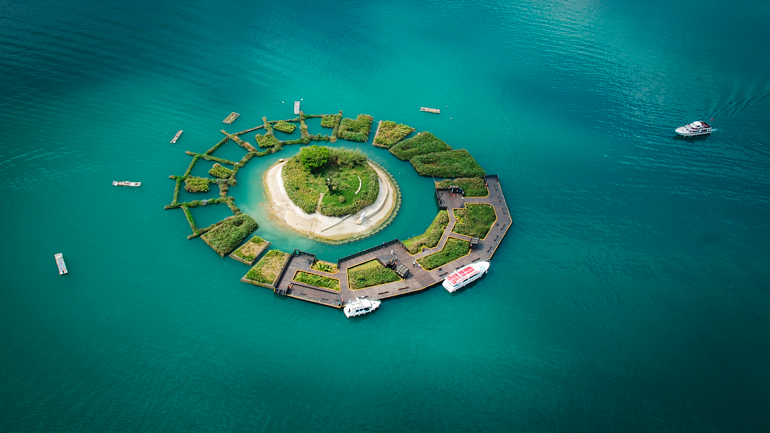 The Ita Thao visitor center is in a large building on the wharf designed in the shape of a yacht, though it's so big it looks more like a cruise liner. On the first level (the ship's bow) is a sunlit visitor center with much info on the national scenic area; staff speak English. On the second (top) level is an inviting Smokey Joe's outlet; this chain specializes in North American-style family fare. The alfresco dining area looks directly down over the yacht-docking area. Note that there is live music entertainment on the wharf each evening, and music/song-and-dance during the day on weekends/holidays.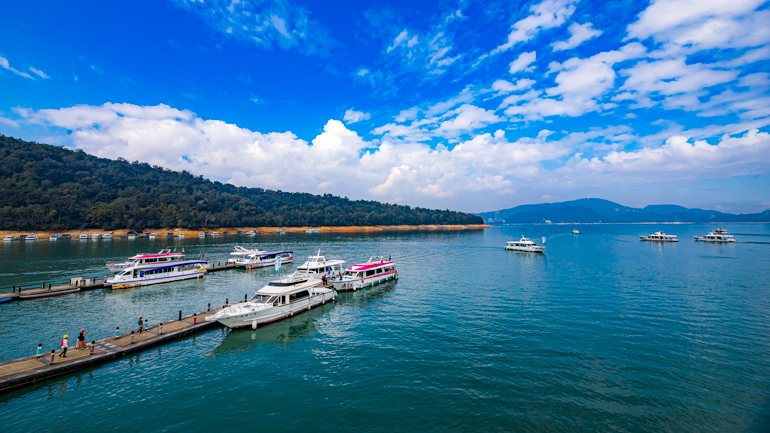 Pretty much all yacht-tour travelers arriving and departing at the wharf are currently drawn to a temporary wood-built art installation, lit up at night, the Nesting Plan_Green-backed Tit. This is the second similar-theme structure created by bamboo artist Fan Cheng-zong at this location. He built the Nesting Plan_Grey-cheeked Fulvetta in 2019. The inspiration for the current structure, which will be on display until November this year, is the endemic Green-backed Tit, sacred to the Thao, which builds its nest in cliff walls or tree holes.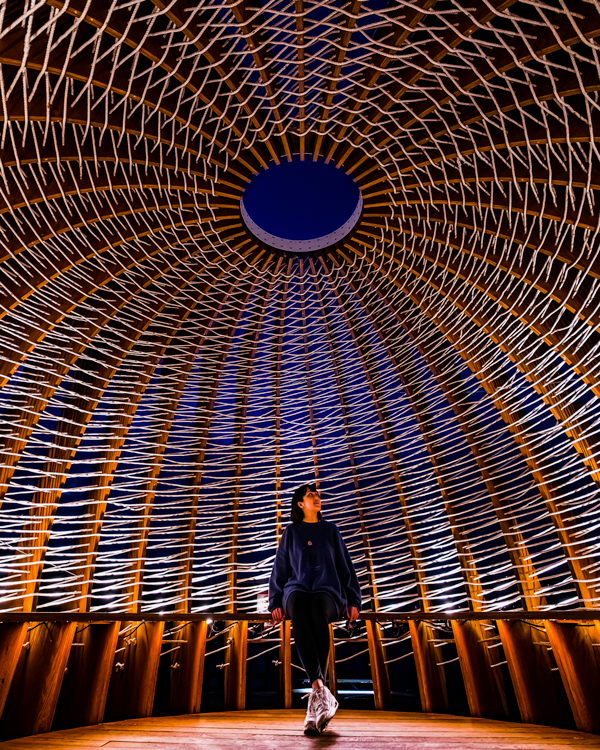 Ita Thao Village
Ita Thao, which is on the lake's southeast corner, is the last Thao settlement that sits right by the lakeside. It is called Barawbaw in the Thao language. The backdrop to the village is Shuishe Mountain, sacred to the tribe. The total number of tribal members is today closing in on 1,000; in the early 2000s it was less than 500. In the Thao language, the terms "Thao" and "Ita Thao" mean "human" and "We are human," respectively.
Today, responding to the area's surging tourism fortunes, Ita Thao is filled with tourist-oriented shops, eateries, and places to stay – most of these boutique hotels and inns refer to themselves as minsu, or homestays. As tourism has waxed, more Han Chinese have moved in to engage in tourism-focused enterprises, and the village's Thao population now stands at about 50%.
Be sure to visit the Ita Zhao Zhulu ("Chasing Deer") Market, a facility done in traditional tribal wood-theme style that has a performance theater which is home to the Thao Tribe Traditional Folk Performance Team. The troupe presents Thao history, folktales, and legends through free traditional song and dance performances (donations appreciated). According to legend, centuries ago Thao hunters chased a magical white deer to the lake area and, after seeing and reporting back on the basin's beauty and bounty, the tribe decided to move here en masse. Beyond its performances, other services provided by the Zhulu Market include classical Thao foods, tribe-produced handicrafts and agri-products, DIY crafts, and rental of traditional costumes for portraits. Thao cultural-tour packages are also sold.
Ita Zhao Zhulu Market
(邵族逐鹿市集)
Tel: (049) 285-0036
Add: No. 872, Shuishe Section, Yuchi Township, Nantou County
(南投縣魚池鄉水社段872號)
Facebook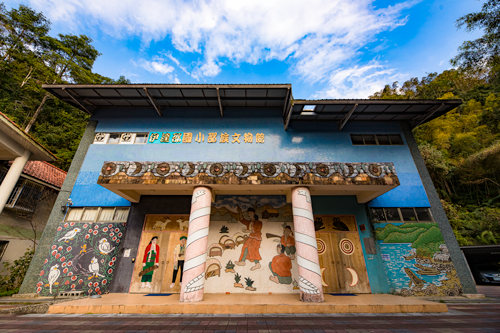 Ita Thao Cultural Museum
Visitors searching for even deeper understanding of Thao culture should also visit the Ita Thao Cultural Museum. This facility, like the enterprise introduced above, is part of the tribe's ongoing efforts to restore its cultural pride – by celebrating its uniqueness to the outside world and, even more importantly, deepening self-respect and tribal love amongst younger Thao, which as with tribal peoples elsewhere are relentlessly drawn away from home areas.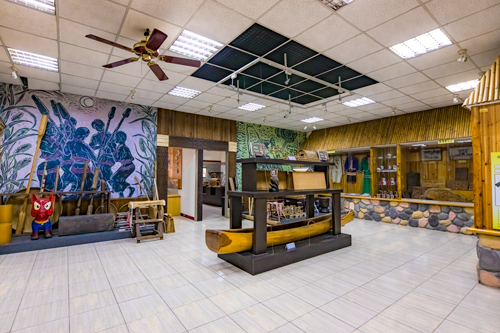 It is located on the grounds of the village's elementary school. A replica traditional village watchtower stands outside the museum, and inside is a rich cache of traditional attire, hunting/fishing/farming utensils, and musical instruments, plus mini-mock-ups of traditional dwellings, fishing rafts, etc. The museum is open weekends/holidays; check with the village's visitor center about reservations.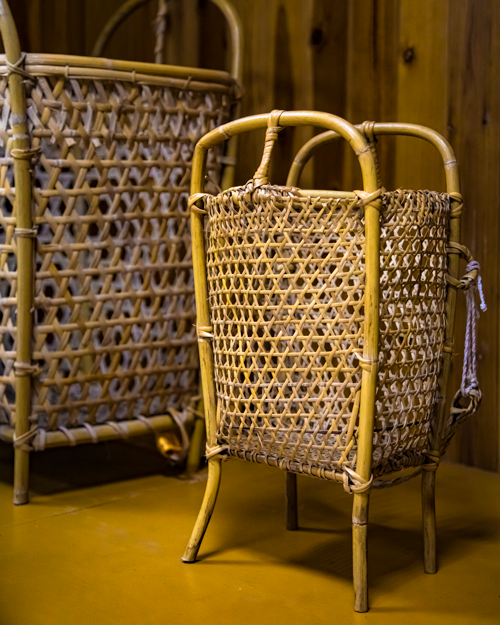 Old Street Area
The village of Shuishe, in view directly across the lake from Ita Thao on the northwest shore, is the main Sun Moon Lake center for visitors, with significantly more, bigger, and higher-end hotel and inn accommodations as well as recreational facilities than Ita Thao, and more people out and about at night. Nevertheless, many visitors prefer Ita Thao because of its indigenous character, smaller size, and pleasant night-time quiet. The village is also more fulfilling than Shuishe on the food front if you're interested in indigenous culinary creations. The short streets immediately off the wharf area, which see little vehicle traffic, are busy with eateries and shops.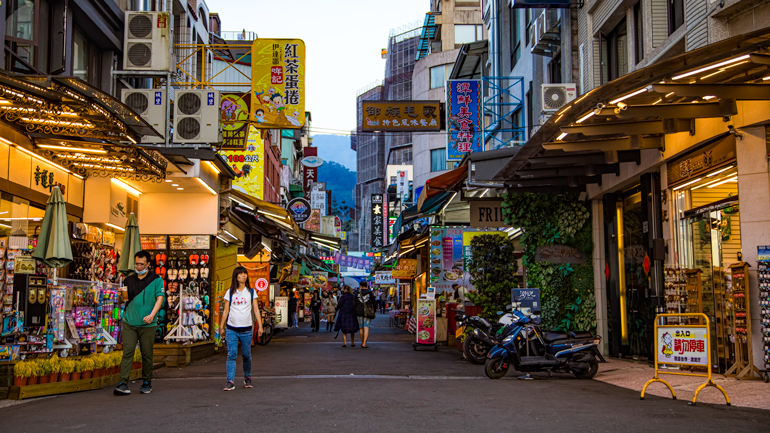 A number of Ita Thao eateries prominently advertise "Thao tribe rice" meals in English, using large photos. These feature such fresh delectables as fish (fried) and shrimp from the lake, fishballs and boar meat, plus greens, mushrooms, onion, and other locally-grown produce.
Mountain boar is an indigenous hunting staple, and a prominent totem in indigenous art/decorations. The meat served in the local eateries is in fact from animals farm-raised locally, not wild. Bestselling indigenous-theme standards are roast boar and roast boar-meat sausages, both served with slices of garlic. Guabao is a savory traditional Taiwanese snack delicacy – tender braised pork belly, pickled mustard greens, fresh cilantro, and gently sweetened peanut powder in a fluffy steamed white bun. In Ita Thao it's served with an indigenous twist at a number of stands, with lean boar meat used.
While Han Chinese have traditionally used rice to create alcoholic drinks, Taiwan's native peoples have used millet. Many Ita Thao shops display bottled millet wine for sale, and you'll see some shops selling a treat not seen elsewhere on the island (as far as this writer is aware), slushy drinks with millet wine (the wine is for flavoring; the alcohol content is less than 1%).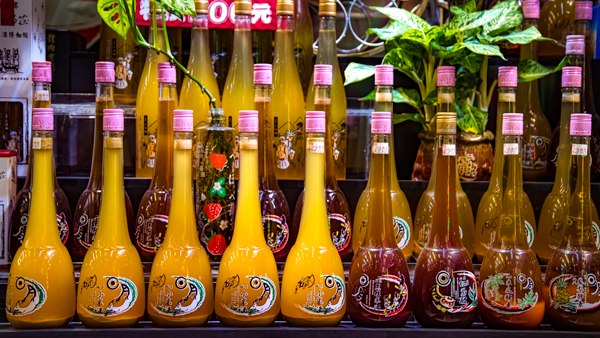 One of Ita Tha's most popular food stands is "Abushamengan Thao Traditional Fine Foods," which serves up delicious fried millet mochi, grilled on a hotplate. These are given a coating of your choice, from more traditional-style peanut powder or honey to such yummy creative options as brown sugar, condensed milk, and even chocolate. The boar-meat skewers here are also especially good.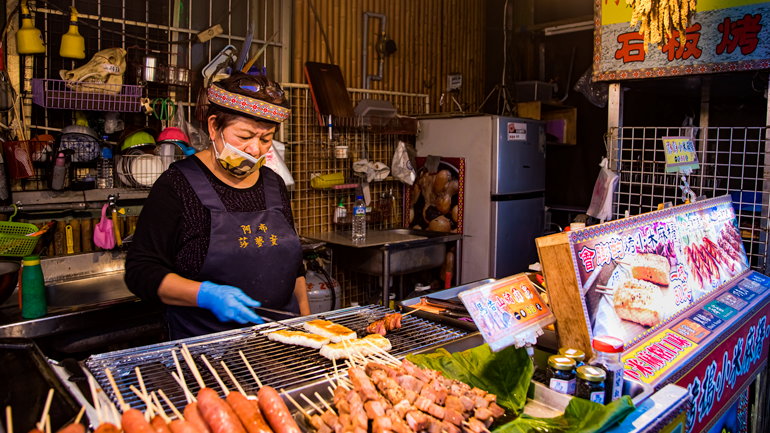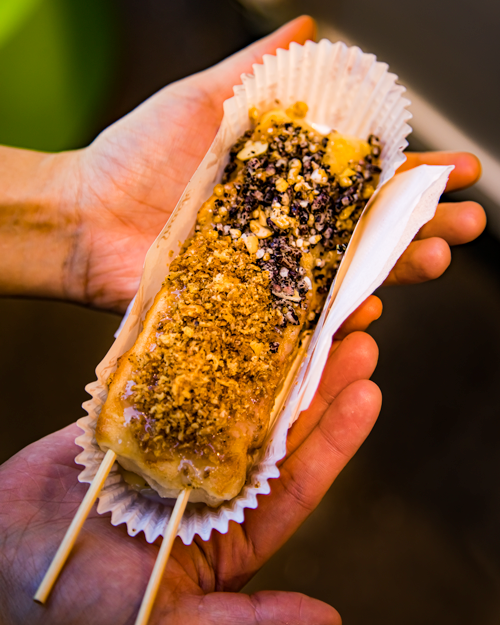 If looking for a one-stop shop for all your take-home gift buying, Modeng Yuanzhumin ("Modern Aborigine"), stuffed to the rafters with serendipity, is your destination. Its delicious millet wines are crafted at a small licensed factory nearby.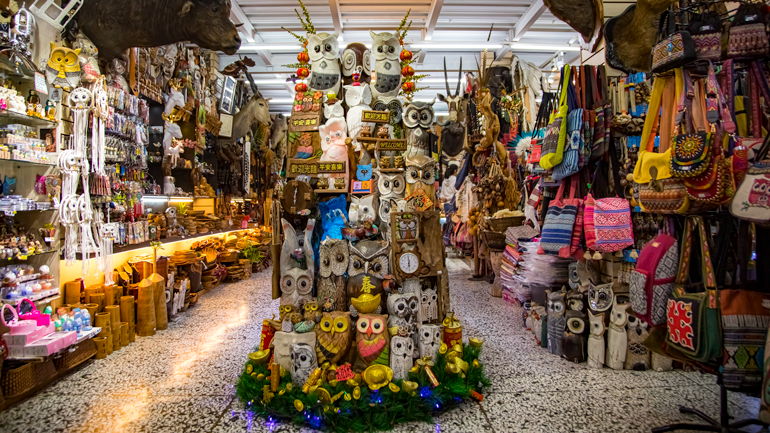 Also consider picking up some tasty millet biscuits and Assam black tea. The Japanese introduced Assam tea to the area, seeking to compete with the British. You can see (and hike through) the original, still operating, research station on the mountainside above Shuishe. The most popular purchase choice is the mild, fragrant Red Jade (TTES No. 18), a variety grown only around Sun Moon Lake. As well, don't miss out on Ita Thao's pleasant, silky soft-serve Assam black tea ice cream.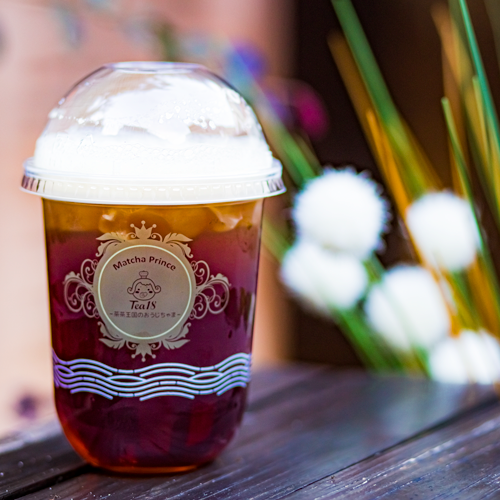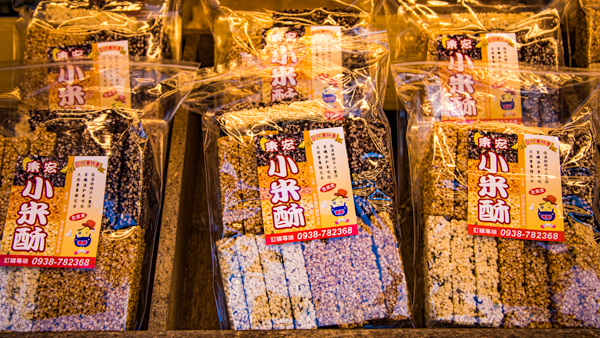 Ita Thao Lakeside Trail
The Ita Thao Lakeside Trail is a picturesque forest-backed, bay-fronted 600m boardwalk connecting the village with the Sun Moon Lake Ropeway station from where you can take a cable car to the Formosan Aboriginal Culture Village, a major theme-park attraction (see below). The trail starts on the last street on the village's east side, Shuixiu Street, directly across from the Yuan-Su Inn (introduced later). The entrance is clearly signposted, and has a helpful map with English as well. Just after starting off you pass between two Thao-operated stands selling such energy-providing tasties as roast boar, boar sausage, and tea eggs. Beyond this, while moving along through the tree shade, you look down at a collection of small lake-plying craft, notably the distinctive traditional Thao houseboat-style fishing boats, with large four-handed fishing nets mounted on their prows. The trail's last section is right out over the lake's waters.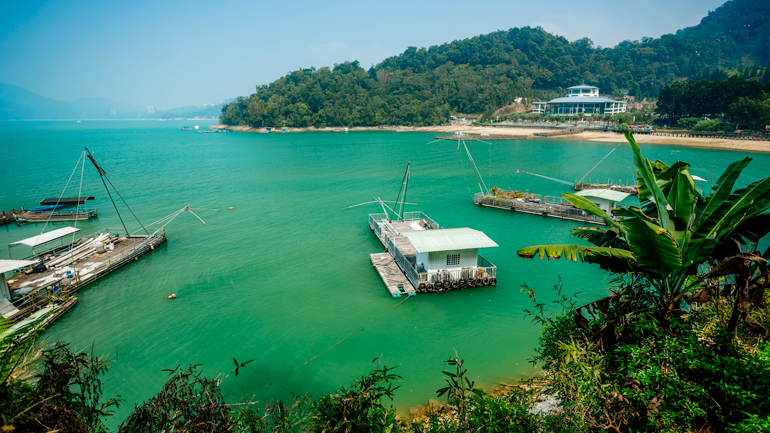 If looking for more exercise, continue lakeside past the cable-car station on the 1,500m Shuiwatou Trail, which rises over 60m and ends beside the round-lake highway, some sections over the water, some in the trees. "Shuiwatou" means "water frog head," reference to this area's many frogs. Because it's so quiet, this is a great bird-spotting trail, notably for the vibrant-colored Taiwan Barbet. The forest here is alive with its sharp calls during the April/May mating season. In the water off one boardwalk viewing deck is the much-photographed Nine Frogs Stack, a whimsical statue that shows the lake's current depth by the frogs revealed.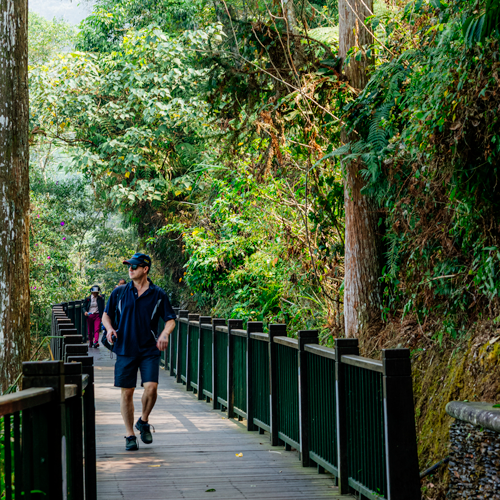 Formosan Aboriginal Cultural Village
Established in 1986, the Formosan Aboriginal Culture Village was long Taiwan's premier theme park, and remains among the elite corps today. Spread over 62ha, it is located in a narrow valley just to the northeast of Sun Moon Lake.
You can drive there directly, but for many travelers, an indispensable part of the theme park experience is getting there via a soaring cable-car ride from Sun Moon Lake, which starts near Ita Thao. The highly praised Sun Moon Lake Ropeway gondola system, which features candy-colored gondolas seating six each, was built by an Austrian firm with Alps-conquering expertise. It takes you on a pulse-lifting 1.87km soar from lakeside to the theme park by sailing over two mountain-ridge crests. The longest between-tower suspension span is 786m. Note that a combined gondola/theme park ticket brings a significant discount.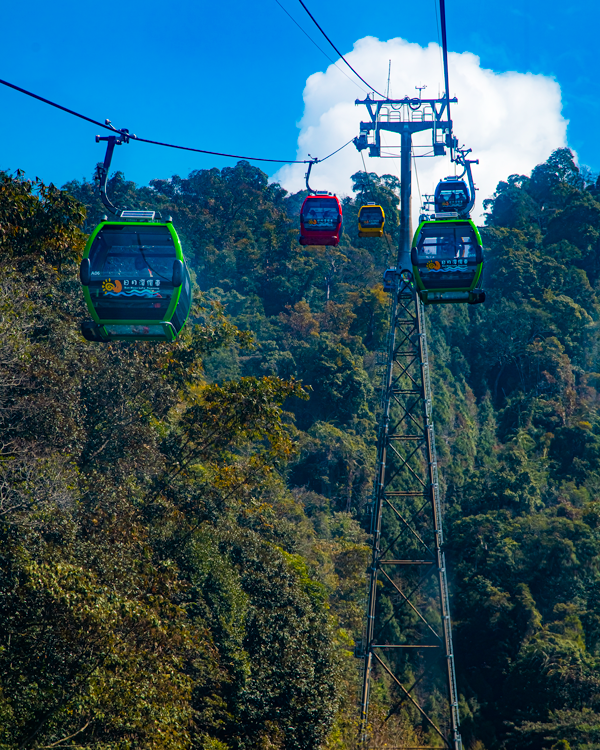 The views over the lake are delightful, as are those over the theme park. The park is the lone occupant of its short, dead-end valley, and runs up the gently sloping valley floor. In February~March, as you approach from high above you'll see thick bursts of pinks and reds throughout the grounds – 3,000 cherry trees in full bloom. When they colonially controlled Taiwan from 1895 to 1945, the homesick Japanese planted cherry trees in many mountain locations, and in more recent decades Taiwan folk have taken to planting more blossom-blessing lovelies with alacrity. At the theme park many a visitor rents classical-style Japanese costumes to take vintage-style sakura-backdrop photo keepsakes.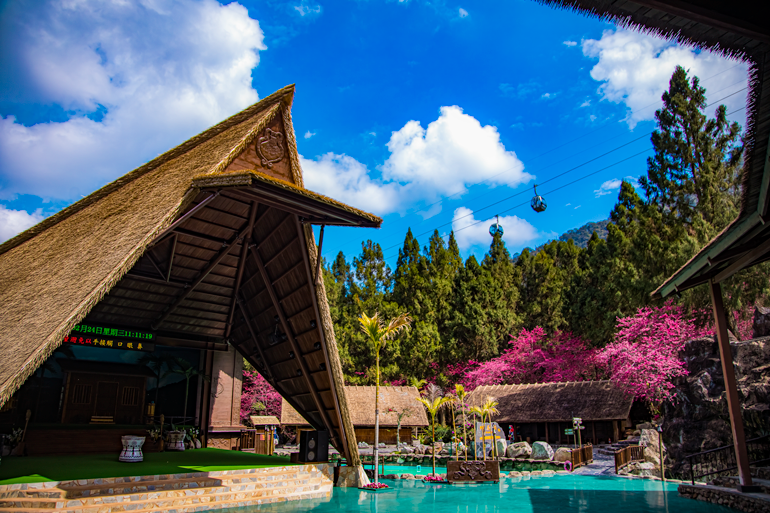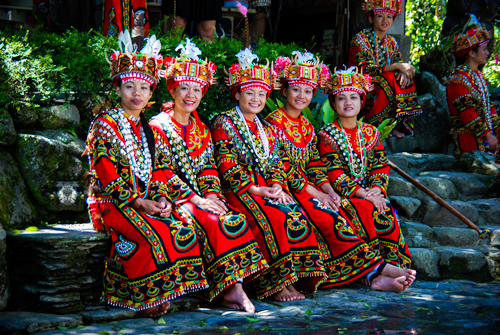 The family-friendly Formosan Aboriginal Cultural Village has an amusement ride area, a European Palace Garden area and, most popular with international tourists, an Aboriginal Villages section that celebrates Taiwan's indigenous peoples with scores of first-rate replicas of traditional dwellings, watchtowers, men's houses, ancestral halls, and other structures, large-scale song-and-dance shows, and demonstrations of traditional-culture weaving techniques, stone-oven roasting, etc. You can even try your hand at blowpipe archery.
Sun Moon Lake Ropeway
(日月潭纜車)
Tel: (049) 285-0666
Add: No. 102, Zhongzheng Rd., Riyue Village, Yuchi Township, Nantou County
(南投縣魚池鄉日月村中正路102號)
Website
Formosan Aboriginal Cultural Village
(九族文化村)
Tel: (049) 289-5361
Add: No. 45, Jintian Lane, Yuchi Township, Nantou County
(南投縣魚池鄉金天巷45號)
Website
Outdoor Fun at Sun Moon Lake
Why travel all the way up to an exquisitely beautiful mountain lake and not get out on or in the water? Swimming is not permitted, save for the annual Sun Moon Lake International Swimming Carnival, during which thousands of swimmers from across the globe take part in a non-competitive cross-lake swim of 3,000m. The aforementioned yacht tours are tons of fun, but our quest is to get your feet wet – and perhaps much more.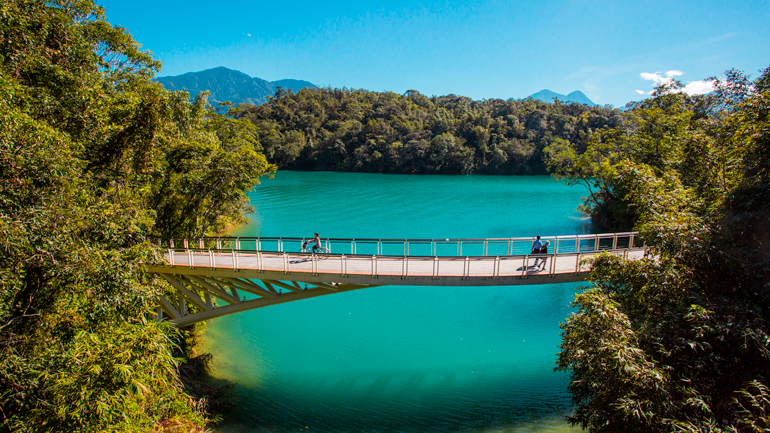 Your passport to on-water and, most likely, in-water fun? SUP – stand-up paddleboarding. You have a number of operator options, so it would be best to talk things over with the English-speaking staff in the visitor centers at Ita Thao or Shuishe village, or at the Xiangshan Visitor Center, located on the lake's west side, to see which best fits your needs. Whichever you choose, rest assured that you'll have trained instructors with you out on the water at all times. Note that the optimal paddleboarding window is in the early morning before the touring yachts begin to run, when the lake is a gem of mirror-like perfection and utter tranquility. Your challenging early wake-up will be well rewarded.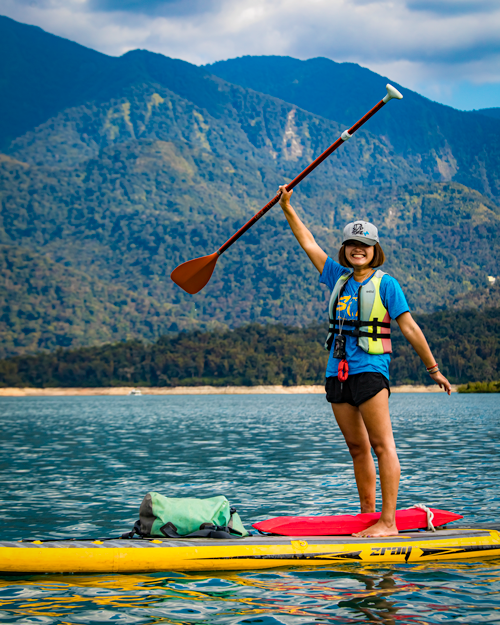 On this trip Travel in Taiwan used the services of Happy Bike, which also offers bike and car rentals. It's located in Shuishe right beside the village's super-sized parking lot. There is a small side bay here, and the shop is right beside the scenic lakeside boardwalk trail, used by both bikers and walkers, that runs from the village to the Xiangshan Visitor Center and well beyond. All required equipment (board, paddle, lifejacket) is provided by the shop. Your main instructor takes you to your entry point on the side bay, provides initial coaching, then you head out onto the shallow bay for practice getting yourself on, standing up on, and moving on your board – and on getting back on should you plop into the drink. Then you head out further onto the big lake for the big fun. At all times there are two instructors present, the main instructor, on his/her own paddleboard, and a second instructor in a small powered boat.
At the halfway point of your outing everyone gathers around the main instructor for a sit-down "snack picnic." And what about my comment earlier about "getting 'in' the water"? If keen on spending a few snatches of time swimming about, or at least treading, in the cool waters, allow yourself to "fall" off your board a few times, as I may have done, enjoying welcome time-outs from the warm sun.
Happy Bike
(快樂鐵馬)
Tel: (049) 285-5021
Add: No. 31, Lane 12, Zhongxing Rd., Shuishe Village, Yuchi Township, Nantou County
(南投縣魚池鄉水社村中興路12巷31號)
Website (Chinese)
If not sure you'd like to get started at paddleboarding, here are two other easier ways to get right down on the lake's surface – kayaking and duck-boating. You'll see a company of bright-colored sit-on-top kayaks and electric duck boats arrayed at the east end of the Ita Thao wharf area (i.e., the end nearest the Sun Moon Lake Ropeway station). The ticket booth is right beside, on the wharf.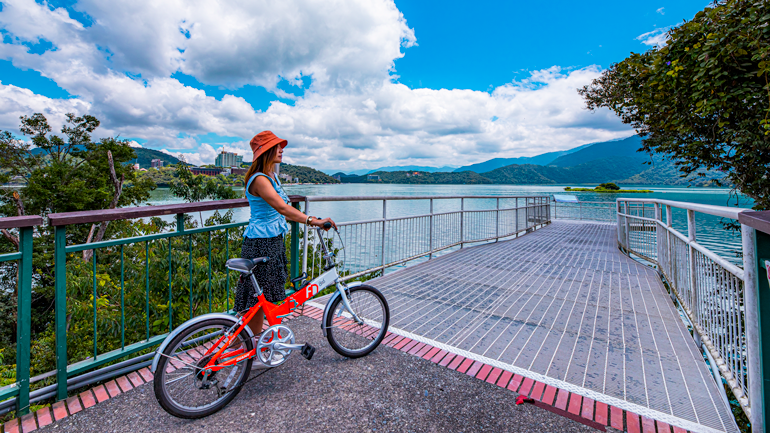 Now, back to the lakeside bikeway I was talking about. You can cycle much of the lake right beside the emerald-green waters, and sometimes flying along out over it. There are numerous quality bike-rental operations in Shuishe, among these a large Giant operation in the village's visitor center complex. There's also a large Merida operation close to the Xiangshan Visitor Center. All are vetted by the Taiwan Tourism Bureau. For a full round-lake ride, lake sections without bikeway facilities are covered on the round-lake highway, which has low motor-vehicle speeds.
Place to Stay at Sun Moon Lake
If spending time in Ita Thao, and especially if you are overnighting, why not ensure you are transferring your goodwill to local indigenous inhabitants? The Yuan-Su Inn (B&B), as explained earlier, directly faces the entrance to the Ita Thao Lakeside Trail. The outside sections of the village, away from the wharf area, go to sleep as each day's dinner hour arrives. If you're looking for peace, satisfaction is guaranteed here.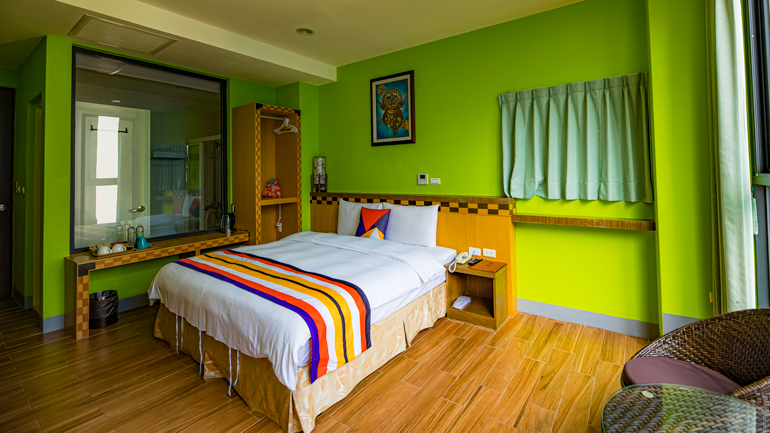 This modern-style inn was built and is run by a Thao couple. Greeting you by the street before the inn, and in the entranceway, is a refreshing display of green gardener delights. Inside, native-theme decorative flourishes are found throughout. The facility is tall and slim, with just four rooms per floor on the four floors above the main-floor lobby level. All rooms are very spacious, some coming with a separate living-room area, with the use of wood prominent. Furnishings are modern, simple yet tasteful.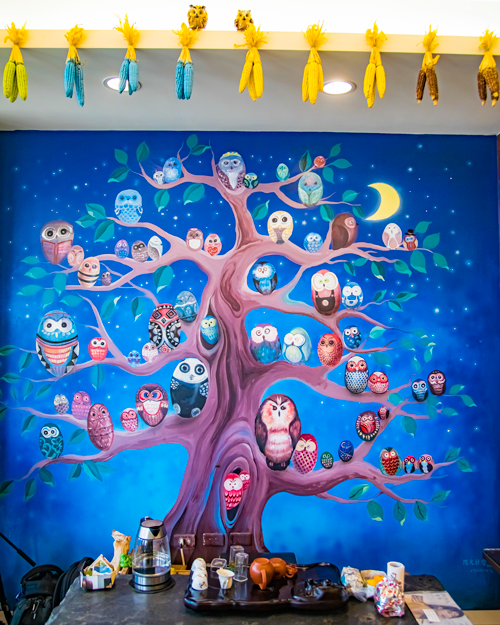 Your complimentary breakfast is a traditional Chinese-style buffet, with such fresh-ingredient delights as scrambled eggs, stir-fried sweet-tasting high-mountain Chinese cabbage, fried rice noodles, and steamed buns. This is served in the brightly sunlit lobby area. If available, take your breakfast outside at one of the two small picnic tables, with comfy park-style wood benches used as seating, enjoying the sun, languid street ambience, and busy birdsong.
Yuan-Su Inn (B&B)
(原宿旅店)
Tel: (049) 285-5021
Add: No. 58, Shuixiu St., Yuchi Township, Nantou County
(南投縣魚池鄉水秀街58號)
Website (Chinese)
Place to Stay in Puli
If choosing to stay in the town of Puli, which in general is less expensive and is about a 20-minute drive away from Sun Moon Lake, one suggestion for a place of great character is the Futian No. 6 Cultural and Creative Park. The interconnected cabin-style accommodations in this complex, which has an indigenous-culture showcase theme, directly face foliage-rich grounds and, at a slant, intellectually tantalizing vestiges of the brick-factory complex long operated by the park-operating family, members of a lowland tribe still seeking official government recognition. When staying here you enjoy free access to all areas.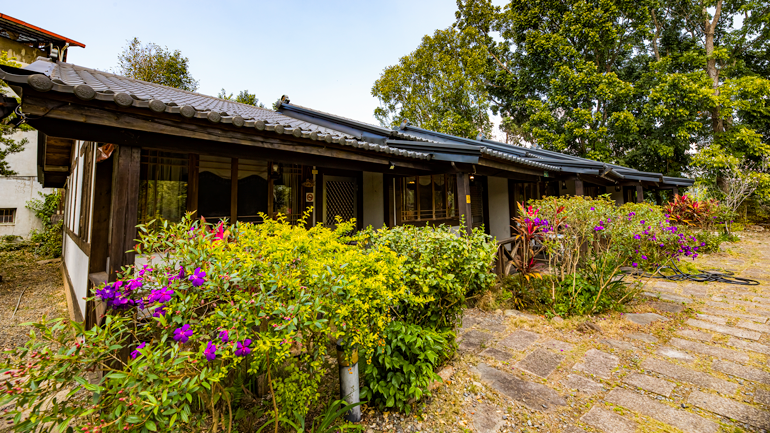 Each high-V-ceiling cabin features a simple Western chalet-style rustic décor and modern amenities. Overnighters enjoy a fulsome indigenous-theme set-meal breakfast, and can also enjoy the indigenous song-and-dance performances staged in the one-of-a-kind semi-outdoor setting – the heritage brick-kiln area. Smaller-scale song-and-dance entertainment is also provided each Saturday night in the native-décor restaurant.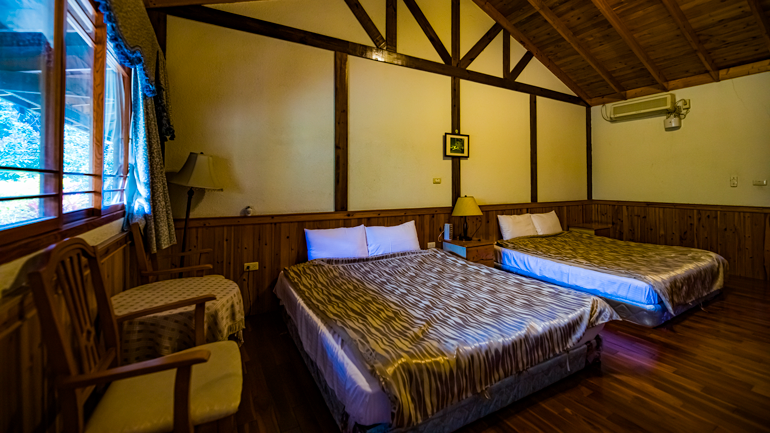 Futian No. 6 Cultural and Creative Park
(甫田6號文化園區)
Tel: 0931-060-224
Add: No. 389, Nanhuan Rd., Xinan Borough, Puli Township, Nantou County
(南投縣埔里鎮溪南里南環路389號)
Website (Chinese)
More Info
For more general info about Sun Moon Lake, the local indigenous people, transportation to and around the lake, and more, visit the Sun Moon Lake National Scenic Area website (www.sunmoonlake.gov.tw) and the Taiwan Tourism Bureau website.