Journeys to the Edge of the Taiwan World
TEXT / RICK CHARETTE
PHOTOS / VISION

Taiwan has many offshore islands, which despite the ease and rapidity of modern transport access from the mother island are a world apart from it – and from each other. Their mutual geo-physical, cultural, and historical dissimilarities are striking. Of late I've had the great good fortune to visit many of islands in the Taiwan Strait – Xiao Liuqiu, Penghu, Kinmen, and Matsu – and following I'll give you a shop-window look at the latter two island groups.
Heading west within Republic of China borders, you cannot get further from the main island, Taiwan, than the Kinmen and Matsu island groups. No, go past them and you don't fall off the edge of the planet. The China mainland looms directly ahead, so close it's in clear view from many Kinmen/Matsu locations. The practical result, in cultural terms, is that today both these destinations are a world away from what you'll experience on mainland Taiwan. These are places crafted by influences both ancient and modern flowing from two strongly separated geo-cultural springs. They thus offer exotic "getaways from Taiwan" while remaining within Taiwan, just a short flight away from the main island (there's also an overnight ferry service to Matsu).
Summer and fall are the best times to visit both archipelagoes. Both are somewhat cooler than hot and humid main-island Taiwan during this period. In winter and spring both island groups can experience rains, strong winds, low temperatures, and dense fog, sometimes shutting down transportation services.
MATSU
The Matsu Islands, far to mainland Taiwan's northwest, are great hunks of granite that have surged forth from the sea bottom and, in many locations, surged far above the waves. They stand just outside the mouth of China's mighty Min River and, just inland, the great city of Fuzhou.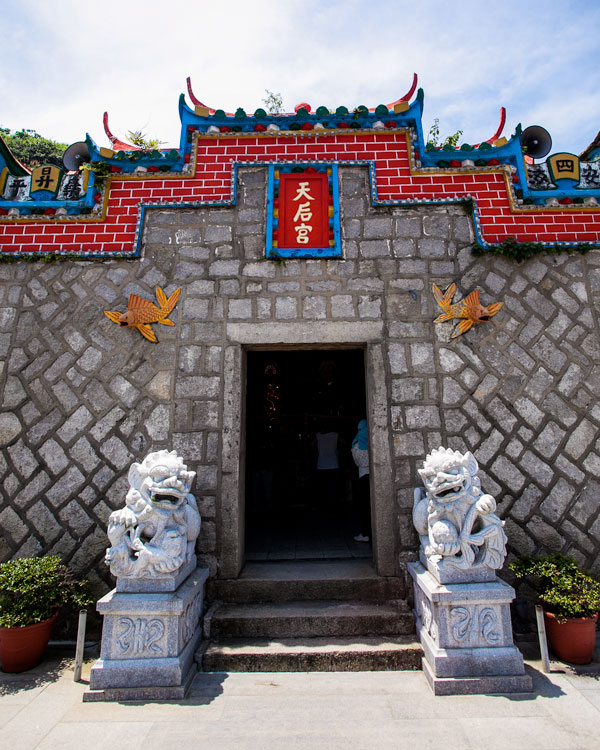 There is little flat land here, and limited farming. Marine catch was long the economic lifeblood, today paired with tourism. The heritage pure-white lighthouses positioned dramatically high on cliffs are an iconic attraction. On each visit history-buff I invariably find myself dreaming of China's imperial days and a more dangerous era of shipping, especially when at the gravity-defiant cliffside-hugging Dongyong Lighthouse complex on Dongyin island, Matsu's northernmost, nothing but endless ocean seen to the north and east. It was built by British engineers in the early 1900s to facilitate access from Fuzhou, after a number of Western vessels had been wrecked. Fuzhou was one of the treaty ports forced open during the 19th century's Opium Wars period.
The two largest and most heavily populated islands are Beigan and Nangan, close neighbors, with regular ferry service between. Matsu's fishing-village architecture is unlike anything you'll see on mainland Taiwan. The old stone residences were built in the east Fujian style (i.e., China's Fujian Province), while the roots of traditional mainland Taiwanese culture primarily lie in south Fujian. The most meticulously renovated village, today busy with homestays and eateries, is Beigan's Qinbi. This is among the best-preserved exemplars of east Fujian architecture extant. Note how the tall two-floor residences are divided into distinct tiers, narrow stone pathways running between. This ensures full sea-views for each, along with cooling breeze exposure. Their design, with thick granite walls, heavy doors, narrow windows, and trap doors between floors, enabled double-duty as mini-forts if attacked by pirates or, occasionally, rival fishing villages.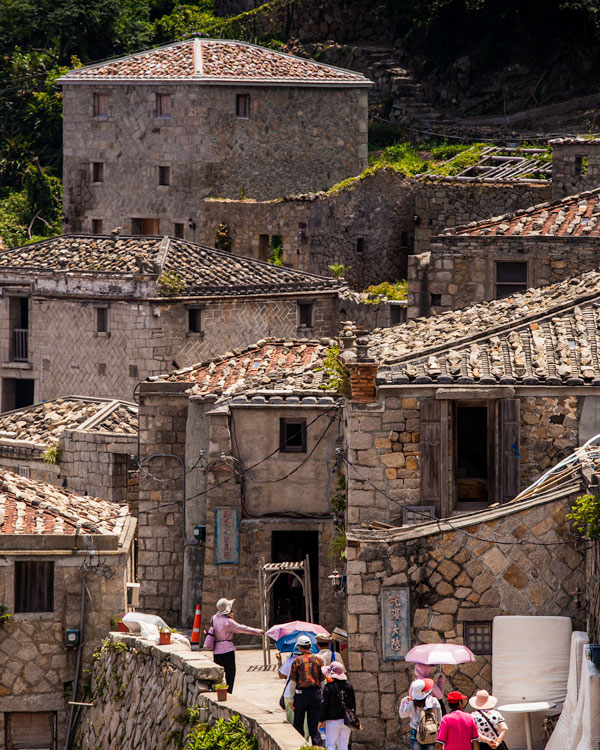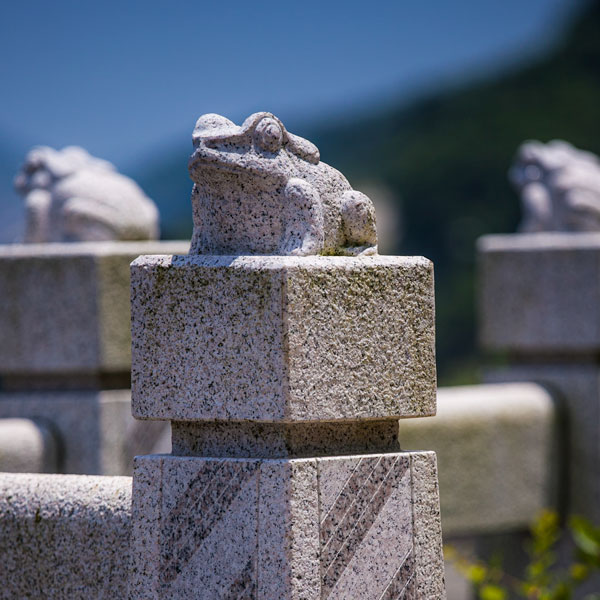 Nangan's most popular attraction is the redoubtable Beihai Tunnel, a massive military tunnel built into a mountainside that has openings to the sea. During the long 20th century Cold War period of tension with the People's Republic of China, a forest of defensive military facilities were constructed on both Matsu and Kinmen, many now open for tourist visits. The Beihai Tunnel system, hewn by hand over a 3-year period by grunts, could accommodate 120 small-sized vessels. The guided boat tours (Chinese) are far more rewarding than traversing the narrow internal walkways by yourself; guides explain the wall holes where soldiers were sent in to place explosives, side caves dug out for pig-raising and other purposes, and much else.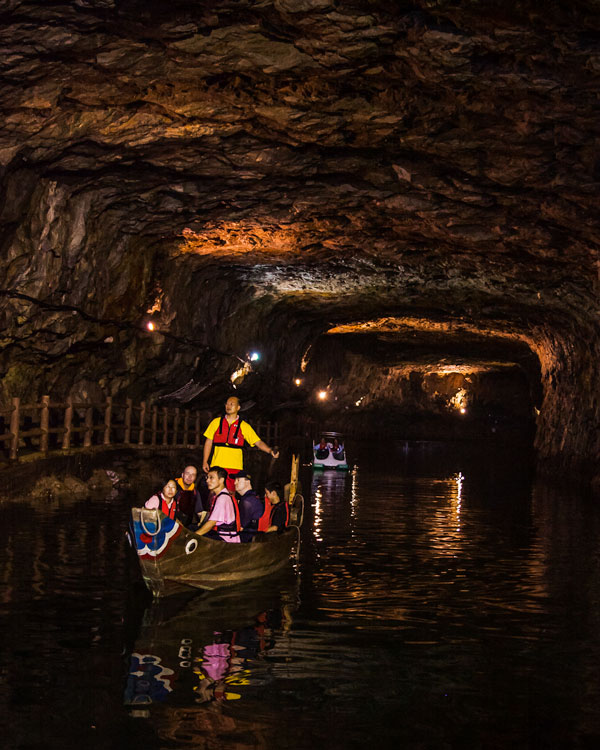 You're reading this article at the right time! Over the past decade Matsu's Blue Tears phenomenon, which occurs May~September, has captured the tourist imagination. Coastal waters will sometimes glow blue at night, caused by a type of algae that produces brilliant bioluminescent shows when the waters are disturbed, generally by wind, wave, or tidal flow. Special nighttime guided boat tours in a completely darkened Beihai Tunnel have become a big hit. Check as well with the local tourism authorities (see end of article) about special Blue Tears coastal boat tours.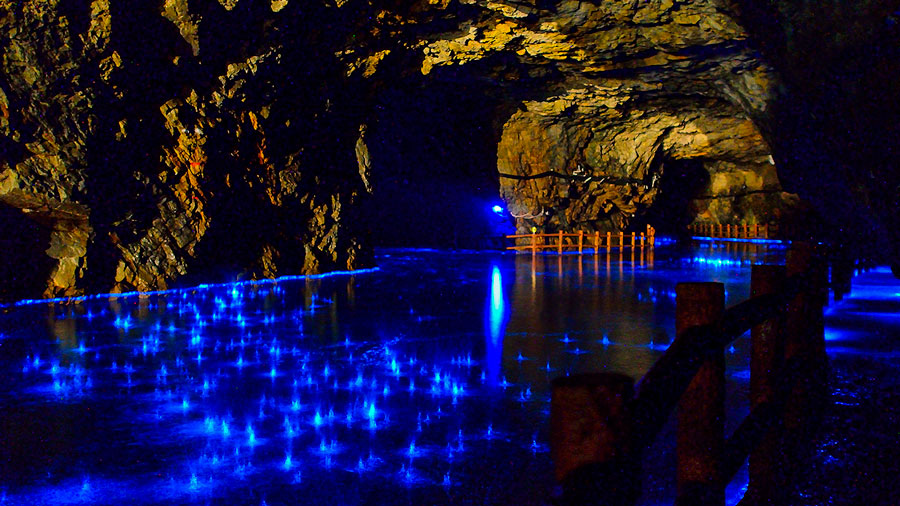 On Dongju island, south of Nangan, the Dongquan Lighthouse stands atop the northeast-corner cape. It's informally called the "Red-Hair Lighthouse"; the term "red-hair" was commonly used for Westerners during China's imperial days after the Dutch appeared in regional waters. This facility was also built by the British, in 1872. Attractive trails, often windblown, run away along the cliffs in both directions.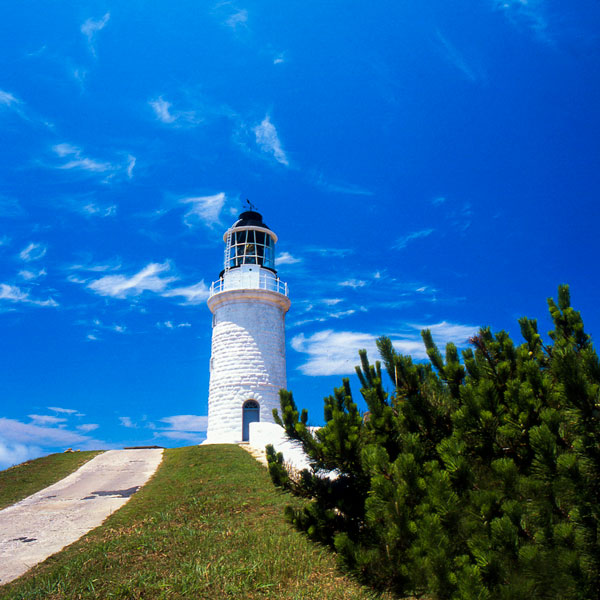 Downhill just a short distance on the island's other side is the lovely old fishing village of Fuzheng, its sturdy old buildings now steadily being renovated and homestays taking up residence. Its sheltered harbor is especially picturesque, with a number of abandoned larger fishing craft slowly melting into the beach sands.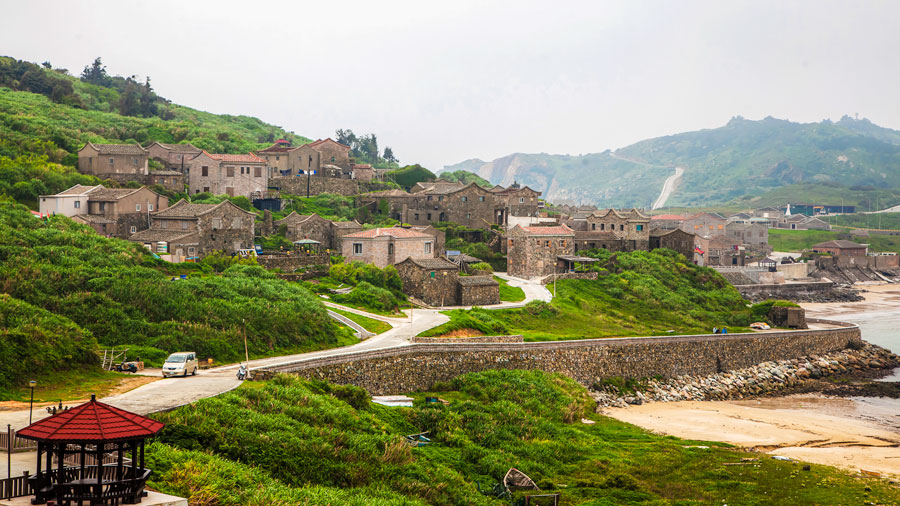 Finally, I'd be a poor writer-guide indeed if I didn't mention Matsu's distinctive food and drink. Among the many unique offerings is a beloved old-time east Fujian spirit called laojiu (lit. "old wine,"); visit the Nangan distillery and nearby Tunnel 88, once used for tank storage, now for wine aging. Others include Buddha Hand clams, dancai mussels, red-yeast sea eel, and "Matsu hamburgers." Learn about these and other tasty treasure on the official website of the Matsu National Scenic Area (see end of article).
KINMEN
The islands of the small Kinmen archipelago, directly across the Taiwan Strait from central Taiwan, are just a short distance from the island on which the great Chinese maritime city of Xiamen grew. Key to Kinmen's history is the fact that Xiamen was another of the treaty ports forced open in the 19th century Opium Wars. "Xiamen" means "door to the house," referencing its ancient role as a China gateway. "Kinmen" means "golden gate," according to one version referencing its role as gateway to Xiamen and its riches.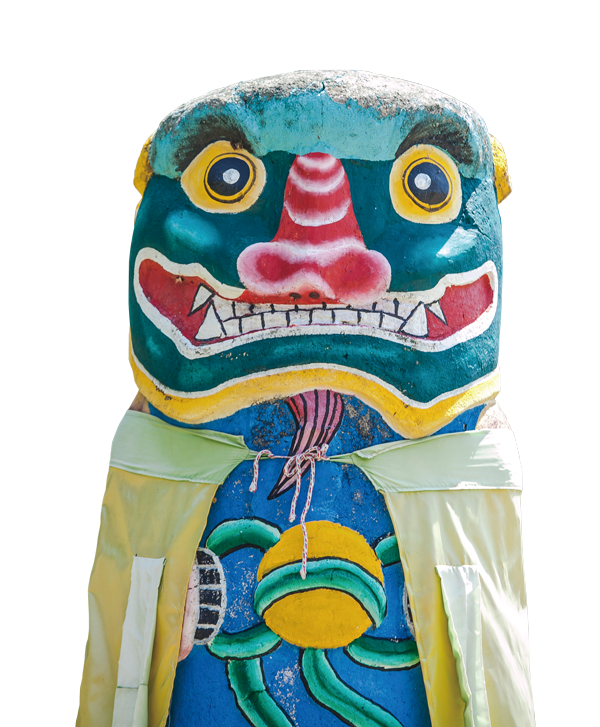 The archipelago has two larger, populated islands, Kinmen and Lieyu (also called Little Kinmen), along with numerous smaller islands. As with Matsu, granite is predominant. The main islands are low, quite flat, and bicycle-friendly, and the farm-rich countryside is dotted with well-preserved imperial-era clan villages featuring distinctive south Fujian architecture, along with many Western-influenced mansions built by successful Kinmen merchants. The land has good tree cover, thanks to major reforestation efforts, and there are impressive military-related tourist sites, including large-scale underground facilities dug by hand from solid granite and facilities explaining Cold War-era military confrontations.
Shanhou Folk Culture Village is Kinmen's most iconic and best-preserved historic village, a clan village of 16 traditional south Fujian-style residences built between 1876 and 1900 using monies made operating businesses in Japan. The meticulously renovated complex also features an old-style private school and the clan's ancestral shrine. The buildings are in three symmetrical rows, tightly packed for defense purposes. Two residences serve as mini-museums – one has private quarters, kitchen, and ancestral hall furnished in Qing Dynasty style, and the other has displays on Kinmen architecture and overseas life for the Kinmen diaspora. This was the first Kinmen village transformed into a tourist destination. A number of buildings are operated as shops, with food available, and you can also overnight in one of the B&Bs that has been opened.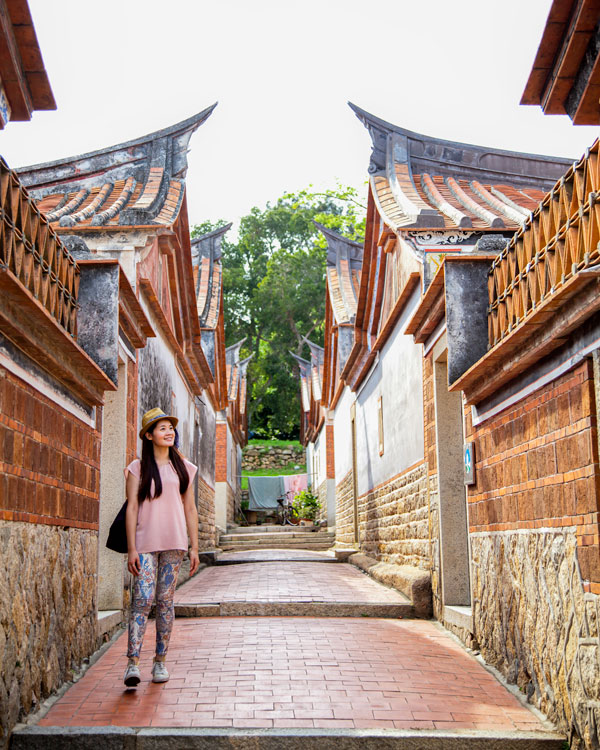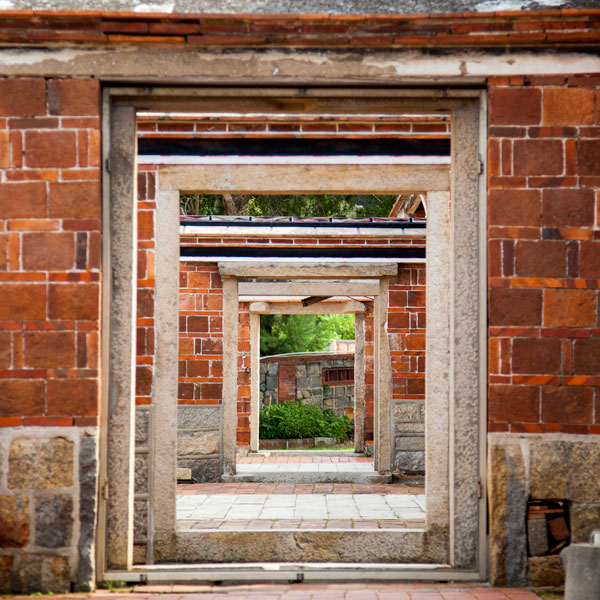 You'll find above 100 Western-influenced colonial mansions called yanglou (lit. "Western storied buildings") spread around Kinmen/Lieyu, the majority dating to the late 1800s/early 1900s, constructed by returning sons of Kinmen who'd struck gold in the merchant trade in foreign lands, notably Southeast Asia and Japan. Under an ongoing government support program, many have been renovated and now house homestay operations and/or cafés and souvenir shops. One of the finest – and definitely the largest – is the Chen Jing-lan Western-style House, erected by a merchant who made his fortune in Singapore. The immaculate all-white exterior features symmetric archways along the breezy first- and second-floor arcades and refined carvings inside and outside. Inside are displays on the house, its former residents, and the Kinmen diaspora (Chinese).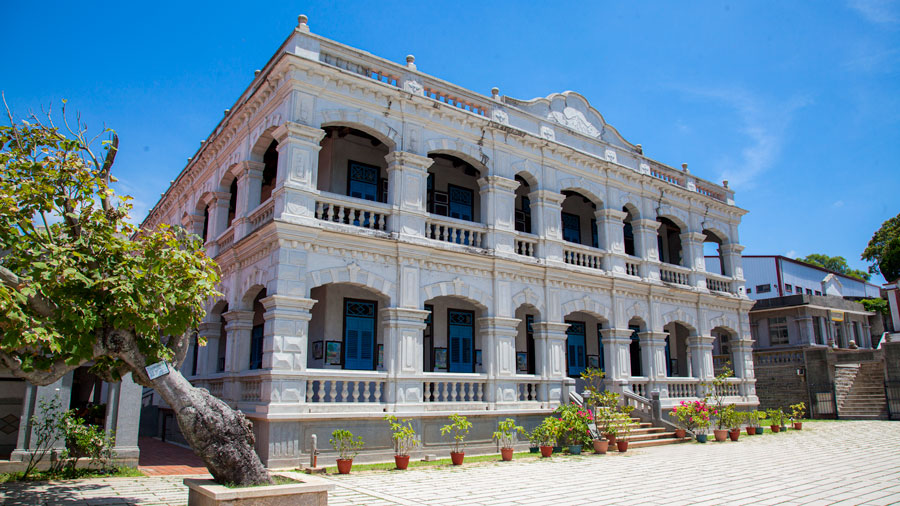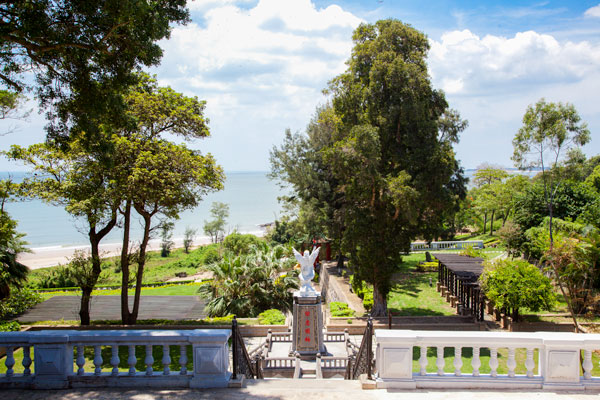 The large Zhaishan Tunnel is the most remarkable of the many Cold War military-built facilities now open for public visit. This large U-shaped cavern was hewn almost solely by hand from solid granite within a seaside hill-and-cliff over a five-year period in the 1960s. It was used as a safe harbor for supply boats making the hazardous run to and from Taiwan's main island, with a capacity for 42. There are two entrances and exits, the latter on the crashing sea, to ensure continuous ingress/egress if under attack. An information display is provided outside the tourist entrance, but best of all is the outdoor exhibit of anti-aircraft guns, supply boats, and other decommissioned equipment. The tunnel also serves as an acoustics-perfect concert hall each autumn during the Kinmen Tunnel Music Festival, with both Chinese and Western classical music performances.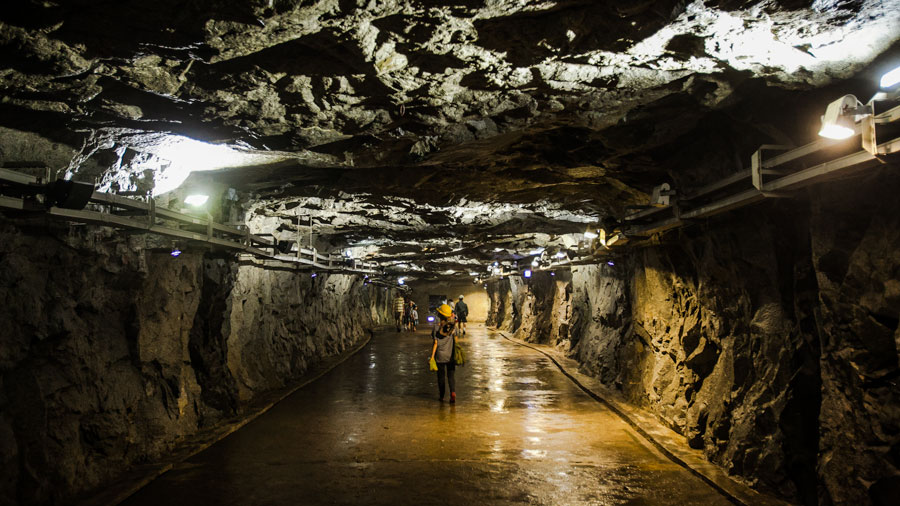 A fresh new Kinmen tourist attraction is the launch of mini-cruises (four options available) on the Chu Ri Hao, a refitted ferry that once plied a Kinmen-Xiamen route. Outings last 1.5~2hrs, and besides the two main islands take you sailing by a number of the smaller islands – and much closer to Xiamen, coruscating and especially comely at night. While aboard you also enjoy quality buffet dining starring Kinmen specialties. Lion Travel
Practical Info
Your best sources for all information needed for Kinmen and Matsu visits can be found here:
Kinmen National Park website
Matsu National Scenic Area website
Taiwan Tourism Bureau website
As well, note that the Taiwan Tourism Bureau's toll-free Tourist Hotline (0800-011-765) provides 24H service in English, Japanese, and Mandarin.