On the Taoyuan Plateau, in the Dahan River Valley, among the Taoyuan Low Mountains
TEXT / RICK CHARETTE
PHOTOS / VISION

How does this sound? A cool walk through a long pedestrian-only mountain tunnel. A long town-center walkabout around a "dragon-inhabited" lake. A saunter along an isolated high-hills lake where President Chiang Kai-shek once had a getaway retreat. Meanderings in a serene riverside eco park and heritage-village Old Street. Plus mountain-view café, restaurant, and food truck R&R pit-stop. Custom-tailor these options for the most enjoyable of day trips.
This article is designed for use in two different ways, depending on your travel needs. We're introducing a number of appealing destinations in the mid-, mostly rural section of Taoyuan City, in adjoining Longtan and Daxi districts, which have at their heart two large, district-eponymous towns.
Most of Longtan sits on the Taoyuan Plateau, the plain that spreads inland from the Taiwan Strait. Most of Daxi is in the hill country that quickly gives way to Taoyuan's mountainous south. Any combination of destinations is perfect for a stand-alone day trip – attempting them all would be herculean – and perfect as well for your first or last day of a multi-day trip to Lalashan in Taoyuan's deep south, introduced in our main article (see page 10). Note that we also spend time exploring Daxi's Shimen Reservoir. See Stone Gate Reservoir.
Cihu
Cihu, the biggest attraction on this article's itinerary, is in Daxi Township beside Provincial Highway 7, the route to Lalashan. Its location is right where Daxi's hills meet the first set of low mountains headed inland. It's on the north side of the highway. What is called Front Cihu is where a stream exits from a narrow gap between two mountains. Back Cihu is the area encompassing the small, serene lake in that gap.
The main Front Cihu attraction is an official residence that ROC President Chiang Kai-shek had built, resembling the traditional residences in his China mainland home area, which was converted to become his mausoleum after his 1975 passing. The other is a hillside park filled with more than 200 statues of Chiang Kai-shek (and 27 of Dr. Sun Yat-sen) relocated here from around Taiwan in the early 2000s during a period of political dispute.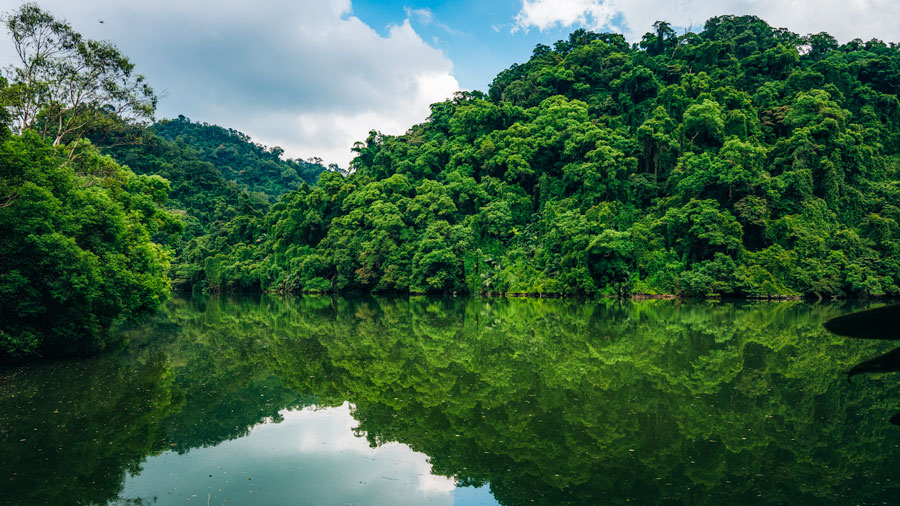 A long, pleasant hilly pathway takes you to Back Cihu. Vestiges from Taiwan's martial-law era (this was to be a retreat if Communist China attacked) include bunkers, checkpoint gates, and five former command offices/official residences on the densely forested hillside overlooking the lake. These five structures now do duty as a café and galleries on the Chiang family's history, the local ecology, etc.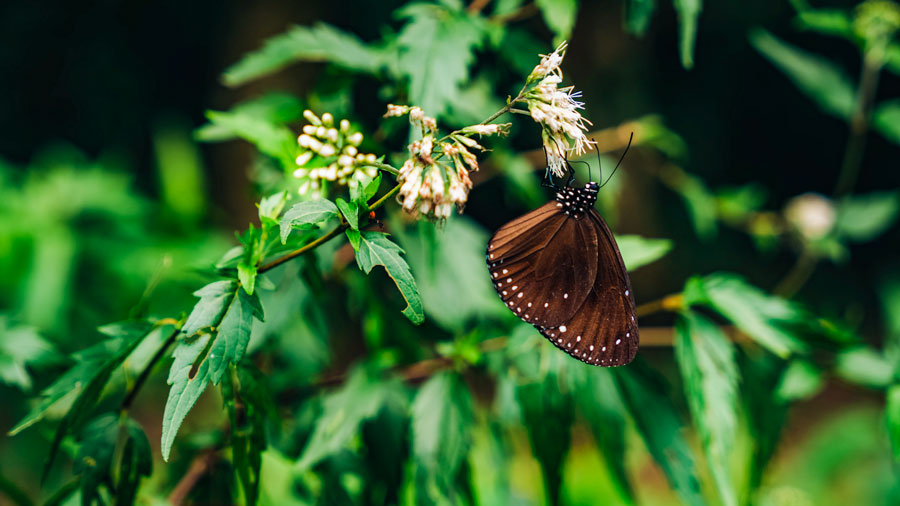 Note: All visitors to Back Cihu need to register in advance online at backcihu.tycg.gov.tw (Chinese).
A bit up the highway from Cihu, a Highway 7 tunnel pierces the first low-mountain line. Right beside and parallel, on the south side, is the Old Baiji Tunnel, today part of a recreational trail. It was created by the Japanese in 1944 (Japan controlled Taiwan from 1895~1945) for use as a footpath and narrow-gauge pushcar-railway route. Relics and mock-ups are a walk-through bonus.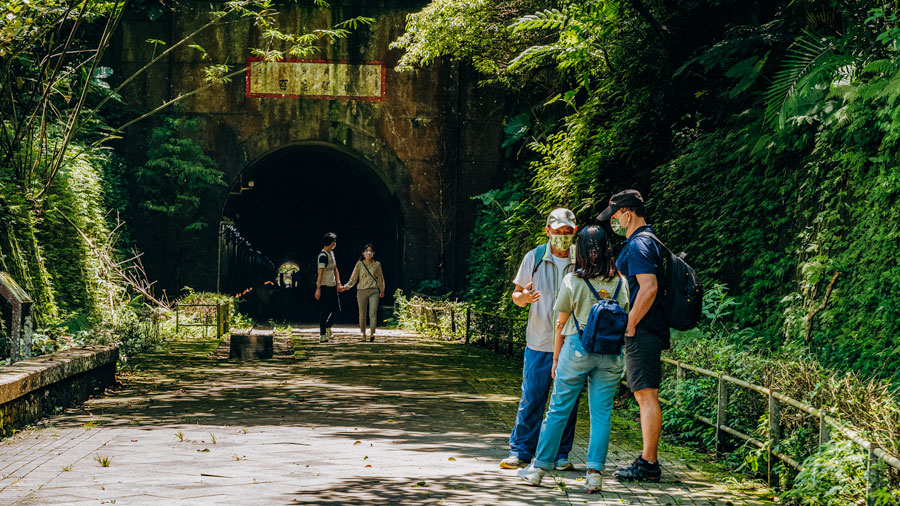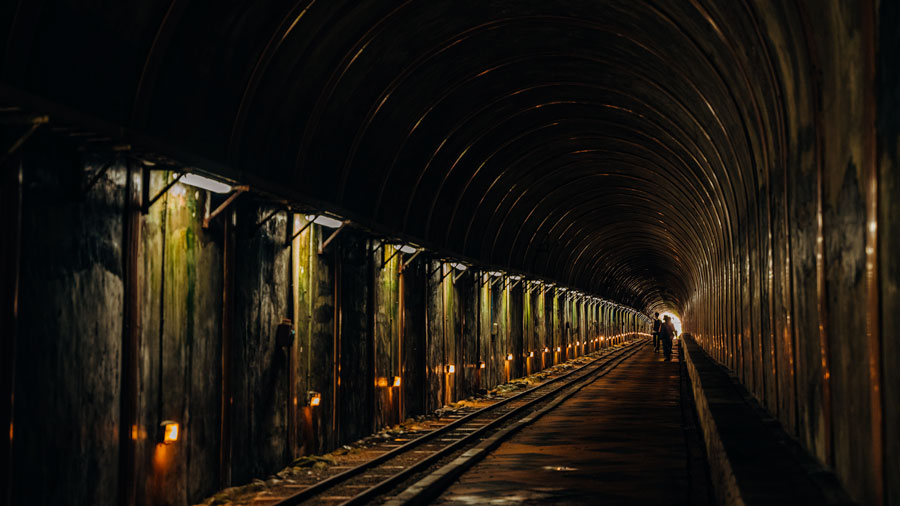 Directly across the highway from the tunnel-entry area is the Baiji Shaded Trail trailhead. This was the original route over the mountain before the Old Baiji Tunnel opened. About 3km long, traversing dense forest, its first length is gentle-graded and leads to a Back Cihu back entrance (no general entry), where there are toilet facilities. Note that the narrow route is paved, and vehicle entry/parking is allowed on this first section. The trees along the way, and panoramas in the higher sections, are a treat.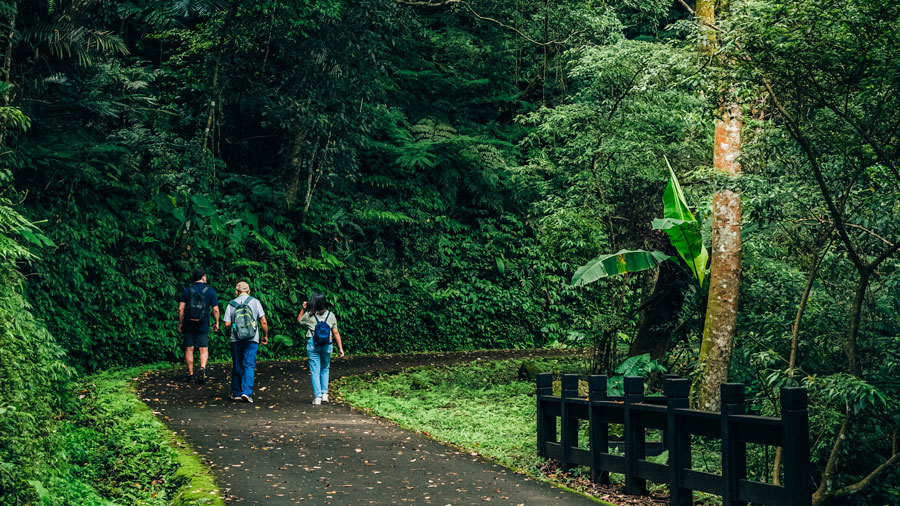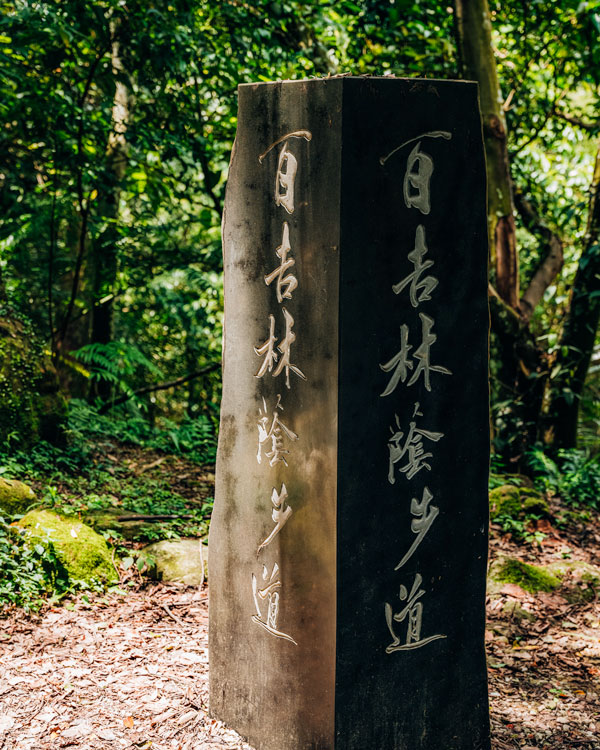 Good Food and Coffee
GO GO BOX
The first time I (unexpectedly) spotted the GO GO BOX, being a well-trained North American, I had a Pavlovian reaction and immediately began salivating.
Explanation:
The GO GO BOX is a big and vivaciously painted food truck standing in a grassy park-like field right beside Highway 7 a short drive beyond (east of) the attractions mentioned above. I was instantly reminded of countless stop-offs at cute highway-side food joints while on long highway drives back in North America, and the delicious tastes and super-relaxed outdoor nature-surrounded eating that no doubt awaited.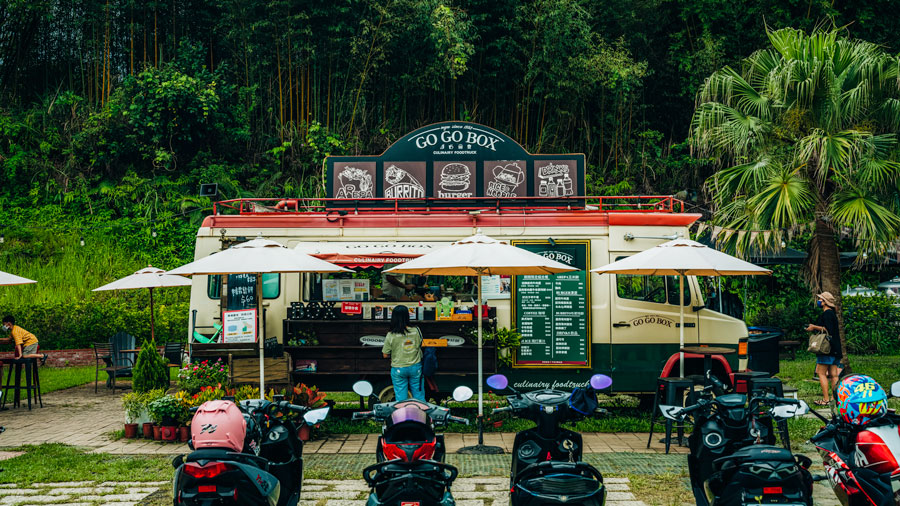 The truck, a retro work of art – a converted camper bus – sits in what is called the LA ONE BASE. "LA ONE" is a humorous rendering of the le wan or "happy play" in the Chinese name. It looks right up a mountainside covered with dense jungle-like forest, and all the while you'll be entertained by birds, cicadas, and other good living things.
The food truck's "friends" in the base include a bright-red vintage firetruck, picnic tables and other shade-protected alfresco seating, and two adorable food stands dressed up as food trucks, the MINI BOX (fries, onion rings, chicken wings, beer…) and Sweety (fruit tarts, breads, cakes…).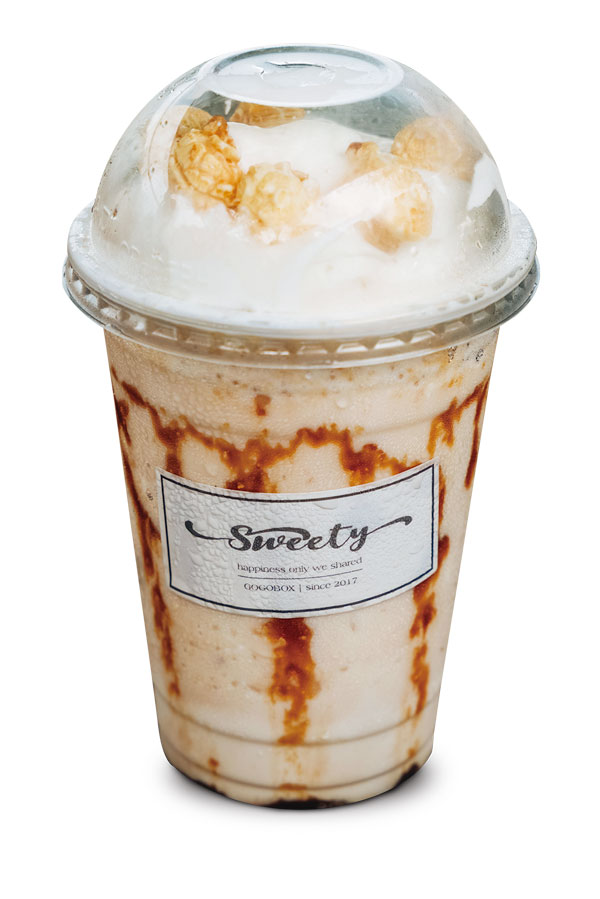 So – at last, you're thinking – what exactly is it that will be stimulating your GO GO BOX salivations. Your shared-with-friends snack-o-rama must include the tenderloin burger with Tillamook cheese, burrito with carne asada, pork arepa, superb crispy-skin fries, popcorn sea-salt ice-cream smoothie, and orange/lemon/passionfruit fruit drink.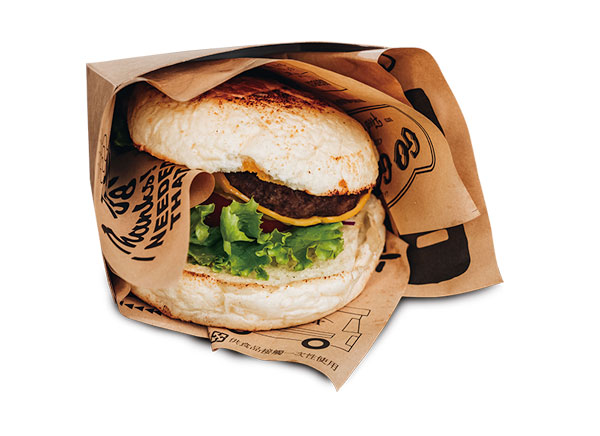 Beyond your own tastebuds, your proof of the food-goodness here will be the constant stream of motorcyclist and cyclist groups rolling in.
GO GO BOX in LA ONE BASE
(GO GO BOX餐車誌in樂灣基地)
Add: No. 138, Sec. 2, Fuxing Rd., Daxi District, Taoyuan City
(桃園市大溪區復興路二段138號)
Facebook: facebook.com/gogobox.foodtruck
Tina Kitchen
The wife of this writer, a Taiwanese lady who has lived three different periods in North America, considers the Tina Kitchen tourist operation in Daxi Township a little bit of Taiwan paradise. Ladies, especially, love this place. It's a large organic farm and tourist-leisure operation in the wide Dahan River valley, looking directly across the river at historic Daxi town atop the bluffs on the other side, mountains beyond. The complex reminds her of long windows-down, easy-driving North America road trips with stops at countryside farms, old country stores, farm-based herb-and-flower shops, and country-view & country-cookin' restaurants. Here's why.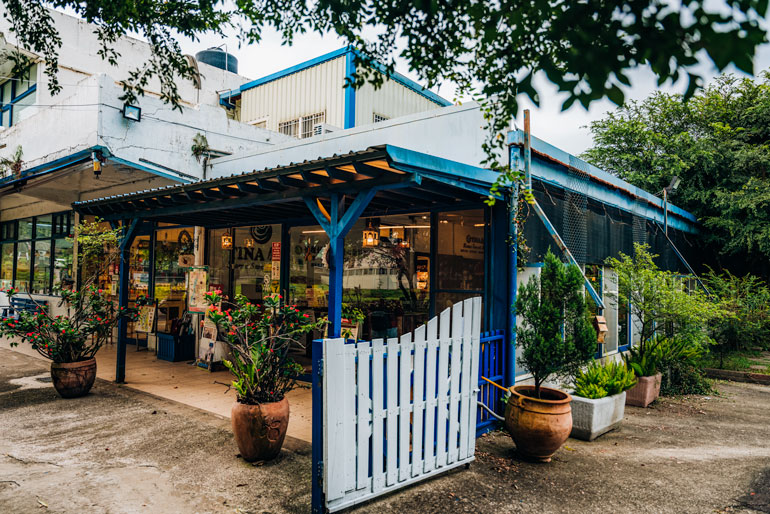 The operation has two main buildings, in an L-shape with a gap in between. In one, which looks like a long converted stable, is a very large café and a flower-and-craft garden shop stuffed to the rafters with the lovely things the female shopper loves to linger forever over. In the other is a patisserie (goodies made on-site in view), a country-store-style shop brimming with jams, preserves, baked goods (again done on-site), and an airy, relaxed restaurant with "Home Sweet Home" prominently posted. Both restaurant and café have pretty-as-a-picture views over the large Tina farm fields out back. Visitors are welcome to stroll the fields and the landscaped grounds in between.
Afternoon tea is served in both restaurant and café, with the breads and cakes changed daily. Specially recommended dishes in the Western/Chinese restaurant are the pork knuckle with Dijon mustard and sauerkraut, steamed fish with lemongrass and lemon, seafood casserole (squid, scallop, shrimp) with Edam cheese, and iced Sri Lankan black tea with osmanthus, kumquat, and other fruits.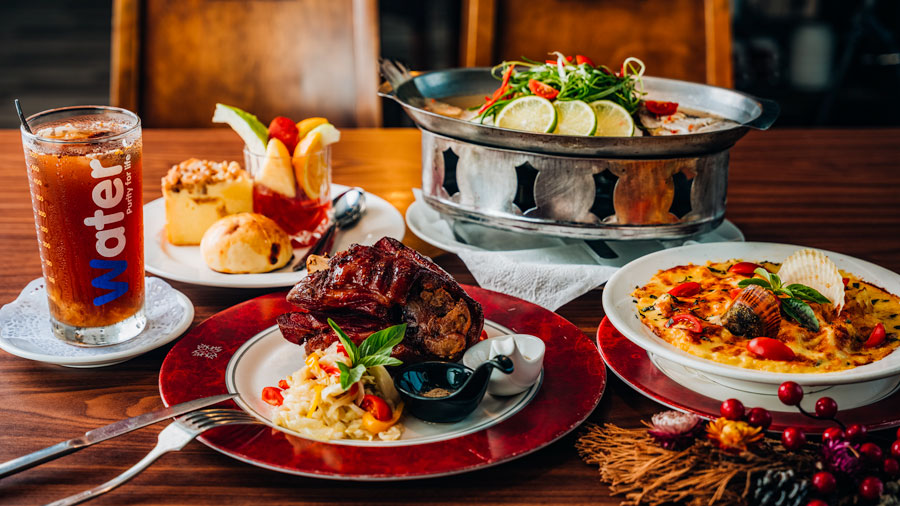 Tina Kitchen (Daxi Branch)
(Tina 廚房 – 大溪店)
Add: No. 55, Ln 175, Sec, 1, Rui'an Rd., Daxi District, Taoyuan City
(桃園市大溪區瑞安路一段175巷55號)
Facebook: facebook.com/organicyam
Busu Two Café
The Busu Two Café is set amidst a grove of tall coniferous and deciduous trees beside a country road between Longtan town and the Sankeng Eco Park (see below). The original Busu Café is in Daxi town.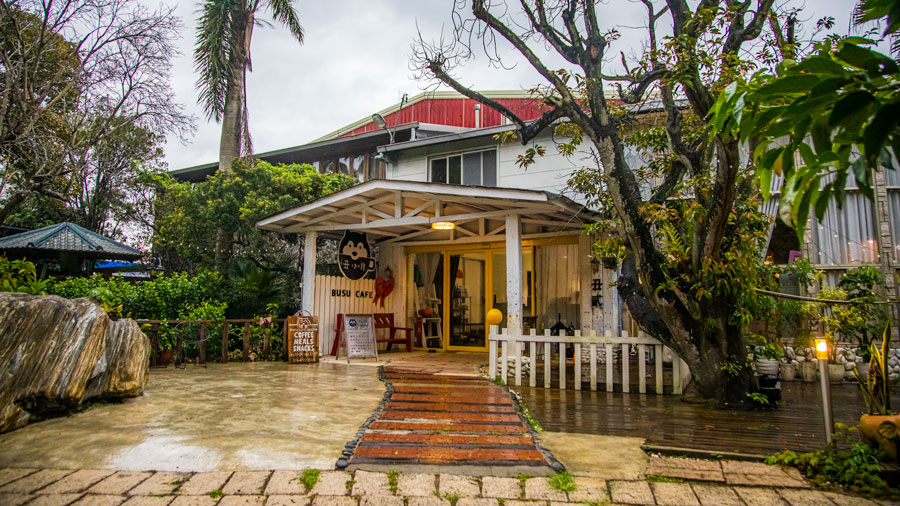 The inviting entrance area, inside and outside, has a bright-white theme and is made up to look like a cozy Western-style country cottage. Further inside, the space opens up markedly and the word "cavernous" comes to mind. The building was originally a storage facility, and the ceiling is quite high. Tables are spaced out wide, giving you liberal personal space. Very large windows allow warming natural light to stream in, with tall drapes used when the sunlight is too direct.
The café, which has a cartoon image of a husky gripping a large coffee cup in its mouth as its logo, and has various animal figures inside – is happily dog and kid friendly. Doggies and kids can run around the spacious grounds, and kids can expend further energies in a large outdoor play area.
From the menu, special recommendations go to the crispy-exterior waffles, served with a very sweet whipped cream, salt-flavor rose latte, featuring foam with a strong sea salt-and-rose taste, and green-tea ice with milk, the fresh milk poured over green bone-shaped ice "cubes."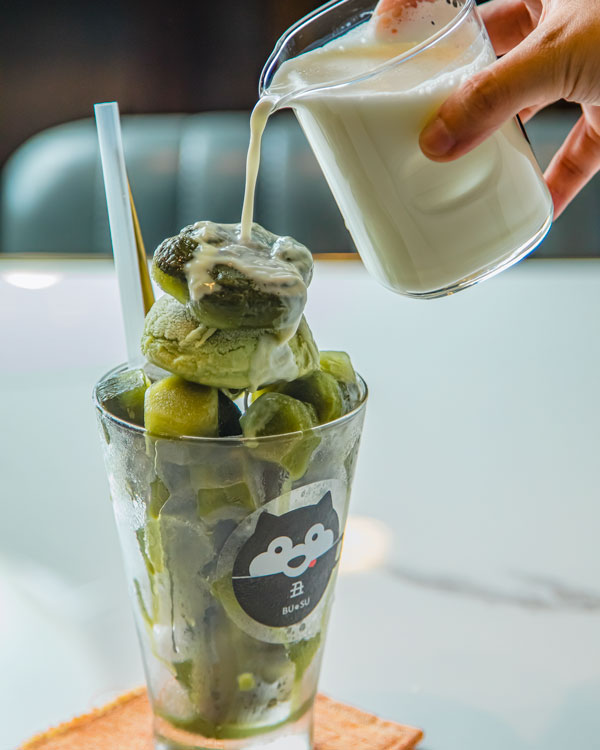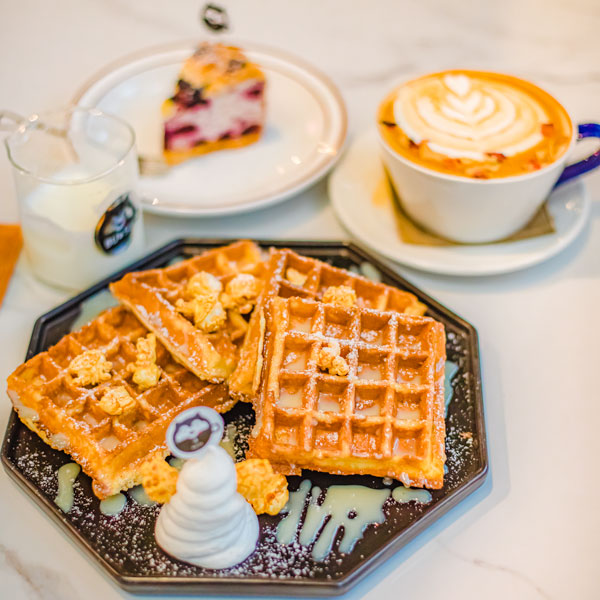 Busu Two Café
(丑咖啡二店)
Add: No. 352, Jia'an Section, Zhongzheng Rd., Longtan District, Taoyuan City
(桃園市龍潭區中正路佳安段352號)
Facebook: facebook.com/busutwo.cafe
Longtan Lake
Longtan town, on the Taoyuan Plateau's higher south edge, is another of the northwest region's Hakka settlements surrounded by good farmland. This is a busy place – an elevated stretch of the six-lane National Freeway 3 races right through its south area.
Though not at its physical center, its cultural/spiritual center is the large "dragon pool" – i.e., longtan – on its west-side edge, farmland beyond. This lake dates back to imperial times, an unusually large version, 18ha, of the countless irrigation ponds created by Han Chinese pioneers that dotted the Taoyuan Plateau (many today still extant), leading to the nickname "Land of a Thousand Ponds." Legend asserted that an auspicious yellow dragon dwelled at its bottom, the reason there was always ample water supply, even in dry weather. On your visit, try to spot it moving about in the murky depths.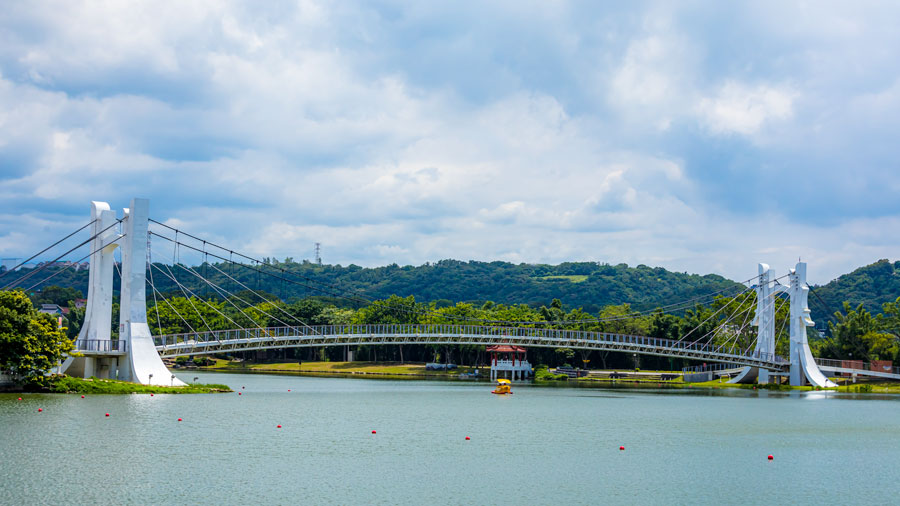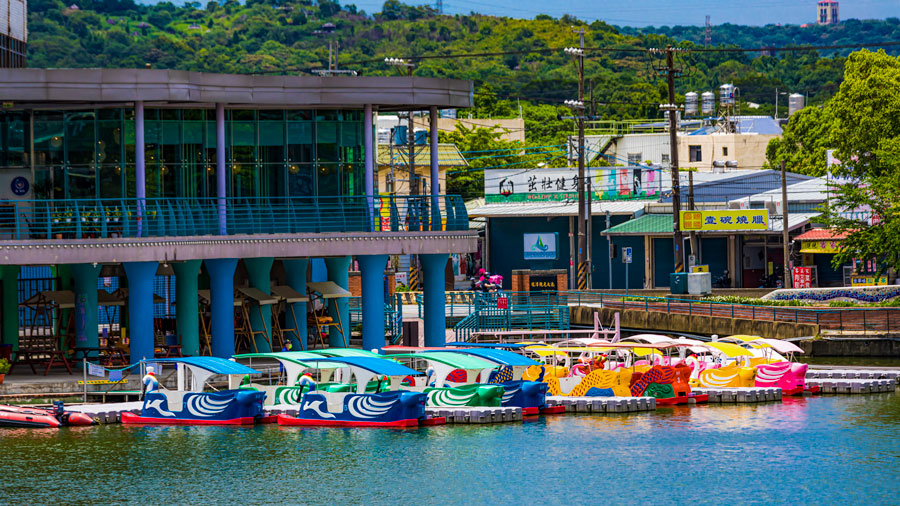 The lake is today a well-developed tourist attraction, Longtan's most popular. It's surrounded by a pleasant pathway, with lots of shade and seating. The west-side grounds, farmland in view behind, have been developed as a long, thin landscaped park. This being a most auspicious place, it makes sense that a large, ornate Chinese temple was erected atop a small lake island, reached by a short vehicle/pedestrian bridge. Two scenic pedestrian-only bridges also reach out across the water to the island, the older one zigzagging wildly just above the water (in Chinese belief, ghosts and demons can't zigzag), the younger and much larger bridge soaring majestically high above it.
The magnetic Long Café ("long" as in "dragon") is on the second level of a stylish modern-architecture leisure and recreation complex in the lake's northwest corner. Among its pleasures are great coffees, teas, cakes and pastries, and hot dishes, but its greatest pleasure is one of Taiwan's best café views, through its front floor-to-high-ceiling glass wall – lake and temple filling up the foreground, glorious central mountains the faraway backdrop.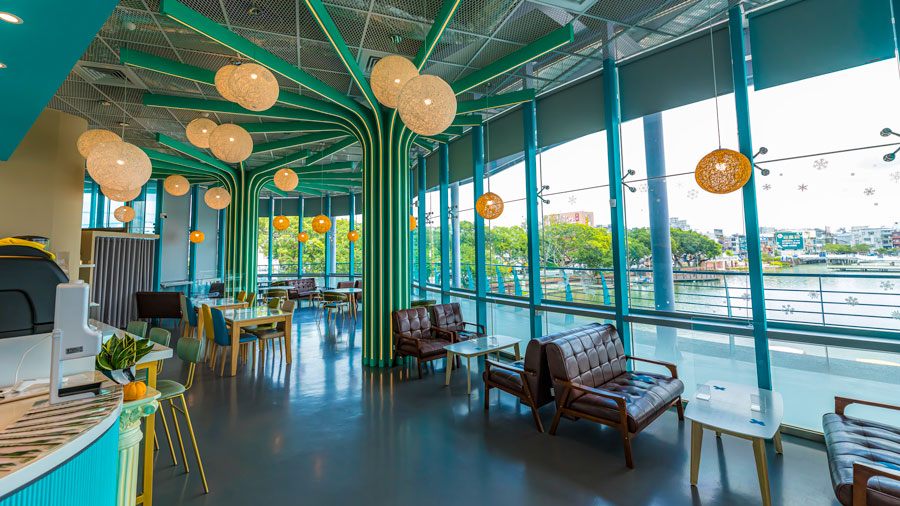 Sankeng Eco Park
The blissfully peaceful 3.8ha Sankeng Eco Park is located on the left (west) side of the Dahan River immediately downstream from the imposing Shimen Dam and its After Bay Weir. It sits on the river-valley bottom behind this area's long, high riverside flood-prevention embankment.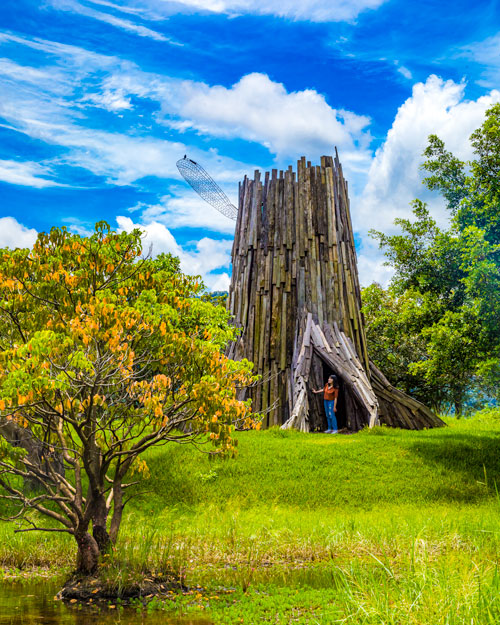 This site was reclaimed for eco-leisure use in a joint government/community effort. The sleepy centuries-old village of Sankeng – wide awake and busy with tourists on weekends/holidays – is up above on the rolling hillside leading up to the Taoyuan Plateau. Once a place subject to illegal sand and gravel extraction, this is now a tranquil oasis with a serene lake, viewing pavilions, arch bridges, short canals, gurgling source streams, and large installation artworks made with natural materials.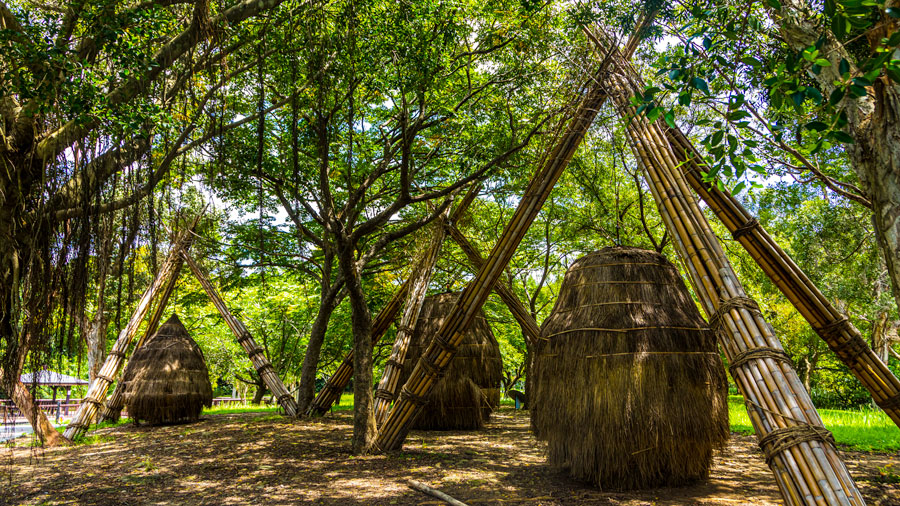 It may be hard to imagine today, but in imperial times when the Dahan flowed much higher this was the site of a thriving riverport, and Sankeng was a key regional commercial center. It was also the highest riverport on the Dahan, which (heading upriver) turns abruptly inland at the dam site to enter the high hills and mountains. Sankeng is a Hakka village, and the village/port was this region's transport hub for such Hakka specialties as rice, tea, and camphor, most destined for Taiwan-outbound transport via the coastal port of Tamsui above Taipei. Tea, especially, was transported by porter from as far away as today's Miaoli County. The park-facing embankment wall, in full view through the trees, is adorned with a series of large bright-hue paintings depicting old-time Hakka farm life.
Be sure to take the time to visit narrow Sankeng Old Street, just a couple of hundred meters long, lined with vintage red-brick residences and commercial buildings. There are Hakka-specialty shops and eateries here – take home some Hakka mochi with brown sugar and ginger, or perhaps some kumquat sauce.
Practical Info
This article's destinations are spread out, so self-driving is recommended. If doing so, the drive from Taipei on National Freeway 3 can be quick, about 30 minutes to the Daxi Interchange, 40 to the Longtan Interchange.
Regular bus service is also available to all mentioned spots. For bus-info assistance plus more info on the area's sightseeing attractions, accommodations, etc., visit taiwan.net.tw (Taiwan Tourism Bureau) and travel.tycg.gov.tw (Taoyuan City).