New Cultural-Creative Places of Accommodation
TEXT / RICK CHARETTE
PHOTOS / CHEN CHENG-KUO, VISION
As you were informed in our main article on Chiayi City, its younger generation is busy as beavers taking old residences and shops, renovating them, and launching attractive cultural-creative adventures. Here we visit two spots to overnight that enjoy top online public-polling results – one hostel, one homestay. Both are in the character-deep old quarter before Chiayi Railway Station and its yards. We also provide a section on recommended historical/cultural sites within walking distance.
Slow Down
This cozy and exceedingly homey two-story homestay is located along a short residential street that is more like an alley, just wide enough for two scooters to zoom along side by side, so narrow that with homestay windows open you can clearly hear people talking in the surrounding abodes. There is a decidedly quaint ambience to this old neighborhood, filled with two/three-floor residences built toward the middle of last century.
This is indeed a "home"-stay, but not in the usual manner. This was the family home of the owner – i.e., she grew up here – but she now lives elsewhere. She has redesigned the exterior and interior, and if you rent all three rooms you get a full old-community Chiayi home all to yourself.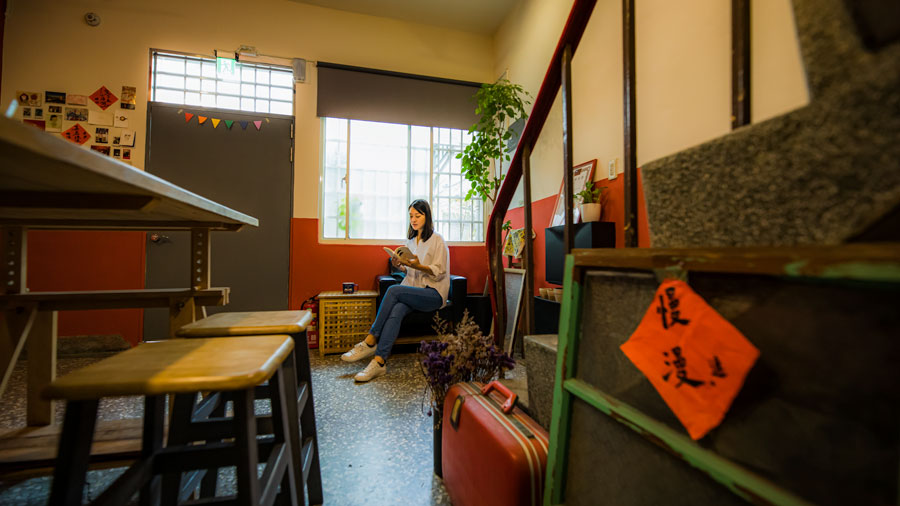 The doorway area on the main-floor exterior stands out from the neighbors', redone with stylish modern tiling and windows, fronted with a line of air-freshening potted foliage, and invitingly lit up at night with a row of glowing-white string lights. The remainder of the façade is original, featuring exposed-aggregate concrete that is ubiquitous in Chiayi.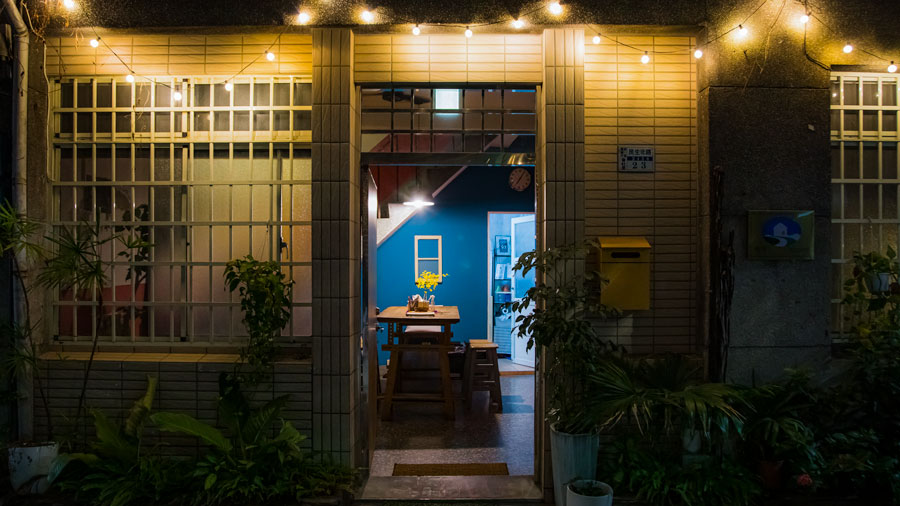 Inside, the living room and three bedrooms have been repainted much like a kids' playroom and kids' bedrooms, respectively, in a modern home, with vivid splashes of cartoon-like colors on walls. These are complemented well with such decorative vintage-item flourishes as old suitcases and old wooden window frames hung on walls. Centering the living room is a long wooden workbench-style table perfect for workstation use. And best of all are the original house elements left in place – original terrazzo flooring, largely-intact original kitchen, wood-frame kitchen door, and other waiting-for-you discoveries. Home sweet home!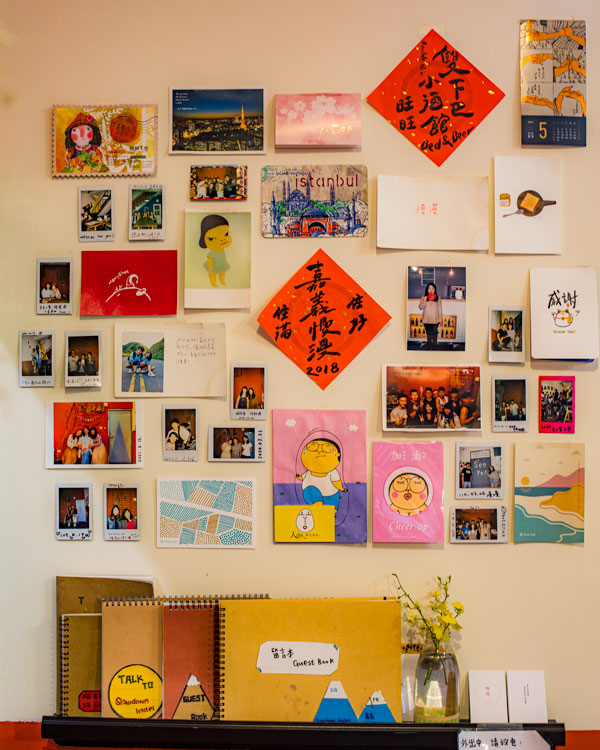 There are two spacious bedrooms with a single large bed each (2F) and one smaller room with a bunkbed (1F). Each of the three has a bathroom with shower. Towels and facecloths are provided and each room has a wall-mount TV.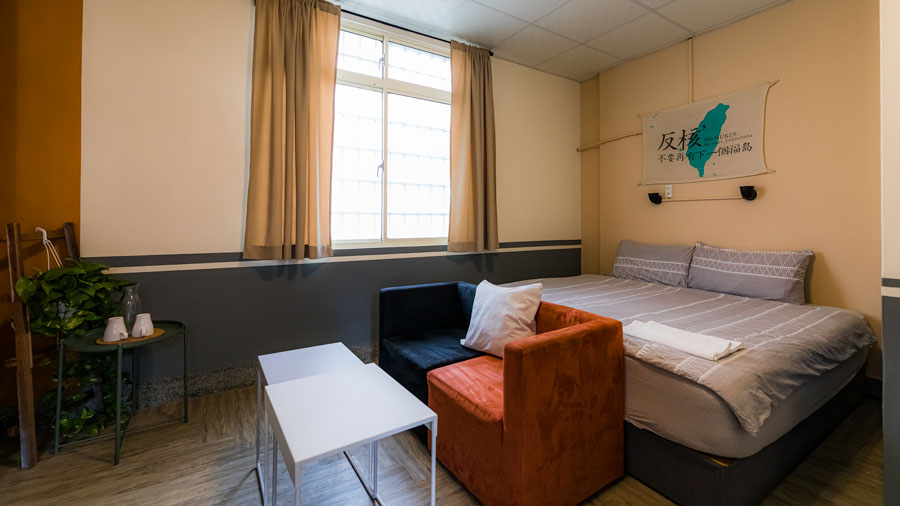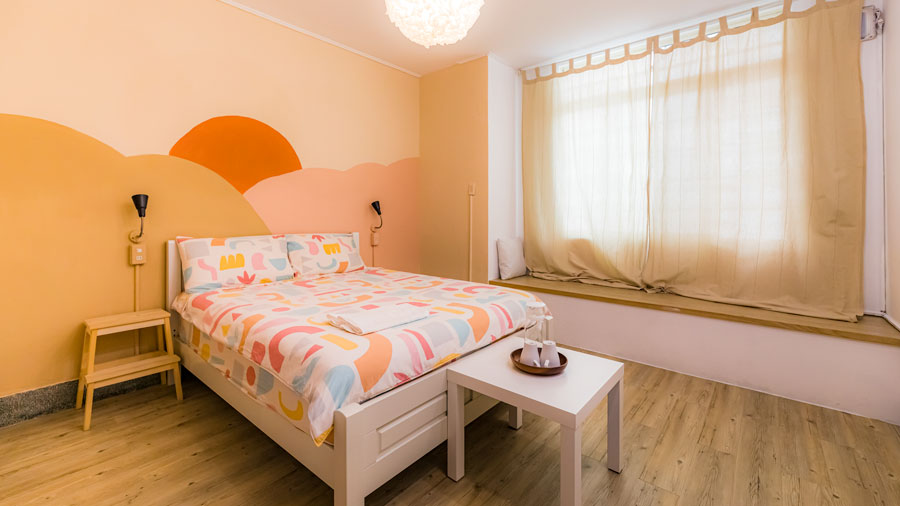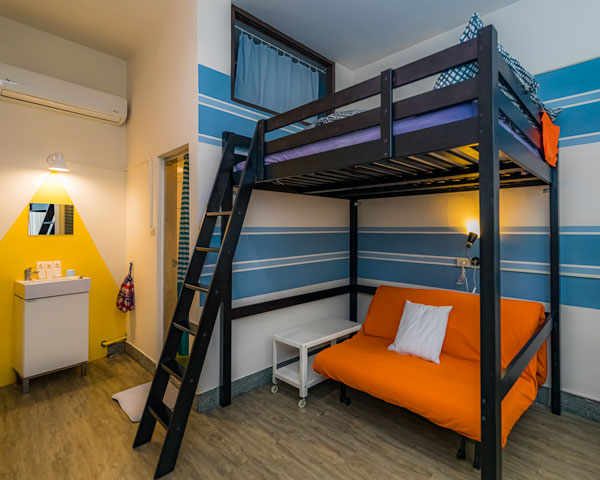 Breakfast is not provided, but you can use the fridge in the small kitchen. There are also good food-purchase choices at the intersections at either end of this block of the street. Just steps away, right on the nearest intersection, is the gorgeous Mumushan, a café/bakery with gleaming-white façade and substantial sun-inviting glass on two sides. Savory edibles include sandwiches, quiches, and salads; the sweet edibles include Western-style cakes, pies, and pastries. Around the corner at the other intersection is a row of busy old-timey hole-in-the-wall eateries selling myriad hot-snack treats, from turkey rice to noodles to fried rice.
Slow Down
(嘉義慢漫)
Tel: 0973-067-509
Add: No. 23, Ln. 245, Minsheng N. Rd., West District, Chiayi City
(嘉義市西區民生北路245巷23號)
Facebook: www.facebook.com/slowdown245
Fun Time Hostel
The Fun Time Hostel is an eye-capturing multi-story facility that stands on the corner of two narrow commercial streets of comparatively quiet traffic, its dynamically-colored recessed entryway set at a slant right on the corner. This was originally a commercial building, a purpose-built goods distribution center built approximately 70 years ago. The hostel's elevator uses what was originally the freight-elevator shaft.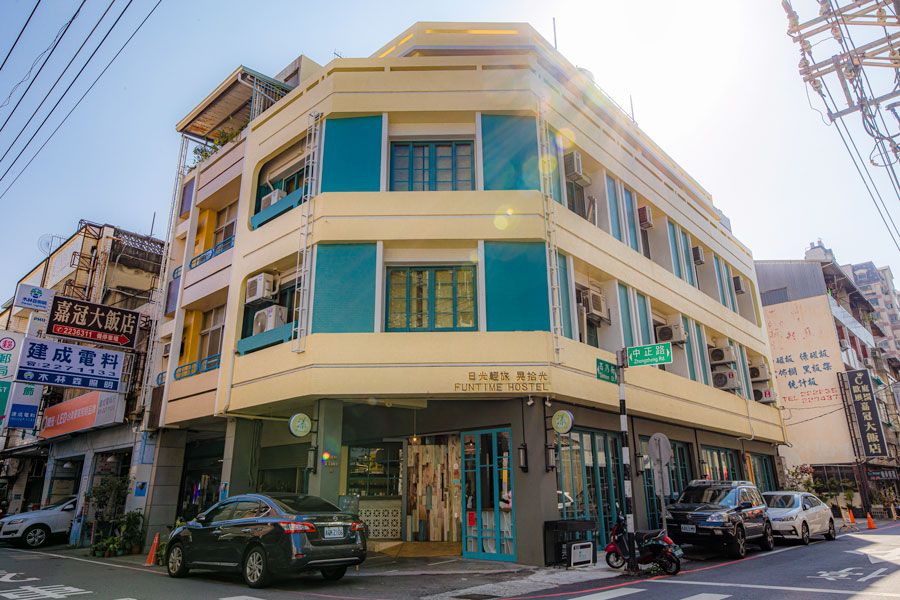 The owner is a transplant from Taipei who has fallen in love with Chiayi's easy pace and relaxed friendliness. A passionate international traveler, she wanted to open a hostel because she has loved the homeyness and great personality variety of the hostels she's stayed at throughout the region, and also sought to open a place welcoming to young adventurous folk and promoting Chiayi life and culture. Her dream-come-true launched just not long ago, at the end of July in 2020.
A professional home/business interior designer, she has poured all her emotions into this project. Both the building's exterior and interior have been completely renovated and redecorated. Outside, it announces itself to the eye from far off with bold Mediterranean-style sunny yellow, sea blue and fruity orange color swathes, plus an imaginative lobby-entry door of reclaimed wood planks that look like brushstrokes of different colors on an artist's palette.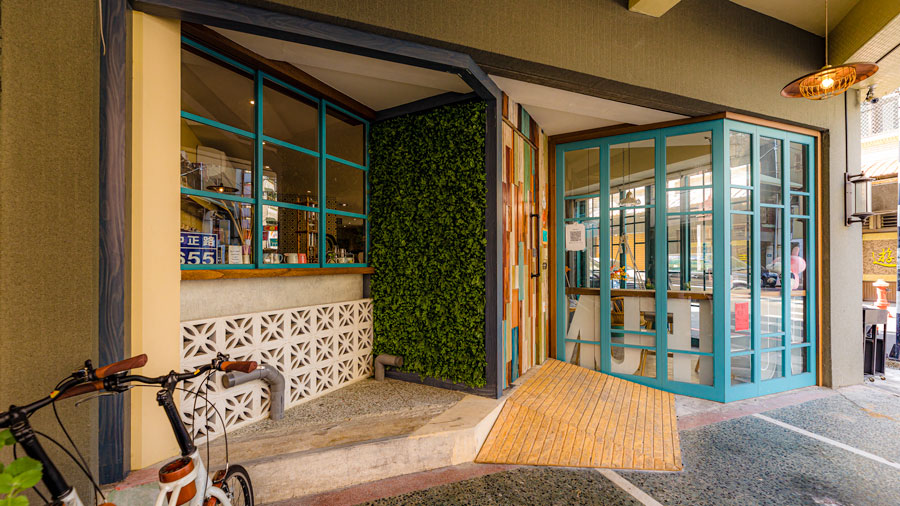 There is an airy sunlit café on the main floor, and three floors of accommodations above. The café is also open to non-guests. There are separate rooms available for guys and gals, plus mixed rooms and suites for families. Female-only rooms and washroom/shower facilities are protected with digit-code door locks. Rooms are neat and spartan, with pleasant wood flooring, bare bulbs hanging from ceilings designer-style, and liberal use of chipboard and exposed red-brick walling. Bunkbeds are standard, with each space containing a reading light and electrical socket. A TV is also provided in each room, either wall-mounted or tabletop.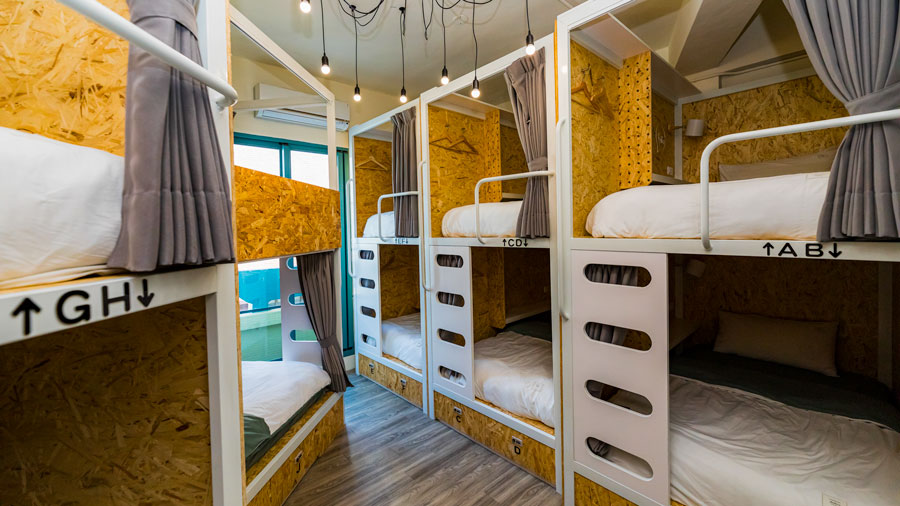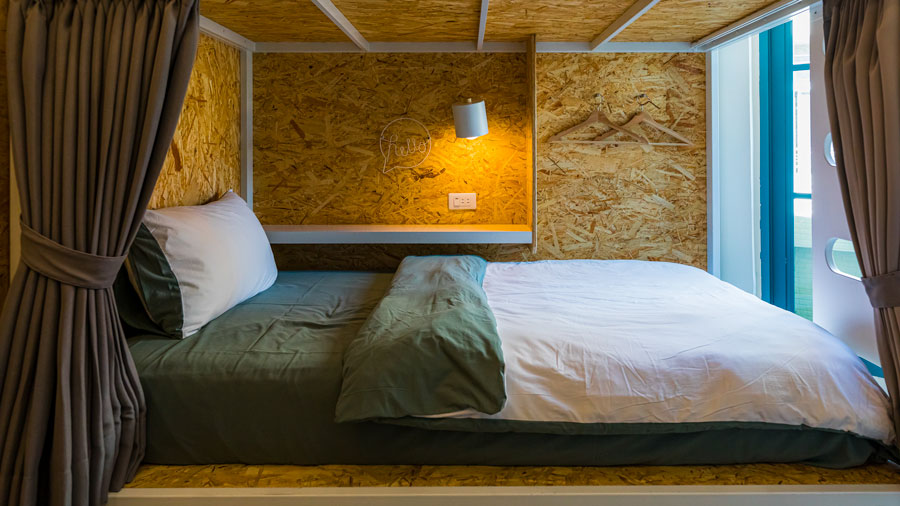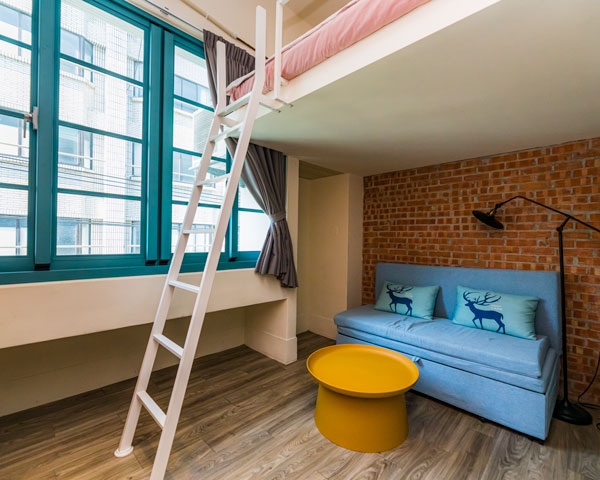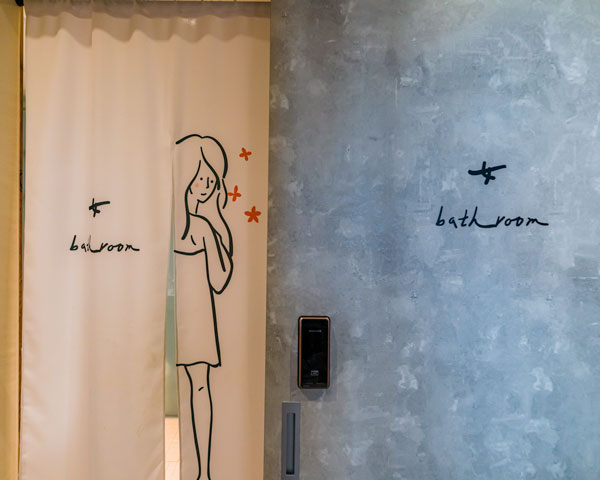 Breakfast is free, taken in a perky kitchen-style common room on the top floor, which is adjoined by a wide balcony with comfy seating. The simple range of food/drink items includes teas, coffees, and juices along with cereal, bread/toast, muffins, steamed buns, jams, and peanut butter. Other services include self-service laundry facilities (free use) and bicycle rentals (NT$10/hour).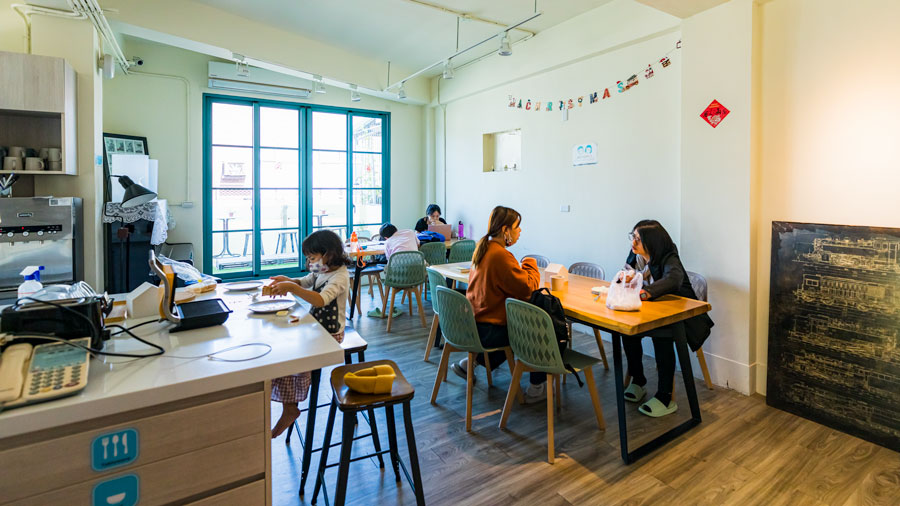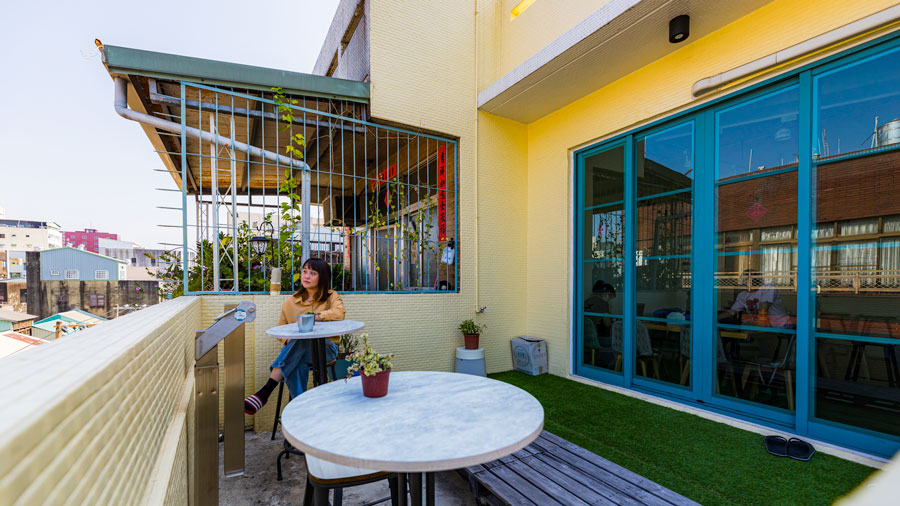 The first-floor café has a range of hand-drip coffees, lattes, fruit-based drinks, and teas (including Alishan tea). On the food side are various French-style cakes as well as local-style mung bean and taro cake. Special house recommendations are a single-source Panamanian coffee, a cake and fresh-cut fruit set, and an all-you-can drink coffee deal (3hr limit).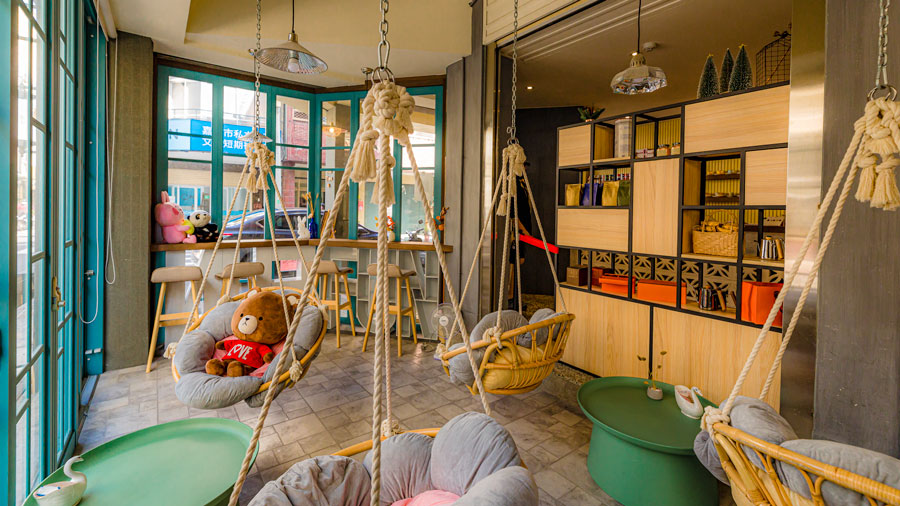 Fun Time Hostel
(日光輕旅)
Tel: (05) 227-5858
Add: No. 655, Zhongzheng Rd., West District, Chiayi City
(嘉義市西區中正路655號)
Facebook: www.facebook.com/funtimehostel.655
Close by
Museum of Old Taiwan Tiles
In the Museum of Old Taiwan Tiles, literally everything you lay your eyes on is a thing of beauty. This graceful, scent-filled Japanese-era former residence, meticulously restored, was built with high-quality hinoki cypress brought down along the Alishan Forest Railway, which happens to run directly behind the museum.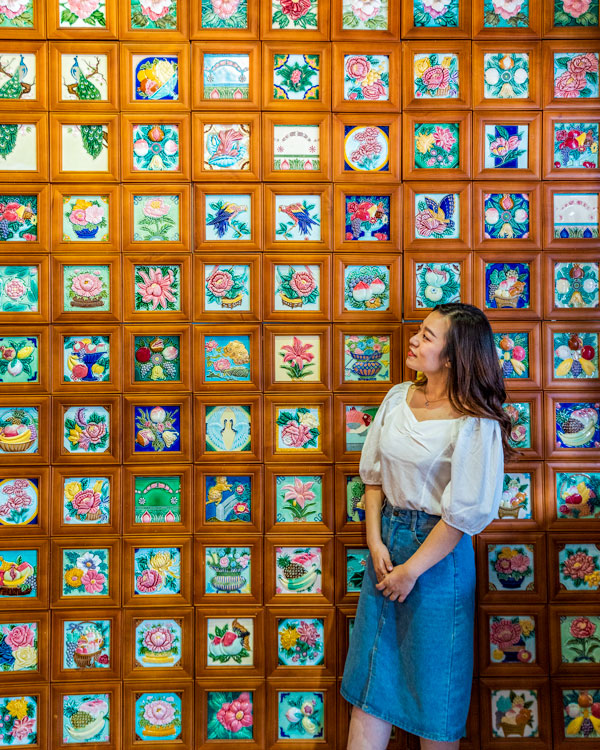 The most exquisite aesthetics, however, are found in the mesmerizing collection of heritage decorative wall tiles, with thousands displayed. These have come from the exterior and interior walls of traditional Chinese three-sided courtyard-style residences – embedded as decorative flourishes in homes of the better off. Chiayi was long a production center for majolica-style tiles. The proprietor has spent over three decades hunting them – sources are now dear – and decided to share his precious treasures through this museum. He has also designed varied attractive tile-theme souvenir items, such as postcards and coasters.
Museum of Old Taiwan Tiles
(花磚博物館)
Tel: 0905-012-390
Add: No. 282, Linsen W. Rd., East District, Chiayi City
(嘉義市東區林森西路282號)
Hours: 10am~5:30pm
Website: www.1920t.com (Chinese)
Chiayi Cultural and Creative Industries Park
Chiayi Cultural and Creative Industries Park is a short distance from Chiayi Railway Station, and right beside the yards. It's on the site of the former Chiayi Brewery, closed in 1999, which was established by the Japanese in 1916 to produce sake and other products. In the 21 renovated buildings you'll discover an intriguing heritage-treasure bounty of bottle washers, packaging machines, scales, conveyors, barrels, and other equipment on display.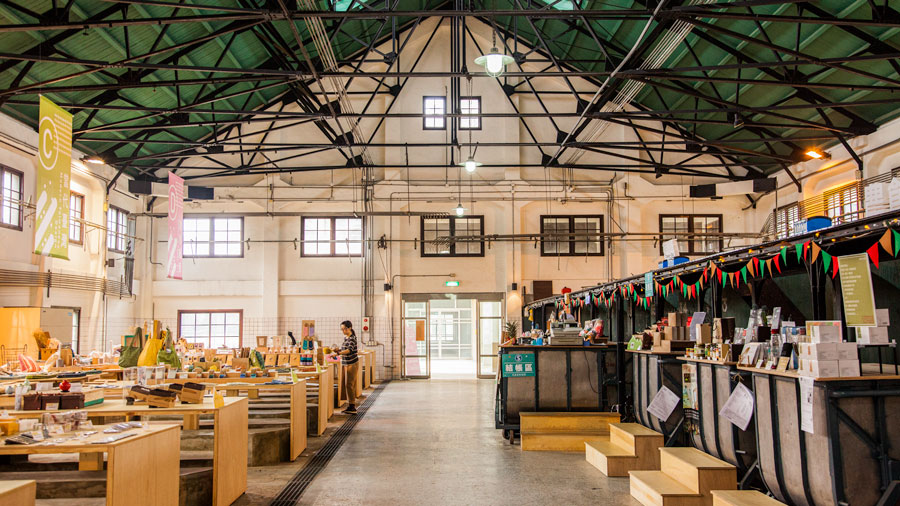 Today's cultural-creative venture promotes such signature local art forms as koji pottery and both wood and stone sculpture. Browse the vibrant market-style array of offerings for sale at the many stands run by artists, artisans, and private cultural-creative enterprises. There are also special-theme art exhibitions, gallery-cum-cafés/teahouses, and a cultural-creative DIY experience area (fee).
Chiayi Cultural and Creative Industries Park
(嘉義文化創意產業園區)
Tel: (05) 216-0500
Add: No. 616, Zhongshan Rd., West District, Chiayi City
(嘉義市西區中山路616號)
Hours: 10am~8pm
Website: www.g9park.com (Chinese)
Chiayi Art Museum – ChiaYi 1936
The Chiayi Art Museum – ChiaYi 1936 faces the above-mentioned park across a major thoroughfare. The complex consists of three renovated buildings, built in 1936 by the Japanese, which formed the Chiayi branch of the Taiwan Tobacco and Wine Monopoly Bureau – a main building and two warehouses. This is Chiayi's first major historic site redesigned with a stylish modernistic appearance. The complex now serves as an expansive space for art promotion and education: there are exhibitions, workshops, a library, shops, dining facilities, and a large and very popular landscaped garden.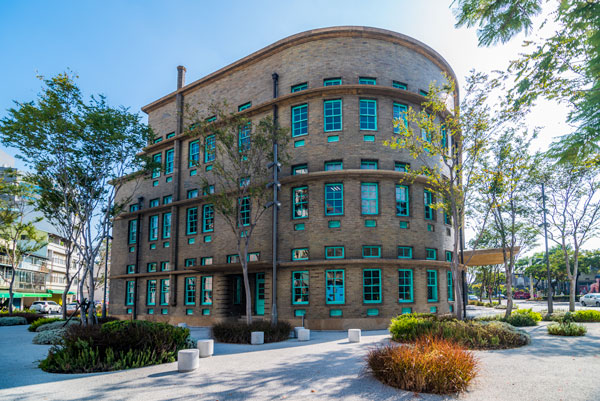 Chiayi Art Museum – ChiaYi 1936
(嘉義市立美術館 – 昭和J11)
Tel: (05) 227-9011
Add: No. 101, Guangning St., West District, Chiayi City
(嘉義市西區廣寧街101號)
Hours: 10am~8pm
Facebook: www.facebook.com/ChiaYiJ11
Chiayi Old Prison
The Chiayi Old Prison, today a museum, is the only one of five prison facilities built in Taiwan by the Japanese that still exists. Opened in 1922, the last inmates were moved out in 1998 and its days as a penal institution were done. The facility housed as many as 300 male and 30 female inmates. The design is a fan-shaped cell complex with a central command station from which guards could watch the entire inmate population. The cells stretch out from the central corridor in three long blocks. The complex is surprisingly well-preserved; the doors and windows, for example, are made of Alishan cypress, ensuring strength and durability.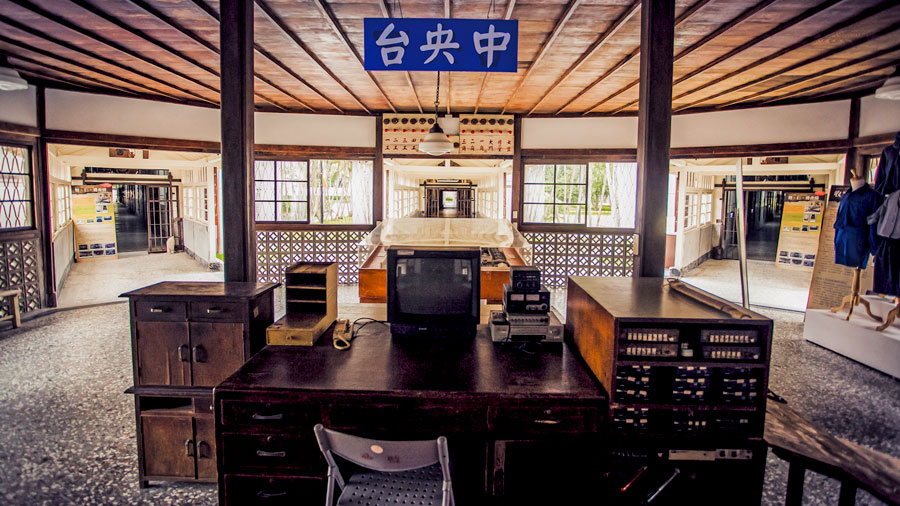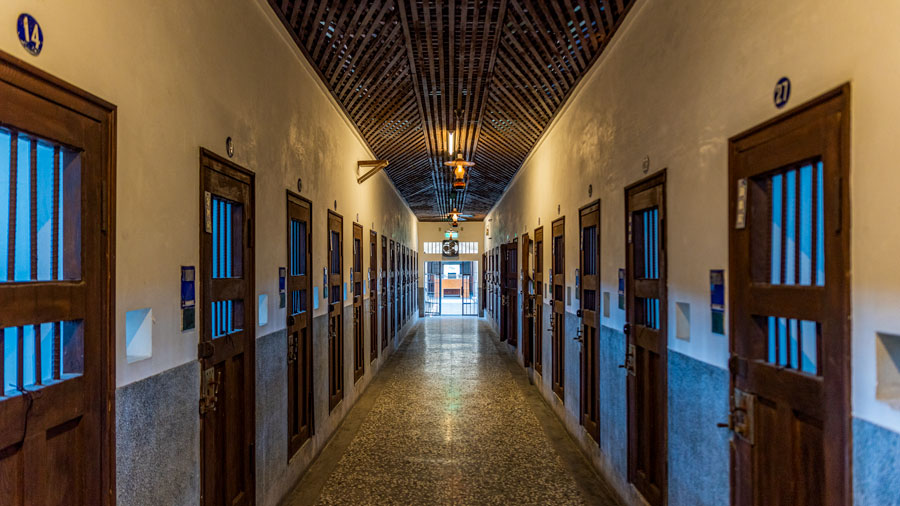 Chiayi Old Prison
(嘉義舊監獄)
Tel: (05) 362-1873
Add: No. 140, Weixin Rd., East District, Chiayi City
(嘉義市東區維新路140號)
Note: Prior reservation required
Website: prisonmuseum.moj.gov.tw (Chinese)
Rainbow Fresh Fruit Store
The Rainbow Fresh Fruit Store is a shop beloved by locals, in place over seven decades. It provides all kinds of sweet goodies handmade using the cornucopia of delicious fruits grown in the Chiayi region: fruit drinks, cut-fruit platters, puddings, cold sweetened soups, and more. The popular lotus seed soup is an unusual and highly recommended treat for the palate. A sit-down here also serves up a time-travel experience into yesteryear Taiwan, for the décor is like a museum display, barely changed in 70-some years, with terrazzo flooring and bright-green, plus white bathroom-style tiling climbing the walls to the ceiling.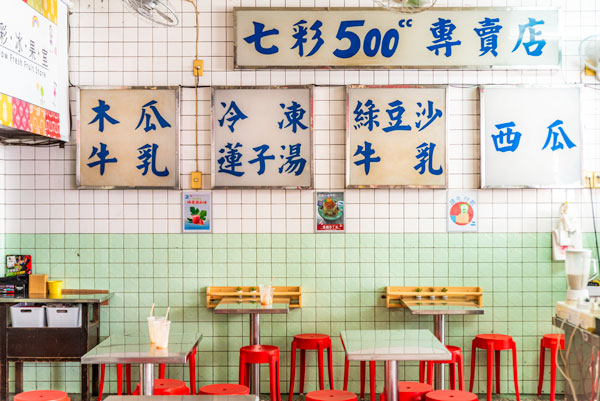 Rainbow Fresh Fruit Store
(七彩冰果室)
Tel: (05) 227-1953
Add: No. 329, Zhongshan Rd., West District, Chiayi City
(嘉義市西區中山路329號)
Hours: 9am~10pm
Facebook: bit.ly/3IULKn0