Meeting the Gods of Taipei Xiahai City God Temple
TEXT / AMI BARNES
PHOTOS / CHEN CHENG-KUO
With an almost endless parade of kaleidoscopic temples and folk festivals, it's a safe bet to say that every visitor to Taiwan has at least one religious experience on his or her bucket list. But for love-seeking sightseers, there's a single place that deserves top billing: Taipei Xiahai City God Temple in the capital's Dadaocheng neighborhood.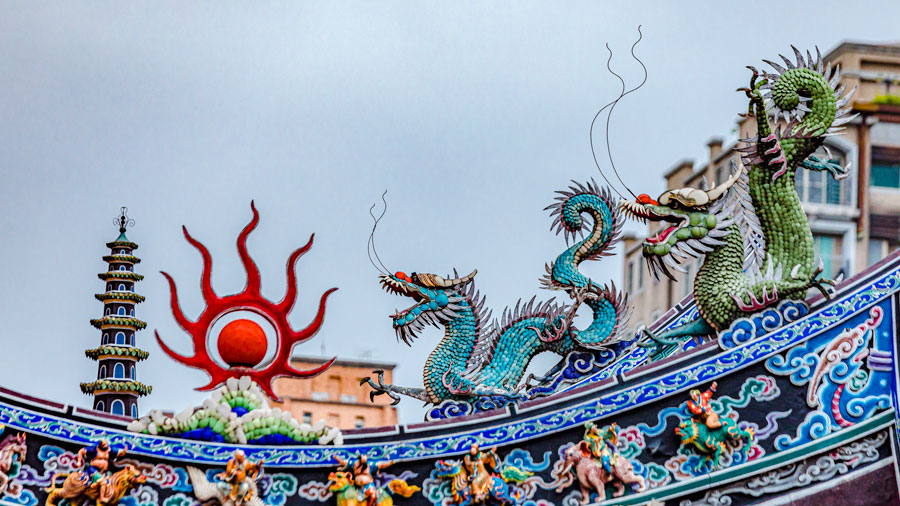 Temples in Taiwan
One of the first things that most newcomers to Taiwan notice is that there is an abundance of temples and shrines, and it's no exaggeration to say that in many areas there can be several on a single city block. These structures vary in scale from humble, thigh-high Tudi Gong (Lord of the Soil and the Ground) shrines to sprawling complexes with landscaped gardens, tunnels, and several multi-level buildings. For the uninitiated, it can sometimes be daunting to step over that threshold into a temple's smoky interior, and gaining an understanding of Taiwan's unique blend of Daoism and Buddhism wrapped up with a side serving of Confucianism can seem like a tall order. But don't be deterred. Places of worship here are generally welcoming of guests, and paying one a visit can be a rewarding experience for even the most devout of atheists.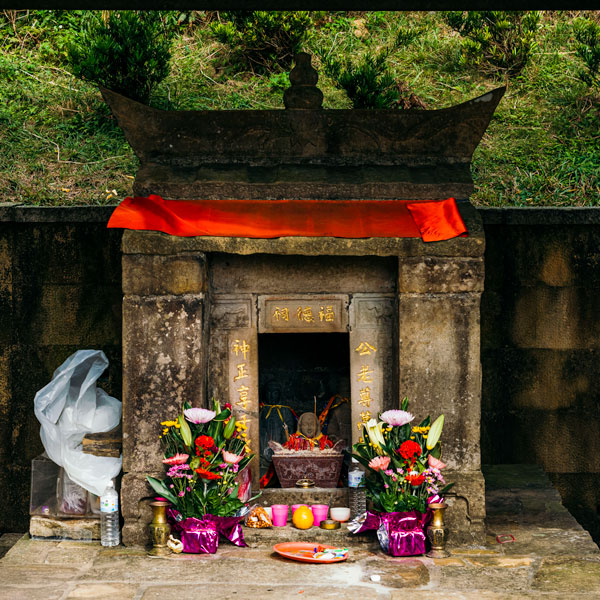 More than just an excuse to marvel at an exquisitely decorated building, a trip to a temple can offer a window into the complex layers of Taiwanese culture and history. Taipei landmarks like Longshan Temple or Xingtian Temple have long and colorful stories dating back to Taiwan's Qing imperial era. Such larger establishments often have a symbiotic relationship with their host communities, and over the years their presence has actively molded the city or town around them. It's no coincidence that some of these grand buildings occupy space in busy commercial districts and/or beside night markets. But far from being relics, temples remain a contemporary concern – with upwards of 80% of Taiwan's population reported to subscribe to some form of religious belief, you will encounter folks from all walks of life paying a visit to the gods.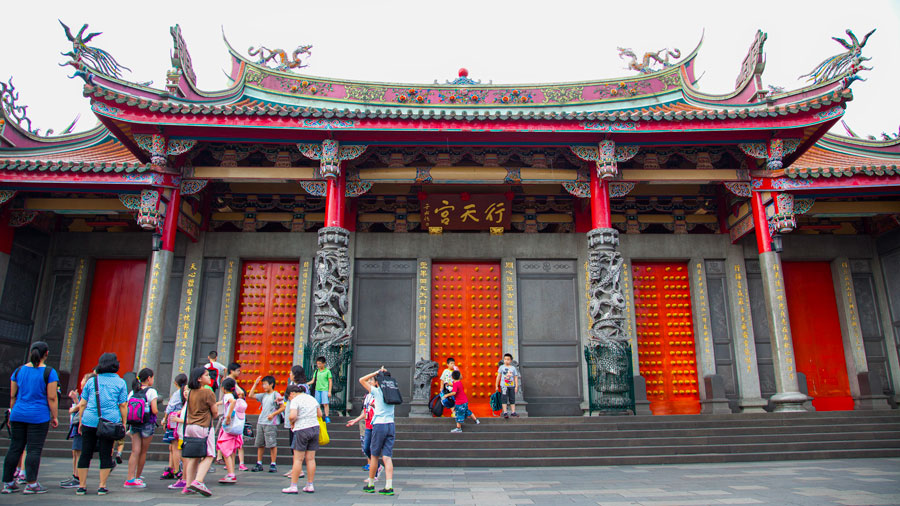 To help visitors get the most out of their experience, several of the better-known temples offer guided tours (some in English). These can be a superb way to gain insights that might otherwise evade the casual observer. One of these tours is available at Taipei Xiahai City God Temple.
Visiting Taipei Xiahai City God Temple
Our guide, Titan Wu, approaches us on the small plaza in front of the temple. He has just given a tour of the district to a school group. Wu has been introducing the area to visitors for over a decade, and is adept at making the intricacies of the temple accessible to people of different ages and nationalities.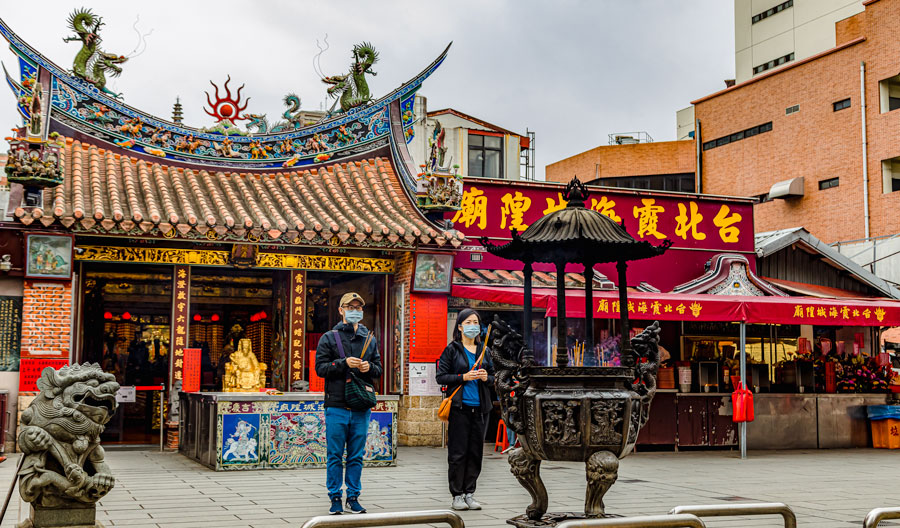 Starting where he kicks off all his tours, we approach the golden City God statue seated just outside the central doors of the temple (the gods are on call 24/7, even when the temple is closed). As the temple's titular deity, says Titan, the City God is akin to a mayor in terms of his role within the celestial bureaucracy. The guide encourages me to touch the statue's gilded robes, and I feel a bit uncomfortable. It seems transgressive. "The god is used to it," Titan reassures me, adding that in times past when access to quality nutrition was limited, believers would rub slivers of gold leaf onto this idol in the hope that the god would assist in curing ailments.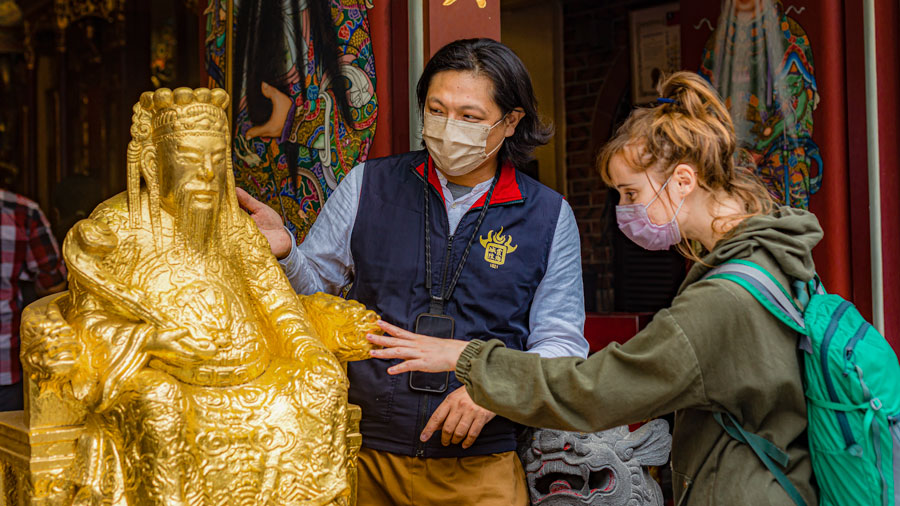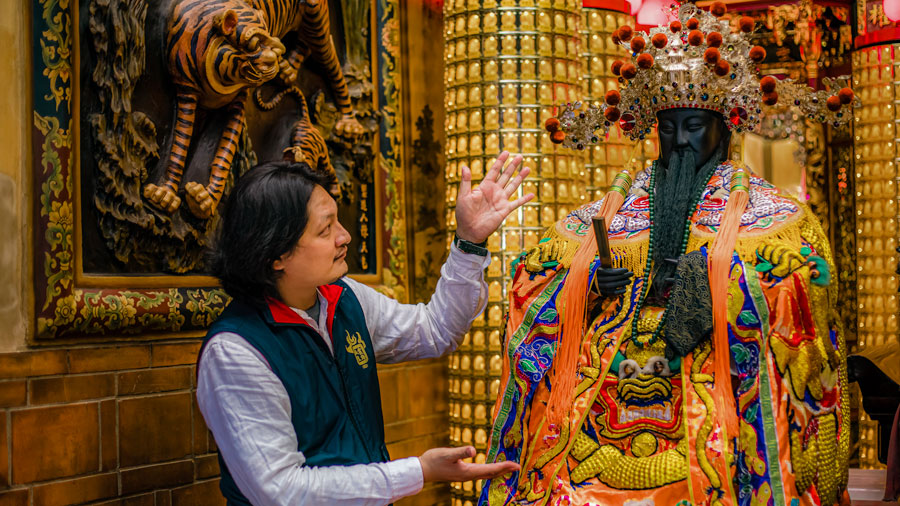 Although this practice has since been abandoned, contemporary worshippers retain a pragmatic relationship with the heavens. Husband has a wandering eye? Take this charm! Big exam coming up? Leave your registration form with us, we'll see to it. All the struggles of daily life have their heavenly fixers, and devotees seek out whichever god is best suited to their needs. An example of this is the beloved Yue Lao, oft rendered in English as Old Man Under the Moon, the matchmaker god. Since he arrived at the temple half a century ago, Yue Lao is believed to have woven together the lives of countless singles, and in doing so garnered a loyal following. An altar frequently laden with engagement cookies from those he has brought true love to bears testament to his success.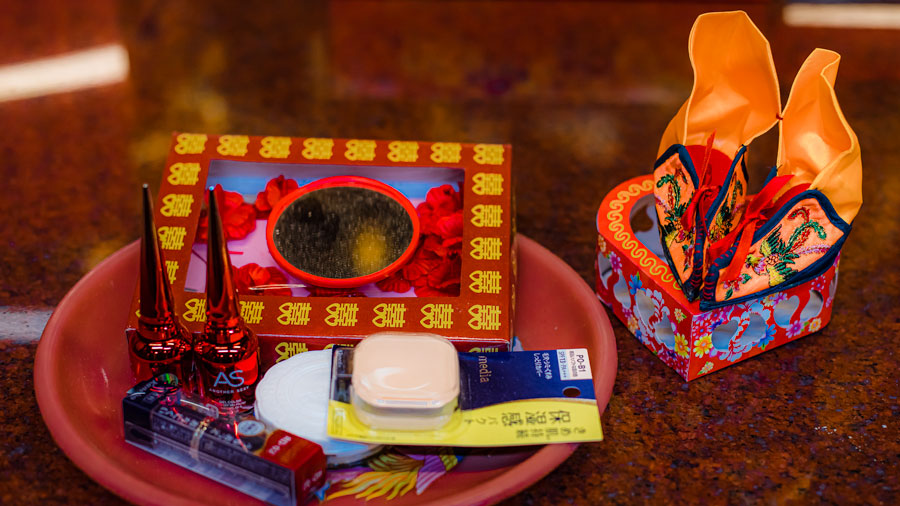 There's such a myriad of deities here that you could lose a whole day just getting superficially acquainted with them. Among them, Shennong, a mythological ruler of ancient China venerated for his understanding of agriculture and medicinal plants, and beside him Leizu, a similarly legendary figure credited with being the first silk weaver. Both are of special significance to the Dadaocheng area, since traditional medicine and textile merchants have a strong presence in this community. And tucked away in an adjoining room you'll find a defiant-looking Liao Tian-ding. Liao, a Japanese-era dissident (the Japanese ruled Taiwan 1895~1945; Liao was Taiwan's answer to Robin Hood), is reputed to have stashed his ill-gotten gains in the temple before redistributing them to the needy.
When the tour concludes I feel we've barely scratched the surface, but Titan has a parting gift. He hands each of us lucky amulets, instructing us to "activate" them in the temple censer's incense-heavy air – a little something to ensure safe journeys.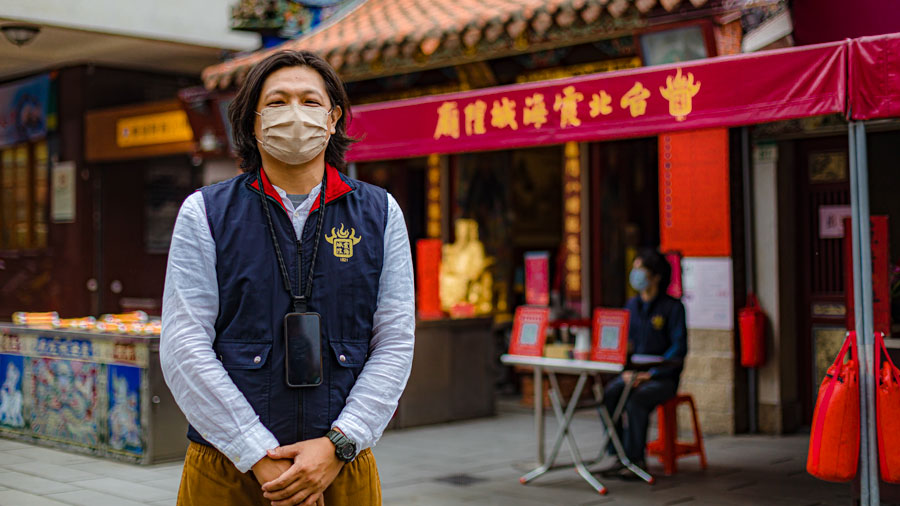 Taipei Xiahai City God Temple (台北霞海城隍廟)
Add: No.61, Sec. 1, Dihua St., Datong Dist., Taipei City
(台北市大同區迪化街一段61號)
Tel: (02) 2558-0346
Hours: 6:16am ~ 7:47pm open all year round
Website: www.tpecitygod.org
For guided tours (lasting about 20min), call the temple and ask for Titan Wu.
Walking around Dadaocheng/Dihua Street
Taipei Xiahai City God Temple sits towards the southern end of Dihua Street. Famed for being home to Taipei's biggest Lunar New Year traditional-goods market, the original prosperity of the street and surrounding district owed much to the proximity of Dadaocheng Wharf. Once a vital stop on trading routes between Wanhua, the port town of Tamsui on the north coast, and beyond, the wharf has, in more recent times, been transformed into a popular place for people to exercise, relax, and watch the sunset over drinks and snacks.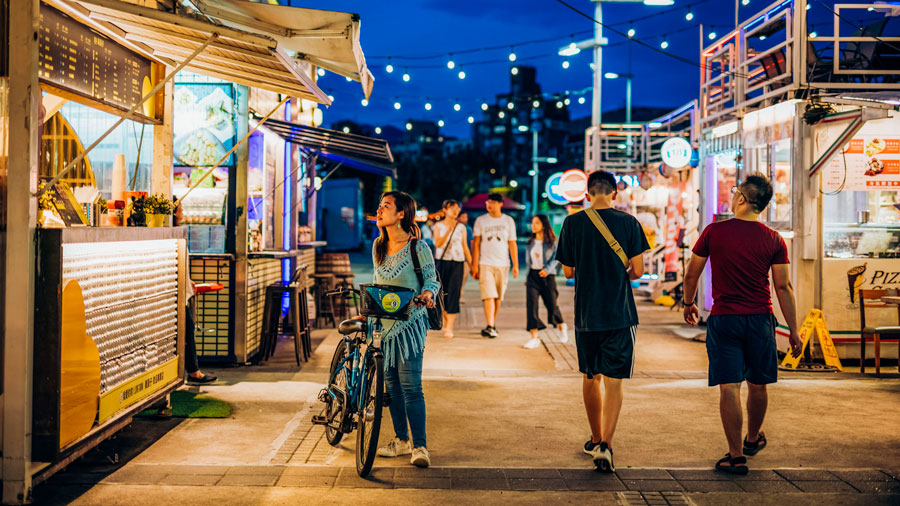 Strolling around Dadaocheng's backstreets reveals doorways fringed with sprigs of drying flowers here and storefronts piled high with dried goods there, and you could be forgiven for thinking that this pocket of Taipei has remained peacefully impervious to the winds of change. But it nearly didn't. In the 1980s, as Titan Wu explained to us, plans were afoot to demolish the narrow streets – an investor even proposed moving the whole of Dihua Street brick-by-brick to Japan. Thankfully this fate was escaped when local academics stepped in to argue that this part of Taipei was a cultural asset. The ensuing resurgence of interest in local heritage has sparked a proliferation of new cultural-creative ventures opening in historic buildings.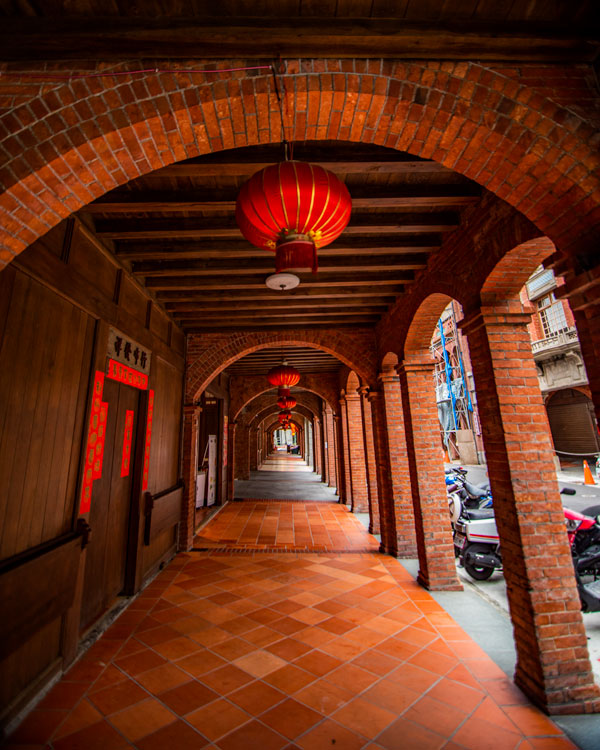 One such enterprise is ASW Teahouse. Occupying a Japanese colonial-era pharmacy (the first Western-style medicine dispensary in Taiwan), this elegantly restored space now has a teahouse operation offering an extensive menu; after dark it moonlights as Watson Bar, selling up-market tea-based cocktails. But don't get the impression that it's all hipster hangouts. Although the recent upswell of love for local history has paved the way for investors to breathe new life into these old buildings, there remains an authentic core to the district.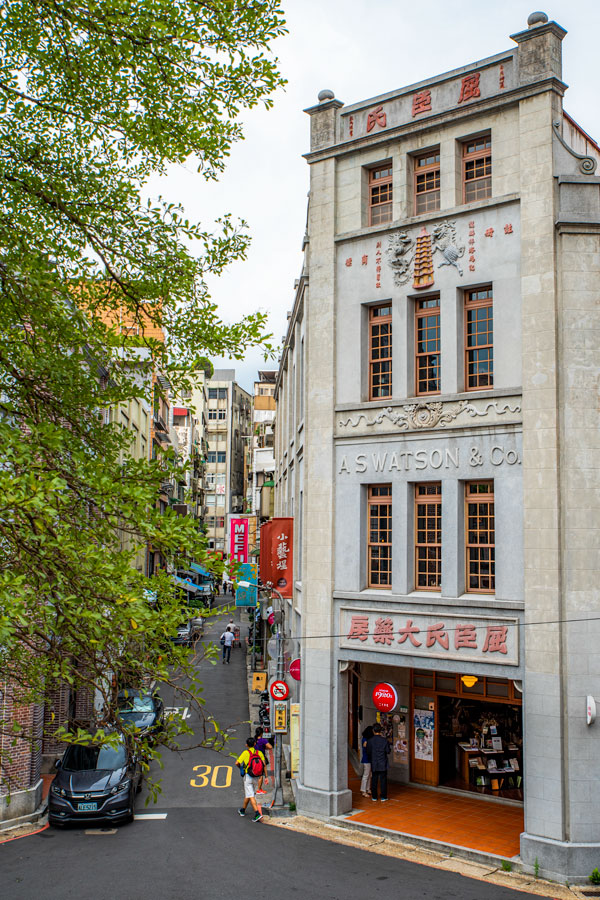 For proof, just head to the three-story Yongle Market, where you'll find Taipei's largest collection of traditional-style textile vendors, with a lively wet market on the first level, fabric shops on the second, and fabric sellers/tailors on the third. The eighth and ninth floors of this building are home to Dadaocheng Theater, which specializes in traditional stage-arts performances.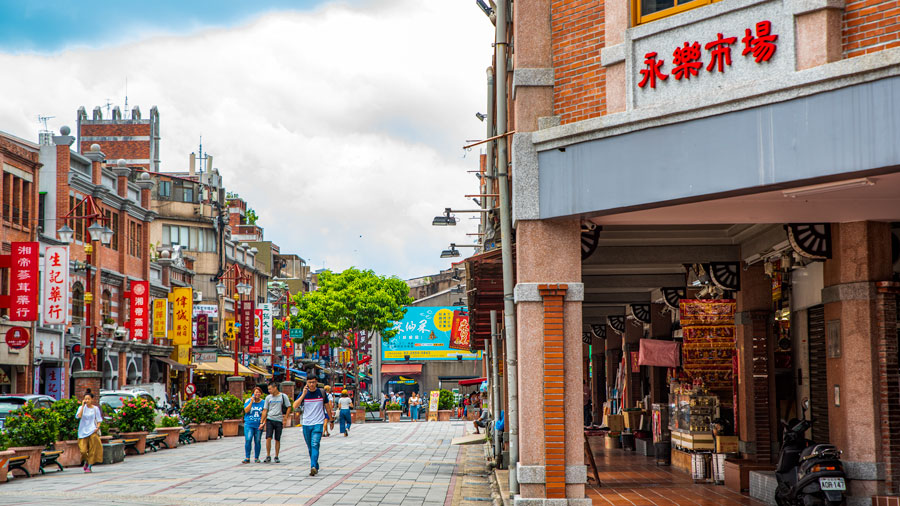 With a visit to Daodaocheng, whether you're seeking superior silks, a thirst-slaking brew or aperitif, or even a soulmate, you might just find what you're looking for.