Some of Its Best Accommodations & Traditional Hot-Snack Eateries
TEXT / RICK CHARETTE
PHOTOS / RAY CHANG
Though an extremely busy tourist town, Lukang is not a place of big, or many, hotels. We take you on visits to two of its most popular places to overnight, a theme inn and a snug and homey renovated heritage residence. We also recommend some of Lukang's best-known traditional hot-snack treats and the places to find them.
Tongnian Wangshi Homestay
This guesthouse is located at the western edge of a small light-industry zone immediately west of the town's old core, which can be reached in just 10 minutes on foot. Its Chinese name translates as "Childhood Memories Manor Homestay." The description is precision-apt, as we'll see, up to "homestay." This term is very widely used in Taiwan, and is a misnomer here, with "inn" the more apropos choice. The large purpose-built building, which sits in a walled compound, is very much in the style of a large manor, and looks out on uncultivated fields to the south, west, and north. The exterior/interior architectural design is a seamless West/East fusion of Baroque and Minnan traditional three-sided courtyard residence elements.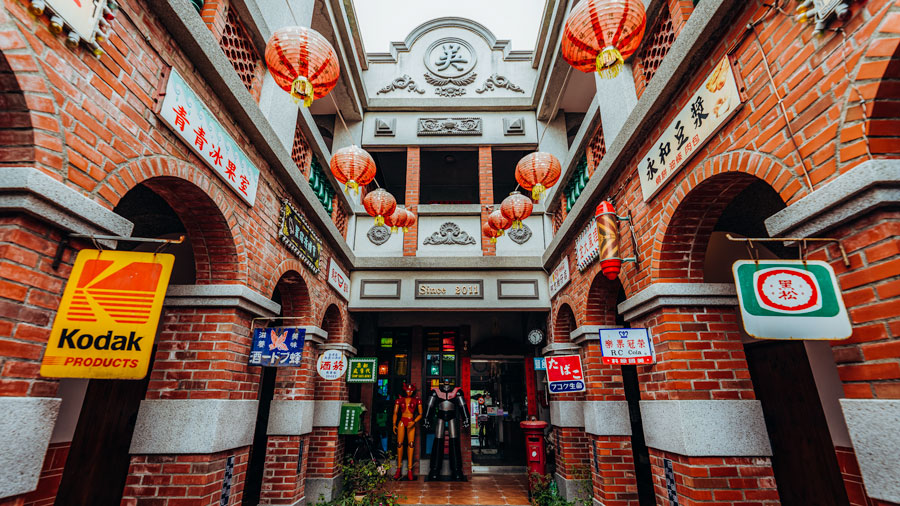 Opened in 2011, this was the first ever legally certified minsu, or homestay, in the Lukang area. (You'll find the term minsu covers everything from homestays to B&Bs to inns and small hotels.) It is a theme inn, a labor of love for the owner/operator, with Taiwan mid~late 20th-century youth culture the focus. He handled everything from the exterior architectural design to the interior design and decoration of every room. An avid collector of memorabilia, his collection fills every interior space, from lobby area to dining area to every guestroom.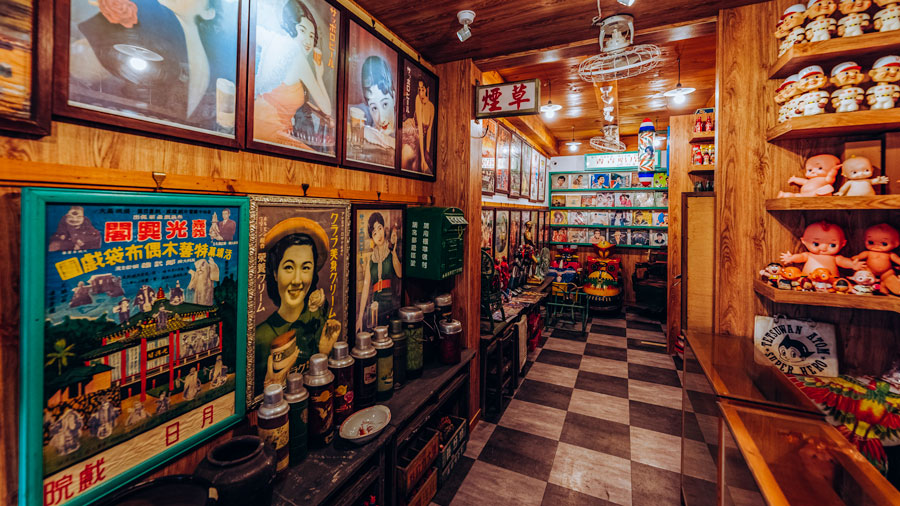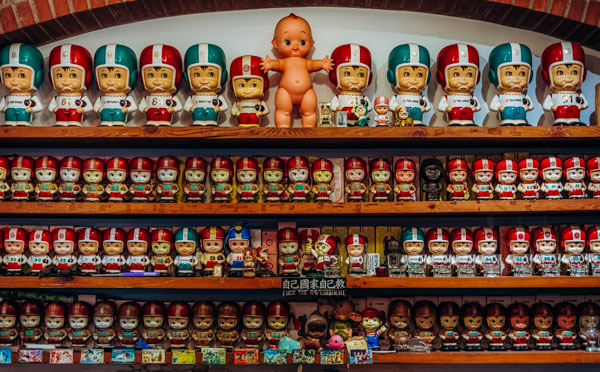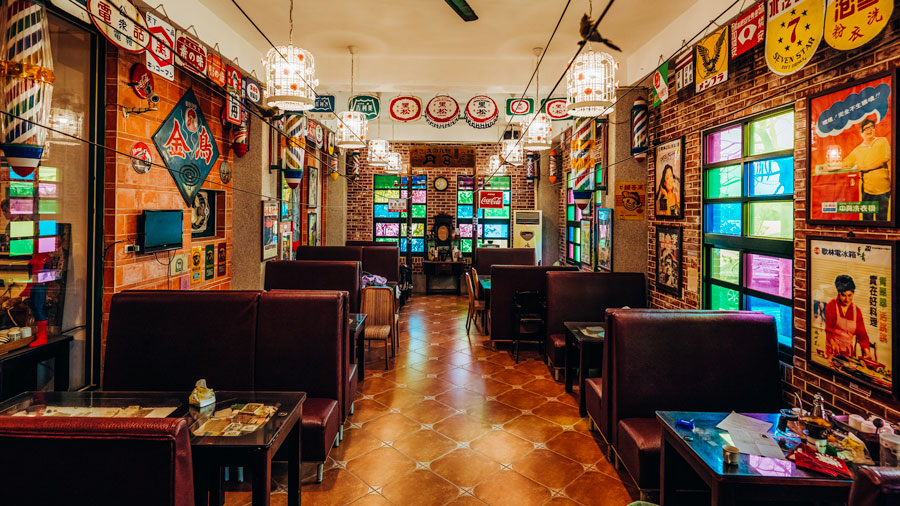 There are 13 rooms in total, sleeping 2~8 people. Each is a mini-museum with a separate memorabilia theme. A music room, for example, features faux vinyl-record decorations and a wall of old Chinese/Western pop-music albums. A movie theater room has a faux performance-stage wall decoration and wall of period film posters. A Mazinger Z room is dedicated to a character from a Japanese super robot manga series.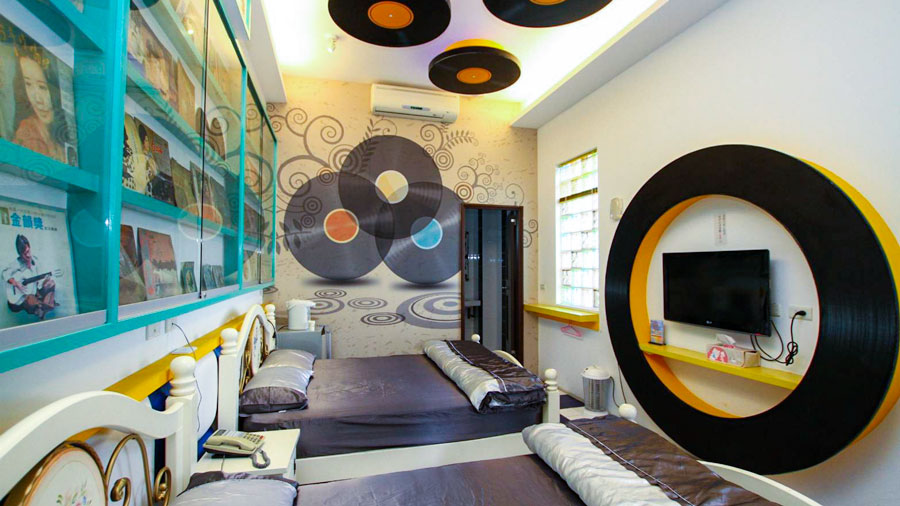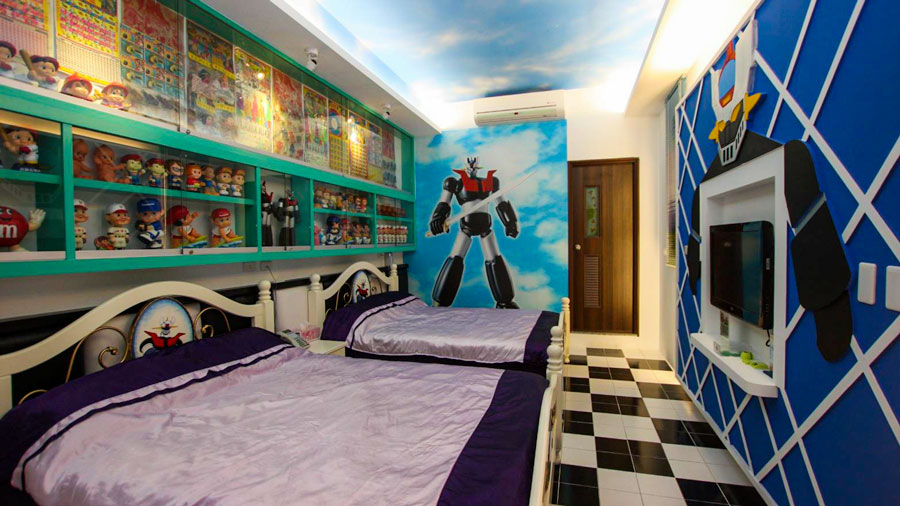 There is ample dedicated parking, and free bicycles for use (the owner also cooperates with an e-scooter service, which will deliver to the homestay; payment to service company only). In the main public area is a reading room and a diner-style dining room. Meal service is currently not provided, but guests are free to bring outside-purchased food and drink.
There is an array of leisure and recreation facilities in the rear of the walled compound behind the main building, including a lawn area, children's play area, BBQ area, and basketball court. In the far rear are petting goats and lambs, a big hit with youngster guests.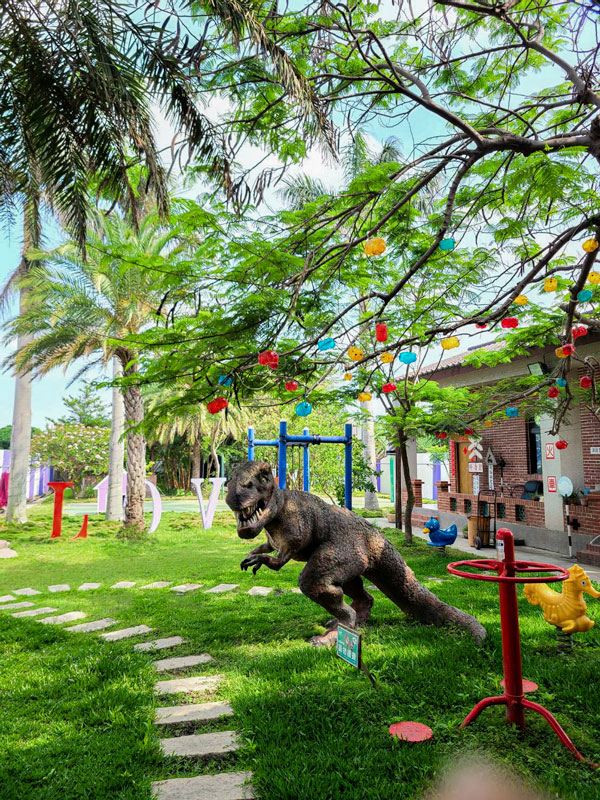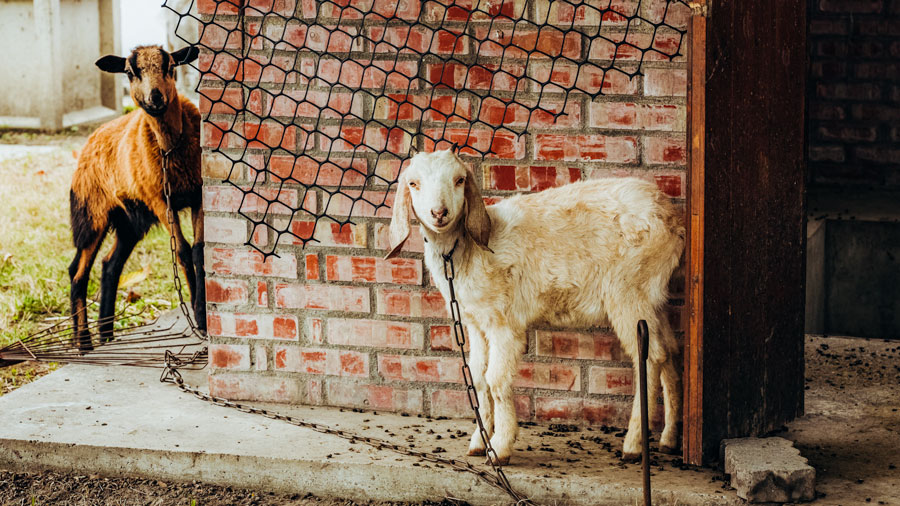 Tongnian Wangshi Homestay
(童年往事莊園民宿)
Tel: 0932-603-599
Add: No. 62-500, Fuxing Rd., Fuxing Township, Changhua County
(彰化縣福興鄉福興村福興路62-500號)
Website: bit.ly/3By5YzK (Chinese)
Small Eye Second Guest House
Fancy a chance to imagine what it might be like to wake up in the Lukang of the old imperial days? We present to you the Small Eye Second Guest House, a renovated heritage residence located right on one of the old town core's most famous historical streets, Jiuqu (Nine Turns) Lane.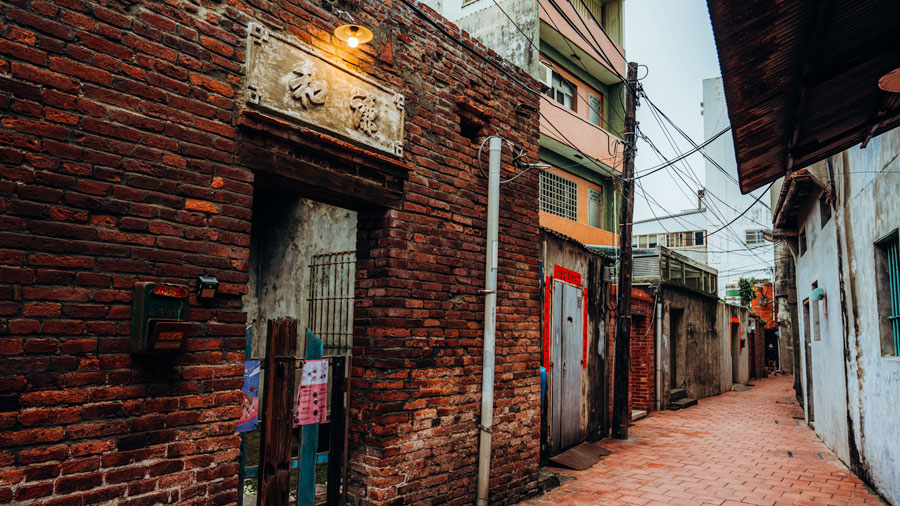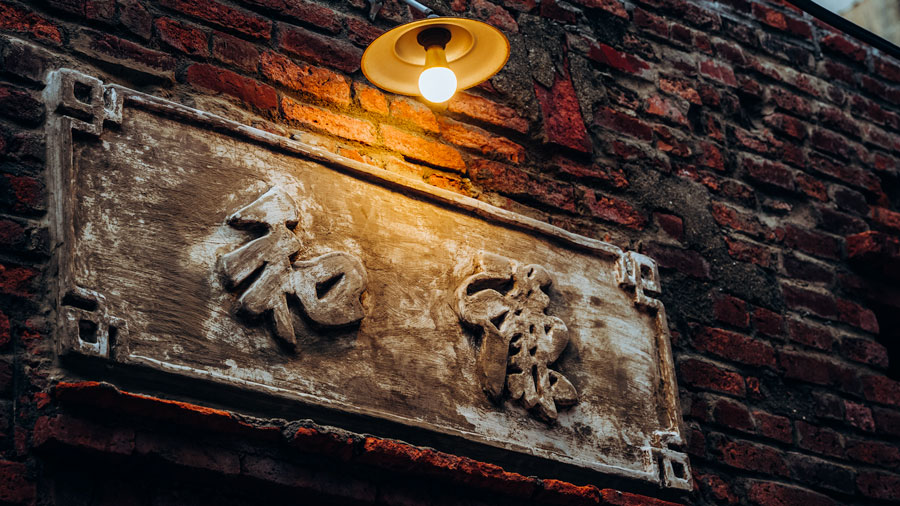 Your neighbors will be a collection of the renowned tourist attractions introduced, just steps away – Shih-Yih ("Ten Amusements") Hall and a corridor bridge/gun tower combination where a defensive gate once stood. This is a project by a local enterprise that specializes in renovating Lukang architectural works and giving them new mission.
Book here and you get the full two-floor residence to yourself. From the lane, you move through a locked gate in a high protective wall into a tiny courtyard, decorated with such embellishments as an old 1960s scooter. The original heavy wooden door and an original latticed window, both within traditional red-brick frames, remain in place.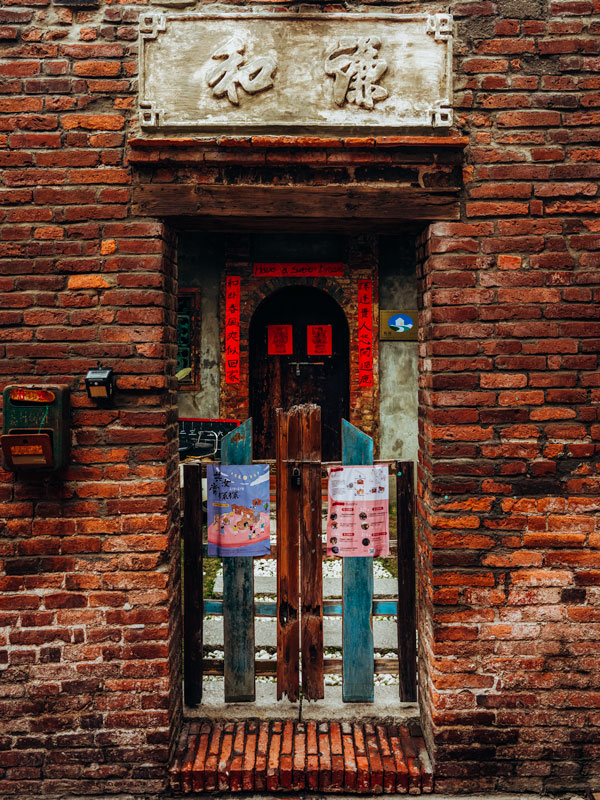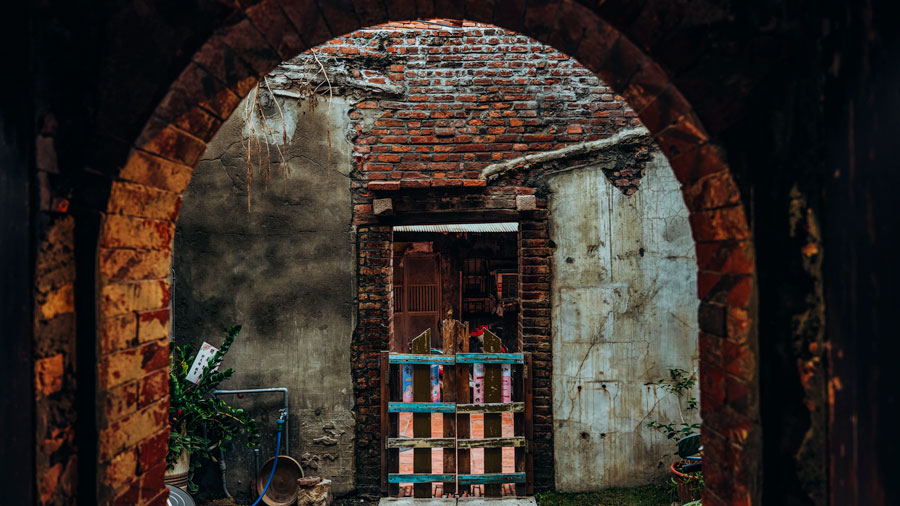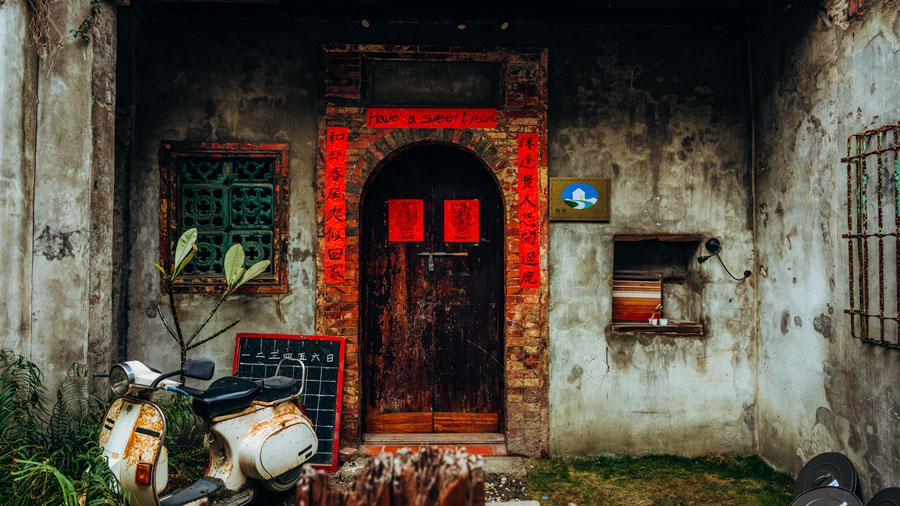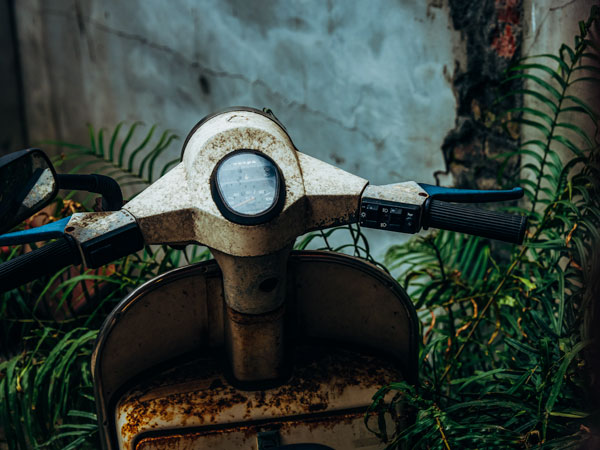 Inside, the two long rectangular floors have been renovated with an open-concept design, one large main room per floor. Visually dominant are the mottled concrete walls and exposed red brick. Original beams and woodwork have been left exposed in the high, recessed ceilings.
The first level has a living room/dining area in the front, containing such retro furnishings as a large wooden picnic-type table and wooden benches. There's also a modern wall-mount TV. The rear area has a suite of modern kitchen facilities (microwave, no oven) and a low table with antique latticework-back chairs, used for tea sessions.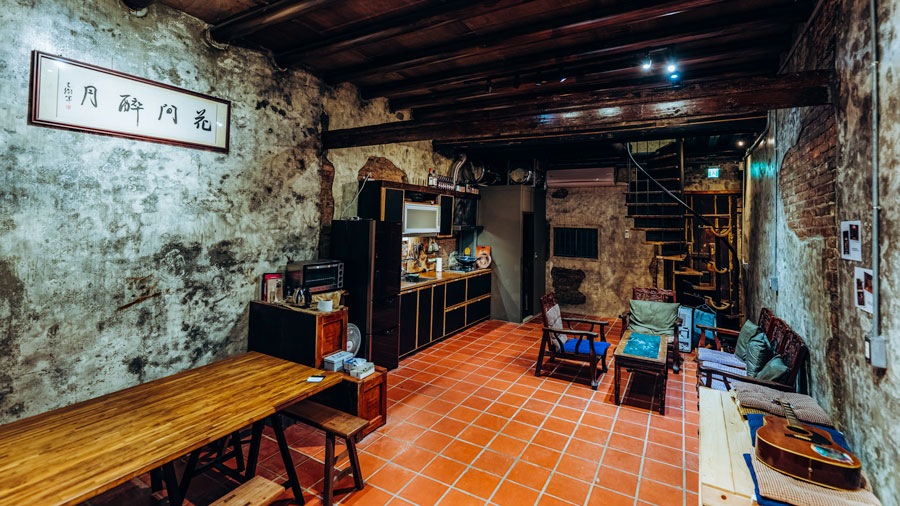 At the far back, a tight spiral steel-frame staircase elevates you to the second-level simple sleeping quarters, with four mattresses for two people each laid out side-by-side along one wall, on low wooden stands. A compact bathroom area is in the rear, beside the staircase. Traditional Japanese translucent sliding panels provide bathroom privacy.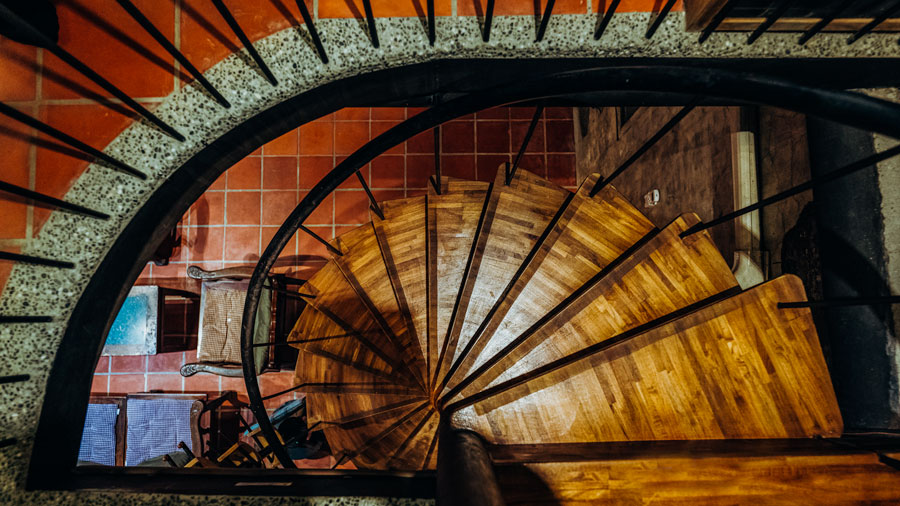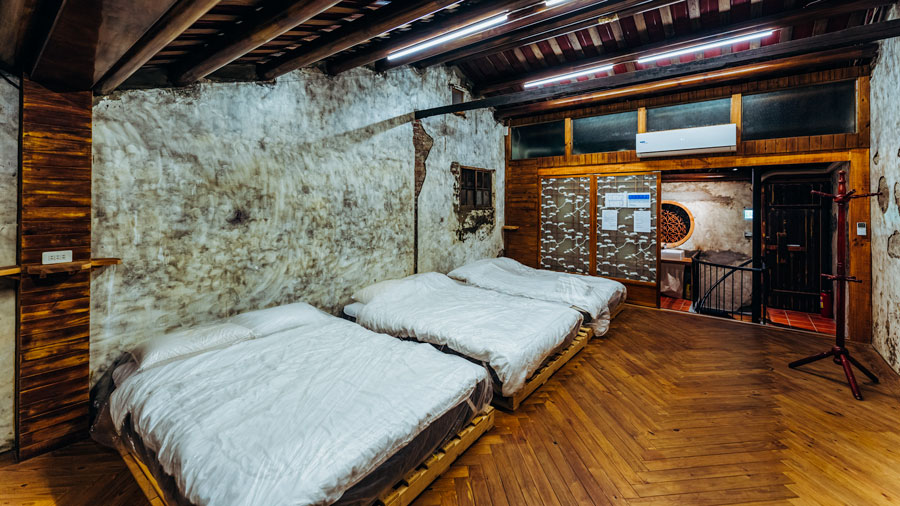 A classical-style round window with lovely intricate latticework graces the bathroom wall, providing a pretty-as-a-picture view into the area behind the residence; this is the source of the "small eye" in the guesthouse name.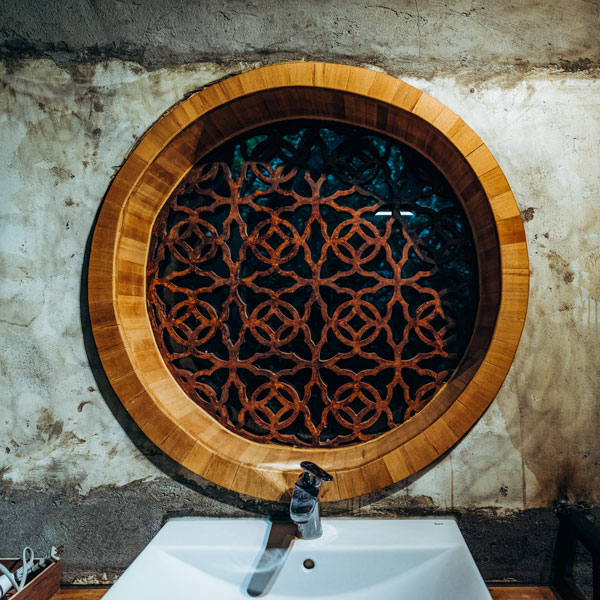 At the front on the second floor are three side-by-side heavy wooden-latch doors which open onto a narrow balcony, from which views up and down Nine-Turns Lane are enjoyed. Directly across is an unusual photogenic opportunity – a direct view into another old residence, this one abandoned and roof collapsed (soon to be rescue-renovated as well).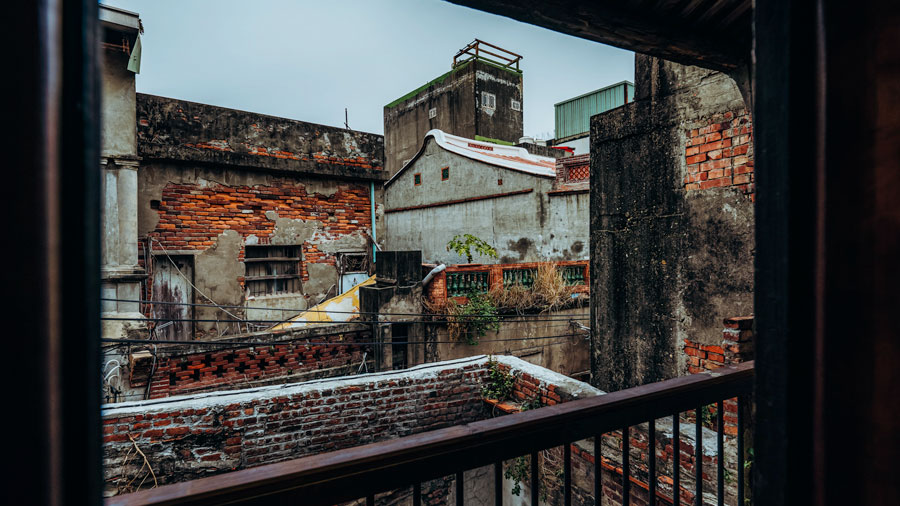 Small Eye Second Guest House
(小艾謙和人文民宿)
Tel: 0973-365-274
Add: No. 40, Jinsheng Lane, Lukang Township, Changhua County
(彰化縣鹿港鎮金盛巷40號)
Facebook: www.facebook.com/smalleyesecond
Website: www.lukangsmalltown.com (Chinese)
Lukang Eateries
In our main feature article we explained how old Lukang's great tourism popularity stems from a triumvirate of attractions: its rich trove of heritage architecture, its flourishing traditional religious culture and forest of venerable temples and shrines, and its almost boundless kitchen of inexpensive, high-quality old-time snack foods sold at modest eateries and street/market stalls.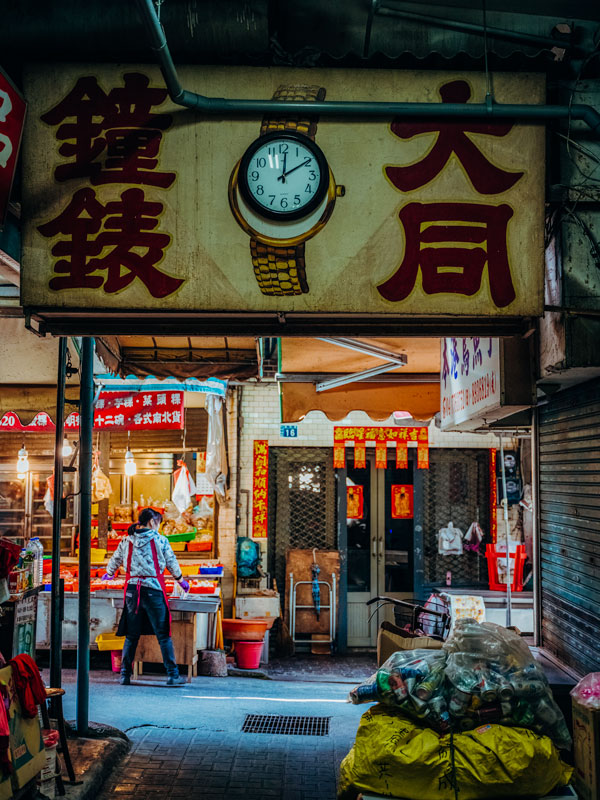 Here, we again use the always-humming plaza at the Daming Road/Minzu Road intersection as our walking-tour hub, the heritage Lukang First Market its anchor. There is a sense-sational concentration of eateries and stalls on the plaza and surrounding pedestrian-friendly streets.
"Wang Wang Rice Vermicelli Thick Soup"
"Wang Wang Rice Vermicelli Thick Soup" is located on a street corner four short blocks southwest from our hub plaza, less than 10 minutes on foot. This is an open-faced eatery, the family in this business since 1930, the closely-packed low chairs and tables spilling right out to streetside.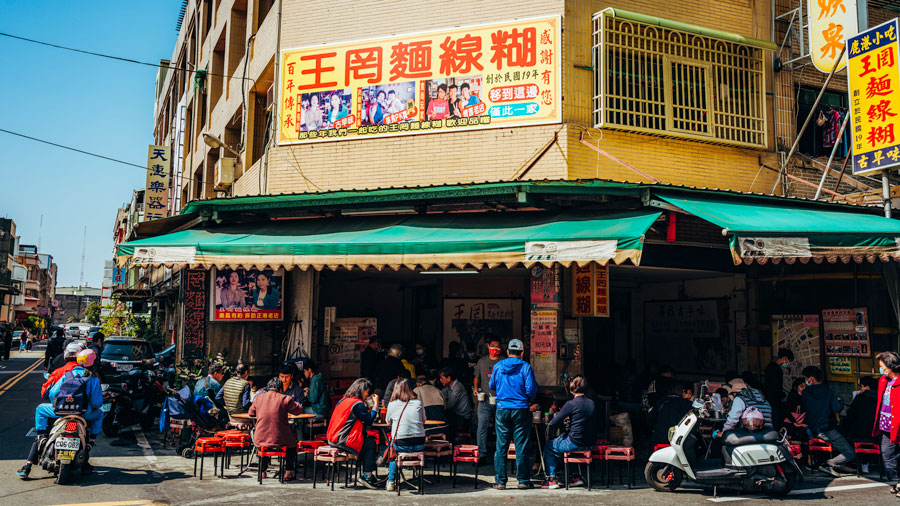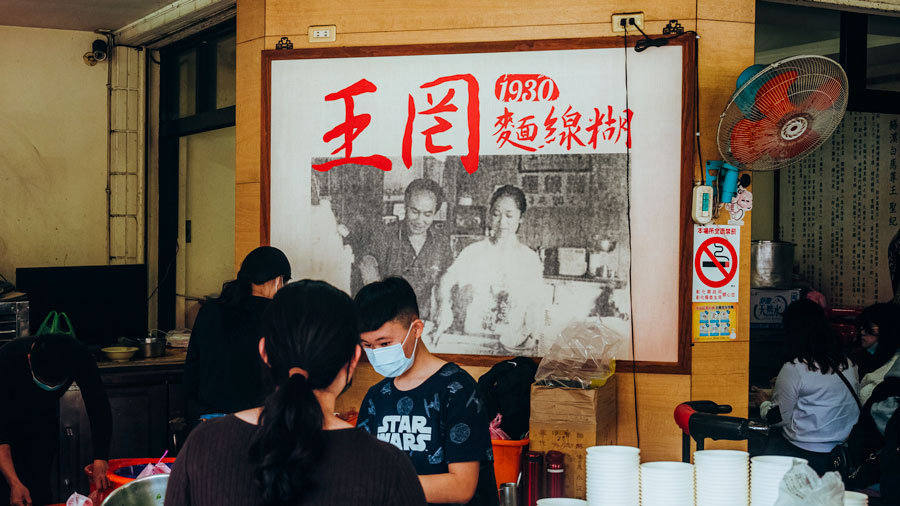 The starch-thickened soup's vermicelli comes with a medley of flavorsome friends: pork, dried shrimp, egg, and shiitake mushroom. On your table is another medley of condiments that you add to taste: soy sauce, black vinegar, chopped cilantro, and the delicious house chili sauce.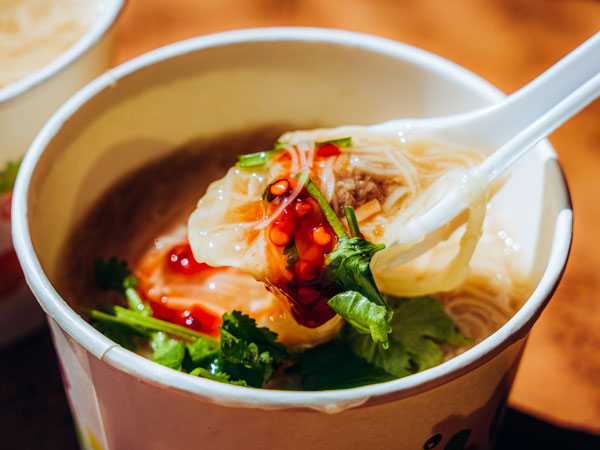 "Wang Wang Rice Noodle Thick Soup"
(王罔麵線糊)
Tel: 0958-629-960
Add: No. 268, Minzu Rd., Lukang Township, Changhua County
(彰化縣鹿港鎮民族路268號)
Hours: 5:30am~6:30pm
Facebook: bit.ly/3LGg7Pf
"Lukang Meat Thick Soup"
"Lukang Meat Thick Soup" is right next door. Opened in 1964, it operates as many traditional small Taiwan eateries do, with the simple kitchen facilities out in front, menu posted above, and seating inside. There are two specialties here, meat thick soup (called rougeng) and deep-fried pork. Rougeng is starch-thickened soup stock with boiled flour-coated fatty pork and hand-shaped fish paste, mushroom, Chinese white cabbage, and bamboo sprouts. Best with black vinegar and white pepper. Here, squid is also added, and various noodle/rice additions offered. The popular house-recommended approach at this eatery is to add your serving of deep-fried flour-coated lean pork chunks to your rougeng. They're crispy outside, juicy inside. Be sure to do so before they cool off and harden.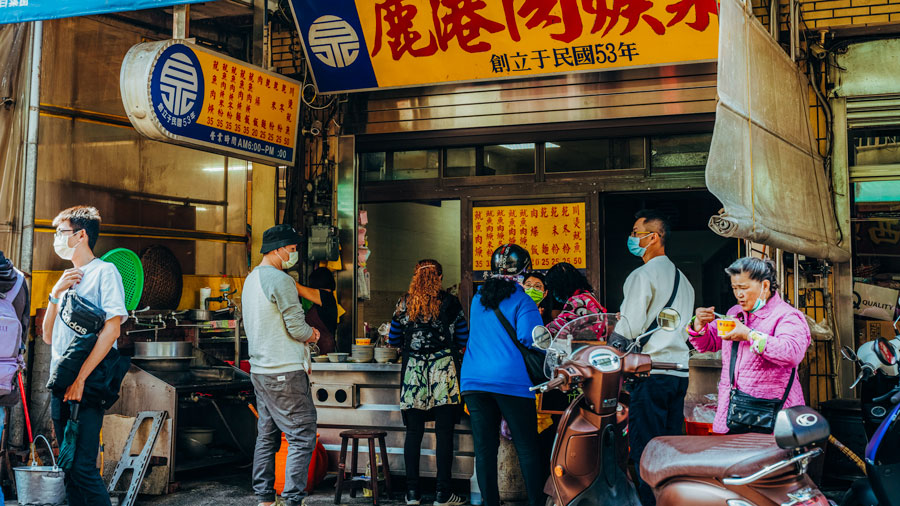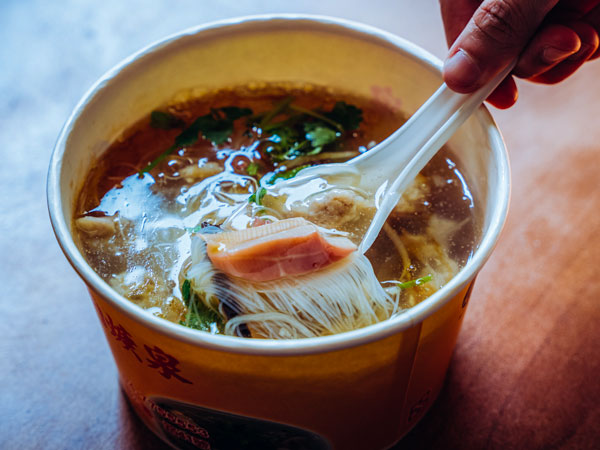 "Lukang Meat Soup Restaurant"
(鹿港肉焿泉)
Tel: (04) 775-5553
Add: No. 41, Gongyuan 1st Rd., Lukang Township, Changhua County
(彰化縣鹿港鎮公園一路41號)
Hours: 6am~6:30pm
Facebook: www.facebook.com/lukangdish
"Uánn-kué Shijia"
"Uánn-kué Shijia" is just a few doors down from our first two eateries. Uánn-kué is the transliteration from Taiwanese of what in English is commonly called "savory rice pudding" or "bowl rice pudding." The restaurant is set up with a vendor stall-type set-up out front at streetside, and snug seating areas beside and inside.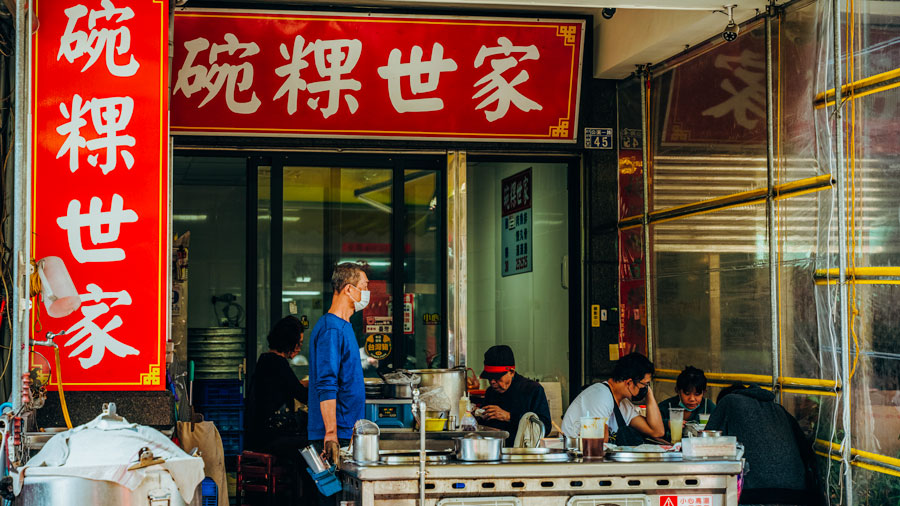 Your steamed uánn-kué is made with glutinous rice, and is thick and filling with gooey pudding-like consistency. Treasures that come with it include pork, duck egg yolk, dried shrimp, and shiitake mushroom ragu. A thick, lightly sweet soy-based house garlic sauce is drizzled atop – especially good here – as is the house chili sauce, its "secret" the liberal use of black pepper.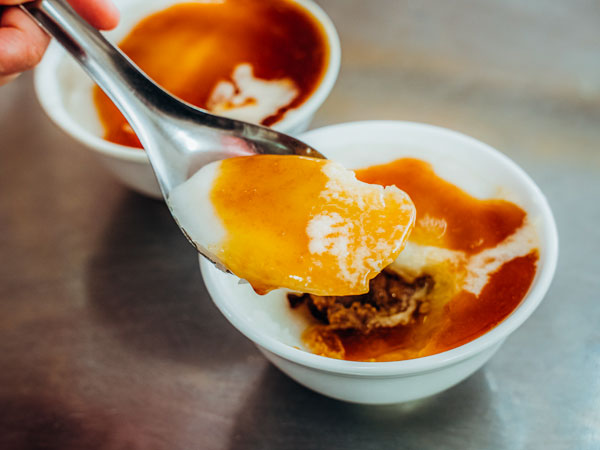 "Uánn-kué Shijia" Restaurant
(碗粿世家)
Tel: 0966-659-027
Add: No. 28, Gongyuan 1st Rd., Lukang Township, Changhua County
(彰化縣鹿港鎮公園一路28號)
Hours: 10am~8pm
Facebook: bit.ly/3LIj0iD
Bo Bo Lamb
Bo Bo Lamb, located immediately south of our hub plaza, has two specialties, mutton and squid rougeng. These are posted prominently in English in the entrance area, as is the eatery's English name. You can also get mutton/squid in combo, or choose traditional rougeng without either. The mutton is especially tender, recommended by many online as Lukang's best. The rougeng here also comes with yellow oil noodles.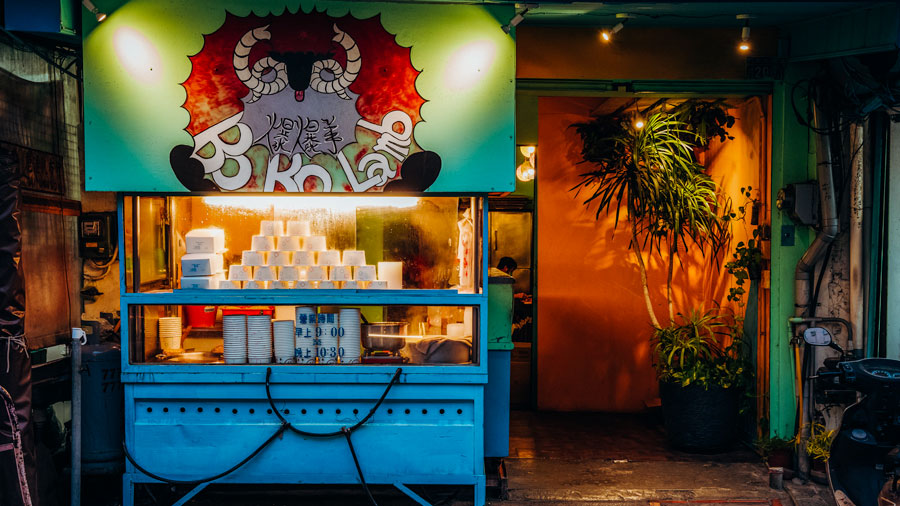 This is the most visually attractive of our four eatery recommendations. The cozy out-front kitchen area is painted in cheery pastel blue, green, yellow, and orange, the cottagey interior in blue and green and warmed with potted plants.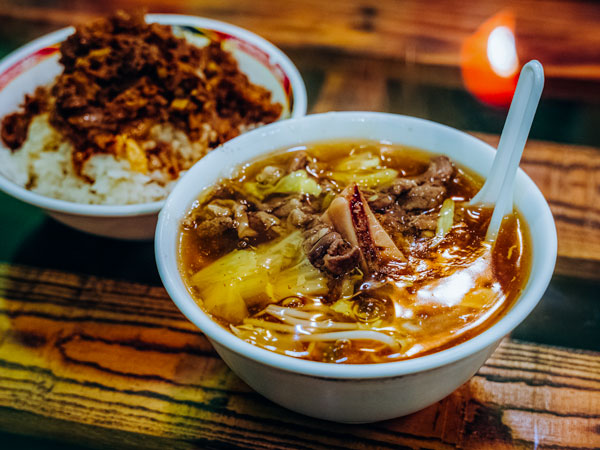 Bo Bo Lamb
(爆爆羊)
Tel: 0936-206-659
Add: No. 206, Minzu Rd., Lukang Township, Changhua County
(彰化縣鹿港鎮民族路206號)
Facebook: bit.ly/33vPuLR