Taipei Patisseries Creating Western Desserts with Distinct Taiwan Flavors
TEXT / OWAIN MCKIMM
PHOTOS / CHEN CHENG-KUO, VISION
So you've stuffed yourself on some of Taipei's best braised pork rice or beef noodle soup, but now what to do for dessert? Perhaps you crave something familiar, but also feel like you shouldn't miss out on trying some more of Taiwan's unique wonderful dishes. Fortunately, many of Taipei's patisseries and cafés now offer fusion dessert options designed to intrigue both Eastern and Western palates alike, and for the foreign visitor, it's a chance to taste signature local flavors in otherwise familiar packages.
Look at any list of the "must-eat" Taiwanese desserts, and you'll be presented with such delicacies as soybean pudding (douhua), adzuki bean wheel pies (hongdou bing), and pineapple cakes (fengli su) – all of which are undoubtedly delicious and most certainly worth trying. What you won't find listed, however, are items such as mille crepe, cheesecake, tiramisu, and soufflé. And why would you? After all, these are Western desserts, not traditional Taiwanese ones. Younger Taiwanese are, however, an increasingly well-traveled bunch, many of whom have lived or traveled extensively abroad and brought back with them a taste for "foreign" desserts.
Today, it's perfectly common to find these Western-style desserts in the capital's many cafés, and going out for coffee and cake is just as common as a post-dinner stop for soybean pudding at the night market. But as well as being more international in their tastes, younger locals are increasingly proud of their Taiwanese identity. As a result, many young patissiers are creating intriguing fusion desserts, using Western dessert styles as a canvas for showcasing Taiwanese flavors and ingredients.
Fú Dàu Pastry Studio
One of these fusion-focused patissiers is Lin Jia-ming, owner of Fú Dàu Pastry Studio. Located in Taipei's history-rich Dadaocheng neighborhood, the studio specializes in soufflé pancakes made, uniquely, with rice flour. The "studio" (instead of "café") in the name is appropriate, as one feels a sense of bustling creativity on entering. To the right of the door is an open kitchen area, where owner Lin whips up his soufflés from scratch and to order.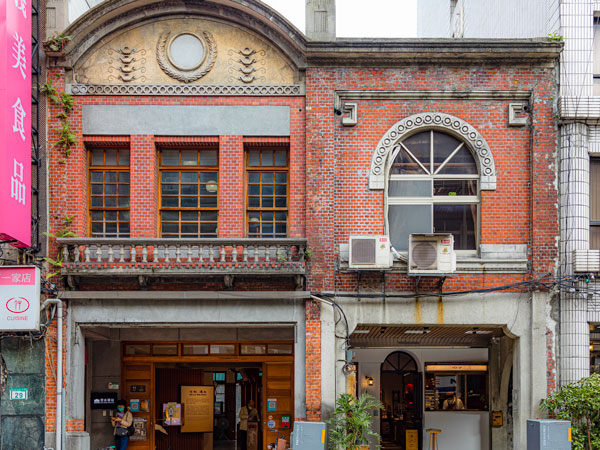 "I decided to use rice flour because a lot of Asian people are gluten intolerant, and rice is easier on our digestion," says Lin, who has over a decade's experience in the dessert-making industry. But there are also other advantages to using this locally sourced ingredient. "For these soufflé pancakes, it's best not to overcook them. In fact, for the ideal texture, slightly undercooked is best. However, wheat flour, if not fully cooked, possesses a 'raw' flavor that many find unpleasant. The rawness of rice flour cooks out much more quickly, so we can get the perfect texture without risking any unpleasant flavor." The tricky part is that the usual proportions of egg, flour, and butter no longer apply. "Rice flour is more absorptive than wheat flour, and it doesn't provide the same structural integrity, so we have to rely more heavily on the eggs to provide the signature puff of the soufflé. It took me around three years to get the recipe just right!"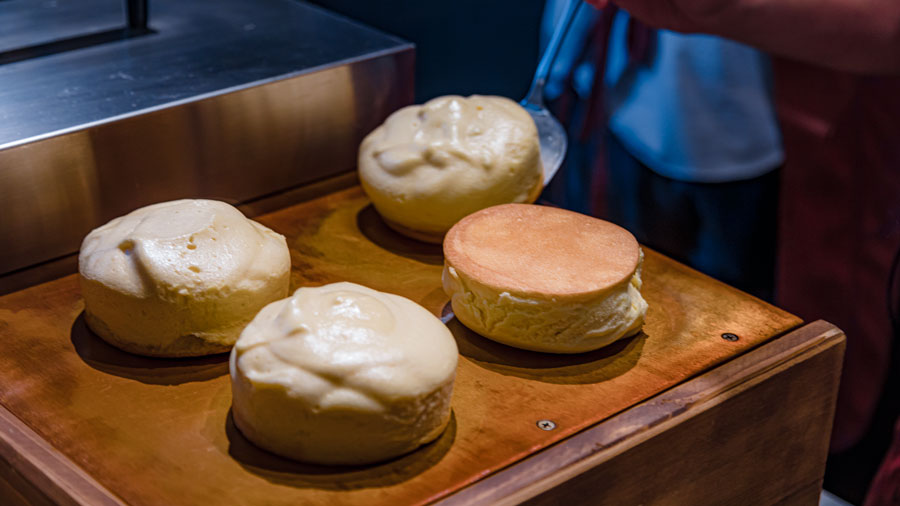 Taking a seat next to a large wooden altar cabinet seating several good-fortune-bringing gods, I order the studio's signature dish, a soufflé pancake with an Iron Goddess Oolong whip that is topped with peanut crumble, and a tower of buttercream tarts, filled with a liquid Iron Goddess Oolong-flavored caramel, on the side.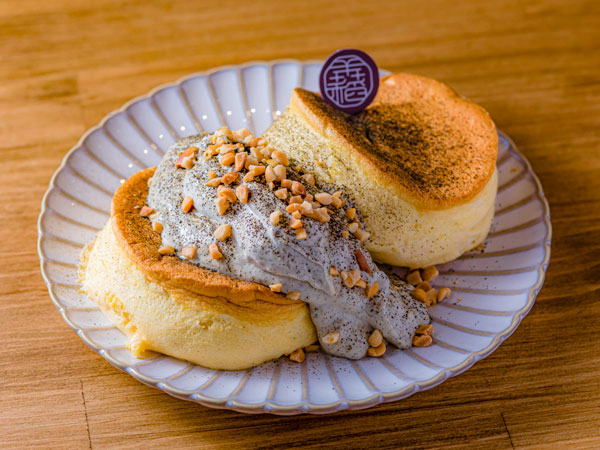 The soufflé pancakes are light and fluffy, with a pleasant sweetness which is balanced by the strong fragrance and slight bitterness of the cream, while the buttercream tarts (also made with rice flour) are crumbly, decadent, and inescapably moreish.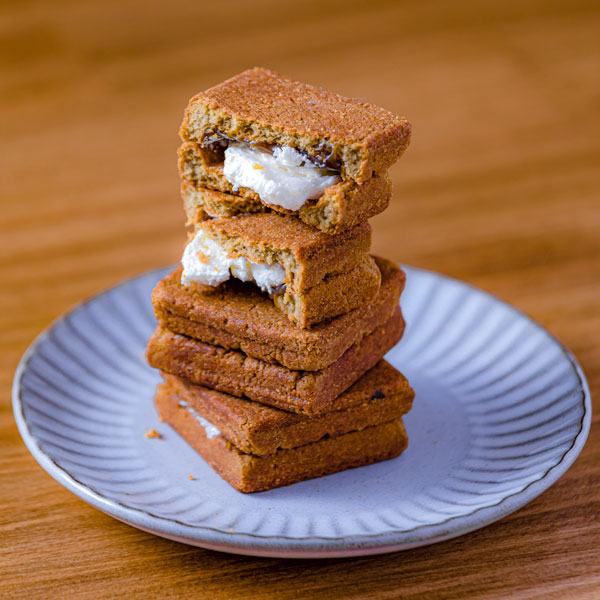 "We decided to flavor our desserts with tea because of the area that we're in," Lin says, referring to Dadaocheng's history as a hub for Taiwanese tea exports. The area was, from the mid-19th to early 20th century, home to hundreds of tea merchants. Today Dadaocheng is home to many teahouses and tea retailers/wholesalers. "Many visitors come to this area to sample Taiwan's best teas, and we wanted to give them an opportunity to sample it not only as a beverage but also as an ingredient in our cuisine."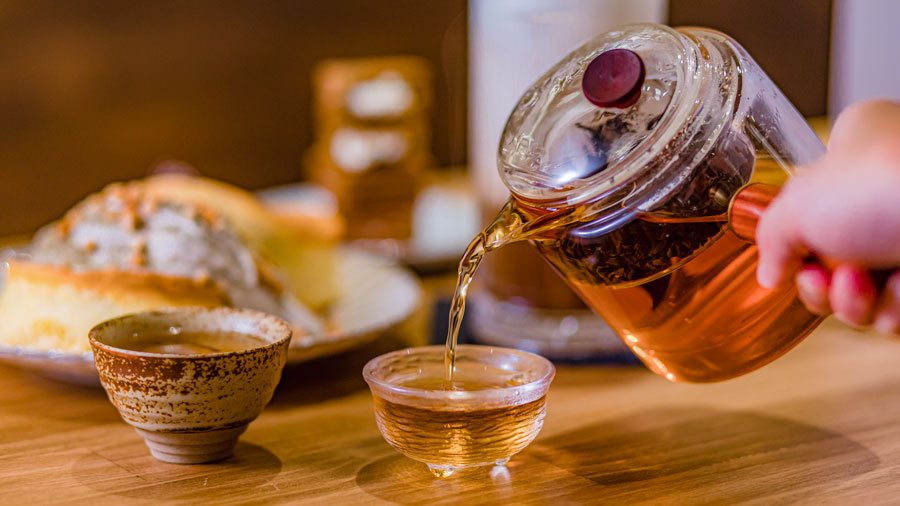 Fú Dàu Pastry Studio
(芙稻菓室)
Tel: (02) 2552-8312
Add: No. 25, Sec. 2, Yanping N. Rd., Datong District, Taipei City
(台北市大同區延平北路二段25號)
Hours: 10am~7pm (closed on Tue.)
Facebook: www.facebook.com/fudau2019
Yonshin Tea & Cake Selection Bar
A short walk east from Dadaocheng along Nanjing West Road brings you to the trendy Zhongshan District and the high-end Shin Kong Mitsukoshi Taipei Nanxi Store. On the department store's third floor, those tired of lugging around their shopping bags can take a leisurely lunch or afternoon tea at the Yonshin Tea & Cake Selection Bar. Originating in the southern Taiwan city of Kaohsiung, Yonshin has recently expanded its chain to Taipei and now operates several successful branches in the capital. Its core focus is on tea and, like Fú Dàu, on the menu are tea-flavored desserts along with a large selection of fine Taiwanese teas.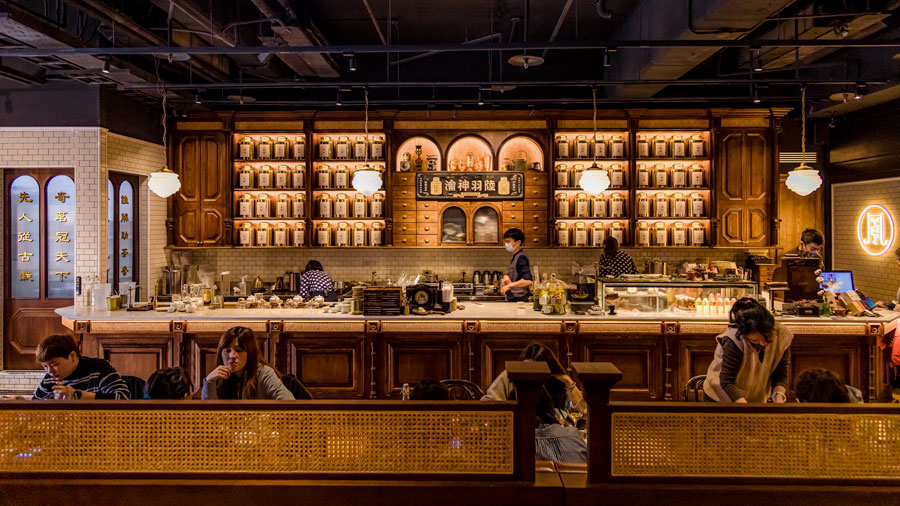 The decor, which melds the parquet-wood and checkerboard floor of a Parisian café with the furnishings of a traditional Taiwanese teahouse, hints at the type of desserts on offer – a fusion of European patisserie hosting Taiwanese flavors – while the waistcoat-clad waiting staff and the clientele of lunching ladies laughing over their white wine provide a tangible ambiance of Old-World belle vie. However, one should not be fooled entirely by these decadences. According to a restaurant spokeswoman, the owner's true passion is tea education, and the fashionable desserts are merely vessels used to introduce a young and Western-looking generation of Taiwanese to the bounties of their homeland.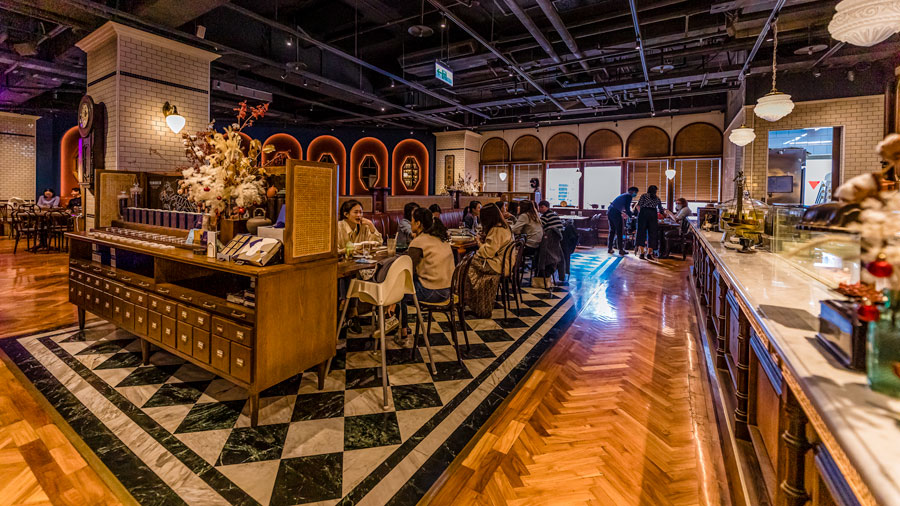 Eager for my own edification, I sample three of their delicately prepared desserts: the Red Jade Black Tea Cheesecake, the Assam Chocolate Roll Cake, and the Red Oolong Caramel Crepe Cake.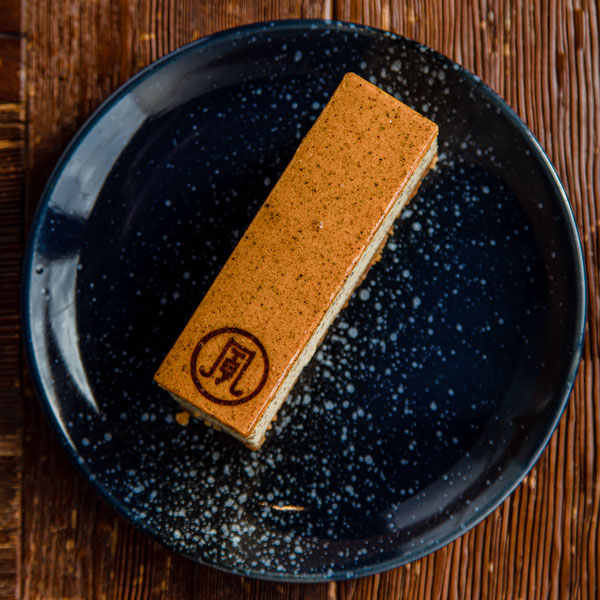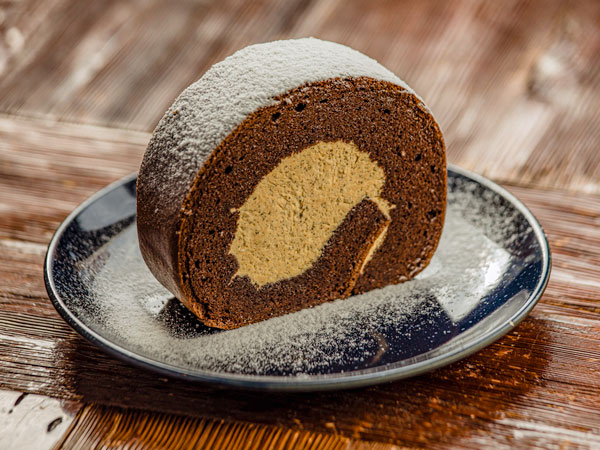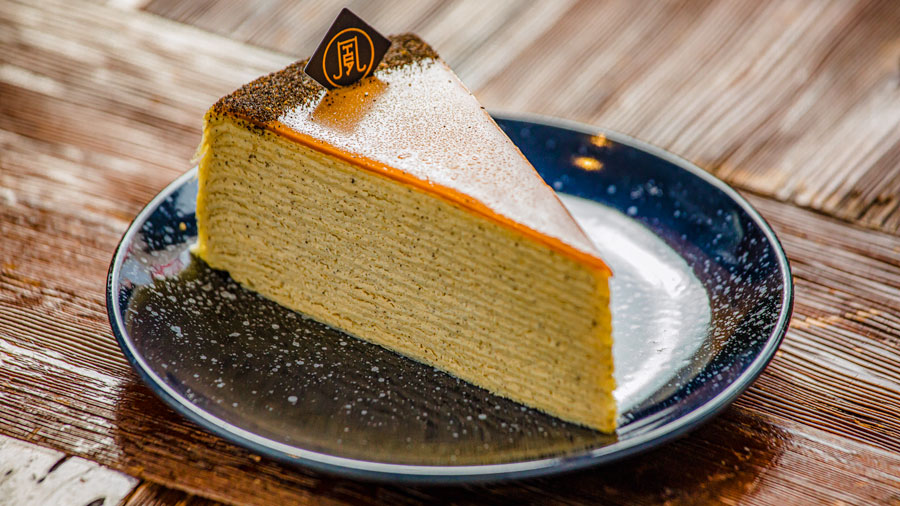 Though these kinds of pastries are commonly seen these days in Taipei's cafés, the balance and sophistication of the flavors are of a particularly high standard here. And while any of the three would equally surprise and satisfy those with a sweet tooth, it's the Red Jade Black Tea Cheesecake that really delivers. The tea in question here is the famous No. 18 "Red Jade" black tea, a specially created hybrid of a Taiwanese wild-growing tea tree and Burmese assamica developed by Taiwan's Tea Research and Extension Station and grown around Sun Moon Lake in Nantou County. The tea itself is known for its natural notes of honey, cinnamon, and mint, and these are clearly evident with each mouthful, their prominence slowly pervading as the richness of the cream cheese melts away. This paired with a crumbly natural biscuit flavored with "black sugar" – natural unrefined cane sugar, a common ingredient in Taiwanese sweets – makes this a delicate and elegant dessert with a true sense of place.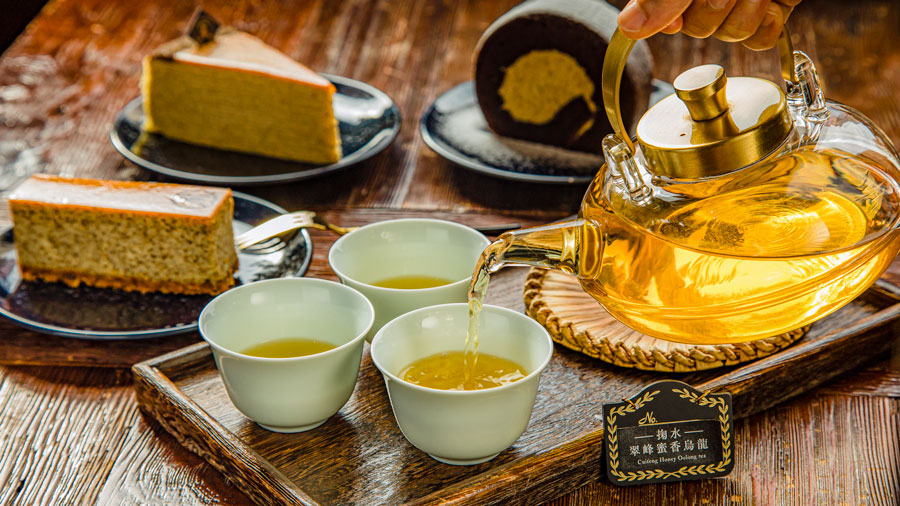 Yonshin Tea & Cake Selection Bar
(永心鳳茶)
Tel: (02) 2581-9909
Add: 3F, No. 15, Nanjing W. Rd., Zhongshan District, Taipei City / Shin Kong Mitsukoshi Taipei Nanxi Store)
(台北市中山區南京西路15號3樓 / 新光三越南西店)
Hours: 11am~9:30pm (until 10pm on weekends & holidays)
Facebook: www.facebook.com/yonshintea
Yang Tai
Facing a corner of Jiancheng Park, a quiet area of greenery close to the Shin Kong Mitsukoshi department store, opposite a towering Chinese banyan tree, is a little hole-in-the-wall takeaway dessert store called Yang Tai. It's owned and operated solely by Yang Xi-ru, a young baking enthusiast who two years ago threw in her living working in coffee shops and restaurants to open her own place. Reflecting the personality of the softly spoken Yang, the store is elegantly decorated in a wabi-sabi style. Reclaimed and restored antique door leaves containing beautiful latticework, flanked by herbs and wildflowers, greet visitors at the entrance.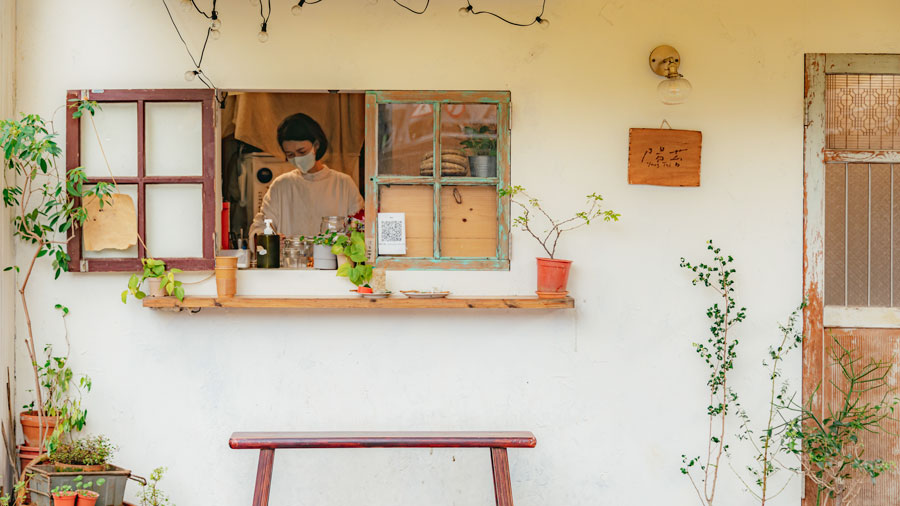 A window to the left of the entrance provides a look-in onto Yang as she bustles about in her cluttered kitchen, producing a small but carefully thought out selection of takeout desserts: Basque Burnt Cheesecake with Licorice, Osmanthus Oolong Tea Tiramisu, and a Star Anise Roll. As a lover of tiramisu and attracted by the basket full of what appear to be star-anise-crowned cinnamon rolls on the counter inside, I opt for the latter two.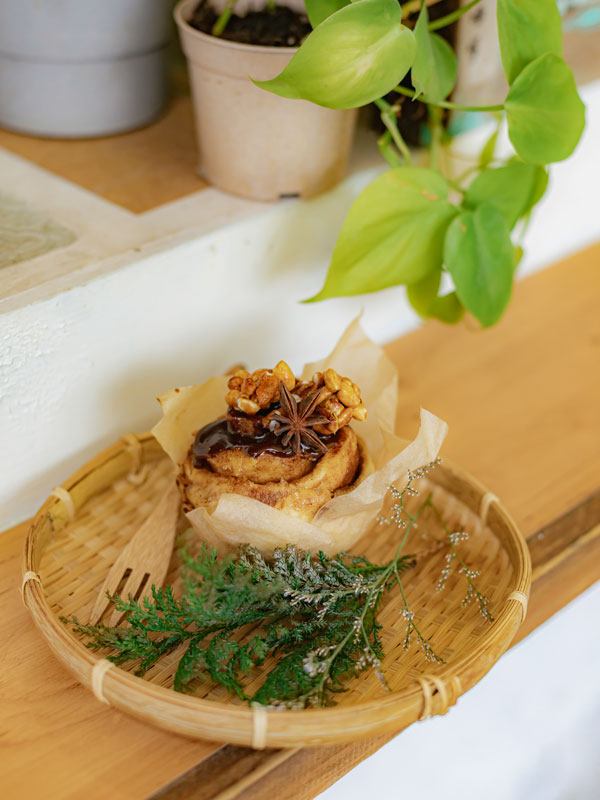 For those unfamiliar with the flavor, osmanthus is a shrub that in summer and autumn produces a covering of pale white or yellow flowers. On the streets of Taipei one occasionally passes an osmanthus bush, perhaps in a roadside planter box or peeking through the fencing of somebody's lower-floor garden, only to be suddenly engulfed in the most enchanting floral perfume. Commonly consumed as an herbal tea, it is also used as a flavoring for dishes both sweet and savory, and is one of my absolute personal favorites. Unsurprisingly, in the Yang Tai creation it pairs wonderfully with the rich mascarpone cream and chocolate powder of the tiramisu, imbuing the classic Italian dessert with the fragrance of a Taiwanese summer. Charmingly, too, the dessert comes served not in a tub or a cup, but in a red-capped bottle most commonly used to hold traditional Chinese medicine, meaning you can simply screw on the cap, pop your dessert in your bag, and be about your day.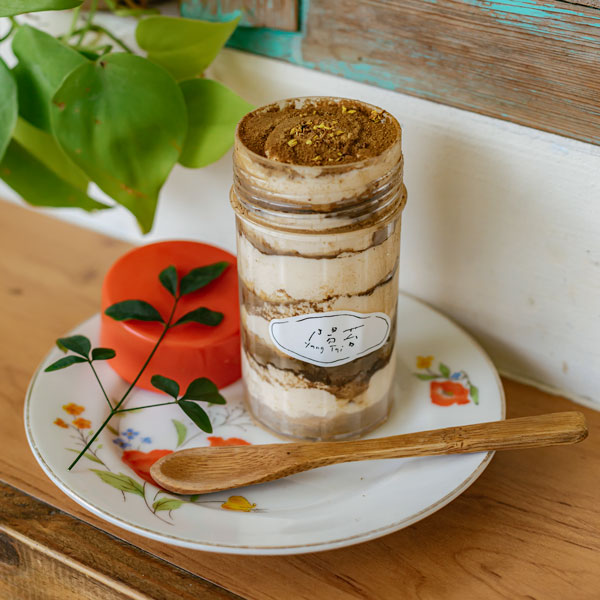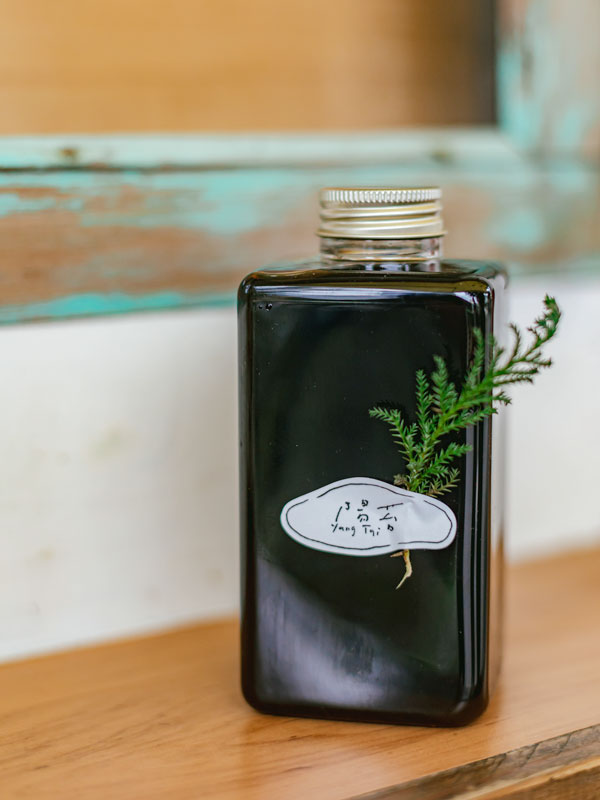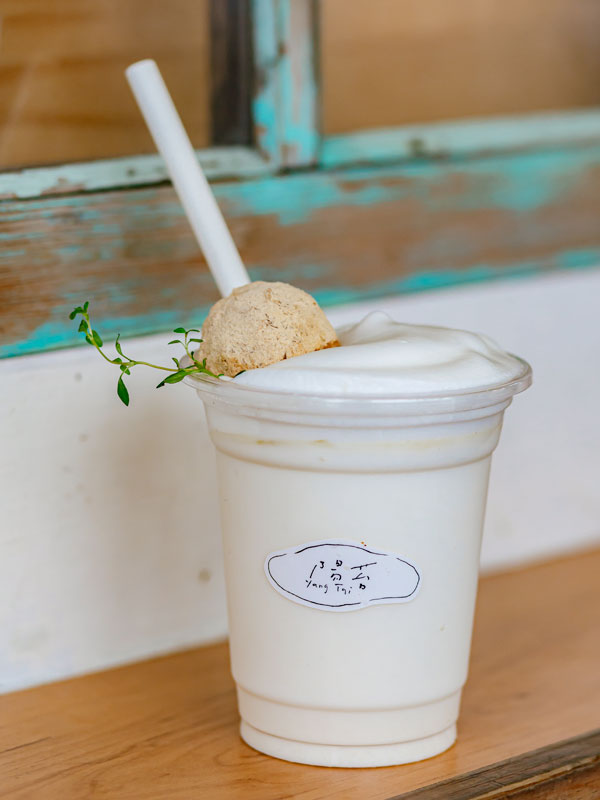 Yang Tai
(陽苔)
Tel: (02) 2784-5677
Add: No. 5, Lane 1, Sec. 2, Chengde Rd., Datong District, Taipei City
(台北市大同區承德路二段一巷5號)
Hours: 1pm~6pm (closed on Mon. & Tue.)
Facebook: bit.ly/3I8xFBo
Instagram: www.instagram.com/yangtai2020/
Hoshing 1947
If you're looking for something that leans a little more traditional, Hoshing 1947, once again in the Dadaocheng neighborhood, offers classic Lunar New Year treats – all year round. There is scant Western influence here. Rather, the primary influence is from Shanghai, from where the grandfather of the now third-generation owner Ren Jia-lun emigrated during the Chinese Civil War.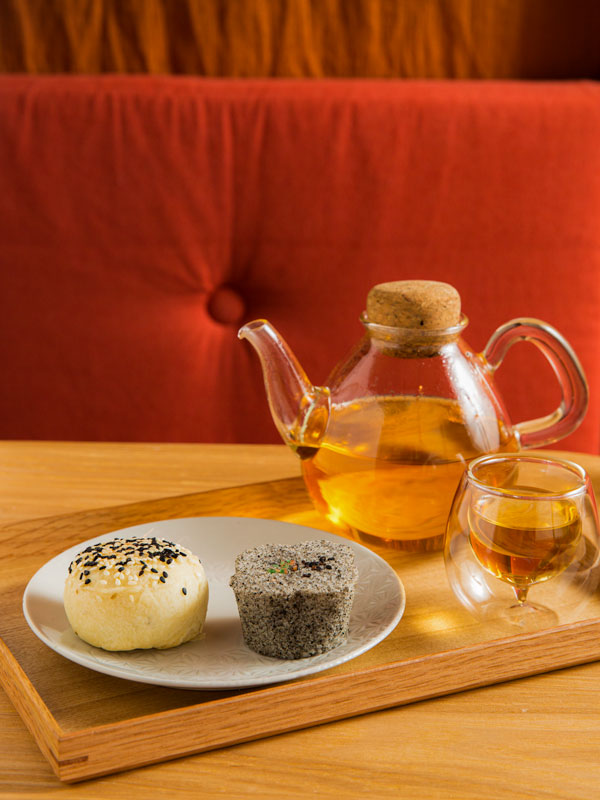 The store offers a seemingly boundless variety of traditional bite-sized Chinese sweets: adzuki bean peach-shaped buns, osmanthus sesame rice cakes, sponge cakes, silver thread rolls, and seaweed puff pastries, to name just a handful. Some tweaks have been made, however, to please more modern palates. After relocating from Nanmen Market (where the store was originally established over seven decades ago, and served an increasingly older generation) to the newly fashionable Dadaocheng neighborhood in 2017, Ren decided to tone down the sweetness and pungency of these desserts slightly, both in order to appeal to the tastes of younger Taiwanese and to those of foreign visitors as well.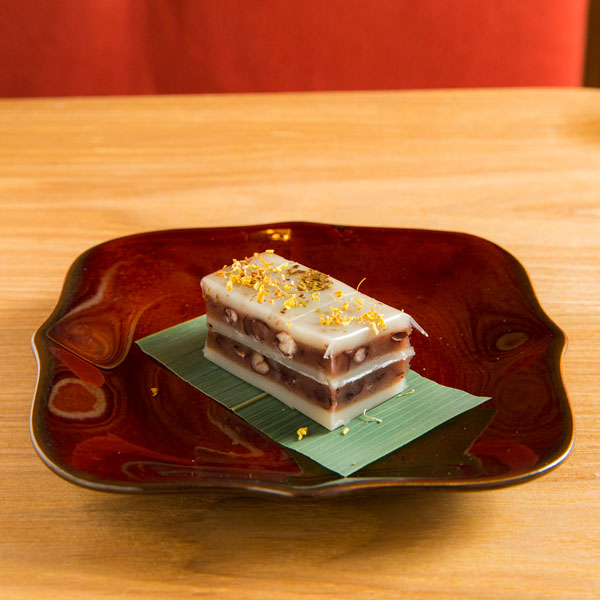 Hoshing 1947
(合興壹玖肆柒)
Tel: (02) 2557-8060
Add: No. 223, Sec. 1, Dihua St., Datong District, Taipei City
(台北市大同區迪化街一段223號)
Hours: 11am~7pm (closed on Mon.)
Website: www.hoshing1947.com.tw (Chinese)
Facebook: www.facebook.com/hoshing1947
Tea Dessert House
A lover of the Iron Goddess tea grown in the Maokong area of Taipei since his youth, founder Gao Xian-hong established Tea Dessert House in order to introduce as many people as possible to Taiwanese tea via their sweet tooth. Invited in by the bold green exterior that mirrors the green tea terraces of Maokong, here you'll find a good mix of Western-style desserts (cookies, tiramisu, puffs, and several types of tea-flavored ice cream) alongside traditional Taiwanese treats such as pineapple cakes and mochi, all infused with Taiwanese teas such as Sun Moon Lake Assam, Muzha Iron Goddess, Oriental Beauty, and Baozhong. For those wanting to pick up souvenirs, the store offers several gift boxes along with tea leaf so that you can sample the flavors of your favorite desserts in their original form.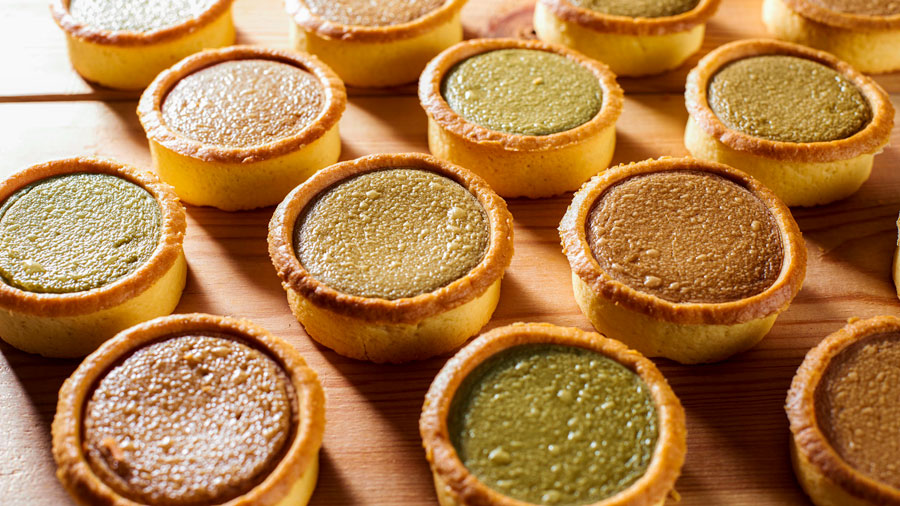 Tea Dessert House
(貓茶町)
Tel: (02) 2712-9900
Add: No. 27, Lane 113, Sec. 3, Minsheng E. Rd., Songshan District, Taipei City
(台北市松山區民生東路三段113巷27號)
Hours: 12 noon~7pm
Website: www.tdh.com.tw
Facebook: www.facebook.com/TeaDessertHouse/