Traveling in the Good Ole Taiwan Days Today
TEXT / RICK CHARETTE
PHOTOS / RAY CHANG
The core of Lukang (Hanyu Pinyin spelling: Lugang), located just off Taiwan's central-west coast, is perhaps Taiwan's best imperial-days living museum, a repository of heritage architecture even more concentrated than that found in the acclaimed core of Tainan City to the south, which was Taiwan's Qing dynasty capital for over two centuries.
If you have a passion for discoveries of historical sites, as I do, commit two days or more to the Lukang core. I've visited an uncountable number of times – for personal fun, on writing-research trips, and as part of regional religious pilgrimages undertaken annually by local citizens honoring Mazu, Goddess of the Sea (my father-in-law built/manages my neighborhood Mazu temple). Following are my favorite repeat-visit destinations in various categories: heritage temples, mansions and shophouses, cultural-creative enterprises, food and drink ventures, and more.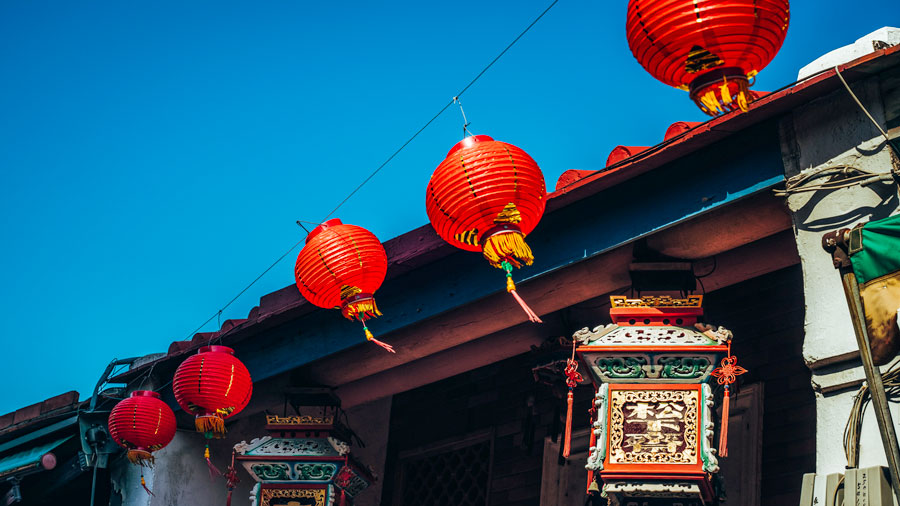 In Chinese imperial times Lukang was west-central Taiwan's key harbor town. "Lukang" means "deer harbor." Both deer and harbor are long gone. The western plains once teemed with deer, and Lukang flourished as the primary exit-point for dried venison and deerskin, Japan the main recipient. The central-west littoral experiences heavy silting, and the coastline is now kilometers west of the town; its heyday as a powerful shipping-trade entrepot was choked out around the turn of the 20th century.
Private-Residence Heritage Buildings
This article is set up as an easy walking tour centered on a hub right in the old core; just one location, the Hu Sheng Glass Temple, requires a short drive outside. This hub has been carefully chosen – the intersection of Daming Road and Minzu Road. The busy paving-stone plaza here and street sections around it are thick with food sellers serving up the legion of inexpensive, high-quality traditional snacks that is another reason for Lukang's great tourist popularity. The streetside stands set up outside the plaza's bricks-and-mortar operations, and the queues, give this foodie oasis a night-market vibe.
Heqi Mansion
Just north of the plaza, along a narrow lane, is the Heqi Mansion, one of Lukang's finest examples of the upscale private residences of the imperial-era wealthy. It was constructed in the late 1800s by a family that had prospered as trading merchants and financiers. Many members were at the same time scholars with high academic degrees. The family entertained frequently, and oft had theatrical dramas staged in the courtyard for guests.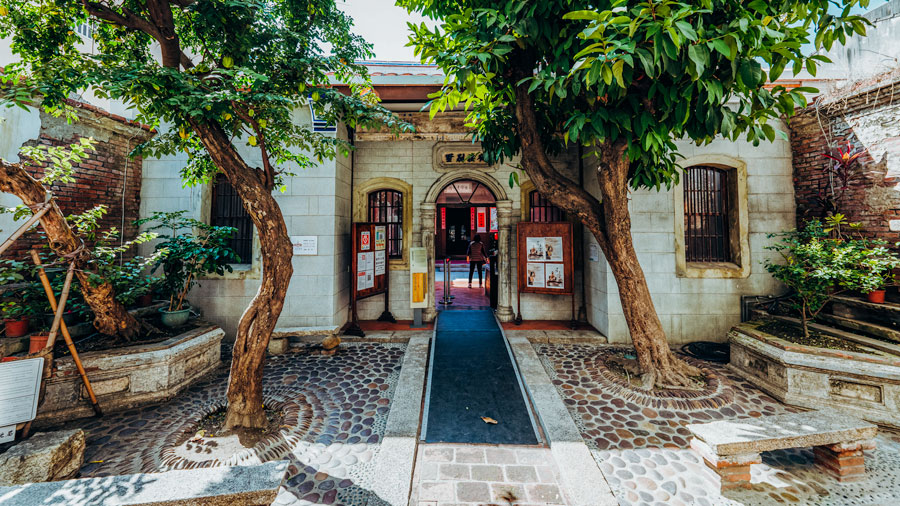 The mansion's design is in classical Minnan/South Fujian style, with Greek and Romanesque architectural elements added to the façade during Taiwan's 1895-1945 Japanese colonial era, copying the confident experimentation undertaken by Japanese architects in Taiwan during this period. The one-time residence today houses a museum (free entry) celebrating Lukang's rich and still flourishing craft traditions, with displays of the type of intricately detailed religious icons seen in the town's dense forest of heritage temples and shrines. There's also a valuable mural map showing where the shops of Lukang's best-known craftsmen are, plus their specialties.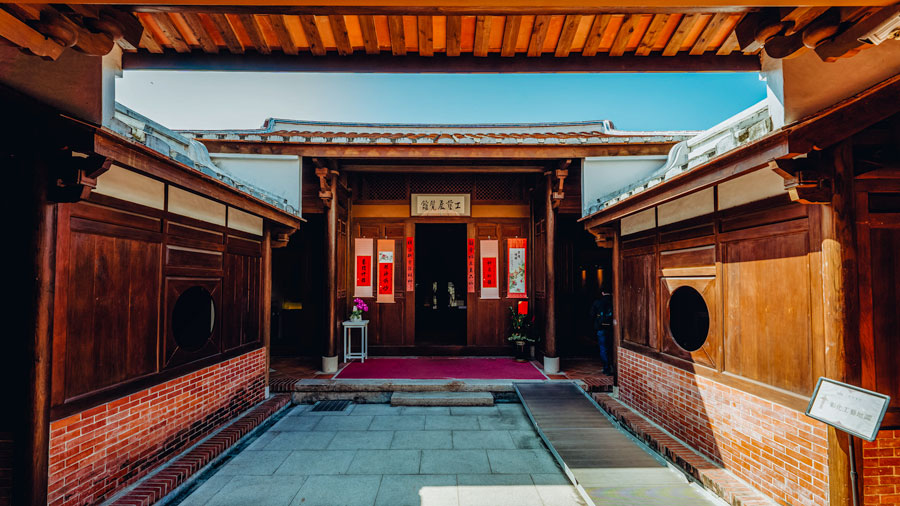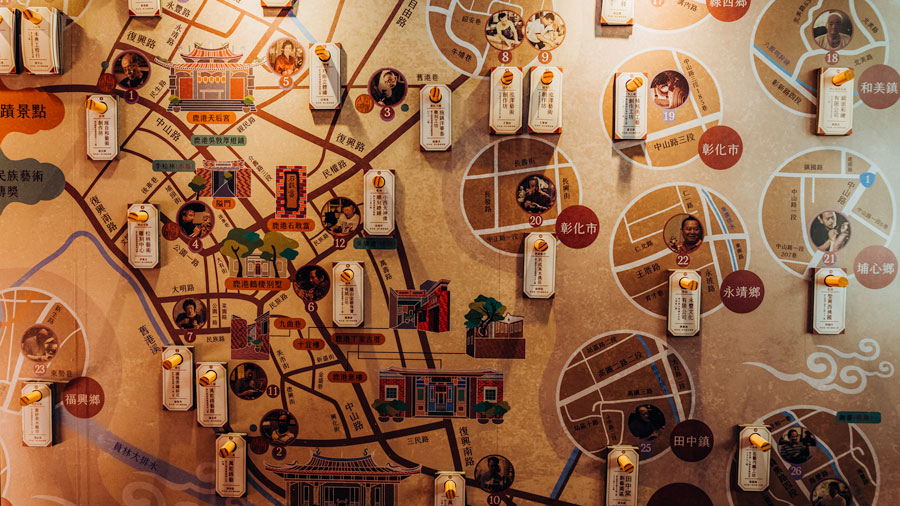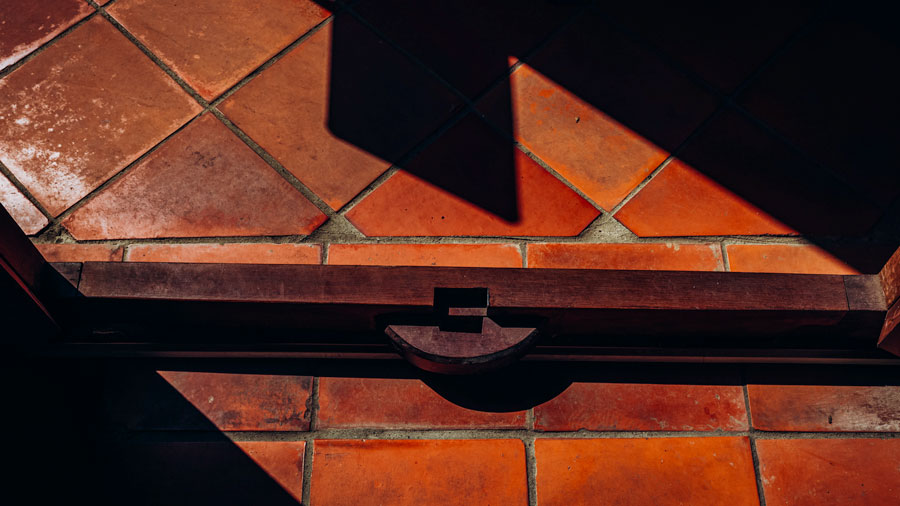 Heqi Mansion
(鶴棲別墅)
Add: No. 8, Houche Lane, Lukang Township, Changhua County
(彰化縣鹿港鎮後車巷8號)
Hours: 9am~12noon, 1pm~5pm; closed on Mon. & Tue.
Facebook: www.facebook.com/hecivilla
Lukang Folk Arts Museum
A short walk east/southeast of our hub plaza is the spacious, handsome Lukang Folk Arts Museum. This Baroque-inspired building was originally a residence of the Koo family, one of Taiwan's most prominent through the late 19th century and much of the 20th. Completed in 1919, it was designed by the same Japanese architect responsible for the grand Presidential Office Building in Taipei. The museum opened way back in 1973.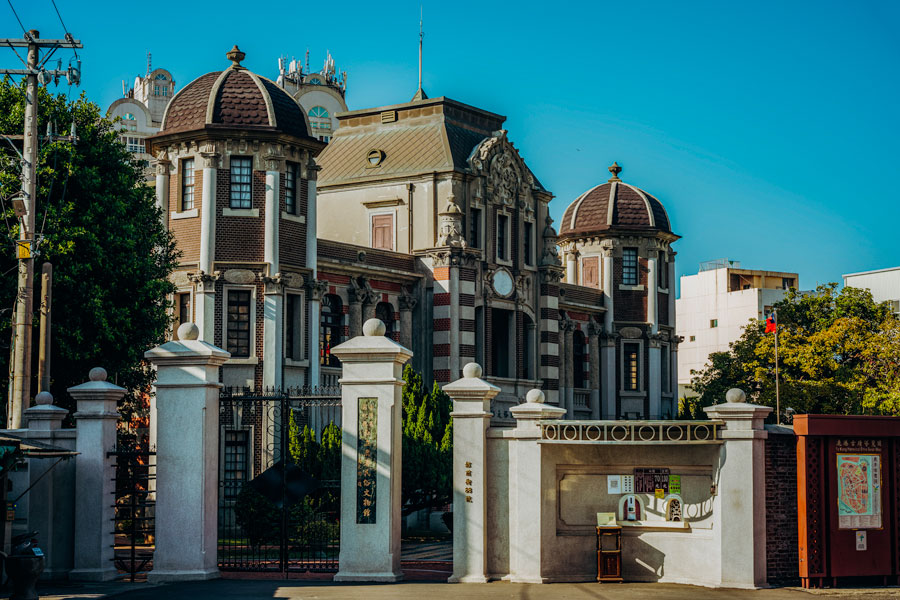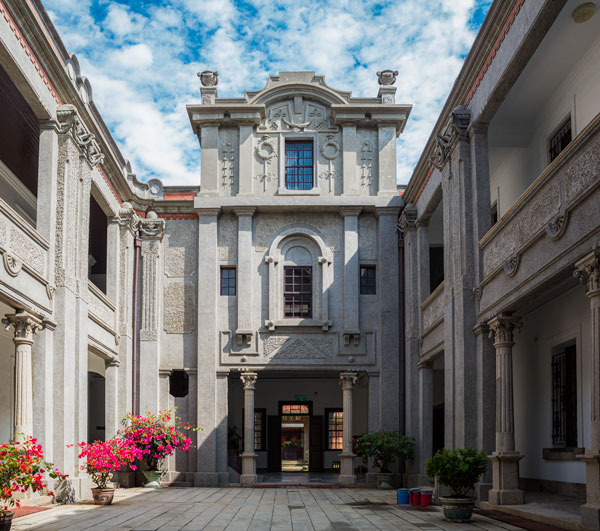 Visitors are regaled with a wondrous assortment of artifacts common to the lives of the Taiwan wealthy from the late 19th/early 20th century, in two floors of faithful recreations in bedrooms, the kitchen and parlor areas, etc. Among the most striking objects are consummate craftworks created by Lukang's own gifted artisans, such as meticulously hand-fabricated hand puppets and shadow puppets and intricately carved wooden stages for their performances, elaborately decorated sedan chairs, and wheat-flour figurines in auspicious fish, turtle, and shrimp shapes presented as offerings to Chinese-pantheon deities.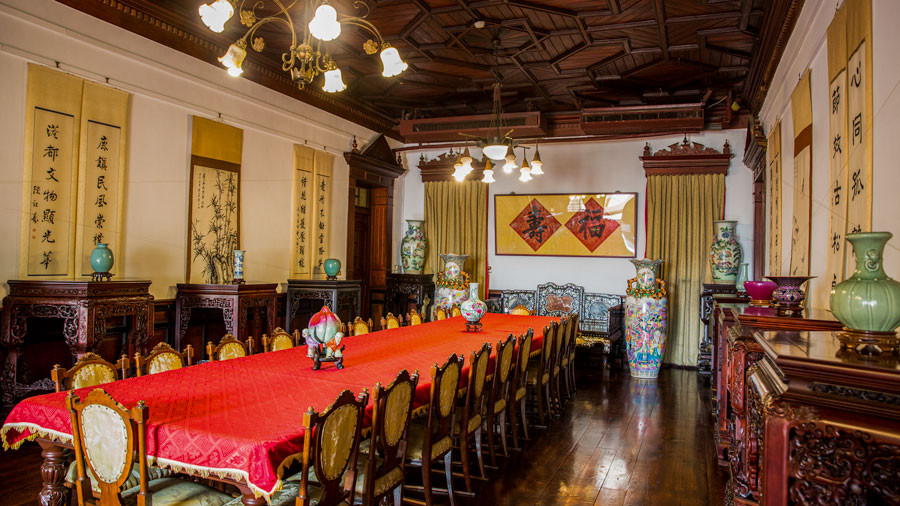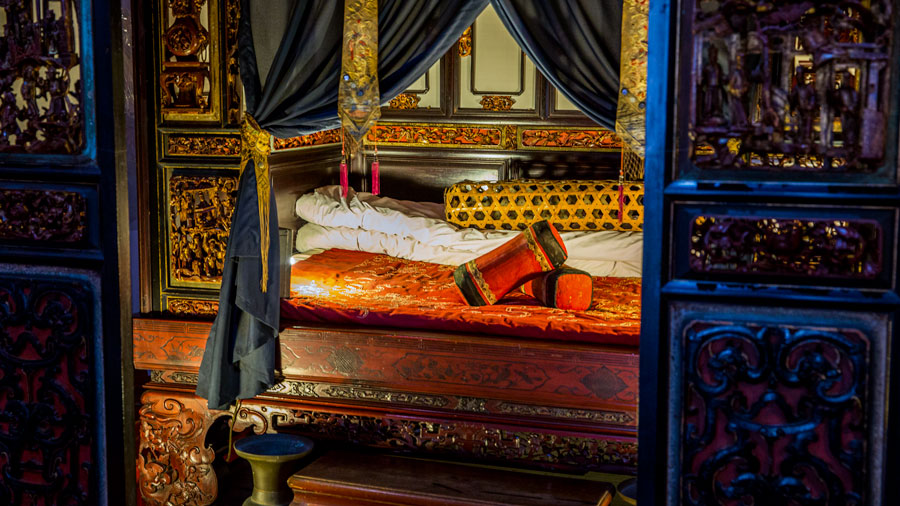 An additional point of clarification – note the "1919" date for the Koo mansion; when I earlier stated that old-core Lukang was "perhaps Taiwan's best imperial-days living museum." I meant this expansively, encompassing the Chinese imperial period and Taiwan's period of imperial Japanese rule.
Lukang Folk Arts Museum
(鹿港民俗文物館)
Tel: (04) 777-2019
Add: No. 88, Guanqian St., Lukang Township, Changhua County
(彰化縣鹿港鎮館前街88號)
Hours: 9am~5pm; closed on Mon.
Admission: NT$130
Facebook: www.facebook.com/lukangarts
Old House of the Ding's, Lukang
The Old House of the Ding's, Lukang (sic), Lukang Folk Arts Museum, and Huo-Xing Youth Start-up Hub (introduced later) are all within sight of each other, all looking out (rear entrance for the Ding's attraction) onto a neighborhood park featuring neat European continental-style landscaping.
The Ding family was initially engaged in general merchandise, then added shipping and trade to their repertoire. Their Minnan-design complex is a rare specimen, featuring three buildings and two courtyards, running 70m deep. It was completed around 1880. The front building, which housed their mercantile operation, is now used for art displays showcasing regional artists, their works usually focused on Lukang themes.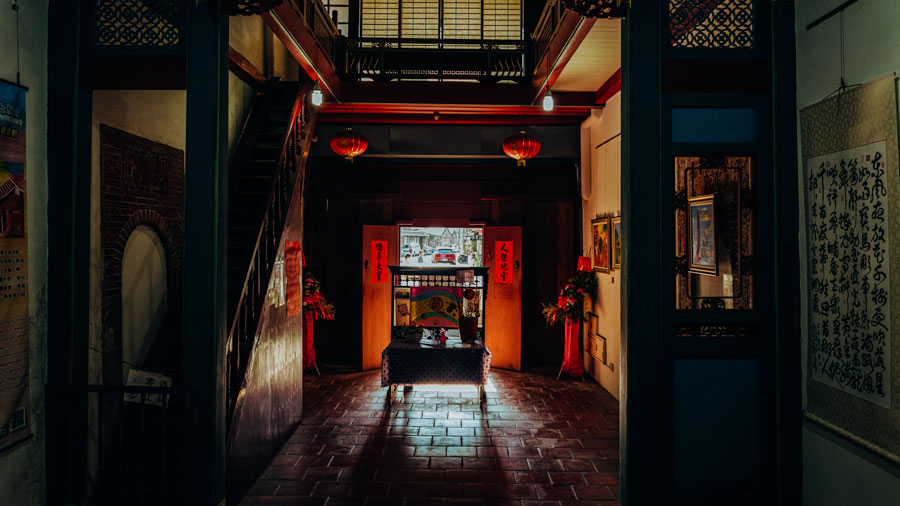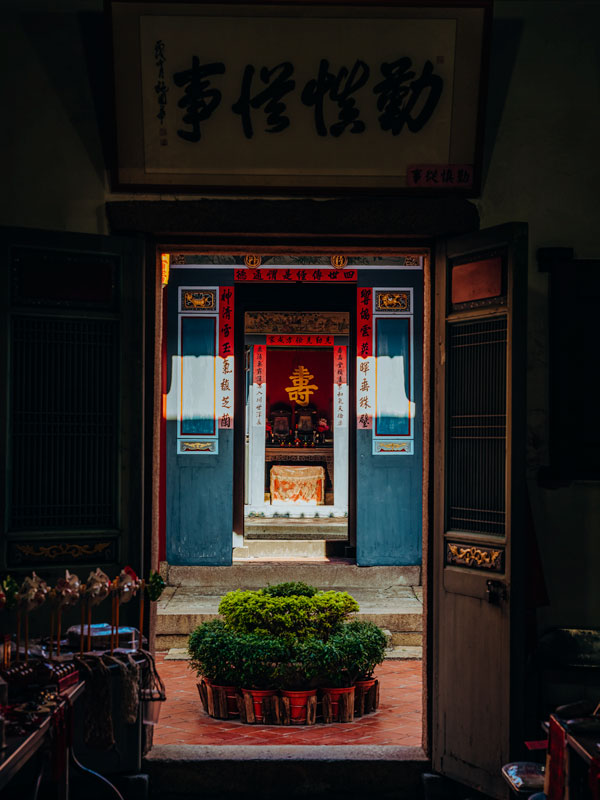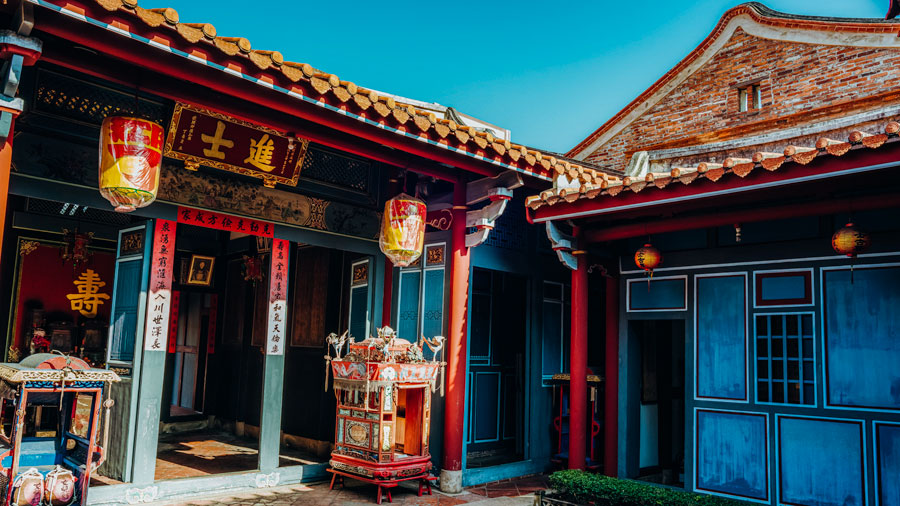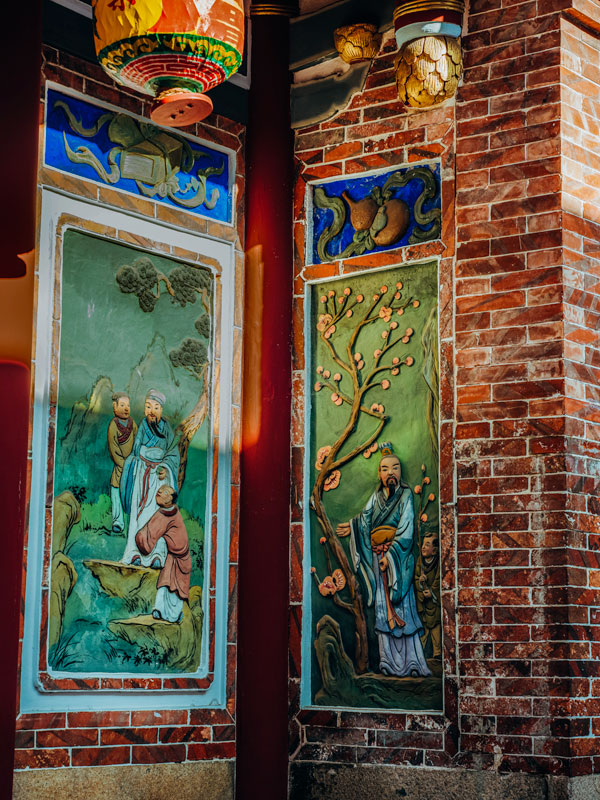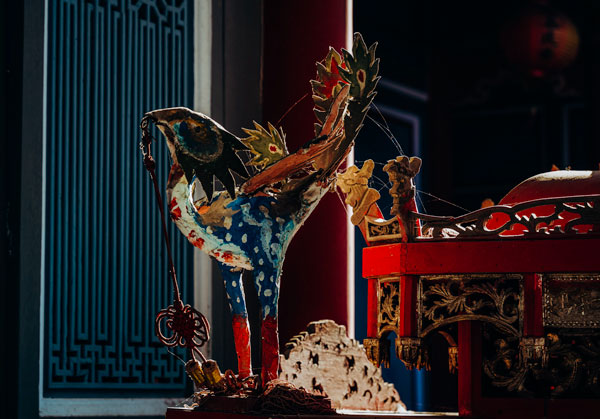 Old House of the Ding's, Lukang
(鹿港丁家古厝)
Add: No. 132, Zhongshan Rd., Lukang Township, Changhua County
(彰化縣鹿港鎮中山路132號)
Hours: 9am~4:30pm; closed on Mon.
Temples
Lukang Longshan Temple
Lukang Longshan Temple, about 10 minutes on foot almost directly south of our hub plaza, is Lukang's largest temple, the walled compound measuring over 10,000 square meters. It was built by early Han Chinese settlers to thank Guanyin, the Goddess of Mercy, for their safe passage across the treacherous Taiwan Strait.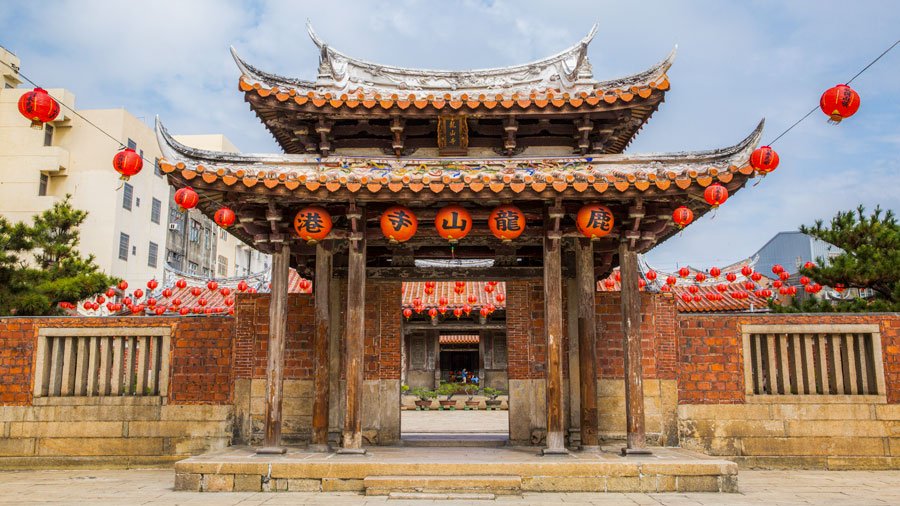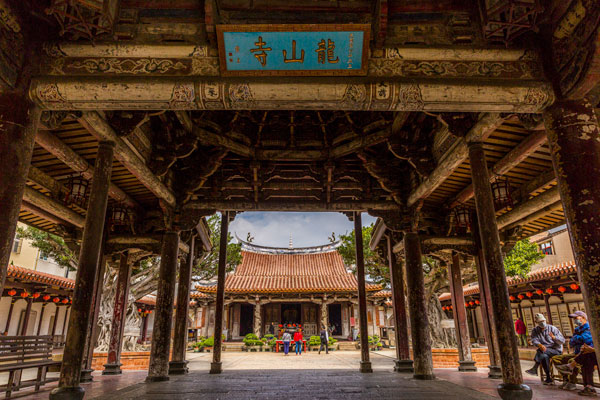 This is one of Taiwan's most artistically significant temples, dubbed the "Forbidden City of Taiwan." The Taiwan Tourism Bureau declares it to be Taiwan's best-preserved and most aesthetically alluring Qing dynasty architectural work. Built in the south China style, it dates to the late 1700s. While touring, here are some design elements to specially seek out:
There are four aligned courtyards, each more elaborate as one moves inside. Note the five portals leading into the third courtyard; this is an indication of the temple's elite status, as large temples are generally limited to three.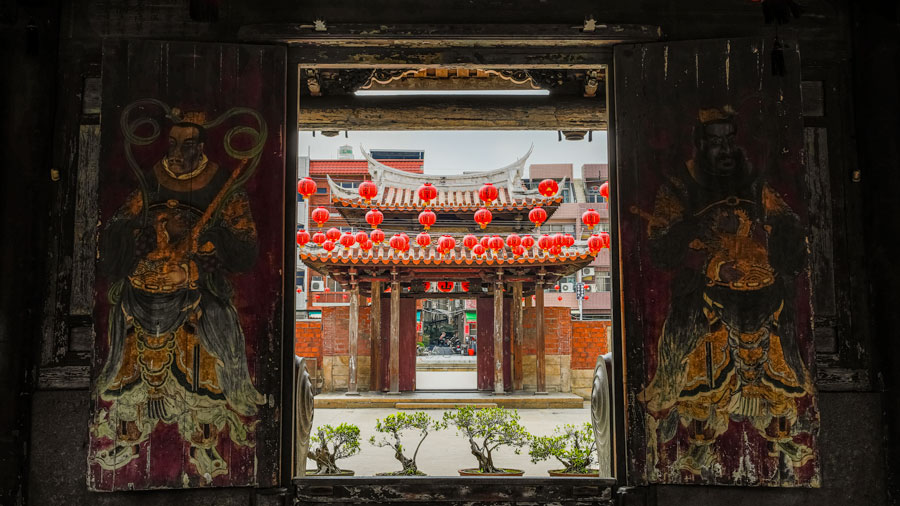 Inside these doorways, look up to admire what is perhaps this temple's most acclaimed feature, a spiderweb caisson ceiling created with a massive jigsaw of carved and painted wooden pieces, fitted together with no nails. The effect is to fool the fire gods into thinking the temple is under water, causing them to give up on fire attacks.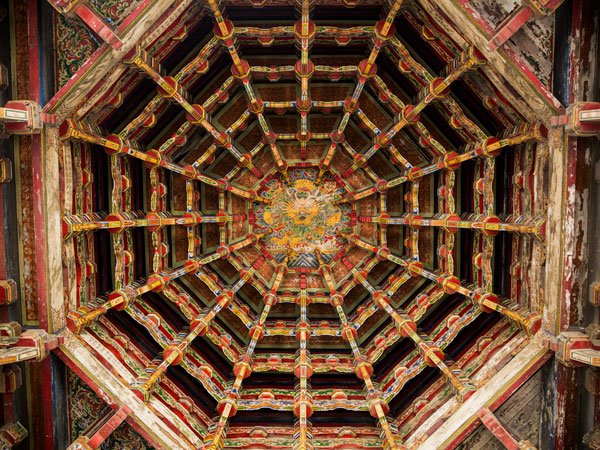 Lukang Longshan Temple
(鹿港龍山寺)
Tel: (04) 777-2472
Add: No. 81, Jinmen Lane, Lukang Township, Changhua County
(彰化縣鹿港鎮金門巷81號)
Hours: 5am~9:30pm
Website: www.lungshan-temple.org.tw (Chinese)
Lukang Wenwu Temple
The Lukang Wenwu Temple complex, southeast of Longshan Temple, is an elegant suite of buildings set amidst neatly tended grounds adorned with attractive shade-providing ficus trees. The words wen and wu mean "civil" and "martial," respectively. There are three main sections. Looking into the complex, the Wu/Martial Temple is on the right, the Wen/Civil Shrine in the middle, the Wenkai Academy on the left. Work on the complex began with the Wen Shrine in 1806 (Wu Temple 1811, Wenkai Academy 1824).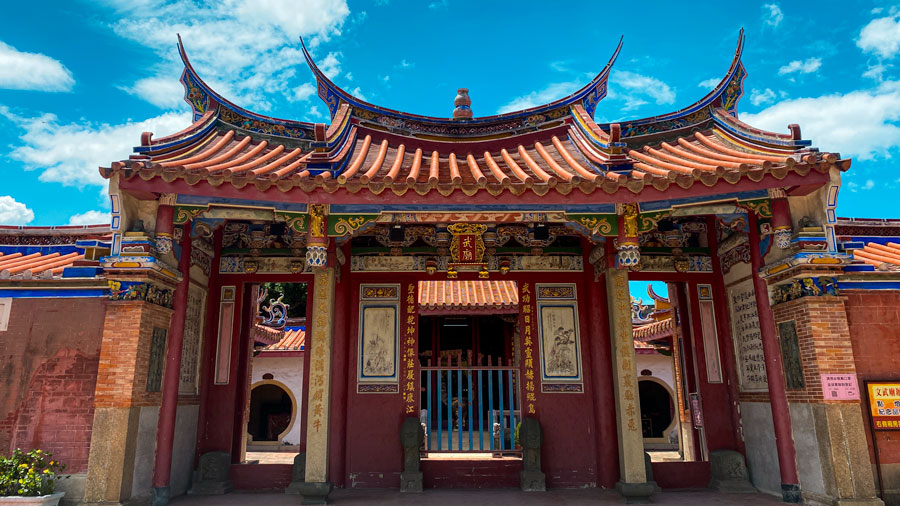 Wenchang Dijun, the God of Literature, is worshipped in the Wen Shrine; Guan Di, the God of War, in the Wu Temple. Each of these features two halls with a courtyard in between. Students, teachers, and civil servants come to pray to the God of Literature, while soldiers, policemen, and businessmen pray to the God of War because of his renowned prowess at strategy when a general in the mortal realm.
Before the Wen Shrine is a large crescent-shaped pond. Such mirror-like bodies of water are believed to frighten off otherworldly evildoers, who are frightened when seeing their own reflections. Locals attest that Lukang's most pristine water comes from the centuries-old well located between shrine and temple, and makes the best tea.
Wenwu Temple
(文武廟)
Tel: (04) 777-2148
Add: No. 2, Qingyun Rd., Lukang Township, Changhua County
(彰化縣鹿港鎮青雲路2號)
Hours: 5am~5pm
He Sheng Glass Temple
The magically transparent Hu Sheng Glass Temple, the world's first such temple, is on an island just off the coast, connected to the mainland by two bridges. Opened in 2012, this is a celebration of Taiwan's centuries-old glass industry, concentrated on its west coast, which has recovered strongly in the past two decades after being seriously undermined by cheap mainland Chinese competition. It accompanies another tourist attraction beside it, the Taiwan Glass Gallery, which showcases the works of around 150 glass artists and industry enterprises from around the island.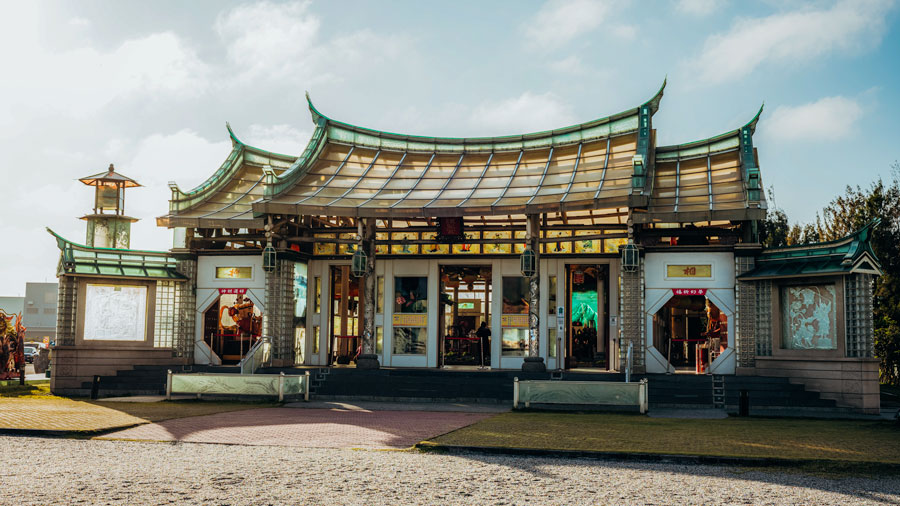 The temple is a copy of Lukang's Tianhou Temple, dedicated to Mazu, which along with the two above-introduced places of worship form Lukang's triumvirate of famed must-visit large temples. Hu Sheng Glass Temple features 70,000 pieces of glass, sourced from around the island. Almost all furnishings and ornaments, including deity statues, are also of glass.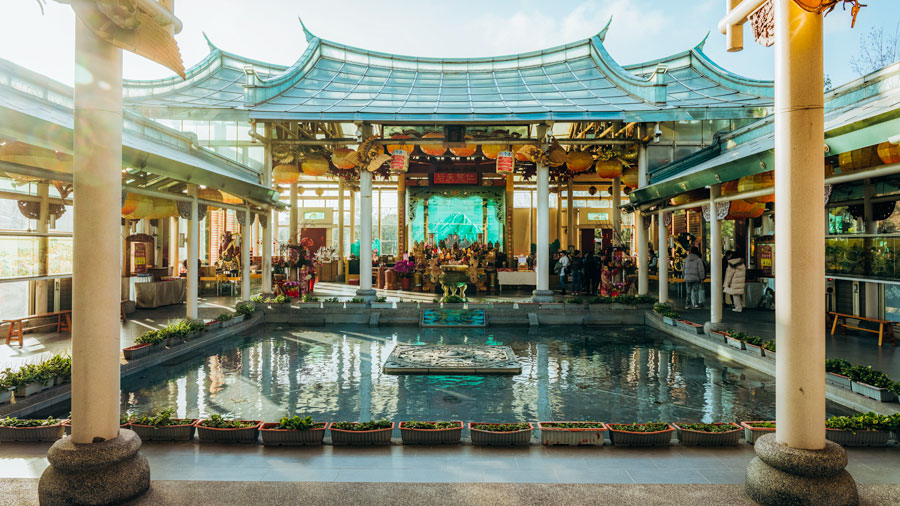 Advanced eco-protection principles have been incorporated as well. For example, the roof is made of heat-insulation solar glass, which deflects UV rays and transforms heat into electricity, powering all temple lighting. LED lights light up glass incense and spirit money used in deity offerings.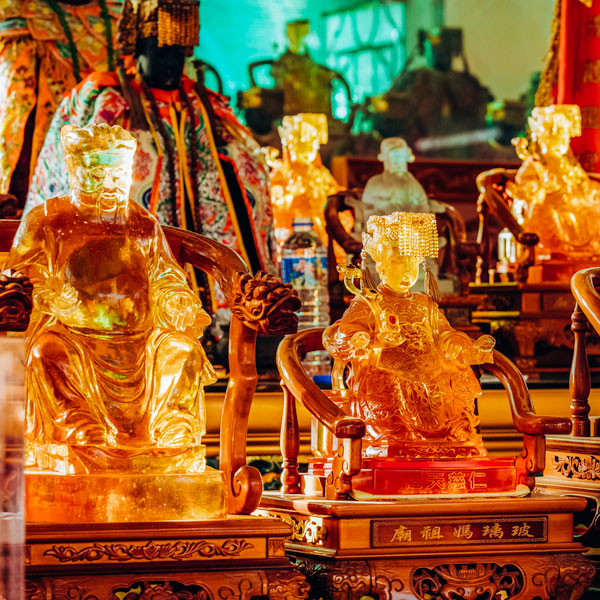 Note that many tourists will visit during the day and also in the evening, when the temple emits an ethereal pastel-hue glow of manifold colors.
Hu Sheng Glass Temple (Glass Mazu Temple)
(護聖宮[玻璃媽祖廟])
Tel: (04) 781-1209
Add: No. 28, Lugong South 4th Rd., Lukang Township, Changhua County
(彰化縣鹿港鎮鹿工南四路28號)
Hours: 8am~5pm
Website: tw.glasstemple.org
Facebook: www.facebook.com/glassmazu
Lukang OId Street Area
What is called Lukang Old Street consists of three short and very narrow old streets that run south-north, conjoined, in this order: Dayou, Yaolin, and Putou streets. This is the nexus for the old core, which encompasses a number of other arteries you will also see referred to as "old streets." Two of these have especially teasing names – Nine Turns Lane and Breast Rubbing Lane. In this tour we meander Lukang Old Street and Nine Turns Lane.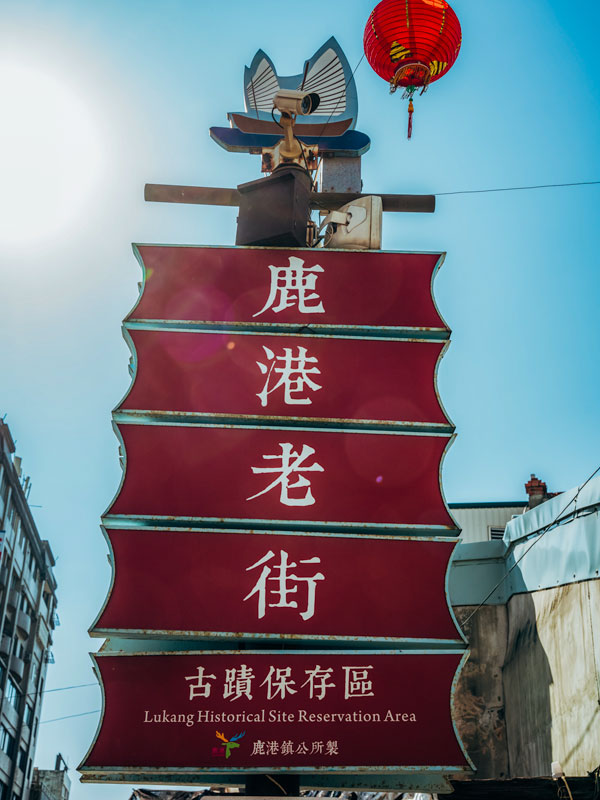 The south entrance to pedestrian-friendly Lukang Old Street is found just west of our hub plaza. On the Yaolin Street section is the Half-sided Well. Half of the well here was left exposed outside the perimeter wall of the rich family that built the residence on the other side, sharing the water with lesser-off neighbors.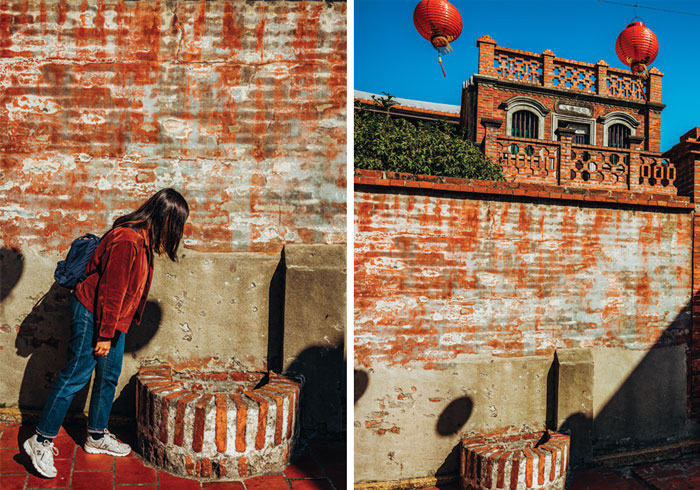 On Houche Lane (remember the Heqi Mansion intro above), east of and parallel to Putou Street, is the Ai Gate, also called the Lukang Gate. In imperial days many such gates were built in Lukang as protection against attackers such as bandits and pirates. This is Lukang's sole remaining example.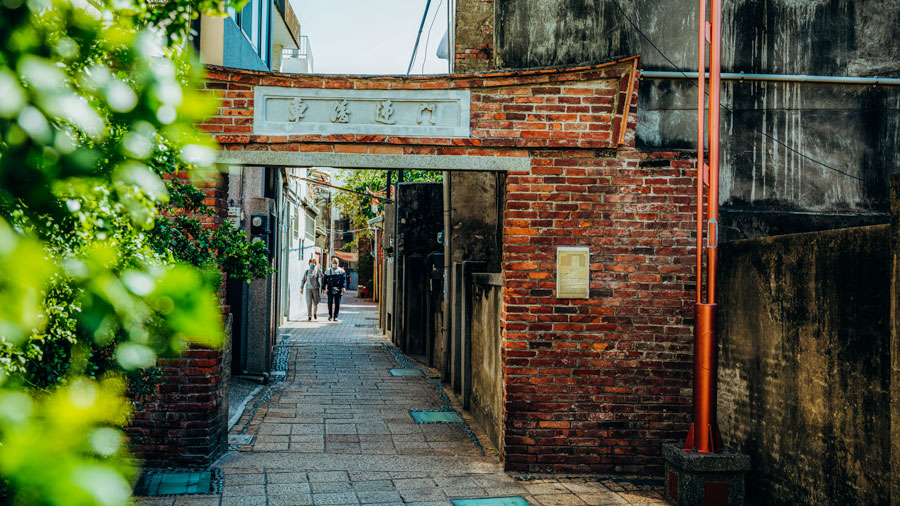 The north entrance to Jiuqu (Nine Turns) Lane is immediately south of our hub plaza. This exceedingly narrow artery, in places just barely wide enough for two people to pass each other, zigs and zags while headed in a general southerly direction. The "nine" is not literal, instead meaning "many." The zigzagging had a dual purpose: to prevent straight-line attacks by bandits and pirates, and to deter the cold sand-laden winds that swooshed in from the coast in winter.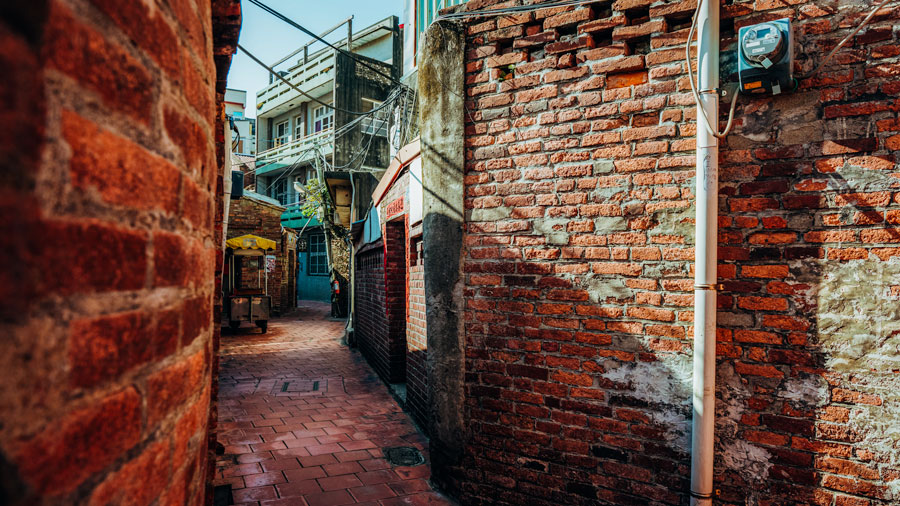 About halfway along the lane you'll pass under a short corridor-like bridge that connects the second levels of the buildings on either side. These were once common in Lukang, created both for convenience and safety. The building on the east side is Shih-Yih Hall. This was a place for the Lukang literati to gather. Shi yi (in Hanyu Pinyin) refers to the literati's "ten amusements," which included playing musical instruments and chess, reciting poetry, tea tasting, drinking, and smoking.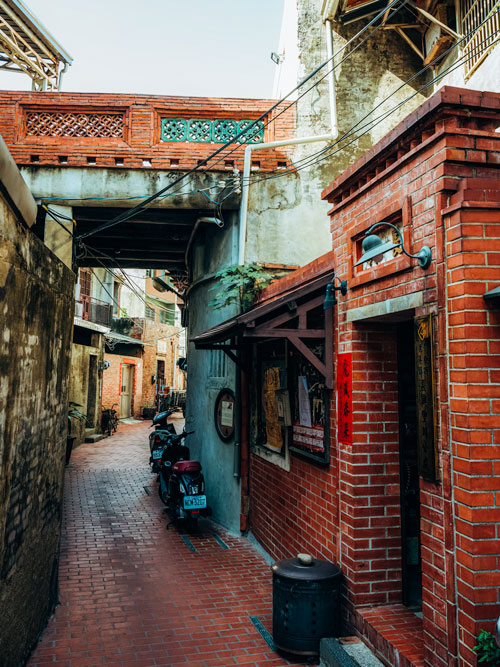 In Chinese imperial days there was a gate under the bridge, which would be closed and guarded at night. And notice how the east-side wall under the bridge is rounded; this is an old gun tower, conjoined with Shih-Yih Hall, which has one of the original narrow shooting apertures still in place.
Toward the lane's south end is Yi Lou/Remembrance Hall, a mansion in the classical red brick of the Minnan style. This residence is best known for its windows in the shape of calabash gourds and ancient Chinese coins, symbols of good fortune and wealth. Watch for, and try to interpret, the unusual window designs seen throughout old Lukang.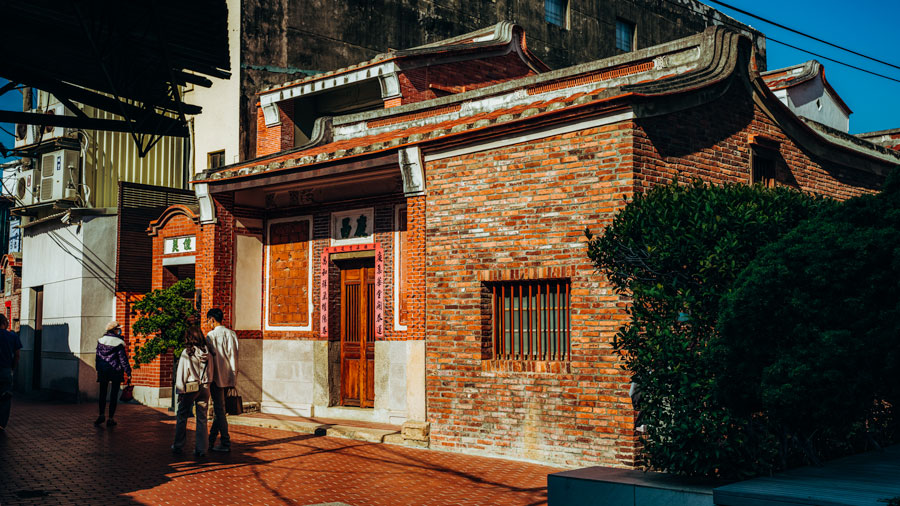 Elsewhere, the Wine Jar Wall is found along the old lane leading to the east side of the Huo-Xing Youth Start-up Hub complex (see below). In times past, architects employed the large empty jars used to transport Shaohsing rice wine from the China mainland to build ornamental yet practical and comparatively inexpensive wall sections. The wall section here is said to be the largest such remaining in Lukang.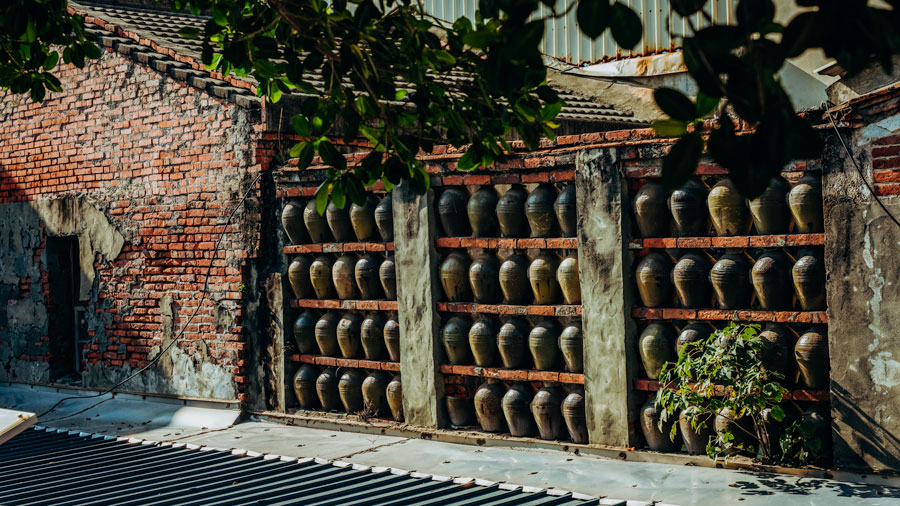 Cultural-Creative Places
Huo Xing Youth Start-up Hub
The Huo Xing Youth Start-up Hub is less than 10 minutes on foot southeast of our hub plaza. It was opened in 2020 in a small complex of one- and two-story buildings originally used as a Japanese police precinct and dorm facilities. Two small single-story structures are wood-built and traditional Japanese in style. The others are two-story structures built of red brick, much covered with a concrete veneer, much brick left exposed for artistic effect.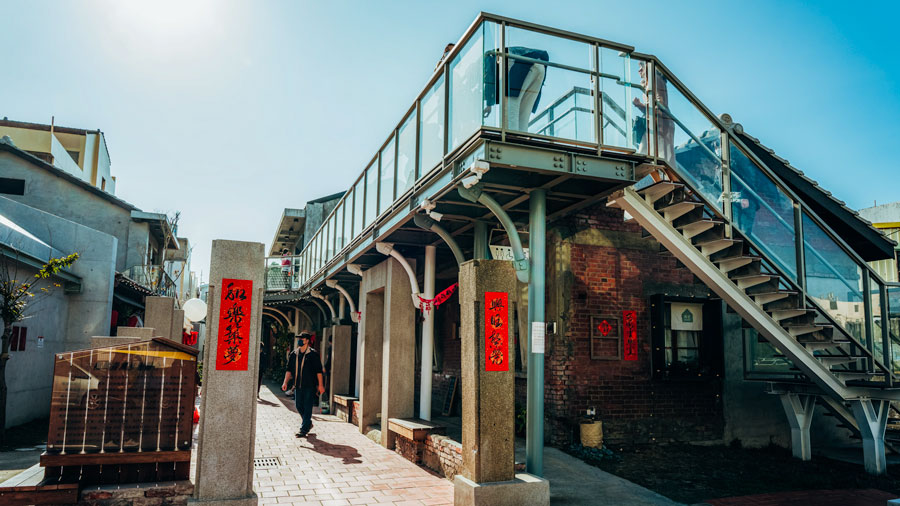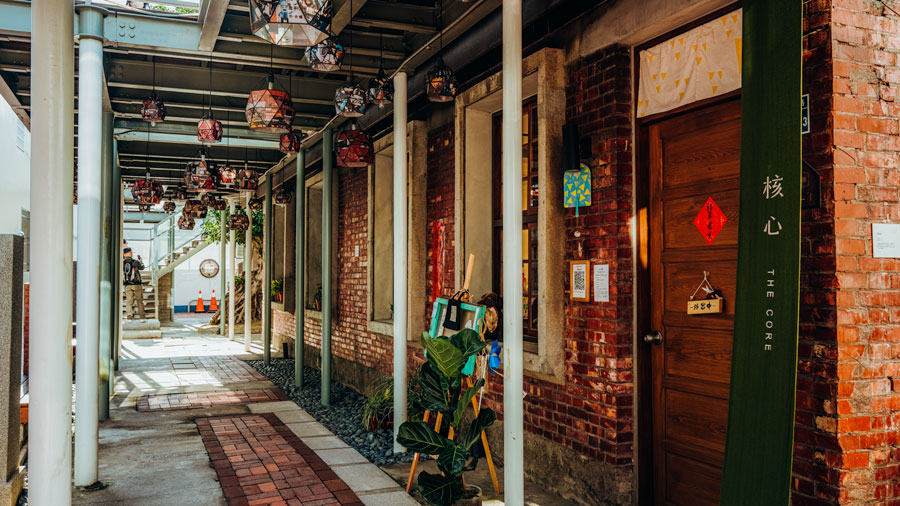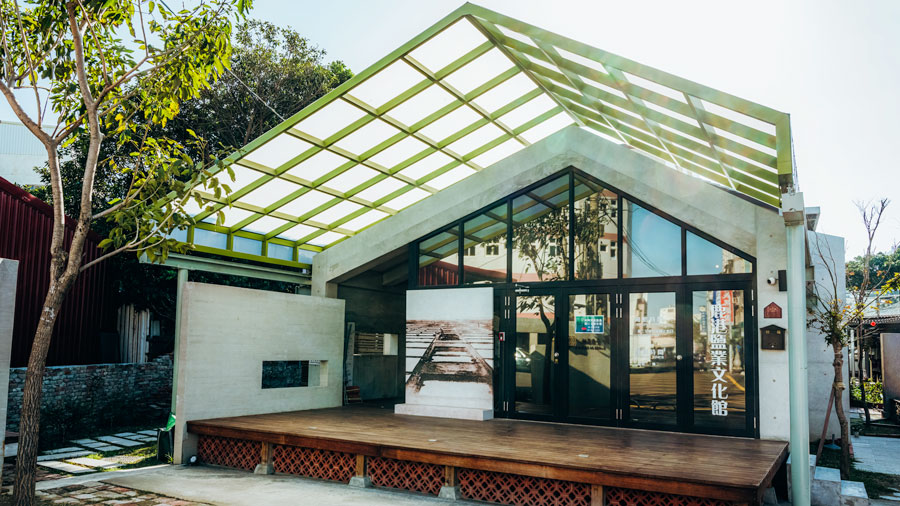 The complex has become a popular photo-taking spot. Complementing the attractive dual studios/shops, where you'll browse a fine array of cultural-creative for-sale inventiveness ranging from jewelry to ceramics to essential oils to Chinese culture-themed purses, money pouches, handbags, etc., are a café and an eatery selling shaved-ice treats.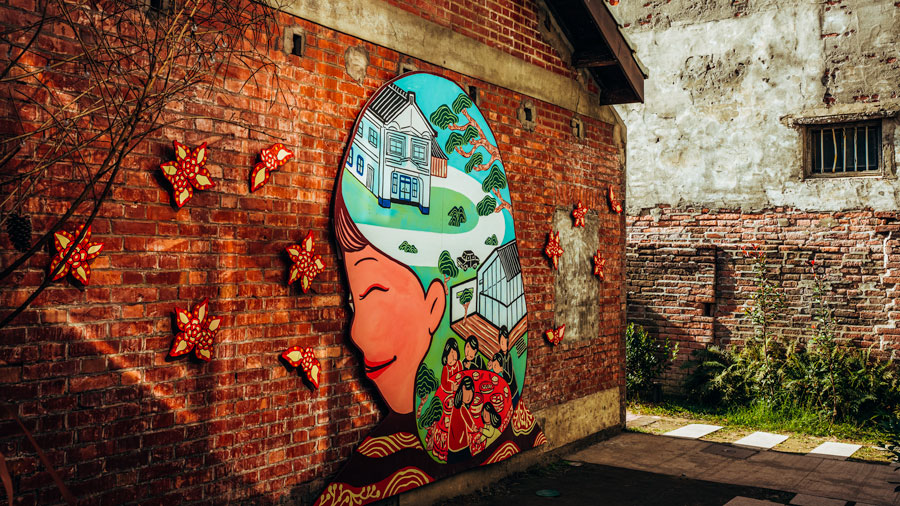 Among the exterior artistic adornments is the aforementioned Wine Jar Wall, a glass-wall skywalk taking you around at treetop level, and artworks such as traditional rich-red hanging decorative lanterns, a wind-chime-style hanging collection of painted traditional Chinese bakery hand-carved wooden seals, and a plastic figure sitting atop a wall, in contemplative The Thinker-style pose, with a human body and large bulb for a head. The last, of course, symbolizes the incubation of bright start-up inspirations at the hub.
Huo Xing Youth Start-up Hub
(和興青創基地)
Tel: (04) 777-0908
Add: No. 108-8, Zhongshan Rd., Lukang Township, Changhua County
(彰化縣鹿港鎮中山路108-8號)
Hours: 10am~8pm
Facebook: bit.ly/3oQ6aoz
Osmanthus Alley Art Village
In the Chinese imperial era, the space occupied by today's lively Osmanthus Alley Art Village was used for osmanthus flower cultivation. In the Japanese era a small community of dormitory residences was built for Japanese workers, the buildings aligned facing each other. Today the renovated Japanese-style buildings house studios, the artists in residence practicing many different art forms, including the crafting of lion heads, ceramics, calligraphy, leather carving, gourd sculpture, and deity statuary decoration art. Visitors are invited in gratis, and attractive and affordable items are invariably for sale. DIY activities are also offered on weekends/holidays.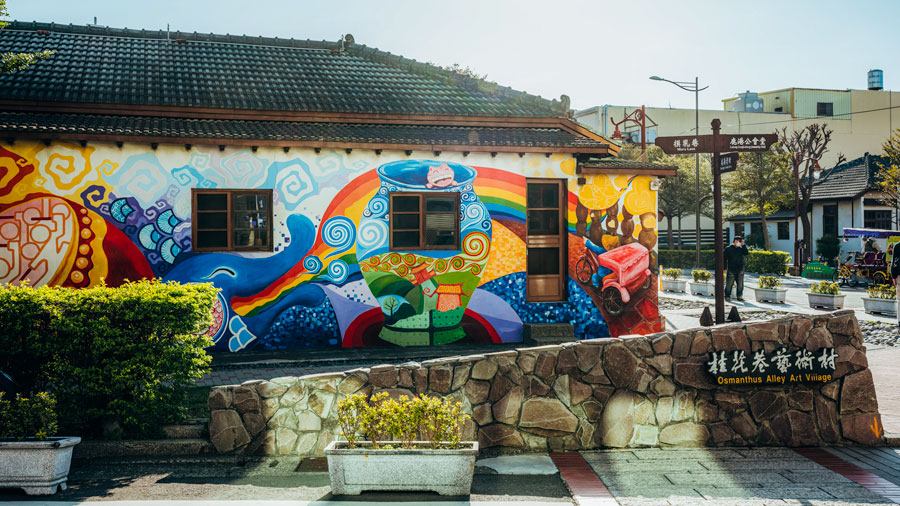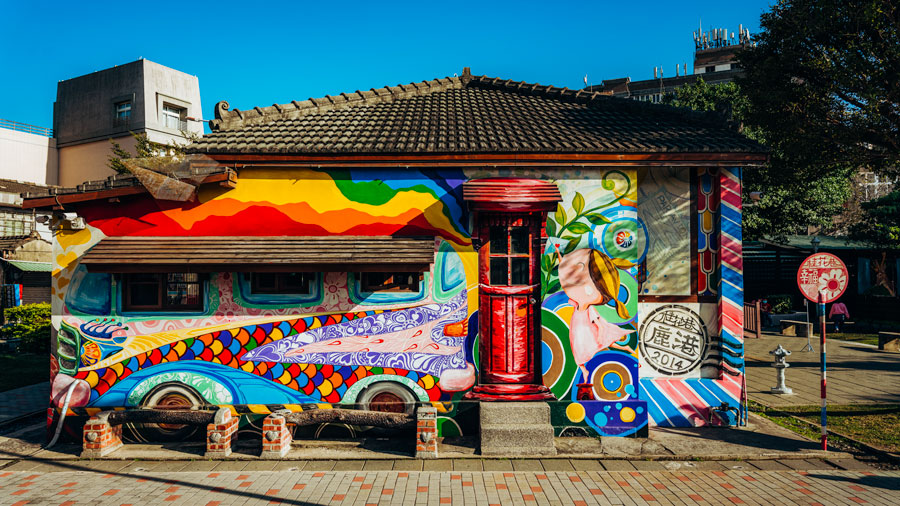 The art-village enclave is located about 10 minutes on foot northwest of our hub plaza. The exterior of the southernmost building, which has a comfy café inside, is festooned with children's picture-book-style paintings – a laughing cat emerges from an antique ceramic jar, a rickshaw driver moves past a wine jar wall, a line of small windows is cleverly used as the windows in a yesteryear-model public bus. The lane running through is often brightly decorated, at the time of Travel in Taiwan's most recent visit with a herd of cutesy paper-art deer with auspicious red as their "fur" color, and auspicious paper-art Chinese carp strung out on long lines overhead.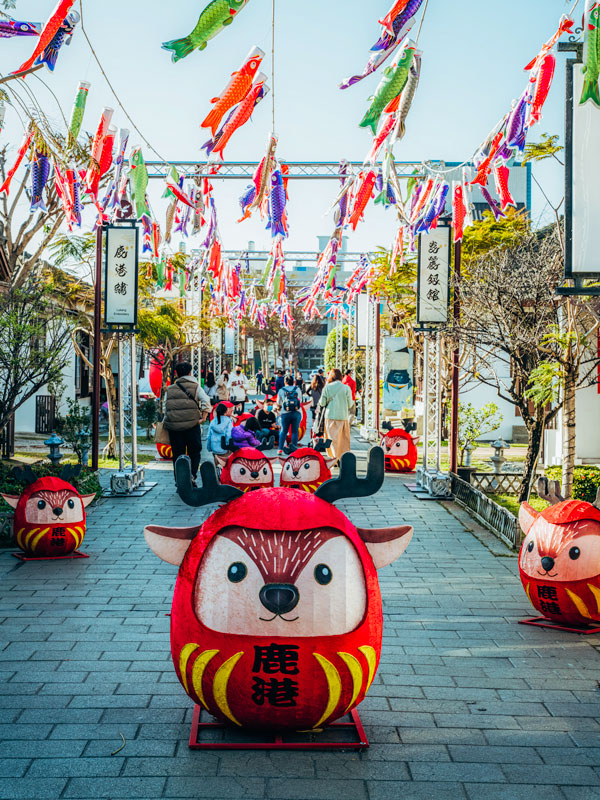 Osmanthus Alley Art Village
(桂花巷藝術村)
Tel: (04) 777-2006
Location: Guihua Lane, Luojin Borough, Lukang Township, Changhua County
(彰化縣鹿港鎮洛津里桂花巷)
Hours: 10am~8pm
Facebook: www.facebook.com/lukangartistvillage
Lukang Childhood Store
For a bit of fun time travel into the joys of the world of the Taiwan child in the 1970s~1980s, dive into the extremely goods-crowded Lukang Childhood Store on Lukang Old Street, a mock-up yesteryear corner store in an old single-story red-brick shophouse. A vivid taste of what's "in store" for you are the colorful piled-up goodies outside the doorway, such as retro games and toys and decals, along with the vintage signs on the storefront wall for soft drinks, sweetened condensed milk, dry-noodle snack packs, and toys. This is among the Old Street's most popular stops, always bubbling with smiling mesmerized kids and smiling reminiscing adults.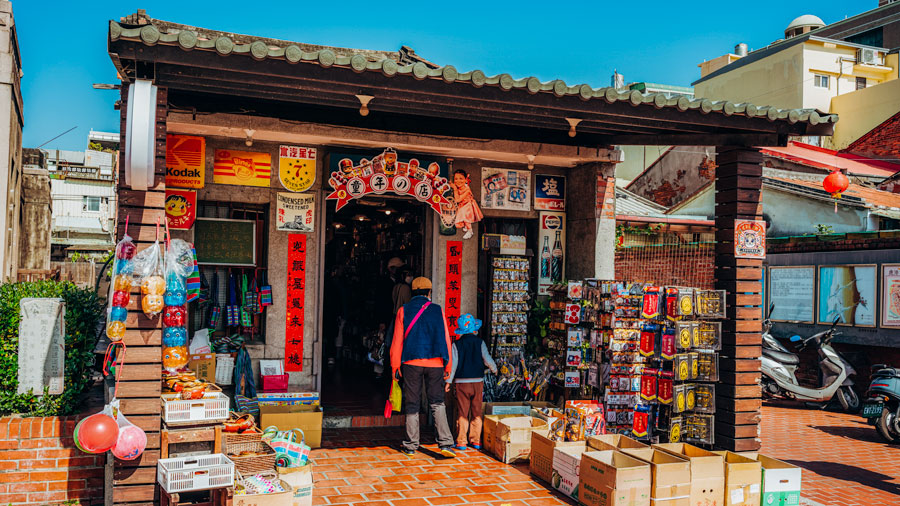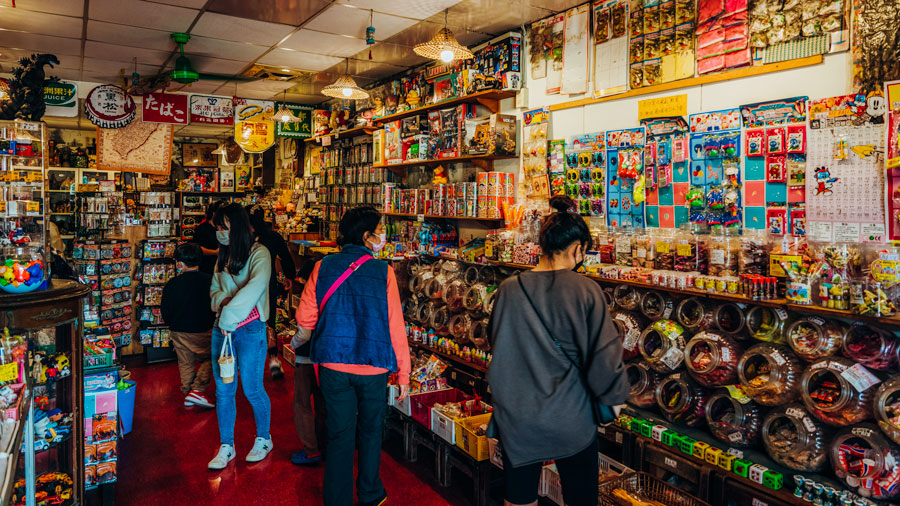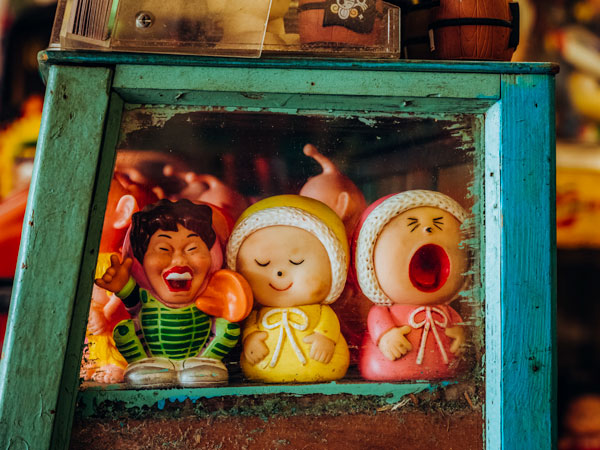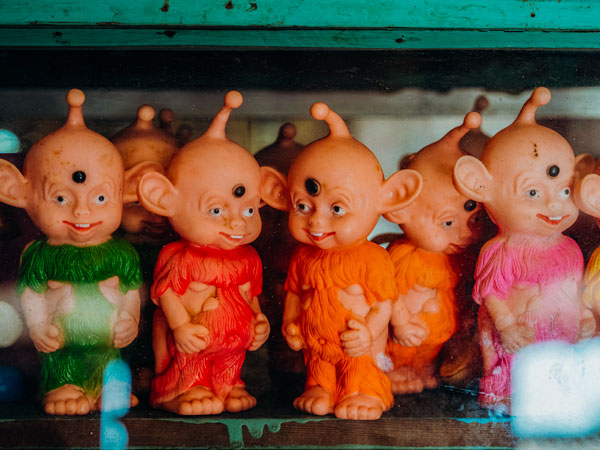 Lukang Childhood Store
(鹿港童年の店)
Tel: 0933-445-959
Location: No. 70, Putou St., Lukang Township, Changhua County
(彰化縣鹿港鎮埔頭街70號)
Hours: 11am~6pm
Facebook: bit.ly/3rPQZ0M
Food and Drink
LeeLi's
LeeLi's, a popular chic combo restaurant/café/bar, is just a minute or so on foot northeast of Longshan Temple. Its wide façade is an eye-fetching statement of sleek modernity, especially set amidst the surrounding context of traditional-face buildings – a ground-to-ceiling glass wall that enables a painting-like layered view of the deep soft-lit interior, which stretches back 30-plus meters, in a glance escorting you past the front-area bar and mid-area seating and then past the brightly-lit open kitchen toward the rear.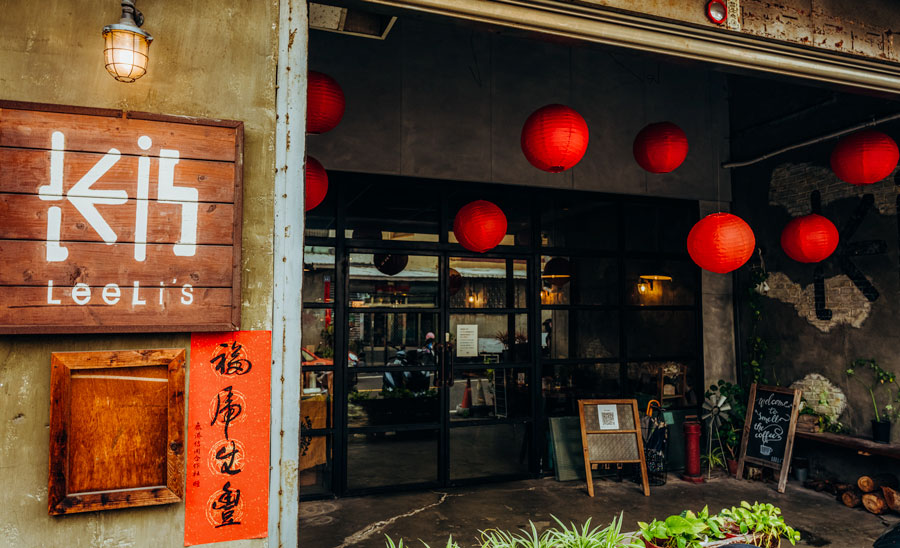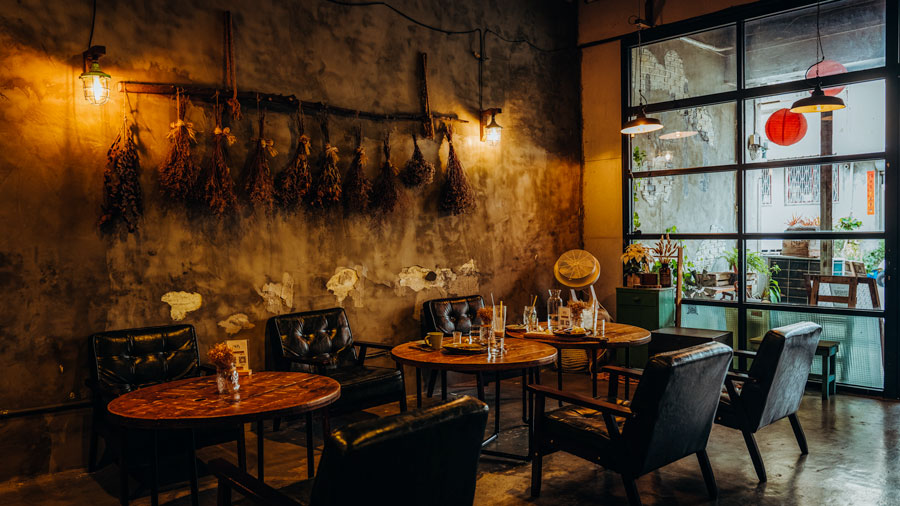 This enterprise, opened five years ago, is in what was originally a wood factory. Look upward in the front-section bar area to admire the old high sloping ceiling, thick wood beams and planks left exposed. The sloping ceiling over the middle/back areas, made of steel and aluminum, was added later.
LeeLi's serves modern cuisine, primarily Western, with tasty Lukang-ingredient theme twists. Among the bestselling entrée selections is a three-burger slider set. The main Lukang-icon feature of one is a mantou (steamed bun) bun, of another mayouji (sesame oil chicken) meat and soup-flavoring, and of the third mashed yuyuan (taro ball) as bun.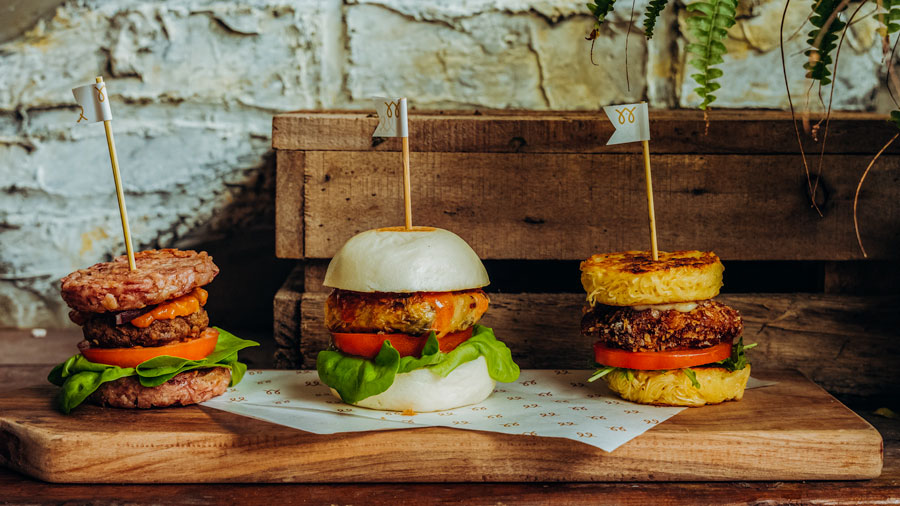 The "Paris-Lukang" is a localized version of the famous Paris-Brest pastry, with the shape changed from a bicycle wheel to a temple censer, and the filling made with fragrant house-crafted peanut cream and peanut butter.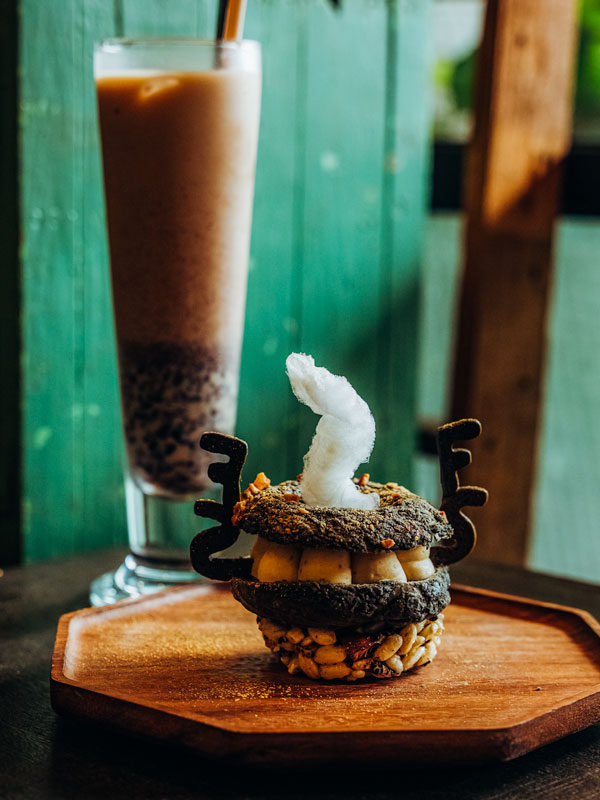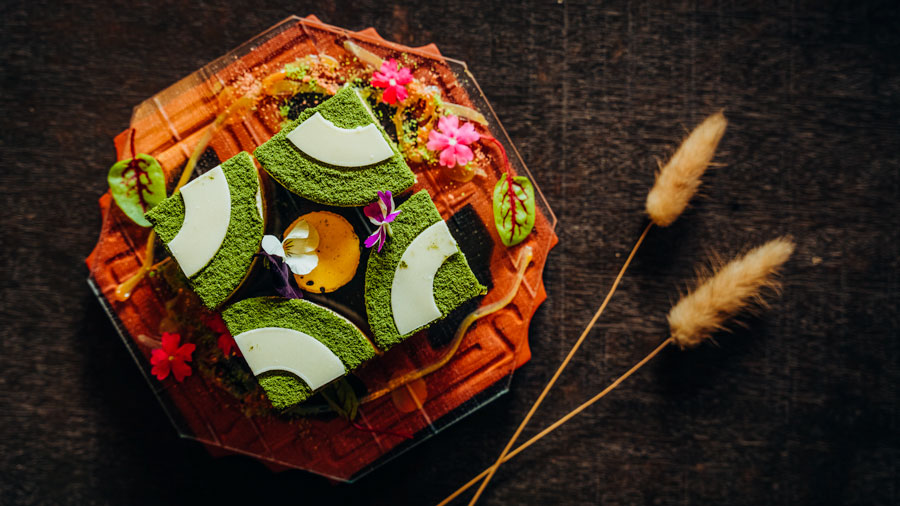 LeeLi's
Tel: (04) 777-1822
Location: No. 40-1, Xinghua St., Lukang Township, Changhua County
(彰化縣鹿港鎮興化街40之1號)
Hours: Brunch 11:30am~3:30pm (weekends and holidays from 10am)
Drinks and Desserts 3:30am~5:30pm
Dinner 5:30am~8:30pm (last order 7:30)
Facebook: www.facebook.com/leelistw
Men Men Cha Cha 2
Men Men Cha Cha 2, menu heavy with modern-style newfangled drinks and desserts, is in a narrow-front old shophouse building. The façade and interior are bright and modern, with the original red wall brick left exposed in some interior sections. The English/Chinese name means "flour flour tea tea" – referring to the signature beverage, thick and hearty old-time miancha, roasted wheat flour heated with small helpings of sugar, white sesame, peanut, and onion (no tea!), served to you in powder form for at-table self-mixing. Ingredients featured in the more modern-style drinks concocted here include diced mango, adzuki beans, boba, and pudding. There's coffee too.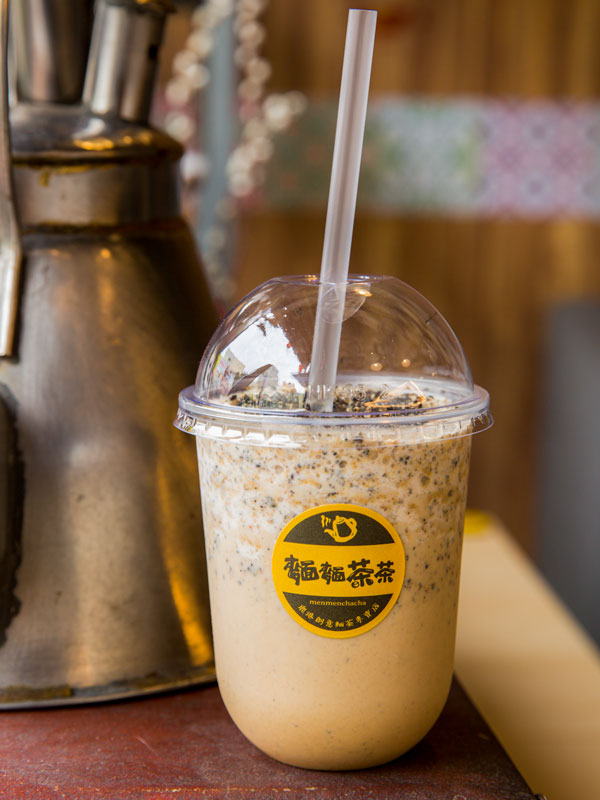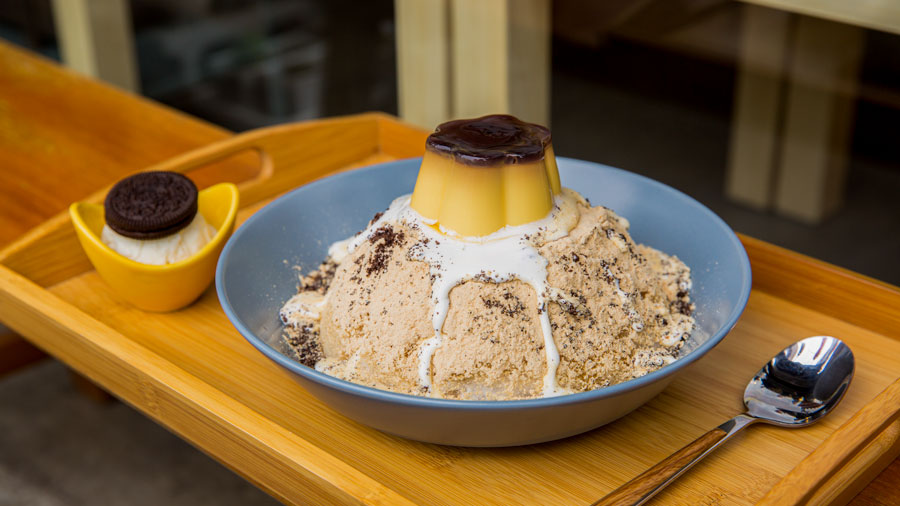 Men Men Cha Cha 2
(麵麵茶茶)
Tel: 0916-017-504
Add: No. 7, Minsheng Rd., Lukang Township, Changhua County
(彰化縣鹿港鎮民生路7號)
Hours: 12 noon ~ 7pm (holidays and weekends from 10am)
Facebook: www.facebook.com/menchax2/
Yu Zhen Zhai Wan Café
The beautiful Yu Zhen Zhai Wan Café, located just before the north end of Lukang Old Street, is a project of Lukang architecture-restoration love undertaken by the fifth-generation proprietor of the town's famed Yu Zhen Zhai bakery (just steps east of our hub plaza), opened in 1877.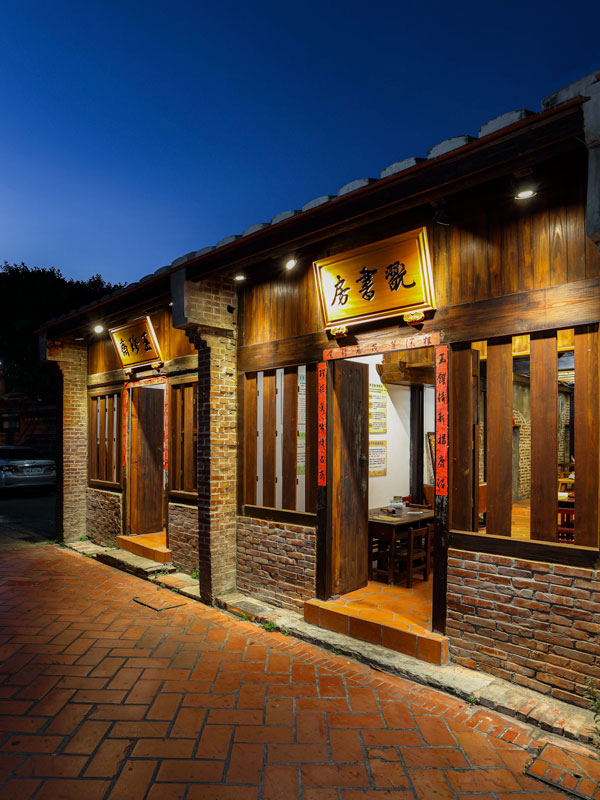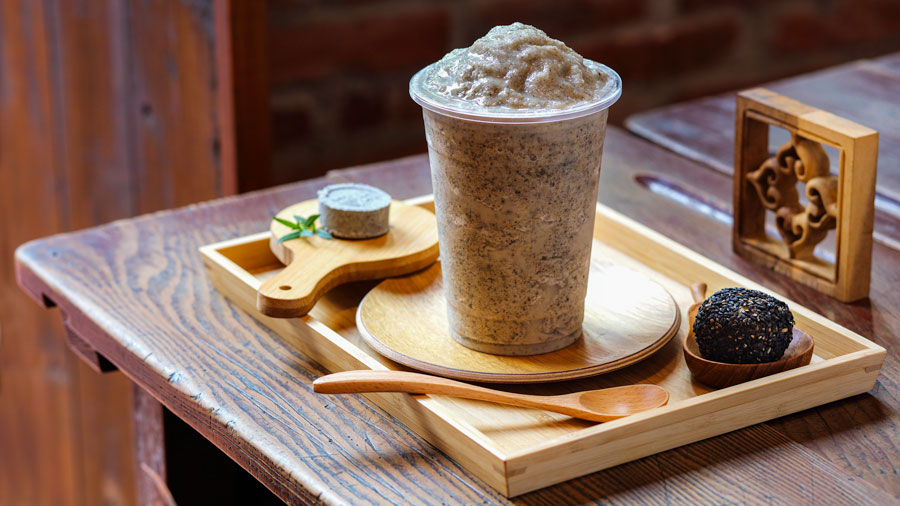 The clan that owned the café's two now-conjoined side-by-side shophouses were engaged in rice wholesale, fabrics, and maritime trade. A range of educational DIY experiences is offered, such as building your own miniature traditional red-brick residence and hand-stitching leather "peace and safety" charms. Menu highlights include such unique old-new fusion creations as miancha smoothies, soy-braised fried-shallot popsicles, and hot-pressed toast with taro pastry filling.
Yu Zhen Zhai Wan Café
(玉珍齋翫書房)
Tel: 0980-192-522
Add: No. 92/94, Putou St., Lukang Township, Changhua County
(彰化縣鹿港鎮埔頭街92/94號)
Hours: 11:30am~6:30pm; closed Mon.~Wed.
Website: www.1877.com.tw (Chinese)