Nursery Promised Land for Flower, Plant, and Tree Lovers
TEXT / RICK CHARETTE
PHOTOS / RAY CHANG
A great 1,000-hectare swath of flat, quiet Tianwei Township in Changhua County is a vast country garden, home to a dense bloom of decorative flower, plant, and tree nurseries. What is called the Tianwei Highway Garden has become a prominent tourist destination in recent decades, the beauty of the cultivated artworks complemented with bike-rental touring, cafés, specialty shops, and eateries (some on nursery grounds).
The Tianwei Highway Garden is stretched out along both sides of a long section of Provincial Highway No. 1, Taiwan's original full-length north-south thoroughfare. This was the island's first commercial horticulture district, established about a century ago, and remains its largest, supplying domestic needs and in recent decades establishing a strong presence in international markets.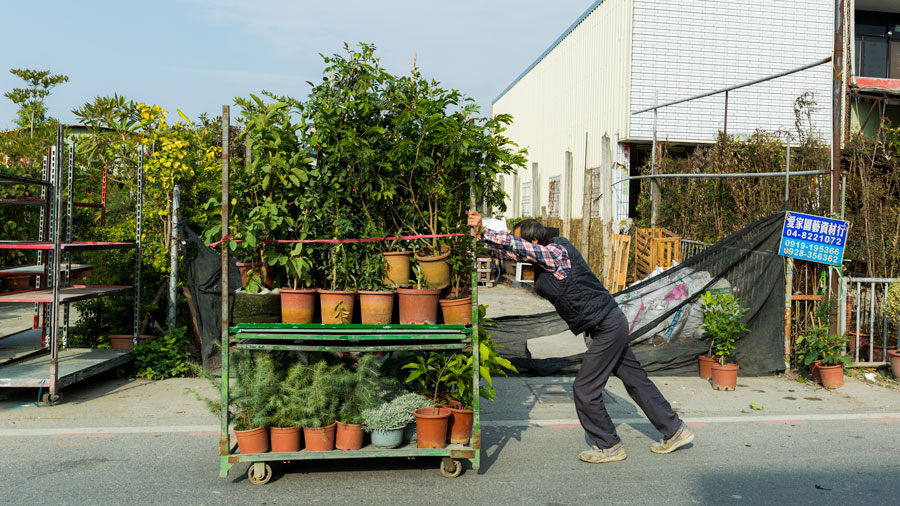 Key to Tianwei's rise to horticultural eminence has been Mother Nature's special kindness. The area averages about 11 hours of sunlight per day, enjoys mild temperatures throughout the year, and suffers less from typhoon visits because of its central-plains location. Supplementing these blessings are the mineral-rich waters brought down from the mountains by the Zhuoshui River, distributed by the Babao Irrigation Canal system built in the early 1700s, along with the nutrient-enriched soil brought down with the waters, a boundless replacement supply for the earth hauled away with the sold flowers, plants, and trees.
The breeziest and most enjoyable way to tour the Highway Garden area is by rental bicycle. A little initial time at the Tianwei Township Visitor Center is time very well spent. You'll come away with a well-designed map indicating highlight attractions and providing background info. Then hit one of the two main local bike-rental stations, both within easy walking distance. These provide everything from standard bikes to e-bikes for four, renting by the day. Then perambulate on your iron steed over to the 7.2km Tianwei Bikeway, an easy-grade circumnavigation through the district. Riders jump on and off the many intersecting quiet country roads going to and returning from the myriad tourist-friendly destinations.
Tenway Garden
This is a large inward-looking hideaway oasis, with views of adjoining plots of land almost completely blocked by trees, bushes, and fences. It's a horticultural haven designed for you to spend a full half-day. Set amidst the exquisitely landscaped grounds is a profusely fecund nursery/food garden area, a number of separate retail facilities, restaurant, café, and DIY hall. Both around the grounds and in the interior spaces, displays of orchids are conspicuous; the Tenway Garden founder started off as an orchid-cultivation specialist. Taiwan's pride and joy, the white moth orchid (called "Taiwan Grandma" in Chinese), is given pride of place.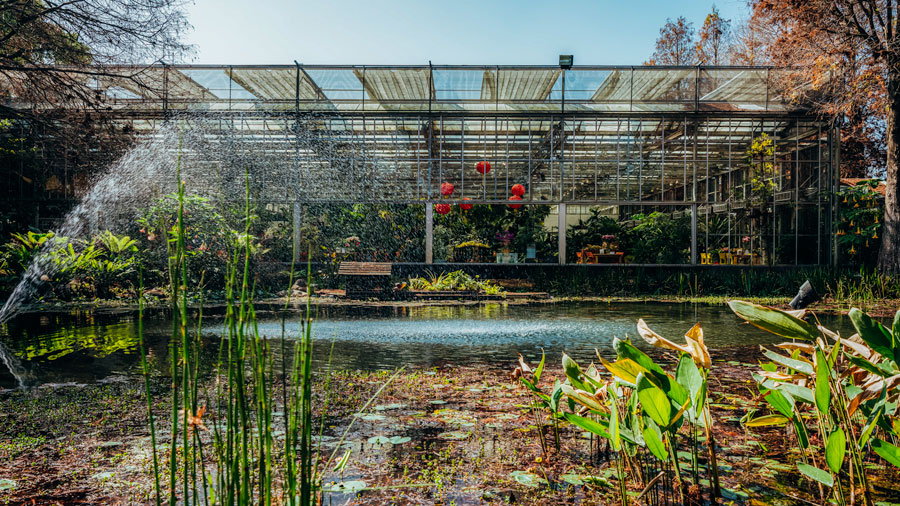 You're led into the grounds on a short curving "country road" shaded by tall bald cypress trees, also called swamp cypress, their distinctive cypress knees protruding in groups amidst the specially created roadside "faux-swamp" environment. The road leads past a large lagoon-like pond with fountain water spraying high, and right behind this is the capacious restaurant, its pond-facing glass wall extending from the ground to a high glass ceiling.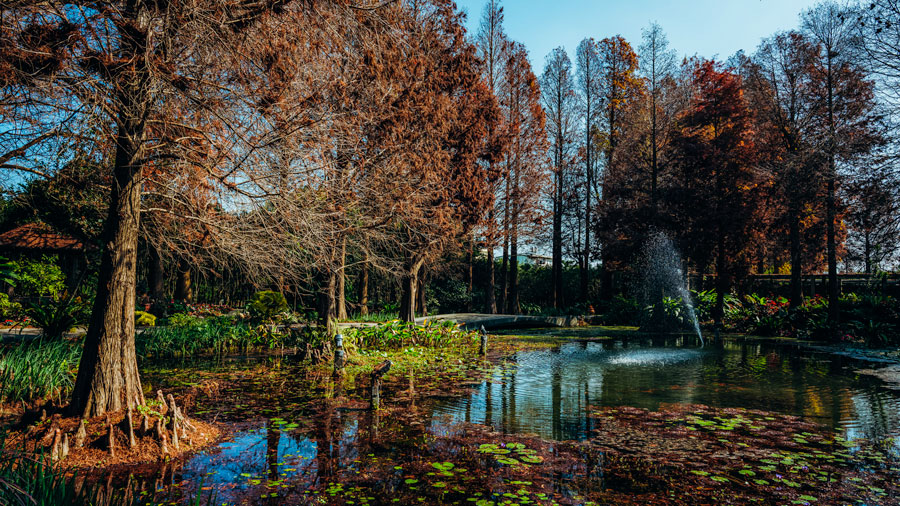 This building is actually a climate-controlled greenhouse in which diners are surrounded by plants bursting with color. Though a tad humid, temps are kept comfy, and the air seems especially fresh, the plants serving as natural purifiers.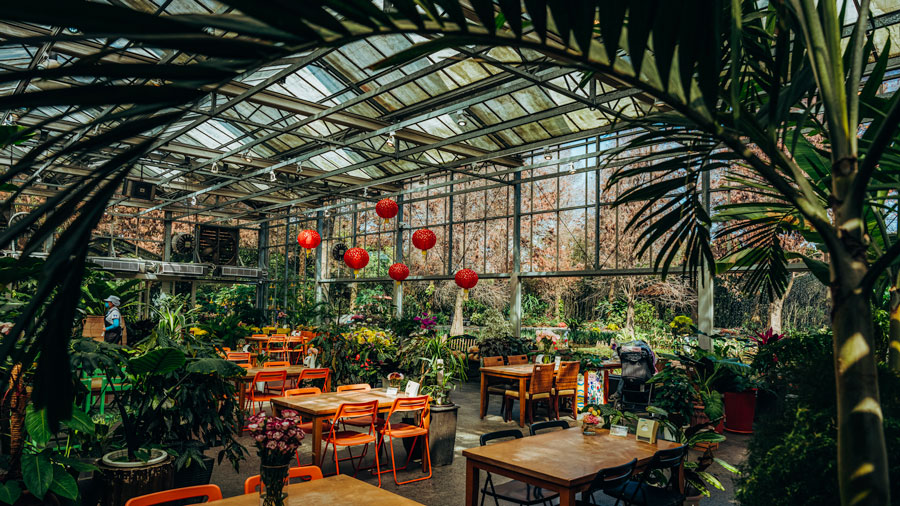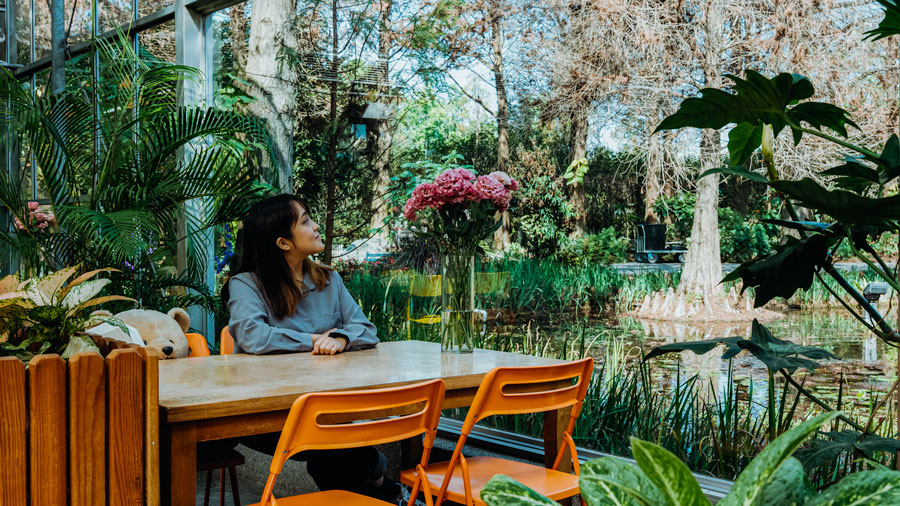 The most-in-demand choices from the hot-food menu are the Italian spaghetti with wild mushroom and the Indian-style chicken fried rice; from the dessert menu the lemon cheesecake and walnut brownies; and from the bakery menu the fresh-baked pumpkin bread and kanelbulle. Many of the ingredients featured in Tenway Garden's culinary treats are organically grown in its spacious landscaped garden area; while strolling its paths you'll be entertained with a lavish presentation of vegetables, herbs, and fruits.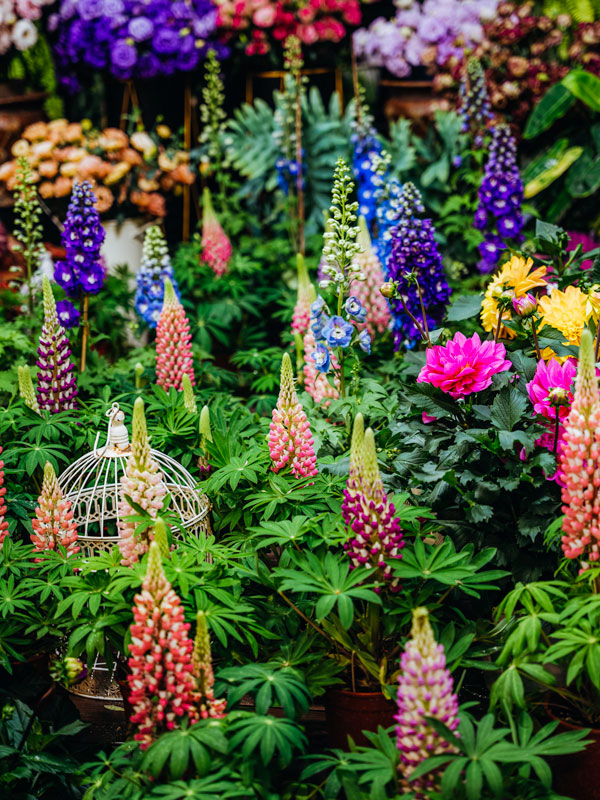 At the DIY facility, in a separate building also housing the café, the focus is on enhancing people's knowledge and appreciation of the horticultural arts.
Tenway Garden
(菁芳園)
Tel: 0912-243-535
Add: No. 73-1, Zhangcuo Lane, Dalian Village, Tianwei Township, Changhua County
(彰化縣田尾鄉打簾村張厝巷73號)
Hours: 10:30am~5pm (daily)
Website: www.green.com.tw (Chinese)
Facebook: www.facebook.com/chingfangyuan
Taiwan Mingyuan Art of Gardening
The name Taiwan Mingyuan Art of Gardening applies both to a landscape design firm and a place. The place is the firm's extensive nursery (entry fee), designed as a pleasant Zen garden featuring broad pathways, sculptures, and comfortable seating set amidst the constantly changing landscapes.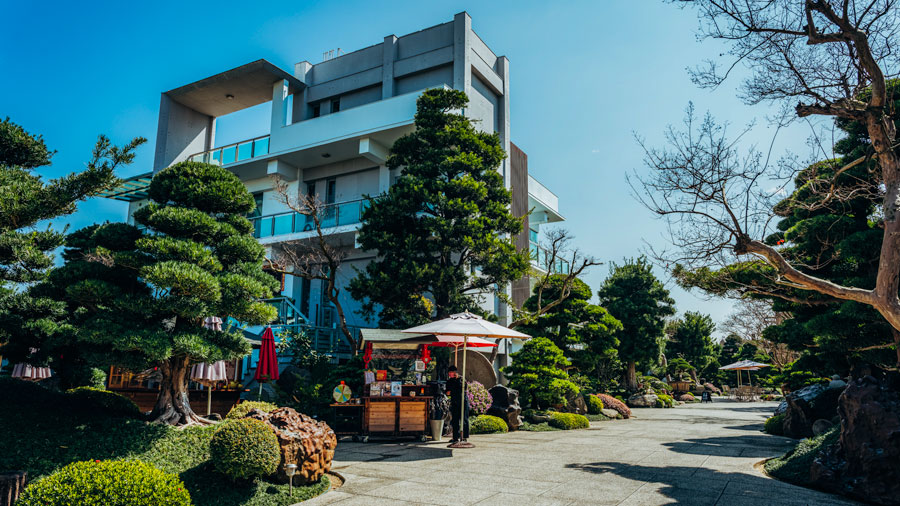 The enterprise is engaged in professional garden planning and the trading of bonsai and garden trees. The nursery-cum-park was established eight years ago. The proprietor, from a multi-generation family of horticulturalists, designed every aspect with his brother. He wanted to avoid the usual nursery layout with all specimens lined in rows for inspection, and instead fashion a serene park-like space where visitors could linger for hours, bringing peace to busy hearts and providing an opportunity to feel the positive power of landscape horticulture.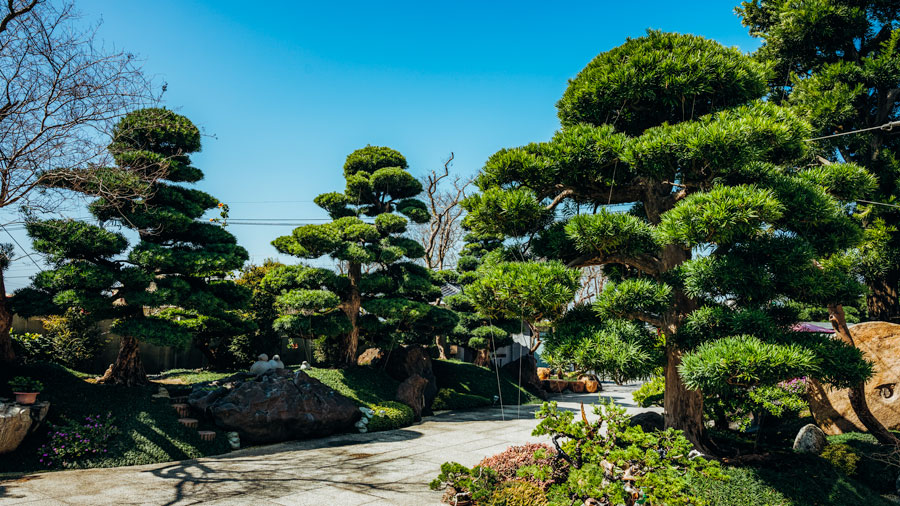 The family's business is based in far-south Kaohsiung City. It also has operations in south China. The family wanted to expand into bonsai, and Taiwan Mingyuan Art of Gardening was opened in Tianwei because the township offered both the optimal cultivation conditions and most extensive support network of professional knowledge and relevant supplies.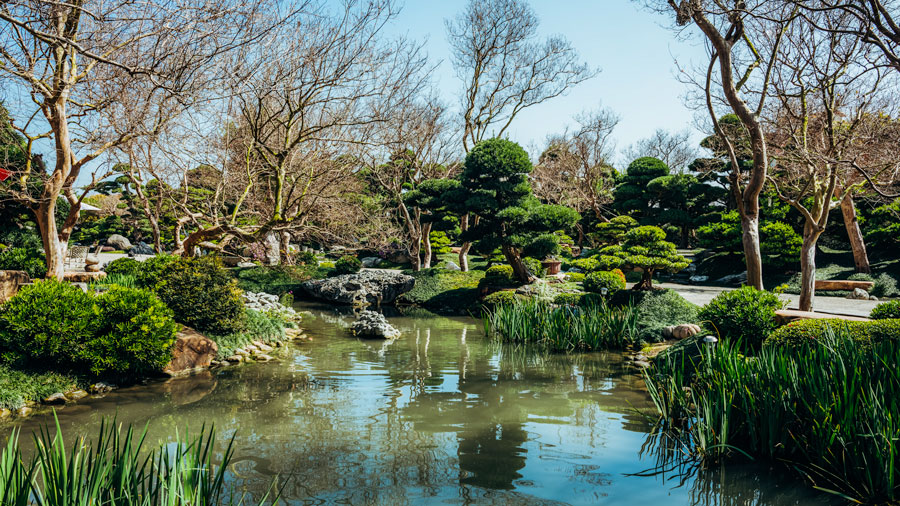 Throughout the park are bonsai specimens on display, small through large. The source materials for these, cuttings, seedlings, and suitable small trees, are all imported from Japan. The bulk of the specimens, bonsai and garden trees, are Japanese crape myrtle, Buddhist pine, and Sargent juniper. Everything is for sale – fall in love with one of the trees and it will be dug up and trucked to you (within Taiwan proper, of course).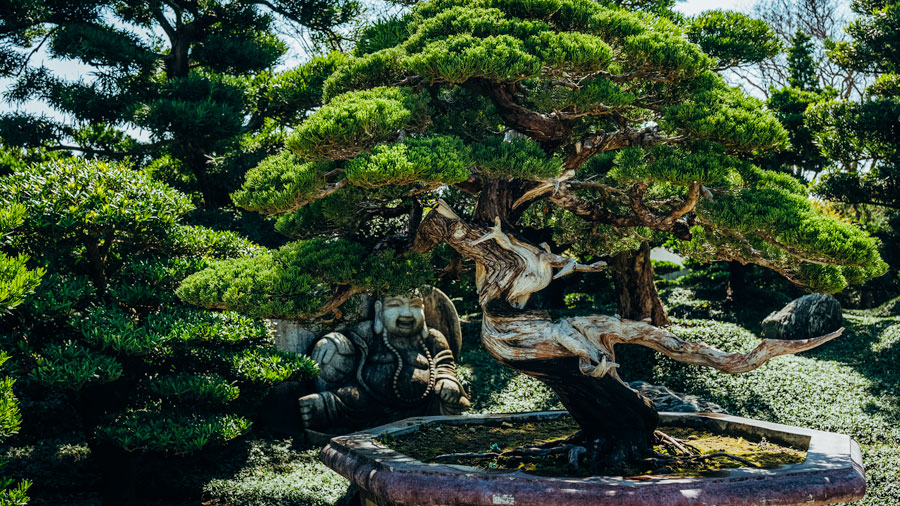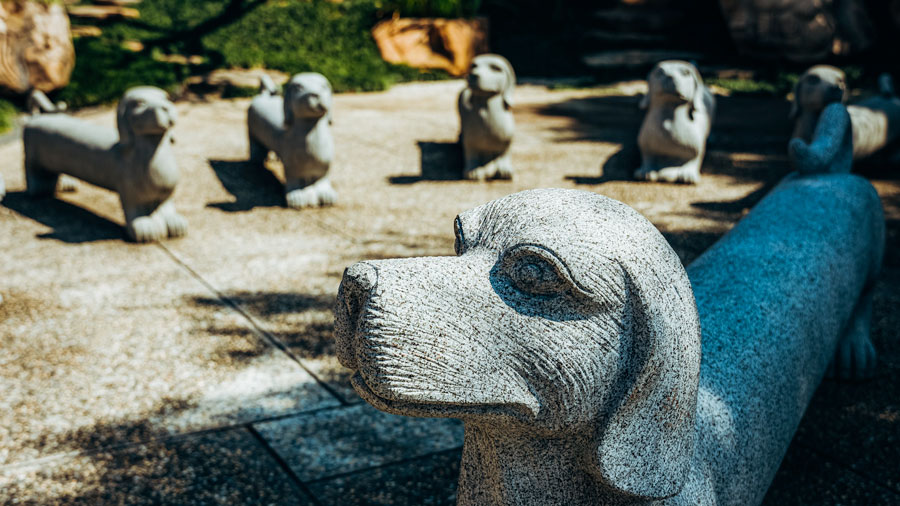 Vendor-stand-style food and beverage service is available weekdays in a courtyard with umbrella-shade seating just inside the entrance. The signature beverage is fresh-squeezed lemonade with cane sugar and mint sprigs. Most requested from the food menu are the hand-made vanilla and chocolate ice cream puffs and beef/chicken and cheese rolls.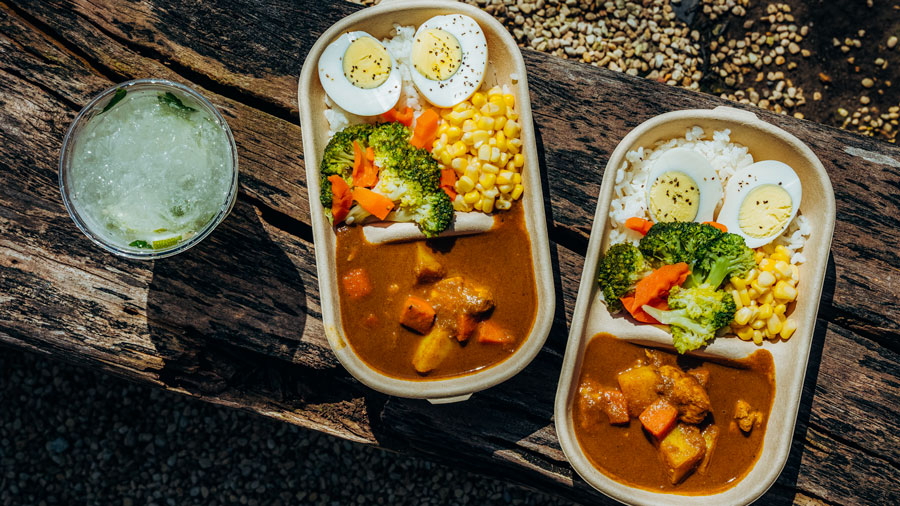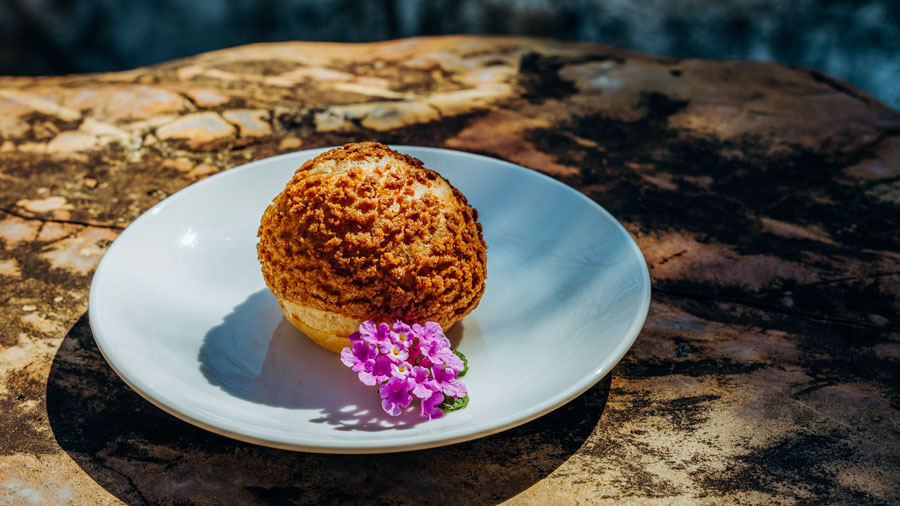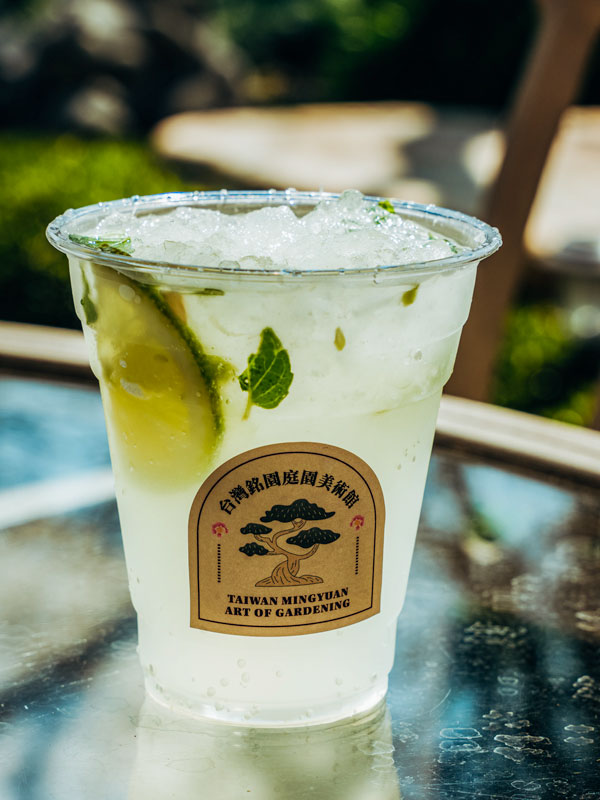 Taiwan Mingyuan Art of Gardening
(台灣銘園庭園美術館)
Tel: 0900-338-668
Add: No. 102, Sanfeng Rd., Zhengyi Village, Tianwei Township, Changhua County
(彰化縣田尾鄉正義村三豐路102號)
Hours: 8am~5pm (weekends and holidays until 6pm)
IG: www.instagram.com/taiwanmingyuan
Facebook: www.facebook.com/taiwanmingyuan
GreenLife Garden
At GreenLife Garden, a smaller operation than the first two we've visited, it's all about succulents. The operation, entered through a sliding steel gate in a stained-wood fence, is about 50m wide and 70m deep. There is a courtyard-style layout, with most specimens laid out in more traditional style, in long rows. Most of the potted beauties are on tables and racks for easiest browsing, with larger potted selections spread out in attractive ground clusters here and there.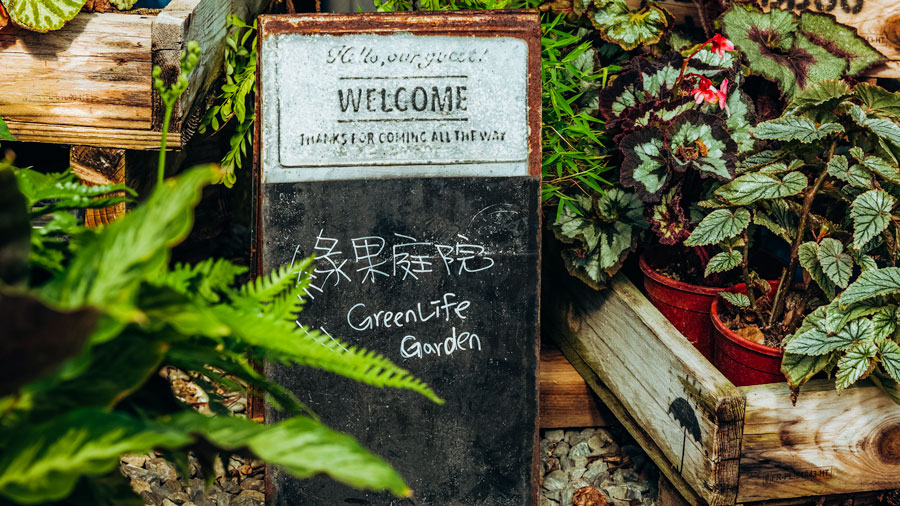 In the forecourt area are a number of glass-front cargo containers. On the roofs of two conjoined containers (interiors used as office and work spaces, respectively) is a breezy wooden deck, which fronts a third container that's been raised high. The interior and deck are used for horticulture-theme workshops. The container area and plant display area behind are covered by a high canopy sporting a translucent/solid-square checkerboard pattern. This protects patrons from rain and, on sunny days, from direct sunlight. A line of small greenhouses stands beside the canopied section.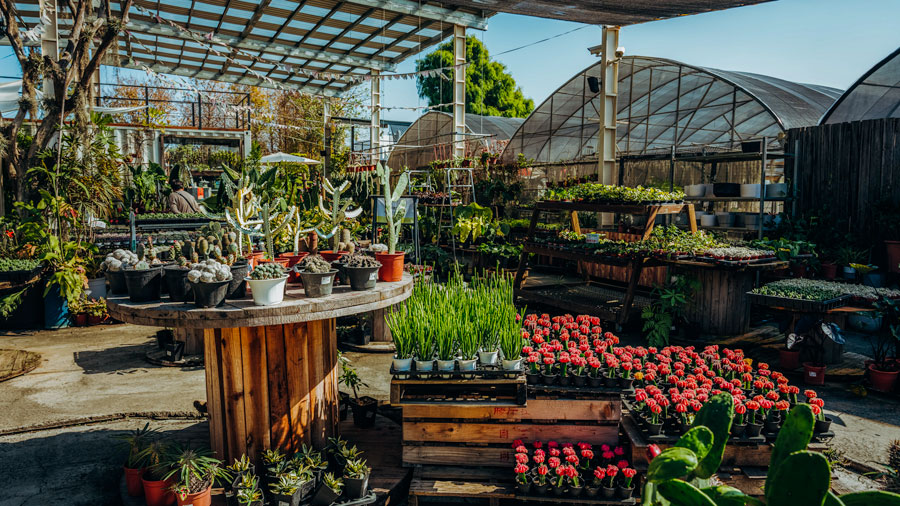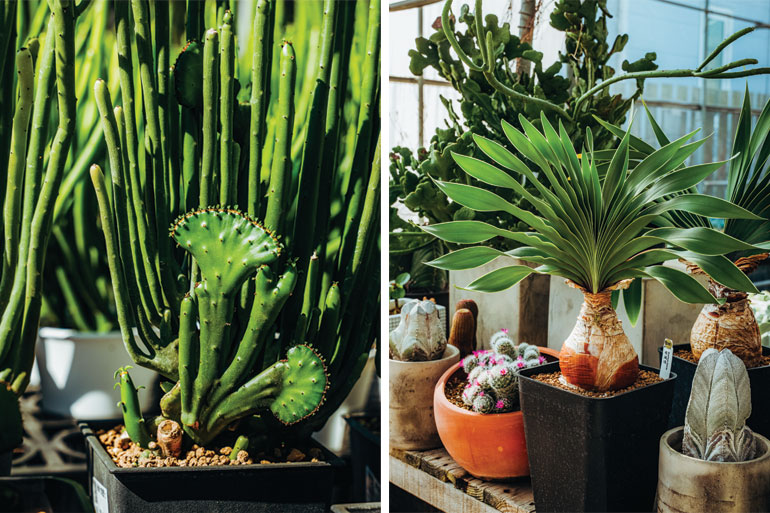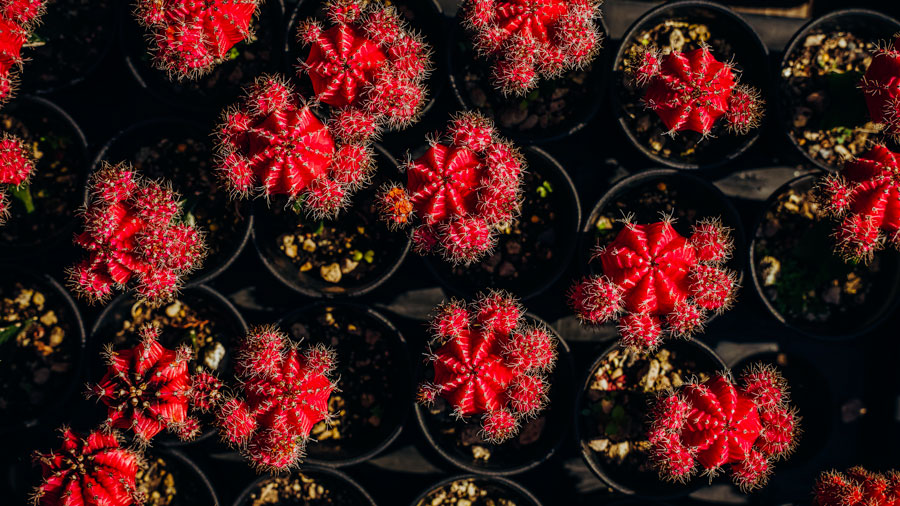 GreenLife is run as a "healing garden" by an eco-conscious husband-and-wife team, he a local, she a transplant from Tainan City who since moving here has learned the ways of the horticultural life through spouse, classes, and diligent self-studies. She is the instructor for GreenLife's succulents-education workshops, emphasizing their eco-protecting benefits. Wabi-sabi artsy settings are found throughout the nursery, crafted using recycled materials such as old wood-frame windows and variegated wood materials. Playing on how Taiwanese pronounce "WiFi," an English sign advises visitors: "Free WiFi, no free wife."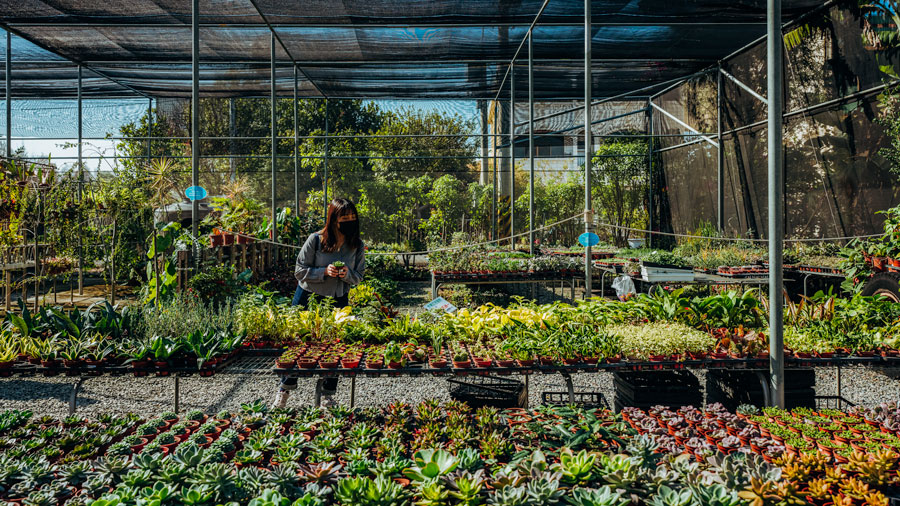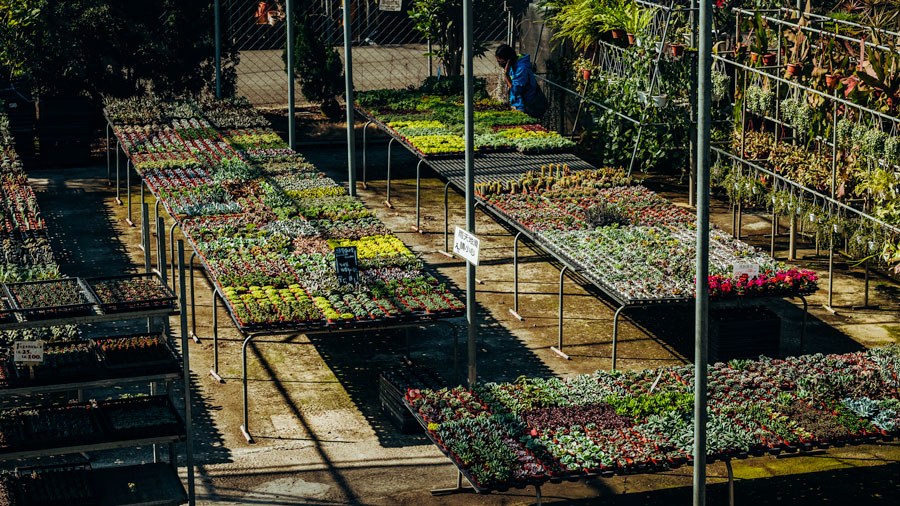 GreenLife Garden
(綠果庭院)
Tel: 0988-968-265
Add: No. 121, Zhangcuo Lane, Tianwei Township, Changhua County
(彰化縣田尾鄉張厝巷121號)
Hours: 9am~5:30pm
Facebook: www.facebook.com/GreenLife1945/
MMM – Little House
This is a camping café operation in Tianzhong Township, southeast of Tianwei Township. Its bosom is the town of Tianzhong, lit. "amidst the fields," a reference to the sea of surrounding rice paddies. The camping café is on a long, rectangular one-time rice paddy plot, now solid ground of course. The original water-retention walls are still in place, and the ground is covered in a carpet of grass that's comfy to sit on, and smooth as a putting green. A line of shade trees runs down one side, with a field of corn rather than rice grown in the field next. Gurgling irrigation-channel waters run through in between.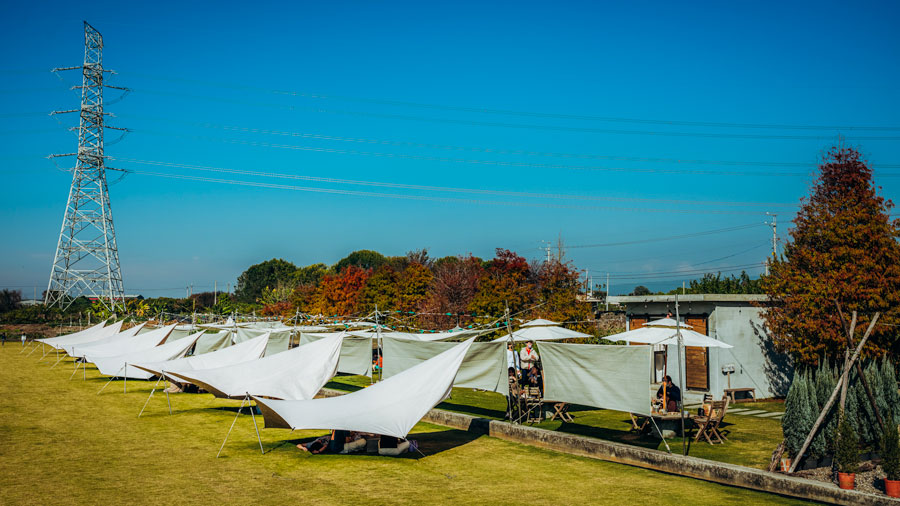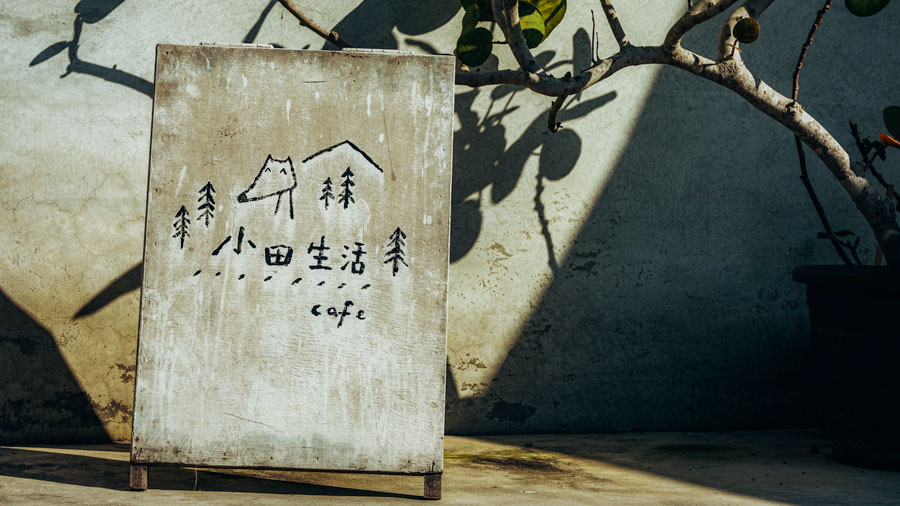 The camping café phenomenon has taken root in Taiwan over the past few years, and ventures continue sprouting up around the island. At this iteration, a "little house" of concrete walls stands at the entrance by the quiet country road that passes by, home to the café-service facility. Beside it are a number of large white-canvas shade umbrellas with wood-chair seating. Further in are numerous large white-canvas "tents" – i.e., shade canopies, with grass underneath left bare. There is no actual camping here. Entry is free and use of umbrellas and shade canopies is first come, first serve.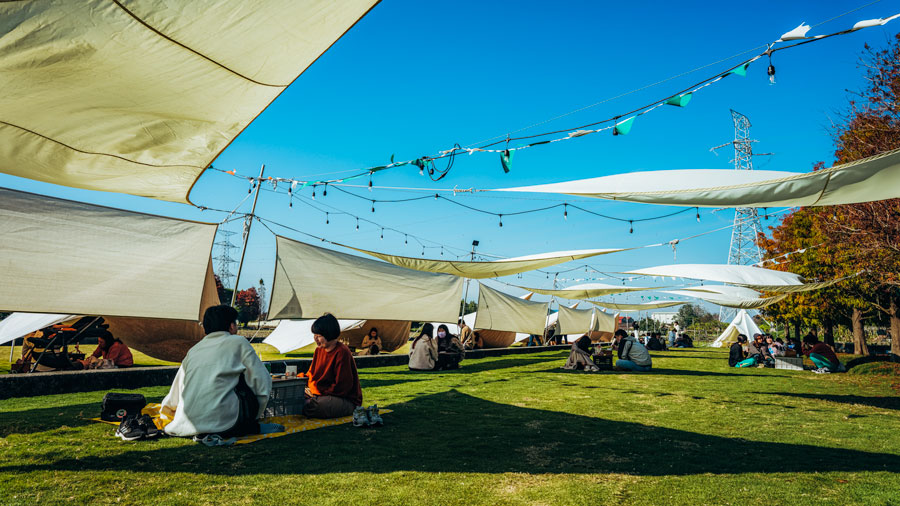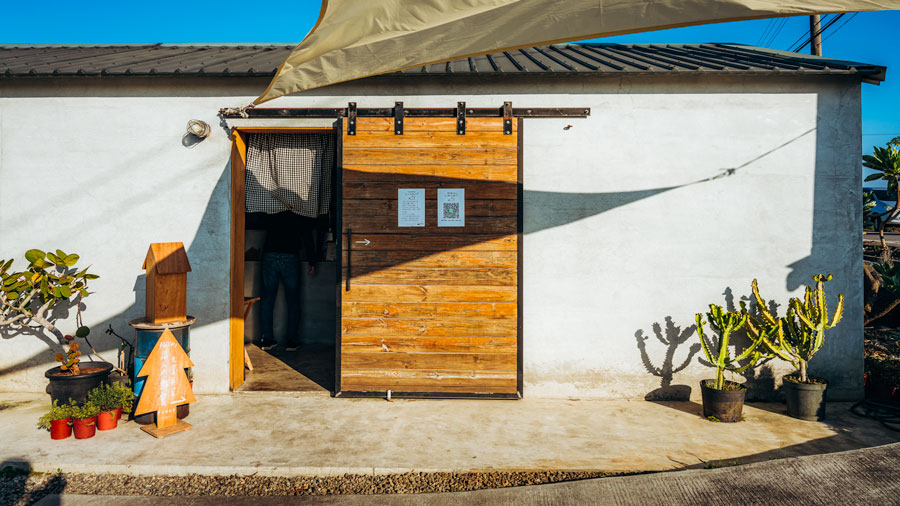 The "MMM" in the name means "yummy." Hot foods include such tasties as Thai-style lemon chicken nuggets and French fries with honey mustard. Two especially-coveted sweet edibles are the cinnamon buns and lemon & honey cheesecake. Drinks include a range of hot/iced coffees, lattes, milk teas, and fruity carbonated drinks.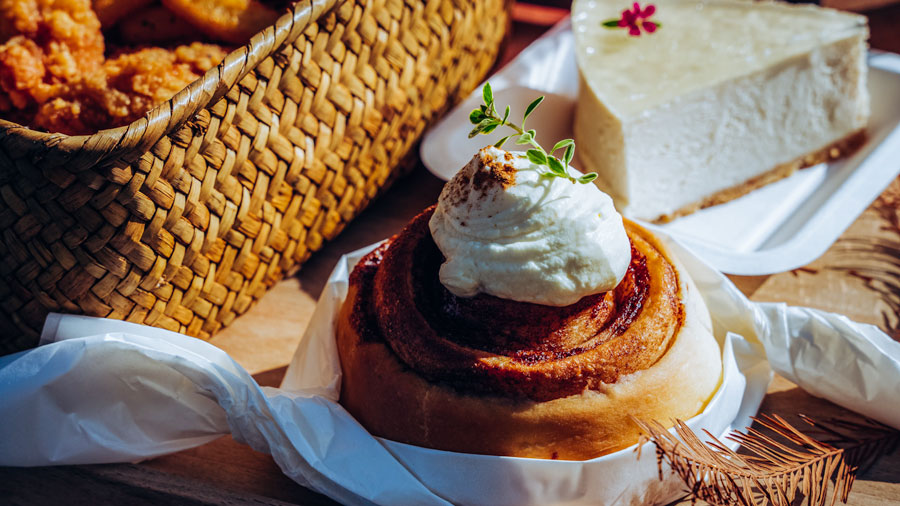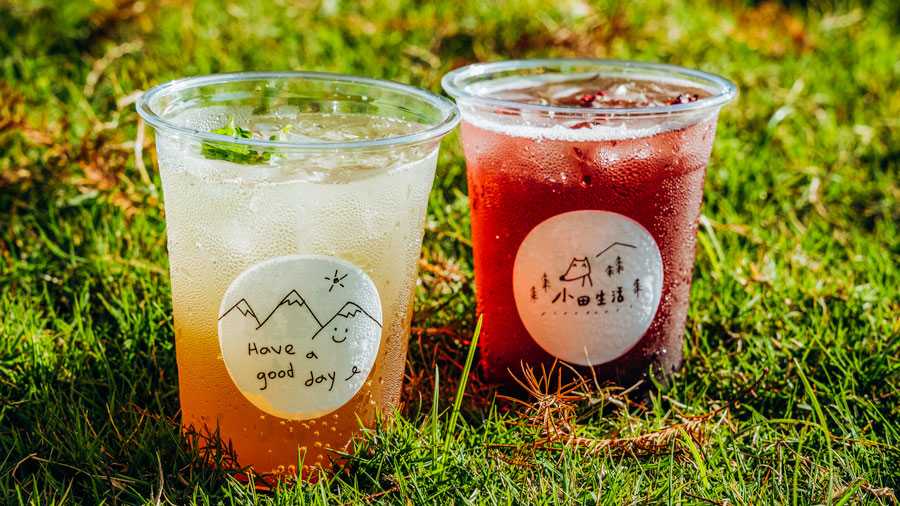 MMM – Little House
(小田生活)
Tel: (04) 875-3586
Add: No. 258, Lane 395, Sec. 1, Minguang Rd., Tianzhong Township, Changhua County
(彰化縣田中鎮民光路一段395巷258號)
Hours: 1pm~7pm
Facebook: www.facebook.com/smplelife.picnic.store
Nearby Attraction
Chengmei Cultural Park
Yongjing Township, which adjoins Tianwei Township on the north, is another center for horticulture production. Chengmei Cultural Park is an expansive landscaped space with three themes: history, cultural traditions, and recreation. At its heart is a renovated heritage-site residential complex, started in 1885 and completed in 1917, that showcases traditional Taiwan construction techniques and cultural treasures. The surrounding grounds, done in classical Japanese garden style, were created by the wealthy family that built the residential complex. These present an outstanding exhibition of ancient horticultural techniques. Most visually impressive are the many stately old trees, with all decorative species commonly seen throughout Taiwan represented.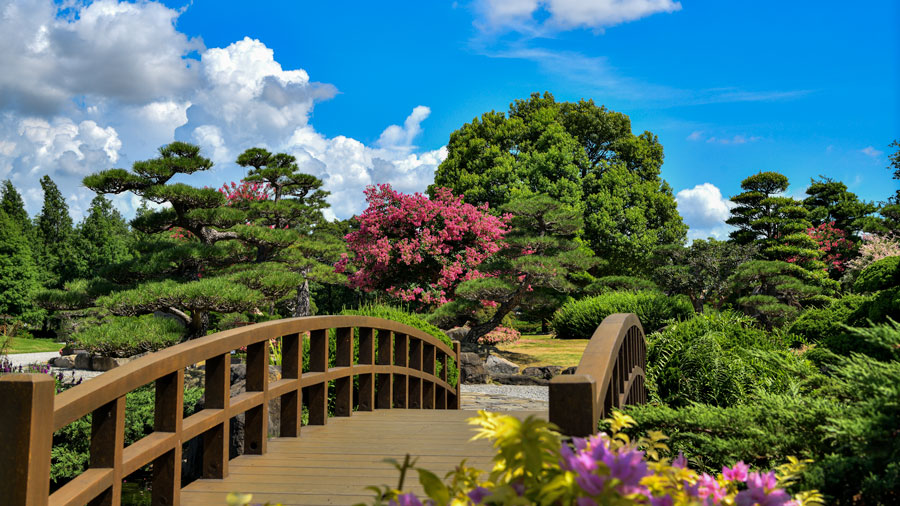 Chengmei Cultural Park (成美文化園)
Tel: (04) 822-1166
Add: No. 60, Sec. 2, Zhongshan Rd., Yongjing Township, Changhua City
(彰化縣永靖鄉中山路2段60號)
Hours: 9am~5pm
Website: www.cmcp1885.com