Learning about Indigenous Culture in Hualien and Taitung Cities
TEXT / SIMON FOSTER
PHOTOS / RAY CHANG, VISION
As well as being the arrival gateways to eastern Taiwan for many visitors, the cities of Hualien and Taitung are also focal points of local indigenous culture. So before you set off to explore the wilds of the east, it's worth taking the time to experience some indigenous life in these urban settings.
Whilst the history and nature of eastern Taiwan's indigenous culture is heavily associated with the idyllic rural settings of the Pacific coastline and the East Rift Valley, in modern times the reality is that many younger tribal members have left the countryside for the cities in search of work. More recently, opportunities in tourism have led some of the younger generation back to the villages, but more are leaving than returning. As eastern Taiwan's only two cities, Hualien and Taitung reflect the ethnic make-up of the region as a whole, and indigenous culture is readily accessible.
We begin our journey in Hualien, visiting the Hualien Indigenous People's Cultural Center before sampling indigenous cuisine at "Nazizi Grilled Fish" restaurant and Dongdamen Night Market. In Taitung we visit the city's old sugar factory to make our own jewelry at the Ata Beads studio, check out the tunes at Tiehua Music Village, and then browse the stalls at the nearby weekend market and the shops of the TTStyle cultural-creative space.
Hualien County Indigenous Peoples Cultural Center
On the northern outskirts of Hualien City, the Indigenous People's Cultural Center is housed in a large modern building accented with tribal motifs, totems, and a mock-slate gabled roof. Most visitors come here to see the indigenous dance performances held in its large auditorium, but it's also a good place to get a general overview of Taiwan indigenous culture.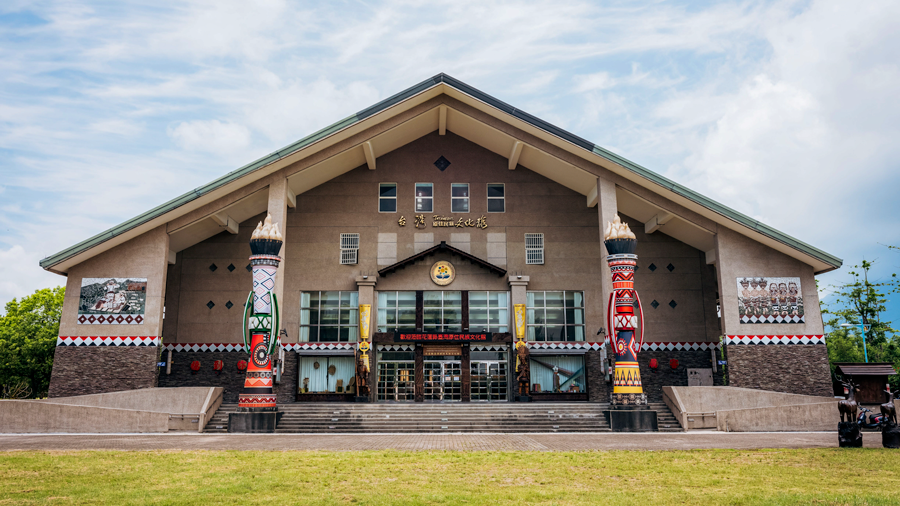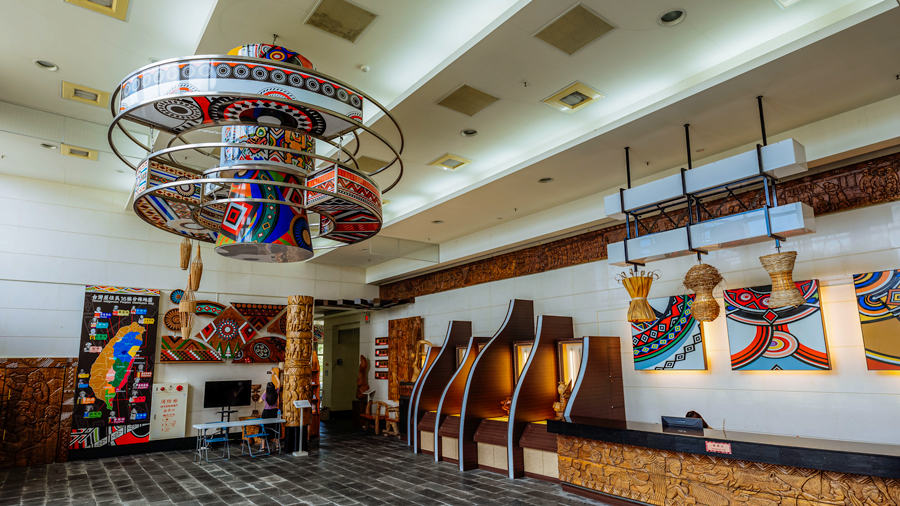 The entrance hall features carved wooden sculptures and has indigenous crafts for sale, and a side gallery displays temporary themed exhibitions – indigenous art and documentary-style photos of tribal life at the time of our recent Travel in Taiwan team visit. The huge totem pole to the left of the entrance hall commemorates the great Sakizaya tribe chieftain, Komod Pazik, and his wife Icep Kanasaw, who lost their lives to imperial Chinese soldiers in the 1878 Jaliwan Incident, after which the tribe went into hiding amongst the Amis. The Sakizaya re-emerged over 100 years later and were officially recognized as a tribe in 2013, rather than a sub-group of the Amis as previously thought.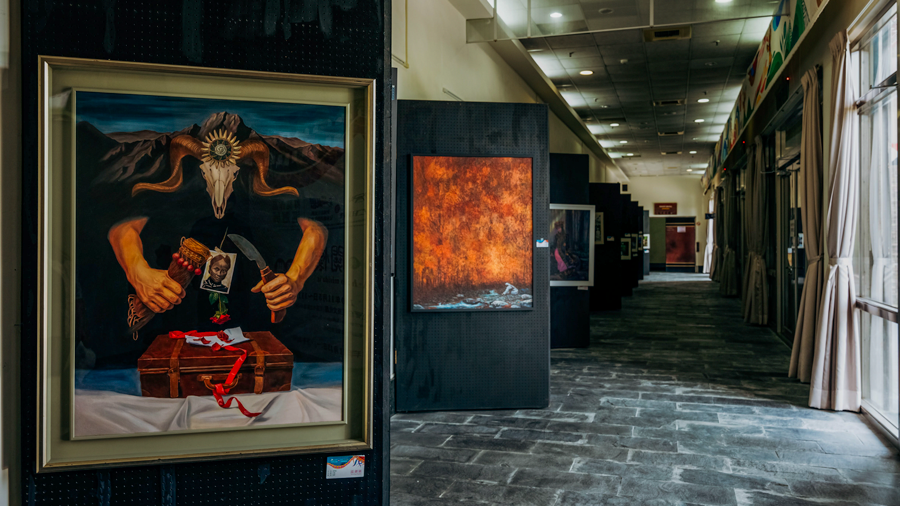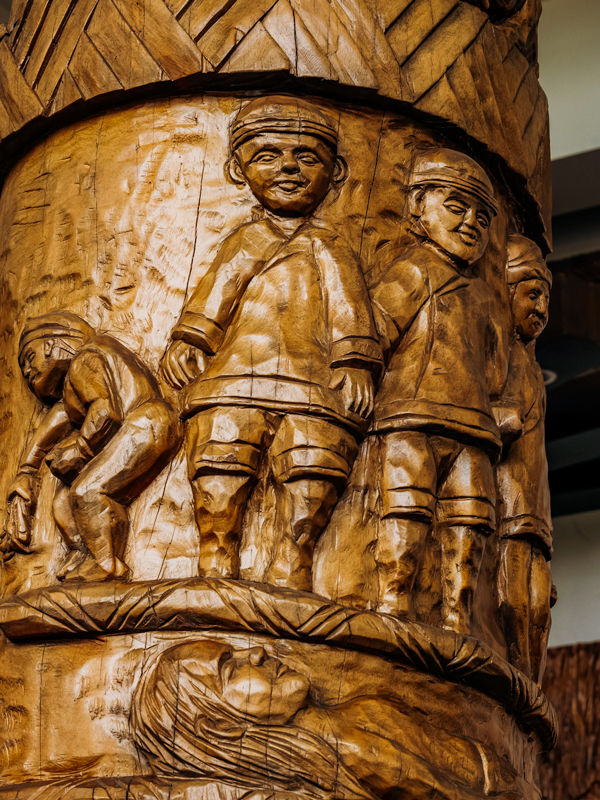 There are currently 16 officially recognized tribes in Taiwan, and there's a map of their traditional territories on the wall. The map has Roman script, but all of the other exhibits are only captioned in Chinese, making it essential to read Chinese or have a bilingual friend with you to get the most from your visit.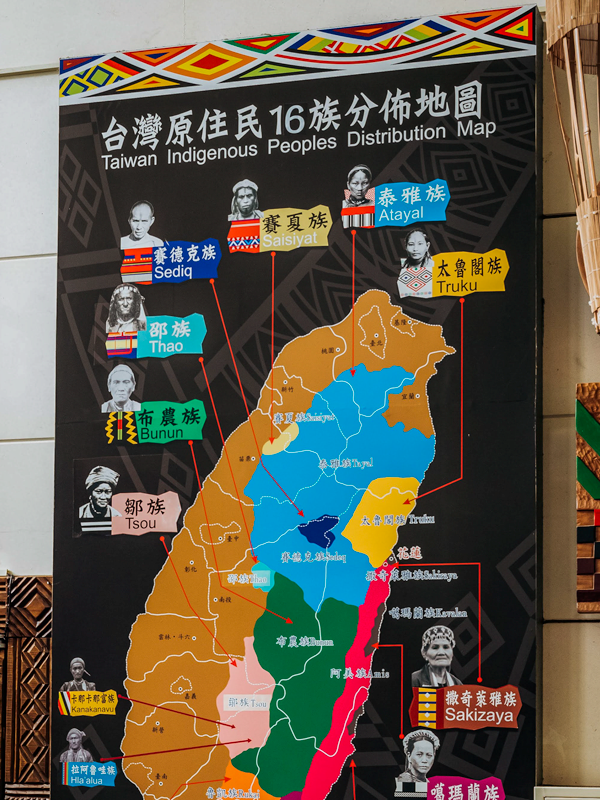 This said, the vibrant performances in the center's auditorium require no translation, and include traditional tribal dance troupes as well as edgier outfits like "Indigenous Sweety Warrior." Disrupted by Covid for some time, performances are set to return soon. As well as scheduled shows, the meadow outside of the center is the venue for annual harvest festival and traditional sports events. Check Facebook for performance schedules and festival dates.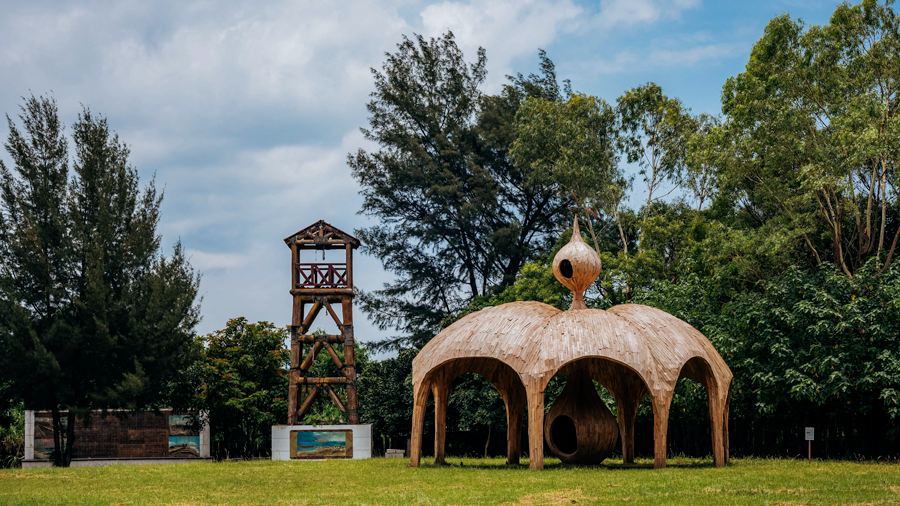 Hualien County Indigenous Peoples Cultural Center
(台灣原住民族文化館)
Tel: (03) 822-2312
Add: No. 460, Beixing Rd., Minxiang Borough, Hualien City, Hualien County
(花蓮縣花蓮市民享里北興路460號)
Admission: Free
Hours: 8:30am-12 noon, 1:30pm-5:30pm (closed on Mondays and public holidays)
Facebook: www.facebook.com/HualienCountyIndigenousPeoplesCulturalCenter
Dongdamen Night Market
Located in a large public square on the eastern edge of Hualien city center, this is not your typical Taiwanese night market, and it is representative of Hualien's ethnic diversity. Indigenous people constitute a little over two percent of Taiwan's population, but in Hualien City this figure is closer to 10 percent.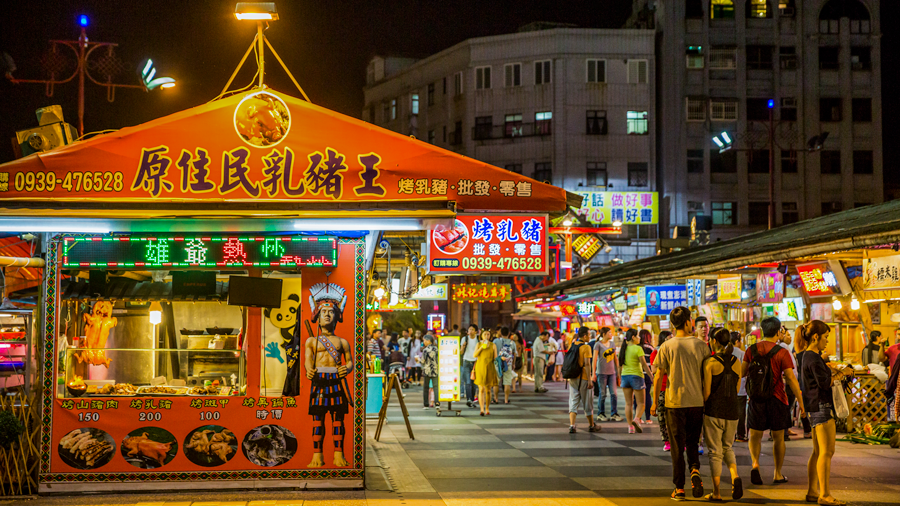 With over 400 stalls, the market is best visited at a leisurely pace. Stop to try snacks that whet your appetite and then go back for more of anything you like once you've done a complete circuit. Officially open from 6pm until midnight, the market is at its liveliest and most atmospheric on summer weekends, but during this period there might be long queues, and some stalls sell out in the later hours. To skip the queues, try to get there before 7pm, though some stalls might open a bit later than this.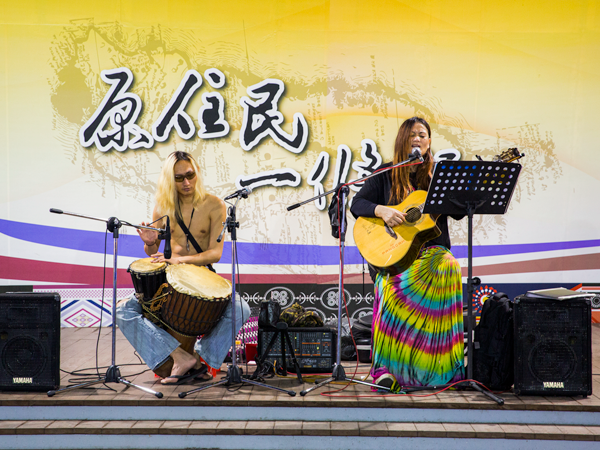 Dongdamen Night Market is more spacious than many crowded city night markets, and is well organized into three main streets. To experience the region's tribal cuisine, start with a wander along "Indigenous People's Street," which runs north to south. Here you'll find stalls selling bamboo rice, barbecued wild boar, and stir-fried mountain vegetables, which can be rounded off with a refreshing cup of aiyu jelly or, for something a little stronger, millet wine. Some evenings your meal will be accompanied by live indigenous music and dance.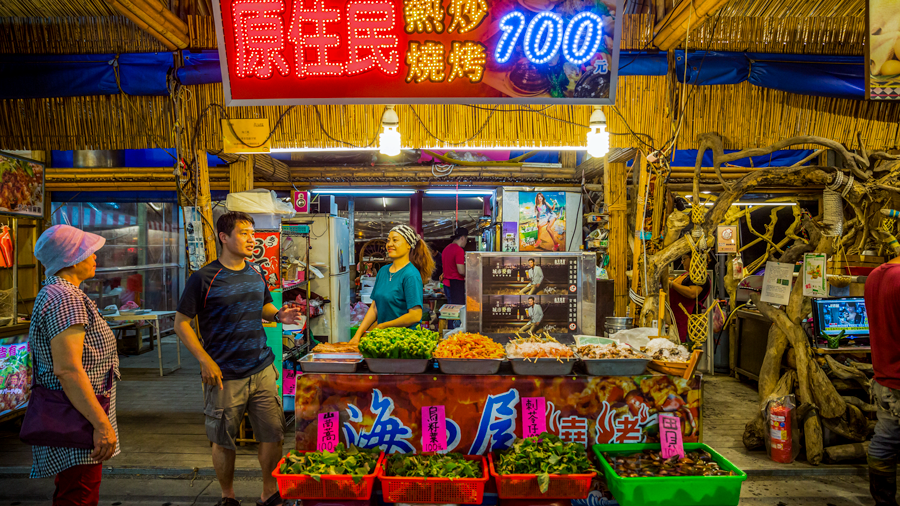 The other two streets have items more familiar to Taiwanese night market aficionados. You can find specialties from around the island, including coffin bread, green onion pancakes, oyster omelets, sausages, and stinky tofu, as well as specialties that originated in mainland China, like dumplings, noodle dishes, and barbecued corn and skewers. For a breather between courses you can try to win a prize by knocking over cans or piercing balloons with darts at one of many classic carnival-game stalls!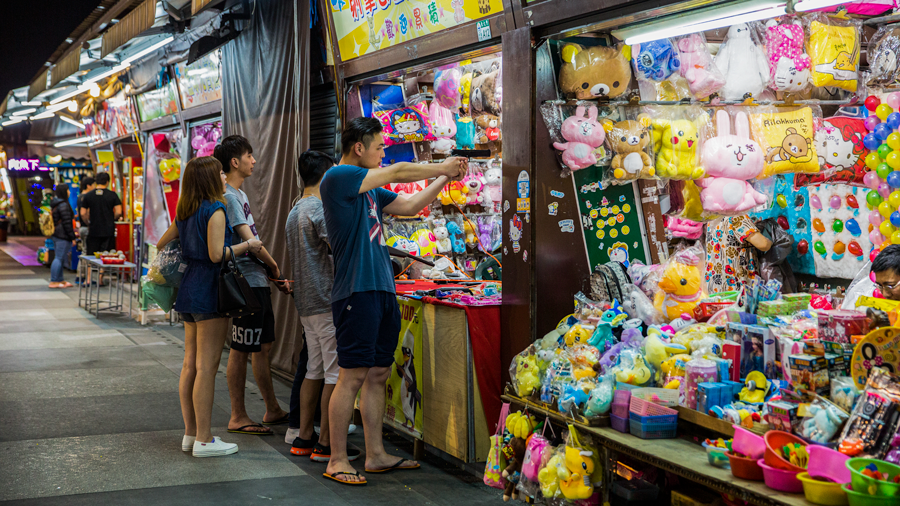 Dongdamen Night Market
(東大門夜市)
Location: Intersection of Zhongshan Rd. and Beibin St., Hualien City, Hualien County
(花蓮縣花蓮市中山路北濱街)
"Nazizi Grilled Fish" Restaurant
On the southeastern side of Hualien City near the coast, Nazizi Grilled Fish (no official English name) is a simple, unfussy restaurant popular for the fresh flavors of its authentic indigenous fare. Run by a friendly, gregarious Amis woman, there is no menu here, you just book for the number of people in your party and a variety of seasonal dishes will be prepared for you – vegetarians can be accommodated if the restaurant is informed in advance.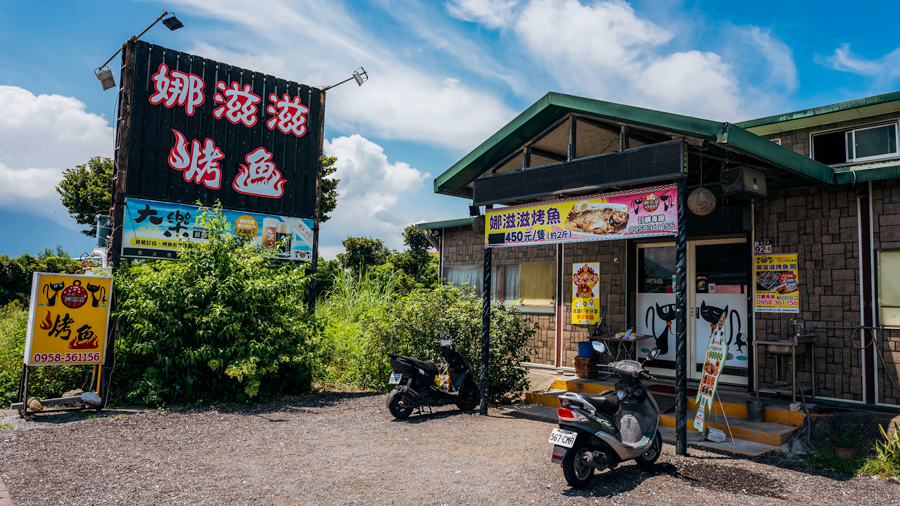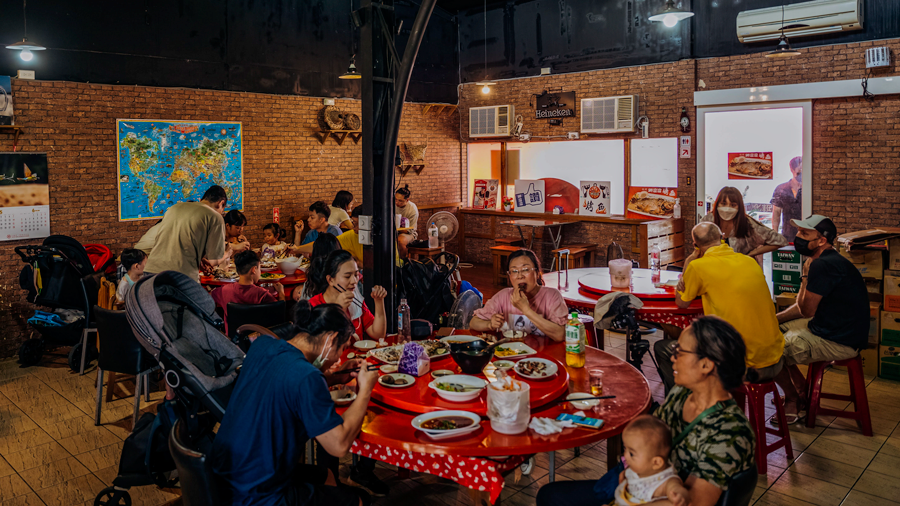 Of the six dishes served for our meal, for me the standout was the signature dish, salt-baked tilapia. Served with lemon and a salt-pepper mix on the side, the fish was tender, juicy, and incredibly moreish. I was also pleasantly surprised by the citrus tang of the sausage seasoned with maqaw (litsea cubeba), a peppercorn-like seed; the word comes from the Atayal language. Grown in the foothills of the high mountains, this unusual pepper is commonly used to produce essential oils for aromatherapy, but also makes a good accompaniment for meat and fish. The sausages were plated with wild boar and onions. There was also a clam dish, plus plenty of nutritious and tasty fresh greens to enjoy, including baby bitter melon, fern buds (guomao), and okra. A healthy pumpkin and wild-vegetable soup was the last of the main dishes to arrive, followed by a sweet treat of chocolate mochi to finish off the meal.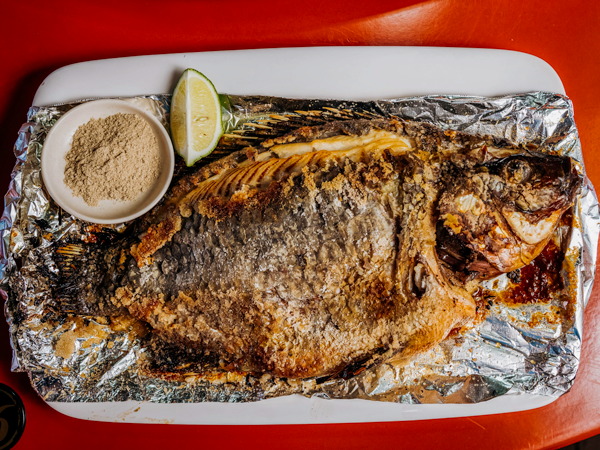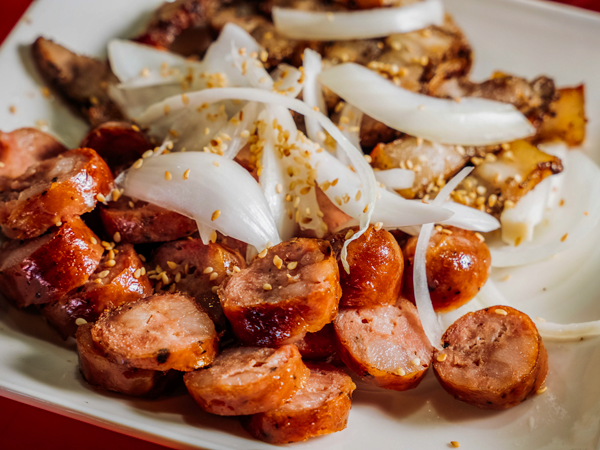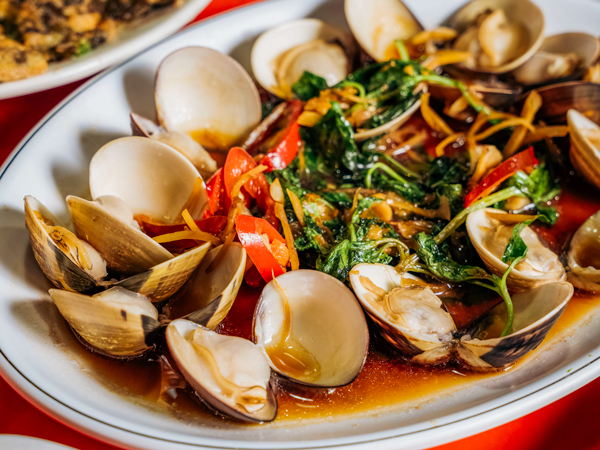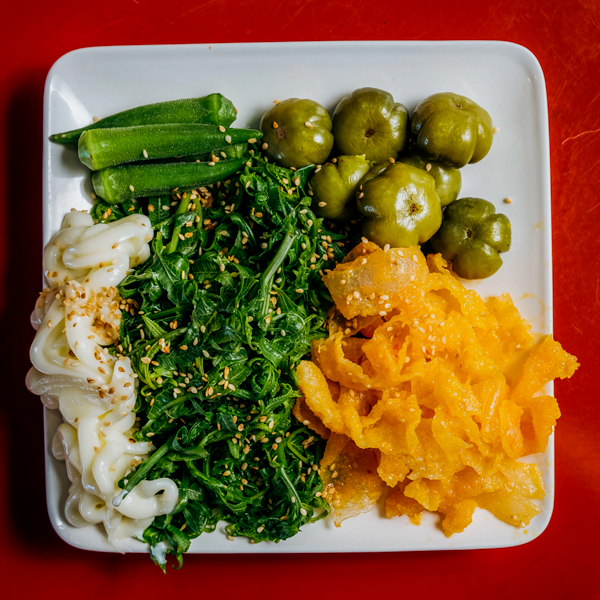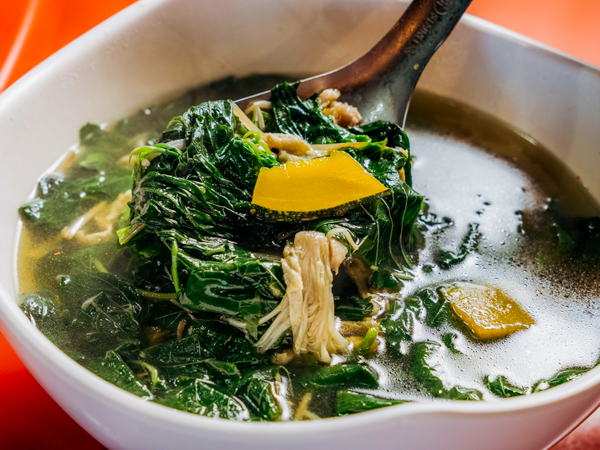 The price per person is very reasonable, just NT$350 per person, and reservations are essential if you want to try the salt-baked tilapia. Dining is arranged into 90-minute sittings, at the end of which you will likely be very full! There's ample parking on-site, and oceanside Nanbin Park is just a short stroll away if you want to walk off some of your meal before moving on.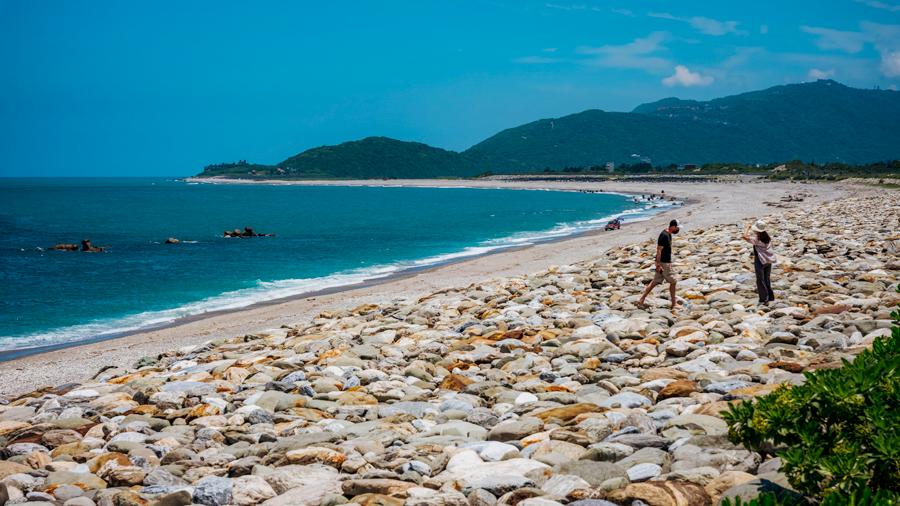 "Nazizi Grilled Fish" Restaurant
(娜滋滋烤魚)
Tel: 0958-361-156
Add: No. 92-6, Heping Rd., Hualien City, Hualien County
(花蓮縣花蓮市和平路92之6號)
Hours: 11:30am-2pm (Wednesday until 5:30pm, Saturday until 9pm, closed on Tuesday)
Facebook: https://bit.ly/3b2tCuE
Taitung Sugar Factory Cultural and Creative Park
Like many of Taiwan's heritage sugar factories, Taitung City's was built during the period of Japanese occupation (1895-1945), but ceased operations in the 1990s in the face of an increasingly competitive global marketplace. The site then lay dormant before being repurposed as a creative arts space with galleries, workshops, cafés, and craft stores. Located in the city's northwest, the Taitung Sugar Factory Cultural and Creative Park can be reached by car, taxi, or bus, and it's also on the "Mountain and Ocean Bikeway" that follows the former sugar-rail line.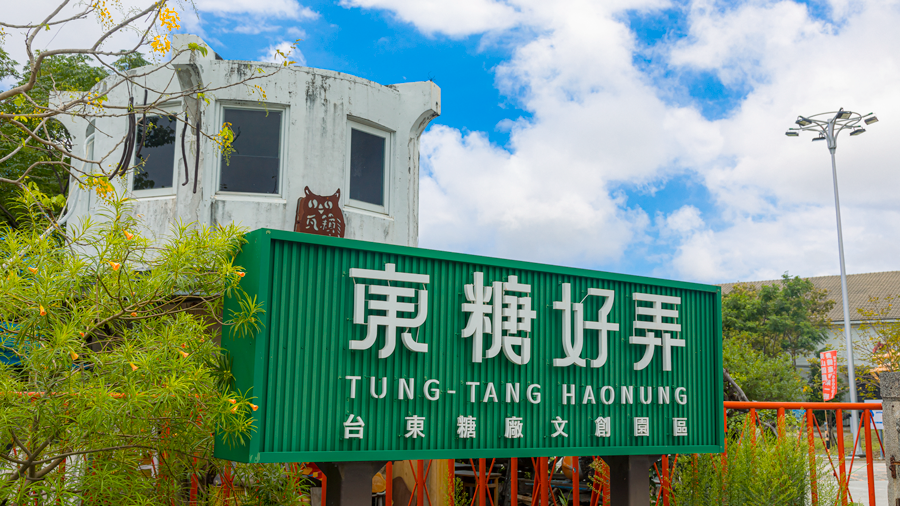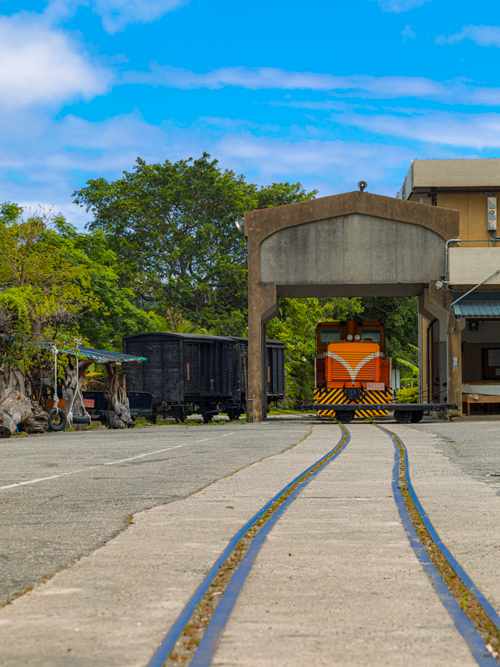 Of the many different stores in the factory complex, Ata Beads stands out for its beautiful multicolored glass qata beads. Qata is the Paiwan word for decorated beads, with each design having a specific cultural meaning. Whilst you could just buy a piece of jewelry here, making your own glass bead is recommended (suitable for ages 12 and above).
On a recent family visit, our daughters loved making the beads, and it was fascinating to watch. The glass comes in rounded sticks, and the first stage was to choose the main bead color and up to three colors for the design.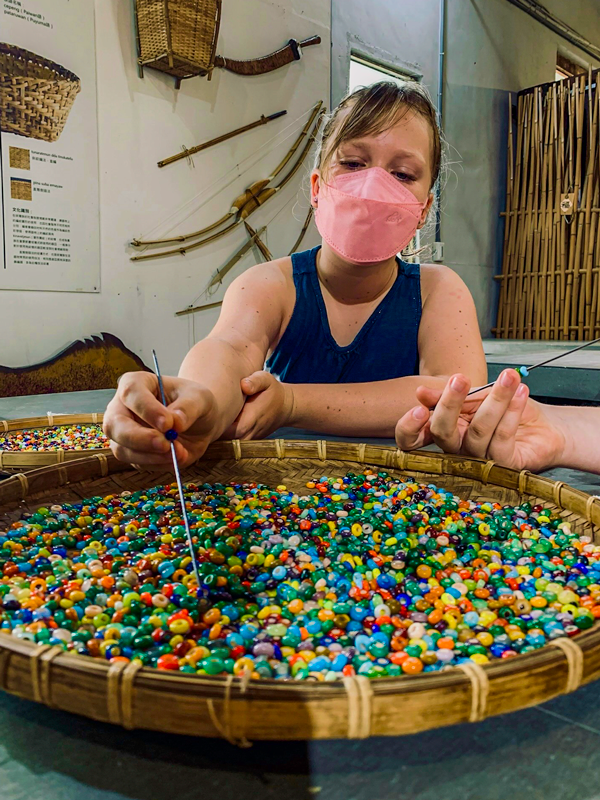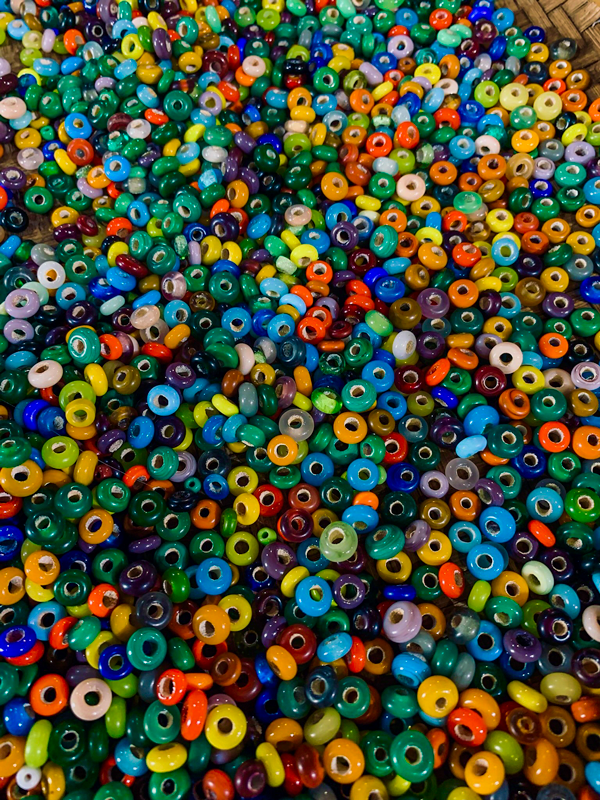 Next they melted the main color stick over an 800-degree flame and cut off a small amount, which was flattened and rolled around a stick to form the bead shape, with a hole for the string. The most amazing part of the process was creating the design: the kids melted the end of a narrower glass stick and then put a small dot on the main bead, and repeated the process for the other colors before using a metal implement to blend the colors and produce a unique pattern. The beads were then cooled, buffed, and returned for the girls to string onto a bracelet. They chose smaller beads to cover the rest of the string, the ends were sealed, and their qatas were ready to wear!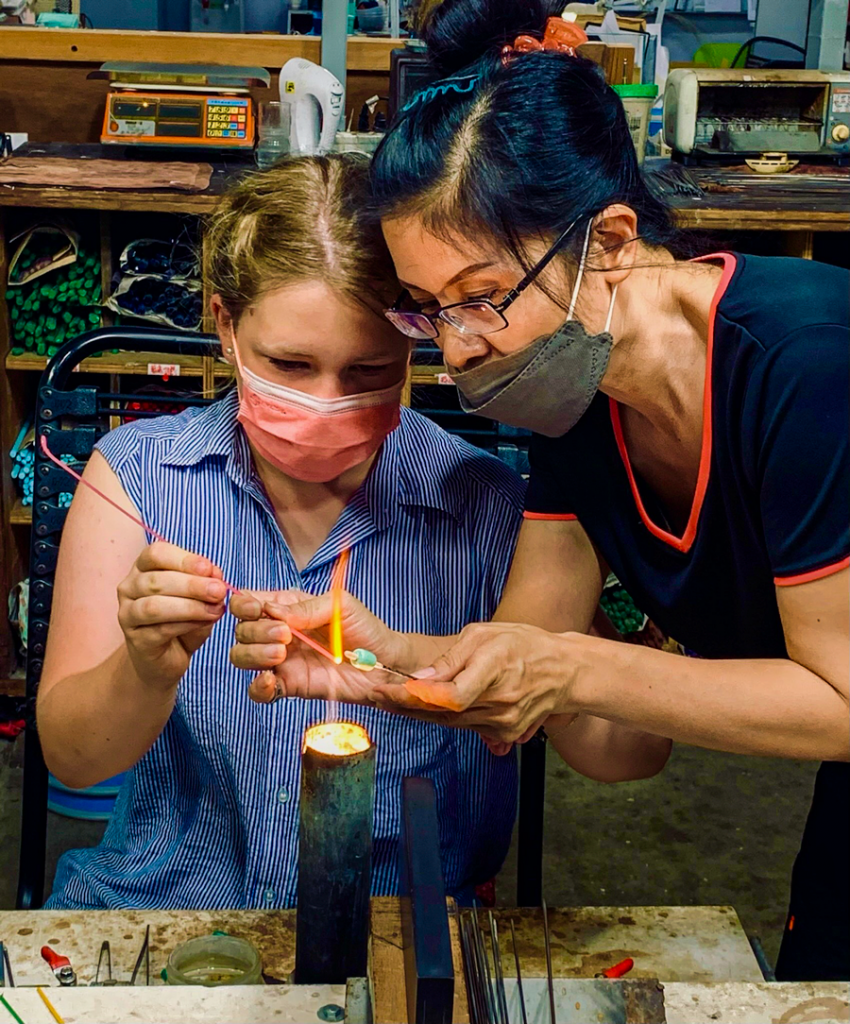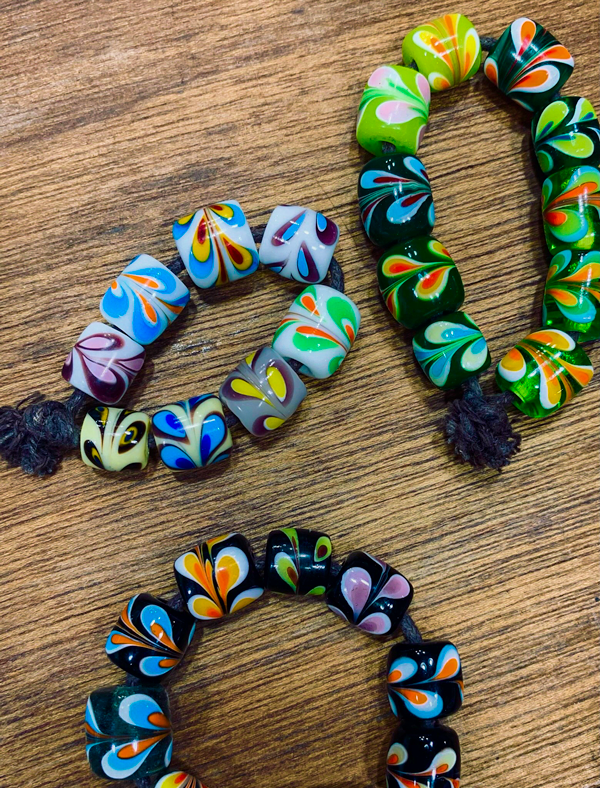 Taitung Sugar Factory Cultural and Creative Park
(台東糖廠文創園區)
Tel: (089) 227-720
Add: No. 191, Sec. 2, Zhongxing Rd., Taitung City, Taitung County
(台東市中興路二段191號)
Website: https://bit.ly/3RL5D4i
Ata Beads Studio
(卡塔文化工作室)
Tel: (089) 228-107
Hours: 9am-5:30pm
Facebook: www.facebook.com/atabeads
Tiehua Music Village
Less than three kilometers along the bike path from the Taitung Sugar Factory, the old Taitung Railway Station area is now home to Tiehua Music Village. Another example of an old industrial space being given a new lease of life, this enterprise is housed in a former railway workers dormitory that was converted in 2010. Something of a creative hub, there's a craft store here, and from Wednesday to Saturday you can enjoy live music performances in the evenings for the price of a drink from the bar. Although there are some acts from further afield, Tiehua Music Village mainly features local indigenous talent, including the odd big name – A-Mei and Suming have both performed here! Not all of the "local" artists are originally from Taitung though – the Night Owls are an ex-pat band formed in Taitung who play funky folk-rock-reggae music.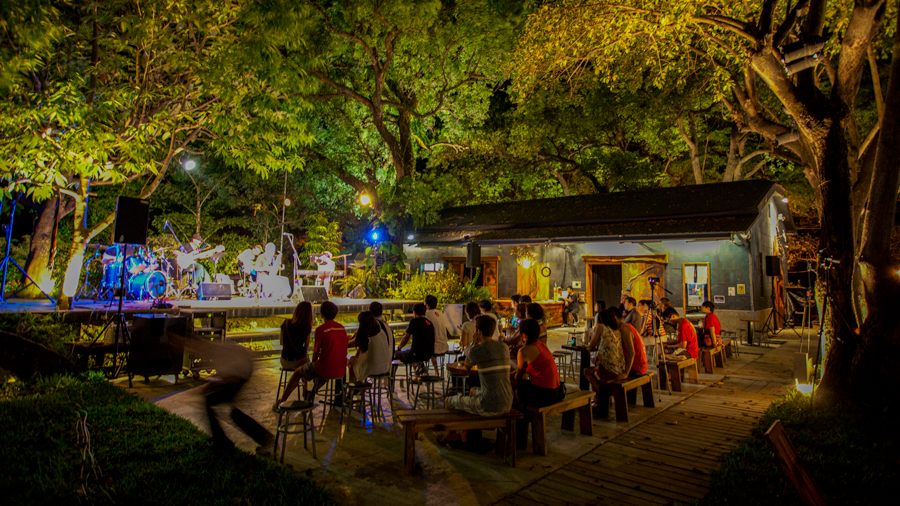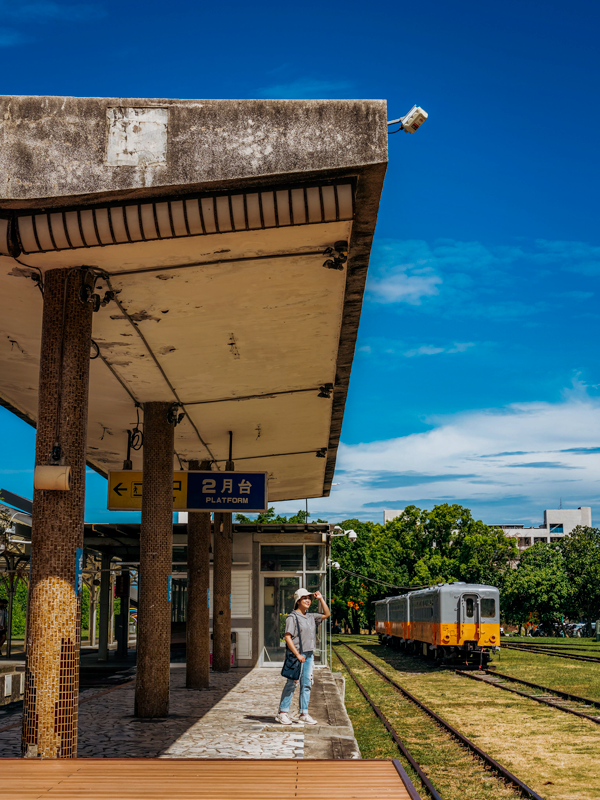 On weekends a popular crafts market sets up to the south of the village, with a collection of stalls providing everything from wooden crafts to jewelry, spices, henna tattoos, and even knife massages! The whole market and surrounding parkland is lined by hot-air balloon-shaped lanterns painted by children from local schools, making it an atmospheric spot for an after-dinner stroll.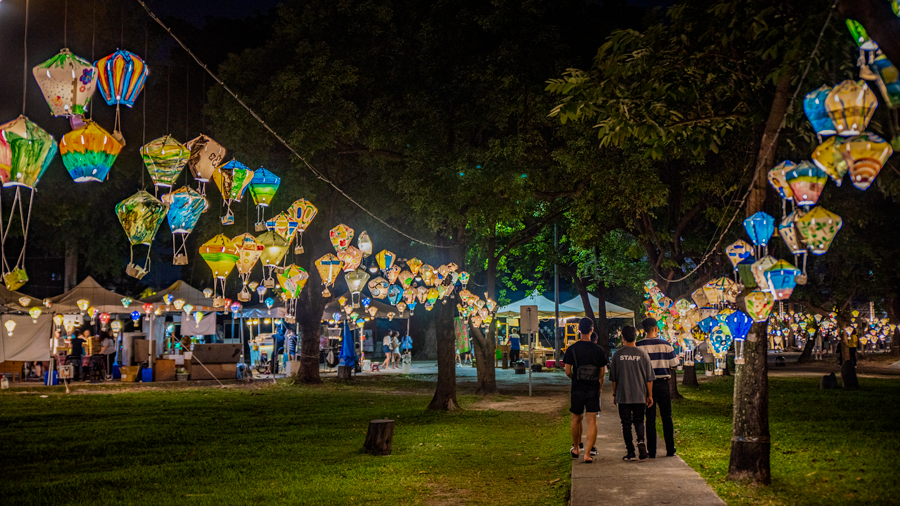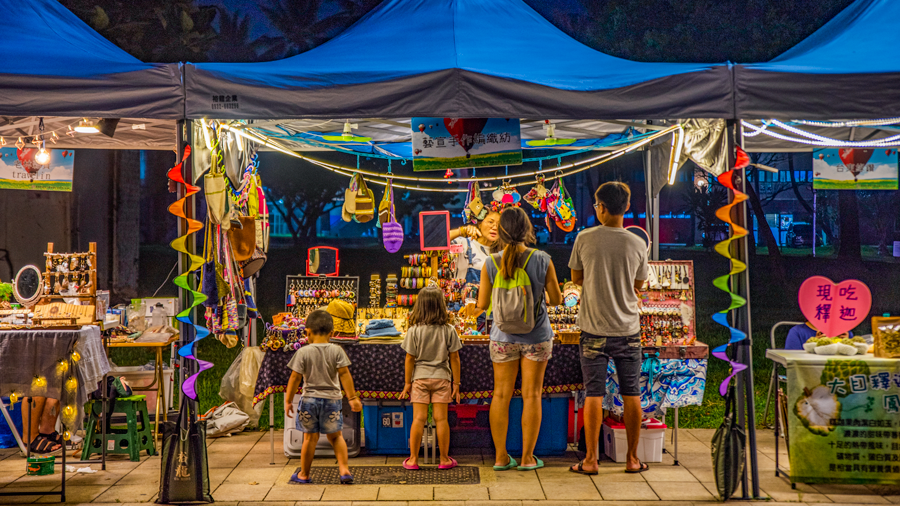 Tiehua Music Village Market
(鐵花村市集)
Add: No. 26, Lane 135, Xinsheng Rd., Taitung City, Taitung County
(台東縣台東市新生路135巷26號)
Hours: Friday 6pm-10pm; Saturday 4pm-10pm
Facebook: www.facebook.com/tiehua
Website: www.tiehua.com.tw (Chinese)
TTStyle
Running along a pedestrian walkway between the market and Xinsheng Road, TTStyle is an eye-catching development comprised of shipping containers stacked on top of each other, sheltered under a wavy steel roof. The roof symbolizes the mountains and the sea, which dominate Taitung County's landscapes, and the containers underneath house a variety of trendy shops and cafés. It's worth checking out the indigenous crafts for sale here, and also stopping for a drink or a meal at Wows Pangcah Café, which is owned by two friendly Amis sisters. "Pangcah" is another word the Amis use to refer to themselves, meaning "human beings" or "people of the same descent." The burgers and pizzas are hardly indigenous, but they're definitely delicious!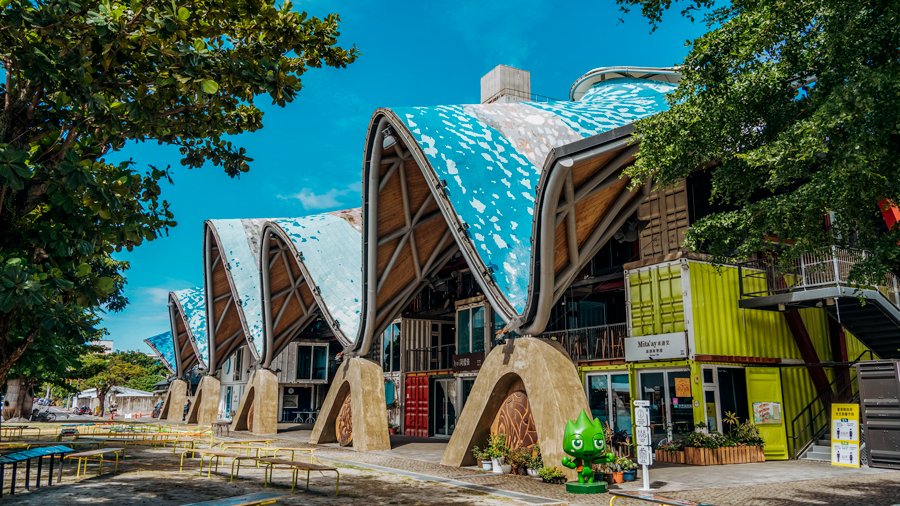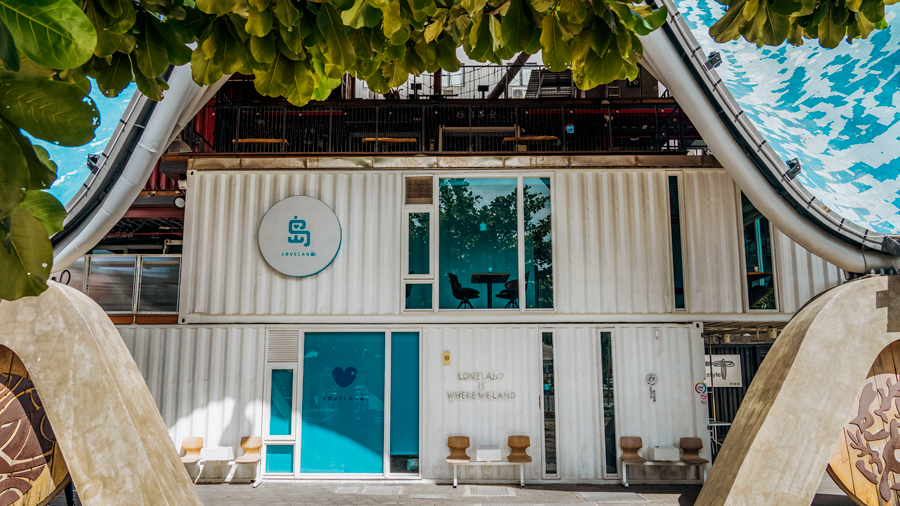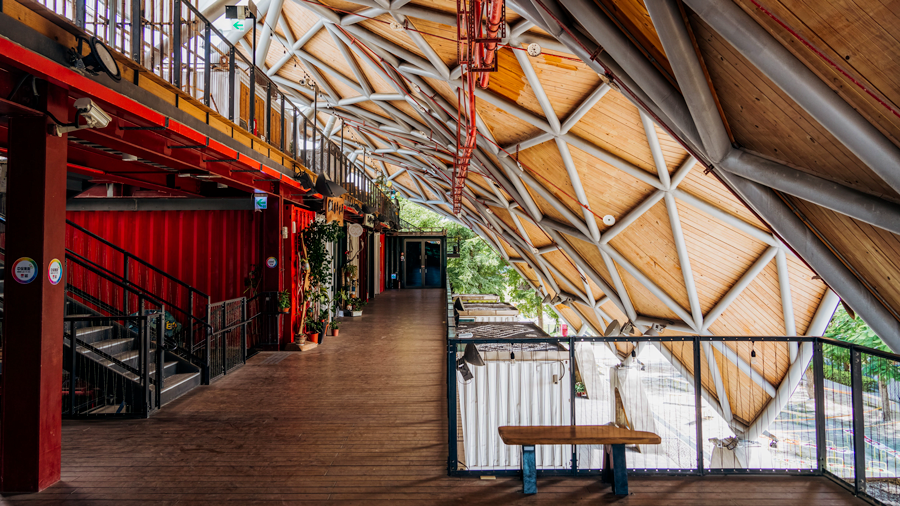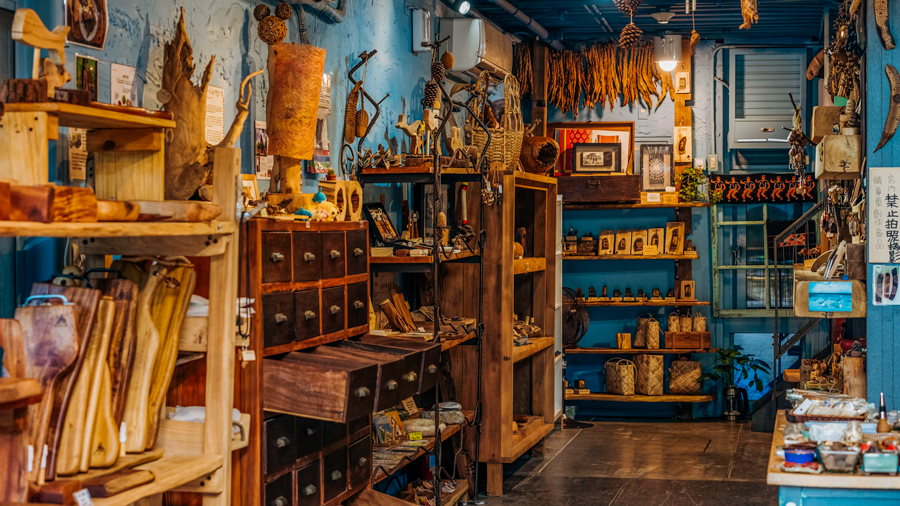 TTStyle
(TTStyle原創館)
Add: No. 105, Xinsheng Rd., Taitung City, Taitung County
(台東縣台東市新生路105號)
Tel: (089) 227-720
Hours: 10am-10pm (Friday to Sunday until 11pm)
Facebook: www.facebook.com/taitungstyle