"Have You Eaten Rice Yet?"
TEXT / OWAIN MCKIMM
PHOTOS / CHEN CHENG-KUO
Rice is by far Taiwan's most important food crop. So important in fact, that roughly half of the country's arable land is given over to cultivating it. And for good reason, too, because for many Taiwanese, not a meal goes by in which rice does not feature in some form or other. To prove the point (if indeed it needed proving), Travel in Taiwan recently sampled some of the many rice-based offerings available in Taipei.
Once I was fool enough to tell my Taiwanese mother-in-law that I was cutting out carbs and would therefore not be eating any rice with our evening meal. She stared at me as if I had lost my mind, before exclaiming, "But if you haven't eaten rice, you haven't eaten!" I assumed her to be speaking metaphorically; however, on further thought, I realized there is literal truth in that statement. Rice, in various forms, permeates Taiwanese cuisine like no other ingredient. It forms the basis of several breakfast dishes (congee, rice balls), the worker's lunchtime biandang (a lunchbox usually filled with rice, vegetables, and meat), and popular desserts such as mochi(a chewy confection made from pounded sticky rice), not to mention any number of festival dishes. Indeed, it should come as no surprise that one is often greeted in Taiwan with the phrase "Chi fan le mei" – literally, "Have you eaten rice yet?"
Jodo Rice Ball and Coffee
Starting our day's rice odyssey with the morning meal, we begin by searching out a mainstay of the Taiwanese breakfast – a fantuan, or rice ball. In Taiwan, these are normally long oblongs of glutinous rice packed with any number of fillings, from the traditional pickled greens, radish, and pork floss to more recent, Western additions, such as cheese and bacon. These clingfilm-wrapped cudgels of hearty carbs can be picked up at stalls and small shops all over the country, and make for a truly substantial breakfast or, at the weekend, a handy snack to take on a hike. They do, however, tend to be a little heavy on the stomach. A much lighter version is the Japanese-style fantuan that can be found on the refrigerated shelves of the island's convenience stores. Pop into a 7-Eleven or FamilyMart and you'll see rows of triangular rice balls, wrapped tightly in seaweed, with nuggets of pork floss, tuna, grilled chicken, crab paste – the list goes on – nestled tastily within.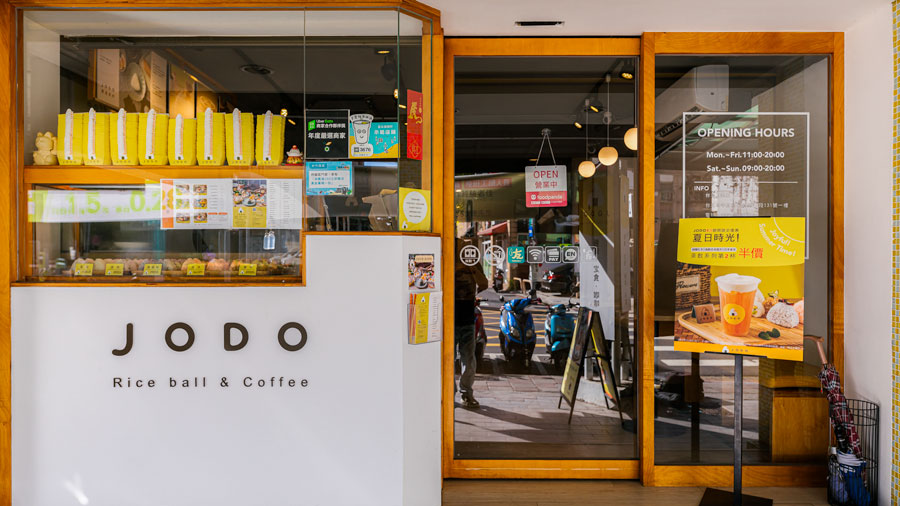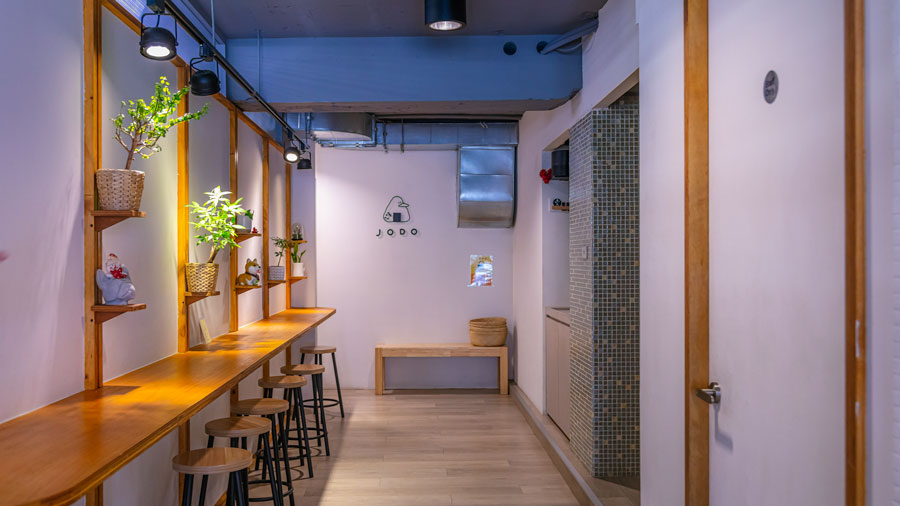 It is this type of Japanese fantuan, rather than the Taiwanese style, that is served up at Jodo Rice Ball and Coffee. Located in the student district of Gongguan close to National Taiwan University, Jodo offers light meals consisting of Japanese-style fantuan, veggies, and a meat or fish skewer, along with the option to order rice ballsà la carte. The fantuan themselves do not come with a filling as they do in convenience stores; rather, the rice itself is subtly flavored so that with each bite one can fully appreciate the texture and flavor of the rice uninhibited. Jodo uses a mixture of two types of rice, daoya youji mi (mi is the transliteration of "rice") from Yilan County – an organic rice grown with the help of ducks that keep the paddies pest-free – and yuxiang mi from Hualien County, which has a subtle flavor of taro.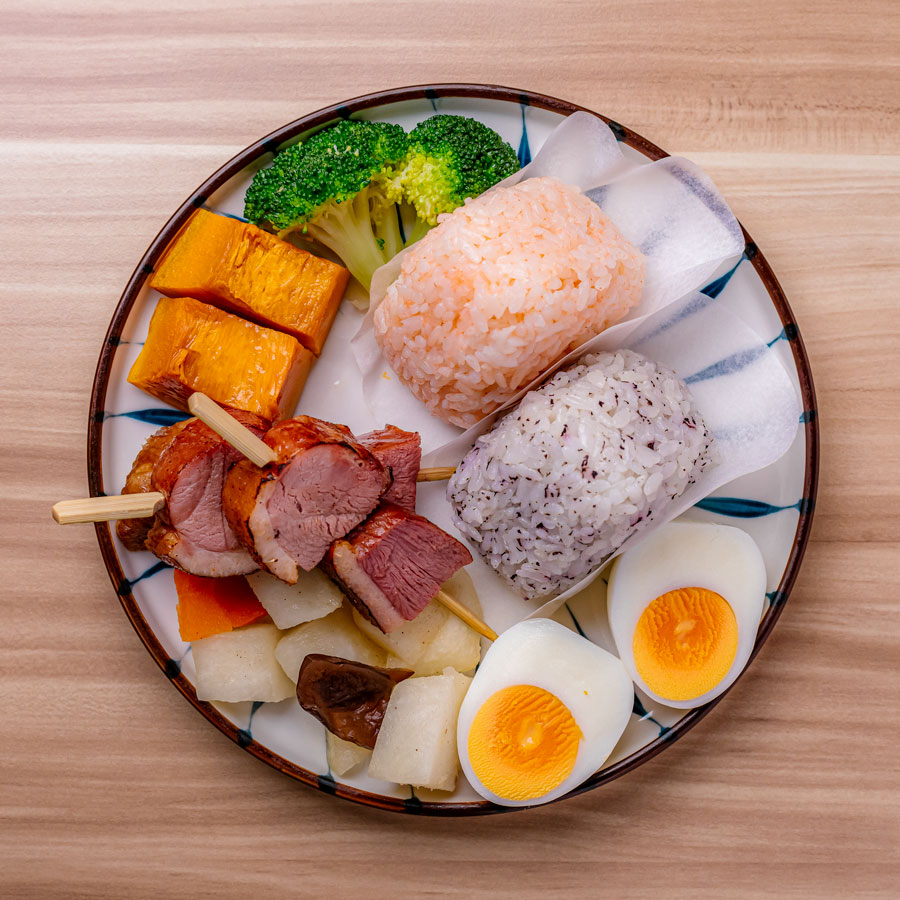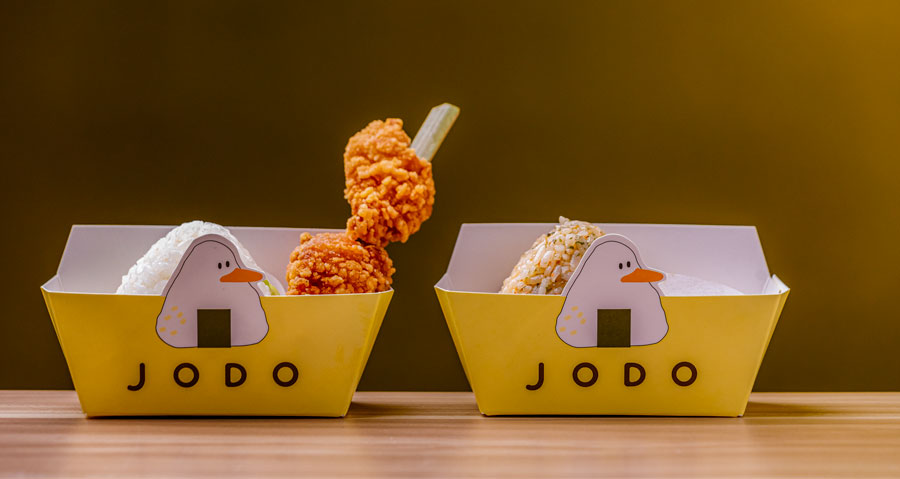 These varieties were chosen, according to the shop's spokesperson, because of their distinctive "Q" texture. "Q" is a somewhat untranslatable Taiwanese concept that means something akin to "bouncy," "springy," or "chewy," and describes the texture of good pudding, thick noodles, or even someone's perm. Jodo's fantuan are very Q.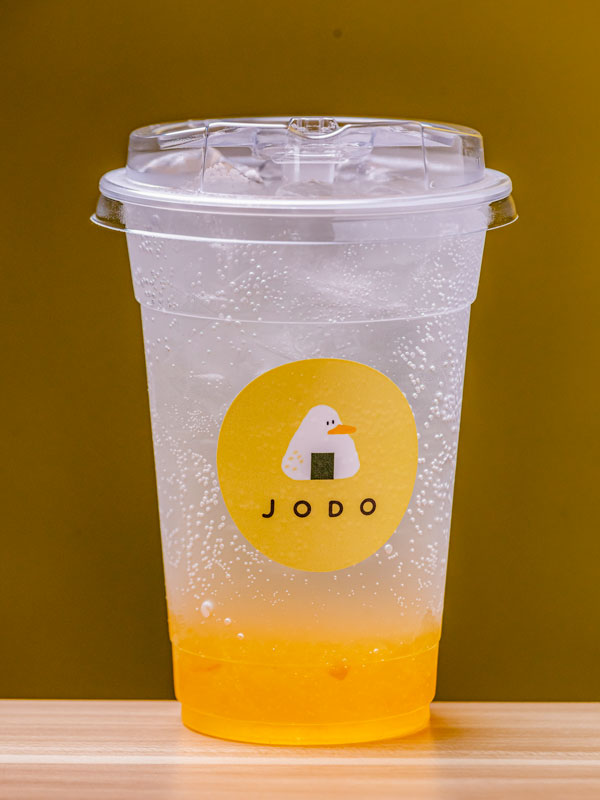 We tried a variety of the flavors on offer, and my personal favorites were "special sauce," in which the rice is mixed with a spicy house sauce made form Sichuan peppers, seven spice powder, sesame seeds, and other fragrant ingredients; the delicate "floral perilla," made with perilla (a member of the mint family) and roselle; and "seafood,"imbued with subtly salty pollock roe. The rice balls cost NT$45 each, while a set meal containing two rice balls, veggies, a boiled egg, and a meat/fish skewer costs between NT$170 and $250.
Jodo Rice Ball and Coffee
(Jodo飯糰)
Tel: (02) 2368-8592
Add: No. 131, Sec. 3, Tingzhou Rd., Zhongzheng District, Taipei City
(台北市中正區汀州路三段131號)
Hours: 11am~8pm (Saturday/Sunday from 9am)
Facebook: www.facebook.com/jodoriceballcoffee
Taiwan Rice Dining Hall
After sampling Jodo's flavored rice balls, for lunch we go for a more classic "no-frills" way of eating rice – steaming hot, fresh from the rice cooker, and used as an accompaniment to meat or vegetable dishes. Of course, when eaten in this way, "naked," the quality of the rice itself becomes doubly important. A cheap rice might be too claggy, or bland, sullying the entire meal, while a good-quality variety will be fragrant, flavorsome, and, indeed, Q! One place that is fighting the good fight when it comes to promoting high-quality locally grown rice – as well as other locally sourced ingredients – is Taiwan Rice Dining Hall, a small eatery set in a renovated historical building that is itself hidden in the gap between two modern tower blocks near MRT Technology Building Station.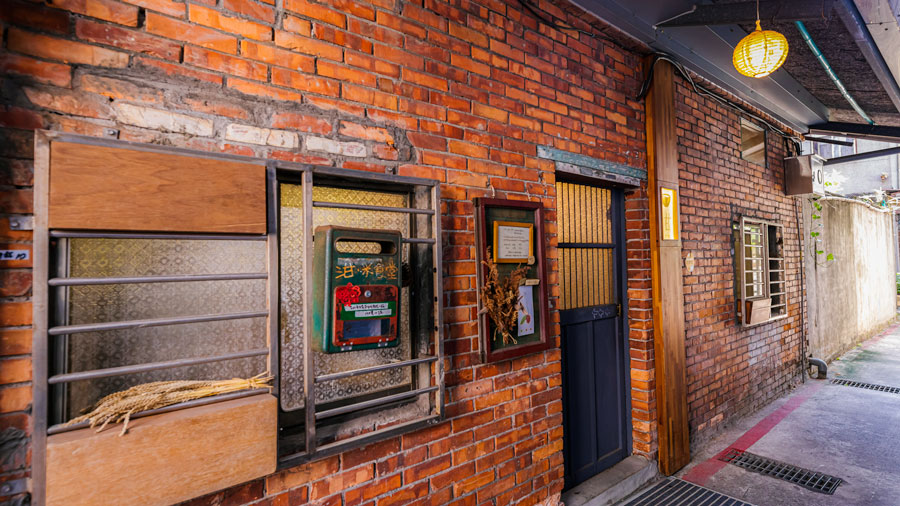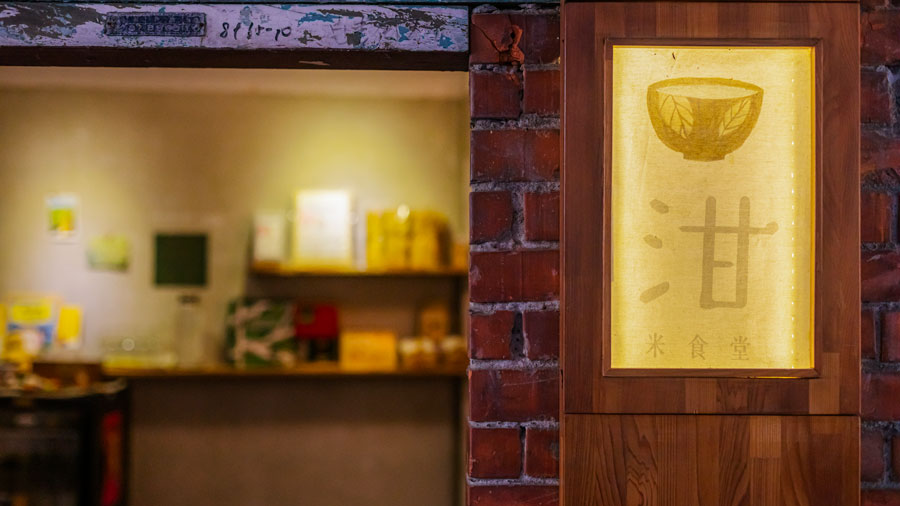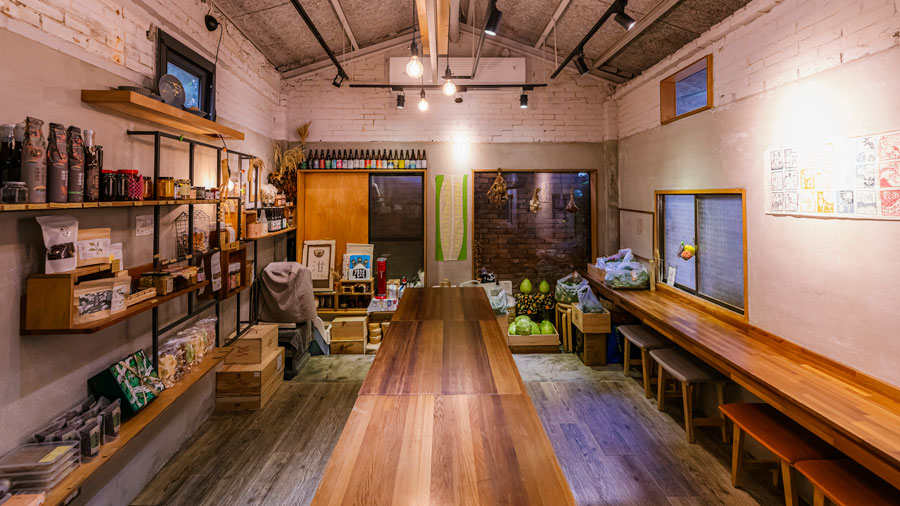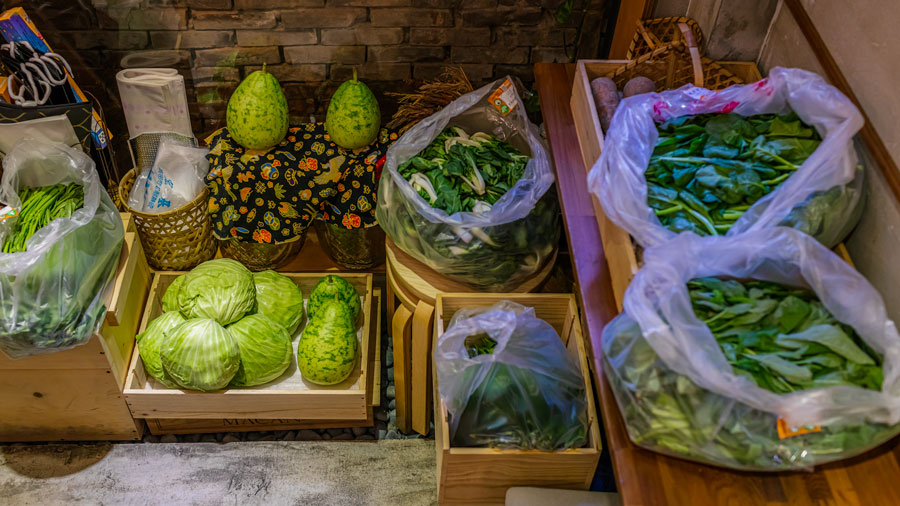 The restaurant serves simple set meals consisting of a bowl of rice, a main dish, two side dishes, and soup. There is no fixed menu, and the set meal on offer changes daily. (Potential patrons can discover the restaurant's upcoming daily dishes a week in advance on its Facebook page.)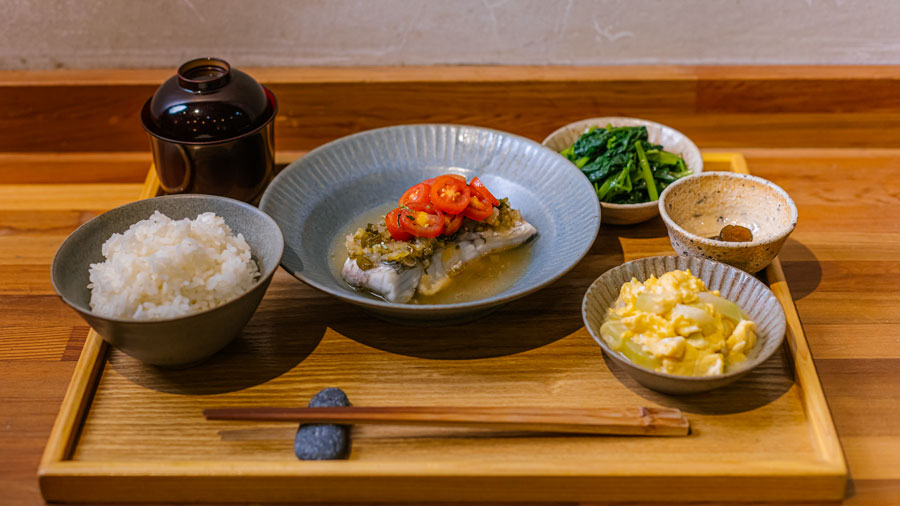 Exacting about the ingredients she uses, owner and operator Liu Fu-ying often travels personally to various rice-growing areas in Taiwan, working with local farmer associations to find the best organic-rice growers. Today's dish is rice from Chishang Township in Taitung County, more specifically a variety named Kaohsiung 139 which thrives particularly in the good weather of eastern Taiwan and is known for its rich flavor and springy texture, along with sea bass from Chiayi County, which is topped with locally-grown coriander, onions, scallions, and tomato and drizzled with a sauce of lemon juice and plum wine, a combination whose mixture of salt and sourness serve to bring out the natural sweetness of the rice. Soon enough, our chopsticks are clattering in our empty bowls.
As to what happens to any leftovers at the end of the day – it would, after all, be a tragedy to throw away such high-quality rice – Liu ferments any unserved rice into a sweet, non-alcoholic beverage called ganjiu. To the rice is added a particular mold which proceeds to break down the carbohydrates within into constituent sugars, creating a nutrient-rich drink that is both creamy and "moreishly" sweet.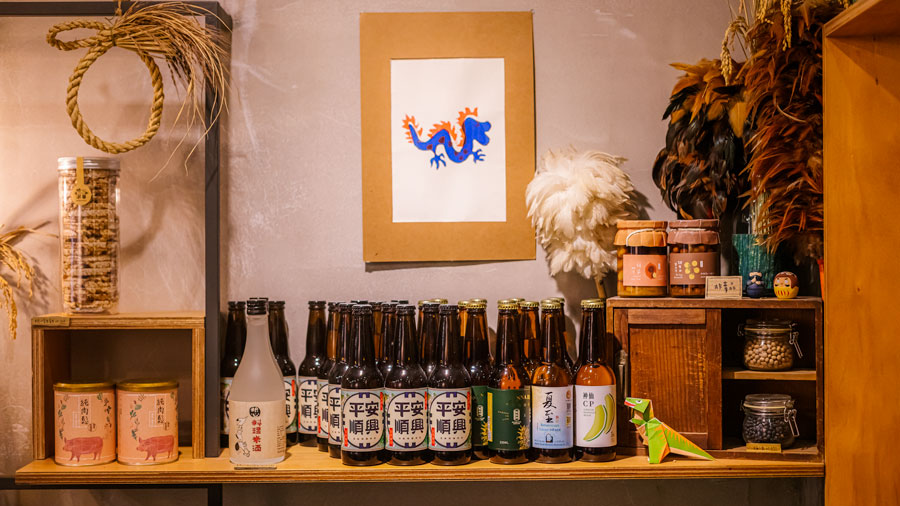 To finish, we are served a cake made using flour ground from a red-husked rice variety from Hualien. The cake is made especially for Liu by a local pâtisserie and is as light and fluffy as a cloud, emphasizing the true scope in both taste and texture that rice-based dishes have to offer.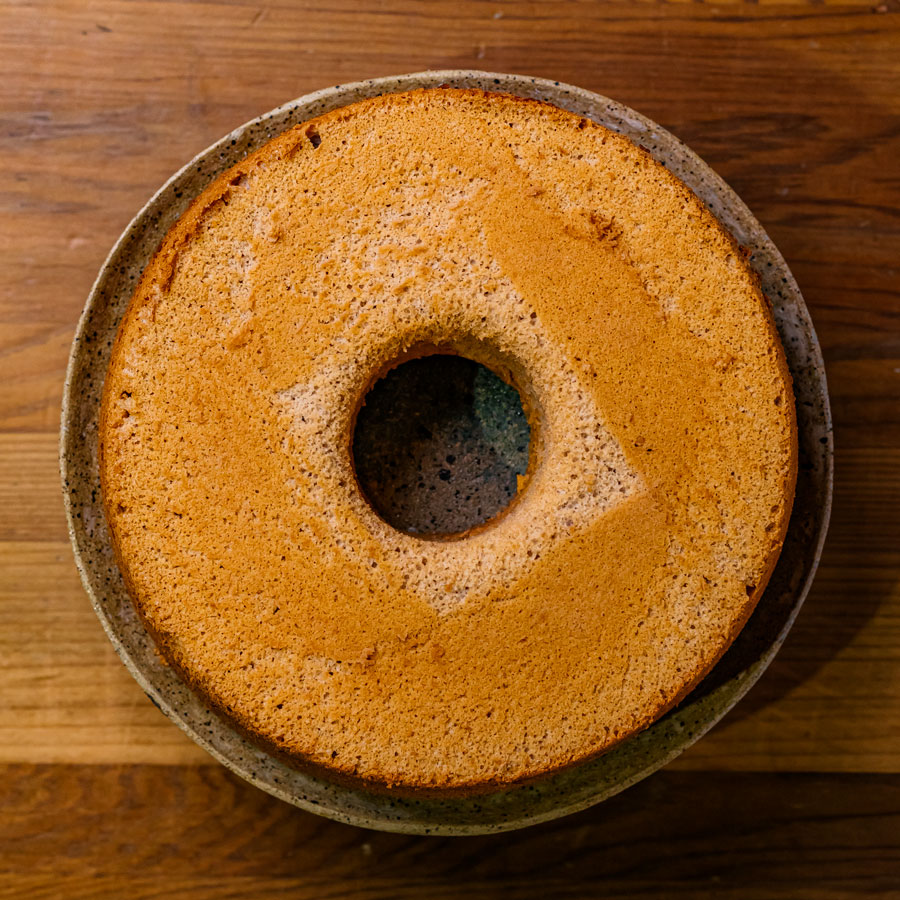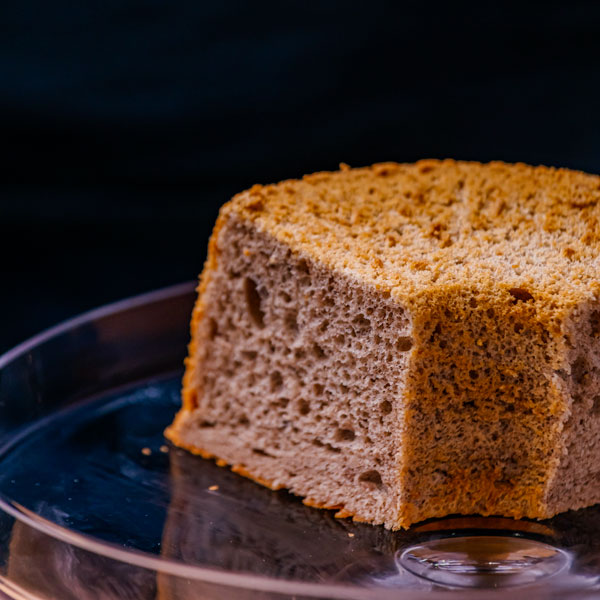 Meals at Taiwan Rice Dining Hall vary in price depending on the day, but usually cost about NT$400 per set.
Taiwan Rice Dining Hall
(泔米食堂)
Tel: 0905-244-754
Add: No. 12, Lane 175, Sec. 2, Heping E. Rd., Daan District, Taipei City
(台北市大安區和平東路二段175巷12號)
Hours: 11:30am~2pm, 5:30pm~8pm (closed on Thursday)
Facebook: www.facebook.com/taiwanricedininghall
Lo Bah Png
For dinner, we fall back on a real old classic. Lu rou fan, or braised pork rice, is often called Taiwan's national dish. Like all the best food, it is absurdly simple: a bowl of plain boiled rice topped with a generous dollop of meat sauce – bite-sized chunks of pork braised and then left to stew, often for more than a day, in soy sauce and spices. The dish has its origins in Taiwan's poor agrarian past, when pork was something of a luxury. In the early days, the dish was a way to make use of less desirable off-cuts. Nowadays better cuts are used, but the dish retains its status as one of the most affordable dishes, with a bowl typically costing between NT$25 and NT$40, depending on where you are in the country. The dish can easily be found in any of Taiwan's cities – mostly doled out by small hole-in-the-wall eateries or roadside/night-market vendors. Lo Bah Png near MRT Songshan Station, however, offers a sleeker environment for guzzling down the dish – the shop is bright and clean with a modern-industrial décor – though its version loses none of the rich, greasy goodness that characterizes this down-to-earth dish of the people.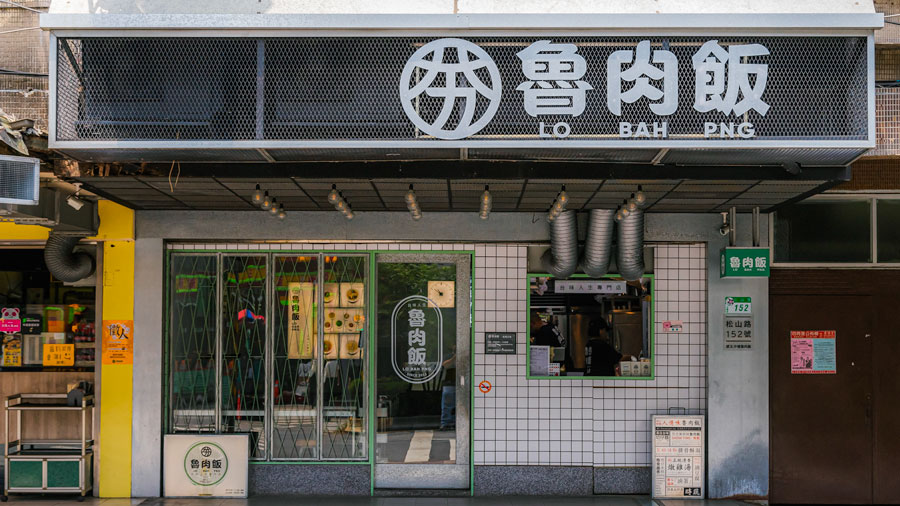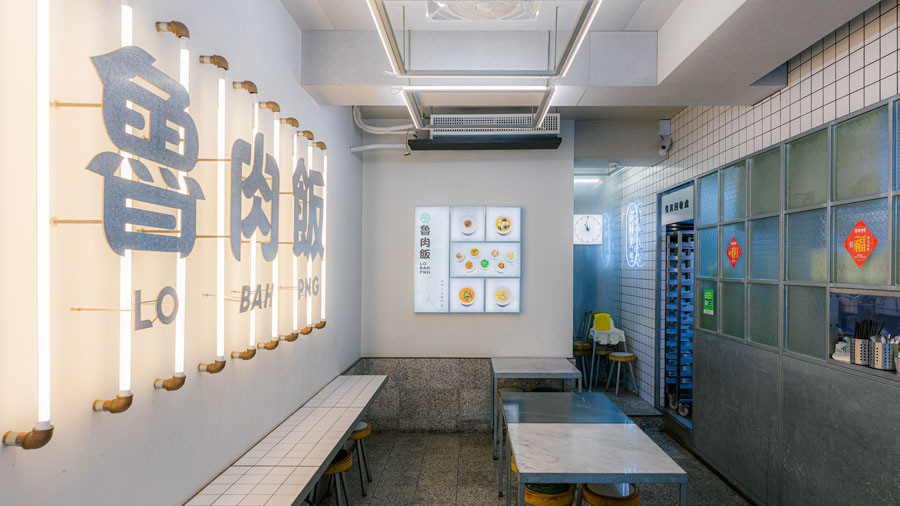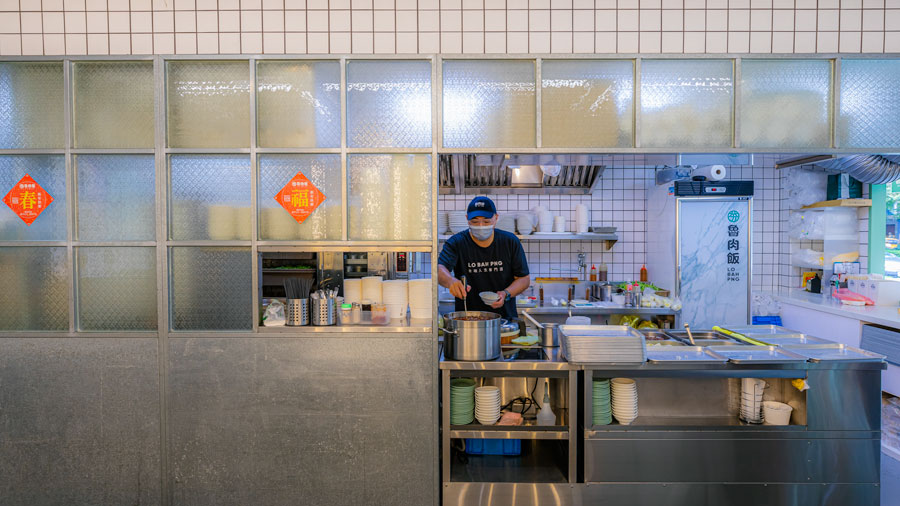 The key to a good lu rou fan is of course balance between the dish's two main elements, the rice and the meat sauce. Mr. Lin, who apprenticed under a lu rou fan master of 40 years' experience before setting up his own venture, explains that he uses a particular rice from Xiluo Township in southwestern Taiwan to create the perfect marriage of textures for the classic dish. The rice used has a more granular texture than many other varieties, meaning that it can hold up more robustly to the wetness of the sauce and avoid turning into an unpleasant mush.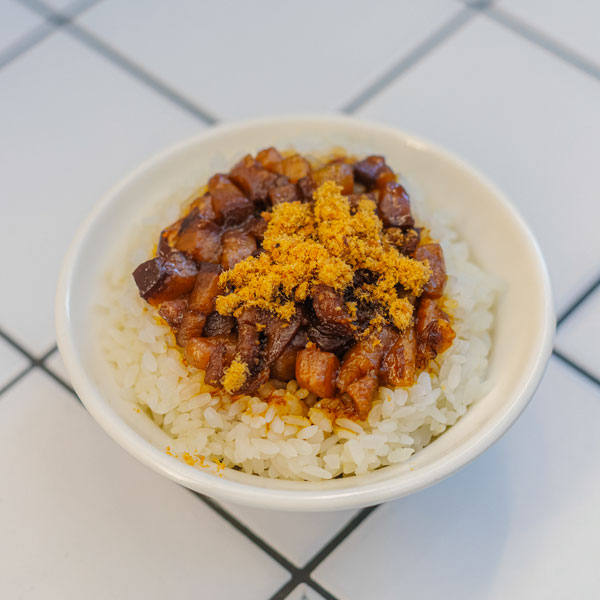 Along with our braised pork rice, we also tuck into a migao – or tube rice pudding – a cylindrical tower of sticky rice that is first fried with soy sauce and then steamed in a cylindrical mold so that it holds its shape, before being topped with lashings of braised pork and a sprinkling of fish floss. Here, the outer layer of rice has been cooked into a firm crust, which, when cleaved with one's fork, gives way to a tender inner core – flavor, texture, and sauce all combining into a harmonious and mouthwatering whole.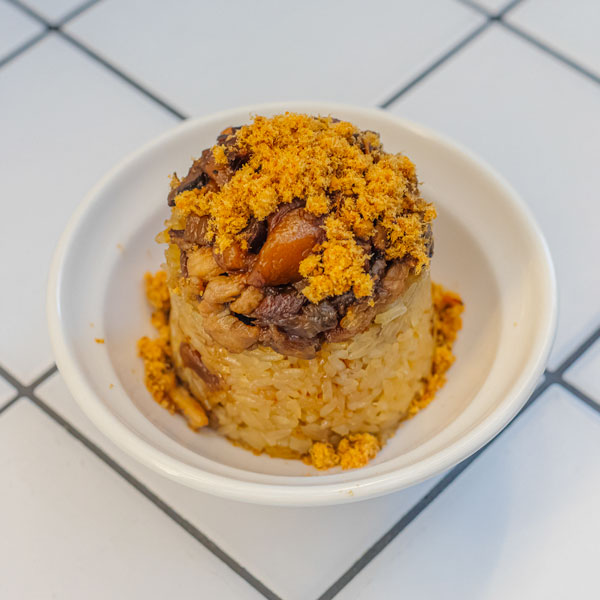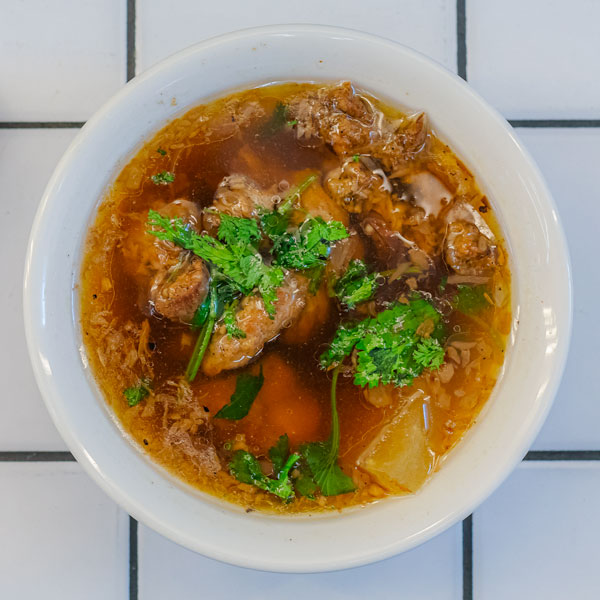 A large bowl of hearty braised pork rice at Lo Bah Png will set you back just NT$45, while a tube rice pudding costs a mere NT$35.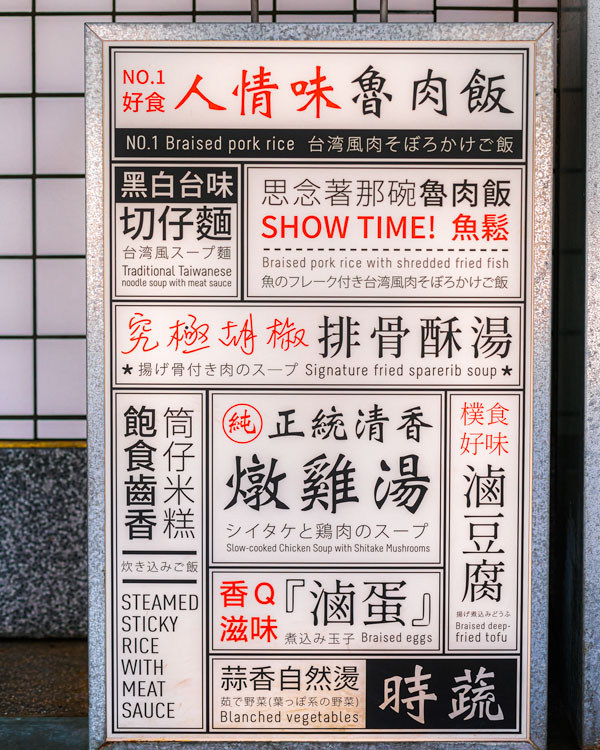 Lo Bah Png
(夯・魯肉飯)
Add: No. 152, Songshan Rd., Xinyi District, Taipei City
(台北市信義區松山路152號)
Tel: 0918-653-835
Hours: 11:30am~9pm
Facebook: www.facebook.com/lobahpng
Joy's Love
As mentioned above, Taiwanese-style fantuan are more commonly eaten as breakfast fare; however, there's no reason why such a savory delight need be limited to the morning hours. Should you find yourself feeling peckish towards twilight, you may well find fantuan being served in some of Taiwan's many night markets. One such location is Joy's Love, located in an alley behind Guang Hua Digital Plaza – Taipei's main tech market. The stall boasts a huge menu of different fillings – corn and vegetable, fried shrimps with scramble eggs, beef with garlic sauce – with the two most popular according to the owner being Thai basil chili pork and pan-fried pork chops. Unlike the Japanese-style fantuan found at Jodo, which can be eaten in a few bites, the Taiwanese-style fantuan served here are designed to combat a more profound hunger, and in truth are less of an evening snack and more of an entire evening meal. Depending on the filling, each fantuan costs between NT$70 and NT$100. Don't be surprised if you get through half and have to save the rest for tomorrow's lunch.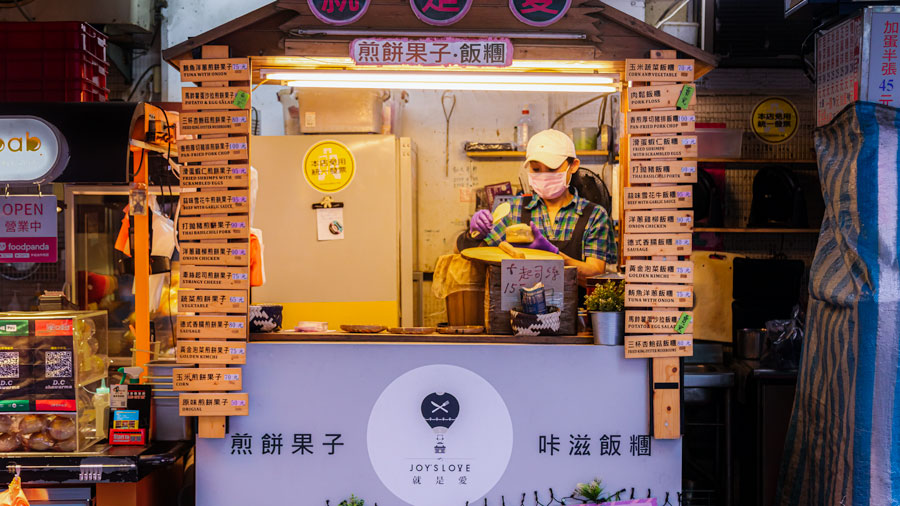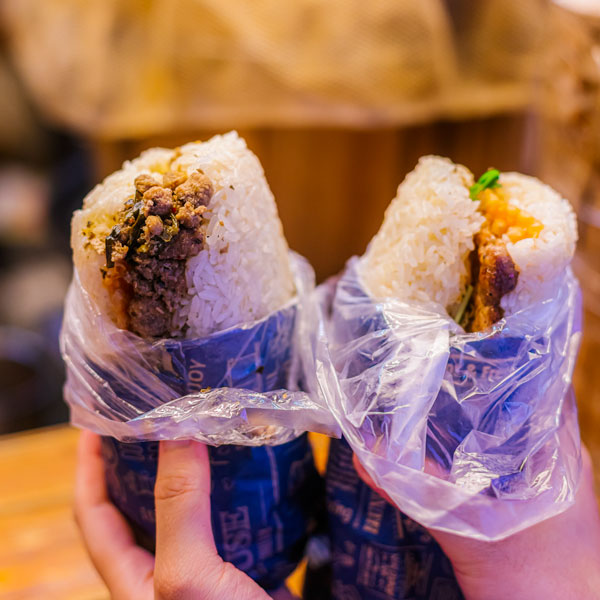 Joy's Love
(就是愛飯糰)
Add: No. 18, Lane 82, Sec. 1, Bade Rd., Zhongzheng District, Taipei City
(台北市中正區八德路一段82巷18號)
Hours: 11:30am~7:30pm (closed on Saturday & Sunday)
Instagram: www.instagram.com/joyslove_food
"Ayu White Sugar Rice Cakes"
After the rice-flour cake at lunch, our second foray into the confectionary side of rice comes just a few paces away from Joy's Love Rice Balls at another stall, "Ayu White Sugar Rice Cakes." Appearing something like the American corn dog, these sweet, sausage-shaped desserts-on-a-stick are formed from glutinous-rice flour dough before being deep-fried and then dipped in a flavorsome powder or sauce. Gluttonous to a fault, we try several flavors – black sugar, condensed milk, sesame, peanut, cinnamon, and plain sugar. Eaten piping-hot, they offer a crisp first bite that gives way to a donut-like interior. While each flavor has something to recommend it, the condensed milk is a personal favorite, coating the rice cake in a decadent, sweet oozy glaze. Try one for NT$20 or grab three for NT$50.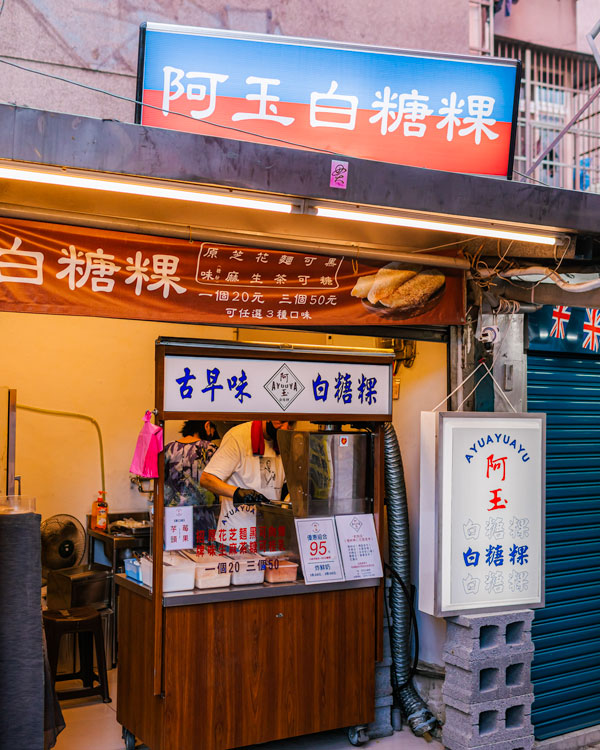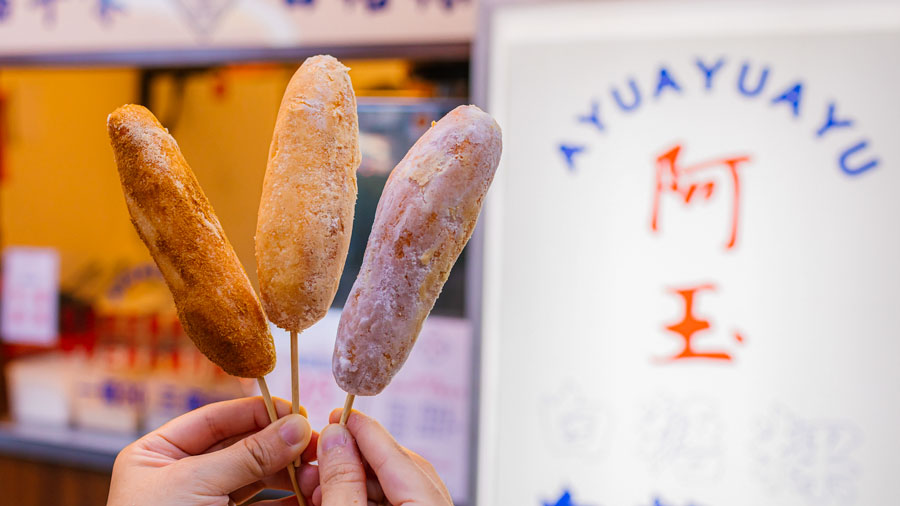 Ayu White Sugar Rice Cakes
(阿玉白糖粿)
Tel: 0935-631-551
Add: No. 5, Alley 9, Lane 12, Sec. 1, Xinsheng S. Rd., Da'an District, Taipei City (Guanghua Branch)
(台北市大安區新生南路一段12巷9弄5號/光華店)
Hours: 12 noon~8pm (closed on Monday)
Facebook: www.facebook.com/ayu201905
Instagram: www.instagram.com/a_yu201905