Join the Crafting Trend at a Silversmithing Workshop
TEXT / AMI BARNES
PHOTOS / KINJO, VISION
There are now plenty of choices in Taiwan when it comes to having DIY experience fun. If you want to make your own jewelry, try one of the silversmith courses offered by Kinjo.
In 2006 Kinjo's founder – Liu Guan-ling – opened the chain's first jewelry workshop at the base of the Yangmingshan massif on Taipei's north side. At that time, hers was pretty much the only open studio in Taiwan, and something of a curiosity. Before Kinjo opened its doors, the only way for people to experience silversmithing was to commit to a 3-5~year apprenticeship, and there were few DIY experiences of any kind offered in Taiwan.
These days, the lay of the land looks rather different. Kinjo, it turned out, was ahead of the game, and a cursory trawl through Google Maps and travel websites nets an impressive haul of experience-supplying workshops. In Taipei alone, you can try your hand at flower arranging, glass-blowing, tie-dying, silk printing, coffee brewing, quilting, leather working, and cocktail mixing. You can make your own soap, ecosphere, lamp, chopsticks, candle, or perfume – whatever outlet your creative yen desires can be provided.
As to why such places have proliferated here, I would hazard a guess that the trend is at least partly fuelled by a global sway of interest away from having things and towards doing things. With the Taiwanese working some of the longest hours in the world, taking time out to focus on such handicrafts can also provide a good way to decompress.
For travelers, holiday crafting experiences bring all the usual benefits of such endeavors: a sense of satisfaction, relaxation, and a little self-confidence boost. But more than that, they also let you return home with a one-of-a-kind souvenir, something with your vacation memories stitched, beaten, or molded into its very fabric.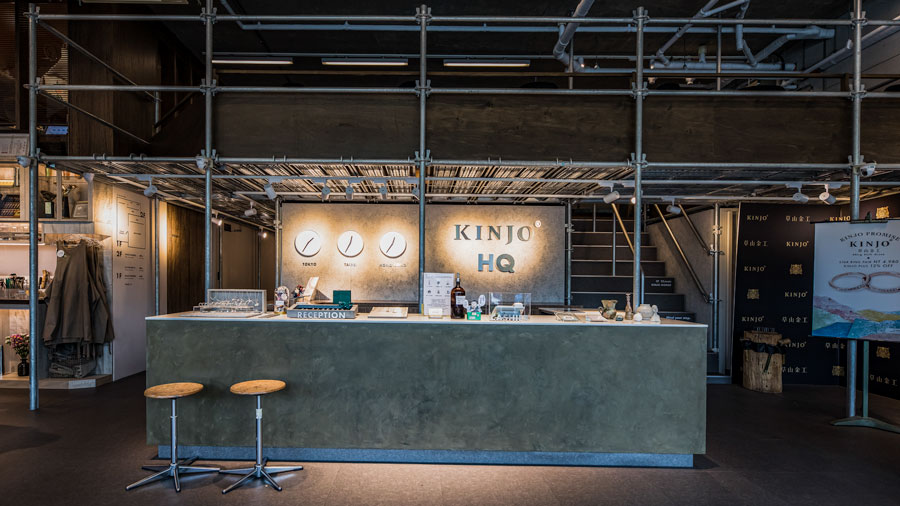 One of the limitations of the business model is that such operations tend to be run by single skilled individuals who are only able to impart their knowledge to one group at a time. Kinjo has managed to break the mold by distilling the process down into something simple enough for trained employees to oversee, allowing the company to expand.
Kinjo's Founder
Liu Guan-ling discovered her passion for silversmithing while studying for a fine-arts degree. As her studies progressed, she found herself increasingly drawn to metalwork. Its directness, the fact that you're in direct contact with the material, and its tactile immediacy held greater appeal than some of the more esoteric fine-art disciplines.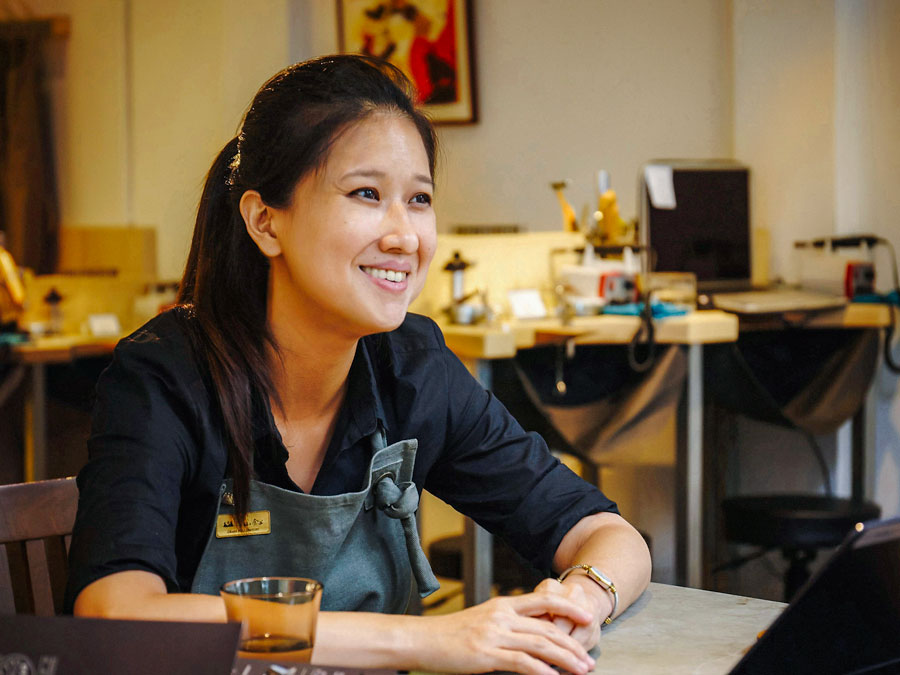 Post-graduation, Liu opened a concession selling her own designs and leading DIY sessions, and returned to university to pass on her skills to the next generation. For her, it didn't seem like much of a jump to weld these two strands of her professional life together – although she admits that teaching university students is an entirely different proposition to guiding customers through the creative process. Whatever their reason for coming to her, Liu says she enjoys helping people channel their creativity, particularly when she knows the customers' stories. One of her favorite parts of the job has been seeing couples who originally came in to make promise rings return years later to forge their wedding bands.
Today, despite being kept busy overseeing her much-expanded business, Liu still finds time to design two new collections per year. Looking around at the décor of Kinjo's flagship Shilin store, it is clear to see that she takes many of her aesthetic cues from the natural world. The color palette is an understated mix of oatmeals, slates, and warm, earthy browns, the simplicity of it allowing your eye to be drawn instead to the texture of rocks and wooden surfaces that dot the airy workshop-cum-café. When asked if such forms provide inspiration, Liu agrees, pulling up an image of a ring from her current season, which looks to be modeled on the cuboid crystal clusters of pyrite. But – ever the businesswoman – she is quick to point out that personal aesthetics will only get you so far, saying she also has to pay attention to trends in the market and customer feedback.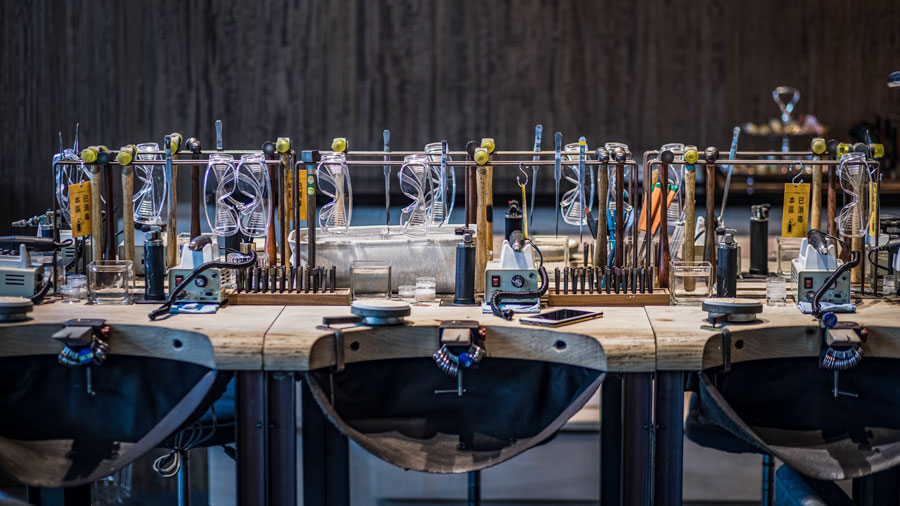 DIY Experience
Liu says that the majority of DIY customers will come to an outlet having already selected their project online, but even so, it's still advised to pick up the samples and try them on to be sure that you're going to be satisfied with the finished product. For this reason, there are trays beside the checkout counter in each location displaying the various items available for aspiring silversmiths to create.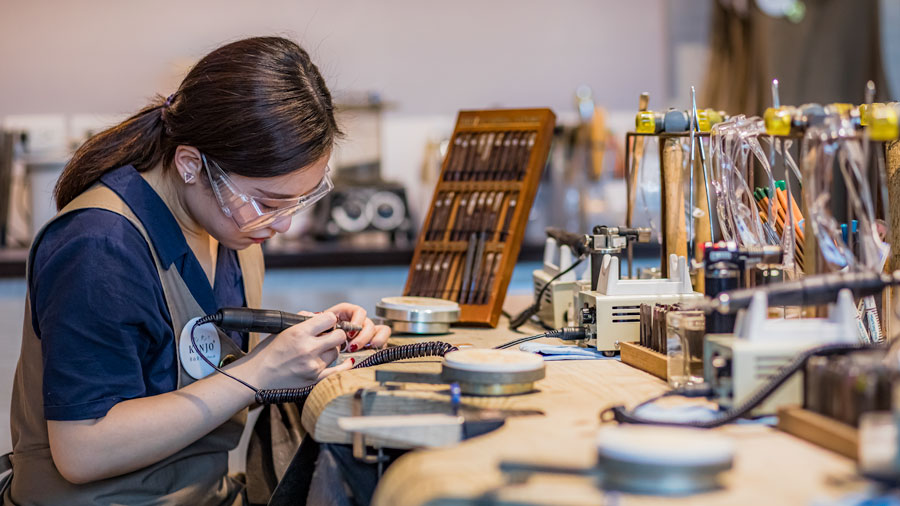 Projects start at about NT$2,800, and customers can choose from a range of silver rings, bracelets, pendants, and earrings. There's also another more expensive Promise series for which different precious metals are used (gold, rose gold, and platinum), although generally these are selected by couples wanting something extra-special, and the prices can run to over NT$60,000.
Whatever you choose, there's no need to fret about getting out of your depth. The process of forging your own piece of jewelry has been distilled down into a series of steps so smooth that anyone can be led through it. Each item can be made within three hours, and under the expert guidance of Kinjo's staff, you are guaranteed to come away with a precious treasure. (Note: At present, Kinjo doesn't offer classes in English, so make sure that someone in your group can understand Chinese.)
During the sessions, customers are guided through texturing, stamping, annealing (heating the metal until it's soft), trimming, and finishing the piece. Many customers choose to fashion something unique, like the popular "coord" ring, which can be stamped with the coordinates of a meaningful location, or a simple band embellished with a laser-cut replica of a loved one's fingerprint.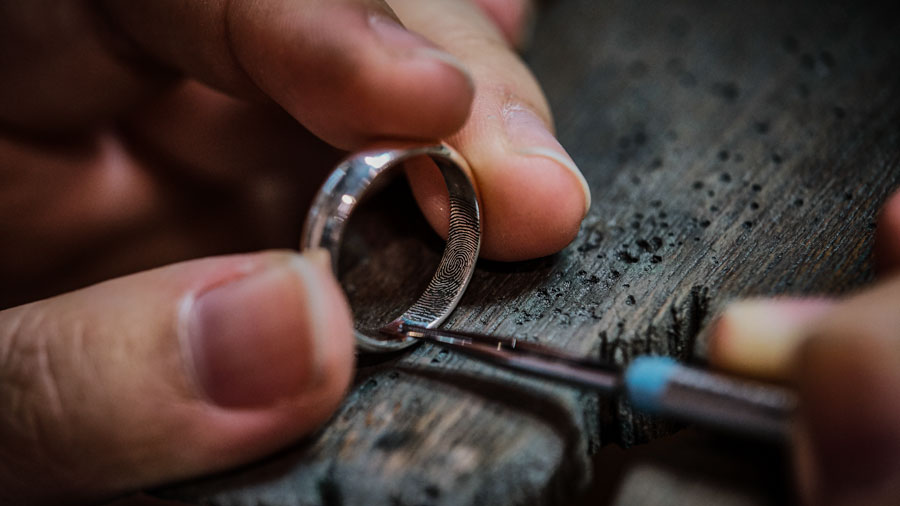 Kinjo's workshops can be found in Taipei City's Shilin District (close to Chiang Kai-shek Shilin Residence) and Xinyi District (one in Songshan Cultural and Creative Park and one in Shin Kong Mitsukoshi Xinyi Place), New Taipei City's Banqiao District (within the Mega City mall), and Taichung City (inside the Top City Taichung mall). Each location seats around a dozen crafters, so the staff is able to keep an eye on everyone. And those who come with a group don't need to worry about some finishing earlier than others, since each branch has a little staging area with lights and props set up so that you can stay busy taking studio-esque shots of your creation to share with friends. All that's left to do then is to don your new treasure and wait for the compliments to roll in!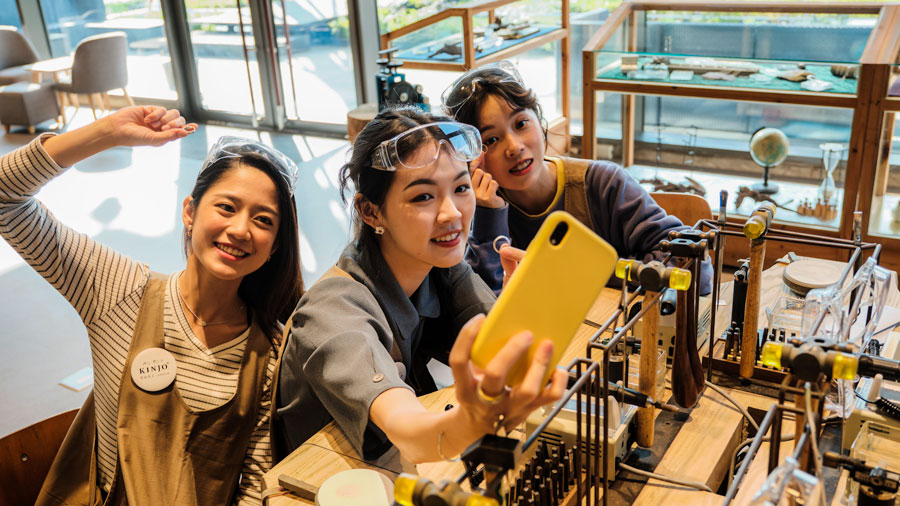 Kinjo Shilin Flagship Store
(草山金工官邸總店)
Tel: (02) 2883-5797
Hours: 12 noon ~ 8pm (DIY courses start at 1pm and 4:30pm)
Add: No. 522, Sec. 5, Zhongshan N. Rd., Shilin District, Taipei City
(台北市士林區中山北路五段522號)
Website: www.kinjo.co (Chinese)