The Joys of Hot/Cold-Spring Soaking in Northeast Taiwan
TEXT / RICK CHARETTE
PHOTOS / RAY CHANG, VISION
It's time to soak it up in Yilan County, which though only an hour-plus from pulsating Taipei by motor vehicle lives at a pace far more relaxed than in the capital. Immerse yourself in health-enhancing mineral-water experiences all around the county, in facilities ranging from no lucre outlay to 5-star lucre outlay.
Before diving into this article, take a second to take an astronaut-angle look at Taiwan using Google's satellite view. The deep lines shown in the ocean off the island's east flank, matching up so symmetrically with its thick lines of sky-reaching mountains, reveal the hyperactive tectonic activity going on. A key beneficial result – hot springs all over the place, from high up in the mountains to right down by the coast.
Taiwan's hot-spring density is even higher than that of Japan, so synonymous with refined hot-spring culture. It was the Japanese who brought love of soaking to Taiwan when it was a colony of Japan 1895~1945.
Yilan County's heart is the high-yielding Lanyang Plain, framed by mountains north, south, and west and facing the Pacific. The county lays claim to its own fair-share bounty of hot springs (cold springs too!), experienced in every form from 5-star hotel luxury trappings to free public outdoor foot baths.
Jiaoxi Hot-Spring Hotels
Vivir Jiaoxi
The town of Jiaoxi is on the northwest side of the Lanyang Plain triangle, tucked up neatly against the base of the mountains. There is a forest of hot-spring hotels here – 30 years ago these were predominantly modest mom-and-pop operations, but since then the town has become a fountain of taller structures, with chic new works of architecture constantly springing up.
Vivir Jiaoxi stands among the new crop of modest-height boutique hotels that seek to blend in more seamlessly with the town's natural environs. Opened just under two years ago, it's situated in the back of the town just two blocks from the mountain base, in a quiet area away from Jiaoxi's tourist-busy commercial streets closer to the railway station. There's a large park area with dense forest cover right next door.
The hotel is intended as a Zen work of art, and the interior design, décor, and services present the guest with a Zen-like oasis of peace where you "discover the essence of serenity and tranquility." A thick line of bamboo stands outside the hotel on its street-facing sides, and the entire façade of the seven-story building save the rooftop level is covered in bamboo stalks cut in half, creating a mountain bamboo forest-like initial view.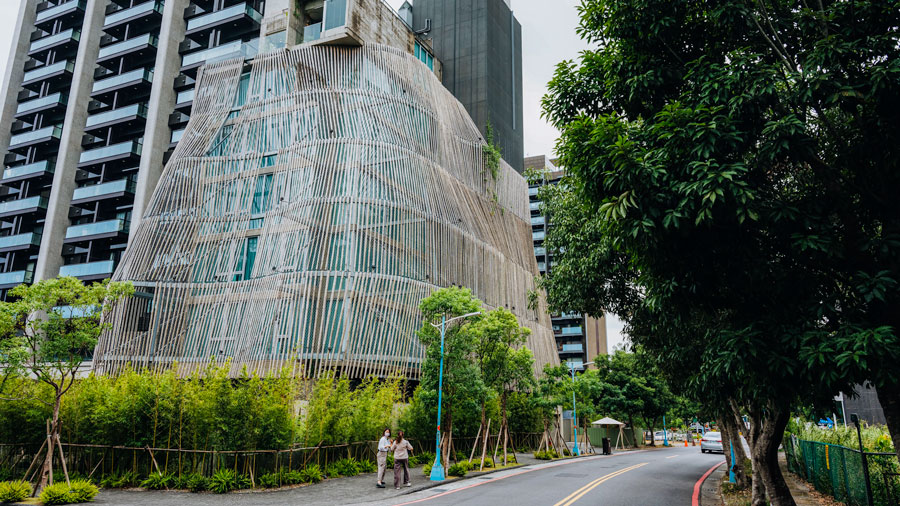 Entry is not via the ground level, but via an alfresco ramp to the B1 level; the ramp area has been given a grotto-like ambience, with the concrete wall close to the street shaped to look like a bamboo forest, water gurgling down it to create a waterfall effect with pool at bottom. You pass an open-façade art gallery (showcasing Yilan talent) to enter the subterranean check-in area.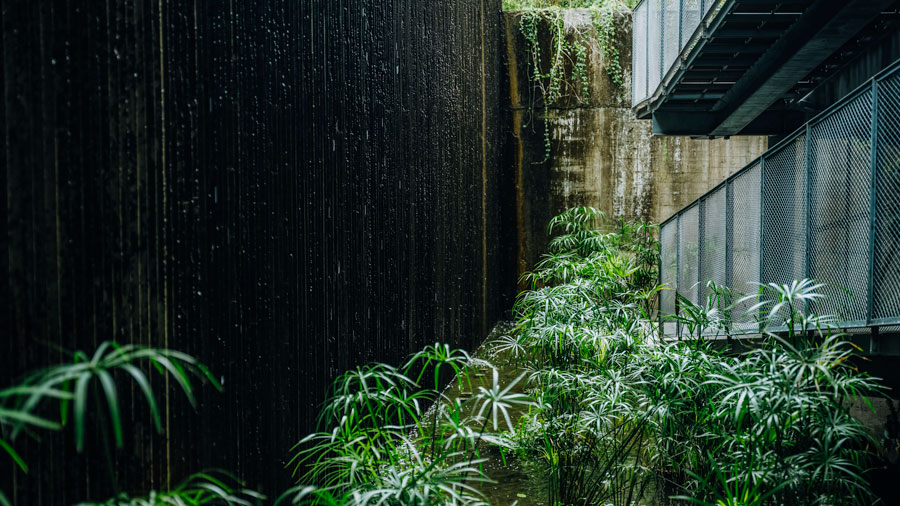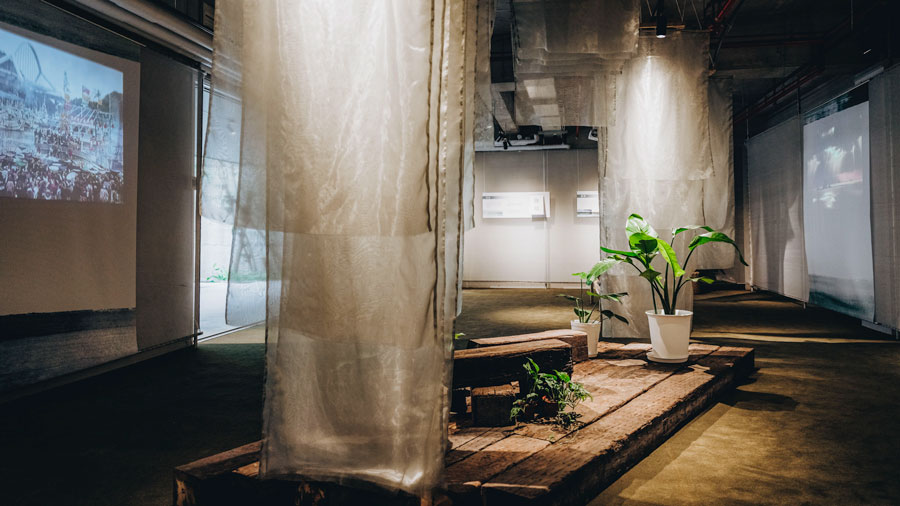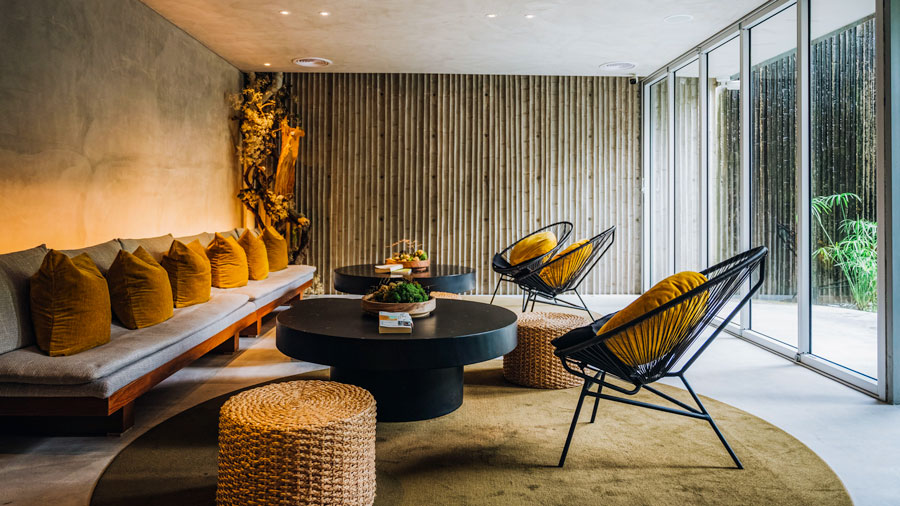 On the ground level is the restaurant Habitat, where you'll be enjoying your complimentary breakfast. Local ingredients are center stage. It has been designed to resemble a secluded cave, one sun-inviting end full glass, and its curving ceiling is contoured mimicking Yilan's famed Turtle Island, indeed resembling a giant turtle.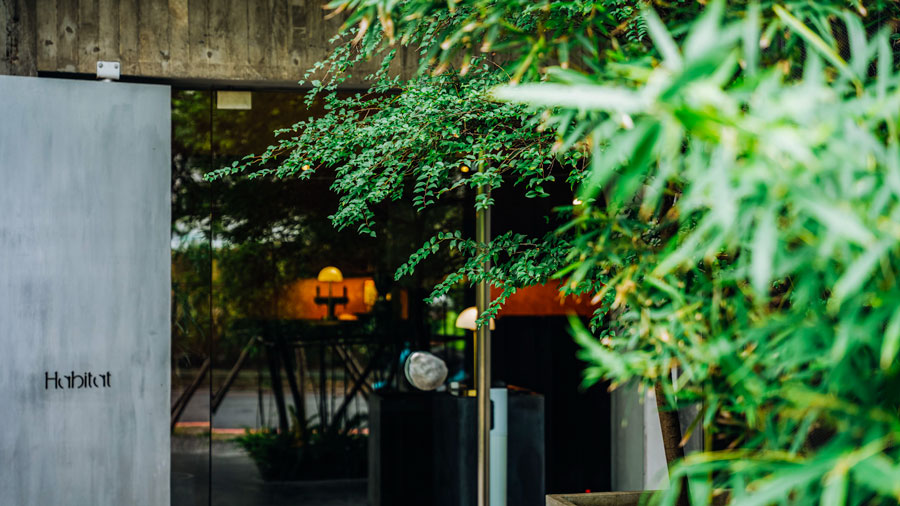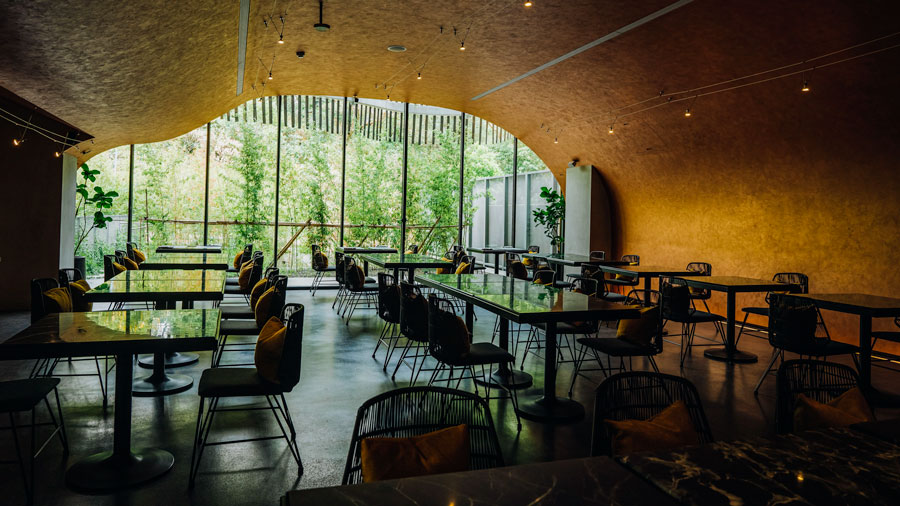 The 31 modern-design rooms all feature Yilan nature-celebration décor themes – River, Forest, Hills, etc. – and have a Japanese-style bathroom with commodious stone hot-spring tub, many of which come with exterior view.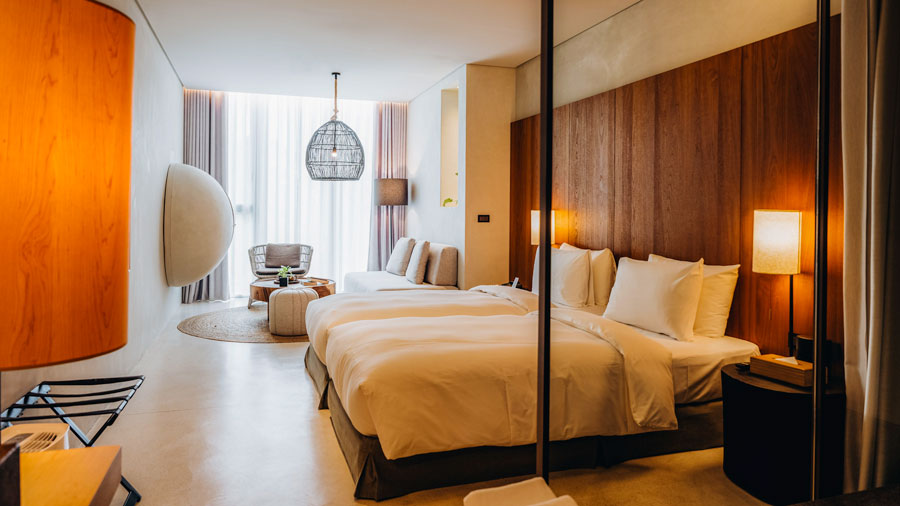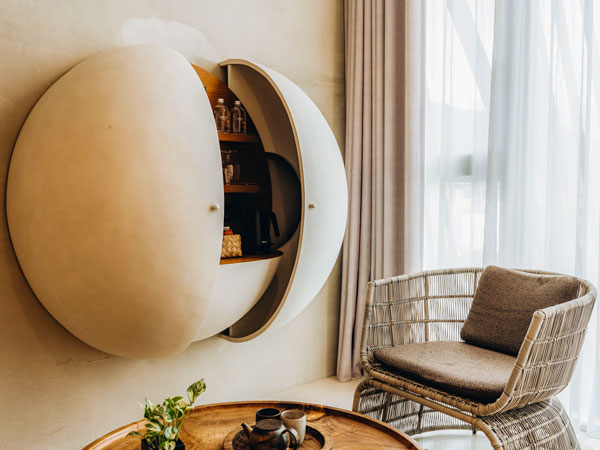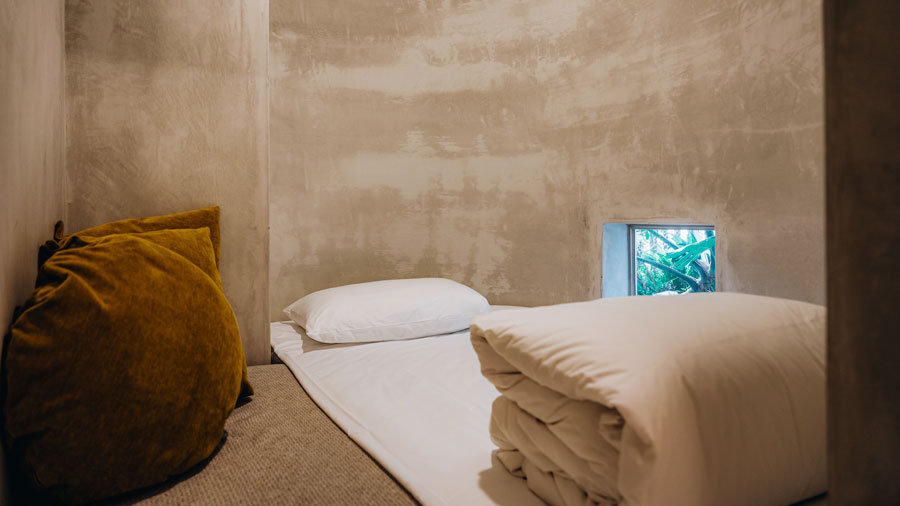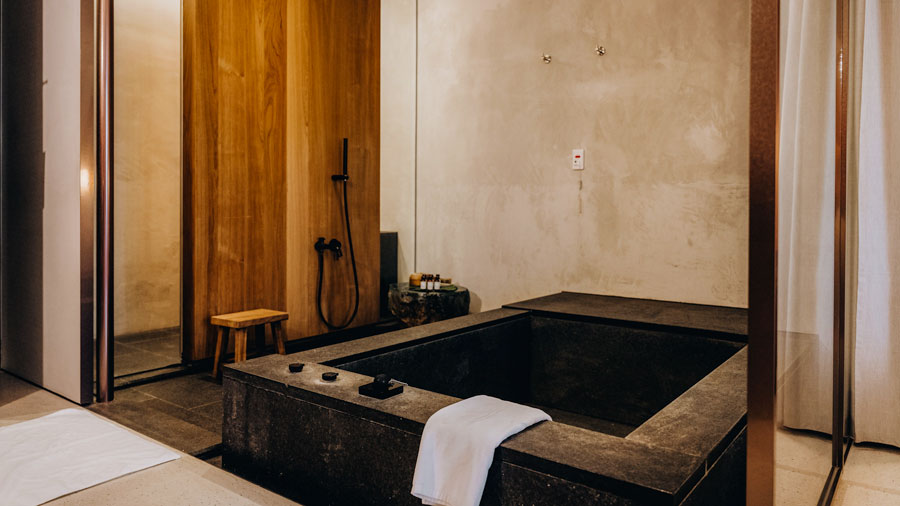 The single Sunrise room, on the roof level, also has a small outdoor pool.
Readying itself for the expected influx of overseas tourists as Taiwan declares entry into the post-pandemic era and throws open its borders once again, Vivir is composing a slate of guided outings shining a spotlight on local Yilan life – DIY traditional-style dyeing, springtime nighttime firefly-spotting forays, popular local trail outings, and so on.
Vivir Jiaoxi
(了了礁溪)
Tel: (03) 987-1111
Add: No. 70, Gongyuan Rd., Jiaoxi Township, Yilan County
(宜蘭縣礁溪鄉公園路70號)
Facebook: www.facebook.com/vivir.jiaoxi
Instagram: www.instagram.com/vivir_jiaoxi
Website: www.vivir.com.tw
Hotel Royal Chiaohsi
Since its opening in 2005, the elegant Hotel Royal Chiaohsi has been queen of the Jiaoxi hot-spring hotel ball. It's positioned just outside the town atop the lip of a narrow mountain valley that spills out onto the Lanyang Plain. The valley floor is higher, thus providing a tremendous sweeping view of the plain and iconic Turtle Island, far out to sea, from the hotel's high-ceilinged, glass-wall View Western Restaurant, east-side rooms, and various outdoor pools.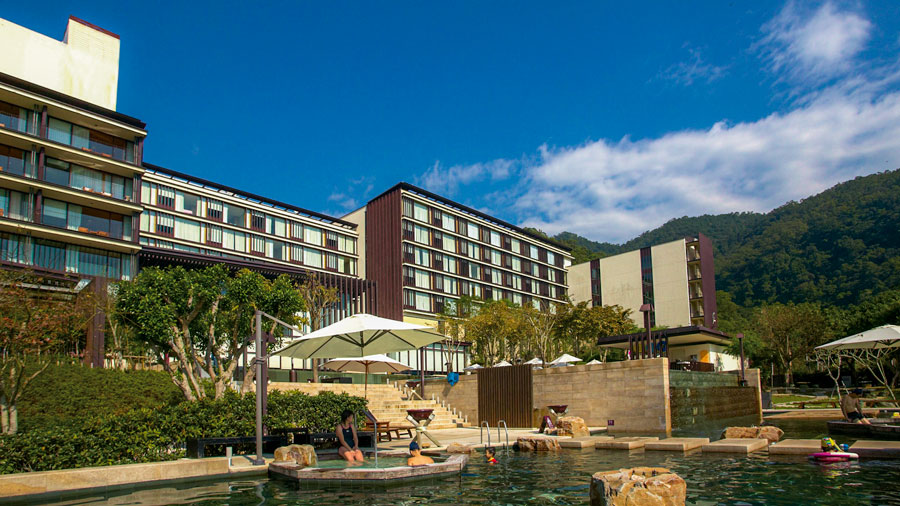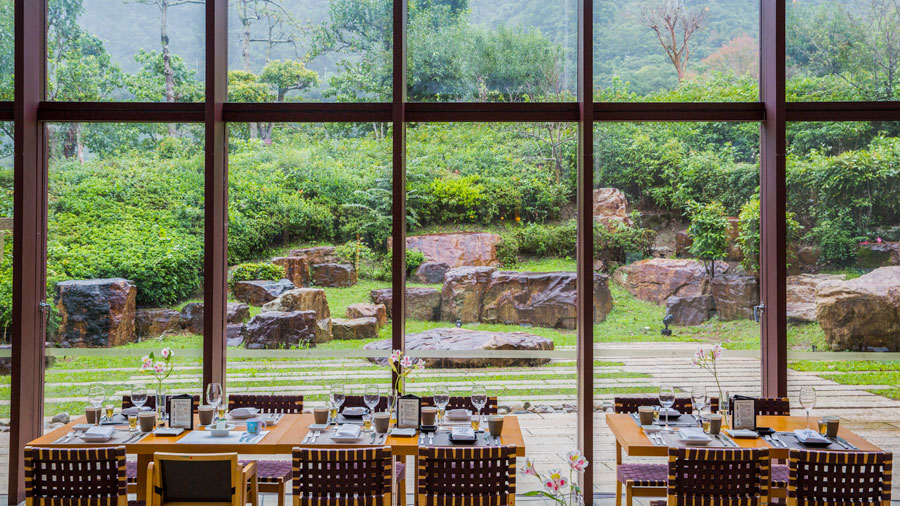 The exterior has a modern, art deco theme, but most rooms (200 in total) and many other facilities have a Japanese minimalist look (Western styling is offered in other rooms). Traditional Japanese yukata bathrobe attire is provided, and many guests move about the hotel in this comfortable clothing, even at meals, this getaway having a cozy hidden-away-from-the-world feel. Each room has a stone mineral-bath tub, looking out over valley or plain, and the Japanese-theme outdoor spa complex set out before the View restaurant is tiered, like a cascading waterfall. There are also Japanese-theme indoor spa facilities.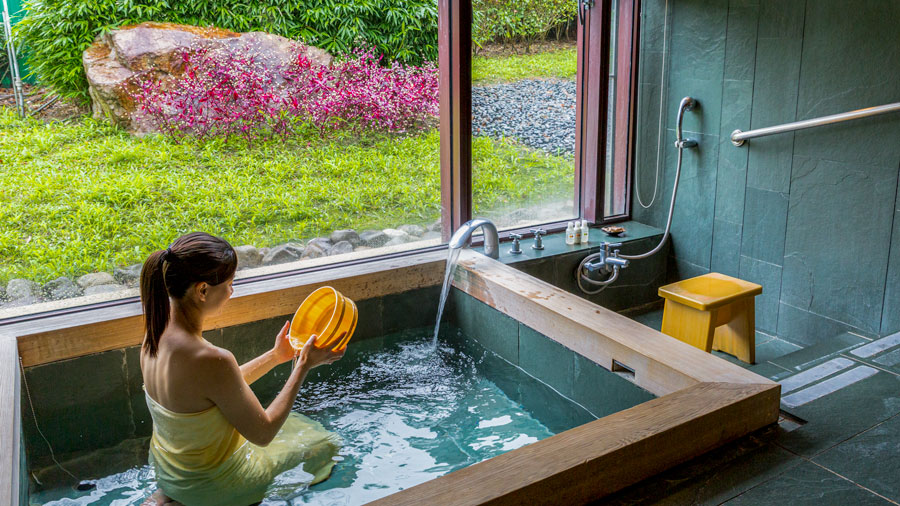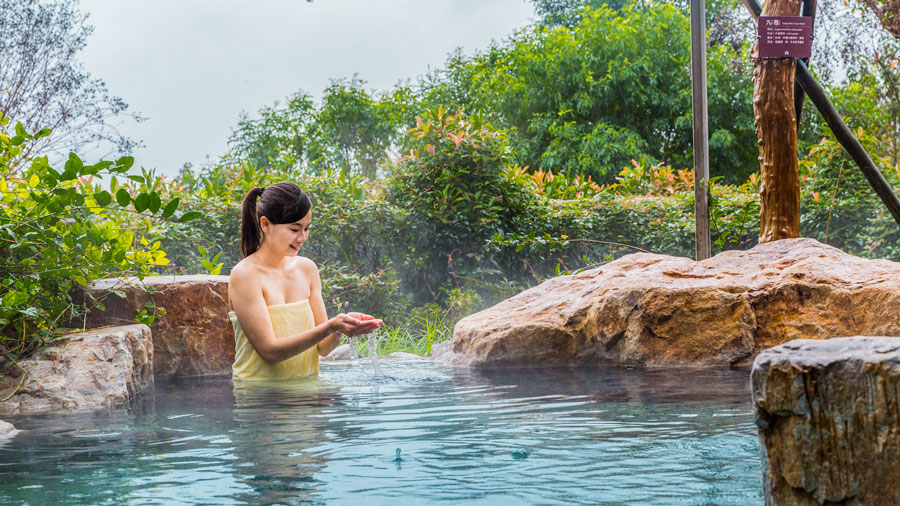 The list of other perks to explore, far too extensive to fully sketch out here, includes exercise/games facilities, DIY classes, plus free nighttime cultural-arts shows and guided morning walks on many-trodden up-valley trails.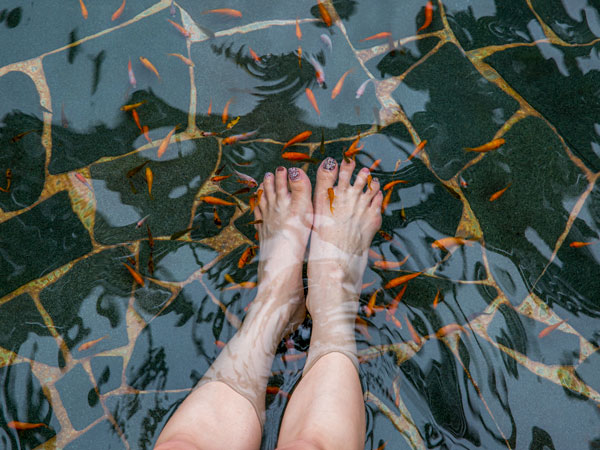 Hotel Royal Chiaohsi
(礁溪老爺酒店)
Tel: (03) 988-6288
Add: No. 69, Wufeng Rd., Dazhong Village, Jiaoxi Township, Yilan County
(宜蘭縣礁溪鄉大忠村五峰路69號)
Facebook: www.facebook.com/hrjhotel
Instagram: www.instagram.com/hotelroyalchiaohsi
Website: www.hotelroyal.com.tw
Places of Interest in Jiaoxi
Tangweigou Park
Jiaoxi is laid out on a gentle slope, high point at the mountain base. The east coast railway line runs along the slope base where the flat plain is met. The town's two busy commercial streets are just up-slope, running parallel. Jiaoxi's colorless, odorless hot-spring waters are not piped down from the nearby mountain area; they percolate up on the slope from underground springs.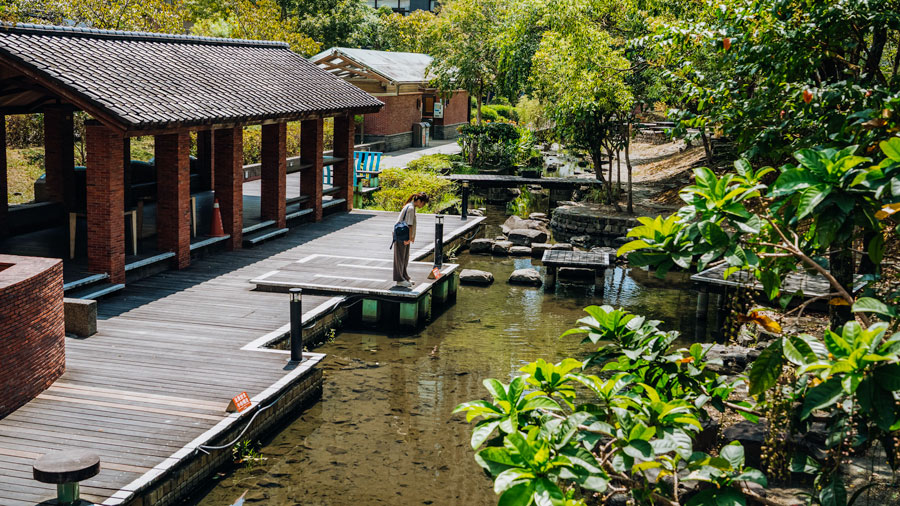 The entrance of the very narrow two-block-long Tangweigou Park (also named Tangwei Brook Park) is on one of the town's two main commercial thoroughfares, Jiaoxi Road. All about are tourist-targeting retail outfits, including one selling chili-flavored ice creams. The well-manicured park is set up like a public promenade. In the lower section, the heated waters of the brook that flows through the park are used in free public open-air foot baths. In the mid-section is a public bathhouse with separate pools for men and women (fee), and in the upper section is a spa facility with private soak rooms (fee).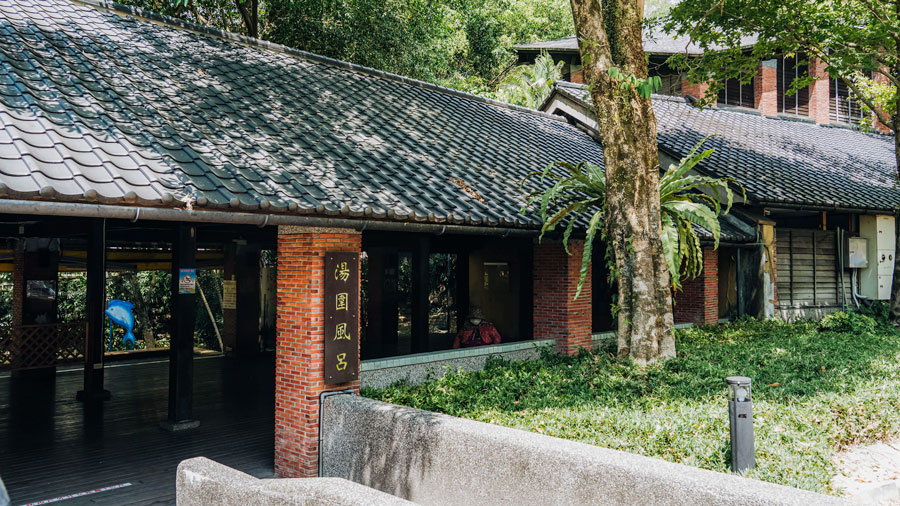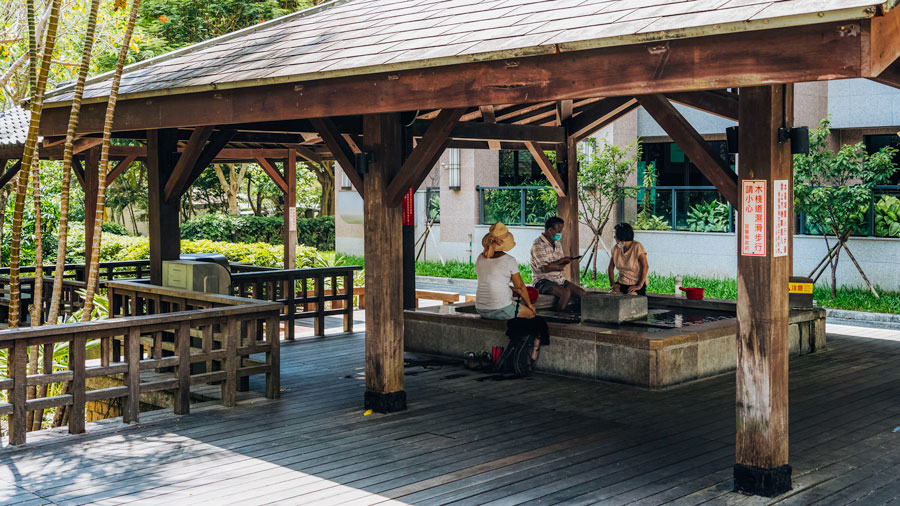 Tree Spring Fish
Ever dreamed of receiving a pedicure from a fish? Jiaoxi is the "fish foot spa" of Taiwan. At numerous inexpensive establishments in town, patrons place their feet in shallow pools of clear water filled with fish of various sizes. The fish come to work on your feet, nibbling, gumming, sucking, plucking off dead skin and whatever else that can be taken away. Beyond your appendage pedicure, it's claimed this practice, popular around Asia, reduces foot odor, helps with athlete's foot, improves blood circulation, and so on and so forth.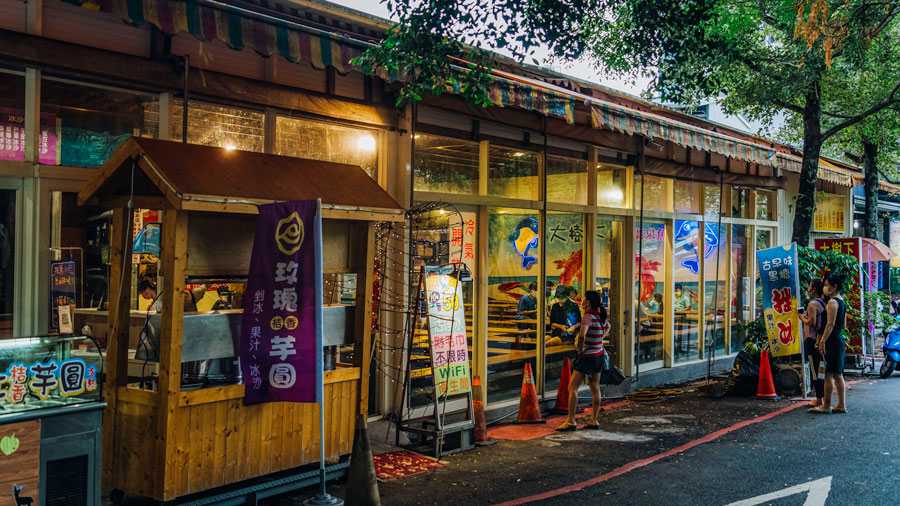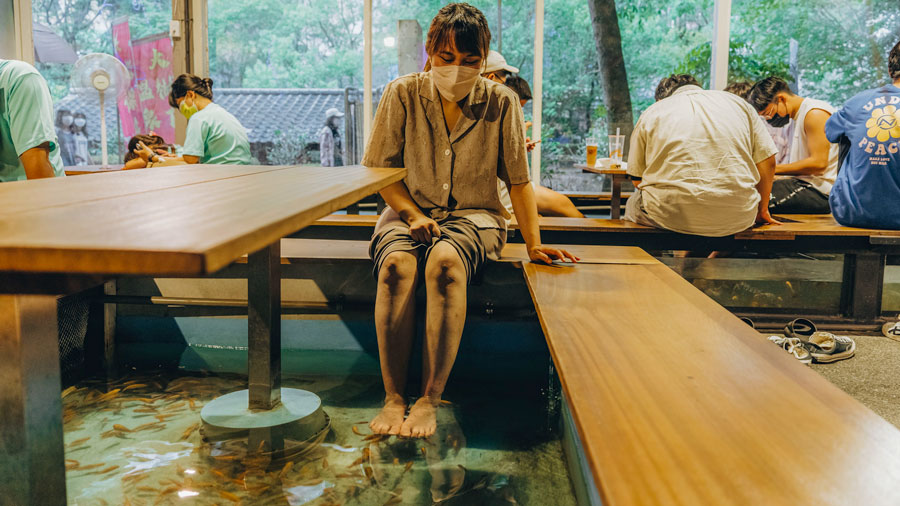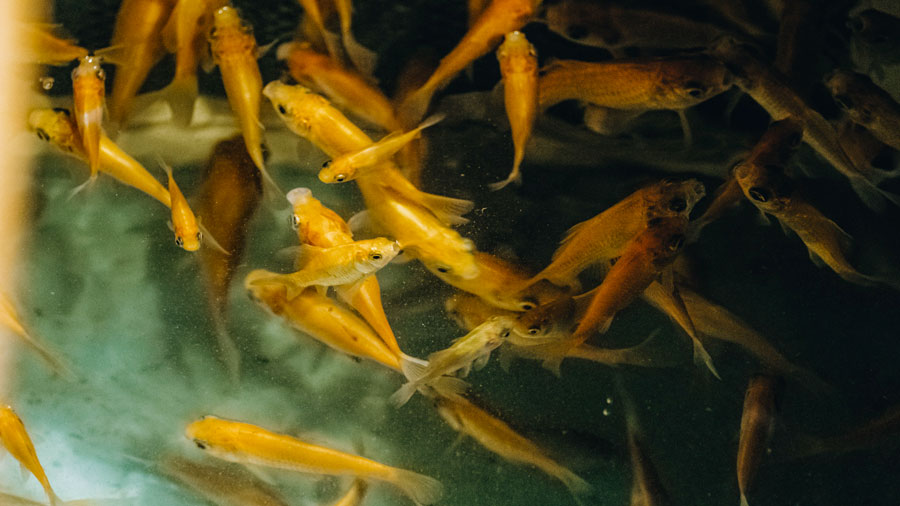 Single-story "Tree Spring Fish," sitting beneath large shade trees, is beside Tangweigou Park's foot-soak section (which has its own fish pools). Many Jiaoxi fish foot spas provide food and drink; here, picnic-table tops are fitted snugly over the small pools, on which you can place shaved-ice treats, slushies, fruit juices, coffee, tea, and cong you bing (scallion pancakes) while the fishies feast away in the hot-spring water.
Tree Spring Fish
(大樹下溫泉魚)
Tel: 0905-857-338
Add: No. 17-1, Ren'ai Rd., Jiaoxi Township, Yilan County
(宜蘭縣礁溪鄉仁愛路17之1號)
Facebook: www.facebook.com/treespringfish
Hot Spring Onion
This unique business is in a four-story building formerly home to a long-in-the-tooth hot-spring hotel, given a head-to-toe transformation by a team of artists and designers, creating what is self-described as "Taiwan's first bohemian artistic bathhouse." In Japan, young new owners are turning aged bathhouses into trendy hipster meeting spots; the owner wants to introduce this cultural innovation to Taiwan.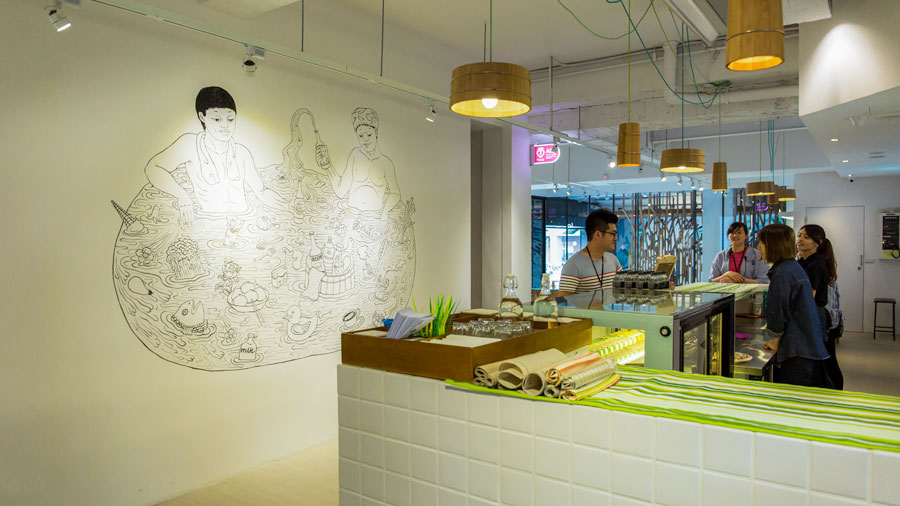 No public pools here, only individual rooms designed for two (discounts for solo soakers). Rooms have two spacious tubs or one extra-large tub, plus bathroom facilities. Larger rooms also have a Japanese-style sitting area, with wood floor and Japanese-style sitting cushions and low table. Each room has a special decorative theme – the "Hippopotamus" and "Jiaoxi Secret Places" rooms, etc. There is room service, dispensing non-alcoholic drinks and hot foods.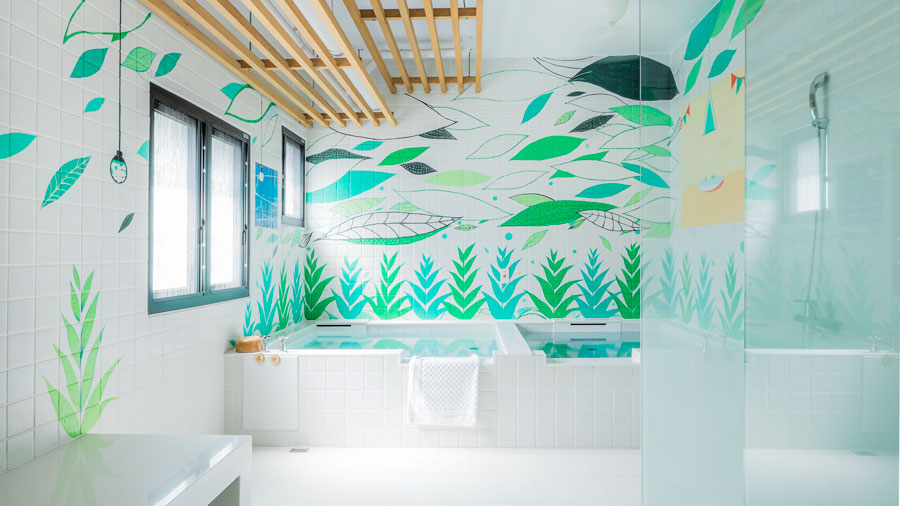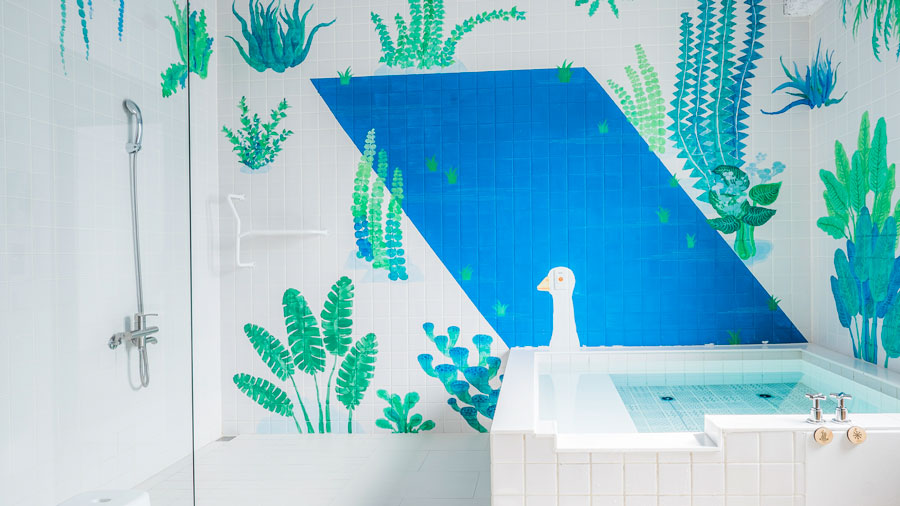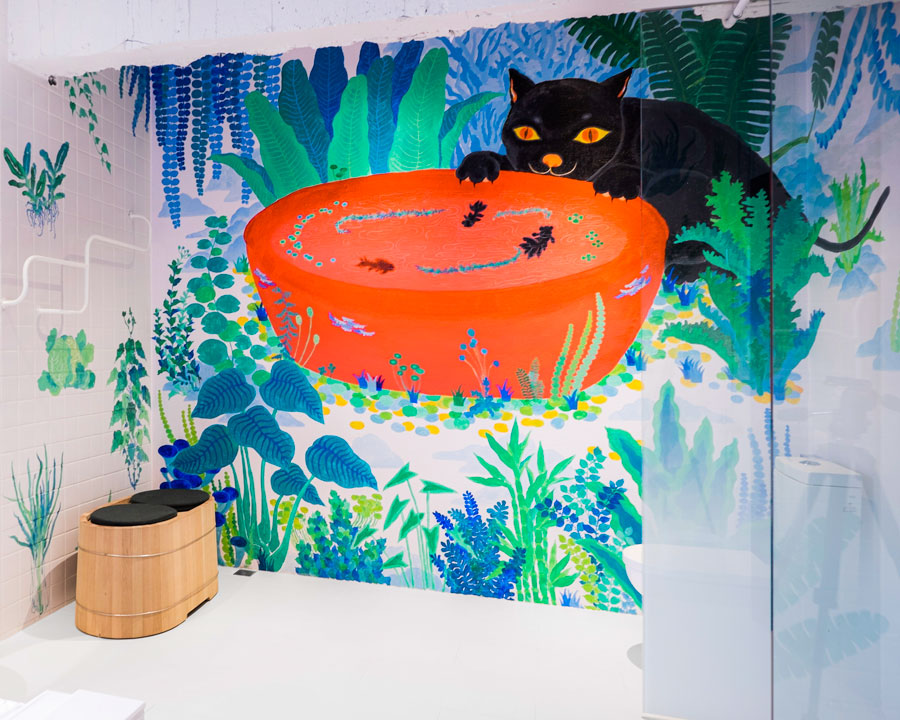 A house bar, open daily from 6:30pm, features live music. The menu has both alcohol/non-alcohol drinks and snacks such as Yilan peanuts, fish-egg kimchi, and boiled "hot spring" eggs.
The "spring onion" in the name honors Yilan's rich farming culture, particularly the celebrated Sanxing spring onion.
Hot Spring Onion
(蔥藻)
Tel: (03) 987-6929
Add: No. 77, Sec. 5, Jiaoxi Rd., Jiaoxi Township, Yilan County
(宜蘭縣礁溪鄉礁溪路五段77號)
Facebook: www.facebook.com/hotspringonion
Instagram: www.instagram.com/hotspringonion
Website: www.hotspringonion.com
Furo Café
Compact Furo Café is a pretty place with a bright-white façade and full-glass storefront portal providing an inviting look inside at the counter/kitchen area. You place your order and head up the steep back stairs to the second-floor dining area.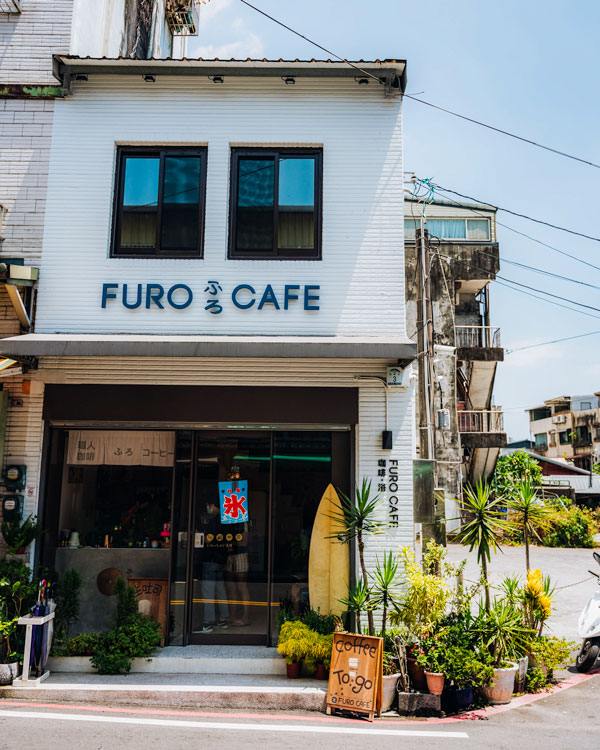 This is a Japanese-style café with many Japanese elements. "Furo" is Japanese for "hot-spring bath"; this is displayed in English and Japanese on the building front. All milk used comes from Hokkaido. The second-floor space is decorated to resemble a Japanese bathhouse, patrons along the room's sides looking into the faux pool waters of the painted floor.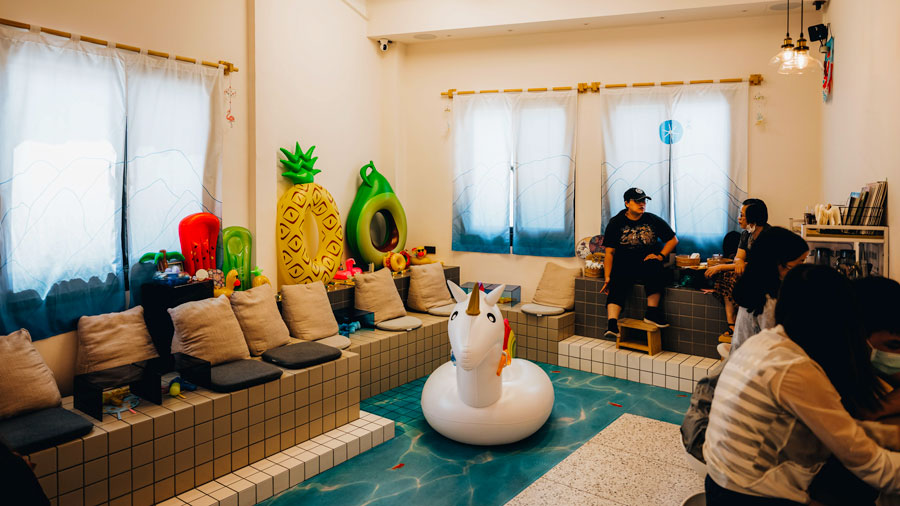 Beyond the coffees and teas/tea drinks, there are also cold, fruity "poolside" drinks. One recommended coffee drink is the coffee with plum wine, one "poolside" selection the Okinawa, a carbonated litchi beverage. The dessert treats are all handmade by a local patisserie master. The signature hot food is thick slices of toasted homemade bread with Thai milk tea, milk butter, and other spreads.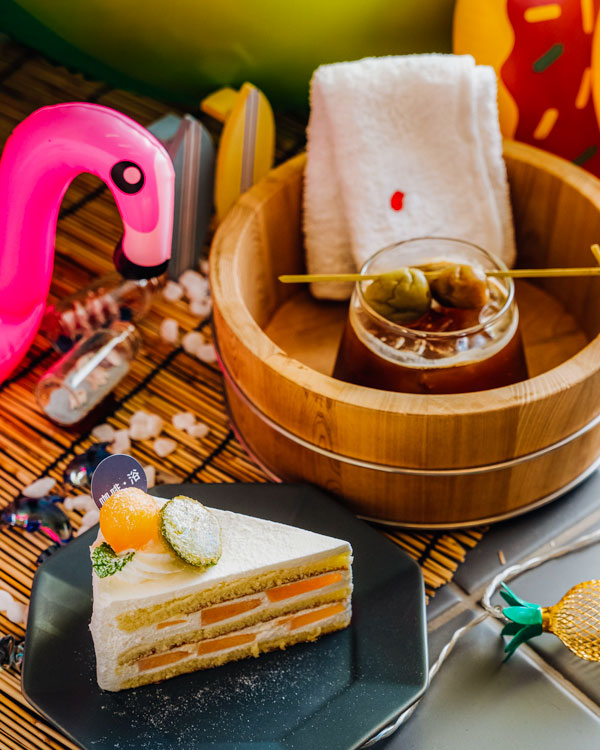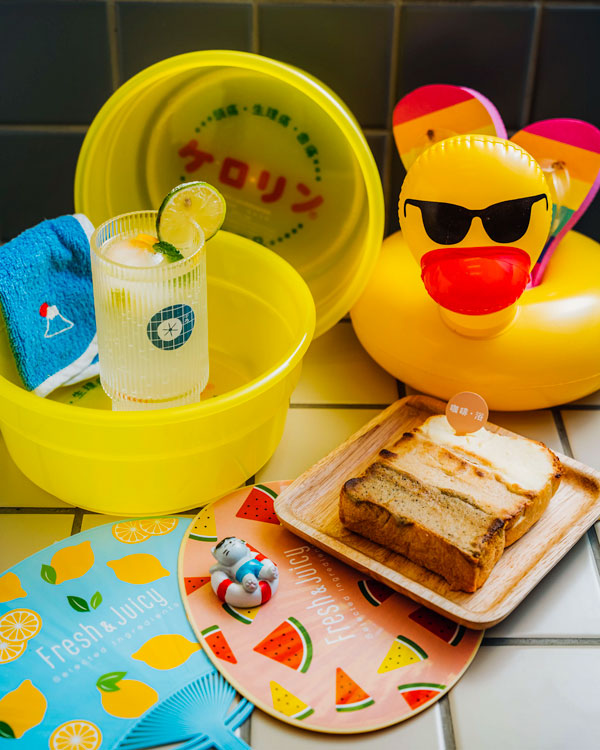 Furo Café
(咖啡浴)
Tel: (03) 988-8056
Add: No. 3, Deyang St., Jiaoxi Township, Yilan County
(宜蘭縣礁溪鄉礁溪鄉德陽街3號)
Facebook: www.facebook.com/furocafejx
Instagram: www.instagram.com/furocafejx
Su'ao Hot and Cold Springs
Lakeshore Hotel
The young, striking-façade Lakeshore Hotel is in the front, i.e., oceanside, section of Su'ao town, in the seaside mountains just beyond the Lanyang Plain's southeast corner. Directly before it is an unobstructed view (above the fifth floor) of Su'ao's big multifunction port, navy ships parked directly before it, loading/unloading ocean-plying freighters on the right, and busy, tightly-packed Nanfang'ao Fishing Harbor to the far right a kilometer or so away. Behind is a low mountain topped by a large radar station, which can be reached by the popular steep Qixingling Trail. (We'll visit both this trail and Nanfang'ao momentarily.)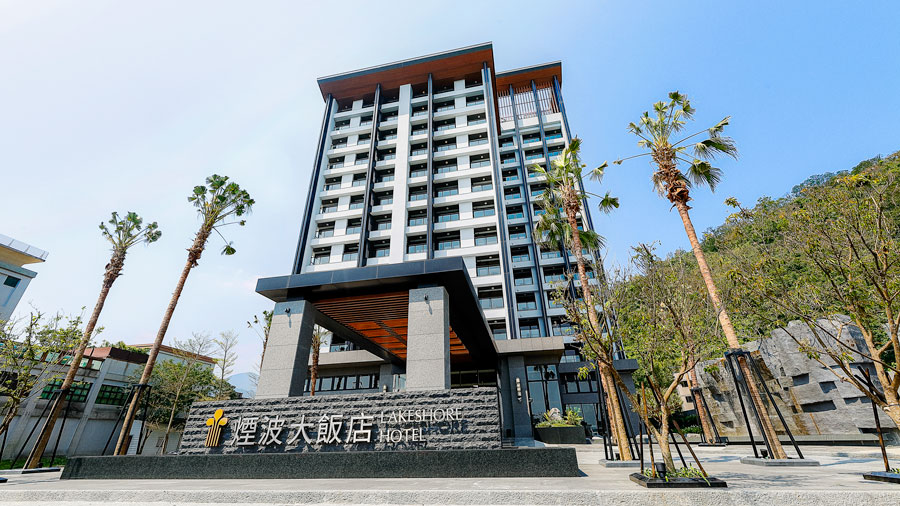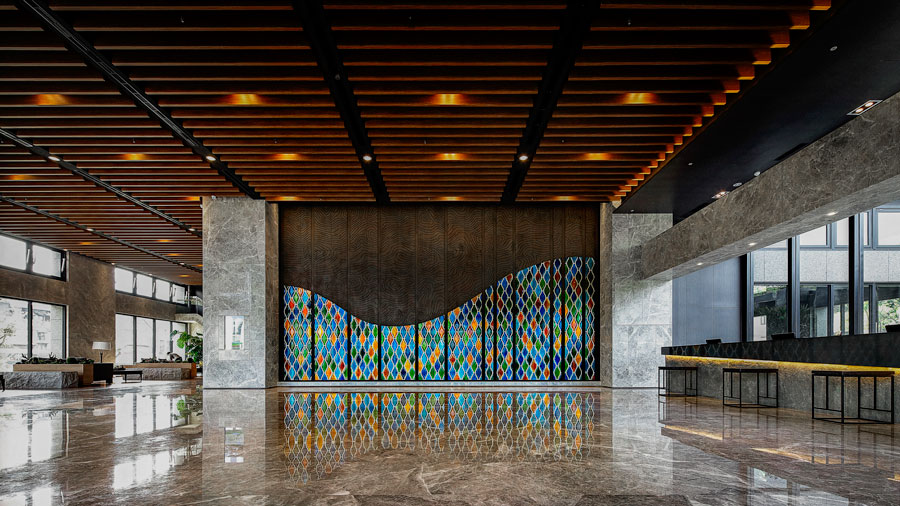 Both hot and cold mineral waters are piped into guestrooms – hot sourced deep underground, cold from the springs in the short valley behind the just-mentioned mountain, which is home to the Su'ao Cold Spring Park (also to be visited forthwith). Some guestrooms have an outdoor balcony and washroom/soaking room with floor-to-ceiling windows and two conjoined marble tubs, for hot and cold spring waters respectively. Ask for a room on the fifth floor or above, to ensure unfettered outlooks. The hotel décor, in guestrooms and public spaces, is stylish European modern, with liberal use of stone slabs and wood paneling.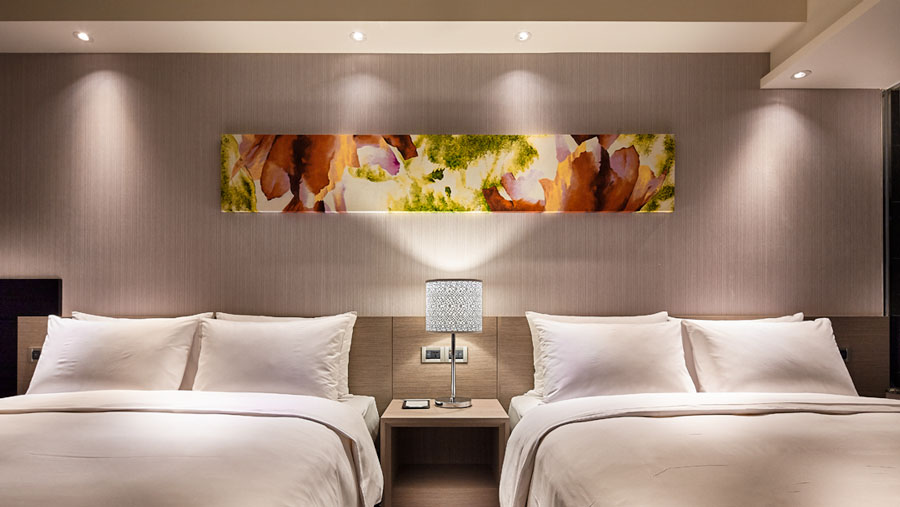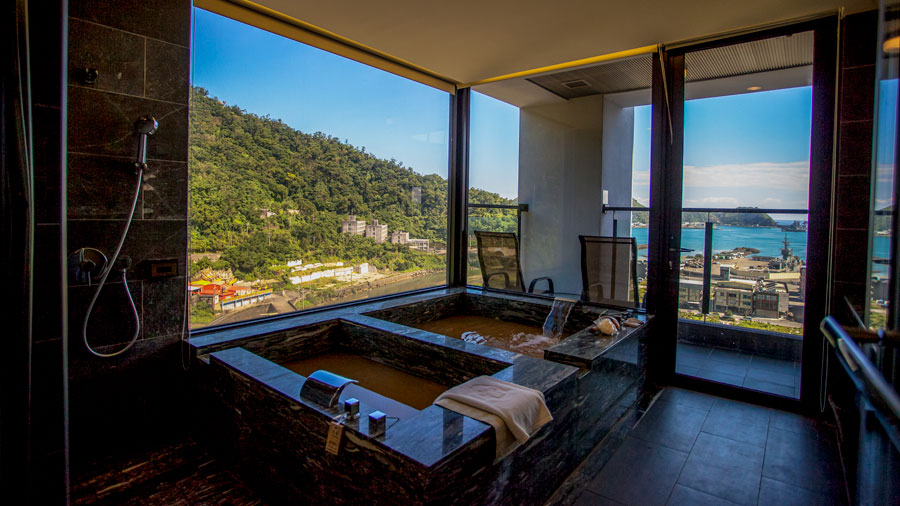 There is a mirror-like 132 sq.m. outdoor infinity pool, non-heated, on the highest full floor (one half-floor above this), with comfy patio lounge chairs. The unobstructed ocean-and-mountain panorama makes this an area popular with guests day and night, including at sunrise, when the glowing orb rises directly out beyond the port. There's also indoor hot-tub facilities on this level.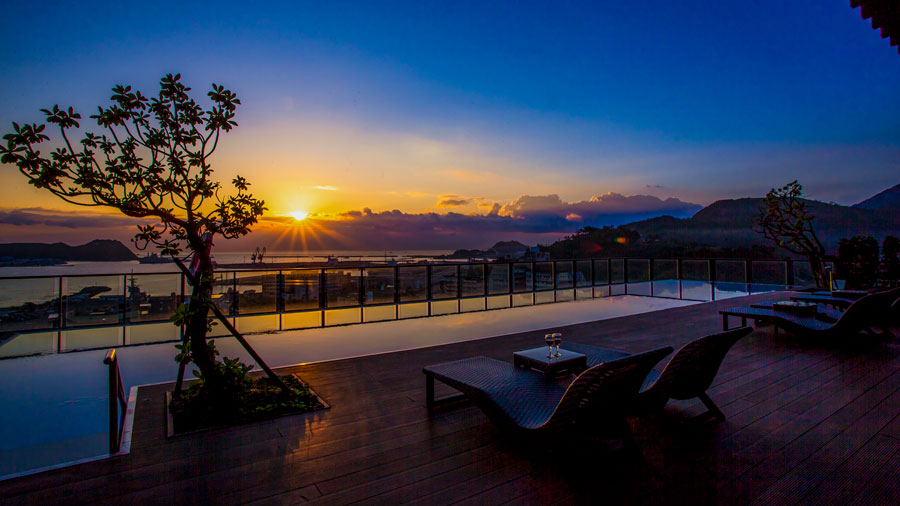 Other amenities include two sunny big-view reading rooms on the two highest levels, a well-appointed basement-level gym, and sun-drenched ground floor Chinese/Western restaurant. There are also "sunrise-chasing" and "wine tasting" activities, with gratis hot tea/warm snacks for the first and glass of fine wine for the latter. Special tours are also on tap, such as the guided Sunrise Canoe outing on Nanfang'ao's sea side (in kayaks, actually) and the Voyaging Local Temples and Fishermen's Life walking tour.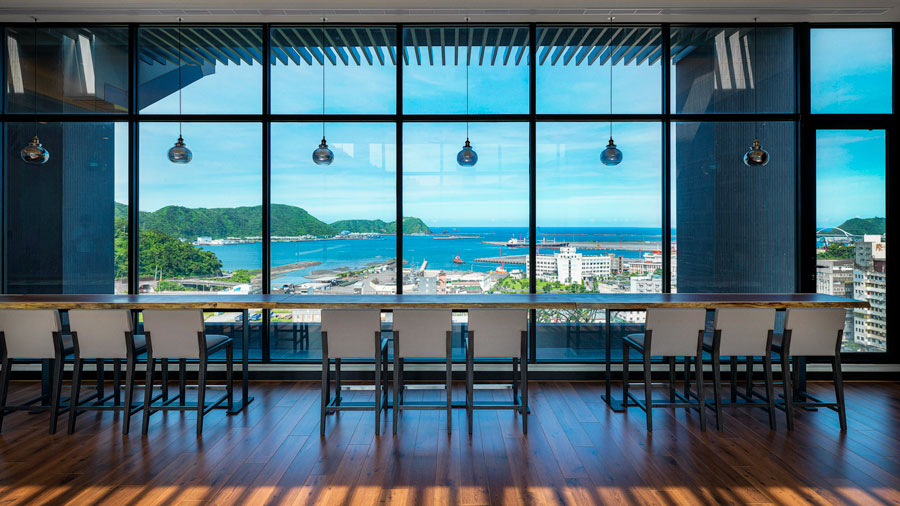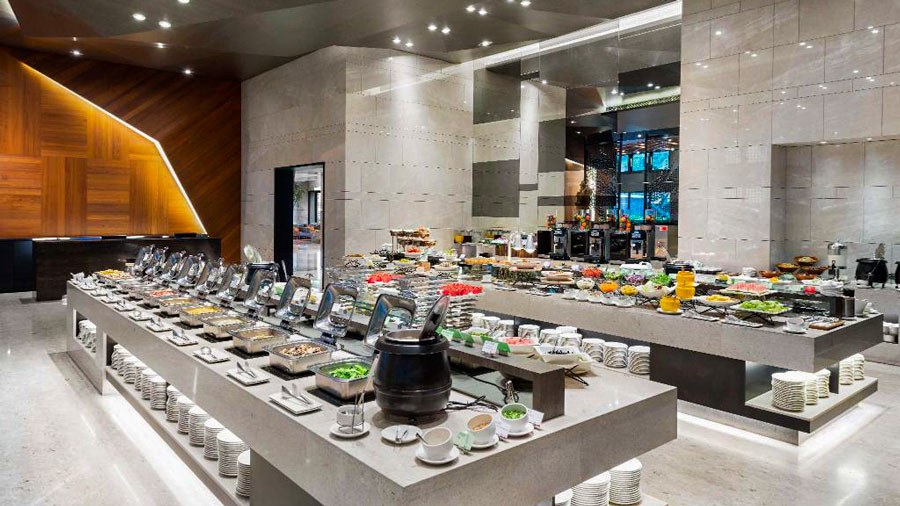 Lakeshore Hotel
(煙波大飯店雙泉館)
Tel: (03) 996-6600
Add: No. 38, Zhongzheng Rd., Su'ao Township, Yilan County
(宜蘭縣蘇澳鎮中正路38號)
Facebook: www.facebook.com/lakeshorehotel.suao
Instagram: www.instagram.com/lakeshorehoteltw
Website: suao.lakeshore.com.tw
RSL Cold & Hot Springs Resort Suao
This large hotel is in a section of Su'ao town tucked into a very short, high-walled dead-end valley – yes, the one mentioned above – that is also home to the lauded Su'ao Cold Spring Park. The valley is a font of both hot and cold mineral waters, former attained through deep drilling, latter bubbling naturally to the surface. The hotel compound, surrounded by privacy-ensuring high walls, has creamy-white Italian Renaissance-style buildings along the outside and, in the center, a courtyard outdoor water-enjoyment area.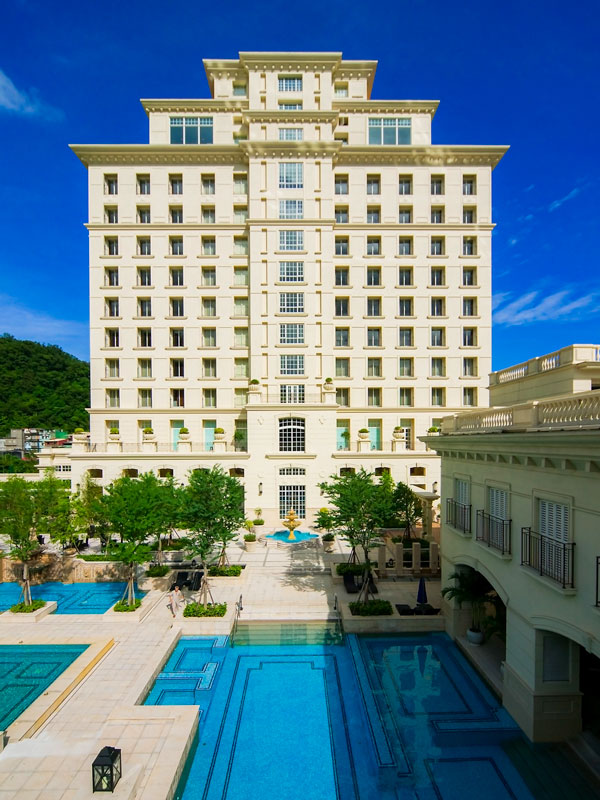 Guestrooms are in Japanese tatami style or classical European style, and have both hot and cold mineral waters piped in to their upscale spa tubs. The immaculate central courtyard is almost entirely taken up with pools, with both non-spring water and hot/cold mineral water. A large open-front villa looking out on the courtyard is also filled with mineral pools. Elsewhere, guests enjoy a massage/spa/aromatherapy center and separate male/female nude-bathing rooftop pools atop the tall main building.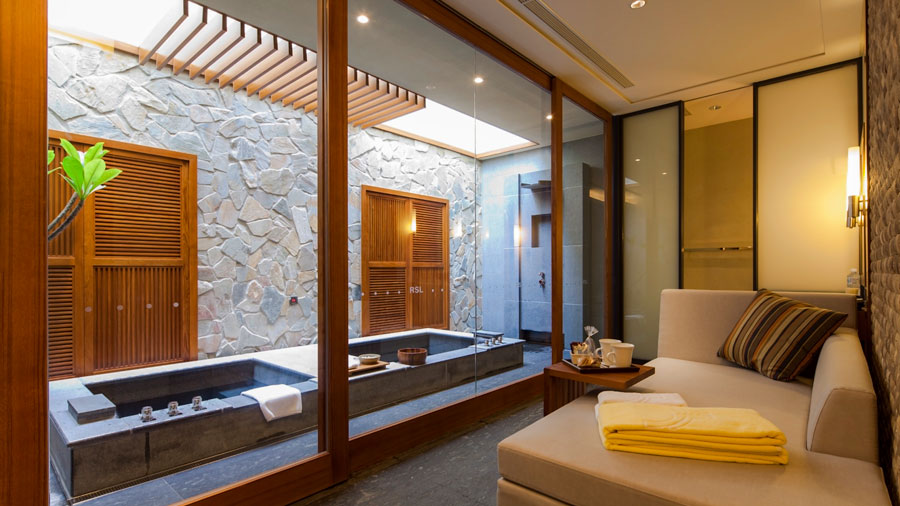 RSL Cold & Hot Springs Resort Suao
(瓏山林蘇澳冷熱泉度假飯店)
Tel: (03) 996-6666
Add: No. 301, Zhongyuan Rd., Su'ao Township, Yilan County
(宜蘭縣蘇澳鎮中原路301號)
Facebook: www.facebook.com/rslhotel
Instagram: www.instagram.com/rslhotels_suao
Website: suao.rslhotel.com
Places of Interest in Su'ao
Su'ao Cold-Spring Park
We're headed into the cold season now, perfect for warming hot-spring dunks, but in the steamy Taiwan high summer there's nothing better than a cold spring respite. The mountain-backed Su'ao Cold Spring Park complex, refurbished recently, is meant to resemble an ancient Roman open-air spa. There are free foot baths in the front area. Along the rear is a long, large pool below ground level (fee), with water deep enough for up-to-neck sitting soaks. The naturally bubbly carbonated mineral waters here, about 22 degrees Celsius, are a global rarity, the only other such cold spring found in Italy. During Taiwan's Japanese colonial period (1895-1945), Japanese merchants built the island's first soda drink factory next door, using the nature-provided carbonated waters, which are safe to drink.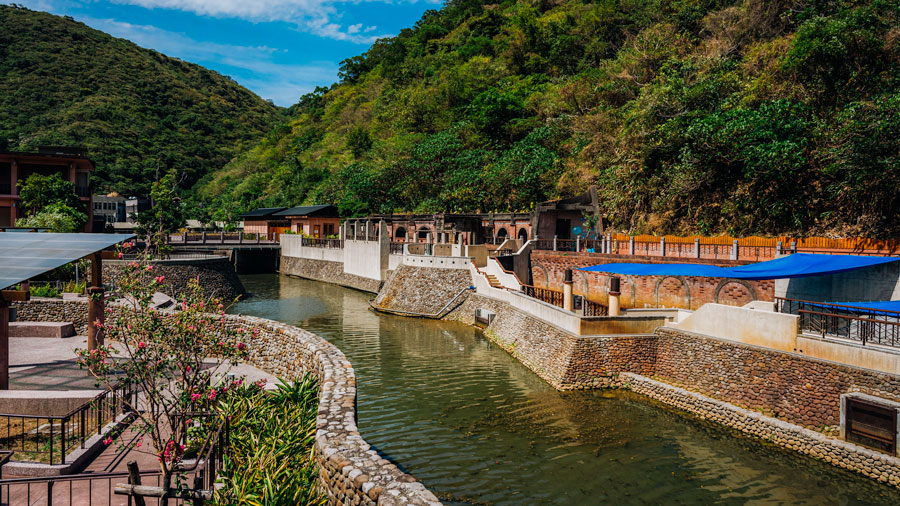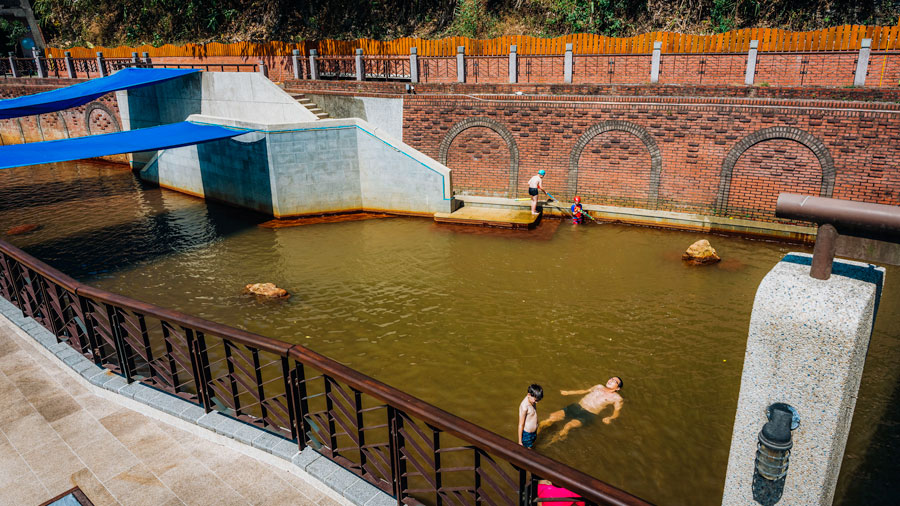 Suao Cold Spring Park
(蘇澳冷泉公園)
Add: No. 6-4, Lengquan Rd., Su'ao Township, Yilan County
(宜蘭縣蘇澳鎮冷泉路6-4號)
Alishi Cold Spring
This attraction, a short walk from the cold-spring park, is right beside the RSL hotel. Its design also evokes a Roman spa, and its waters are from the same source and around 22 degrees. There's a real community feel here. The long and exceedingly thin below-ground-level free public bath is cheek-to-jowl with the neighborhood's old, tightly packed residences, and locals young through old treat it as a neighborhood water park. The end sections are foot baths; the middle is deep enough for full-body soaks.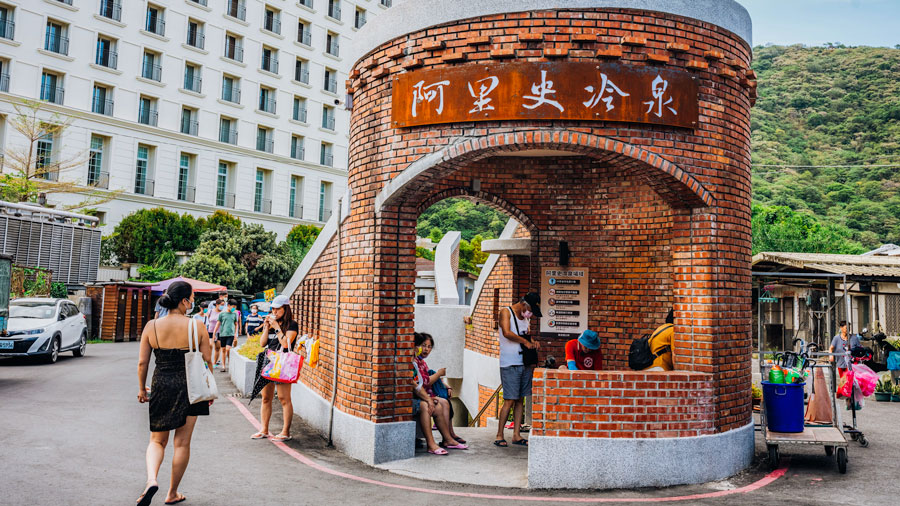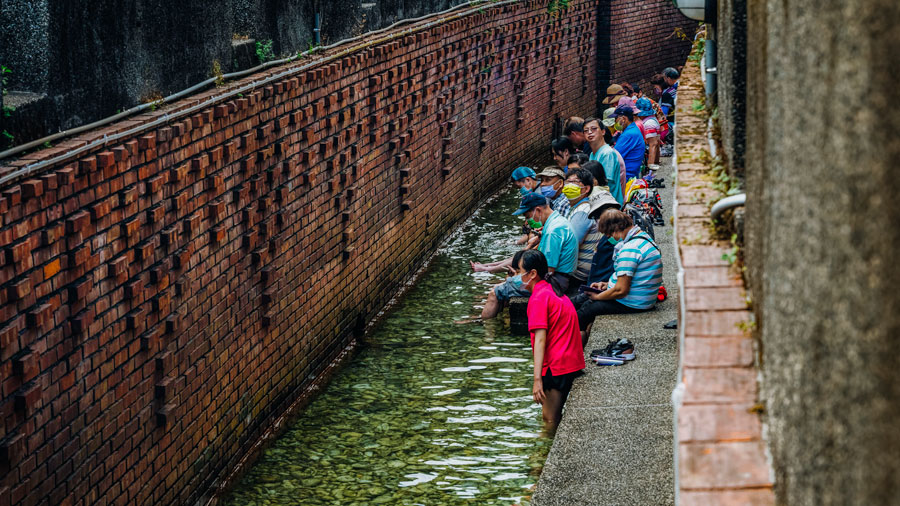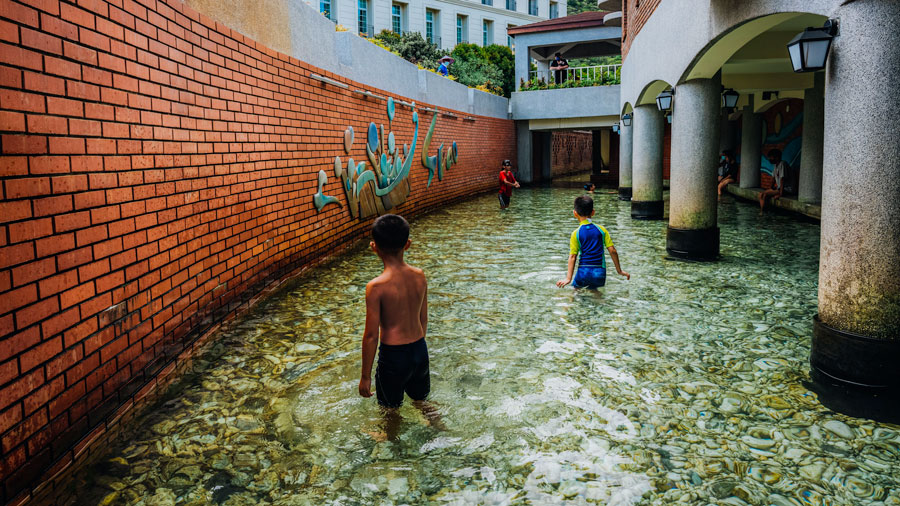 Qixingling Trail
The trailhead for this trek is right beside Su'ao Cold Spring Park's south entrance. "Qixingling" means "Seven Stars Peak." The trail, which is steep in sections and bedecked with well-maintained wooden stairs in said sections, is 4,750m long and has a maximum elevation of 270m. The highest and most photo-worthy Su'ao port/ocean/mountain panorama awaits at lookout no. 6, reached from the trailhead in a steep, steady 25 minutes, comely butterflies entertaining you throughout. If time allows, continue upwards about 10 minutes further, where your reward will be bird's-eye photo opps north starring the Lanyang Plain, central mountains, and iconic Turtle Island.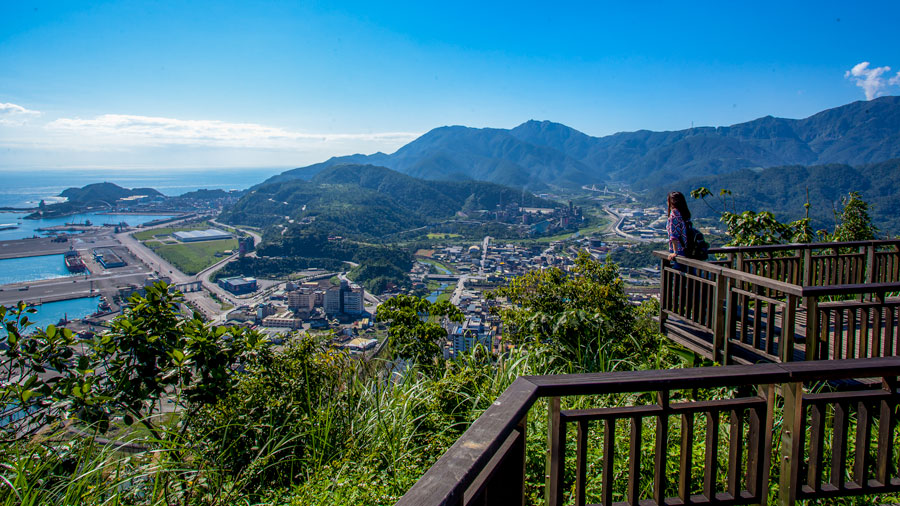 Nanfang'ao Fishing Harbor
Nanfang'ao, located immediately south of the Su'ao port, has three narrow side-by-side harbors, all dedicated to fishing craft and all impressively cramped when all boats are in. The harbors are hidden from the sea by a long arcing headland. "Ao" means "deep-water harbor," and "Nanfang'ao" translates literally as "south place deep-water harbor" – reference both to its position vis-à-vis Su'ao and position off the Lanyang Plain's southeast edge. There are numerous quality harborside restaurants specializing in, of course, seafood.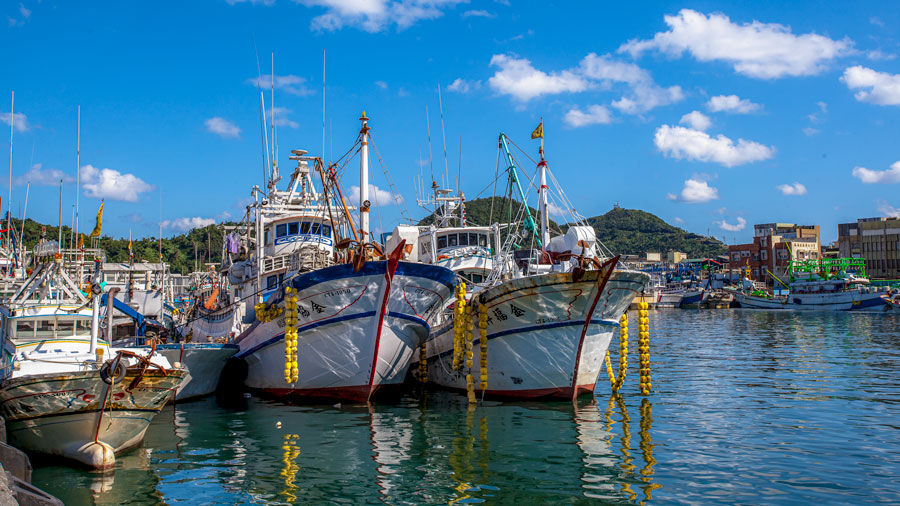 The largest craft use the outermost harbor, smallest the inner. While they provide a great visual cacophony, go to the unharmonious fish market at the middle harbor's mouth for visual, auditory, and olfactory cacophony. Boats are constantly mooring market-side to unload colorfully variegated catch for sale, all put on display dockside for buyer viewing.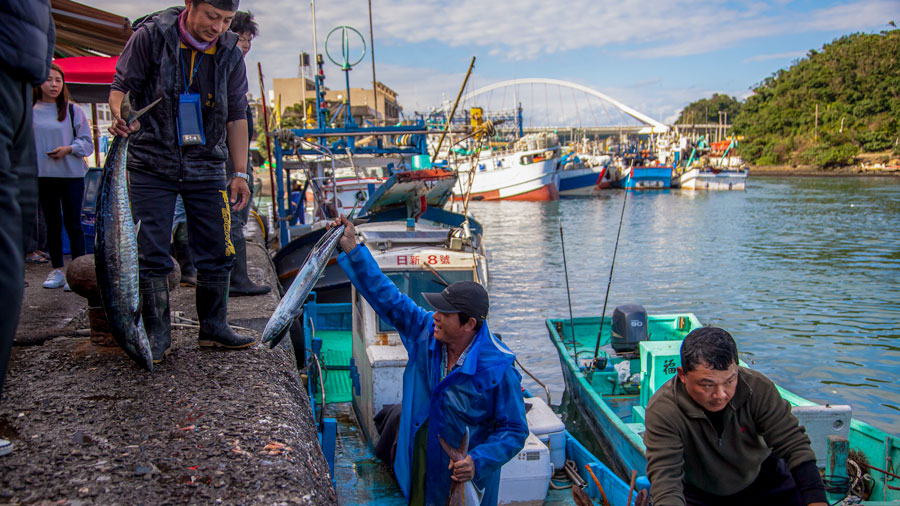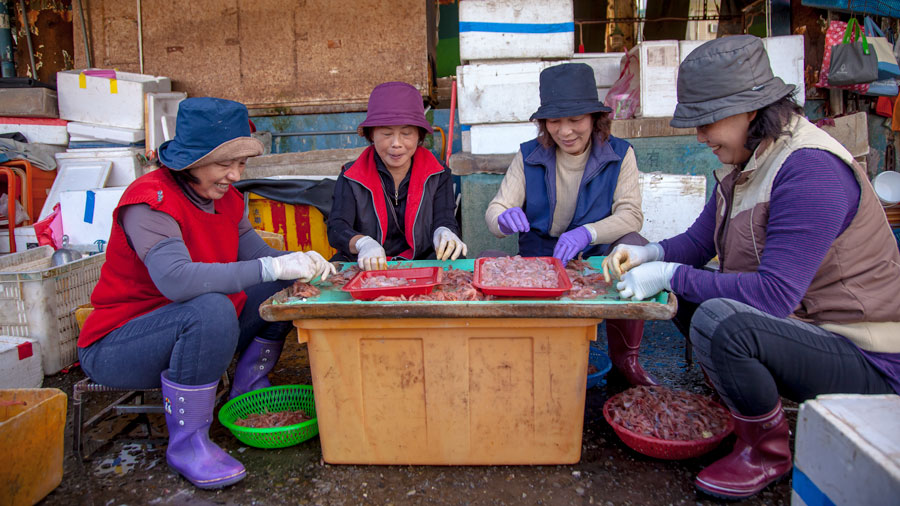 At the middle harbor's foot is the exuberantly ornate Nantian Temple, dedicated to Mazu, Goddess of the Sea, protector of seafarers. The local community decided to build the temple after, it's said, she saved Nanfang'ao fishermen caught out in a major storm in 1946.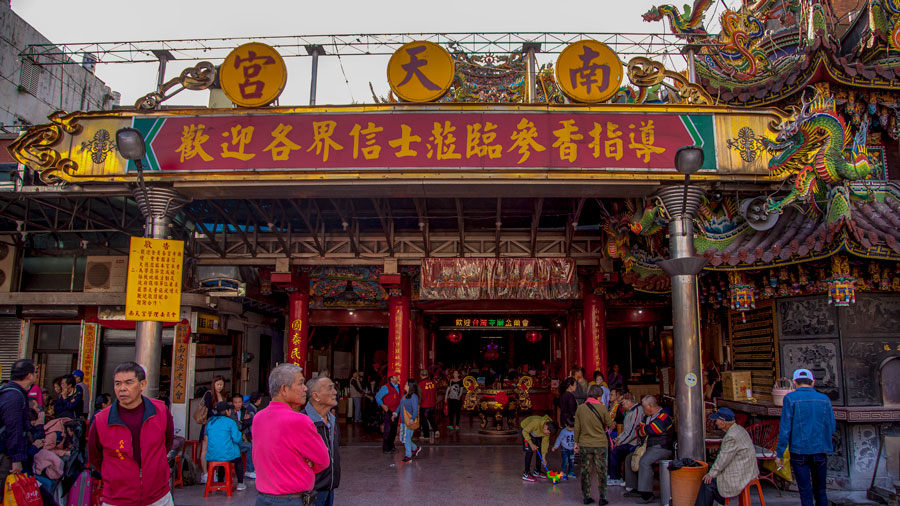 Another recommended local attraction is Neipi Beach, on the outside of the aforementioned headland, a wide, long, arcing sand/gravel beach overlooked by a cluster of chic bright-facade cafés and eateries.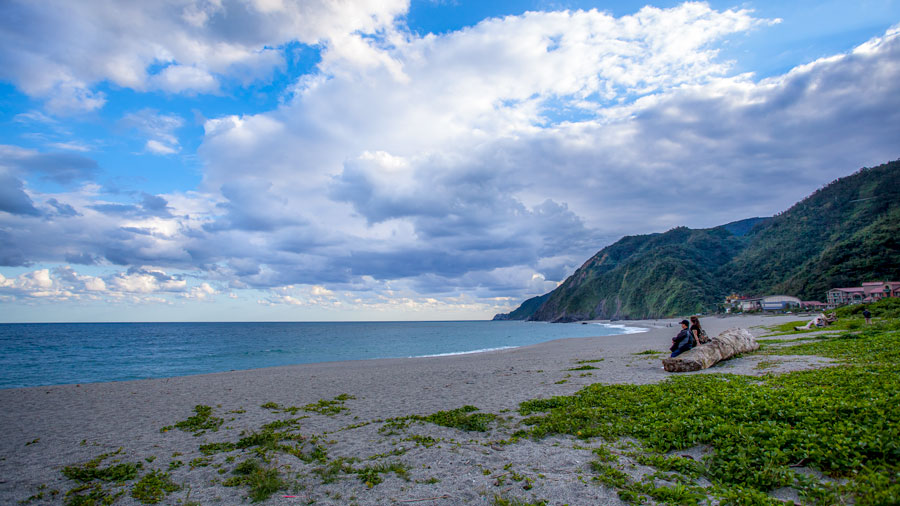 Hot Springs in Datong
Jiuzhize
Mountainous Datong Township lies just beyond the Lanyang Plain's southwest corner, the long, wide, ruggedly beautiful Lanyang River valley slicing through the center. The population is predominantly indigenous, from the Atayal tribe.
A drive well up the river valley brings travelers to the curvaceous road that hikes up toward the clouds and mountain-topping Taipingshan National Forest Recreation Area, one of the country's most popular such – site of a great logging station from the last century. Lower, near the recreation area's down-mountain ticket gate, is a side road to the Jiuzhize Hot Springs.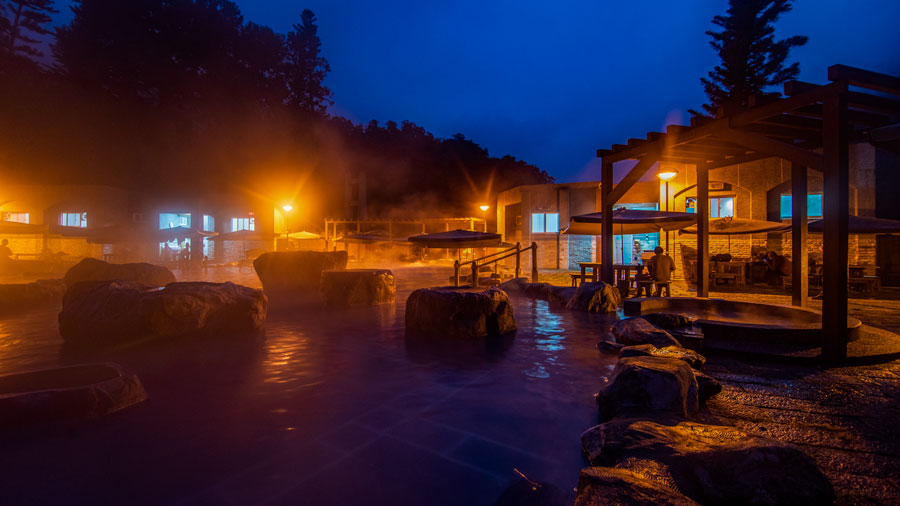 The setting is riveting, cliffs behind, rocky roaring river before, great bursts of sulfurous steam rising from the Earth's depths around the site. The super-heated waters bubbling up from deep below reach up to 140°C. There are both outdoor pools and private bathing rooms (including rooms for two) at the rustic-look spa.
Between the spa complex and the river is a cooking area, with large well-like raised pools gurgling with boiling waters, from which clouds of hot white vapor rise high. A favorite treat with Taiwanese visiting hot-spring sites is boiling eggs, corn, and other goodies in the waters. Here you can buy eggs and corn, dipped in the waters using thin, oblong wicker baskets.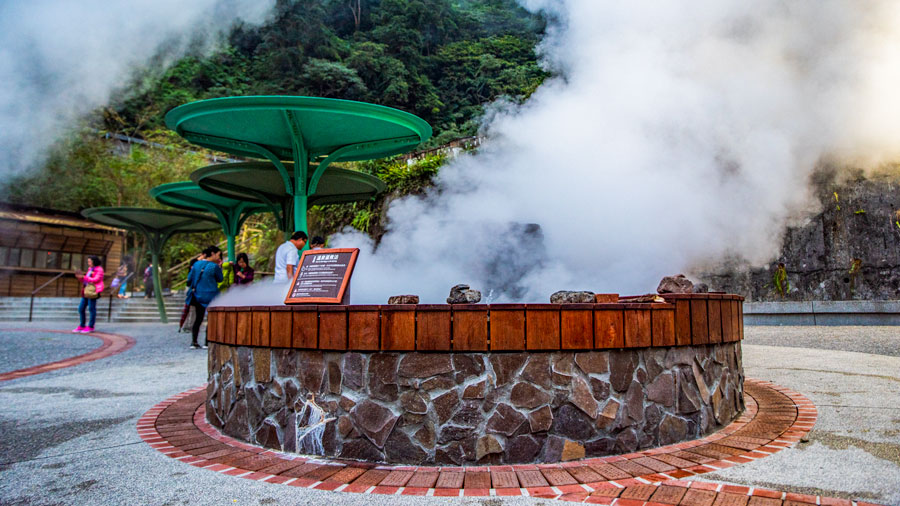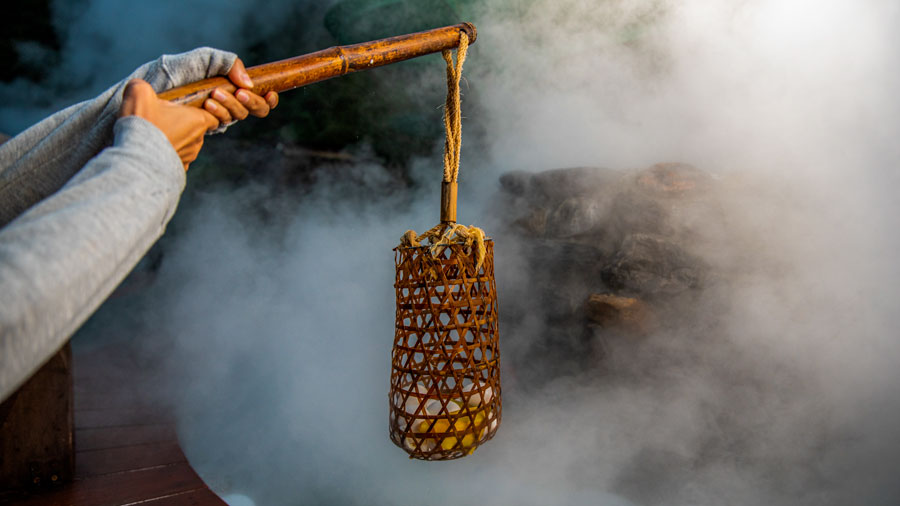 Qingshui Geothermal Park
Just inside the mouth of the Lanyang River valley, the small Qingshui River emerges from a long, shallow side valley on the east side to spill into the Lanyang. Deep up this valley is Qingshui Geothermal Park, site of foot soak pools, well-like raised cooking pools, and bathhouse facilities. Development of this site started with Taiwan's Chinese Petroleum Corporation, which dug wells exploring the area's geothermal power potential.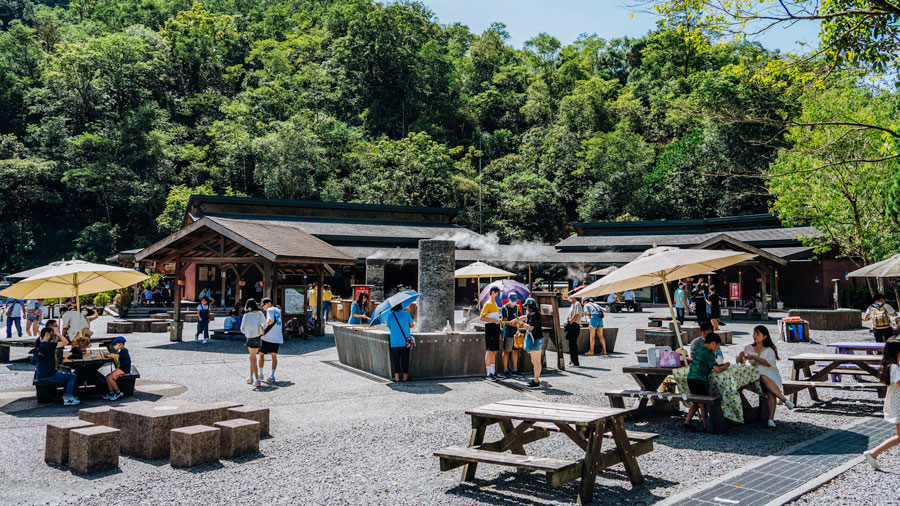 Foot soak and cooking facilities were later added. There are two free foot soak pools, each covered for shade protection, and three cooking wells with no shade protection, steam billowing out of big stone-faced smokestacks in the middle. Buy yummy things to cook from the menu posted at the on-site wood-built service building's canteen counter – peanuts, chicken/duck eggs, corn, bamboo shoots, shrimp, fish … even chicken soup. Recommended cooking times are posted for all items. Dunk them into the burbling water using a wicker basket (deposit required); the trick is to place lightest items at the bottom to prevent them floating up and out. Various other items are also sold, including coffee, soft drinks, popsicles, even cold draft beer.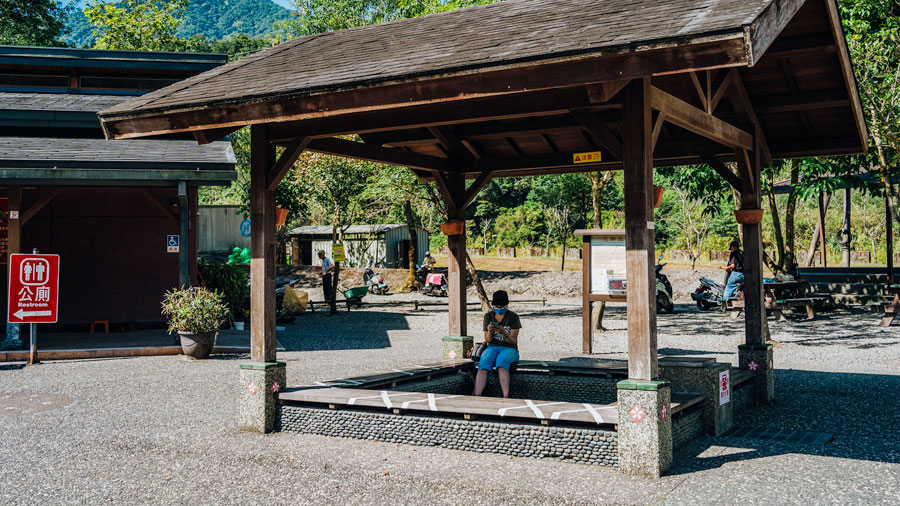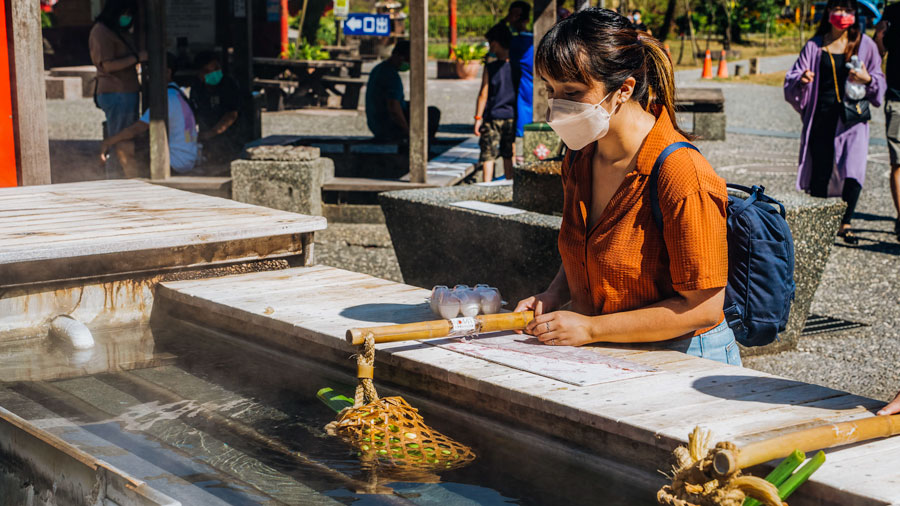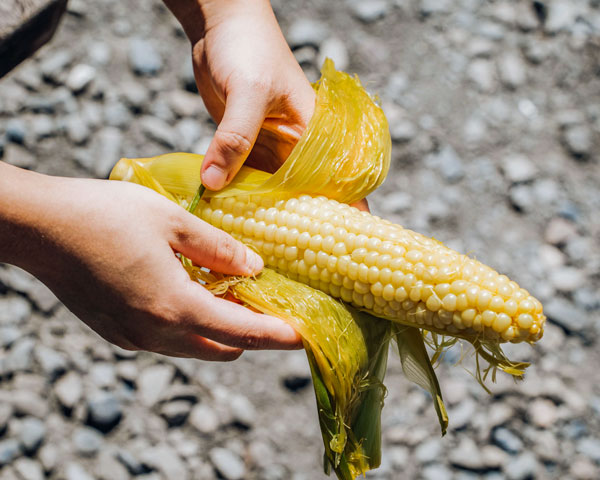 Also on-site is a new Japanese-style wood-built bathhouse with eight outdoor and semi-outdoor soaking pools, four for women and four for men.