A Quick Tour of the Beitou Hot-Spring Area
TEXT / RICK CHARETTE
PHOTOS / CHEN CHENG-KUO, VISION
In Taipei, reading this, and don't know what to do with yourself today? Here's just what the travel doctor ordered – a day-trip to the popular Beitou hot-spring district in the city's north. The district is located at the base of the mighty Yangmingshan mountain massif that overlooks the city, and the Taipei Metro system delivers you right to its doorstep.
Beitou was the first hot-spring resort area developed in Taiwan, launched just before the turn of the 20th century by the soak-loving Japanese, who ruled Taiwan from 1895~1945. The main area is a short shallow valley which opens its mouth directly in front of MRT Xinbeitou Station and then runs uphill directly away from the station. Its gentle grade makes for easy walking outings taking in the numerous tourist draws packed close together along the way. Beyond the scores of quality hot-spring hotels and inns, the valley and surrounding hilly area are home to a forest of other tourist attractions, man- and nature-created. Here's a day-trip whistlestop sampler of the "other" category.
Thermal Valley and Sulfur Valley
The leafy Beitou Hot Spring Park fills the floor of the valley's lower, wider section. In a tiny side valley near the park's uppermost point is Thermal Valley, also called Hell Valley. Why? Steam fills up the high-walled depression at the end of this dead-end valley, rising from a shallow lake of bubbling and spitting sulfurous waters heated by the magma chamber deep below the Yangmingshan massif. These are the area's hottest waters, 80~100 degrees Celsius. A wide pathway takes you around the lake.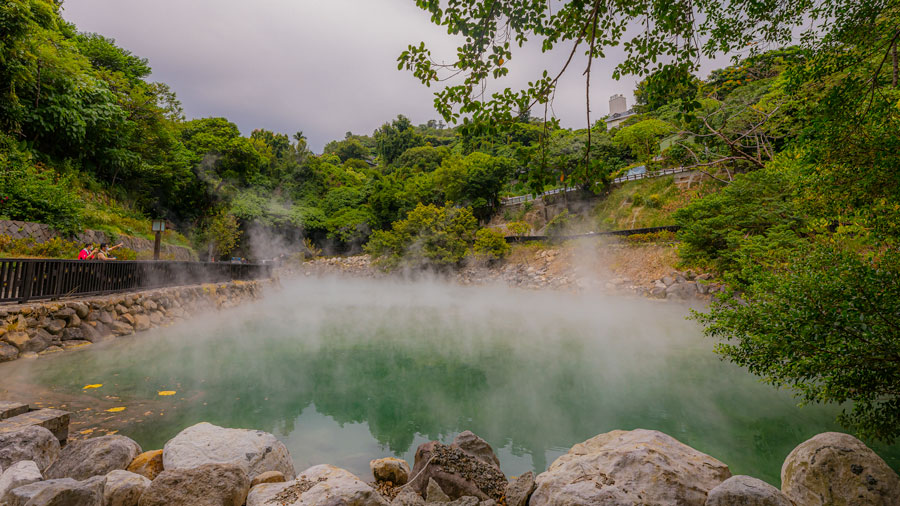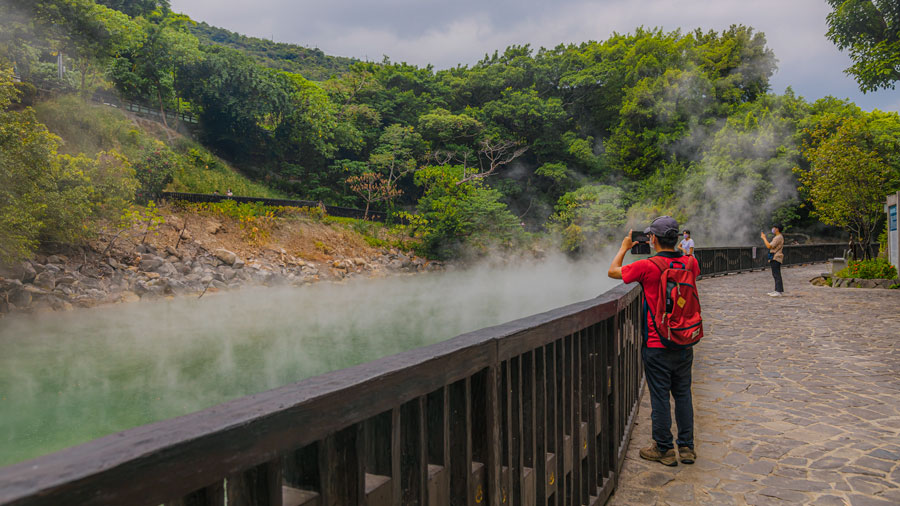 In the hill area immediately above the valley is another depression, this one giant in comparison and much deeper, named Sulfur Valley. The landscape here is of another, scalded planet surface, percolating menacingly with steam vents, angrily bubbling hot-spring pools, rich-yellow sulfur deposits, and bare-rock high walls. A well-maintained pathway with some steep sections takes you through the valley from bottom parking lot to a roadway at top; cross to access the pretty Qingren ("Lovers") Waterfall.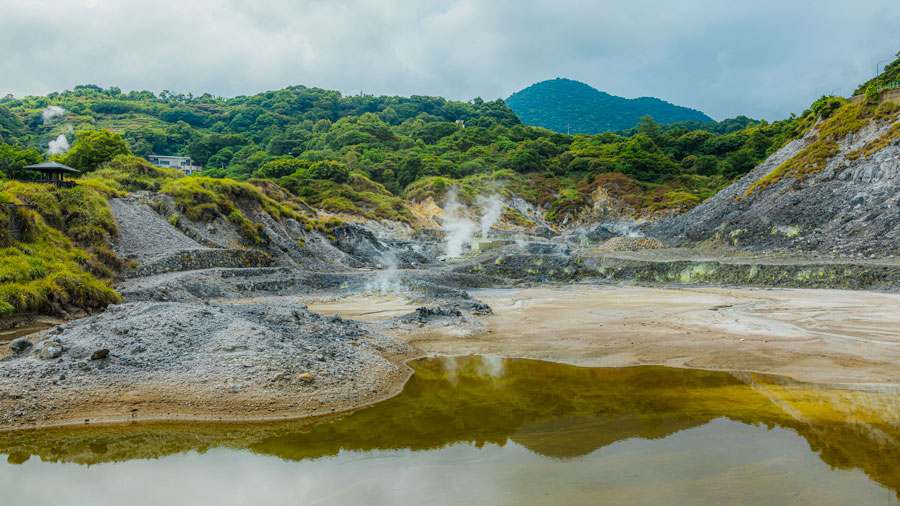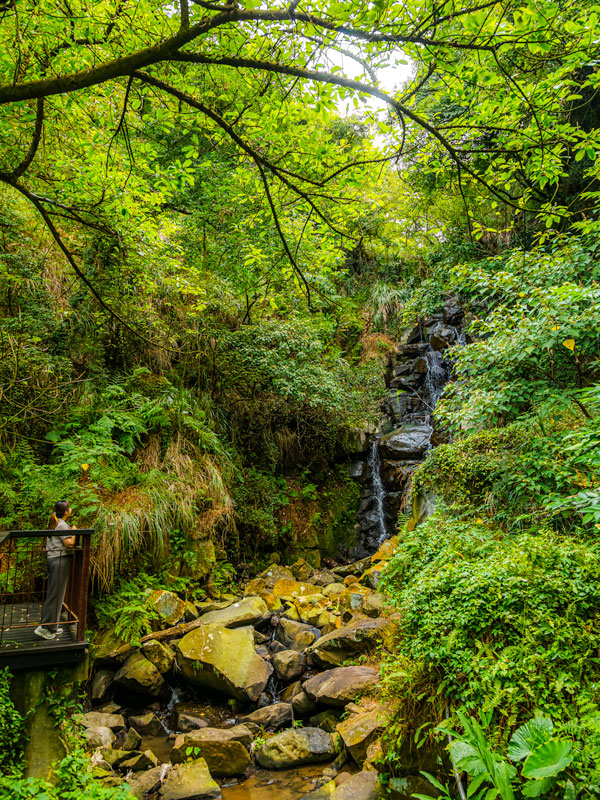 Marshal Zen Garden
The aesthetically magnetic Marshal Zen Garden compound of traditional Japanese-style has Japanese-built wood buildings overlooking the main valley from a high hillside perch. Today, the complex is home to an upscale restaurant, teahouse, and hot-spring soaking facilities.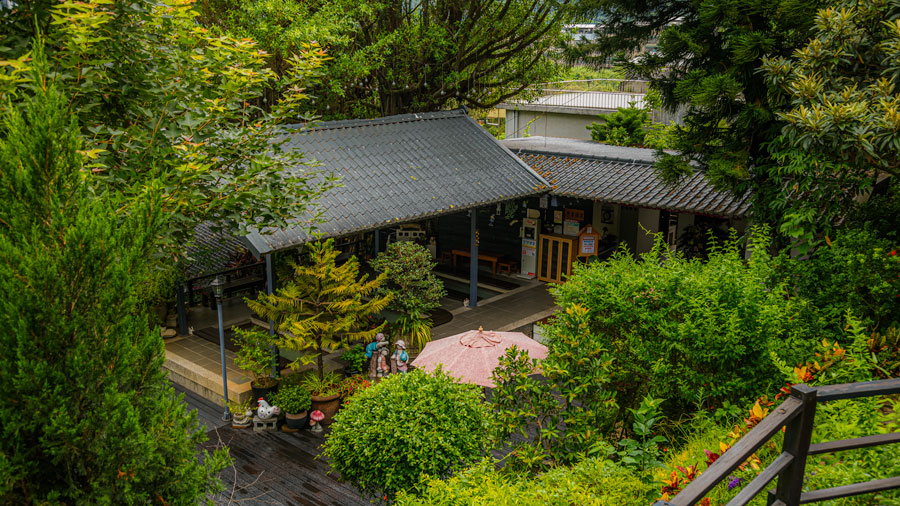 As you pass through the charming old-look gate, which is at roadside by a roadway that snakes up from the valley bottom, the complex is laid at your feet, only the tiled rooftops in view. It's reached via somewhat steep stairs – careful!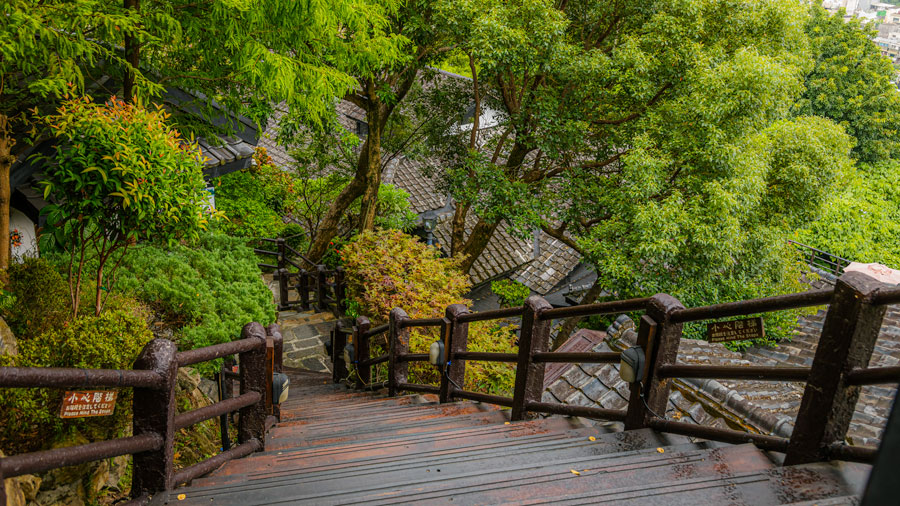 The unobstructed view straight ahead is the hot-spring valley and, beyond, the Guandu Plain and iconic Mt. Guanyin, said to resemble Guanyin, the Goddess of Mercy, in repose (it really does).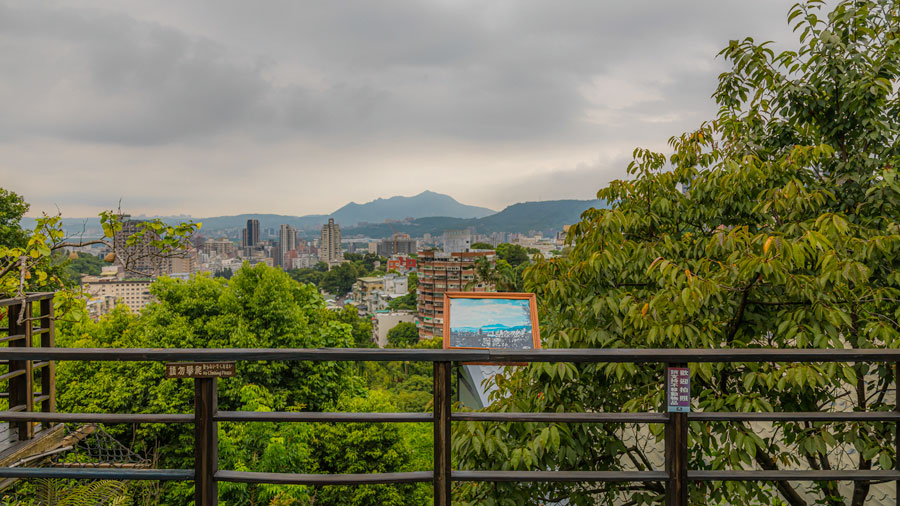 In its beginning, during the Japanese era, this site served as a hot-spring inn, officers' club, and short-stay R&R retreat for kamikaze pilots. In the century's second half, it was for a time residence of the "Young Marshal," Zhang Xue-liang, a Manchurian warlord best known for kidnapping Generalissimo Chiang Kai-shek in 1936 in the infamous Xi'an Incident. He lived to tell the tale, though placed under house arrest and moved a number of times while under the Kuomintang's care.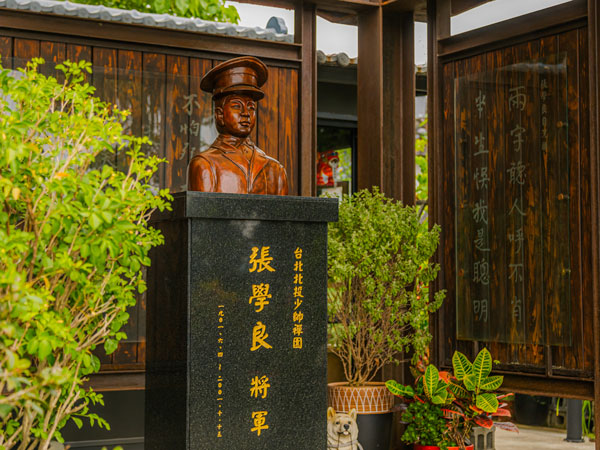 On the compound's right side as you stair-step in is a teahouse, a hot-spring bathhouse, and hot-spring foot baths, the last set in the middle of a lush, carefully maintained garden vivid with splashes of bright color bursting from the many different types of plants and landscape trees. On the left side are two conjoined buildings. The majority of their interior space is taken up by the restaurant; one large room, entered separately from the outside via traditional Japanese-style sliding doors, contains a mini-museum looking in at the life of resident Zhang.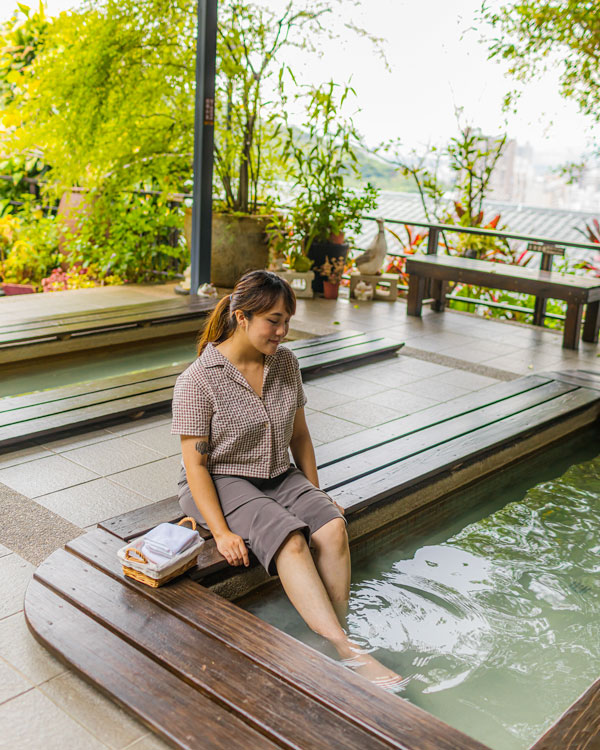 The bathhouse (added this century), lowest on the slope in the compound's rear, has a collection of cozy private rooms for rent (two types of room, either NT$2,000 or NT$2,500 per each 90-minute session; third person extra NT$600). Each has a large soak tub set right against a window filled up with the aforementioned big-picture view. In the garden area, just outside the bathhouse entrance, is a number of parallel foot-soak pools available free to all visitors using any of the other facilities. The teahouse, on the upper slope just below the compound entrance, was formerly the dormitory for house prisoner Zhang's guard force, which numbered in the dozens. All were Kuomintang intelligence officers.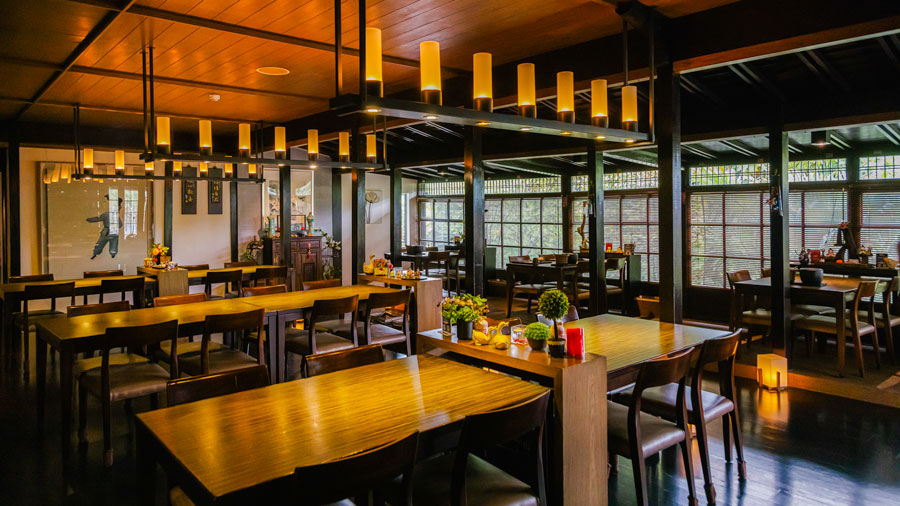 The spacious restaurant, also featuring relaxing picture-window overlooks, is in what were Zhang's residential quarters. The cuisine is a chic blending of Chinese and Western elements, reflecting Zhang's own comfortable mixing of Chinese and Western cultural elements. Four set meals are offered, ranging from NT$750 (for youngsters) to NT$3,500. In all, the emphasis is on light and healthy, and on the freshest seasonal ingredients. Each small-quantity course is a special nod to Zhang.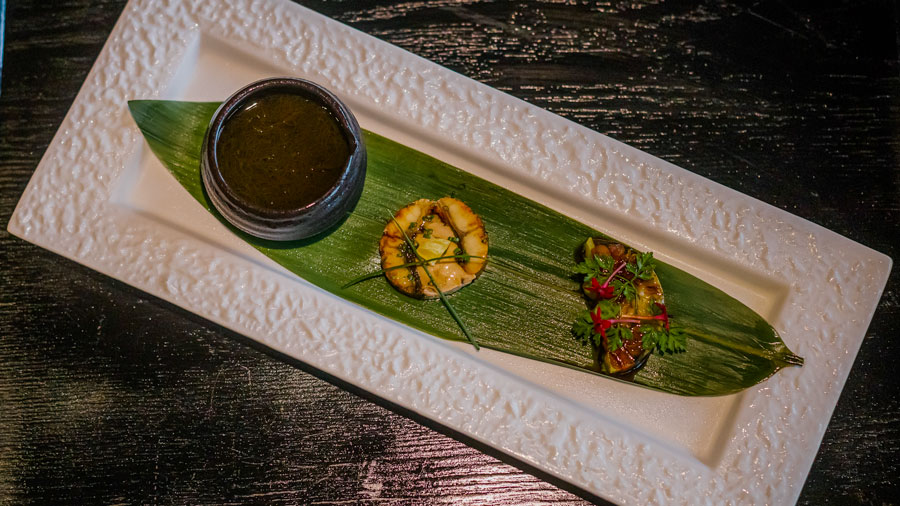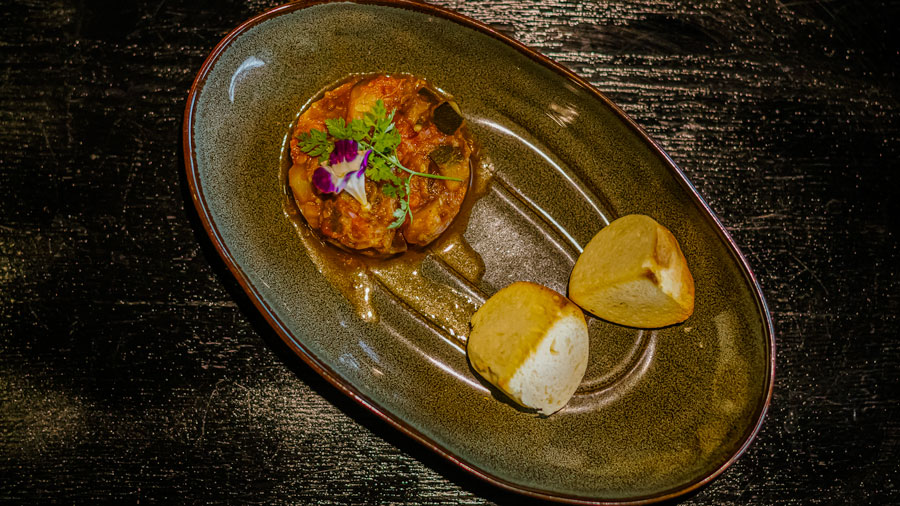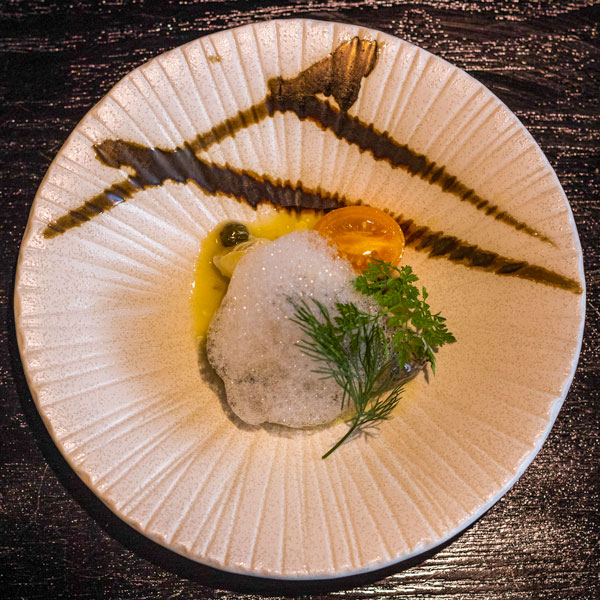 By way of example, let's sit down to the 10-course "Zen Garden Seasonal Set Meal." "Mountain Dwelling Good Wild Tastes" is the sixth, and main, course. Zhang's first phase in Taiwan was in the mountains of Hsinchu County, where he developed a fondness for the fresh wild foods shared by the local native people. This dish features mountain boar topped with chopped nuts. His fondness for wildness is also echoed in the fourth course, a rich soup made with different Taiwan mushroom types.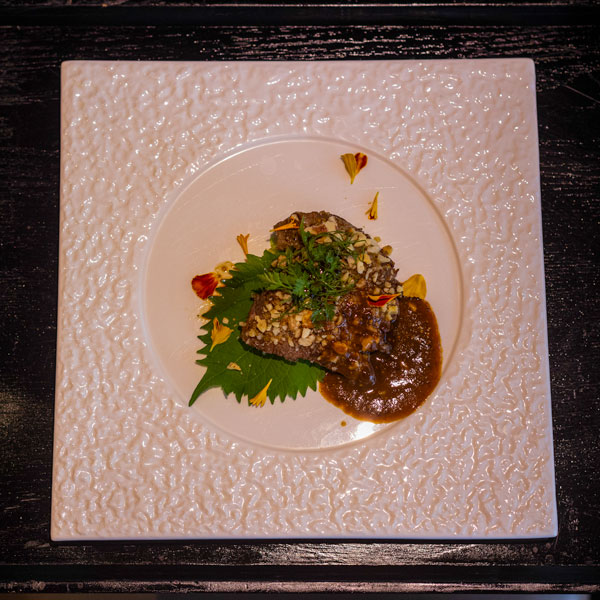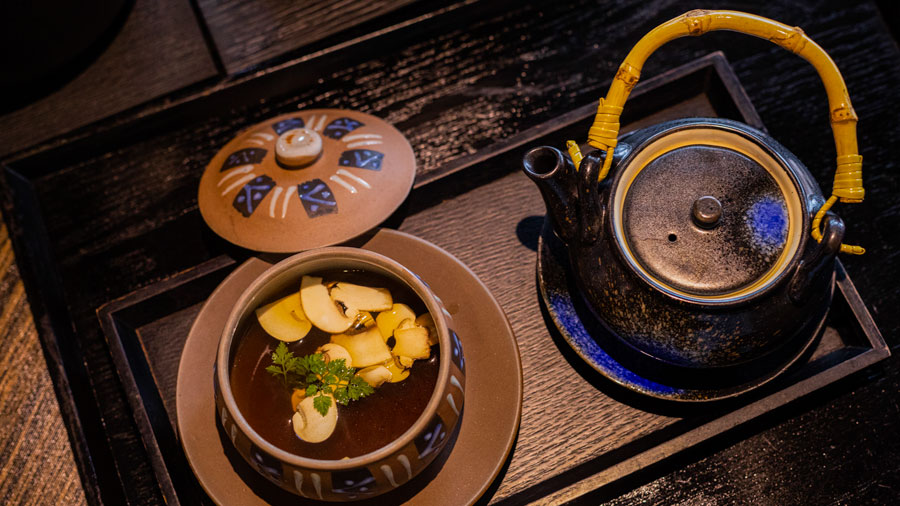 Going back further, the third course is "Young Marshal's Beloved Shrimp." Zhang developed his love for shrimp/prawns early on, and as an adult ate them most every day, "for health." After the main course, rose petal wine is served to help with digestion. Zhang's devoted second wife loved flowers, and often crafted healthy rose petal vinegar.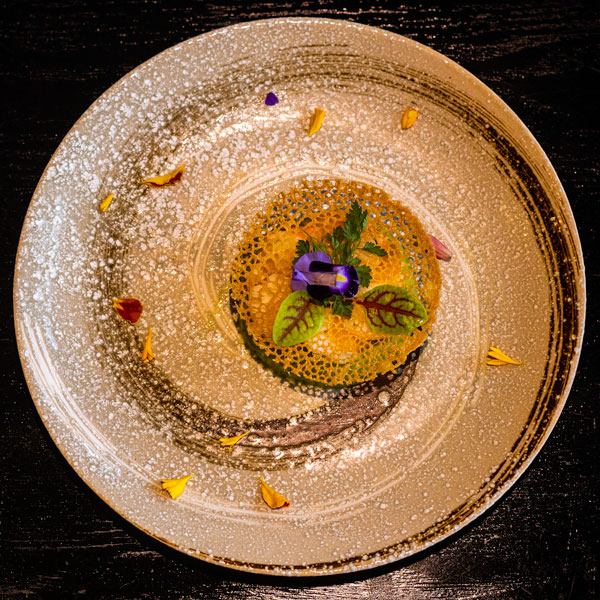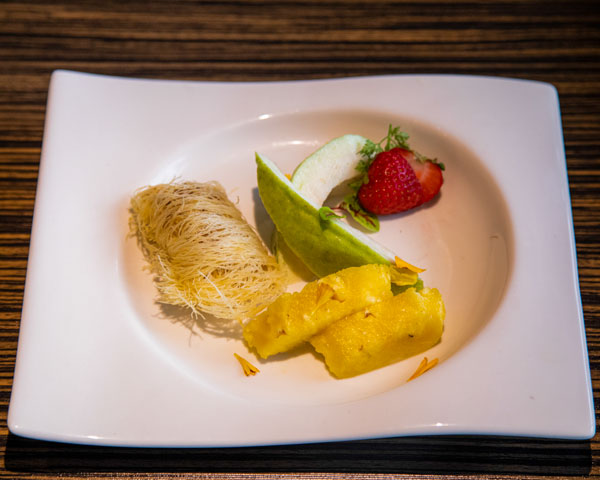 Marshal Zen Garden
(少帥禪園)
Add: No. 34, Youya Rd., Beitou District, Taipei City
(台北市北投區幽雅路34號)
Tel: (02) 2893-5336
Hours: 11am~9pm (closed on Tuesday)
Website: sgarden.com.tw (Chinese)
Facebook: www.facebook.com/Marshal.Zen.Garden
Other Attractions in Beitou
Long Nice Hot Springs
Immerse yourself in history, quite literally, with a soothing soak at the Long Nice Hot Springs bathhouse. This is the oldest bathing facility in Beitou, dating to 1907, opened by a transplant Japanese citizen. The exterior is in simple and natural traditional Japanese style. A thorough renovation was undertaken last decade, and though all is new the interior still retains a faithful "old Japan" unadorned simplicity. There are separate public baths for men and women, along with a number of private rooms for two people and for families. The public pools and all room baths feature natural stone.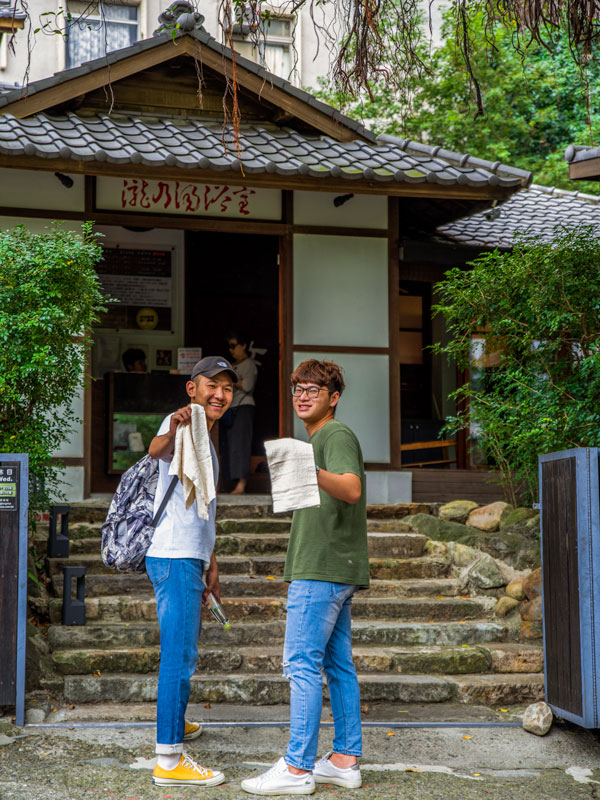 Long Nice Hot Springs
(瀧乃湯浴室)
Add: No. 244, Guangming Rd., Beitou District, Taipei City
(台北市北投區光明路244號)
Tel: (02) 2891-2236
Hours: 6:30am~11am, 12 noon~5pm, 6pm~9pm (closed on Tuesday)
Admission: NT$150
Website: www.longnice.com.tw (Chinese)
Facebook: www.facebook.com/longnice
Beitou Hot Spring Museum
The Beitou Hot Spring Museum, located in Beitou Hot Spring Park not far from the metro station, is perhaps this history-rich district's most satisfying and important heritage site. The Victorian-style building of red brick and white stucco originally housed the Beitou Public Baths, opened by the Japanese in 1913 – Taiwan's first public bath and long East Asia's largest hot-spring public bath. A Romanesque pool and columns have been restored, as has the original large, breezy tatami resting room, and there are many intriguing artifact and info displays, including a fine collection of Japanese-period black and white photos and documentary film footage providing glimpses of yesteryear Beitou and Taipei.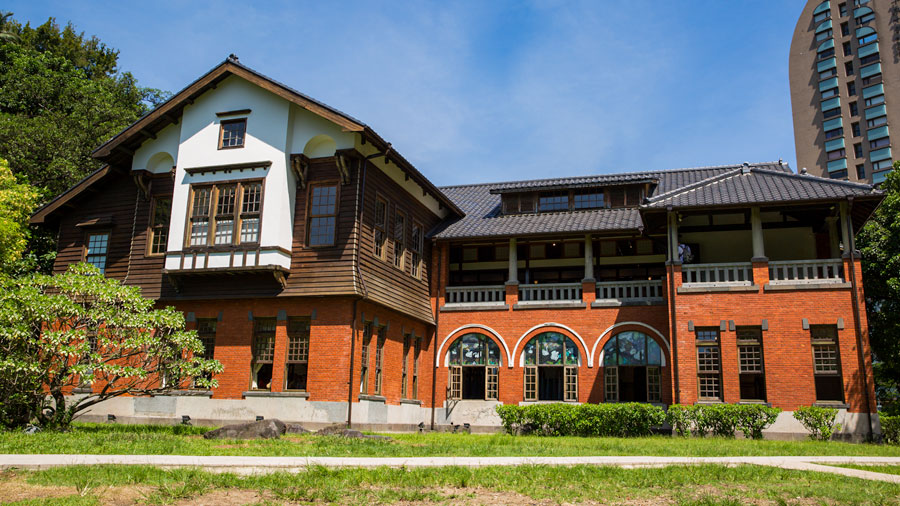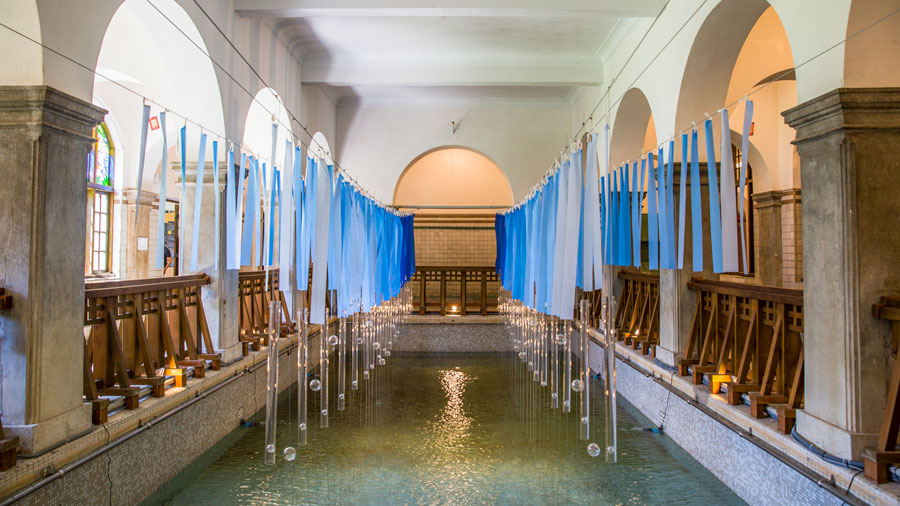 Beitou Hot Spring Museum
(北投溫泉博物館)
Add: No. 2, Zhongshan Rd., Beitou District, Taipei City
(台北市北投區中山路二號)
Tel: (02) 2893-9981
Hours: 9am~5pm (closed on Monday and public holidays)
Admission: Free
Website: hotspringmuseum.taipei
Beitou Museum
The Beitou Museum complex is right beside Marshal Zen Garden, also overlooking the hot-spring valley. This is another Japanese-built suite of buildings, constructed in 1921, that began life as the prestigious Kazan Hotel, long Taiwan's best hot-spring hotel. During the Second World War it served as an imperial officers' club and entertained kamikaze pilots on their final nights of mortality. The complex – done in Chinese Tang Dynasty style – is among Taiwan's largest examples of Japanese wood-built architecture. The museum offers exhibitions on Beitou's history plus Taiwan's folkways and indigenous peoples, a tea ceremony experience, and a restaurant serving Kaiseki vegetarian fare.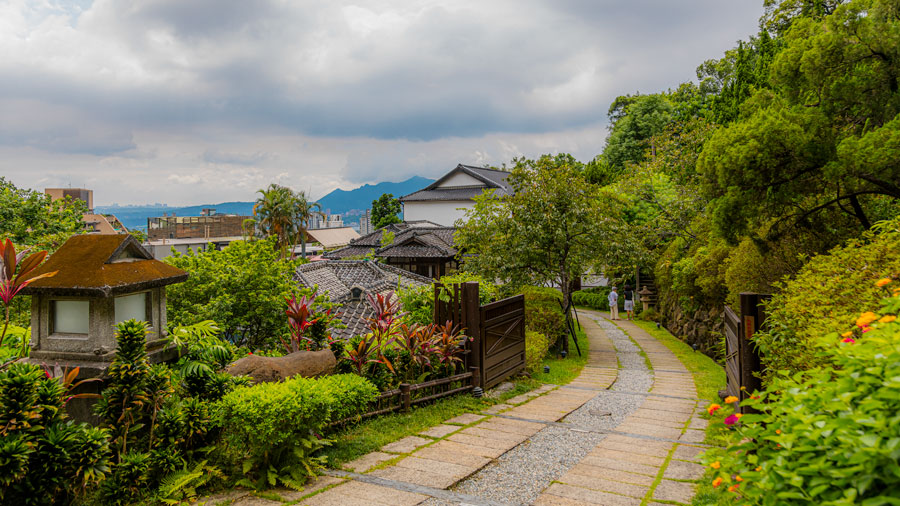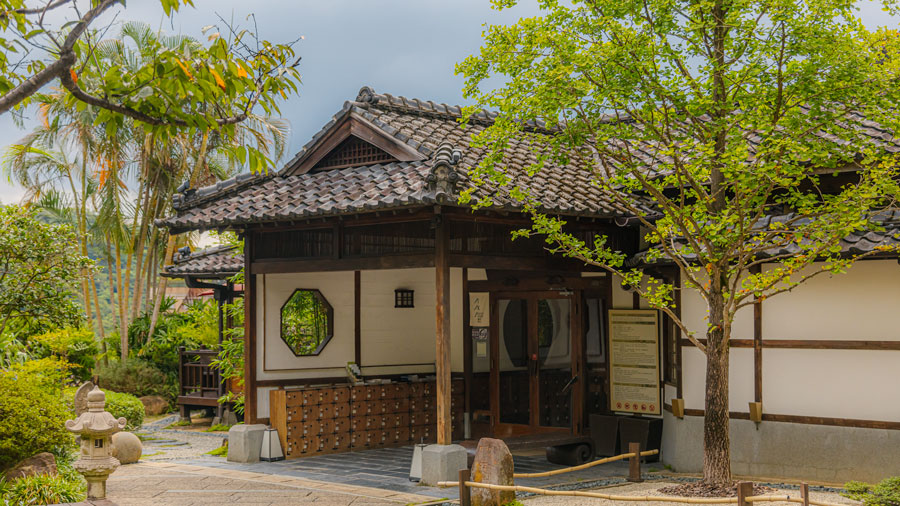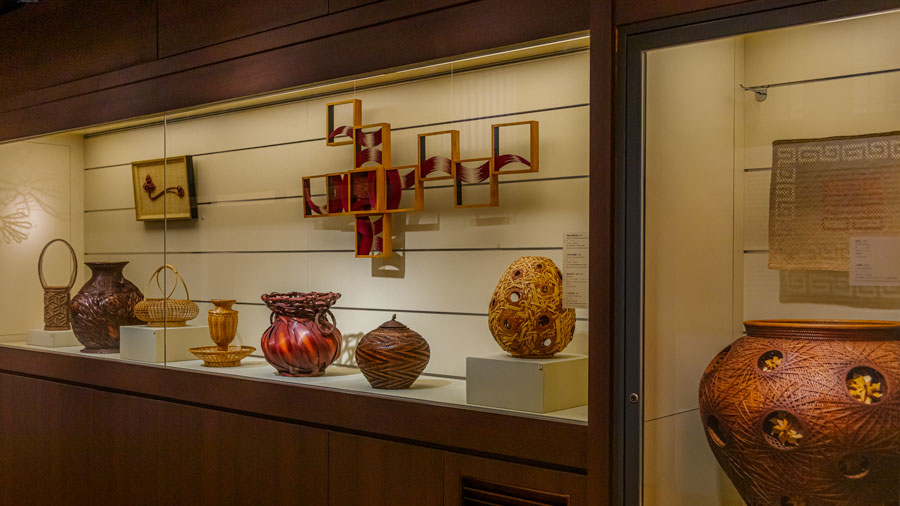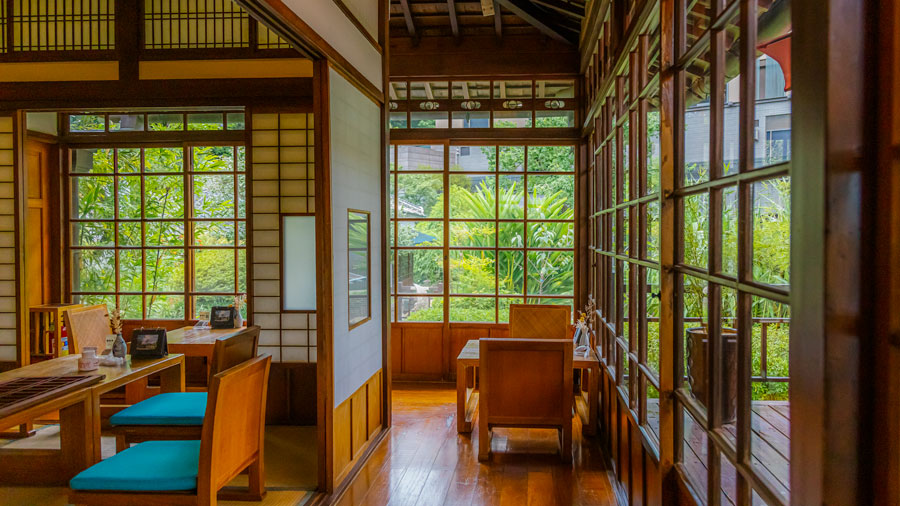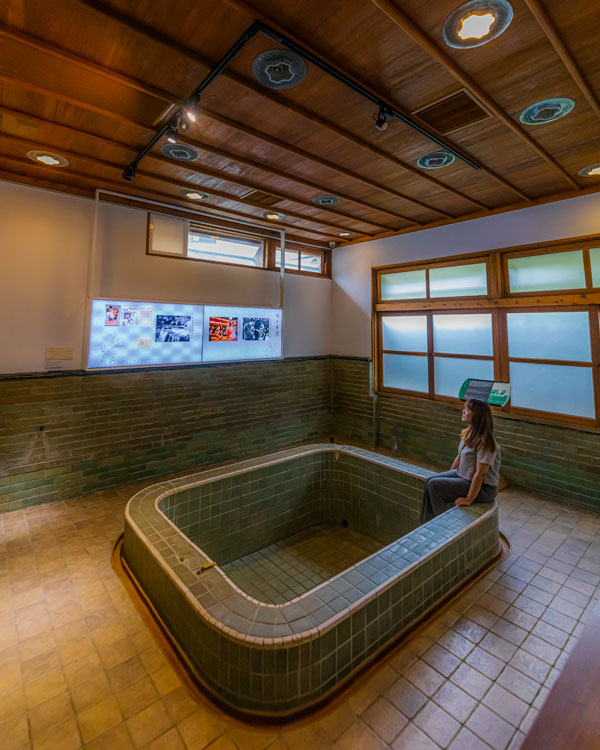 Beitou Museum
(北投文物館)
Add: No. 32, Youya Rd., Beitou District, Taipei City
(台北市北投區幽雅路32號)
Tel: (02) 2891-2318
Hours: 10am~6pm (closed on Monday and public holidays)
Admission: NT$120
Website: beitoumuseum.org.tw
Facebook: www.facebook.com/beitoumuseum
Puji Temple
Beitou Hot Spring Park ends outside Thermal Valley. Just a little further up the valley, on a hillside beside the road that traces the bottom to the valley's head, is Puji Temple. This is one of Taiwan's few surviving Japanese-style temples. It was built in 1905, with significant donations from Japanese railway employees. The temple long enshrined the spirits of railway workers who gave their lives in the line of duty, and today enshrines the Tangshou Guanyin/Goddess of Mercy, guardian of the local hot springs. An immaculate, rarely seen Shingon Buddhist sect temple, it's in a style popular in Japan's Edo period.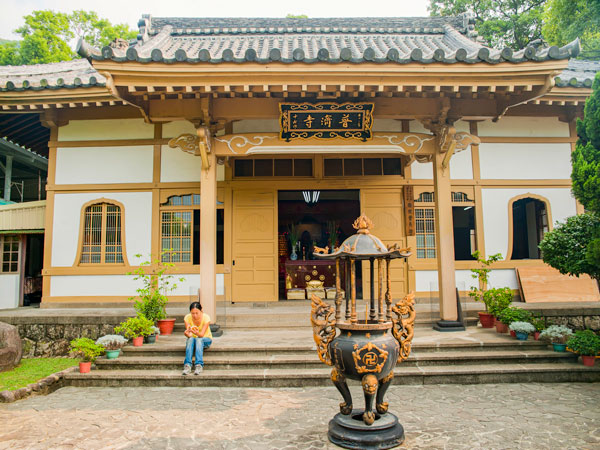 Puji Temple
(普濟寺)
Add: No. 112, Wenquan Rd., Beitou District, Taipei City
(台北市北投區溫泉路112號)
Tel: (02) 2891-4386
Hours: 9am~5pm
Xinbeitou Railway Station
This comely wood-built structure is right beside MRT Xinbeitou Station, in small, quiet Qixing Park. Today's MRT Xinbeitou Line, a short branch line, uses the right-of-way of the line built by the Japanese to bring tourists to the hot-spring area. This is the original station built by the Japanese, opened in 1916. It's most dramatic feature is the ox-eye windows in the steeply sloped roof, added in a 1937 expansion. Inside are displays on the station's construction, short period films and photos, and a gift-shop area with many railway-theme tchotchkes. The quaint original ticket windows have been preserved, one now used as the gift-shop counter.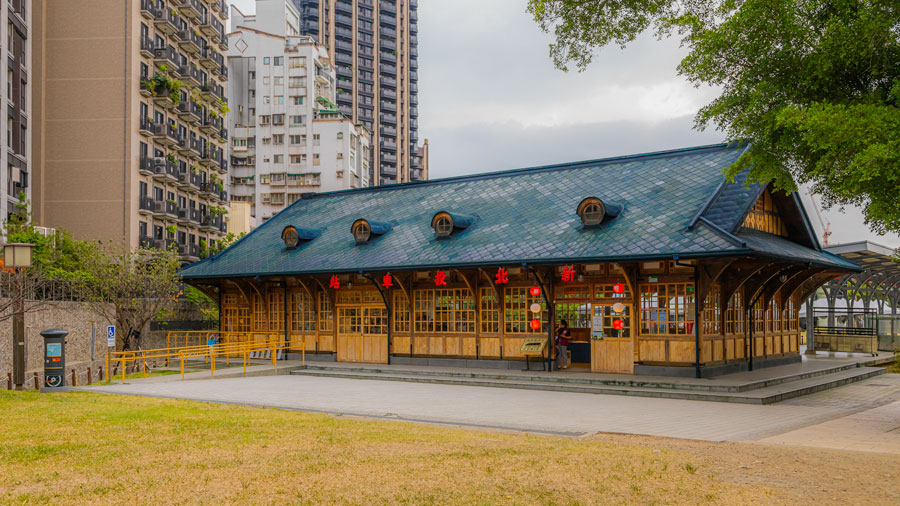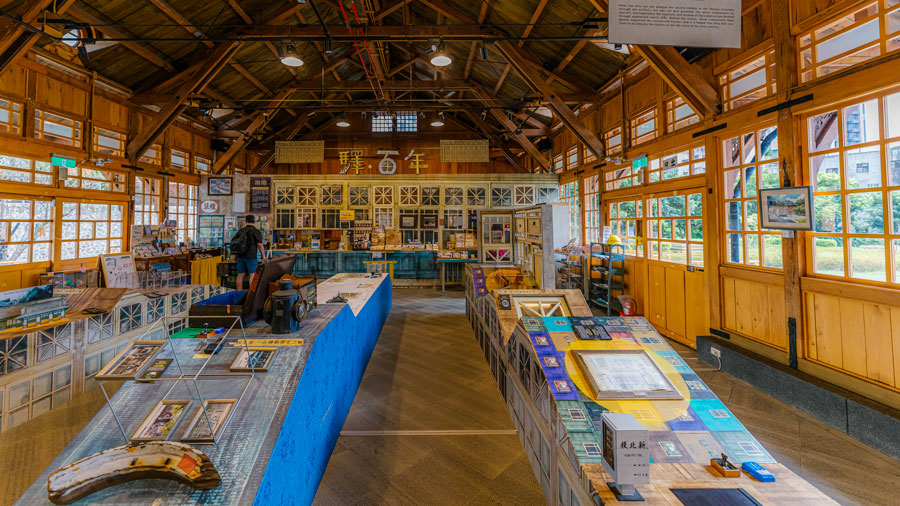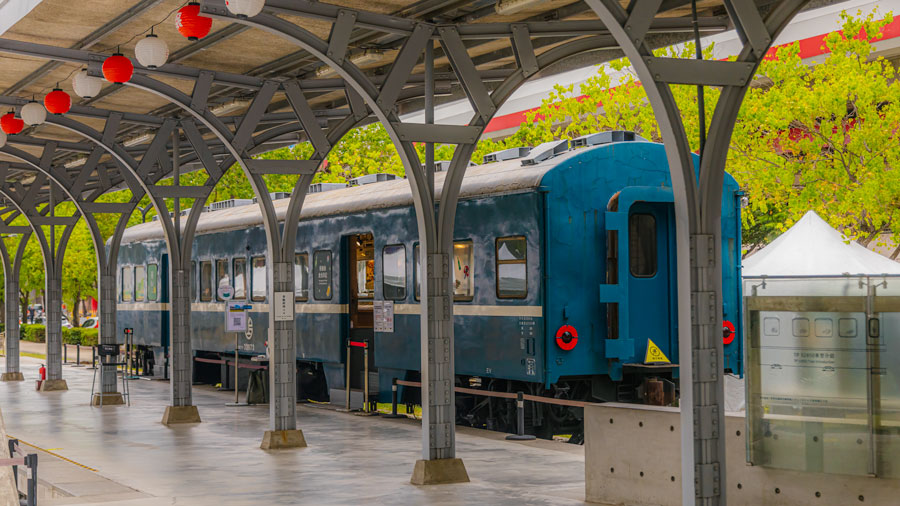 Qixing Park Hand Bath
Another popular attraction in Qixing Park is the Qixing Park Hand Bath, a newer facility opened in 2018. The concrete bath stand has sides shaped to make it look like a solid block of Hokutolite stone. At the water basin's bottom is a contour map of Beitou Hot Spring Park, created using upraised lines of concrete. You'll be dunking your appendages in Beitou's famed green sulfur hot-spring water, made even more therapeutic by the presence of the rare mineral radium. Lightly radioactive Hokutolite stone is formed through the crystallization of hot-spring sediments. Only one other place, Japan's Tamagawa Hot Spring, has green sulfur radium hot-spring waters.