Excellence on the Plate
TEXT / STEVEN CROOK
PHOTOS / RAY CHANG, ALAN WEN
Michelin, publishers of the world's best-known restaurant guides, included the south of Taiwan for the first time when researching the latest edition of their Red Guide gourmet bible.
Of the 321 eating establishments featured in the Michelin Guide Taipei 2022, Taipei, Taichung, Tainan and Kaohsiung, some 44 are in the historic former capital of Taiwan, Tainan, while 39 are in the seaside metropolis of Kaohsiung. Of the remainder, 170 are in Taipei and 68 are in Taichung.
Always looking for an excuse to stuff ourselves, Travel in Taiwan has recently tried out several of the southern eateries that received a "Bib Gourmand" accolade in the 2022 guide. This category was created to recognize places which, in the words of Michelin's website, offer "exceptionally good food at moderate prices."
KAOHSIUNG
Beef Chief
Many Bib Gourmand honorees are family businesses that have never given a thought to expansion. Beef Chief, by contrast, has grown into an island-wide operation. It has six branches, including two in Taipei, but it was the original location, an outpost close to Kaohsiung's Central Park, that caught the eye – and tickled the tastebuds – of the Michelin team.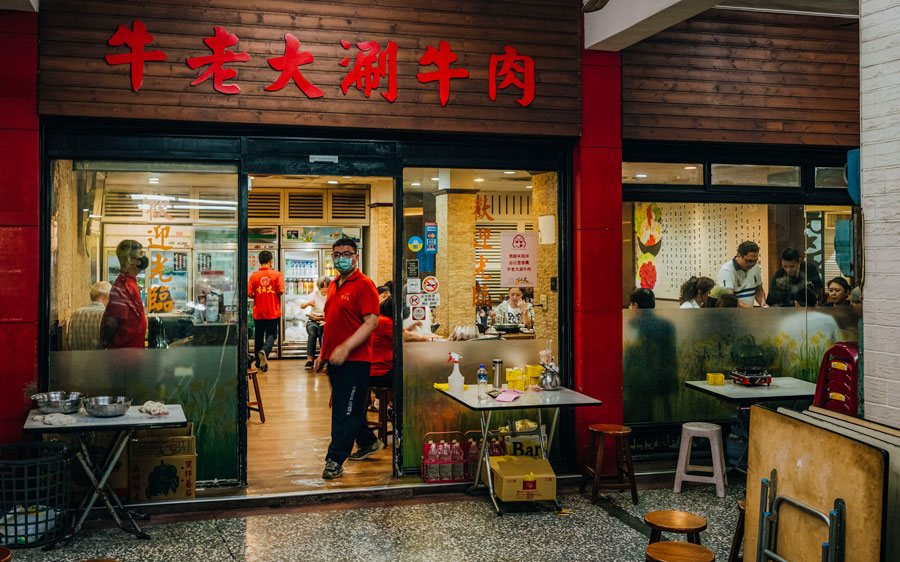 If you're here in a group of three or more people, do what most customers do and order a hot pot. What's a hot pot? It's a broth-filled pot in the center of your dining table, heated on an easy-to-control gas hub, in which you cook to your own satisfaction a range of delectables, including meat, seafood, vegetables, and processed items known as huo guo liao (lit., "hot pot ingredients").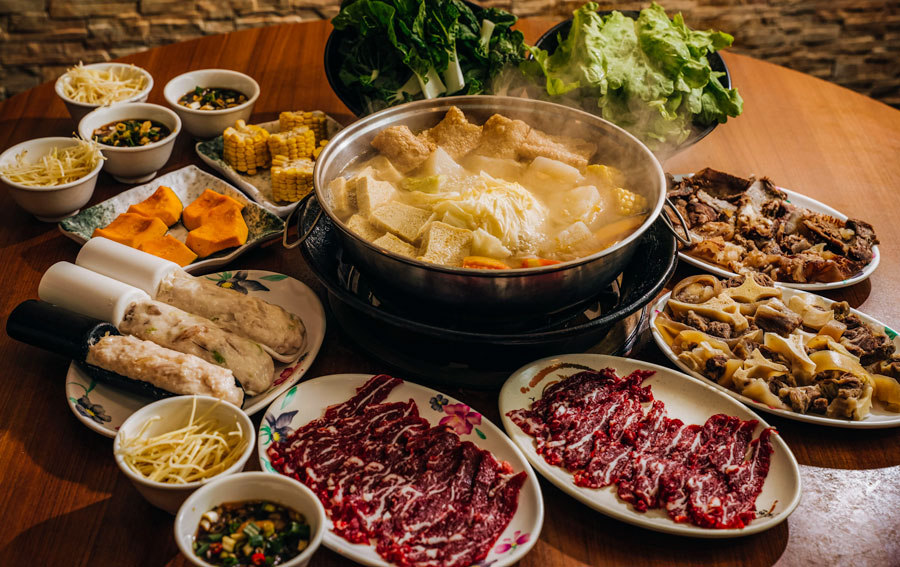 What with the leafy greens, the tofu, and the chunks of sweetcorn on the cob bobbing in the soup base, the initial reaction of hot-pot aficionados is likely to be "so far, so standard." And they'd be right. But the thin slices of marbled beef, if simmered for three to five seconds (the timing advised by the staff – don't forget to swirl the meat with a chopstick to ensure it cooks evenly), are, quite simply, to die for.
Beef Chief's insistence on using only the most freshly slaughtered beef is key to its enduring success. At other hot-pot establishments, there's a more-than-even chance the meat has sat in a freezer for a spell, especially if it's beef.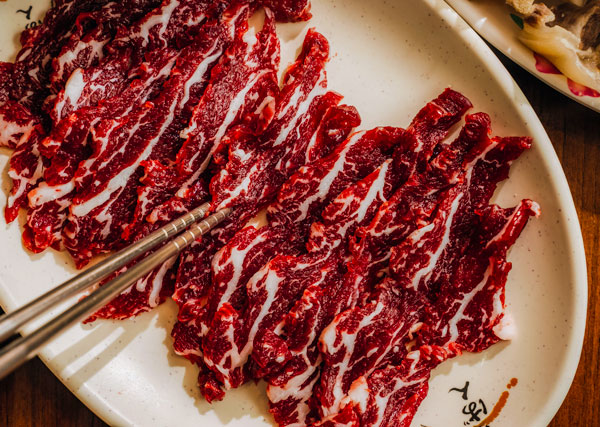 For those who'd rather not have a hot pot, the restaurant's bilingual menu offers a wide range of stir-fried bovine delicacies, including brisket, heart, liver, tendon, tripe (most priced around NT$200 per serving). Beef fried rice is NT$130. These can be washed down with soda, tea, or beer.
Beef Chief
(牛老大涮牛肉)
Tel: (07) 281-9196
Add: No. 18, Ziqiang 2nd Rd., Qianjin District, Kaohsiung City
(高雄市前金區自強二路18號)
Hours: 11:30am~2pm, 5pm~2am (closed on Monday)
Facebook: www.facebook.com/nldk2
Michelin: guide.michelin.com/tw/en/kaohsiung-region/kaohsiung/restaurant/beef-chief-zihciang-2nd-road
Hung Chi Rice Shop
The dish that's elevated this modern-looking, comfortably furnished eatery to renown beyond its neighborhood is a blue-collar favorite. Every day, hundreds of thousands of portions of what Hung Chi's bilingual menu calls Minced Pork Rice (NT$35) are wolfed down by Taiwanese truck drivers and construction workers around the country.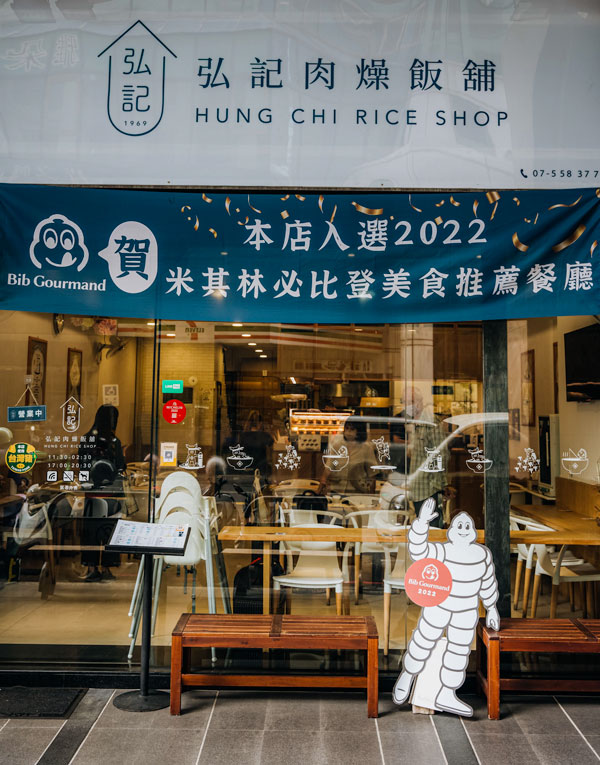 Done well, as it is here, minced pork rice aka braised pork rice is a profoundly satisfying blend of protein and carbs, almost always accompanied by a soup (options here include clam, fish ball, and wonton, NT$45 to NT$65), and sometimes by a portion of vegetables. For the latter, a truly local choice would be water spinach or sweet-potato leaves (both NT$40).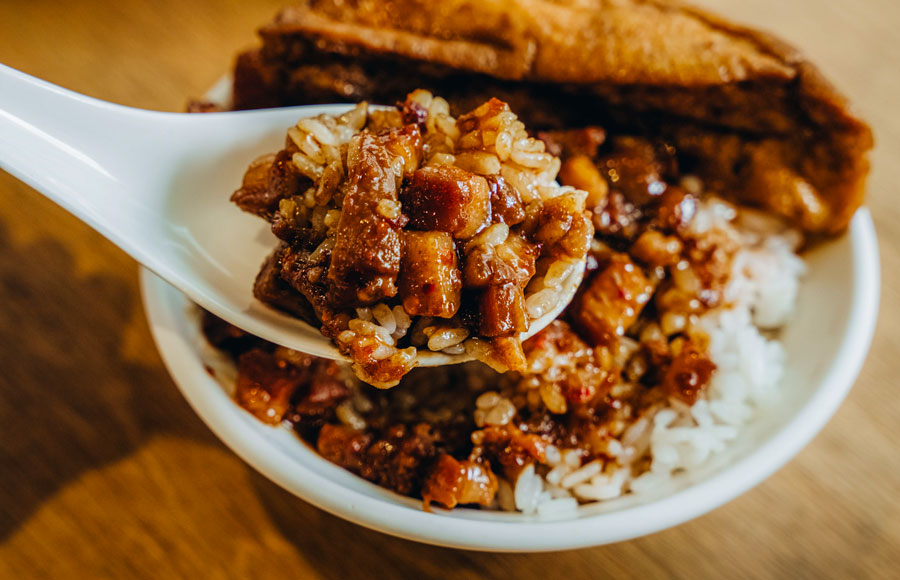 Going beyond the merely traditional, Hung Chi also offers Spicy Minced Pork Rice (NT$45) – the hotness of which shouldn't be underestimated – and over-easy eggs (NT$15, great for mixing into the rice), in addition to the usual braised eggs (NT$15) and braised tofu (NT$15).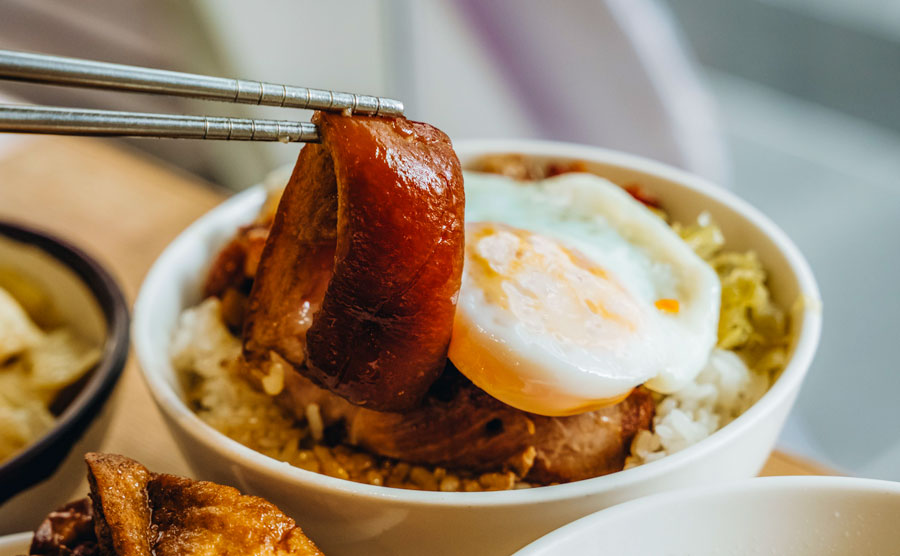 Hung Chi Rice Shop
(弘記肉燥飯舖)
Tel: (07) 558-3777
Add: No. 96, Liwen Rd., Zuoying District, Kaohsiung City
(高雄市左營區立文路96號)
Hours: 11:30am~2:30pm, 5pm~8:30pm
Facebook: www.facebook.com/HungChiRiceShop
Michelin: guide.michelin.com/tw/en/kaohsiung-region/kaohsiung/restaurant/hung-chi-rice-shop
Bei Gang Tsai Rice Tube
Located a stone's throw from the Love River, Bei Gang Tsai Rice Tube – now operated by the founder's grandchildren – specializes in migao, a snack that's two-thirds glutinous rice, one-third highly savory protein. Here, small pieces of pork, along with some of the gravy the meat was braised in, are placed in a coffee mug-sized metal container. This cylinder (or "rice tube") is then filled with precooked rice and placed in a steamer.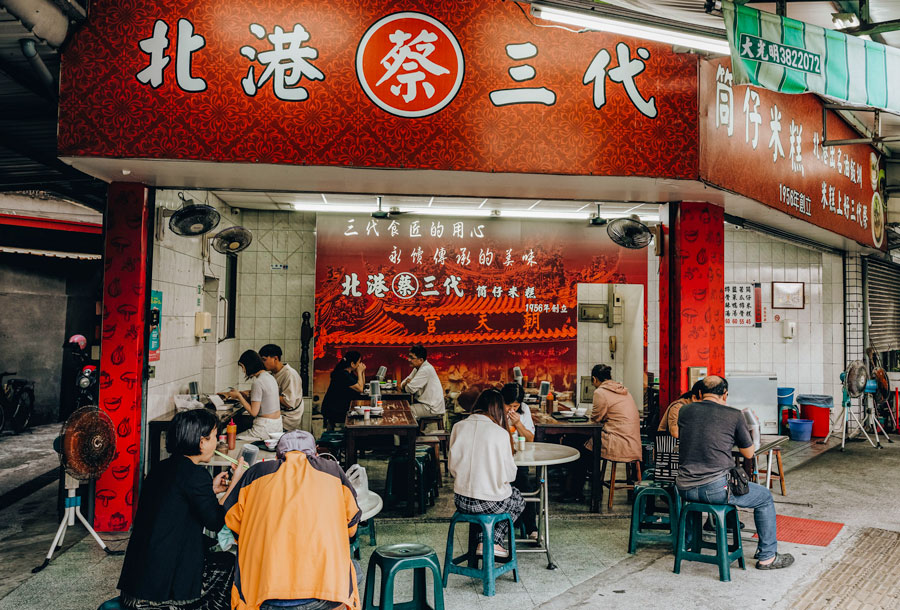 Each time a customer orders a Rice Tube (NT$45), one is pulled from the steamer and emptied upside-down in a bowl. Your food arrives with the meat and sauce at the top, shaped, some say, like a traditional Hakka roundhouse. (This treat, however, has no particular connection to Taiwan's Hakka minority.)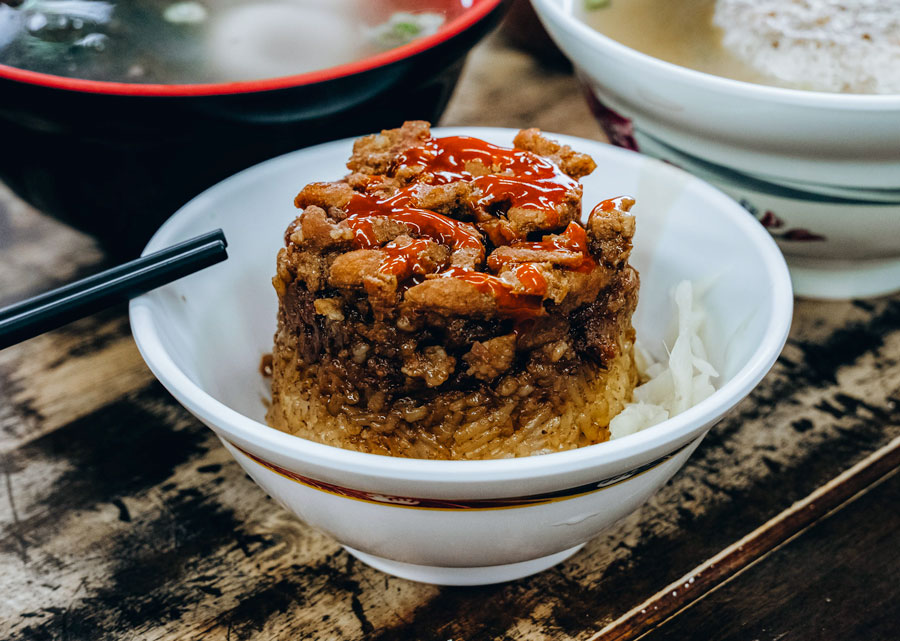 Like several other items described in this article, one serving of an eatery's signature attraction doesn't make a meal. Travel in Taiwan also unreservedly recommends the unique-in-our-experience Steamed Egg Soup (NT$45), which contains sliced mushrooms and slivers of pork. Other especially tasty options include the Swordfish-Ball Soup (NT$45) and Bitter Gourd Pork Ribs (NT$55).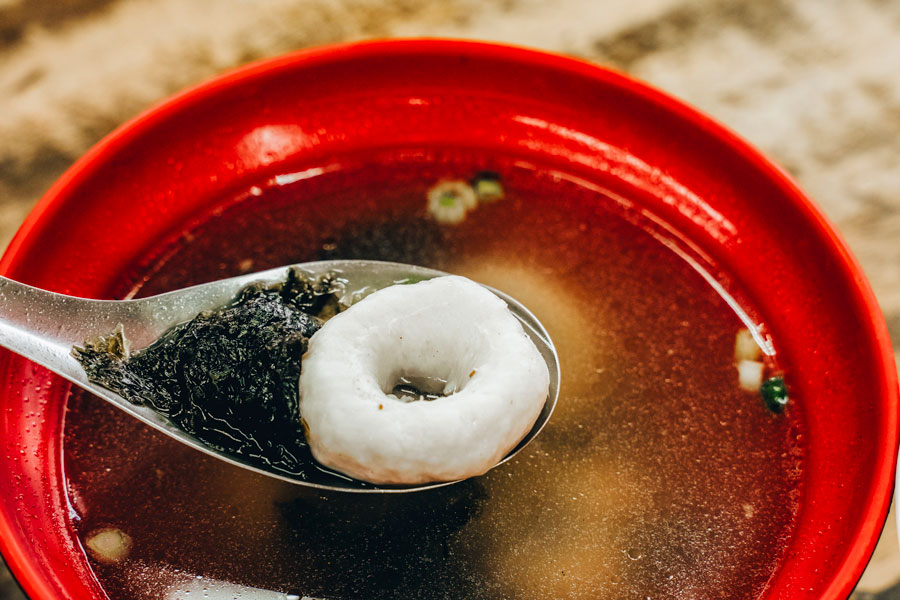 Bei Gang Tsai Rice Tube
(北港蔡筒仔米糕)
Tel: (07) 551-7443
Add: No. 167, Hexi Rd., Yancheng District, Kaohsiung City
(高雄市鹽埕區河西路167號)
Hours: 2:30pm~9:30pm (closed on Wednesday)
Facebook: www.facebook.com/hungchiriceshop
Michelin: guide.michelin.com/tw/en/kaohsiung-region/kaohsiung/restaurant/bei-gang-tsai-rice-tube-yancheng
Duck Zhen
There's no prize for guessing which protein plays a starring role at this eatery, now in its seventh decade. A 10-minute walk from Pier-2 Art Center, Duck Zhen continues to pull in foodies in impressive numbers.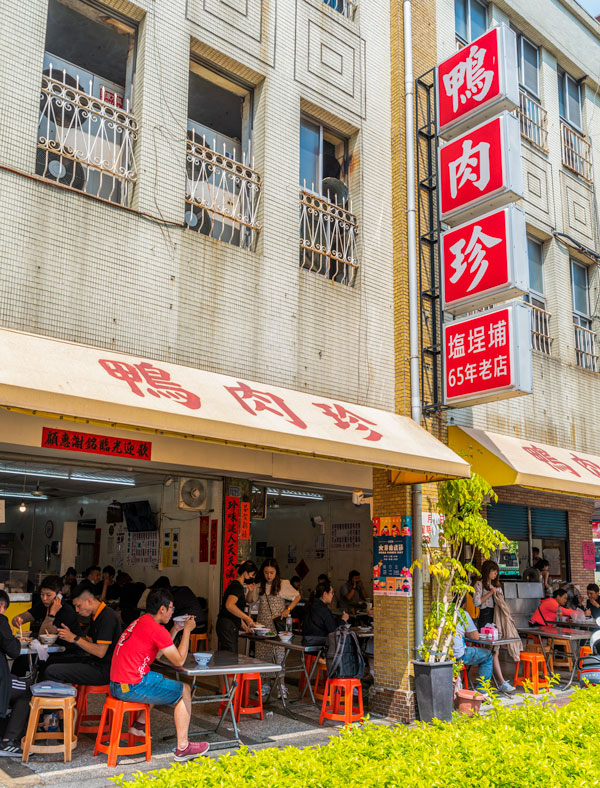 Some of those who've visited Duck Zhen attribute its success to the way they marinate the meat, which is done for four hours. It emerges neither greasy (a complaint often made by those who other duck-meat restaurants have failed to win over) nor fishy. Be prepared for quite a few bones – in Taiwan, duck meat is commonly served without bones being removed – but also for deliciously tender flesh.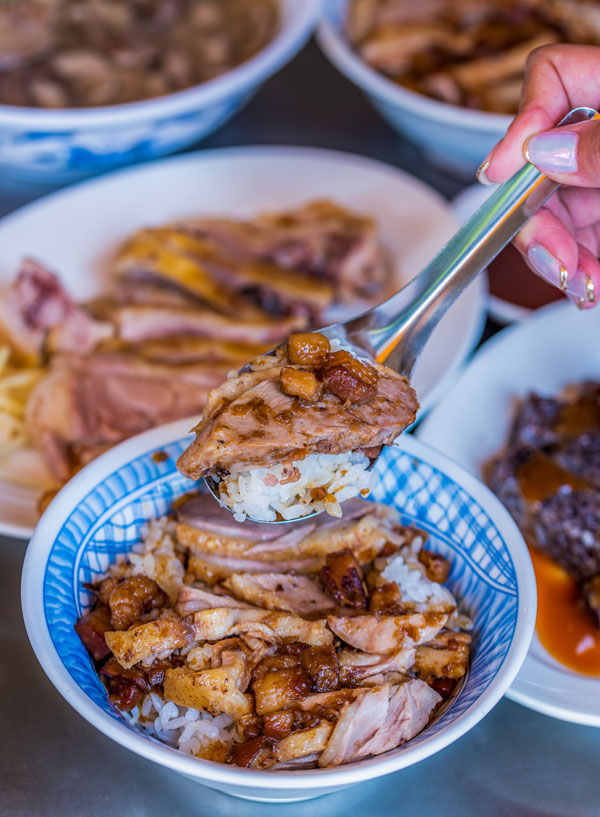 If here by yourself, you're best off ordering a small portion of Duck Rice (NT$60), which includes finely chopped braised pork as well as slices of mouthwatering waterfowl. Adventurous gourmands might want to try the Combination Soup (NT$60), a bit-of-everything dish that includes duck heart, duck liver, duck gizzard, and duck intestine. Vegetables and pork-gravy rice (NT$25/35) are also available.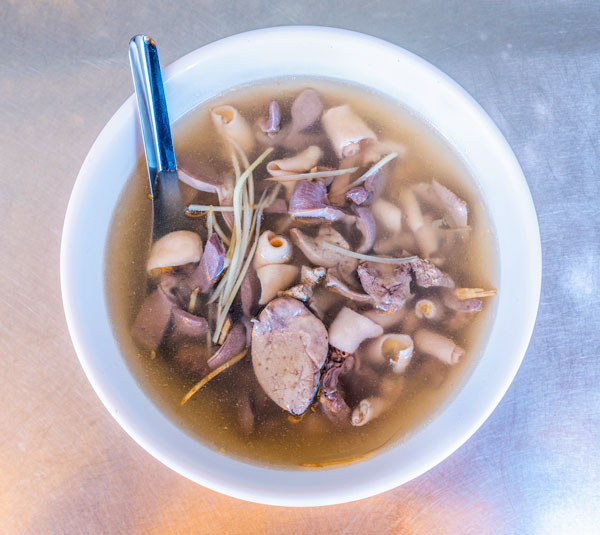 Duck Zhen
(鴨肉珍)
Tel: (07) 521-5018
Add: No. 256/258, Wufu 4th Rd., Yancheng District, Kaohsiung City
(高雄市鹽埕區五福四路256/258號)
Hours: 10am~8pm (closed on Tuesday)
Facebook: www.facebook.com/profile.php?id=100046519766105
Michelin: guide.michelin.com/tw/en/kaohsiung-region/kaohsiung/restaurant/duck-zhen
Caizong Li
Being a vegetarian doesn't mean you can't enjoy traditional Taiwanese snacks, thanks to places like Caizong Li. This shop – and it certainly looks more like a shop than a restaurant, though it has tables for eat-in customers – offers just two items. The first, from which it takes its name, is a fist-sized pyramid-shaped Vegetarian Glutinous Rice Dumpling (NT$35), aka zongzi. The other is Kelp Miso Soup (NT$12), a bowl of which is a perfect complement to a dumpling.
Whereas conventional zongzi are packed with fatty pork, egg yolk, peanuts, and – it has to be said – a fair bit of oil, those that keep Caizong Li's customers coming back are altogether lighter and healthier. Apart from peanuts, it's 100-percent rice, steamed in a way that seems to retain the subtle fragrance of the grain.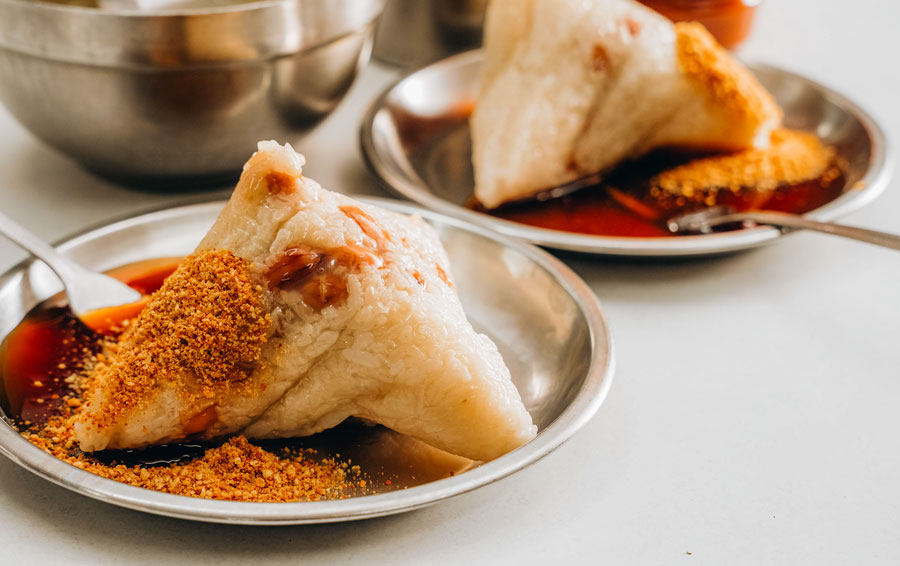 Glutinous-rice dumplings are best eaten hot with a dash of soy-sauce paste and a teaspoon of ground peanuts. But they're fine cold, and they make great hiking snacks. Consider buying one or two if you're setting out for Shoushan National Nature Park.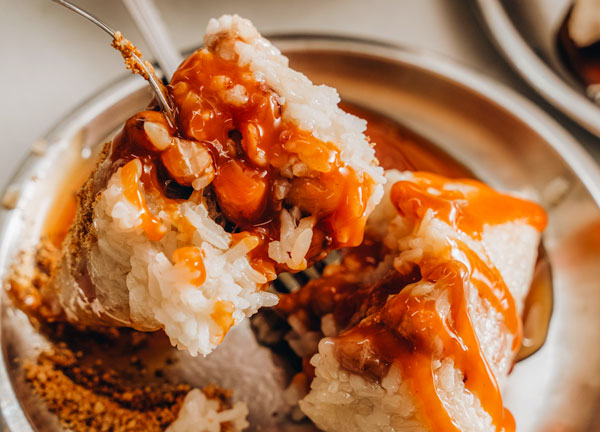 Caizong Li
(菜粽李粽店)
Tel: (07) 331-3087
Add: No. 159, Chenggong 1st Rd., Lingya District, Kaohsiung City
(高雄市苓雅區成功一路159號)
Hours: 6:30am~6:15pm (closed on Tuesday)
Michelin: guide.michelin.com/tw/en/kaohsiung-region/kaohsiung/restaurant/caizong-li
TAINAN
A-Ming Pig's Heart Glass Noodles
Located on one of Tainan's busiest food streets – you could eat three squares here per day for the better part of a week without finding yourself back at the same place – the family that runs A-Ming has spent seven decades perfecting their culinary techniques.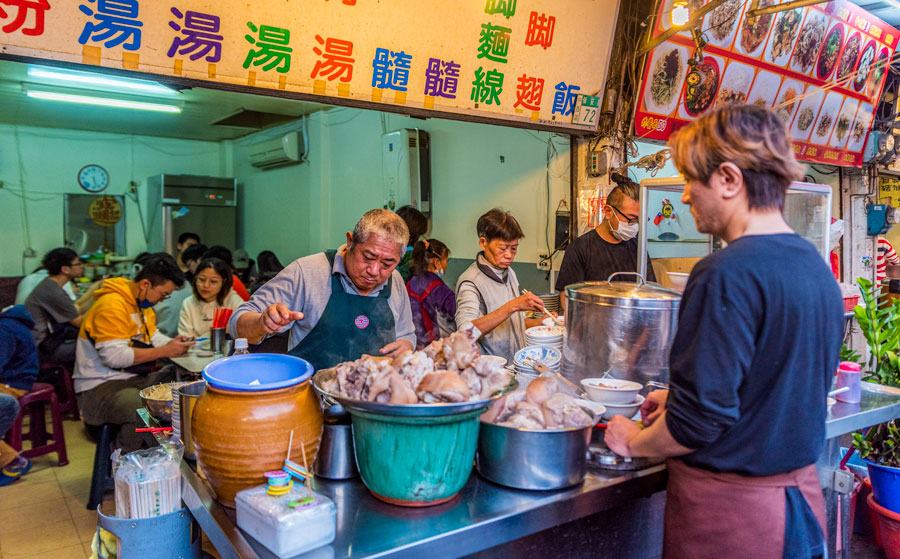 Waiting is inevitable on weekends. On a midweek evening, however, Travel in Taiwan got a table straightaway, and a serving of the signature Pig's Heart Glass Noodles (NT$60) appeared within minutes. The owners realize that few people nowadays want to fill up on carbohydrates; the bowl was three-quarters filled with meat.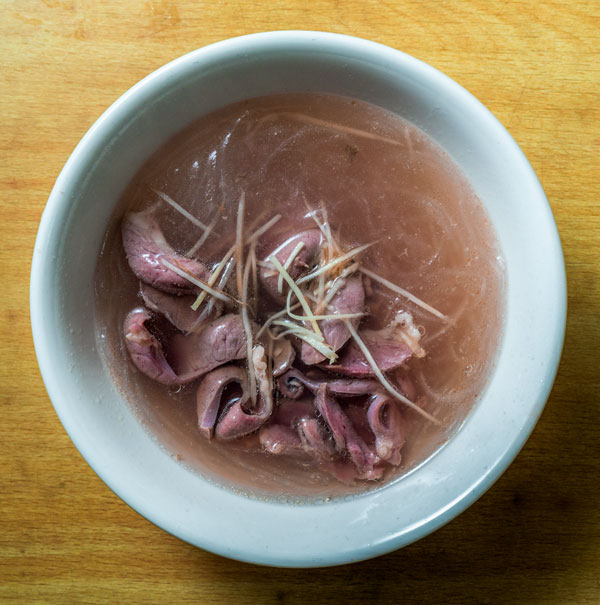 The offal-averse should note that pig's heart is muscle meat, and that it's lower in fat and richer in iron than conventional pork. It doesn't have a strong flavor (at least, the way A-Ming prepares it), the ginger in the clear broth being the most potent ingredient. We suggest first trying the meat without any condiments, then mixing some sauces to use as a dip.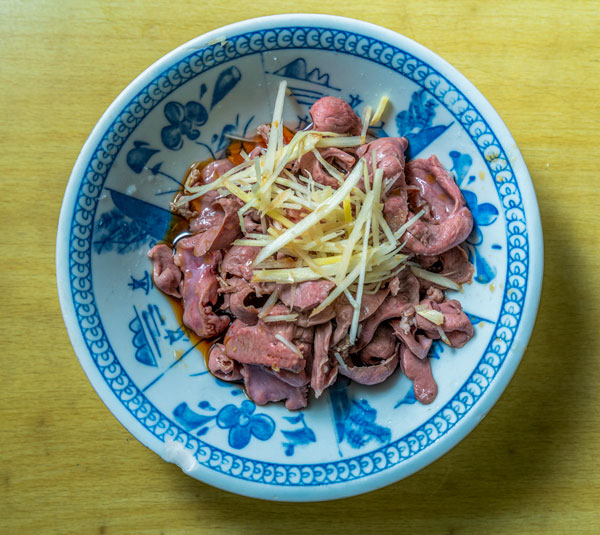 The Chinese-only menu lists almost 40 items, including soup and non-soup dishes featuring pig's lung and brain, as well as duck's feet. Local bloggers especially praise the Garlic Pig's Feet (NT$130).
A-Ming Pig's Heart Glass Noodles
(A Ming Zhu Xing on Michelin's website)
(阿明豬心)
Tel: (06) 223-3741
Add: No. 72, Bao'an Rd., Central West District, Tainan City
(台南市中西區保安路72號)
Hours: 5pm~12 midnight (closed on Tuesday)
Facebook: www.facebook.com/AMingZhuXing
Michelin: guide.michelin.com/tw/en/tainan-region/tainan/restaurant/a-ming-zhu-xing-baoan-road
Lo Cheng Migao
In Taiwan, migao comes in two basic forms. The first, associated with the north of the island, is the "tube" version served by places like Bei Gang Tsai Rice Tube (see Kaohsiung section above). For the other, the meat component is cooked slowly in a braising pot, then served atop steamed glutinous rice. Sliced cucumber is sometimes added, but when Travel in Taiwan sat down at Lo Cheng Migao shredded daikon and a few peanuts accompanied a generous amount of fish floss.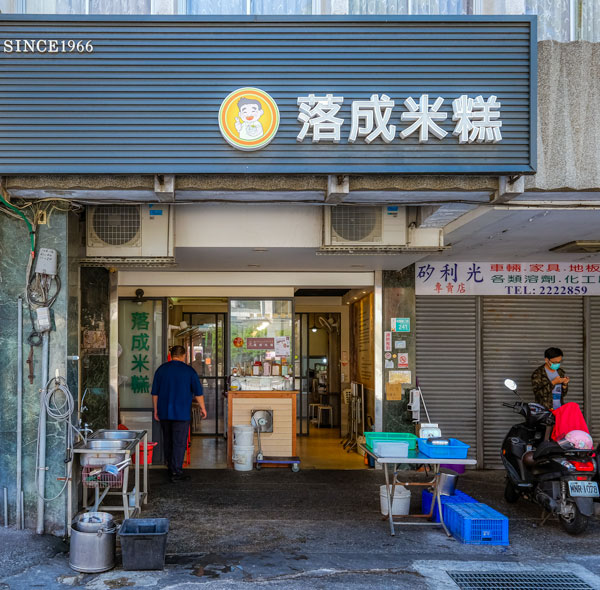 Fish on top of small chunks of pork? Westerners might say that's a crime of culinary dissonance, yet it works. The flavors don't clash, and the texture and fragrance of the floss contrast nicely with the braised meat.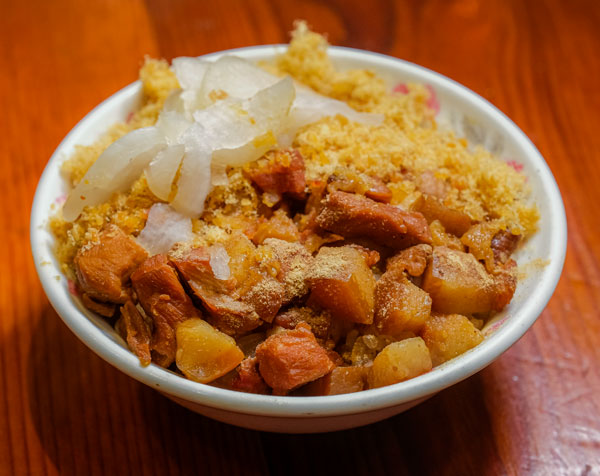 Unless you're ravenous, a small migao (NT$40) is enough to satisfy. To go full old-school, wash it down with a bowl of Four-Herbal Pig's Intestine Soup (NT$30). The braised items (duck's egg NT$15, fish ball NT$5) are also droolsome.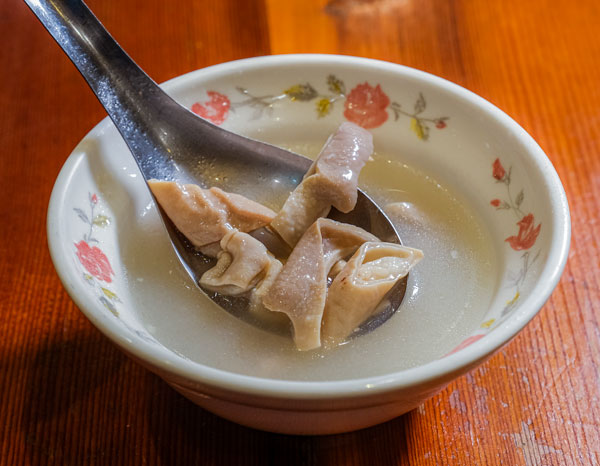 Lo Cheng Migao
(落成米糕)
Tel: (06) 228-0874
Add: No. 241, Sec. 2, Minzu Rd., Central West District, Tainan City
(台南市中西區民族路二段241號)
Hours: 11am~7pm
Facebook: www.facebook.com/profile.php?id=100057108143489
Michelin: guide.michelin.com/tw/en/tainan-region/tainan/restaurant/lo-cheng-migao
A Hsing Congee
There's no better way to start a day of sightseeing in Tainan than with a wholesome breakfast at A Hsing Congee. If you don't read Chinese, one way of knowing you're at the right place is to look for a sign with the date "1965." In this sense, A Hsing and many other much-loved eateries in Taiwan are like fine whiskies. They carry age statements, because a long history implies the product is top-notch.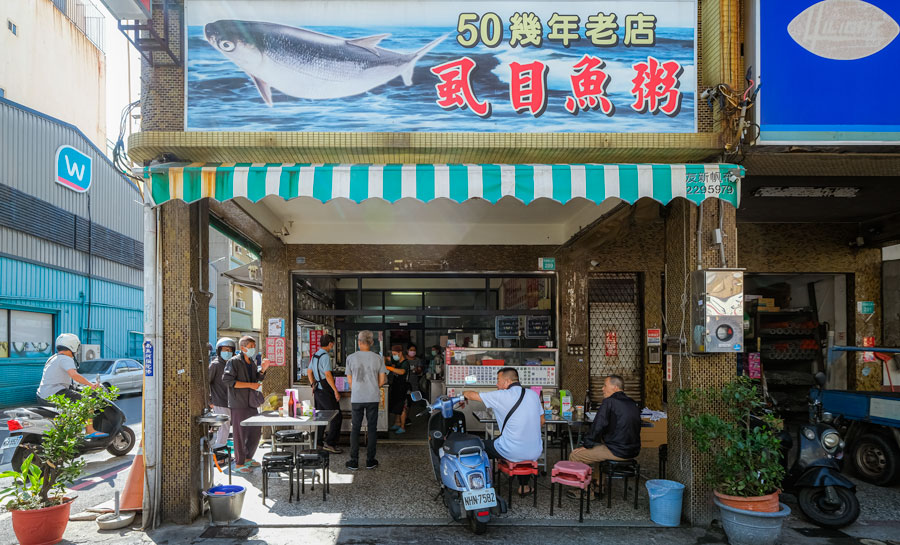 If you're eating in, pick up a green menu. Monolingual travelers eager to sample this 58-year-old shop's signature dish should tick the item at the top of the list: "Milkfish Rice Gruel" (NT$75).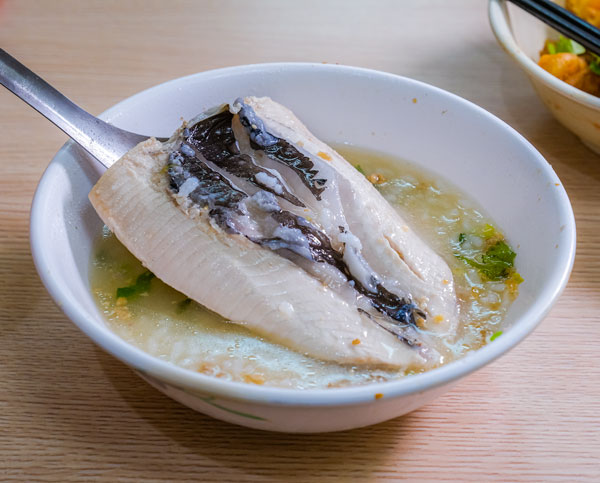 Milkfish has a very mild, ever-so-slightly-sweet taste which makes it acceptable even to people who don't usually like fish. A Hsing's savory porridge contains a generous quantity of deboned milkfish, a few oysters, plus chopped spring onion, cilantro, and a handful of flavoring ingredients. There's enough rice to satisfy, but not so much you'll bloat.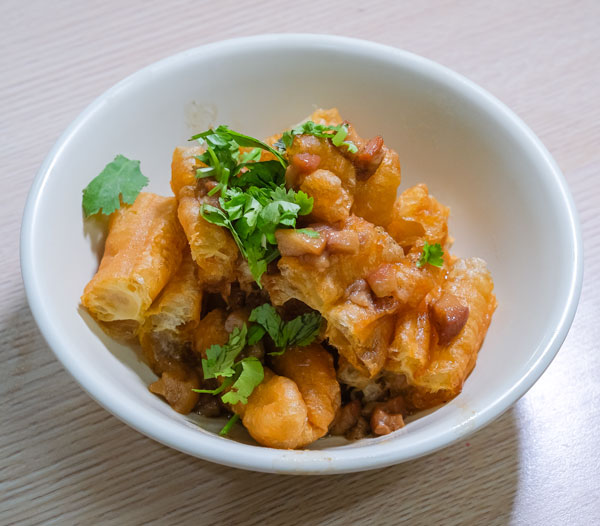 A Hsing Congee
(阿星鹹粥)
Tel: (06) 220-0941
Add: No. 289, Sec. 3, Minzu Rd., Central West District, Tainan City
(台南市中西區民族路三段289號)
Hours: 5am~1pm (closed on Monday)
Michelin: guide.michelin.com/tw/en/tainan-region/tainan/restaurant/a-hsing-congee
Kangle Street Beef Soup
Tainan, as most Taiwanese know, has a distinctive beef dish of its own. Ultra-thin slices of raw beef, from an animal slaughtered just hours earlier, are dropped into a scalding-hot clear soup seconds before delivery to the table. Some say it's like Vietnamese pho, but without the noodles or bean sprouts.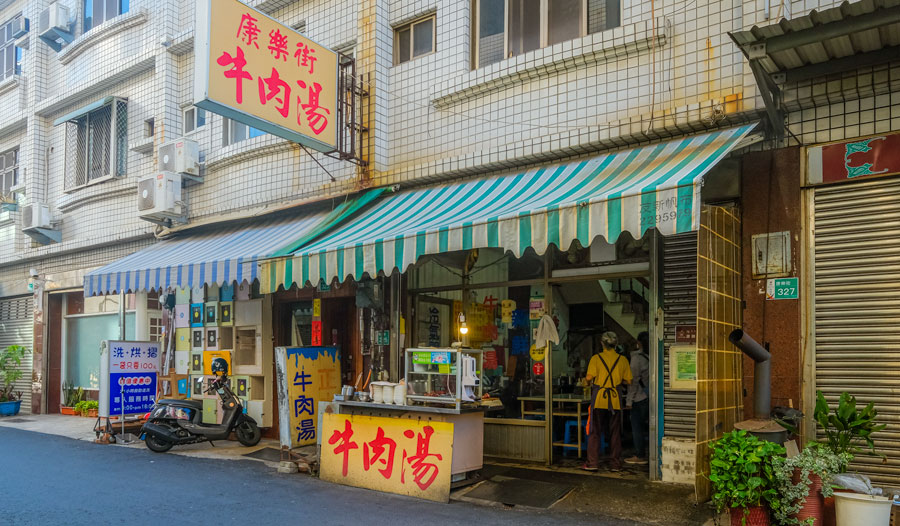 The best-known beef soup specialist in Tainan's downtown is Kangle Street Beef Soup, just around the corner from tourist-magnet Shennong Street.
The eatery's signature beef soup comes in small and large portions (NT$110/NT$160). When accompanied by a bowl of white rice (NT$10) or rice with braised beef gravy (NT$30), a small portion is more than enough for a solo diner. And like the best things in life, it grants uncomplicated satisfaction.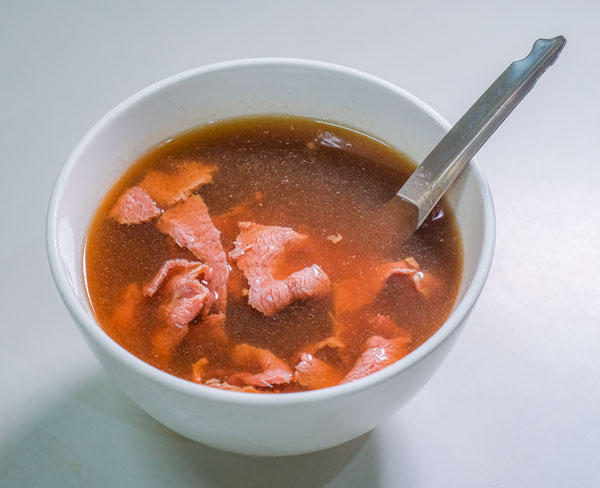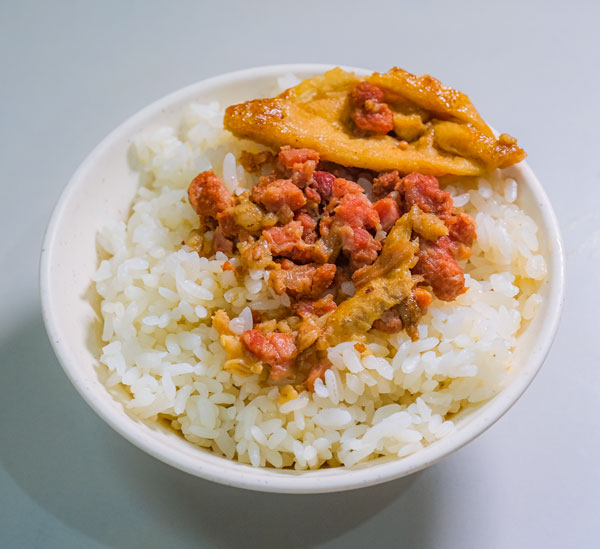 Groups wanting a full meal can order fried beef (NT$130), fried cow's heart (NT$130), or fried cow's liver (NT$130). On the menu, all of these are prefixed by the Chinese character sheng to emphasize the meat's freshness.
Kangle Street Beef Soup
(康樂街牛肉湯)
Tel: (06) 227-0579
Add: No. 325, Kangle St., Central West District, Tainan City
(台南市中西區康樂街325號)
Hours: 4:30am~1:30pm, 4:30pm~11pm
Michelin: guide.michelin.com/tw/en/tainan-region/tainan/restaurant/kangle-street-beef-soup