Exploring the Sweet Side of Taipei's Traditional Bakeries
TEXT / AMI BARNES
PHOTOS / RAY CHANG, VISION
Ask any sweet-toothed visitor to Taiwan about local traditional-style pastries and they will surely rhapsodize about pineapple cakes. These crumbling-crusted jammy treats are undeniably good, but they are just the tip of the sugar-infused iceberg. Delve a little deeper and you will discover a whole industry catering to confection cravings built on families of bakers that have honed their craft over generations.
Throughout the Sinosphere, there is a strong tradition of baked treats made to be shared at times of celebration. These are pastries with symbolic wishes for good health or fortune baked into their very essence, and an ingredients list as evocative as a waft of sugar-scented air rushing out of a just-opened oven. Feeling peckish? Then dig in.
Years Cake
To find Years Cake, just follow the enticing aroma of baking down Taipei City's Chaozhou Street until you spot the distinctive red-and-black store frontage. This establishment, now under the stewardship of third-generation owners, has been serving up freshly baked goods since 1950. In the early years, the store made its name selling cakes that were intended to be given and consumed at moments of ritual significance – weddings, funerals, and those days when the gods need to be honored with something sweet and special.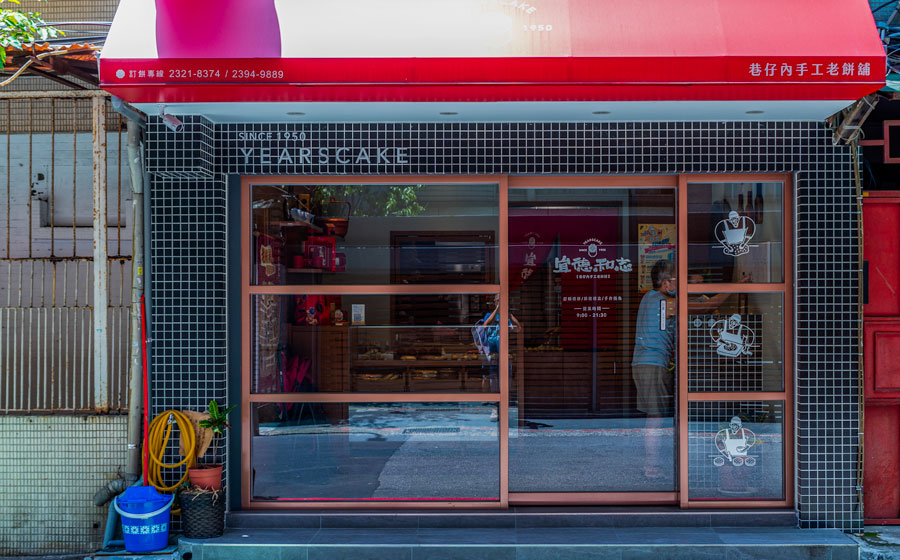 Wedding cakes in particular were this store's bread and butter. In traditional Chinese culture, couples announce their upcoming nuptials by offering pastries to friends and relatives. Old-style wedding cakes were usually flat, round, large enough for a whole family, and filled with high-quality ingredients – sweetened beans, nuts, braised meat, or dried shrimp. This tradition is still widely practiced in Taiwan, although preferences have changed dramatically since the 1950s. Rather than taking aim at the perpetually moving goalposts of whatever flavor is currently in fashion, Years Cake has stood firm – its walnut and date-paste wedding cakes have earned the company loyal supporters.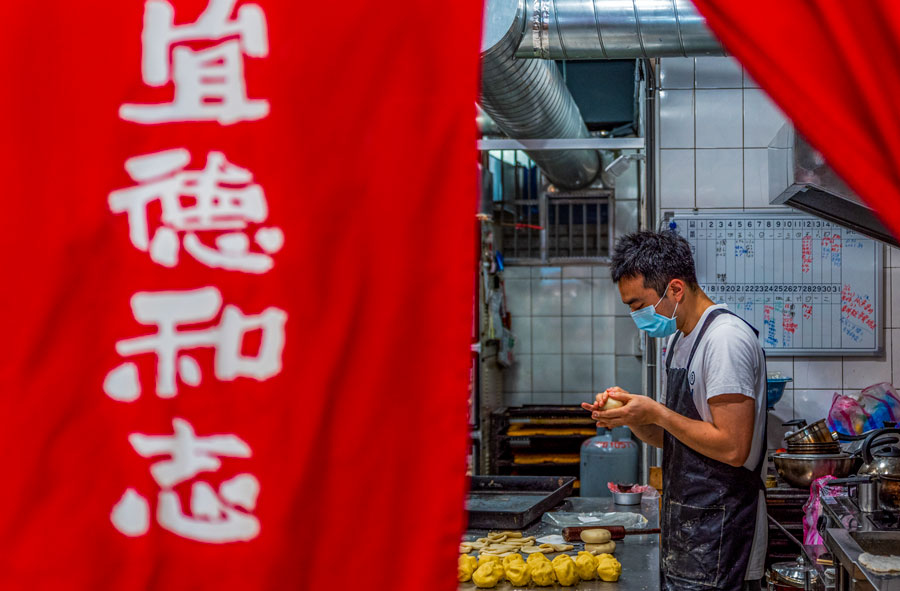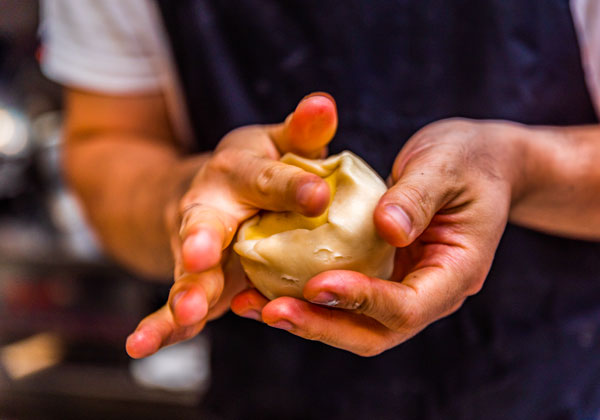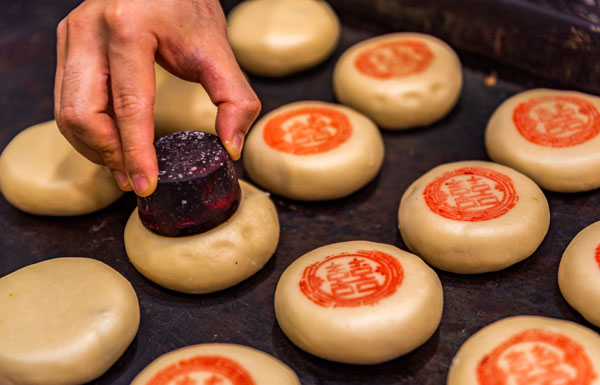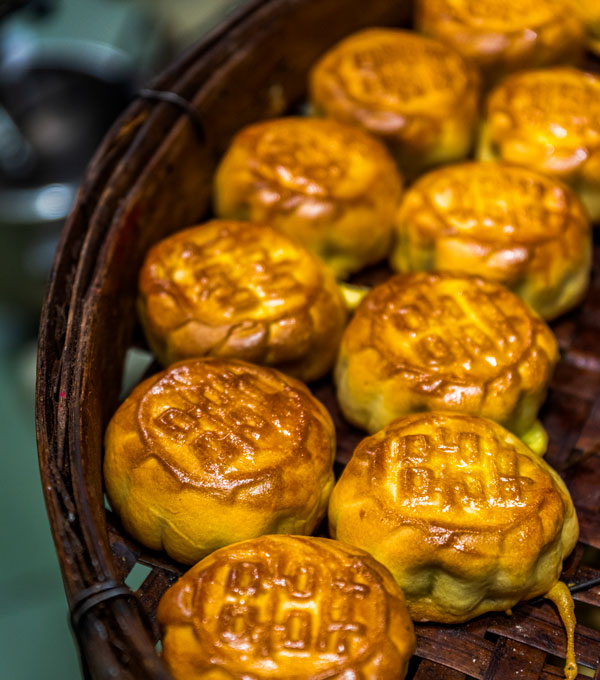 Over time, plenty of new products have been added to the store's repertoire, but the flavors remain decidedly towards the more traditional end of the spectrum. Offerings include pastries packed with mung beans, curry braised pork, salted egg yolk, taro, and sesame. Those curious to dip their toes in the world of simultaneously sweet and savory fillings don't need to worry about biting off more than they can chew, since Years Cake sells most of its confections in small, medium, and large sizes. A good place to start is the store's signature egg yolk and sesame cake – a circular wheel of flaky, melt-in-the-mouth pastry encasing a salted egg yolk and sesame paste filling.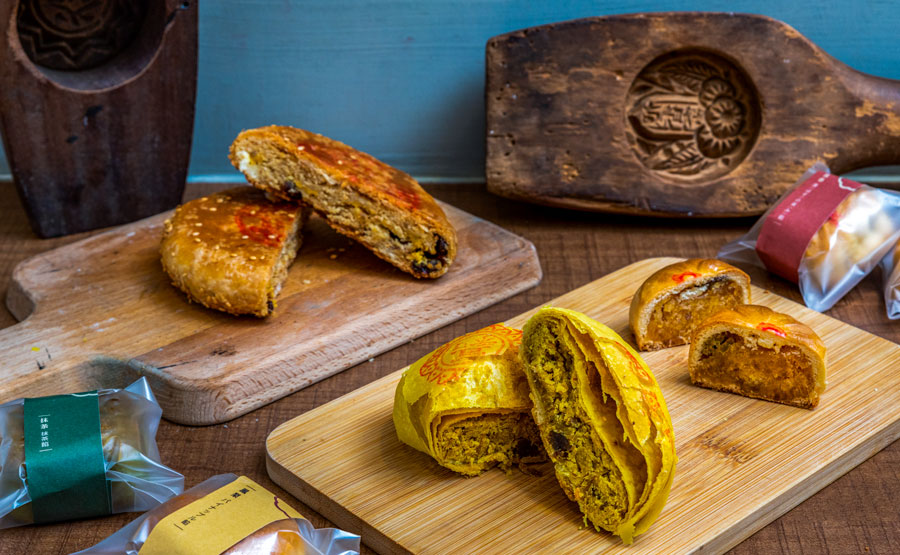 Years Cake
(宜德和志)
Tel: (02) 2394-9889
Add: No. 149, Chaozhou St., Daan District, Taipei City
(台北市大安區潮州街149號)
Hours: 11am~9pm
Website: www.0223218374.com (Chinese)
Facebook: www.facebook.com/yearscake
Li Ting Xiang
Founded in 1895 by an immigrant from China's Fujian Province, Li Ting Xiang specializes in classic sweet treats. Over the five generations that this family store has been in operation, the proprietors have worked hard to match their customers as preferences have shifted towards having smaller-sized selections in a greater variety of flavors, and with dialed-back sugar levels too.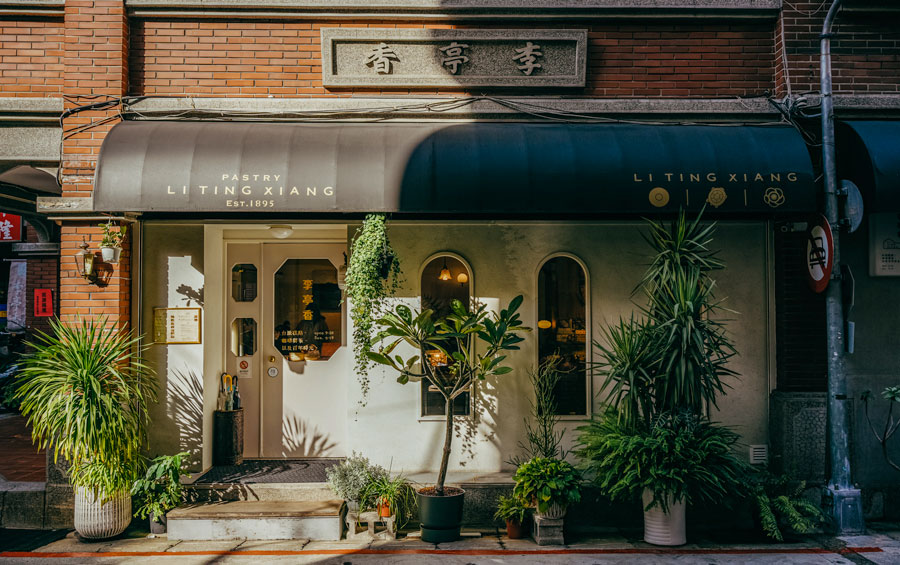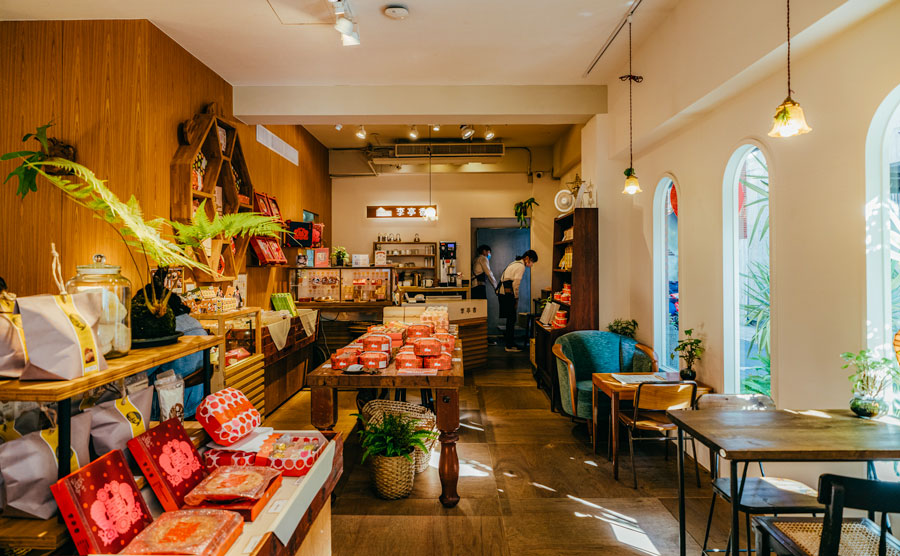 The store's current top seller is turtle cakes in irresistibly dainty individual portions. Variations on this cake can be found throughout East Asia, and like many traditional sweets, they come loaded with auspicious symbolism. Li Ting Xiang's twist on the turtle cake is to replace the outer "skin" (usually made of glutinous-rice flour) with a mix of peanut flour and maltose. It offers two filling choices: sesame paste and nougat, both of which balance perfectly with the peanuty casing. Other popular items include several sweet and savory ping xi cake (a type of bun-shaped pastry), crumbly sesame-oil-infused mung bean cakes formed with delicate floral molds, and cinnamon rolls sprinkled with crisp flakes of Taiwanese sugar cookies for an added local flair.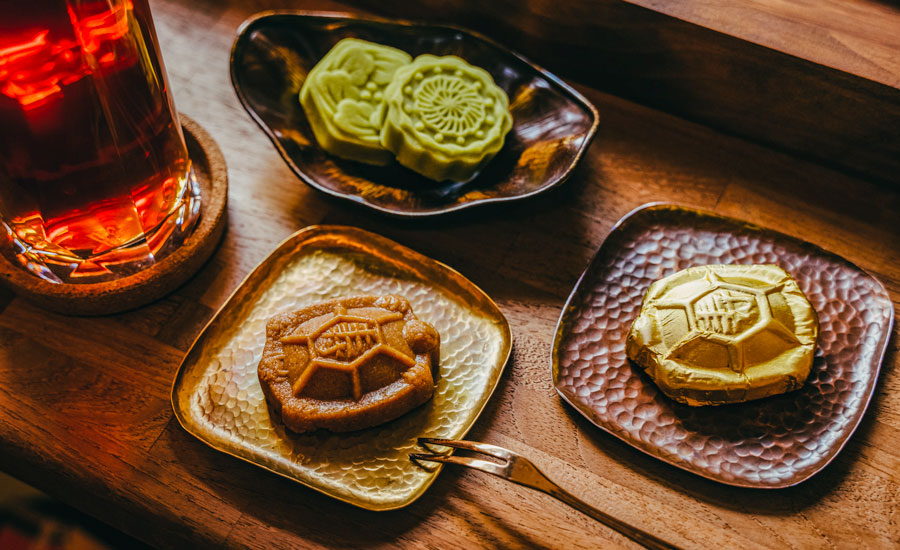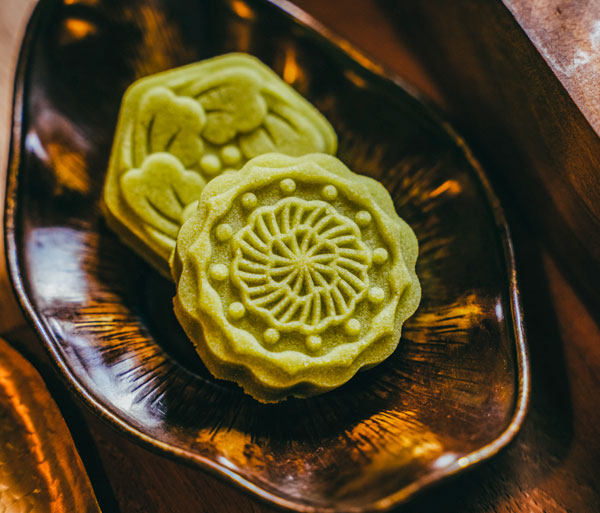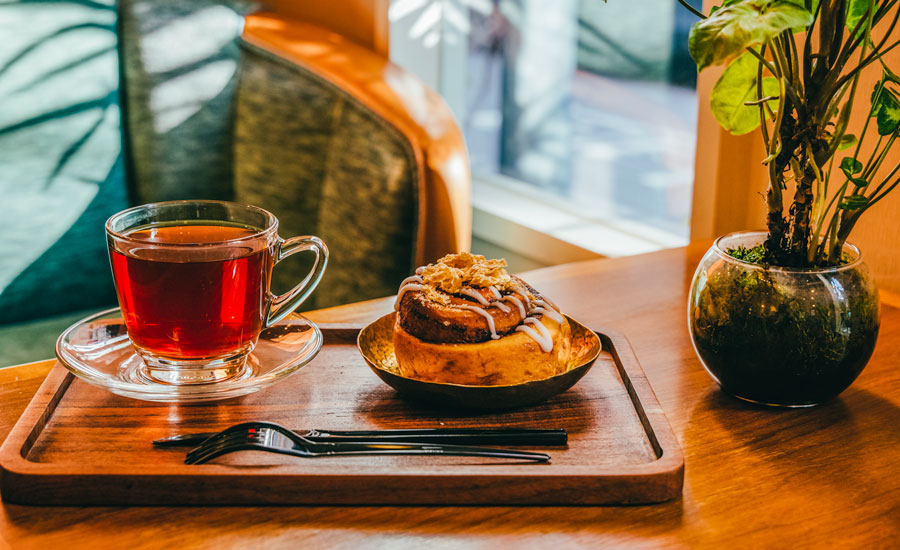 As well as modifying its menu to match contemporary tastes, Li Ting Xiang aspires to change the way these snacks are enjoyed. Traditionally, customers would take their purchase home to share with family, but now visitors can enjoy "Taiwanese afternoon tea" in the store's bright and airy premises at the northern end of Dihua Street, one of the city's key heritage-architecture streets.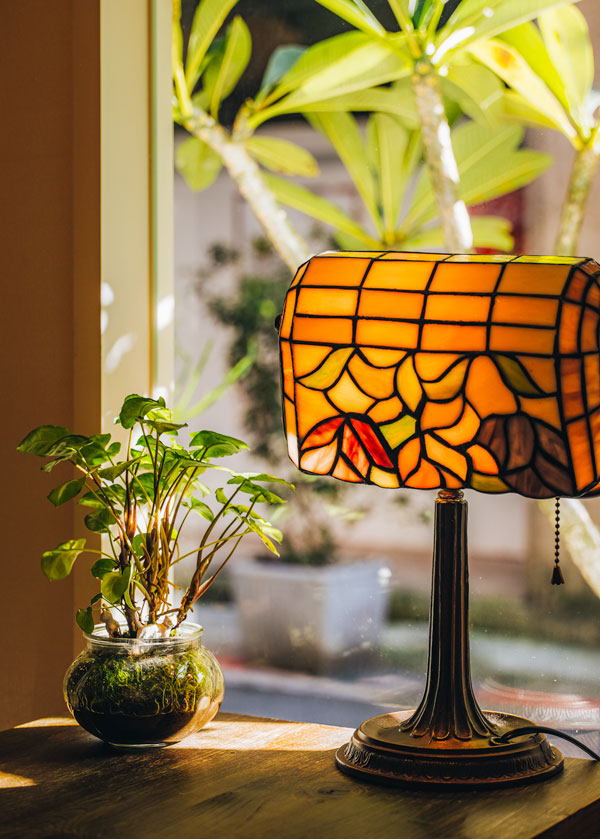 Before the global pandemic took root, the store even offered DIY sessions during which aspiring pastry chefs could make their own cakes. The classes were paused due to hygiene considerations, but there's talk that they could start up again sometime soon. Until then, you can either head to the store to enjoy a drink and a treat, or else visit the Li Ting Xiang website to order pre-mixed dough and filling sets that can be cooked up in your own home.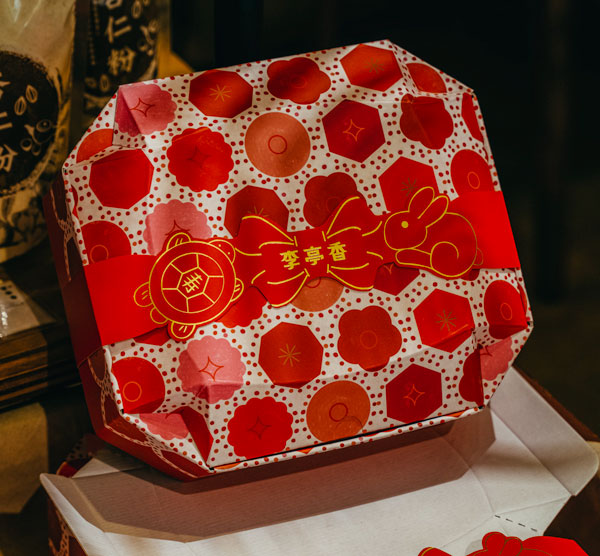 Li Ting Xiang
(李亭香)
Tel: (02) 2394-9889
Add: No. 309, Sec. 1, Dihua St., Datong District, Taipei City
(台北市大同區迪化街一段309號)
Hours: 10am~7pm
Website: lee-cake.com (Chinese)
Facebook: www.facebook.com/leecake1895
Lin's Wagashi
Lin's Wagashi operates out of a corner building on Dihua Street, and unlike the other businesses included on these pages, it draws inspiration from Japanese confectionary culture. Founded in 1953, it was originally just a grocery store selling daily essentials and a few baked goods, but then the second-generation owner developed a passion for crafting Japanese sweets (known as wagashi). After visiting Japan to learn more about creating these delicacies, this Lin-family member returned and set about reinventing the family business. He focused on turning out small batches of preservative-free delicacies made using almost exclusively locally-sourced ingredients – a business model the store employs to this day.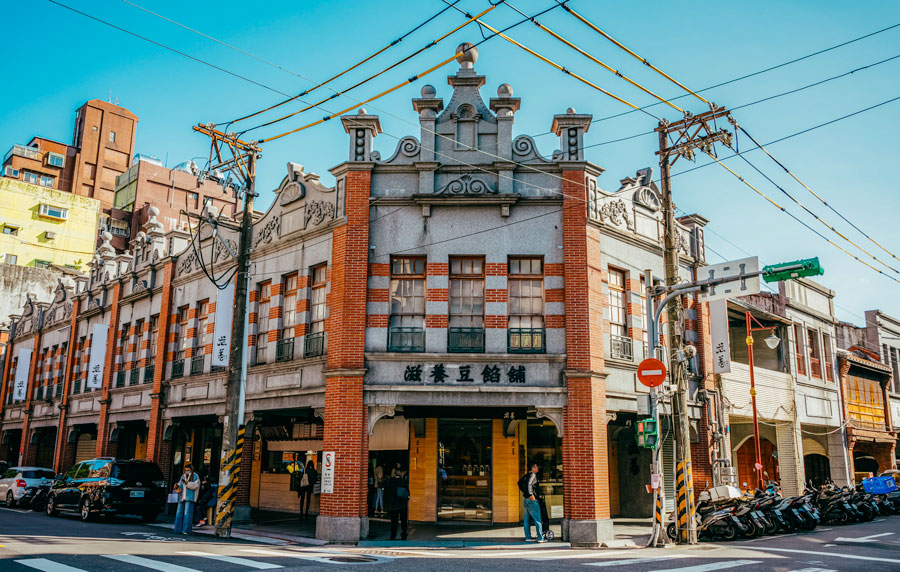 The shop's exterior is all red brick and decorative stucco moldings, while inside the walls are adorned with wooden cake molds. Shoppers jostle around a central table laden with individually wrapped sweets. Among them are miniature baked buns filled with chestnut, glistening cubes of squishy yokan, chewy brown-sugar mochi coated with a fine dusting of soybean powder, and of course that most popular of Japanese sweets, dorayaki. Items can be purchased individually or in gift sets, but remember to bring a credit card (Lin's Wagashi is a cash-free store).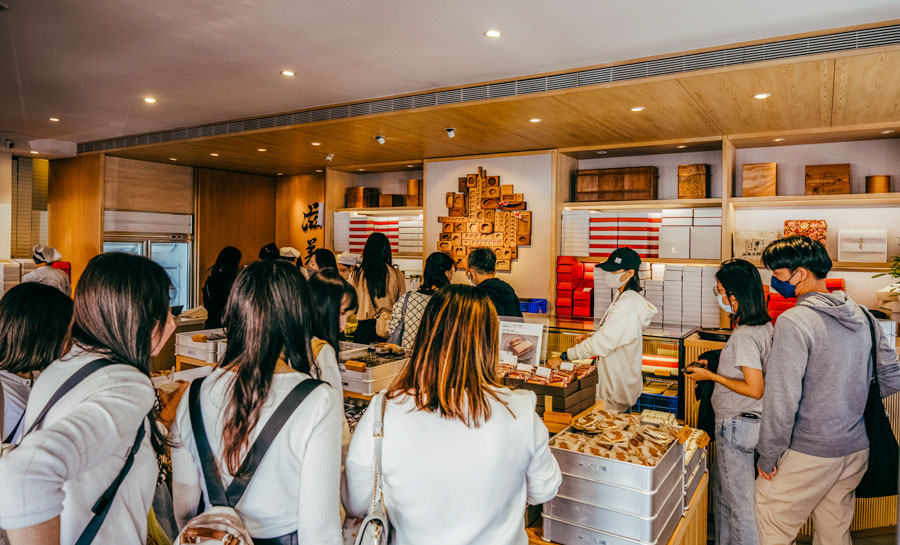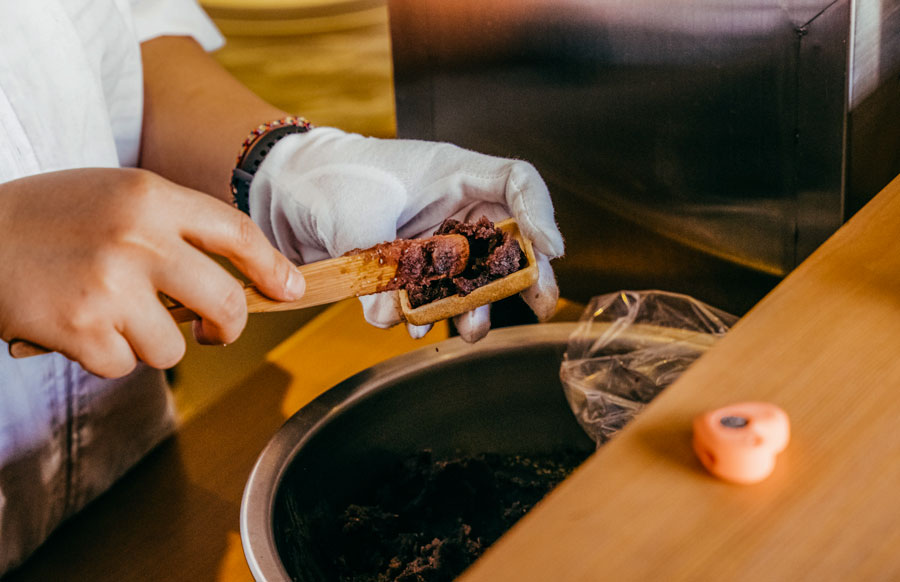 In winter, the store's hottest item is the seasonal strawberry daifuku. Available only during the brief strawberry harvest, plump strawberries are bundled first in a layer of anko (sweet adzuki-bean paste), then a second layer of mochi. The resulting combination is a study in nuance – each component bringing its own specific soft texture and sweetness.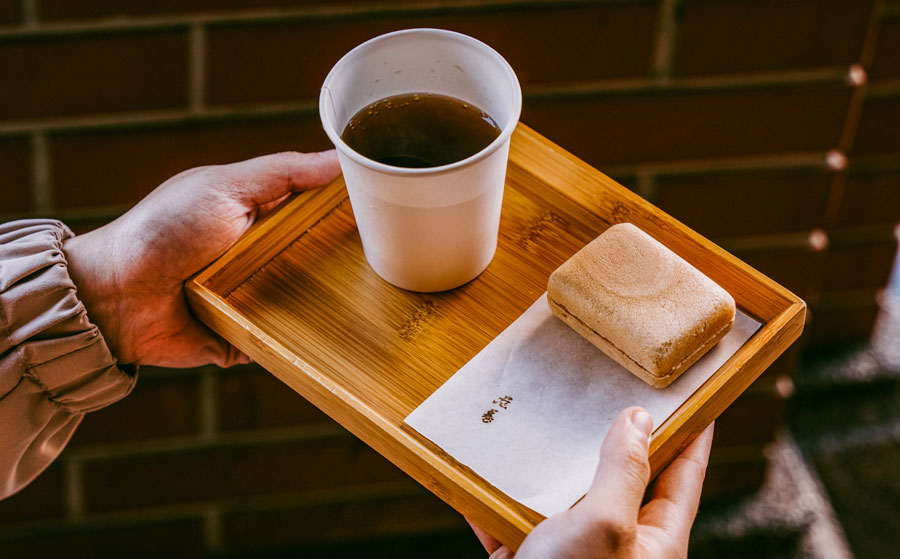 The store also offers an NT$50 set comprised of a cup of black tea and a monaka – crispy rice-flour wafers sandwiching a sweet spoonful of anko. It's a perfectly balanced sweet pick-me-up that can be enjoyed on the spot.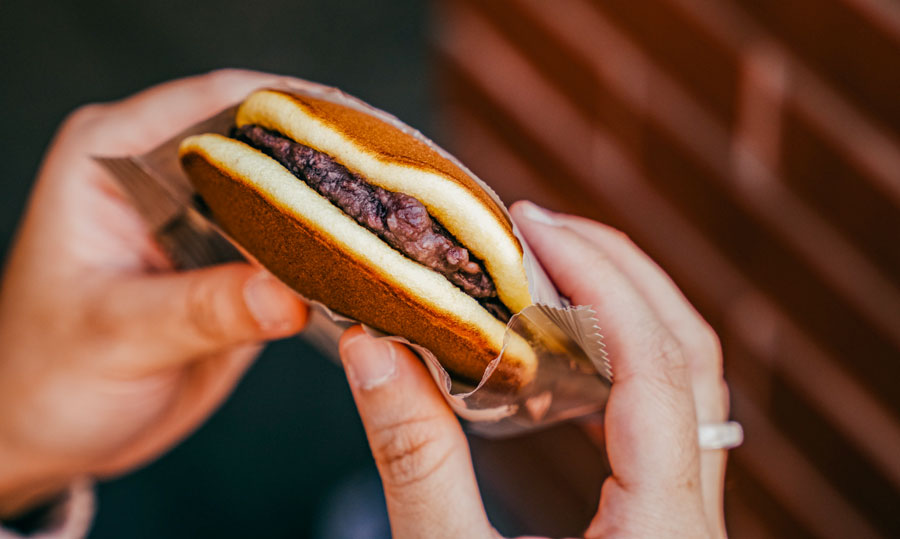 Lin's Wagashi
(滋養和菓子)
Tel: 0933-727-553
Add: No. 247, Sec. 1, Dihua St., Datong District, Taipei City
(台北市大同區迪化街一段247號)
Hours: 9am~6pm
Website: www.wagashi.com.tw (Chinese)
Jiu Zhen Nan
In the 1920s, a chef known as Master A-Hsiang took up a job in a small Tainan pastry store. After mastering the craft, he parted ways with his employers and moved to Kaohsiung to open a shop of his own. He called it Zhen Nan Pastry Shop (the "Jiu" part of the name – meaning "old" – didn't arrive for another couple of decades).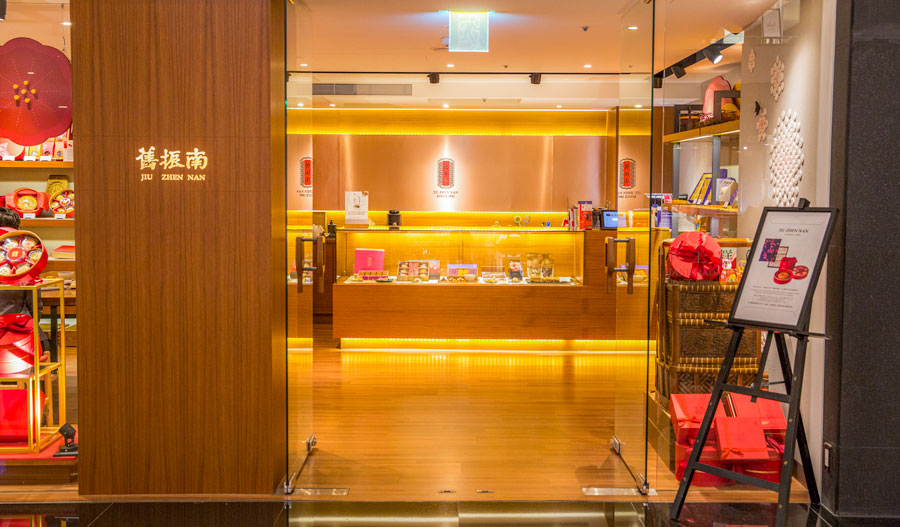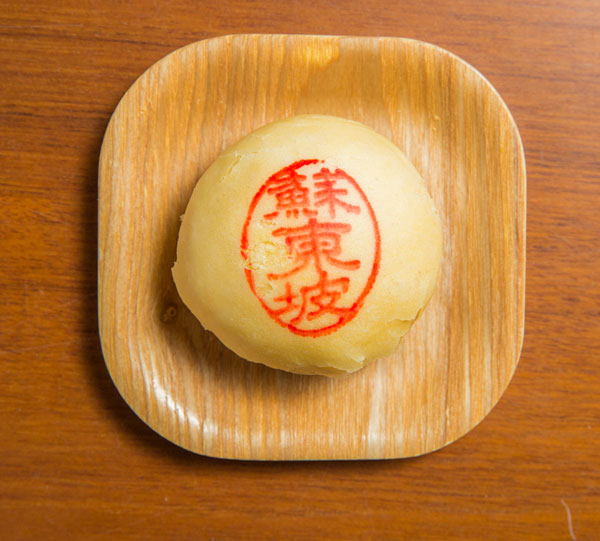 Jiu Zhen Nan has a range of year-round offerings encompassing staples of the Taiwanese pastry scene, such as pineapple cakes, nougat, nut brittles, and mung-bean cakes. But where this company excels is its selection of exquisitely presented treats for special occasions. You can order salted egg yolk mooncakes in the run-up to the Mid-Autumn Festival or iced "crystal" rice dumplings for the Dragon Boat Festival. Jiu Zhen Nan even sells a baked version of the traditional sansheng offerings (pork belly, a whole fish, and a whole chicken) that adorn altars during the Chinese New Year period.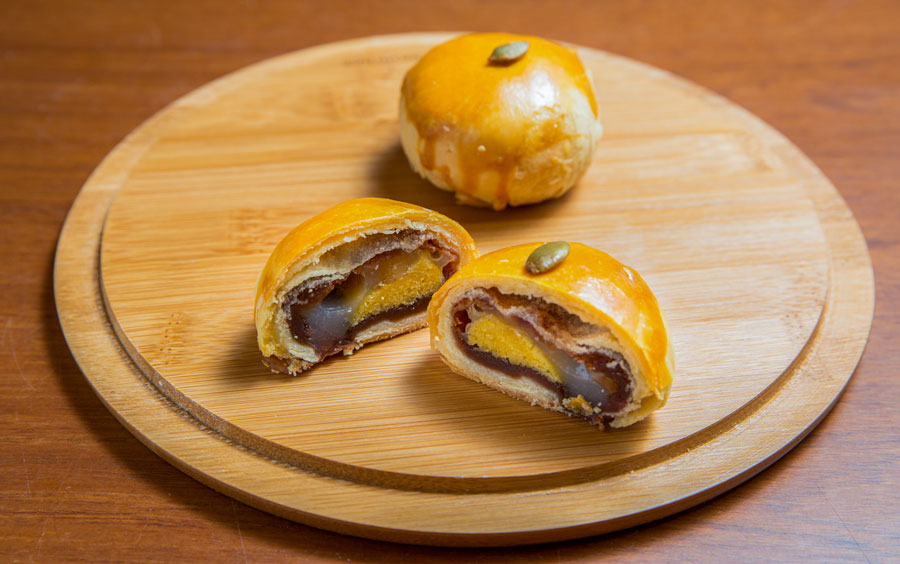 At the company's Regent Galleria Store in Taipei, customers can have a go at making some of these pastries with their own hands. After all, taking home a box of pineapple cakes is great, but returning home with the ability to make your own pineapple cakes is infinitely better.
Jiu Zhen Nan (Regent Galleria Store)
(舊振南晶華店)
Tel: 0933-727-553
Add: No. 3, Lane 39, Sec. 2, Zhongshan N. Rd., Zhongshan District, Taipei City (1F of Regent Taipei)
(台北市中山區中山北路二段39巷3號)(晶華酒店1F))
Website: www.jzn.com.tw
Facebook: www.facebook.com/jiuzhennan
SunnyHills
Arriving on the scene in 2008, SunnyHills is a young upstart in this industry full of baking dynasties, but that's no reason to underestimate the operation. The company's signature pineapple cake is a textbook example of doing one thing and doing it to perfection. Indeed, for the first few years, it was the only item it sold – a bold business move, especially when considering the stiff competition faced.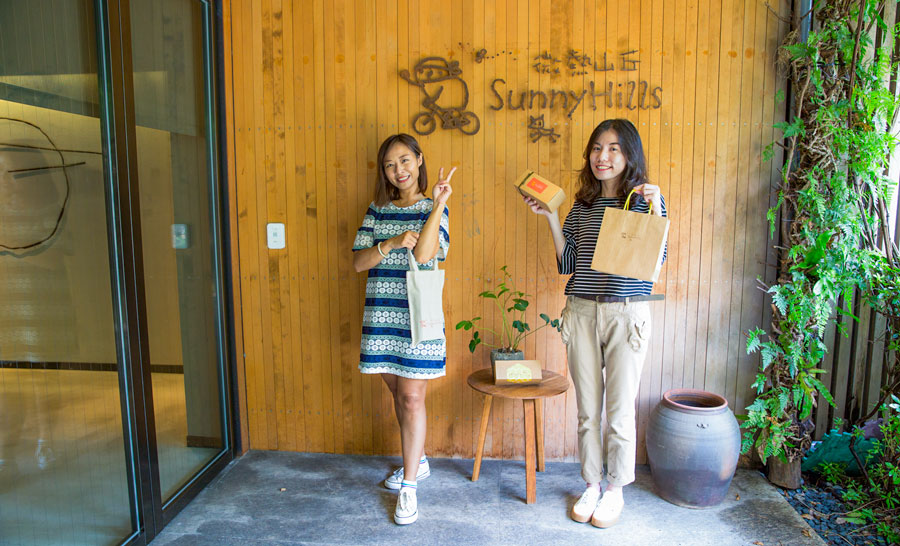 To set itself apart, SunnyHills intentionally focused on becoming a purveyor of premium pastries. Every detail has been carefully chosen to underscore this impression of being a top-class establishment, from the unhurried in-store customer experience to the unorthodox jam recipe (SunnyHills insists on using just one specific pineapple cultivar, the Nantou County-grown Cayenne No. 2, and does not pad the filling with cheaper ingredients like wax gourd, as is now commonly done elsewhere). This considered approach has garnered it a devoted following.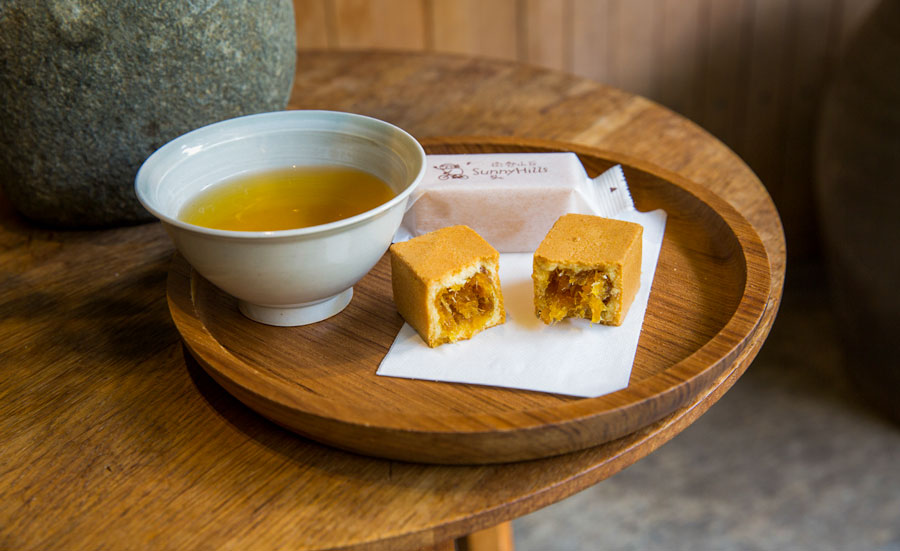 With its reputation now firmly established, the company has branched out into offering several other products, including multiple variations of their signature pastry-cased ingots using different seasonal fruits such as apple, strawberry, and pomelo.
Pineapple cake aficionados can pick up a box or two (or three) from SunnyHills' Taipei branch on Songshan District's Minsheng East Road, but don't worry if you find yourself running short on time – since 2015, SunnyHills has also had a store in Taoyuan International Airport for all those emergency pastry purchases.
SunnyHills (Minsheng Branch)
(微熱山丘民生)
Tel: (02) 2760-0508
Add: No. 1, Alley 4, Lane 36, Sec. 5, Minsheng E. Rd., Songshan District, Taipei City
(台北市松山區民生東路五段36巷4弄1號)
Hours: 10am~6pm
Website: www.sunnyhills.com.tw (Chinese)
Tai-ho Traditional Biscuit
Located just a minute's walk away from Exit 6 of MRT Ximen Station, Tai-ho Traditional Biscuit has been selling its sweet snacks for three generations. The store was opened in the late 1940s by the Chen family, who, like the founders of Li Ting Xiang, had also left China's Fujian Province to start a new life in Taiwan. With them, the Chens brought recipes for their hometown favorites – sweetly sticky-centered laopo "wife" cakes, crisp and chewy bars of sachima, seed-flecked Mazu biscuits – all of which can still be found filling their store shelves. The recipes have been changed a little over time, incorporating smaller quantities of sugar and oil, but the cakes are still hand-made.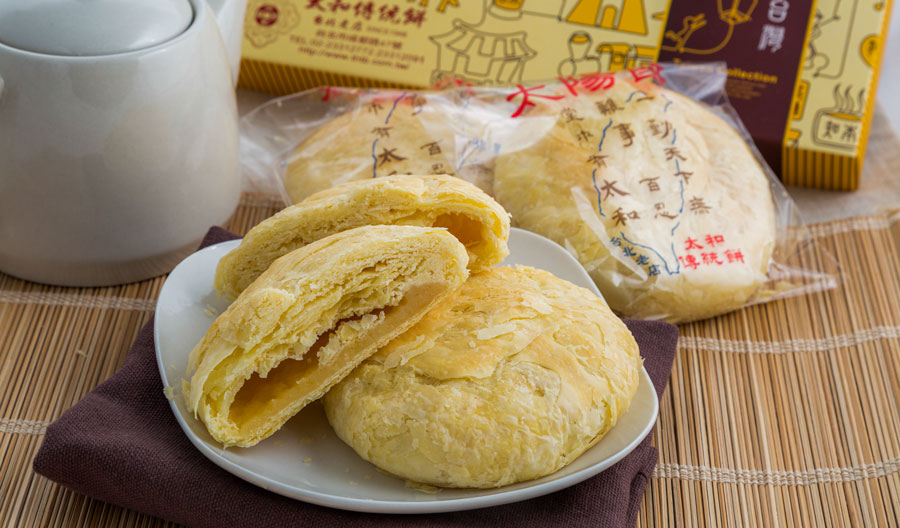 The store has won a place on many tourist itineraries, thanks in no small part to its pineapple cakes and nougat formed in the shape of Taiwan. Kitsch these may be, but if you want to take home a souvenir that screams "I've been to Taiwan," these will certainly get the point across. For something a little more subtle, Tai-ho also sells many varieties of easily transportable baked goodies in packs meant for sharing. And regardless of what you pick, you're bound to make friends if you return home bearing sweet treats.
Tai-ho Traditional Biscuit
(太和傳統餅)
Tel: (02) 2331-2772
Add: No. 47, Chengdu Rd., Wanhua District, Taipei City
(台北市萬華區成都路47號)
Hours:10am~7pm
Website: www.thtb.com.tw (Chinese)
Facebook: www.facebook.com/taihotw