Glimpses Into Old-Time Ways in a World So Different from Your Own
TEXT / RICK CHARETTE
PHOTOS / RAY CHANG, VISION
Spend a day meandering the same old village arteries Penghu locals have trodden for centuries while on their way to boats or to tend their small coral-walled farm plots, and also take in a selection of other recommended vicinity attractions, nature- and manmade, age-old and modern-day.
Penghu was settled about a thousand years back, and when you wander the narrow streets and alleys of its living-museum villages, you get the feeling you're peering directly into the deep past. Famously, the rich trove of heritage buildings in Erkan Village on Xiyu Island has been thoroughly renovated and the village is tourist-targeted, with cafés, gift shops, eateries, and other establishments set up. In this article we bring you to three time-capsule settlements in Penghu main island's east where locals still live in old houses and go about their old-timey business, but where at the same time a balanced modicum of tourist-enticing attractions have been developed.
Nanliao Community
This community, in the main island's northeastern corner just off County Road 202, brims with traditional old residences. It is one of Penghu's settlements most seriously hit by youth out-migration and population aging, and the remaining residents, in cooperation with outside organizations, have made it a model for rural regeneration, with a focus on sustainable tourism.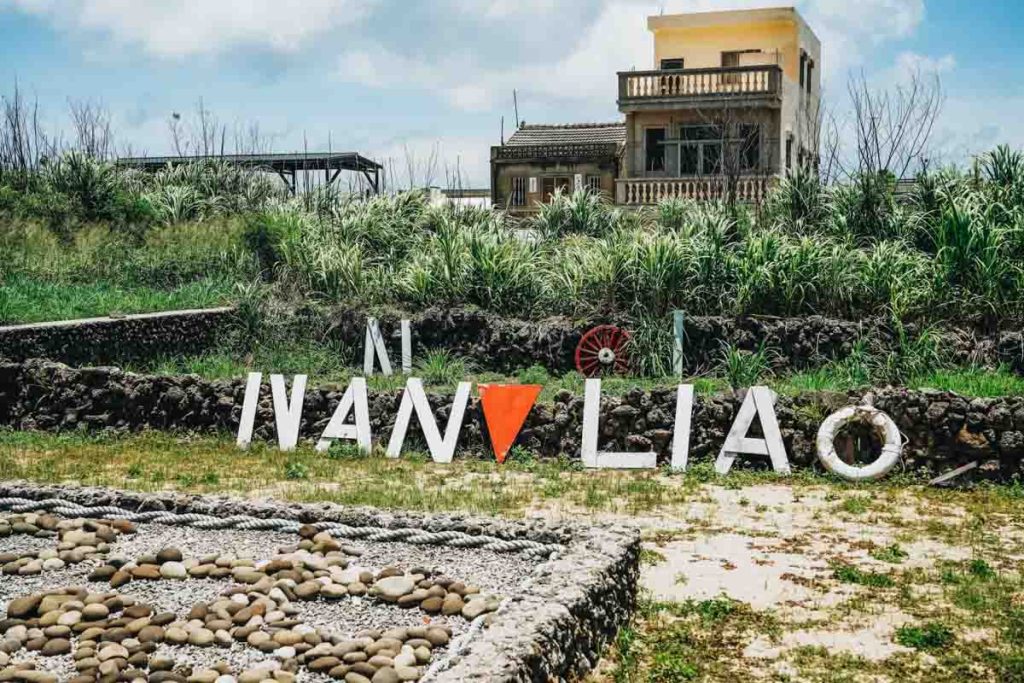 Incongruously, this fishing village is not even within rock-throwing distance of saltwater. It's inland at the base of a north-south peninsula. "Nanliao" means "south hamlet"; sister settlement Beiliao, or "north hamlet," is on the peninsula's northwest shore. In past days when boats were smaller, Nanliao's harbor was at the peninsula's base; today it is right beside Beiliao's much bigger. Nanliao was never able to match Beiliao's fishing success, so locals also turned to fish processing, fishing net repair, and farming.
Begin your tour at the ornate two-story Nanliao Baoning Temple, beside County Road 14. The narrow street that begins before the temple is the village's main artery. You'll immediately notice how the village is today festooned with spherical fishing-floats-cum-artworks and bright-color murals depicting archetypal olden-days village images. The balls are now lucky tigers and cats, scarecrows, turtles, etc. Murals depict scenes such as a farmer woman, covered head-to-toe for sun protection in the traditional Penghu style, driving a cart pulled by a yellow ox.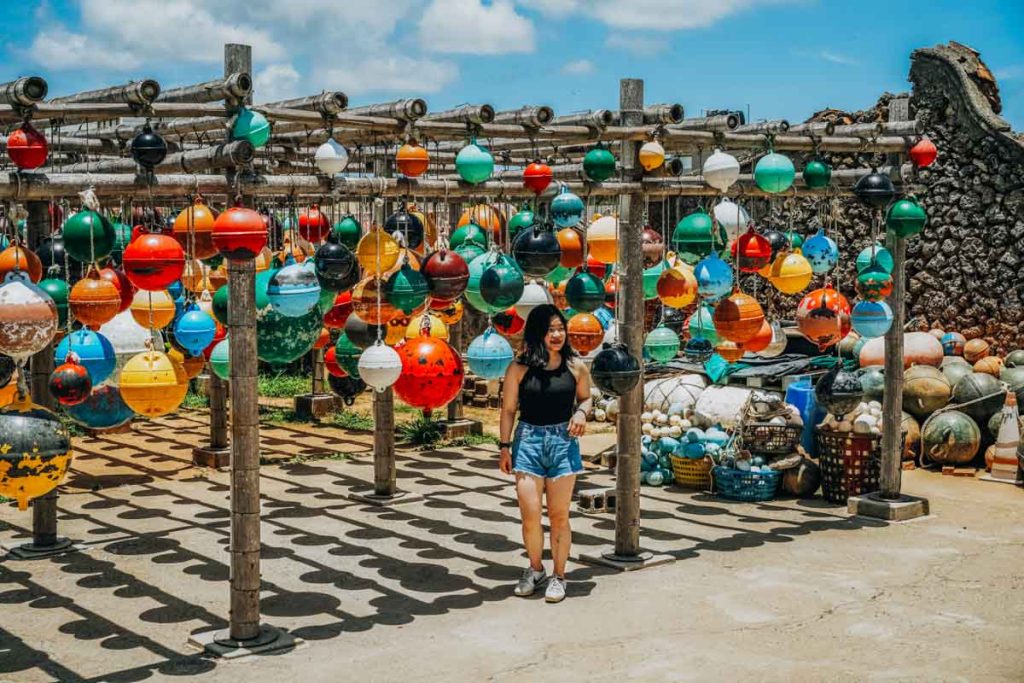 Not far up the main street is the traditional Nanliao Fish Ovens set. These are lidded structures that look like wells in which fish, usually sardines, were boiled, taken out for sun-drying, and sold.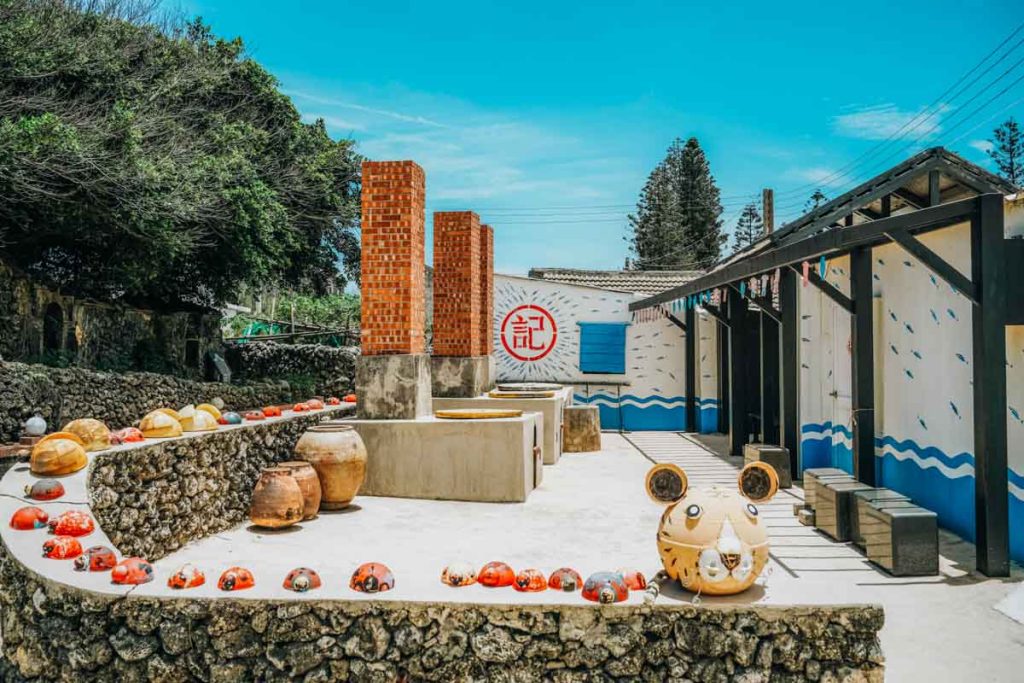 The fuel used in the pits, and commonly in homes, was cow manure cakes, made from manure mixed with crushed peanut shells to increase flammability. Further up the street you'll see a stone hut containing piles of the cakes inside, which look like giant mushroom heads; curing was required before use. On the hut's exterior you'll see Cowpat Trough posted in English.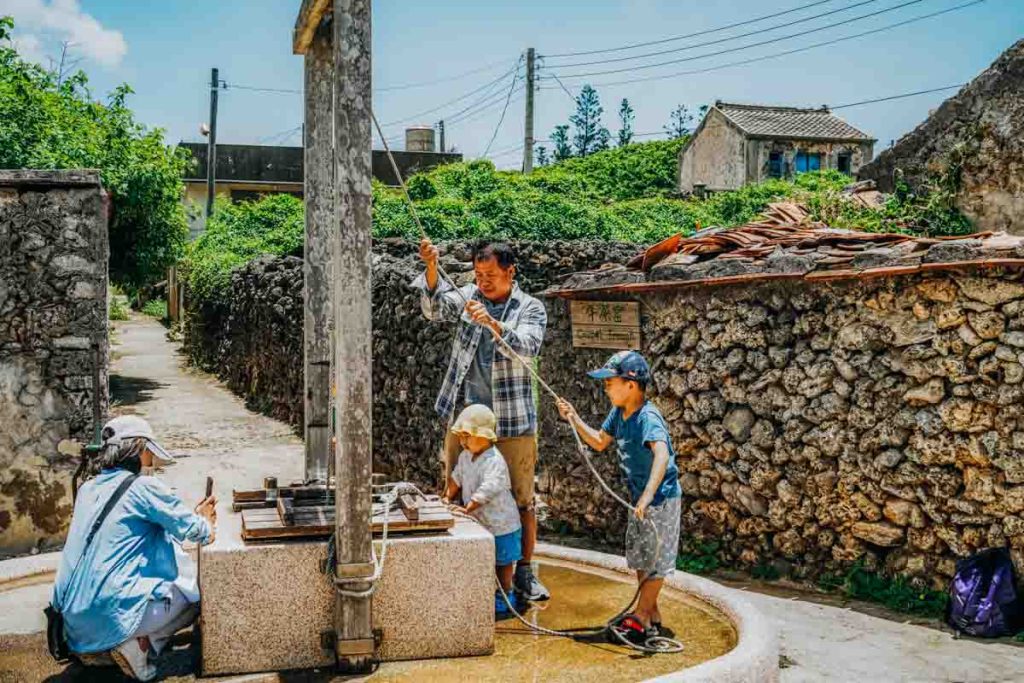 Beside the fish ovens is an expansive old residence, contained within high perimeter walls, that has long been abandoned and has been completely taken over by trees and bushes, creating a compelling man-meets-nature artwork. It has been dubbed the Nanliao Tree House. A signboard (Chinese) explains how coral blocks would be sourced at low tide, piling them on rafts, which would be floated to shore for transfer to ox carts at high tide. The blocks would have to be sun-cured for two years before construction use.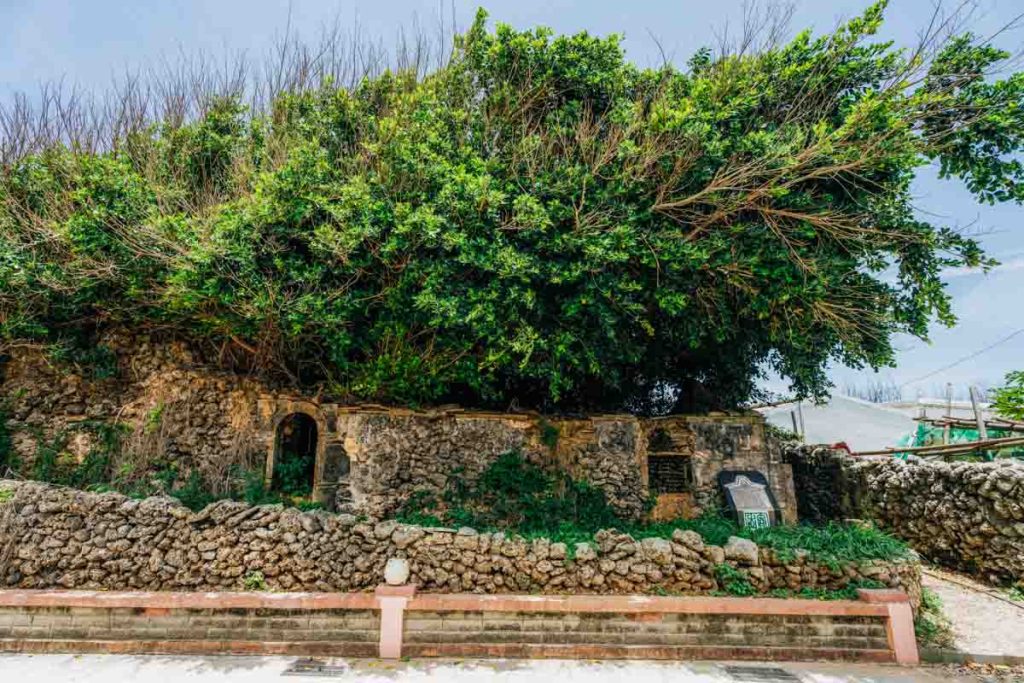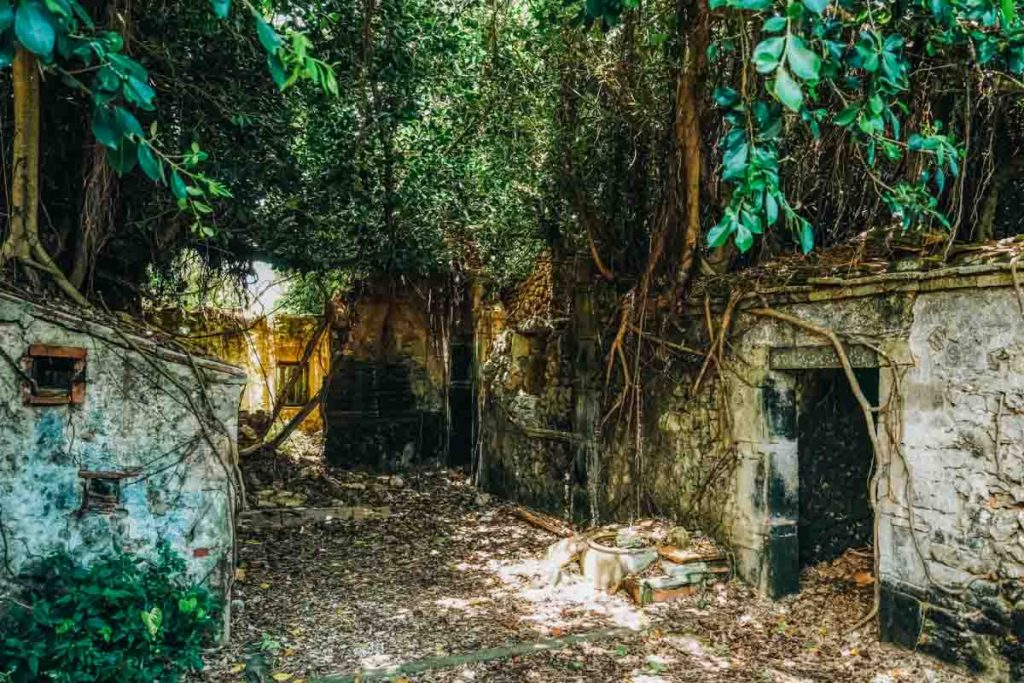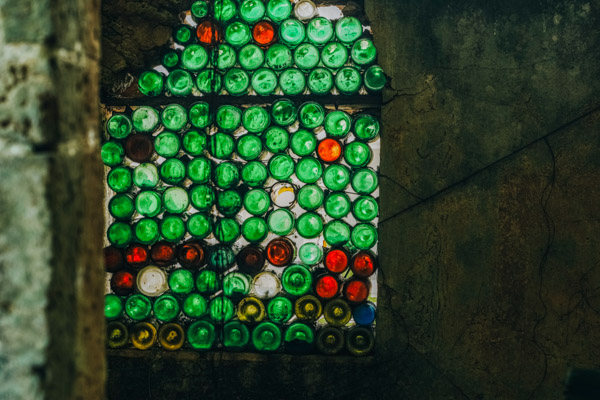 Two lots further along the street is the Xu Fan Ancient House, perhaps the most aesthetically appealing of the coterie of carefully renovated heritage homes. Built 1851~1861, this classical three-sided courtyard residence has an exquisite façade featuring such artistic adornments indicating wealth as delicately detailed ceramic-tile paintings. Inside are displays, with text (Chinese), images, and artifacts, on the clan that long resided in this house.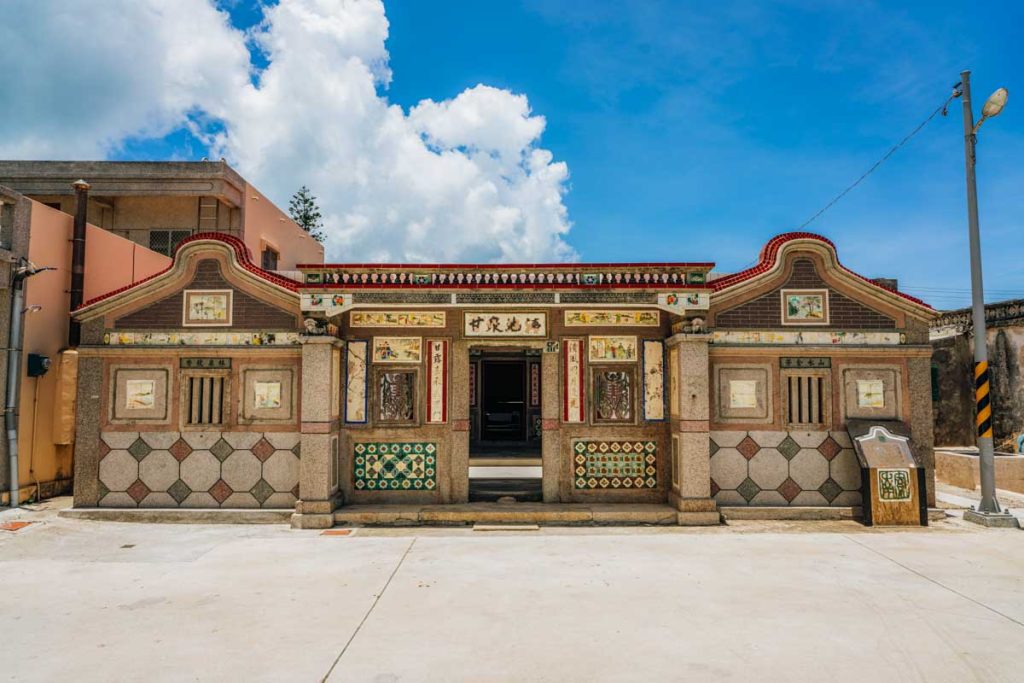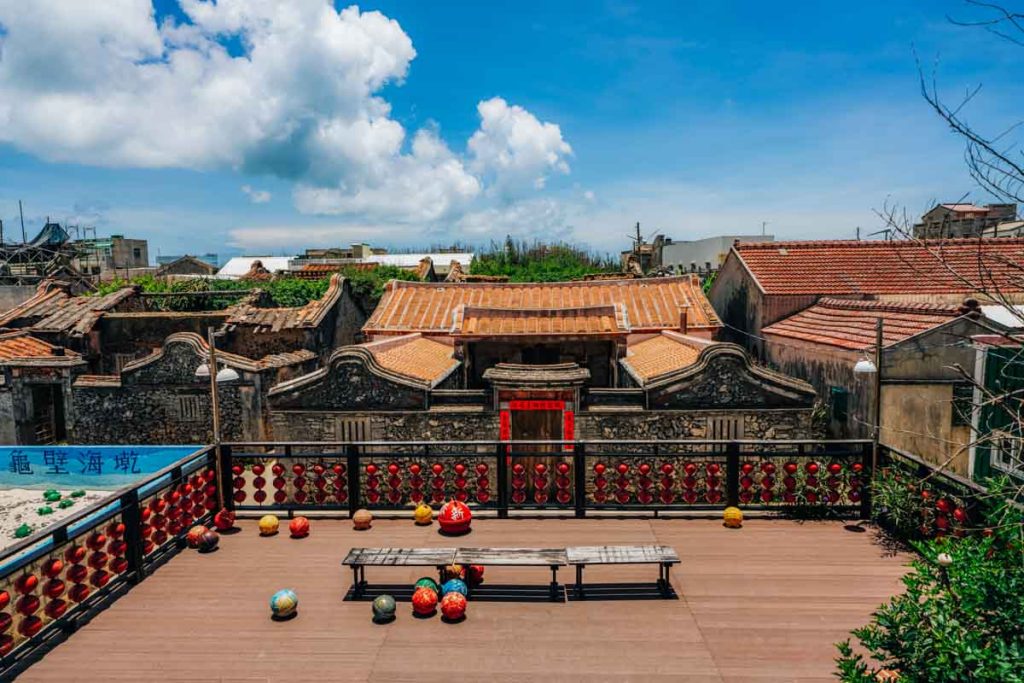 Note: The village volunteer group "Gui Bi Gang She – Penghu Nanliao" provides free guided tours (Chinese) to visitors arriving via the Taiwan Tourist Shuttle's Magong Huxi route buses (see "Getting Around" section below). "Gui Bi Gang" is literally "Turtle Wall Harbor," Nanliao's original name; "She" means "Society." The original settlers felt a hill north of the settlement was shaped like a turtle. If you don't arrive by shuttle bus you can contact the group in advance to arrange for a guided tour at www.facebook.com/nanliaopenghu.
Guoye Community
This community is on the east shore of the island, right where County Road 202 makes a 90-degree turn to head to the island's southeast corner. The village is just north of the northern tip of long, white-sand Longmen Beach (see next section).
This settlement has become a popular destination for tourists to watch the sunrise, and the attractive wood-built, two-level Guoye Sunrise Observatory has been specially built as a gathering spot. Featuring lookout pavilions on the upper level, it's right on the shore, beside the compact fishing harbor. Concrete steps designed in a gentle lapping-wave pattern lead down directly onto the white-sand beach. On clear mornings, before any haze establishes itself, the central mountains can be clearly espied on the far-off Taiwan mainland.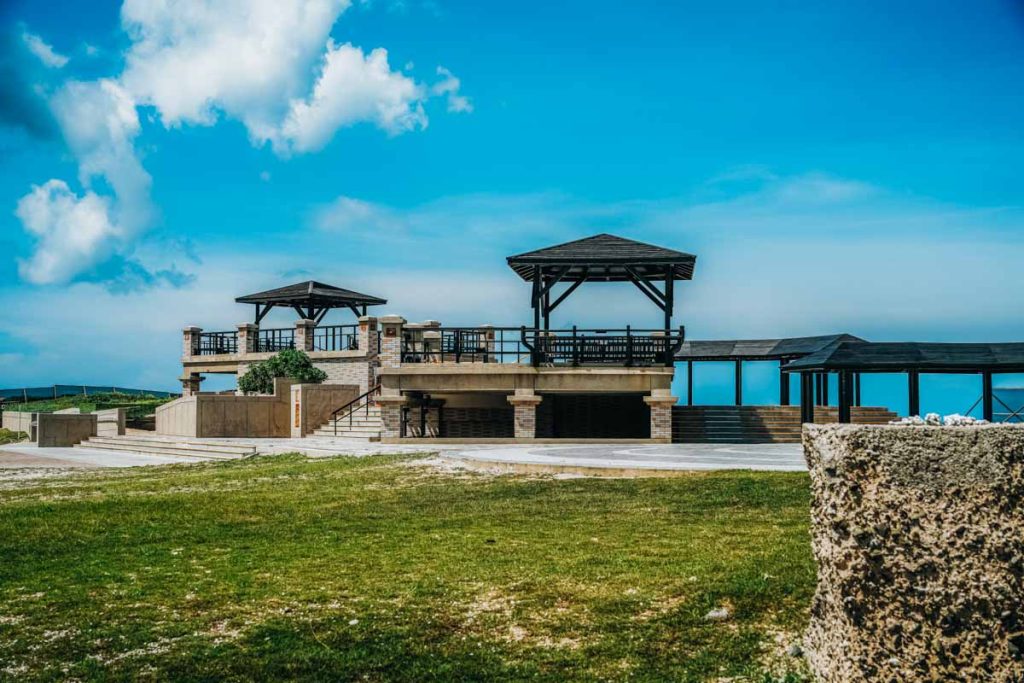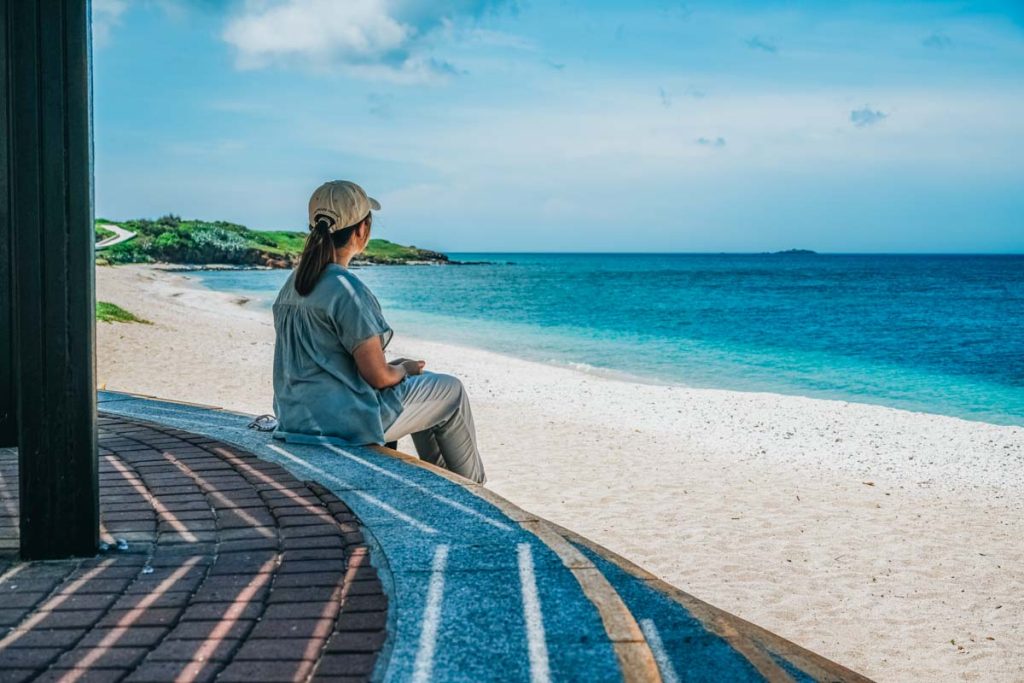 Between harbor and observatory you'll see a large dynamic sculpture in the shape of rolling waves, brightly painted with the rising sun, fishing boats, and dainty-yet-resolute sea hibiscus. You'll find wind/salt-tolerant sea hibiscus all around Guoye, and all around Penghu. Islanders colloquially call them "fruit leaf," or guoye – the adopted village name.
The Guoye Kiln is on a promontory behind a sea wall just to the village's south. This long, narrow rectangular complex has a distinctive castle look, and its high rooftop is popular with sunrise-watchers. The kiln was built in 1960 by a local man, using basalt and mortar. A lime-burning kiln industry flourished in Penghu from the late 1800s into the 1970s, using the abundant coral-stone and shell fragments. The lime-burning method was introduced from mainland Taiwan, and most product was sold back to the west coast.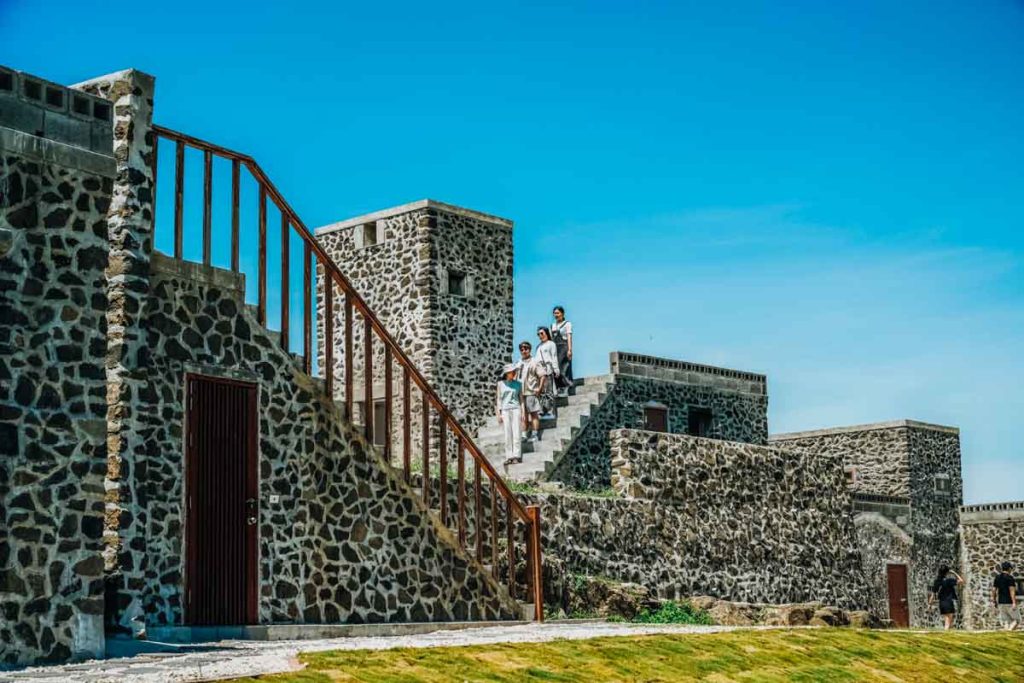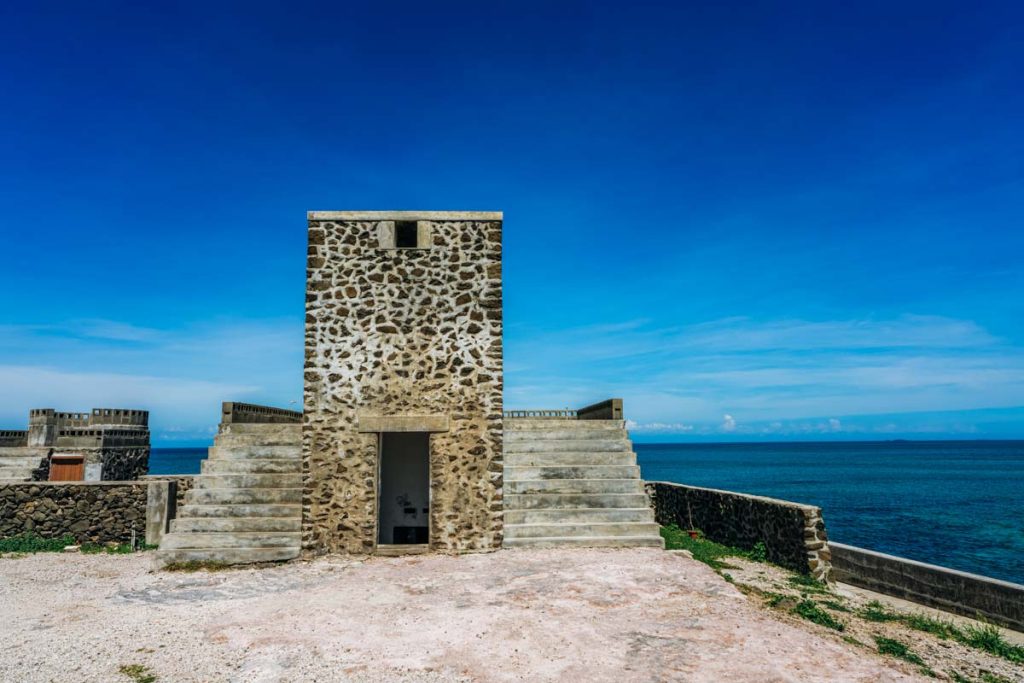 Today, from a peak of 41 kilns in 1956, only the Guoye Kiln and remains of a Baikeng Village kiln are still extant. The county government renovated the complex in 2015, and today it works with the community to run an on-site tourist information and gift shop.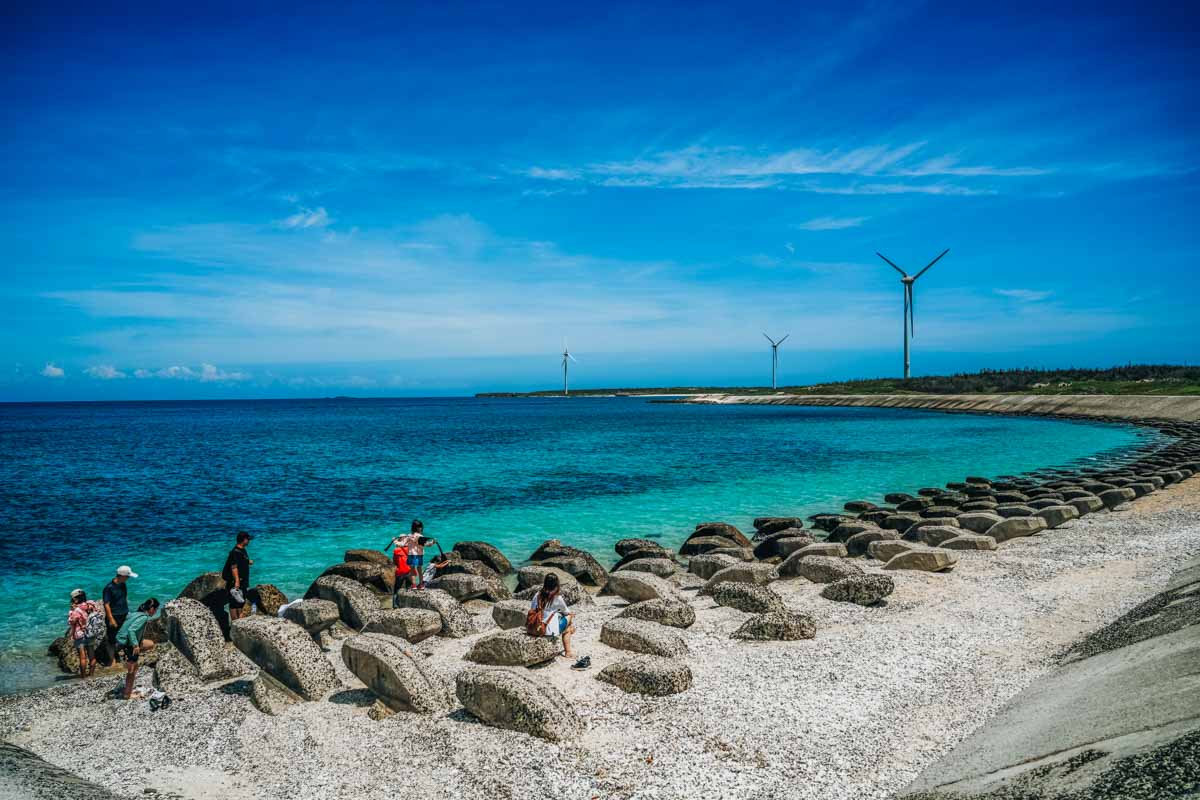 Longmen Community
This community is in the island's southeast corner, on the south side at the base of a northwest-southeast peninsula. County Road 202 runs right through the village, and ends just before Lizhengjiao Beach at the peninsula's south shore.
Longmen Military Outpost
The Longmen Military Outpost is an underground complex hidden within the hill at Longmen Harbor's southeast edge, with apertures facing the sea. Tickets are bought – guided tours only (Chinese) – at a small single-story edifice before the hillside entranceway that takes you into the warren of narrow tunnels.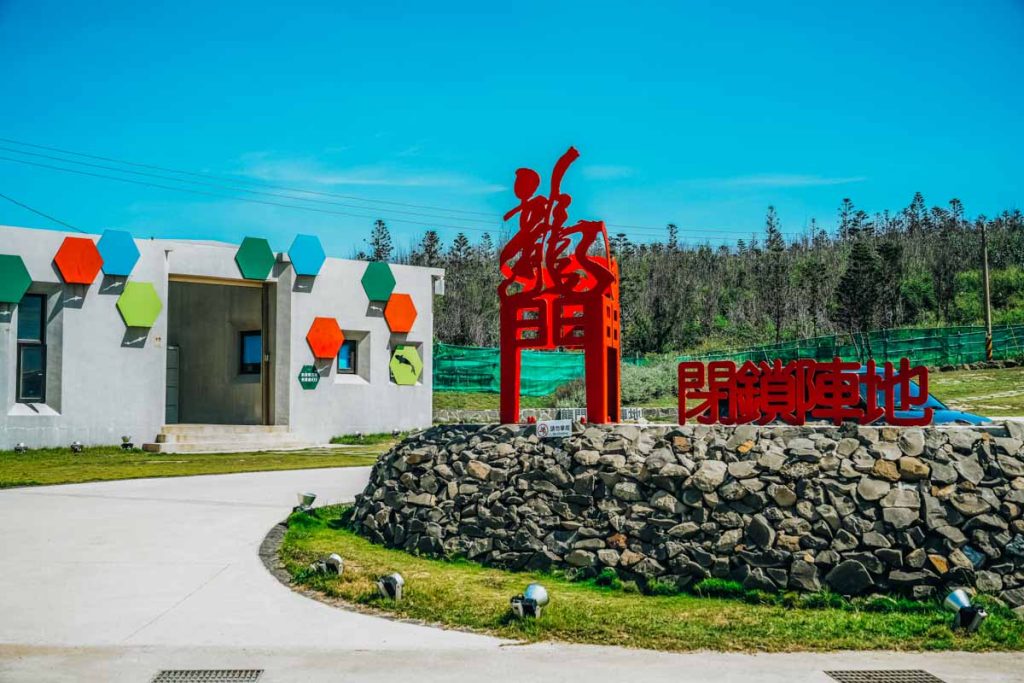 This was one of the first tourism-focused community-regeneration project in which the county government converted a site with potential and the local community manages it. Opened for visits in 2020, all guides and other personnel are Longmen folk. Surplus from ticket fees is used for community meals and welfare activities for seniors.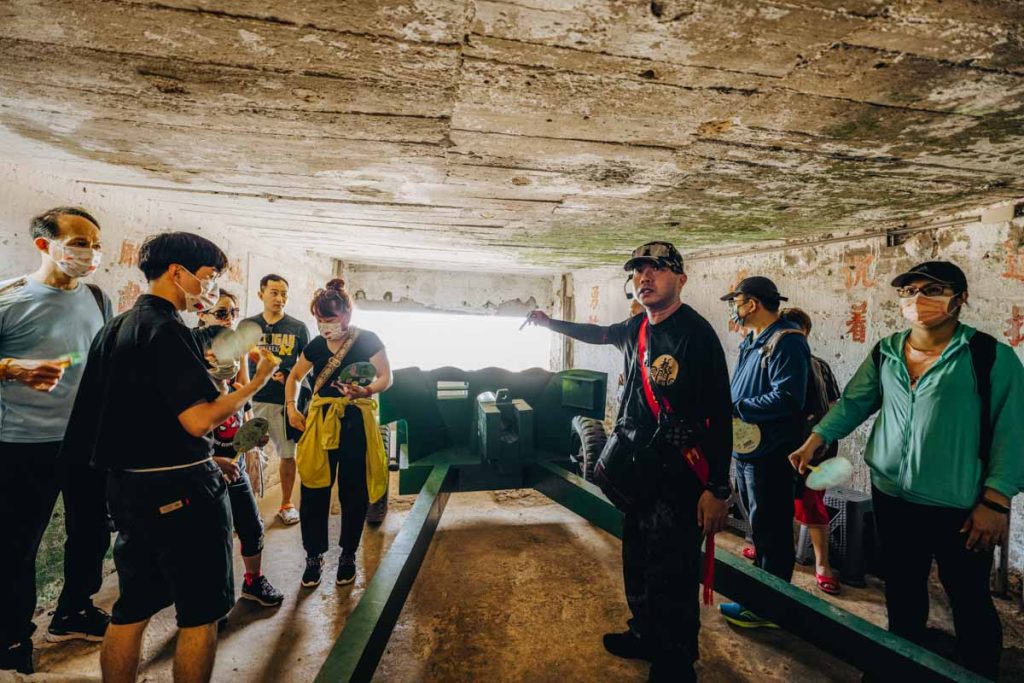 Inside the facility, which could accommodate an infantry company of about 150, are 705m of tunnels, just 60~80cm wide and about 1.8m high (in places significantly less). The original construction dates to the 1895~1945 period of Japanese rule. In 1980 the ROC military added a command post, machine gun and artillery emplacements (weapons on display), ammunition store, war games room, and radar station.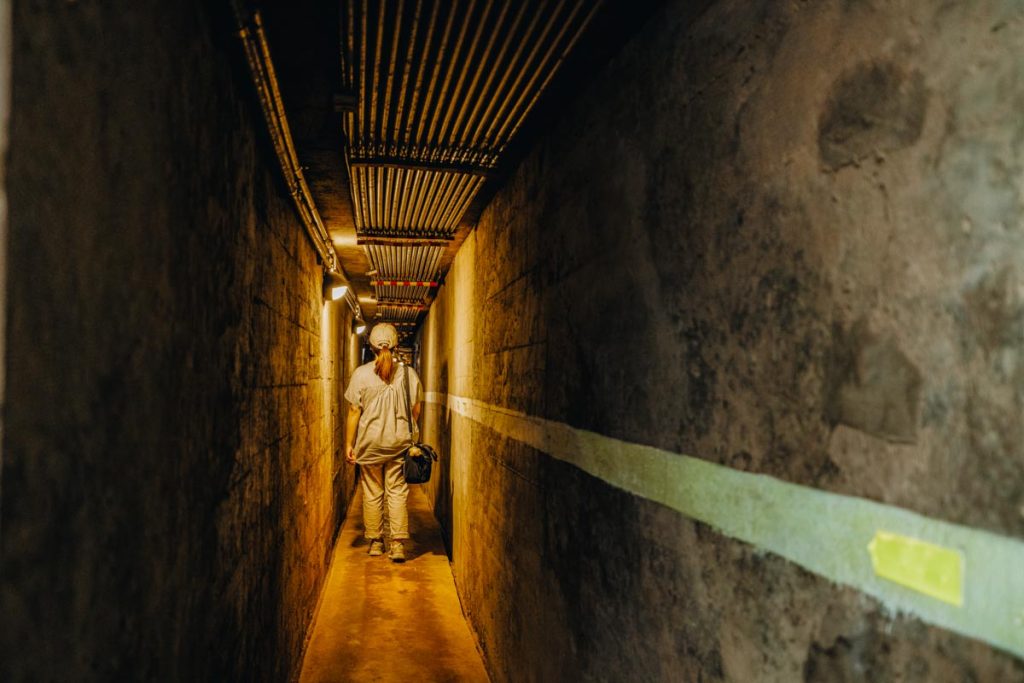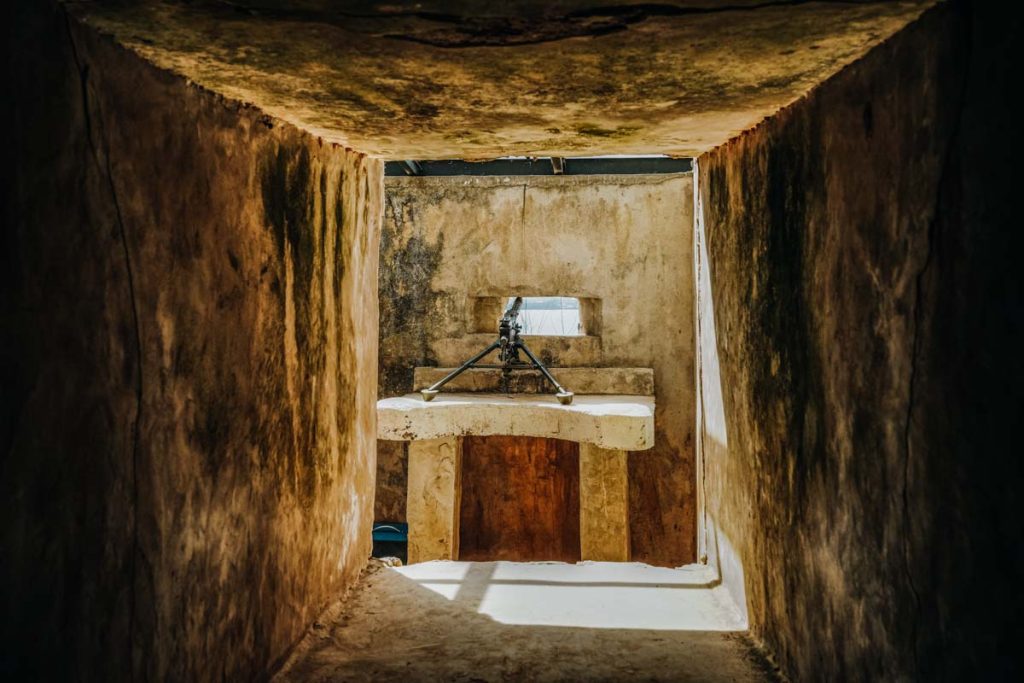 In the war games room are murals by a Penghu artist depicting the 1895 Japanese landing at Lizhengjiao, on the hill's east – where Penghu main island's defenses were found weakest – and showing villagers forced to dig out the fortification.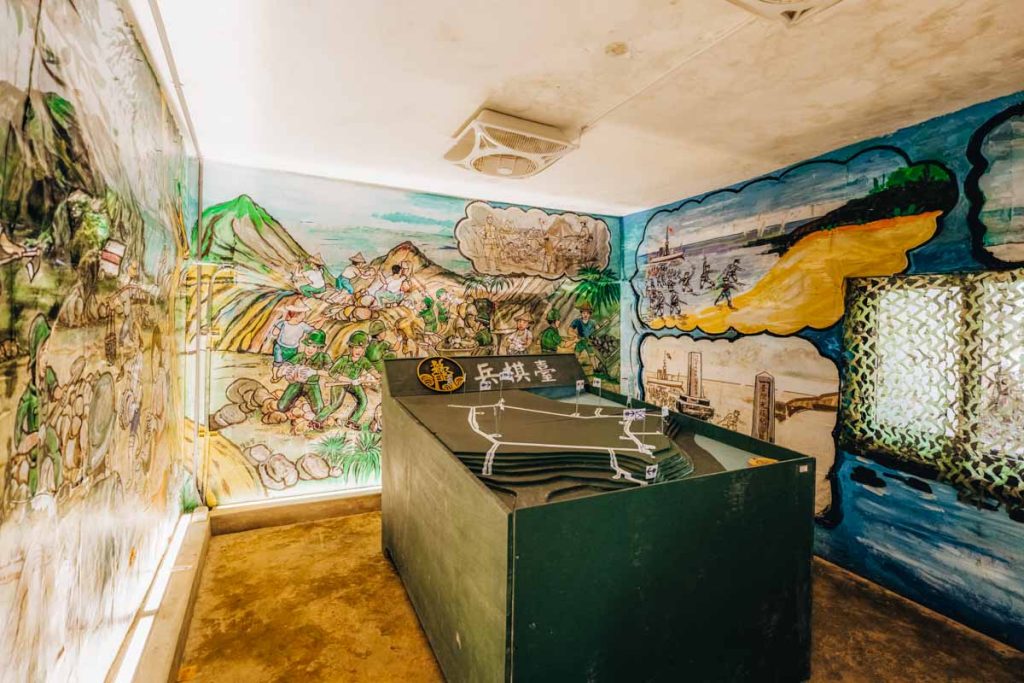 Longmen Beach
If desirous of a soothing lull at one of Penghu's biggest, most beautiful, and most secluded beaches, Longmen Beach fits the bill. On the peninsula's north shore, it's reached from the village via a long single-vehicle-wide road through an area of scrubland and tiny patchwork coral-wall farm plots. There are public toilet/shower facilities, apropos in a building shaped like a tank, facing the sea.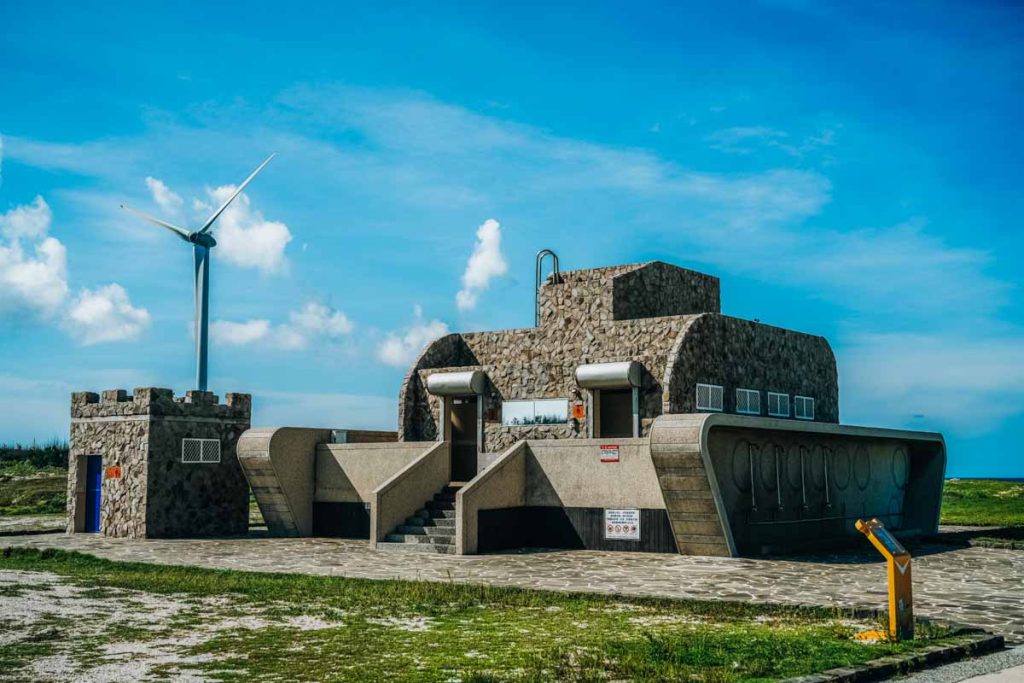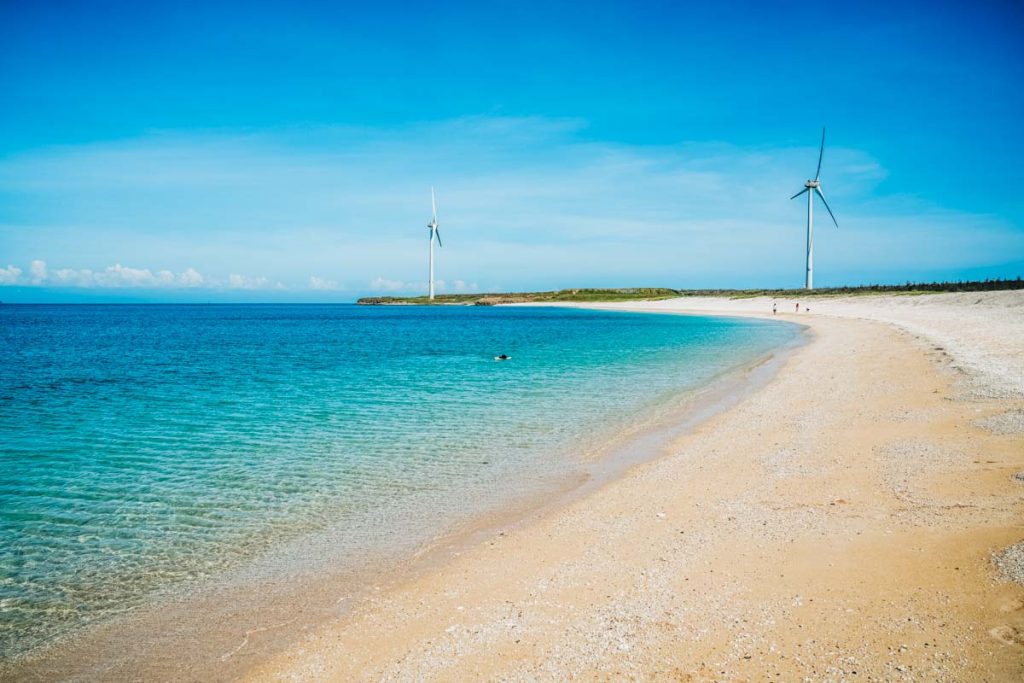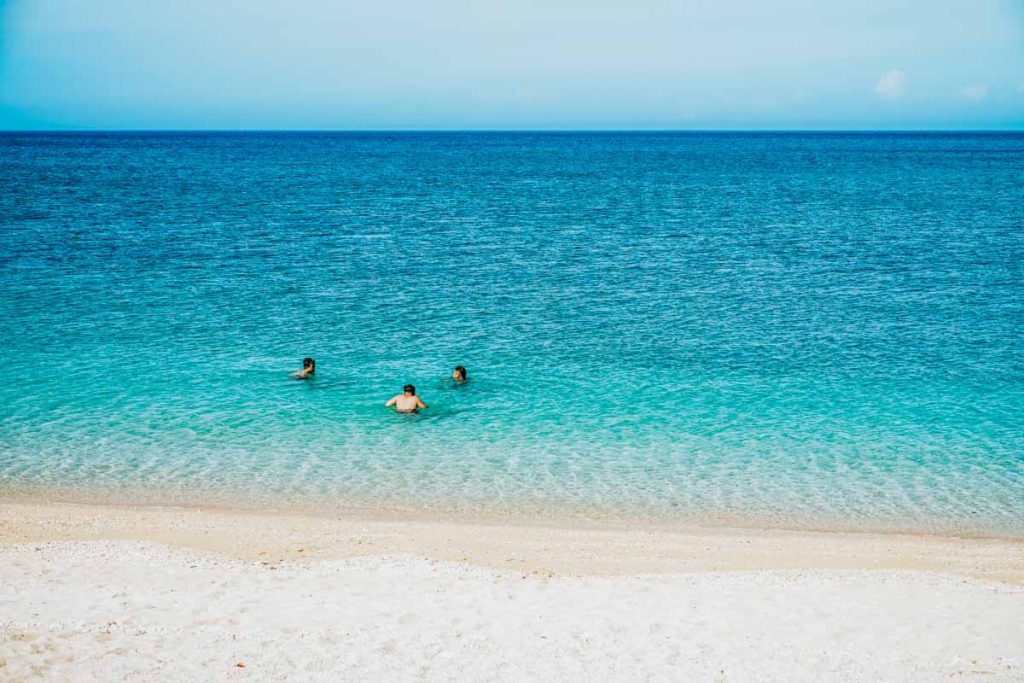 Other Places for Unique Penghu Experiences
Pong-Food Traditional Cuisine is located a short distance west of Nanliao on County Road 202. You'll see the English name posted prominently on the hard-to-miss yolk-yellow with fried-jujube-brown trim façade of the single-story building that is its home. This is the retail operation of a beloved old-time Penghu food producer, Furong Food, maker of traditional-style treats, factory located directly behind.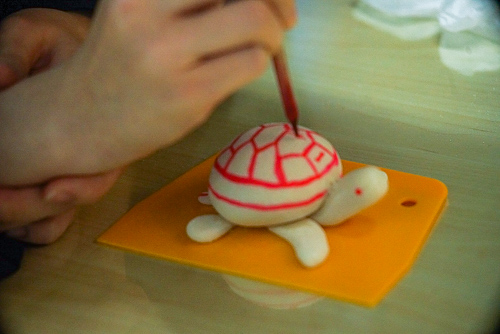 The third generation that today runs the business has brought innovative new thinking in opening Pong-Food. As posted in English on the storefront, visit for Penghu local specialties, experience activities, and Penghu "famous gifts." The culinary stars, all Penghu classics, are deep-fried glutinous-rice balls ("fried jujubes"), peanut candy, flour tea, puffed-rice crackers, and peanuts.
When purchasing, your delicious rice balls are made-on-order here. Fried jujube DIY classes are also given (Chinese). In addition to the original-flavor version, brown sugar, lemon, strawberry, and chocolate versions are now also offered.
Pong-Food Traditional Cuisine
(澎福古棗味)
Add: No. 157-3, Huxi Village, Huxi Township, Penghu County
(澎湖縣湖西鄉湖西村157-3號)
Tel: (06) 992-2422
FB: www.facebook.com/pongfood
Penghu Fish is the brand of a Penghu in-depth tourism specialist with a unique focus on the everyday local fishing village world. Among the experiences provided in its guided tours (Chinese) are a visit to a local harbor, learning about Penghu auction methods, Penghu seasonal species, choosing fresh fish, local cooking methods, and local fishing methods and sustainable practices. Especially popular are the DIY activities, which include using traditional methods to handle and dry fish (with both on-site cooking + eating and take-home options) and a beach-seine fishing outing led by experienced local fishermen (with the catch divided equally among participants).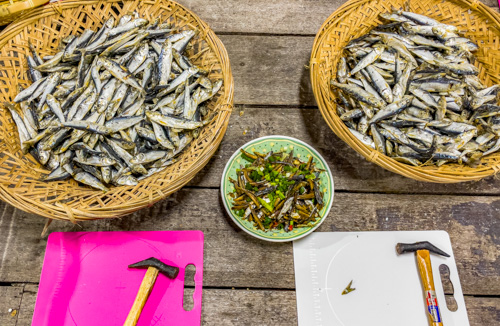 Penghu Fish
(年年有鰆)
Tel: 0905-722-145
Website: fish-says.com (Chinese)
FB: www.facebook.com/penghufishsays
Getting There and Around
For those not self-driving or being part of a bus-tour group, check out the Taiwan Tourist Shuttle website (www.taiwantrip.com.tw). This is an inexpensive hop-on/hop-off public bus service specially designed for tourist travel. There are two Penghu routes; the Magong Huxi route has stops at the Magong City bus station, Magong Airport, Nanliao Community, Guoye Kiln, and Longmen Military Outpost. An on-board guide provides commentary (Chinese).