A Taiwan Old Style/New Style Southern Belle
TEXT / RICK CHARETTE
PHOTOS / CHEN CHENG KUO
Old Chiayi City is a little place sitting in the middle of the southwest plains that meanders at a pleasingly relaxed pace through its days. It is filled with nuggets awaiting the history spelunker, more and more of its architectural nuggets now turned into places of trendy cultural-creative enterprise, joining the legion of friendly old-time shops and eateries.
Chiayi City is on the western plains not far from the lofty central mountains. Its fortunes flourished when the Japanese built the round-island railway system and Alishan Forest Railway in the early 1900s, connecting them here, and developed the Jianan Plain irrigation system, which nourished an explosion in regional agricultural production.
For tourists, the easy-paced city was long considered not a destination itself worth spending time in, but as a jumping-off point for trips to more illustrious destinations, notably the soaringly beautiful Alishan National Scenic Area in the mountains directly east.
This city is a place of proud tradition. Family-run shops in place for generations continue to sell the homegrown snack treats Chiayi is famed for, and the city is filled with old works of architecture, from sites of national historic importance to countless beloved residences. Yet at the same time it is filling up with projects of forward-looking creative energy, from heritage-site architecture renovated and given new missions to stylish cafés and homestays in reinterpreted old homes to bold modernist public artworks in prominent locations.
Forestry History
Beimen Station
Beimen Station, long an iconic tourist attraction in Chiayi, was the original launch-point for the Alishan Forest Railway (see page 22). It's not far northeast of Chiayi Railway Station. The Japanese-built station and scores of other Japanese-era forestry-related heritage structures in the area have been devotedly renovated over the last decade-plus, and the neighborhood has become a major tourist draw. The full area is easily covered on foot. Note that the wood used in all renovated heritage structures in this section is invariably Alishan cypress.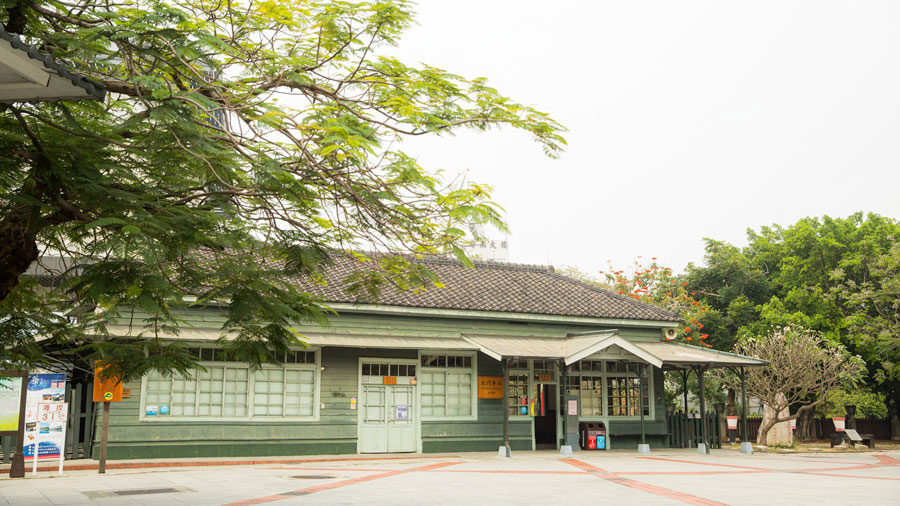 Alishan Forestry Village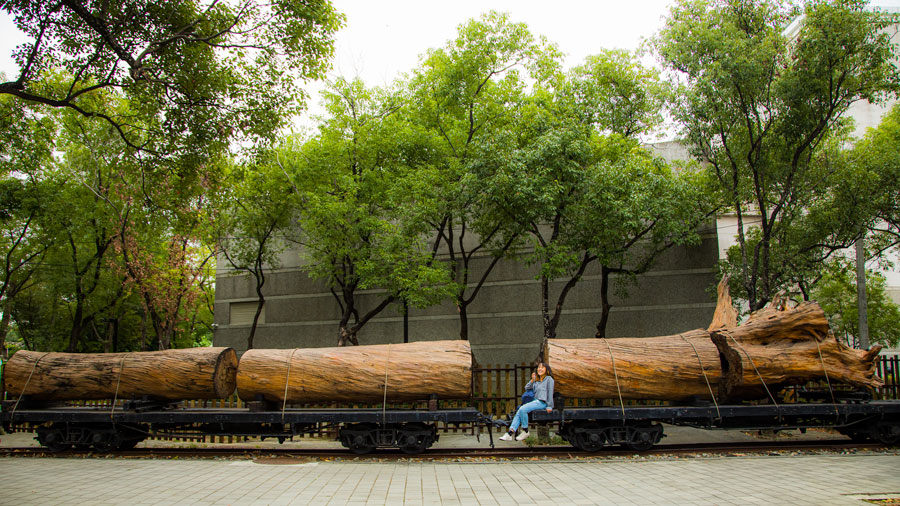 One block west of the station is the Alishan Forestry Village, part of which is the Chiayi Sawmill complex, consisting of both renovated wood-frame and concrete-frame structures. Completed in 1914, this was the Japanese empire's most extensive sawmill operation. Among the public-access structures here are the sawmill building, boiler room, and drying room.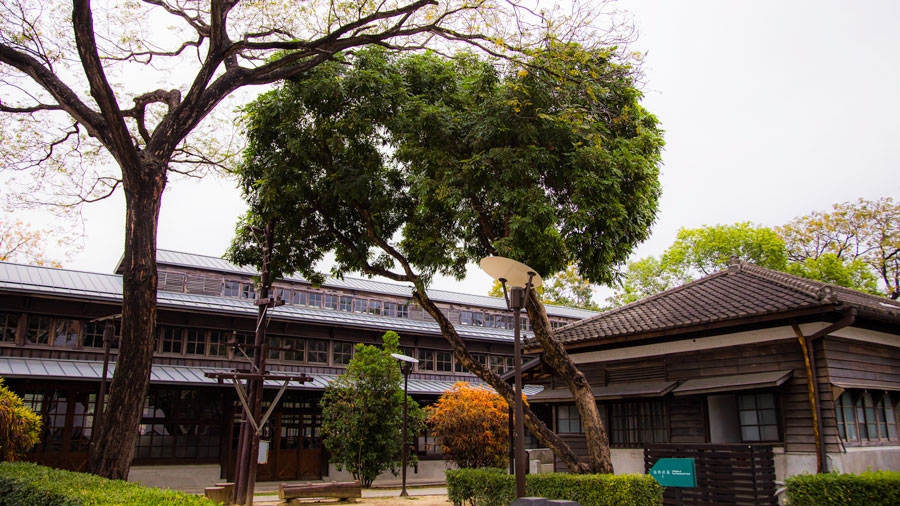 As visitors enter the sawmill complex corner of the village area they are greeted by a prototypical monster specimen of logged Alishan cypress sitting on a section of narrow-gauge railway.
On the north side behind the complex is a large open grassy area. In days past this was the site of a massive timber pond. Now filled in, it is being filled up with themed installation artworks. Two examples are Elves of the Forest and Bamboo Ripple, celebrating the cypress and bamboo forests in the Alishan region.
In the western corner of the village's grassy area is a semi-detached park area home to the towering Song of the Forest outdoor artwork. This work is a complex symphony of symbolisms, most referencing Alishan's sacred trees and the forest railway. The thick timber pieces running up the exterior simulate the "giant old trees towering over and embracing the hovering clouds." The two rattan footpaths giving entry to the work's interior symbolize the forest-railway tunnels providing entry to the Alishan "wonderland."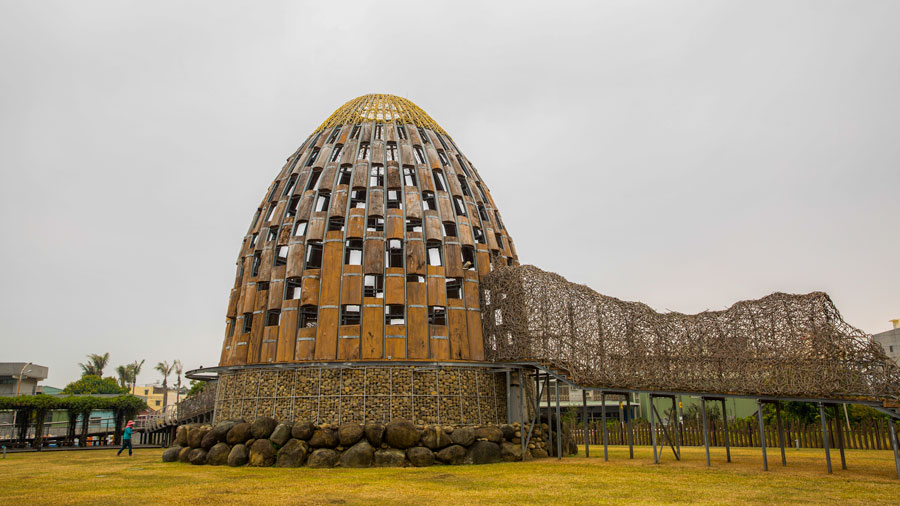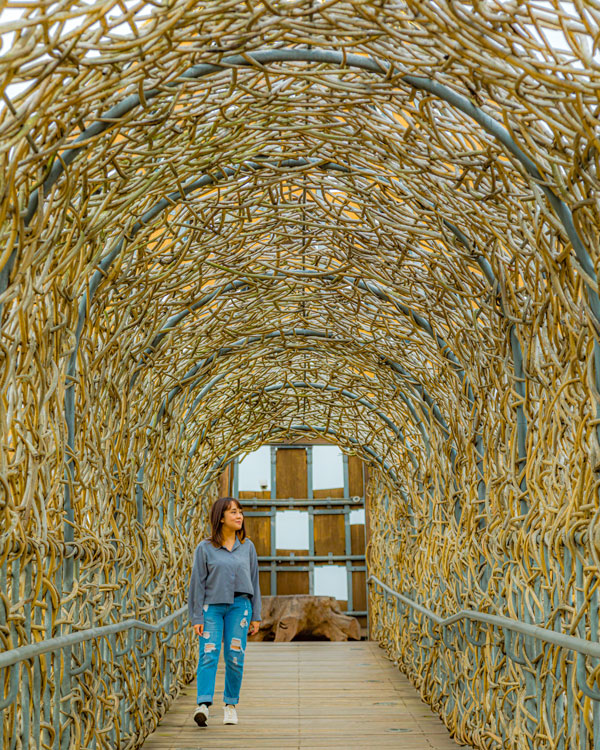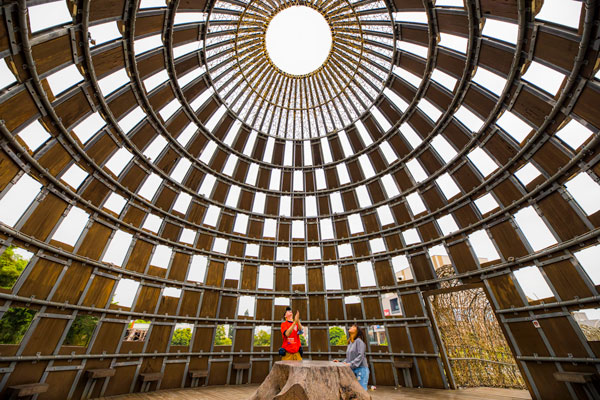 Alishan Forestry Village (阿里山林業村)
Tel: (05) 276-1601
Add: No. 4, Linsen W. Rd., East District, Chiayi City
(嘉義市東區林森西路4號)
Hours: Outdoor area all day; indoor exhibition halls 10am ~ 6pm
Websites: bit.ly/3GwA9sh (Forestry Bureau); afrch.forest.gov.tw/En (Alishan Forest Railway and Cultural Heritage Office)
Alishan Forest Railway Garage Park
The Alishan Forest Railway Garage Park is just across a road south of the forestry village. Remember that the Chiayi Railway Station, just southwest of here, is where the Alishan Forest Railway journey now starts. The forest-railway trains run through this park and on past Beimen Station, and regular-railway trains run along the north perimeter of the forestry village. A good spot to take photos of these latter trains is from the high-raised Song of the Forest interior platform.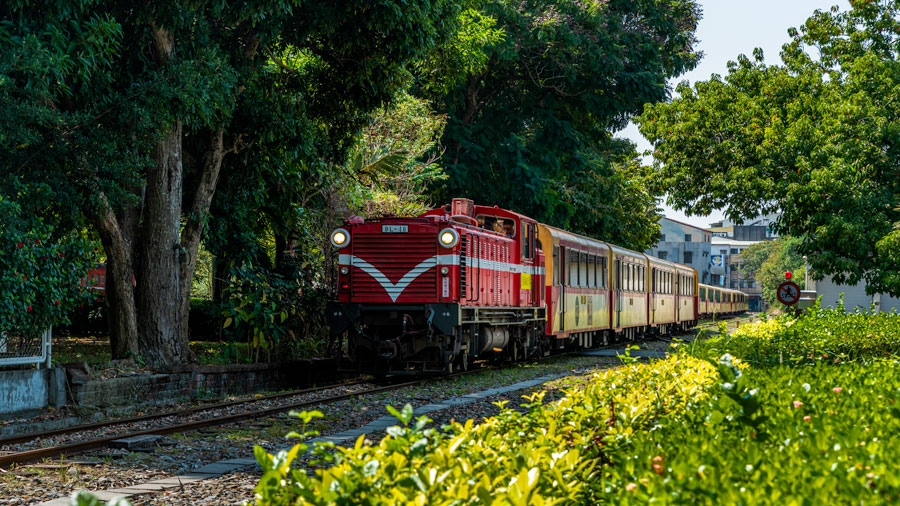 The garage park contains the former headquarters repair/maintenance garage and an impressive outdoor-display collection of well-maintained antique U.S., English, German, and Japanese locomotives and other rolling stock. If lucky you'll see one of the locomotives being fired up to head out for forest railway service, or see personnel working on rolling stock in the garage if the large east-end portal, through which two sets of tracks roll in, is open.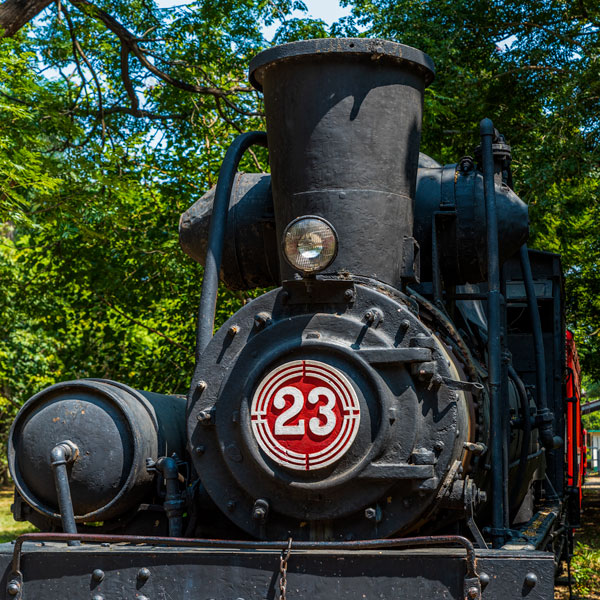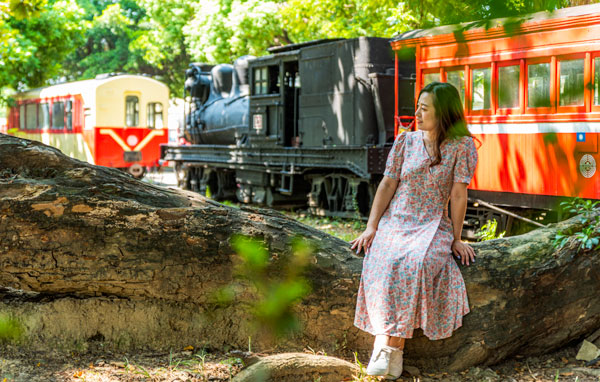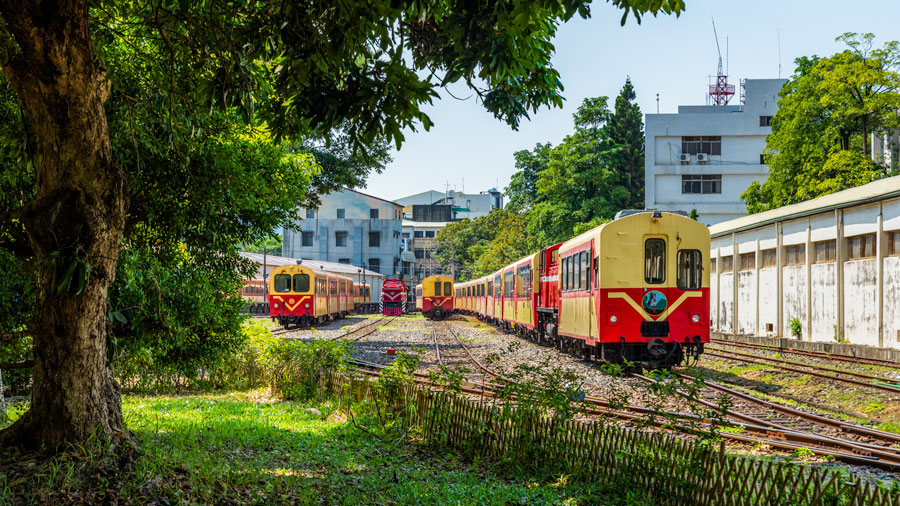 Alishan Forest Railway Garage Park
(阿里山森林鐵路車庫園區)
Tel: (05) 267-9200
Location: Intersection of Linsen W. Rd. and Zhongxiao Rd., East District, Chiayi City
(嘉義市東區林森西路與忠孝路口)
Hours: 9am ~ 5pm
Hinoki Village
One block south of Beimen Station is the Hinoki Village. This is a complex of classical Japanese-style landscaping and about 30 faithfully restored Japanese-built structures, most of these wooden bungalow-style buildings originally used as dormitories for forestry-industry workers. There is also one pretty two-story Western-style building with high sloping roof, Tudor-style exposed timber beams on the white-painted second level, and bright yellow-painted cottage-style clapboard on the first. This was originally a clubhouse for Japanese forestry officials; today it is the Forestry Club Exhibition Center, housing history displays. Other buildings with history-related displays are the Alishan Forest Museum of History and the Official Residence of Director Gallery.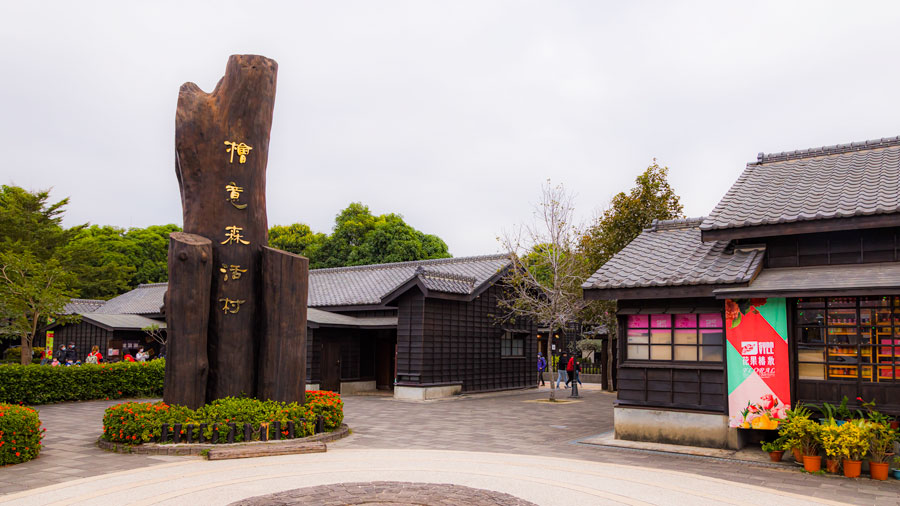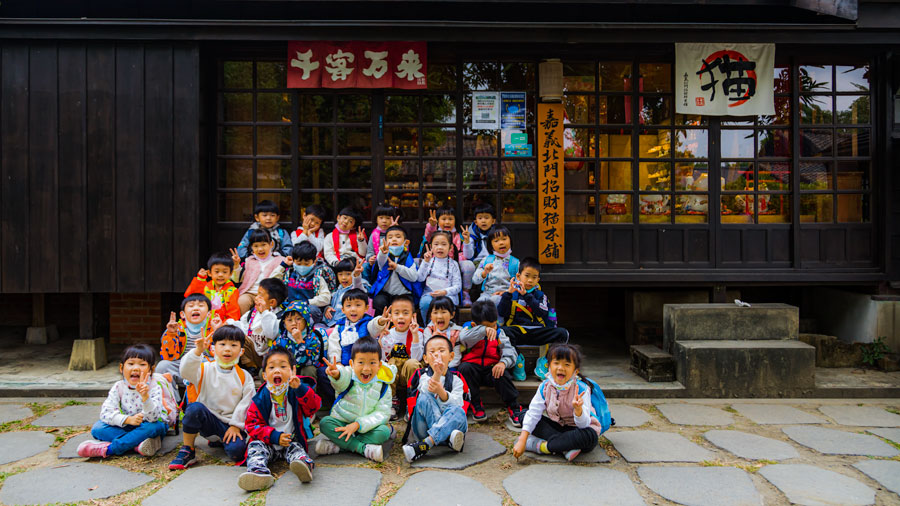 The current title for each building is given in English, Chinese, and Japanese on mapboards posted around the complex. In the Cultural and Creative Bazaar Area is the Aboriginal Tribes Theme Store, selling indigenous handicraft and art, and two wooden-articles stores, selling traditional-style wood items, including works made with Alishan woods. In the Time Tunnel section is the Insect Museum, focused on regional wildlife, two nostalgia-theme teahouses, and the Yukata Experience building. You'll see tourists walking around the complex in their colorful rented yukata, providing fetching photo opportunities.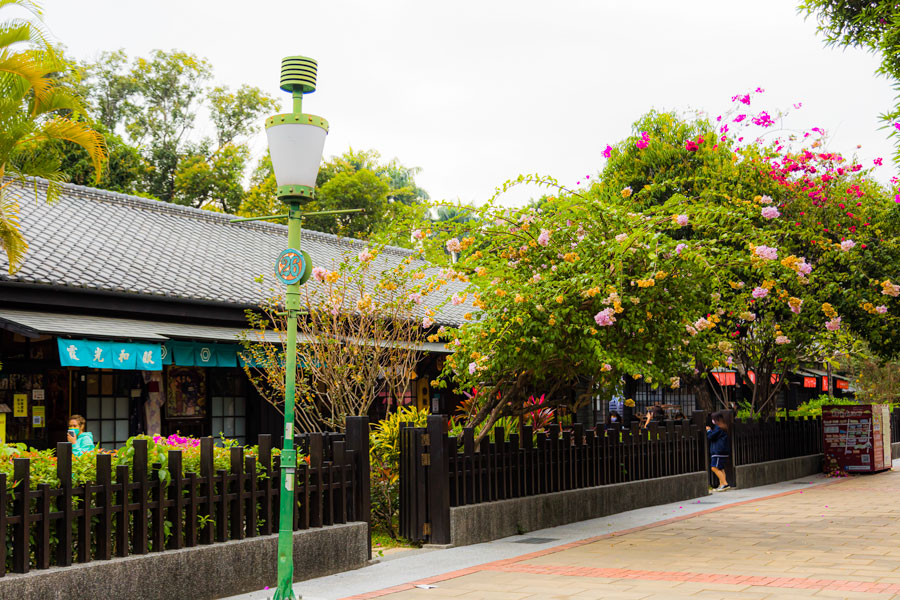 Among the many other buildings of note are the Agricultural Products Sales Center, in the Beverage & Snack section, which specializes in agriproducts from the Chiayi region and fresh-made hot snack treats; Horseradish Hall, in the Souvenir area, offering processed-horseradish products – the Japanese, missing their wasabi, introduced Japanese horseradish to Alishan during the colonial era; and the Shell Ginger Story House, in the Life & Creative Area, explaining and selling shell ginger products – shell ginger is everywhere in traditional Taiwanese life, the seed a traditional Chinese herb, the leaf sheaths used to weave shoulder bags and hats and to wrap and flavor rice-based foods.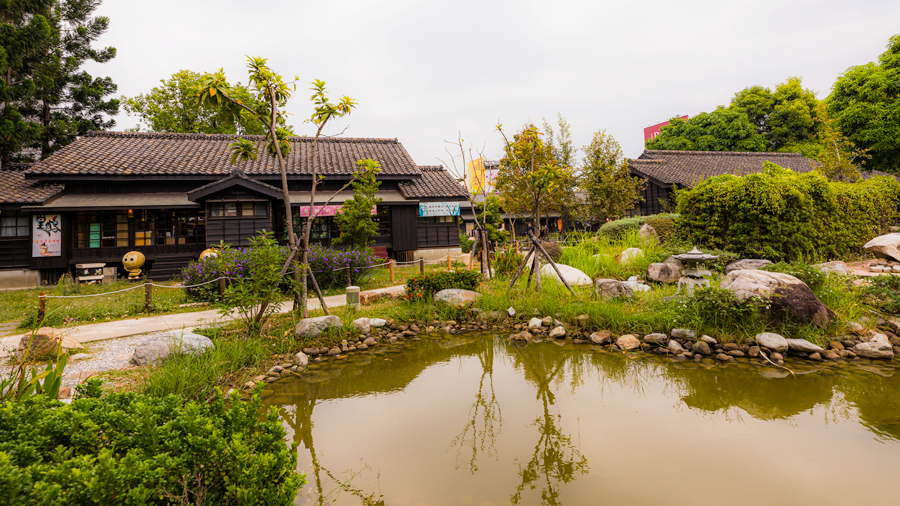 Chiayi Park
Large, pleasant Chiayi Park occupies a broad, low-elevation hill in the east side of the city. It has two sections, an arboretum on its north side and a landscaped area on its south. The park was established by the Japanese in 1910.
Chiayi Botanical Garden
Plying the wide and narrow pathways through the Chiayi Botanical Garden, all through the day, are locals exercising amidst the dense forest of tall, majestic trees. This site was developed by the Japanese as an experimental station focused on commercialization of tropical trees brought in from around the planet. Plaques identify the 140 on-site species, which include Chinese firs and Brazil rubber, Indian devil, and mahogany trees.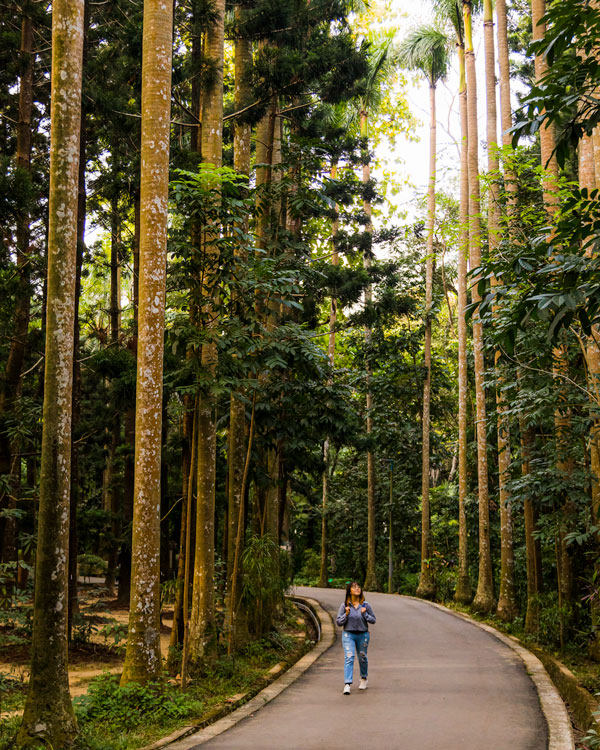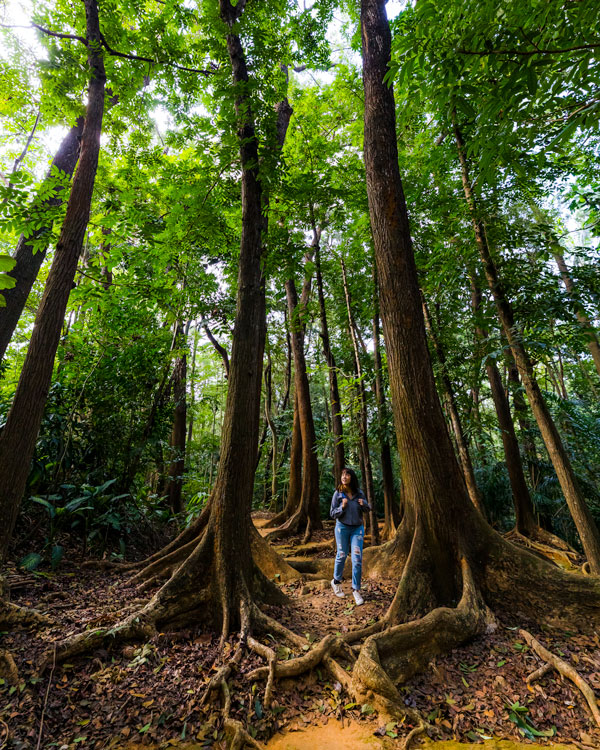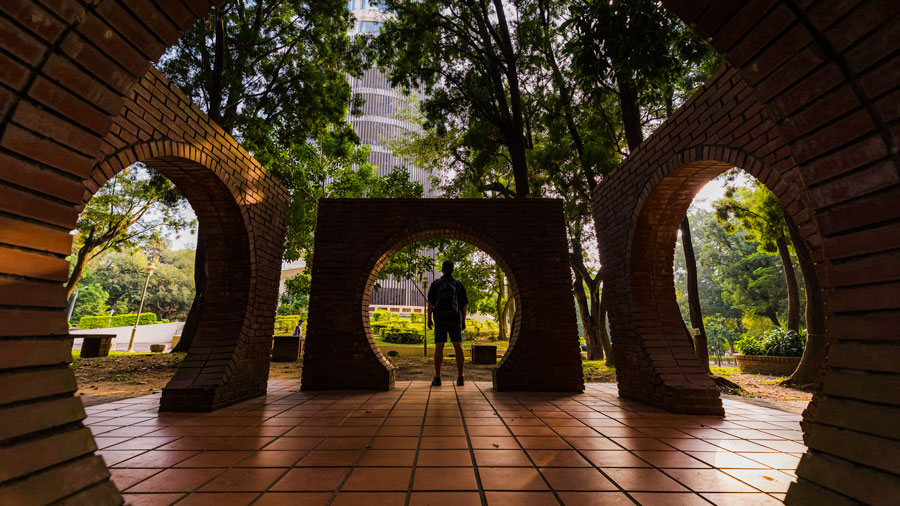 Chiayi Park Botanical Garden
(林業試驗所嘉義樹木園)
Add: No. 270, Shanziding, Wangtian Borough, East District, Chiayi City
(嘉義市東區王田里山子頂270號)
Hours: All day
Website: cptfri.tfri.gov.tw (Chinese)
Sun-Shooting Tower
The landscaped section runs uphill in tiers, a broad walkway with stair sections running through the middle. This originally led to the large Japanese Shinto Shrine for the city – today the 62m-high Sun-Shooting Tower stands in its stead. The island's Shinto shrines were systematically destroyed after the Chinese Nationalist government took over Taiwan in the 1940s. The tower's shape symbolizes Alishan's giant sacred trees. Long, brown aligned aluminum strips run up the facade, mimicking the wood grain of the mountain area's trees. A 24m-tall interior bronze sculpture visualizes the well-known Taiwan "Sun Shooting" legends (there are many variants) in which brave warriors shoot down "extra" suns scorching Earth. At the tower's top is a café and an observation deck with superb views of the city.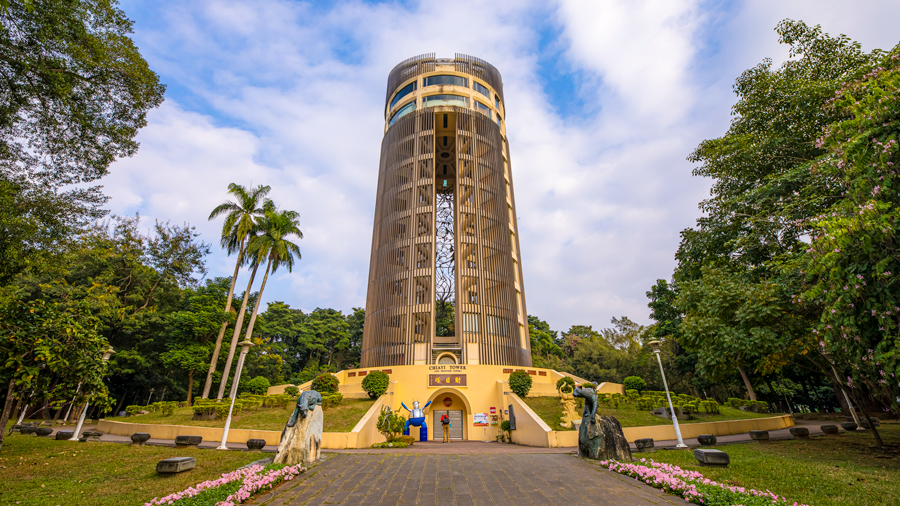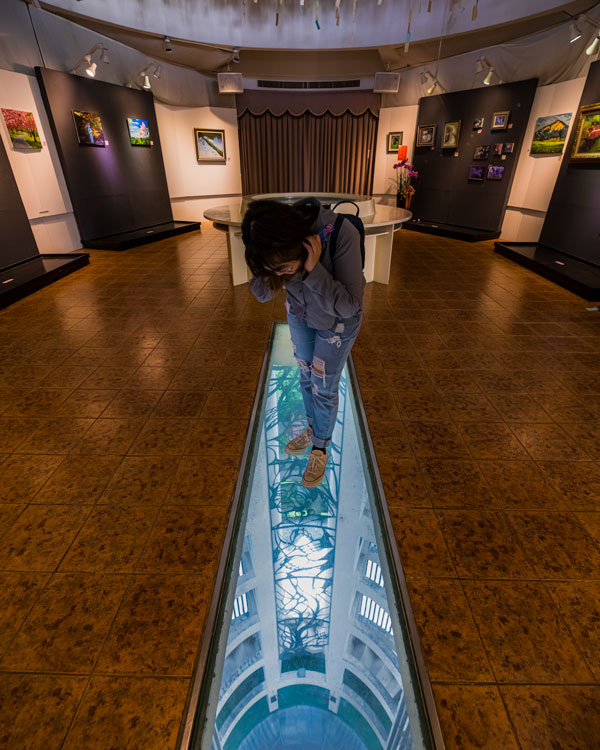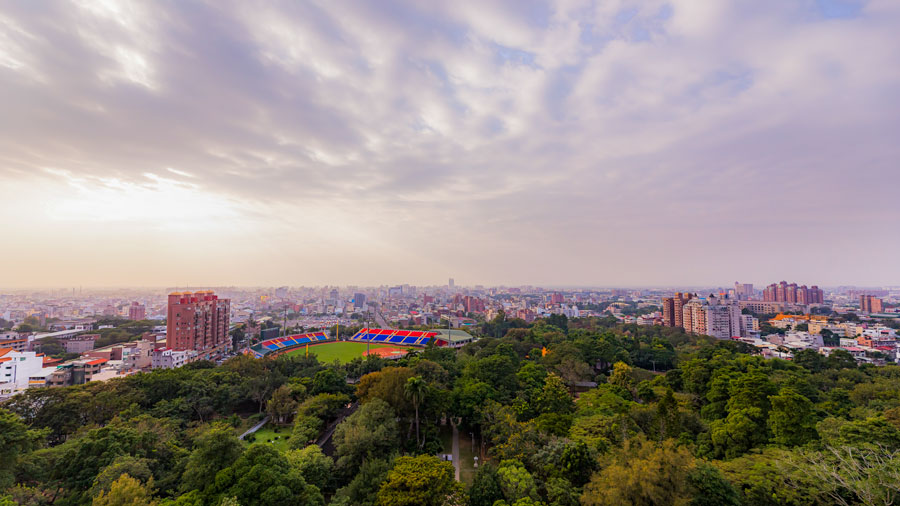 Sun-Shooting Tower
(射日塔)
Tel: (05) 275-1357
Add: No. 46, Gongyuan St., East District, Chiayi City
(嘉義市東區公園街46號)
Admission: NT$50
Hours: 8am ~ 5pm (Sat. & Sun. until 9pm; closed on Mon. & Tue.)
Facebook: www.facebook.com/sunshootingtower
ChiaYi J 18 – Chiayi City Historical Relic Museum
On a lower tier is the elegant ChiaYi J 18 – Chiayi City Historical Relic Museum, housed in two exquisitely renovated wood-built buildings constructed by the Japanese. These originally housed the shrine's offices and fasting rooms. Visitors enjoy displays on the city's history and yukata rentals.
ChiaYi J 18 – Chiayi City Historical Relic Museum
(昭和十八J18-嘉義市史蹟資料館)
Tel: (05) 277-0518
Add: No. 42, Gongyuan St., East District, Chiayi City
(嘉義市東區公園街42號)
Admission: NT$50
Hours: 8am ~ 5pm (closed on Mon.)
Facebook: www.facebook.com/ChiaYiJ18
Outside the City
Lantan Scenic Area
The Lantan Scenic Area is in a rippling hilly area a short distance southeast of Chiayi Park. Its heart is a reservoir, which locals simply call "Lantan" or "Holland Lake." The reservoir was created by the Dutch, who ruled a good portion of Taiwan for a period in the 1600s, to provide water for area farms set up by the Dutch East India Company.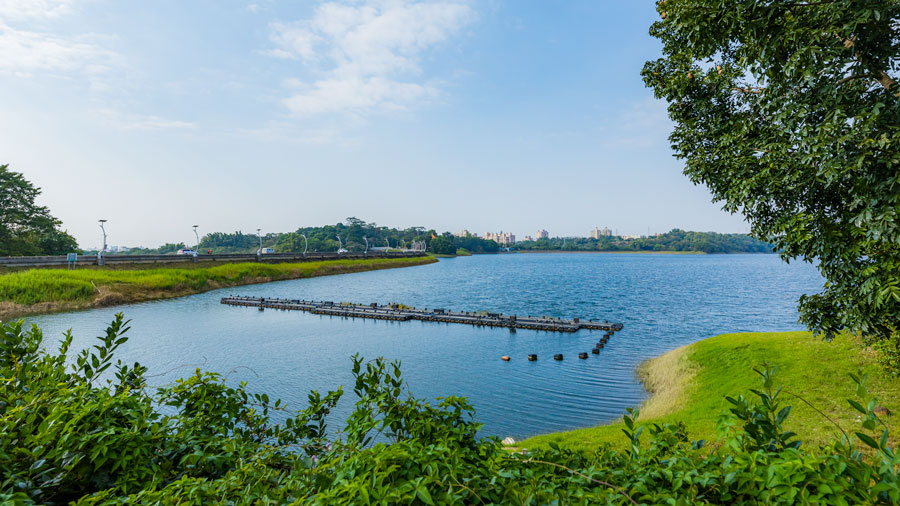 Among the scenic area's other attractions are an in-lake fountain that shoots color-lit waters up to 50m high, wood-area trails, and the striking lakeside installation Rippling Moon Talk. Referencing the reservoir's busy bird community, the artwork is a see-through structure of knitted aluminum plates designed to resemble, in stylized form, a waterside bird nest.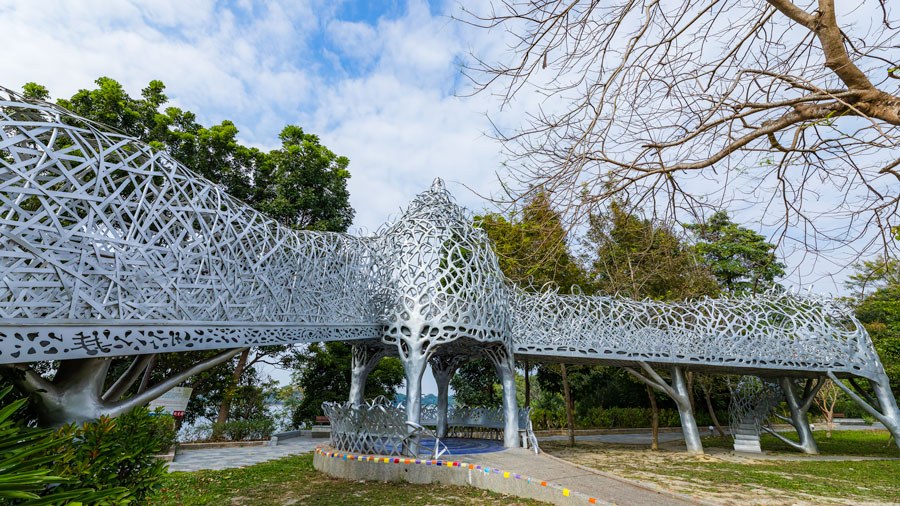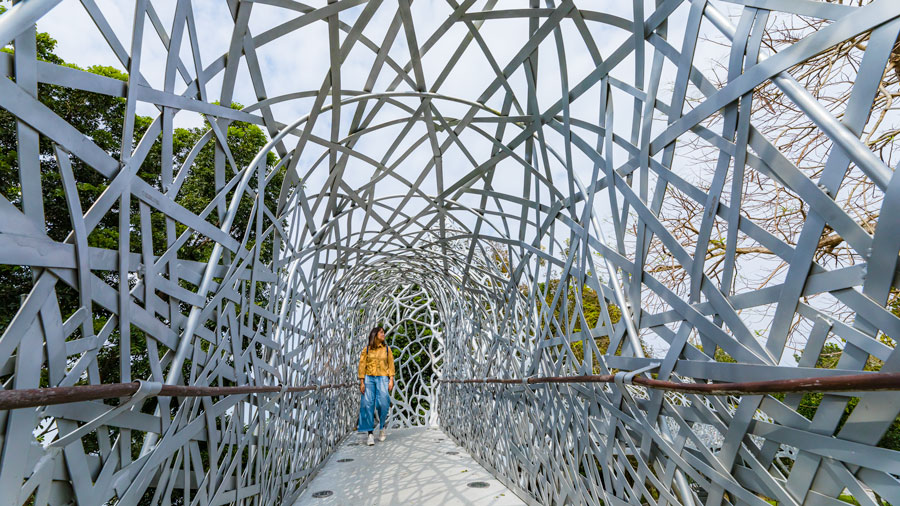 NYCU Insect Museum
The large, quiet, heavily wooded National Chiayi University campus is off the east side of the reservoir. Its spacious NYCU Insect Museum, Taiwan's largest such facility, is a tourist draw. Its three most popular sections are a giant "butterfly pillar," glass-dome butterfly conservatory, and insect-petting area. Signage is limited, so joining one of the regular free guided tours is strongly advised.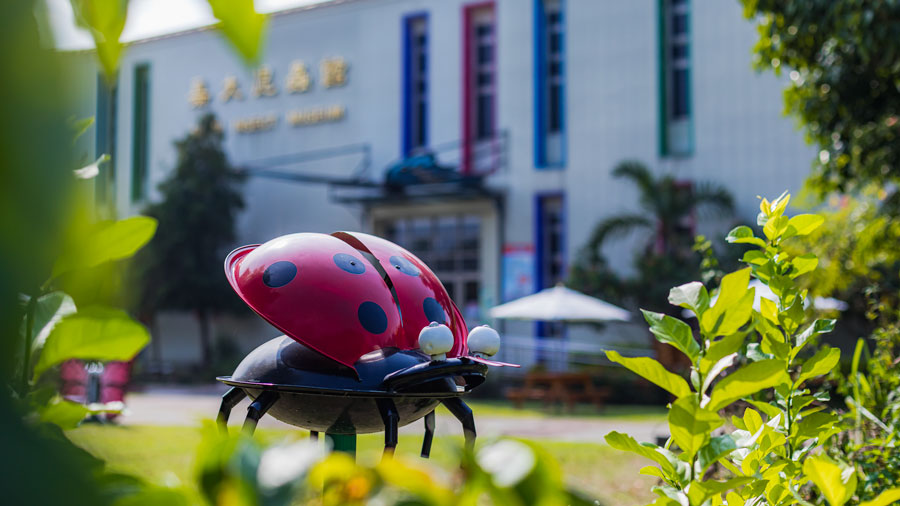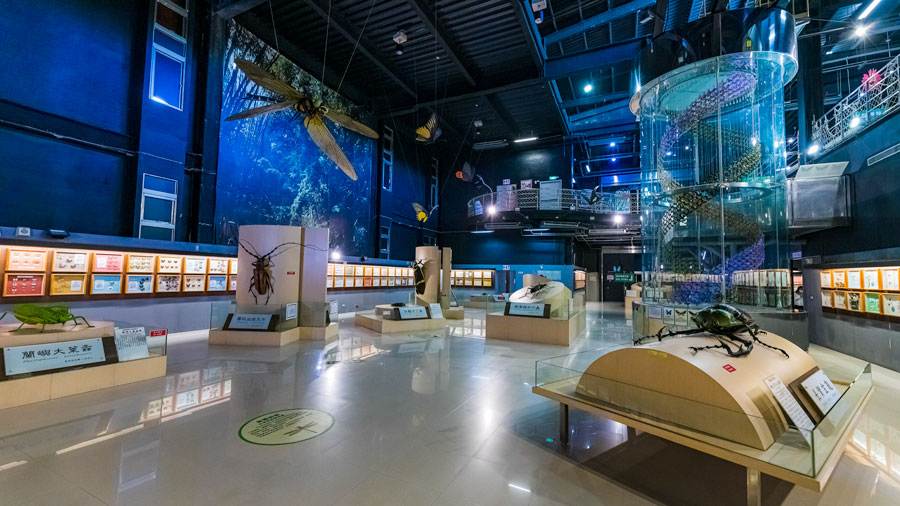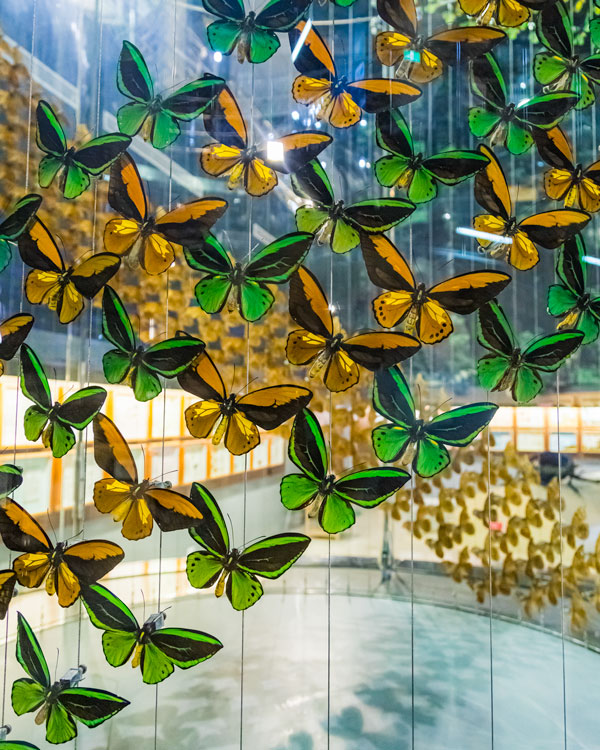 The glass pillar is filled with thousands of richly colorful butterfly specimens arranged in a spinning double-helix design, symbolizing "the beginning of life." The conservatory is home for rehabilitated Taiwan butterflies from up to 25 species. In the insect-petting area, get personal with such harmless residents as a mighty forest-dwelling Madagascar hissing cockroach, one of the world's largest.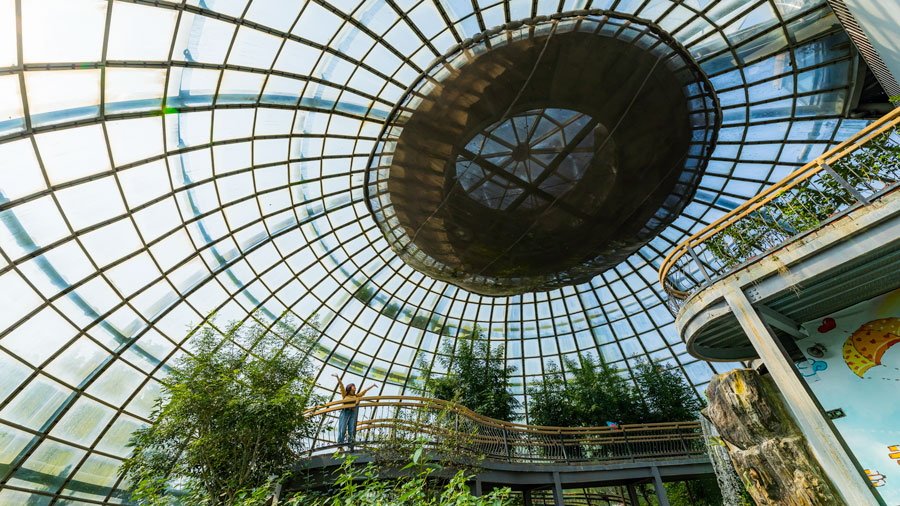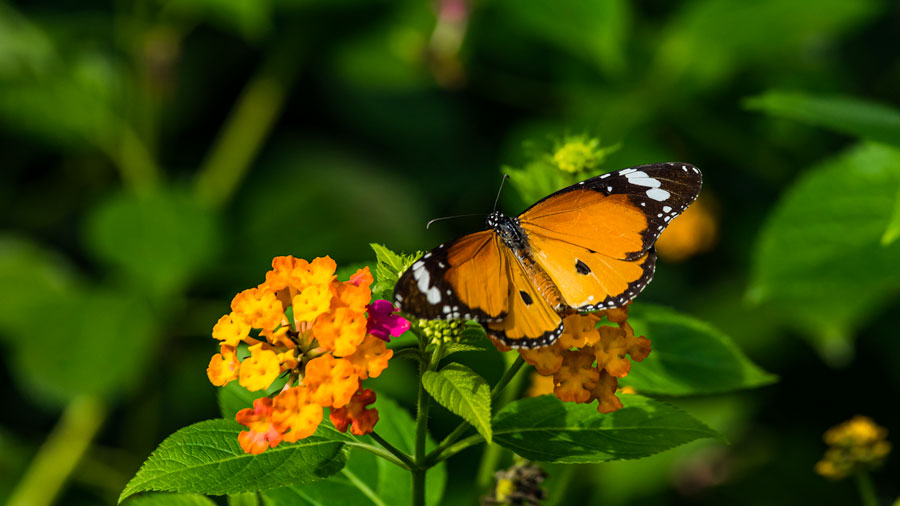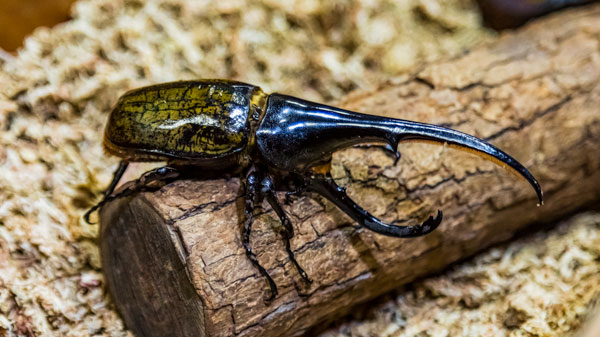 NCYU Insect Museum
(新嘉大昆蟲館)
Tel: (05) 275-0360
Add: No. 300, Xuefu Rd., East District, Chiayi City
(嘉義市東區學府路300號)
Admission: NT$150
Hours: 9:30am ~ 5:30pm (closed on Mon. & Tue.)
Website: www.newncyu300.com (Chinese)
Facebook: www.facebook.com/NCYU300
Southern Branch of the National Palace Museum
The Southern Branch of the National Palace Museum is in the countryside just 3km from Chiayi's high-speed rail station. Set on 70ha of land, in addition to the massive and imposing museum facility there is a large scenic manmade lake and Asian-style gardens. The ancient Chinese culture was not developed in isolation, and the Southern Branch is a showcase celebration of the almost ceaseless cross-pollination that has added to the luster of each civilization across Asia, with particular focus on the Chinese, Indian, and Persian.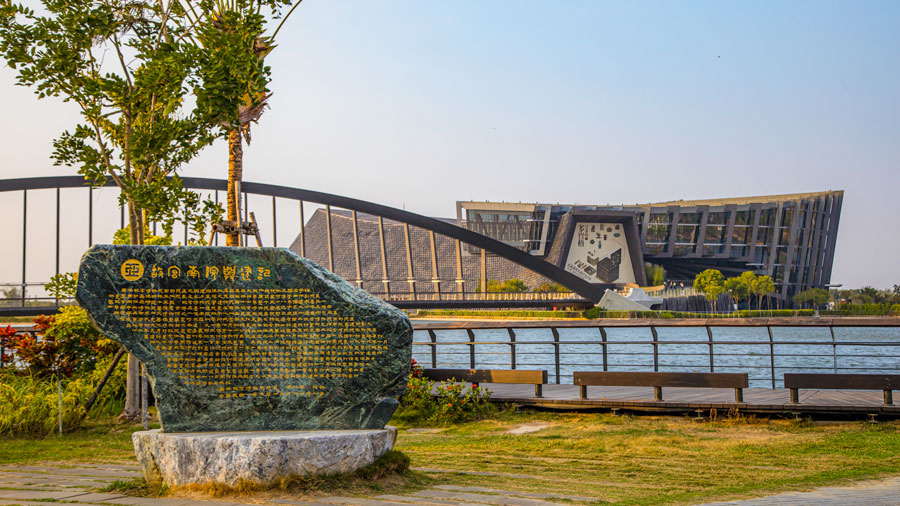 The museum facility itself is a work of art. The main museum in Taipei is in classical Chinese-palace style. The Southern Branch, though showcasing ancient cultures, is sleek and ultra-modern. The Chinese, Indian, and Persian cultures are reflected in the three integrated primary shapes of the museum structure. They form an allegory – the stylized, streamlined shapes of a dragon, elephant, and horse, respectively – symbolizing the communication and interaction that continues today.
The museum has good English information, and English service is readily available (including for guided tours). There is regular shuttle bus service from/to the high-speed rail station.
Southern Branch of the National Palace Museum
(國立故宮博物院南部院區)
Tel: (05) 362-0777
Add: No. 888, Gugong Blvd., Taibao City, Chiayi County
(嘉義縣太保市故宮大道888號)
Admission: NT$150
Hours: 9am ~ 5pm (Mon.~Fri.; until 6pm on Sat. & Sun.); outdoor area 5am ~ 12 midnight
Website: south.npm.gov.tw
Yu Liao Excavation Spot
Also close to the High Speed Rail station, just off Provincial Highway 18, the main route from the station into Chiayi City, is the Yu Liao Excavation Spot. This young attraction has become an IG check-in and photographer hotspot. The local community has transformed an old irrigation-canal section into an idyllic landscaped oasis with a serene lake-like waterway and planted lines of bald cypress and tallow trees. Jet-black goats (chained), roaming geese and bantam roosters add color to the scene. You won't see an "excavation spot" (now covered over) – this is the site of one of the earliest prehistoric spots (late Neolithic) discovered in the Chiayi region.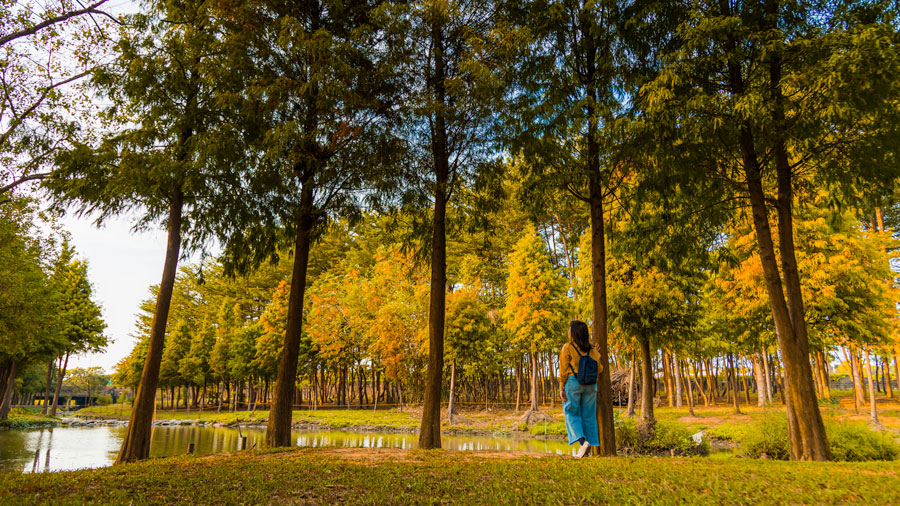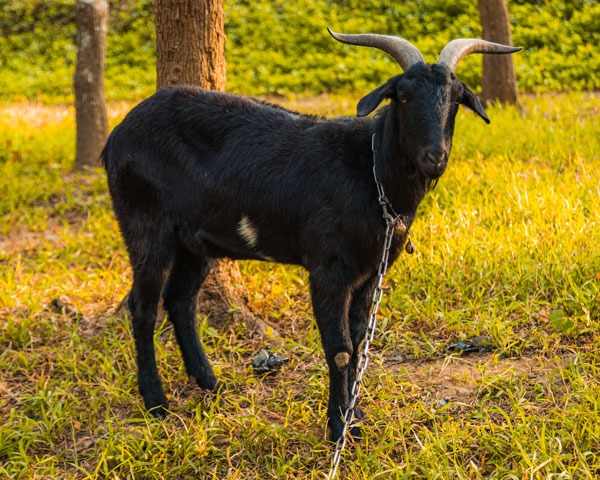 Chiayi Cafés
Jiou Café
A big dose of cultural-creative entrepreneurial dynamism is being injected into the city by younger-generation locals and transplants from elsewhere around Taiwan who have fallen for the city's small size and easy neighborly feeling everywhere you meander. Here we see how dynamic types are using old places to create chic new cafés. In an accompanying article we visit old places in Chiayi now home to chic homestays.
Along with the other cafés introduced in this section, Jiou Café is consistently praised in online voting as one of Chiayi City's top places to enjoy coffee. It is beautiful to look at from the outside, especially in the evening.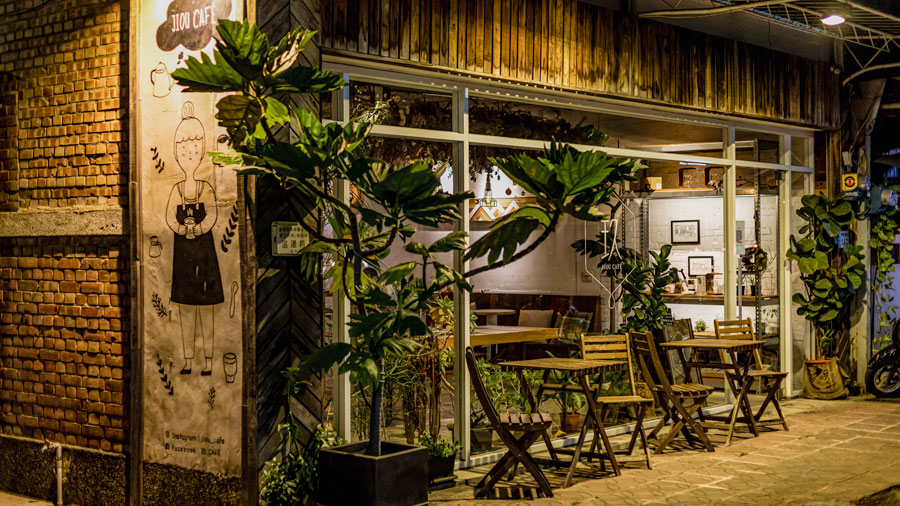 Located in a single-story structure built over six decades back, its long façade is fully glass, and the interior looks like a framed painting, filled with clean lines and green plant life, including wooden pallets hanging from the recessed rafter-exposed ceiling with dried flowers and ferns dripping down. Though on a major road, the soundproofing is solid, leaving the interior garden-like quiet.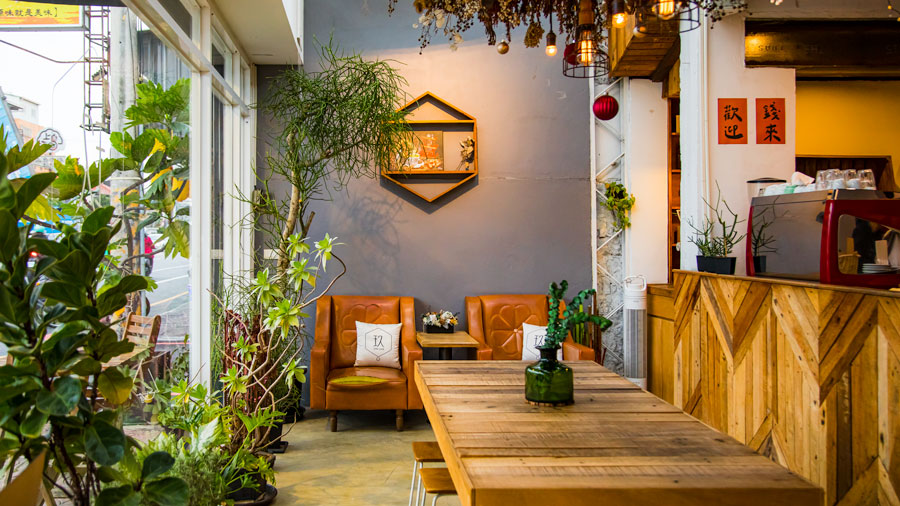 The specialty is ice-drip and cold-brew coffees with imported and Alishan single-origin beans featured. Especially inventive libations are the delicious Brandy Caramel Latte and the house-crafted fermented coffee "beers" (no alcohol), which are poured from taps like draft.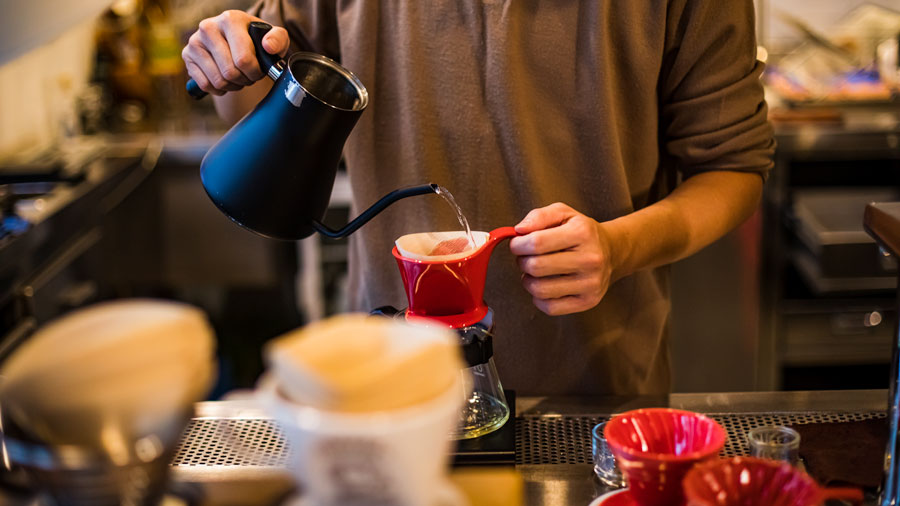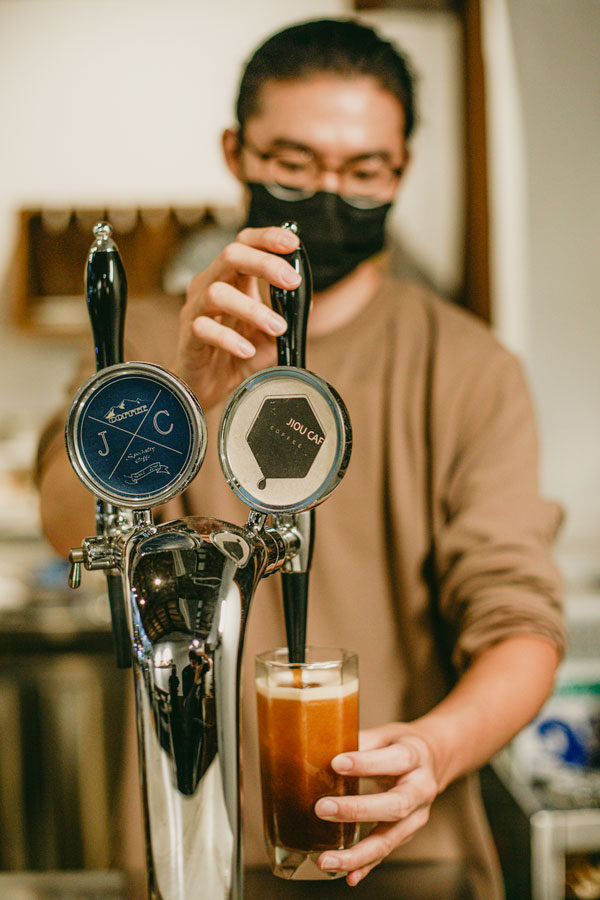 Beyond being a coffee master, the owner has also undertaken baking studies, and the result is a sweet-things menu that constantly turns over. Be on the lookout for the tiramisu, made with three types of Western alcohol, peanut Basque cake (made with cream cheese), and mulberry cheesecake.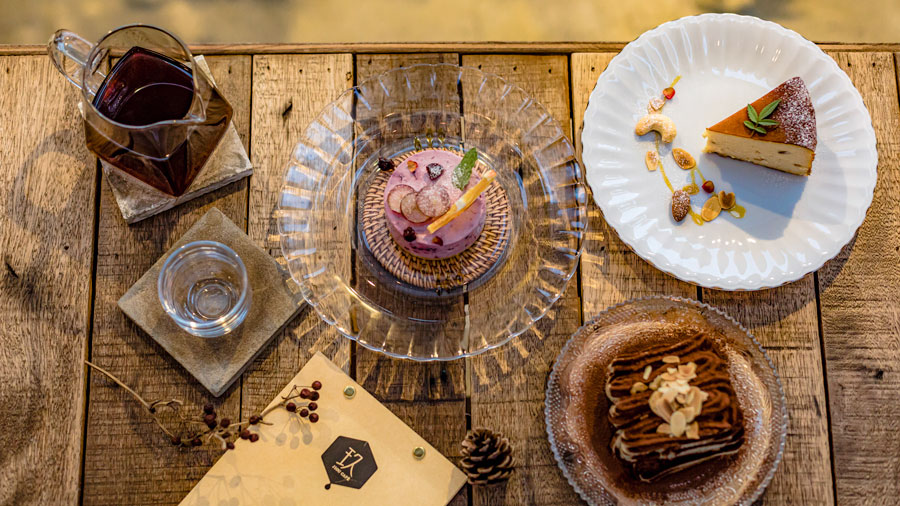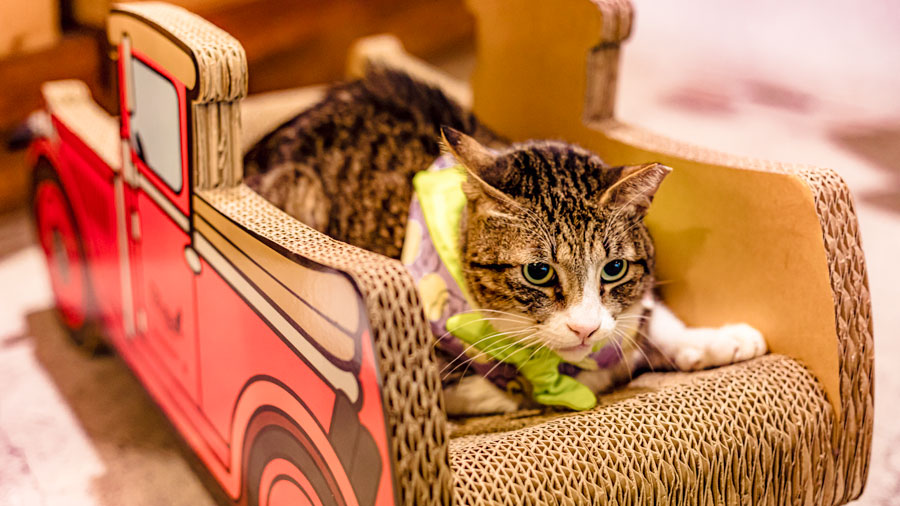 Jiou Café
(玖CAFÉ)
Tel: (05) 216-2626
Add: No. 387, Yedong Rd., East District, Chiayi City
(嘉義市東區興業東路387號)
Hours: 1pm ~ 10pm (Mon., Tue., Wed., Sat.; until 11pm Sun.)
Facebook: www.facebook.com/jioucafe
Ferns Coffee
Ferns Coffee is on a narrow side street off a major road lined end to end both sides with a winsome mix of long-in-biz shops and trendy new ventures. The small café announces itself prominently with a wood-plank step-up platform outside the narrow shopfront, adorned atop and above with, yes, ferns in planters and ferns hanging. Sunlight streams in through the full-front glass. In the compact bright-color, minimalist-decor interior ferns again have a starring role, climbing up a wall.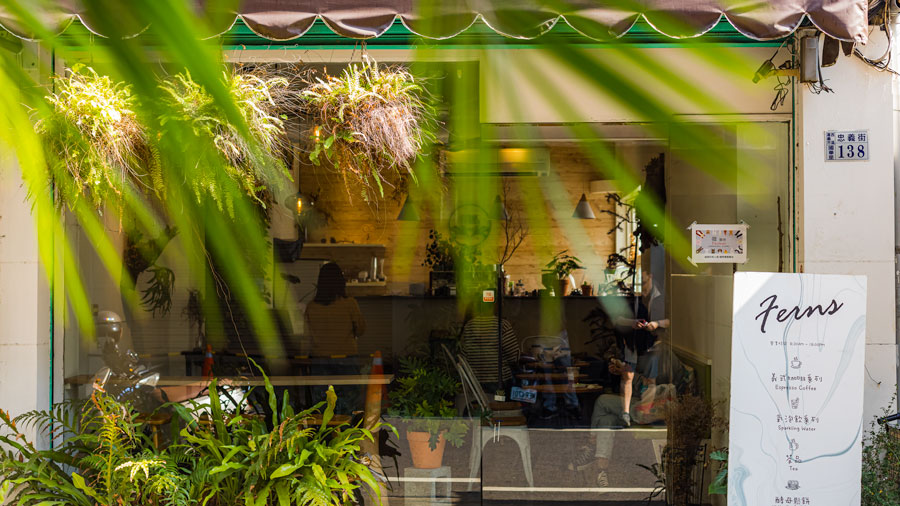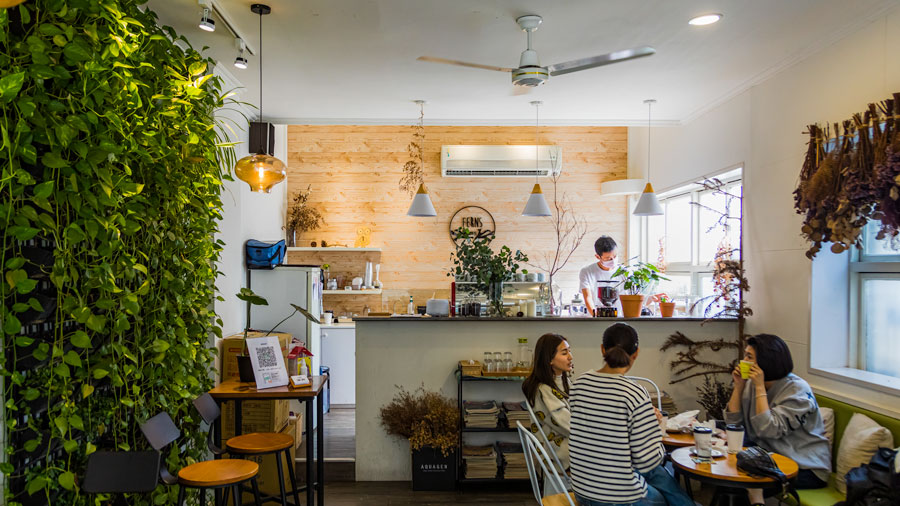 The owner's goal in opening this little oasis was to provide the area's office crowd with a place to stop in and chat over high-quality coffee with friends 30 minutes before, during, or after work, or simply dropping in to pick up their fave coffee choice to go. Two of the most popular are the Rose Latte, especially liked by female customers, and the intriguingly textured cold and carbonated Lemon Coffee, made with sparkling water. The Waffle menu is also a big hit (served weekends only); the owner studied waffle-technique under a French master who spent time in Taiwan. The two most-in-demand options are the Honey (honey cooked inside the waffles) and Three Berry (berry jam atop). Sandwiches and delectable lemon cake are also available.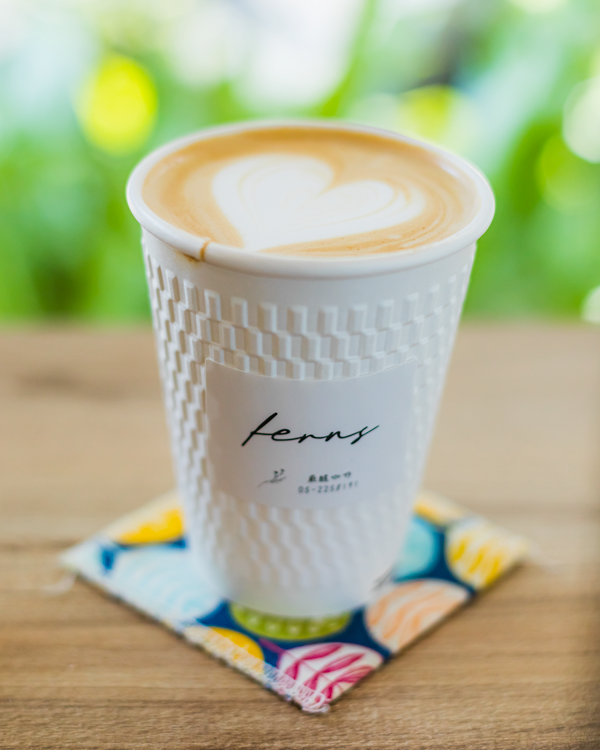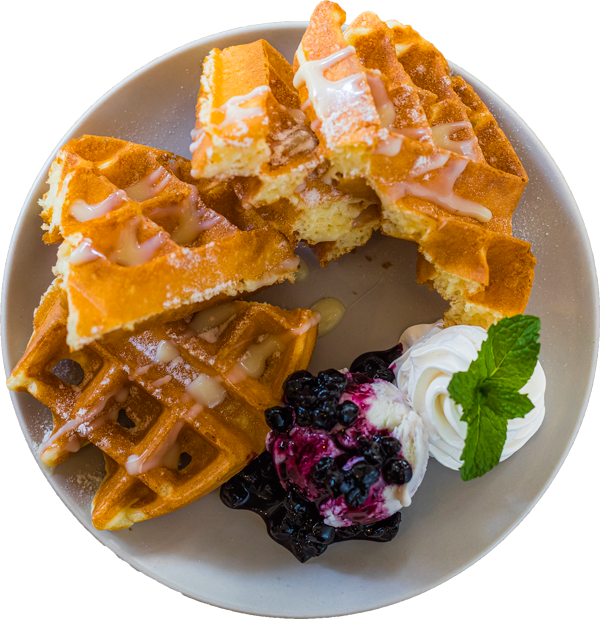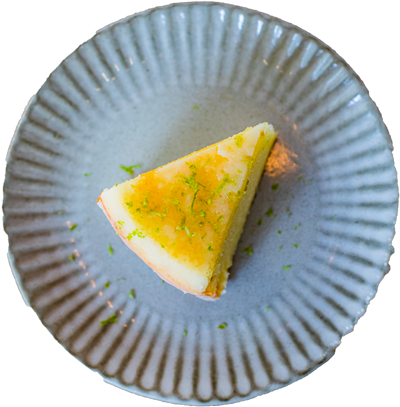 Ferns Coffee
(蕨醒咖啡)
Tel: (05) 225-8191
Add: No. 138, Zhongyi St., West District, Chiayi City
(嘉義市西區忠義街138號)
Facebook: www.facebook.com/FernsCoffee.138
Shimo sora
Shimo sora, in a renovated residence from the Japanese era, is filled with simple Japanese antique and retro-style furnishings and decorations juxtaposed with minimalist modernist decorative flourishes. The compellingly stark interior-décor color theme is walls and ceilings of pure white, staff dressed in pure white, countertop/tabletop machinery, packaging, and tableware pure white, and most all below attractive light-stain wood.
Shimo sora
(霜空珈琲)
Tel: (05) 225-5507
Add: No. 123, Guohua St., West District, Chiayi City
(嘉義市西區國華街132號)
Hours: 1pm ~ 8pm (Mon.~Fri.; from 12noon on Sat. & Sun.; closed on Thu.)
Facebook: bit.ly/3GtrR4s
Café on the Island
Café on the Island is a quiet place with, inside, something of the feel of a comfy old cottage in an English forest, filled with wood and stucco basics and old-time furniture and decorations and plentiful nooks and crannies. You can even sit under a big fake bird's nest, on a branch of a real tree, filled with teeny teddy bears.
Café on the Island
(島上西西)
Add: No. 603, Dongyang Xincun, East District, Chiayi City
(嘉義市東區東洋新邨603號)
Hours: 11am ~ 6pm (Mon., Tue., Sat., and Sun.)
Facebook: www.facebook.com/cafeontheisland
Local Specialties
Chiayi's delicious snack-food culture is celebrated around Taiwan, with many eateries and night-market vendors enjoying island-wide reputation. Here's a taste-test tour of some of the tastiest creations and recommended spots to sit yourself down at. As a general snacking rule, in Chiayi you'll eat well and eat much for often less than NT$100.
Zheng Lao Pai Grass Carp Congee
The "congee" in the name of Zheng Lao Pai Grass Carp Congee is misleading. What you are served is grass carp soup, a popular Chiayi snack that in truth is a filling meal. The carp, sourced from a local reservoir, are very large and meaty. You have the choice of main body, head, or tail in a soup. The delicious clear soup contains generous doses of scallion and ginger; white rice is added just before serving.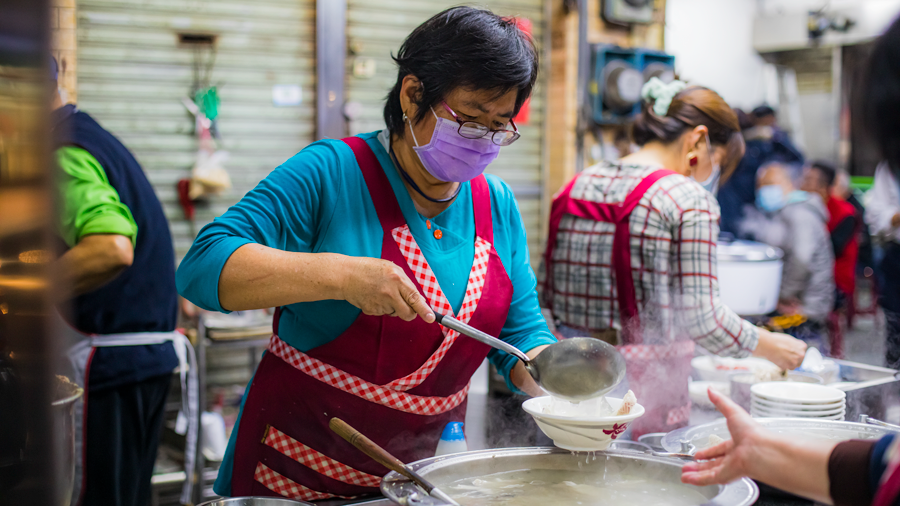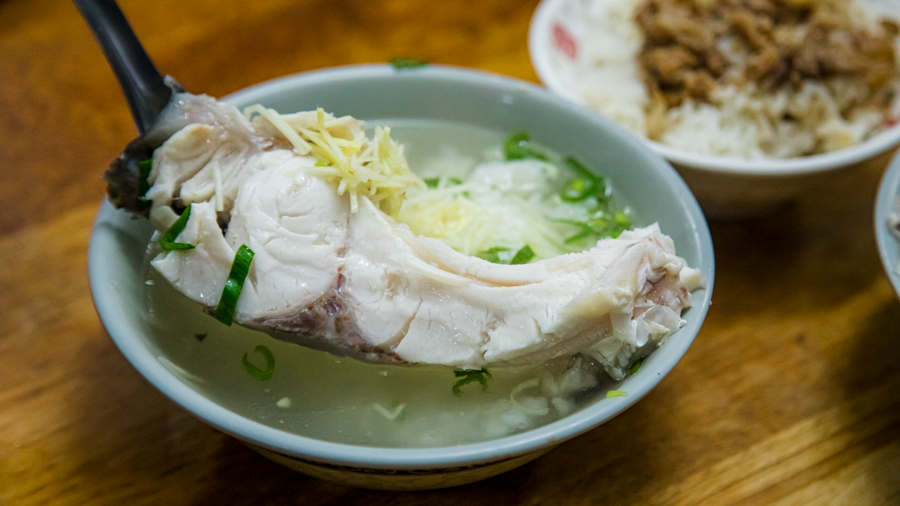 Zheng Lao Pai Grass Carp Congee
(正老牌草魚粥)
Tel: (05) 233-8910
Add: No. 13, Sec. 2, Bo'ai Rd., West. District, Chiayi City
(嘉義市西區博愛路二段13號)
Facebook: bit.ly/33e4FJ3
San He Turkey Rice
Turkey rice is Chiayi's most iconic snack treat, offered by many market vendors and hole-in-the-wall eateries. After WWII, US military personnel stationed locally introduced turkey meat and breeding. The hand-pulled meat strips, soft and tender with a hint of sweetness, are placed atop steaming white rice and a savory house-recipe sauce drizzled atop. The key sauce ingredients are turkey/chicken stock, soy sauce, and sugar. San He Turkey Rice is considered among Chiayi's top turkey rice choices.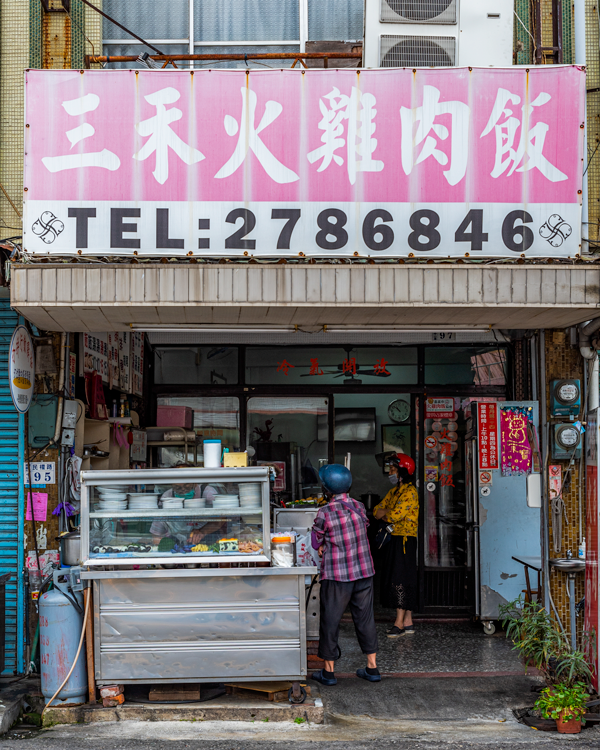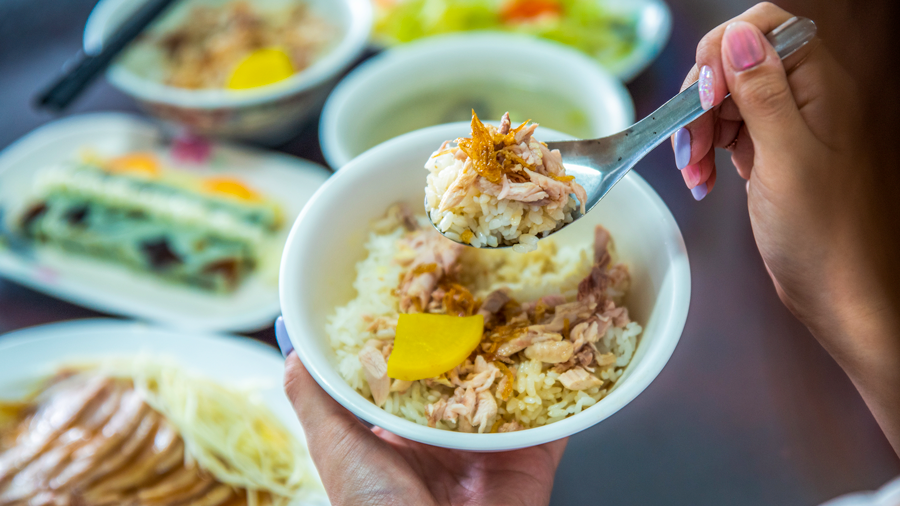 Sanhe Turkey Rice
(三禾火雞肉飯)
Tel: (05) 278-6846
Add: No. 97, Minquan Rd., East District, Chiayi City
(嘉義市東區民權路97號)
Hours: 10am~8pm
Facebook: www.facebook.com/TCSHHJRF
Smart Fish
The much-loved eatery Smart Fish created another iconic Chiayi specialty, fish head stew, in 1953. The "Smart" in the name is actually the given name of the founder. The chub fish for this very filling dish, which are first deep-fried, are from a local reservoir. Hearty stew accompaniments include Chinese cabbage, golden needle mushroom, black fungus, and tofu. Fish head stew enthusiasts, however, agree that the key is each house's broth; the Smart Fish original is concocted with large pork bone, three-layered pork, scallion, dried shrimp, and chilies.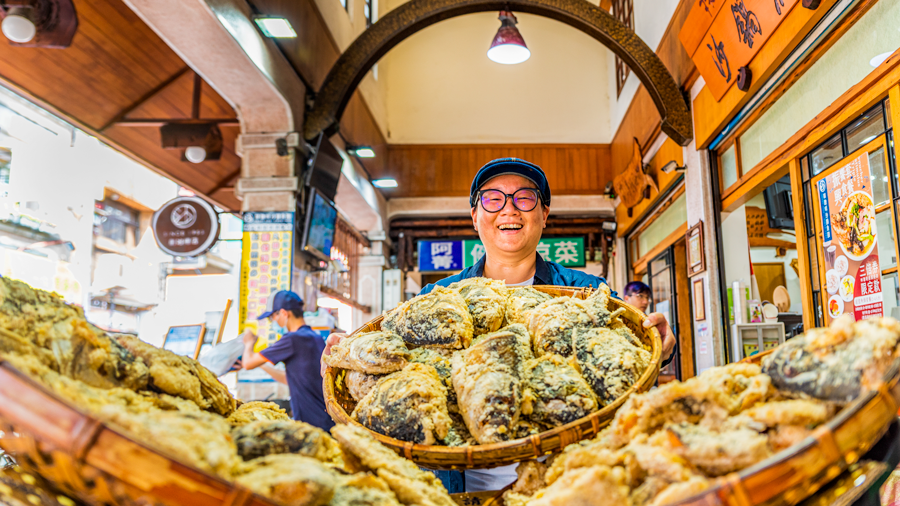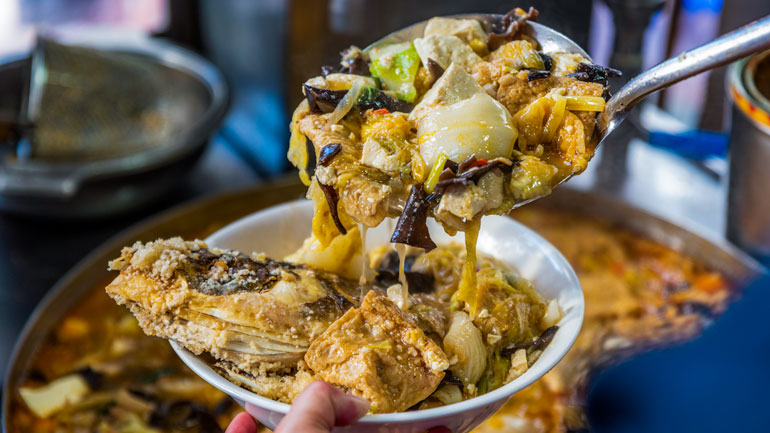 Smart Fish
(林聰明砂鍋魚頭)
Tel: (05) 227-0661
Add: No. 361, Zhongzheng Rd., East District, Chiayi City
(嘉義市東區中正路361號)
Hours: 12noon~10pm
Website: www.smartfish.com.tw
Ah E Soy Milk Tofu Pudding
Ah E ("Grandma E") Soy Milk Tofu Pudding is a stand in the renowned Wenhua Road Night Market. Tofu pudding, called douhua in Mandarin, is a sweet snack ubiquitous in Taiwan. It's eaten cold in summer to cool off, warm in winter. The Chiayi-version difference is the substitution of soy milk for sweetened water, a creative divergence launched by Ah E herself six decades back. Another key Ah E stand difference is that the family continues grandma's tradition of making their silky-smooth tofu slabs themselves, using no additives.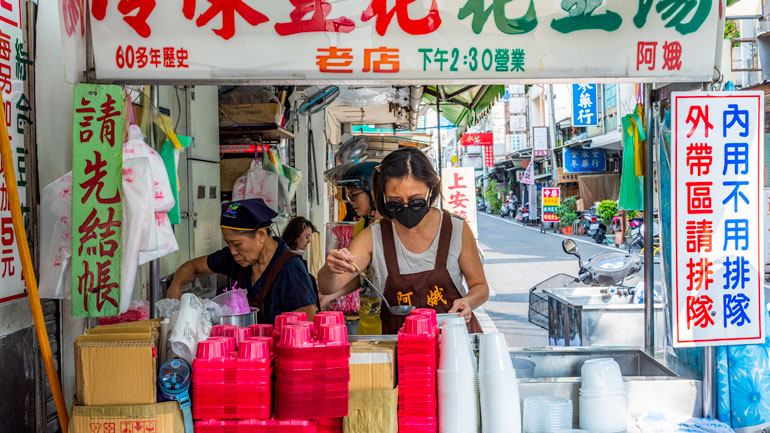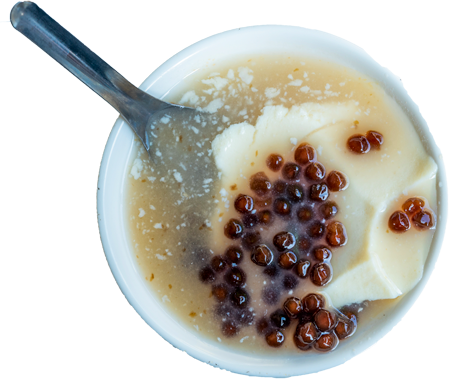 Ah E Soy Milk Tofu Pudding
(阿娥豆漿豆花)
Tel: (05) 224-3016
Add: Yanping St., East District, Chiayi City
(嘉義市東區延平街)
Hours: 2pm~12midnight
Huang Cold Noodles
Another Taiwan summer favorite is thin cold noodles, drenched in a piquant sauce built on sesame paste, rice vinegar, and soy sauce, with salad-style accompaniments such as pulled-chicken strips and slivered veggies. Instead, in Chiayi the noodles are broader and chewier and are drenched with sesame sauce, then mayonnaise. Mayonnaise was introduced by US servicemen, but Taiwanese prefer a sweetened, lighter version. Huang Cold Noodles is a pleasantly neat and tidy eatery visually defined by interior/exterior walls of spanking-white tile and brick and light-wood flooring and counters/tabletops.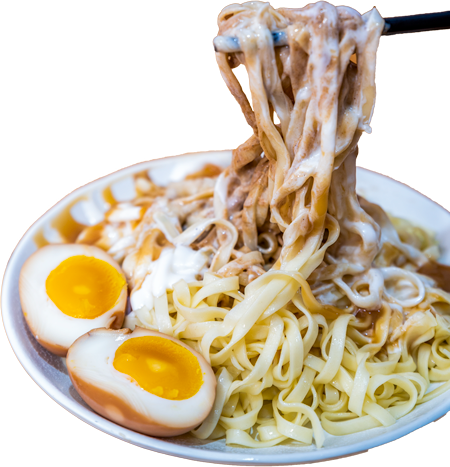 Huang Cold Noodles
(黃記涼麵)
Tel: (05) 224-0620
Add: No. 361, Xingzhong St., East District, Chiayi City
(嘉義市東區興中街6號)
Hours: 9am~8pm
Facebook: www.facebook.com/Huang.cold.noodles.inchiayi
Yuan-Sing Tea House
Despite the name, Yuan-Sing Tea House is a tea-drink shop, not a traditional-style teahouse. Tea-drink shops have become hugely popular in Taiwan in the past two decades, and Yuan-Sing and other Chiayi establishments celebrate the teas of Alishan and Chiayi-region fruits – a nickname for fecund Taiwan is the "Kingdom of Fruit." Specially recommended Yuan-Sing concoctions are the grapefruit green tea with dried sweetened plum and the sucrose lemon alpine tea.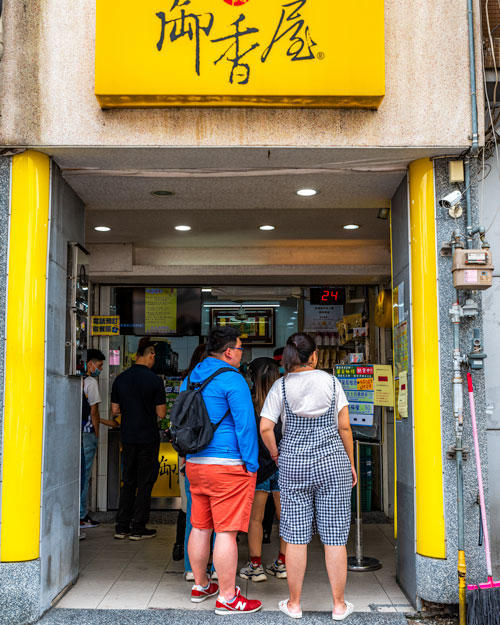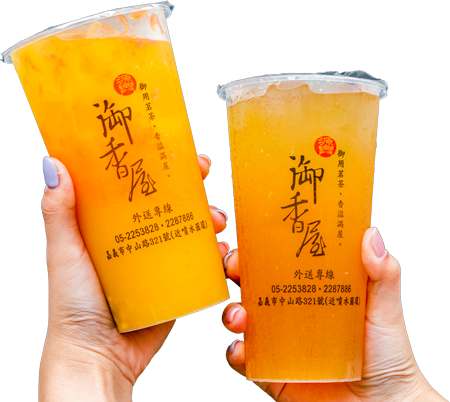 Yuan-Sing Tea House
(源興御香屋)
Tel: (05) 225-3828
Add: No. 321, Zhongshan Rd., West District, Chiayi City
(嘉義市西區中山路321號
Hours: 10am~8pm (until 10pm on holidays)
Facebook: bit.ly/3dvtP7X