A Tourist Train Climb from the Plains Up to Alpine Country
TEXT / RICK CHARETTE
PHOTOS / VISION, ALISHAN NSA ADMINISTRATION
Constructed over a century ago, this heritage narrow-gauge railway branch line, today plied by tourist trains, is one of just three steep-gradient alpine railways on the globe. The others are, no surprise, also located in exotic locations off the beaten tracks: a line in India that runs through the Darjeeling tea-plantation region and one in Chile-Argentina that traverses the high Andes.
Alishan Forest Railway
The famed Alishan National Scenic Area (www.ali-nsa.net) and the Alishan National Forest Recreation Area (recreation.forest.gov.tw) at its heart are in the high mountains due east of flatlands Chiayi City, featured in our main article in this issue. Instead of heading up to the region by highway, many choose the popular Alishan Forest Railway, an iconic tourist attraction. The ride begins at Chiayi Railway Station and ends in the forest recreation area, starting at 30m above sea level and climbing to 2,216m. It is 71.6km in length, and trains trundle through 47 tunnels and over 72 bridges on their way through changing subtropical, temperate, and alpine habitats. Period locomotives and carriages are used to heighten the experience for riders.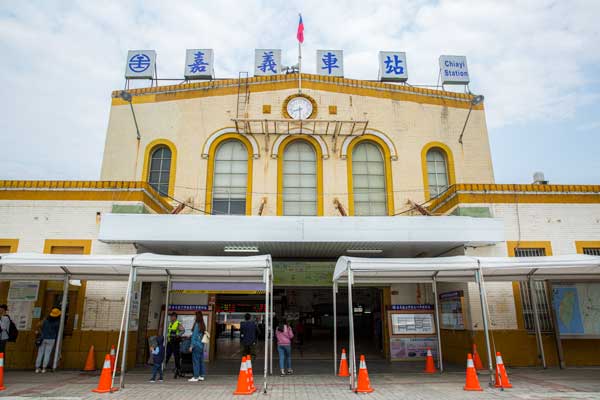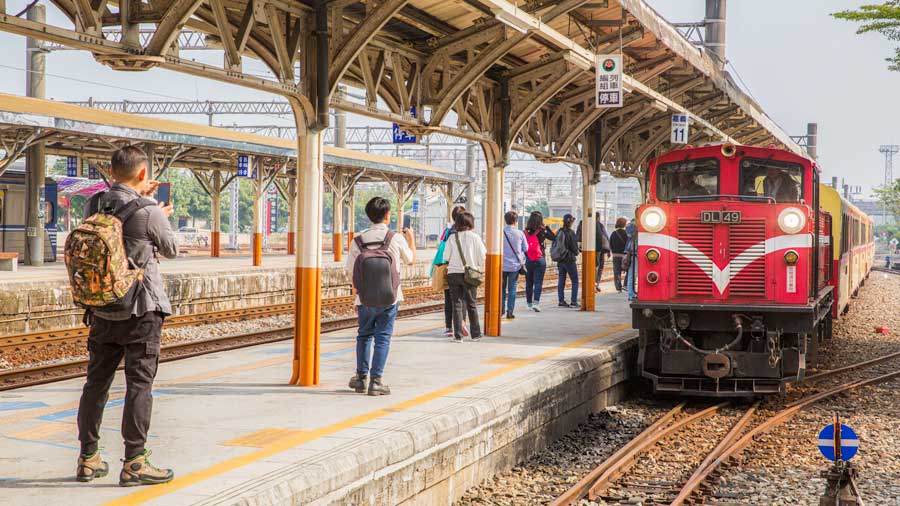 The Japanese opened this line in 1912 to bring Alishan's prized cypress and cedar down to the plains, and passenger traffic was also handled. Trains travel 14.2km from Chiayi City along comparatively flat terrain before the long mountain climb begins. In one section they corkscrew around Mt. Duli, climbing hundreds of meters over 5km of track. From Pingzhena Station trains zigzag upward on Z-shaped switchbacks, reversing direction on each new section of line on an ascent up the face of another mountain. The Japanese decided this mountain was too big to use the Mt. Duli technique.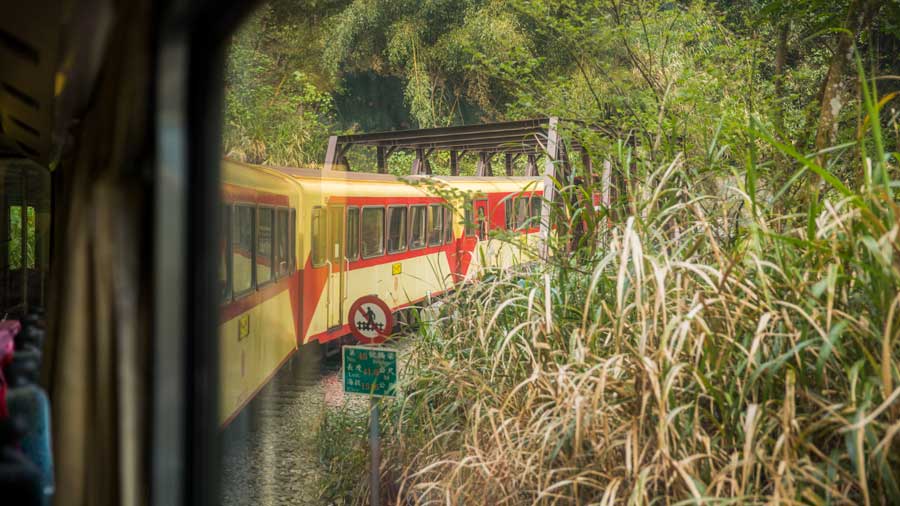 For more information on the railway, including timetable/ticket info, visit www.forest.gov.tw/en and go to the "Alishan Forest Railway Ticketing System" section. Visit afrch.forest.gov.tw/en for a map showing all of the many stations, plus brief introductions on each, including elevation and distance markers. There is one other station in Chiayi City itself, Beimen Station, a wood-built station constructed by the Japanese that was the original launch-point for the line. There is one train each way daily on weekdays, three on weekends and holidays. The trains run a tight schedule, so riders may not disembark and reembark at any of the stations along the way.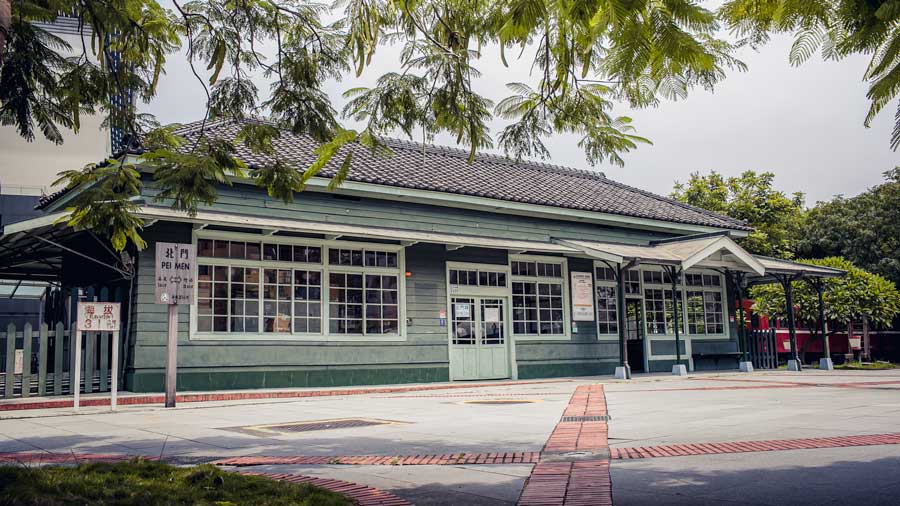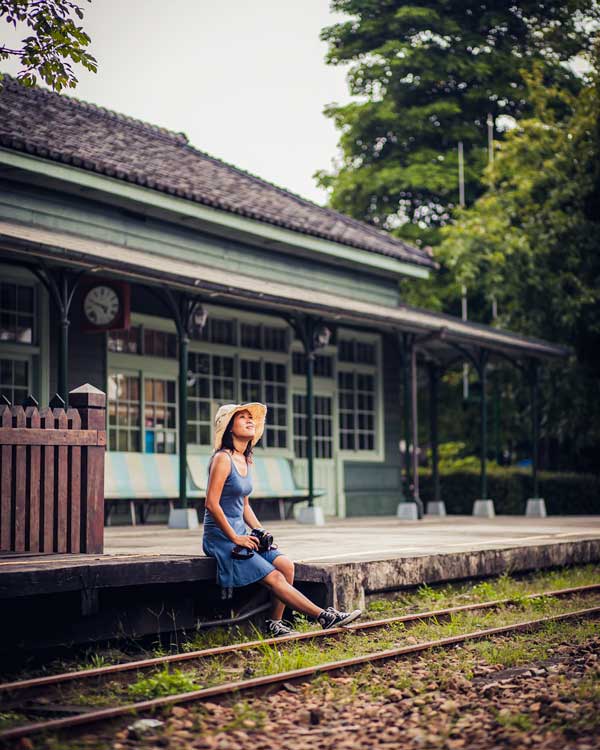 Fenqihu and Shizilu Stations
The station at the lovable little town of Fenqihu is at the 45.52km mark, elevation 1,403m. This compact settlement sits up on a mountain slope, the lowest buildings significantly below the highest, looking down into a deep basin formed between bracketing mountain hulks on the left and right.
The ride from Chiayi City to the base of the mountains is characterized by small farm plots, fruit trees cultivated on many. You are in Taiwan's banana belt. After this, on the lower-mountain uphill climb, you'll swish past such forest denizens as camphor trees, banyan trees, rubber figs, moso bamboo, and elephant grass. The trees sometimes crowd in so close their foliage "swishes" the carriage tops.
The Alishan world changes as Fenqihu is approached. The tracks penetrate cool, dark forest, often mist-pierced, densely populated with tall evergreens. You've entered the bewitching realm of the Taiwan cloud forest, its most enchanting specimens the soaring Taiwan red cypress, Taiwan yellow cedar, and Japanese cedar.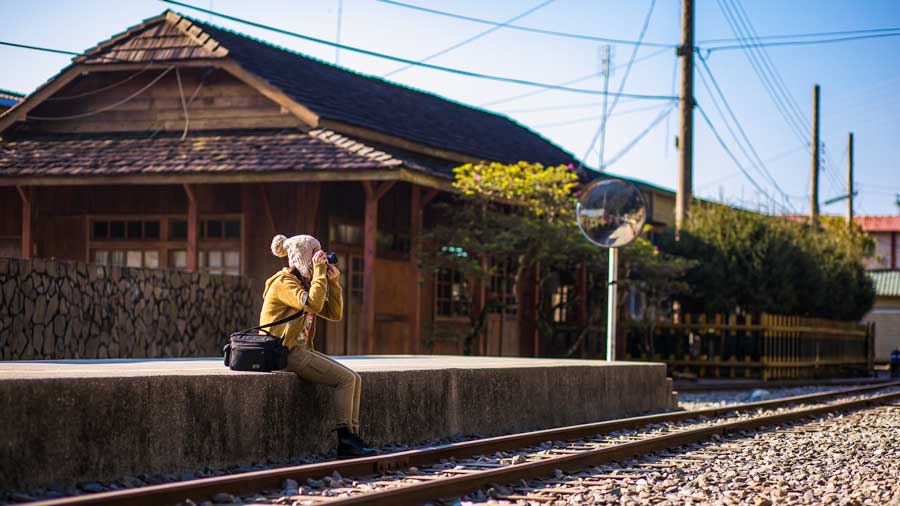 Scenic Fenqihu has a trio of raisons d'etre. This spot was close to some of the great timber stands the Japanese wanted to exploit, and was chosen as a (roughly) halfway point for a railway storage and repair depot and for necessary engine water and coal replenishment. Along the tracks you'll find the attractive old Japanese wood-built station and the old train depot (free entry), which houses logging-era engines and a model showing the railway's amazing engineering.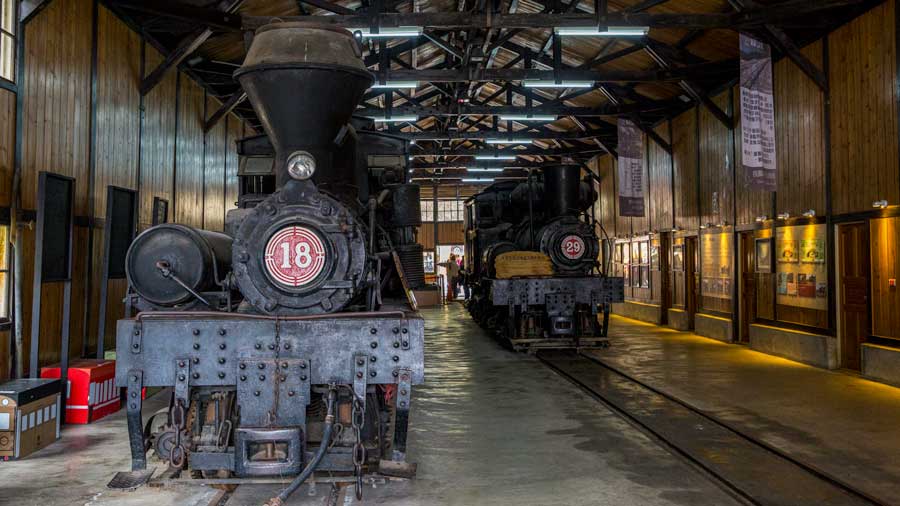 Fenqihu Old Street runs just down-slope and parallel to the tracks. Lined tightly with heritage shops selling iconic local foods and crafts, at points it is covered and so narrow that it's more corridor than street. Two of the biggest Alishan-theme sellers are the locally grown Oolong tea and wasabi.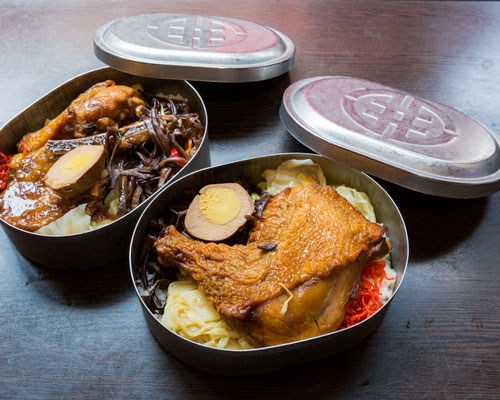 At the present time, the tourist train run ends short of the forest recreation area, at Shizilu Station (1,534m, 55km mark). The remaining track section up to the recreation area, currently under repair, is expected to be reopened in a year or two. This unfortunately means the thrilling aforementioned mountain-face zigzag section is not part of the experience. Travelers complete their journey to the forest recreation area by catching a bus (there is regular service) at the side of Provincial Highway 18, just about 100 meters from the railway station. This highway, which starts in Chiayi City, runs through the national scenic area's central corridor.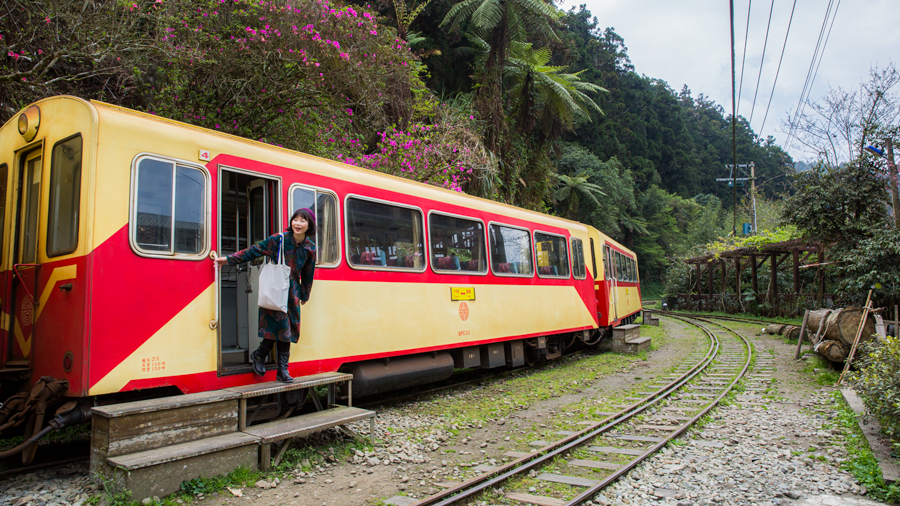 Tiny Shizulu has a forgotten-in-time ambience, especially when the alpine-forest mists roll through. There are numerous historical buildings track-side – in fact, the entire hamlet is trackside – including former Japanese worker dormitories. "Shizilu" means "crossroads." The settlement sits on a ridgeline looking down into two deep valleys on either side; two old native-blazed trails cross paths here, leading down into the valleys to different Tsou tribe settlements. Today they're popular hiking trails, and invariably you'll see hikers sitting down with a cup of steaming Alishan coffee at the quaint MXCoffee café (www.facebook.com/maxwucoffee), facing the tracks right at the trail crossroads. Alishan, long famed for its tea, now also grows high-quality Arabica beans. There's also a trackside lookout platform, facing into the Northwest Corridor, which has info signboards and historical photos.
Alishan Forest Recreation Area
Alishan Station (elevation 2,216m, 71.6km mark) is beside the forest recreation area's large service area. Buses plying Provincial Highway 18 from Chiayi City bring you to this point, which is the route terminus.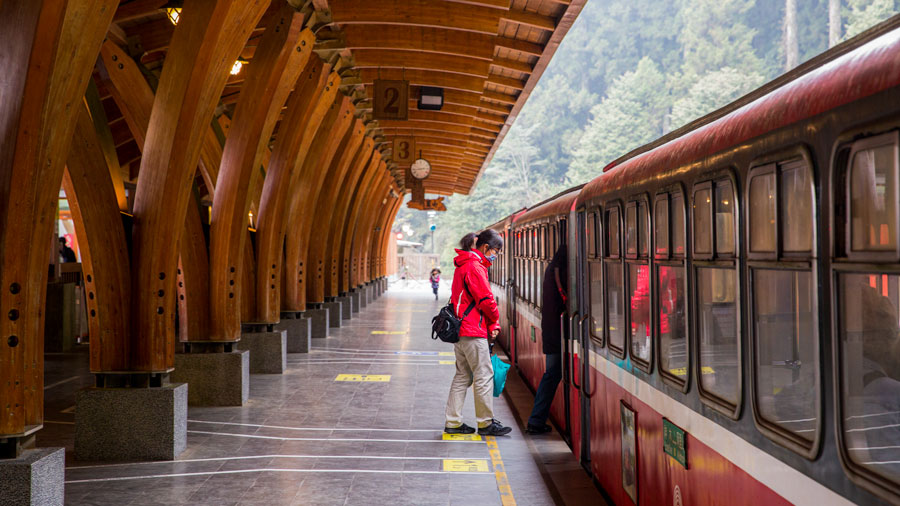 The service area is a busy complex of eateries and retail outlets, the former focused on Alishan/Chiayi County produce, the latter primarily selling Alishan-theme goods. There is also a dedicated visitor center here, and hotel accommodations just outside. The forest recreation area is 1,400 hectares in size, has an average annual temperature of 10.6 degrees Celsius, and averages about 250 foggy days per year.
From the service area, you launch into a latticework of pathways and eco-friendly raised boardwalks uphill and downhill (there are also many longer trails outside of this area). Among the many images of natural beauty that will become part of your album of life memories will be the decorative cherry trees in Zhaoping Park (planted throughout Alishan by the Japanese), the now-laid-to-rest old Sacred Tree, a huge red cypress estimated to be over 3,000 years old and long revered by the area's Tsou people, the Giant Tree Plank Trail, featuring dozens of massive, ancient red cypress trees, the forest-surrounded and interconnected Sisters Ponds, one prettified with two wooden "love pavilions" built on Formosan red cypress bases (said to be named, in one of the various versions of the legend, after two lovely native sisters who long ago drowned themselves to avoid a joint forced marriage to an evil chieftain), and the fantasy-like Three-Generations Tree, which has one tree growing from the dead trunk of another, which originally grew from the dead trunk of a third, the first generation being 1,500 years old.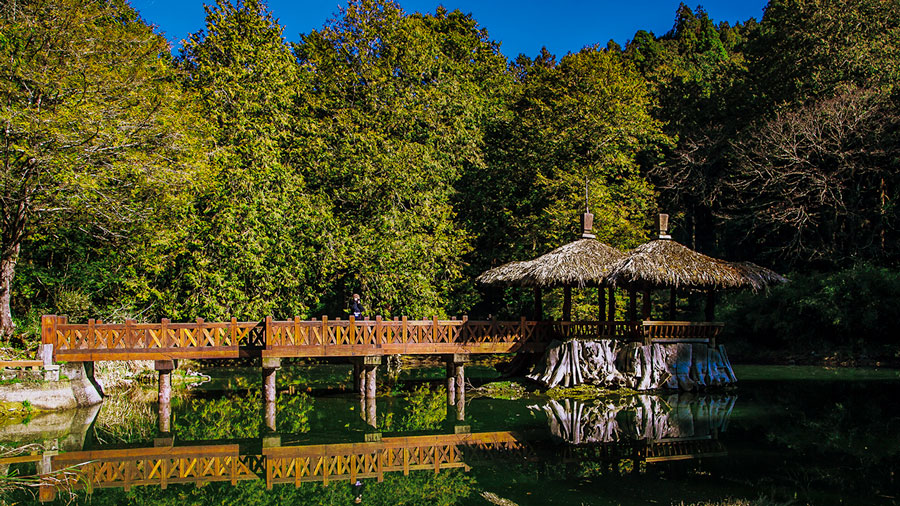 There are three tourist train runs within the forest recreation area itself, all starting from Alishan Station, with return service. One is from Alishan Station down one stop to Shenmu Station (elevation 2,138m, 69.94km mark, 7min run). "Shenmu" means "sacred tree" – the key scenic sight around this station is the aforementioned Sacred Tree.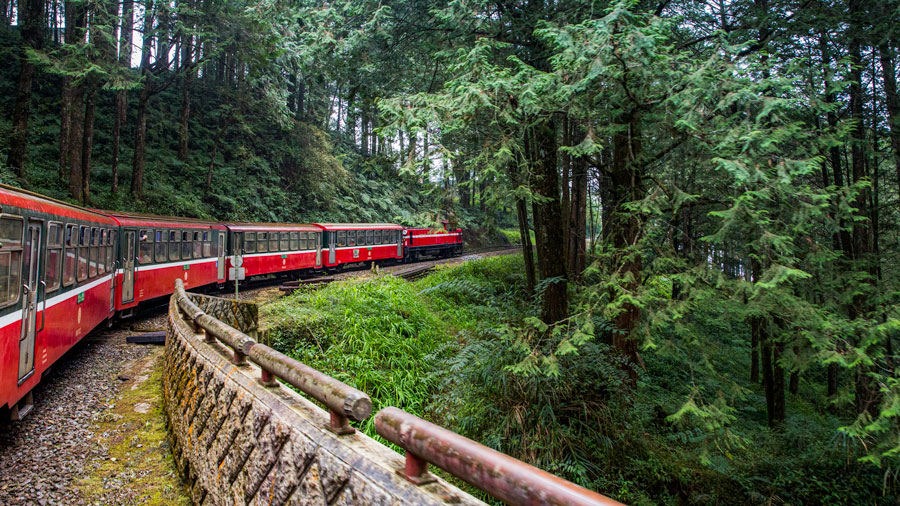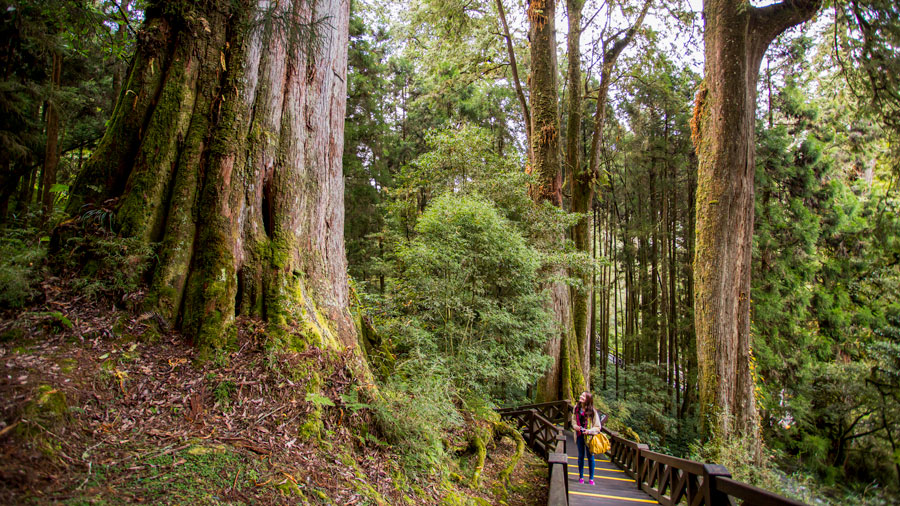 Another is up one stop to Zhaoping Station (elevation 2,274m, 72.7km mark, 6min run). The aforementioned expansive Zhaoping Park, which has a walkway/lookout platform above the park treetops, is directly before the station.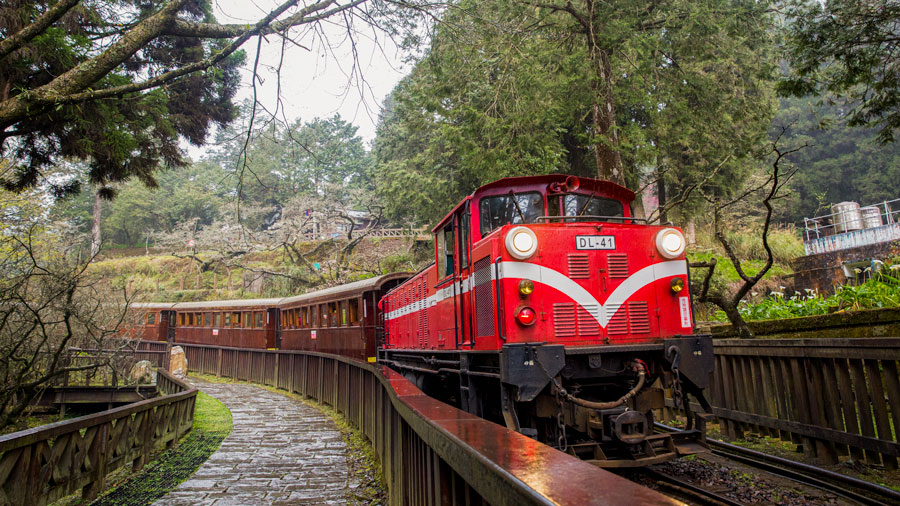 The Zhushan Sunrise Watching Train run is longer than the others. Your train travels up-mountain from Alishan Station to a high plateau from which the glorious sunrise over the distant 11-peak Yushan (Jade Mountain) massif is enjoyed. There is also return service. Normally the terminus is Zhushan Station (elevation 2,451m, 77.55km mark, run about 25mins), Taiwan's highest railway point. This facility is currently being repaired, so trains stop at the penultimate station, Duigaoyue Station (elevation 2,405m, 75.7km mark), and sunrisers then walk 25 minutes up a paved service road. The Zhaoping-Duigaoyue-Zhushan section is a branch line built in the 1980s.
There is a good lookout platform beside Duigaoyue Station, and one with much better views immediately above Zhushan Station. But best of all is the Mt. Ogasawara Viewing Lot (also called the Xiaoliyuanshan Lookout), about a 20-minute walk modestly uphill from Zhushan Station. Enjoy unobstructed views in all directions, taking in peaks among all three of Taiwan's major ranges – Central Mountain Range, Yushan Mountain Range, and Alishan Mountain Range. As well, watch for the resident Mikado and Swinhoe's pheasants around this plateau summit and just lower beside the service road at Mountain Ali Tea No. 35 (www.facebook.com/alishan1835) a large two-story chalet-style teahouse.