Young Entrepreneurs Bringing New Aesthetics to Old Architecture
TEXT / RICK CHARETTE
PHOTOS / CHEN CHENG-KUO
The youthful generation is busy in long-sleepy old Tainan City, Taiwan's oldest urban center, founded in the 1600s. Local young folk revel in giving new life, personality, and mission to the humbler old architectural jewels they've grown up with, creating a treasure map of small eateries, tea rooms, cafés, boutique hotels, and other cultural-creative enterprises for travelers to culture-spelunk.
The city of Tainan was established by the colonizing Dutch in the early 1600s, and taken over by the imperial Chinese in the late 1600s. The colonizing Japanese more recently spent 50 years adding their own cultural touches, from 1895 to 1945. During this period Taiwan's political/cultural/economic center shifted decisively north, and Tainan life slowed equally markedly, the benefit for today's tourist being that much of the old city's original architecture, grandiose and humble, survived Taiwan's breakneck modernization.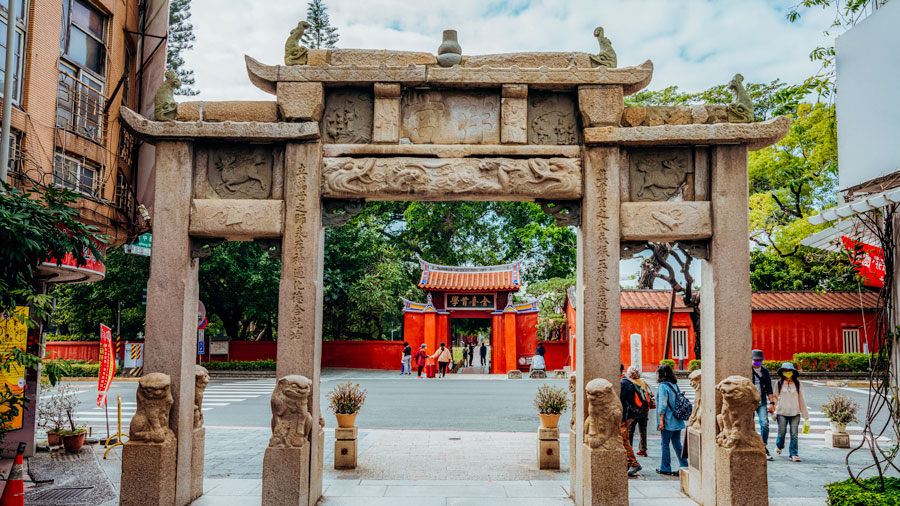 Over the past few decades the city government has been hard at work on big rejuvenation projects. Here we present some of the best of the most recent smaller-scale private-sector projects undertaken by the city's young entrepreneurial ranks.
44 Bit Records
Taiwan's old urban cores are defined by neighborhoods of narrow-lane-and-alley grids, and Tainan's are perhaps the most labyrinthine, arteries especially narrow and winding or zigzagging. The city is also renowned for the core's legion of quality cafés and, today, ever-growing number of cultural-creative eateries and stylish modern-design tea rooms tucked away in "impossible" grid-hideaway spots that make finding them a pleasing treasure hunt.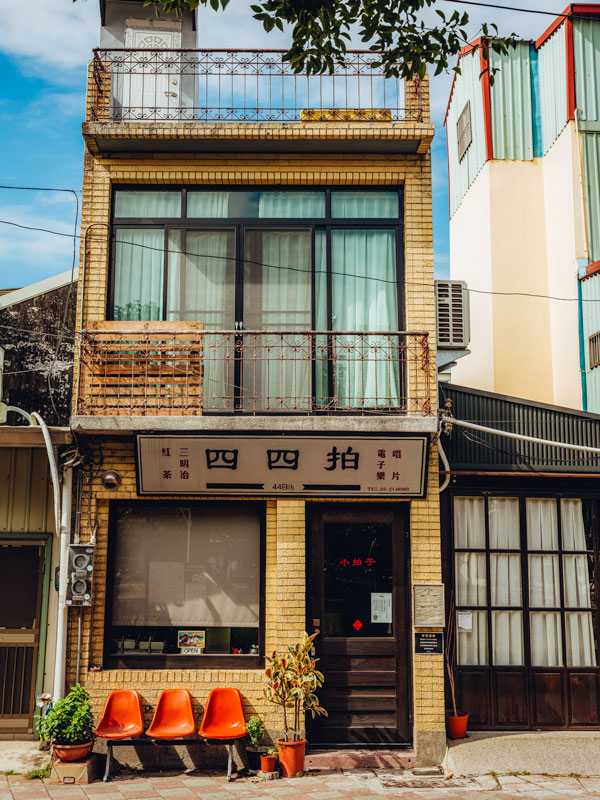 A fine example of this is 44 Bit Records, on a somnolent lane facing a tranquil community park a short stroll from the Koxinga Shrine, a major Tainan tourist destination. A few doors down is a hole-in-the-wall single-story temple with a brilliant-red façade tucked neatly in between two residential buildings. Right beside 44 Bit Records is the temple office, low-volume community notices pouring forth from an outdoor speaker.
44 Bit is on the ground level in a classic old-style deep and long two-story former residence with an exceedingly narrow façade of yellow brick. Inside, a long and slender passageway takes you first past the service counter, then a tiny DJ room, then a tiny sky-well, and finally to the exceedingly compact rear kitchen. Customer seating is in an attached newly built one-story structure next door that has exposed steel ceiling girders and a façade with a large multi-paned window and both wall section and window framing made of wood-mimicking steel.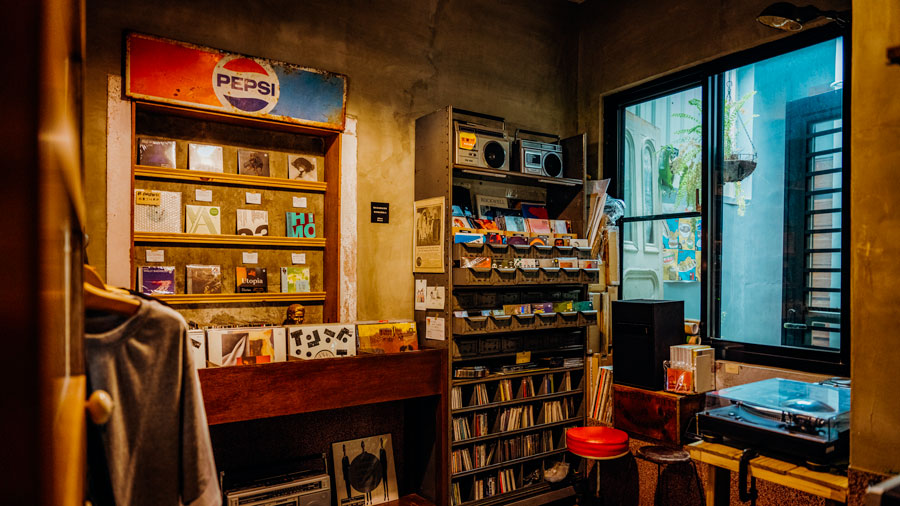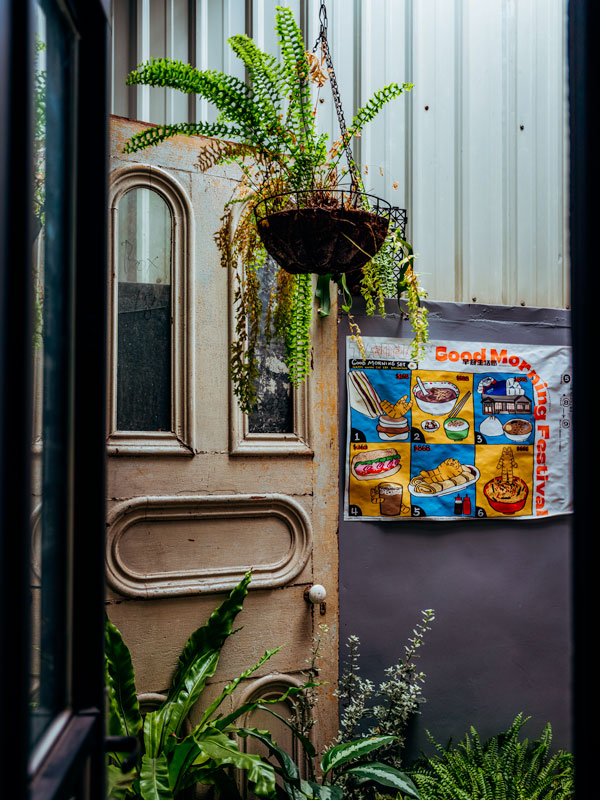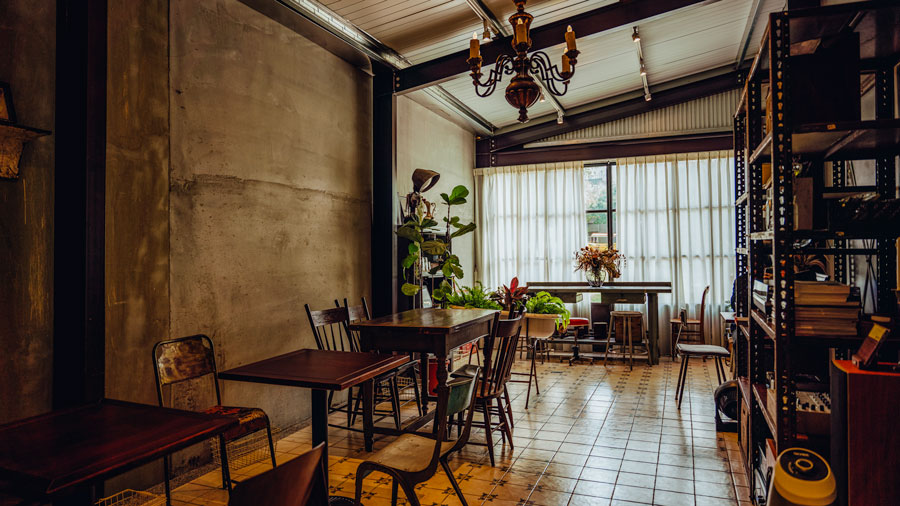 Though it serves various types of tea drinks, this retro-décor establishment slots into the aforementioned eatery rather than tea room category, a combo eatery/music-listening space. The owner previously operated a beverage shop (Bit To Go chain) on a nearby major street, and the teas, tea drinks, and carbonated fruity drinks have made the pilgrimage here.
Reflecting the owner's fondness for electronic music, the place is filled with old records and CDs from around the globe, in the aforementioned dedicated DJ room and on stacked racks of DJ equipment. 44 Bit Records can be rented for special music-theme events, and DJ lessons are also available. While dining here you'll be listening to easy-listening, not thumping, album selections.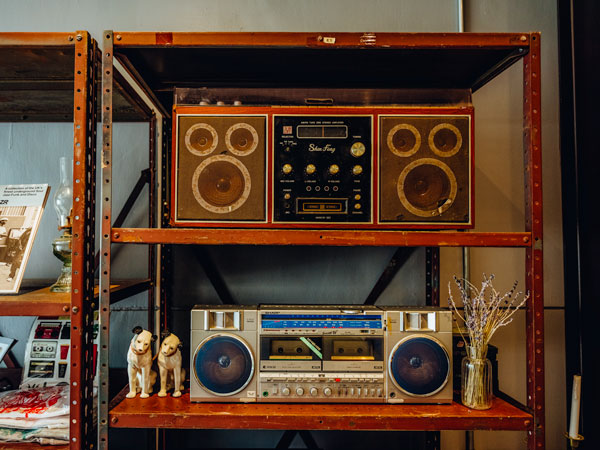 Specially recommended food selections are the BBQ chicken with cheese panini and the chicken in peanut sauce (piquant sauce made with peanut, tomato, papaya, and spices). These selections come with fresh organic garden salad, range-chicken egg, and saffron rice. Two customer-favorite drinks are a cold tea with kumquat juice, plum juice, and plum jelly cubes, and a carbonated fruit drink made with butterfly pea flower, peach yogurt, and assorted fruit-jelly cubes.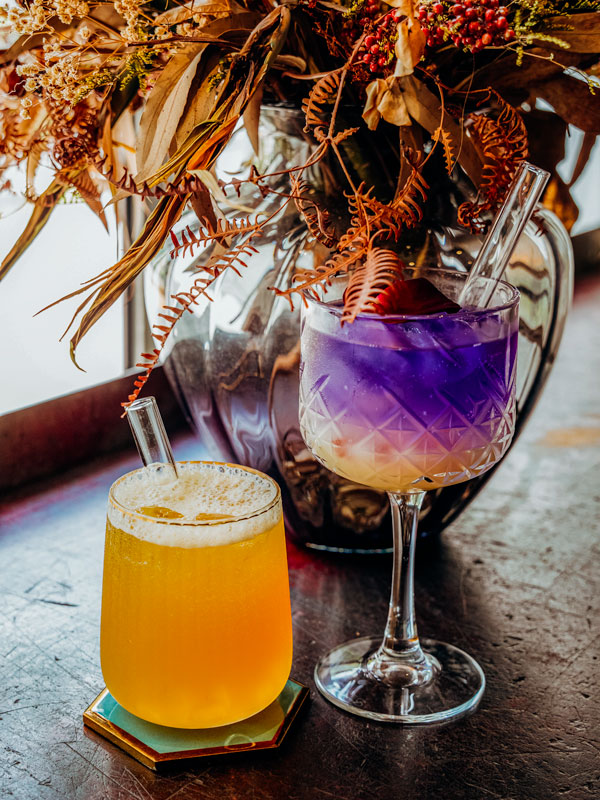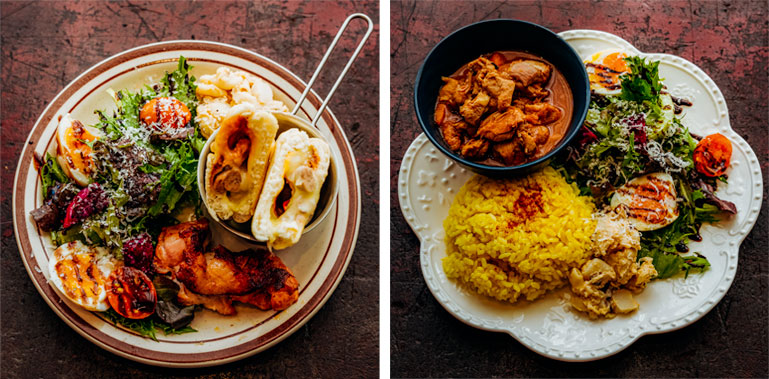 44 Bit Records
(四四拍唱片行)
Add: No. 26, Lane 85, Sec. 1, Fuqian Rd., Central West District, Tainan City
(台南市中西區府前路一段85巷26號)
Hours: 10am~5pm (closed on Mon. and Tue.)
Facebook: www.facebook.com/44Bit
YoYoMei FotoShop
One of the indelible impressions visitors leave Tainan with is the large, many-laned roundabouts in the city's older area, waves of trucks, cars, and scooters weaving in and out. YoYoMei FotoShop stands on "Taiwan's first roundabout," which is also overlooked by the National Museum of Taiwan Literature, housed in one of Tainan's most impressive heritage buildings. YoYoMei is a unique combination, a true old-style photo shop that's also an eatery, a place for folks who either pine for or are interested in learning about the days when analog photography ruled the world.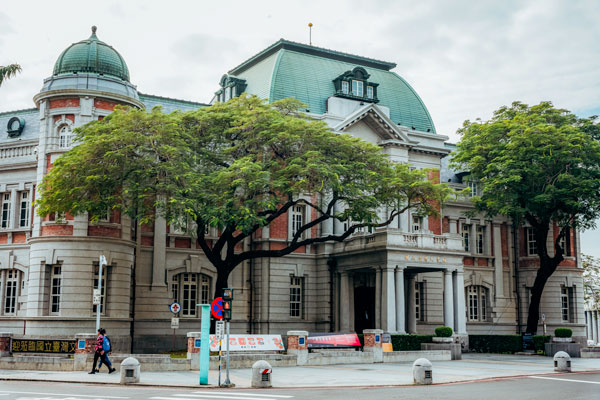 The first floor operates as a photography-supply shop, with displays of film rolls and simple, inexpensive film cameras from Kodak, Konica, and Fujifilm (hereafter "K/K/F"). The service counter doubles as the eatery service counter, and there is diner seating throughout this space, as well as some seating outside on the sidewalk. The second floor, which has more seating, is also a photo-shoot space, with a number of nostalgia-theme backdrops for customers to use gratis, plus expensive analog equipment you can have the shop's professional photographers use to create portraits for you (fee).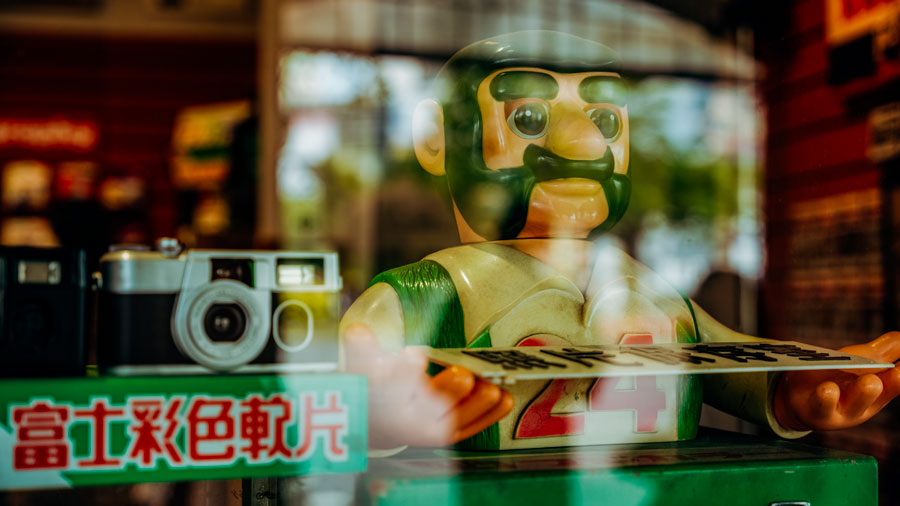 On the first floor, the most popular photo backdrop features a retro scooter and, above it, a section of wall with original exposed brick and a colorful framed stack of K/K/F film rolls. On the second floor, the best-used backdrop is a corner stacked with color-effervescent retro Kodak ads.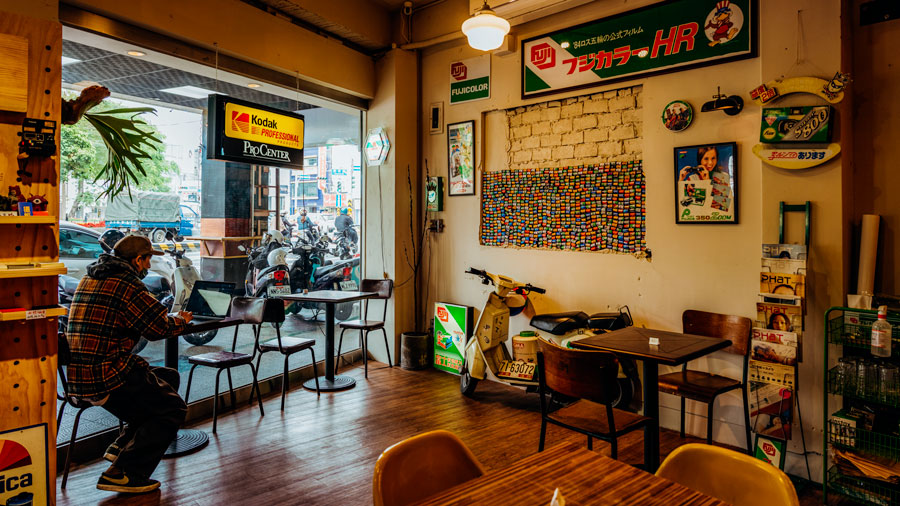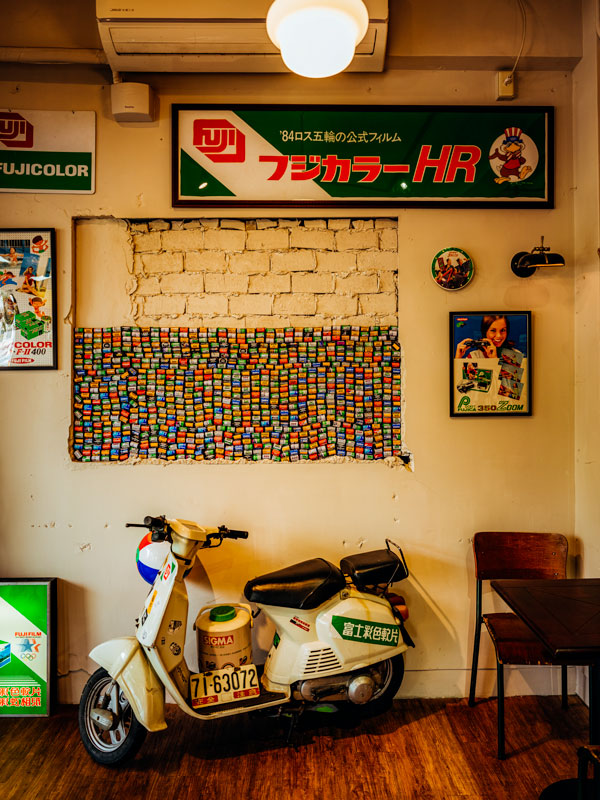 This building has been operated as a photography shop since 1947. One of the two cultural-creative adventurers who have created the present operation is from the third generation of the founding family. The two met through serendipity, and when the third-generation family member heard the other's idea for a fusion photography-theme eatery/retail outlet/studio, he knew that his family's business premises was just the right venue. Their YoYoMei FotoShop (a name different from that of the original family shop) opened in July last year.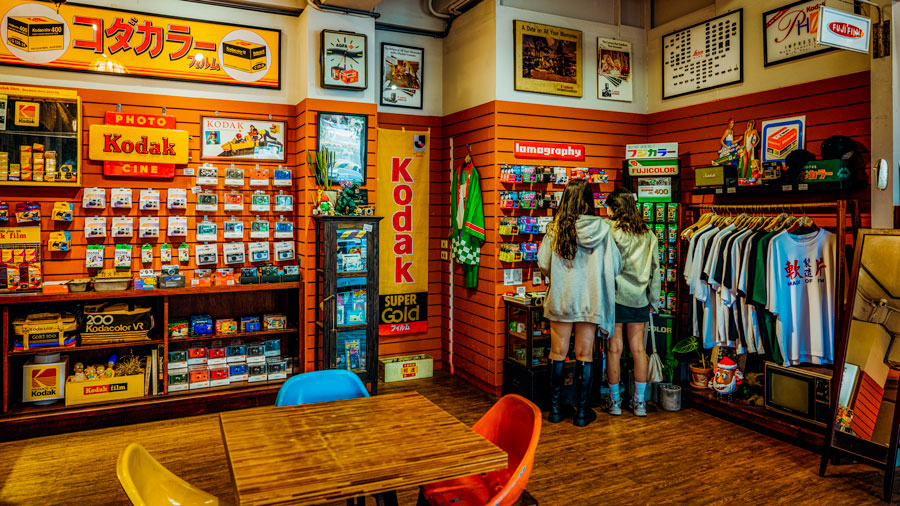 At time of writing, the menu featured simple Western-style sandwich and salad food selections. This is set to be changed to iconic Tainan snack treats – the city is renowned for high-quality, inexpensive night-market/street-food cuisine. Among the easy-to-prepare options being considered are surf delicacies, such as shrimp/oyster rolls and eel noodles, and turf treats, such as Tainan-style beef soup and migao, most often translated as savory "glutinous-rice cake." The existing beverage menu will be carried over, and coffees may be added. Currently the most popular drinks are a trio of fruity carbonated beverages matching the colors of the shop's K/K/F camera-film boxes (yellow/blue/green).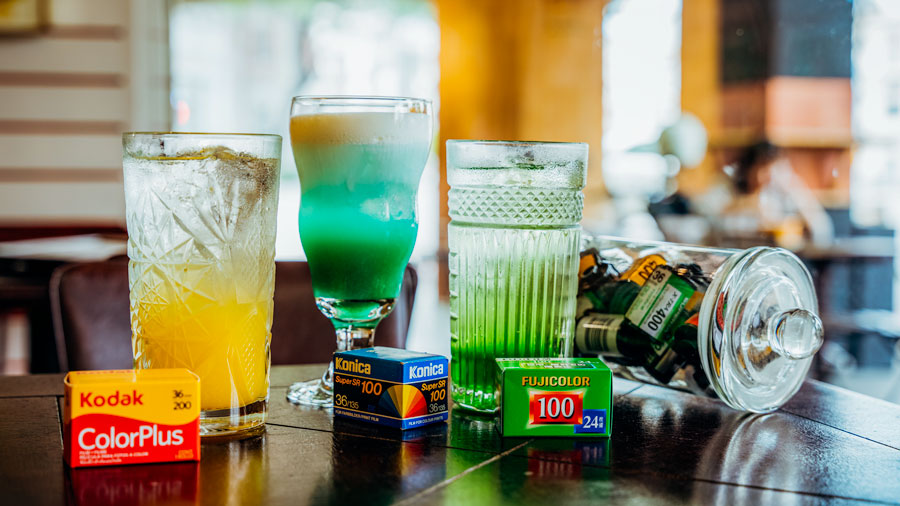 YoYoMei FotoShop
(又又美)
Add: No. 15, Nanmen Rd., Central West District, Tainan City
(台南市中西區南門路15號)
Hours: 11am~7pm (closed on Tue.)
Facebook: www.facebook.com/yoyomei.2020
HuTu Teahouse
Like 44 Bit Records, HuTu is another great example of the cultural-creative venture gems found deep in Tainan's lane/alley labyrinths, a tea room that is just a short walk from the Old Tainan Magistrate Residence, a popular tourist attraction. When you find it, you'll initially doubt yourself. Entry is via what seems a miniscule private first-floor parking garage, up red-colored steel stairs that seem more like a fire escape.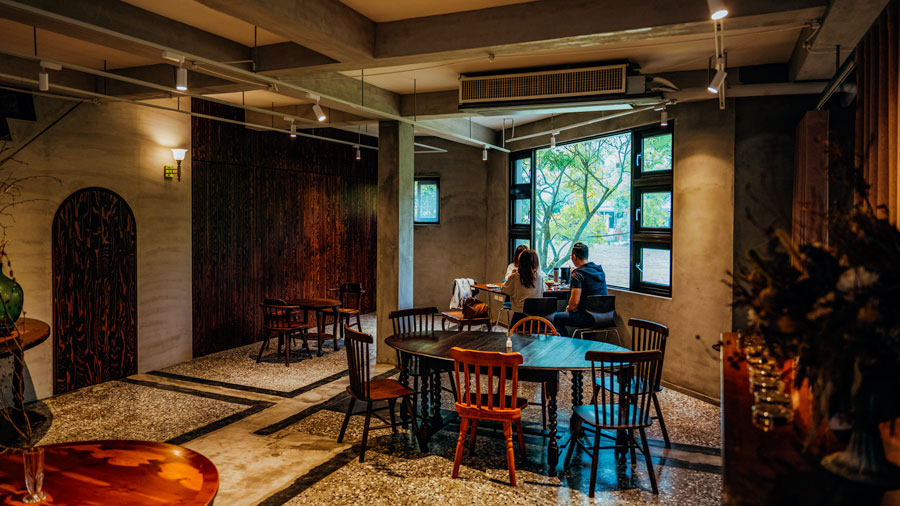 Entry is on the second floor, where you'll pass through a sliding glass door into an elegant hall-like space with a triple-theme design – walls and support pillars of exposed concrete in minimalist industrial style, genteel wood furnishings in the style of an old European manor, and Tainan-theme terrazzo for the floor and face of the long service bar. As elsewhere in Taiwan, terrazzo was hugely popular from the Japanese colonial era (1895-1945) through to the 1970s, when rising labor costs drove prices too high.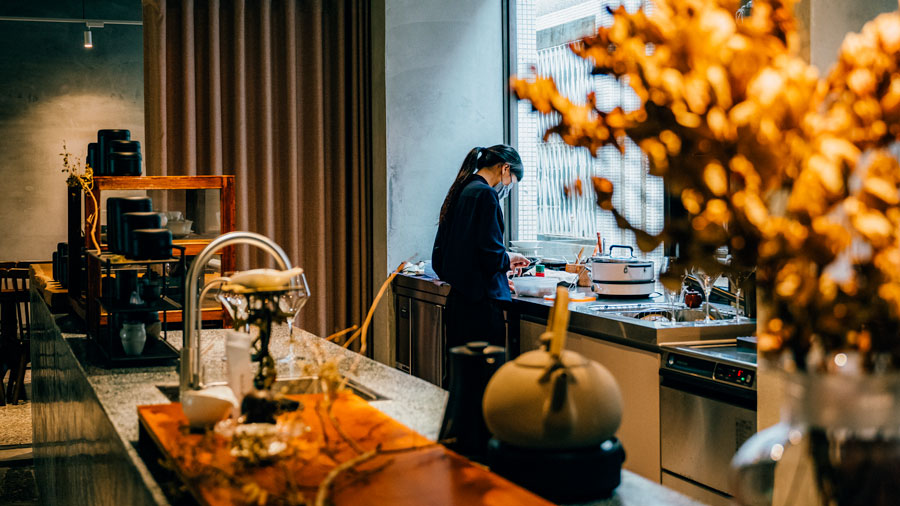 Extra-large windows in the rear provide views through the green foliage of tall shade trees into a tiny hidden-away cubbyhole neighborhood park, accessed solely via two sliver-like alleyways. Part of the view is an old abandoned bungalow residence in one corner with a banyan tree growing out of it. Smaller windows in the front provide you with direct views, just meters away, of the residential facades opposite.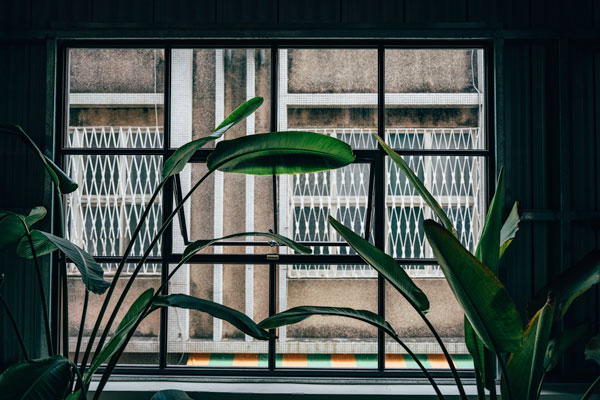 The beverage menu is a proud promotion of Taiwan's best tea varietals. Among the most popular beverage/food options is a tea set with a fresh-brewed Taiwan oolong and Tainan-theme tidbits such as longan konjac, mung-bean cake, smoke-dried lychees, and osmanthus jelly. There are two cold-tea sets, each celebrating three Taiwan teas, each of these of very different color and character served in tall wine-style glasses. The more popular of the two sets presents Wenshan Baozhong Oolong, Luye Red Oolong, and Shanlinxi Honey Red Tea.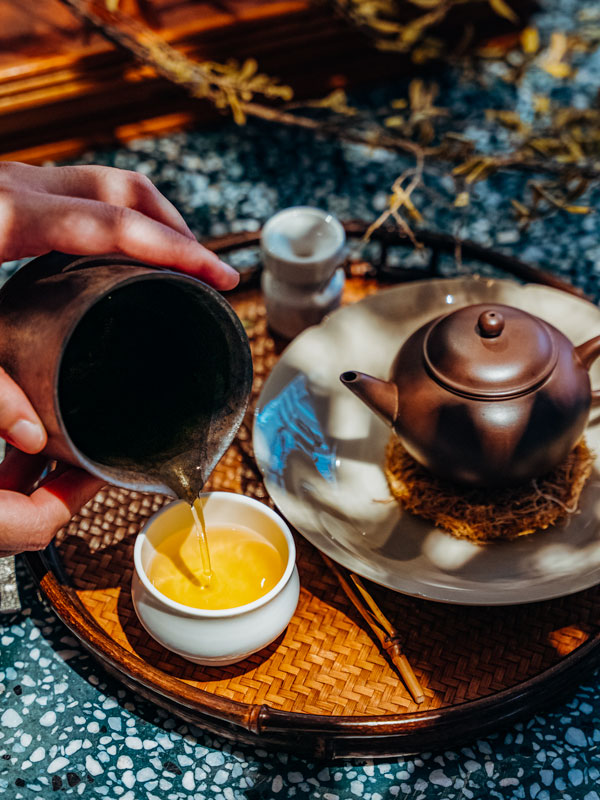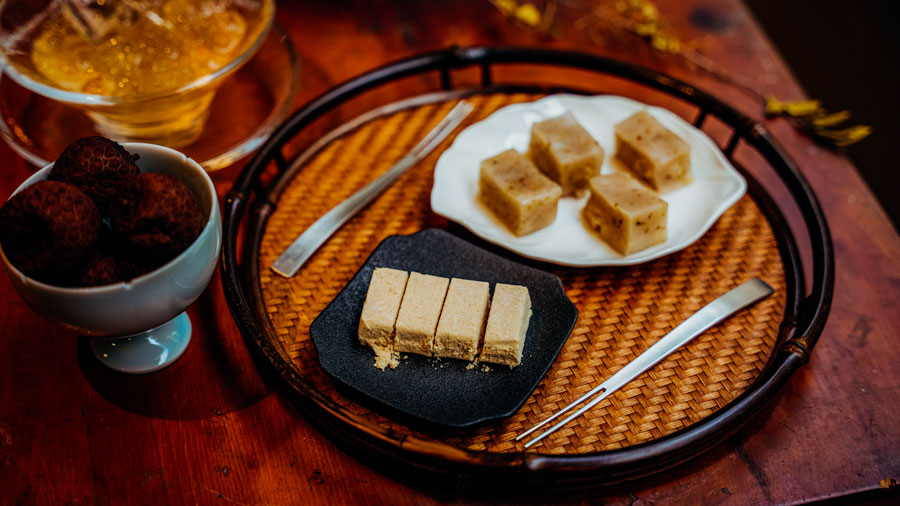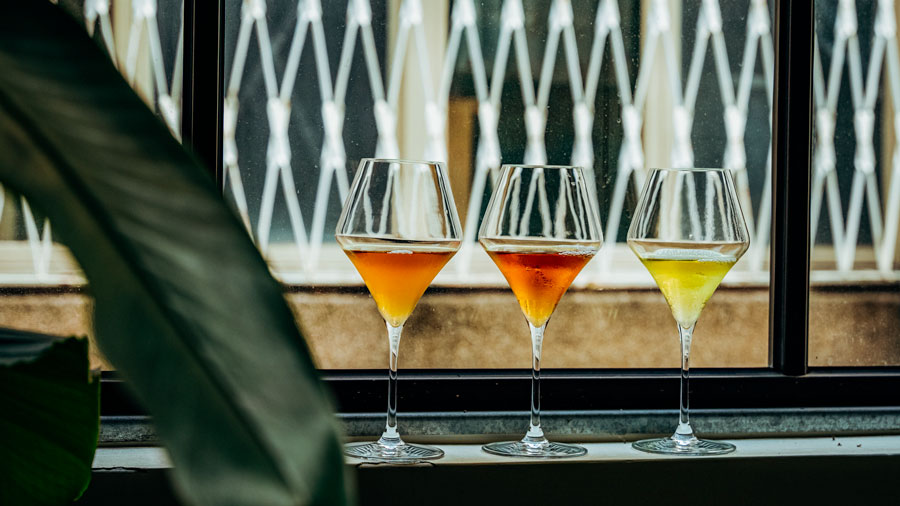 HuTu Teahouse
(蔛菟)
Add: 2F, No. 67, Lane 293, Qingnian Rd., East District, Tainan City
(台南市東區青年路293巷67號2樓)
Hours: 11am~6pm (closed on Mon. & Tue.)
Make reservation via Instagram:
www.instagram.com/hututhetea
Other Places to Experience Old-Style Aesthetics
[Accommodation]
La Plaza Hotel
The La Plaza Hotel, a prestigious Tainan hotel name, underwent a thorough interior refurbishment and was officially renamed the Provintia Hotel in 2020 (note, however, that both names are still used). The new name honors an important nearby heritage site, Fort Provintia (Chikan Tower). The new interior-design theme for guestrooms, restaurant facilities, and public spaces is 1980s Tainan.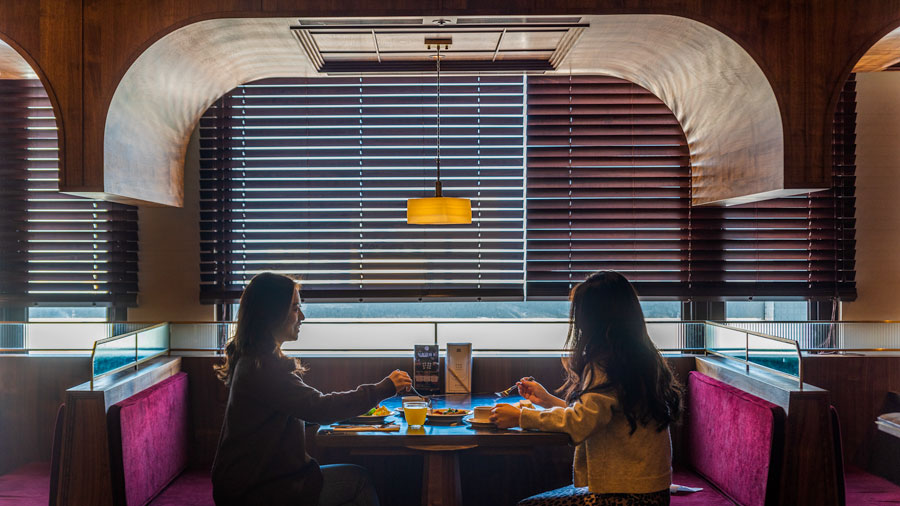 La Plaza Hotel (天下大飯店)
Tel: (06) 229-0271
Add: No. 202, Chenggong Rd., North District, Tainan City
(台南市北區成功路202號)
Website: www.laplaza.com.tw
[Shopping]
Yebisu Kan
The Yebisu Kan building was once home to one of Tainan's four major movie theaters, from the Japanese colonial era (1895-1945) until 1961. In 1970 Taiwan's renowned Black Bridge brand (maker of traditional-style sausages, meat floss, jerky, etc.) moved in, and in 2020 comprehensively renovated the retail facility to resemble a museum. Other iconic traditional-style food retailers have also been invited in.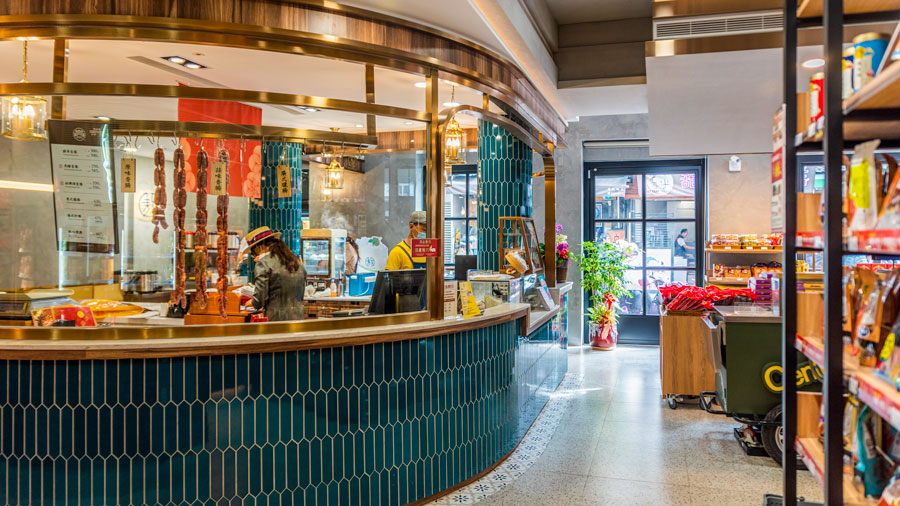 Yebisu Kan (戎館)
Tel: (06) 229-5248
Add: No. 220, Zhongzheng Rd., Central West District, Tainan City
(台南市中西區中正路220號)
Facebook: www.facebook.com/YebisuKan1935
[Shopping/Café]
Paripari apt
What do you think the name Paripari signifies? Occupying a renovated three-story commercial building, this enterprise celebrates Tainan traditions while seeking to have you step into the Paris of the 1930s. The 1F shop is filled with retro-style cultural-creative items referencing old-time Tainan culture. The 2F café is meant to capture the spirit of old-time gay Paris.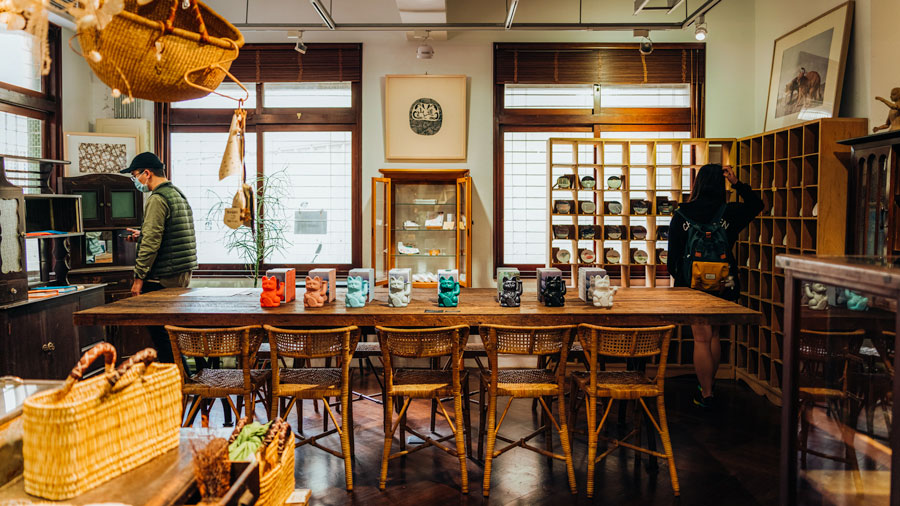 Paripari apt
Tel: (06) 221-2866
Add: No. 9, Lane 158, Sec. 2, Zhongyi Rd., Central West District, Tainan City
(台南市中西區忠義路二段158巷9號)
Hours: 11am~6pm
Facebook: www.facebook.com/paripariapt