Taipei Eateries Serving Soybean-Based Foods
TEXT / RICK CHARETTE
PHOTOS / RAY CHANG
The soybean is featured at local tables at almost every meal, presented in myriad forms, used to make everything from cooking oil and soy sauce to edamame to silky soft tofu pudding and creamy soybean milk to famously sense-organ-challenging stinky tofu and even fake meats. This tour of select Taipei eateries takes you on a "round the soy world" taste adventure.
In Taiwan, almost countless iconic food and drink items are made with rice and wheat. Also contributing a well-stocked larder of quintessential comestibles is the soybean, most commonly in the form of tofu, soy sauce, soy milk, and tofu pudding. The bean is from a legume, originally from Northeast Asia, whose cultivation dates back more than 2,700 years. Today almost all soybean used for human consumption in Taiwan is imported, the United States supplying more than half of this. You'll find soybean in some form at almost all meals, and in between as snacks.
Perhaps most ubiquitous are sweetened doujiang (soy milk) with youtiao (deep-fried dough stick), a breakfast standard; silky douhua (tofu pudding), a beloved sweet-treat snack traditionally served with soft-cooked peanuts and brown-sugar syrup; and chou doufu (stinky fermented tofu), which Taiwanese love to present to new foreign acquaintances as a friendly welcome-to-Taiwan taste challenge.
Following is an array of attractive Taipei eateries presenting soybean-based food classics, inventive twists, and all-new creations.
DeliSoys
DeliSoys, opened four years ago, is found in the city-block grid of lanes and alleys on the northeast of the Zhongxiao Road/Fuxing Road intersection and its MRT Zhongxiao Fuxing Station. This is a busy high-end commercial area, with the multistory buildings along the lanes/alleys featuring business enterprises at street level and residences higher up.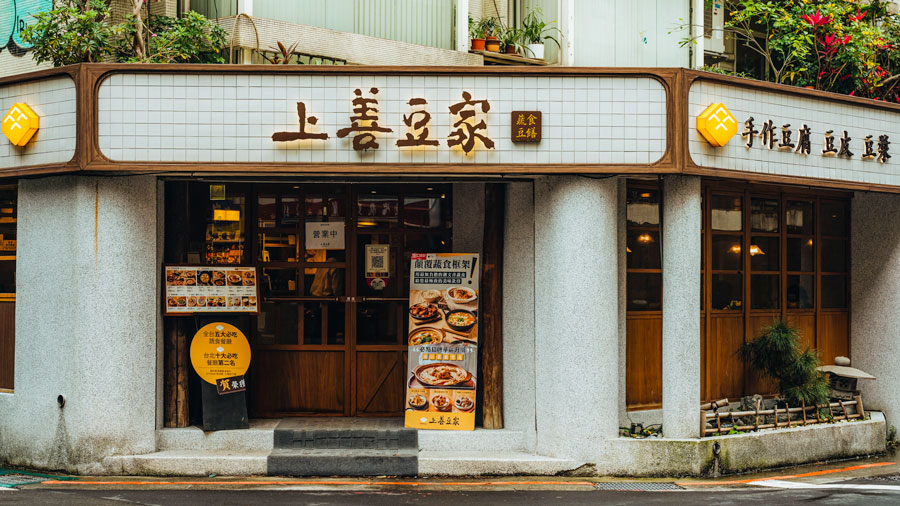 The "deli" in the name refers to the restaurant's exterior/interior delicatessen-style look, decidedly not the food. The exterior extends along one lane and then turns to go down another: white terrazzo, white tile, stained wood around large window sections. Inside are long and narrow wooden tables along the walls, at 90-degree angles to the windows, creating a pleasant deli-diner effect. Smaller wooden tables for two fill up the rest of the spacious dining area.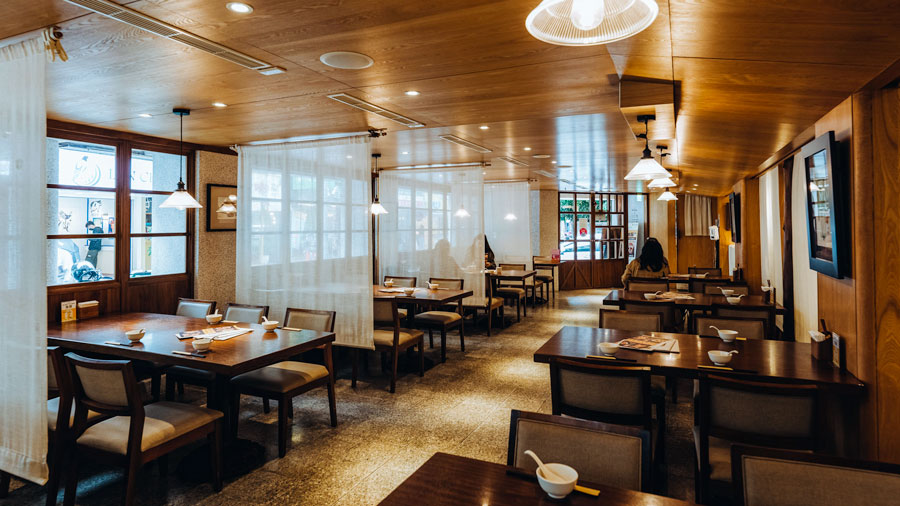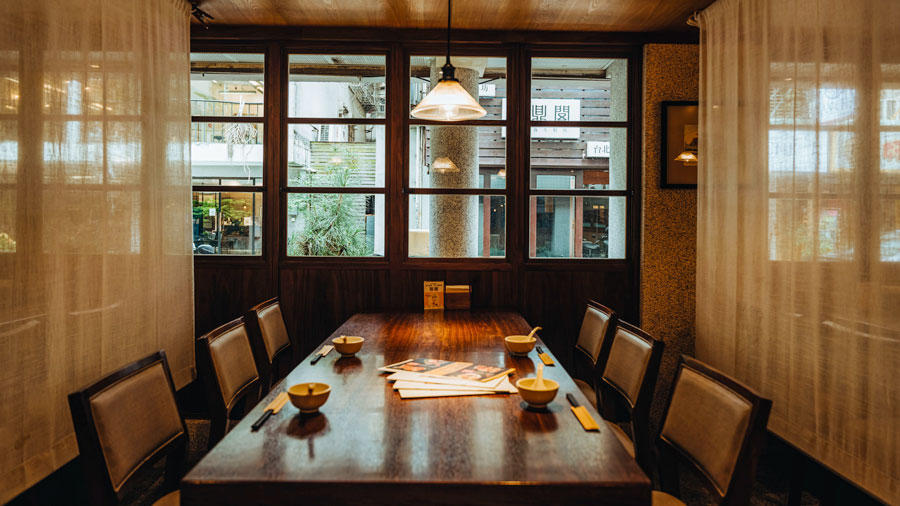 This is a vegan Chinese cuisine place specifically established to entice the palates of Taiwan's sophisticated younger crowd toward a healthier future, with soybean its culinary soul (the owner had previously operated steak and udon noodle eateries). After originally experimenting with Japanese soybean, the decision was made to use organic Canadian soybean, which better meets DeliSoys' taste/texture demands. Beyond the soybean, almost all other ingredients are sourced from within Taiwan, with an organic/non-organic mix. To excite repeat-visit interest, the menu is turned over 10~20% every four months.
The menu travels around the Chinese culinary world, with no particular regional cuisine emphasized – "pure palate pleasure" is the sole criteria for choosing to feature a dish. All soy-created items save for the OMN!PORK featured in some dishes are house-crafted. Note that there are also numerous menu items featuring no soybean in any form.
The appetizer and main course menus are heavy with soybean-vegan renditions of meat-featuring Chinese classics. From the appetizer section, specially recommended is the very artistically presented Pan Fried Dumplings, which have fillings of OMN!PORK with traditional salted mustard greens and Chinese cabbage.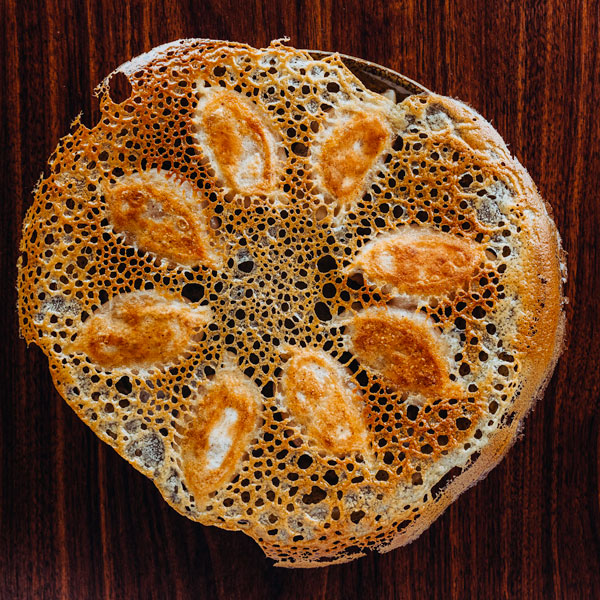 From the main course section, especially popular are the Stewed Chinese Cabbage with Vegan Meatballs and Tofu Skin (OMN!PORK meatballs), Sizzling Hot Plate Tofu, and spicy Vegan Chicken and Potato in Clay Pot.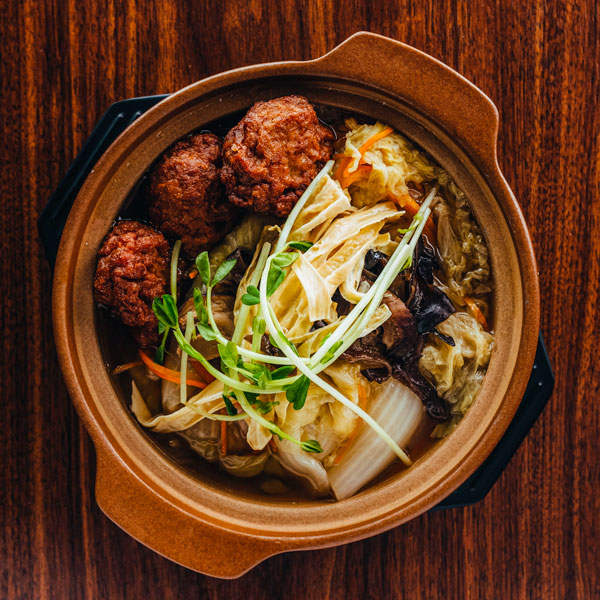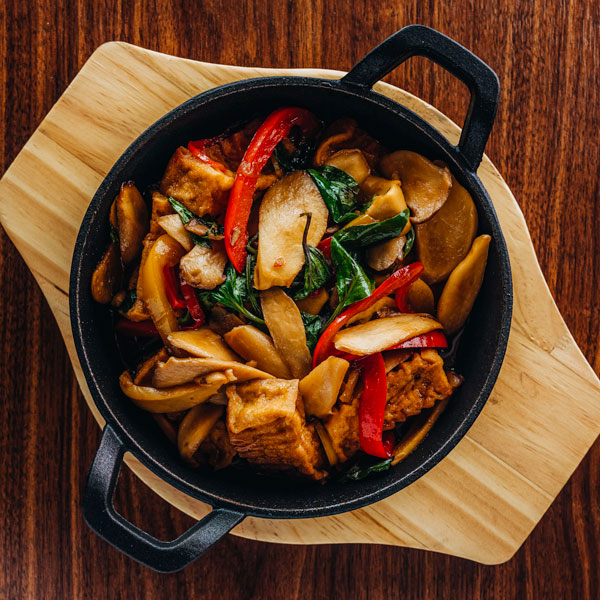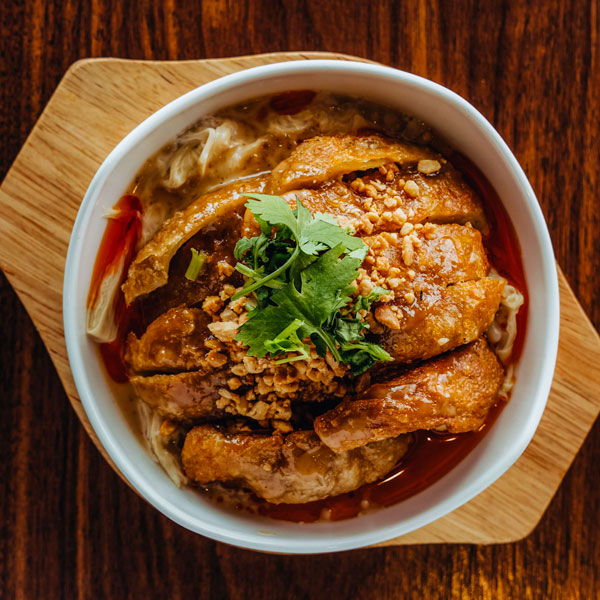 With Chinese cuisine, the standard is for the diner to take either rice or noodles with each meal. At DeliSoys single-serving Brown Rice is available, but don't miss the customer-favorite Hot and Sour Noodle Soup with Vegan Meatballs (shared).
From the beverage menu, enjoy the velvety Soy Milk with Brown Sugar, and from the desserts section, the creamy Natural Nigari Douhua with Peanut.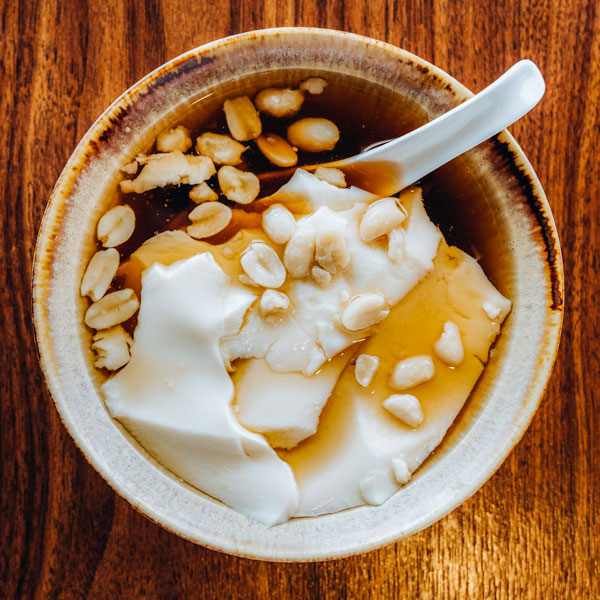 DeliSoys
(上善豆家)
Tel: (02) 2731-6991
Add: No. 16, Lane 107, Sec. 1, Fuxing S. Rd., Da'an District, Taipei City
(台北市大安區復興南路一段107巷16號)
Hours: 11:30am~2:30pm, 5:30pm~9pm (from 11am on weekends)
Facebook: www.facebook.com/delisoys
Website: www.gooddeedstw.com/pages/delisoys (Chinese)
Sao Dou Hua
The original shop of the small Sao Dou Hua tofu pudding chain is in the lane/alley grid on the north of MRT Sun Yat-sen Memorial Hall Station's Exit 1. This block, as well, is characterized by mixed commercial/residential multistory buildings. The lane that Sao Dou Hua is on tends to be very quiet outside of meal times.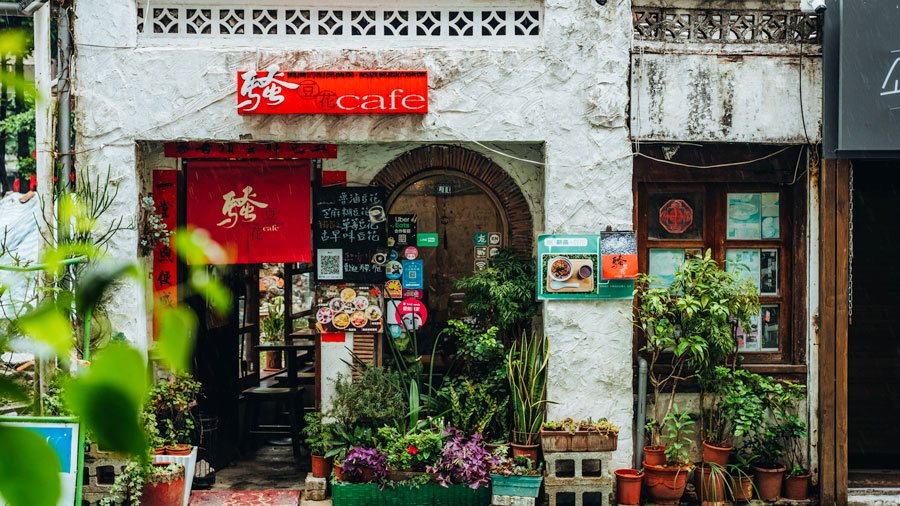 Not fitting the normal mold of low-rise residential building with commercial outlet at street level, its home is a compact stand-alone single-story structure, enticingly decorated inside and out. To the Western eye it has the look of a simple-yet-colorful white-stucco Mexican cantina; no, say the proprietors, it's in the style of an old-time Chinese peasant's cottage. It adjoins lovely Yanji Park, a small neighborhood park oasis with soaring trees and busy squirrel activity. Diners look directly out at the greenery, seated at the limited number of rustic small wooden table/bench chair sets or counter stools before the long service counter, through a wall of almost full glass – floor-to-ceiling windows usually opened.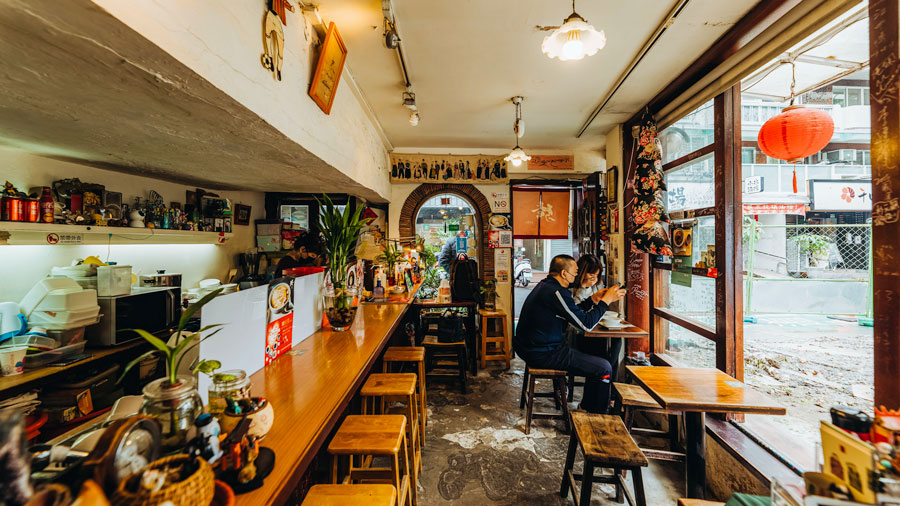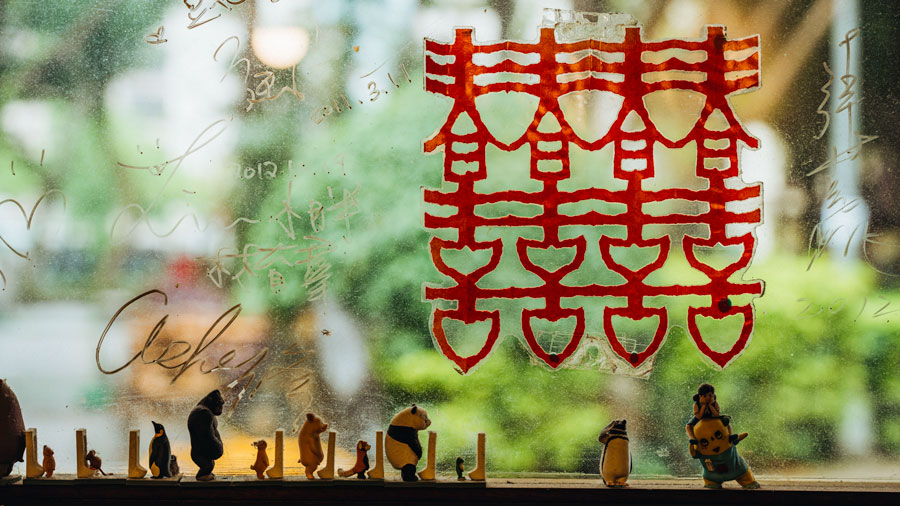 This outlet is small, the chain is small, but the Sao Dou Hua name is one of Taipei's biggest for tofu pudding. This shop is run by the tightly knit mother-son team that opened it in 2001 and owns the chain. Today's flagship store is not far away, in the city block southwest of MRT Zhongxiao Dunhua Station.
Sao Dou Hua specializes in pure Taiwanese-style tofu pudding made fresh early every day, using a laborious traditional 3-hour hands-on process. No additives are used, non-GM soybean is. The menu is concentrated on sweet douhua, with quintessential Taiwanese flavors showcased, especially fruits. This outlet has one savory option, but others have more.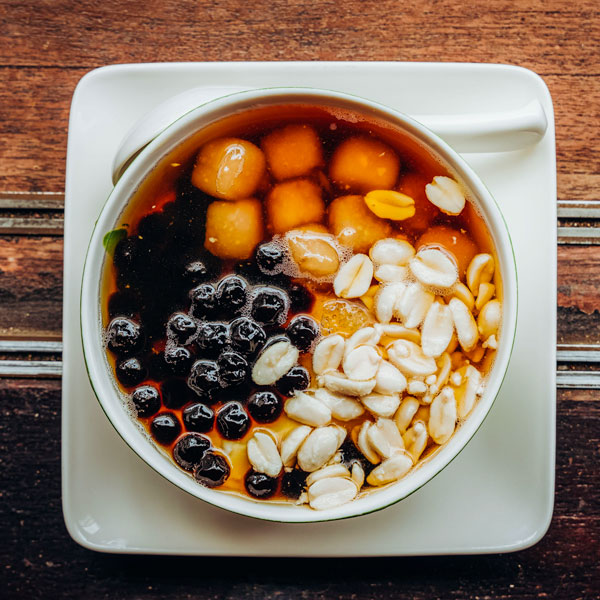 The perennial customer favorite is the banana douhua. Added to your bowl of pudding slabs are slices of ripe Taiwan banana, fresh milk, condensed milk, banana smoothie, sago pearls, and lightly sweetened adzuki bean. Customers can delete any of these ingredients if desired.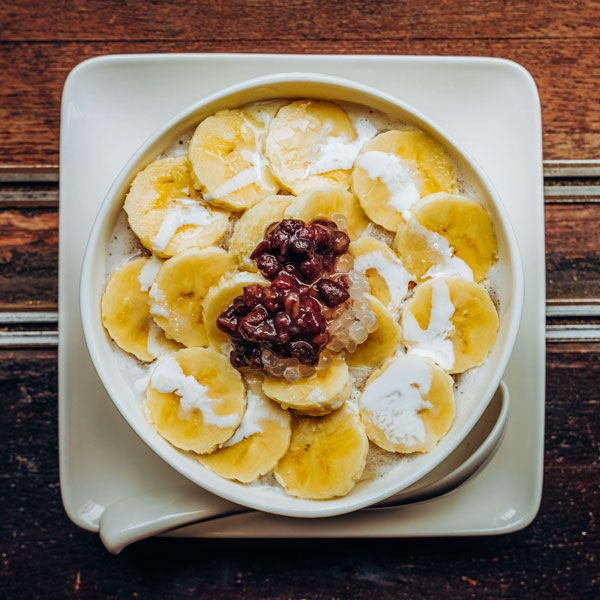 Not far behind is the strawberry douhua. The Taiwan strawberries used burst with flavor – unlike those bland pappy things bought at big supermarkets. Note that the strawberry, mango, and watermelon choices are seasonal.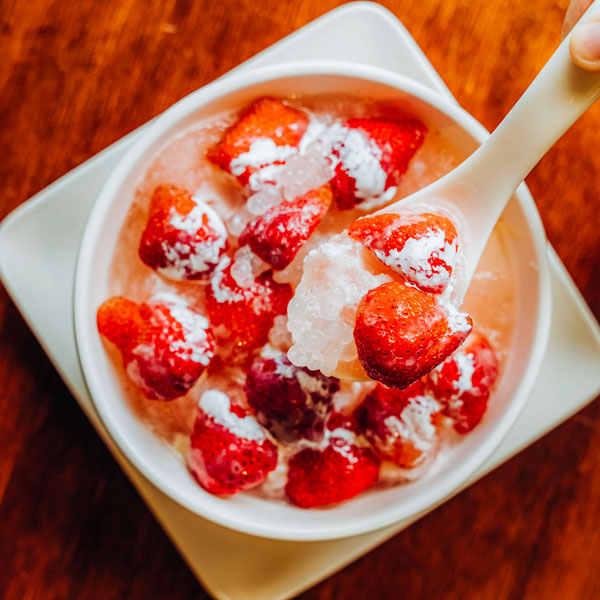 The sole savory creation, newly unveiled, is deliciously recommended. The combination of tofu pudding slabs and luwei (soy-braised pork and other goodies) may seem counterintuitive, but it works delectably. The oils of the luwei embrace the slabs, presenting them to palate more like steamed egg. The old-time clan luwei recipe used also features soybeans; the creator cultivated soybean crops.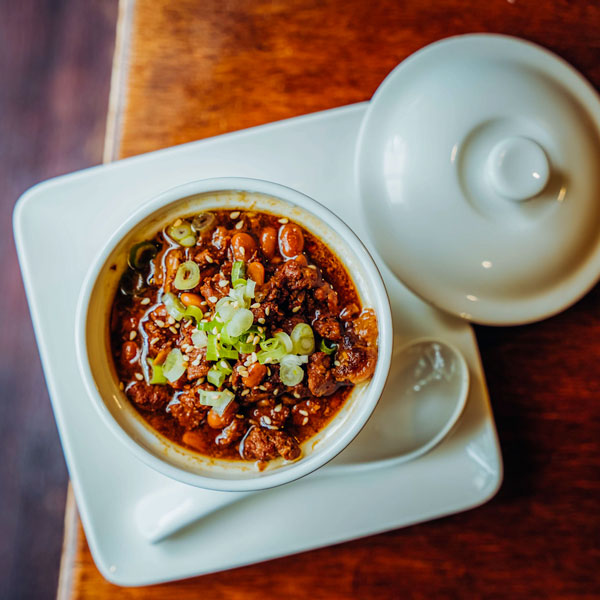 Sao Dou Hua
(騷豆花創始店)
Tel: (02) 8771 8901
Add: No. 26, Lane 131, Yanji St., Da'an District, Taipei City)
(台北市大安區延吉街131巷26號)
Hours: 12:30pm~21:30pm (closed on Sunday)
Facebook: www.facebook.com/sdh27112705
Website: www.saodouhua.com.tw (Chinese)
Fu Hang Soy Milk
Each morning an army of traditional Taiwanese breakfast joints opens up in the city. Fu Hang Soy Milk is amongst the most treasured names. Established in 1958, it's on the second level in the venerable Huashan Market, right outside MRT Shandao Temple Station's Exit 5. The shop has been a selection for the Michelin Guide Taipei & Taichung multiple years.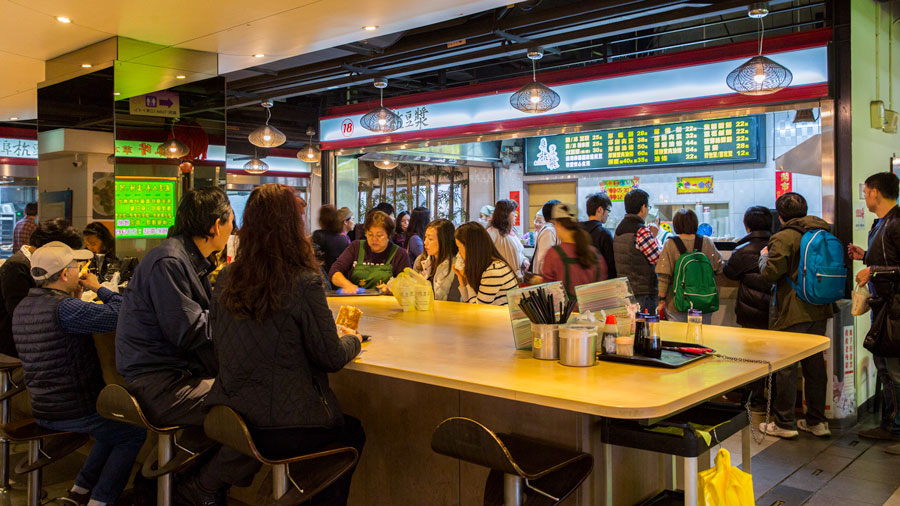 From the "MICHELIN Guide's Point of View" in this year's edition: "…constantly attracts long queues so come early for your morning fix. The crowds are here just for the food – their deep-fried dough stick, freshly roasted buns from a tandoor oven, egg crepes, and savoury or sweet soy milk have been the quintessential breakfast for many locals. Seats are available in a food court setting. Many also order to go." The stall is a Bib Gourmand selection, meaning "good quality, good value cooking."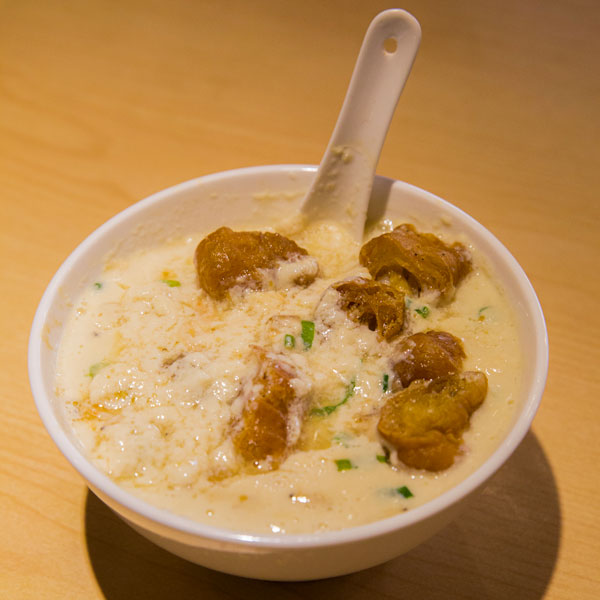 A menu with pictures and English is provided. The two soy milk selections are Soy Milk, available hot/cold, and Salty Soy Milk, served with green onion, pickled radish, and dried-shrimp bits.
The dining area is spacious, with a subdued-ambience décor of primarily earth-tone modern furnishings augmented with traditional auspicious-red Chinese paper lanterns hanging from the exposed ceiling.
Fu Hang Soy Milk
(阜杭豆漿)
Add: 2F, No. 108, Sec. 1, Zhongxiao E. Rd., Zhongzheng District, Taipei City/Huashan Market branch
(台北市中正區忠孝東路一段108號2F/華山市場)
Hours: early morning to around noon
Facebook: bit.ly/3v34BWL
Beyondmilk
Beyondmilk is a company which uses soy to make a wide array of "dairy-style" drinks and edibles that has opened six dairy bar-style eateries in Taipei and one in adjoining New Taipei City's Banqiao District. The brand name Soypresso is used for these direct-retail operations. Tickling your instincts in Pavlovian style, a large ice-cream cone sculpture stands outside each. Everything on offer: traditional handmade technique, non-GMO, vegan.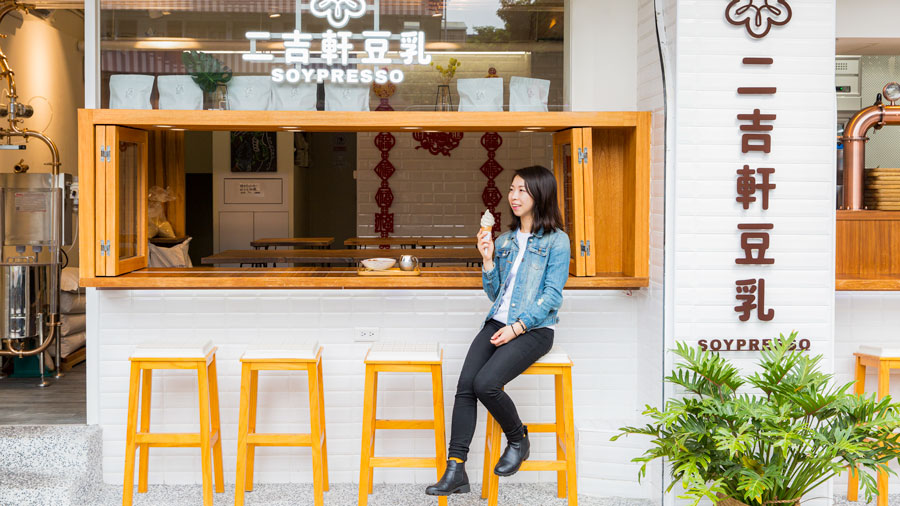 Two of the eateries are in the compact Yongkang Street enclave, hugely popular with tourists, narrow street/lane grid a magnet for imaginative designer boutiques, eateries, cafés, antique sellers, and other owner-operated enterprises. Here we visit the Lishui Street outlet. MRT Dongmen Station is right on the north edge of the enclave.
Your menu choices are many (English provided). Let's start with the basics, the doujiang list. Beyond the familiar "plain" and "light sweet" options, other selections highlight signature Taiwan flavors: black sesame, almond, black tea, matcha, taro, adzuki bean. There's also doujiang yogurt, yogurt drinks, soft ice creams, and douhua options. You pick what you want to add to the puddings: adzuki bean, peanut, taro, green bean, nuts….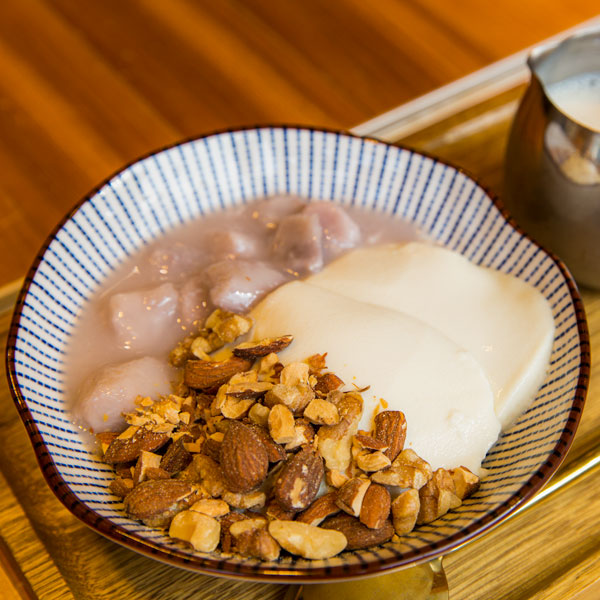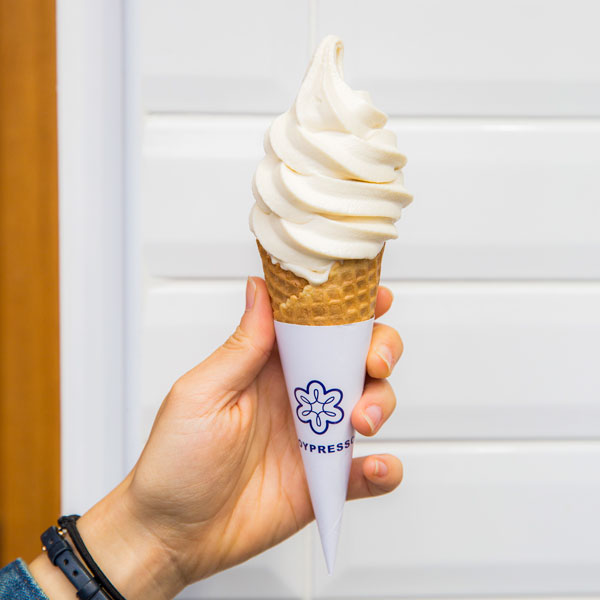 Moving out of the "dairy" box, those looking for chewier stimulation can choose from such offerings as Flame-grilled Tofu and Hot Pot Tofu.
Beyondmilk
(二吉軒豆乳)
Tel: (02) 2358-1198
Add: No. 8, Lishui St., Da'an District, Taipei City/Lishui Branch
(台北市大安區麗水街8號/麗水店)
Hours: 8am~9pm
Website: www.beyondmilk.com.tw (Chinese)
Facebook: www.facebook.com/twbeyondmilk
Instagram: www.instagram.com/beyondmilk.tw
Dou Pu Zi
Dou Pu Zi is an operation of five Taipei eatery/retail outlets featuring genteel façades of cream-white walling and ground-up glass sections that could well lead non-Chinese speakers into thinking they are looking into an art gallery. One thing that gives the game away is the ice-cream cone sculpture outside each entrance. Here we visit the branch just northeast of MRT Xinyi Anhe Station.
Dou Pu Zi has three soybean-produced stars: doujiang, douhua and, especially, traditional steamed buns called mantou that are generally taken at breakfast. The standard plain mantou is made with white wheat flour, but other ingredients such as corn flour, sweet potato, and pumpkin are sometimes added. The chain uses Canadian certified single-variety soybean for its soybean-based foods.
For the mantou, a traditional French old-dough levain starter and yeast fermentation technique are used. The addition of doujiang to dough gives the buns a brownish-golden hue. The final product is chewier than traditional mantou yet free of stickiness.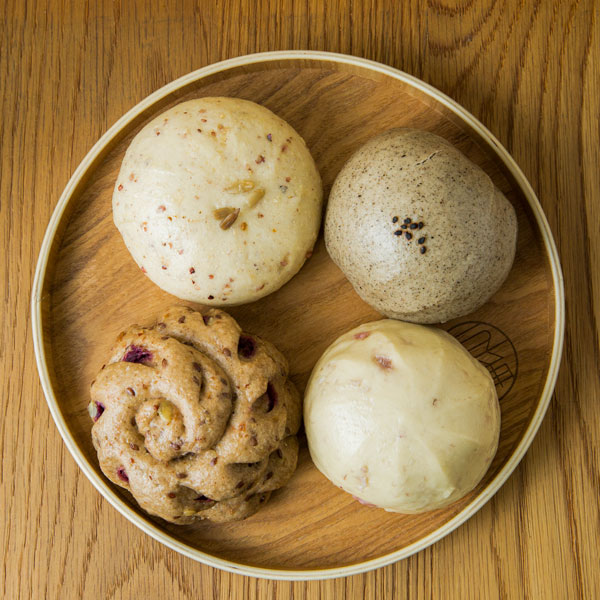 Numerous fillings are available as bun flavor options, with classic Taiwan tastes forming one special Taiwan agri-promotion grouping, including betelnut heart taro, unpolished adzuki bean, sweet potato, dried longan, peanut butter, and a savory choosing, Taiwan pork. Other "international" picks include cheese, chocolate, cranberry, walnut, and butter pastry cream.
Dou Pu Zi
(豆舖子)
Tel: (02) 2701-6845
Add: No. 32, Lane 135, Sec. 1, Anhe Rd., Da'an District, Taipei City/Xinyi-Anhe Branch
(台北市大安區安和路1段135巷32號/信義安和店)
Hours: 12 noon~9pm
Website: www.doupuzi.com.tw (Chinese)
Facebook: www.facebook.com/doupuzi