Soothing Overnights in Spirit-Calming Natural Surroundings
TEXT / RICK CHARETTE
PHOTOS / CHEN CHENG-KUO
You're spoilt for choice if planning to overnight around Sun Moon Lake. There is such a wide range of attractive hotels and inn-style homestays – enticing in styling and scenic setting – that you might consider choosing more than one if spending more than one night. Here we showcase two first-rate homestays and the lake's newest hotel.
Yuan Forest Homestay Sun Moon Lake
Despite the name, no, this gorgeous minimalist modern-design place of accommodation does not overlook the mountain-surrounded lake. It's north of the lake, off the highway leading to it from mountain-surrounded Puli town, another major local tourist destination. And though run by a wonderfully welcoming sister/brother team who live here, this is a boutique inn rather than a true homestay.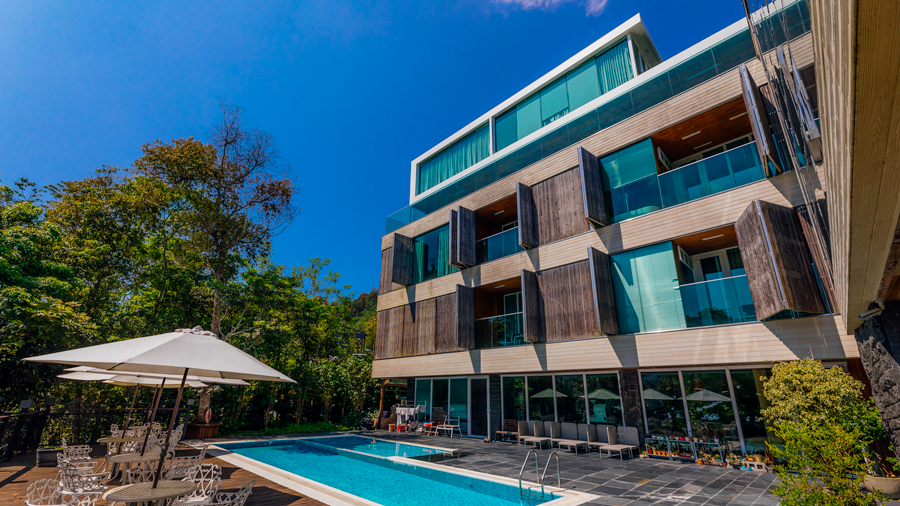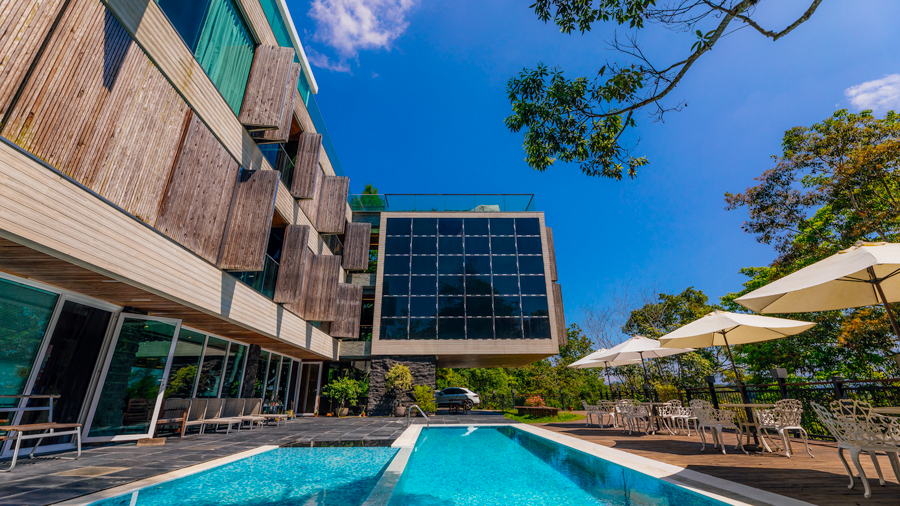 The area between Puli and Sun Moon Lake is deep-green slopeland-farming country. This five-story L-shaped complex is in forest up and away from the highway. The ground level has an indoor café (Arabica beans growing right out front, no pesticides used!), kids' activity area (make your own waffles!), and outdoor in-ground swimming pool.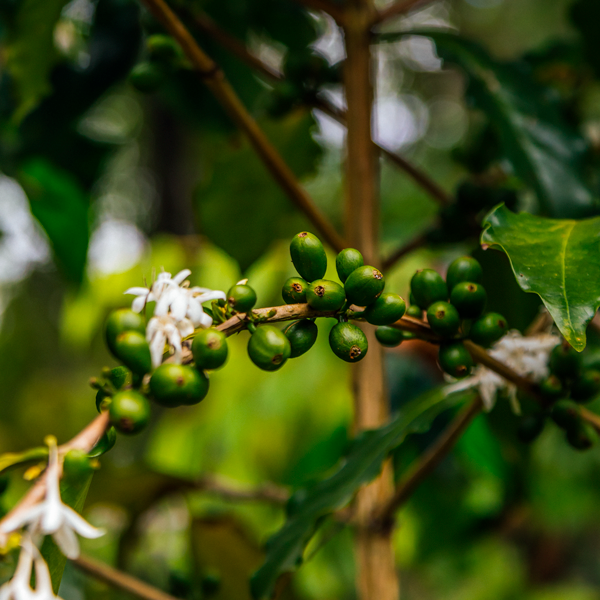 The fourth level is where breakfast is taken. This is the true roof; the smaller-area penthouse accommodation on the fifth level serves as a cover for the dining area. The view from here, over the treetops, is pastoral-perfect, sweeping up the slopeland farms and low mountaintops north to south. The dining area, though covered, is completely opened to the elements in good weather.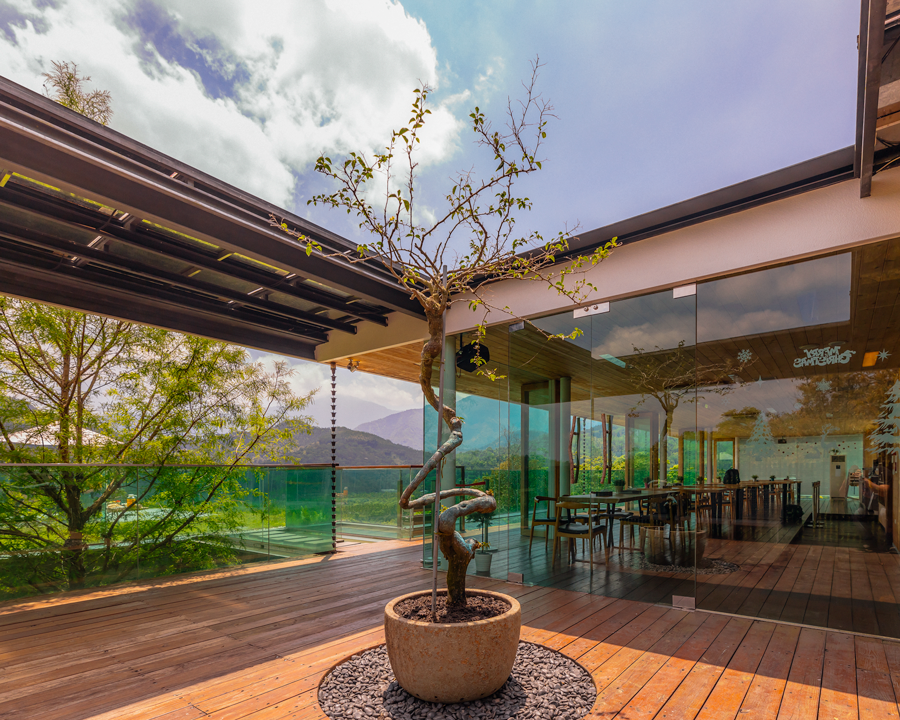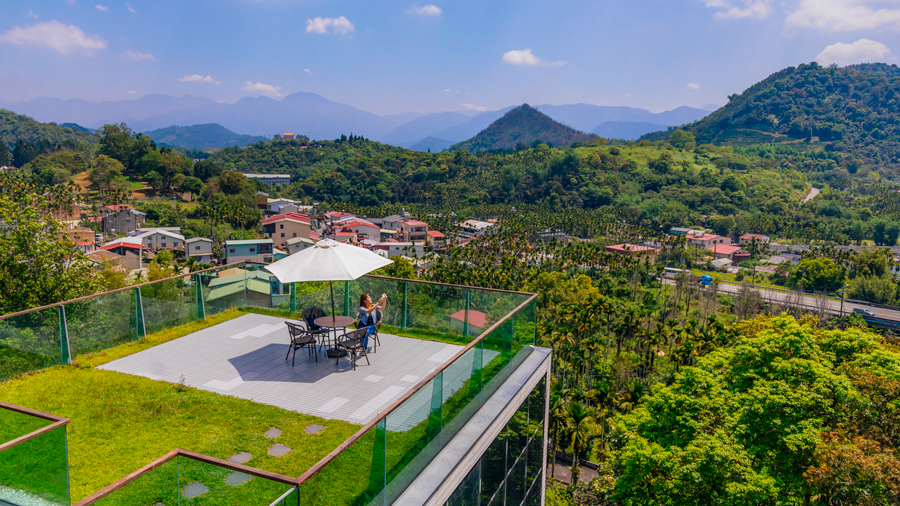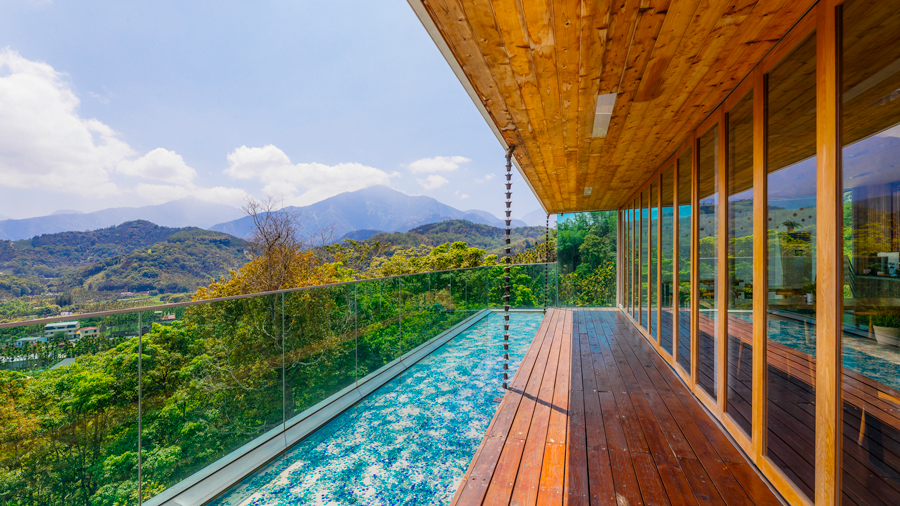 The three key architectural materials used are glass (glass walls maximizing unobstructed sweeping views in guestrooms and indoor public areas), stone, and timber. The stone, gray and black, is from Taiwan's most famed source for stone materials, Hualien County. The timber, used in everything from flooring to tables/chairs to slatted guestroom-balcony protective screens, is Chinese fir brought in at great expense from Canada. Among the most noteworthy of the varied eco-friendly design elements incorporated is a multi-story wall of solar panels on one pool-facing façade and rooftop rainwater gathering for use in washrooms, plant watering, etc.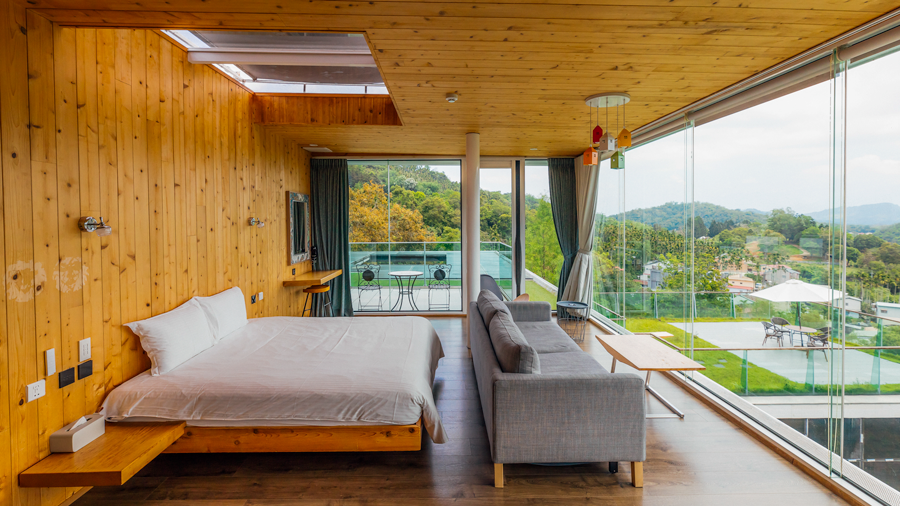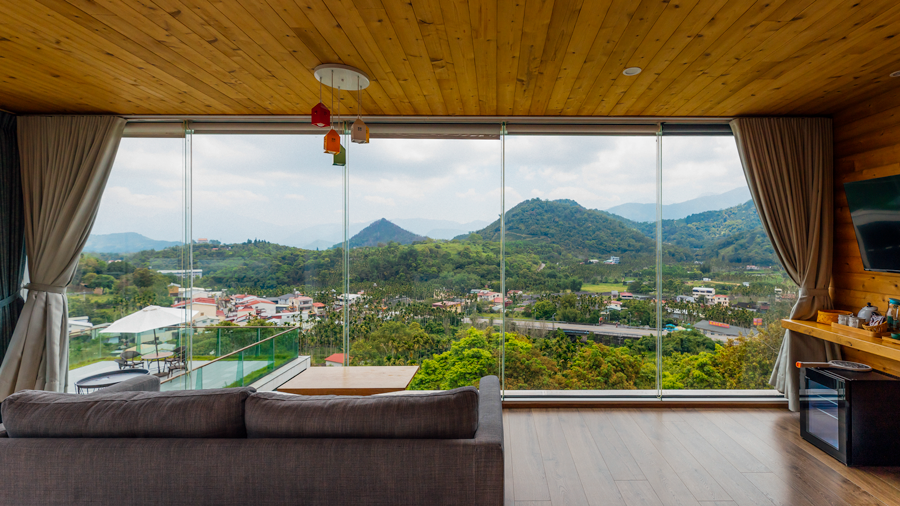 Among the highlights of your gratis rooftop continental-theme breakfast are a range of delicious European-style breads, spreads (the [seasonal] plum jam and cream cheese/walnut selections especially toothsome), and beverages featuring local-grown Assam tea and fruit. All are made fresh in-house each morn.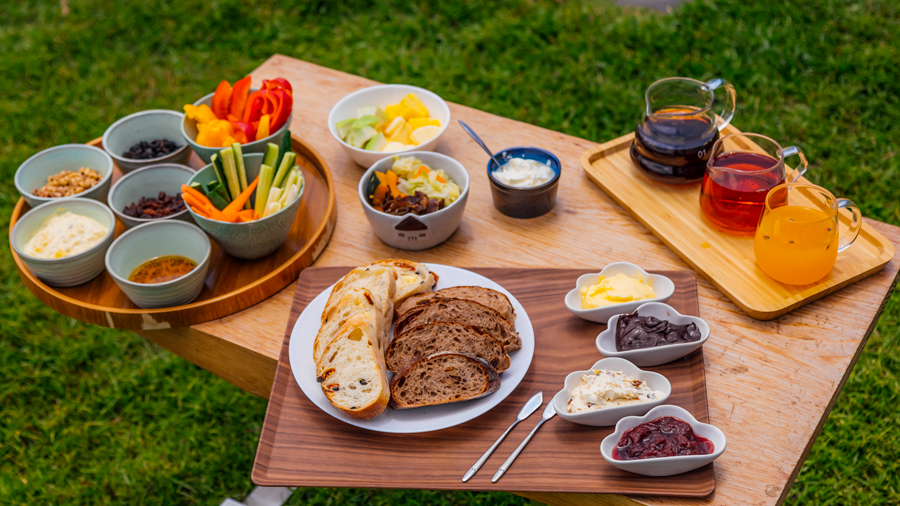 A shuttle service is provided to transportation stations in both Puli and at Sun Moon Lake.
Yuan Forest Homestay Sun Moon Lake
(原森林民宿)
Tel: (049) 289-9107, 0978-896-107
Add: No. 39, Wenhua Lane, Zhongming Village, Yuchi Township, Nantou County
(南投縣魚池鄉中明村文化巷39號)
Website: www.sunmoonlake.com.tw
Facebook: www.facebook.com/yuanhomestay
Hotel Day+ Sun Moon Lake
One of the advantages of staying in a hotel at Sun Moon Lake is that they are almost all right by the water, affording tremendous views. You can't do better than the new Hotel Day+ Sun Moon Lake, opened late last year, built against a high bluff looking straight down at the water on the lake's northeast side. Right behind it is the magnificent Wenwu Temple, one of the most photographed local attractions, camera-captured by visitors directly in front and from tour-yacht vantage points all around the lake.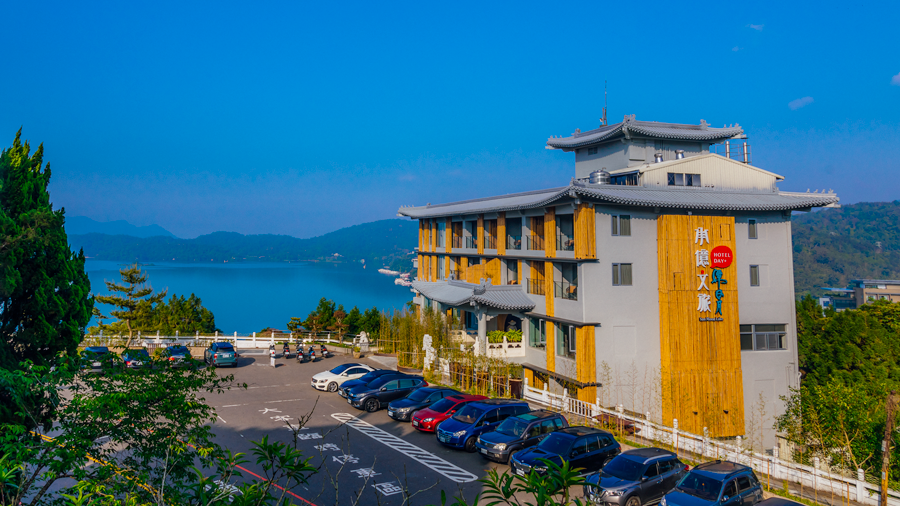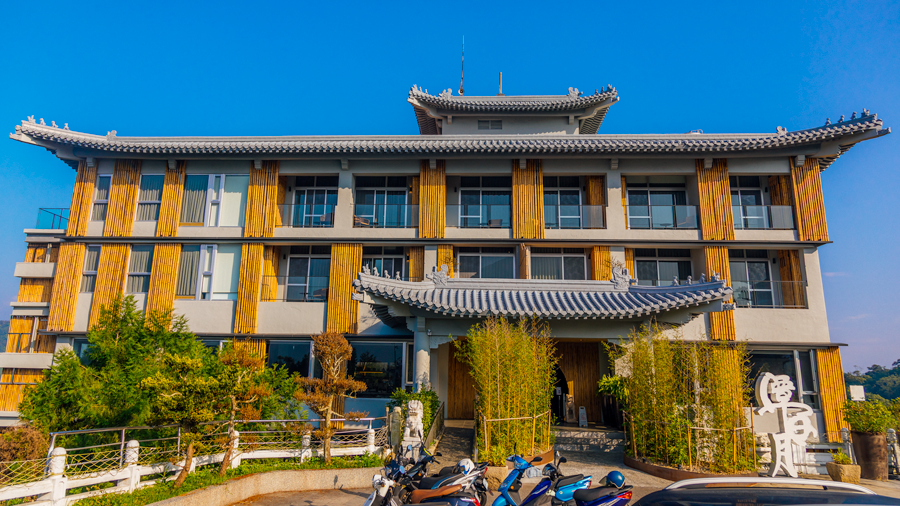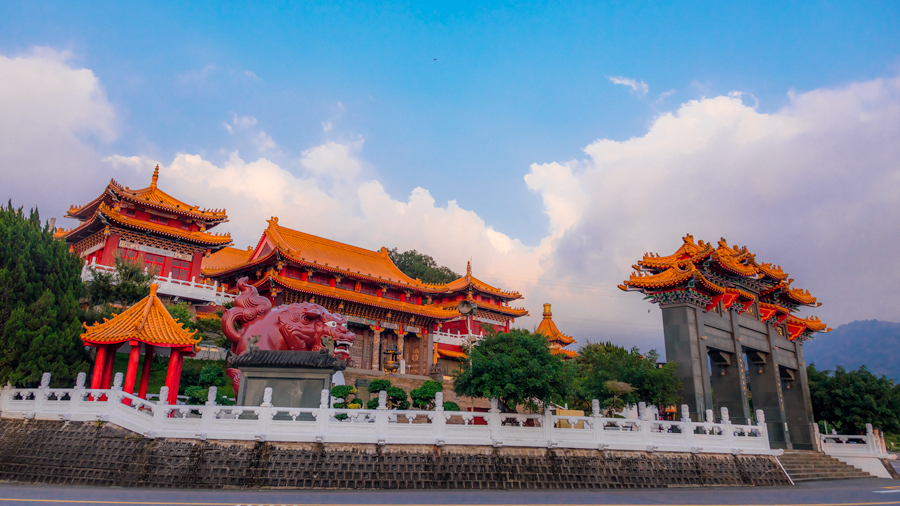 The young Hotel Day+ group specializes in taking older business and hotel facilities of strong local historical/cultural interest and revitalizing them. A full year was spent on overhauling the Sun Moon Lake facility, formerly a dormitory complex for religious pilgrims. Tall bamboo is prominently featured on the exterior, evoking the rich thickets found in the surrounding forests. You walk into the third floor from the lake-encircling highway (the lower floors climb down the hillside). On the right is the check-in area and your first exposure to the hotel's compelling collection of antiques celebrating local traditional culture.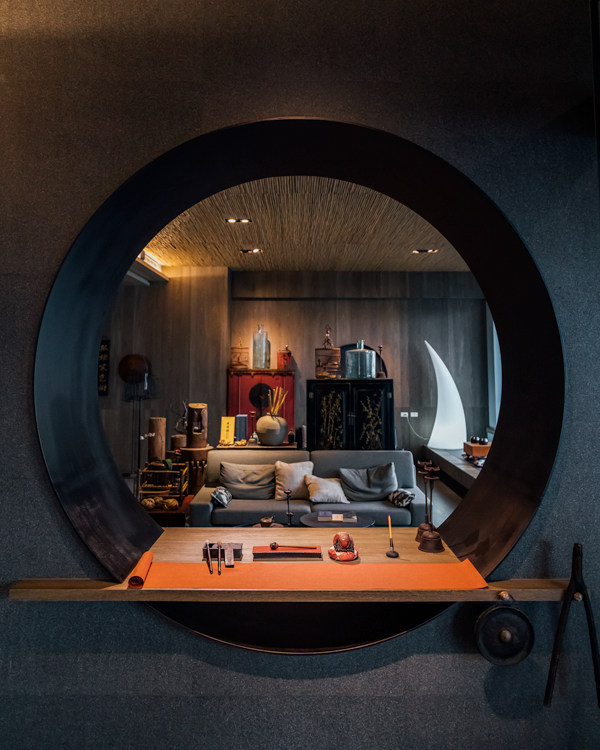 To the left is the buffet-dining area, where your gratis traditional Chinese-style breakfast is served. The small outdoor terrace here (limited seating) offers superb lake overviews.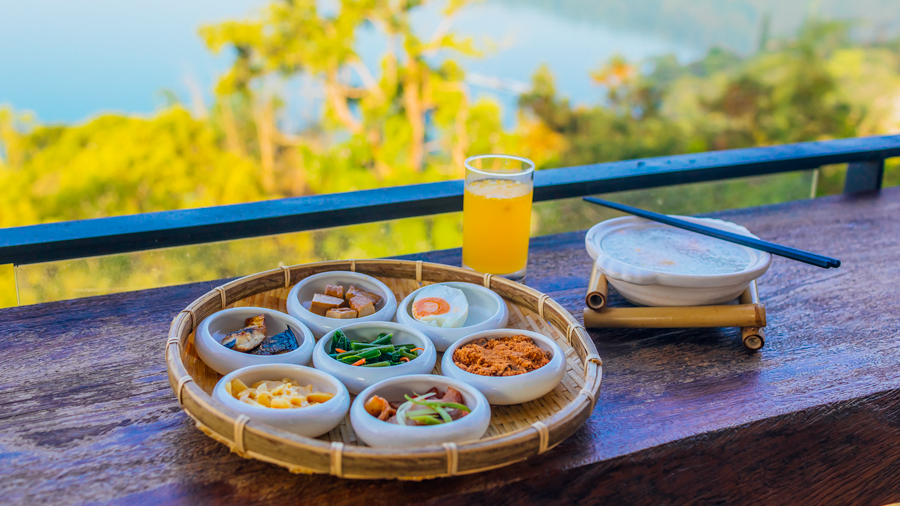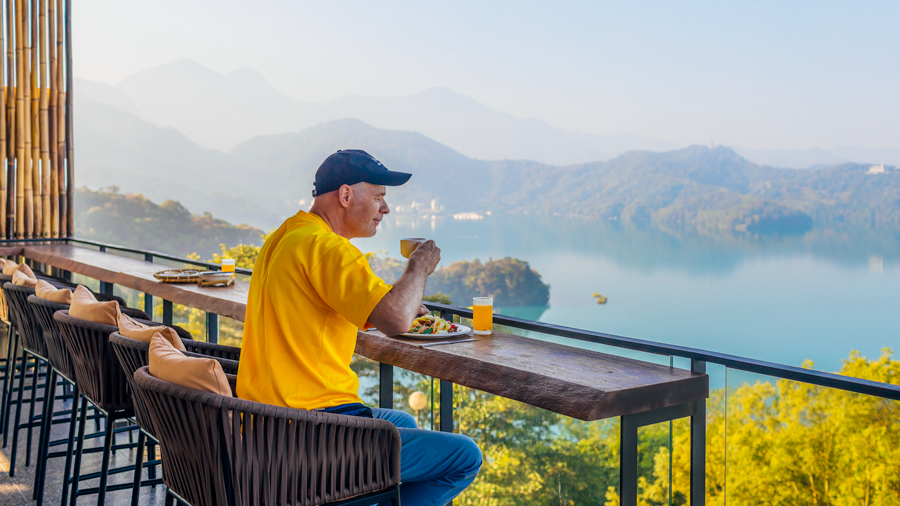 In the evening, try the Chinese-cuisine restaurant on the first floor, which offers banquet-style repasts for 2 or 4. Best of the best from the Set for Four: Broiled Prawns with Chili Bean Sauce (Appetizer section), Sweet and Sour Fried Mandarin Fish (Seafood), and Smoked Plum Fried Pork (Main Course).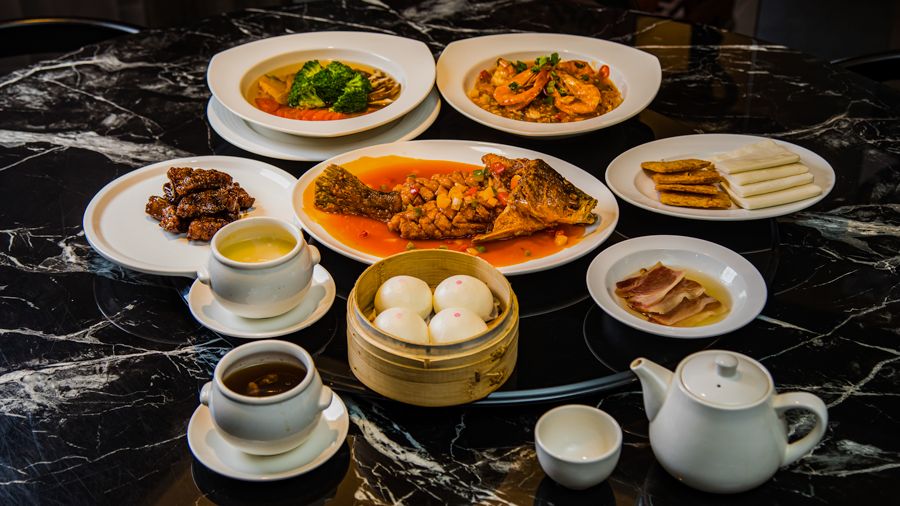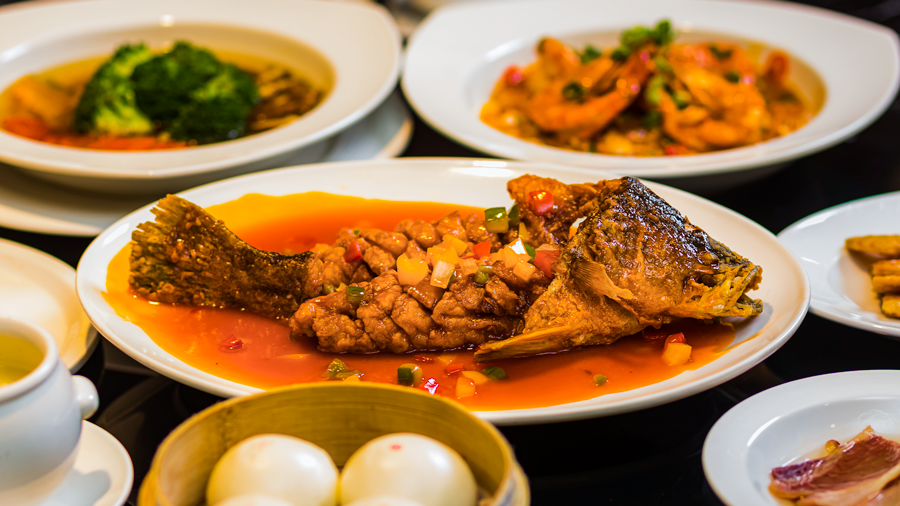 There are just under 50 guestrooms. All are spacious, and feature European-modern styling with soft light-wood flooring. Larger rooms also feature a Japanese tatami area. All sport a spacious outdoor balcony, and the ones facing the lake have superb views.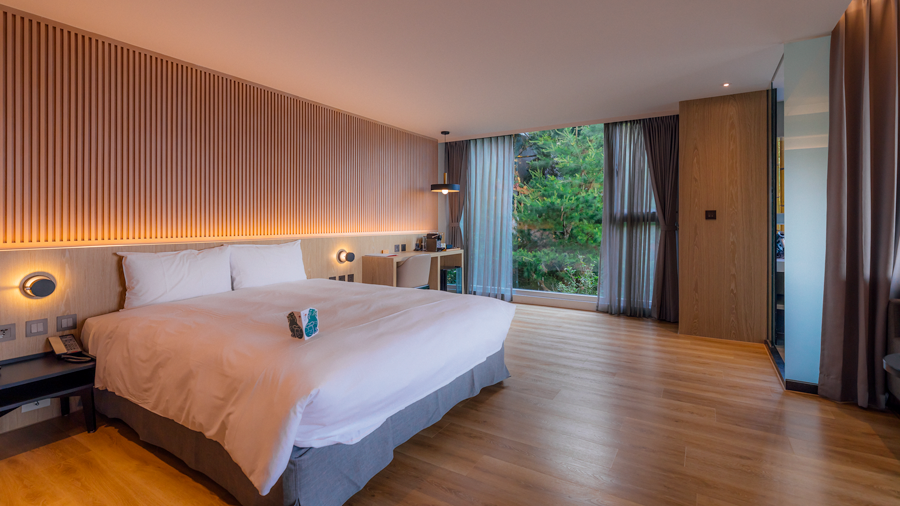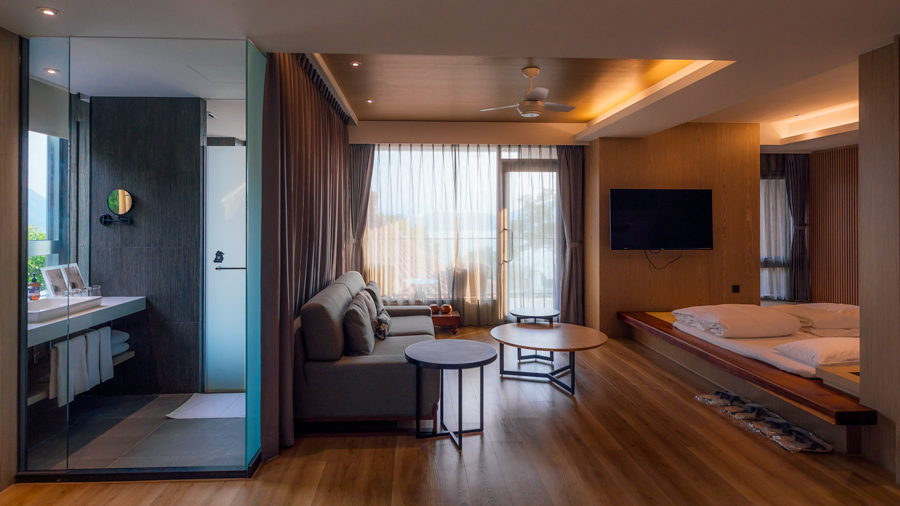 Hotel Day + Sun Moon Lake
(承億文旅潭日月)
Tel: (049) 285-5366
Add: No. 58, Zhongzheng Rd., Shuishe Village, Yuchi Township, Nantou County
(南投縣魚池鄉水社村中正路58號)
Website: www.hotelday.com.tw/hotel08.aspx (Chinese)
Facebook: www.facebook.com/hoteldayplus
Residence 8
This homestay facility is hidden away in the largely forested hill area up from Sun Moon Lake's north side. Though just a short drive off the lake-encircling highway, this is terrain where the great streams of travelers checking SML off their must-do bucket lists do not tread, tranquility guaranteed.
The architecture and interior design are modern Japanese in essence, and the overall spatial and service design is in keeping with today's trendy globe-girdling "slow living/slow food" philosophical concept.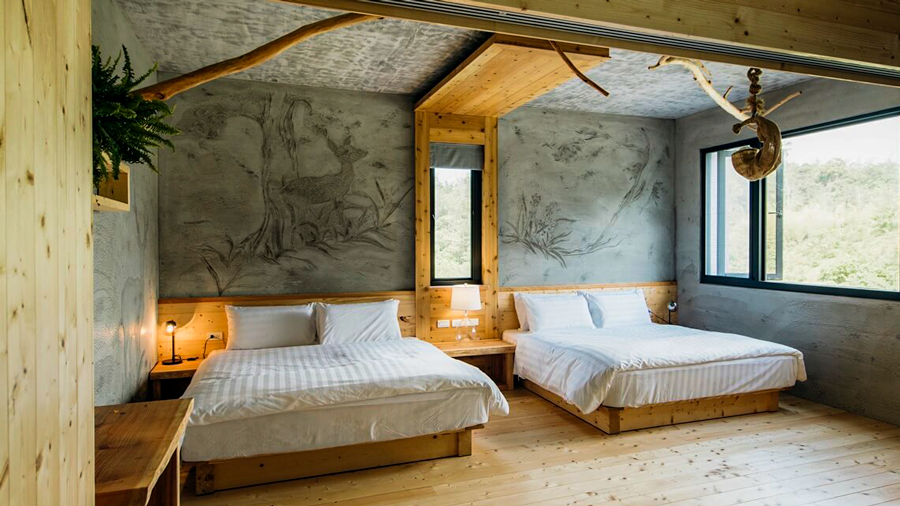 There are five commodious guestrooms, for occupancy by two or four. Quiet, harmonious earth tones have been emphasized in the composition of these rooms and throughout the public spaces – the grays of floor ceramics/stone slabs and polished-concrete and stone-slab walls, and the browns and blondes of wood flooring, doors, wall sections, and furnishings. Window exposure to the surrounding forest scenery and mountains beyond the lake is also emphasized (the lake itself is just out of view below), with design-dramatic black metal framing used to bold effect. Sketch art is used to beautiful and soothing effect on some of the polished-concrete walls, with scenic depictions such as deer in the forest, garden flowers, etc.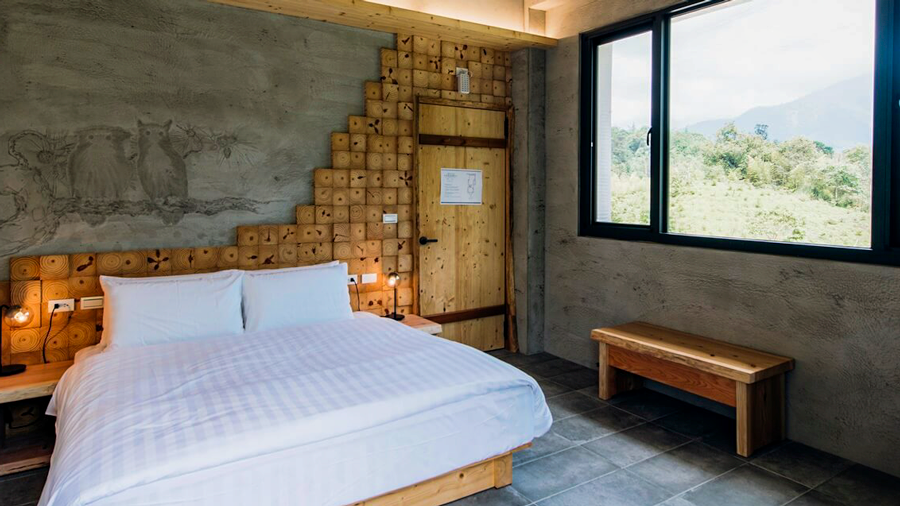 The food served is built around ingredients grown in the mountain-surrounded Puli Basins cluster, located north of the lake and home to the abovementioned Puli town, renowned for its pure waters and agricultural fecundity. Dishes are a creative fusion of Chinese and Japanese elements.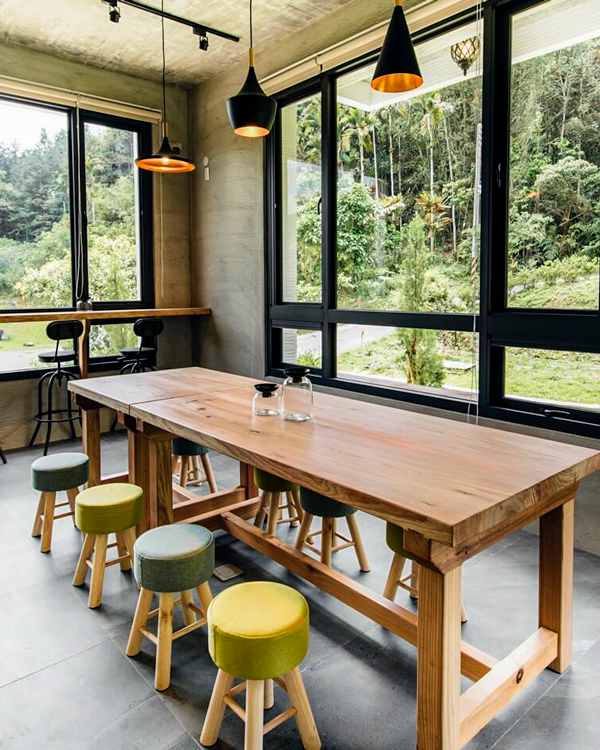 Gratis services include a hand-made breakfast taken in a dedicated dining room, house-prepared dried-fruit minibar, provision of cold brew SML Assam tea made with mountain-spring water, bicycle use (limited number, first come first serve), and shuttle service. The shuttle service is to/from the large visitor center in nearby lakeside Shuishe village, terminus for Taiwan Tourist Shuttle buses (taiwantourbus.com.tw) from Taichung City (Taichung Railway Station, Taichung's High-Speed Rail station).
Residence 8
(八番私人住宅)
Tel: (049) 285-6737
Add: No. 8, Lane 270, Zhongshan Rd., Yuchi Township, Nantou County
(南投縣魚池鄉中山路270巷8號)
Website: residence8.com.tw
Facebook: bit.ly/3uC2eeD
Places to Visit around Sun Moon Lake
Mountain-cupped Sun Moon Lake, one of Taiwan's most iconic scenic attractions, enjoys East Asia renown. It receives about 6 million visitors annually. The lake area's wide-ranging tourist draws include: the culture of the area's Thao tribal people; yacht tours taking in the lake's allures; stand-up paddleboarding, kayaking, and duck-boating; hiking and cycling; and a valley-hopping cable-car ride that swishes visitors from lakeside to one of Taiwan's oldest and most beloved theme parks, which both celebrates Taiwan's many indigenous cultures and offers rousing modern recreational games and rides fun. The lake is the heart of the Sun Moon Lake National Scenic Area, run by the Taiwan Tourism Bureau.

Xiangshan Visitor Center
A recommended destination for a visit kick-off is the Xiangshan Visitor Center, a large-scale architectural artwork that blends beautifully with its forested mountain backdrop and lake bay foreground. Looking down over the water is a capacious high-ceiling glass-walled café that has outdoor seating. The appealing exhibit hall has first-rate information displays, short films, and a 3D film on the lake area, all with English. There's also a well-stocked gift shop.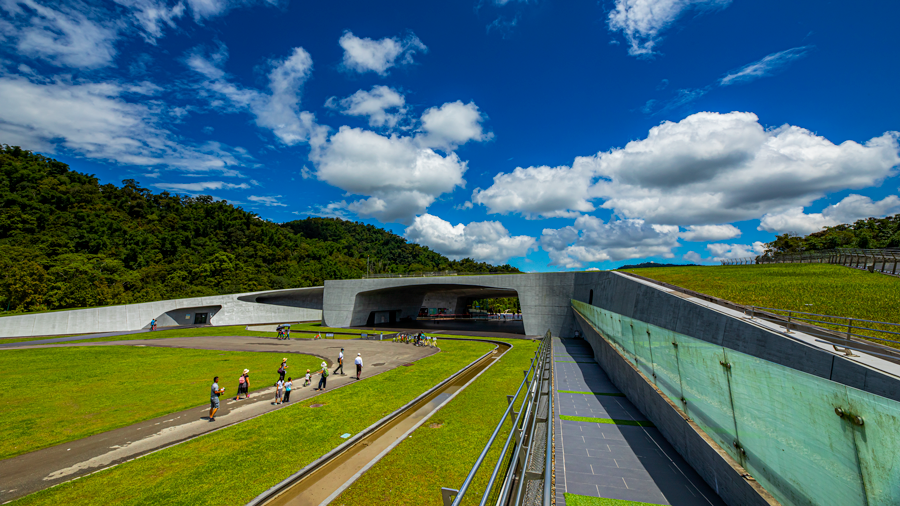 From the center, well-shaded pathways escort you on short walks to the Xiangshan Scenic Outlook skywalk and pedestrian/cyclist-only Tongxin Bridge and Yongjie Bridge. The latter duo – the pathway here is in fact a section of the popular lakeside bikeway – are known as the "wedding photo bridges."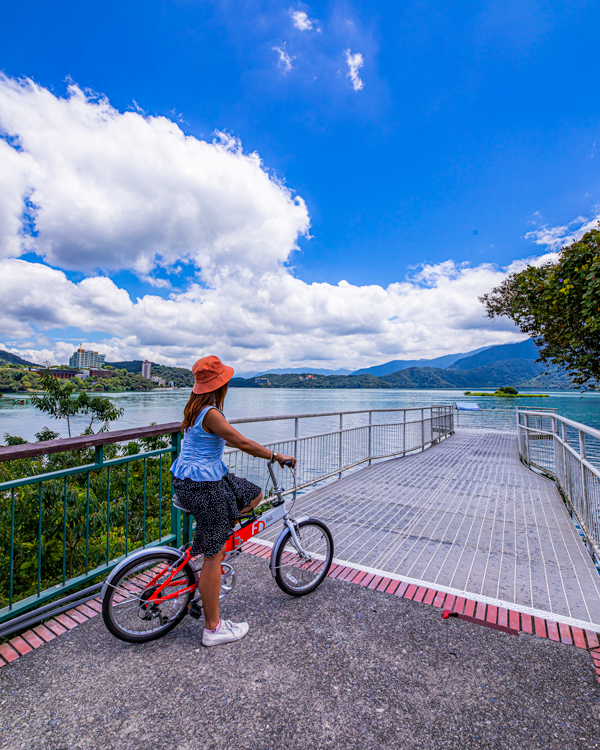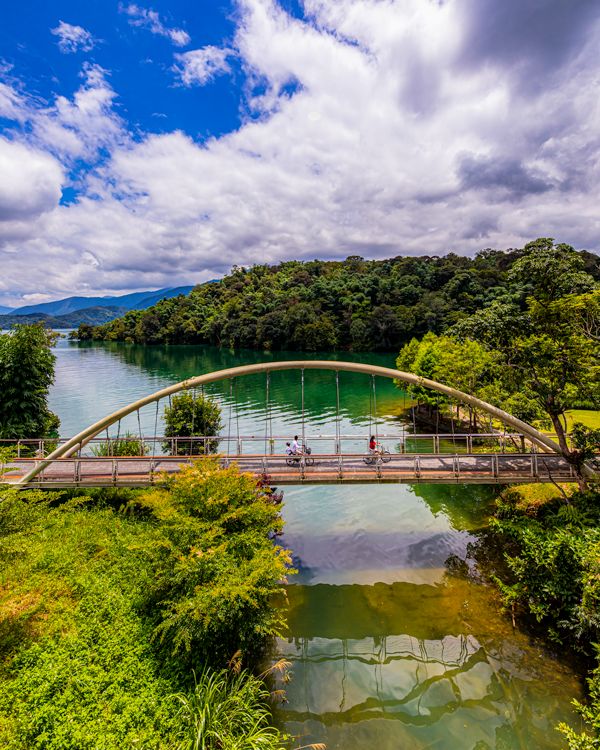 The lakeside bikeway (shared by bikers and walkers), which features long boardwalk sections jutting out over the water, stretches between the village of Shuishe and the Xiangshan Visitor Center and well beyond in both directions. Shuishe is one of two lakeside villages, and is the main center for accommodations. Quality bike-rental operators are found both in this village and by the visitor center, prices for their steeds very reasonable.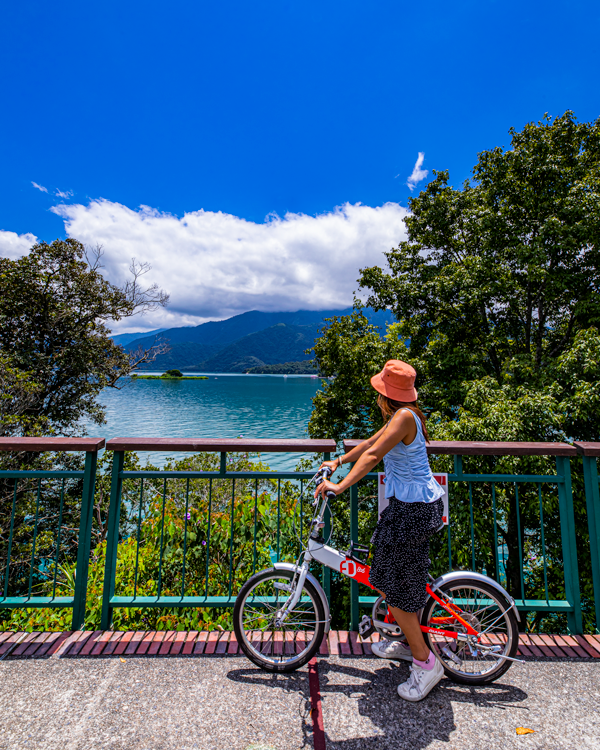 Xiangshan Visitor Center
(向山遊客中心)
Tel: (049) 234-1256
Add: No. 599, Zhongshan Rd., Yuchi Township, Nantou County
(南投縣魚池鄉中山路599號)
Hours: 9am~5pm
Website: www.sunmoonlake.gov.tw/en/attractions/detail/158
Formosan Aboriginal Culture Village
The aforementioned indigenous culture/amusement theme park is called the Formosan Aboriginal Culture Village. In addition to driving, it can be reached from Sun Moon Lake by the soaring Sun Moon Lake Ropeway. This is a gondola facility built by an Austrian firm with Alps-conquering expertise. The candy-colored gondolas, each a six-seater, take you on a pulse-lifting 1.87km flight from lakeside to theme park, sailing over two mountain-ridge crests. The longest between-tower suspension span, between the two ridge crests, is 786m. Note that a combined gondola/park ticket brings a significant discount.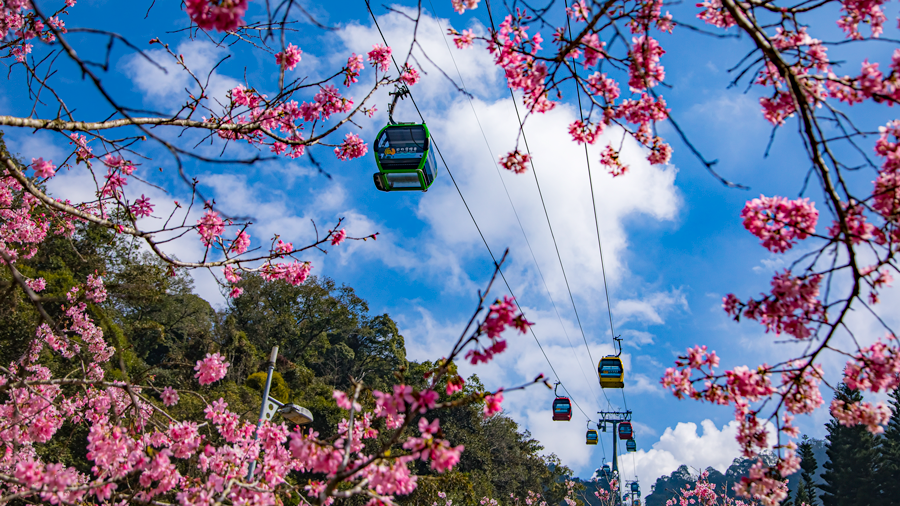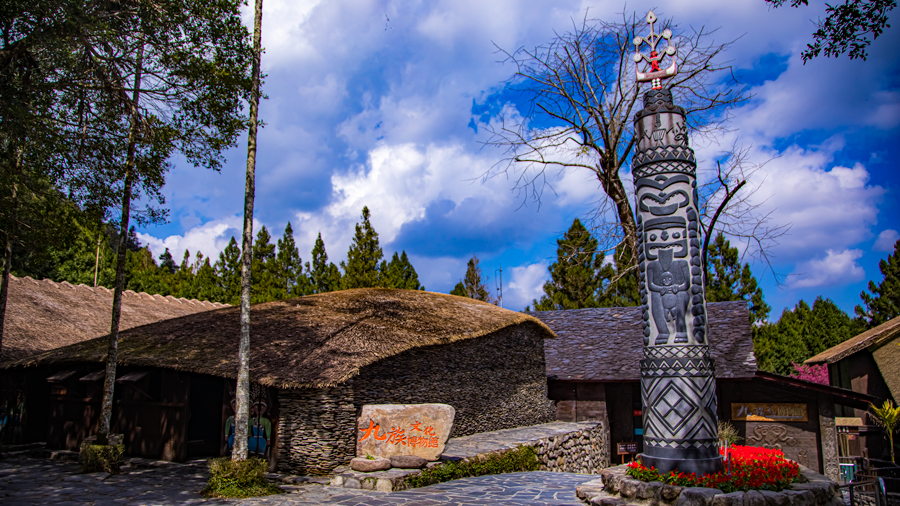 Formosan Aboriginal Culture Village
(九族文化村)
Tel: (049) 289-5361
Add: No. 45, Jintian Lane, Dalin Village, Yuchi Township, Nantou County
(南投縣魚池鄉大林村金天巷45號)
Hours: 9:30am~5pm (until 5:30pm on holidays and weekends)
Website: www.nine.com.tw
Sun Moon Lake Ropeway
(日月潭纜車)
Tel: (049) 285-0666
Add: No. 102, Zhongzheng Rd., Riyue Vilage, Yuchi Township, Nantou County
(南投縣魚池鄉日月村中正路102號)
Hours: 10:30am~4pm (holidays and weekends 10am~4:30pm
Tickets: NT$900
Website: www.ropeway.com.tw
Ita Thao
The ropeway service is located just hundreds of meters away, by lake-encircling highway and a pretty lakeside trail, from Sun Moon Lake's other village, Ita Thao. This is the main settlement of the Thao people, the smallest of Taiwan's indigenous groups. Among its scores of tourist-oriented eateries and retail outlets are a good number selling indigenous fare and handicrafts. Be sure to visit the Ita Zhao Zhulu Market, a facility done in traditional tribal wood-theme style that has a performance theater, which is home to the Thao Tribe Traditional Folk Performance Team. The troupe presents Thao history, folktales, and legends through free traditional song-and-dance entertainment (donations appreciated).