Going Meat-Free in Taipei
TEXT / AMI BARNES
PHOTOS / CHEN CHENG-KUO
After a slow start, the eco-conscious, plant-based food trend has finally taken firm root in Taiwan. The past two years in particular have seen a diverse scene blossom, with options to suit everyone from the flexitarian to the committed lentil fanatic. What follows is a brief foray into local meat-free dining.
Eating Vegetarian in Taiwan
As a proud card-carrying member of the lentil lovers community, I can quite honestly say that Taiwan is a vegetarian's paradise. For those in the know, there is always a mouthful of something tasty waiting nearby to be devoured, often at a thoroughly reasonable price. One reason for this is high rates of vegetarianism and veganism amongst the more devoutly religious older generations, and it's not unusual to find restaurants playing Buddhist chants on an infinite (and ear-wormy) loop. These places are often small aunty-run stalls turning out bowl after bowl of homely sesame-slathered noodles, braised vegetables, and medicinal soups, or else pay-by-weight self-serve canteens where you can pile your plate high with whatever seasonal veggies are currently available.
Against this backdrop of already plentiful vegetarian dining options, a growing environmental awareness has seen increasing numbers of young Taiwanese folk ditch the meat and dairy in favor of plant-based diets. There are now scores of YouTube channels teaching people how to cook healthy vegan meals, and rarely does a month goes by without the opening of new restaurants or the arrival of more meat-free options on the supermarket shelves. There has never been a more exciting time to be a vegetarian in Taiwan.
Below are introductions to three of the most popular vegetarian restaurants in Taipei.
BaganHood
BaganHood's founding duo – Carrie and Eric – aren't interested in preaching to the choir (or preaching at all for that matter). Their vision is to create a place where a devoted carnivore could stumble in oblivious to the absence of meat and leave satisfied, possibly still none the wiser that the meal they'd just tucked into was entirely plant-derived. Somewhere people will return to despite the lack of meat, simply because it's more delicious than the alternatives. This may sound preposterous if you've yet to taste the food, but it feels like they might just be well placed to succeed. Everything about this Xinyi District eatery, from the subtly stylish hues of rich blues and browns to the dimmed lighting, prominently displayed spirits, and laidback, trendy atmosphere, is calibrated to challenge the stereotype of what a Taiwanese vegetarian restaurant is, and the food is crafted to appeal to a palate more accustomed to an omnivorous diet (they reckon around 80% of their customers are meat-eaters).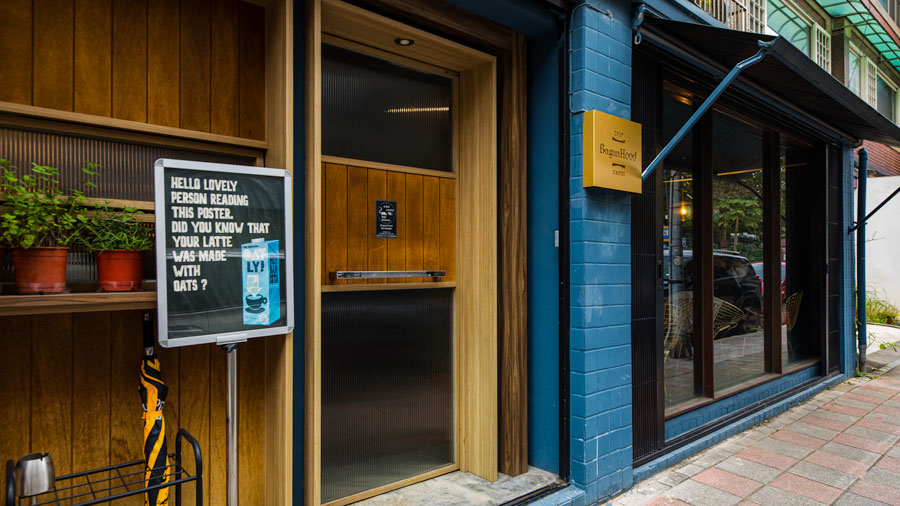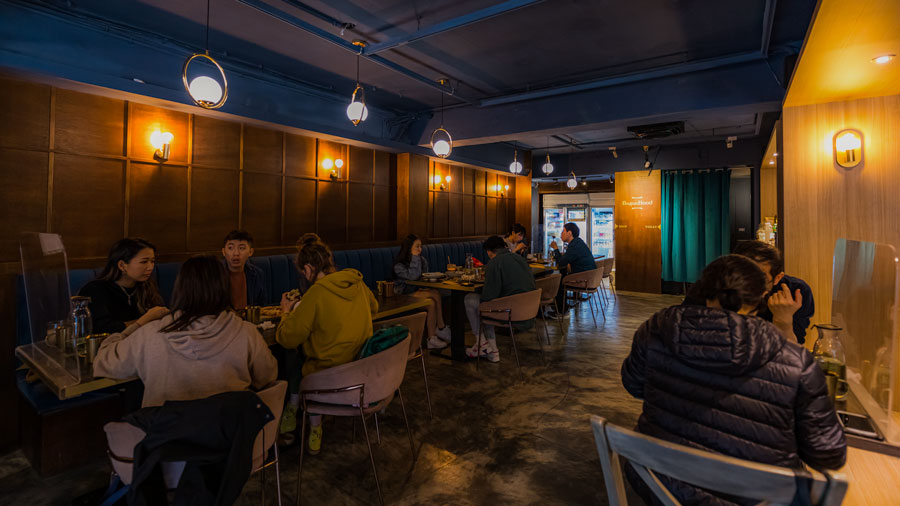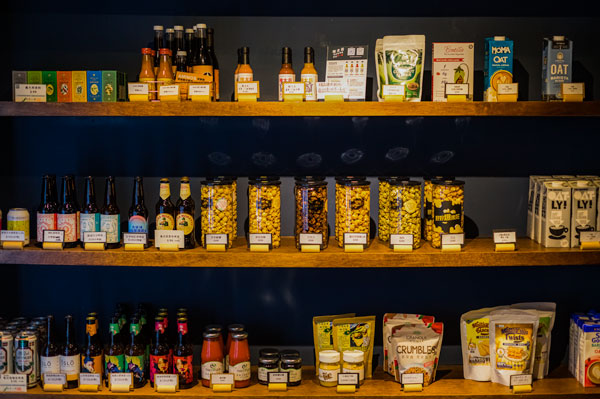 The menu features a variety of burgers, bowls, pizzas, and salads, with plenty of appetizers and an extensive beverage selection. Dishes make inventive use of plant-based "meats" such as selections from Beyond Meat and its Hong Kong-based rival OmniPork. And while there are enough menu options for those who aren't quite ready to jump on the mock meat train, BaganHood does a stupendous job of cooking with these ingredients.
Burgers are constructed around a plant-based patty paired with one of the kitchen's homemade sauces (a vital part of a "real" burger experience), and served with salad and fries. The ever-popular truffle burger, for example, is a winning combination of a Beyond Meat patty with creamy cheese and truffle sauces.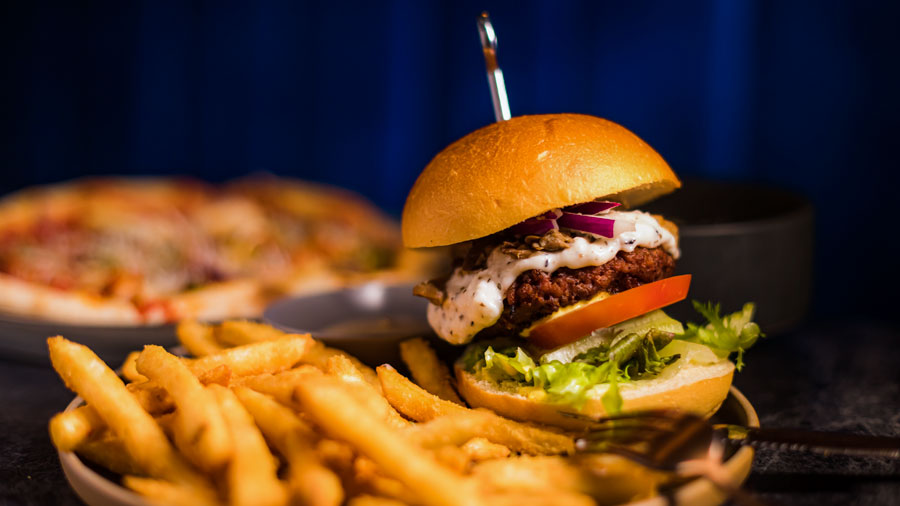 Vegan cheeses add the finishing touch to the pizzas – we tried one loaded with spicy OmniPork sausage, mushroom, and jalapeños, which had me questioning just how many delightful pizza toppings I had previously missed out on.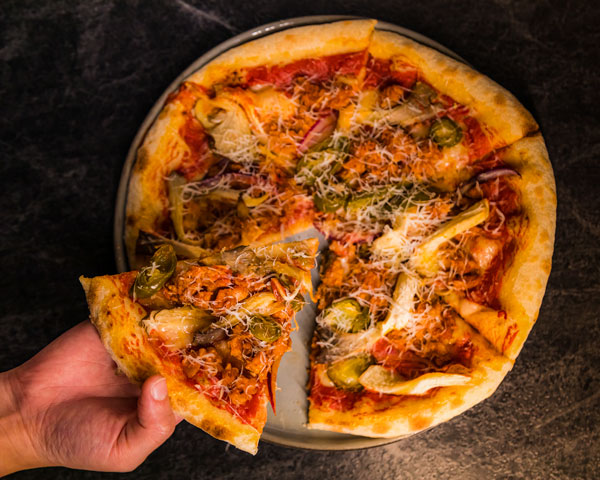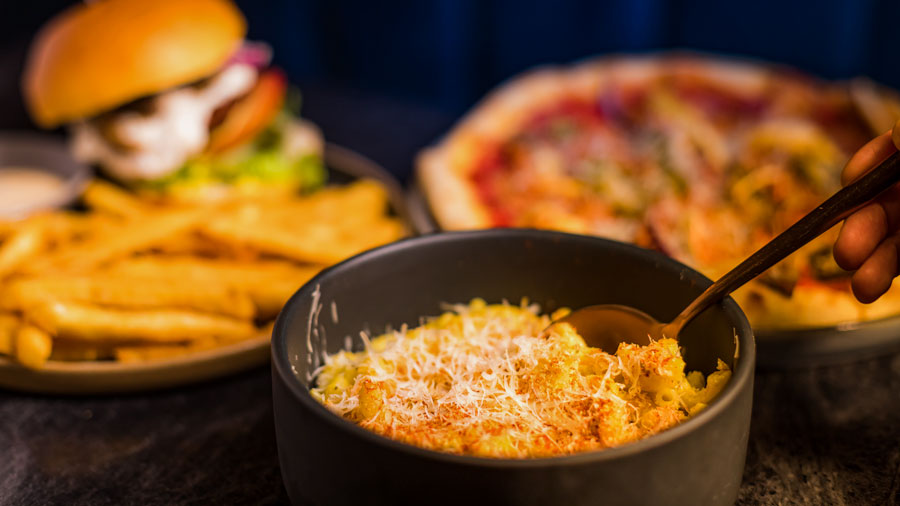 Other customer favorites include the chili mac'n'cheese (buttery, fragrant, and possessing a slight kick from the chili) and the Thai-style mylk tea. The latter is a delightfully smooth concoction of frozen spheres of Thai-style tea served alongside a glass of warm mylk – the perfect accompaniment for a vegan cinnamon roll.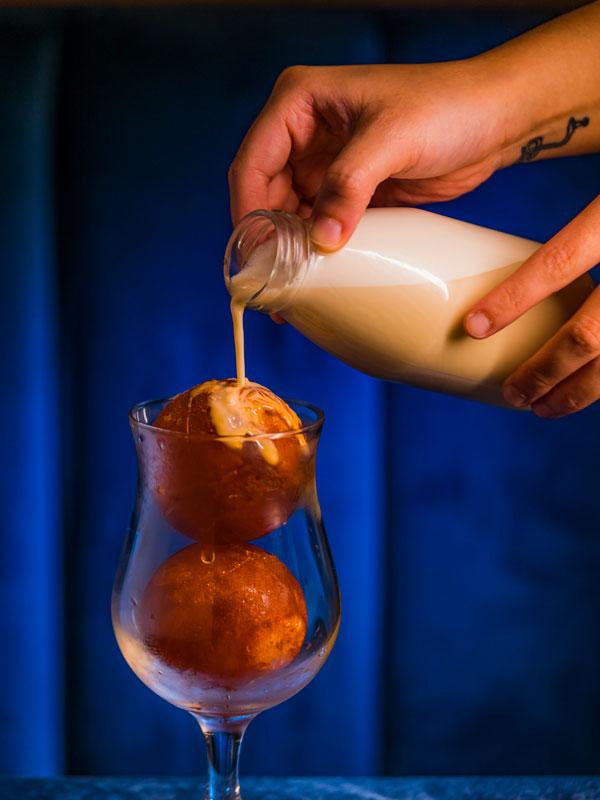 If you need a restaurant that can cater to a mixed group of vegans and vegan-skeptics, BaganHood fits the bill perfectly. Just make sure to book a table; it's not uncommon to see a queue of expectant diners waiting outside for their slice of the plant-free pie.
BaganHood
Tel: (02) 3762-2557
Add: No. 11, Alley 46, Lane 553, Sec. 4, Zhongxiao E. Rd., Xinyi District, Taipei City
(台北市信義區忠孝東路四段553巷46弄11號)
Hours: 11:30am~4pm; 5pm~10pm (daily)
Facebook: www.facebook.com/baganhood
Chao Stir Fry
"Looks like the real deal…only cleaner," was the reaction of my dining companion when we made our way off the streets of Daan District and into Chao Stir Fry. Stir-fry joints like this (known as rechao in Mandarin) fulfill a vital role in Taiwan's culinary ecosystem. They're unpretentious, sociable, and often stay open late, with customers washing down steaming plates of garlicky morsels with cold beer and easy chat. Thankfully, Chao (another venture from the pair behind BaganHood) retains the charm of a classic rechao…just minus the meat.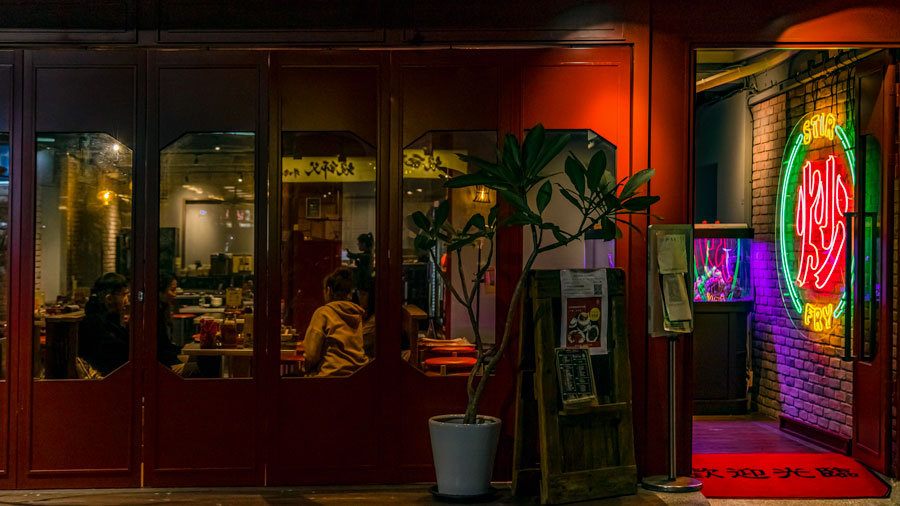 Chao's commitment to replicating the local stir-fry experience is full. Diners are greeted at the door with a fish tank (it's as vegan as the food), the music is a blend of Mandarin and Taiwanese pop, and even the overall color scheme is in keeping with a traditional rechao restaurant. Black-and-chrome tables ringed by red stools are each completed with all the trappings of a stir-fry meal: unfussy crockery (all the better for sharing), thick glasses waiting to welcome beer (or tea if that's your thing), and a tabletop canister stove for a warming pot of soup.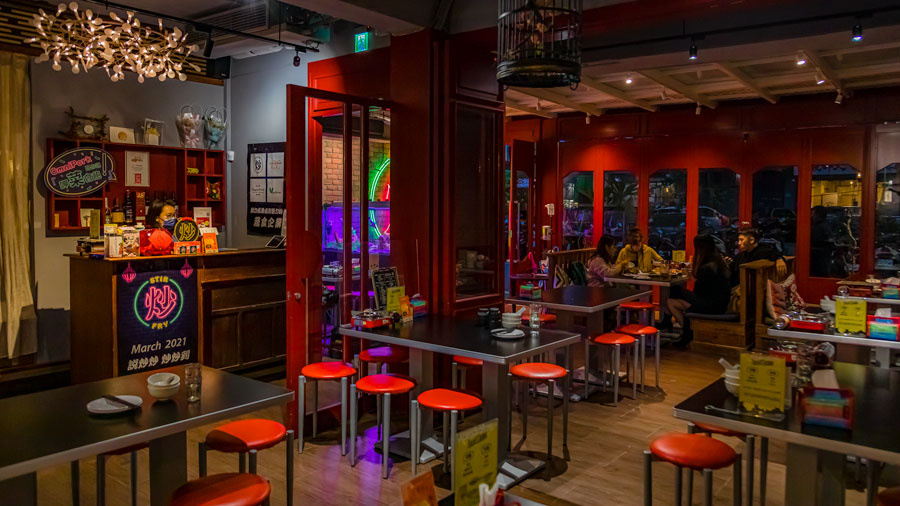 Ordering is simple: scan the QR code, make your selection, and it'll be sent straight through to the kitchen. The hardest part is agreeing on what to order! In some instances the dishes on offer cleave close to what you would expect: classics such as mapo tofu, fried noodles, gongbao chicken, string beans, pineapple and bitter melon soup are all present. However in other cases the chefs have taken a little creative license so the ingredients can play to their strengths – three-cup chicken has become three-cup mushroom, while sweet and sour pork is now sweet and sour "fish."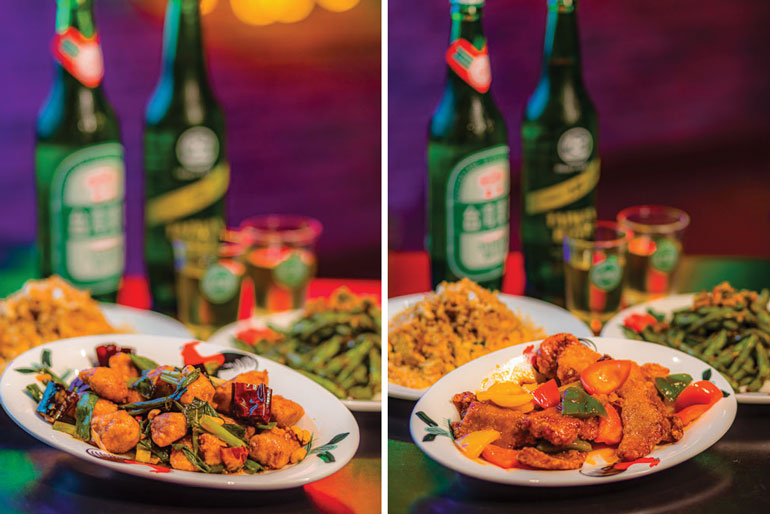 Of the food we ordered, the standout star was a dish named "Can't Find the Stinky Tofu" – a dome of the crumbled piquant Taiwanese favorite topped with crisp flakes of youtiao (a type of deep-fried breadstick). It's one of the venue's most popular items, and I'm already eagerly anticipating my return visit just for this. The gongbao chicken was meaty, spicy, and studded with moreish roasted peanuts, the sweet and sour fish was sticky and tangy with a pleasing chewiness, and the string beans had that satisfying combination of oiliness, saltiness, and crunch.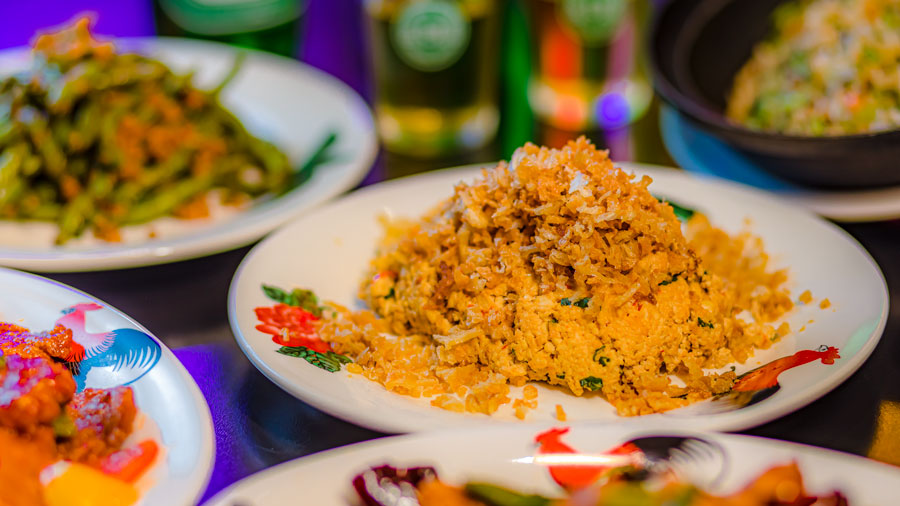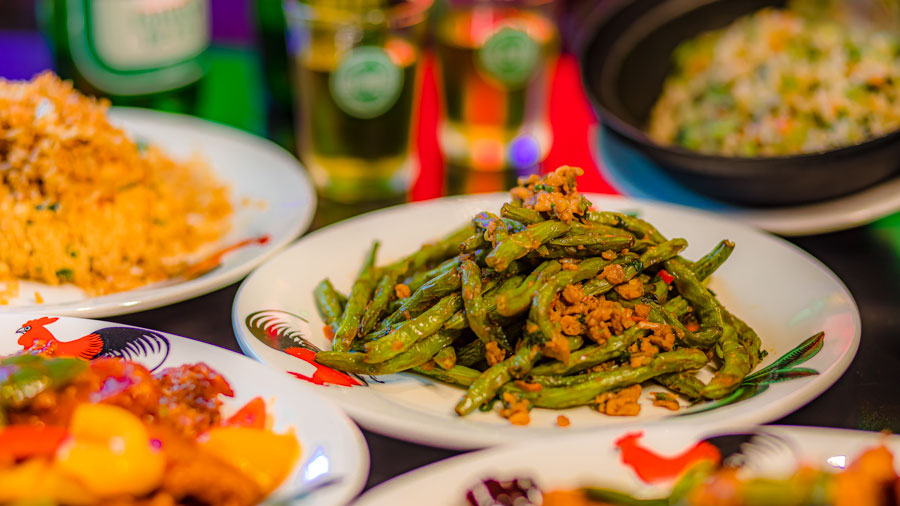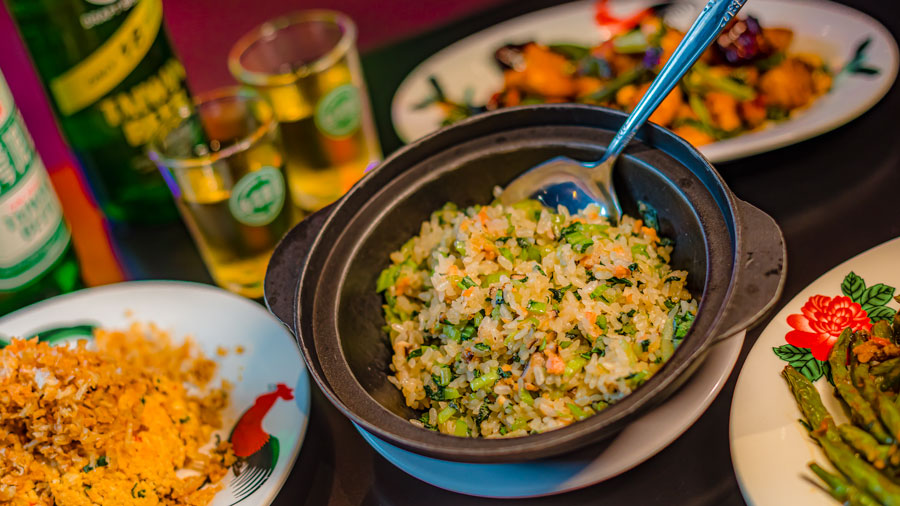 To make the most of your visit, take a friend who can help you decipher the Chinese menu. In fact, while you're at it, why not take a whole group? After all, it's an incontrovertible fact that rechao tastes even better when the conversation (and beer) is flowing.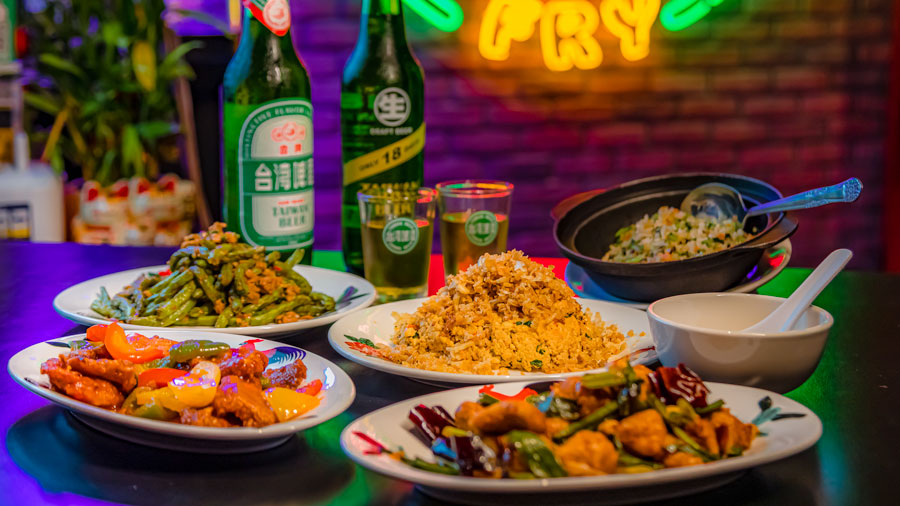 Chao Stir Fry
(炒炒蔬食熱炒)
Tel: (02) 2775-3005
Add: No. 21, Lane 52, Sec. 1, Daan Rd., Daan District, Taipei City
(台北市大安區大安路一段52巷21號)
Hours: 5:30pm~midnight (weekdays); 11:30am~2:30pm, 5:30pm~10pm (weekends & holidays
Instagram: www.instagram.com/chao_stir_fry
Facebook: www.facebook.com/chaochaostirfry
Plants Eatery
A stalwart of Taipei's plant-based community, Plants Eatery could not be more different from the venues detailed above. You'll find no fake meats here, no attempt to cajole meat-eaters into passing up the pork, only fresh ingredients thoughtfully prepared. "If the food is good enough people will come back," remarks Lily (who cofounded the place alongside her wife, Square), emanating the quiet confidence of someone who truly knows her craft. Upon opening close to MRT Daan Station in 2016, Plants stood among the pioneers of Taiwan's meat-free revolution – back then an up-market vegetarian eatery was an exceedingly rare find, let alone one dishing up raw and fully plant-based fare.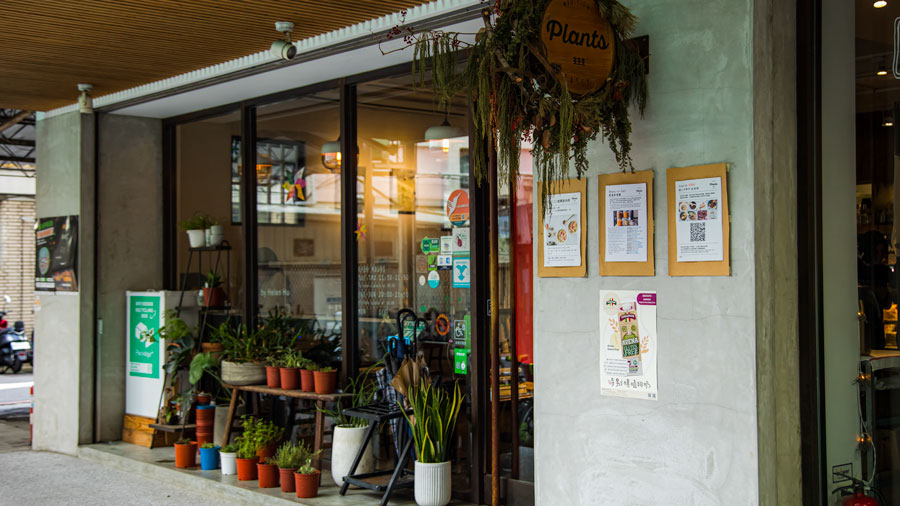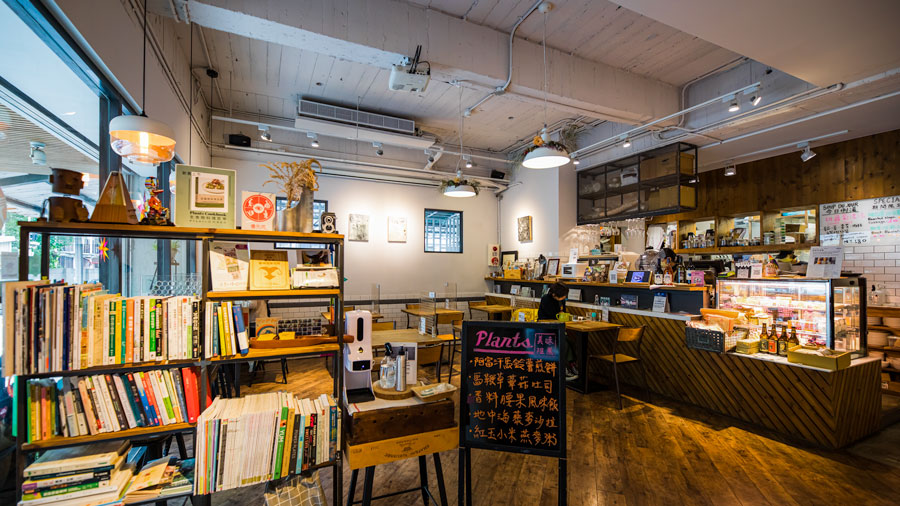 The leafy storefront window frames an airy canteen, all wooden surfaces and clean lines. This quintessential wholefoods café look is bolstered by the presence of an eco-store to which customers can bring their own containers to get refills of household essentials like laundry detergent. The founders' holistic food philosophy stretches far beyond the manner in which ingredients used to encompass how they're grown (organically), sourced (locally in almost all instances, fair-trade), and prepared (without refined sugar, often raw). Even the restaurant's design has been carried out with an emphasis on using non-toxic, durable, and (where possible) recycled components.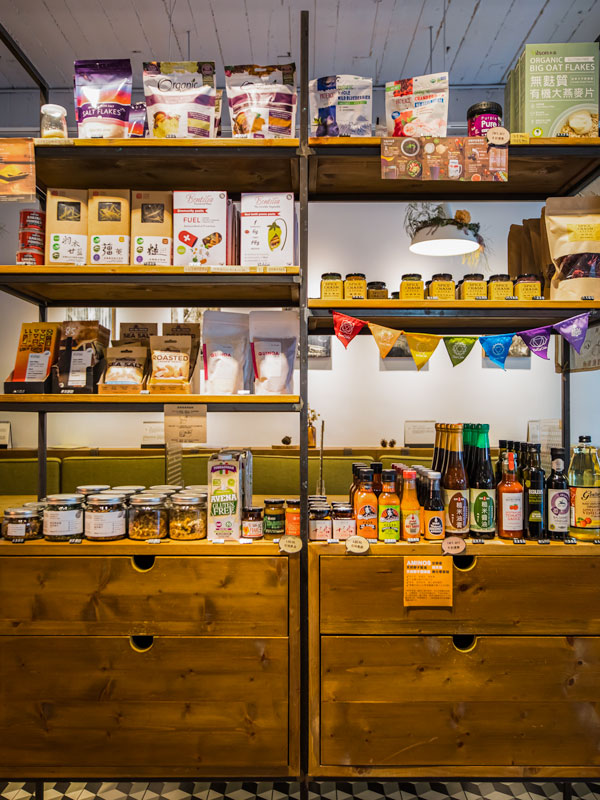 Plants unabashedly puts its namesake at the heart of its menu, offering choices bursting with seasonal produce. A veritable rainbow of fruits and vegetables grace their selection of energy bowls, sharing plates, nourishing mains, and smoothies. In addition to being entirely plant-based, the whole menu is gluten-free and soy-free (with clear descriptions allowing customers to choose nut and allium-free options too).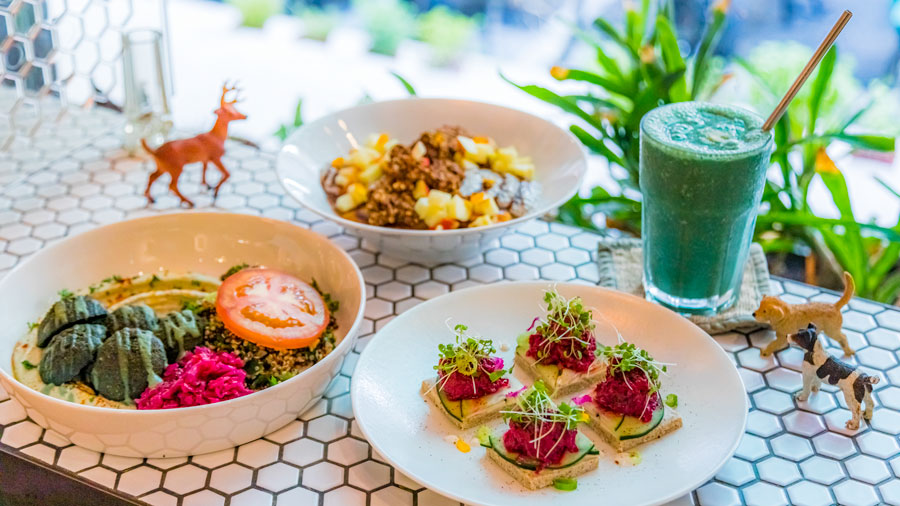 The cheekily named beet tartare packs a bold punch of flavor; spicy and sour beetroot is balanced with slices of cucumber, sour cream, and raw toast (the toast utilizes pulp left over from their in-house mylk-making process – the kitchen runs on as close to a zero-waste policy as is possible). The lentil falafel is offset perfectly with sprouted mung-bean hummus, tabbouleh salad, and housemade sauerkraut. And the papaya party bowl is a decadent riot of velvety fruit puree, chia pudding, their signature rawnola, and bite-sized chunks of apple. With each bite you can taste the consideration that has gone into preparing and presenting the food.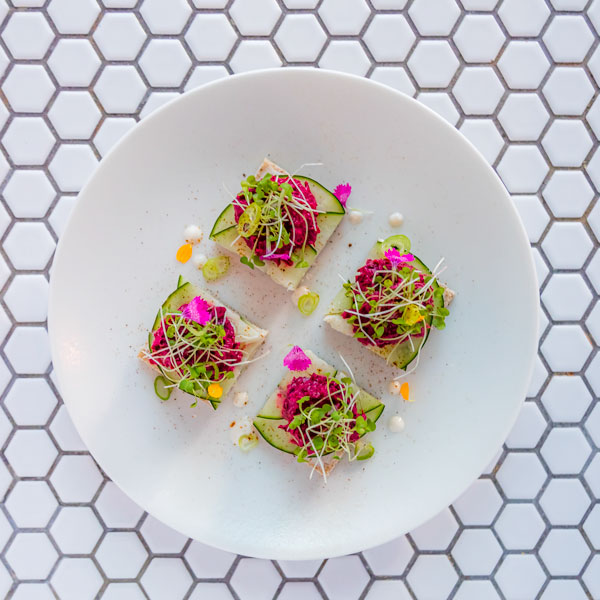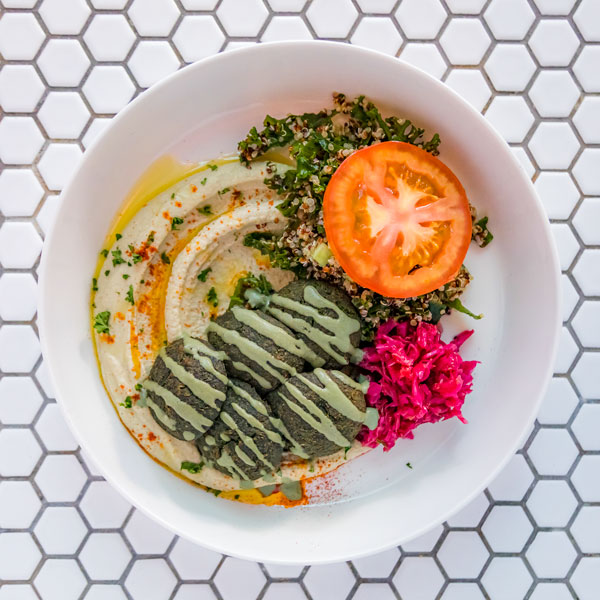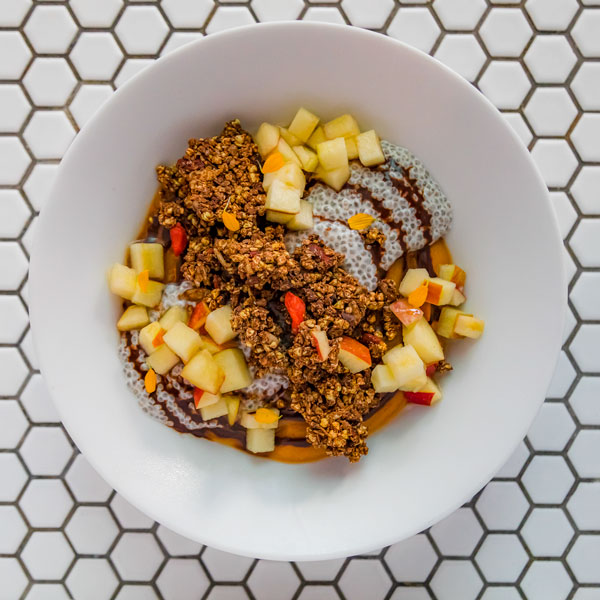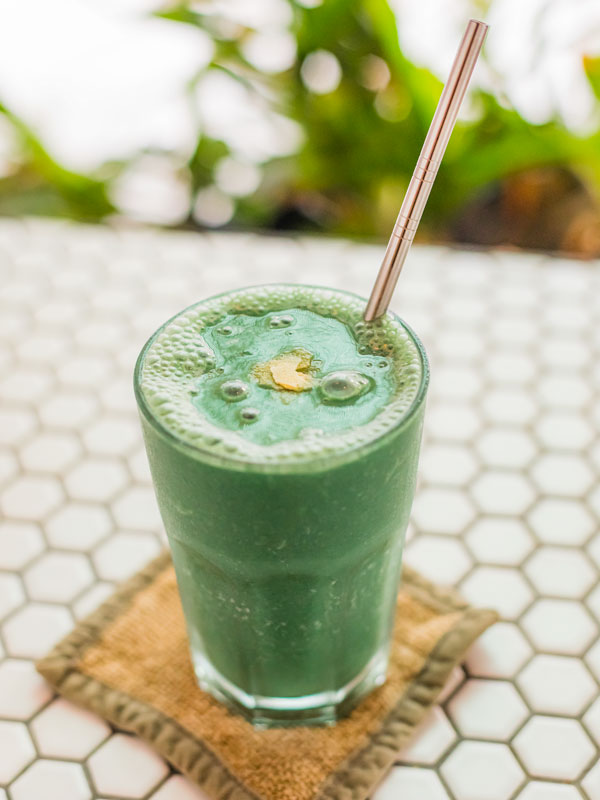 I am a wholehearted convert. Plants manages to pull off the holy trinity of good food and then some: it looks good, tastes good, and does you good, and does good by the environment. If you want to feel happy about your food choices, I can't think of a better place to visit.
Plants Eatery
Tel: (02) 2784-5677
Add: No. 10, Lane 253, Fuxing S. Rd., Daan District, Taipei City
(台北市大安區復興南路一段253巷10號)
Hours: 11:30am~9:30pm (Tue.~Sun.)
Website: www.plantseatery.com.tw