Mining for Nuggets of Travel Joy
TEXT / AMI BARNES
PHOTOS / VISION
Slopes shimmering with swaying miscanthus grass, the susurrous of mountain streams, a rich mining history to dig into, the welcome breezes of a tall waterfall on a hot day, and quaint towns where you can fill your belly — all of this just an hour away from central Taipei City by public transport. Ruifang District holds more than enough to merit repeat visits.
Whether you are a veteran of the Taiwan travel scene or are planning your very first visit, there's a high chance you've got a couple of Ruifang's scenic spots in your sights. Located in the northeastern reaches of New Taipei City, mountainous and semi-rural Ruifang District was once the stage for Taiwan's very own gold rush. Like many mining communities around the world, its fortunes flourished and faltered in tandem with the industry. With the mines now long closed, the region has restyled itself as a tourist destination brimming with places easy to get to on day trips and relaxing staycations. Read on for a brief introduction to some of its highlights.
Sandiaoling Waterfall Trail
Just an hour's train ride away from Taipei Main Station, Sandiaoling is a tiny station that is not served by any public road. It's the jumping-off point for a number of enjoyable excursions, chief among them hiking the ever-popular Sandiaoling Waterfall Trail.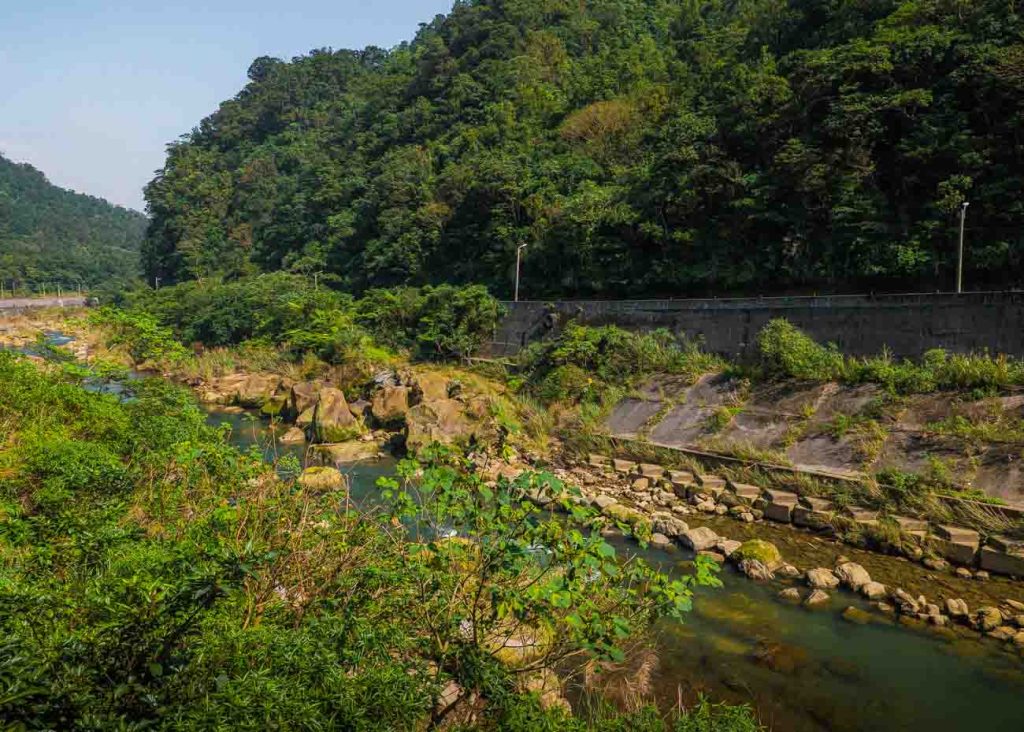 A trio of waterfalls divides the walk into three distinct sections with increasing levels of difficulty. The walk to the first, Hegu Waterfall, takes around 25 minutes from the station. There are some steps at the start, but the majority of this section is flat.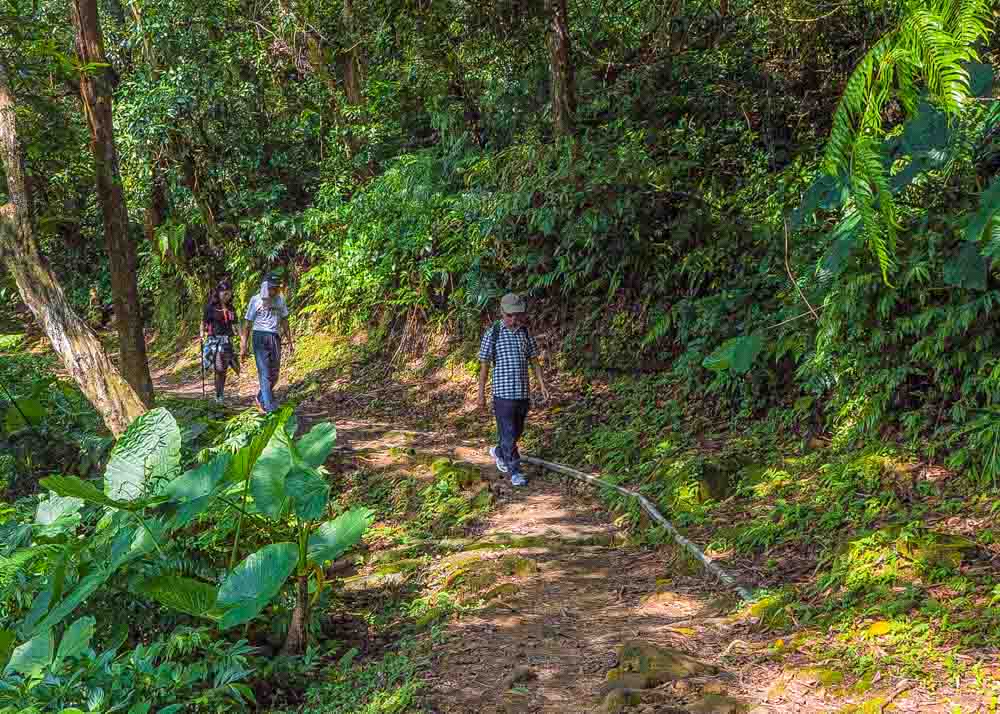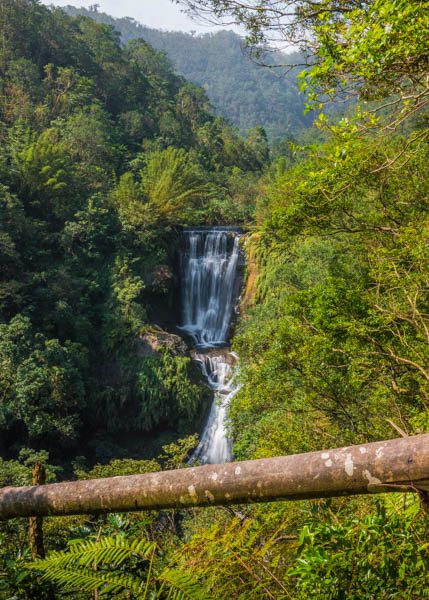 Between Hegu and Motian Waterfall, you'll find a rougher trail comprised of compacted earth and boot-smoothed sandstone. Highlights of this stretch are a pair of springy rope bridges and the accompanying soundtrack of a mountain stream. Fish and freshwater crabs populate the clear waters, and if you peer into the surrounding forest, you can see the telltale mounds of orange-red earth kicked up by pangolins on the hunt for some tasty ants.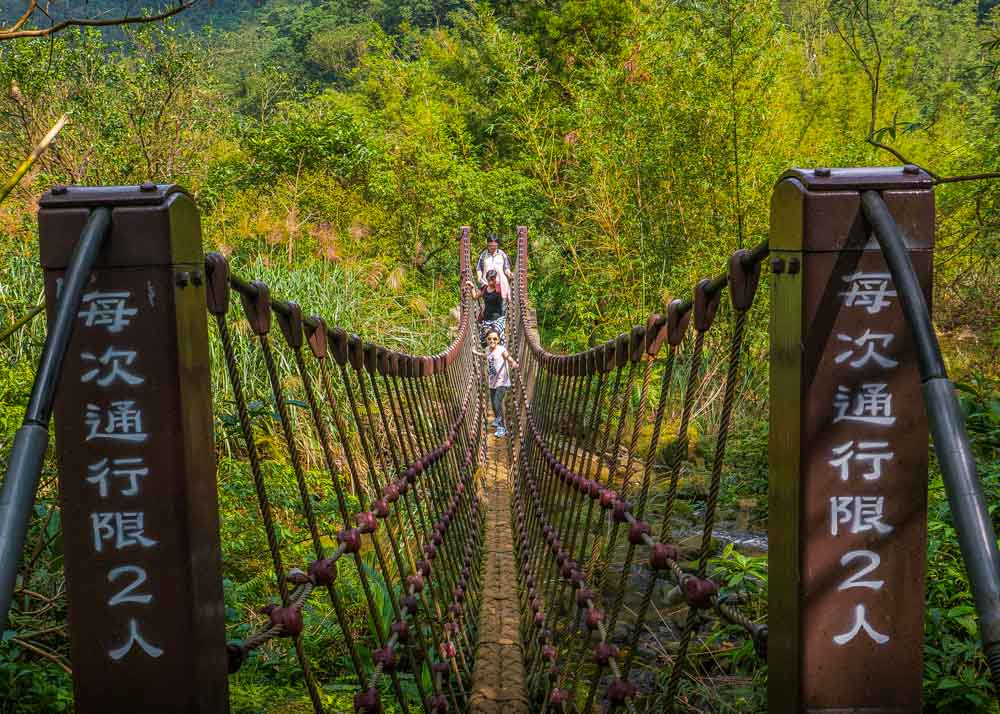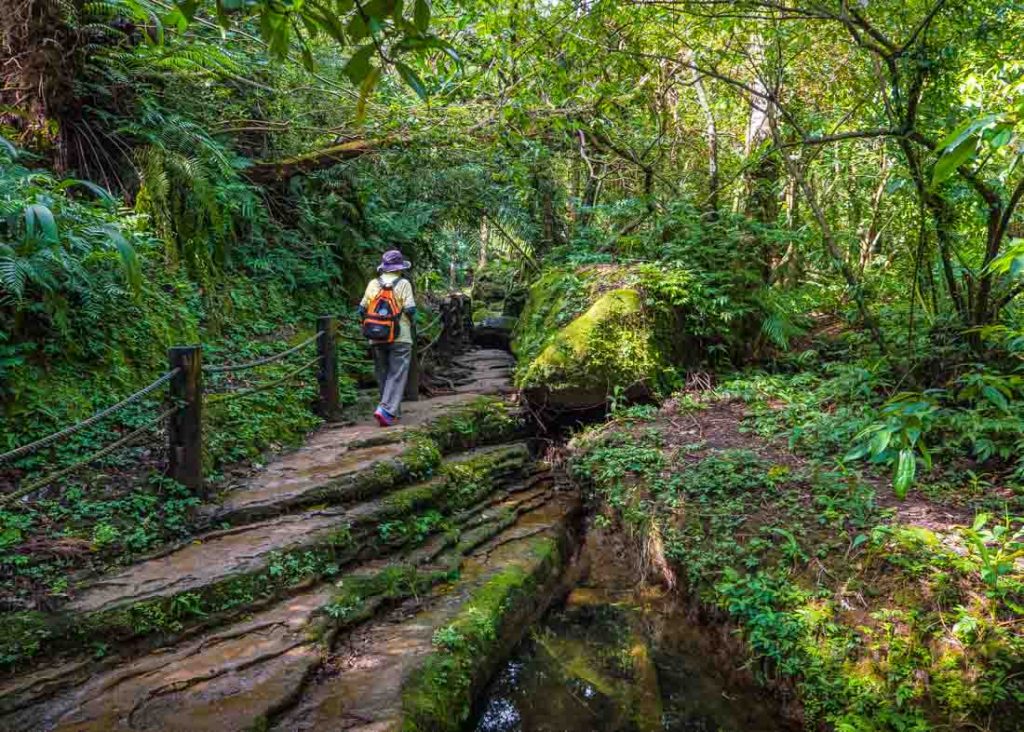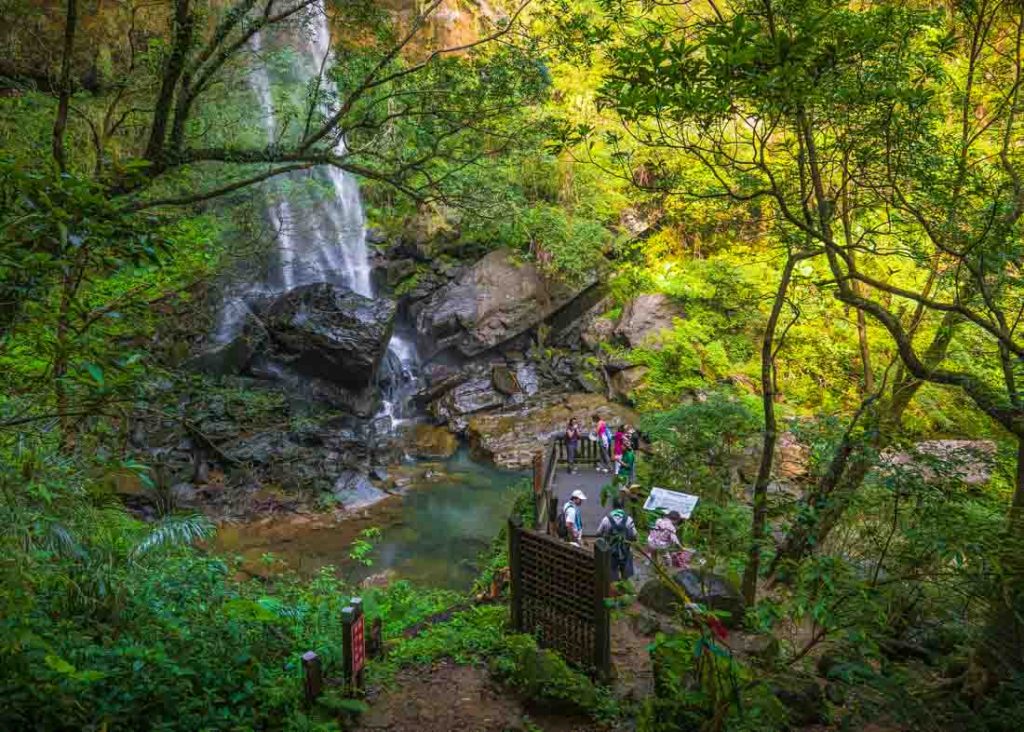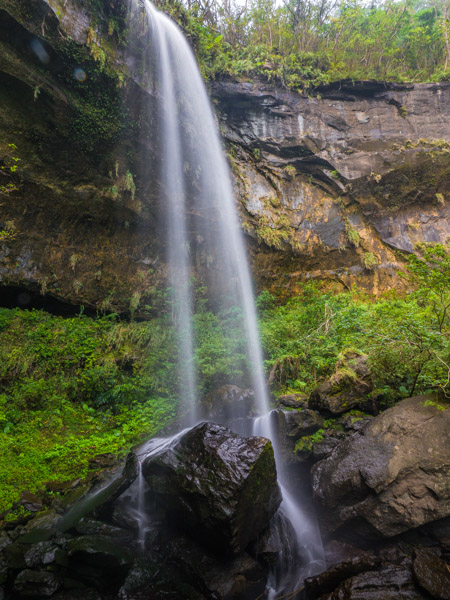 The hardest part of this trail comes between Motian and Pipadong Waterfall – here you'll find your climb assisted by railings and steps that have been hammered into the steep rockface.
At 31m, Pipadong is a full 10 meters shorter than Motian, but that doesn't make it any less impressive. Steep treed walls surround the plunge pool at its base, giving the impression of a natural amphitheater. Time and weather have left a number of rocks perfectly placed to allow you front-row seats for the perpetual dance of the falling water – it's a wonderful place to pause and breathe in the fern-scented air.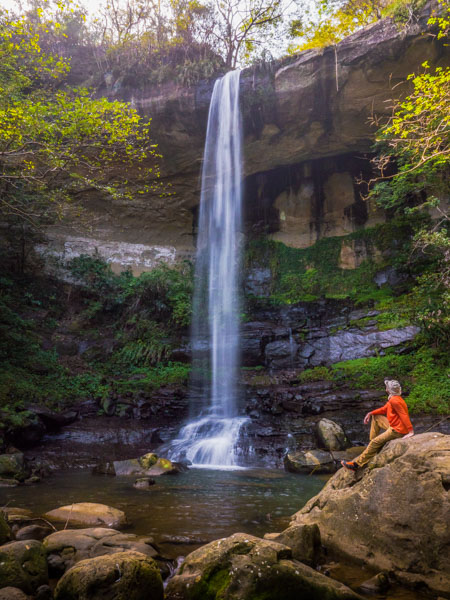 Many walkers turn around at this point and head back to Sandiaoling Station, but if daylight, weather, and your energy level permit, you can continue to the top of Pipadong Waterfall. When the trail splits, turning left will take you to Dahua Station on the Pingxi Branch Line, while the right branch goes towards Houtong ("Cat Village"). Those who return the same way can reward themselves for their efforts in one of the several small cafés and eateries close to the trailhead.
Sandiaoling Eco-Friendly Tunnel
The Sandiaoling Eco-Friendly Tunnel is a recent addition to Ruifang's roster of scenic attractions. Opened to hikers and bikers mid-2022 – precisely a century since it was built – this old railway tunnel had been abandoned following the construction of a newer double-track tunnel close by.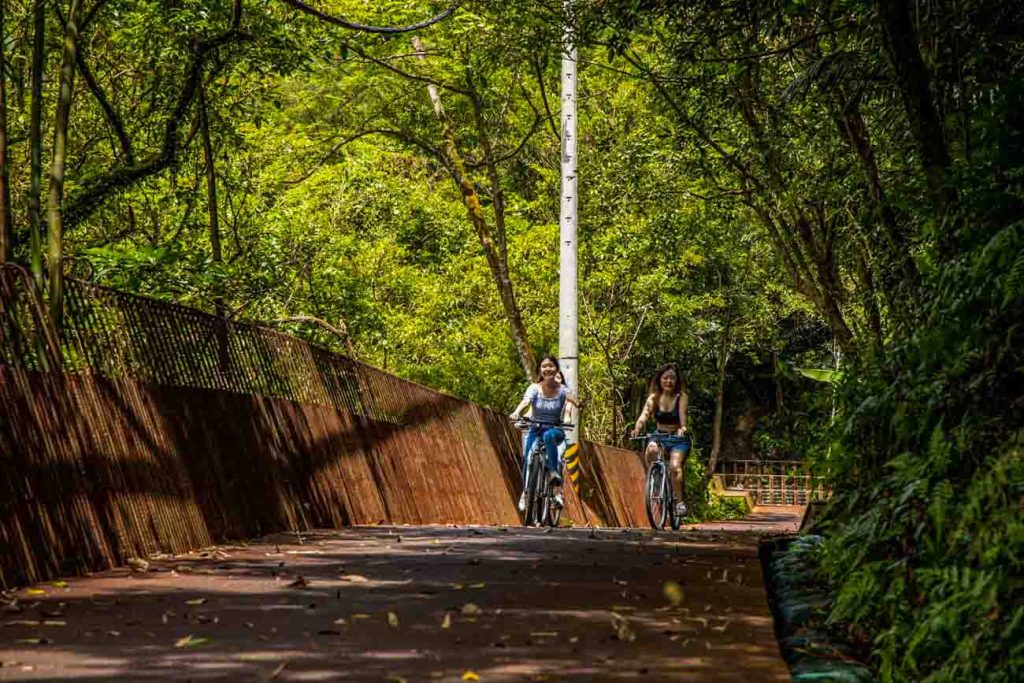 Sealed off from the world for 37 years, the tunnel became a haven for wildlife, the flooded floor providing a habitat for fish and freshwater shrimp and bat colonies thriving in the undisturbed dark. Thankfully, engineers have found creative ways of allowing humans and animals to coexist. The iron-bar bikeway seemingly floats through the center of the tunnel, suspended above the streambed, and lighting is kept minimal – it feels almost as if you've slipped into another dimension.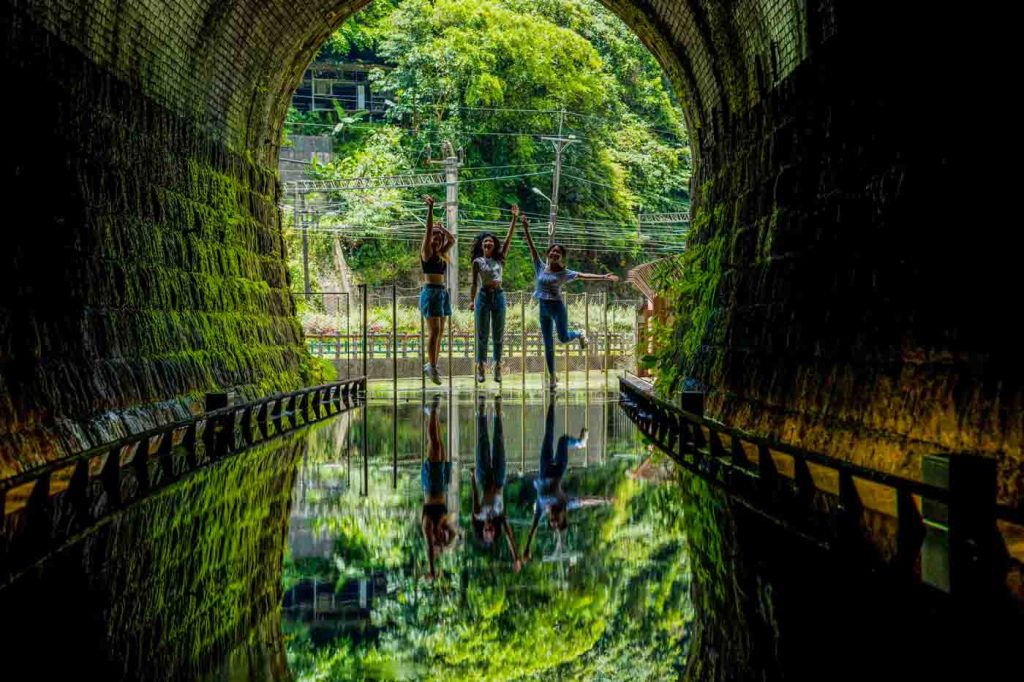 Initially, online application was required. However, as of March 2023, there's no longer any need to apply for midweek visits. Public-rental bikes (YouBike 2.0) can be picked up and returned at either Houtong Station or Mudan Station, although the ride starting from Houtong is easier on account of being mostly downhill (assuming, of course, that you do not return the same way).
Jinguashi
Baoshishan Trail
Some claim that a hard climb makes the view all the sweeter, but if you don't subscribe to this opinion, Baoshishan Trail near the village of Jinguashi was made for you. Bus No. 1062 can whisk you straight from downtown Taipei (launch point MRT Zhongxiao Fuxing Station) to Quanji Temple – just 250m from the start of the short trail's steps. Almost as soon as you get walking, the view opens up and suddenly you're on top of the world.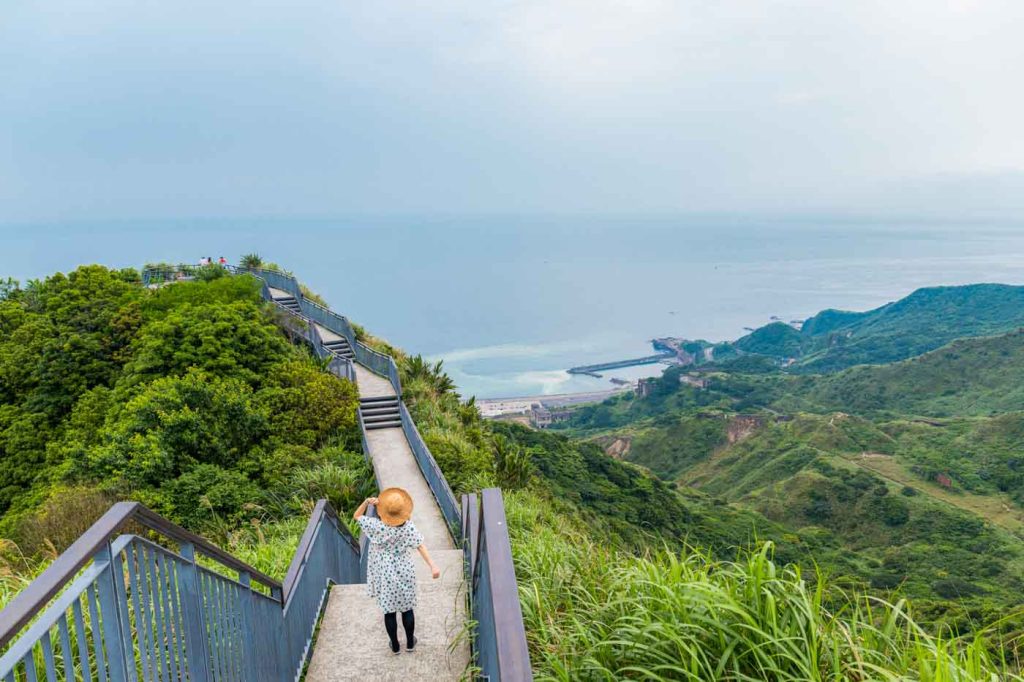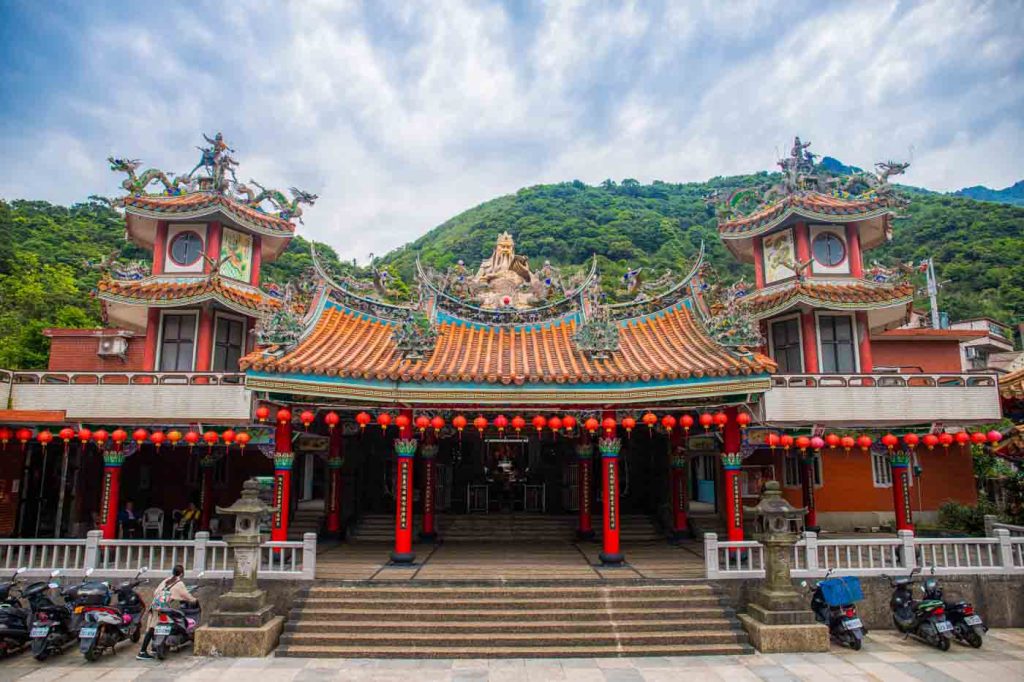 From here you can see many of Ruifang's landmarks. To the north, Mt. Jilong looms, and gazing south you'll spot the unmistakable oddly knobbly Teapot Mountain. Inland, higgledy-piggledy buildings dot the layered and often mist-shrouded hills, looking for all the world like something cooked up in a child's imagination.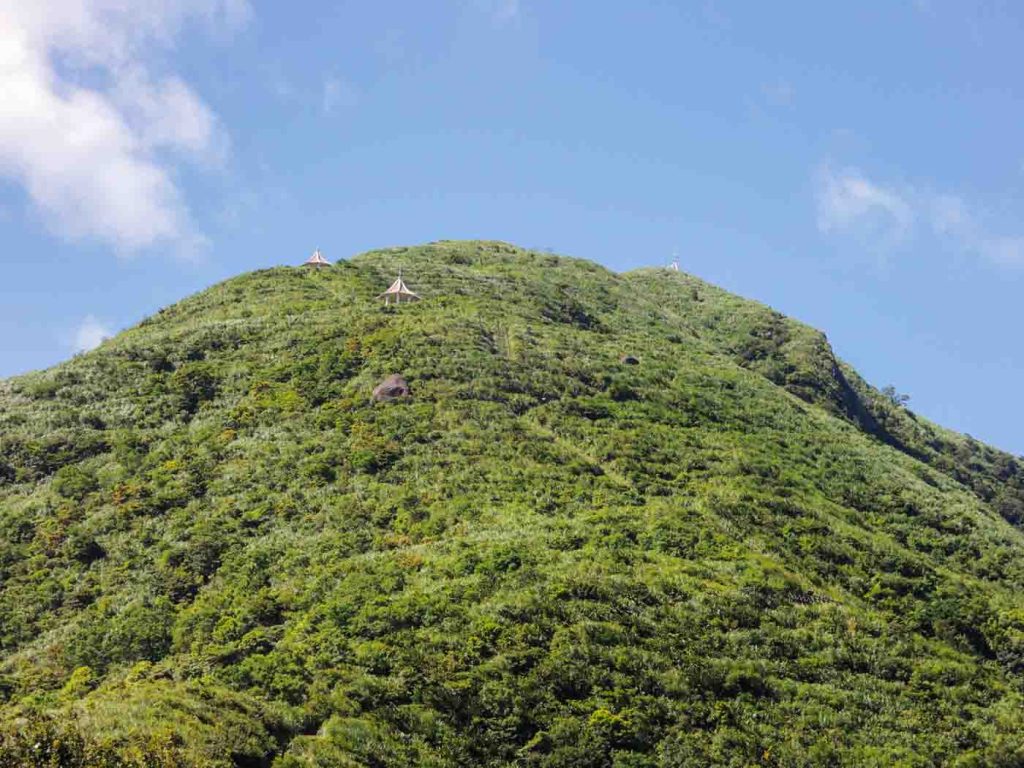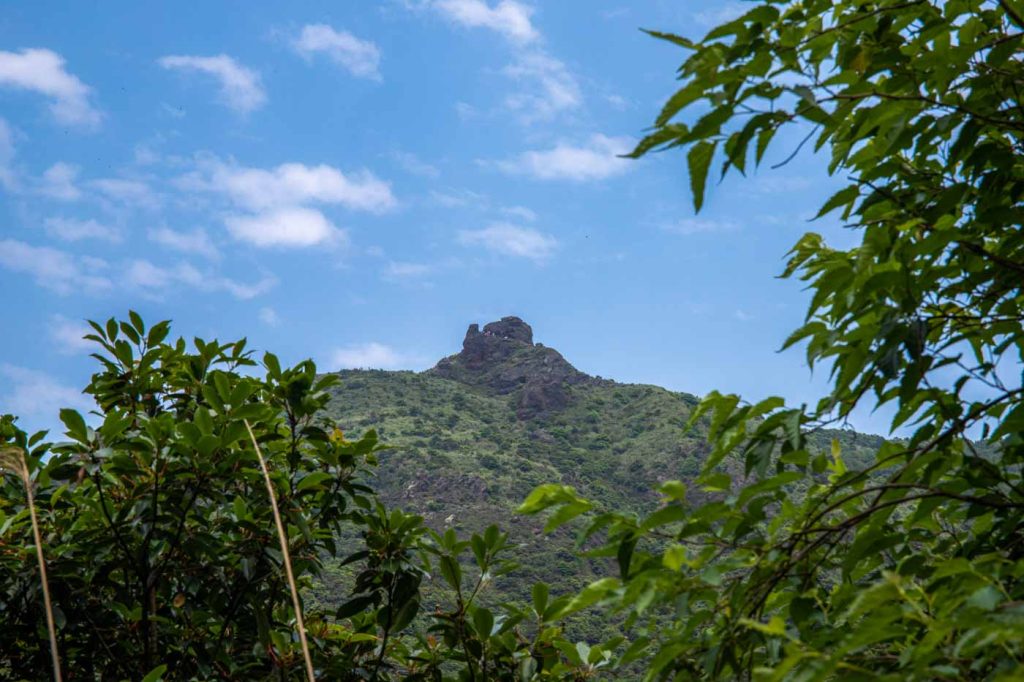 Wherever you turn, you can see traces of the mining industry – the flues of Shuinandong Smelter hug the slopes, a disused funicular railway cuts a bold line, and there are remnants of the open-cut mining techniques that turned the "golden gourd (jingua)" rock Jinguashi draws its name from into a stone hippo.
Qitang Old Street
For a more thorough understanding of the area's mining history, take a stroll over from Baoshishan Trail back to Jinguashi village. Here you can check out the Gold Museum's (www.gep.ntpc.gov.tw) exhibits and refuel with a "miner's lunchbox" before taking a wander down Qitang Old Street.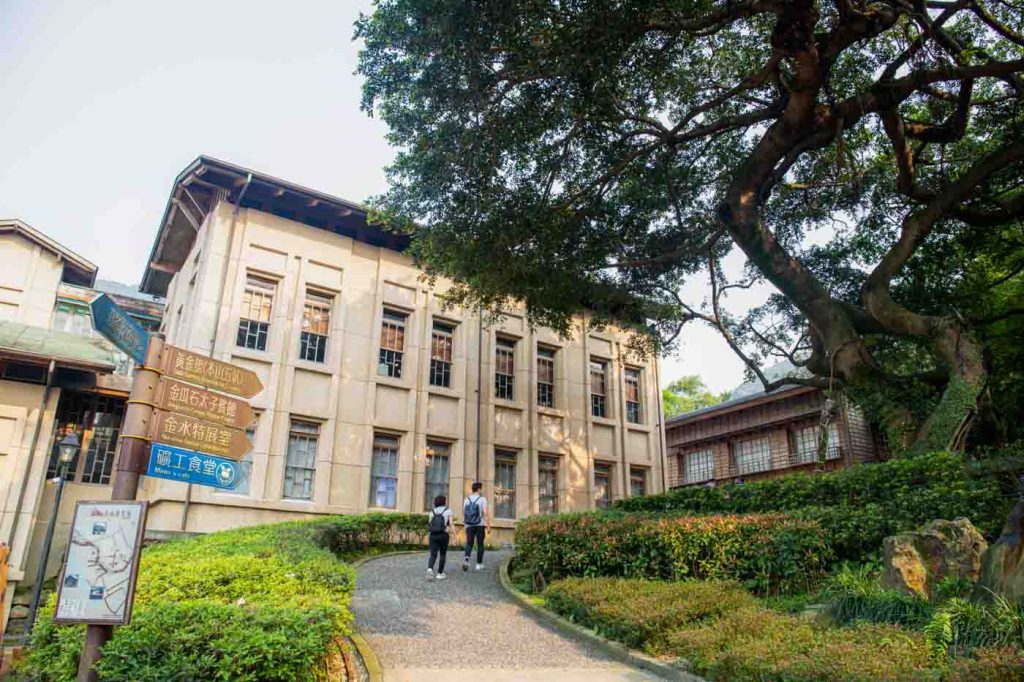 Unlike its packed and perpetually popular Old Street neighbor in the next-door town, Jiufen, Qitang has remained largely undeveloped. Previously, this was the main thoroughfare through the mountainous mining village; these days visitors to Qitang Old Street will find a smattering of cozy cafés hidden in side streets and plenty of photogenic spots. Brightly painted steps sit alongside walls of gray concrete, and as you roam the maze-like staircases, you're more likely to hear the roar of the stream weaving between the houses than the shouts of fellow travelers.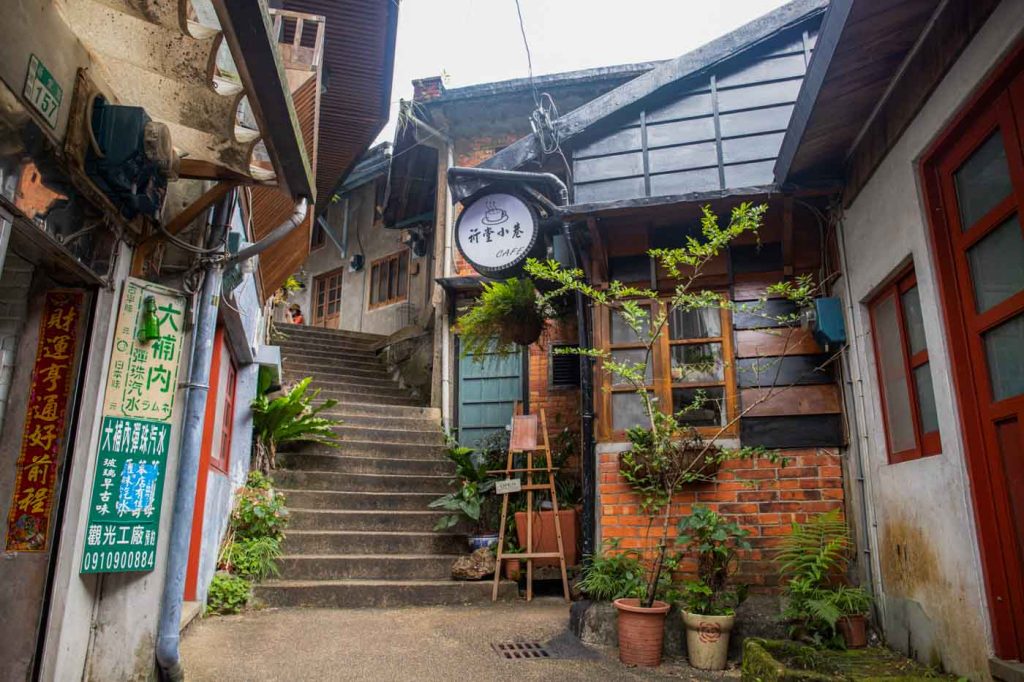 The steps emerge at the bottom end of the village close to the Taiwan POW Memorial and Peace Park, a quiet park dedicated to the memory of foreign prisoners of war on the site of the Japanese-run World War Two Kinkaseki POW Camp.
Jiufen
Jiufen Old Street
Easily accessed by bus from Ruifang Railway Station, MRT Zhongxiao Fuxing Station in Taipei City, and Banqiao Station in New Taipei City, Jiufen is up there with Taipei 101 and Yehliu Geopark on the list of most recognizable sites in northern Taiwan. Famed for its teahouses, cloistered lantern-festooned lanes, and an enticing array of street-food choices, it's long been a favorite of local day-trippers and international visitors alike.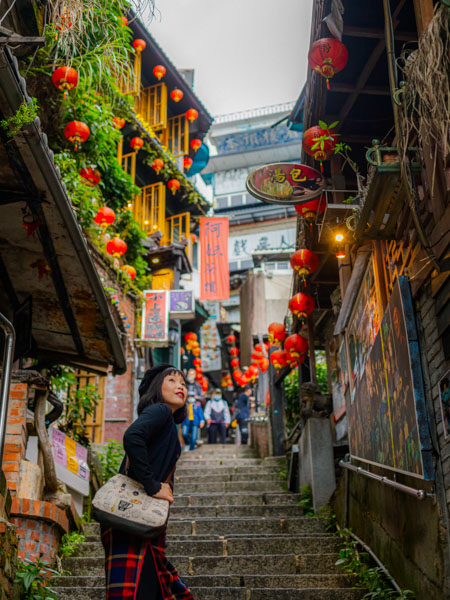 Once a diminutive camphor- and tea-producing hamlet, the 1890s gold rush saw its population surge to over 30,000 before the decline of the mines sent that growth into reverse. The town's subsequent revival is largely attributed to its enduring nostalgic appeal and the popularity of two films – Hou Hsiao-hsien's 1989 A City of Sadness, which took Jiufen's twisting alleyways as its backdrop, and 2001's Spirited Away. The director of this animated film, Hayao Miyazaki, has refuted claims that Jiufen inspired the town and bathhouse central in the movie (although there are undeniable visual similarities). However, that hasn't stopped enterprising shopkeepers from making the most out of a good marketing opportunity.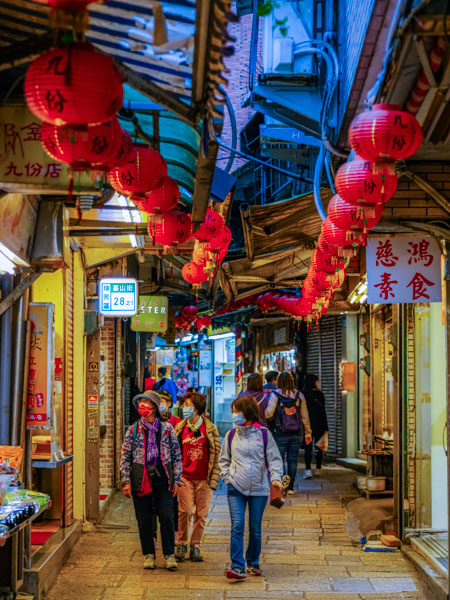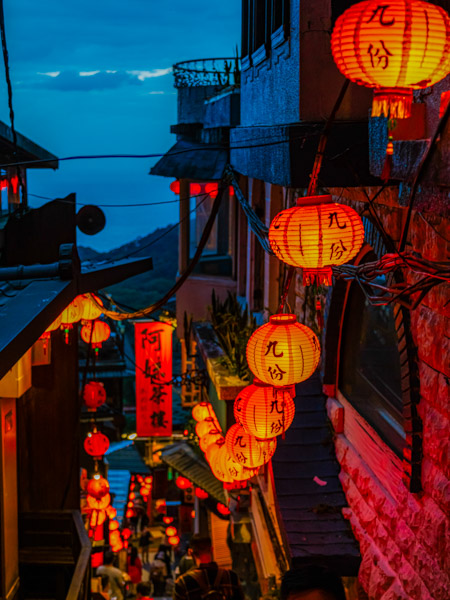 Spilling out onto the cramped walkways are vendors selling all the usual traditional-market favorites (stinky tofu, fishball soup, egg waffles), alongside others that are more unique (mugwort rice cakes and vegetarian braised "meatballs"), but Jiufen's unmissable specialty is the chewy taro balls. Available in a hot syrupy soup or on a bed of shaved ice, the balls – formed of mashed root vegetable and tapioca starch – are paired with melt-in-the-mouth sweetened adzuki/mung beans. You'll find multiple shops offering the toothsome morsels, but those in the know seek out A Gan Yi Taro Ball, which offers guests a side-serving of fine views.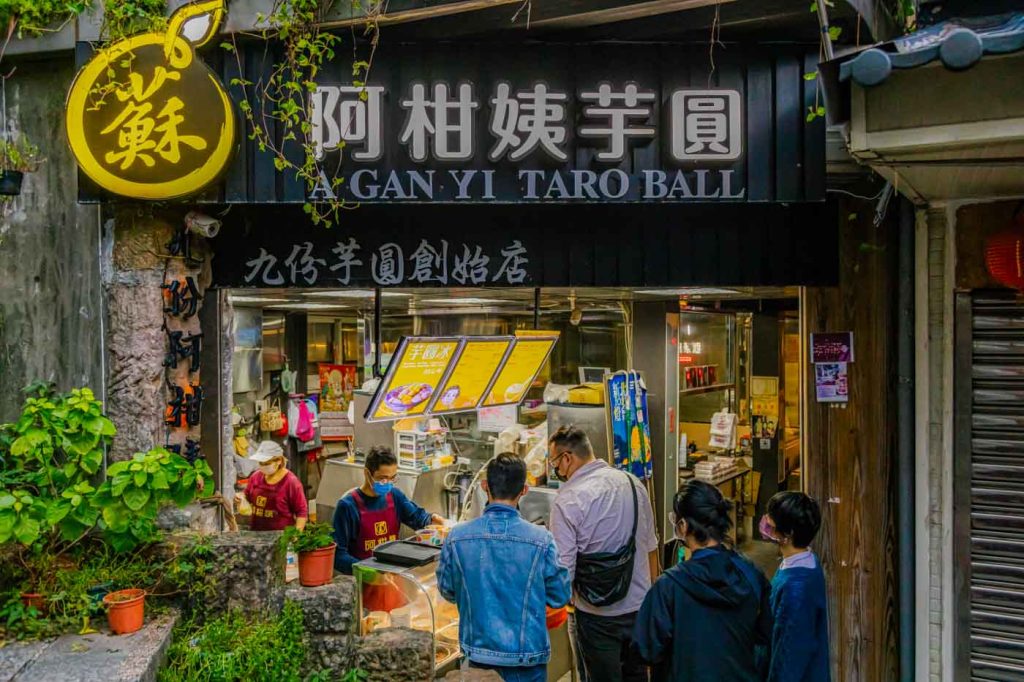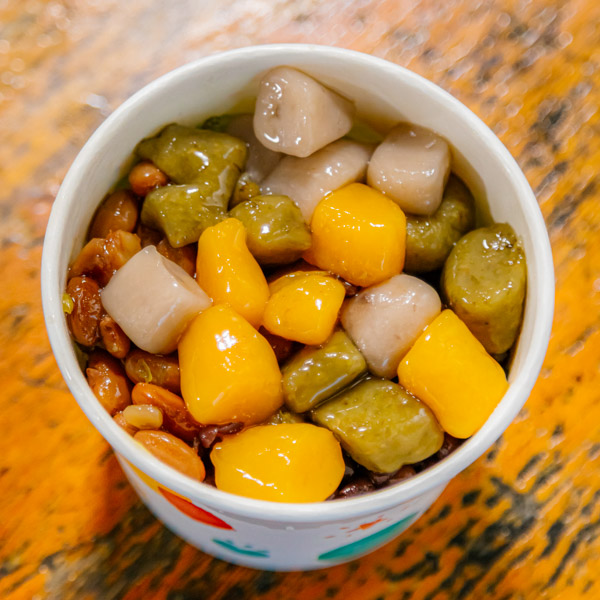 Once you've feasted on the many culinary delights and picked out a souvenir or two, why not check out the restored Shengping Theater or go for a wander? Climbing Mt. Keelung makes for a satisfying challenge, but my personal favorite walk in the area is a leisurely stroll to visit the remains of the Jinguashi Aqueduct.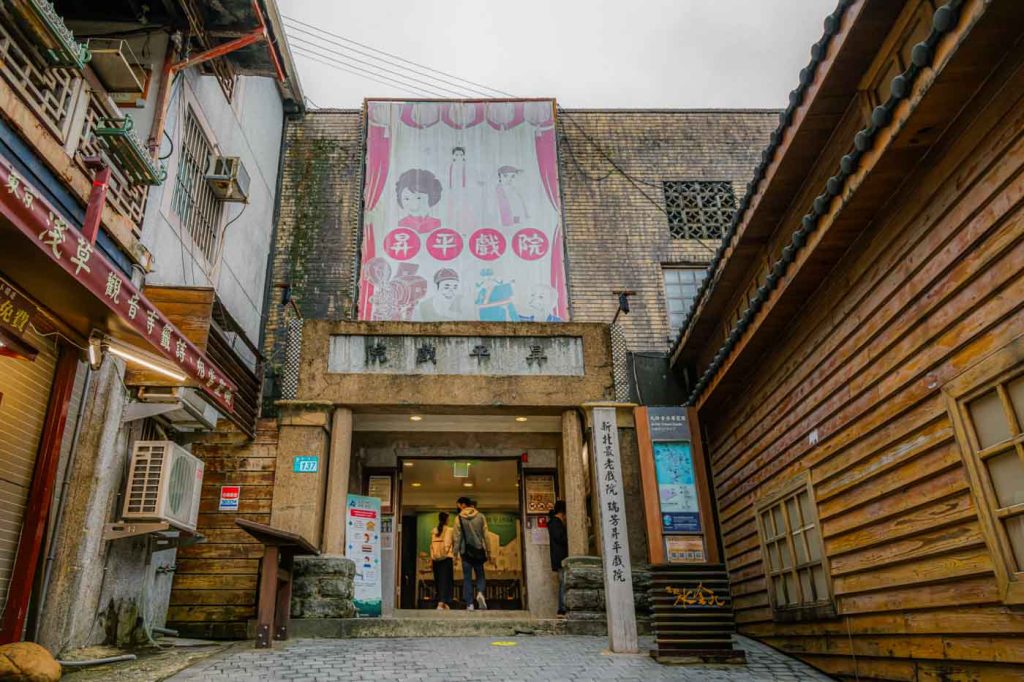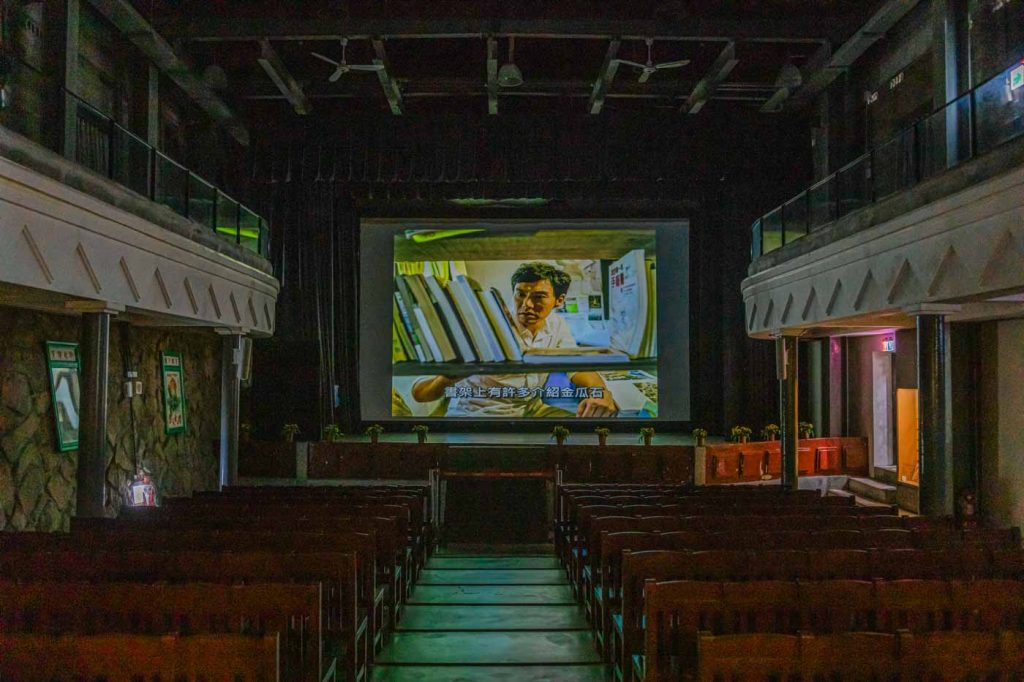 Shuinandong
The picturesquely decaying ruins of Shuinandong Smelter (today commonly referred to as the Remains of the 13 Levels) can be found facing the Pacific Ocean beside coastal Provincial Highway No. 2, and is served by bus No. 856 (Taiwan Tourist Shuttle service's Gold Fulong Shuttle Bus route; www.taiwantrip.com.tw) from close to Ruifang Railway Station.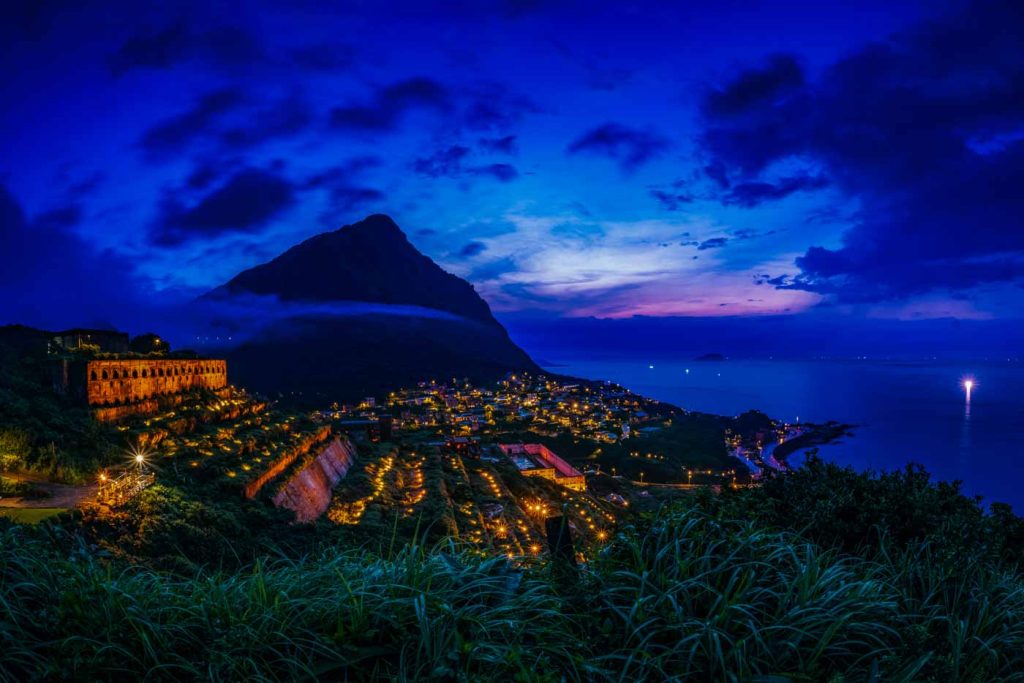 Built by a Japanese mining company in the 1930s, the complex originally sprawled over a total of eighteen levels, with raw materials entering the top floor via a cableway and gradually moving downhill as they were tested, crushed, and mixed into a slurry from which the precious metals (mostly gold and copper) could be extracted.
Much of the site was damaged by World War Two bombing, leading to an extensive round of repairs and upgrades, including the installation of the three gargantuan fume-extracting flues still visible on the hillsides above the plant. After its eventual closure in 1987, the facility became a favorite haunt of urban explorers and bands looking for a dramatic spot to record a music video, but these days it's best viewed from the observation platform in the highway-side car park (formerly the location of the facility's copper precipitation pools).
You'll find another of Ruifang's top attractions a short two-minute drive (or fifteen-minute walk) from the smelter – the Golden Waterfall. Considering the region's gold-mining history, you would be forgiven for thinking that the moniker hints at gold deposits being found in the stream, but that's not exactly the case. Instead, it refers to the brilliant yellow-orange cast left on the streambed by minerals leaching from the local bedrock – but since one of those is arsenic, you'd best refrain from taking a dip.